"Seeing the world a little differently isn't just what you do⁠—it's who you are." Well, we couldn't have said it better ourselves. And no, this gem of wisdom isn't an extract from a Plato epic. In fact, it comes from our enlightened friends over at Randolph USA⁠—the sunglass engineers (yes, engineers—and you'll find out why later) who caught our eye a few years ago. Yes, like an off-duty model passing our dinner table, we simply couldn't look away. Naturally, ever since, we've had a pair of these hot sunnies perched on our noses whenever the sun makes an appearance—and any other days we want to let the world know we're here to shine.
When it comes to sunglasses, no detail is too small. After all, while shades are doubtless a one-way ticket to effortless chic (not to mention protecting our peepers from harsh UV rays and… paparazzi flashes), they also obscure the windows to our souls—our eyes. So, they'd better be absolutely bulletproof when it comes to style.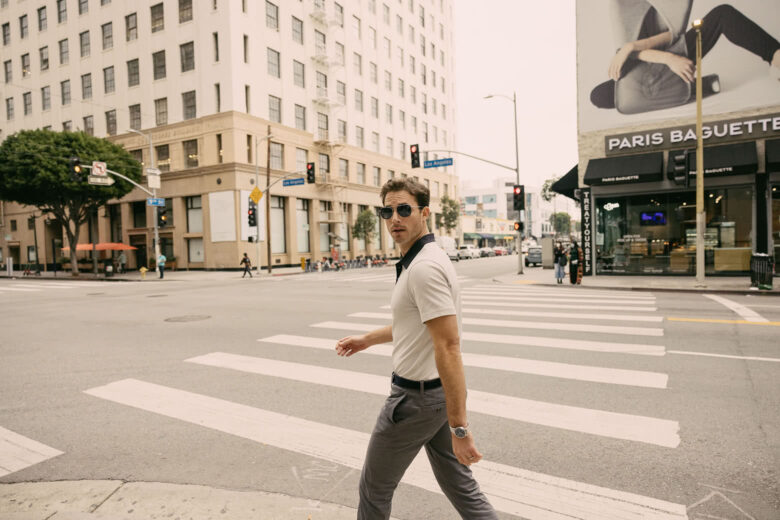 As it happens, Randolph has dazzled even the most discerning sunglass-wearers with handcrafted eyewear since the 1970s, so you could say this is a brand that knows how to outshine the sun. And guess what: you've probably come across them before, even if you didn't know it. Remember Mad Men? Yep, Don Draper's iconic aviators are a Randolph Engineering creation. From Brad Pitt's Benjamin Button to Woody Harrelson's sheriff in Three Billboards, Randolph shades have seen the spotlight enough times to be nominated for an Oscar themselves.
However, Randolph sunglasses are playing a starring role off-camera, too—found on the flawless faces of celebrities. They're often sighted on those with a (current or former) 90210 ZIP code from Tom Cruise—no surprise there; Top Gun evidently sharpened his eye for sky-ready sophistication—to stars as diverse as Kid Rock, Kendall Jenner, and Johnny Depp. Indeed, Randolph sunglasses prove time and time again that they can create the perfect shades for every personality, style, and face shape.
Fancy a little Hollywood glamor yourself? We thought so.
American Made
A third-generation family-owned independent business, Randolph Engineering more than deserves a place in the sun.
Remember when we said engineers? Well, with a 6-week, 200-step handcrafted manufacturing process conducted by the most talented craftsmen and women in the USA, Randolph's methodology is about as far from "churning them out" as you can possibly get. The meticulous crafting process has had nearly 50 years—since the company's birth in 1973—to refine, distill, and perfect its designs.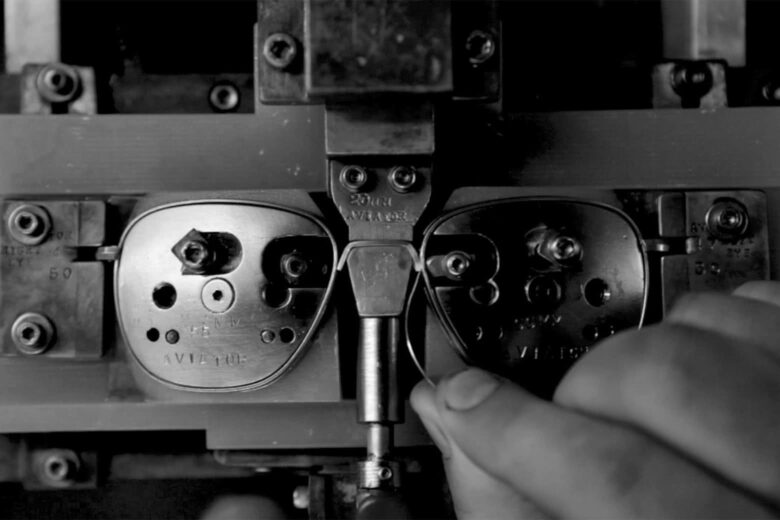 Take the 23k gold-finished frames, for example. That premium aesthetic is the result of responsibly-sourced, recycled (hitting our sweet spot for all things sustainable and luxe) 23k gold in tandem with a meticulous plating process. Of course, the pristine design of Randolph sunglasses requires far more than a hum-drum factory machine to achieve—this is a commitment to quality that only expert artisan hands and a diligent human eye can sustain. It takes 240 hours, 14 machines, 24 components, and 19 pairs of hands to craft the perfect summer accessory.
Military heritage: Commanding durability
Home to one of the greatest—and categorically largest—armies on Earth, it figures that the US military would demand only the finest quality attire for their soldiers. And who did they turn to when they needed new aviators for their fighter pilots? You got it: Randolph Engineering.
In fact, Randolph and the military's alliance extends to a more personal level. Before emigrating across the pond, the two founders, Jan Waszkiewicz and Stanley Zaleski held posts in the Royal Air Force (yep, the British one) before emigrating across the pond to realize their collective (American) dream—to create the highest-quality shades this side of the sun. And boy, did they make it big.
Fast-forward to 2000, and Randolph proudly holds the contract for providing NASA, Coast Guard, the Army, Air Force, and Marines with far-cooler-than-usual military-approved shades. Impressive, right?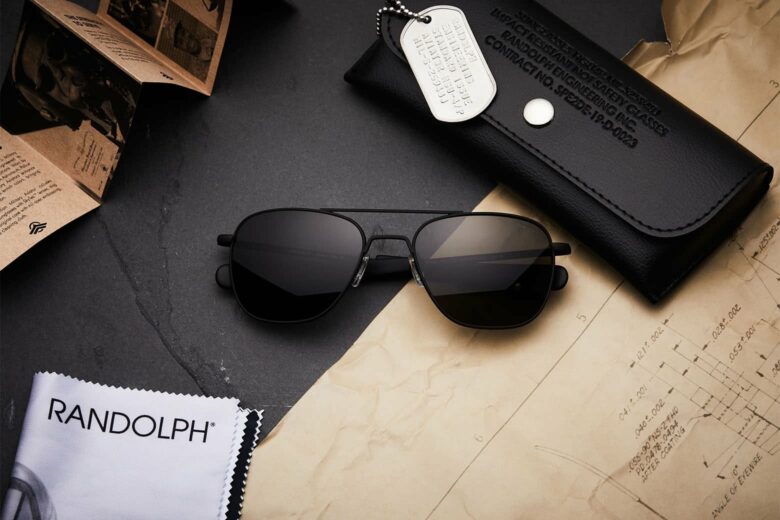 With that said, you don't need an army of sunglasses, just a reliable pair (or two) of Randolphs.
Each pair of Randolph sunglasses—whose frames sat on the courageous noses of fighter pilots in the US military for over forty years (and counting)—is engineered with actual military precision and market-leading optics. So, you know you can depend on your pair of Randolphs for your lazy days in the sunshine and endless adventures.
Forever in the (fashion) forecast
Ironically, these pilots' go-to sunglasses are hard to take off (sorry had to).
A brand that's survived and thrived throughout undulating trends for over four decades, Randolph's ongoing relevance still reigns supreme—particularly among those who favor a capsule wardrobe. And, like a fine watch, the details are small but integral to each style.
Randolph understands that each face comes with its own unique contours, quirks, symmetries, and non-symmetries. Their range of classic frames accentuates your best features and maximizes your personal style with different designs, harmonizing with the feminine and masculine face shapes.
You can even have custom engraving on your new sunglasses for a nominal fee, making them truly yours. Play with 20 characters and have your name, a favorite quote, or a special date immortalized on your sunnies for an extra dash of you. Brilliant!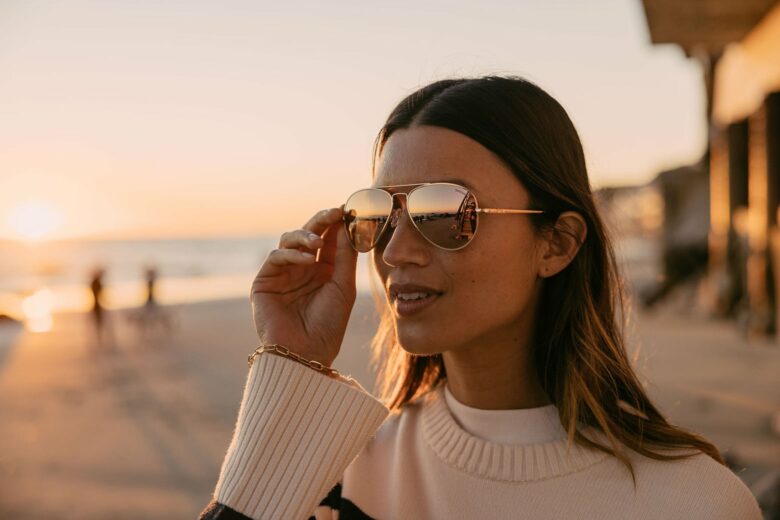 From aviators (still flying sky-high) to round and Jackie O-esque shapes—it only takes a peek outside your front door to realize that Randolph's timeless sunglasses are designed to see many a season.
Love at first sight, built to last a lifetime: 8 shades of Randolph
Proof that the real voyage of discovery consists, in fact, of having the right sunglasses, Randolph crafts exquisite shades to inspire your authenticity and bring your best self out to play.
Keep your eyes peeled: these Randolph sunglasses will make your world glow (much) brighter.
Men's sunglasses
40th Anniversary Military Aviator in Matte Black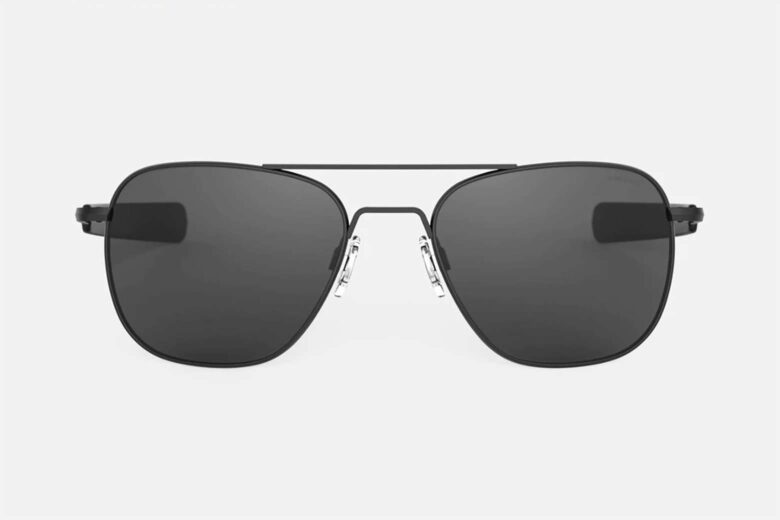 Commemorating the iconic American aviator sunglasses worn by high-flying U.S military personnel for over 40 years, these anniversary aviators are something rather special. Bold, brave, and unequivocally meaning business, the 40th Anniversary Military Aviator in Matte Black comes tucked into an embossed military-issue case, custom dog tag chain, cloth, and fascinating historical insert. Available to you​ with both polarized and non-polarized glass lens options.
Best for: A classic aesthetic with a valiant vibe to fight your daily battles.
Aviator in 23k White Gold (Polarized)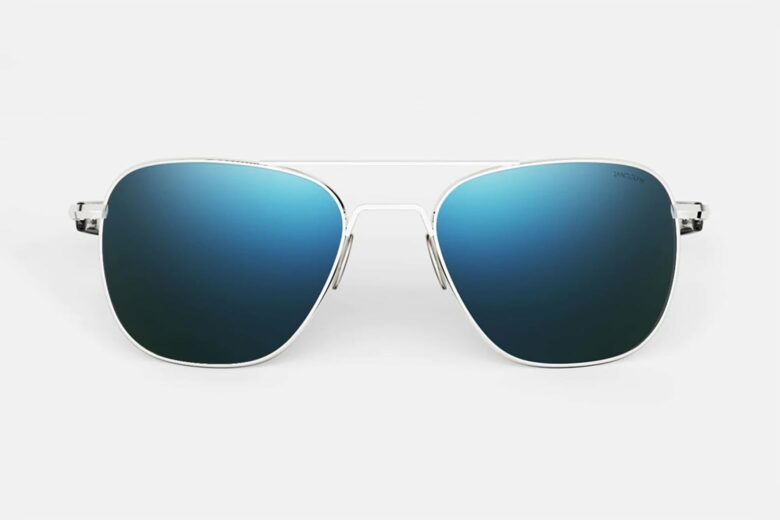 Not scared to stand out—on the contrary, they thrive in being different—these luxurious, bestselling shades are unapologetically themselves: always authentic, and effortlessly sublime. With oil-slick Cobalt lenses finished with glare-preventing polarization and 100% UVA/B protection, the masterstroke of the Randolph 23k White Gold Aviators are the sparkling white-gold arms designed to remain comfy even under your headwear.
Best for: Turning up the heat in daring styles.
Classic Concorde in Gunmetal (Polarized)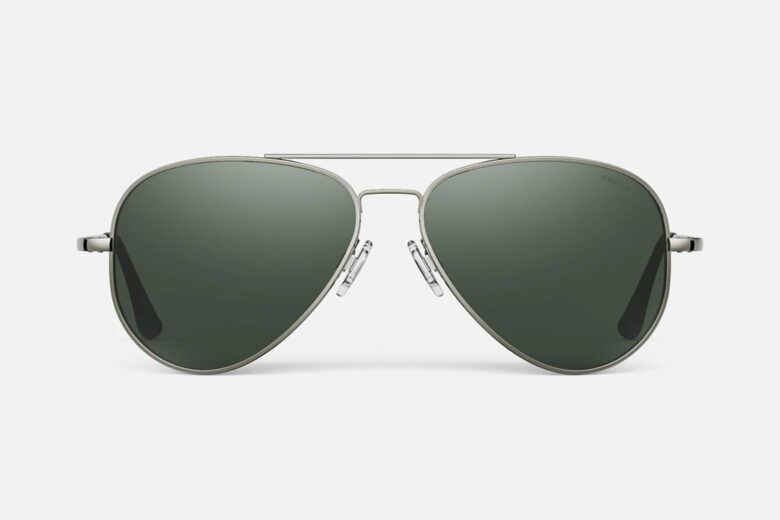 Awesomely supersonic, in homage to their namesake, the Classic Concordes are for those with an affinity for the extraordinary. Engineered to actual military standards in the iconic fighter-pilot style, you'll experience the world through the eyes of the high-flying trailblazers cruising the skies. With a focus on chic style and unmatchable quality, the Classic Concordes are expertly handcrafted with Ruthenium for that velvety gunmetal finish.
Best for: Inspiring the courage to ride life's twists and turns.
P3 Shadow in Durable Matte Black (Non-Polarized)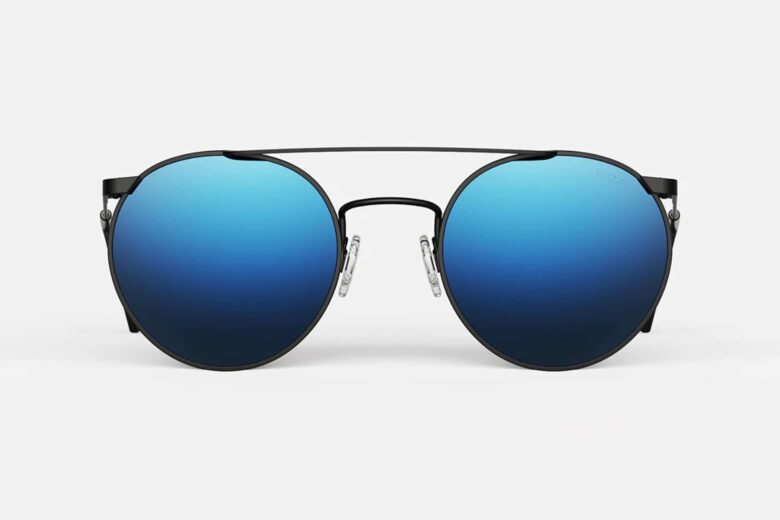 You'd never have caught John Lennon apologizing for his distinctive shades choice—he owned them, just as you will rocking the P3 Shadow sunglasses. A revolutionary twist on the classic P3 round style, sliding on the P3 Shadows is an instant best-self booster. Ignite your smoking style and command the room donning these sleek shades, finished with get-lost-in-them Atlantic Blue mirrored lenses and an authoritative brow bar.
Best for: Inspiring envy in every setting.
Women's sunglasses
Amelia Satin Silver (Polarized)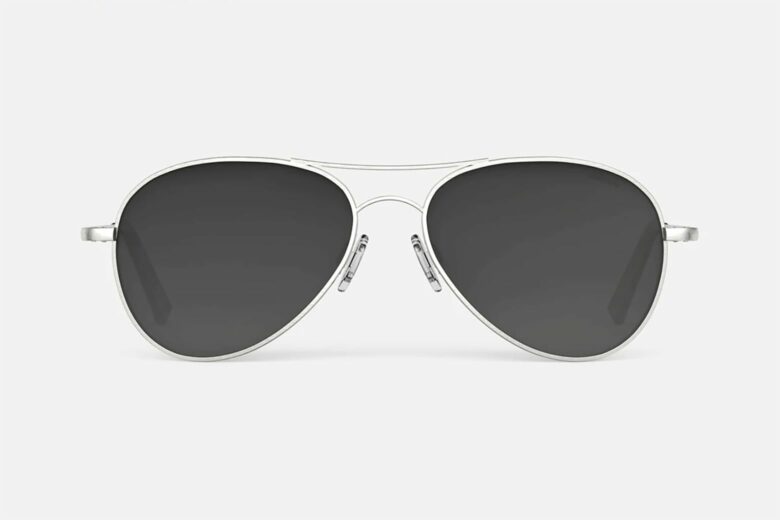 If anybody saw the world differently, it was Amelia Earheart—the first woman to fly solo across the Atlantic. A tribute to one of the OG independent women, the Amelia sunglasses give you a fresh perspective.
Decked in colors reminiscent of the sights Amelia would've witnessed from the skies, you'll shine in the Satin Silver frames and Coastal Gray gradient lenses. Finished with Smoky Sapphie temple tips, you'll soar over the seas rocking the Amelia sunglasses. No wonder they were the first pick in our Randolph USA women's sunglasses review.
Best for: Kicking it freestyle; living your life your way.
Cecil Satin 23k Gold (Polarized)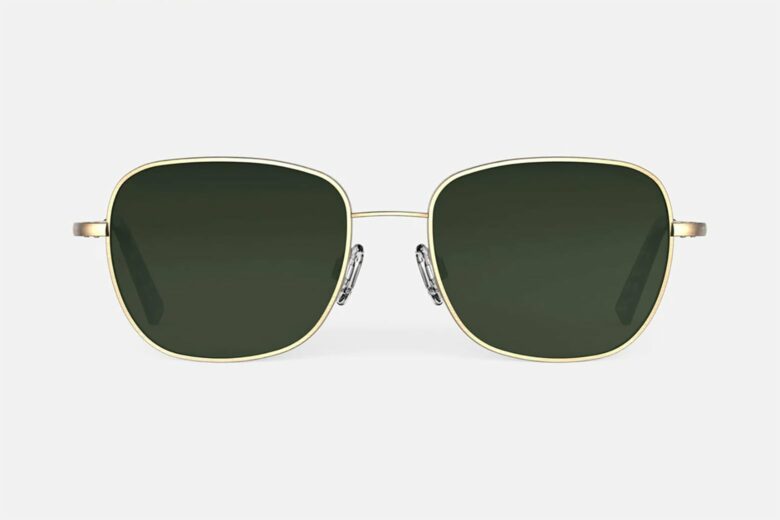 Elevate your every day and see the world in a new light with the Cecil shades. The jewel of the 2022 Spring Satin Collection, these aviators pay homage to a courageous WWII test pilot—Cecil "Teddy" Kenyon.
Experience a brave new world behind the Evergreen Gradient Lenses and stride with confidence thanks to the oversized style, designed to add angles to round and triangular face shapes. Complete with a glint of 23k satin gold frames, you'll see the world come to life wearing the Cecil sunglasses.
Best for: Enhancing the natural world around you, and making the sun even more fun.
Elinor in 22k Rose Gold (Polarized)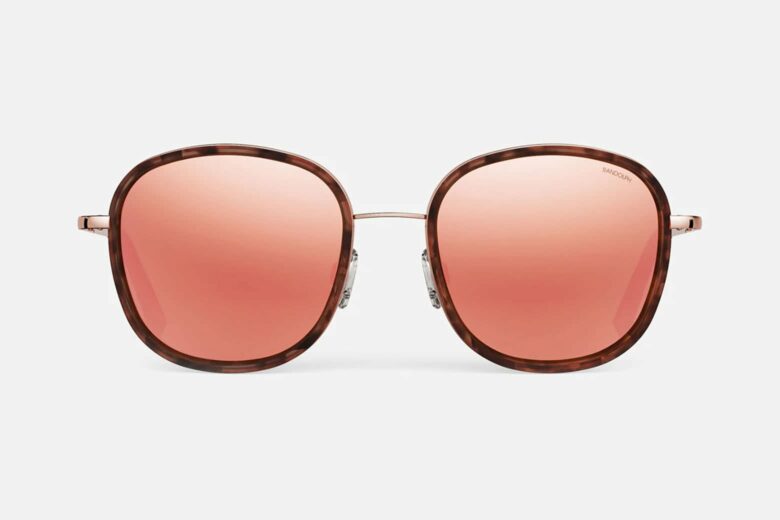 Ignite your inner flame with the Elinor Fusion shades, glinting with 22k rose gold frames and mirrored rose gold lenses to match. Yes, you'll view the world through rose-tinted glasses, literally. Rocking iconic oversized frames crafted by hand with Italian Mazzucchelli acetate, every pair is subtly unique; just like you.
Lightweight and perfect for everyday wear, the Elinor Fusion puts the extra in extraordinary—and takes you with them for the ride.
Best for: A hint of tint to uplift your soul and alight positive vibes.
P3 Round in 23k Gold (Non-Polarized)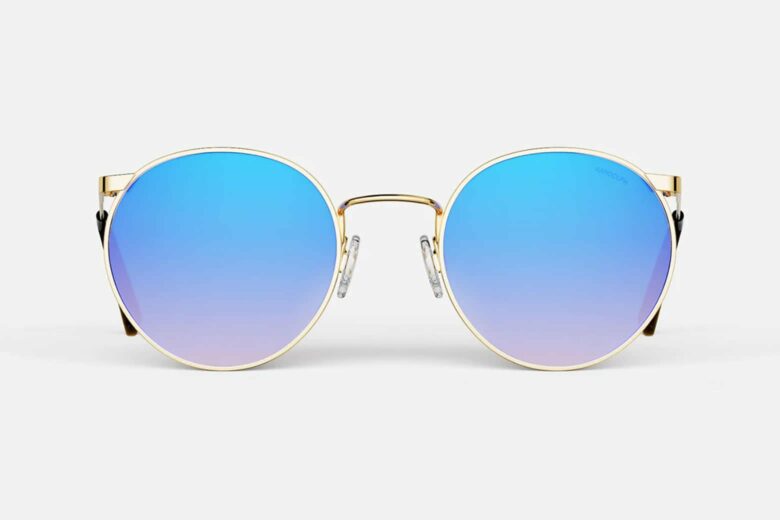 Inspired by pop-culture history and designed with military precision, these ethereal-feel P3 round sunglasses exude a convivial attitude; but, adhering to Navy submariner standards, they rock a tough edge, too.
Peer through the gradient American tan base lenses and blue mirror, and you'll see the world bathed in warm gold whether you're in the shade or under the rays. Perfect for a sunnier outlook, the P3 Rounds make the world glow.
Best for: A playful attitude and a hint of edge.
Luxury 3 Frame Travel Case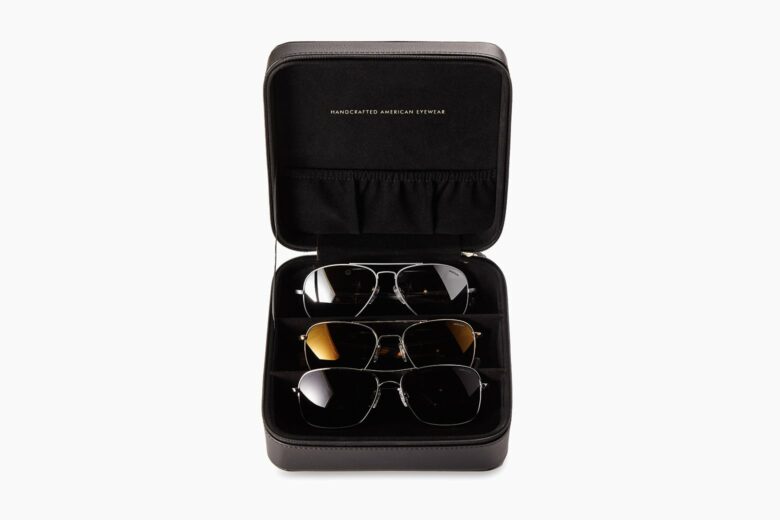 Your shades are only as good as the case they're stored in—which for Randolph means: exemplary.
Case in point: the Luxury 3 Frame Travel Case. Crafted with wanderlust-seekers in mind, this travel case will protect your precious lenses in absolute style and comfort.
You can fit a trio of your favorite sunnies within this case, lined with luxe black velvet to protect your lenses. With a 20% recycled leather exterior for a sleek, stylish aesthetic, the Luxury 3 Frame Travel Case is the perfect boudoir for your cherished shades.
Best for: Respecting your gorgeous new shades with the protection they deserve.