So it's 2010 and Swiss 5-time Ironman champ Olivier Bernhard is looking around and thinking that athletic shoes aren't doing all that they could. Maybe the athletic-wear world could use a little shaking up. Boom! On Running is born.
Bernhard doesn't just rest on his own laurels, oh no. He woos Swiss tennis legend Roger Federer to join the cause in 2019. He founded the professional running group, the On Athletics Club, which is packed with Olympic-level pavement-pounders. They go on to design shoes for the 2022 Winter Olympics bobsled teams.
On's growing market share sends out a message to both the athletic wear and the fashion worlds—we've only scratched the surface of what a running shoe can deliver. The gauntlet has been thrown, and it was now up to other shoe manufacturers to try and keep up. This young company wasn't just here for the long run—they intended to lead the running shoe market in innovative designs for both athletics and everyday wear.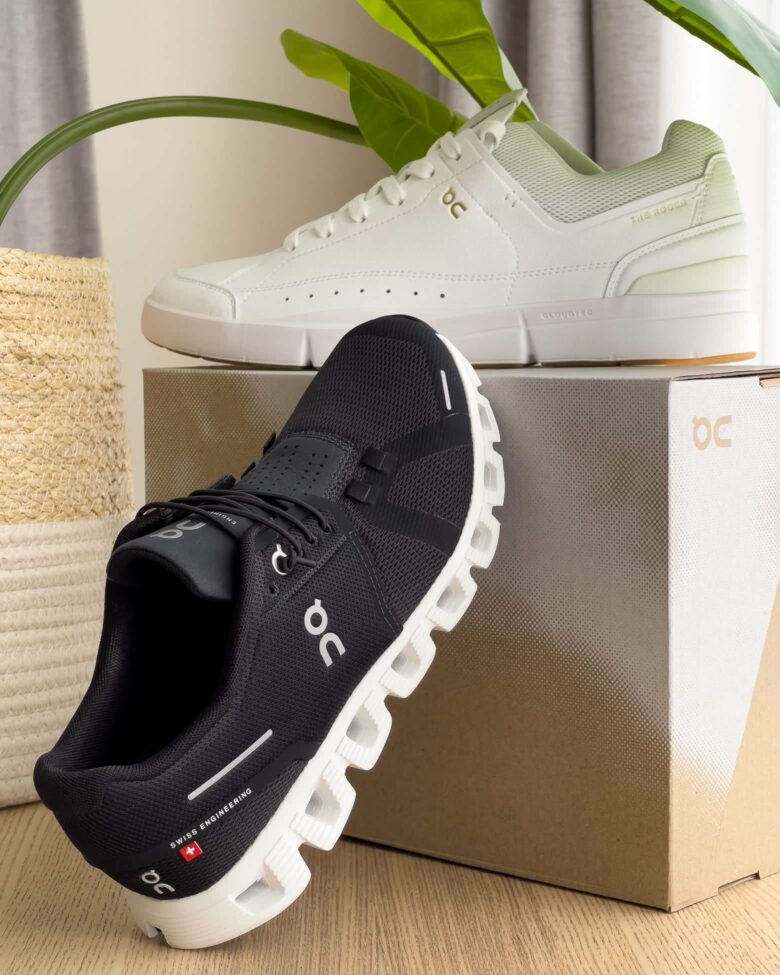 So that's a whole lot of foot experience dedicated to Swiss-engineering shoes. But an athlete does not necessarily directly translate into being a world-class luxury shoe designer.
Does all that athletic superstardom build you a superstar shoe?
We're happy to report that it's looking more and more like the answer is a resounding yes. One of our favorite premium footwear brands, On sneakers have already hit our best-of list for men's shoes for standing all day and women's sneakers. On's most recent release, the Cloudmonster, has taken some pretty big design steps in a new direction, showing the brand's dedication to perfecting its craft. We're fairly certain it's only a matter of time before they make it onto our list for best men's sneakers.
On Running's shoe technology
Before we get into the thick of it, we should explain a couple of the bits of proprietary tech that you're going to see pop up in the descriptions below and on On's website.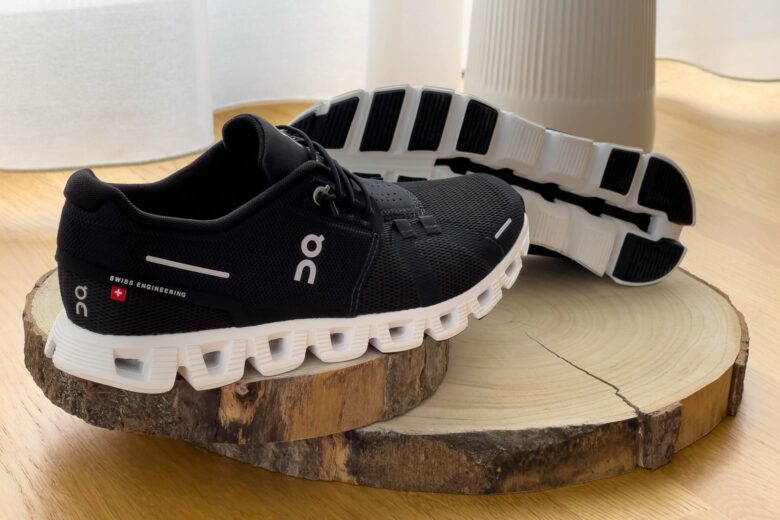 CloudTec
CloudTec is the patented cushioning combination of Clouds, which are specifically molded bits of Helion foam (see below), arranged in a pattern designed to reduce your fatigue and lower your heart rate. Because they are arranged as individual units, they act somewhat like mattresses with individual coils, cushioning your feet specifically where it's needed.
Helion
Helion is the brand's proprietary foam that is used to build CloudTec. The main goal for On was to build a kind of foam that combined rigid structural sections with flexible sections at the same time.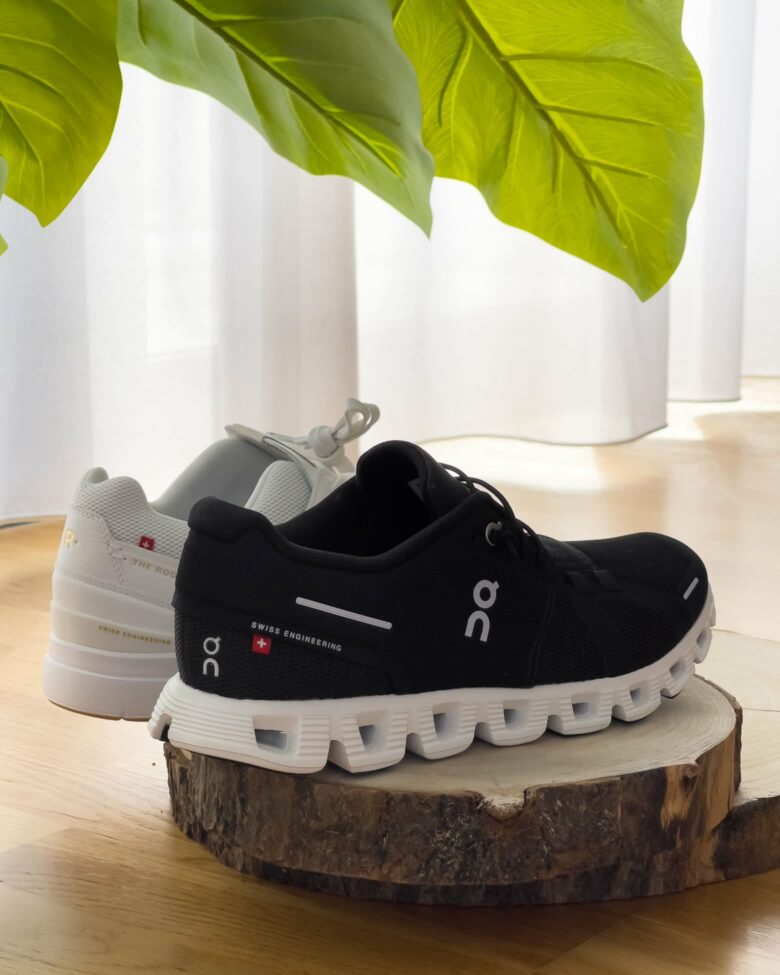 Speedboard
Speedboard is a layer of thermoplastic polymer that lies between the upper and the CloudTec midsole. As the Clouds squish with your foot impacting the ground, the Speedboard is flexed, somewhat like an archer drawing a bow, loading it with potential energy. As you raise your foot for the next step, zip! the Speedboard transfers the compressed energy into your drive, launching you forward.
Missiongrip
Missiongrip is a proprietary sole system that combines CloudTec with specially selected rubber that helps you keep your footing on unstable trail terrains.
FlipRelease
Long-distance runners sometimes have to deal with swelling feet. Normally this would mean starting a run with shoes that are a half-size too big, switching shoes partway through, or enduring the discomfort of too-tight shoes for the last half of their efforts. A small clasp found on the laces, On's FlipRelease takes care of swelling by allowing you to tie your laces to a normal tightness at first, and then later loosen them by just reaching down and flicking the clasp.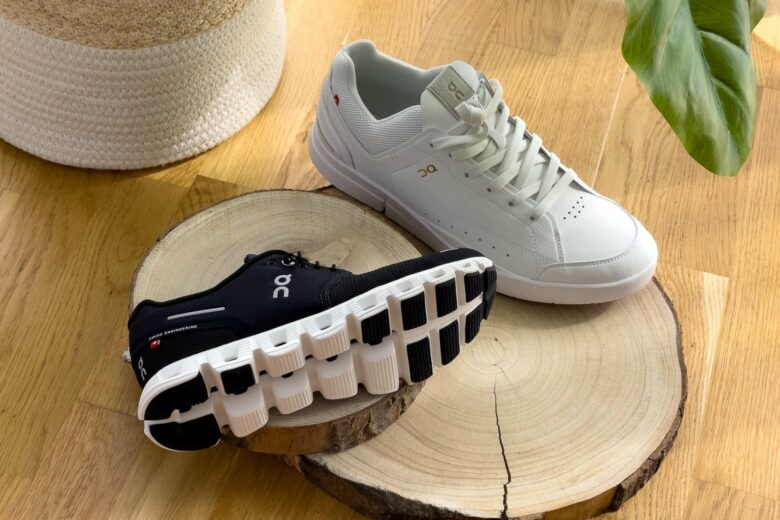 On Running shoe review: Proof that you can actually run on Clouds
Our verdict: All of On's combined running experience, coupled with the brand's clear dedication to improvement, is paying real dividends. If you're searching for light, springy shoes to complement your casualwear, don't pass up On's catalog.
The pros:
The CloudTec soles provide a noticeable softening on impact.
The collars hit the sweet-spot between stabilization and mobility.
Attractive despite all of the extra bodywork required to implement CloudTec.
The cons:
Generally a tight fit, especially in width. You might want to go up a half-size.
Logo-tape can begin to peel off after moderate athletic use.
Alternatives
If running efficiency is your prime qualification, then we'd suggest that you take a look at Adidas' Ultraboost. They come pretty close to capturing that "running on clouds" feel. And as an added bonus, they're constructed from recycled materials.
On the other hand, if you're looking for a sneaker for casualwear that delivers a good-looking design meshed with the ability to get-up-and-go, then try out the selections from Axel Arigato, Oliver Cabell, Allbirds, or Koio. All four of these designers lean more into the decorative end of sneakers, but their shoe lines still have plenty to offer to your athletic side.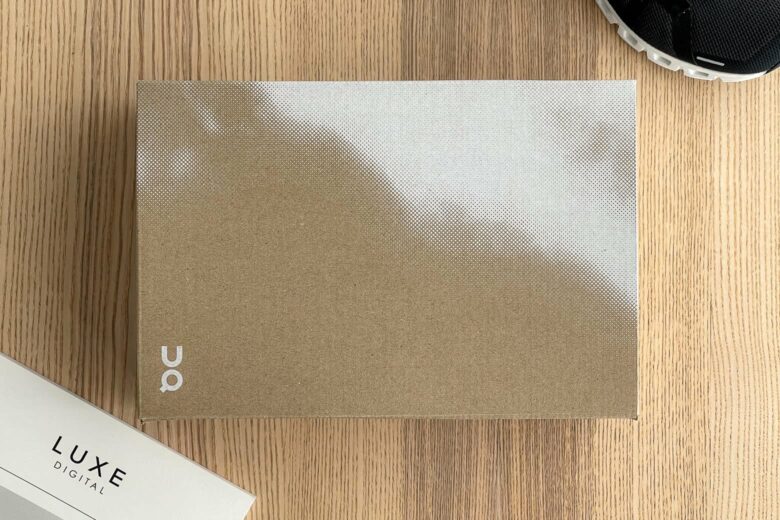 Unboxing
At first blush, On Running's shoes appear more utilitarian in looks than, say, Allbirds or Oliver Cabell. And that's just fine by us. They are, after all, shoes designed by some very serious runners who have pavement-pounding at the top of their minds.
That being said, they still look pretty cool. All of On Running's sneakers feature bold coloring and panels, with that wide CloudTec base setting off the topside coloring. They don't just feel like they're built for speed, they look like it too. If shoes like those from Koio or Axel Arigato are Bentleys and Jaguars, then On Running's shoes are muscle-cars like Mustangs or Chargers.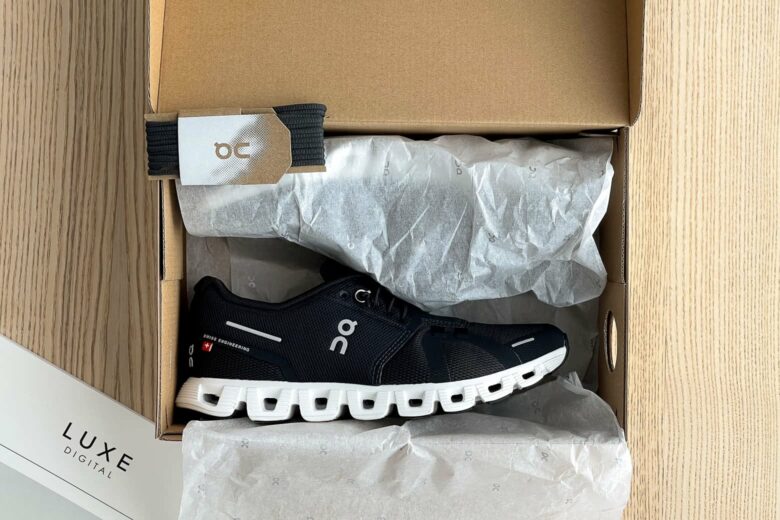 Materials and craftsmanship
The environmentally-concerned can rejoice. On's shoes feature a good deal of polyester, and 70 to 95% of that polyester (depending on the model of shoe) comes from recycled materials. The heel, tongue, collar lining, lace, and sock-liners can be up to 100% recycled materials (again, depending on the model), which makes for a nice reduction in wear-and-tear on good old Mother Earth.
Aside from that, the materials are sturdy and solidly tailored together. It's unlikely you're going to have any trouble with the sole peeling free from the upper any time soon.
On the downside, some models do feature the tape logo on their sides which can begin to peel off. Also, those holes in the sides of the sole which help provide that CloudTec cushioning will get pebbles in them. So be warned, you may have some pebble-clearing in your future.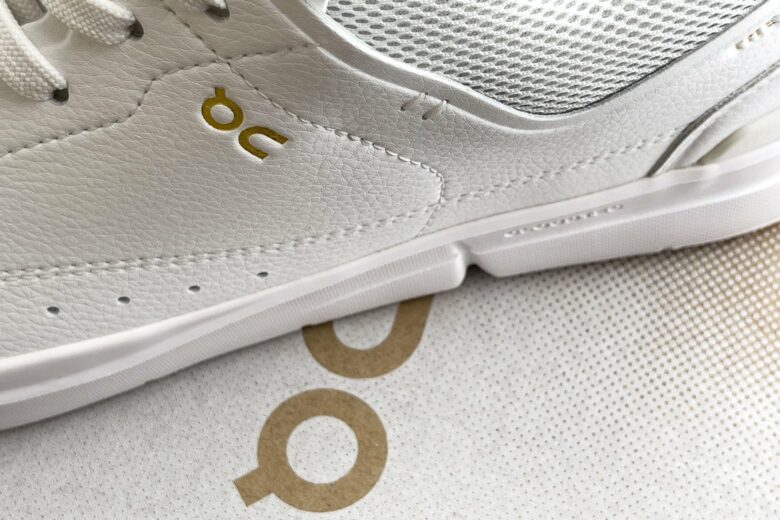 Aesthetic & design
On Running's design team wasn't concentrating on trying to win a "World's Prettiest Sneaker" award; they were focused on building the best running shoe on the market. Yet, On shoes have a modern and sleek look, most of them with a simple chunky appeal to them.
Some of On's sneakers, like the Cloudstratus, lean more towards the "comfort runner" or "dad shoe" look commonly associated with New Balance shoes. Their hiking-oriented footwear like the Cloudridge has a higher supportive collar, somewhat reminiscent of an Air Jordan, albeit less flashy. The most colorful of the bunch are the Cloudvistas, a trail-running shoe displaying the brightest palette of the On Running line.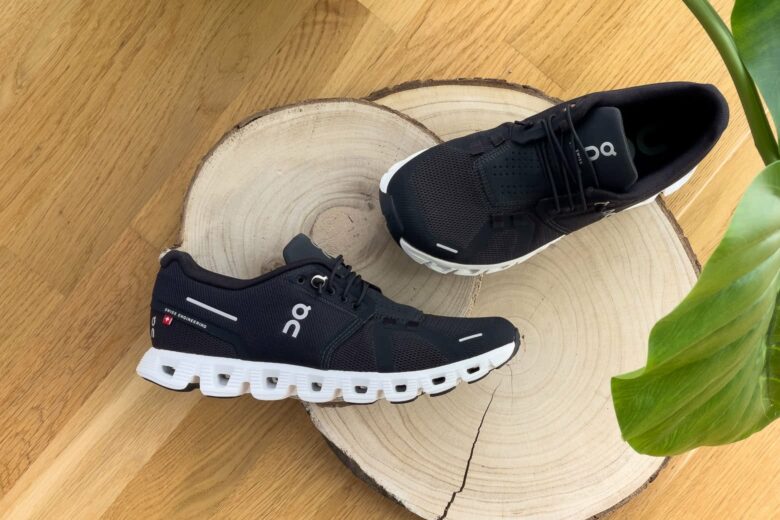 Colors
On Runner's line comes in a wide variety of colors, with everything from muted palettes to full-out high-contrast eye-poppers. Almost all of the designs feature solid color sections, as opposed to smaller swirls, mixes, or patterning that can be found on other brands.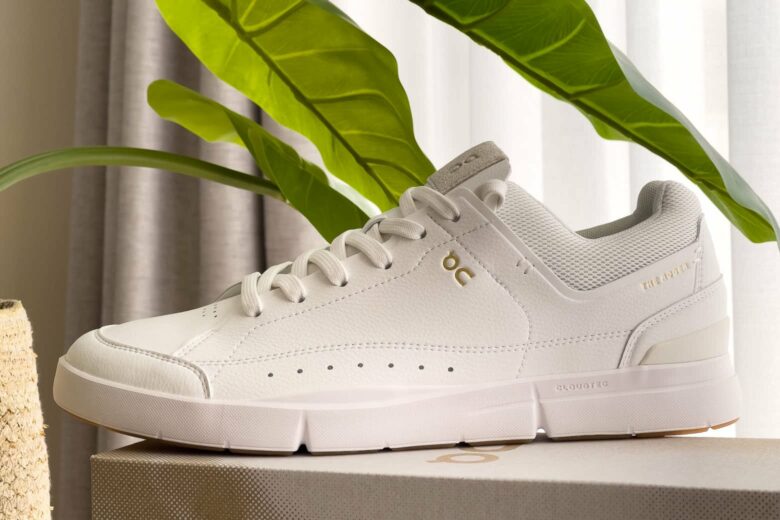 Comfort, fit, and sizing
On Running's biggest selling point is running comfort provided by the brand's CloudTec system and Helion foam. The shoes deliver. The individual pockets of springiness are actually a bit of a new sensation—a delight to run in.
The bonus is that the same level of comfort can be applied to your everyday life. So if you're chugging around town doing chores, CloudTec will still put some spring in your step, making them fine shoes for everyday wear.
Do be wary, however, that most of their selection (unless specifically noted as being "wide fit") do tend to be quite snug. When in doubt, try out a half-size bigger than your usual shoe.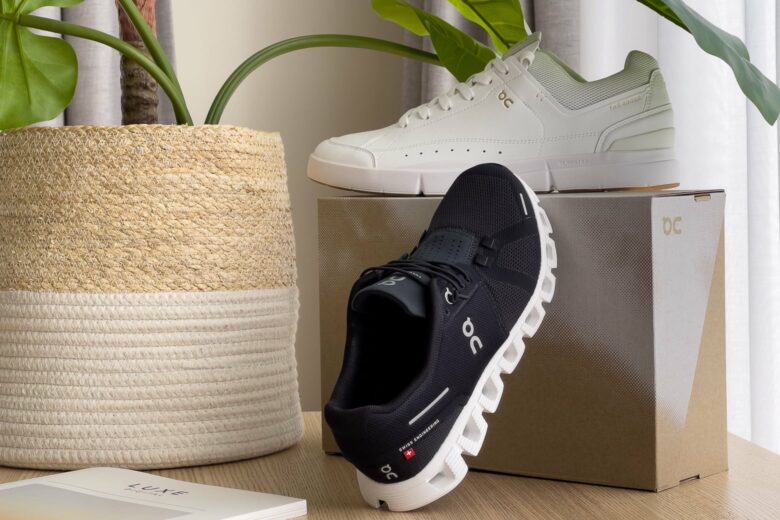 Care and maintenance
On's CloudTec soles won't stand up to the kind of beating a washing machine would dish out. If your On Running sneakers get dirty, On recommends brushing first, and if that doesn't work, then hand-washing with warm water. They also recommend that you wash them as little as possible.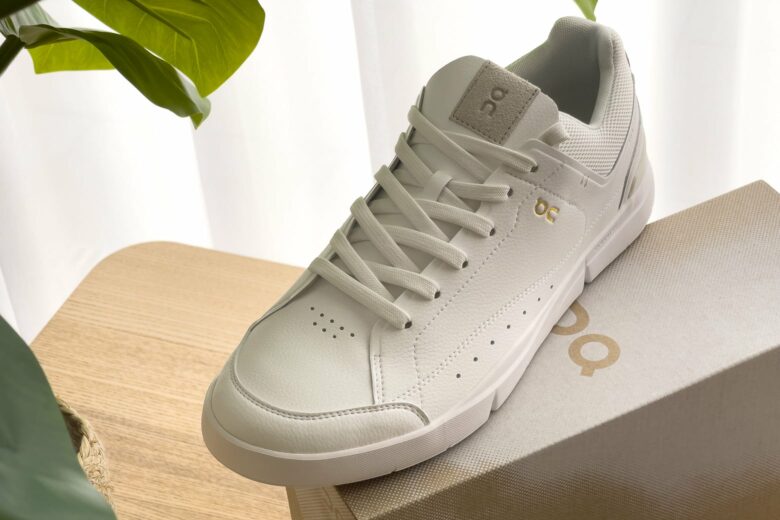 Price
On Running's shoes are going to run you from between $129 for the Cloud or Cloud 70 | 30 (lightweight all-day models) through to $269 for the Cloudboom Echo (built for marathons). Check On Running's official website to see their latest prices and offers.
Who are On Running shoes best for?
The most obvious answer is that On's shoes are geared toward serious runners. However, since their CloudTec is going to put some pep into anyone's step, they make a fine addition to your everyday wear.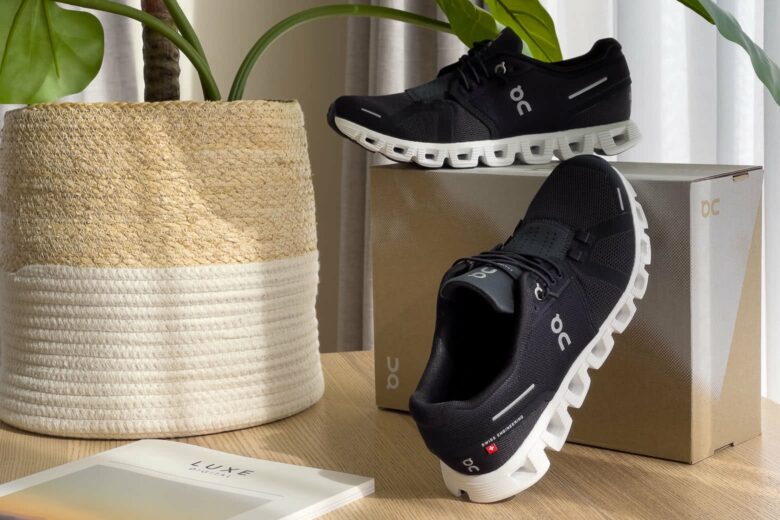 On's Everyday sneakers
Cloud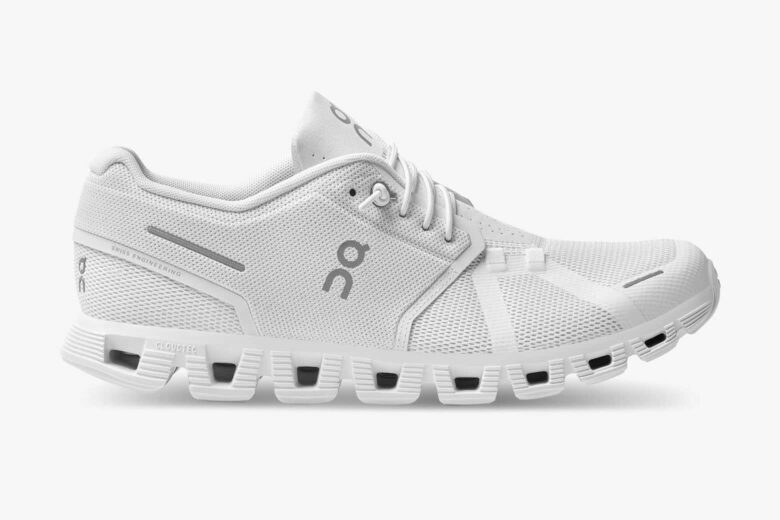 The basic Cloud and Cloud 5 series are geared toward the casual wearer. Still delivering on the CloudTec promise of light-touch shoe luxury, the basic Clouds come in a wide variety of styles and color palettes, making them easy to match up with your everyday outfits.
Cloudnova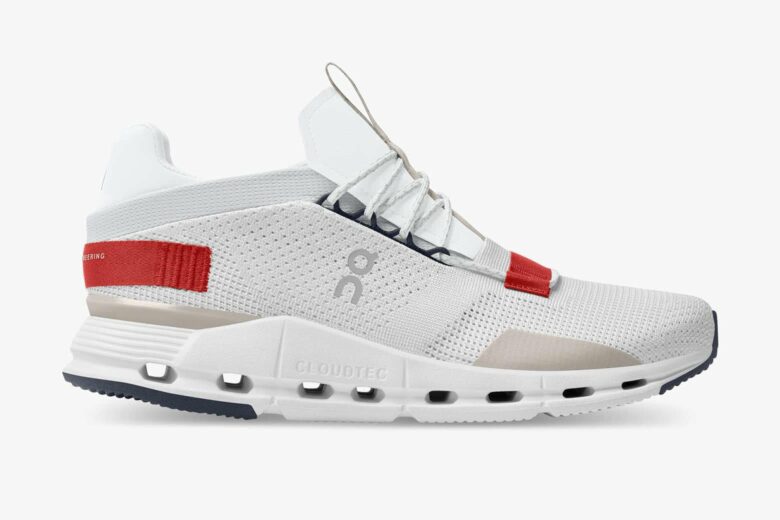 While Cloudnovas are another everyday shoe, they offer a wide base at the front, providing you with plenty of stability in your stance and when you're pivoting or moving side-to-side. On top of that, the models offer a nice striking appearance, set off by contrasting bands at the heel and the base of the lacing panel.
The Roger Centre Court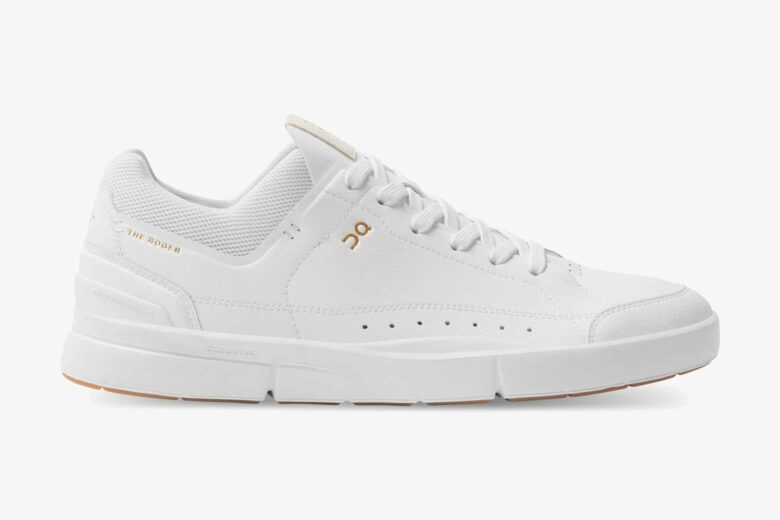 The Roger Centre Court is the model of shoe that came about as a result of On teaming up with tennis rockstar Roger Federer. The clean lines of this tennis sneaker are quite striking, the strong design earning it a spot on our list of favorite white sneakers for men. Featuring a more subdued sole, since tennis is as much about lateral movement as it is going forwards, this sneaker surprised us by how much we like it as an everyday shoe.
Cloudnova Wrap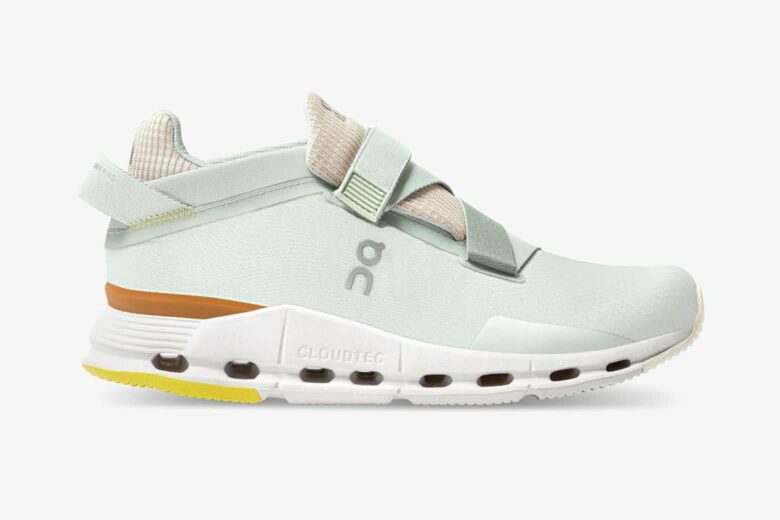 One of the funniest pairs of shoes in On's line-up, the Cloudnova Wraps are an exclusive for the ladies. Solid color placement is set off by the use of a wide ribbon in the place of standard laces. But don't let the quirkiness fool you, these On shoes do a good job keeping you comfortable on your daily walks.
Cloud Hi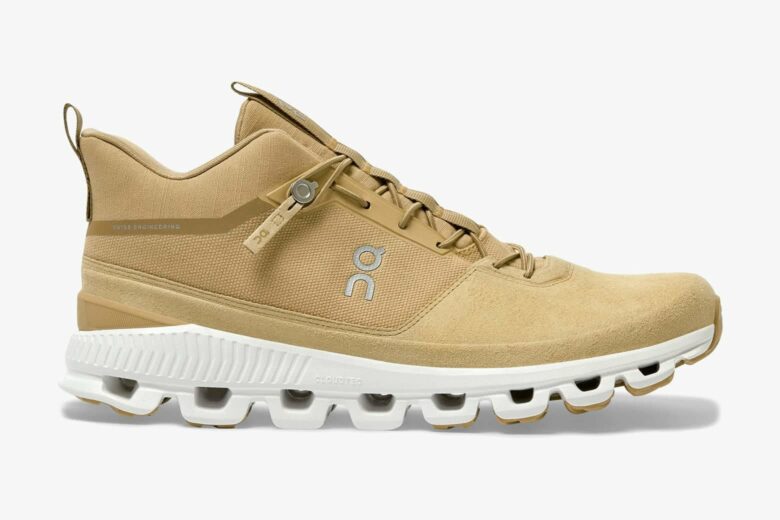 Featuring a slightly higher collar for added ankle stability, the Cloud Hi is an ideal shoe if you're unsure if you're going to be venturing over some rocky ground while you're getting your daily steps in. And animal lovers can rejoice in the fact that the upper is constructed from vegan leather and suede.
On's Running shoes
Cloudstratus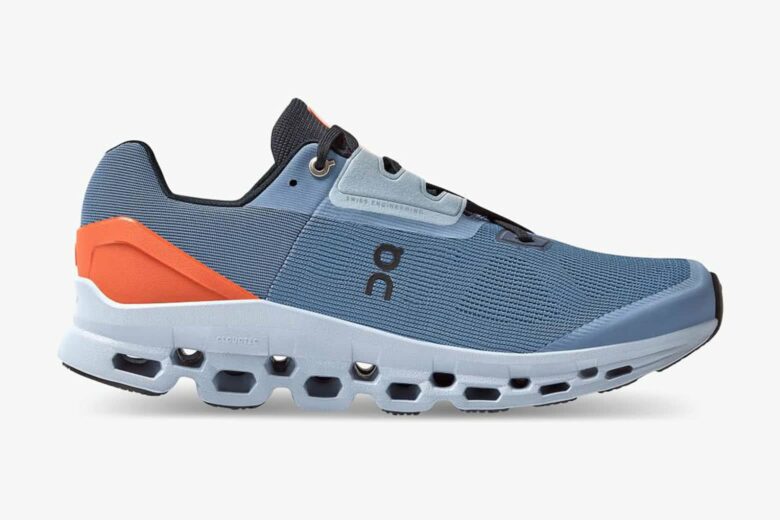 The Cloudstratus rules the road with a design maximized to give you energy back from street surfaces. The sole boasts not one but two layers of CloudTec to keep not only your feet but your whole running frame comfortable as you get your roadwork in.
Cloudswift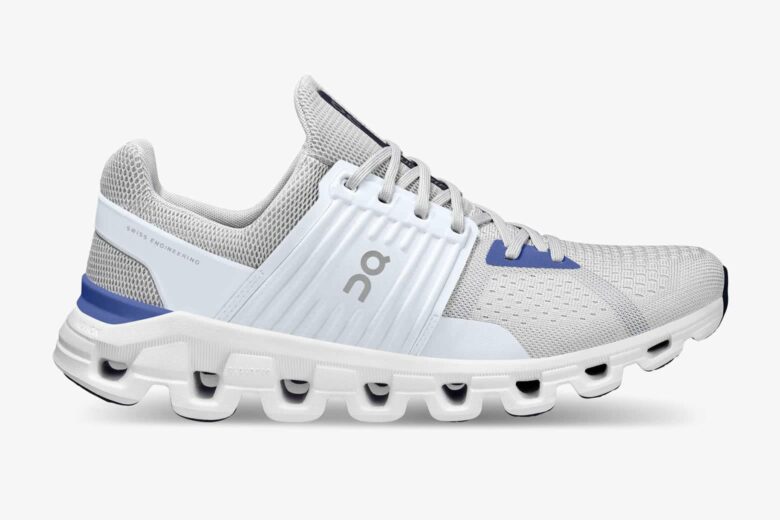 Tailor-made for running in the city, the Cloudswift does a good job of absorbing the impact of your feet on cement with its expanded Clouds (the individual units that makeup CloudTec) in the heel. The design boosts the natural rocking of your foot in motion, propelling you forwards in comfort.
Cloudflyer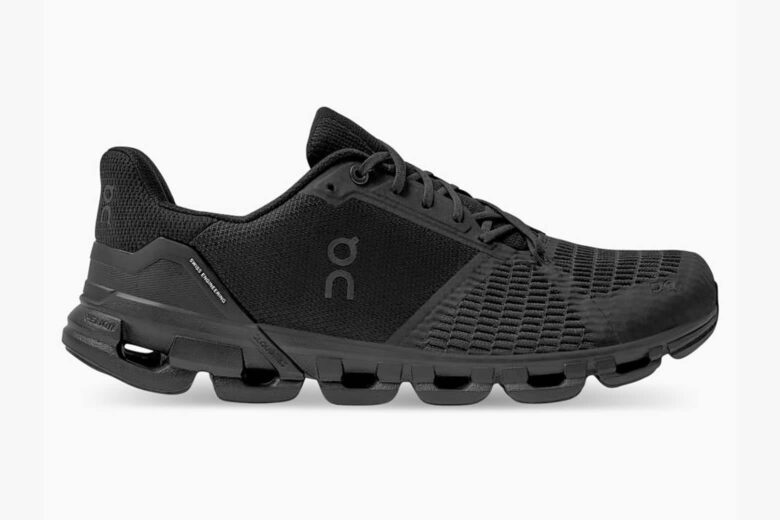 The Cloudflyer is a lightweight runner that's happy both on the road and on the trail. Successfully breezing through both the on and off-road worlds, the upper is a breathable lightweight mesh that makes it almost feel like you're not wearing a shoe at all.
Cloudflow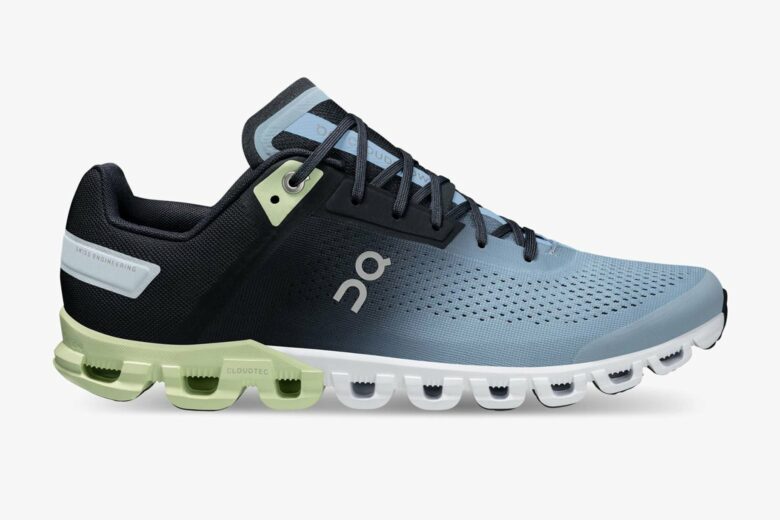 This is actually the third generation of On Runner's Cloudflow. While it's billed as a running shoe, the Cloudflow features rubber traction pads that allow for secure quick turns, meaning these shoes will do fine in a court setting.
Cloudventure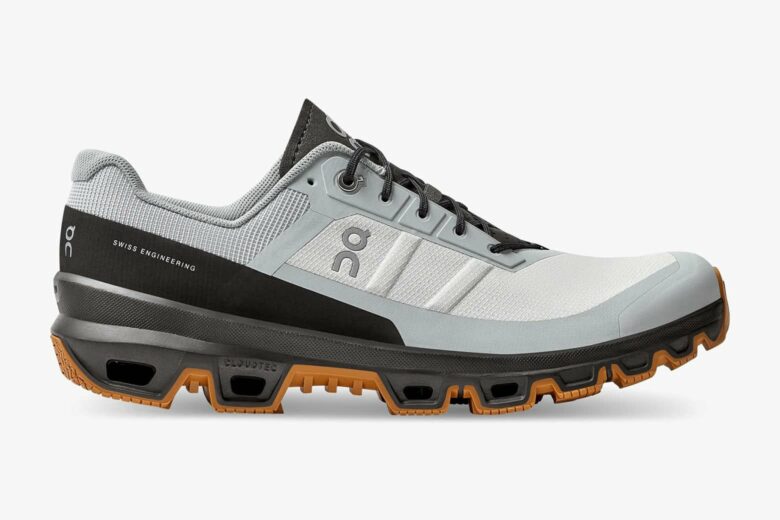 A trail-runner through and through, the Cloudventure has all the usual bells of whistles with their CloudTec, Helion foam, and Speedboards. But the Cloudventure also sports improved Missiongrip on the sole to make sure you maintain your footing on unpredictable terrain.
Cloudultra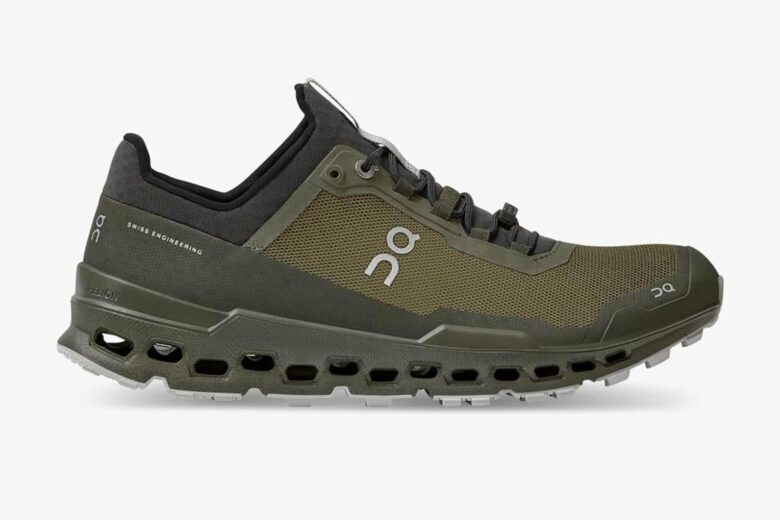 On scaled-up durability with the Cloudultra. Another runner destined for rugged trails, the Cloudultra's uppers feature two mesh layers that are constructed from lightweight TPU (thermoplastic elastomers) that ensure this shoe can keep an offroad beating from reaching your feet.
On's Mixed workout shoes
Cloud X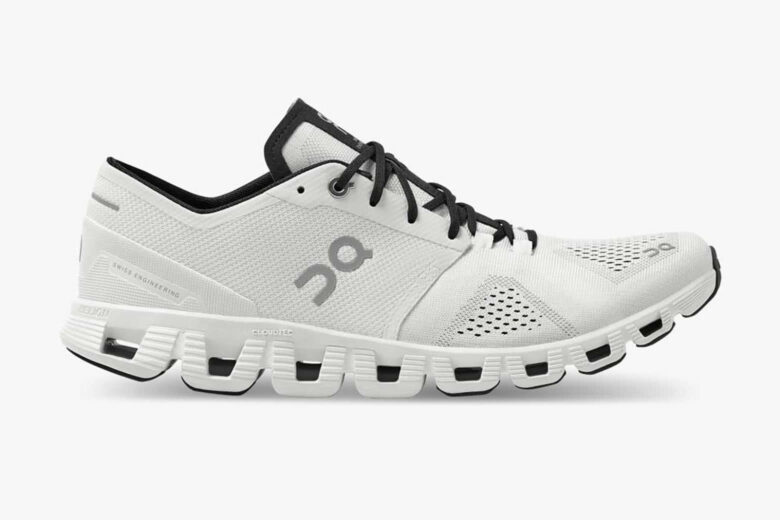 Versatility is the name of the game when it comes to On Running's Cloud X kicks. The usual CloudTec outsole has been organized so that the trademark Helion foam not only works in propelling you forward but in any direction you choose. On the street or in the gym, you'll be ready for your workout.
On's Hiking boots
Cloudrock Waterproof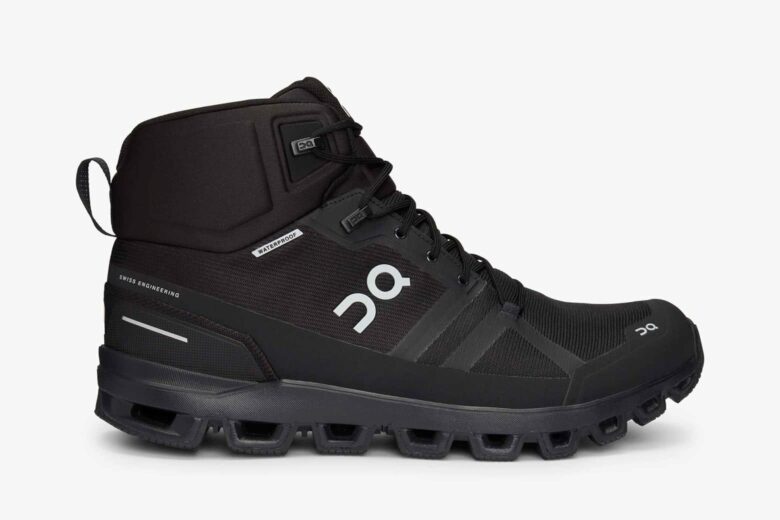 For those that want to go far off the beaten path, On Running has your hikes covered with their Cloudrock Waterproof speed-hiking boots. The high collar and tongue feature extra padding to keep you in comfort, while the upper's membrane is both wind and waterproof.
Where to buy On sneakers?
You can buy On's shoes and athletic wear directly from their website. If you prefer an in-store experience, On's website has a store locator feature that can direct you to a retailer in your area. If you order online, On's website promises fast delivery and free returns.
You can make warranty claims on the website or from authorized retailers. Make sure you keep your proof of purchase.
It's worth repeating here that On's shoes tend to be on the snug side. The website's pages for individual shoes have sizing tips, and some of the brand's models offer wider versions. When in doubt, size a half-size up from your usual fit.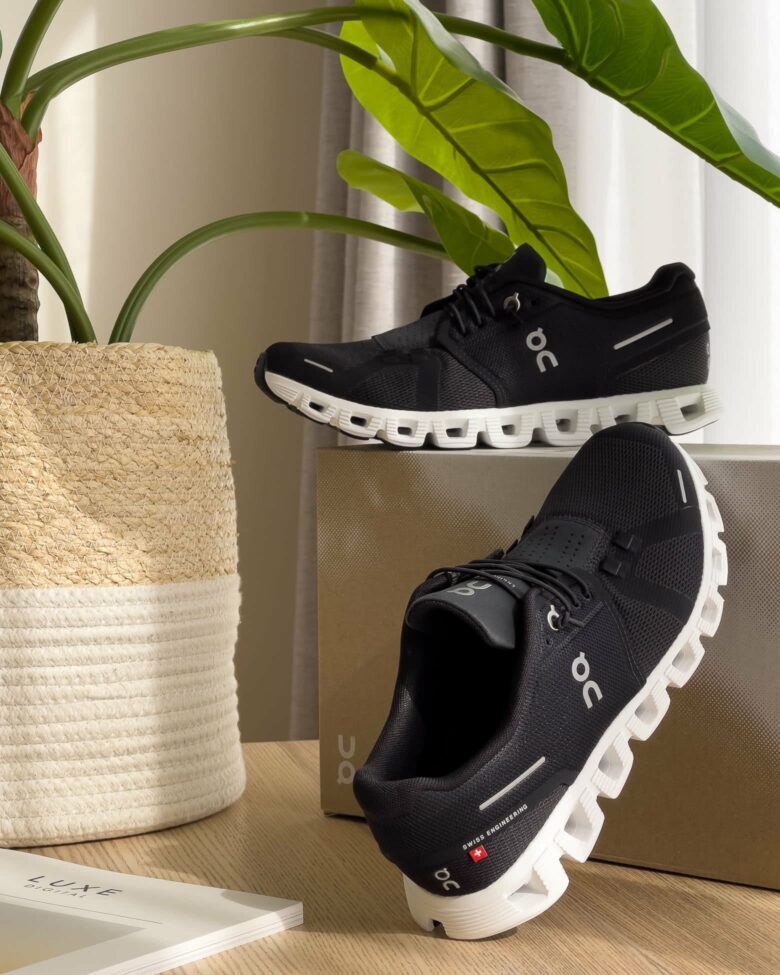 Frequently asked questions about On Running