Sorry Fido, but man's best friend on the trail is a top-notch pair of hiking boots for men. Think about what your footwear has to endure when you head out to the great unpaved wilds: sharp rocks and stones, sun degradation, rain, wading through water, brambles and thorns, and the twisting and torquing of uneven ground. That's one heck of a workout for a piece of footwear.
So when you're on the hunt for a pair of men's hiking boots you have a whole shopping list of qualities to keep in mind: durability, water resistance, stability on the base and around your ankles, comfort, breathability, and they have to grant you your foot's full range of motion. And of course, you're not going to say no to having your walking boots deliver up some sweet styling while they're at it.
Many brands have attempted to get men's outdoor hiking boots just right, but only a handful have managed to put together the perfect hiking boot package. Let's head out in search of the best hiking boots of all-time, so you can hit the trails with confidence.
The 21 best hiking boots for men
On-Running Cloudridge: Overall best hiking boots for men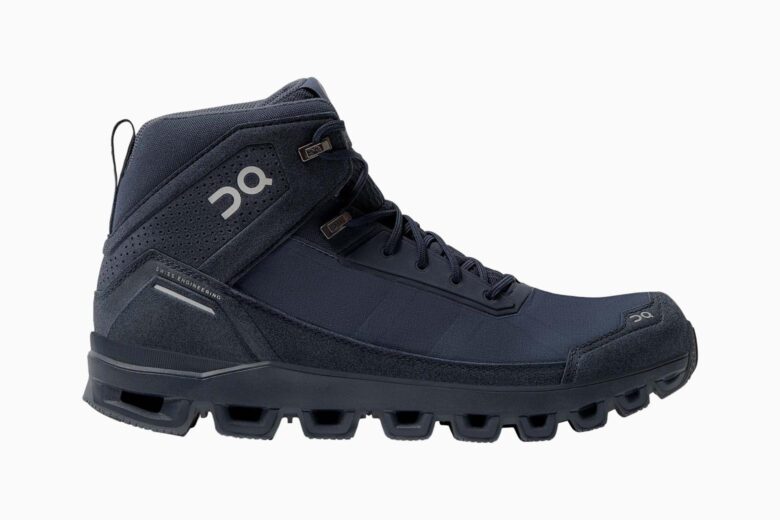 On Running is a brand stuffed full of world-class level running athletes who are out to build the world's best running shoes. The question is, can all that running know-how translate into world-class backpacking boots as well?
Happily, the answer is absolutely yes. On's Cloudridge's Speedboard layer is designed to support a hiker's foot's rolling motion on uneven terrain. The Missiongrip outsole secures your footing on challenging surfaces. Put it all together, and you've got some of the most comfortable hiking boots on the market today. Check our On Running sneakers review to see the brand's entire collection.
Best for: Hitting the trails with running genius support.
Colors: Midnight/Navy, Eclipse/Black, Sand/Rock 
Moncler Vancouver Striped: Best designer hiking boots for men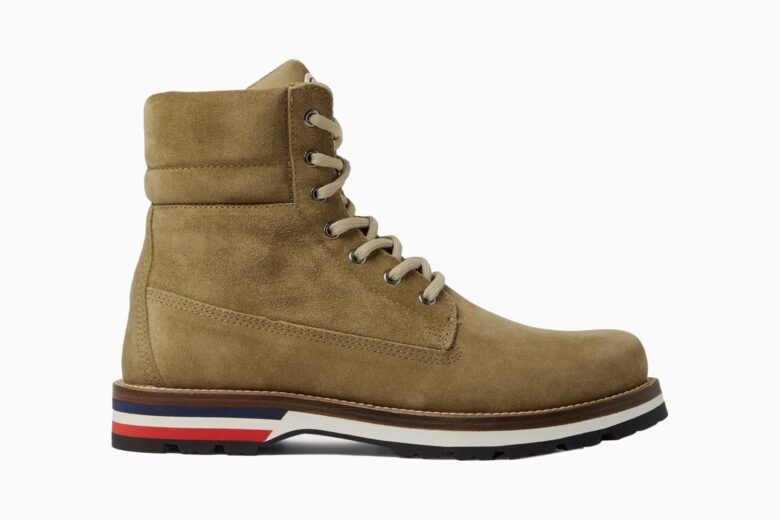 These designer hiking boots are so good-looking that we'd understand if you'd prefer to wear them out to dressy-casual dates with a designer hoodie rather than take them out on the trail. But make no mistake, Moncler's Vancouver striped suede hiking boots are designed with the great outdoors in mind, and offer the support of a high padded collar. And if you do take them to the woods, you're pretty much guaranteed to be the best-dressed on the unbeaten path.
Best for: Standing out in the outback.
Colors: Sand, Black
Merrell Men's Moab 2: Best value men's hiking boots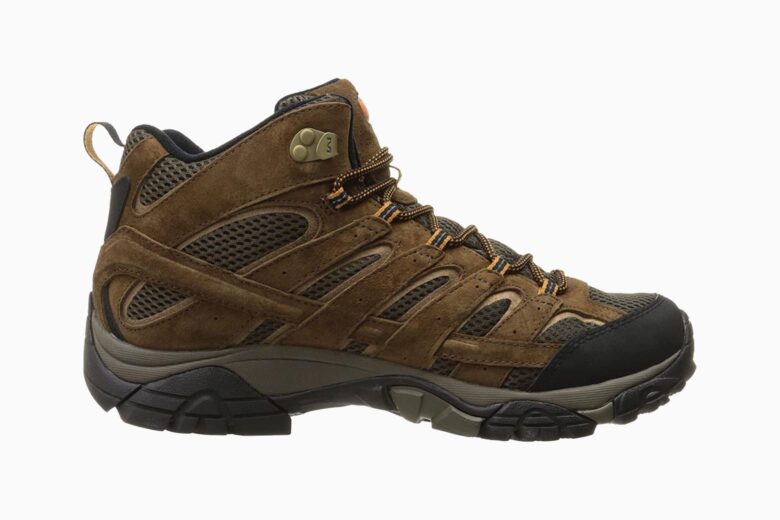 Merrell hiking boots are designed to get you on your way with as little trouble as possible. The Moab 2s are waterproof hiking boots that are still nicely breathable, and feature a toe cap to keep your toes injury-free. The air cushion in the heel adds support and absorbs shock, knocking down the fatigue factor. Tough as trail boots get, the Moab 2s are almost in the same league as all-out sturdy work boots when it comes to keeping your feet safe.
Best for: Safety first at a satisfying price.
Colors: Earth, Gold, Boulder + More
Adidas Terrex: Most comfortable hiking boots for men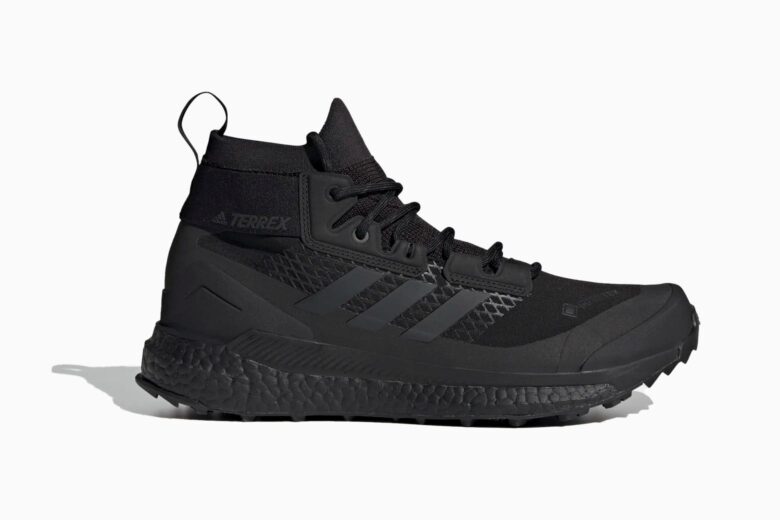 You long-distance hikers out there know that comfort is king when you're going for day-long treks. Uncomfortable shoes not only don't help, they actually hinder you and sap your energy. The Terrex Hiker Boots from Adidas give you a good return on your energy with every footstep thanks to the Responsive Boost cushioning. Kit up your best tactical backpack, pull on your Terrex lightweight hiking boots and you're ready for a full day off the beaten path.
Best for: Cutting your own path in comfort.
Colors: Core Black, Grey Six 
Brunello Cucinelli Mountain: Best leather hiking boots for men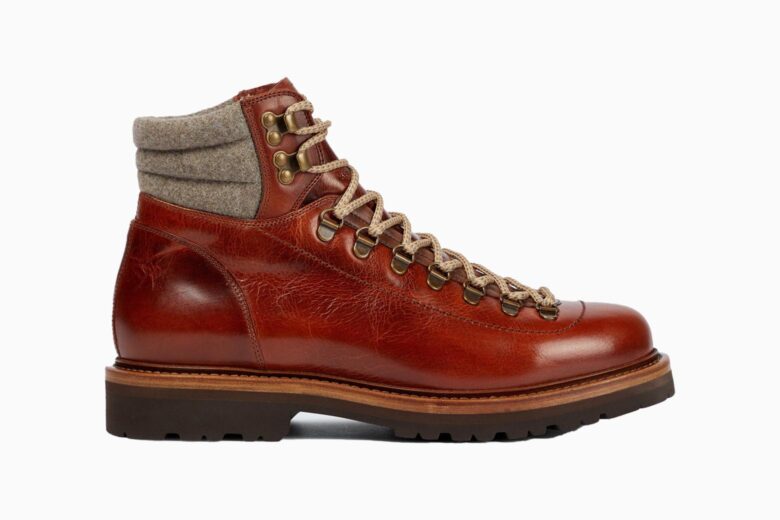 Old-school good looks come to play in the mountains with Brunello Cucinelli's mountain leather hiking boots. You're going to be pretty hard-pressed to find a better-looking pair of leather hiking boots, especially a pair that is insulated with merino wool felt. Pull these designer boots on with a pair of warm luxury socks and an insulated top-grade field jacket and you'll do just fine in the chilly climes of a marvelous mountain top.
Best for: Climbing your way to the top of the style mountain.
Color: Brown
Roa Andreas: Best suede hiking boots for men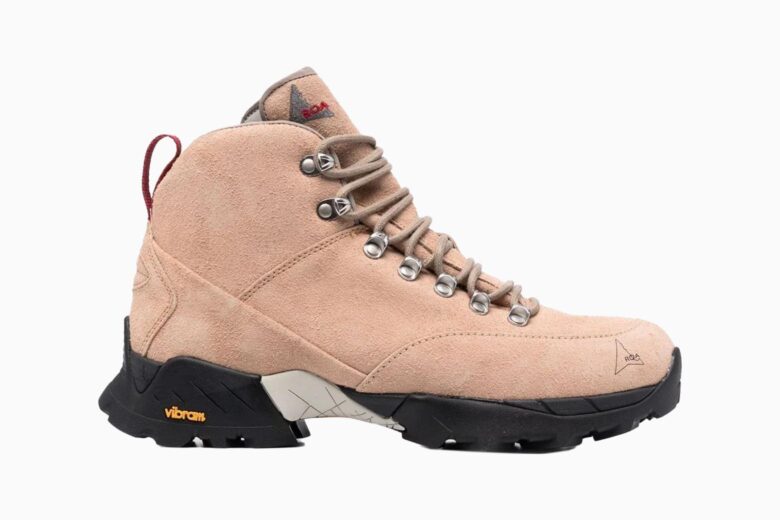 Don't be fooled by Roa's Andreas hiking boots' good looks up top, on the bottom is a chunky rubber sole designed with rough impacts in mind. The one-two punch of the attractive upper combined with the lower hard-working bottom make for a pair of stylish boots that would look just fine sitting next to your dressier boots, making them ideal for when you have to travel from the outdoors to fine dining without a stop in between.
Best for: Being prepared for your most unpredictable days.
Color: Beige
Nike Mountain Fly: Best lightweight hiking boots for men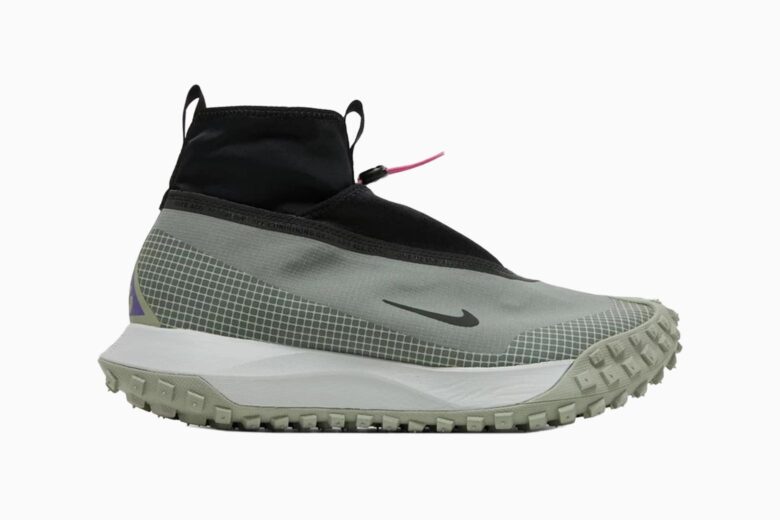 Nike's Mountain Fly hiking boots look like something movies in the early 1980s would show us all wearing in the far-off future of the 2020s. And maybe they were right. The Mountain Flys are the perfect boots to team up with some high-tech earbuds and next-gen Bombas socks for a full-on futuristic look. But those tech-y looks aren't the whole story; the Mountain Flys are also built from waterproof GoreTex and a craggy sticky sole to keep your feet where you want them to be.
Best for: Wearing the future on your feet.
Color: Clay Green
Comme Des Garcons Logo Print Boots: Best men's hiking boots for summer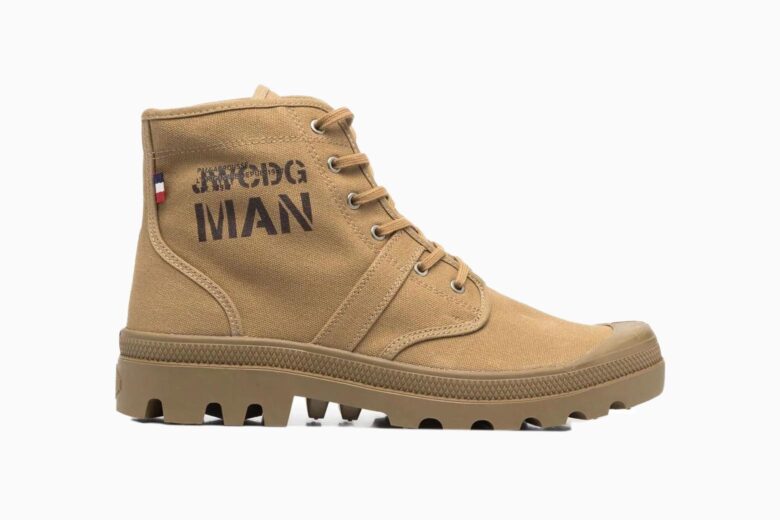 Nothing worse than sweaty feet on a long hike. (Well, maybe hungry bears, but sweaty feet are still near the top of the list.) The cotton-based Logo Print boots from Comme Des Garcons are easy on your feet in the summer heat. But just because they go easier on your feet up top, that doesn't mean they don't deliver down below. The toe features a protective rubber cap, and the bottom is a nice chunky rubber lug sole to protect you from rocks.
Best for: Keeping your extremities comfortable on the hottest days.
Color: Olive Brown
Foxelli Men's Hiking Boots: Best men's hiking boots for winter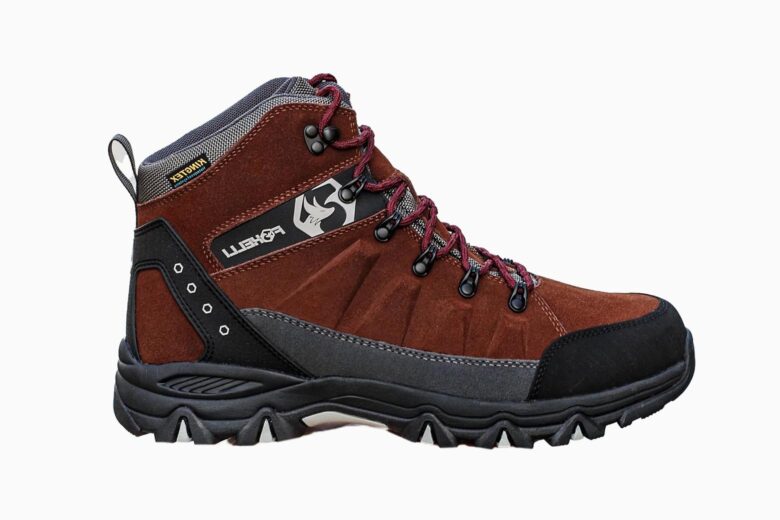 KingTex waterproof membrane to keep out water? A breathable mesh? A well-padded collar and tongue that make for some of the best hiking boots for ankle support? Foxelli Men's hiking boots have all that, and more. And what's really staggering about these Foxelli hiking boots is their astonishingly reasonable price, and it all comes packaged in a style that speaks of youthful energy. Match these boots up with your go-to athletic t-shirt and an EDC backpack, and you'll be all set to conquer whatever the day throws your way.
Best for: Being fully prepared and still having some backup bucks in your pocket.
Colors: Brown, Blue, Grey
On-Running Cloudrock: Best waterproof hiking boots for men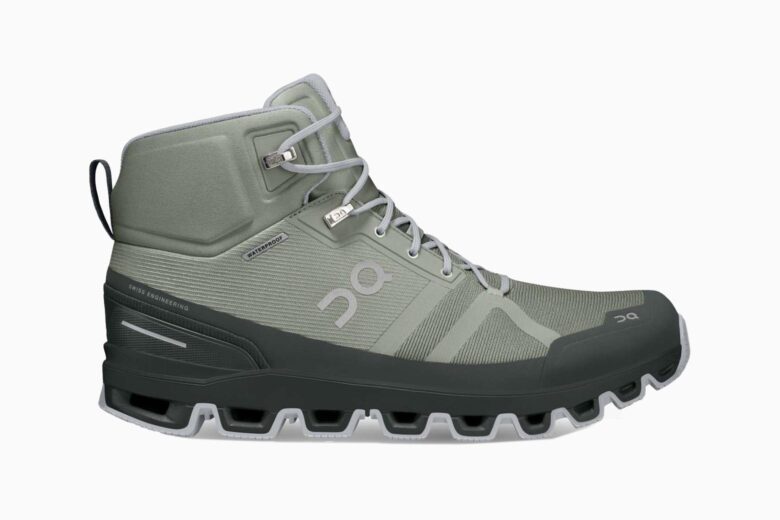 On-Running makes it back onto our list with some of the best waterproof hiking boots. Specifically, we're talking about the Cloudrock waterproof lightweight boots, which are designed for fast-paced marches through the countryside. Cloudrocks come with mud guards, Missiongrip rubber soles to better hold the ground beneath you, and On-Running's Zero-Gravity CloudTec design will keep your feet cushioned with every step. Not only are they great waterproof hiking boots, they're straight-up some of the best waterproof shoes we've ever seen.
Best for: Keeping dry when you're flyin'. 
Colors: Kelp, Rock, Pecan + More
Clarks Grove Zip II: Best men's hiking boots without laces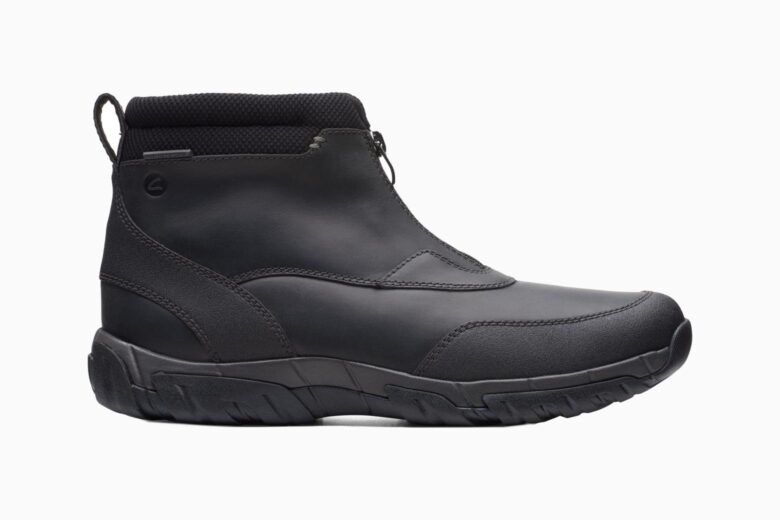 Laces aren't to everyone's taste when it comes to hiking boots, and it's not hard to understand why. They can collect burrs and mud, and they can feel like they're cutting off your circulation if your feet start to swell. Clarks does away with all of that by offering up their Grove Zip II hiking boots. They feature a zip-up front, so it's goodbye laces. They also give you a traction outsole and a moisture-wicking and breathable Extreme Comfort footbed, all designed with the trail in mind.
Best for: Zip up and head out!
Colors: Black, Dark Tan
Timberland Mt. Maddsen: Best men's hiking boots for backpacking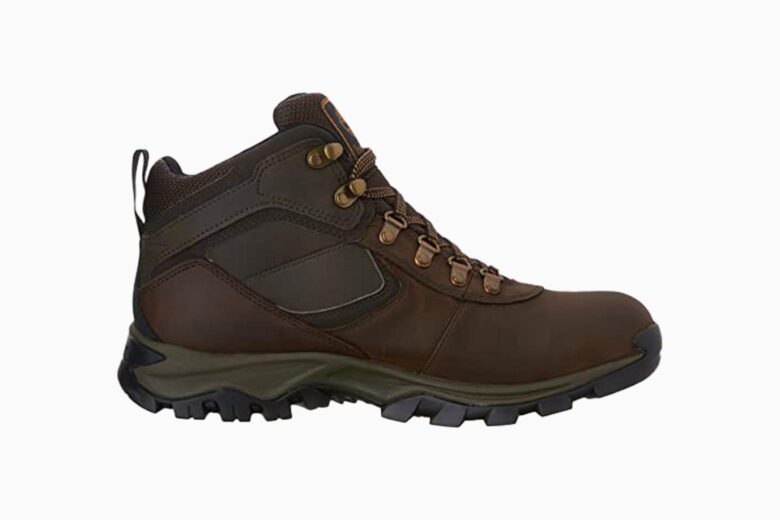 Grab your best trail-worthy backpack and hit the most challenging trail you can find. Timberland's Mt. Maddsen boots are designed to keep you going on those ultra-tough trails. The high tongue keeps out grit and burrs. The waterproof membrane works overtime to keep your feet dry. And the midsole is stuffed full of geometric cone support structures that not only lessen footfall impact, but actually give some energy back, reducing your fatigue factor.
Best for: Showing the toughest trails who's boss.
Colors: Brown, Medium Grey Nubuck, Black + More
Loro Piana Trail Walk Sneakers: Best men's hiking boots for trail walks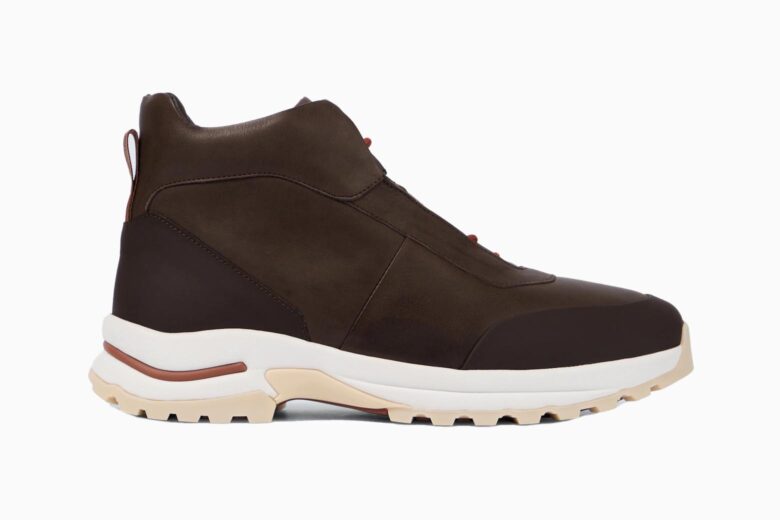 Not every venture out onto the trail has to be a trial. You can have a fantastic day keeping it to a stroll with a significant other or your favorite four-footed furry pal. Loro Piana's trail walk sneakers are a beautiful set of trail boots that are perfect for a relaxing trek along a scenic trail. And while they're heavy on good looks, the ridged rubber sole does a dandy job of keeping your feet secure.
Best for: Being part of the scenery instead of just walking through it.
Color: Very Dark Brown
Canada Goose Journey: Best everyday hiking boots for men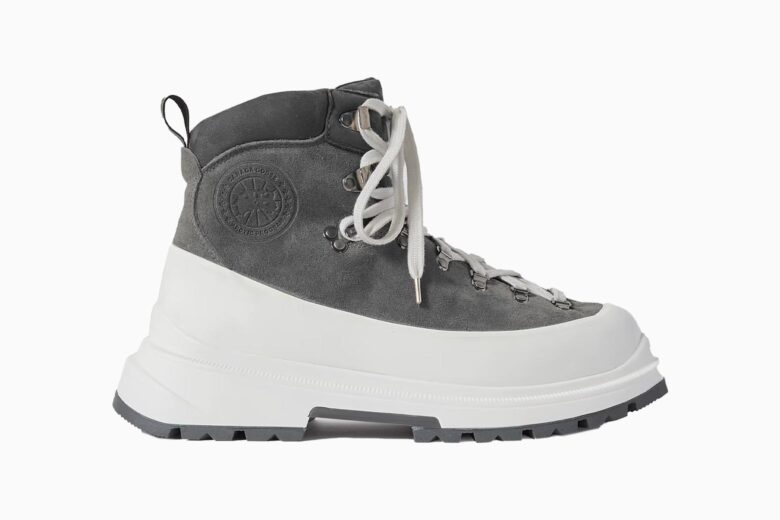 Canada Goose has over sixty years of outdoor clothing manufacturing experience, with an eye for environmental protection and durability. A fuller boot profile than some of the others we've listed today, Canada Goose' Journey hiking boots have a high over-the-ankle support collar for added stability on icy trails. The rubber soles are super-grippy, making the Journey a must-have boot for slick surfaces. All that, and they're stylish as all get out.
Best for: Welcoming the harshest weather with a grin on your face and high style on your feet.
Colors: Gray, Black, Tan + More
Balenciaga: Best multipurpose hiking boots for men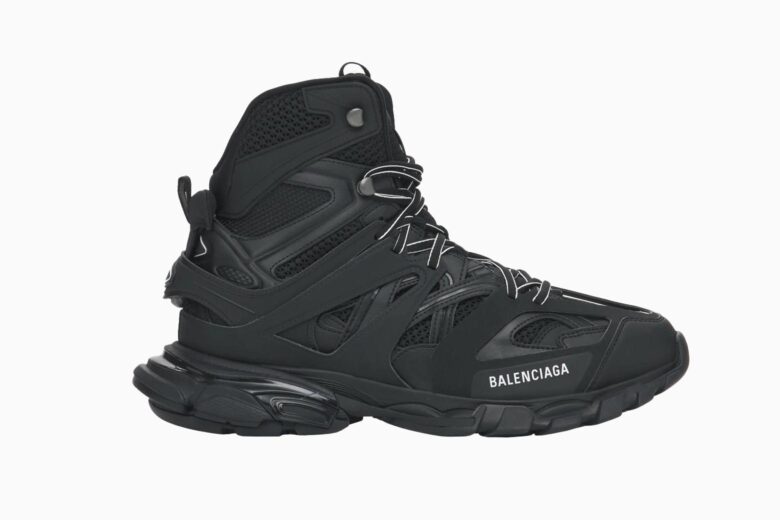 Because you can make something pretty doesn't mean you have the know-how to deliver top-tier functionality. The big question—can a big-shot luxury designer deliver quality trail boots?
It turns out, they absolutely can. Balenciaga's track hike boots look good enough for around-town fun, but they also have a ridged rubber sole designed to grab hold of unsure trail terrain.
Best for: Pounding the pavement or taming the trails all with the same boot.
Color: Black
Salomon X Ultra 3: Best men's hiking boots for wide feet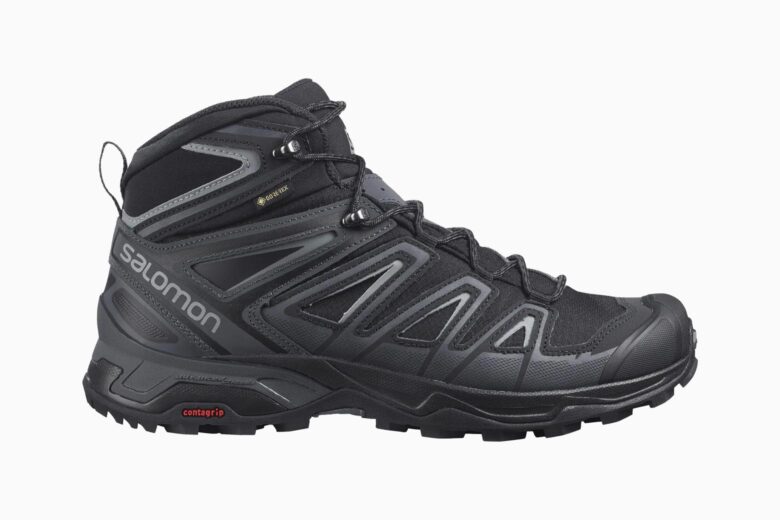 Sasquatch might not be the only big-foot on the trail. But Sasquatch doesn't need to protect the undersides of his tender tootsies like you do. Unfortunately, finding a hiking boot that accommodates wide feet isn't always the easiest task. We'd suggest that those of you with wider feet try out Salomon's X Ultra 3s. If you follow the Zappos link below, the Zappos site offers a size calculator to help find you a better fit.
Best for: Keeping your wide hoofers healthy on the trail.
Colors: Black, Castor Gray
Jacquemus Terra: Best high-ankle hiking boots for men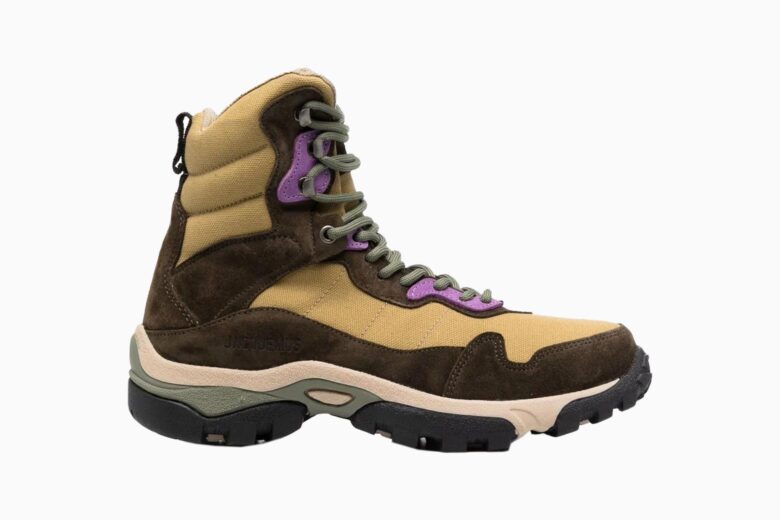 Want extra protection for your vulnerable ankle? Not a problem. Jacquemus'
Terra hiking boots sport a padded collar that goes right up past your ankles, making them ideal if you're walking through areas with sharp sticks or protruding rock bases that might take a poke at your vulnerable ankle bones. The tall lacing structure keeps your ankle stable, and keeps the top tight so it doesn't collect detritus along the way.
Best for: Keeping your ankles as safe as can be.
Color: Tonal Brown
Mcq Albion 4: Best mid-ankle men's hiking boots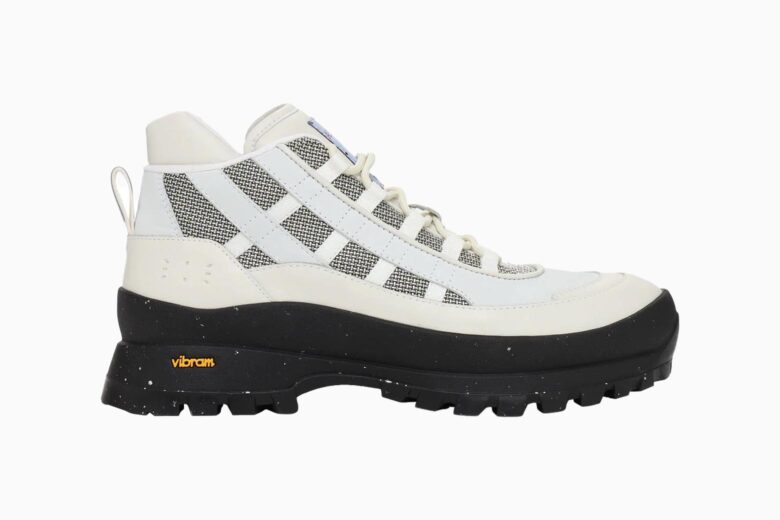 Mcq'a Albion 4 hiking boots sit at a three-way intersection of durable hiking boots, stylish footwear, and sleek athletic-shoe looks. The uppers look like they belong on a track, but the supportive mid-sized collar and the vibram rubber sole speak of less-forgiving terrain. So yes, the Albion 4s look like they're built to show, it'll be your fun surprise to show everyone that these boots are also built to go.
Best for: Sneaking trail-worthy functionality into stylish sneaker-style kicks.
Color: Off-white
Lanvin Logo-patch Boots: Best low-ankle hiking boots for men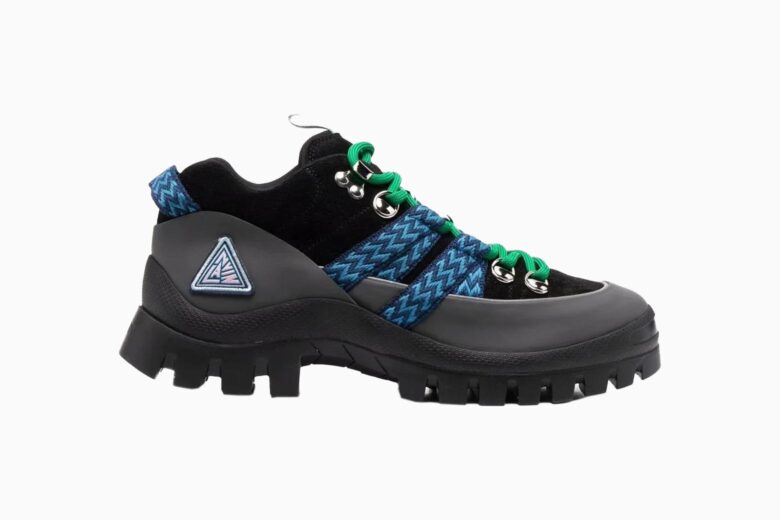 Don't let the eye-popping display of colors fool you, there's a solid trail boot to be found here. Lanvin's Logo-patch hiking boots feature a paneled design with a double pull-tab at the opening. A ridged rubber sole on the underside has plenty of grab-power for uncertain trails, and will keep you safe from sharp rocks and gritty surfaces.
Best for: Peacocking on the unpaved path.
Color: Multicolor
Salomon Quest 4 GTX: Best men's hiking boots for rough terrain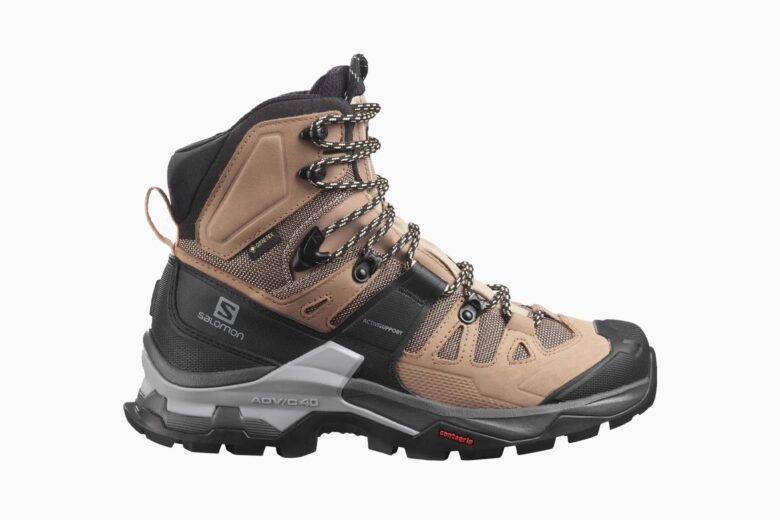 Salomon really went out of their way when designing their Quest 4 GTX to give hikers a boot that's going to take them through the toughest hiking terrain possible. The Quest was originally adapted from a trail running shoe design, giving it a light feel. However, Salomon went on to boost the stability by wrapping your feet with a tough, paneled, supportive ankle collar. Throw in the waterproof manufacturing, and Salomon hiking boots will get you to the most remote camping sites you can find.
Best for: Proving you're tougher than the toughest terrain.
Colors: Kelp, Magnet, Olive Night
North Face x Gucci Ankle Boot: Most expensive hiking boots for men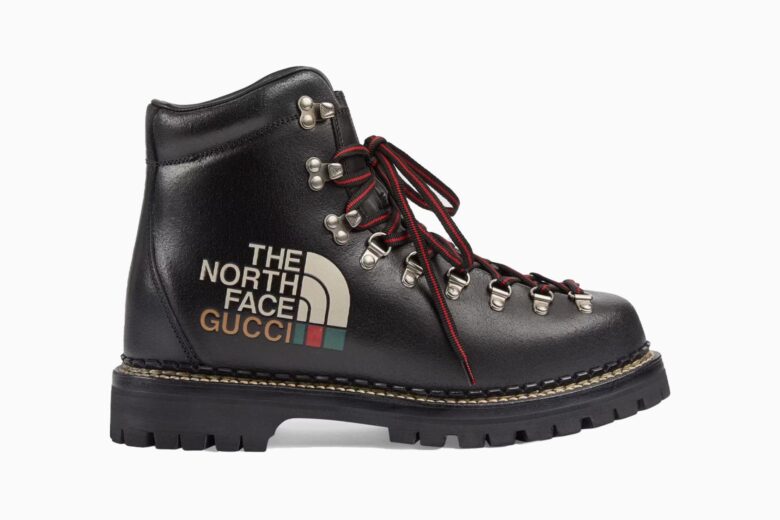 North Face has been a leader in the backpacking world since the late 1960s. Gucci is, well… Gucci. Maybe they're not the two design houses you'd most likely expect to get together, but here we are. And it turns out, they go together like peanut butter and chocolate, if the North Face x Gucci ankle boots are any indication. The rubber lug sole coupled with the high padded collar provides you with a style-heavy hiking boot that also offers a lot of support.
Best for: Struttin' n' cuttin' on the forest trail.
Color: Black
Buyers guide for men's hiking boots
Hiking boot types
Straight-up Hiking Boots tend to be quite light and have low collars that dip below your ankle. The lightweight design means they don't offer a lot of extra stability features and durability.
Day-hiking boots have stiffer soles than regular hiking boots (to help keep your ankles from twisting) and may offer higher collars that come up to or over your ankle for extra support.
Backpacking boots are basically tanks for your feet. These boots are made from tougher material, have extremely grippy soles, and are usually stiffer than the above two categories.
Durability and materials
Go with leather boots if you expect to be going over terrain with rocky outcroppings or vegetation that might cut at you. As a bonus, leather will mold itself to your foot over time, so your comfort levels in a leather boot will increase with use.
Synthetic hiking boots are made from nylon or other forms of plastic. Synthetics generally don't hold up to as much wear and tear as leather, but they're lighter, more breathable, and can weigh a significant amount less than their leather counterparts.
Waterproofing
Wet feet can lead to discomfort, blisters, and fungus. Almost every hiking boot on our list offers some form of waterproofing for those reasons. Waterproofing is accomplished by using materials with specialized membranes, GoreTex being the most well-known.
Weight
Hiking boots' weight goes hand-in-hand with how much durability, support, and protection your boots are going to offer you.
Basic hiking boots are light, but don't offer a ton of support and durability. Use lighter boots for easy hikes along well-trodden paths.
Day-hiking boots are midweight, and this is where you really start to see additional safety features like stiffer soles and higher collars.
Backpacking boots are the heaviest boots, offering a lot of support to keep you stable while lugging heavy camping gear. They are also usually made of tougher materials to protect your feet from scrapes and cuts.
Stiffness and stability
Stiffness and stability in your hiking boots lessen the chances of rolling your ankle on rounded terrain. They also add support for when you're carrying heavy loads, like a fully-kitted camping backpack, on your back.
The main source of stiffness comes from the midsole, the layer that is the meat of the sole sandwich between the outsole and the insole. The less flexible the midsole, the less likely you are to roll off balance thanks to a weight on your back.
Additionally, the higher and stiffer the boot's collar, the more secure your ankles will be.
Lacing systems
If your laces are too loose your boots may slide as you walk, resulting in blisters. If the laces are too tight, they can cut off circulation, especially if your feet swell.
There are different lacing styles you can try out. If you find that your toes are feeling cramped from your laces, look up Toe-relief lacing. Window-style lacing can eliminate squeeze-points at the top of your boot, around your ankles.
On-Running has a clasp system that allows you to tighten your laces for the start of your walk, and as your feet swell, you can loosen the laces with a flip of the clasp.
Frequently asked questions about men's hiking boots
What should men look for in hiking boots?
Above all else, invest in comfort in your hiking boots. You're going to be wearing and walking in them for hours at a time, so you're going to want a boot that is comfortable and limits fatigue. If you're going to be carrying a heavy backpack, look for boots with increased stability options. Check our selection of the best hiking boots for men to find the perfect one for you.
What is the difference between a hiking boot and a hiking shoe?
Hiking shoes are lighter in weight, and are generally at their best on easier terrain. Hiking boots are more durable, stiffer, and offer more support, with the trade-off being they weigh more than hiking shoes.
What is the difference between hiking boots and backpacking boots?
Think of the difference between hiking boots and backpacking boots as being a matter of degree. They're essentially the same thing, but backpacking boots are more hardcore and offer more durability and stability, at the cost of additional weight and inflexibility.
Which men's hiking boots are most comfortable?
Adidas' Terrex Free Hiker Shoes are our top pick for comfort. They offer a surprising amount of cushioning for a hiking boot, and they're topped with a GoreTex membrane for waterproofing and sport very grippy all-terrain soles, keeping your feet dry and your body safe on tough trails.