We've all been there. The forecast says rain, but you're going to take your chances and wear your luxury sneakers anyway. Or you head out on a trek with a pair of boots that the label promised were all-weather-ready. But what's that suddenly seeping into your socks? It's hard to bring your A-game when you're worried about getting trench foot.
You know what they say. There's no bad weather, only bad clothes. And we're inclined to agree. The best rain shoes for men allow us to brush off a shower like it's no big deal. They allow us to be prepared for anything. Drizzle, downpour, Biblical flood—bring it on. We can handle it.
What's more, these days, the best men's waterproof shoes don't even look waterproof. There's no farmer or fisherman vibe about these all-weather shoes. Today's rain shoes for men go far beyond your standard Wellington boot, creating a serious style storm while also being comfortable, dependable, and impermeable.
We care about your feet. We know it's hard to feel your best when you're squelching around in a pair of not quite 'all weather' shoes. So we've put together a list of the best waterproof shoes for men. Whether you want something for slippery city streets or venturing along a mountain pass in a storm, we've got you covered.
There are waterproof sneakers for a sog-free and slick urban edge, a pair of classic rain boots, waterproof Chelsea and Chukka boots, and even the best men's snow boots too. With these waterproof shoes on your feet, nothing's going to rain on your parade, we give you our word.
The 19 best waterproof shoes for men
Check our special men's waterproof shoes buyers' guide after the list to see exactly what you should pay attention to when shopping for waterproof footwear online.
Allbirds Wool Runner Mizzles: Best overall waterproof men's shoes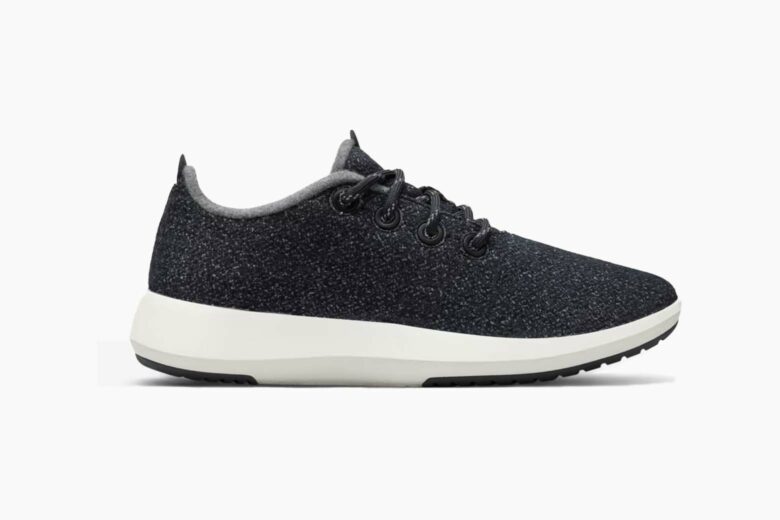 We've already discussed how much we love Allbirds sneakers in our in-depth review. The brand has been dubbed the world's most comfortable shoe, and the Wool Runner Mizzle is one of our favorites when it comes to comfortable waterproof footwear.
Made of the brand's pioneering Merino wool—breathable, temperature-regulating, odor-resistant, and moisture-wicking—combined with a bio-based fluorine-free water-repellant shield (sustainable and weatherproof), this is the sneaker your foot requires to stay both deliciously dry and eco and ethical at the same time.
This waterproof shoe is also seriously comfortable to walk in with a carbon-negative green EVA sole and natural rubber treads, balancing flexibility, structure, bounce, and traction. Added bonus? The Wool Runner Mizzles are machine washable, so freshening them up will be a walk in the park.
Learn more about the story behind Allbirds.
Best for: A sustainable, shower-ready, sporty superstar of a shoe.
| | |
| --- | --- |
| Colors: | A range including grey, black, and blue |
| Material: | Merino |
Loro Piana Techno Tasmanian: Best high-end waterproof shoes for men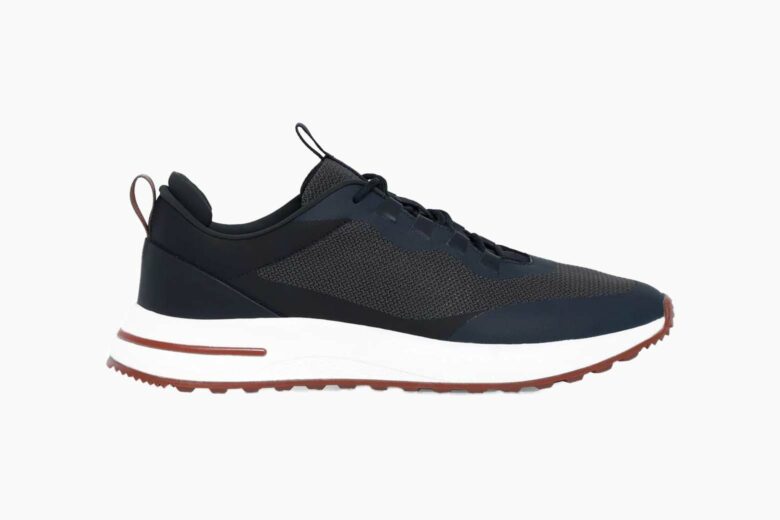 If you're looking for an eye-catching and attention-grabbing waterproof shoe, then it doesn't come much more visually intriguing than this upscale offering from Loro Piana. Its silhouette is far from conventional, making it a top choice for those of you wanting to make a sartorial splash.
The shoe features a 100% virgin wool upper while the laces are concealed for a streamlined and rather space-age aesthetic. The sole is ultra-light and high-performance, with reinforced sides for extra support.
The whole shoe has been waterproof-treated so it can stand up to soggy conditions. And a breathable lining means no dampness inside the Techno Tasmanian sneaker either. At the end of a hard day at work (or play), just slip it off with the back pull loop.
Best for: The most deluxe way to survive a deluge.
| | |
| --- | --- |
| Colors: | Navy |
| Material: | Wool |
Columbia Pivot: Best value waterproof shoes for men
Let's be honest. All-weather shoes often err on the side of ugly. Which is why we're loving Columbia's Pivot Hiking shoe. It's waterproof, yes, but that doesn't mean you have to settle for an orthopedic monstrosity. This shoe is cool, sporty, classic—and super affordable.
These waterproof sneakers also deliver the necessary comfort. You've got lots of cushioning underfoot, ideal for uneven terrain on the trail, while the brand's signature non-marking traction rubber sole means you can wear these shoes on the sidewalk or on the sleek wood floors of your apartment, no problem.
Team this Columbia sneaker with your go-to pair of jeans and a bomber jacket or with some athleisure wear for a day out in nature. Rain or shine, you'll be fine.
Best for: Withstanding super wet weather with money to spare.
| | |
| --- | --- |
| Colors: | A range including black, grey, and white |
| Material: | Wool, suede, and synthetic leather |
Nike Pegasus Trail 3: Best waterproof men's shoes for running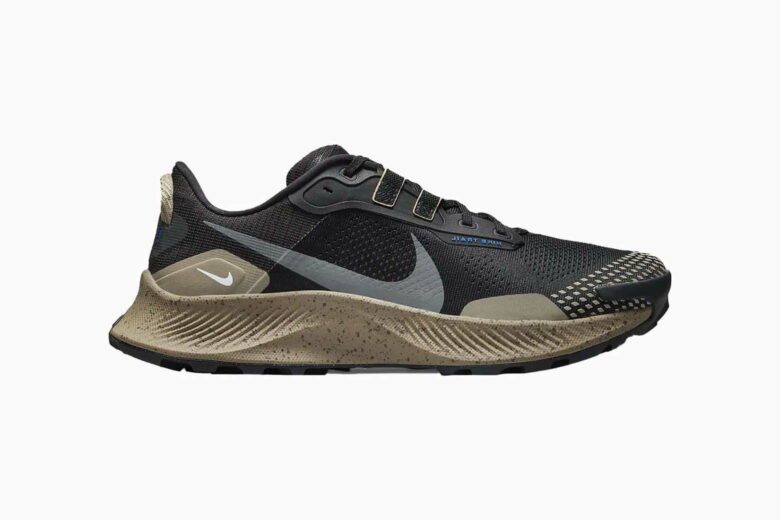 If you're a self-professed sneaker fanatic, then you'll know all about the iconic Nike Pegasus. It's the ultimate running sneaker, designed for casual joggers and competitive runners alike.
Which is why we were so excited to come across the Nike Pegasus Trail 3s. They're the perfect waterproof sneakers for those of you striding city streets during the week and pounding wilderness trails at the weekend. They look just as good in urban environments as they do on more remote and rugged terrain.
These waterproof running shoes feature responsive cushioning and heel support for a majorly comfortable wear. A band system around the midfoot keeps your foot snug and secure—no slipping and stumbling on uneven paths. And mesh allows for breathability i.e., no sweaty toes.
Finally, the rubber sole on these Nike waterproof shoes has a cool shockwave-like pattern—kind of like the tires on your mountain bike. This delivers traction and a smooth stride even on hills.
Best for: Getting out on the track, tempest or no tempest.
| | |
| --- | --- |
| Colors: | A range including black, blue, and orange |
| Material: | Synthetic mesh |
Adidas Terrex: Best waterproof men's shoes for walking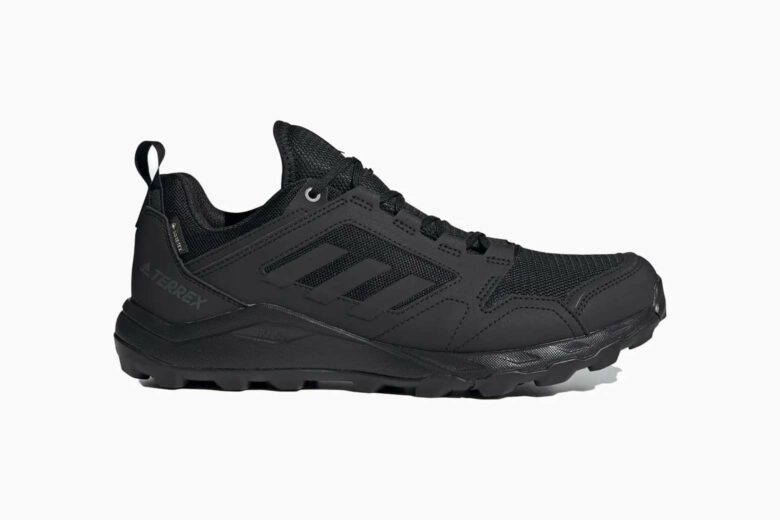 Yes, well spotted. These are actually trail running shoes. But if you can run up mountains in these Gore-Tex shoes, then they can definitely survive a less high-octane stroll along suburban pavements.
Our favorite waterproof walking shoes, they have a few stand-out features that make them our number-one choice when storm clouds are on the horizon.
Firstly and most importantly, the Gore-Tex membrane—both breathable and waterproof. Then there's the Traxion outsole for traction in all directions and a reliable grip. A protective toe cap means rocks, roots, and other debris you might encounter on the trail won't pose a threat.
And, finally, the abrasion-resistant mesh upper means these Adidas Terrex sneakers aren't going to be breaking anytime soon.
Best for: Racking up the miles even when a rainstorm threatens.
| | |
| --- | --- |
| Colors: | Black, grey, and red |
| Material: | Gore-Tex |
Hoka One One Bondi: Best waterproof leather sneakers for men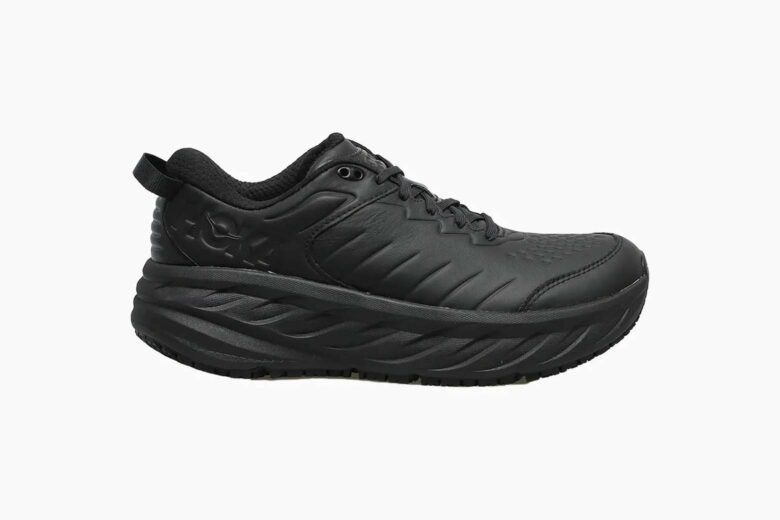 Hoka One One is known for its superior running shoes that combine lightweight materials and ample cushioning with cool street style. And we can't get enough of this stompy no-nonsense leather sneaker in particular. It has just the kind of hard-nosed attitude we need for grey and gloomy winter weather.
The 100% calf leather upper offers the ultimate waterproof dependability. The EVA midsole is lightweight, flexible, and stable. And the rubber outsole is slip and abrasion-resistant.
Team these Hoka One One's leather waterproof sneakers with a monochrome ensemble. They're the perfect mid-way point between formal and casual, looking just as good with tailored trousers as they do with jeans.
Best for: Athletic appeal with an urban edge.
| | |
| --- | --- |
| Colors: | Black |
| Material: | Leather |
Converse Black Utility: Best waterproof high-top sneakers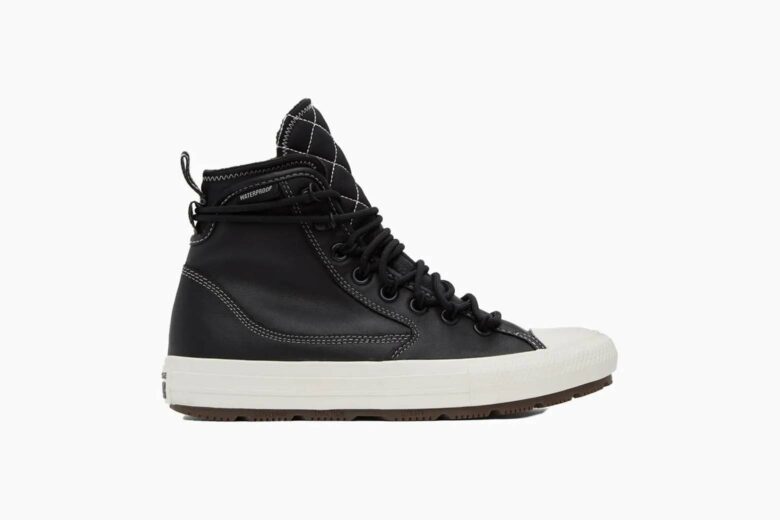 High-top sneakers—will they ever lose their appeal? Maybe it's the association with basketball. Maybe it's the youthful vibe. They just have an energy and charisma that the rest of our shoe collection lacks.
So we're pretty thrilled to have discovered these waterproof leather high tops by iconic sneaker brand Converse, whose original Chuck Taylors are some of the most quintessentially American shoes of all time.
You've got all the classic Converse features here with a contrasting rubber cap toe in off-white and a tonal lace-up closure while a quilted tongue adds a bit of aesthetic intrigue. We appreciate the minimalist logo, while a treaded rubber outsole is ideal for slippery pavements.
Pair these leather Converse with rolled-up jeans and a blazer for serious fashion points or with black jeans and a biker jacket for effortless cool.
Best for: An iconic silhouette with a crisp contemporary touch.
| | |
| --- | --- |
| Colors: | Black |
| Material: | Leather |
Clarks Whiddon: Best waterproof dress boots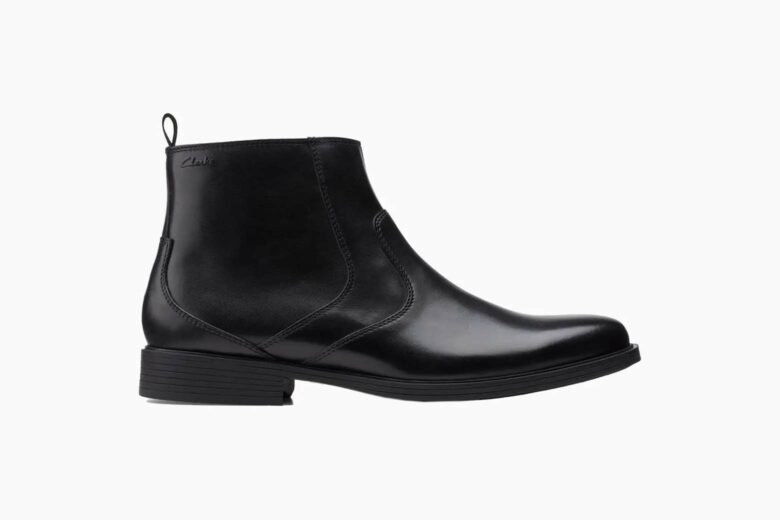 Clarks is a brand that has two centuries of experience making high-quality footwear that won't let you down—sartorially or practically-speaking. And they've nailed it again with these sleek and sophisticated leather creations.
Our favorite waterproof dress boots, they're made of all-weather-ready full-grain leather while a subtle inside zipper allows you to slip them on and off with ease. The Ortholite footbed wicks away moisture and absorbs impact for extra comfort.
It's hard to find waterproof work shoes—ones that deliver the sharp and chic mood necessary for impressing clients but won't give you soggy socks on your commute home. These Clarks Whiddon boots are our top picks for those seeking waterproof shoes for work and are also some of the best men's boots around.
Wear them to weddings, parties, and other exclusive events. And definitely consider teaming with a classic trench coat.
Best for: Storm-proof footwear for formal and special occasions.
| | |
| --- | --- |
| Colors: | Black |
| Material: | Leather and synthetic |
Cole Haan Wagner Grand: Best waterproof Chelsea boots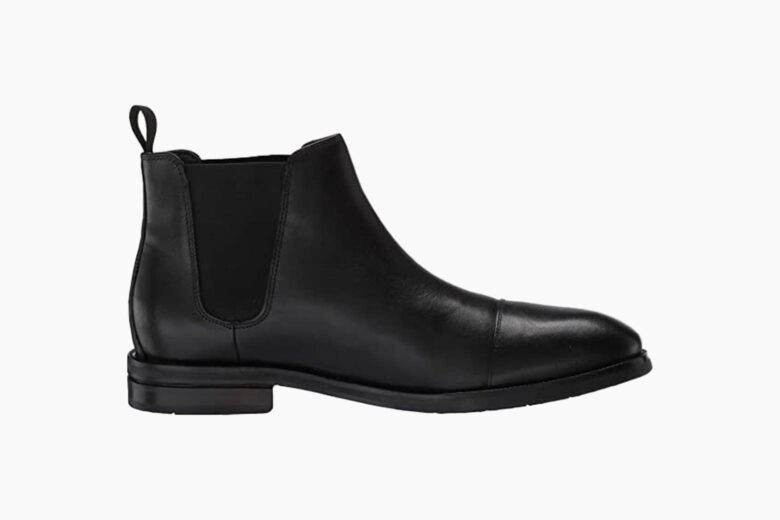 As we've said before, Chelsea boots are more or less an obligatory addition to any man's wardrobe, whether you're a self-certified fashionista or more of a grab-and-dash guy, seeking something unfussy and laidback.
Chelsea boots, like these Wagner Grand by Cole Haan, are timeless and stylish without even trying. And these ones have the extra bonus of being totally waterproof.
They also feature a classic cap toe, as found on all the best men's dress shoes, adding a pinch of formality to an otherwise easygoing boot. The leather-covered footbed is silky soft, breathable, and moisture-absorbing. And the rubber sole will mean no wet-weather-induced slips, stumbles, or falls.
Best for: An ultra-classic boot gets a wet-weather update.
| | |
| --- | --- |
| Colors: | A range including brown, grey, and black |
| Material: | Leather |
Sorel Caribou Chukka: Best waterproof desert boots for men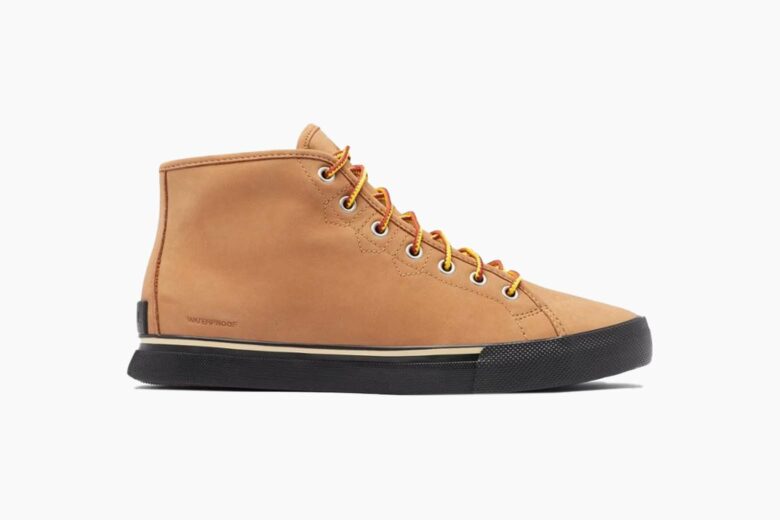 Desert boots are the ultimate smart-casual footwear. But with their suede uppers, they're not always the best choice for wet weather. That is until Sorel introduced its waterproof Caribou Chukka Sneaker.
Made from waterproof leather and with a seam-sealed construction that won't let even a drop of water in, this is the ideal relaxed footwear for casual Saturdays in autumn and winter when you don't want rain to ruin your otherwise impeccable outfit.
These Sorel shoes are also really comfortable, with a removable molded EVA footbed and a durable outsole with plenty of traction. A 2.5 cm heel also makes these shoes perfect for long days on your feet (as well as adding some lift for those of us on the smaller end of the height spectrum).
Best for: A weatherproof take on a modern wardrobe staple.
| | |
| --- | --- |
| Colors: | Black or brown |
| Material: | Leather |
Tretorn: Best men's waterproof rain boots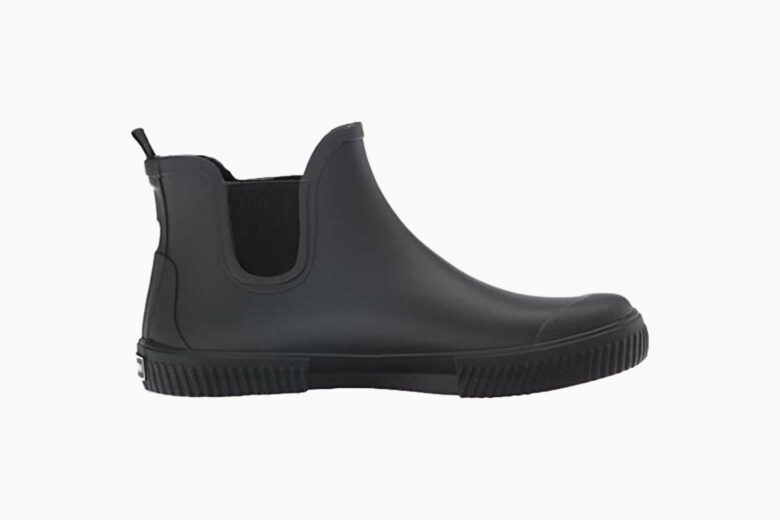 In this world, there are boots for rain, and then there are rain boots. The latter are shoes that are specifically designed for those days when the heavens really decide to open. Like these ones by Tretorn.
They're made of 100% rubber—in other words, impermeable. They also manage to look sophisticated while still keeping your feet dry and wouldn't look out of place with a business-casual get-up. They also don't feel at all clunky as you walk around.
Tretorn is known for crafting functional and minimalist footwear. This rain boot is just that. We can't wait to survive some puddles in these next-level Tetorn rain boots.
Best for: Impermeable, impenetrable, and invincible rain-ready footwear.
| | |
| --- | --- |
| Colors: | Black or grey |
| Material: | Rubber |
Merrell Jungle Moc: Best men's waterproof slip-on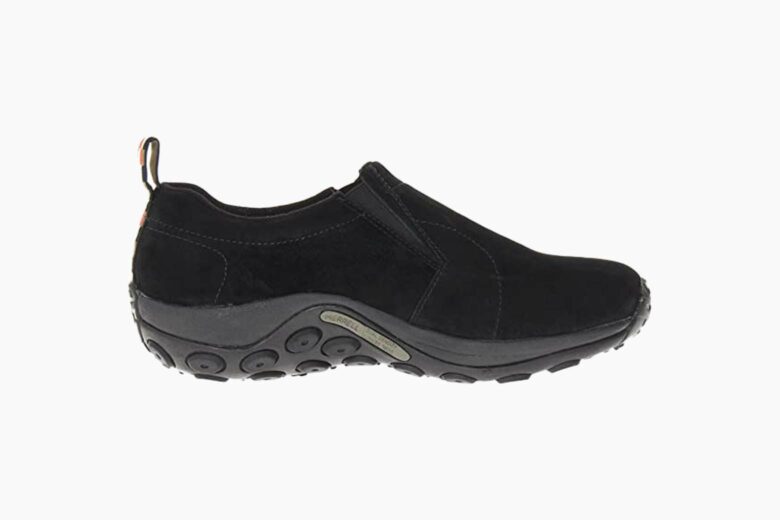 Some days, even the prospect of bending over to tie your laces can feel like too much. On Monday mornings, in particular, the effort of doing up a pair of shoes can make it even harder to get out of bed. Hence the appeal of these waterproof slip-on shoes by Merrell.
Merrell makes outdoor-optimized footwear. The brand's shoes are high-performing and no-fuss, ideal for those who are happiest out on the trail, enjoying blister-free comfort and stress-free functionality. These all-weather shoes are a case in point.
Known as the Jungle Moc Waterproof, the brand describes them as the ultimate low-maintenance shoe. Easy on the foot, easy to take off, non-slip, and durable outsoles that grip perfectly on wet terrain.
Best for: Saving valuable lace-tying time that you can spend on life's most important things.
| | |
| --- | --- |
| Colors: | A range including black, grey, and beige |
| Material: | Suede |
Birkenstock Arizona Essentials: Best waterproof sandal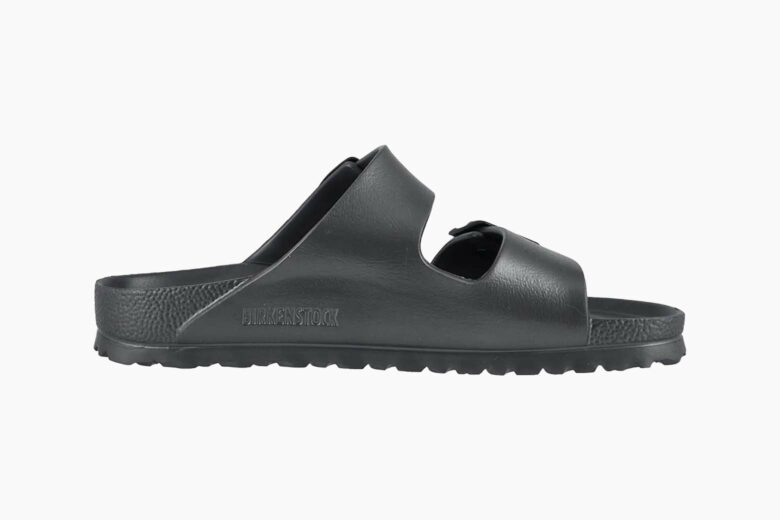 Birkenstocks have become a real cult favorite in recent years, and we're all too happy to jump on that bandwagon. These shoes are popular for a reason. They're exceptionally comfortable, and cool-looking in a rustic and earthy way, and they last for ages. And Birkenstock makes waterproof sandals too.
The Arizona Essentials is an EVA sandal—made from ultralight, high-quality, resilient, and sturdy foam. The footbed is anatomically shaped and shock-absorbing for extra support and comfort. It's also washable and odor-neutral.
We imagine wearing these Birkenstock waterproof sandals on the beach or for activities like kayaking. Or simply for the public showers at the pool or campsite.
Best for: An easy-breezy style, perfect for summer showers.
| | |
| --- | --- |
| Colors: | A range including black, green, and brown |
| Material: | EVA and cork |
The North Face Ultra 109: Best waterproof trail shoe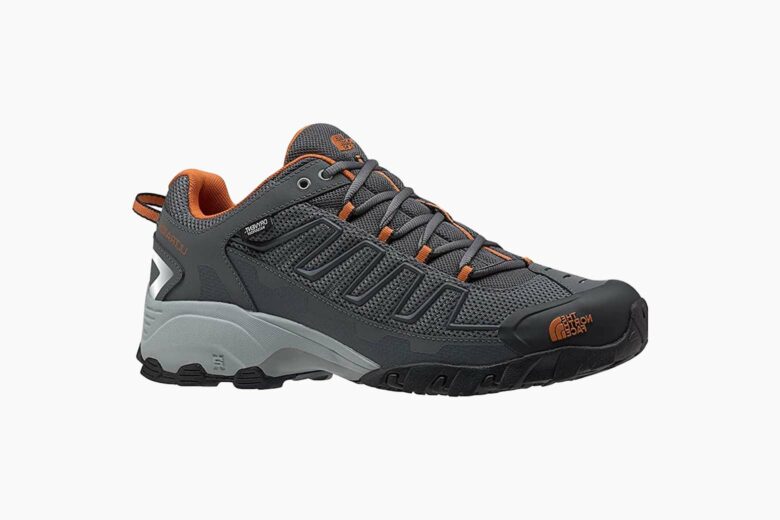 Dependable, rugged, adventurous, high-performance—all words we'd used to describe both The North Face brand as well as this particular waterproof trail shoe. It's our number one pick for a companion on hikes and treks, ready to take on the worst weather conditions undaunted.
First up, it has a waterproof DryVent membrane—waterproof, windproof, and breathable. The upper features a PU-coated leather mudguard alongside performance mesh for durability without leaving your toes struggling to breathe. And a ghillie lacing system helps strap your foot in for a secure and stable fit.
Then there's the Ultra 109's sturdy toe cap for protection from whatever the trail might have in store. Finally, an eco-friendly OrthoLite Hybrid footbed, made from recycled rubber and waste foam, keeps your feet cool and dry even as your heart rate soars.
Best for: Keeping your feet comfortable and content on epic wilderness adventures.
| | |
| --- | --- |
| Colors: | A range including black, grey, and silver |
| Material: | Synthetic |
Skechers Go Golf: Best waterproof golf shoes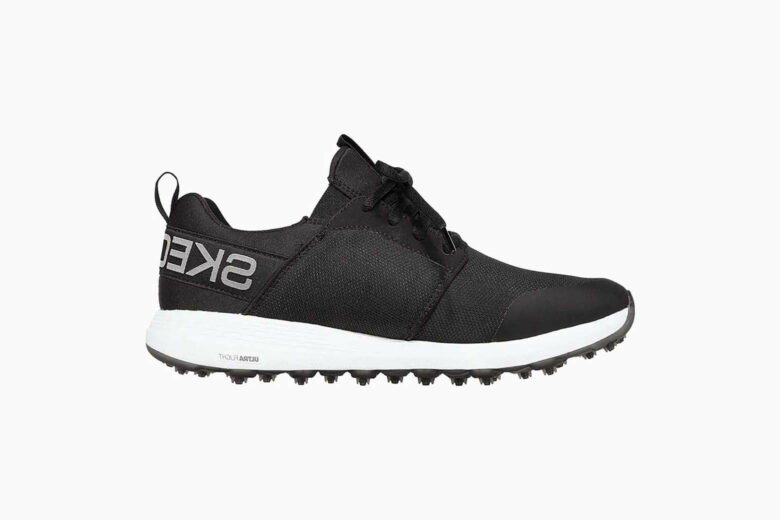 If you're a serious golfer, you don't want a bit of light rain getting between you and an afternoon out on the course. There's nothing worse than being put off your swing by soggy socks. So invest in a pair of waterproof golf shoes like these ones by Skechers.
Aptly named the Go Golf Max, this sneaker is made from a combination of soft woven mesh and smooth synthetics. The cushioned insole is based on the brand's Go Walk Max shoe, which means it can keep you light on your toes as you venture around the course.
These waterproof sneakers for men also have got a durable and grippy TPU outsole and high-rebound cushioning for a pleasing bit of bounce. The weather-resistant moisture management interior keeps damp toes at bay.
Get ready to take your hook and slice up a level with these rain-resistant golf shoes by Skechers.
Best for: Hitting a hole in one with your feet happy, dry, and warm.
| | |
| --- | --- |
| Colors: | A range including black, white, and grey |
| Material: | Synthetic |
ON Cloudrock: Best men's waterproof hiking boots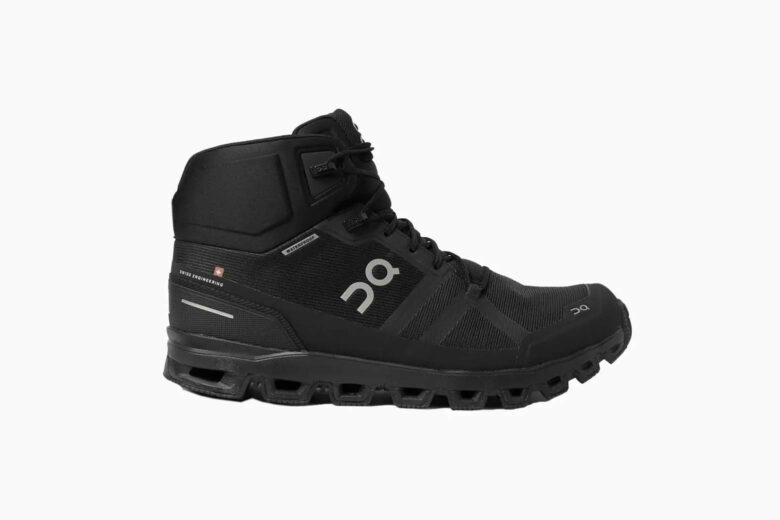 The name on everyone's lips (when they're talking about high-performance running shoes, at least), ON is a Swiss brand whose aim is to create a revolution in athletic footwear.
The best waterproof hiking shoes we've come across, these boots are our top pick for weekends and holidays when you want to spend all day, every day, exploring the great outdoors, getting your heart pumping, and taking in the sights.
The label's first-ever speed hiking boots, the Cloudrocks are all about giving you added bounce with cushioning, shock absorption, and an efficient energy return. A wind and water-resistant membrane prepares you for whatever the elements have in store while a rubberized mudguard adds extra protection.
The high padded collar means no more rolling your ankles and a reduced blister risk. And the Cloudrock laces are quick to secure with a single-pull FlexLock system.
Best for: Shoes that perform at the top of their game, whatever the weather decides to do.
| | |
| --- | --- |
| Colors: | Black |
| Material: | Synthetic mesh |
Salomon x And Wander: Best men's waterproof hiking sneakers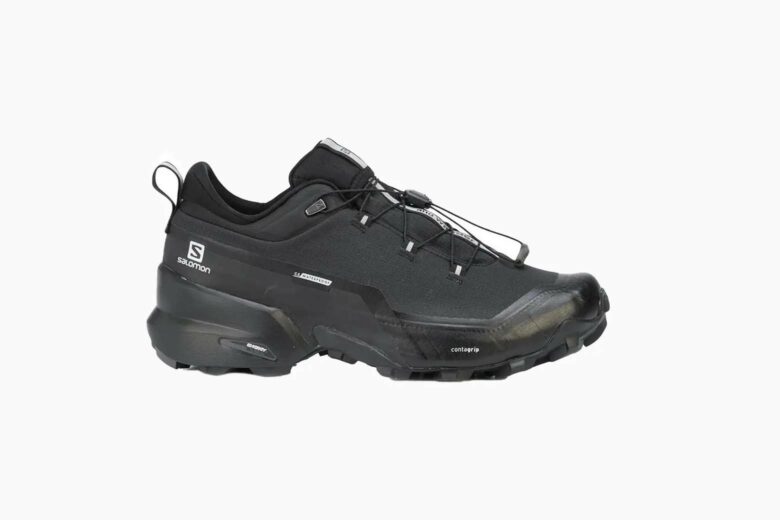 Another pair of great all-weather shoes for those looking for footwear that won't recoil when the rain starts, these offerings by Salomon are more or less without fault.
They're waterproof, first and foremost—that goes without saying. They've also got a ridged outsole with grooves that increase friction between your foot and whatever rugged terrain you're crossing for minimum slipping. Then there's a pull-tab at the heel for easy removal. And reflective detailing offers greater visibility.
Salomon co-develops its footwear with both athletes and scientists, creating shoes that perform just as well in real life as they do in the lab. These Salomon's waterproof sneakers for men could be worn on casual strolls or adrenaline-fuelled hikes. They're up for anything.
Best for: Trekking through jungles and up mountains without the weather getting in the way.
| | |
| --- | --- |
| Colors: | Black |
| Material: | Polyester |
Timberland: Best waterproof boots for walking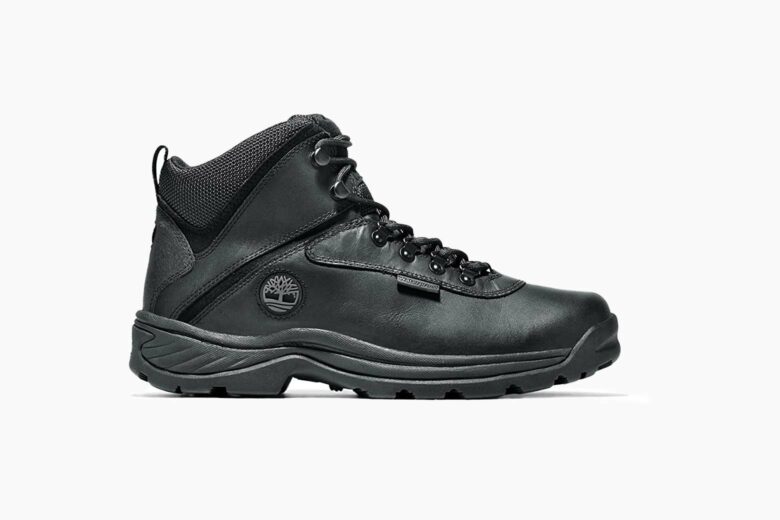 We've already mentioned that Timberland makes some of our favorite men's work boots. So you know that you can rely on the brand when it comes to fuss-free and high-functioning footwear that won't fail you when the conditions get challenging.
That's why these shoes are our pick for the best men's waterproof boots for walking. Whether you're exploring dense woodland or rugged coastal paths, with waterproof leather uppers, seam-sealed construction, and rustproof lace hardware, these boots will keep your feet dry and content.
These Timberland's waterproof boots also feature a thick and durable rubber lug sole and a padded collar for extra support and comfort while the dual-density EVA footbed is super shock-absorbing, so you can summit that mountain peak whether there's precipitation forecast or not.
Best for: Keeping on your toes, even when the drizzle descends.
| | |
| --- | --- |
| Colors: | Black, brown, and tan |
| Material: | Leather |
Sorel Caribou: Best men's waterproof shoes for snow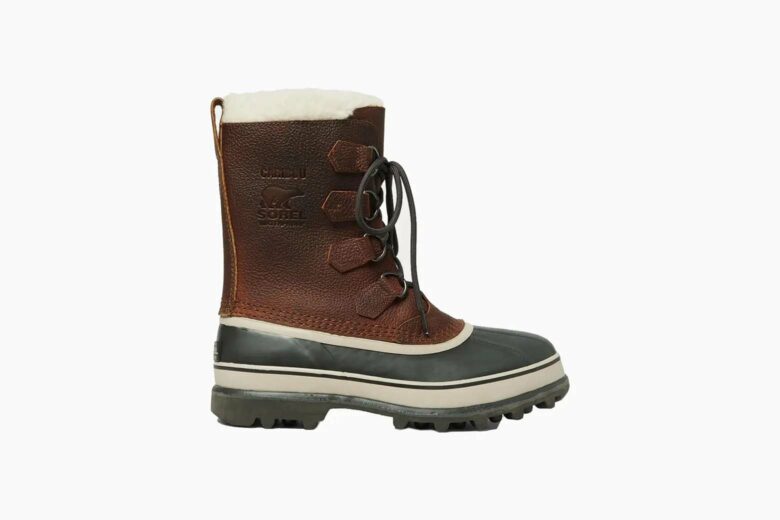 Snow is charming when it first falls, making us feel like we're on the front of a Christmas card. But then it starts to melt and our feet are immediately soaked by all the slush.
Stay prepared with Sorel's Caribou waterproof boots. One of the brand's signature designs, they're optimized for the worst of the wintry conditions. Made from full-grain leather and vulcanized rubber—the ultimate damp-weather combo—they're totally waterproof.
What's more, they have removable wool linings and Sherpa Pile cuffs for coziness and warmth even when Celsius takes a plunge. Thick outsoles ensure you'll always be steady on your feet, even when the snow is particularly treacherous. Oh, and these Sorel boots also look the part too.
Best for: Walking slushy snowy streets and living to tell the tale.
| | |
| --- | --- |
| Colors: | Brown |
| Material: | Leather and rubber |
Buyers guide: how to choose a pair of men's waterproof shoes
Choosing a pair of men's waterproof shoes isn't as simple as buying the first pair of Gore-Tex shoes you come across. You need to consider your particular situation—where, when, and how often you plan to use these waterproof shoes.
Here's a foolproof guide to picking out the best men's waterproof shoes for you.
Activity and style
When will you use your waterproof shoes? Do you just want something that can get you from A to B, from home to the office, without soggy socks? Or do you want shoes you can go walking or hiking in? Maybe you need running shoes that will help you meet your Couch-to-5K goals?
The different situations where you plan to wear your waterproof shoes affects what material, construction, and style are best. Waterproof running shoes are very different to waterproof dress shoes, and waterproof hiking boots will have a totally different design to waterproof sneakers for men.
Material
Once you've decided the purpose of your waterproof shoes—whether that's running a marathon or just some errands—you can consider material. Different parts of the shoe will be made from different fabrics.
Upper
This is the part that covers your foot, so it really needs to be waterproof. Most all-weather shoes will have a waterproof upper and waterproof lining.
Gore-Tex shoes are a classic choice. Gore-Tex is a hard-wearing synthetic with a micro-porous structure, which means it's breathable as well as weatherproof.
Other options include water-repellent full-grain leather—appropriate for slightly more formal shoes that could be worn to the office or to special events. You'll also find leather hiking boots that are waterproof.
PVC and rubber are popular options for rain shoes for men, but these look a bit more like rain boots. They're less expensive but not so comfortable to walk in.
You should also look for waterproof shoes with seam-sealed construction, which stops any water from seeping in the holes.
Midsole
The midsole is that part of the shoe between the upper and outsole. For this reason, it doesn't need to be waterproof but should offer comfort, stability, and cushioning. Many rain shoes for men will have EVA midsoles, a kind of lightweight and flexible foam that provides great shock absorption.
Outsole
Waterproof shoes aren't just designed to be impermeable. They also need to keep you stable on your feet when the streets or trails are wet and slippery.
For this reason, steer clear of any shoes with a smooth surface. Leather soles, while hard-wearing, can be lethal on wet streets.
Instead, you want something with solid traction. So look for rubber soles with lugs and ridges for added grip. Rubber is also hard-wearing and slip-resistant. Meanwhile, PVC soles are a good option if you want something insulating, supportive, and shock-absorbing.
Color
The best color for your waterproof shoes is ultimately a personal choice and will depend on where you plan to wear them. Black, brown, and grey are all timeless and versatile. They're also fairly practical and won't show up mud stains easily. Meanwhile, running shoes often come in a whole host of colorways.
Frequently asked questions about men's waterproof shoes
What is the best waterproof footwear?
The best waterproof footwear includes the Wool Runner Mizzles by Allbirds. They are waterproof and breathable as well as odor-resistant, and eco-friendly. For hiking, consider a pair of waterproof shoes by Timberland, Salomon, or Sorel.
Are waterproof shoes really waterproof?
The best waterproof shoes really are waterproof. They're made of materials such as Gore-Tex, which is waterproof and breathable, or water-repellant full-grain leather. Seam-sealed construction also ensures water can't penetrate.
Are Gore-Tex sneakers waterproof?
Gore-Tex sneakers are not only fully waterproof thanks to the micro-porous structure of the material—with holes that are too small to allow water to penetrate—but they're also breathable, so your feet won't get sweaty.