An ultramarine color and intricate veins distinguish lapis lazuli as one of the most unique gemstones. Known as the stone from the sea, the colors and purported healing benefits are only touching the surface of the meaning of lapis lazuli. 
While lapis lazuli may not be the most well-known birthstone, it is among the most important gems. From a cultural point of view, lapis lazuli has shaped art, and civilizations, and provides value and meaning far beyond the price point. This mystical stone is not only beautiful but also possesses unique properties. Here's what's behind the history, value, and meaning of the many types of lapis lazuli.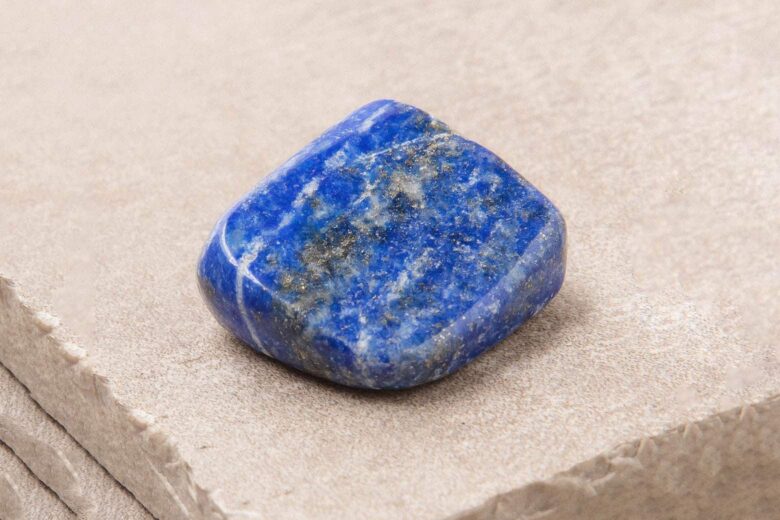 | | |
| --- | --- |
| Lapis Lazuli Color | Vivid Blue (Green and Purple Undertones) |
| Zodiac Sign | Virgo |
| Hardness Scale | 5 to 6 on Mohs Scale |
| Mineral Class | Sodalite |
| Symbolism | Royalty, Courage, Truth, Wisdom, Healing |
What is Lapis Lazuli?
Lapis lazuli is a type of metamorphic rock, noteworthy for its deep blue hue. It's most often cut into cabochons and polished. While it was once used for spiritual and ornamental purposes, it's now used for pendants, amulets, and even designer jewelry. With its beauty and history, it's no surprise that so many are drawn still to lapis lazuli.
Lapis lazuli has a Mohs hardness rating of 5 to 6. Though suited for normal wear, lapis lazuli can become damaged or scratched. It must be properly cared for and should be stored in a low humidity environment when possible.
Some think that lapis lazuli is cheap, while others claim that it is expensive. The truth is somewhere in between. Poor quality lapis lazuli has a price as low as $10 per carat. Premium lapis lazuli has an average price of $100 to a few hundred dollars per carat. The value is determined by the color, carat, cut, and origin.
What does Lapis Lazuli look like?
Lapis lazuli is immediately recognizable by its deep blue color. That blue color may exhibit blue, green, or purple undertones. Known as an ultramarine color, its color roughly translates to beyond the sea. This name likely refers to how lapis lazuli was traded during the 14th and 15th centuries between Italy and Afghanistan.
However, that blue can shift to shades of indigo, cobalt, and royal blue, depending on the specific properties. Due to calcite, lapis lazuli has a patterned, vein-like appearance. These veins may be fine and subtle or bolder, and are usually white or yellow.
Natural lapis lazuli is opaque. The chart below shows the most valuable types and colors of lapis lazuli:
| Type | Description |
| --- | --- |
| Chilean Lapis Lazuli | Blue with spotted appearance and green undertones |
| Russian / Siberian Lapis Lazuli | Deep Blue, with intense blue undertones and mild calcite deposits |
| Persian / Afghan Lapis Lazuli | Consistent blue with violet undertones |
History of Lapis Lazuli
While the passionate blue hue of lapis lazuli is fascinating, it has an equally colorful history. Historians estimate that lapis lazuli was used as far back as 6,500 or 7,000 BCE.
It was prized within the ancient civilizations of Egypt, China, Greece, Rome, and Mesopotamia. Lapis lazuli was used within and traded amongst civilizations. Rulers and pharaohs alike wore lapis lazuli.
What's so fascinating about the history of lapis lazuli is how it's been used. Though it's been used in jewelry, its pragmatic use should not be underplayed. Board games, cookware, combs, and amulets are just a few examples. Later, Michelangelo produced some of his finest works with lapis lazuli. 
It was also prized for spiritual ornaments and ceremonies. Perhaps its most famous spiritual connection is found within the Old Testament. It's also connected with Inanna, the Sumerian goddess of passion and love.
Today, lapis lazuli remains a cultural staple, making its mark through art and artifacts over the centuries. It is sold throughout the world for both decorative and healing purposes.
The meaning of Lapis Lazuli
The value of Lapis lazuli extends beyond its price per carat. Touted as a stone of candor and friendship, it's connected to physical and emotional well-being. Like many jewelry birthstones, lapis lazuli is said to usher in harmony, wisdom, and self-awareness.
Spiritually, lapis lazuli expresses one's inner truth. This stone of wisdom opens the mind, enhances intuition, and fosters creativity. This search for wisdom and truth is coupled with royalty, nobility, and beauty.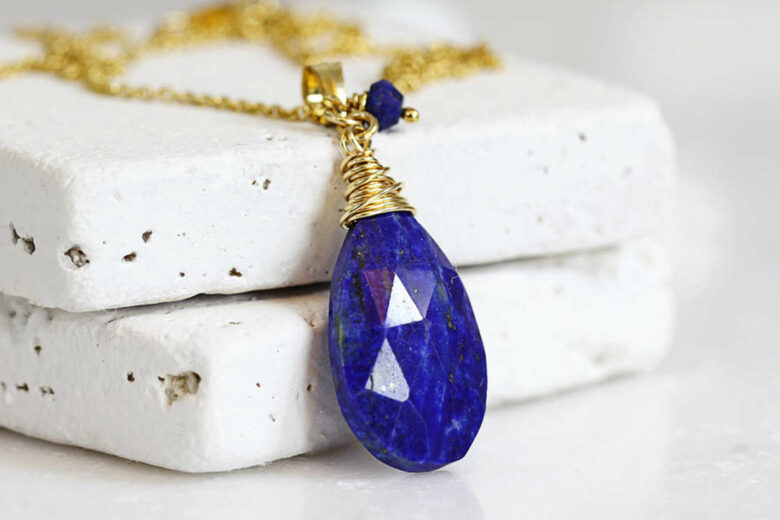 Where does Lapis Lazuli come from?
Lapis lazuli is formed under conditions of great heat and pressure. Normally, this formation occurs in proximity to igneous rocks, particularly near limestone and marble. Minerals are impacted by molten magma and eventually cool to form lapis lazuli. This process is known as contact metamorphosis. 
This formation includes three primary minerals: lazurite, calcite, and pyrite. It is the combination of these minerals and the process of contact metamorphosis which collectively provide the signature properties of lapis lazuli. The exact concentration and timing may impact the color and value of lapis lazuli. 
Lapis lazuli is sourced from Chile, Siberia, Myanmar, and parts of the United States. However, lapis lazuli of great value is almost always mined from Afghanistan.
Which family is Lapis Lazuli from?
Lapis lazuli comes from the Sodalite mineral class. The Sodalite family was discovered in the early 1800s and is notable for its aluminosilicate structure. This cubic structure is a defining feature for members of the family and its relatives.
Lapis lazuli takes after its family group with unique patterns and signature colors. Like those within its family, lapis lazuli is not the hardest gemstone, but it is more durable than some of its relatives. It's likewise classified as a type of metamorphic rock.
Birthstones chart
Find your birthstone by month
---
Frequently asked questions about Lapis Lazuli
What is lapis lazuli good for?
Lapis lazuli isn't just a beautiful, enchanting blue gemstone. It's also touted for its physical and emotional healing properties. It's also used to promote deep thinking, expression, creativity, and promote intuition.
Why is lapis lazuli so powerful?
Lapis lazuli has ties to lore and spirituality. Perhaps the reason its benefits are thought to be so powerful is its history. For instance, scholars have pointed to lapis lazuli as a precious stone described in the Old Testament. It also has ties to royalty and mythology.
Why is lapis lazuli so cheap?
The price of lapis lazuli is affordable compared to other gemstones, especially diamonds, emeralds, and rubies. It's cheaper because it is more common and less sought-after. However, the price increases as the quality increases. Some of the finest lapis lazuli cost up to a few hundred dollars per carat.
Who should wear lapis lazuli?
Anyone who is having trouble concentrating or connecting with themselves may benefit from wearing lapis lazuli. It's also purported to have healing properties for connecting with oneself and for creative blocks.