Meeting the desires of diplomats, royalty, and leaders across the world, Lincoln cars are set to a high standard where elegance, style, and comfort converge. These brilliant creations reflect the confidence of American automobiles with a century of experience.
The current selection of Lincoln SUVs is geared for any demand, from the city-friendly Corsair to the expansive luxury of the full-size Navigator. With cutting-edge technology, endless customization, and smooth performance, Lincoln cars let you comfortably cruise in style.
At a glance
| | |
| --- | --- |
| | |
| Name: Lincoln | Industry: Automotive |
| Founded: 1917 | Founders: Henry Leland and Wilfred Leland |
| Headquarters: United States | Parent organization: Ford Motor Company |
| Revenue: ~$8 billion USD (est.) | Website: lincoln.com |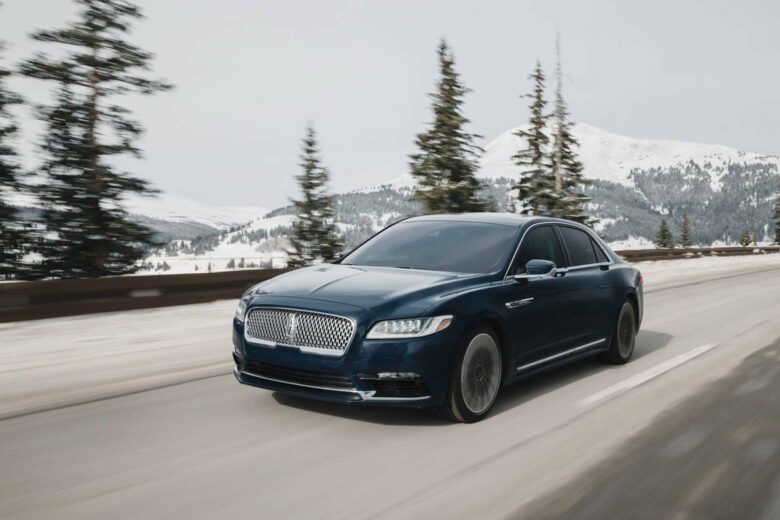 Lincoln price
How much does a Lincoln cost?
As the luxury division of Ford, Lincoln cars focus on providing a comfortable interior, excellent handling, and many premium features. Despite this, many Lincoln car prices are more modest than you might imagine.
The Lincoln Corsair price is the most affordable, starting at $38,700 for the stylish compact SUV. If you need a third row, the midsize Lincoln Aviator price is still reasonable, starting at $53,300.
Many Lincoln car owners prefer the higher-end option packages, which can add upwards of $10,000 or more to the sticker price. As a result, the selling price of many Lincoln models sits closer to $55,000 to $60,000.
What is the most expensive Lincoln?
If you want to get the biggest and best Lincoln car for sale, the Lincoln Navigator price starts at $79,800. This full-size SUV comes in an extended-length version for additional cargo space behind the third row.
The Lincoln Navigator Black Label Special Edition is the most expensive Lincoln car ever sold. With the top options included, such as massaging second-row seats, heavy-duty towing package, and rear-seat entertainment package, the price can reach above $115,000.
The most expensive Lincoln may not be as high as the Bugatti, Ferrari, or Lamborghini prices, but it still delivers an uncompromising luxury car.
How much is the cheapest Lincoln?
The Lincoln Corsair price starts at $38,700, making it the cheapest Lincoln car available today. The Corsair comes standard with a turbocharged inline-4, but a hybrid variant is also available.
The next most affordable Lincoln car is the Nautilus, a two-row midsize SUV with an available 2.7L twin-turbo V-6 that packs quite the punch. The Lincoln Nautilus price starts at $44,800, but the top-tier Black Label trim is priced closer to $70,000.
What is the cheapest Lincoln electric car?
While the luxury brand hasn't yet released a fully electric Lincoln car, there are two current Lincoln electric hybrid models.
The Lincoln Corsair is the cheapest Lincoln electric plug-in hybrid. It features a 2.5L inline-4 with up to 28 miles (45 km) of electric-only power and an EPA rating of 33 mpg combined.
The other Lincoln hybrid SUV is the Lincoln Aviator with an available 3.0L twin-turbo V-6 hybrid drivetrain that adds an impressive 100 horsepower and bumps total torque up to 630 lb-ft.
The battery-electric Lincoln Star has been unveiled as a concept car and is expected to roll off production lines in 2025 as the first fully electric Lincoln model. It also brings in a wholly new aerodynamic style that has been making some ripples in the automotive world.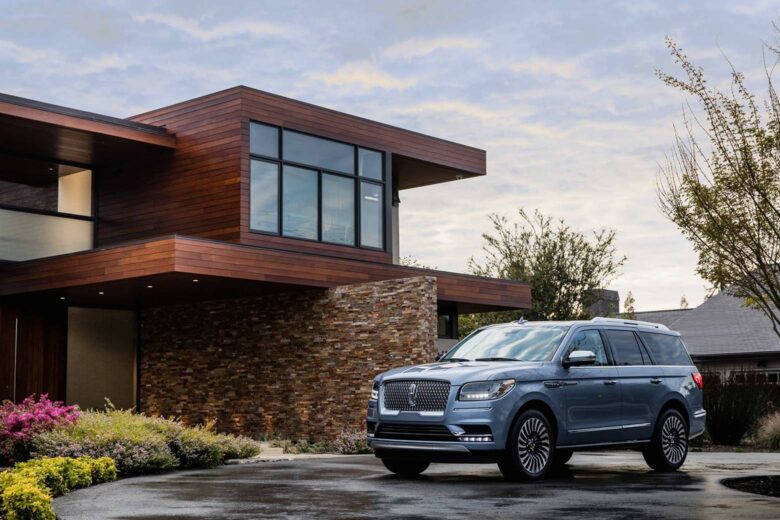 About Lincoln
History of Lincoln
Henry Leland was one of the most influential figures in the early American automotive industry, first starting and selling Cadillac before founding the Lincoln Motor Company in 1917 with his son Wilfred Leland, naming the new company after Abraham Lincoln.
Lincoln initially focused on producing Liberty V-12 aircraft engines. Then in 1920, the company was reformed to produce passenger vehicles, starting with the 1920 Lincoln Model L, which struggled to generate success.
In the face of bankruptcy, Lincoln was acquired as the luxury division of Ford Motor Company, which remains the parent company today. The Lincoln Model L continued forward, replaced in 1931 with the Lincoln Model K on a longer, lower chassis.
The 1936 Lincoln-Zephyr sub-brand brought in a midsize luxury option on a unibody frame, with the 1940 Lincoln Zephyr Continental following shortly after. It was the first usage of the Continental model name on a Lincoln car, and it also introduced the four-point star Lincoln logo.
Luxurious Lincoln cars gained popularity in the 1940s and 1950s. The 1955 creation of the Lincoln Futura concept car helped steal the spotlight and boost Lincoln's status.
The 1960s fourth-generation Lincoln Continental is one of the most iconic American cars ever made, especially the 1964 Lincoln Continental. The model served as the Presidential state car from 1961 to 1977.
The Lincoln Town Car was another influential series of Lincoln models, used in various roles from private limousines to taxicab services. The elongated three-box vehicle usually featured a powerful V-8 engine, spacious passenger cabin, and expansive trunk area.
Through the turn of the 21st century, Lincoln began shifting focus toward SUV models instead, which is the segment it currently remains entirely dedicated to after ceasing production of the Lincoln Continental and Lincoln MKZ in 2020.
The only exception is the Lincoln Zephyr, a new Lincoln sedan available exclusively in China as the result of a joint partnership between Changan Automobile and Ford Motor Company.
Understanding Lincoln car range
Lincoln Automotive currently produces a range of SUVs, including one compact, two midsize, and one full-size offering. All use one-word model names with ties to aviation or nautical themes.
The flagship offering is the full-size Lincoln Navigator. The three-row midsize SUV Lincoln Aviator is the next largest, while the two-row midsize SUV Lincoln Nautilus, meaning sailor, is one level smaller.
The Lincoln Corsair, inspired by the Latin word cursus meaning course or journey, is the smallest new Lincoln car as a compact SUV.
Most models are available in a range of trim options from the base Standard, midrange Reserve, and premium Black Label. Some models also offer Grand Touring options that include a more powerful hybrid engine and other enhancements.
Interesting facts about Lincoln
In a rare turn of events, Henry Leland founded two American car brands that would eventually become head-to-hear rivals, Cadillac and Lincoln. While his tenure at both companies was relatively short, Leland has undeniably left his mark on the automotive world.
For a look into what the future of Lincoln cars looks like, check out the wildly-innovative Lincoln Model L100. Leveraging the Model L name from the brand's first model, the concept car uses a hinged glass roof with a transforming interior on an electric Lincoln platform.
Where are Lincoln cars made?
Lincoln vehicles are made in the United States, Canada, and Mexico. The Nautilus is assembled in Ontario, Canada, while the Aviator is made in Chicago. The other two new models of Lincoln cars, the Corsair and Navigator, are assembled in Louisville, Kentucky.
Lincoln Motor Company has headquarters in Dearborn, Michigan, United States.
Lincoln electric cars
There are two hybrid electric Lincoln cars available today, including the Lincoln Aviator and Lincoln Corsair. Both feature plug-in hybrid technology with a short range of electric-only driving.
A pure electric Lincoln car is not yet available, but the luxury brand has released the electric Lincoln Star EV SUV concept car, which is expected to become a production model by 2025.
Reports indicate Lincoln will soon be diving deep into the EV market, with an electric Aviator, Corsair, and Navigator all expected within the next few years. In the meantime, if you don't want to find an alternative carmaker, you can get a spark from the best electric motorcycles or an electric car for kids.
Lincoln models
Let's review the full lineup of Lincoln cars and their technical specifications.
Lincoln Navigator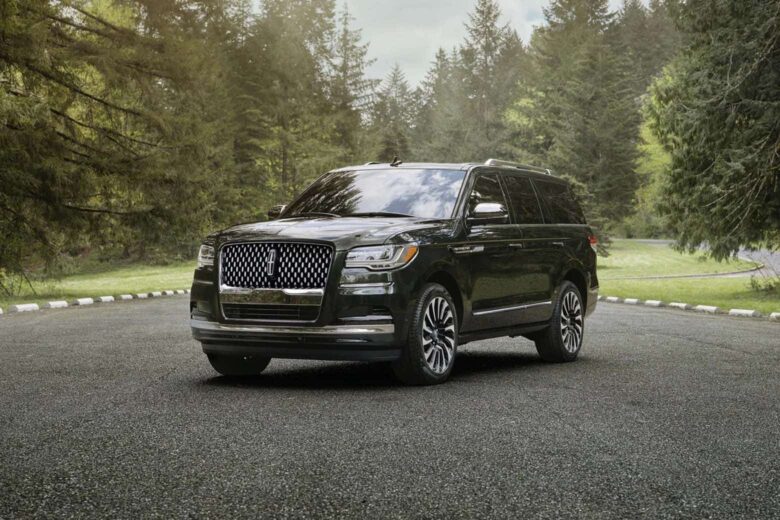 With a commanding road presence, spacious interior, and sophisticated performance, the Lincoln Navigator is the vehicle of choice for those who want it all.
Breaking away from the V-8-loving Cadillac Escalade and Range Rover, the Lincoln Navigator pairs a powerful V-6 engine with two turbochargers on a 10-speed transmission. The result is a powerful yet refined driving experience, ready to tow off-road camping trailers or glide down city streets.
The Lincoln Navigator price starts just shy of $80,000, but the premium trim level Black Label is the most expensive Lincoln model. This fully-loaded version tops out above $115,000.
| | |
| --- | --- |
| Price: | Starting at $79,800 |
| Release year: | 1998 |
| Engine: | 3.5L twin-turbo V-6 |
| Top speed: | 124 mph – 200 km/h |
| 0-60 mph: | 5.3 sec |
| Power: | 440 hp |
| Torque: | 510 lb-ft |
Lincoln Aviator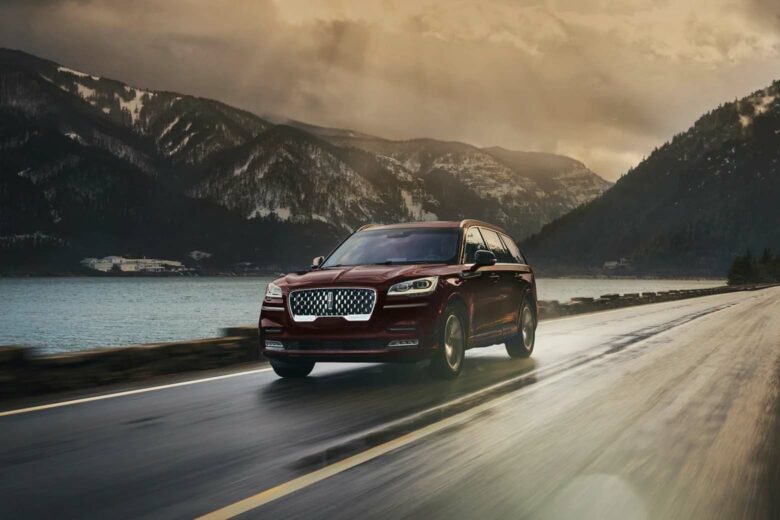 Seating for seven, a nearly 500-horsepower drivetrain, and loads of premium materials make the Lincoln Aviator an impressive mid-size SUV. Tack on the hybrid package to get a massive increase in torque and fuel economy, with over 20 miles of electric-only power.
The Lincoln Aviator has more cargo capacity than the BMW X5, more power than the Audi Q7, and matches the 5-star NHTSA crash test rating of the Volvo XC90.
Crank up the tunes through the available 28-speaker sound system, relax behind the wheel with the Co-Pilot360 adaptive cruise control, and get comfortable in the heated and ventilated seats.
| | |
| --- | --- |
| Price: | Starting at $53,300 |
| Release year: | 2020 (2nd gen.) |
| Engine: | 3.0L twin-turbo V-6 with available hybrid |
| Top speed: | 145 mph – 233 km/h |
| 0-60 mph: | 5.0 sec |
| Power: | 494 to 400 hp |
| Torque: | 630 to 415 lb-ft |
| Range: | 21 miles – 34 km (electric only) |
Lincoln Nautilus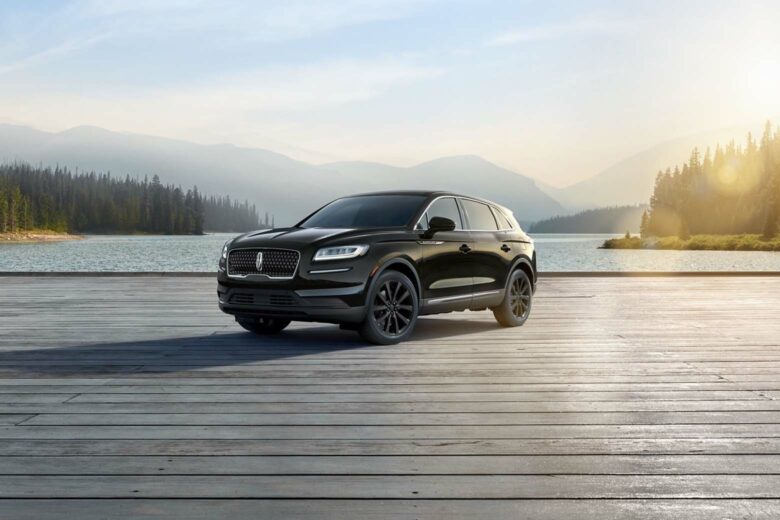 What started as the first Lincoln SUV crossover with the MKX model has now transformed into a second-generation offering with a different nameplate. But one thing remains consistent, the Lincoln Nautilus remains one of the best luxury SUVs.
The Lincoln interior is elegant with a leather-wrapped heated steering wheel, acoustic-laminated glass, and a 13.2-inch infotainment screen. Stay connected with Apple AirPlay and Android Auto integration, plus an available wireless charging pad.
It holds up well against the more compact Lexus RX350, while also delivering incredible value compared to pricier models like the Jaguar F-Pace.
| | |
| --- | --- |
| Price: | Starting at $44,800 |
| Release year: | 2019 |
| Engine: | 2.0L turbo inline-4, 2.7L twin-turbo inline-6 |
| Top speed: | 135 mph – 217 km/h |
| 0-60 mph: | 5.8 to 6.9 sec |
| Power: | 335 to 250 hp |
| Torque: | 380 to 280 lb-ft |
Lincoln Corsair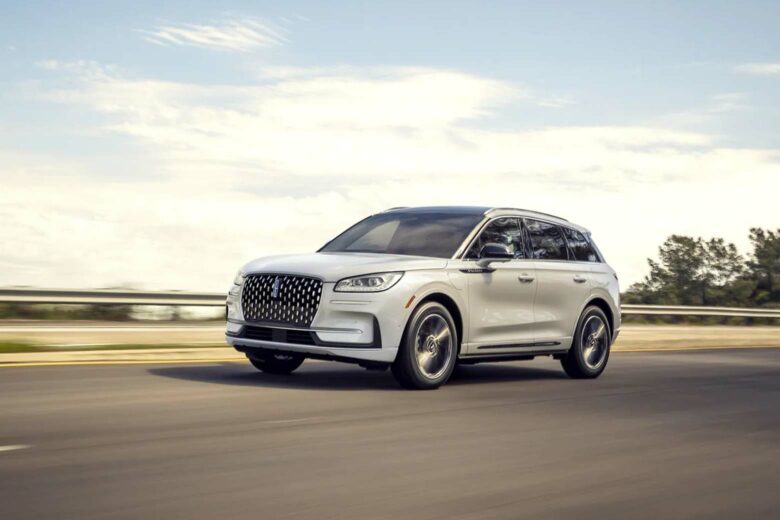 The compact SUV Lincoln Corsair hits the mark between economy and capability. Enough cargo room without the excessive indulgence of larger Lincoln SUV models. And it's still packed with luxury amenities like a second-row sliding seat and advanced driver assistance features.
In a segment rife with competition from the Genesis GV70, Porsche Macan, and Mercedes-Benz GLA, the Lincoln Corsair price helps it stand out from the crowd.
The Corsair's available hybrid powertrain delivers an impressive EPA rating of 33 mpg combined.
| | |
| --- | --- |
| Price: | Starting at $38,700 |
| Release year: | 2020 |
| Engine: | 2.0L turbo inline-4, 2.5L inline-4 hybrid |
| Top speed: | 121 mph – 195 km/h |
| 0-60 mph: | 6.1 to 7.0 sec |
| Power: | 266 to 250 hp |
| Torque: | 275 lb-ft |
| Range: | 28 miles – 45 km (electric only) |
Lincoln Star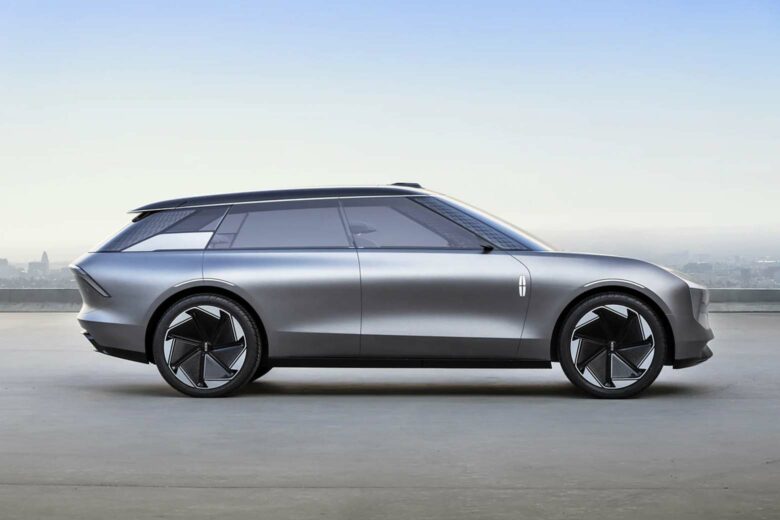 As the electrification of the automotive industry sweeps the globe, the electric Lincoln Star concept car has unveiled what's in show for one of the best American car brands' future. And it looks bright.
Showcasing a smooth exterior reminiscent of science fiction spaceships, the Lincoln Star electric SUV delivers big on unique features such as the front trunk with a slide-out drawer, 30-way adjustable seats, and an integrated beverage cooler.
Breaking onto the list of the best electric cars including the Tesla Model S Plaid, Rolls-Royce Spectre, and Polestar 3 is no easy task, but the Lincoln Star shows a lot of promise. The estimated Lincoln Star price sits at $70,000.
| | |
| --- | --- |
| Price: | Starting at $70,000 (est.) |
| Release year: | 2025 |
| Engine: | Two electric motors (est.) |
| Top speed: | Not yet specified |
| 0-60 mph: | Not yet specified |
| Power: | 450 hp (est.) |
| Torque: | 630 lb-ft (est.) |
| Range: | ~300 miles – 483 km (est.) |
Lincoln Continental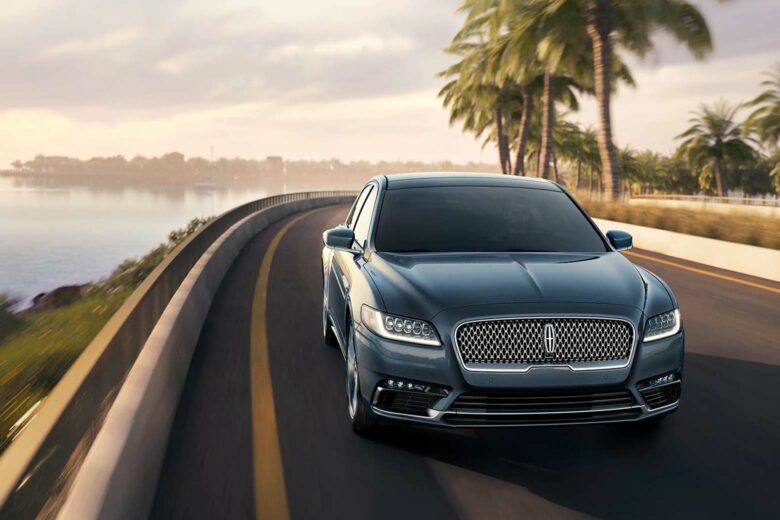 Although the Lincoln Town Car stopped production in 2011, you could find a new Lincoln Continental for sale as the luxury brand's full-size sedan offering until 2020.
The Lincoln Continental was first seen in 1940, but the 4th generation design was the ultimate iteration for many people. The 1961 to 1969 Lincoln Continental featured clean lines from front to back, expansive suicide doors, and an available convertible roof. The 1965 Lincoln Continental just barely missed our list of the best classic cars.
The 10th generation Continental was a different beast with a modern shape and V-6 drivetrain, but it retained the comfortable cabin and cloud-like drive.
| | |
| --- | --- |
| Price: | Starting at $47,300 (2020 MSRP) |
| Release year: | 2017 (10th gen.) |
| Engine: | 2.7L twin-turbo V-6, 3.0L twin-turbo V-6, 3.7L V-6 |
| Top speed: | 155 mph – 249 km/h |
| 0-60 mph: | 5.0 sec |
| Power: | Up to 400 hp |
| Torque: | Up to 400 lb-ft |
Lincoln MKZ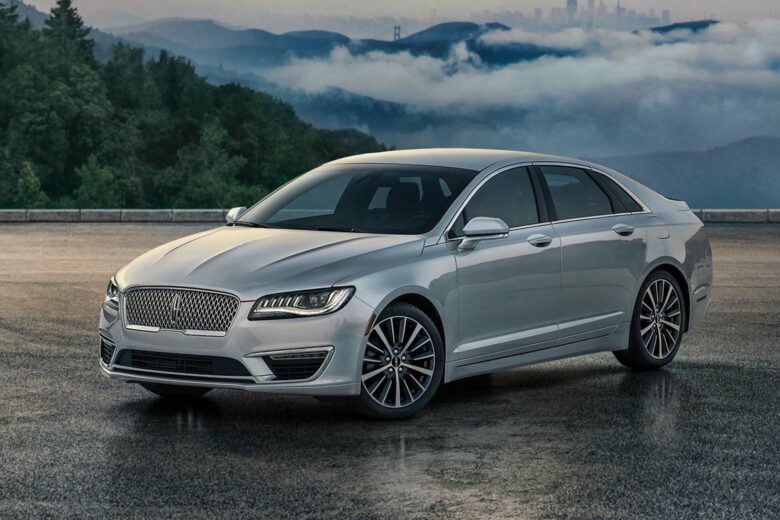 Another one of the final Lincoln car models was the Lincoln MKZ midsize sedan. The second generation was available in a wide range of powertrains, from an economical but sluggish inline-4 up to a twin-turbo V-6 with 400 ponies.
The front-end design of the Lincoln MKZ used a unique downward-sloping nose and slanted grille that can't be compared to the brilliance of elegant models from Aston Martin or Maserati. But the inside of the MKZ was still undeniably Lincoln and comfortable.
The Lincoln MKZ price was under $40,000, so you won't find this Lincoln car price on the list of the most expensive cars. And it doesn't scratch the surface of the fastest car list, but that's not what the Lincoln MKZ was made to compete with. You'd have to head over to Pagani or McLaren to reach those specifications.
| | |
| --- | --- |
| Price: | Starting at $37,800 (2020 MSRP) |
| Release year: | 2006 |
| Engine: | 2.0L turbo inline-4, 3.0L twin-turbo V-6, 3.7L V-6 |
| Top speed: | 150 mph – 241 km/h |
| 0-60 mph: | 5.2 sec |
| Power: | 400 to 245 hp |
| Torque: | 400 to 275 lb-ft |
Lincoln customer service number
You can speak to a knowledgeable staff member by calling the Lincoln customer service number at 1-800-521-4140. The Lincoln Contact Us page has other useful information.
Lincoln social media profiles
To stay up to date with the latest news and events, follow the official Lincoln social media profiles:
Frequently asked questions about Lincoln
Is Lincoln just a luxury Ford?
Lincoln is the luxury division of Ford. While almost every Lincoln model shares some of the underlying components with Ford models, the Lincoln cars feature more luxurious amenities, different body panels, and unique components throughout.
Is Lincoln an expensive car brand?
Lincoln is an expensive car brand compared to some manufacturers, but Lincoln prices are relatively modest for luxury cars. The Lincoln Corsair price starts at a reasonable $38,700, while the Lincoln Navigator Black Label price can go over $115,000.
What is the cheapest Lincoln car?
The cheapest Lincoln car is the Lincoln Corsair with a starting price of $38,700. Another affordable Lincoln model is the Lincoln Nautilus, starting at $44,800. The Lincoln Aviator price starts at $53,300, while the Navigator starts at $79,800.
What is the most expensive Lincoln car?
The most expensive Lincoln car is the Lincoln Navigator Black Label price which can reach more than $115,000. For base models, the Navigator is the highest priced at $79,800, while the Aviator is the next most expensive Lincoln, starting at $53,300.