A trip in one of the world's most expensive supercars is more than just a simple journey. It's an experience, a piece of art, a once-in-a-lifetime adventure: and that's before you've even placed your foot on the pedal.
2023 is proof that the sky's the limit when it comes to hypercars. While the most expensive luxury cars might have a few things in common with their less pricey counterparts – we're talking four wheels, doors, and a steering wheel – they set themselves apart with those seriously flashy, endlessly impressive features that fuse the gap between a vehicle and a work of art.
But taking the title of "the world's most expensive car" is no easy feat. Sometimes even the flashiest designs, bespoke bodies, super-powered engines, and more can't win the top spot, as you'll see as you work your way through our list of 2023's most impressive contenders.
Sure, you'll see lots of familiar names below. Wondering what this year's priciest Bugatti is? Interested in learning which Pagani is the most expensive car you can't buy? What about the historic Ferrari that has yet to be unseated as the most expensive car of all time?
Our updated 2023 ranking of the most expensive cars includes everything from storied, legendary classic cars to revered auto houses with a few surprising newer models thrown in for good measure.
51 Most expensive cars in the world in 2023
From Rolls-Royce to Bugatti and Ferrari, discover the list of the most expensive cars of 2023 below.
Learn more about luxury and sports cars and our methodology to select and rank the most expensive cars of 2023 after the ranking.
Looking for other ways to move in style? Check our round-up of the most expensive private jets in the world and the largest yachts in the world. They are both perfectly good alternatives to owning a supercar. And if you prefer to stay home, we've ranked the most expensive houses in the world to give you some inspiration too.
1. Rolls-Royce Boat Tail: $28 million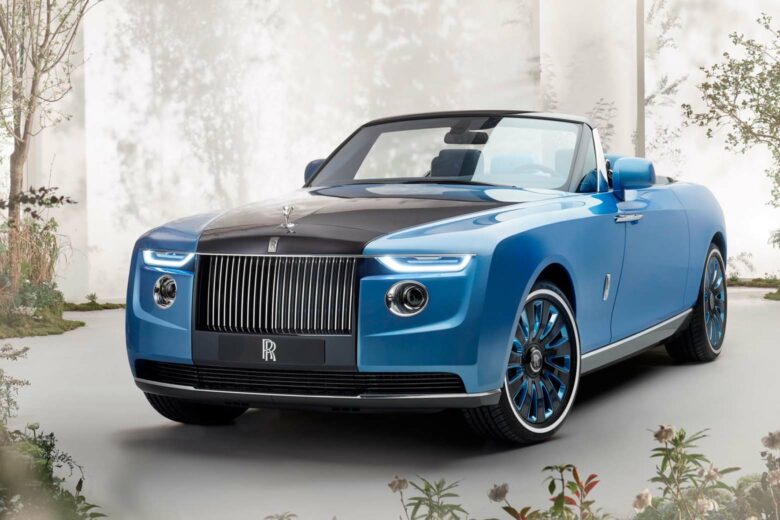 The Rolls-Royce Boat Tail is proof that quantity and quality can walk together without overshadowing each other. This truly unique car was designed as a coach-built model, the first of three to be made. What does that mean? A bespoke vehicle, based on an existing framework.
This one's especially impressive as it features elements of a J-Class yacht as well as those of the original 1932 Boat Tail. The Rolls-Royce Boat Tail made its public debut at Italy's Concorso d'Eleganza Villa d'Este in late 2021 and shows off with its 6.75-liter twin-turbo V12 engine capable of 563 horsepower. It's officially 2023's most expensive new car in the world.
2. Bugatti La Voiture Noire: $18.7 million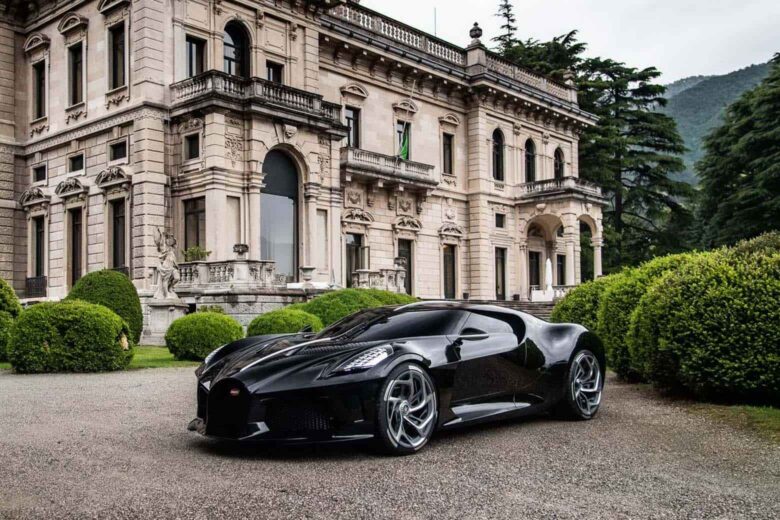 In 2019, Bugatti made a brilliant branding decision when rolling out their latest supercar. Instead of a flashy introduction and name geared to thrill, the French manufacturer opted for a restrained, minimalistic, and instantly iconic title: La Voiture Noire. The Black Car.
No other description is necessary.
Going into details doesn't interrupt the awe of this gorgeous vehicle with a sky-high price: It's got a carbon-fiber shell that's sculpted by hand, a quad-turbo W16 8.10L engine that produces 1500 horsepower, and an acceleration of 0-60 mph (0-100 km/h) in 2.4 seconds.
Its top speed is 260 mph (420 km/h), and its overall performance is precision-engineered by an auto house famous for producing the most powerful cars in the world for decades on end.
3. Pagani Zonda HP Barchetta: $17.6 million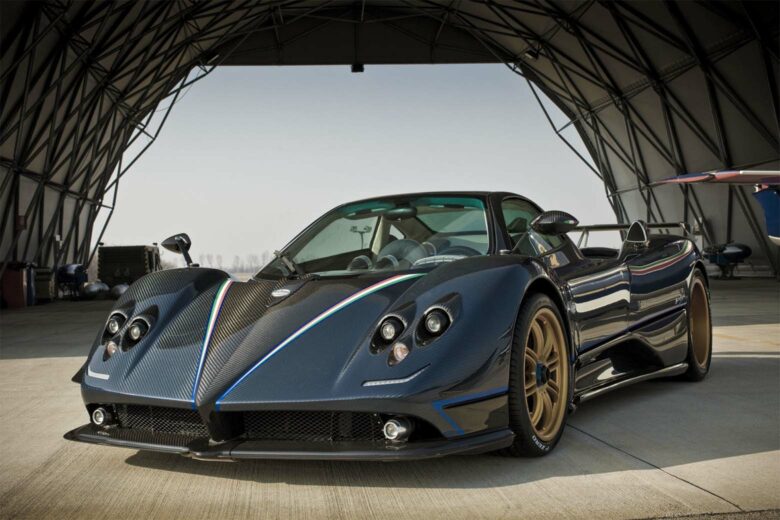 The Zonda was the first car out of the Pagani Automobili auto house. Years ago, production should have ceased, favoring the Huayra; instead, Pagani has come out with many different special editions of the Zonda.
This, the Zonda HP Barchetta, was thus named – Barchetta – because, to Horatio Pagani, that's what it resembled: in Italian, a 'little boat'. Its frame is entirely formed of carbon fiber for an ultralight body and zippy, speedy feel; it's blue-tinted, it has a minimized windshield, and it stands only some 21 inches tall (0.5 meters) at its tallest.
Unfortunately, the Pagani Zonda HP Barchetta is also the most expensive car that you can't buy. Only three vehicles were ever made of this unique, specific version of the Zonda. When last sold, one of these vehicles went for $17.6M.
Its acceleration is 0-60 mph or 0-100 km/h in 3.4 seconds. The Zonda HP Barchetta can reach a top speed of 220 miles per hour (355 km/h).
4. SP Automotive Chaos: $14.4 million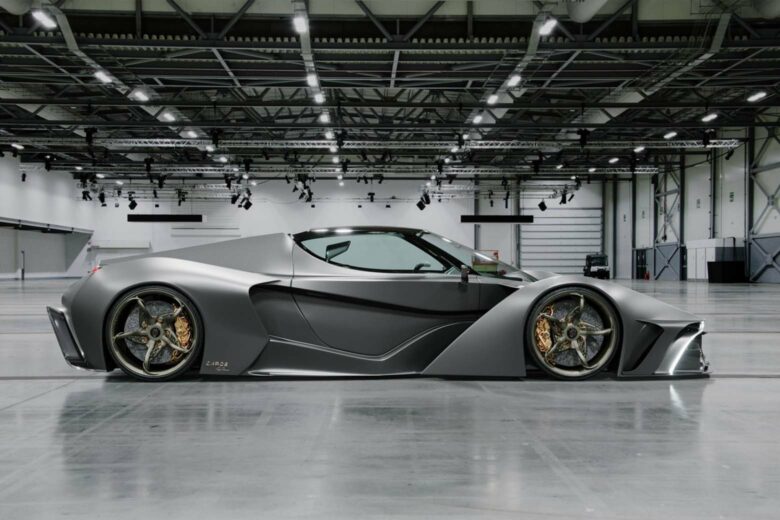 There's a newcomer on the block and it is making a lot of noise. Greek automotive designer Spyros Panopoulos has released two ultra cars using some of the most advanced materials in the world.
The 2,048-horsepower SP Automotive Chaos Earth Version is the base model. It costs a cool $6.3 million. But the Zero Gravity variant pushes the quad-turbo V-10 engine to 3,065 horsepower, getting to 62 mph (100 km/h) in 1.55 seconds and a quarter-mile in under 7.5 seconds. And a 14.4 million dollar price tag.
5. Rolls-Royce Sweptail: $13 million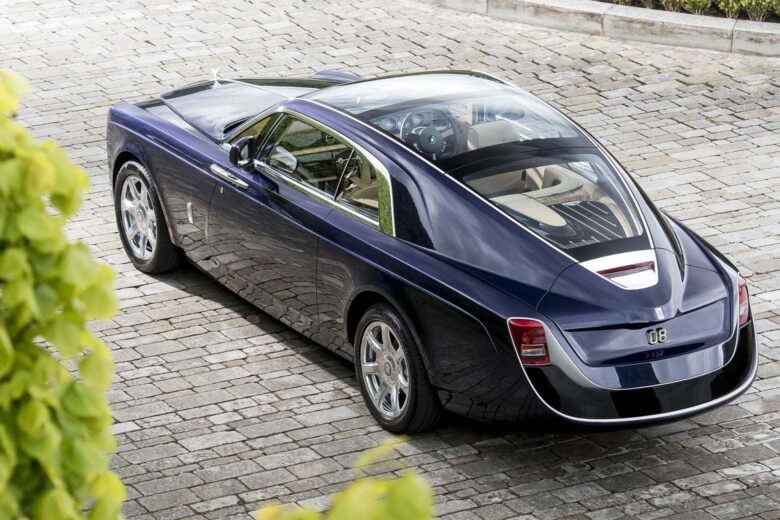 The Rolls-Royce Sweptail wasn't initially made for any specific reason: it was a request. A car that once took the title of the most expensive in the world, it's a model that's captured the hearts of all kinds of car fanatics across the planet.
One of the best things about this car is its fusion of the old and the new: modern luxury combined with a hint of 1920s and '30s glamour. We're talking about characteristics from the classic Rolls-Royce silhouette combined with innovation and technology. Despite all we know about it, there's one thing unknown: its owner. This one-off car truly is one of a kind.
6. Bugatti Centodieci: $9 million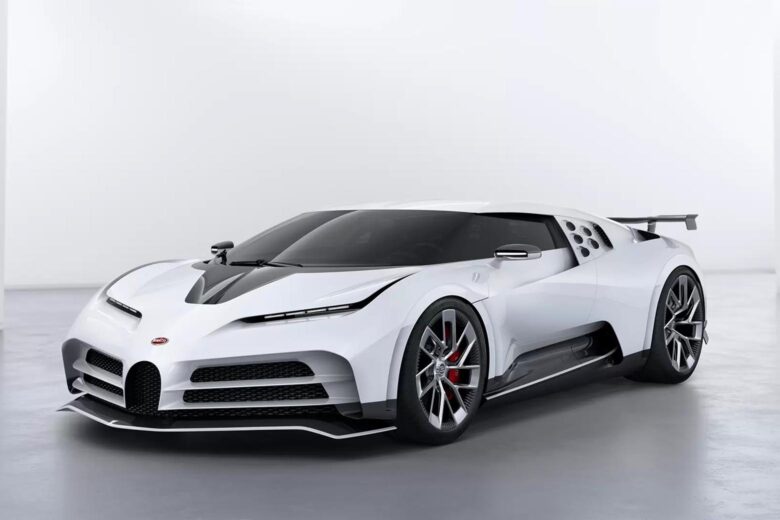 Bugatti's 2023 Centodieci will be even more exclusive: Only ten of these luxurious hypercars will be sold. Each has found a happy buyer already, including football star Christiano Ronaldo, despite the high price.
Bugatti, already a brand known for unique bodywork and luxurious comfort features, has sought to give the Centodieci everything possible to make it memorable – and completely decadent. With a 1577-hp quad-turbo W-16, it may not be the fastest Bugatti currently on the road; but it is the quickest accelerating.
With this car, Bugatti pays homage to the EB110 (or the 'centodieci'), a supercar produced early in the '90s. That car didn't quite have the timing to perform as it was hoped.
This car will make up for that, bringing performance and luxury to spare. Bugatti has posted a claimed 0-62 mph (or just over 0-100 km/h) acceleration of 2.4 seconds. The Centodieci will have a top speed of 236 mph, or 379 km/h – distinctly less than the Chiron, but this hypercar makes up for it with its distinct modern aesthetic.
7. Mercedes-Maybach Exelero: $8 million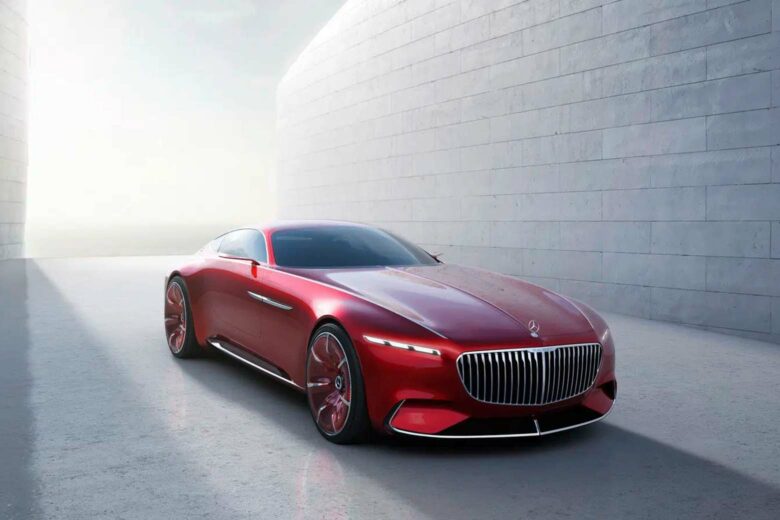 Creating tires that can withstand the most demanding conditions is no easy task. For one German tire company, Fulda, this meant commissioning a specialized test vehicle to push the limits of tire engineering.
Fulda dropped an incredible $8 million to create the Mercedes-Maybach Exelero, a one-off vehicle with a twin-turbo V-12 that produces 690 horsepower and 752 lb-ft of torque. If that can't rip these tires apart, nothing can.
Learn more about the history behind Mercedes-Benz's luxury cars.
8. Pagani Huayra Codalunga: $7.4 million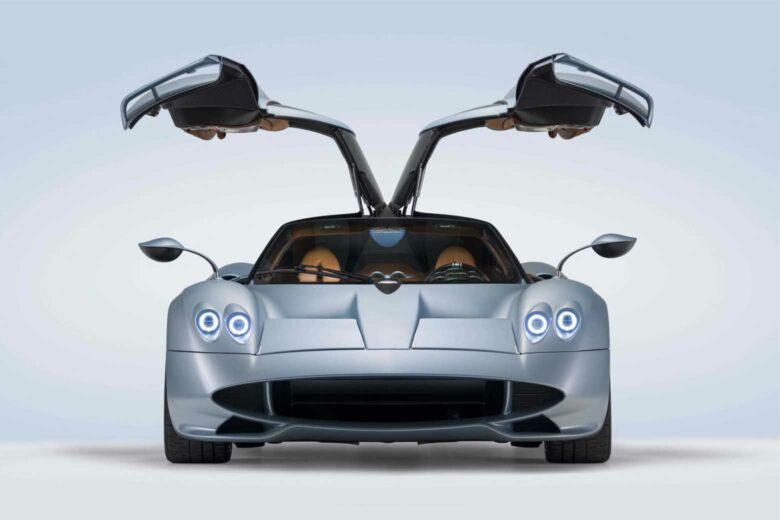 Exclusive automakers understand that filling customer demand is key. And when two Pagani collectors communicated a desire for an exclusive vehicle featuring the iconic long-tail shape from 1960s race cars, the brand stepped up to deliver.
The result is the Pagani Huayra Codalunga. Limited to five examples, this pushes rarity through the stratosphere. Under the hood is an 828-horsepower V-12 engine that's ready to roll at the drop of a hat.
9. Bugatti Divo: $6 million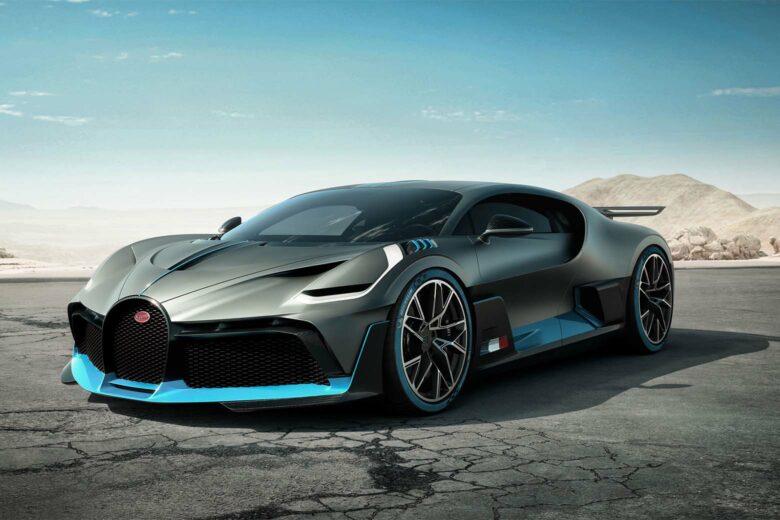 Bugatti's Chiron was such a success that the Divo, a car that closely follows it, has several similar features. However, the Divo is more exotic-looking – and much more exclusive.
Only 40 Divos will be produced and sold. Each has already been spoken for. Its updates include a better suspension, a much lighter frame for increased speed, and a new dorsal fin. Inside, the Divo houses an 8.0L W-16 engine with four turbochargers. As a result, the Divo has 1500 horsepower, an acceleration of just over 0-62 mph (0-100 km/h) in 2.4 seconds.
Its top speed? 236 miles per hour (380 km/h).
10. Bugatti Chiron Super Sport 300+: $5.7 million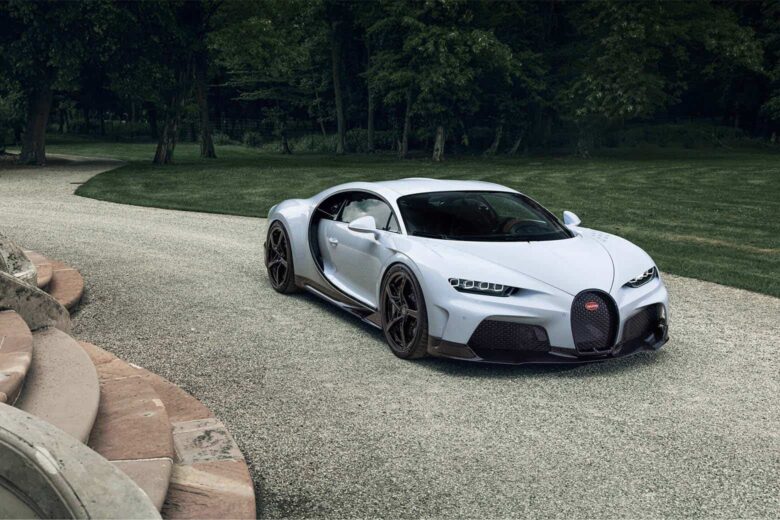 At almost double the cost of the Jesko and the Murray T.50, Bugatti's Chiron Super Sport 300+ provides speed and power alongside the beauty that truly makes a Bugatti a Bugatti. Under the hood of each car lies decades of expert craftsmanship and years of automotive artistry. Bugattis often go for several million – and Bugatti wants you to know that, feel that, every time you see one.
The sinuous curves it wears on its sleek facade are futuristic; it gets a mind-bending 1,577 horsepower from a quad-turbocharged 8L W-16 motor. Years ago, this vehicle was the first to break the then-golden speed barrier of 300 mph (483 km/h) – and so, much like the most expensive car in the world, this Bugatti has a claim to fame that will never allow its value to depreciate.
The Bugatti Chiron Super Sport 300+ accelerates from 0-60 mph (0-100 km/h) in 2.4 seconds. It reaches a top speed of just over 300 mph, or 483 km/h; and, as a perk, does have a basic infotainment system that syncs with both Apple and Android products.
11. Pagani Imola: $5.4 million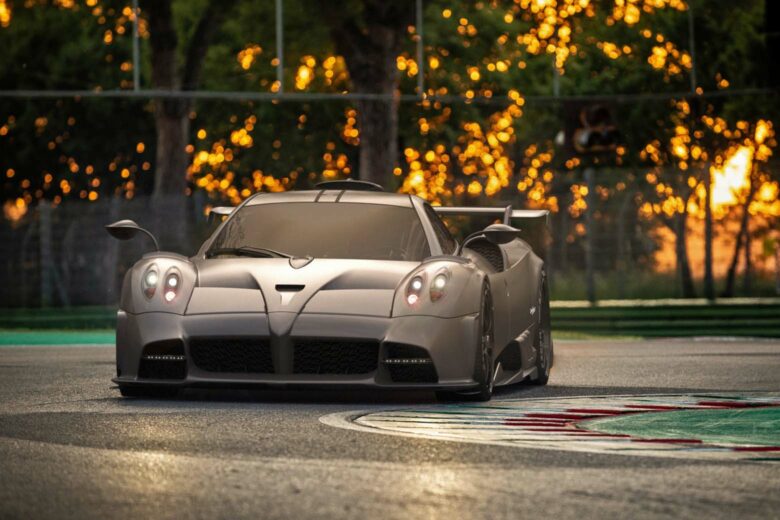 Harnessing over 800 horsepower is not for the faint of heart. This level of power can literally rip itself apart, unless you bring in the Pagani team to develop the right components to tame the beast.
The Pagani Imola is a limited production run with just five units produced. It's built to scream around any track you can get it on and features a giant new fixed wing, diffuser, and front splitter.
12. Bugatti Mistral: $5 million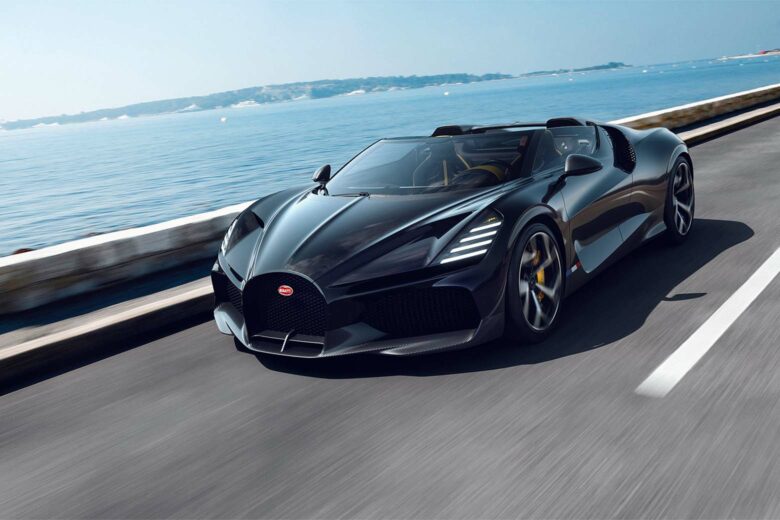 As electrical power surges through the automotive world, it leaves a long line of retired platforms in the dust. And in the case of the legendary Bugatti W-16 engine, consider the gold watch delivered.
The Bugatti Mistral is likely the last vehicle with this monster engine. It shares many features with the Chiron coupe, but the roof has been torn off and the front end heavily reworked. The Mistral is shooting for the moon to claim the title of the fastest open-top production vehicle in the world, with a reported top speed of 261 mph (240 km/h).
13. Koenigsegg CCXR Trevita: $4.8 million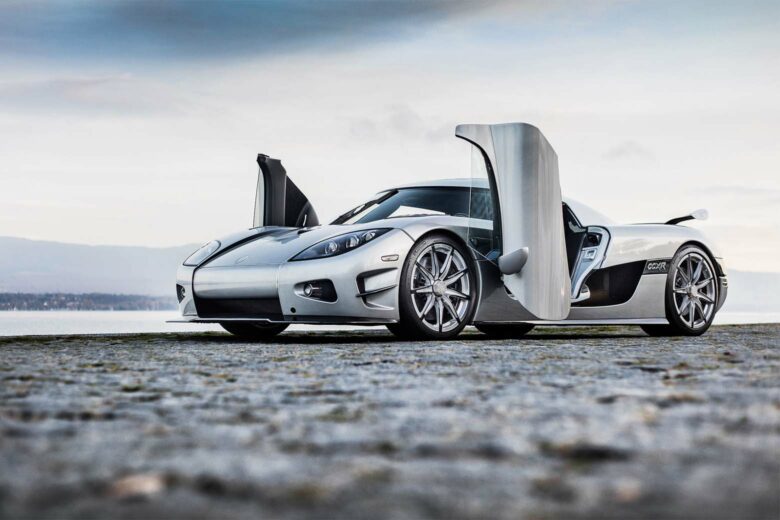 Meticulous attention to detail is inherent in almost every supercar around. But when Koenigsegg decided to one-up itself and create an even more exclusive CCXR variant, the performance automaker pushed the limits of detail.
The Koenigsegg CCXR Trevita features a white diamond carbon fiber finish to separate itself from the rest of the lineup. The process was so demanding, they only produced two of these units and sold them for a staggering $4.8 million. Boxing champion Floyd Mayweather is the former owner of one.
14. Bugatti Bolide: $4.7 million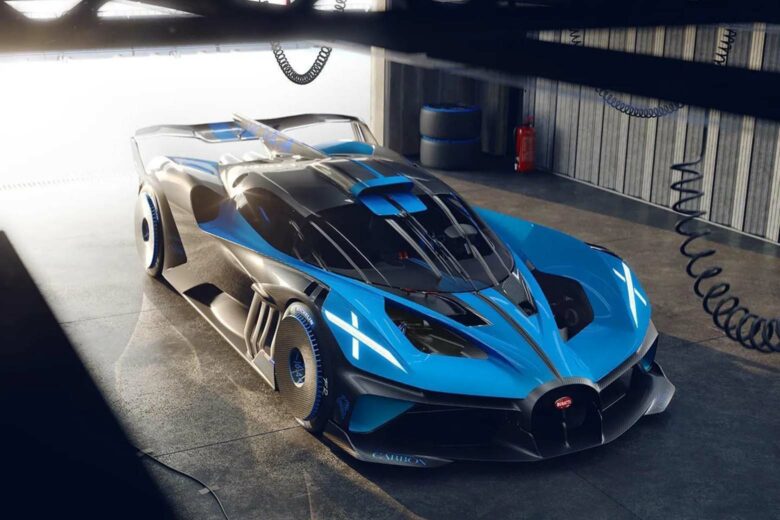 Concept cars allow designers to let their imagination run free. Sometimes these creations fall flat, but when Bugatti released the Bolide experimental hypercar concept, people just couldn't get enough.
Thankfully, Bugatti didn't turn a blind eye and instead was able to fulfill the fantasies of its clients. The concept turned to production, creating the Bugatti Bolide with 1,578 horsepower. Many elements are incorporated into the sleek design to provide downforce that will keep the tires firmly planted as it roars down the track.
15. Gordon Murray T.50s: $4.4 million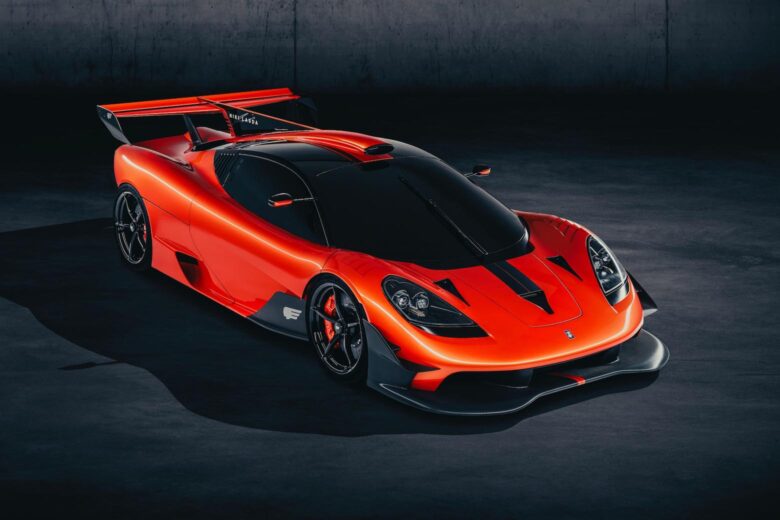 Using the Niki Lauda name in the automotive world sets expectations as high as they can go. For Gordon Murray, that's not a problem.
The Gordon Murray T.50s Niki Lauda serves as an uncompromising tribute to the motorsports icon. This track-focused model shaves off an impressive 200 pounds from the T.50 while adding almost 75 horsepower.
The lucky 25 owners will have a 725-horsepower V-12 engine at their feet, with the capability to reach a mind-boggling 12,100 rpm.
16. Lamborghini Veneno: $4 million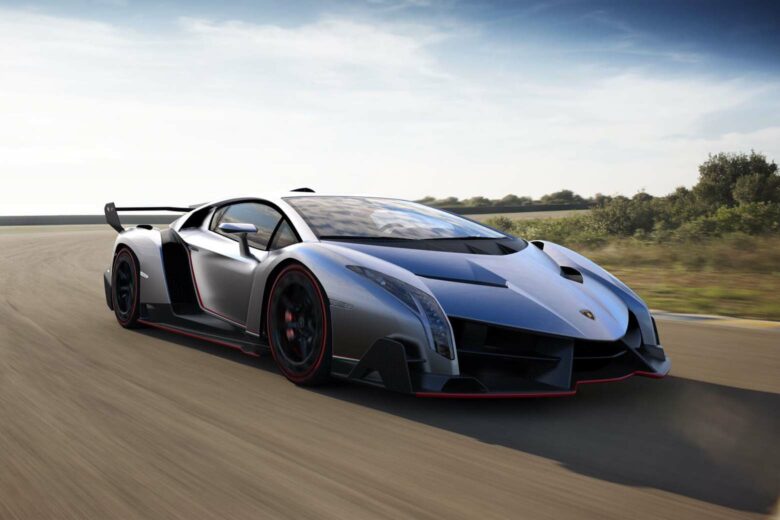 Celebrating a 50th anniversary should be memorable. When this grand achievement came to Lamborghini, the Italian supercar maker didn't hold back.
The Lamborghini Veneno is an Aventador-based model that's a racing prototype for the road. It features even more menacing styling elements and mind-blowing performance. Four examples of the Veneno Coupe were produced along with nine open-top Roadsters.
17. Koenigsegg CC850: $3.65 million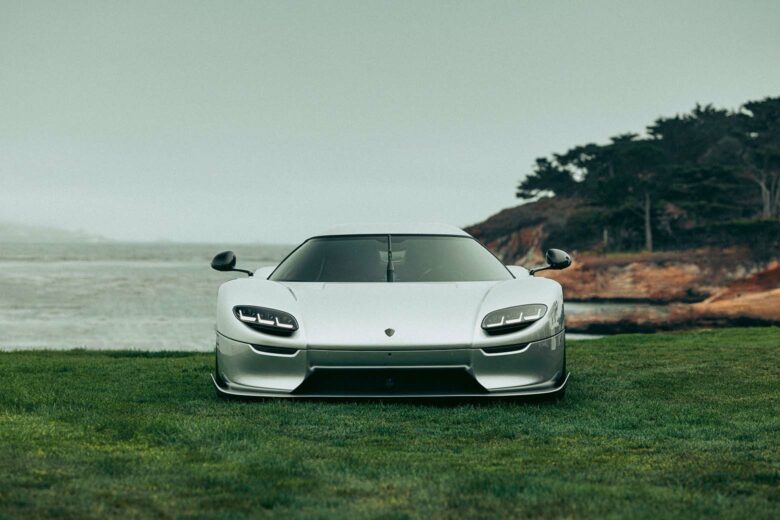 As the brand's 20th anniversary celebration, the Koenigsegg CC850 stands out in many ways with its 5.0L V-8 producing a whopping 1,385 horsepower.
But what truly sets it apart from the crowd is the unique Engage Shift System (ESS) which features a nine-speed automatic that can switch to a six-speed manual. It has a gated shifter layout and a foot-operated clutch.
Under the skin, it's still shift-by-wire. But the driver experience is the closest you can get to a true six-speed manual.
18. Bugatti Chiron Pur Sport: $3.6 million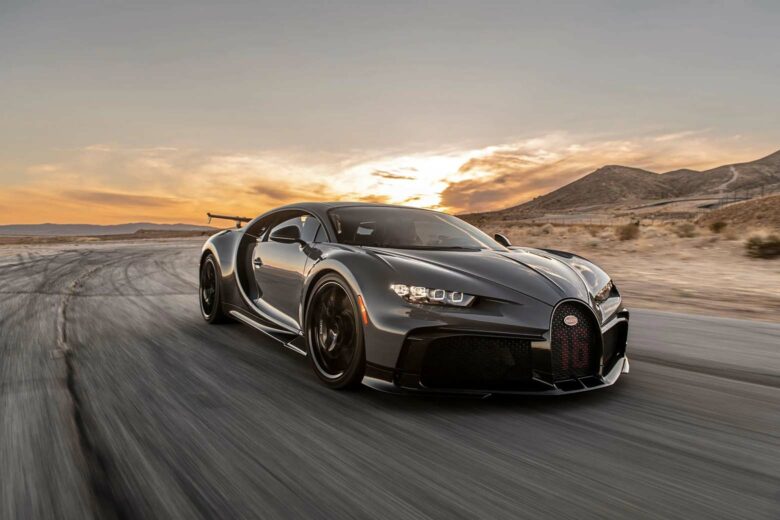 Trying to one-up the Bugatti Chiron is a challenge that many automakers would fall short of. But when the in-house team gears up for the task, the world pays attention.
The Bugatti Chiron Pur Sport is a 60–unit production to appease the brand's loyal customers who wanted a more nimble take on the impressive machine. And they got it.
The Pur Sport rips out anything else that's not essential to deliver maximum performance. It's lighter and more nimble, with downright insane performance when pushed to its limits. Yet somehow it still retains nothing but grace when cruising down city streets.
19. Lamborghini Sian: $3.6 million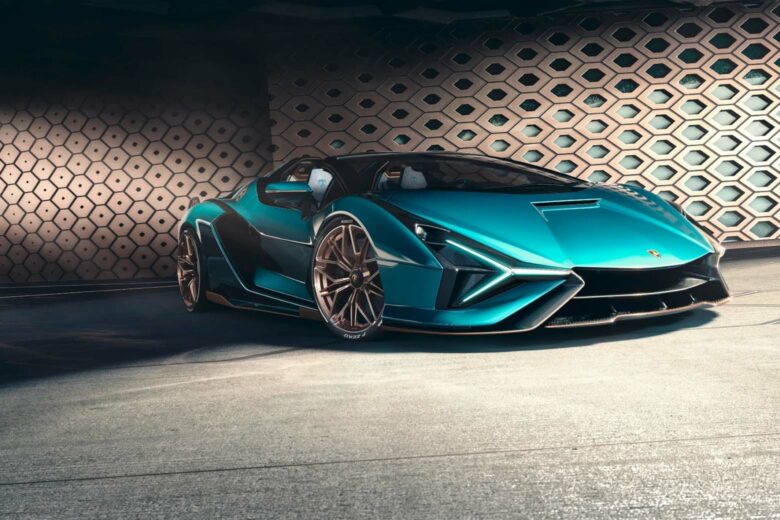 Lamborghini Sian translates to Lamborghini "lightbolt" in Bolognese dialect, which should give you some idea as to what this supercar is capable of. Not only is it the most powerful Lamborghini ever made, but it's also the most expensive. This limited edition hybrid supercar was sold to just 63 customers in total and comes with outrageous features to match.
The Sian was designed to be the most customizable Lamborghini ever made, with every single color available to cover its carbon fiber body right through to its seats and interiors. It also easily reaches 0 – 60 mph in less than 2.8 seconds and has a top speed of 217 mph.
20. Aspark Owl: $3.56 million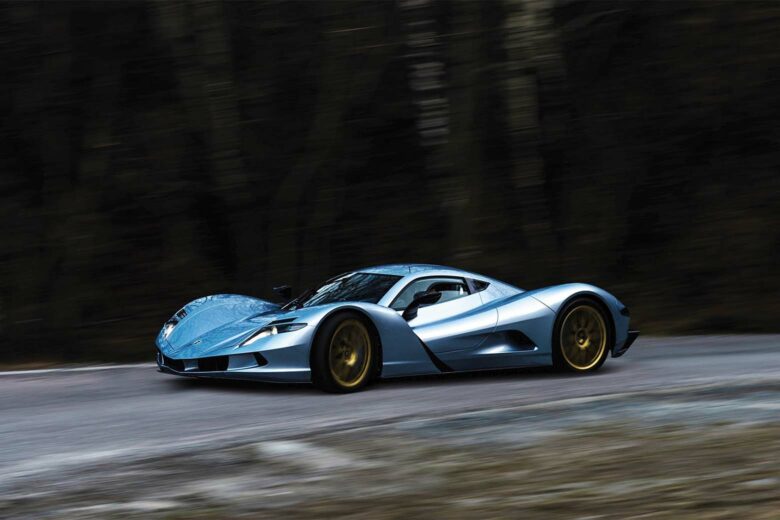 When technology jumps ahead, it opens the door to competition. While some of the most expensive cars hold on tight to internal combustion engines, relative newcomer Aspark throws convention out of the window.
The Aspark Owl is one of the most advanced electric vehicles the world has seen. Four permanent magnet synchronous motors work in unison to deliver 2,012 horsepower and push to 60 mph in less than 1.7 seconds.
The low-slung roof with elegant lines doesn't disappoint and neither does the entire driving experience.
21. Pagani Huayra BC Roadster: $3.5 million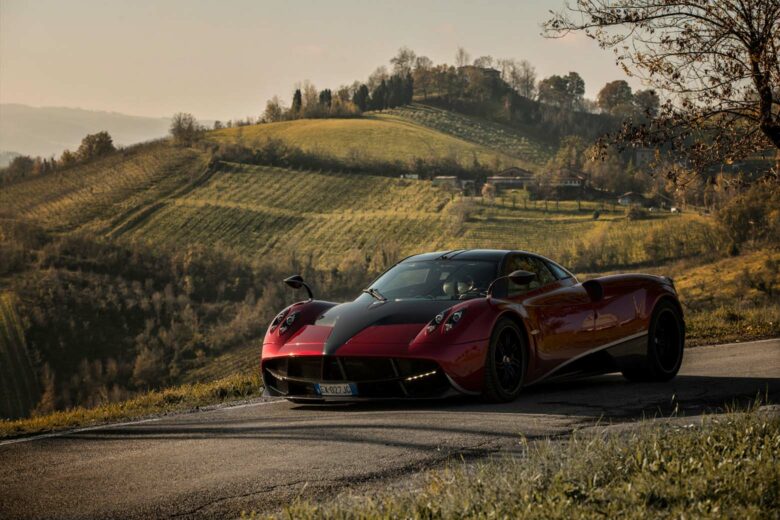 The Pagani Huayra BC Roadster isn't just impressive, it's also seriously beautiful. A car that deserves admiring before you've even put your foot on the pedal, its good looks almost justify its extortionate price tag.
The Pagani Huayra BC Roadster is a confident car, and one that's more than tripled in price since it first sprung up on the market in 2011. Some of this car's ridiculous speed comes from its makeup – a material even lighter than regular carbon fiber, called carbon-titanium HP62.
Company founder and chief designer Horacio Pagani was reportedly directly responsible for the cool, classy colors inside each BC Roadster. And its name? The 'BC' is in reference to New York real estate mogul Benny Caiola, the first owner of a Zonda in the year 2000 and a friend of Horacio Pagani.
22. Pagani Huayra BC Roadster: $3.5 million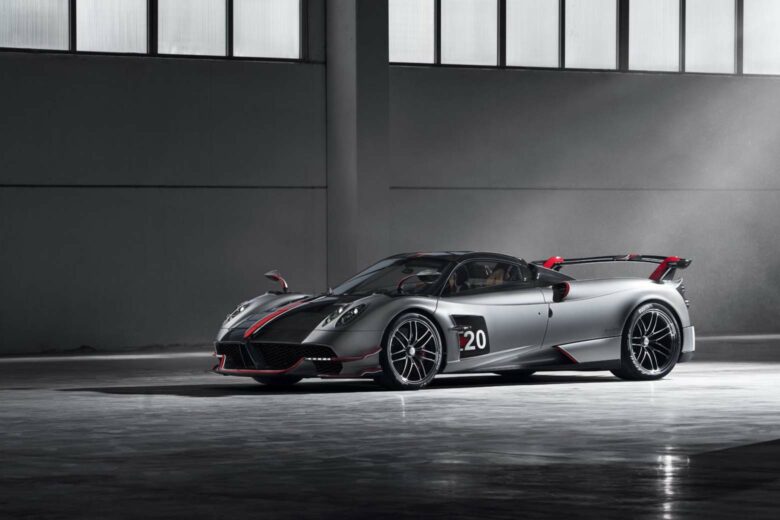 Although the model name might make you think this is just another small twist to the Huayra, in reality, it's closer to the next-generation Pagani models than the past ones.
The AMG-sourced 6.0L V-12 engine is now tuned to 791 horsepower and 774 lb-ft of torque. The open-top design of the BC Roadster is capped at just 40 units, sticking to the ultra-exclusive production that's expected from Pagani.
23. McLaren Solus: $3.5 million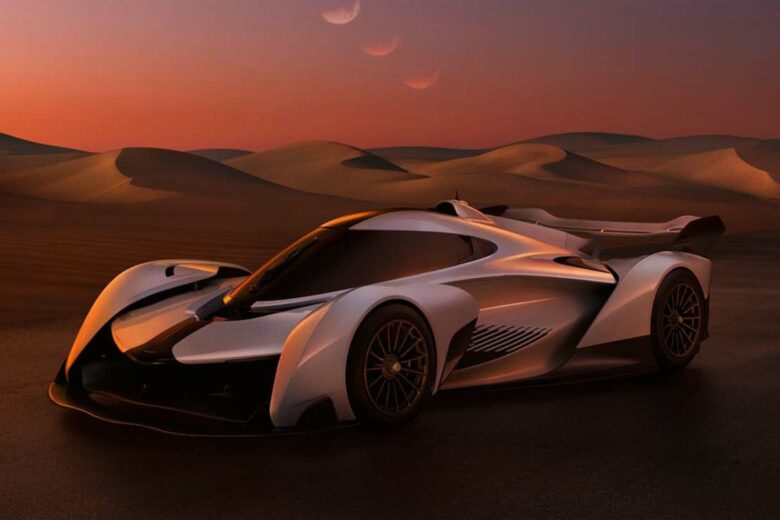 Getting the chance to climb into a Formula 1 vehicle doesn't come often. But the McLaren Solus provides an excellent shortcut to nearly the same experience.
The single-seat cockpit features a six-point harness and a steering wheel that keeps every control at your fingertips. Each owner gets a custom-tailored helmet and HANS device, embracing the fact that this is no street cruiser. It's a track demon.
24. W Motors Lykan Hypersport: $3.4 million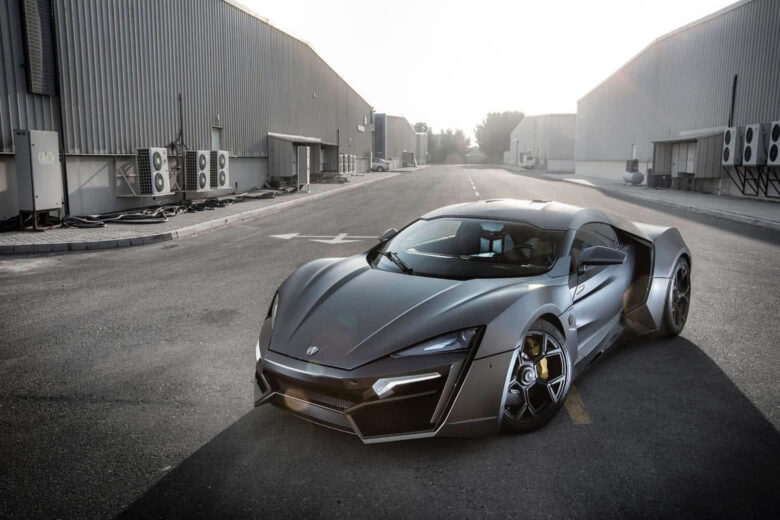 The Lykan HyperSport is one of the most exclusive cars on the planet, which makes testing it a huge mission – let alone actually owning one. With seven Lykan HyperSports in the world, it's fair to say this is a car that garners a lot of attention and rumors. Luckily, most of those rumors ended up being real, in a car with a list of awe-inspiring features that never seems to end.
With a small cameo appearance in the Furious 7 (hence the choice to produce seven cars in total) and a quick glance via the Superbowl, the Arab world's first supercar company wasn't holding back with getting some good press coverage. If you weren't sure just how expensive it is, keep in mind this car costs more than LaFerrari and McLaren P1 put together.
25. Bugatti Chiron Pur Sport: $3.3 million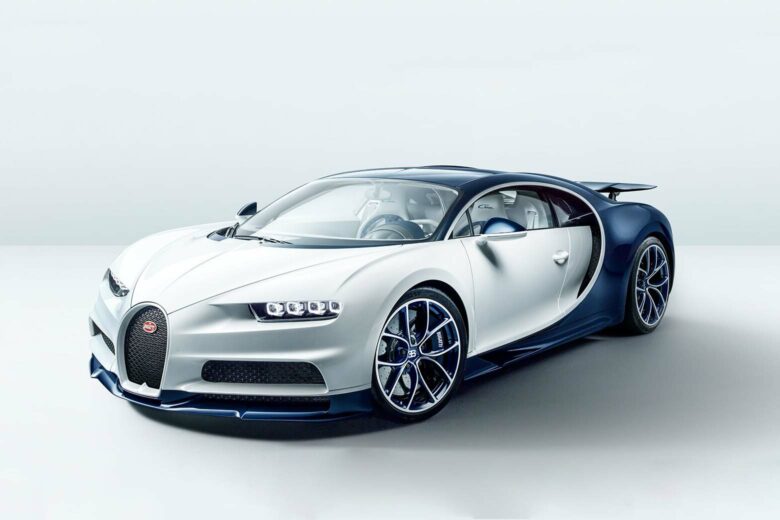 The Bugatti Chiron is an impressive vehicle. But the Bugatti Chiron Pur Sport is just a little more aggressive: a car with a roar in its belly and an ability to bring all existing conversations to a standstill. Only 60 of these cars have ever been made, and each one comes with unique touches based on its owner's preference. It's also around $1 million more expensive than the standard Chiron.
The Pur Sport describes itself as being the midpoint "where beast meets beauty" which seems like an accurate name for such a car. Designed not just to drive but to perform, it's a sharp, balanced car just waiting to spring into action.
26. Gordon Murray T.50: $3.08 million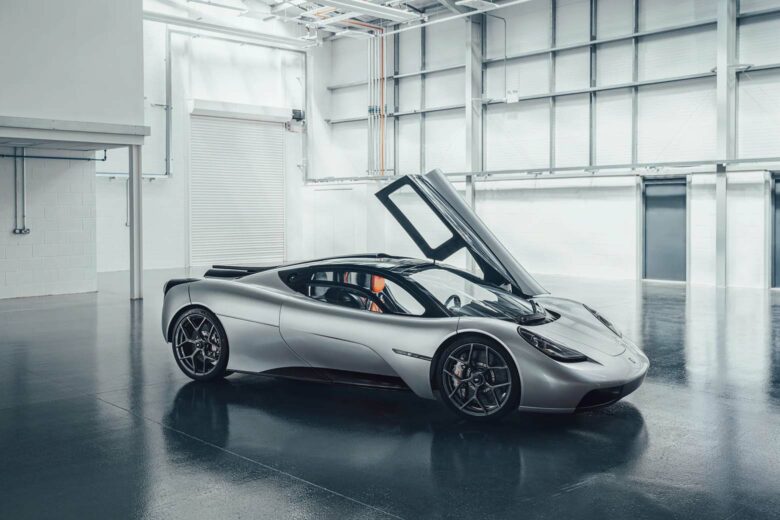 The engineer of the McLaren F1, Gordon Murray, has been an exceptional automaker for fifty years. In his honor, Gordon Murray Automotive decided to build 100 road cars (and 25 track-only vehicles) for its anniversary hypercar.
Billed by many as 'the last great analog supercar', the T.50 is built in an effort to help Gordon Murray invest in his brand. It also serves as an intended capstone, according to Murray – who has described the T.50 as "a bookend to the story of ultrafast internal-combustion cars."
Indeed, many auto houses are focusing on electric models, hybrids, and other sustainable initiatives. Murray acknowledged this by going out for one final hurrah – this vehicle.
It has a six-speed manual gearbox, a small, powerful, and naturally-aspirated V-12 engine, and (in a further homage to the McLaren F1) a traditional three-seat layout. The Gordon Murray T.50 has an impressive (claimed) top speed of 220 mph (354 km/h).
27. Ferrari Pininfarina Sergio: $3 million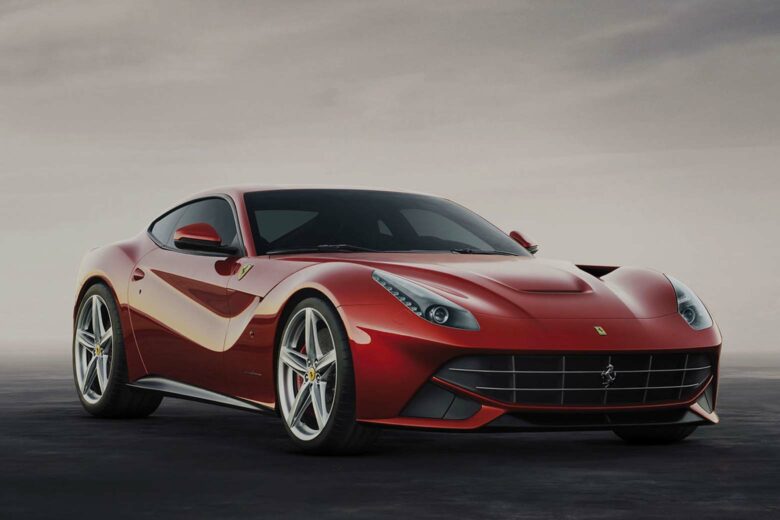 The Ferrari Pininfarina Sergio exists as a bit of a secret in the supercar world, in the sense that there are only six of them in existence, and it even had to get special approval before it was built.
This is a car designed as a legacy, paying homage to the 60th anniversary of Sergio Pininfarina's work with Ferrari. Based on the Ferrari Dino, the Pininfarina Sergio incorporates Dino's smoothness and round shape in a modern-day uptake with a few cues from the 1970s and 1980s thrown in for good measure.
Its extreme performance dynamics come powered by a naturally aspirated 4,497 cc V8 engine, while its good looks and aerodynamic design were chosen specifically to allow the engine to breathe.
Learn more about the history behind Ferrari's brand.
28. Koenigsegg Jesko: $3 million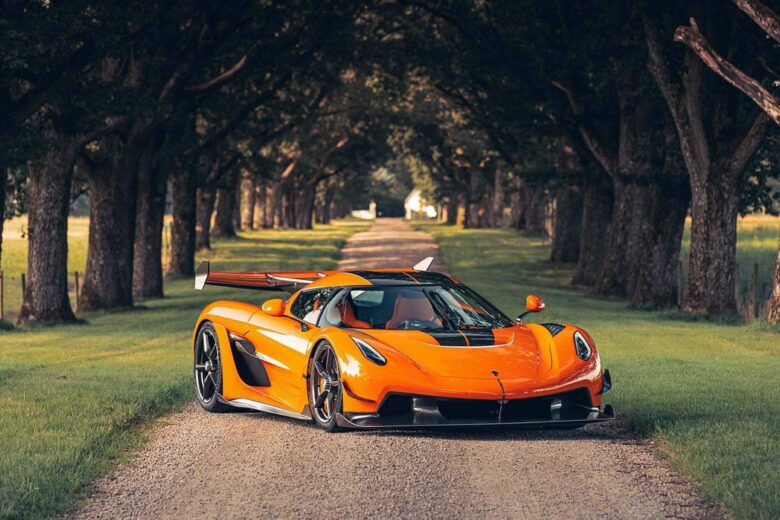 The Jesko is our first hypercar that hits the three million dollar mark. From a performance aspect, this makes sense: the Koenigsegg Jesko is also one of the fastest supercars in the world in 2023 – which definitely goes a long way towards its sticker price.
Swedish auto manufacturer Koenigsegg dreamt up the Jesko as a suitable successor to its groundbreaking Agera RS. An engine update, a lighter frame, and a surprising amount of comfortable add-ins make this a car that's not only lightning-fast – it's fun to drive.
Its engine is an overwhelmingly powerful 1280-hp V-8; its nine-speed transmission is completely bespoke, built in-house by Koenigsegg to be as quick-shifting as they come. The rear-wheel steering this car boasts helps with managing downforce and drag, so – even though this is a powerful car – the driver is in control at all times.
The Jesko Absolut reaches a top speed of 330 mph (or 531 km/h); as of now, we're still left to wonder about the breathtaking acceleration stats this powerful car must produce.
29. Hennessey Venom F5 Roadster: $3 million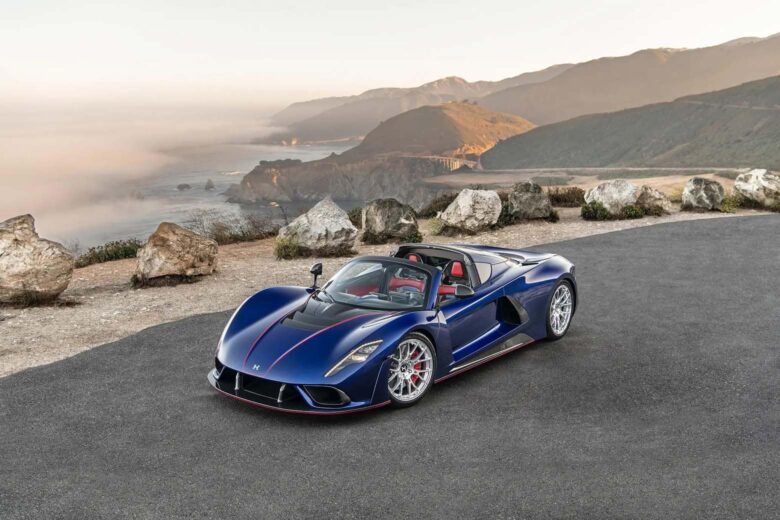 Hennessey Performance Engineering is no stranger to incredible performance. The US-based creator has transformed various production vehicles in magnificent ways, surpassing performance figures like no other.
With the release of the Hennessey Venom F5 Roadster, the company firmly planted itself high on the list of the most expensive cars. The Roadster is the open-top version of the Venom F5, which Hennessey dubs America's supercar.
30. Aston Martin Victor: $3 million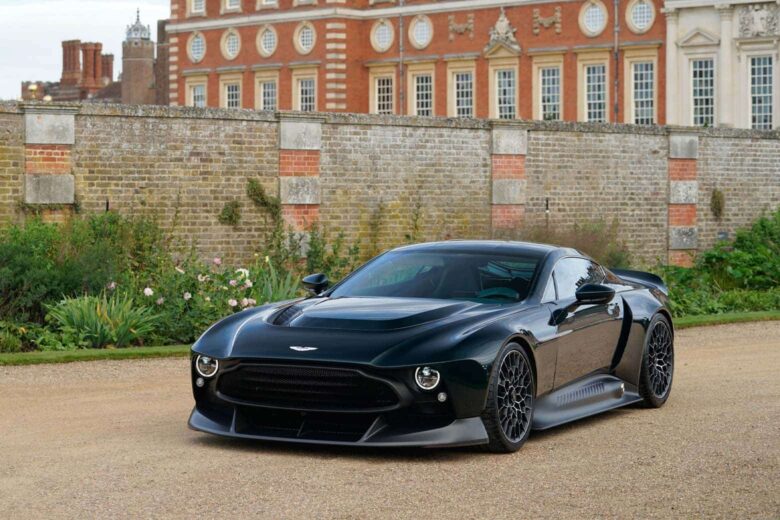 The term bespoke gets thrown around a lot in today's luxury world. But when it comes to the Aston Martin Victor, the term lives up to its truest definition.
The Victor is just one of one and unlikely to ever be repeated. It's the result of a prototype Aston Martin One-77 that had been left to rot. The brand couldn't breach its promise of limiting the One-77 to 77 units, so it transformed the prototype into a throwback model unlike anything else.
Paying homage to Victor Gauntlett who got the company through major challenges in the 1980s, the Aston Martin Victor is the hypercar that era never had.
31. Mercedes AMG One: $2.7 million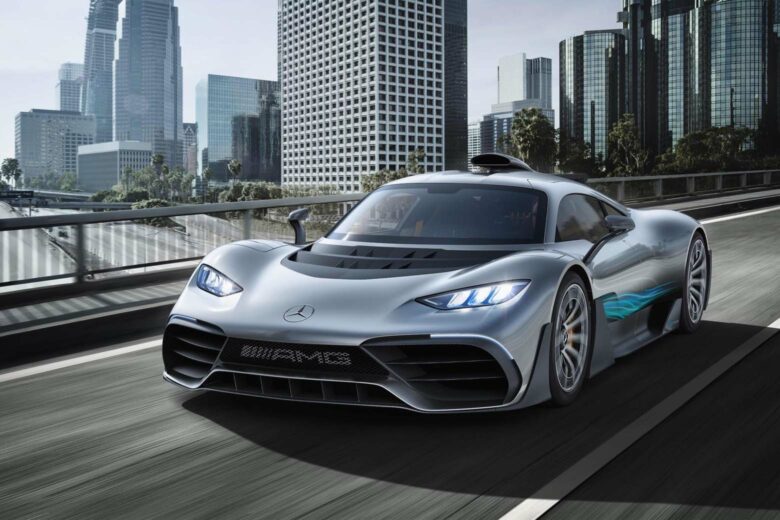 Though the production of this car was delayed for several months, it got there eventually: "Project One", as AMG engineers refer to it, is now all systems go. The long-anticipated 2023 Mercedes AMG One is a 1000-hp F1-derived plug-in-hybrid drivetrain, with an exceedingly quiet road presence.
That's the entire point of this hypercar: Road presence. This vehicle's built to mimic Formula One cars – but in a completely street-legal way.
Ever since Formula One had its first inaugural season in 1950, people have been searching for a way to bring that tech to the streets. With the AMG One, drivers who can afford to do so, can – and, now, with a sustainable hybrid model.
According to the Mercedes website, the claimed acceleration for this car is 0-120 mph (0-200 km/h) in 6 seconds. A 1.6-L V6 hybrid petrol and four electric motors allow the AMG One a top speed of more than 350 kilometers per hour (217 miles per hour).
Mercedes-Benz is doing a great job electrifying its entire range at the moment. Check our round-up of the best electric cars of the year to see what else they have in store.
32. Aston Martin Valkyrie: $2.6 million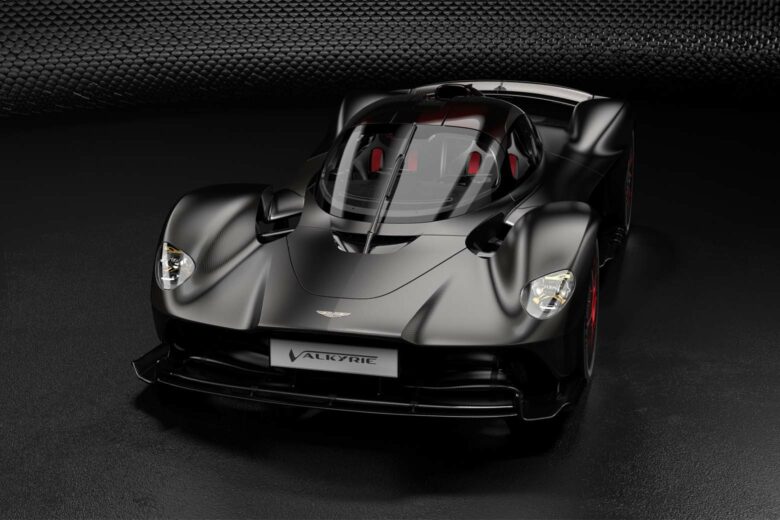 You'd certainly get a lot of stares using it for the daily commute but, contrary to its need-for-speed framework, the Aston Martin Valkyrie was actually designed to be driven on the road.
Created as a collaboration between Aston Martin and Red Bull Racing, the Valkyrie can hit a top speed in excess of 205 mph (330 km/h) with a growl to match. It's a car well worth some patience, revealed a huge five years after its concept was first shown to the world. Known as the brand's first hypercar, the Valkyrie takes 2000 man-hours to create and comes with a 6.5-liter V12 engine. There will only ever be 150 in the world.
33. Ferrari FXX K Evo: $2.6 million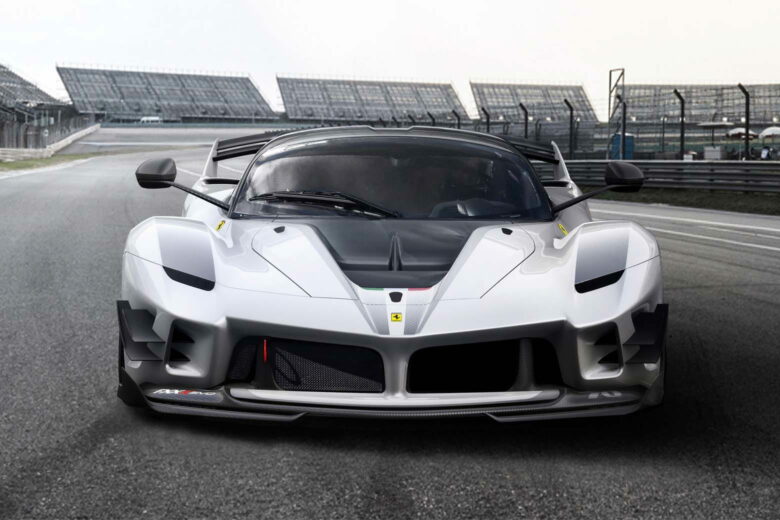 Staying complacent doesn't get you ahead in life. But you don't have to tell that to Ferrari. It's deeply embedded into the Italian supercar maker's spirit.
The Ferrari FXX K Evo is two steps of evolution strapped to the heart of the LaFerrari. It produces 75% more downforce than the original with reworked aerodynamics and suspension to handle the force. It's what happens when good enough is never the answer.
34. Ferrari F60 America: $2.5 million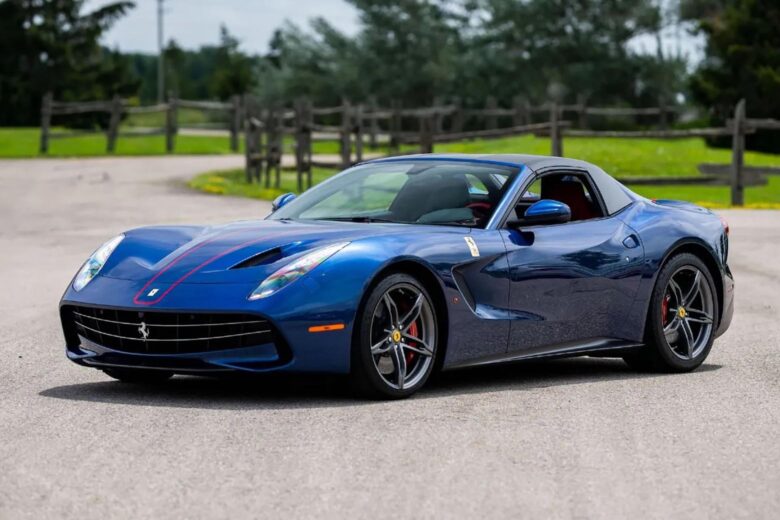 Ferrari knows its customers. For the US market, the most popular demands are a roaring V-12 engine and an open-top design.
When the brand's 60th anniversary in North America rolled around, it provided ten exclusive units to meet these demands. The Italian automaker even went as far as to incorporate a stylized American flag motif on the center of each seat.
To the surprise of no one, they instantly sold out. The Ferrari F60 America takes on many race-inspired themes, including a red-trimmed driver's side interior with an opposing black-trim passenger side.
35. Koenigsegg Agera RS: $2.5 million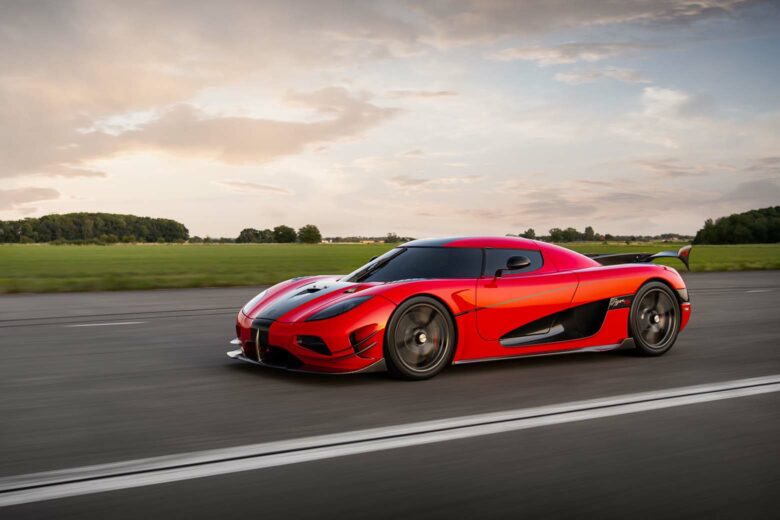 Claiming the title of the world's fastest production car requires relentless dedication. Every minuscule detail must be expertly tuned for performance, and even then, many fall short.
In 2017, the Koenigsegg Agera RS blew away the competition and its predecessors by reaching an astonishing 277.87 mph (447.19 km/h). A 5.0L V-8 engine produces 1,341 horsepower in each of the 27 units produced.
36. Lamborghini Countach LPI 800-4: $2.5 million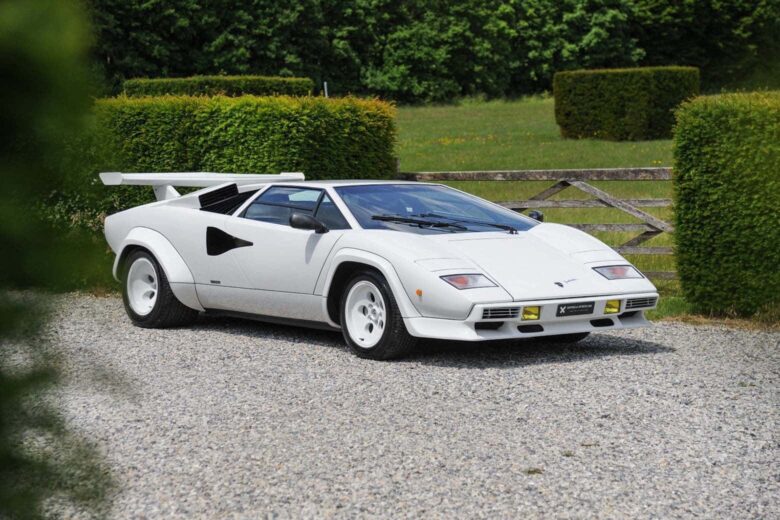 The Lamborghini Countach LPI 800-4 is a car that was pushed into the future from the moment it was conceived. Designed to celebrate the 50th anniversary of the iconic model of the same car, the Countach LPI 800-4 is a mouthful worth repeating.
Unveiled in 2021, it's one of the newer cars to make our 2023 list, immediately jumping into place with a unique body and framework that sets it apart from anything else on the market. This hybrid car comes packed with electrification, proving that gas isn't always the way forward. In total, Lamborghini will produce 112 of these cars over time.
37. Pagani Utopia: $2.5 million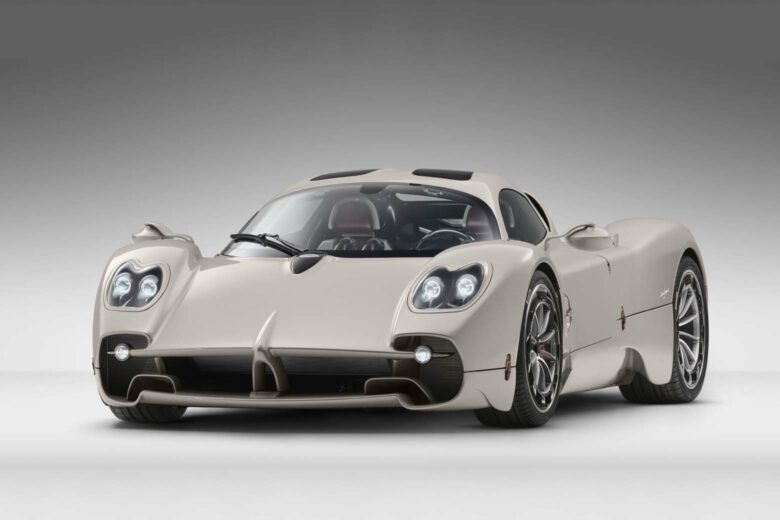 In a rare case of bucking modern trends, Pagani moves forward from the Huayra with the introduction of the Utopia. As a rear-wheel drive layout with an available manual transmission, it's a rare breed in today's world.
Rather than embrace electrification, the Pagani Utopia uses an all-new 6.0L V-12 Mercedes-AMG-sourced engine to push out 852 ponies. It uses a patented Carbo-Titanium core and lightweight bodywork to clock in at 2,822 pounds, giving it a power-to-weight ratio befitting for a car named after paradise.
38. Bugatti Veyron Super Sport: $2.4 million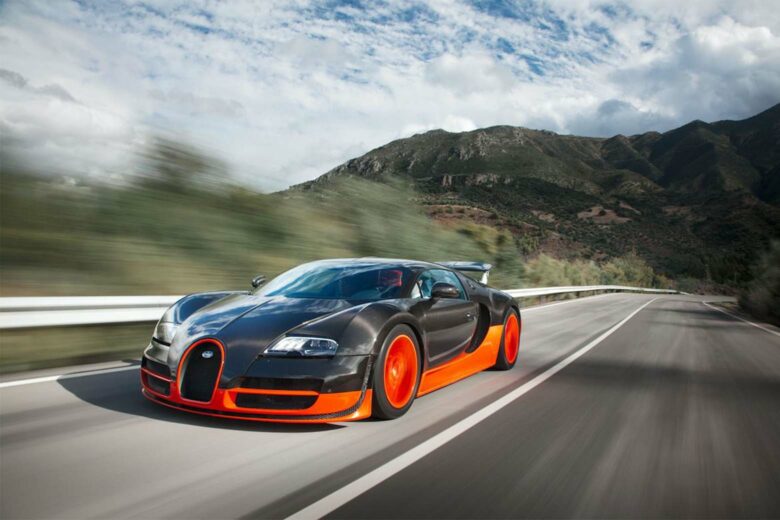 Bugatti doesn't produce cars. They create high-performance works of art, shrouded in exclusivity and luxury.
The exterior of the Bugatti Veyron Super Sport seamlessly blends purposeful modifications with stunning aesthetics. And under the hood, the 8.0L quad-turbocharged W-16 kicks out 1,184 horsepower.
In 2010, this exquisite automotive example broke the production speed record by reaching 267.856 mph (431.072 km/h).
39. Koenigsegg CCXR: $2.31 million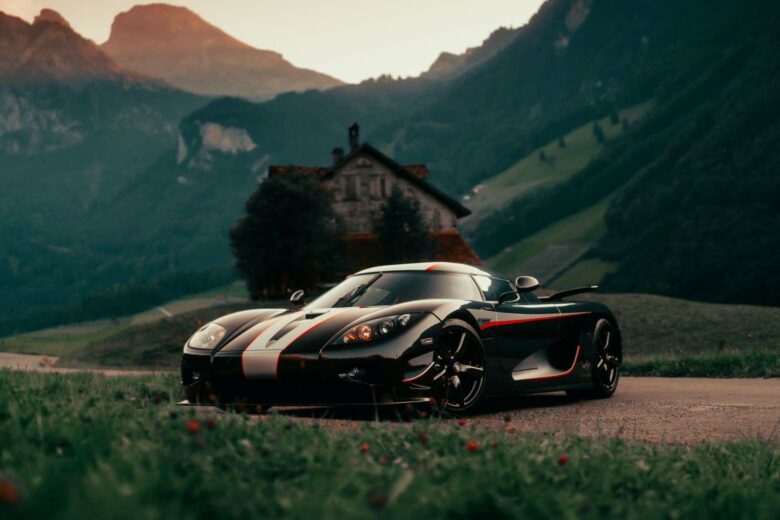 Since its start, Koenigsegg has done everything it can to provide the ultimate driving experience. The Koenigsegg CCR shocked the world with a record-breaking speed.
The Swedish automaker followed up with the impressive 4.7L twin-turbo V-8 CCX shortly thereafter, and then continued to move forward with the release of the Koenigsegg CCXR.
The CCXR stuck with the powerful V-8 but was one of the first supercars to use ethanol blends, providing a more eco-friendly alternative that had the added benefit of increased performance.
40. Aston Martin Vulcan: $2.3 million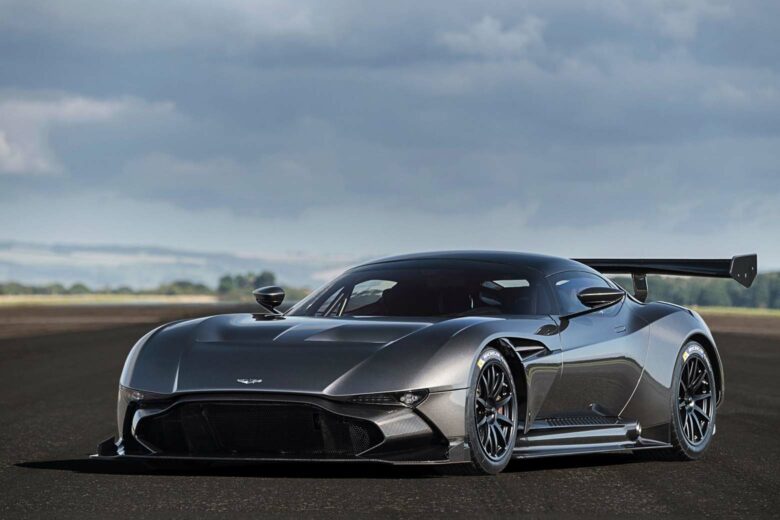 You'd have to be a special sort of person to drop more than a million dollars on a car that's not road-worthy. Meet the Aston Martin Vulcan: one of the world's most expensive cars that is not designed to be driven anywhere aside from a race track. If you've never seen this hypercar in real life, it's difficult to imagine just how sleek it looks on the track.
When you've witnessed that, you'll understand where most of its talk (and price tag) comes from. The Vulcan was designed to pay homage to other Aston Martin vehicles and, to date, only 24 have ever been built. If you did manage to buy one of them, there's only one company in the world legally capable of making it road-worthy – Britain-based RML.
41. Delage D12: $2.3 million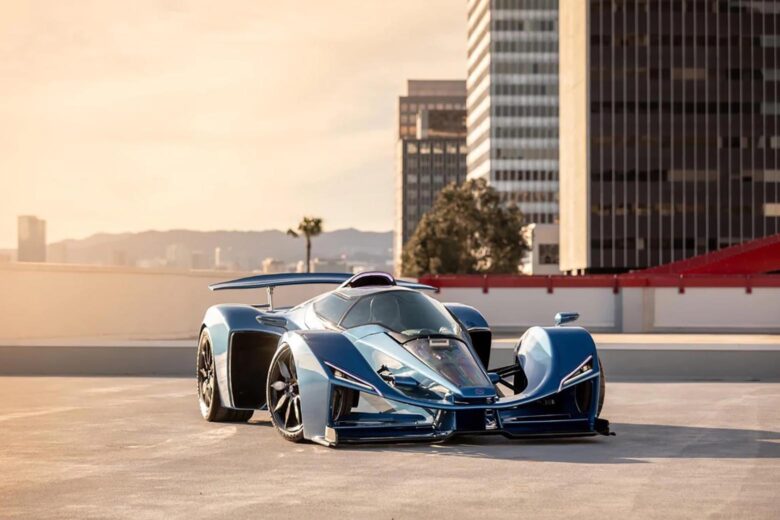 If you enjoy comeback stories, listen up. French luxury automobile Delage first began operations in 1905 and created some of the 20th century's finest race cars before ending production in 1953.
In 2019, Delage Automobiles was re-founded. The French brand set its sights on creating the Delage D12, a hybrid supercar that has out-of-this-world performance and style. And they succeeded.
The D12 uses a central driving position to harness the 990-horsepower 7.6L V-12 engine mated to a 110-horsepower electric motor. It is just about as close as you can get to a Formula 1 driving experience.
42. McLaren Speedtail: $2.25 million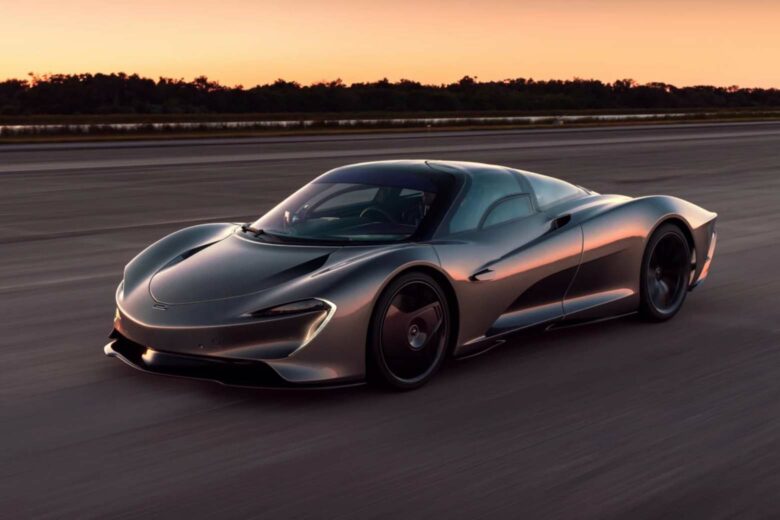 As the fourth addition to the McLaren Ultimate Series, the Speedtail follows the footsteps of the McLaren F1, P1, and Senna without directly replacing any. It fuses innovation and elegance, bringing in the most aerodynamic and fastest McLaren then produced.
As expected, the 4.0L twin-turbo V-8 hybrid drivetrain doesn't disappoint with power. And it adds advanced touches such as electrochromic glass that can eliminate sun glare at the push of a button.
43. Ferrari LaFerrari Aperta: $2.2 million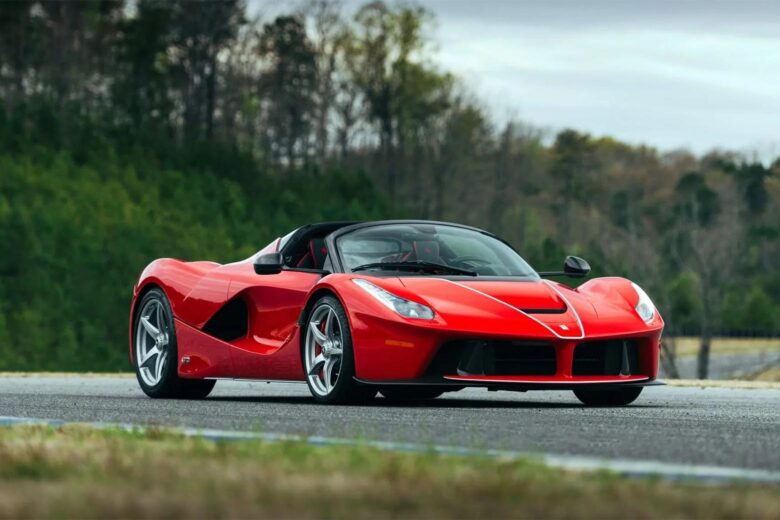 With only 210 Ferrari LaFerrari Aperta in existence, it's fair to say that sourcing this car won't just cost you a lot of money, but an awful lot of time, too. Out of those 210, 190 were sold, nine were reserved for the Ferrari 70th Anniversary celebration, and the final car was sold later at auction.
The LaFerrari Aperta is a special version of the LaFerrari and comes with special features to match. For a start, it was the first Ferrari since the Dino 308 GT4 to not have Pininfarina bodywork or other, similar styling. Its name, "Aperta", means "open" in Italian, translating to the difference in doors and wheel arches compared to its other Ferrari siblings. Check our detailed Ferrari price list to see exactly how much each model cost.
44. Hennessey Venom F5: $2.1 million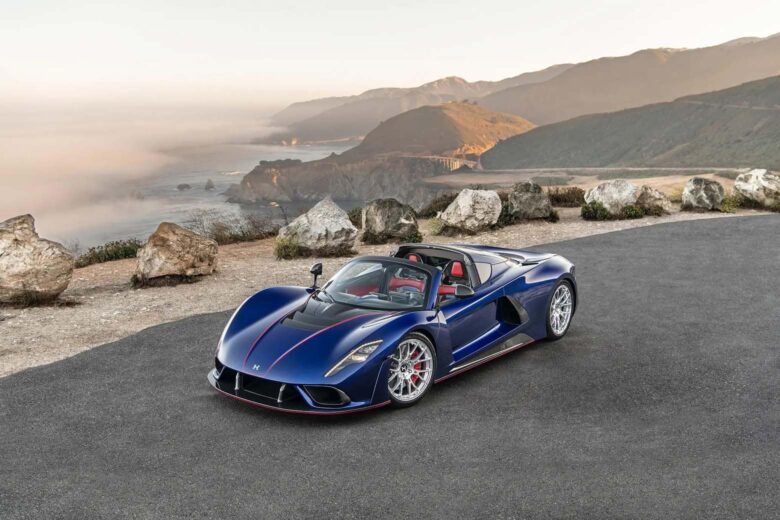 After many years of modifying other manufacturers' vehicles, Hennessey ventured onto its own path in 2020 with the Venom F5.
The performance-focused company created its first in-house engine, a massive 6.6L twin-turbo V-8 that generates 1,817 horsepower at 8,000 rpm. The lightweight construction pairs with a driver-focused design to provide the most advanced vehicle coming from North America.
45. Lotus Evija: $2.1 million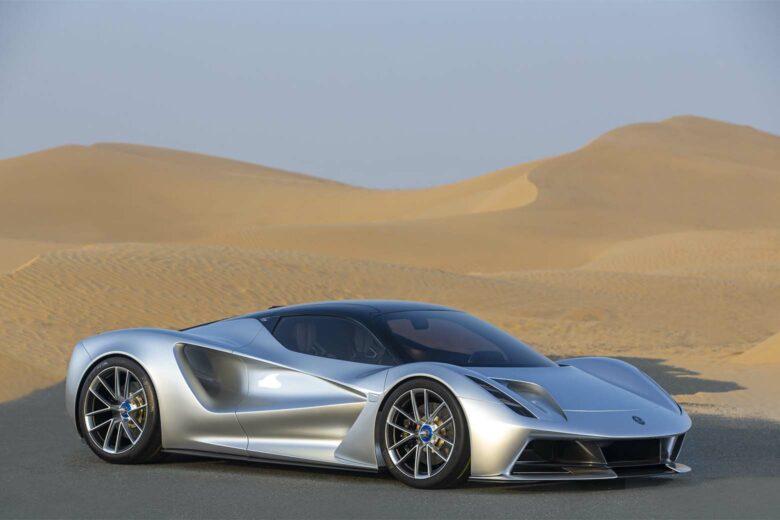 With a vibrant motorsports history, Lotus knows expensive cars and speed. It's no coincidence that Team Lotus took the Formula 1 Championship seven times.
Standing apart from many on this list, the Lotus Evija is stepping outside the box and embracing battery-electric technology. The previous Lotus Elise served as the platform for the first Tesla Roadster, but now Lotus is releasing their first in-house designed and built EV.
The Evija is no slouch. It produces nearly 2,000 horsepower, claiming to be the most powerful production vehicle in the world. All 130 units can be fully customized to the buyer's demands.
46. Rimac Nevera: $2.05 million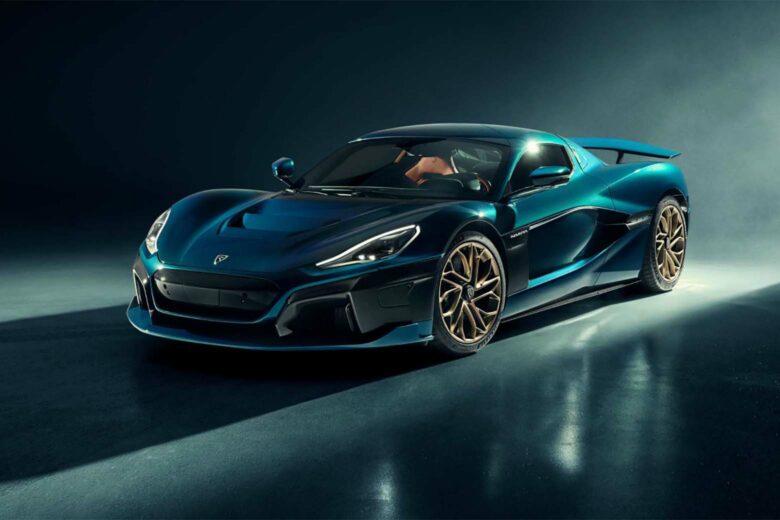 Croatian start-up Rimac should be proud. In their efforts to create the ultimate high-performance EV, the Nevera brainchild has been compared to the Bugatti Chiron. That's impressive company to keep, especially for a smaller brand that's forging its own path.
After peeking at the specifications, it's easy to understand why. The Rimac Nevera uses four electric motors to produce a whopping 1,877 horsepower, sending it up to 60 mph in 1.85 seconds, despite its 5,100-pound weight.
47. C zinger 21C: $2 million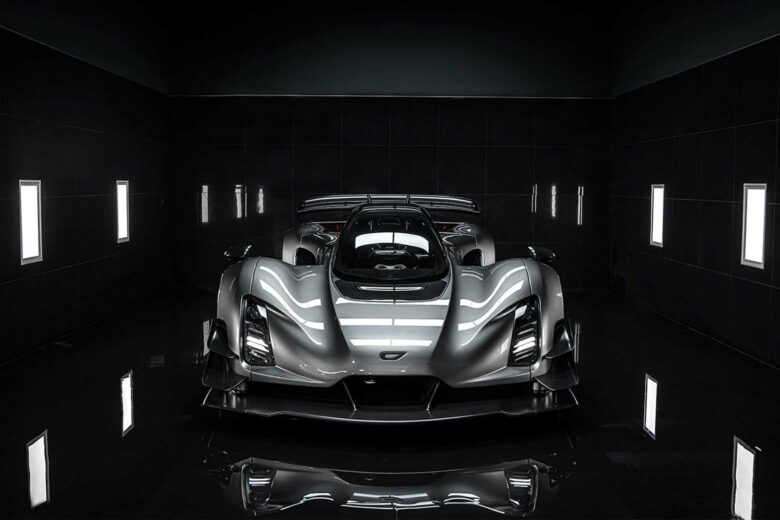 Now and then, something comes along to challenge the status quo. To introduce a new way of thinking that repels standards and develops pathways toward a brighter future.
C zinger is one of those special brands. It's not going fully electric nor is it sticking with internal combustion. It's getting the best of both worlds by fusing a twin-turbo V-8 with an 800-volt electrical system to produce 1,350 horsepower.
Its innovation goes far beyond that. The C zinger 21C forgoes the usual assembly-line production in favor of a streamlined 3-D printing approach that combines speed, precision, and adaptability like never before.
48. C zinger 21C V Max: $2 million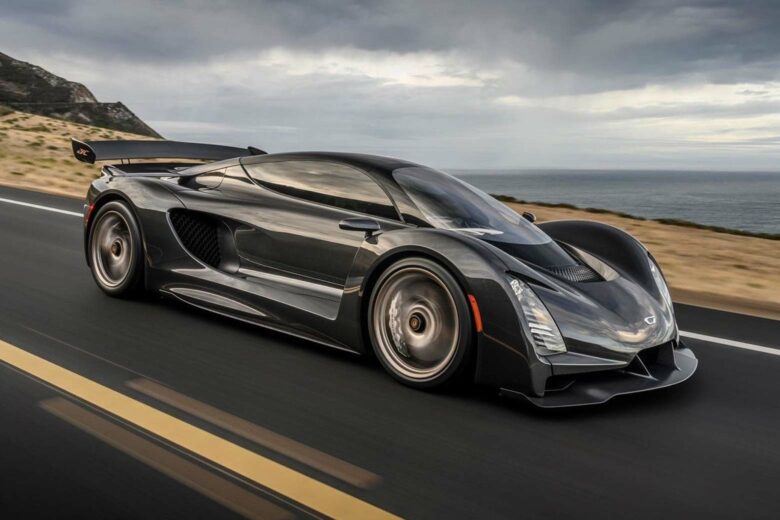 You know what shows heart? Holding onto the fastest lap time from a production car at Laguna Seca, and then immediately following it up with a variant that puts speed ahead of all else.
The C zinger 21C V Max is proof that this LA-based automaker won't be pushed around. Instead, it throws out the old bodywork, goes back to the drawing board, and comes up with insane aerodynamic improvements to sweep across the entire vehicle.
49. Koenigsegg Agera R: $2 million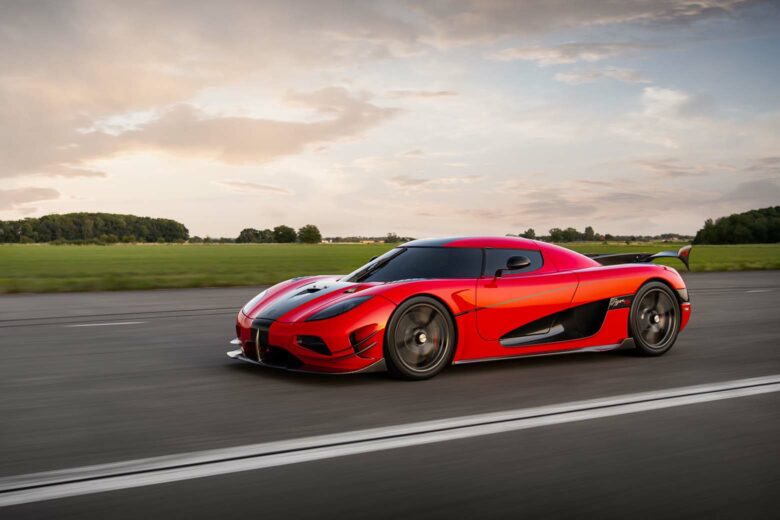 If you want to understand how incredible the Koenigsegg Agera R's performance is, just look at the 2011 record books. It broke six production-car world land speed records that year, including the pure acceleration from 0 to 300 km/h (186 mph) in 14.53 seconds, as well as the 0-300-0 km/h (0-186-0 mph) in 21.19 seconds with incredible stopping power too.
It took the underpinnings from the first Koenigsegg Agera design and pushed them forward. And this builder of some of the most expensive cars in the world shows no signs of slowing down, at least in the figurative sense.
50. Pininfarina Battista: $2 million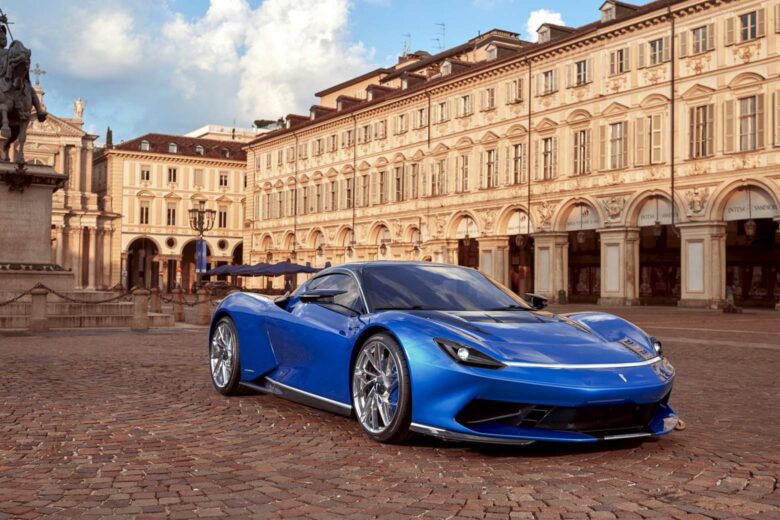 It's not easy to place one name atop the world of automotive design. But if there is one name that is never left off the list, it's likely to be Pininfarina. The Italian design house has been involved in some of the most iconic cars developed for almost a century, across a wide variety of brands including Alfa Romeo, Ferrari, and Bentley.
And now we can all witness history. The Pininfarina Battista is the first Pininfarina-branded high-performance luxury electric hypercar. Only 150 units will be produced, all using a Rimac-based powertrain with 1,877 horsepower.
51. Deus Vayanne: $2 million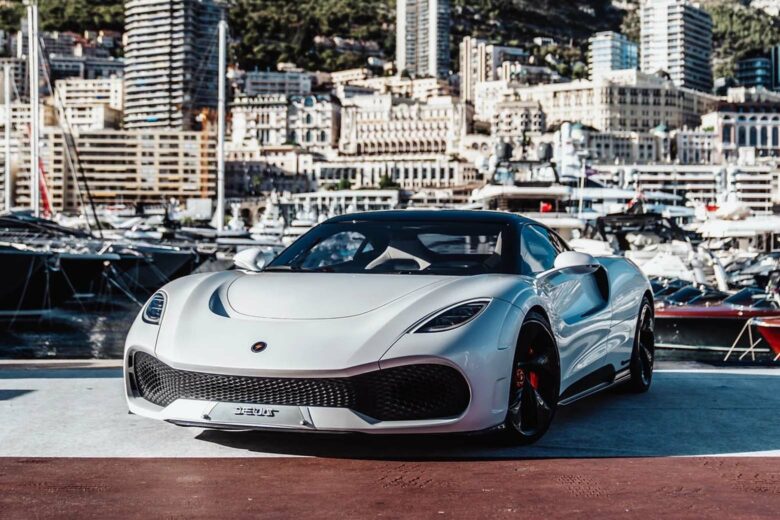 You're going to have to wait until 2025 to see this roaming the streets. But the Austrian EV startup Deus Automobiles is currently working on a 99-unit production of a hypercar with a jaw-dropping 2,200 horsepower.
This is a serious endeavor for even the most experienced automakers. For the Deus Vayanne to live up to its expectations, the new company will have to step up with incredible handling, braking, and aerodynamic qualities to let those rubber-shredding ponies loose.
Bonus: 1963 Ferrari 250 GTO: $70 million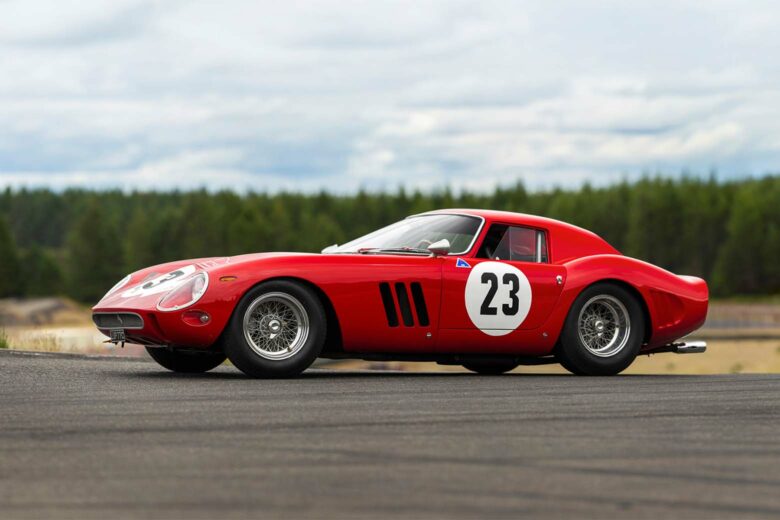 Our 2023 final entrant is unchanged from 2021, and we'd be surprised if another car beats its position in 2023, either. So, for the most expensive car of all time, we'll once again turn to history.
In 1964, the 250 GTO won the Tour de France Automobile – marking the ninth year in a row that Ferrari won that race. Only 36 of these cars were made between 1962 and 1963; the specific Ferrari that's the most expensive in the world, at an unbelievable $70,000,000 price point, was victorious not only in the Tour de France, but it also placed in the Le Mans.
With a top speed of 174 miles per hour and an acceleration of 0-60 mph (0-100 km/h) in 6.1 seconds, its stats wouldn't stand up to the hypercars of the modern day. However, in the '60s, it was the fastest in the world – and, now, decades later, it remains the most expensive car in the world of all time by a long shot.
Some term this beautiful car the Picasso of the Motoring World; others, the Holy Grail of Ferraris. The current owners of the most expensive car of all time include American fashion designer Ralph Lauren, Pink Floyd drummer Nick Mason, and Jon A. Shirley, the former President and COO of Microsoft.
The most expensive cars of 2023 summary list
Bonus: 1963 Ferrari 250 GTO
The ingredients of a luxury car
Have you ever thought about what goes into a luxury vehicle – that is, the practical difference between a budget car and higher-end alternatives? It's easy to think that much of it is simply brand recognition and price. In the past, that might have been the answer.
Now, auto manufacturers are stepping up their innovation. With initiatives such as sustainability, new tech such as electric-powered vehicles, and a renewed focus on the smooth, satisfying, and enjoyable experience of driving a high-end car – the latest and greatest luxury vehicles are truly creative works of art.
When considering the components of a luxury car, it's crucial to realize the years of craftsmanship that led to each new generation of vehicles. When producing a high-end car, auto houses select fine materials thoughtfully; they employ the world's best engineers to design the concept; they do their research to produce a truly sought-after style.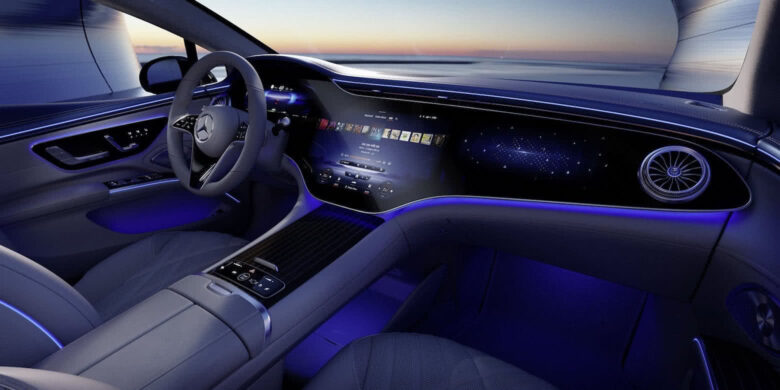 Terminology: The terms to know when discussing luxury cars
When you're talking about a high-end vehicle, there are just a few niche terms you'll need to know:
Horsepower is a physical specification that can tell you just how much a car's motor can do for you. It refers to the rate of the successful completion of movement as the output of a motor; early on in the automotive industry, the term was coined to reflect the number of horses a car's motor might replace. (Hint: Almost always, more horsepower is going to be much, much better.)
Torque, in physics, refers to 'turning energy', or the force behind a car's wheels as they turn against the ground. If a car boasts high torque, you'll have more of that rotational energy. This can help give your car a higher acceleration.
Carbon fiber is one of the high-end materials du jour when it comes to very expensive cars. It's light, which can help make a car go faster; it's usually used for the exterior of an expensive vehicle.
Synthetic suede is also known as Alcantara. It lends a supple, buttery feel to the interior of a luxury cabin, without the environmental impact often associated with natural suede.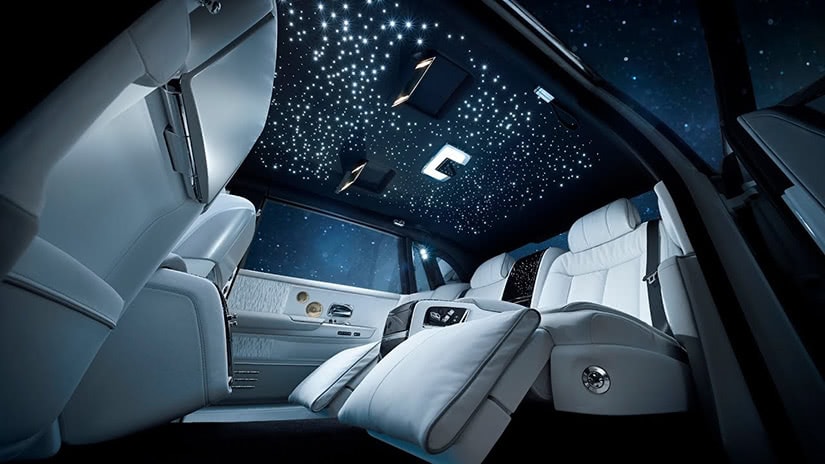 Methodology: How we select, test, and rank the best options on the market
We started our search for the most expensive cars in the world with a deep dive into records of automotive sales throughout the year (and around the globe). We even checked out historical records, adjusting the prices mentioned for inflation. The result? A long list of pedigreed, powerful supercars. We studied each in detail before selecting our final ranking of the most expensive cars of 2023.
Frequently asked questions about the most expensive cars of 2023