When multiple forces join together, magic happens. And that's precisely what transpired around a century ago when Karl Benz merged his company with Gottlieb Daimler's. Their relentless pursuits led to continuous breakthroughs and many automotive masterpieces.
Mercedes-Benz has long established its ability to bring innovative technologies forward while incorporating exquisite design in every component. The results have been spectacular with everything from unsurpassed motorsports achievements to a full lineup of sedans, coupes, SUVs, and electric vehicles worthy of royalty.
| | |
| --- | --- |
| | |
| Name: Mercedes-Benz | Industry: Automotive |
| Founded: 1926 | Founders: Karl Benz, Gottlieb Daimler, Wilhelm Maybach and Emil Jellinek |
| Headquarters: Stuttgart, Germany | Parent organization: Daimler AG |
| Revenue: $191 billion USD (€167.9bn) | Website: mbusa.com |
Mercedes-Benz price
How much does a Mercedes-Benz cost?
As a luxury automaker, the prices of many Mercedes-Benz models can tip the high end of the scale. But the starting price for some models is quite reasonable. The A-Class vehicles are the most affordable, starting at $35,000. Other models, including the popular C-Class and E-Class, hit closer to the $50,000 mark.
What is the most expensive Mercedes-Benz?
If you want to pull out all the stops, then Mercedes-Benz can take the price tag much higher. The most expensive new Mercedes-Benz models include the S-Class at nearly $190,000 in the Maybach variant and the G-Class SUV topping out at over $210,000.
But the AMG GT special variants are the most expensive Mercedes-Benz models, including the GT Black Series with an MSRP of $325,000 before options. One of the most expensive cars in the world is the much-anticipated Mercedes AMG Project One, with a $2.7 million price tag.
What is the cheapest Mercedes-Benz?
If you'd prefer not to drain your bank account, you're in luck. The A-Class maintains the Mercedes luxury appeal yet manages to squeeze out a relatively-affordable price. The cheapest new Mercedes-Benz is the A-Class sedan starting at $33,950, but you can also snatch up a CLA Coupe for $38,200 or a GLA compact SUV for $36,400.
About Mercedes-Benz
History of Mercedes-Benz
1886 was a monumental year in automotive history when Karl Benz filed a patent for a gas-powered vehicle, which many consider to be the birth of the automobile. Later that year, Gottlieb Daimler built a motorized carriage.
Daimler joined forces with Wilhelm Maybach and Emil Jellinek at the turn of the 20th century, producing the first-ever Mercedes-badged vehicle in 1901, named after Jellinek's daughter.
In 1926, Gottlieb Daimler and Karl Benz merged their companies to form Daimler-Benz. Maybach continued independently until Daimler-Benz purchased the company in 1960.
The founding team of Mercedes-Benz found motorsports success early in their careers and once joined. Mercedes-Benz vehicles took the podium in the 1954 and 1955 Formula 1 Driver's Championships. In 1955, Stirling Moss and Denis Jenkinson worked together to secure the Mille Miglia victory. But after the 1955 Le Mans disaster, Mercedes-Benz pulled out from competitive motorsports for multiple decades.
Since then, the carmaker has forged a path forward by prioritizing safety while not compromising on luxury amenities and pinnacle achievements in automotive design and construction, making it one of the most popular luxury car brands of today.
The luxury automaker is credited with inventing crumple zones in 1959 and consistently pushed safety technology forward with the use of anti-lock brakes in 1978, the airbag in 1980, and PRE-SAFE preemptive braking in 2002.
The Mercedes creations constantly push the industry ahead by creating countless iconic models. One of the best classic cars is the 1954 300SL with gullwing doors, but you could easily add in many other Mercedes models, such as the ultra-luxurious 1963 600 and the 2010 SLS AMG high-performance Mercedes sports car.
Understanding the Mercedes-Benz car range
With a wide variety of current and past models, understanding the entire Mercedes-Benz lineup can be a challenge. The luxury automaker started by using an alphanumeric code based on engine displacement and specific characteristics. For example, a C in the name stood for coupe, a D signified a diesel engine, and an R was placed on race-focused models.
Today, Mercedes-Benz monikers follow a slightly different pattern, with the lettering ranging from the most-affordable A-Class and B-Class to the midrange C-Class and E-Class, and the most luxurious S-Class near the top.
Sedans stick to using just the class letter, while the SUVs add a GL to the name and most coupes include CL.
The latest introduction is the fully-electric Mercedes EQ lineup across a range of body styles. The Mercedes EQXX is the most recent concept car, representing the future of automobility.
Mercedes Sprinter vans are another popular option. Upfitters transform the Sprinter vans into Mercedes van campers, some of the best RVs around. There is also a V-Class range of smaller vans, sometimes used as Mercedes travel vans.
Interesting facts about Mercedes-Benz
The Mercedes-Benz return to motorsports in the late 1980s eventually came with incredible success. The brand's Formula 1 success is inspiring to many, with Driver's Championship podiums in 1998, 1999, 2008, and 2009, plus an astonishing seven consecutive victories from 2014 to 2020 with Lewis Hamilton behind the wheel.
To see what the future holds, look to the Mercedes VISION ATVR concept. The futuristic styling might grab your attention, but the real surprise is in the graphene-based battery pack, avoiding the need for toxic metals and adding more space between EVs and fossil fuels.
Mercedes-Benz EQA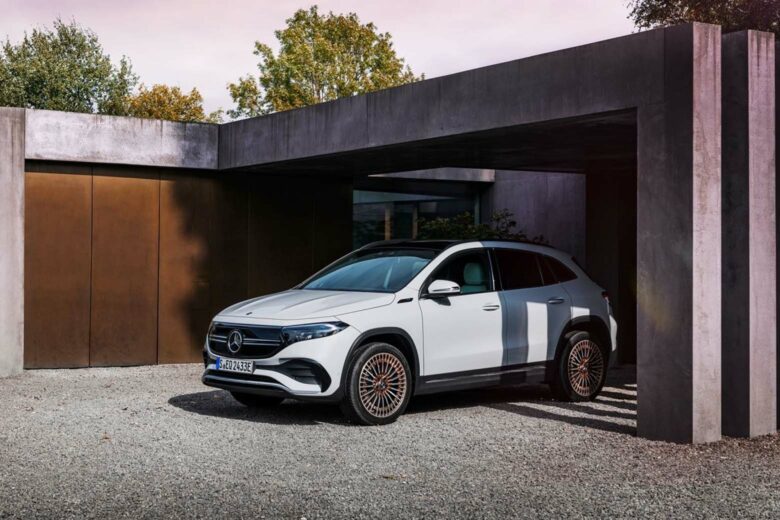 Luxury vehicles don't have to be impractical. Case in point, the EQA's ability to balance opulent touches on a pragmatic all-electric Mercedes platform. Just like its internal combustion sibling, the GLA, the EQA includes sufficient cargo space and many advanced driver assistance features.
While the first EQA is two-wheel drive with one motor, Mercedes-Benz has announced plans for a dual-motor all-wheel drive version. Exclusive wheels for this model are up to 20 inches and can have rose gold or blue accents.
Just as subcompact crossover SUVs took the market by storm, you can expect this transformation to an electric platform to boom in popularity.
| | |
| --- | --- |
| Engines | One electric motor + 66.5 kWh battery |
| Body Style | Subcompact crossover SUV |
| Price Range | $57,000 to $67,000 (est.) |
Mercedes-Benz EQB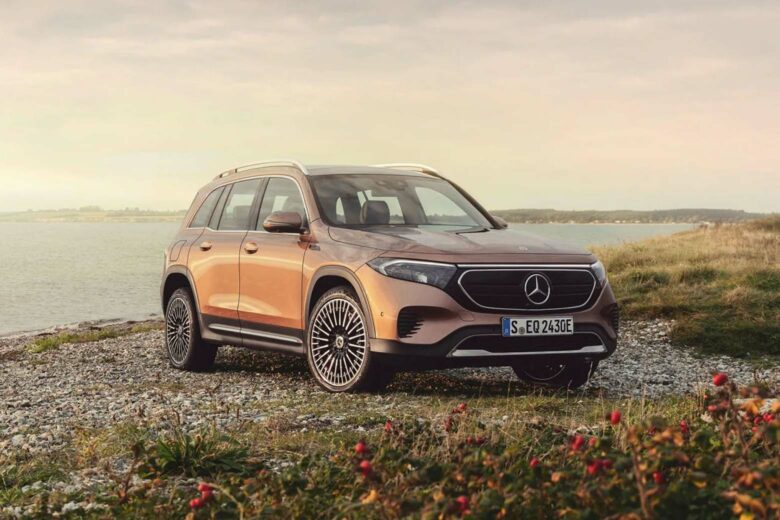 Those looking for an all-electric, capable compact SUV now have an option with the three-pointed star on the front. Based on the GLB-Class SUV, this model uses boxy exterior styling to provide a spacious interior with third-row seating.
The Mercedes EQB is available in 4MATIC dual-motor all-wheel drive with up to 288 horsepower and a 243-mile range. It includes all of the creature comforts you could want, including the Mercedes-Benz User Experience (MBUX) and its voice-activated control.
| | |
| --- | --- |
| Engine | Up to two electric motors + 70.7 kWh battery |
| Body Style | Compact crossover SUV |
| Price Range | $54,500 to $58,050 |
Mercedes-Benz EQC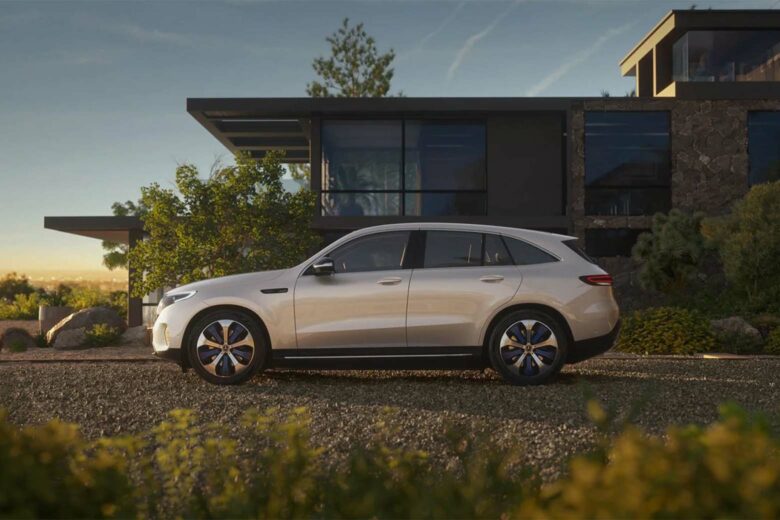 Sharing the same dimensions as the internal combustion engine Mercedes GLC, this model was the first vehicle in the EQ lineup. The EQC all-wheel drive design and 93.2-kWh battery pack can keep up with anything you throw at it.
The two electric motors produce 300 kW (402 horsepower) and can shoot from a stop to 60 mph in just 4.8 seconds. Not bad for a vehicle that can comfortably seat five people and haul around all their gear.
Many expect Mercedes to release an EQC sedan to match the popular C-Class offering in the upcoming years.
| | |
| --- | --- |
| Engine | Two electric motors + 93.2 kWh battery |
| Body Styles | Compact crossover SUV and future sedan |
| Price Range | $68,895 to $77,615 |
Mercedes-Benz EQE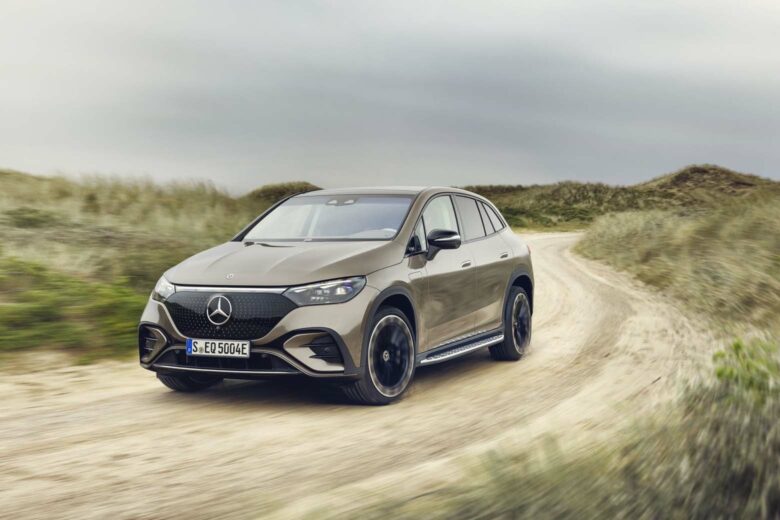 When the E-Class branches in a new direction, the world listens. And the EQE is rushing headlong into a new frontier with the ultimate driving comfort on a fully-electric Mercedes platform, available in both sedan and SUV body styles.
This all-new edition of the Mercedes E-Class steps up to the plate with an interior that is better insulated and more spacious. The cabin air is filtered to remove harmful particles, including some viruses and bacteria. A feature that would be great on the best kids' electric cars.
And you can forget about range anxiety with Mercedes-Benz's Electric Intelligence navigation features, which help plan charging stations along the route. The 90 kWh battery pack can be fully recharged in just 30 minutes on a 170 kW DC fast charger.
| | |
| --- | --- |
| Engines | Up to two electric motors + 90.6 kWh battery |
| Body Styles | Executive sedan and mid-size SUV |
| Price Range | $75,950 to $86,950 (est.) |
Mercedes-Benz EQS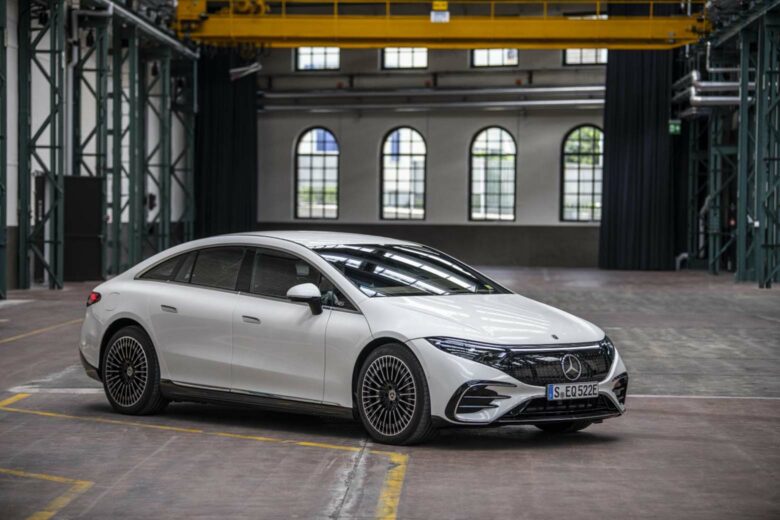 As the flagship model of the EQ range, the Mercedes EQS has lofty expectations to fulfill. And Mercedes-Benz is going well beyond them by ushering in a new chapter in automotive history.
The technology onboard this advanced machine doesn't just react to the road or your input. It senses who is inside by hearing your voice, recognizing your face, and identifying your fingerprints. It adapts to your habits like nothing before.
The sedan's exterior lines optimize comfort and aerodynamics. Three trim levels are all exquisitely equipped with touches like massaging and ventilated seats. No wonder why it tops our list of the best electric cars.
A full-size SUV option is also available, matching the combustion engine GLS full-size SUV sibling in many regards. As the Mercedes AVTR concept comes to fruition, some expect the S-Class models to reflect the futuristic shape and graphene-based battery pack.
| | |
| --- | --- |
| Engines | Up to two electric motors + 108 kWh battery |
| Body Styles | Full-size luxury sedan and SUV |
| Price Range | $102,310 to $126,945 |
Mercedes-Benz A-Class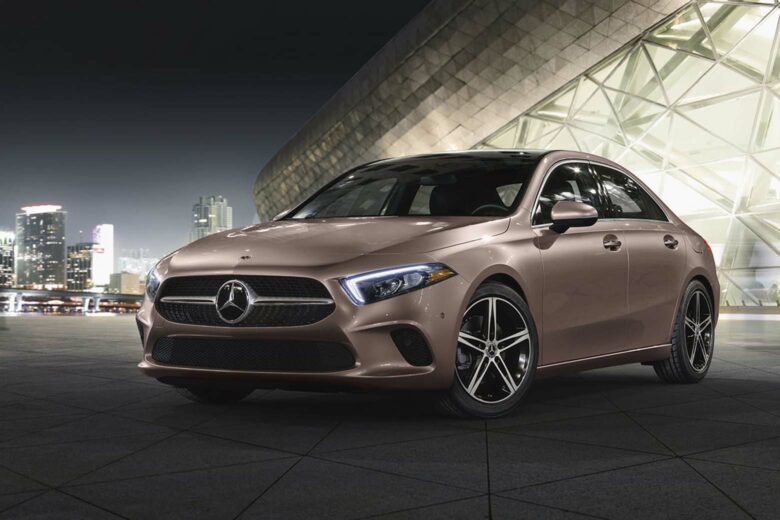 The A-Class might be the most affordable sedan in the Mercedes-Benz lineup, but it still has what it takes to support the three-pointed star logo. The cohesive package is fun to drive and filled with advanced technology.
The ultra-modern interior features eight-way adjustable seats, dual-zone climate control, and a panoramic roof. The clean exterior profile of the Mercedes hatchback and sedan slices through the air as admiring eyes look on.
Peek under the hood to find an efficient turbocharged engine paired with a seven-speed transmission. Select from four driving modes, three suspension options, and an available 4MATIC all-wheel drive system.
| | |
| --- | --- |
| Engine | 2.0L inline-4 turbo |
| Body Styles | Subcompact sedan or hatchback |
| Price Range | $33,950 to $37,000 |
Mercedes-Benz B-Class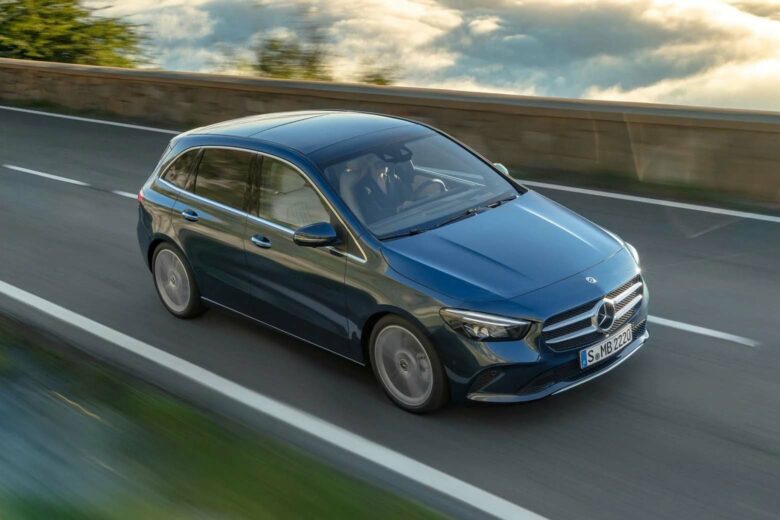 When the A-Class cargo space doesn't fit your things, the B-Class is ready for the load. It stretches the nimble platform to create a multi-purpose vehicle to haul the kids to practice or the gear to work.
A peppy four-cylinder turbocharged engine is available in both gasoline and diesel, with a plug-in hybrid drivetrain also available.
The B-Class still gives you the warmth and luxury you expect from Mercedes cars. Dual interior displays help control the infotainment system, while options include voice control and a heads-up display.
| | |
| --- | --- |
| Engines | 1.3L to 2.0L inline-4 turbo |
| Body Styles | Subcompact hatchback and coupe |
| Price Range | $49,600 to $51,789 |
Mercedes-Benz C-Class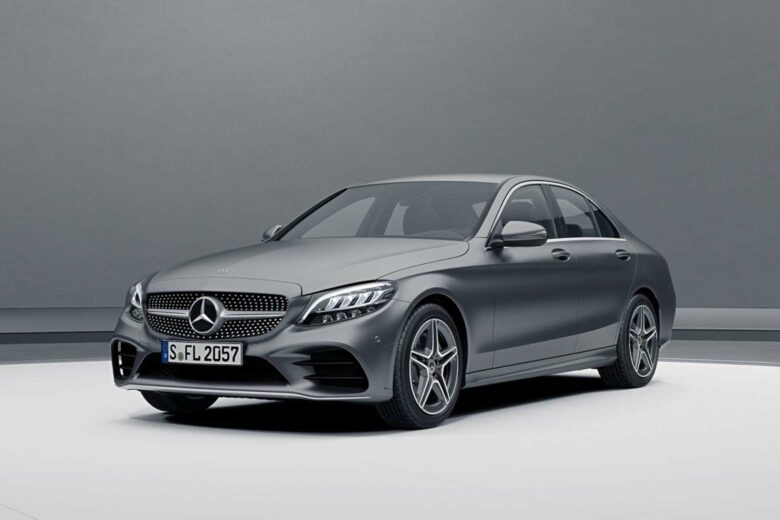 As a crowd favorite since its introduction in 1994, the Mercedes-Benz C-Class was the luxury brand's initial stretch into the compact segment. From the start, no compromises were made and the result has been generations of success.
The classic proportions fuse with sporty style to create a bold design. Available 19-inch wheels and a blacked-out Night Package can step up the game.
Open the door to the driver's seat and you'll find massive spillover from the upmarket S-Class. Hundreds of preferences can be customized, an available GUARD 360 keeps a virtual watch while you're away, and the voice-controlled infotainment system is as intuitive as ever.
| | |
| --- | --- |
| Engine | 2.0L inline-4 turbo with mild hybrid |
| Body Styles | Compact executive sedan and cabriolet |
| Price Range | $43,550 to $48,550 |
Mercedes-Benz E-Class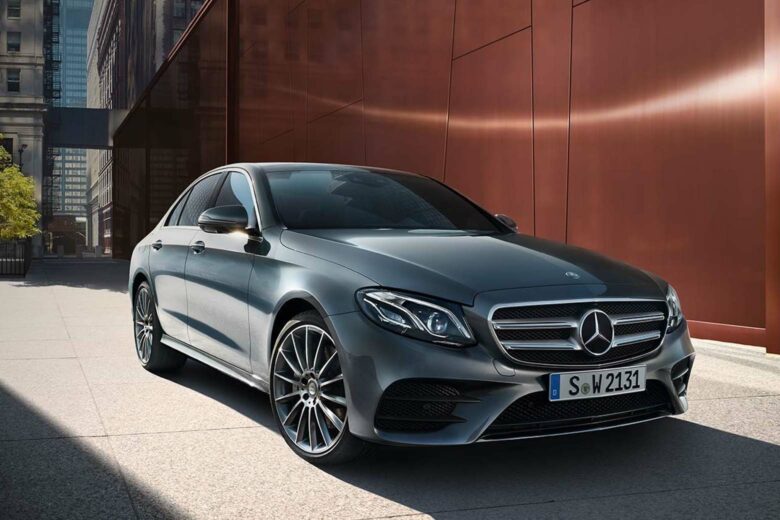 Talking about Mercedes cars without mentioning the E-Class would be like listing ice cream flavors without vanilla. It is historically the automaker's most popular model, serving executives well but also being used for taxi and police purposes.
All trim levels of the Mercedes E-Class vehicles provide a serene atmosphere and luxurious touches around every corner. But the Mercedes AMG E53 dials up the performance with a 429 horsepower powerplant that packs an electric supercharged punch, tearing from zero to 60 mph in 4.4 seconds.
The upholstery is hand-fitted, the trim comes in five different types of wood, and the list of options reads like one of Tolkien's books.
| | |
| --- | --- |
| Engines | 2.0L inline-4 turbo, 3.0L inline-6 turbo with mild hybrid |
| Body Style(s) | Executive sedan, wagon, coupe, and cabriolet |
| Price Range | $54,950 to $73,950 |
Mercedes-Benz S-Class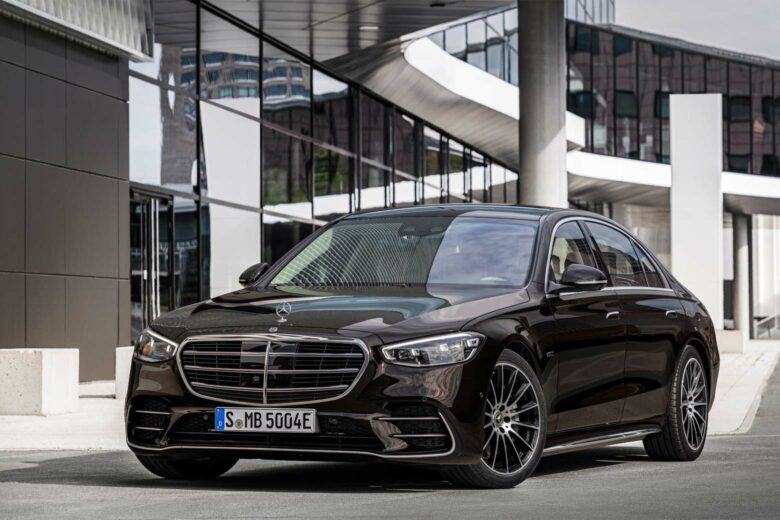 Mercedes-Benz might not have meant to do this, but you could say the S in S-class stands for superior. Because that's exactly what it is.
Every lavish accent on the Mercedes S-Class models speaks to your soul. The interior sweeps you away to a land of tranquility while the Standard Burmester 3D Surround Sound fills your ears.
Facial recognition instantly changes the 800 customizable options to your liking. Pushing safety forward, the rear seats have front airbags.
| | |
| --- | --- |
| Engines | 3.0L inline-6 turbo with mild hybrid, 4.0L V8 biturbo with mild hybrid |
| Body Style | Full-size luxury sedan |
| Price Range | $111,100 to $125,050 |
Mercedes-Benz GLA-Class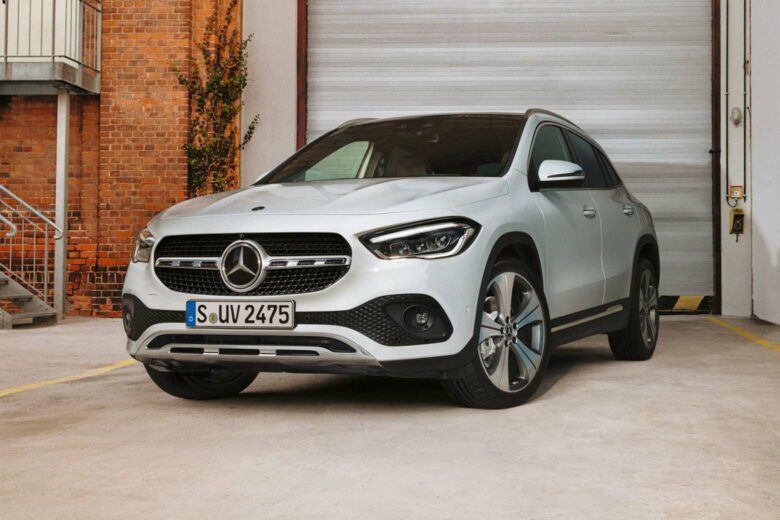 Some crossover SUVs are meager representations full of compromise. But that's not in this luxury car brand's DNA nor the Mercedes GLA model.
64-color choices of ambient interior lighting help any commitment-phobe find the right tone. Dual climate control keeps everyone happy, and the optional panorama roof lets you view the sun or the stars.
The agile, fully-independent suspension cuts seamlessly through the curves, and the sleek roofline adds a touch of drama that's sure to catch your eye. The top trim level is the Mercedes AMG GLA, boosting performance to over 300 horsepower.
| | |
| --- | --- |
| Engine | 2.0L inline-4 turbo |
| Body Style | Subcompact crossover SUV |
| Price Range | $36,400 to $39,450 |
Mercedes-Benz GLB-Class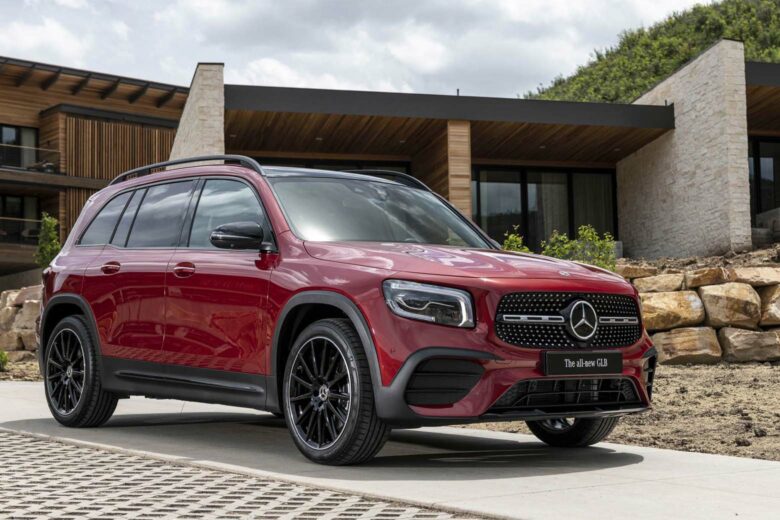 This isn't a clown car, but you're likely to be equally surprised at how much Mercedes-Benz squeezed into the incredible GLB platform.
With seating for seven, incredible performance on and off-road, and a host of premium appointments around every corner, the reasonable price tag might have you questioning other financial decisions.
The crisp body lines pair well with all of the six wheel choices. A dual-clutch eight-speed transmission shifts unnoticeably, and four driving modes change many parameters to meet your driving needs.
| | |
| --- | --- |
| Engine | 2.0L inline-4 turbo |
| Body Style | Compact crossover SUV |
| Price Range | $38,600 to $41,650 |
Mercedes-Benz GLC-Class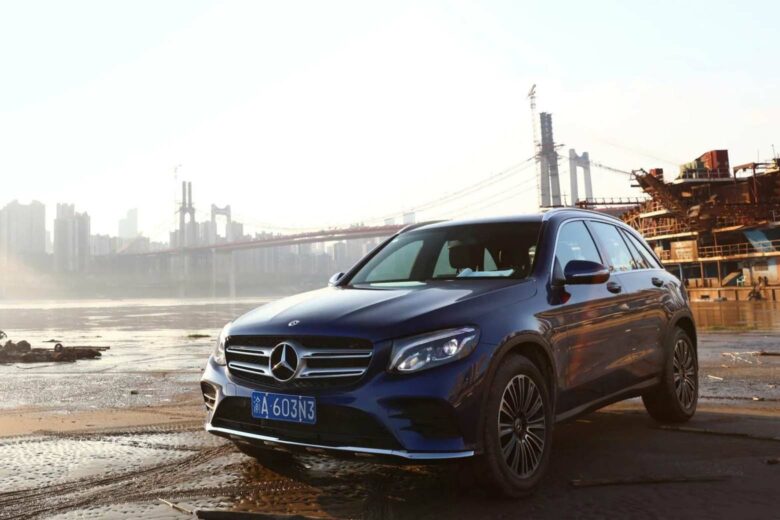 Reaching new heights, the GLC SUVs bring all the cutting-edge factors to your fingertips. Its efficient turbocharged engine supplies enough power to stay ahead of traffic, while the 4MATIC all-wheel drive system gives you the confidence to face any road conditions.
The interior is as fashionable as it is flexible, offering a 40/20/40 rear seat split to meet any passenger and cargo combination. Dual displays handle the infotainment system and instrument cluster, while available 20-inch wheels put style to the forefront.
If the 2.0L engine isn't enough, step up to the 3.0L V6 biturbo found in the AMG GLC for 385 horsepower and zero to 60 mph in just 4.7 seconds.
| | |
| --- | --- |
| Engines | 2.0L inline-4 turbo, 3.0L V6 biturbo |
| Body Style(s) | Compact crossover SUV and coupe |
| Price Range | $43,850 and up |
Mercedes-Benz GLE-Class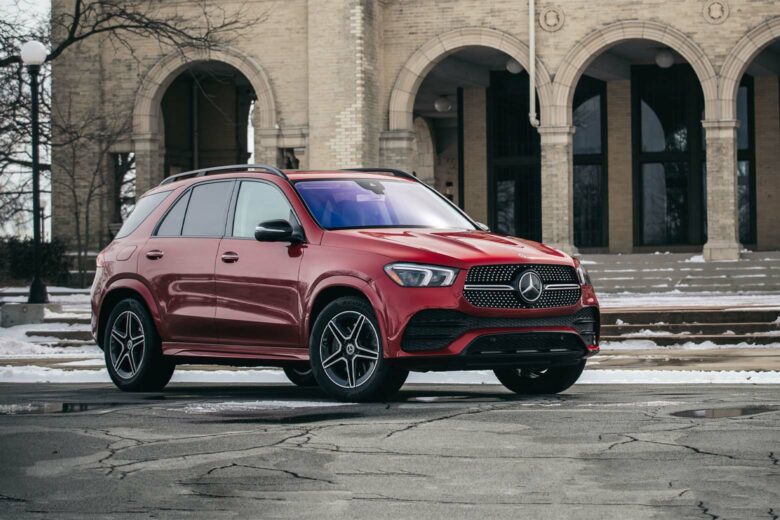 If you're looking for one of the most capable luxury SUVs on the market, you can stop the search. The GLE Mercedes SUV model lineup is not only packed with the premier amenities you expect from the three-pointed star, but it also has incredible off-road performance.
Adjustable air suspension provides additional ground clearance to clear the rocks and lowered stance for stable highway driving. The three different engine options allow you to choose your destiny, as does the wide array of interior options.
Both first and second-row seats have enough space for adults, while the third row is great for short trips, little ones, or all the gear for your next adventure.
| | |
| --- | --- |
| Engines | 2.0L inline-4 turbo, 3.0L inline-6 turbo with mild hybrid, 4.0L V8 biturbo with mild hybrid |
| Body Style(s) | Mid-size SUV and coupe |
| Price Range | $56,150 to $81,950 |
Mercedes-Benz GLS-Class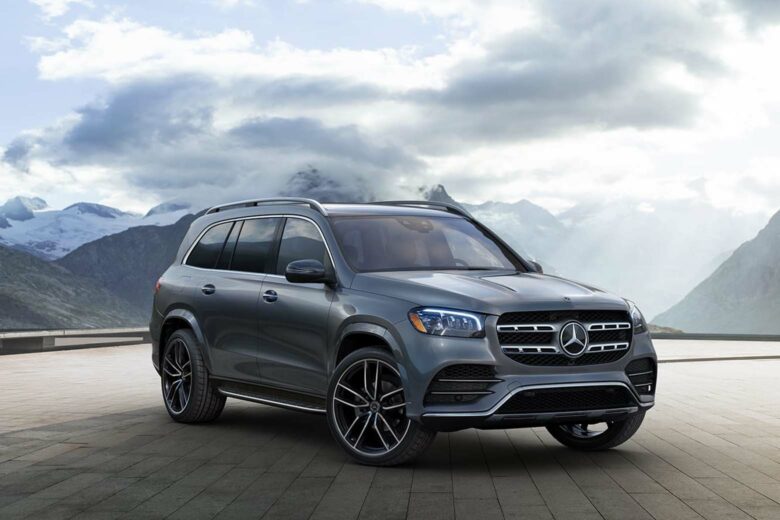 Marketed as the family car for action heroes, the Mercedes SUV GLS lineup opens a world of possibilities. One where a full-size SUV handles like a luxury sedan. One where style and sophistication meet a vehicle capable of hauling around your family and things.
A 603-horsepower engine sits at the heart of the AMG GLS, but all models use a mild hybrid design to give a punch of gas-free torque. The result is a zero to 60 mph time as low as 4.1 seconds.
As if that's not enough, let's not forget that this is an S-Class Mercedes-Benz. The interior has room for seven full-size adults, with optional second-row captain's chairs or stretched-out rear Executive Seating.
It's pure luxury reimagined in a full-size setting and one of the best luxury SUVs around. The only Mercedes capable of handling more people is the Sprinter van, a popular option for Mercedes Benz camper van conversions.
| | |
| --- | --- |
| Engines | 3.0L inline-6 turbo with mild hybrid, 4.0L V8 biturbo with mild hybrid |
| Body Style | Full-size SUV |
| Price Range | $77,850 to $102,300 |
Mercedes-Benz CLA-Class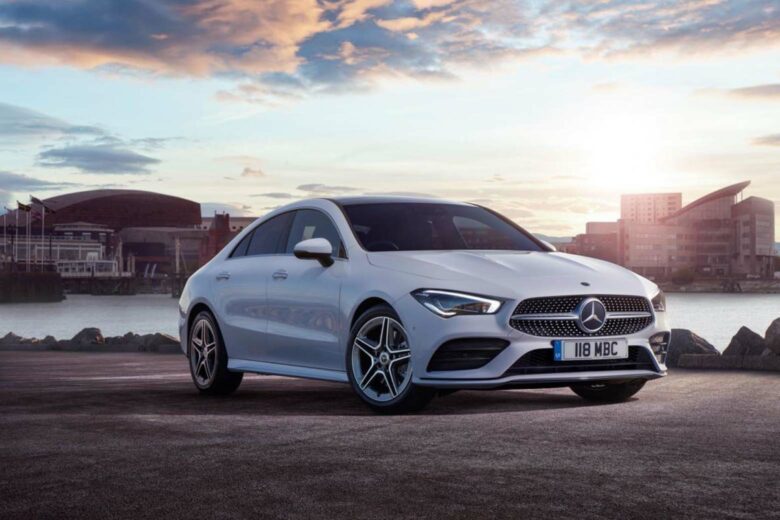 An aggressive aerodynamic look defines the CLA model. Despite its affordable price, this four-door coupe offers a Mercedes-Benz touch on every system, from the seven-speed transmission to the three different driving modes and optional 4MATIC all-wheel drive.
A voice assistant is your personal helper, or you can choose from three different touch interfaces including the console, steering wheel, or display. Driver assistance features include adaptive cruise control and blind spot monitoring, transforming your grueling commute into a walk in the park.
And for those who want to crank up the performance, the AMG CLA Coupe is your knight in shining armor.
| | |
| --- | --- |
| Engine | 2.0L inline-4 turbo |
| Body Style | Subcompact executive coupe |
| Price Range | $38,200 to $41,250 |
Mercedes-Benz CLS-Class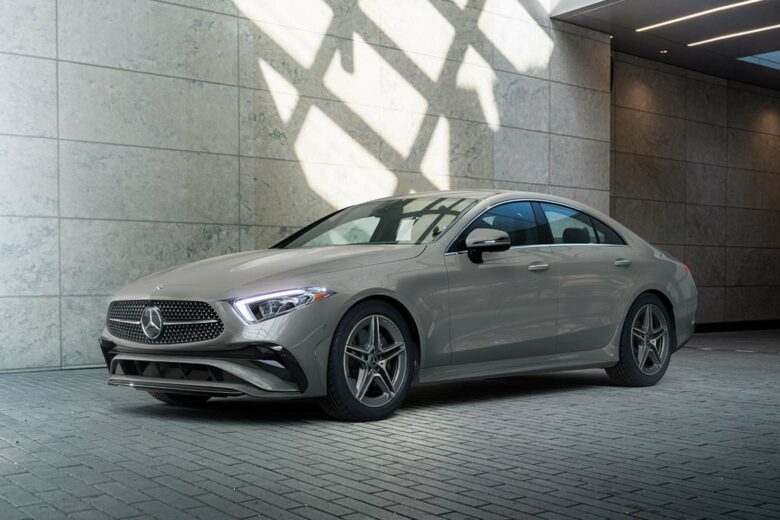 Mercedes-Benz is no slouch in paving the way forward. And when the first CLS hit the market in 2004, it took the four-door Mercedes coupe design to an unimaginable level. Based on the popular E-Class platform, it trades a bit of practicality to provide incredible elegance.
What happened in the nearly two decades since its introduction? Refinement in every aspect. A rich pallet of luxury leathers and woods are at your fingertips, and dual 12.3-inch reconfigurable screens provide all the information you need. And then some.
The CLS brings back some of the magic as seen before in the Mercedes SLC variants, such as the R107 from the 1970s.
| | |
| --- | --- |
| Engine | 3.0L inline-6 turbo with mild hybrid |
| Body Style | Executive coupe |
| Price Range | $72,950 and up |
Mercedes-Benz AMG GT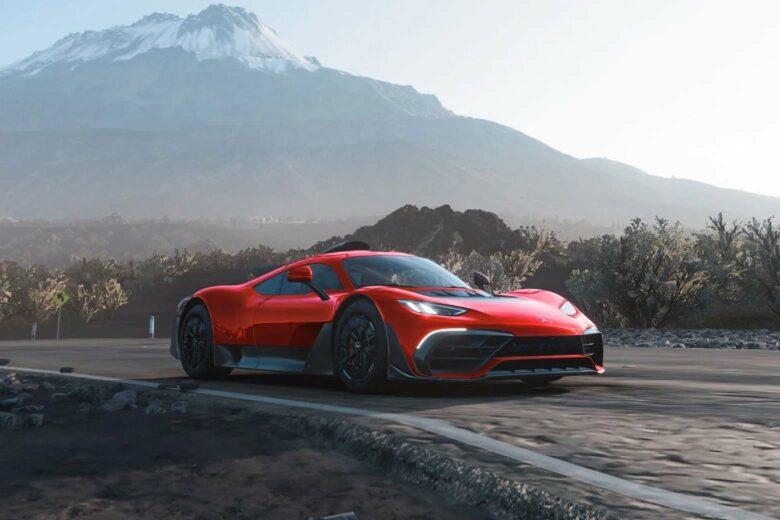 Some of the cars in the Mercedes-Benz lineup are subdued yet utterly refined. When it comes to the AMG GT Mercedes sports car, pure motorsports history is at the forefront and any understated characteristics are thrown out the window.
The Mercedes-Benz AMG GT features a long, sloping front end that houses a handcrafted, dry-sump V8 engine. Stuffed between the cylinder banks are two turbochargers, ready to deliver near-instantaneous boost and incredible acceleration from zero to 60 mph in as little as 3.6 seconds, holding their ground with the best electric motorcycles.
Double wishbone suspension and three-stage AMG Ride Control provide ultimate control, while the multimode AMG Dynamic Select customization system allows you to adjust nearly anything from throttle maps to gear change characteristics. See how it stacks up against the fastest cars in the world.
| | |
| --- | --- |
| Engine | 4.0L V8 biturbo |
| Body Style(s) | Roadster and 2-door / 4-door sports coupes |
| Price Range | $92,500 to $106,200 |
Mercedes-Benz G-Class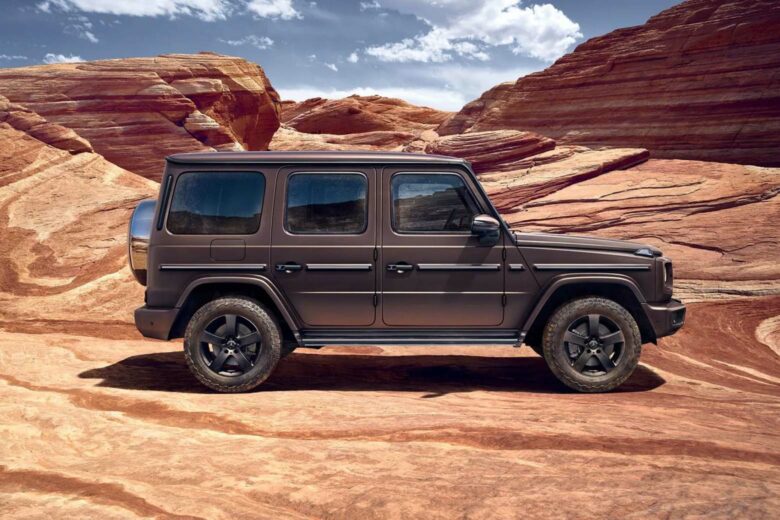 By sticking to a timeless look and focusing on capability, the G-Class, colloquially known as the G wagon, is the ultimate adventure luxury SUV.
The three locking differentials and four-wheel drive system are ready to take you to the end of the world and back. It might not be a Mercedes truck, but it's quite close to it.
The interior remains lavish, enveloping you in the paradigm characteristics of Mercedes cars. Explore the great outdoors in more comfort than you could even imagine.
For those hardcore adventures, you can find a Mercedes 6×6 G-Class SUV made by Magna Stery. Its capability is only matched by its $615,000 price and it's the ultimate Mercedes camper. Or if you can find one, you can reach for the short-lived Mercedes X-Class pickup truck for a more reasonable off-road option.
| | |
| --- | --- |
| Engine | 4.0L V8 biturbo |
| Body Style | Mid-size luxury SUV |
| Price Range | $139,900 to $210,605 |
Mercedes-Benz Maybach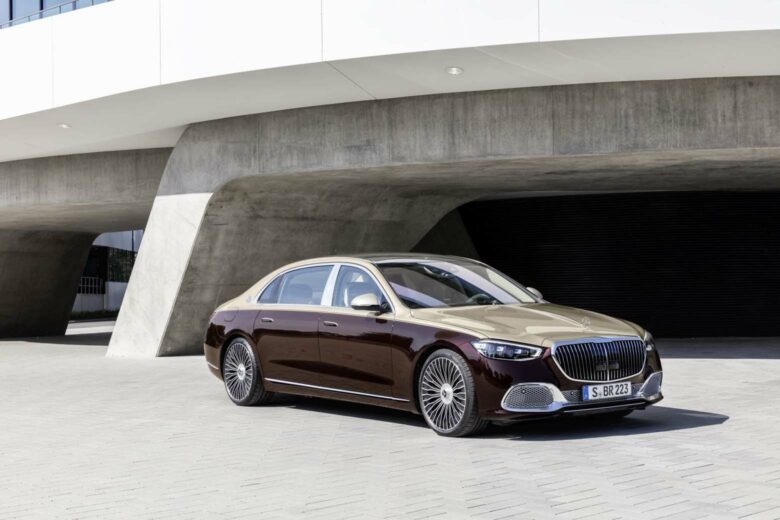 The Maybach name stretches back over a century when it began producing aircraft engines in the early 20th century. As it transitioned to producing vehicles in the 1920s, the brand became synonymous with automotive opulence. A title that holds to this day.
In the past, Maybach cars were distinct models. Now, the designation is for the top-of-the-line Mercedes-Benz S-Class and GLS-Class variants. Ones that pair incredible performance with uncompromising luxury.
Available with twin-turbo V8 and V12 engines, the Maybach S-Class model is capable of tearing down any road. But that's not what it's about. Instead, the interior is full of palatial comforts, ample legroom, and hand-crafted details tucked in every corner.
The Maybach GLS applies the same idea to the already-luxurious GLS SUV. It's first-class living on an elevated platform with 550 horsepower. See how the cost of these compares with the sky-high prices of Bugatti.
| | |
| --- | --- |
| Engines | 4.0L V8 biturbo with mild hybrid, 6.0L V12 biturbo |
| Body Style(s) | Ultra-luxury sedan and SUV |
| Price Range | $165,100 to $185,950 |
Mercedes-Benz customer service number
You can reach Mercedes-Benz USA customer service by calling 1-800-367-6372 or 1-800-222-0100. This same line can also help with connected car services or roadside assistance.
Mercedes-Benz social media profiles
If you want to stay in touch with the latest news from Mercedes-Benz, follow them through one of their social media profiles:
Frequently asked questions about Mercedes-Benz
What is interesting about Mercedes-Benz?
An interesting fact about Mercedes-Benz is that two founders created some of the first automobiles in 1885 and 1886. The luxury car brand is also credited with inventing the four-wheel independent suspension in 1931, conical pin door locks in 1949, and crumple zones in 1951.
What is Mercedes most famous for?
Mercedes is most famous for creating high-quality luxury automobiles that push the boundaries of innovation. The current lineup includes everything from A-Class small sedans, G-Class full-size off-road worthy SUVs, and Maybach S-Class ultra-luxury models.
What does Mercedes-Benz stand for?
Mercedes-Benz stands for two names related to the founding members of the luxury carmaker. Karl Benz holds the first patent for an automobile from 1886 and was an integral part of the company over many decades. Emil Jellinek first used his daughter's name, Mercedes, on a vehicle dating back to 1901.
What class is a Maybach?
Maybach is in the ultra-luxury class of automobiles. The two current offerings produced by Mercedes-Benz include the Maybach S-Class sedan and the Maybach GLS full-size SUV. Both are top-tier offerings from the automaker, combining top performance with ultra-luxurious amenities.