Extraordinary things happen when people transcend what exists. By reaching into the unknown, the impossible transforms into reality. The once inconceivable becomes tangible. For the Porsche brand, dreaming big has served as the foundation for success since day one.
Rather than live within the confines of existing vehicles, Porsche ventured where no one else had gone. They've kept this dream alive throughout many decades. By sticking to this visionary core, they've churned out high-performance vehicles embodying freedom and independence.
Oh, and if you're curious to see what the brand's closest competitors are up to, check our stories on Ferrari and Lamborghini too. It's worth the detour. 😉
At a glance
| | |
| --- | --- |
| | |
| Name: Porsche | Industry: Automotive |
| Founded: 1931 | Founder: Ferdinand Porsche |
| Headquarters: Germany | Parent organization: Volkswagen AG |
| Revenue: $26.1 billion USD | Website: porsche.com |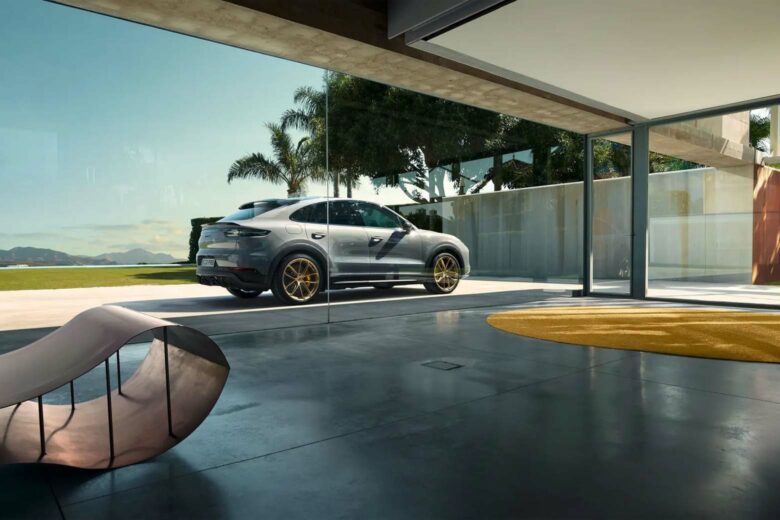 Porsche price
How much does a Porsche cost?
Porsche's reputation for highly refined and luxurious vehicles comes with a relatively high price tag. Yet some models won't ruin your budget.
The starting Porsche price is $57,500 for the Porsche Macan crossover SUV. Go up to $63,400 to enter the more traditional Porsche 718 Cayman. The battery-electric Taycan hits a competitive $86,700 price level, while the entry-level Porsche Cayenne price comes in at $72,200.
What is the average price of a Porsche?
When looking at the average price of a Porsche, it's challenging to come up with a precise number. The vast selection combined with countless options means that you can hit nearly any price above the entry level.
Overall, many Porsches sell from $70,000 to $130,000. This includes everything from the higher trim-level Porsche 718 Boxster all the way up to the entry-level Porsche 911.
If you want to enter the upper end of the Porsche models, the price range hits closer to a $200,000 average price.
How much is a brand-new Porsche?
A brand new Porsche can be priced anywhere from $63,400 for the base 718 Cayman up to the truly impressive Porsche 911 Sport Classic, priced at $272,300.
While production of some high-end variants has ended, some of the most expensive new Porsches reached much higher than current models. The insanely powerful Porsche 918 Spyder was released at $845,000, while the race-focused Porsche 911 GT1 of the late 1990s was initially priced at an astonishing $912,000.
What is the most expensive Porsche?
The most expensive Porsche currently sold as new is the $272,300 Porsche 911 Sport Classic. The ultra-high-performance Porsche 911 GT3 is another top entry, priced at $223,800.
But the Porsche supercars, only available in limited-edition runs, had many offerings higher than what you'll find in the Porsche inventory of most dealers. The Porsche 918 Spyder and Porsche 911 GT1 were initially sold for approximately $900,000 each.
Now, the Porsche 911 GT1 is valued at over $3 million for most examples, with a rare specimen breaking $5.6 million in 2017 and some expert valuations now heading over $10 million. These used Porsches are hitting the same levels as the Bugatti price list.
How much is the cheapest Porsche?
The cheapest Porsche model is the Porsche Macan, starting at $57,500. If you'd rather opt for a Porsche sports car instead of the Macan SUV, then the Porsche 718 Cayman, with a starting price of $63,400, is the right call.
While this is no small amount, both models are still absolutely worthy of the Porsche logo.
What is the cheapest Porsche electric car?
If you'd like to join the electrical revolution, the cheapest Porsche electric car price is the $86,700 Porsche Taycan. This battery-electric vehicle has ushered in a new era for the performance-focused brand, all without losing the distinctive Porsche style.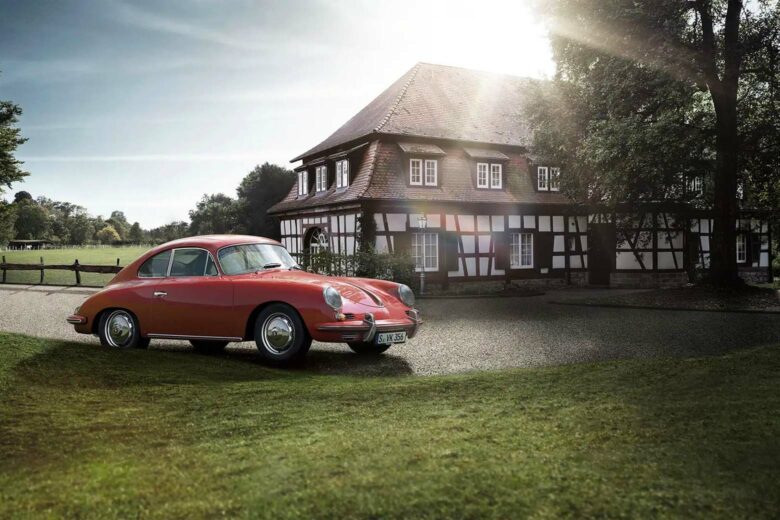 About Porsche
History of Porsche
Germany has been a hotspot of automotive engineering excellence for over a century. And if you look back at the early 20th century, you could find Ferdinand Porsche working as the Chief Engineer of Mercedes-Benz and contributing to Volkswagen vehicles.
In 1931, Ferdinand Porsche established his own engineering office, officially kicking off the Porsche brand. He eventually released the Porsche 64 in 1938 using a VW Beetle platform.
In 1948, under the leadership of Ferry Porsche, Ferdinand's son, the legendary Porsche 356 came to life. It still used many VW components but reconstructed in a way that resulted in an entirely new creation. And just under two decades later, the Porsche 911 came roaring off the production line and into the history books.
The Porsche 911 remains the heart of the brand's performance offerings, which have now expanded into four-door models, SUVs, and a handful of limited-production runs. As the world turns toward electric vehicles, Porsche has proven it has what it takes to stay ahead of the game, firmly sealing its spot on our list of the top luxury car brands in the world.
Understanding Porsche's car range
Breaking down Porsche's lineup is straightforward. The automaker makes two different sports car models, including the iconic rear-engine 911 and the marginally smaller mid-engine 718 model, available as a 718 Cayman sedan and 718 Boxster cabriolet convertible.
There are two sedan models with four doors. The first was the Panamera, which proved Porsche could merge executive car size with a nimble driving experience. And the more recent Taycan added the brand's first electric vehicle on a platform that is still distinctively Porsche. They both have shooting brake variants similar to a wagon body style.
Porsche has also stepped into the SUV market. The Cayenne is the mid-size crossover SUV model that was revolutionary at its 2003 introduction and still holds up well against the competition. The Macan compact crossover SUV has added a smaller and more affordable alternative.
All of the Porsche models are available in many different trim levels. The base model leaves off an extra naming, while GTS (for Gran Turismo Sport), GT3, and GT4 usually indicate the top-trim levels that are ready for serious track days, but at the upper end of the Porsche price range.
Any model with an S behind it for Sport has a more powerful engine, while T stands for Touring and usually indicates a more entry-level version. Turbo models add a forced-induction turbocharger and 4 indicates all-wheel drive.
It's worth noting that the Porsche 911 models also use other three-number designations based on the generation of design. The 993 was the last air-cooled 911 model, and the 991 released in 2012 brought in a radical body design change to the 911 model.
Interesting facts about Porsche
Ferdinand Porsche had a hand in many different vehicles and the engineering behind them. One truly remarkable feat is the Volkswagen Beetle, attributed to the design work of Mr. Porsche himself.
One of the distinctive traits of many of Porsche's top models is the use of a boxer engine design, with horizontally opposed pistons oriented flat. Somewhat confusingly, Porsche also came up with the model name Boxster as a nod to the engine design, but with an extra letter thrown in. The Boxster model, like the classic 911, has a boxer engine.
How to pronounce Porsche
While it's not uncommon to hear people refer to this brand as the one-syllable word "Porsh," that is not the proper pronunciation of this German word. To pronounce Porsche properly, it should be a two-syllable word "Por-shuh."
Having said that, it's not uncommon to hear English speakers use single-syllable pronunciation. The fact is that the "e" sound at the end of the Porsche doesn't exist in English, and most English words with an "e" at the end do not pronounce that letter.
As a result, you can find even the most knowledgeable Porsche enthusiasts use single-syllable pronunciation.
Where is Porsche made?
The heart of the Porsche brand is undeniably in Stuttgart, Germany. Ferdinand Porsche opened his first engineering office in the city. Rapid expansion took Porsche to the Zuffenhausen suburb just north of Stuttgart city.
Today, Porsche is a global brand. The Porsche headquarters and classic sports cars, including the 911, 718 Cayman, and 718 Boxster, are all in Zuffenhausen. But the more recent SUV additions are produced in a newer facility in Leipzig, Germany, which broke ground in 2000.
The Porsche Cayenne is built in Bratislava, Slovakia. Porsche also has research and development centers in Shanghai (China) and Malaysia.
What is the fastest Porsche?
Porsche is serious about many things. Speed is undeniably one of them. And when it comes to the fastest Porsche, plenty of models can hold their own with nearly any other car on the street.
While conventional internal combustion engines produce a lot of power, there's just no competition with the insane acceleration that comes from an electric boost. The top two fastest Porsches ever made are hybrid offerings.
The first is the Porsche 919 Evo Hybrid with a 2.0L V4 turbo hybrid engine and a top speed of 230 mph. The second is the Porsche 918 Spyder with a 4.6L V8 engine and two electric motors, and a top speed of 214 mph. Both can go from zero to 60 mph in just 2.2 seconds, faster than any other street-legal Porsche ever made.
What's faster, the electric Porsche or Tesla?
You might be in for a surprise if you're trying to figure out which is a faster electric vehicle, the Porsche Taycan or the Tesla S Plaid. Even though Porsche is well known for its robust motorsports history, the newest Tesla S Plaid can reach 60 mph in less time than any Porsche.
Tesla claims a mind-boggling time of 1.99 seconds, but this excludes a rollout of up to about five or six mph. Some major outlets have reproduced true zero to 60 mph times in a Tesla S Plaid of just 2.28 seconds. This beats the Porsche Taycan's 2.6-second time, which is still lightning-fast.
Porsche and electric cars
Like most car brands, Porsche is fully embracing the elective vehicle movement. In fact, Ferdinand Porsche developed a hybrid prototype way back in 1900. But Porsche's first hybrid drivetrain was the 2010 Porsche Cayenne S Hybrid.
The Porsche Taycan, released in 2020, was the first fully electric offering. And there are now reports of the Macan crossover SUV switching to an exclusively battery-electric drivetrain by 2024 and a wholly-new electric vehicle SUV.
You can also expect to see EV variants of the popular Porsche 718 Cayman and Boxster models soon.
But as for the classic 911, Porsche is turning to a more innovative route. Rather than dump internal combustion altogether, they're working to develop an eco-friendly combustion fuel alternative.
All the Porsche car models in production
Porsche Taycan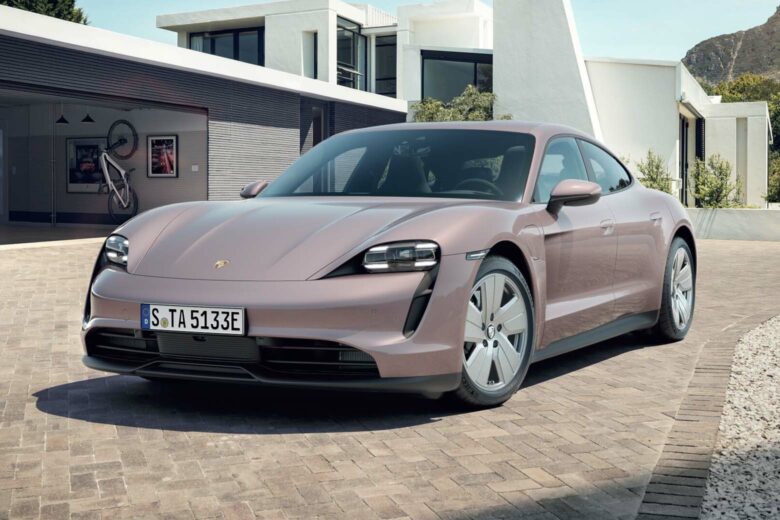 Some companies choose to abandon their past when bringing innovative changes to the lineup. Porsche is not one of those brands.
When Porsche broke into the battery-electric vehicle segment in 2020, the Taycan ushered in a new electrified era for the automaker. And despite the exterior styling taking on a more futuristic shape, it remains undeniably Porsche. Albeit one with four doors in sedan or shooting-brake body styles.
The base Porsche Taycan is rear-wheel drive with more than 400 horsepower when launch control is used. But if you step into the top-tier Taycan Turbo S, you get an all-wheel drive, 750-horsepower monster with a zero to 60 mph time of just 2.6 seconds.
The Porsche Taycan price starts at a competitive level but can climb high when you pack on the options. It sits high on our list of the best luxury electric cars.
| | |
| --- | --- |
| Price: | Starting from $86,700 to $190,000 |
| Release year: | 2020 |
| Engine: | One or two AC Permanent Synchronous Motors |
| Top speed: | 143 to 161 mph – 230 to 259 km/h |
| 0-60 mph: | 5.1 to 2.6 sec |
| Power: | 402 to 750 hp |
| Torque: | 254 to 774 lb-ft |
| Range: | 208 to 246 miles – 335 to 396 km |
Porsche Macan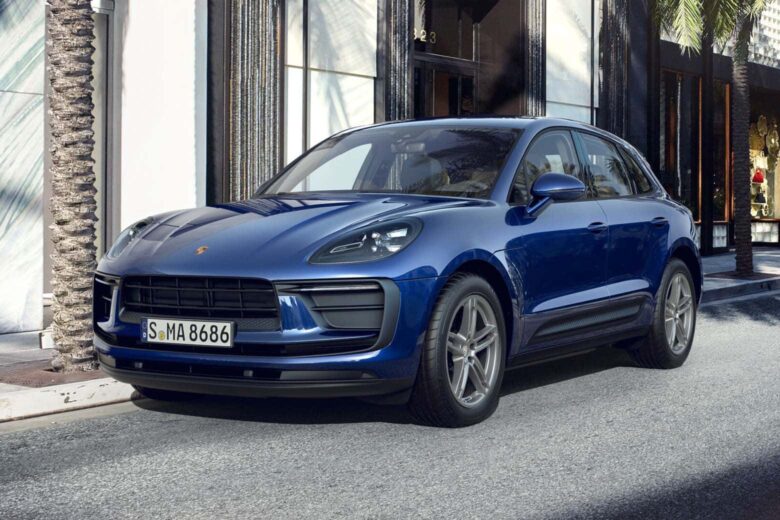 Creating an SUV with a sports car character is no easy task. But Porsche delivered big with the Macan, a compact crossover SUV that handles like a car half its size.
Those who want to feel the power under the hood can opt for a twin-turbocharged V6, but any option in the Porsche Macan lineup delivers outstanding power and torque. The optional ParkAssist feature lets you effortlessly glide in and out of tight spaces.
If you're looking for a vehicle with more space than a sports car yet still easy to drive around even the most crowded city streets, the Macan is right up your alley. The Porsche Macan price is the lowest in the current lineup.
For any battery-electric enthusiasts, the Porsche Macan is expected to transition to a full EV lineup by 2024.
| | |
| --- | --- |
| Price: | Starting from $57,500 to $82,900 |
| Release year: | 2014 |
| Engine: | 2.0L turbo inline-4 or 2.9L twin-turbo V6 |
| Top speed: | 144 to 169 mph – 232 to 272 km/h |
| 0-60 mph: | 6.0 to 4.1 sec |
| Power: | 261 to 434 hp |
| Torque: | 295 to 405 lb-ft |
| Fuel economy: | 19 to 21 mpg combined |
Porsche Cayenne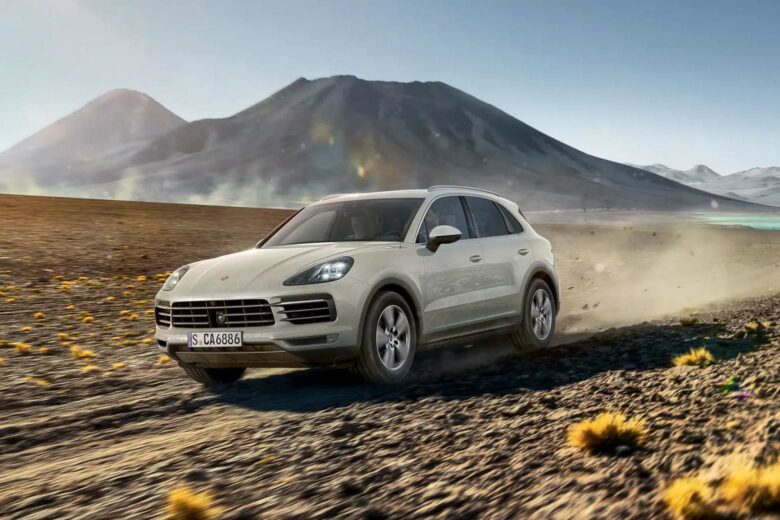 As one of the first sports car brands to venture into SUV territory, the Porsche Cayenne initially received a mixed response. Around two decades later, it is a staunch competitor in a class filled with stiff rivalry, making the top of our list of the best luxury SUVs.
Like many Porsche models, the Cayenne is available in many variants with engines ranging from a 3.9L V6 to 4.0L V8 and E-Hybrid variants with an electric boost. The Porsche Cayenne's price range is as vast as the available variants.
Make no mistake about it: even though this is the largest vehicle in Porsche's extensive array, it still handles like a dream. One that is also capable of hauling all the people and cargo through any road condition you want to throw at it.
| | |
| --- | --- |
| Price: | Starting from $72,200 to $188,700 |
| Release year: | 2003 |
| Engine: | 3.9L turbo V6, 3.0L turbo V6 with electric motor, or 4.0L twin-turbo V8 |
| Top speed: | 152 to 186 mph – 245 to 299 km/h |
| 0-60 mph: | 5.9 to 3.1 sec |
| Power: | 335 to 631 hp |
| Torque: | 332 to 626 lb-ft |
| Fuel economy: | 20 to 21 mpg combined (46 MPGe in E-Hybrid) |
Porsche 911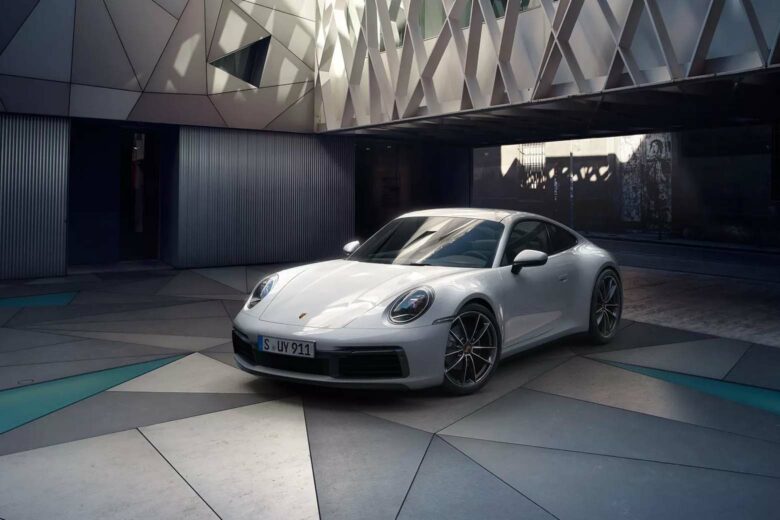 If you want to know one model that symbolizes everything there is to know about Porsche, look no further. The Porsche 911 is one of the best Porsche models, an icon first introduced in 1963 as one of our favorite classic cars. The rear-mounted boxer-style flat engine has propelled the 911 into history books and the hearts of many fanatics.
Through a relentless pursuit of perfection, the Porsche 911 combines unrivaled performance in a chic package. The carefully sculpted shape puts aerodynamics in the front seat, while the drivetrain is flawlessly tuned in every engine available in the lineup, from the 3.0L twin-turbo, up to the naturally-aspirated 4.0L beast in the 911 GT3.
The front end allows air to rush past the brakes, keeping them cooler than a cucumber even during the most spirited driving sessions. And the rear diffuser and wing provide all the downforce you need to keep the rubber firmly planted through any curve. The Porsche 911 price might be pretty high, but you get everything promised and then some.
Most reports indicate Porsche won't take the 911 to an EV platform. Instead, they're focused on using a synthetic fuel alternative that is an eco-friendly gasoline substitute.
| | |
| --- | --- |
| Price: | Starting from $106,100 to $272,300 |
| Release year: | 1963 |
| Engine: | 3.0L twin-turbo boxer-6, 3.7L twin-turbo boxer-6, or 4.0L naturally-aspirated boxer-6 |
| Top speed: | 182 to 199 mph – 293 to 320 km/h |
| 0-60 mph: | 4.0 to 3.0 sec |
| Power: | 379 to 518 hp |
| Torque: | 331 to 346 lb-ft |
| Fuel economy: | 19 to 20 mpg combined |
Porsche Panamera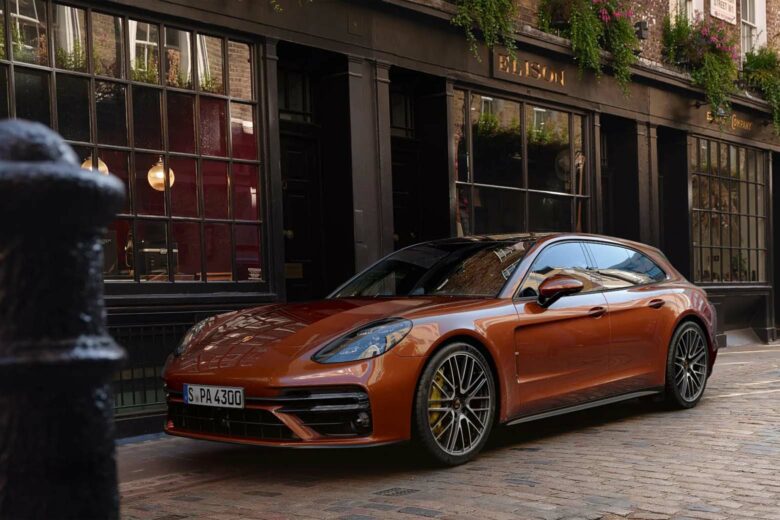 Two-door sports cars can be incredible vehicles. But they're often not up to the task of a practical daily driver, similar to some of the best electric motorcycles. Instead, the Porsche Panamera fills that gap by stretching out the popular 911 platform to make room for four doors and executive-focused comfort.
As expected from a vehicle showing off the Porsche badge, the driving experience is second to none. In the face of an elongated platform, the performance-focused automaker was able to squeeze out every drop of driving dynamics to match its smaller two-door counterparts.
Today's Panameras are smarter than ever. Porsche InnoDrive offers adaptive cruise control to transform a grueling commute into a walk in the park. A heads-up display puts all critical information right in front of your face, while the lane keep assist and emergency braking can step in to ensure your drive goes without a hitch.
| | |
| --- | --- |
| Price: | Starting from $92,400 to 206,800 |
| Release year: | 2009 |
| Engine: | 2.9L twin-turbo V6 or 4.0L twin-turbo V8 with optional electric motor |
| Top speed: | 168 to 196 mph – 270 to 315 km/h |
| 0-60 mph: | 5.3 to 3.1 sec |
| Power: | 325 to 690 hp |
| Torque: | 331 to 641 lb-ft |
| Fuel economy: | 17 to 20 mpg combined (52 MPGe in E-Hybrid) |
Porsche 718 Cayman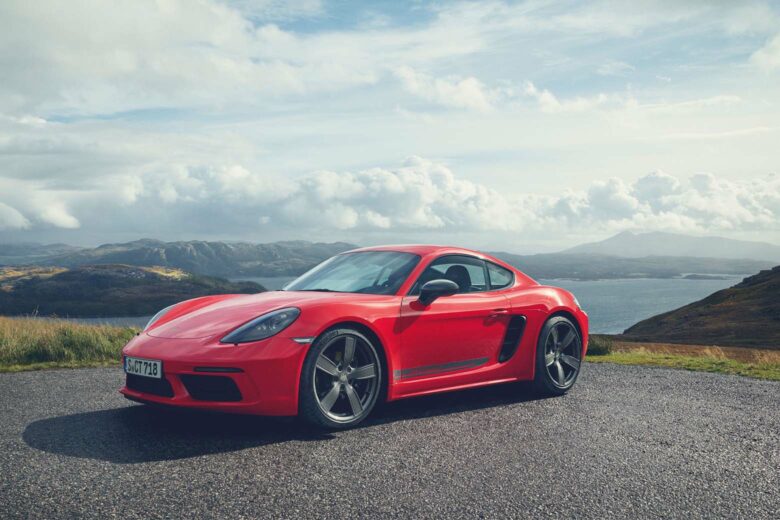 It's worth paying attention when an automaker brings back a model name that's ripe with history. When Porsche resurrected the 718 model name, first used in a series of late 1950s and early 1960s Formula racing vehicles, it delivered big.
The Porsche 718 Cayman might be the 911's little brother on a slightly shorter platform, but there's nothing dainty about it except the low new Porsche price. Offering a selection of the Porsche classic boxer flat engines, the larger flat-6 option roars with the usual driving fun and sound fanatics adore.
There's no shortage of customization options. If you want to spice up the look and trim down the weight, the Weissach Package fills the body with carbon-fiber finishes. Top trim level Porsche 718 Caymans feature a 7-speed Porsche Doppelkupplung (PDK) transmission to provide crisp gear selection.
Keep your eyes peeled for a fully electric version. Porsche has confirmed it's in development.
| | |
| --- | --- |
| Price: | Starting from $63,400 to $149,100 |
| Release year: | 2016 |
| Engine: | 2.0L turbo boxer 4 or 4.0L naturally-aspirated boxer 6 |
| Top speed: | 170 to 196 mph – 274 to 315 km/h |
| 0-60 mph: | 4.9 to 3.2 sec |
| Power: | 300 to 493 hp |
| Torque: | 280 to 331 lb-ft |
| Fuel economy: | 20 to 21 mpg combined |
Porsche 718 Boxster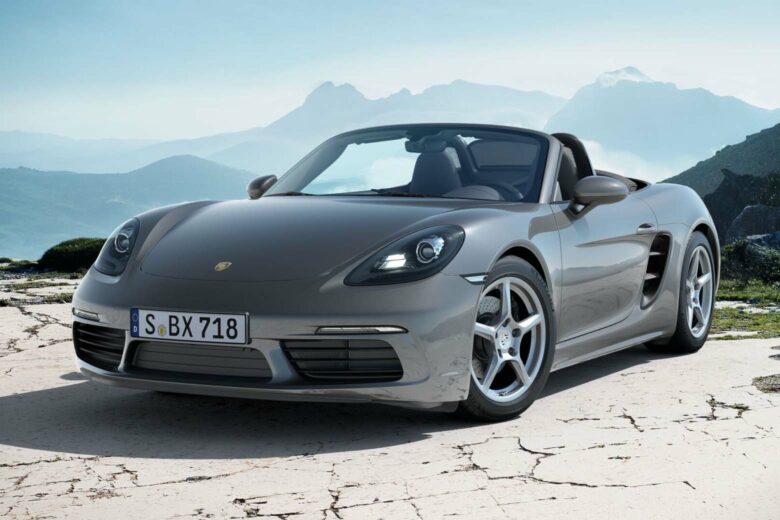 Showing off the impressive range of the 718 series, the Boxster variant pulls off advanced driving performance in an open-aired version. The mid-engine layout provides generous cargo space with two luggage compartments, while the interior is filled with the elegant touches that are inherent to the Porsche brand.
Nearly everything is customizable, down to the steering wheel size and upholstery stitching. Choose to listen to the sound of the boxer engines or crank up the tunes on a Bose or Burmester sound system.
For those who want their car to match your unique personality, the Porsche 718 Boxster Style Edition steps up to the plate. The Ruby Star Neo color is about as tame as a rabid dog, eager to chew up the road as it blasts through your retinas. It brings in some of the fun you can find on kids' electric cars, but on a platform squarely meant for adults with a need for speed.
| | |
| --- | --- |
| Price: | Starting from $65,500 to $92,400 |
| Release year: | 2016 |
| Engine: | 2.0L turbo boxer 4 or 4.0L naturally-aspirated boxer 6 |
| Top speed: | 170 to 182 mph – 274 to 293 km/h |
| 0-60 mph: | 4.9 to 4.3 sec |
| Power: | 300 to 394 hp |
| Torque: | 280 to 309 lb-ft |
| Fuel economy: | 19 to 20 mpg combined |
Porsche 959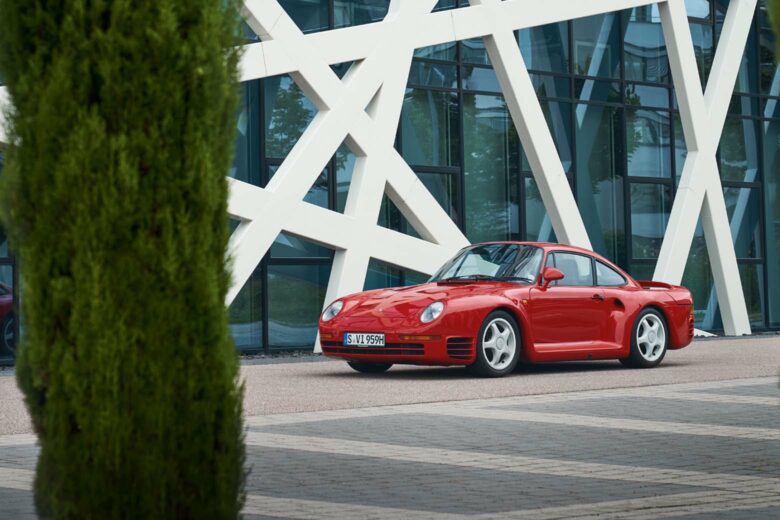 Now and then, an automaker releases a car so innovative it pushes the entire industry forward. The Porsche 959 was not only an impressive vehicle for its era, its technology and performance still match many of today's top supercars.
Eight hydraulic dampers provided electronically controlled adjustments to the ride height and suspension characteristics. It was the world's first production car with magnesium wheels and an electronic tire pressure monitoring system.
The Porsche flat-6 engine used sequential turbochargers to provide an incredible range of power, only surpassed by its own later 949 Sport variant with enlarged turbos. It was paired with a revolutionary Porsche-Stuer Kupplung (PSK) all-wheel drive.
The Porsche 959 redefined many aspects of what is possible in the supercar world. And has been a prominent benchmark for many vehicles that followed. Just be prepared to pay Porsche race car prices to get one in your garage.
| | |
| --- | --- |
| Price: | Initially $225,000 – Current est. $1 to $2 million |
| Release year: | 1986 |
| Engine: | 2.85L sequential twin-turbo flat-6 |
| Top speed: | 196 mph – 315 km/h |
| 0-60 mph: | 3.9 sec |
| Power: | 444 to 508 hp |
| Torque: | 369 lb-ft |
Porsche 911 GT1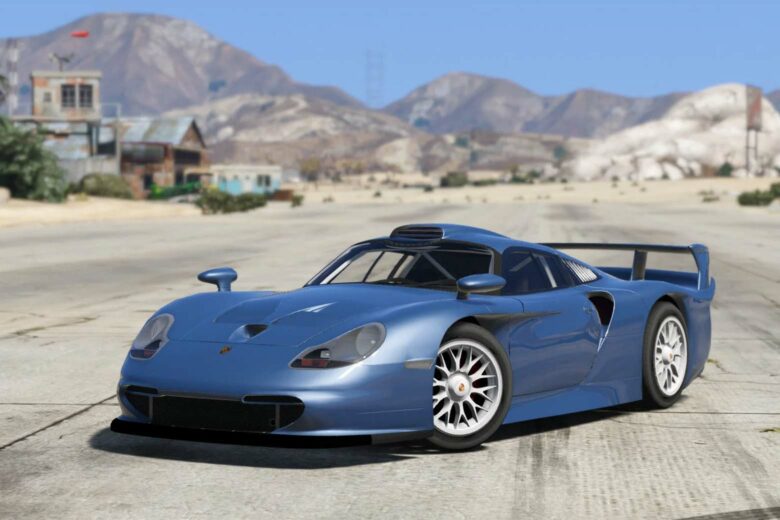 It's all hands on deck and all previous plans in the trash for serious motorsports endeavors. The Porsche 911 GT1 was once the brand's entrance to the highly-competitive GT racing, including the brutal Le Mans 24-Hour Race, making it one of the best Porsche models.
Part of the racing rules required automakers to produce at least 20 street-legal versions of any car used in competition. This homologation requirement meant that a few dozen of Porsche's largest supporters could get inside a street-legal vehicle that was nearly identical to the ones seen on the best tracks in the world.
The street-legal versions, known as the 911 GT1 Strassenversion, were slightly detuned. But they still had the mid-engine design, a true rarity in anything Porsche has called a 911.
In today's market, this Porsche price range is sky-high. As a favorite Porsche race car model, most 911 GT1's can fetch above $3 million. A prime example exchanged hands in 2017 for $5.66 million. The most current reports expect $10 million or more for the most pristine models, competing with some of the most expensive cars in the world.
| | |
| --- | --- |
| Price: | Initially $912,000 – Current est. >$3 million |
| Release year: | 1996 |
| Engine: | 3.2L twin-turbo flat-6 |
| Top speed: | 193 mph – 310 km/h |
| 0-60 mph: | 3.7 sec |
| Power: | 592 hp |
| Torque: | 443 lb-ft |
Porsche Carrera GT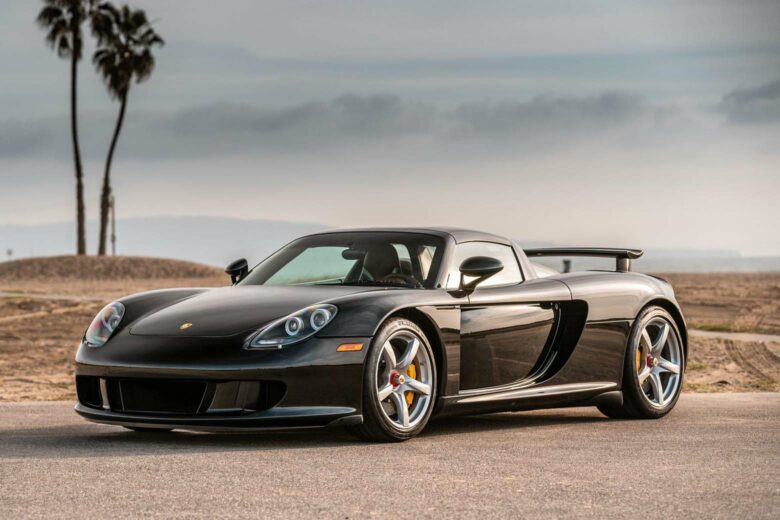 A V10 engine sounds oddly out of place to those familiar with Porsche's heritage. But way back in 1992, the Formula 1 Porsche designers concocted a beast of an engine. Then, the whole project was scrapped before it was put to use as Porsche stepped away from Formula 1.
The V10 power plant came back in 1998 as the Porsche LMP2000 Le Mans prototype was constructed, using a 3.5L variant of the 10-cylinder engine. It was once again put out to pasture before official use.
The V10 engine finally hit the production line as the Porsche Carrera GT was released in 2003.
Porsche produced just 1,270 units of this exclusive vehicle, featuring a 5.5L V10 in the track version but 5.7L in the production variant. With a whopping 604 horsepower and a 205 mph top speed, the Carrera GT's reputation is rock-solid. It still hits many of the top sports cars lists of today.
| | |
| --- | --- |
| Price: | Initially $440,000 – Current est. $1.25 million |
| Release year: | 2003 |
| Engine: | 5.5L or 5.7L naturally-aspirated V10 |
| Top speed: | 205 mph – 330 km/h |
| 0-60 mph: | 3.5 sec |
| Power: | 604 hp |
| Torque: | 435 lb-ft |
Porsche 918 Spyder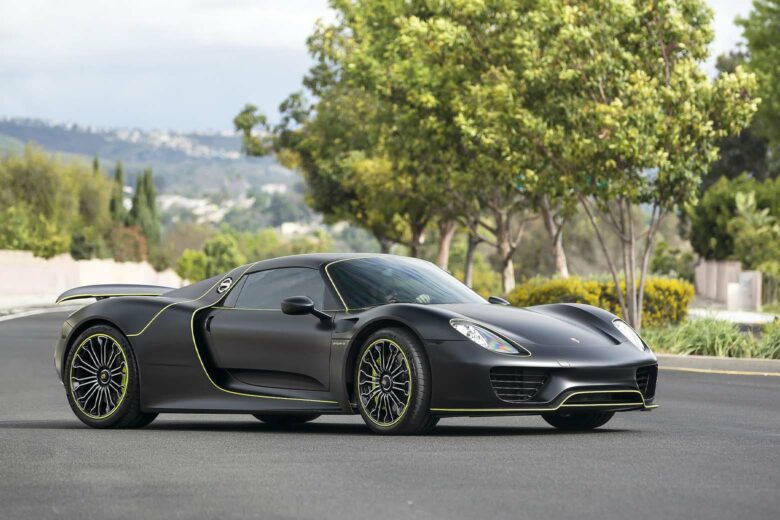 As race restrictions began limiting the displacement and power of internal combustion engines, many manufacturers turned to an electronic boost. And that's precisely where the Porsche 918 Spyder sits.
Its 4.6L V8 is powerful enough for most vehicles, hitting 608 horsepower alone. But an electric motor was added to each axle for the 918 Spyder and its race-focused mission. This threw in another 286 horsepower and incredible all-wheel drive performance.
This Porsche hypercar blows past nearly anything on the road or track, even though the top speed is less than the fastest cars around.
With a zero to 60 mph time of just 2.2 seconds, the Porsche 918 Spyder is among the fastest. Often used in the same sentence along with the McLaren P1 and LaFerrari, the 918 Spyder's place in the history books is not doubted.
| | |
| --- | --- |
| Price: | Initially $845,000 – Current est. >$1.15 million |
| Release year: | 2014 |
| Engine: | 4.6L naturally-aspirated V8 with two electric motors |
| Top speed: | 214 mph – 344 km/h |
| 0-60 mph: | 2.2 sec |
| Power: | 894 total combined hp |
| Torque: | 944 lb-ft |
Porsche racing series
Porsche has been part of motorsports throughout its rich history. What started off using a nimble platform with just the right size engine eventually turned into the Porsche 911 and many other championship-worthy models.
But sometimes, it's worth dropping the other automakers and competing in a class where every vehicle is identical. Welcome to the Porsche Carrera Cup, where every machine is the same in this single-make Porsche racing series.
Putting driver talent and team cooperation at the heart of the competition, this Porsche racing series removes all mechanical differences. It's up to razor-thin margins, split-second reflexes, and other immeasurable factors to take the podium.
Porsche customer service number
To get in touch with Porsche customer service, dial 1-800-PORSCHE (1-800-767-7243). You can also send a written request through the Porsche Contact Us page.
Porsche social media profiles
If you'd like to keep up with Porsche's latest news and events, follow Porsche's official social media profiles:
Frequently asked questions about Porsche
What is the cheapest type of Porsche?
The cheapest type of Porsche is the Porsche Macan SUV with a starting price of $57,500. The Porsche 718 Cayman is the brand's cheapest sports car, offered at $63,400 and up. To hop in the driver's seat of the flagship Porsche 911, you'll need to fork over $106,100 at minimum. Check our full list of Porsche models and prices to learn more.
What is the most fuel-efficient Porsche?
The most fuel-efficient Porsche is the battery-electric Taycan with 79 miles per gallon equivalent (MPGe). The Porsche Panamera E-Hybrid has up to 52 MPGe and the Porsche Cayenne E-Hybrid has up to 46 MPGe. The Porsche 718 Boxster and 718 Cayman have the best ICE fuel ratings, with up to 21 mpg city and 27 mpg highway.
Are Porsche cars fuel efficient?
Porsche cars can be fuel efficient, but some models do better than others. The battery-electric Taycan tops the list with 79 MPGe, while the E-Hybrid Panamera and Cayenne models get around 50 MPGe. The high-performance Porsche 911 GT3 is one of the worst, with 14 mpg city and 18 mpg highway.
Does Porsche have a fully electric car?
Yes, Porsche has a fully electric car named the Taycan. It is a four-door sedan or shooting brake vehicle with up to two electric motors and a zero to 60 mph time of as little as 2.6 seconds. The brand is set to release more fully electric models soon, including the Macan SUV, 718 Cayman and 718 Boxster, plus an all-new SUV.