Taking the high road isn't always easy. Some companies choose to overlook conscientious choices in an all-out battle for profits. Others, like Volvo cars, place heavier emphasis on responsible action.
The Swedish luxury car brand consistently unveils a new world of safety and sustainability, bringing the rest of the automotive industry along for the ride. Today's Volvo cars remain a top choice for considerate people, while still enjoying the splendid comfort and looks built into every Volvo model.
At a glance
| | |
| --- | --- |
| | |
| Name: Volvo | Industry: Automotive |
| Founded: 1927 | Founder: Assar Gabrielsson and Gustav Larson |
| Headquarters: Sweden | Parent organization: Geely Holding |
| Revenue: $31.2 billion USD | Website: volvocars.com |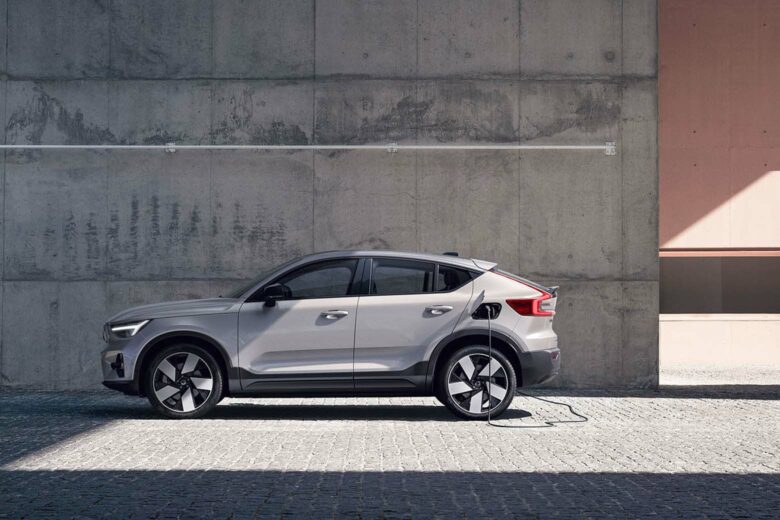 Volvo price
How much does a Volvo cost?
The starting price for a brand new Volvo is $36,350, which gets you into the crossover SUV Volvo XC40. If you'd rather sit behind the wheel of a Volvo electric vehicle, the XC40 Recharge starts at $53,550. Or bump that up to $55,300 for an electric fastback SUV variant, the Volvo C40.
The Volvo S60 sedan is also a great value, starting at just $41,300. The plug-in hybrid variant of the same car, known as the S60 Recharge, causes the price to jump significantly higher, up to nearly $70,000.
The wagon models, including the Volvo V90 Cross Country and Volvo V60, hover around the $60,000 mark straight off the showroom floor.
What is the most expensive Volvo?
Walk into a Volvo dealership and you'll see the most expensive model currently available is the plug-in hybrid SUV Volvo XC90 Recharge, starting at $71,900, but breaking $80,000 in the Ultimate top-tier trim. The slightly smaller XC60 can also break $70,000 if purchased new and loaded with options, as can a fully-loaded Volvo S90 sedan.
Another one of the more expensive Volvo car options is the Volvo V60 Recharge. It is a plug-in hybrid wagon, and its top trim level is the Polestar Engineered version with high-performance tuning and suspension. This Volvo price is over $71,000.
How much is the cheapest Volvo?
If you want to stretch your dollar as far as it can go while sitting behind a Volvo logo, the XC40 crossover SUV is your match. It starts at a modest $36,350, an incredible deal for any luxury automaker.
The electric vehicle variant of the same car, known as the Volvo XC40 Recharge, starts at $53,550. This is the cheapest electric Volvo car price and has over 400 horsepower and nearly 500 lb-ft of torque.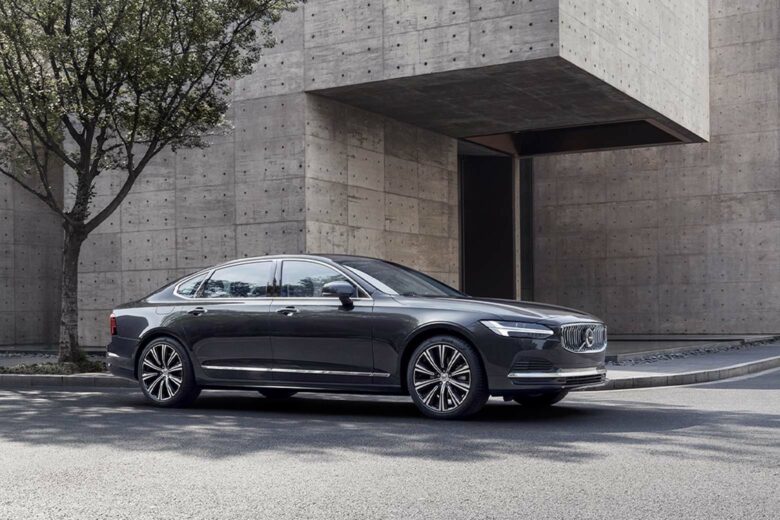 About Volvo
History of Volvo
The brand started in 1927 when Swedish salesperson Assar Gabrielsson and engineer Gustav Larson set out to create a vehicle to conquer the country's frigid climate and rough roads.
The first Volvo vehicle was the OV 4, starting with just 280 units produced that year. As Volvo continued forward, it branched into other commercial operations including trucks, vans, and marine engines.
Momentum picked up toward the end of World War II with the production of the 1944 PV 444 "little Volvo." In 1953, the Volvo Duett hit the streets, joining the practicality of ample cargo space on a sleek wagon-like platform.
Volvo's characteristic safety innovations and global appeal began to pick up steam. The Swedish automaker has stood firmly behind its promise to create vehicles for people who care about the world and the people living in it.
In 1959, Volvo engineer Nils Bohlin introduced three-point safety belts, waiving the patent rights so other carmakers could use the design. That was the first major step in a long series of wide-reaching automotive improvements, including rear-facing child seats, side curtain airbags, and the oxygen sensor.
Today's Volvos leverage the long history of safety and luxury. The minimalist Swedish design fills every inch of the interior and exterior space, creating the Volvo luxury cars that compete with the world's best.
Understanding Volvo's car range
By adopting a simple alphanumeric system in the 1990s and sticking to it, Volvo makes it easy to understand the car range. The letter(s) indicate the vehicle's body style, with S for a sedan, V for a wagon, and XC for SUV models.
The number portion of the name indicates the overall size of the vehicle. The smaller the number, the smaller the vehicle. For example, the XC40 is the smallest SUV, while the XC90 is the largest.
Volvo has added Recharge to many variants across its entire lineup. These can refer to ultra-fuel-efficient hybrid models or battery-electric vehicles.
Polestar Engineering packages come from Volvo's high-performance tuning division. Polestar is also a closely-related standalone automaker, producing premium Polestar electric cars.
Interesting facts about Volvo
There's no questioning Volvo's commitment to safety and sustainability. In 1976, the US NHTSA purchased 24 Volvo 240 models for crash testing. Its performance blew away the competition, creating a new benchmark in safety standards for new cars.
More recently, Volvo placed a comparatively low top speed restriction of 112 mph (180 km/h) on all cars it creates. This showcases Volvo's efforts to reduce the tragic consequences of high-speed driving.
The first climate-neutral Volvo plant was built in 2018, and Volvo remains ambitious toward sustainable practices, including through its supply-chain partners. The brand strives to sell 50% electric vehicles by 2025, 100% EVs by 2030, and a fully climate-neutral chain by 2040.
Where is Volvo made?
The Volvo headquarters are located in its founding location of Gothenburg, Sweden. The luxury car brand is now owned by China-based Geely Holding but remains a heavily Swedish company with global reach.
There are Volvo production facilities spread across the world. They are in Gothenburg, Sweden; Ghent, Belgium; Charleston, US; plus three locations in China, including Chengdu, Daqing, and Taizhou.
Volvo electric cars
The Volvo XC40 Recharge is the first battery-electric offering from this luxury car brand, sold as a crossover SUV. The C40 is another Volvo EV, sharing many aspects with the XC40 but with a sloping rear roofline.
Volvo is geared up to release the Volvo EX90, a fully-electric variant of the flagship XC90 SUV. The 300-mile range and nearly 500 horsepower motors have enthusiasts resting comfortably, secure that it will usher in the next generation of Volvo flagship products.
Volvo Car Group also holds a significant stake in Polestar, a premium electric vehicle producer. The Polestar 2 is the first battery-electric option to be released under the Polestar name, competing with the Tesla Model 3.
Polestar has other models in the pipeline, and they're generating a lot of buzz in the EV market. 2024 should see the release of three more Polestar EV models. And the Polestar 6, anticipated in 2026, combines a knockout design with maddening performance, just like the best electric motorcycles.
Volvo models
Let's take a look at Volvo's entire current lineup, a couple of prominent classics, and the Polestar affiliate's electric vehicle lineup.
Volvo EX90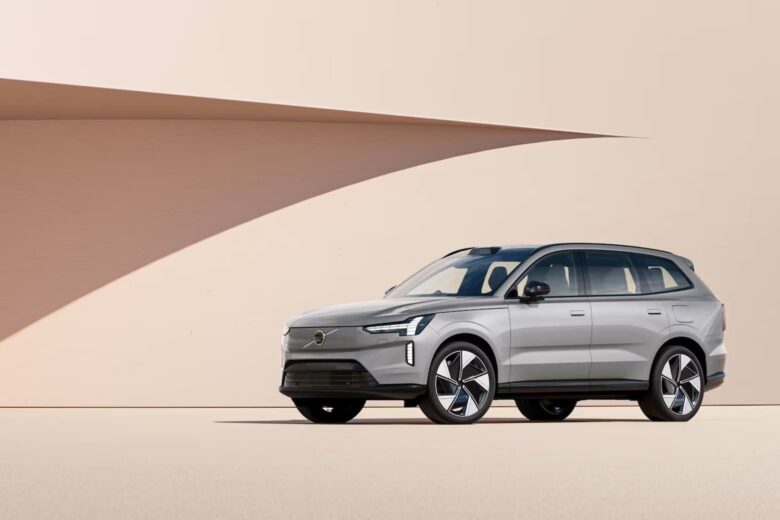 As a brand continually striving for increased sustainability, it's no surprise that Volvo is electrifying its flagship SUV. When it comes out in 2024, the Volvo EX90 will be a battery-electric vehicle with dual motors and all-wheel drive.
With nearly 500 horsepower and a 300-mile range, there's no shortage of fun or capability. And you can leave any concerns about a dull look at the door. The future-forward drivetrain pairs with stunning style, ready to conquer the town or trails.
The cherry on top is the advanced driver assistance package that looks beyond the road in front. This Volvo electric car will keep tabs on the driver, stepping in when it senses distress or distraction.
| | |
| --- | --- |
| Price: | Starting at $80,000 (est.) |
| Release year: | 2024 |
| Drivetrain: | Two electric motors |
| Top speed: | 112 mph – 180 km/h |
| 0-60 mph: | 4.7 sec |
| Power: | 402 to 496 hp |
| Torque: | Unknown |
| Range: | 300 miles – 483 km |
Volvo XC90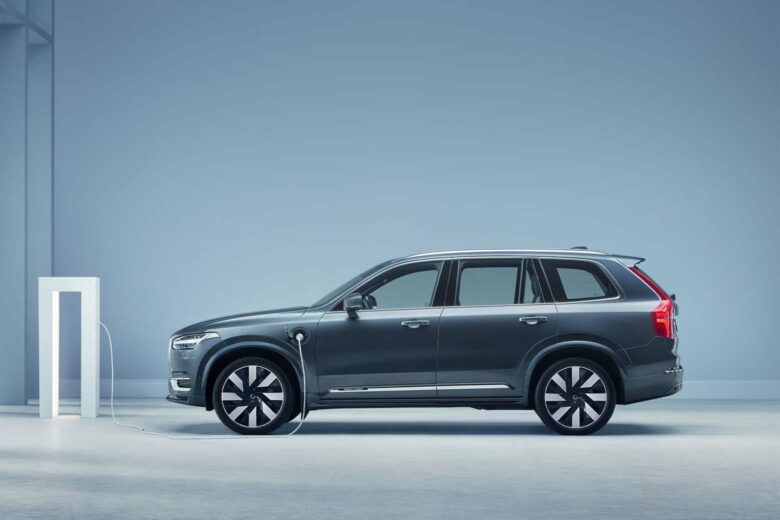 When other brands reach for excess, the largest Volvo SUV satisfies without overindulging. The ability to seat seven people and tow up to 5,000 pounds is up for any task, but the available 58 MPGe lets you stretch this Volvo hybrid SUV's fuel tank like no other.
The Volvo XC90 has a sharp exterior design featuring the characteristic Volvo grille and sweeping lines. But to see the epitome of elegant Swedish design, step inside to find luxurious touches all around.
Available ventilated seats sit under an airy panoramic moonroof, while purified air fills your lungs as the Karom Kardon premium sound system takes over your eardrums. This lovely model made it onto our list of the best luxury SUVs.
| | |
| --- | --- |
| Price: | Starting at $56,000 to $80,995 |
| Release year: | 2002 |
| Engine: | 2.0L turbocharged 4-cylinder engine with hybrid technology |
| Top speed: | 112 mph – 180 km/h |
| 0-60 mph: | 7.3 to 5 sec |
| Power: | 247 to 455 hp |
| Torque: | 310 to 523 lb-ft |
| Range: | Up to 32 miles electric-only |
Volvo XC60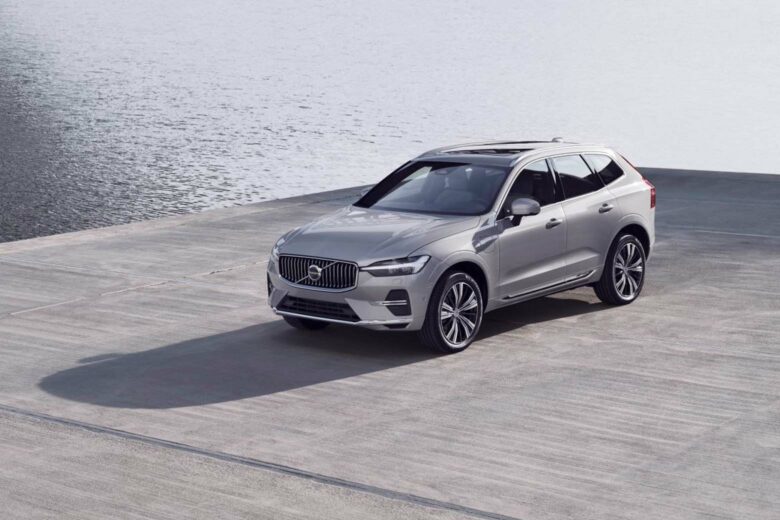 The smaller crossover SUV segment faces stiff competition from nearly every carmaker around. But Volvo has something special up its sleeve with the XC60, hitting all the right amenities while bringing the usual safety behind this Swedish luxury car brand.
The Volvo XC60 drivetrains start with a mild 247 horsepower but can be cranked up to an impressive 455 horsepower in the Volvo XC60 Recharge. This plug-in Volvo hybrid provides an incredible 63 MPGe.
The interior can be fitted with Nappa leather or a wool blend upholstery. And for those who want the best handling, add on the Polestar Engineered package, featuring dual flow valve shock absorbers, specially-designed front and rear springs, and a wide selection of premium features.
| | |
| --- | --- |
| Price: | Starting at $43,450 to $75,245 |
| Release year: | 2008 |
| Engine: | 2.0L turbocharged 4-cylinder engine with hybrid technology |
| Top speed: | 112 mph – 180 km/h |
| 0-60 mph: | 6.6 to 4.5 sec |
| Power: | 247 to 455 hp |
| Torque: | 258 to 523 lb-ft |
| Range: | Up to 35 miles electric-only |
Volvo XC40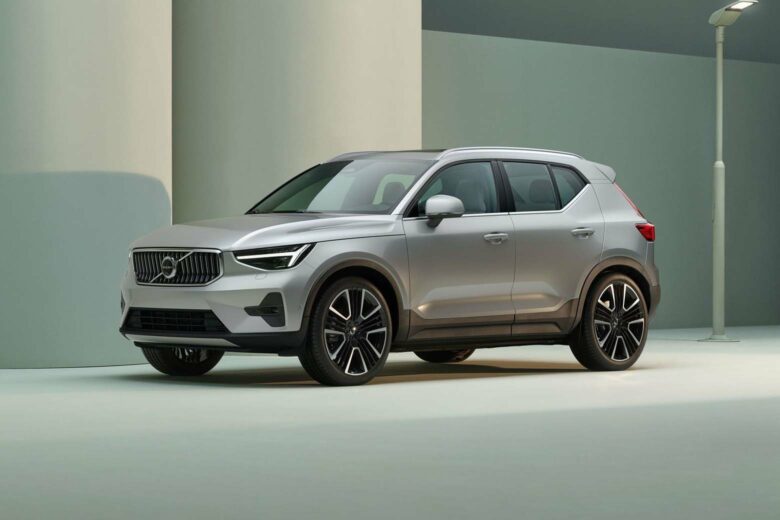 As the smallest Volvo SUV, you might be tempted to let your guard down with the XC40. But that's exactly when it will strike. Be ready to sink your teeth into more than the reasonable price tag would make you believe. This isn't a car for kids.
The base model still offers many of Volvo's advanced technologies, such as blind spot monitoring and cross-traffic alerts. And it also gets up to 30 MPG highway.
If you'd like to cut your carbon footprint by up to 98%, go for the fully-electric Volvo XC40 Recharge. It packs an admirable 402 horsepower and 486 lb-ft of torque.
| | |
| --- | --- |
| Price: | Starting at $36,350 to $53,550 |
| Release year: | 2017 |
| Engine: | 2.0L turbocharged 4-cylinder with hybrid technology or battery-electric powertrain |
| Top speed: | 112 mph – 180 km/h |
| 0-60 mph: | 8.1 to 4.7 sec |
| Power: | 194 to 402 hp |
| Torque: | 221 to 486 lb-ft |
| Range: | 223 miles – 359 km |
Volvo C40 Recharge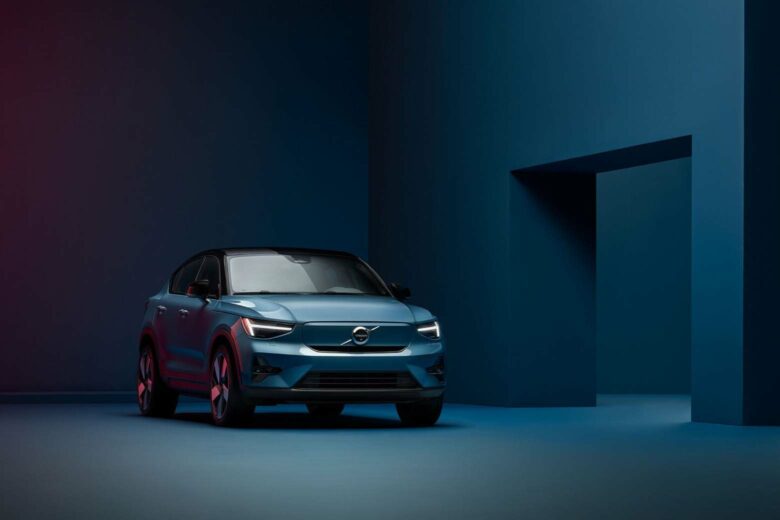 If you like the XC40 but want a slightly more luxurious package and sophisticated design, the battery-electric Volvo C40 is the right choice. The fastback sloping rear roofline is the main exterior difference between these two Volvo electric SUVs, but the C40 has more to it than that.
Standard all-wheel drive, fixed panoramic roof, and backlit interior touches create a cultured package sure to impress. And with the Volvo badge on the front, you and your loved ones can be confident that your vehicle protects you and the environment.
The powerful dual motors connect to a 75 kWh battery pack, giving it a reasonable 226-mile range that can be recharged to 80% in just 37 minutes on a 50 kW DC fast charger. Can you see why it's on our list of the best luxury electric cars?
| | |
| --- | --- |
| Price: | Starting at $55,300 to $61,195 |
| Release year: | 2022 |
| Drivetrain: | Dual electric permanent magnet synchronous motors |
| Top speed: | 112 mph – 180 km/h |
| 0-60 mph: | 4.5 sec |
| Power: | 402 hp |
| Torque: | 487 lb-ft |
| Range: | 226 miles – 364 km |
Volvo S90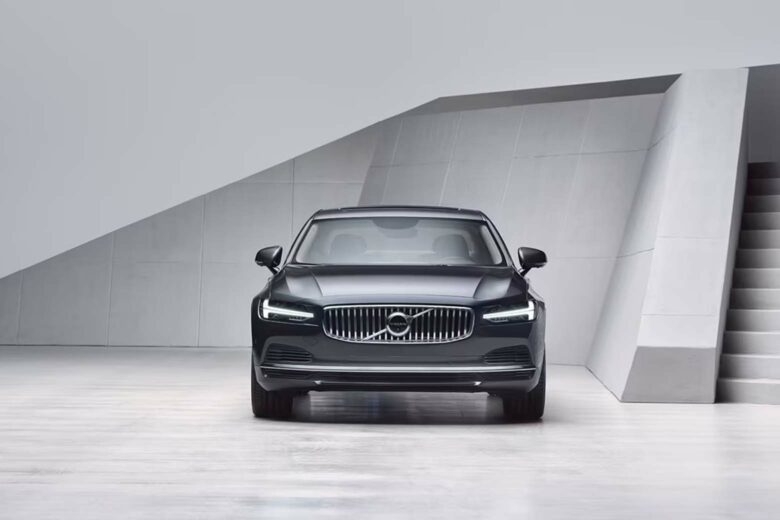 The Swedish carmaker's experience in the executive segment might not be apparent if you compare the S90 Volvo sedan to its rivals. But in many ways, that's to be expected from a brand that puts pragmatism ahead of opulence. You won't find a Volvo on the list of the most expensive cars.
As the S90 took over the reins from the Volvo S80 in 2017, it brought in a lovely executive car with an unexpectedly low price. The drivetrain options sound eerily similar to most in the Volvo lineup, including the mild hybrid base model and the plug-in hybrid S90 Recharge with over 450 horsepower.
But Volvo S90 hits the points that matter. For executive cars, that's interior comfort and amenities. 14-way adjustable seats, a stylish mixture of high-end materials, and a fully-capable driver assistance system are part of the package.
| | |
| --- | --- |
| Price: | Starting at $57,000 to $71,595 |
| Release year: | 2017 |
| Engine: | 2.0L turbocharged engine with hybrid technology |
| Top speed: | 112 mph – 180 km/h |
| 0-60 mph: | 6.4 to 4.6 sec |
| Power: | 295 to 455 hp |
| Torque: | 310 to 523 lb-ft |
| Range: | Up to 38 miles electric-only |
Volvo S60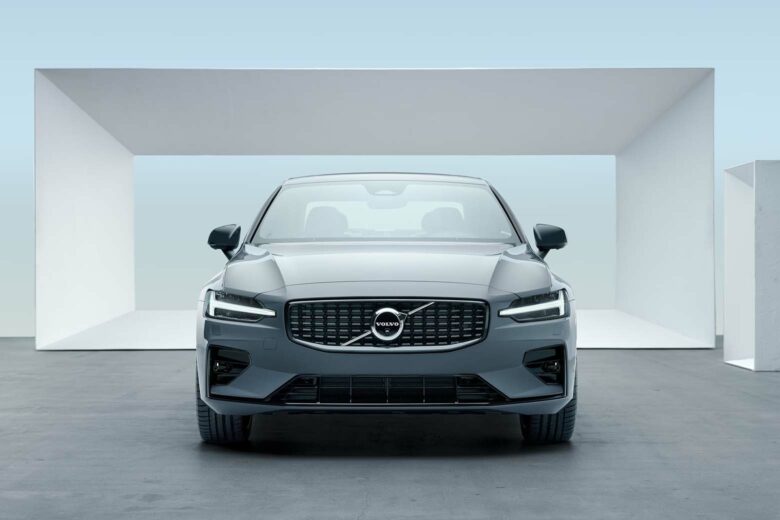 Sitting behind the wheel of a BMW 3 Series or Audi A5, the response will be sporty and quick. Nearly ready for the track. But when the rival Volvo S60 comes up, it puts refined grace well ahead of spirited driving.
The Volvo S60 is available with a mild hybrid drivetrain or a plug-in hybrid as seen in the Volvo S60 Recharge with an incredible 73 MPGe.
The base model is well equipped with an air purifier and Bowers & Wilkins sound system. Go for the top-tier Ultimate trim if you want four-zone climate control, adaptive cruise control, and a 360-degree camera.
| | |
| --- | --- |
| Price: | Starting at $41,300 to $69,145 |
| Release year: | 2000 |
| Engine: | 2.0L turbocharged engine with hybrid technology |
| Top speed: | 112 mph – 180 km/h |
| 0-60 mph: | 6.4 to 4.3 sec |
| Power: | 247 to 455 hp |
| Torque: | 258 to 523 lb-ft |
| Range: | Up to 41 miles electric-only |
Volvo V90 Cross Country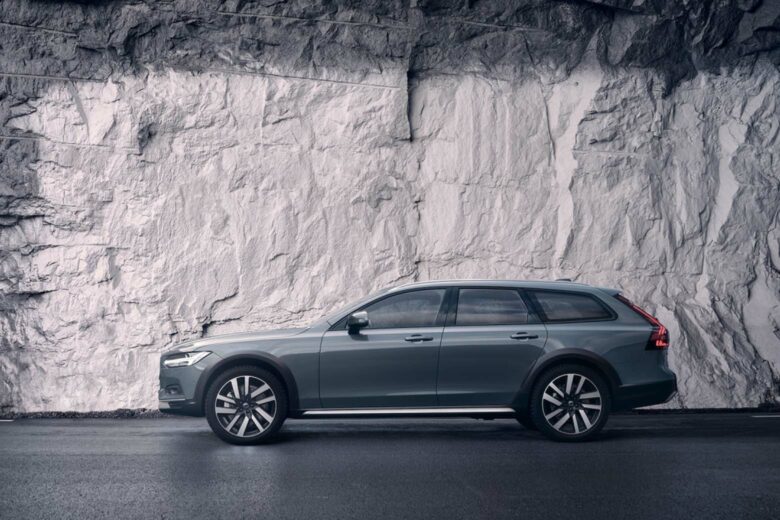 Before the wide acceptance of SUVs, Volvo station wagons led the pack. The ample cargo space, passenger room, and fuel economy provided a unique balance. And the Volvo V90 Cross Country continues to ride the coattails of this legacy.
In an interesting turn of events, the Volvo wagon sits higher than most rivals, edging closer to the crossover SUV segment than ever before. The sleek Swedish looks still catch your attention, as do the safety and sustainability that come from any Volvo car.
All-wheel drive is standard, but you can get higher-end features like ventilated massaging seats, rear window shades, and crystal gear shift lever.
| | |
| --- | --- |
| Price: | Starting at $58,450 to $65,145 |
| Release year: | 2017 |
| Engine: | 2.0L turbocharged engine with hybrid technology |
| Top speed: | 112 mph – 180 km/h |
| 0-60 mph: | 6.4 sec |
| Power: | 295 hp |
| Torque: | 310 lb-ft |
Volvo V60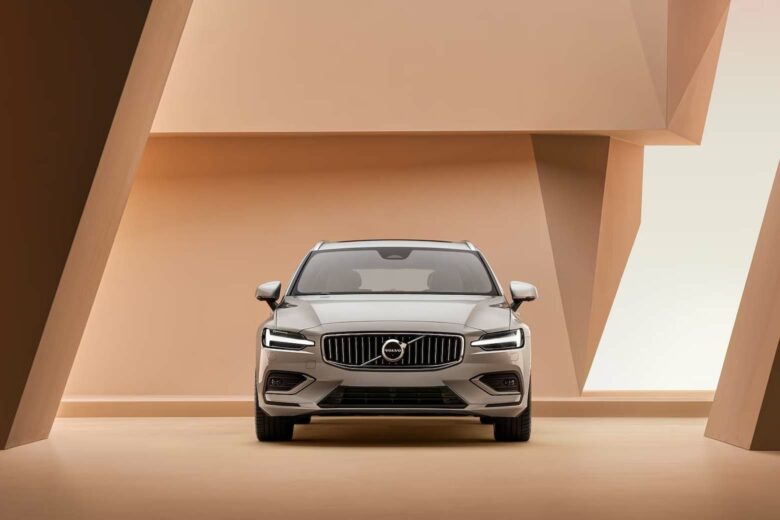 You're not seeing double. The Volvo V60 is another wagon variant ready to tackle your daily driver needs. It is available as the mild hybrid V60 Cross Country model and the plug-in hybrid V60 Recharge.
Both offer 60.5 cu.ft. of interior cargo space to stash all your gear. And if you want to maximize fuel economy, the V60 Recharge gets an astonishing 74 MPGe. It's never been easier to reduce your carbon footprint while getting around in style. It's also one of the fastest cars from Volvo.
Not being as tall as the SUV counterparts has the advantage of a lower platform with more nimble driving. And it comes with the charming minimalistic design that Volvo is known for.
| | |
| --- | --- |
| Price: | Starting at $48,800 to $71,645 |
| Release year: | 2010 |
| Engine: | 2.0L turbocharged engine with hybrid technology |
| Top speed: | 112 mph – 180 km/h |
| 0-60 mph: | 7.1 to 4.3 sec |
| Power: | 247 to 455 hp |
| Torque: | 258 to 523 lb-ft |
| Range: | Up to 41 miles electric-only |
Volvo classic cars
Let's take a step back in time to review a couple of Volvo's most prominent classics.
Volvo 240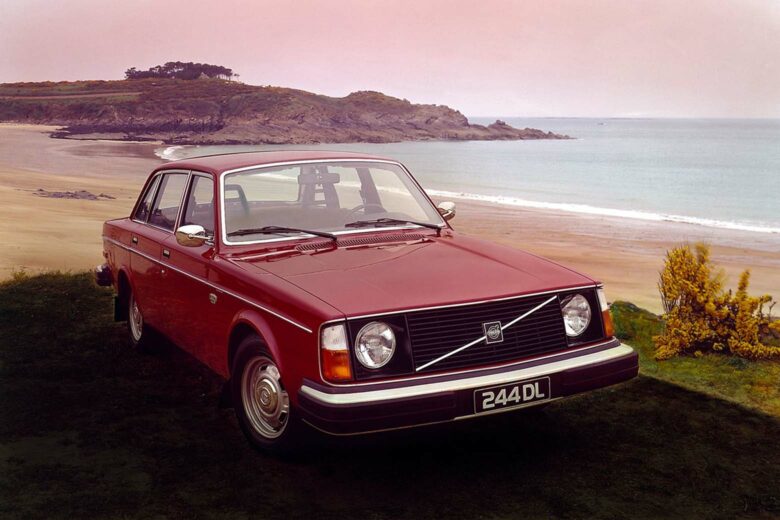 No discussion of the Volvo car brand is complete without mentioning the legendary Volvo 240 wagon. While it didn't make our favorite classic car list and outsiders might call it boxy or boring, owners and enthusiasts tell a much different tale.
First introduced in 1974, the Volvo 240 hit the market in seven variants alongside the larger Volvo 260. Its design is admittedly rather square, similar to current Volvo Cross Country wagons, but under the surface is where the secrets are at.
The Volvo 240 featured innovative safety designs, including large crumple zones well ahead of the era. The US NHTSA used a fleet of the 240s for safety testing, creating a new benchmark that held up for nearly a decade. It could be considered Volvo's safest car.
It also earned the title "Flying Brick" due to its impressive and surprising motorsports victories at the European Touring Car Championship and the German DTM in 1985.
Volvo P1800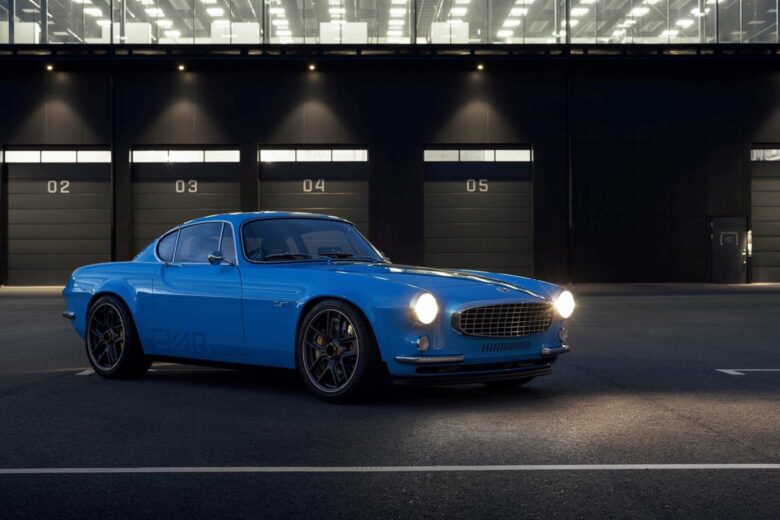 Over 50 years ago, the Volvo P1800 was produced as one of the brand's least practical vehicles ever. The two-door sports car first came out in 1961, but fans have kept them running for much longer.
Some people ditch their cars before the odometer turns over 100,000 miles. For Irv Gordon, that was barely the break-in period. The New York native went on to drive his 1966 Volvo 1800S for more than 3.2 million miles, a record-breaking feat.
Another unique aspect of the P1800 is its multinational creation. As the Swedish company was expanding, they had to reach out for help. By leaning on Italian design assistance, British manufacturing, and incredible demand in the US, the P1800 fused many nationalities into one car.
Polestar: Volvo's affiliate electric vehicle producer
The Polestar name is tightly intertwined with Volvo. The relationship started in 1996 when Volvo teamed up with the Flash Engineering motorsports team to compete in the Swedish Touring Car Championship.
Flash Engineering eventually became Polestar Racing. The continued Volvo collaboration resulted in the street-legal high-performance Volvo C60 Polestar, released in 2013. Polestar Engineering packages are available on select Volvo models to this day.
In 2017, under the ownership of Volvo Car Group and Geely Holdings, Polestar became a standalone Swedish premium electric vehicle manufacturer. Polestar cars are already on the streets, with more getting ready to join the fun.
Volvo customer service number
To get in touch with Volvo customer service, call 1-800-550-5658. If you're a current Volvo owner looking for support, dial 1-800-458-1552 instead.
Volvo social media profiles
To stay in the loop with the latest and greatest, check out the official Volvo social media profiles:
Frequently asked questions about Volvo
Is Volvo a good car brand?
Many people consider Volvo to be a good car brand. The Swedish automaker has consistently emphasized safety and sustainability. Volvo has a hybrid or battery-electric option for every model, with a goal to produce exclusively electric vehicles by 2030.
How much does a Volvo cost?
The cost of a Volvo depends on the model and features selected. The entry-level option is the $36,350 Volvo XC40 crossover SUV. Mid-range options include the Volvo XC60 starting at $43,450, and the Volvo S60 sedan starting at $41,300. Volvo electric vehicles start at $53,550 for the XC40 Recharge.
Is Volvo a luxury brand?
Yes, Volvo is a luxury brand. Its vehicles incorporate many premium features fused with sleek Scandinavian design. Volvo offers multiple SUVs, sedans, and wagons, all with hybrid or electric vehicle variants. The brand puts an enormous emphasis on safety and sustainability.
Who makes the Volvo car?
Volvo cars are made by Volvo Car Group, which is owned by China-based Geely Holding. The Volvo headquarters was founded in 1927 in Gothenburg, Sweden, where they remain today. The vehicles are produced in four different countries, including Sweden, Belgium, the United States, and China.
Is Volvo an expensive brand?
Volvo may be considered an expensive brand by some metrics. But in the luxury vehicle market, Volvo prices are often much lower than competitors. The Volvo S90 executive sedan starts at just $57,000, beating many options in the segment. Some Volvo models, like the XC90 SUV, can reach over $80,000 for the top trim level.