Rolls-Royce cars are hand-crafted to the whimsical wishes of the world's elites. The brand artfully caters to those who hop between their multi-million dollar homes scattered across the world, joyfully jetting from one paradise to another.
Known for lavish interiors flooded with customized amenities fit for royalty, an imposing grille that arrives with a bold statement, and a near-silent yet powerful drivetrain that floats like a cloud, the famed British automaker is the epitome of luxury.
Rolls-Royce Motor Cars are the standard that other luxury cars wish they could be.
At a glance
| | |
| --- | --- |
| | |
| Name: Rolls-Royce Motor Cars | Industry: Automotive |
| Founded: 1906 | Founders: Charles Rolls and Henry Royce |
| Headquarters: United Kingdom | Parent organization: BMW AG |
| Revenue: ~$1.1 billion to $3 billion USD (est.) | Website: rolls-roycemotorcars.com |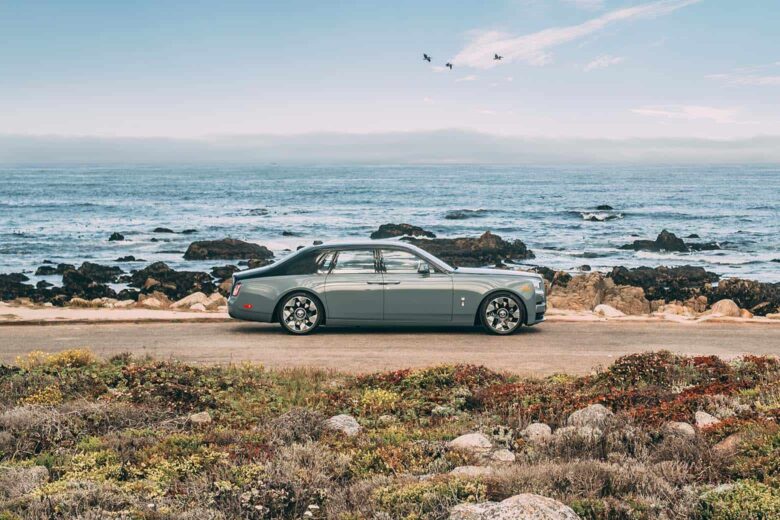 Rolls-Royce price
How much does a Rolls-Royce cost?
The extravagant Rolls-Royce car prices dwarf nearly anything else on the market, showcasing the opulent no-holds-barred approach deeply embedded into every model. The estimated starting price for the Rolls-Royce Cullinan SUV is the lowest at $355,000, before options.
The Rolls-Royce Ghost is the brand's so-called entry-level model, yet is still the epitome of grandeur and wealth, coming in with a reported Rolls-Royce starting price of $400,000. The flagship Rolls-Royce Phantom price starts at an estimated $465,000.
Yet these prices are far from the whole story.
Nearly every model is custom-tailored to the buyer's demands. A single option can cost more than most new vehicles found in dealerships across the world. The final prices, while mainly a closely-held secret, can reach $100,000 or more than the starting price.
What is the most expensive Rolls-Royce?
If you want to buy the most expensive new Rolls-Royce for sale, there's practically no limit to the amount of money you can spend. The Phantom's $465,000 estimated starting price quickly ramps up to $540,000 for the extended version, essentially a Rolls-Royce limousine.
The Rolls-Royce Boat Tail price was the most expensive Rolls-Royce ever sold. This three-unit offering of artfully hand-crafted two-door models had an astonishing estimated price of $28 million. The sleek Rolls-Royce convertible fuses yacht design points into a timeless look.
Another expensive Rolls-Royce is the Sweptail, a truly bespoke model with just one in the world. It features an expansive panoramic sunroof that beautifully tapers toward the rear end, and sold for an estimated $13 million.
How much is the cheapest Rolls-Royce?
The Rolls-Royce is the lowest-priced sedan, with an estimated starting price of $400,000. Those looking for the absolute cheapest new model available today can turn to the Rolls-Royce Cullinan price, with a reported starting point of $355,000.
Keep your eyes peeled for the first electric Rolls-Royce coupe. Most reports indicate the stunning two-door Rolls-Royce Spectre will have an estimated starting price of $400,000.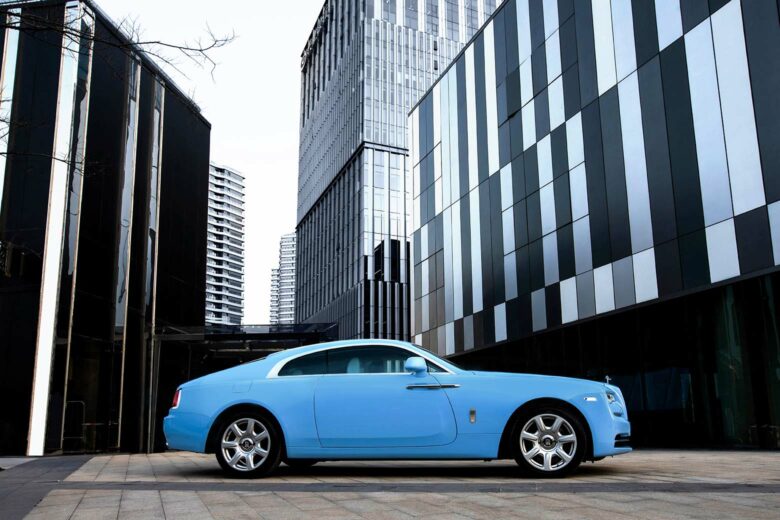 About Rolls-Royce
History of Rolls-Royce
Around the turn of the 20th century, Charles Rolls was an early adopter of automobiles and was behind the first motor vehicle dealership in Britain. During this time, Henry Royce created innovative engineering feats, including dynamos and electric cranes, before turning his attention to redesigning two-cylinder engines and producing a small handful of cars.
In 1904, the two British forces collided and created the first ever Rolls-Royce automobile using Royce's two-cylinder design and Rolls' financial backing and business acumen, formalizing the agreement two years later.
One of the first models started as the 40/50 but eventually took the name Rolls-Royce Silver Ghost. It solidified the brand's reputation as meticulous, creating powerful and luxurious vehicles that are built to last.
Sadly, Rolls passed away in an aviation accident in 1910. While Royce encountered serious health ailments of his own by 1911, he persevered and continued with limited involvement in the company as it grew.
When World War I and II swept across the globe, the advanced automaker turned to create aviation engines. It quickly became one of the world's most respected aero-engine producers, which continues today under the separate entity Rolls-Royce Holdings.
Opulent automobile construction continued as well. The 1949 Rolls-Royce Dawn Drophead is one of the best classic cars. And the Rolls-Royce Silver Cloud was the flagship model from 1955 to 1966, with a gorgeous elongated hood and prominent front end draped in luxury from front to back.
The Rolls-Royce Silver Shadow took over after that, holding on strong until 1980, becoming the luxury brand's top vehicle by volume produced at an impressive 30,057 units total. During this time, the Rolls-Royce Corniche also hit the market, becoming another long-lasting model that ushered in dramatic improvements.
In 1998, the automotive division was bought by Volkswagen and separated from the Rolls-Royce Limited aero-engines. Then in 2003, BMW took ownership of Rolls-Royce Motor Cars Limited as a wholly-owned subsidiary.
Who owns Rolls-Royce Motor Cars today? BMW has retained ownership, but the luxury brand operated as a separate entity with headquarters in Goodwood, West Sussex, England.
Understanding the Rolls-Royce car range
Most Rolls-Royce cars have one-word model names, often based on spiritual entities. The first use of Phantom in a model name stretches back to 1925 and is still the ultra-luxurious brand's flagship offering.
Other models, such as the Wraith and Ghost continue this spiritual naming methodology, as does the first-ever electric Rolls-Royce model, the upcoming Spectre.
A model that defies this convention, like it also defies the typical Rolls-Royce car body style, is the SUV Rolls-Royce Cullinan. It takes its name from the largest diamond ever discovered.
Many models, including the current Phantom and Ghost, are available with extended wheelbase variants to provide an opulent rear-row experience focused on a chauffeured experience.
Black Badge variants incorporate many darkened elements, including a blacked-out grille instead of the iconic polished metal, and often incorporate performance enhancements too, although the brand is never focused on creating the fastest car in the world.
While nearly every Rolls-Royce that rolls off the line comes with individualized specifications custom-tailored to a buyer's every whim, the automaker has recently rolled out another level of red-carpet luxury through its Coachbuild division, producing some of the rarest and most grandiose Rolls around.
Interesting facts about Rolls-Royce
When Rolls-Royce vehicle production separated from its aero-engine division, Volkswagen Group was the high bidden that was to take over production. Yet there was one serious glitch in the plans. Due to its existing relationship as an auto engine supplier, BMW swept up exclusive rights to essential Rolls-Royce trademarks.
After coming to a limited agreement with BMW, Volkswagen built limited Rolls-Royce models from 1998 to 2003, before giving in to BMW's dominating position.
Another interesting detail about Rolls-Royce vehicles is built into every wheel. Look closely and you'll see that the Rolls-Royce logo is always upright, thanks to a specialized gyroscope tucked inside.
Where is Rolls-Royce made?
Every Rolls-Royce vehicle is made in Goodwood, England. The hand-built cars are produced in a state-of-the-art manufacturing facility that opened in 2003 as BMW took ownership.
Rolls-Royce electric cars
As car and motorcycle producers throughout the world turn toward electrification, the Rolls-Royce Spectre is poised to follow suit with a fully-electric platform bringing in a new generation.
The electric Rolls-Royce coupe Spectre is expected to have similar performance metrics as the whopping V-12 engines, and drivers might not even notice much of a difference since every Rolls-Royce features whisper-quiet performance.
The Spectre is expected to be the first of many Rolls-Royce electric vehicles. The company has reported it plans to produce exclusively electric vehicles by 2030.
Rolls-Royce models
Let's go through the list of the current new Rolls-Royce models for sale, along with some of the recently-discontinued models and the icons from the past.
Rolls-Royce Cullinan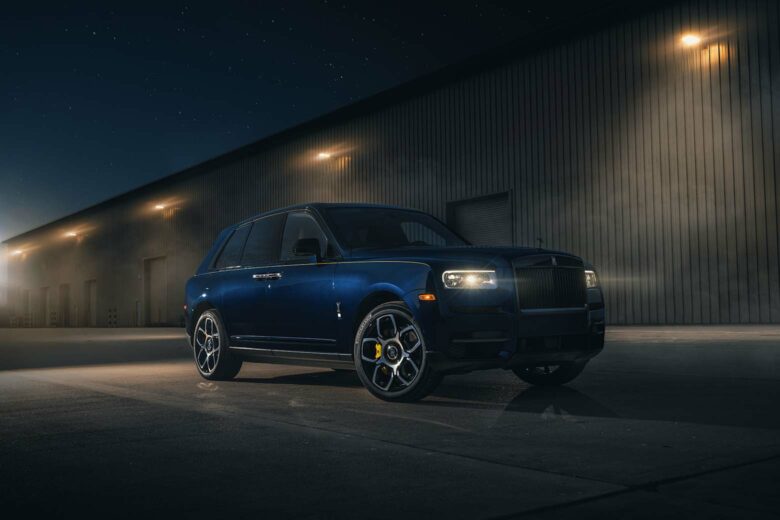 Named after the largest diamond ever discovered, the Rolls-Royce Cullinan ramps up the size to push the Ranger Rover off the throne and deliver the first SUV from the opulent British automaker. Its grandiose amenities stand tall over the best luxury SUVs, putting this gem in a class of its own.
Drivers won't even notice the size due to its four-wheel steering that improves low-speed maneuverability and high-speed stability. The Flagbearer system scans the road ahead to adjust the suspension to road conditions, providing an unparalleled experience that puts the effortless Lexus or Jaguar rides to shame.
The Cullinan is a battle-proven off-road monster too. Rolls-Royce paired with National Geographic to take the Cullinan 12,000 miles over three continents, conquering sand, snow, and everything in between.
| | |
| --- | --- |
| Price: | Starting at $355,000 (est.) |
| Release year: | 2019 |
| Engine: | 6.75L twin-turbo V-12 |
| Top speed: | 151 mph – 243 km/h |
| 0-60 mph: | 4.5 sec |
| Power: | 563 hp |
| Torque: | 627 lb-ft |
Rolls-Royce Ghost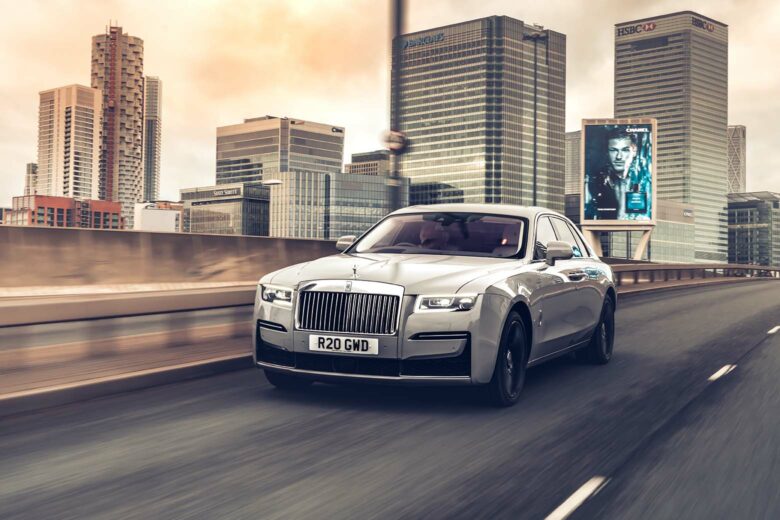 Batting in the same league as the Mercedes-Benz Maybach S-Class means you're in the majors. So when people refer to the Rolls-Royce Ghost price as the brand's entry-level model, it doesn't do this impeccable vehicle any justice.
It comes with the classic Rolls-Royce coach doors, opening up the spacious interior with a touch of elegance. Every inch of this spiritual guide is adorned with premium materials, from supple leather to exotic wood inlays.
If the regular Ghost Rolls-Royce price leaves a little too much change rattling around your pocket, step up to the high-performance Rolls-Royce Ghost Black Badge variant and its nearly 600 horsepower, equal to about three Volvo cars combined.
| | |
| --- | --- |
| Price: | Starting at $400,000 (est.) |
| Release year: | 2010 |
| Engine: | 6.75L twin-turbo V-12 |
| Top speed: | 155 mph – 250 km/h |
| 0-60 mph: | 4.2 to 4.6 sec |
| Power: | 592 to 563 hp |
| Torque: | 664 to 627 lb-ft |
Rolls-Royce Phantom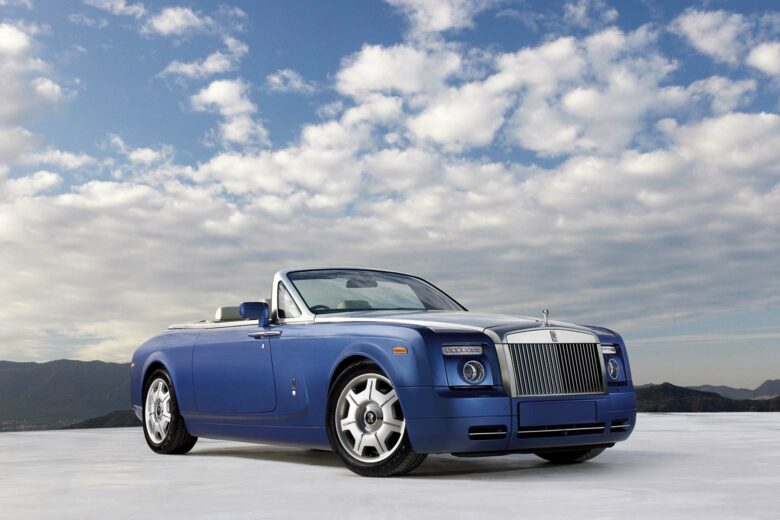 For cars like BMW and Audi, drivers have fun getting from A to B. But in the flagship Rolls-Royce Phantom, transportation is an elevated experience. It floats down the pavement on a cloud, encompassed by the finest amenities, and filled with a sense of wealth in every sense of the word.
For property developer Balwinder Sahni, the estimated $800,000 purchase price for his Phantom was just the beginning. He spent a reported $9.6 million to get one of the world's most expensive license plates for it, adorned with D5, which relates to his lucky number 9.
With nearly a century of history behind the Phantom model name, you can be certain that you're getting the very best from the most luxurious automaker that's ever existed, easily surpassing the once gold-standard and still luxurious Cadillac models.
| | |
| --- | --- |
| Price: | Starting at $465,000 (est.) |
| Release year: | 1925 (original), 2017 (8th gen.) |
| Engine: | 6.75L twin-turbo V-12 |
| Top speed: | 155 mph – 250 km/h |
| 0-60 mph: | 4.6 sec |
| Power: | 563 hp |
| Torque: | 664 lb-ft |
Rolls-Royce Spectre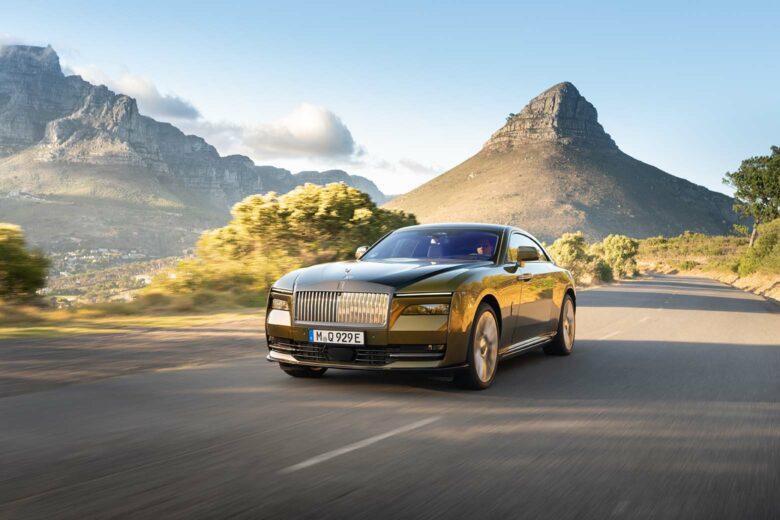 As the competition for the best electric cars amps up, Rolls-Royce is stepping up to deliver the luxury brand's first fully-electric offering. The two-door electric Rolls-Royce Spectre and its near-silent powertrain will be rolling across the bespoke production lines soon.
The starry headliner extends down to the door panels, complementing the flowing, picturesque dashboard. Most reports indicate two electric motors will dish out 577 horsepower, matching the internal combustion Rolls engine specifications.
Although the range is expected to be a little less than top EV competitors like Tesla Model S Plaid and the more value-focused Polestar, that's not an issue for Rolls-Royce owners who would rather use a jet or helicopter for extended trips.
| | |
| --- | --- |
| Price: | Starting at $400,000 (est.) |
| Release year: | 2024 (est.) |
| Engine: | Two electric motors |
| Top speed: | 155 mph – 250 km/h (est.) |
| 0-60 mph: | 4.4 sec (est.) |
| Power: | 577 hp (est.) |
| Torque: | 664 lb-ft (est.) |
| Range: | 260 miles – 418 km (est.) |
Rolls-Royce Boat Tail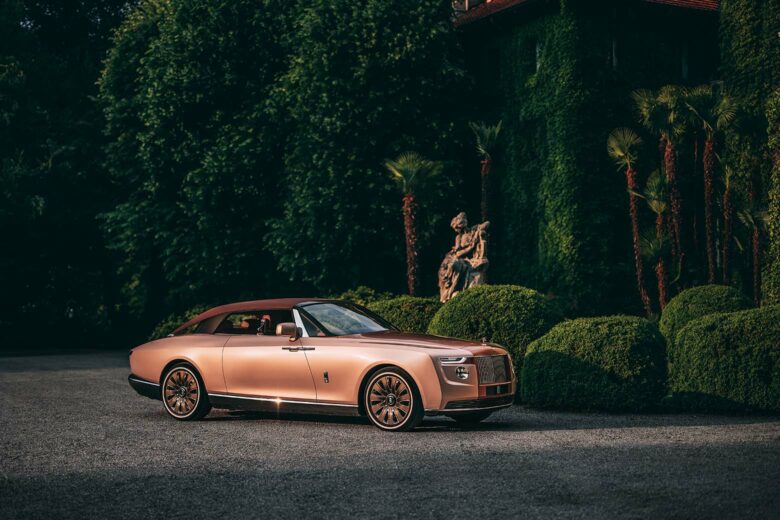 For the lucky few invited to create a bespoke model with the Rolls-Royce Coachbuild division, artisans bring out harmony between human and machine, fusing individual character into the entire development process.
Any model coming out of this process is special, but the Rolls-Royce Boat Tail is one of the most exclusive models to ever come out of the Goodwood production facility. Only three units exist, each uniquely crafted to owner specifications.
You might want to take a seat before finding out about the Rolls-Royce Boat Tail price. It holds the title as the world's most expensive new car, with an astronomical $28 million estimated sticker price, surpassing the sky-high Bugatti price list.
The design nods to the past 1932 Boat Tail while incorporating J-Class yacht elements for an impressively sleek and dominating stance. Owners are issued two Bovet timepieces which can be worn as wristwatches or placed in the fascia as car clocks.
| | |
| --- | --- |
| Price: | $28 million (est.) |
| Release year: | 2021 |
| Engine: | 6.75L twin-turbo V-12 |
| Top speed: | 155 mph – 250 km/h |
| 0-60 mph: | 4.6 sec (est.) |
| Power: | 563 hp |
| Torque: | 664 lb-ft |
Rolls-Royce Sweptail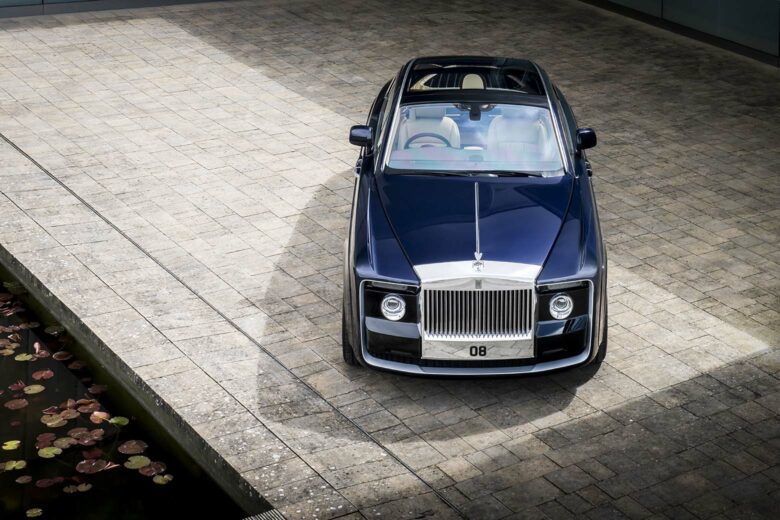 Four years of love and labor went into the one-of-a-kind Rolls-Royce Sweptail, bringing out one of the most stunning designs the world has seen.
An uninterrupted panoramic glass sunroof stretches from windshield to rear bumper, tapering back into a sleek, timeless shape modeled after early 20th-century vehicles and yacht elements from past and present.
Designed and built for a Rolls-Royce connoisseur, the Sweptail was once the world's most expensive vehicle, offered at an estimated $13 million.
| | |
| --- | --- |
| Price: | $13 million (est.) |
| Release year: | 2018 |
| Engine: | 6.75L twin-turbo V-12 |
| Top speed: | 155 mph – 250 km/h |
| 0-60 mph: | 5.6 sec (est.) |
| Power: | 453 hp (est.) |
| Torque: | 531 lb-ft (est.) |
Rolls-Royce Wraith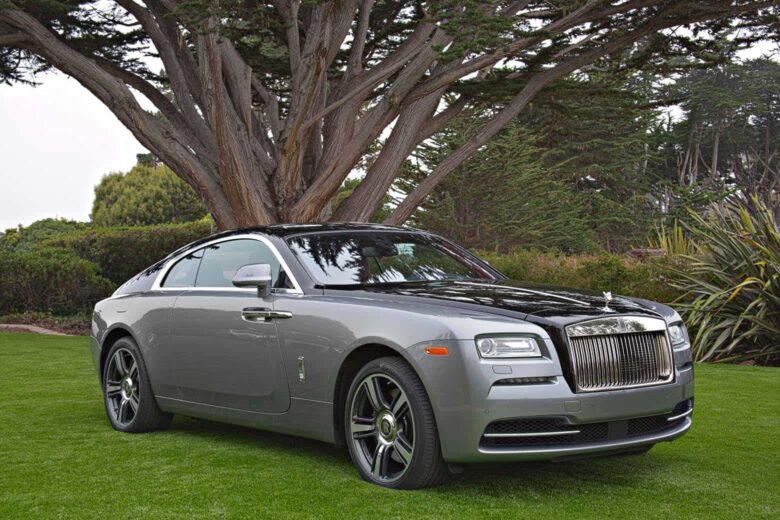 When the Phantom Coupe was laid to rest, the Rolls-Royce Wraith took the reins as the ultra-luxurious two-door model. Its sloping roofline is as gorgeous as you'd expect, and it's one of the fastest Rolls-Royces on the roads, matching some of a Lamborghini model's speed.
Built on the same platform as the Ghost, this model holds tight to the usual rear-opening doors and out-of-this-world customization, at least when it was rolling off production lines before 2021.
If your chauffeur will be behind the wheel, opt for the extended version's Privacy Suite to transform the Rolls Royce Phantom interior rear cabin into a secluded sanctuary.
Most Wraith units came with the classic Rolls front grille, but the Black Badge variant adds a more subtle yet aggressive black grille along with increased performance. It's a world away from zippy models from Porsche or Ferrari, but still a thrilling experience all around.
| | |
| --- | --- |
| Price: | Starting at $311,000 (est. original MSRP) |
| Release year: | 2014 |
| Engine: | 6.6L twin-turbo V-12 |
| Top speed: | 155 mph – 250 km/h |
| 0-60 mph: | 4.3 sec |
| Power: | 624 hp |
| Torque: | 590 lb-ft |
Rolls-Royce Dawn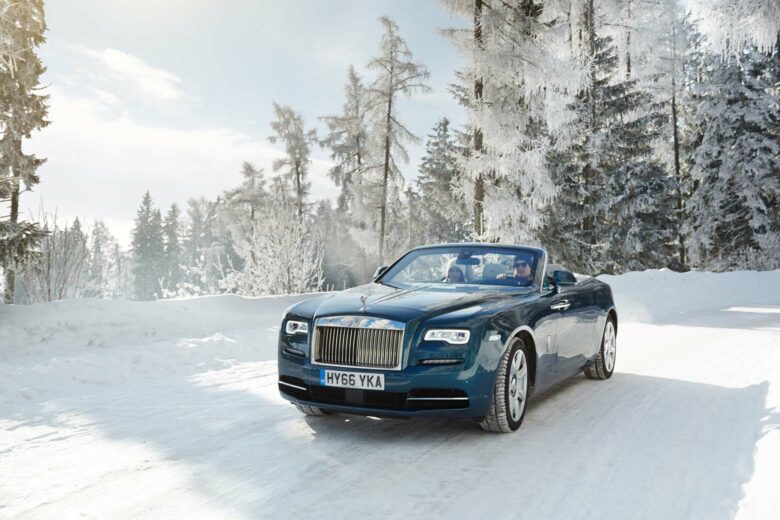 Put the top down and feel the morning sun while being enveloped in the supple leather seats of the Rolls-Royce Dawn. Production of this incredible two-door luxury car is in the past, but it remains one of the brand's most beautiful models.
A handful of specialized variants were produced, including 50 units of a Silver Bullet Dawn with design points from 1920s roadsters. An aftermarket version from German's Mansory car modification firm lowered the ride height and amped-up performance.
There's just no better way to let the wind rush through your hair as you effortlessly cruise down the road in one of the most luxurious cars in the world. It's no car for kids, but it'll let your inner joy out.
| | |
| --- | --- |
| Price: | Starting at $340,000 (est. original MSRP) |
| Release year: | 2016 |
| Engine: | 6.6L twin-turbo V-12 |
| Top speed: | 155 mph – 250 km/h |
| 0-60 mph: | 4.3 sec |
| Power: | 563 hp |
| Torque: | 575 lb-ft |
Rolls-Royce customer service number
To speak with a talented representative who can help your dream become reality, call the Rolls-Royce customer service number at 1-877-877-3735. You can also send a message through the Contact Us page.
Rolls-Royce's social media profiles
If you want to stay in the loop on the latest and most exciting news and events, follow the official Rolls-Royce social media profiles:
Frequently asked questions about Rolls-Royce
Who owns Rolls-Royce?
Trying to identify who owns Rolls-Royce is simple because, since 2003, it has been a wholly-owned subsidiary of BMW. The brand went through turmoil from 1998 to 2003 when Volkswagen Group was involved but BMW held rights to certain essential trademarks.
Are Rolls-Royce cars expensive?
Yes, Rolls-Royce cars are expensive. Most models sell for more than $400,000 and the ultra-exclusive Rolls-Royce Boat Tail is the most expensive new car in the world at a whopping $28 million. It is one of the world's most luxurious auto producers.
How much does a Rolls-Royce cost?
Finding out how much a Rolls-Royce costs might boggle your mind. The flagship Rolls-Royce Phantom starts at an estimated $465,000 before any options are added on. The Ghost starts at an estimated $400,000, while the new Cullinan Rolls-Royce SUV has a reported starting price of $355,000.
How much is the most expensive Rolls-Royce?
The most expensive Rolls-Royce is the Rolls-Royce Boat Tail, a bespoke two-door model with only three unique units produced. The reported selling price is a jaw-dropping $28 million, making it the most expensive new car in the world.
What is the cheapest Rolls-Royce today?
The cheapest Rolls-Royce today is the new Rolls-Royce Cullinan SUV. It fuses the usual Rolls-Royce opulence on an off-road capable platform and is priced at an estimated $355,000 before options. The Ghost is the entry-level sedan, starting at a reported $400,000.