It's an endurance sport. It's a spectator thrill. The fastest cars of 2023 offer something for everyone. The fact that they're only getting faster excites each of us, as we watch fast-beyond-words cars vie for that most longed-after title: the fastest car in the world.
This year's cars are lighter, sleeker, and more powerful than any that have come before. Now boasting top speeds far beyond the previous 'golden threshold' of 300mph (480kph), the newest hypercars and supercars are works of art in motion. For 2023 we maintained the number of models on our list to eleven – these are the absolute fastest cars in the world from historic auto houses.
Some of these may look familiar, as they've held titles ranging from the most expensive car to the fastest before. Other names are brand-new – but certainly worth remembering.
The Devel Sixteen will once again capture your attention. The supercar is winning the coveted #1 spot on our ranking as the fastest car of 2023. The car remains in development, however, with a claimed top speed of 347 mph.
The biggest change in 2023 is the SSC Tuatara moving from number two to number six on our list after their verified top speed dropped from a claimed 331mph (530kph) to an actual 295 mph (475 kph).
The Rimac Nevera, the first fully-electric car to make its entrance on our list last year, remains a sign of the changing times. We have a dedicated ranking of the best luxury electric cars of the year if you want to see other options in that category.
The 11 fastest cars in the world in 2023
Check below our ranking our methodology to select and rank the fastest cars in the world and our answers to our readers' most frequently asked questions.
11. Rimac Nevera C Two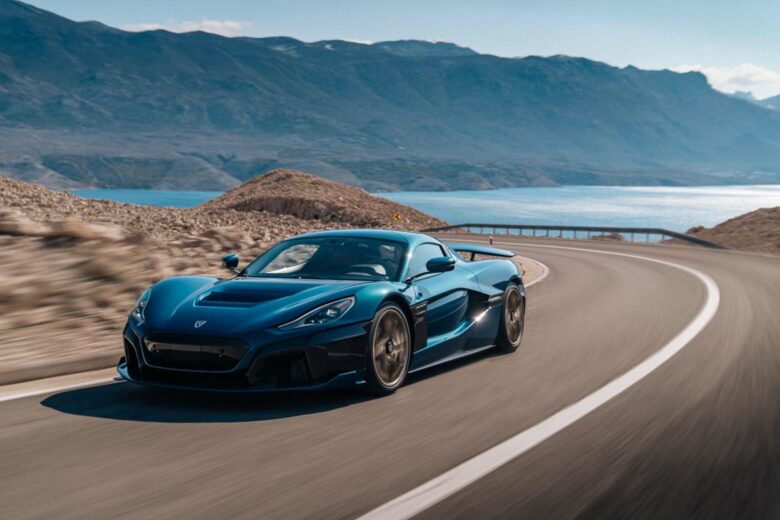 "Electric" and "hypercar" aren't usually words heard in the same sentence, except in the form of Rimac Nevera C Two. Powered by a 120kWh battery pack, the Nevera uses four electric motors in a way never seen before to reach top speeds other electric cars could only dream of.
But that shouldn't come as too much of a surprise, as everything about the Nevera was designed to push boundaries. "A Nevera is extremely powerful and charged by lightning," says the company, which seems fitting with its 0-62 mph speed of 1.85 seconds.
And, to ensure you can safely hit those ridiculous speeds, the car comes with 13 cameras to help optimize and enhance each driver's on-track performance in real-time.
10. Bugatti Veyron 16.4 Super Sport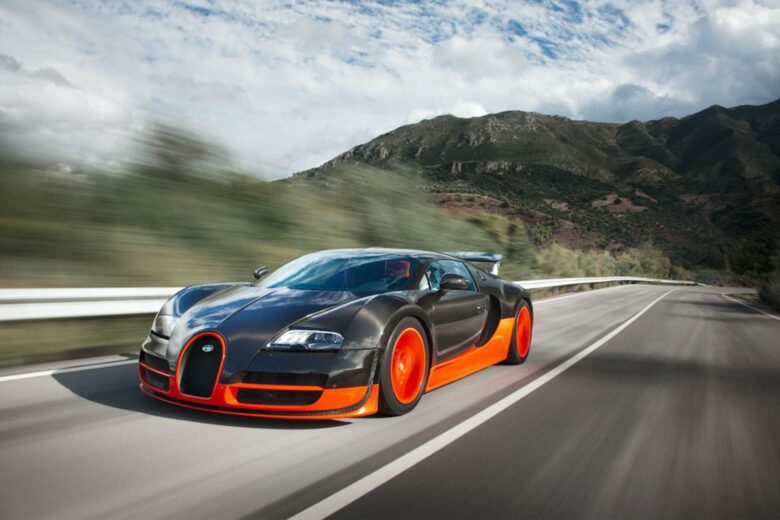 The Bugatti Veyron 16.4 Super Sport is one of the oldest supercars around, but it's still one more than worthy of those record-breaking top speeds. A car that set the benchmark even higher both for Bugatti as well as other contenders in the hypercar world, the Veyron 16.4 Super Sport was one of the greatest technological challenges ever known in the automotive industry.
The 16.4 Super Sport was the final design from the Veyron batch, a car that excelled itself in every way, shape, and form possible, before finally putting the Veyron name to bed. Elegant, stylish and truly one of a kind: the Bugatti Veyron 16.4 Super Sport promises to retain its name in history for the foreseeable future.
9. Hennessey Venom GT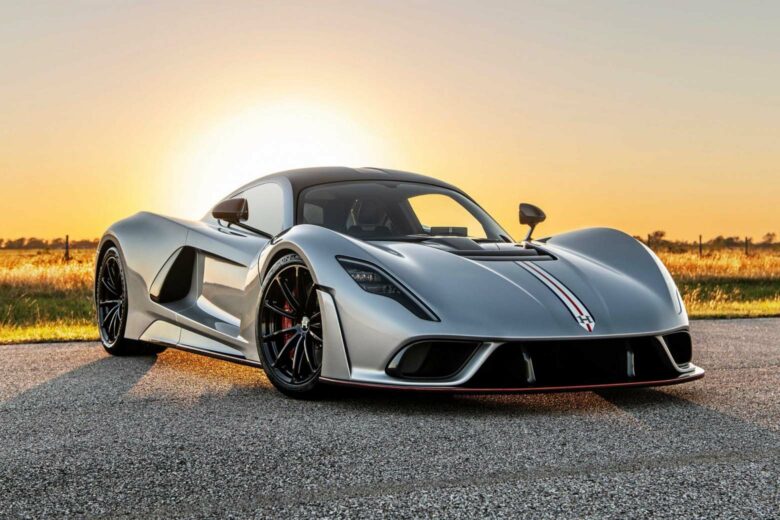 On Valentine's Day in 2014, John Hennessey of Hennessey Performance declared an end (for a time, anyway) to his feud with Bugatti. After years of sparring, the American car manufacturer saw his Venom GT seize the World Record for Fastest Car on NASA's Kennedy Space Center runway.
The car took two full years to engineer and develop. 29 were made; the manufacturer has only let them go for approximately 1.2 million apiece.
The supercar itself is gorgeous, with sinuous curves and a sleek body. Featuring an ultra-light carbon-fibre chassis, the Venom GT almost reads feline, as if it's a black panther poised to leap forward at any second.
And leap, it does: The Venom GT reached a top speed of a then-unprecedented 270mph or 434 kph. While performing its World Record tests, it achieved an acceleration of 0-100kph or 0-60 mph in 3.05 seconds.
8. Koenigsegg Agera RS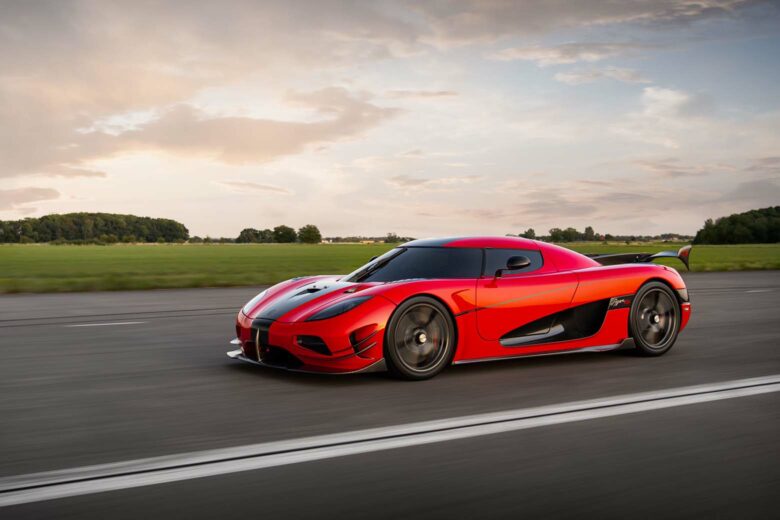 The Koenigsegg Agera RS was designed to be seen and to be heard, a supercar that took the challenge of beating world records into its hands with a sleek design to match. A boundary-pushing beast of a vehicle that manages to successfully tick all the boxes, it's a strong contender for one of the world's most impressive cars.
The Agera RS was handcrafted only 25 times,10 of which were pre-sold before the first showing. The company reported that this was its fastest-selling model, and it remains one of the rarest out there.
Its most alluring feature? The 5.0-liter twin-turbo V8 generates 1176 horsepower and 940 lb-ft of torque in standard form. And it's made almost entirely in-house, something relatively unheard of in the industry.
7. C zinger 21c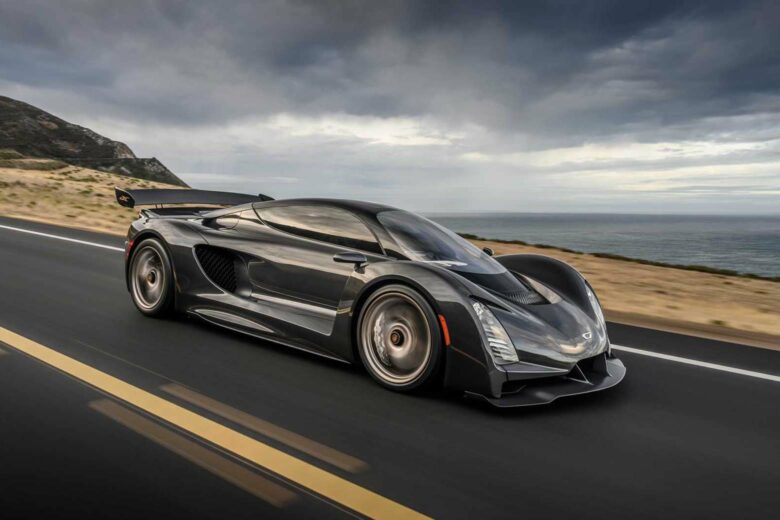 Unlike some supercars which stick to traditional methods and designs, the C zinger 21c was built for the 21st century. A car propelling itself far into the future in every way possible, its lap-record-shattering performance is just one of the many things it boasts of.
Carbon fiber construction, a bespoke hybrid powertrain, extreme downforce, and more ensure this car knows its stuff both inside and out. This is a car powered on both electricity and gas, supplementing its forces with an 800-volt electrical system, similar to those spotted on recent Formula 1 cars.
Sure, it won't quite hit those maximum speeds on electricity alone, but it's powerful enough to travel a moderate distance without using gas.
6. SSC Tuatara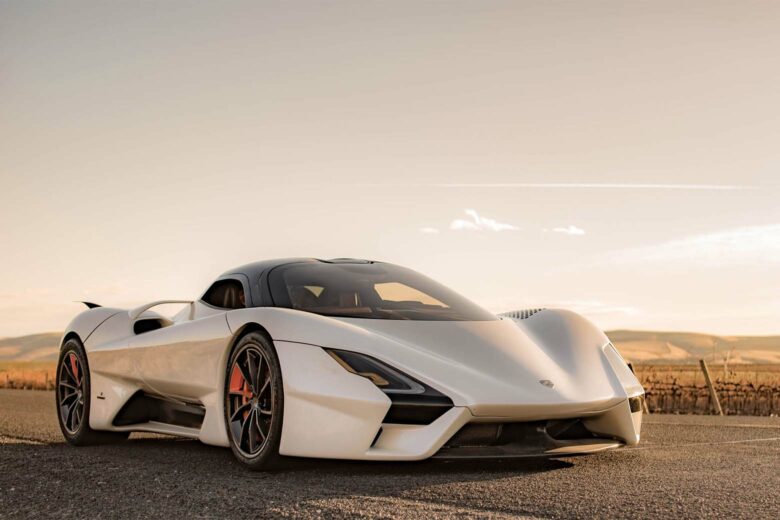 Shelby SuperCars is no stranger to speed. In 2007, the SSC Ultimate Aero held the title of the world's fastest production car. At that time, hitting 300 mph seemed like nothing more than fantasy. Today, SSC wants to transform that dream into reality.
The Tuatara pairs together a body featuring an insanely low 0.279 coefficient of drag with a twin-turbocharged 1,750 horsepower V-8, on a platform priced at $1.9 million. Although there was a brief moment where the world was led to believe the SSC Tuatara hit an astonishing 331 mph, that claim turned out to be false.
Don't give up hope just yet though. SSC has confirmed that the Tuatara managed to hit 295.0 mph (474.8 kph) in 2022. The company brought in Racelogic to separately confirm the speed. And they don't think that was close to the vehicle's true top speed.
Maybe the SSC Tuatara will hit 331 mph after all. Only time will tell.
5. Bugatti Chiron Super Sport 300+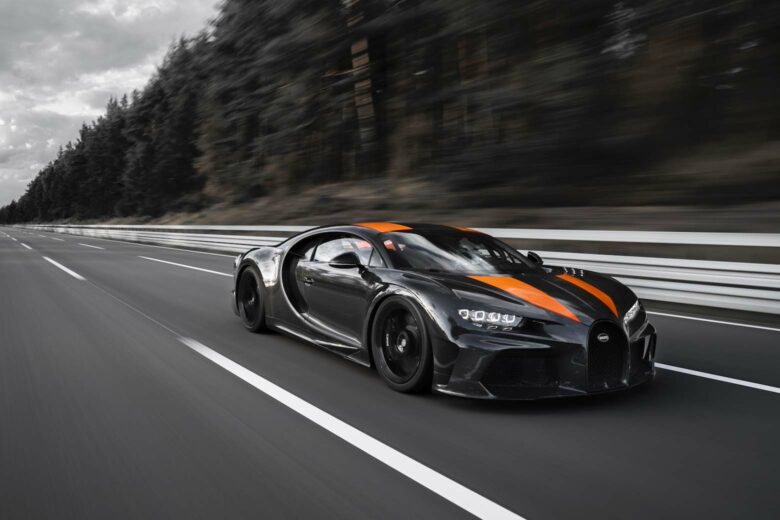 Bugatti has been a storied name in luxury hypercars for years, naturally. The intensely upgraded quad-turbocharged W16 that powers the Chiron upgraded the speed of this iconic speed added some brawn to the beauty – with the result that, now, Bugatti has not one, not two, but three places in our ranking of the fastest cars of 2023.
While it may no longer be the absolute fastest car out there (we'll get to that envied title in a minute), Bugatti's Chiron Super Sport 300+ has a claim to fame that will be chronicled in history books and awed conversations for years to come: It was the very first car to cross the then-unheard-of barrier of 300 mph (or 483 kph).
It still represents a flawless balance between form and function, aerodynamics, and aesthetics. With an acceleration from 0-100 kilometers per hour (0-60 mph) in 2.4 seconds, this Bugatti certainly has speed and style, all at the same time.
4. Bugatti Bolide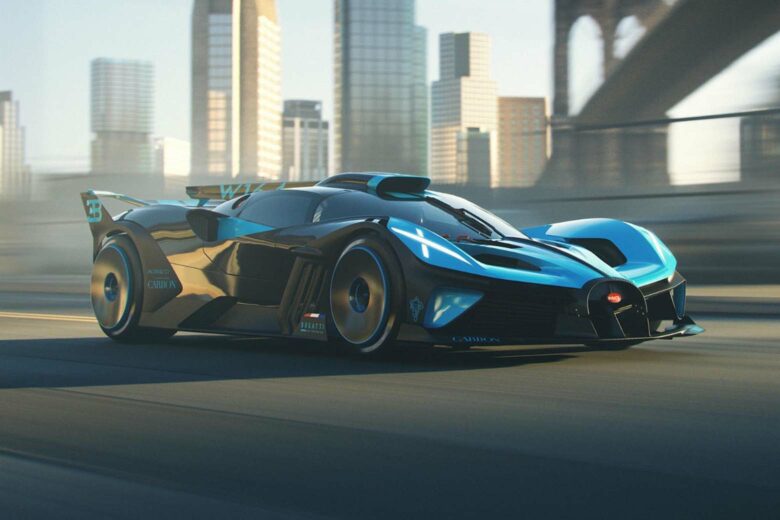 After the success of the Chiron Super Sport, Bugatti went back to the drawing board. The innovative, historic auto house needed to one-up itself; but how can one do that when the Super Sport 300+ was already, seemingly, perfection on wheels?
The answer? Simple.
Enter: an 8.0L W-16 motor. 1825 horsepower. A stunning 1364 lb-ft of torque.
Clearly, this car is going places.
Bugatti's Bolide is a lightweight hypercar that showcases the true extent of Bugatti's range in terms of beauty, power, and innovation. Using the same bespoke engine from the storied Chiron line, but with more turbos to amplify the effect, the Bolide will truly show the world what the W-16 motor is capable of.
It's also light, futuristic (powder blue paint sits sparingly on its exposed carbon-fiber frame), and tiny: The Bolide only stands 39.2 inches off the ground. Its claimed top speed is 310mph or 498 kph; it can do 0-60mph (0-100kph) in 2.17 seconds.
3. Hennessey Venom F5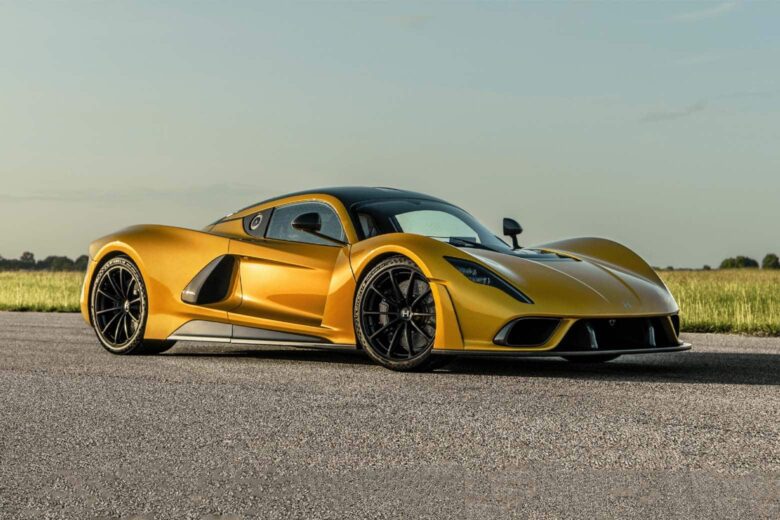 Next in the lineup of Hennessey's record-breaking vehicles is another in John Hennessey's Venom line: the F5. The name is a reference to the very fastest type of tornado – a natural force that the Hennessey emulates with its immense power and incredible speed.
Under the hood of the Venom F5 is an American-made twin-turbocharged engine; the result? Nearly 2,000 horsepower. This gives the Venom F5 precisely what it needs to reach a top speed of 484 kilometers per hour (301 mph). Its acceleration is equally impressive, as it can accelerate from 0-100kph or 0-60mph in less than two seconds.
Built to help Hennessey smash a world record it had previously broken with the GT, the F5 was amped up in style, exclusivity, price, and speed. Only 24 were made. The sticker price was 1.6 million dollars. The bright yellow carbon-fiber shell? Instantly iconic.
2. Koenigsegg Jesko Absolut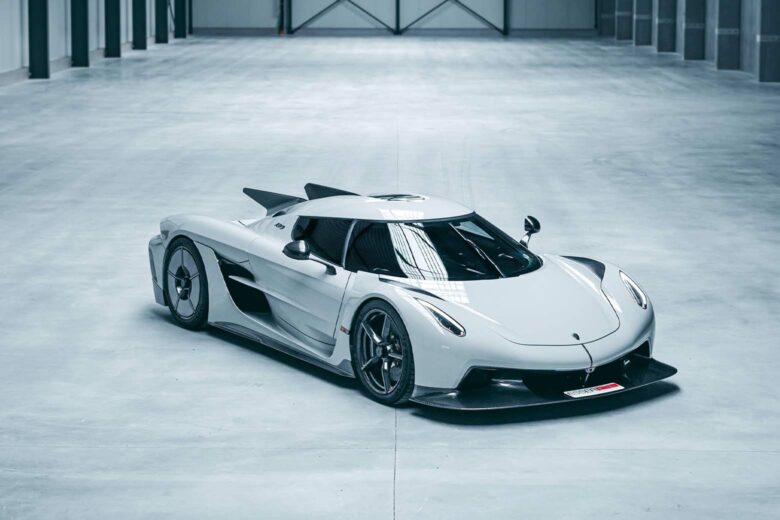 Thus far, it may seem that the race to determine the fastest car of 2023 has been mostly between two auto manufacturers: Bugatti and Hennessey. That makes sense. They're both impeccably pedigreed houses, producing incredible cars just packed with raw power.
But! That doesn't mean they've got this race.
Introducing: the Koenigsegg Jesko Absolut – a hypercar that ups the ante by an astonishing almost thirty miles per hour. For a long time, if anyone wondered what the fastest car in the world was – it was definitely this car.
Swedish auto manufacturer Koenigsegg introduced this vehicle to set a new world record. As such, they updated the engine from their other popular supercar, the Agera RS; they invested in more precise handling, and they made this car lighter and more aerodynamic for optimal performance.
However, this car isn't just about speed. There's pleasure built-in as well, with the type of climate control, infotainment, and head/leg room that usually gets glossed over when it comes to the fastest cars in the world.
The Jesko Absolut reaches a top speed of 330mph (or 531kph); the manufacturer has not released acceleration information – but with that type of top speed, it's sure to be impressive.
1. Devel Sixteen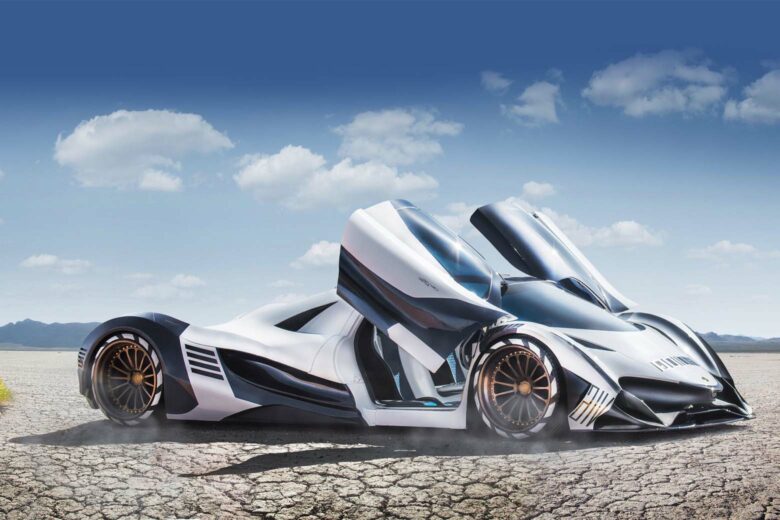 We've come to it: The fastest car of 2023, an almost unheard-of amount of power and speed from the Devel Sixteen – a car that seeks to smash all of the current records it faces. With a claimed top speed of 347mph (or 550+kph), the Devel Sixteen stares down the next speed standard: 350 miles per hour.
First debuted years ago, the Devel Sixteen boasts stats that have had the automotive world whispering, mystified, as we wait for production: It has an incredible 5,007 horsepower, an 81mm Quad Turbo 12.3L V16 engine, and a general 'inquire for price', intriguing aura constantly surrounding it. This car is certainly one to keep an eye out for again in 2023, as what we do know about it signals that it'll be the car to beat if its stats are confirmed.
Devel is also working on a large utility vehicle at the moment. Take a look at our round-up of the best luxury SUVs of the year if you need something right now though.
*The V16 Devel Sixteen remains in development at the time of publishing this ranking. The brand's claimed top speed hasn't been confirmed yet. We will update this article as soon as more information is available. A V8 version of the Devel Sixteen has been released, however, with a verified top speed of 124 mph (200 kph).
Bonus: The fastest meta cars
Fastest car in GTA 5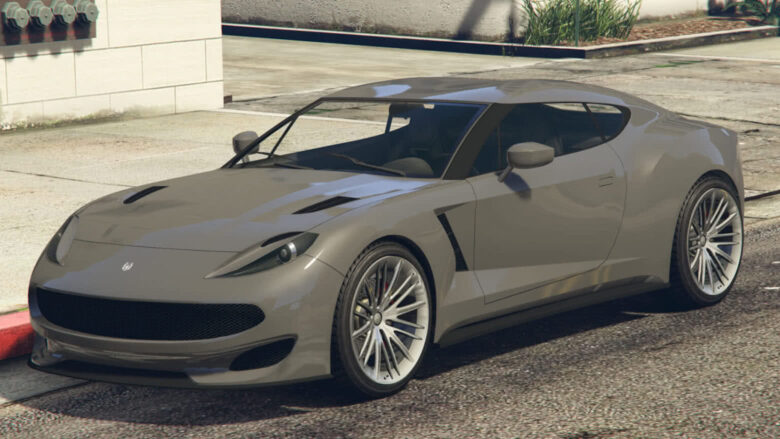 It may only be available in the virtual world, but it's one that's kept its record for a while. The Ocelot Pariah is the fastest car in the GTA 5 world, with top speeds of 136.00 mph or 218.87 kph. But it's also one you'll have to work pretty hard to afford, with an in-game price tag of $1,420,000. It's undeniably the best choice for gamers, allowing you to only see any other GTA car in your rearview mirror.
Fastest car in Forza Horizon 5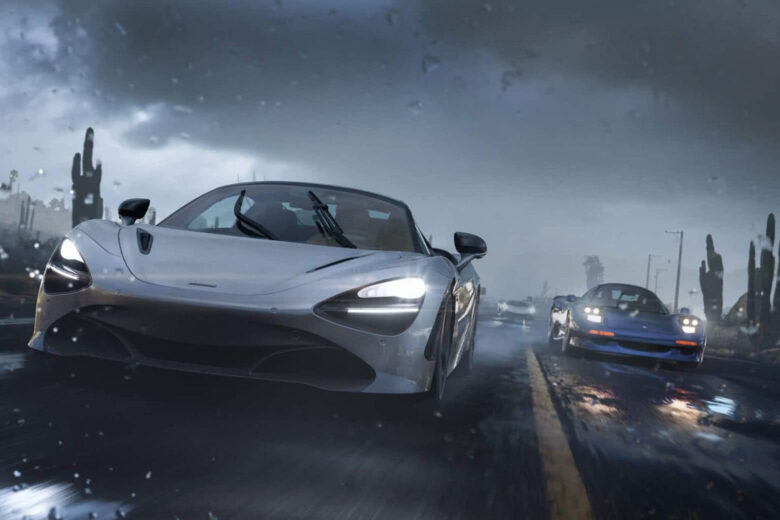 Forza Horizon 5 is a top game for all kinds of fast car lovers but the fastest car in the game, the Koenigsegg Jesko, requires a little extra patience and/or game credits. In fact, you'll need approximately 2.8 million credits if you're looking to drive the Koenigsegg Jesko for free. Doing so unlocks seriously high speeds of 310 mph or 498.897 kph after you've ticked off all of the upgrades.
Bonus: The fastest non-street legal cars in the world
Our list of the fastest cars of 2023 focused exclusively on street-legal cars. Supercars that you could buy and drive on the road. But to be complete, we need to mention two other very special vehicles: the Thrust SSC and the Bloodhound LSR.
Thrust SSC: 763 mph (1,228 km/h)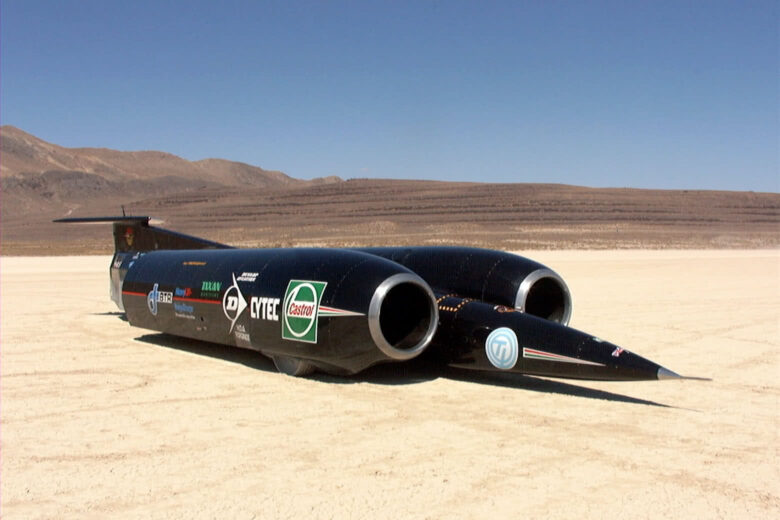 The Thrust supersonic car is a British jet car developed by Richard Noble, Glynne Bowsher, Ron Ayers, and Jeremy Bliss specifically to break the world speed record. It currently holds the world land speed record with a top speed of 763 mph (1,228 km/h), registered on October 15, 1997. It is also the first land vehicle to officially break the sound barrier.
The Thrust SSC is powered by two Rolls-Royce Spey turbofan engines and weighs nearly 10 tons.
Bloodhound LSR: 1,000 mph (1,609 km/h) – target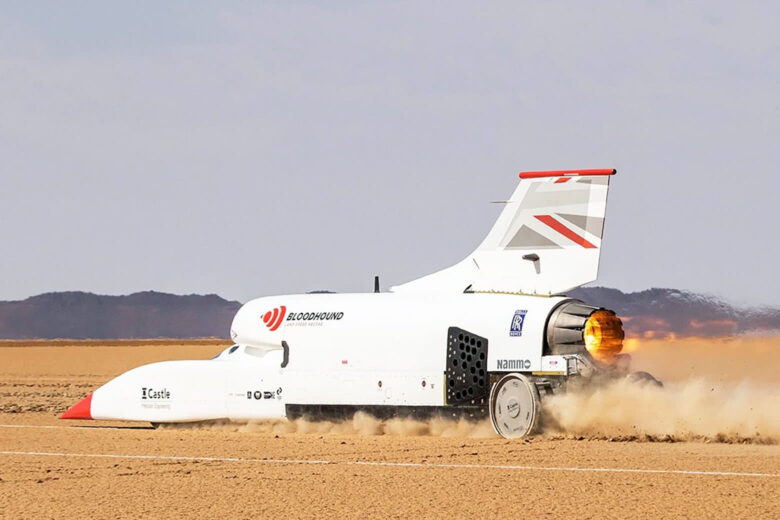 20 years after its predecessor, the Bloodhound Land Speed Record (LSR) announced its intention to break the world land speed record with a top speed target of 1,000 mph / 1,609 km/h. The car has been under development since 2008 and is powered by a combination of a jet engine and a rocket engine.
While still in development, the car already achieved a top speed of 628 mph (1,011 km/h) on 16 November 2019 in South Africa. The British engineering team behind the project plans to break the world speed record in 2023.
Bonus: The upcoming fastest cars we're most excited about
Want to see into the crystal ball showing the future of the world's fastest cars? Here are the ones to keep your eyes peeled for:
Koenigsegg CC850 – Slated for 2024, this speed machine delivers 1,385 horsepower at a matching 1,385 kg curb weight (3,053 lbs) to celebrate founder Christian von Koenigsegg's 50th birthday.
Aspark Ow – With deliveries expected at any moment, this new Japanese hypercar is racing onto the scene with four electric motors dishing out 1,985 hp, rocketing to 60 mph in just 1.72 seconds.
Zenvo TSR-GT – Although delivery dates are uncertain, all three examples of the TSR-GT are already sold and expected to bring the lucky owners a machine capable of reaching a top speed of 263 mph (424 km/h).
Honorable mentions: The cars that just didn't make the cut
300mph is a very, very difficult milestone to hit. While the seven cars we've profiled here managed to come close or supersede that target, that doesn't mean that cars with slightly slower speeds aren't performing phenomenally.
These eight speedy supercars certainly merit honorable mention…and we wouldn't be surprised if these manufacturers rise to the top for a dramatic upset in our future car rankings:
Aston Martin DBS Superleggera: 211 mph (340 km/h)
Ferrari 812 Superfast: 211 mph (340 km/h)
McLaren 720S: 212 mph (341 km/h)
Lamborghini Aventador SVJ: 217 mph (349 km/h)
Saleen S7 Twin Turbo: 248 mph (399 km/h)
McLaren Speedtail: 250 mph (400 km/h)
W Motors Fenyr Supersport: 250 mph (400 km/h) claimed top speed
Bugatti Chiron: 261 mph (420 km/h)
Bugatti Veyron Super Sport: 268 mph (431 km/h)
Conclusion: The top 10 fastest cars in the world right now
Here are the top 10 fastest cars in the world right now:
Devel Sixteen: 347mph (550+kph)
Koenigsegg Jesko Absolut: 330 mph (531 kph)
Hennessey Venom F5: 310.7+ mph (500+ kph)
Bugatti Bolide: 310+ mph (484+ kph)
Bugatti Chiron Super Sport 300+: 304.77 mph (490.48 kph)
SSC Tuatara: 295 mph (475 kph)
C zinger 21c: 281 mph (432 kph)
Koenigsegg Agera RS: 277.87 mph (447.19 kph)
Hennessey Venom GT: 270.49 mph (435.31 kph)
Bugatti Veyron 16.4 Super Sport: 267.85 mph (431.07 kph)
Methodology: How we select, test, and rank the best options on the market
In order to paint a comprehensive, accurate, and fair picture of the fastest cars in the world, we did research on the cars available this year and over the past few years from the best names in the auto industry. We then ranked each car after carefully reading the specifications and the manufacturer's claims and reading reviews from top automotive critics.
Frequently asked questions about the fastest cars of 2023