A rich history of Italian design and meticulous attention to detail make every Maserati car an experience to behold. The triumphant tridents ooze sophistication, pairing sleek lines with elegance and grace.
Yet behind the wheel, the experience is visceral. The latest technology stems from decades of motoring expertise, inspiring confidence and excitement. Maserati provides a feeling hard to match.
At a glance
| | |
| --- | --- |
| | |
| Name: Maserati | Industry: Automotive |
| Founded: 1914 | Founder: Alfieri, Ettore, and Ernesto Maserati |
| Headquarters: Italy | Parent organization: Stellantis |
| Revenue: ~$2.48 billion USD (€2.32 billion) | Website: maserati.com |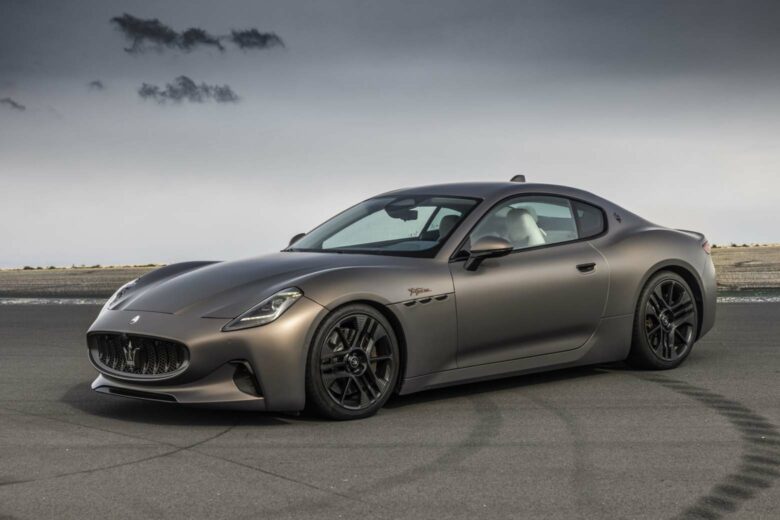 Maserati price
How much does a Maserati cost?
As an Italian luxury brand that combines premium materials with expert craftsmanship and superb performance, Maserati car prices are not for everyone. But the automaker does an excellent job at delivering big on what matters most without going overboard into excess.
Most Maserati models have a starting price between 85,000 and $175,000. On the more affordable end, the starting price of a new Maserati is $63,500, which gets you behind the wheel of the stylish and capable Maserati Grecale compact luxury SUV.
The midsize SUV Maserati Levante price begins at $90,700, while the new Maserati Quattroporte price starts at $108,400.
What is the most expensive Maserati?
The Maserati MC20 price is the highest at the Maserati dealership. This stunning supercar starts at an estimated $217,000 and backs the hefty price tag with lightning-fast performance on a nimble platform.
Another one of the most expensive Maserati sports cars is the GranTurismo. As a grand tourer that combines sleek style and race-worthy speed, the premium trim level Maserati GranTurismo Trofeo price starts at $205,000.
Throw in the specialty options like oversized wheels, advanced driver assistance features, and customized interior or exterior appointments to quickly tack on another $10,000 to $30,000. The highest trim levels can also add a dizzying figure. For example, the Maserati Levante Trofeo premium trim is a whopping $167,000, which is $76,300 more expensive than the base model.
Most Maseratis are a long shot from the most expensive cars or the Bugatti price list, but the 25 units of the 2004 Maserati MC12 supercar sold for a reported $1.2 million originally, and some reports say the current value is approaching $4 million.
How much is the cheapest Maserati?
The Maserati car prices for some models are surprisingly reasonable. For example, the cheapest Maserati sedan is the Ghibli, starting at $83,800.
The Maserati Grecale price is the lowest out of the entire lineup, starting at $63,500 for a compact luxury SUV that's a joy to drive no matter the season. The electric Maserati Grecale Folgore price is estimated at $75,000.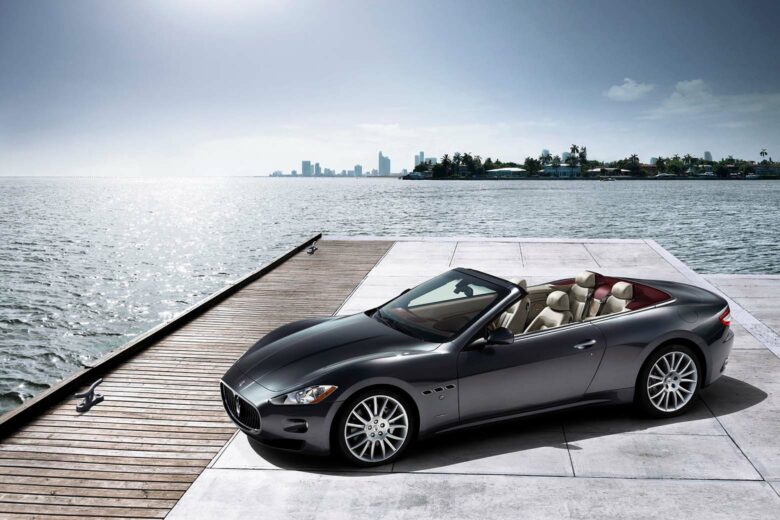 About Maserati
History of Maserati
In 1914, brothers Alfieri, Ettore, and Ernesto Maserati began selling spark plugs under Officine Alfieri Maserati SA in Bologna, Italy. The company released its first vehicle, the Tipo 26, in 1926 and quickly built a reputation for creating premier racing vehicles.
Throughout the 1920s and 1930s, Maserati infused its high-performance engines and technology into racing and street-legal vehicles. Ownership changed hands to the Adolfo Orsi family in 1937, and Maserati moved to Modena, Italy in 1939, where the headquarters remain today.
After World War II, Maserati continued its racing prowess, including a 1957 Grand Prix title with Juan-Manuel Fangio in the driver's seat of a Maserati 250F. One year later, the Maserati A6 grand tourer was released, taking the world by storm with its incredible performance and luxury comfort.
Perhaps the most iconic breakthrough for Maserati came in 1963 with the release of the Maserati Quattroporte. This four-door model brought a new level of sports-car V-8 performance fused with luxury sedan comfort.
A series of ownership changes began in the late 1960s, first with a Citroën takeover, then at the hands of Alejandro de Tomaso starting in 1975 who brought in the Maserati Biturbo, and finally into Fiat ownership in 1993. Today, Maserati is wholly owned by parent company Stellantis, created during the Fiat Chrysler merger with PSA Group.
Understanding the Maserati car range
Most Maserati models feature a single-word model name that doesn't follow a standard convention. Some model names are descriptive, such as the long-lasting Maserati Quattroporte, which means four door, or the Maserati GranTurismo, a reference to the grand tourer body style.
Other Maserati car names are cardinal directions, such as Levante, which translates to east, and the Grecale, which means northeast.
For trim levels, you'll find the highest trim level on most models is known as the Maserati Trofeo, or trophy model. Modena is another common trim level, usually a mid-range offering. The open-top MC20 variant is the Cielo, which translates to sky.
Interesting facts about Maserati
If you step into Bologna's Piazza Maggiore and look at the statue of Neptune, you'll notice its trident looks familiar. In 1920, Mario Maserati used this exact statue to model the Maserati logo.
Another interesting fact about Maserati to store with your trivia knowledge is how the famous 1959 Maserati 5000 GT was created. The Shah of Iran, Mohammad Reza Pahlavi, was interested in the Maserati 3500 GT but wanted something more powerful and exclusive.
Maserati's chief engineer Giulio Alfieri took on the project and stuffed the 5.0L V-8 from the Maserati 450S into a modified 3500 bodywork. Thus came the Maserati 5000 GT, which would win over the hearts of many and just barely misses our list of the best classic cars.
Where is Maserati made?
Maserati is an Italian company, through and through. While founded in Bologna, Italy, the headquarters moved to Modena in 1939, where it remains today.
There is a production facility in Modena, which makes the GranTurismo and other models, and there are two additional manufacturing plants in Italy. The Agnello Plant in Grugliasco produces the Quattroporte and Ghibli, while the Mirafiori Plant in Turin creates the SUV Maserati Levante.
Maserati electric cars
Maserati is releasing two electric models, including the electric Maserati Grecale Folgore compact SUV and the Maserati GranTurismo Folgore grand tourer. The moniker Folgore translates to lightning, and the brand intends to use it across the electric Maserati models.
Estimated prices for the EV Maseratis are reported to be $75,000 for the Grecale and $215,000 for the GranTurismo, both above the internal combustion base models. Will Maserati electric cars compete with the best EVs on the market? Time will tell.
Maserati models
Let's dive into the details of the current lineup of Maserati cars.
Maserati Levante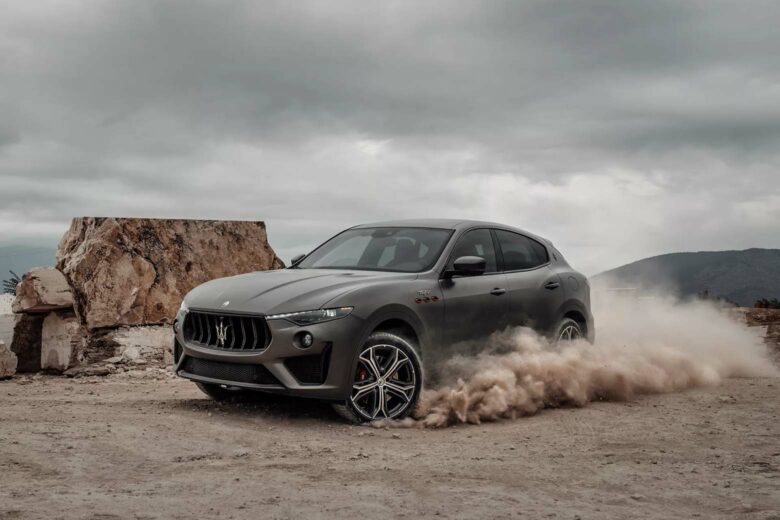 Sleek lines and elegant beauty pair with a luxury SUV platform to conquer new terrain. A well-balanced driving experience comes from the powerful twin-turbocharged engine options, available in a singing V-6 and potent V-8.
Although the Levante Maserati SUV brought a new body style to the luxury carmaker's lineup, it remains luxurious and undeniably chic. The interior appointments include a next-generation Maserati Intelligent Assistant, a premium stereo system, and meticulously crafted upholstery.
In a segment rife with competition from the classic Range Rover to the popular Volvo XC90, the Levante holds up remarkably well.
| | |
| --- | --- |
| Price: | Starting at $90,700 |
| Release year: | 2017 |
| Engine: | 3.0L twin-turbo V-6, 3.8L twin-turbo V-8 |
| Top speed: | 187 mph – 301 km/h |
| 0-60 mph: | 3.8 to 5.8 sec |
| Power: | 572 to 345 hp |
| Torque: | 538 to 369 lb-ft |
Maserati Grecale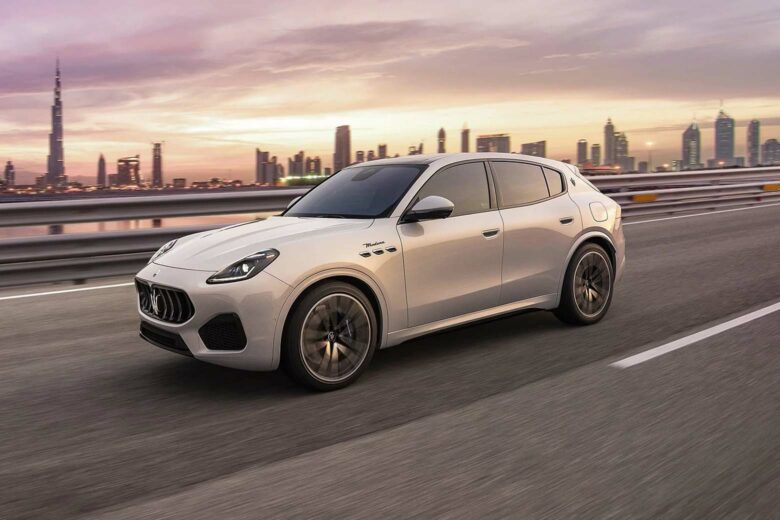 After years with only one SUV Maserati for sale, the Grecale adds a slightly smaller option to the lineup. This compact SUV provides the necessary capacity and capability, fused on a stylish platform with plentiful options.
The base model's turbocharged inline-4 engine comes with a 48-volt mild hybrid system to provide faster starts and a more exciting ride. For spirited driving sessions, the twin-turbo V-6 featured in the premium trim level Trofeo dishes out over 500 horsepower.
The Maserati Grecale price starts at just $63,500, but top examples reach over six figures, making it significantly more expensive than segment rivals like the Jaguar F-Pace SVR and Porsche Macan GTS.
| | |
| --- | --- |
| Price: | Starting at $63,500 |
| Release year: | 2023 |
| Engine: | 2.0L turbo inline-4 mild hybrid, 3.0L twin-turbo V-6 |
| Top speed: | 177 mph – 285 km/h |
| 0-60 mph: | 3.6 to 5.3 sec |
| Power: | 523 to 296 hp |
| Torque: | 457 to 332 lb-ft |
Maserati Grecale Folgore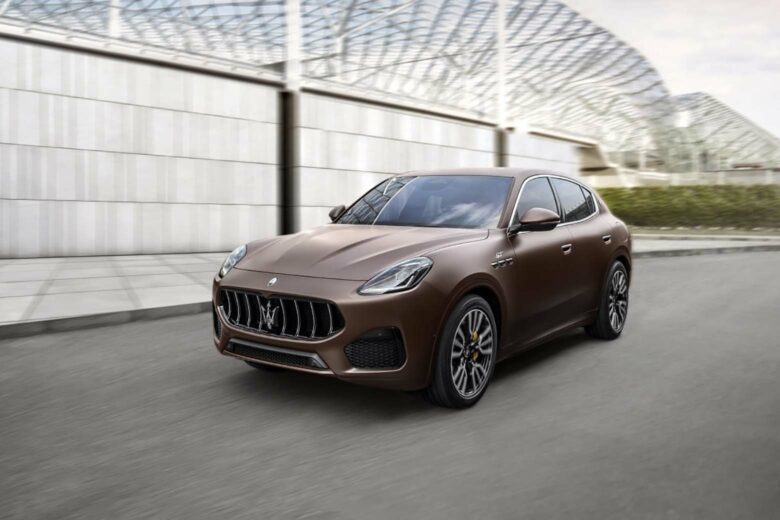 Long known for roaring combustion engines, the electric Maserati Grecale Folgore is a bold step in a new direction. It's the first spark in the 100% electric Maserati Folgore lineup, giving the world an eco-friendly option from the famed Italian luxury automaker.
A 105 kWh battery pack is reported to provide a substantial range, while a 400-volt architecture makes charging quick and painless. All-wheel drive capabilities and plenty of power are sure to create an engaging and pleasant driving experience.
The Italian style and luxurious interior will put others like the Tesla Model Y, Lexus RZ 450e, and Genesis GV60 up against the wall.
| | |
| --- | --- |
| Price: | Starting at $75,000 (est.) |
| Release year: | 2024 |
| Engine: | Two or more electric motors (est.) |
| Top speed: | >124 mph – 200 km/h (est.) |
| 0-60 mph: | Not yet available |
| Power: | >500 hp (est.) |
| Torque: | ~590 lb-ft (est.) |
| Range: | ~300 miles – 483 km (est.) |
Maserati GranTurismo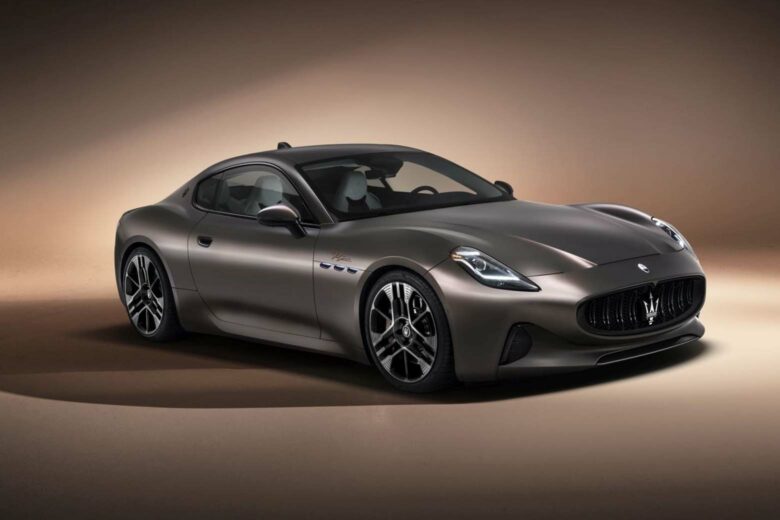 After a five-year hiatus, the Maserati GranTurismo is making a second-generation comeback, and it's prepared to deliver big. The new Maserati GranTurismo for sale has two combustion engine options, both based on the same fierce twin-turbo V-6 engine from the MC20 supercar.
A massive front grille with the iconic Trident Maserati logo is the first to meet your eyes, but the curvaceous body of this Maserati coupe stretches back with flowing contours and a timeless design. Inside, you'll step into a world of Italian craftsmanship with premium materials, intuitive controls, and advanced technology.
The Maserati GranTurimo's clean lines can strut down the runway next to always-elegant Aston Martins, then hit the accelerator to keep up with Lamborghini's powerful engines. This model's past Maserati convertible has even inspired an electric car for kids.
| | |
| --- | --- |
| Price: | Starting at $174,000 |
| Release year: | 2024 (2nd gen) |
| Engine: | 3.0L twin-turbo V-6 |
| Top speed: | 199 mph – 320 km/h |
| 0-60 mph: | 3.5 to 3.9 sec |
| Power: | 542 to 483 hp |
| Torque: | 479 to 442 lb-ft |
Maserati GranTurismo Folgore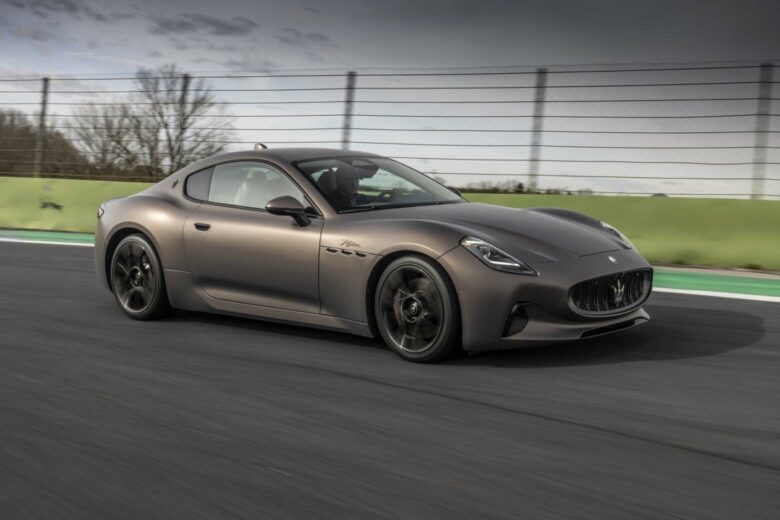 As the incredible GranTurismo makes its triumphant return, next-generation technology is along for the ride. Those who opt for the electric Maserati GranTurismo Folgore get three electric motors dishing out a combined 751 horsepower.
Nearly 1,000 lb-ft of torque is at your feet, sending this sleek grand tourer up to 60 mph in less than 3 seconds. Folgore, which translates to lightning, is taking its moniker in stride, ready to flash before your eyes. Even though its top speed will likely be less than the fastest cars in the world, it'll still get your heart racing.
With this model, Maserati joins Rolls Royce in turning away from their combustion-fueled past and embracing electric vehicle technology like newcomer Polestar.
| | |
| --- | --- |
| Price: | Starting at $215,000 (est.) |
| Release year: | 2024 (2nd gen.) |
| Engine: | Three electric motors |
| Top speed: | 202 mph – 325 km/h |
| 0-60 mph: | 2.7 sec |
| Power: | 818 hp |
| Torque: | 995 lb-ft |
| Range: | 240 miles – 386 km |
Maserati Ghibli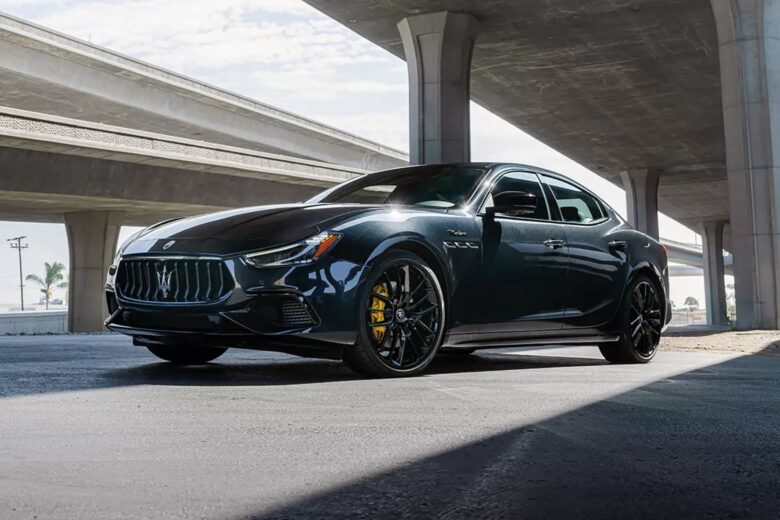 With stiff competition like the Mercedes-Benz E-Class, Audi A6, and BMW 5-Series, the midsize luxury sedan market has no room for error.
The Maserati Ghibli brings its decade of sales, fashion-forward looks, and blistering powertrain options to stand up with the best. Every Ghibli model comes with twin turbochargers on a well-tuned chassis with sharp sports car handling.
The entry-level Maserati Ghibli GT price might seem high, but that's mainly because these Italian cars eschew 4-cylinder engines found in some peers. Instead, you'll find a sizable V-6 or a mighty V-8 under the hood.
| | |
| --- | --- |
| Price: | Starting at $83,800 |
| Release year: | 2014 (current gen.) |
| Engine: | 3.0L twin-turbo V-6, 3.8L twin-turbo V-8 |
| Top speed: | 203 mph – 327 km/h |
| 0-60 mph: | 4.0 to 5.5 sec |
| Power: | 572 to 345 hp |
| Torque: | 538 to 369 lb-ft |
Maserati Quattroporte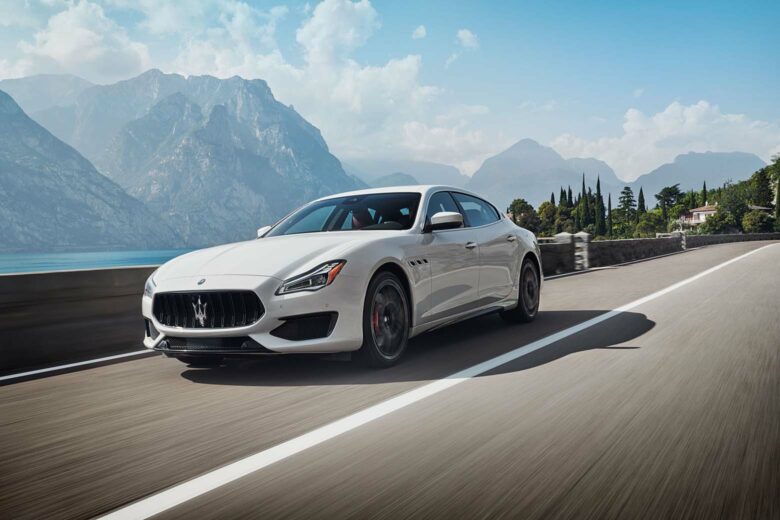 A staple in Maserati's lineup since 1963, the Quattroporte holds onto its innovative roots by combining a luxurious sedan with a race-focused performance.
The assertive exterior exudes confidence that the twin-turbo V-6 or V-8 tucked under the hood upholds. Inside, vintage elements fuse with advanced technology to create a timeless look filled with creature comforts, including a Maserati Intelligent Assistant and futuristic Level 2 autonomous driving.
The Maserati Quattroporte is an ideal combination of Cadillac comfort with Ferrari speed.
| | |
| --- | --- |
| Price: | Starting at $108,400 |
| Release year: | 1963 (1st gen.), 2014 (current gen.) |
| Engine: | 3.0L twin-turbo V-6, 3.8L twin-turbo V-8 |
| Top speed: | 203 mph – 327 km/h |
| 0-60 mph: | 4.2 to 5.0 sec |
| Power: | 572 to 345 hp |
| Torque: | 538 to 369 lb-ft |
Maserati MC20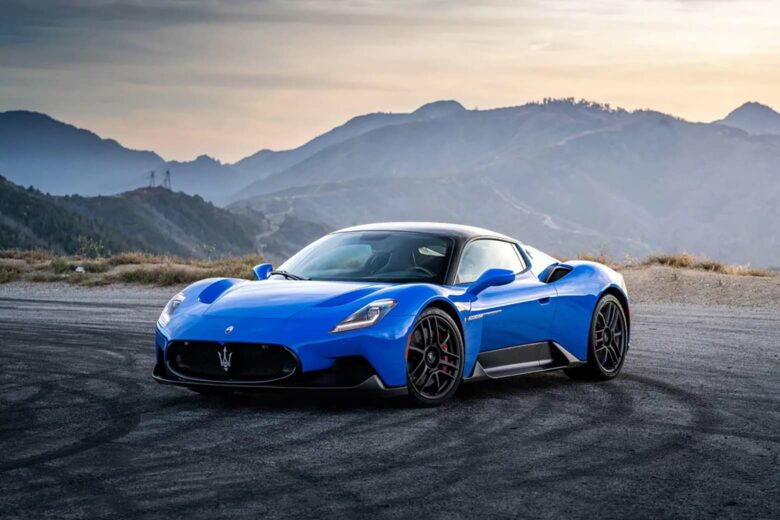 When Maserati designed the MC20 supercar, it set the target of creating something lightning-fast and feather-light. And that goal was readily accomplished with its Nettuno twin-turbo V-6, featuring 207.6-horsepower-per-liter power density on a platform that feels no heavier than an electric motorcycle.
Yet the Maserati MC20 goes far beyond its downright wicked performance. The captivating style is complete with butterfly doors and a bespoke look. It demands the spotlight as it comfortably cruises down any road.
For warm days when you want the wind in your hair and sun on your face, the Maserati MC20 Cielo lets you shed the top and soak it in. We expect an electrified version is around the corner, and maybe it'll push performance to hypercar level like the Lotus Evija.
| | |
| --- | --- |
| Price: | Starting at $217,000 (est.) |
| Release year: | 2022 |
| Engine: | 3.0L twin-turbo V-6 |
| Top speed: | >202 mph – 325 km/h |
| 0-60 mph: | <2.9 sec |
| Power: | 630 hp |
| Torque: | 538 lb-ft |
Maserati customer service number
To speak with a knowledgeable representative, call the Maserati customer service number at 1-877-696-2737. You can also send an email to mymaserati@maserati.com.
Maserati social media profiles
Stay in the loop with the latest news and events by following the official Maserati social media profiles:
Frequently asked questions about Maserati cars
Who makes Maserati automobiles?
The parent company that makes Maserati automobiles is Stellantis, formed in 2021 as a merger between Fiat Chrysler Automobiles (FCA) and PSA Group. Maserati S.p.A. is a wholly-owned subsidiary with longtime headquarters in Modena, Italy.
What does a Maserati car cost?
A Maserati car costs as little as $63,500 for the Grecale compact SUV and as much as $217,000 for the MC20 supercar. Other popular Maserati models include the GranTurismo with a $175,000 starting price, and the Quattroporte, starting at $108,400.
Is Maserati a luxury or sports car?
Maseratis are luxurious sports cars. They are expertly-crafted, high-performance platforms packed with premium features. The innovative 1963 Maserati Quattroporte fused luxurious sedan amenities with sports car performance, and this idea is embedded into every Maserati model since.
What is the cheapest Maserati car?
The cheapest Maserati car is the Maserati Grecale compact SUV, starting at $63,500. The cheapest Maserati sedan is the Ghibli, at $83,800. The cheapest electric Maserati will be the 2024 Grecale Folgore at an estimated $75,000.