As one of the dominating forces in motorsports, McLaren cars know a thing or two about speed and innovation. When the high-performance luxury brand decided to step into street car production, the McLaren F1 left the world forever changed, redefining what a street-legal car is capable of.
Today's McLaren cars deliver thrilling driving experiences, filled with premium materials and luxurious touches. Hybrid additions provide a glimpse into what an electric McLaren can do, adding a next-generation performance boost for a new sense of speed.
At a glance
| | |
| --- | --- |
| | |
| Name: McLaren Automotive | Industry: Automotive |
| Founded: 1985 | Founder: Bruce McLaren |
| Headquarters: United Kingdom | Parent organization: McLaren Group |
| Revenue: ~$732.4 million USD | Website: mclaren.com |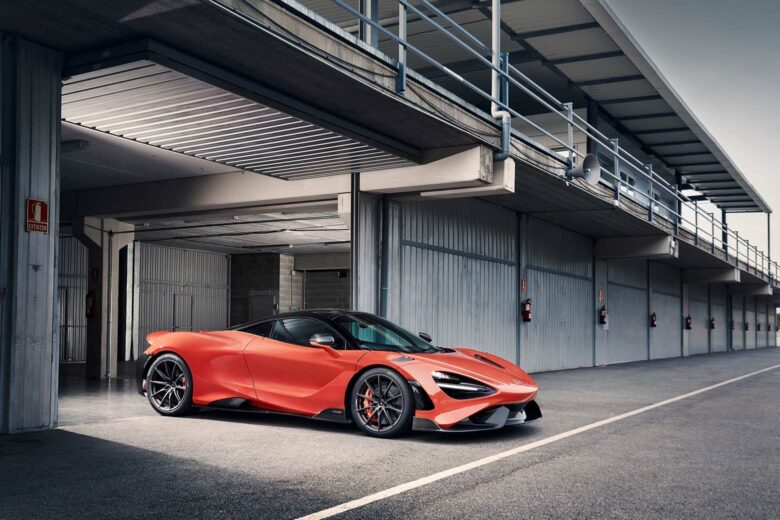 McLaren price
How much does a McLaren cost?
McLaren cars are built for speed, and the luxury car producer has made some of the world's fastest and most expensive vehicles. The starting price for a new McLaren car is currently $208,500 for the McLaren GT, a ground tourer with a more comfortable interior than other McLaren models.
Other popular McLaren car prices are slightly higher. These include the high-performance McLaren 720S price of $305,000 before options, as well as the sweeping lines of the longtail McLaren 765LT price of $358,000.
What is the most expensive McLaren?
The most expensive McLaren car price is the McLaren Solus GT. It starts at an astronomical $3.5 million. Only 25 units of the specialized track-only model will be produced, featuring McLaren Formula 1 inspired technology.
Other expensive McLaren models include the rest of the six models that comprise the McLaren Ultimate Series lineup, including the McLaren Elva price at $1.695 million and the McLaren Speedtail price at $2.25 million.
The McLaren P1 price is $1.15 million, which was the successor to the record-breaking McLaren F1. The McLaren Senna price starts at $1 million, but the Senna GTR price of $1.65 million is the more exclusive model with just 75 units being produced.
How much is the cheapest McLaren?
The cheapest McLaren is the McLaren GT. This model still features the incredible performance that the McLaren sports cars are known for but also incorporates a slightly more comfortable grand tourer interior.
The McLaren GT price starts at $208,500.
The next most affordable McLaren is the McLaren Artura, starting at $237,500. This is a hybrid model that fuses a powerful e-motor into the transmission housing to provide a burst of electrical torque that dramatically increases acceleration.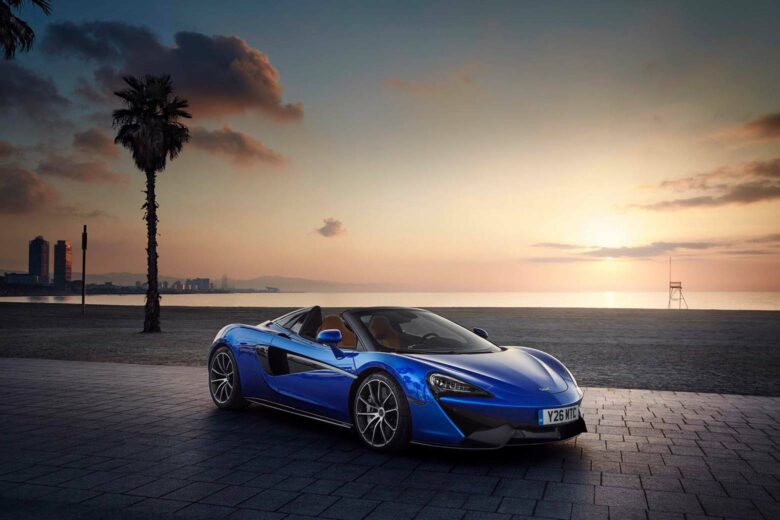 About McLaren
History of McLaren
Bruce McLaren grew up in New Zealand developing a passion for motorsports in his father's racing workshop. He began his racing career at a young age, then made his way to Europe to compete on the world stage in 1958.
One year later, McLaren cemented his place in motorsports history by taking the title for the 1959 US Grand Prix at just 22 years old, the youngest GP winner at the time.
In 1963, he founded Bruce McLaren Motor Racing Ltd to build Formula 1 racing vehicles. Tragically, Bruce McLaren died in 1970 at age 32, but McLaren Racing continued forward under the leadership of Teddy Mayer, before merging with Ron Dennis' Project Four Racing in 1981. This team continues today under the McLaren F1 Team name, with recent drivers including Daniel Ricciardo and Lando Norris.
McLaren Cars started in 1984 as the production car branch of the racing brand. Its first vehicle, the McLaren F1 sped onto the scene in 1992, receiving wide acclaim as one of the greatest street-legal vehicles ever produced.
Mercedes-Benz then stepped in and at one point owned 40% of McLaren. The automotive powerhouses combined forces to create the magnificent Mercedes-Benz SLR McLaren, a 617-horsepower two-door coupe and roadster.
In 2010, McLaren Automotive was relaunched after diverging from Mercedes. The McLaren 12C was the first model under the rejuvenated sports car brand, and the first vehicle entirely designed and constructed with McLaren logo components.
Since then, McLaren has progressively delivered extremely high-performance vehicles. The luxury brand pushes the envelope of precision engineering, lightweight designs, and superb overall driving experience.
Understanding the McLaren car range
McLaren vehicles fall into one of four main categories. At the highest end of the spectrum is the McLaren Ultimate Series, the brand's most exclusive and fastest models. There are six Ultimate Series vehicles, including the F1, P1, Senna, Speedtail, Elva, and Solus GT.
Many of the most popular models fall under the McLaren supercar designation, starting with the McLaren 12C, the 650S, and the 720S. The McLaren 570S and hybrid Artura are categorized as McLaren sports cars, a notch below the performance of the supercar models.
Finally, the McLaren GT sits alone as the brand's exclusive grand tourer model offering a slightly more practical and comfortable interior.
Interesting facts about McLaren
It's hard to overstate the impact of the Mclaren F1 on the production car industry. At its release and for many years after, the F1 was praised for its track-worthy performance on a street-legal platform.
The central driving position with a symmetrical three-seater layout remains unique, and the F1 was one of the first production cars to use a carbon-fiber monocoque chassis.
Not only did the McLaren F1 once hold the title as the world's fastest production car in 1998 at 240.1 mph (386.4 km/h), but this record remains intact for the fastest naturally-aspirated production car in the world, over two decades later.
Where is McLaren made?
McLaren Automotive has headquarters and production facility in Woking, Surrey, England at the McLaren Technology Center, which also hosts the other McLaren Group entities. The British luxury automaker designs and produces all McLaren cars at this location in the United Kingdom.
A secondary facility, the McLaren Composites Technology Centre, was recently opened in Rotherham, South Yorkshire, England. This is where the carbon-fiber chassis for McLaren production cars are constructed.
McLaren electric cars
McLaren has started to infuse next-generation electric technology into its production cars. But a purely electric McLaren car does not yet exist.
The closest thing so far is the hybrid electric McLaren Artura. It is a plug-in hybrid McLaren model that combines a 7.4 kWh battery pack with a 70 kW (94 horsepower) electric motor, providing up to 19 miles (31 km) of electric-only driving.
Specific information about a battery-electric McLaren car is limited, but the brand's leadership indicates that it sees a future for electric drivetrains in McLaren vehicles, and they could perhaps be used to create a slightly more practical design as seen in the GT grand tourer model.
McLaren models
Let's dive into the details of the extensive lineup of McLaren cars of today and the past.
McLaren Elva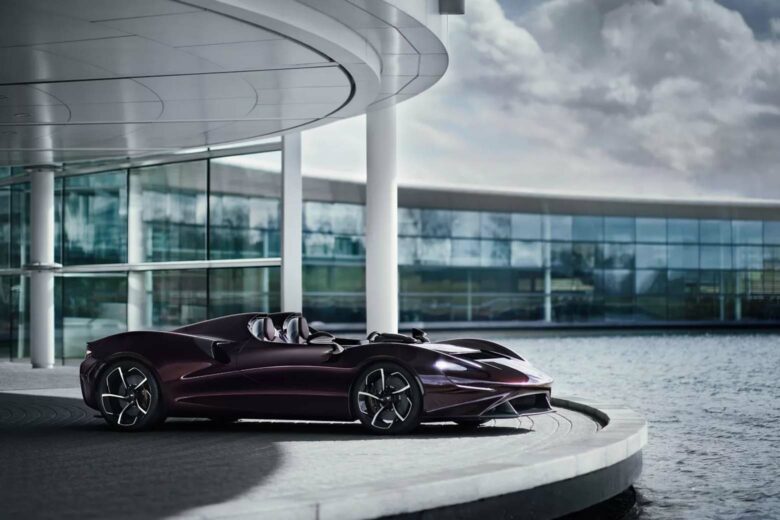 It's common for high-performance vehicles to remove unnecessary components for weight savings. The McLaren Elva, the fifth addition to the Ultimate Series, takes that a step beyond most by removing the entire windshield, creating an unrivaled driving experience that puts you face-to-face with the road and elements.
But McLaren wouldn't let the occupants of this incredible machine ride in discomfort. An innovative Active Air Management System carefully directs the airflow over the cabin, providing a turbulence-free zone.
Named after a 1960s series of McLaren race cars, the Elva brings a new level of joy and agility. Even brands like Lotus Cars and Porsche struggle to keep up.
| | |
| --- | --- |
| Price: | Starting at $1.695 million |
| Release year: | 2020 |
| Engine: | 4.0L twin-turbo V-8 |
| Top speed: | 203 mph – 326 km/h |
| 0-62 mph (0-100 km/h): | 2.8 sec |
| Power: | 802 hp |
| Torque: | 590 lb-ft |
McLaren Speedtail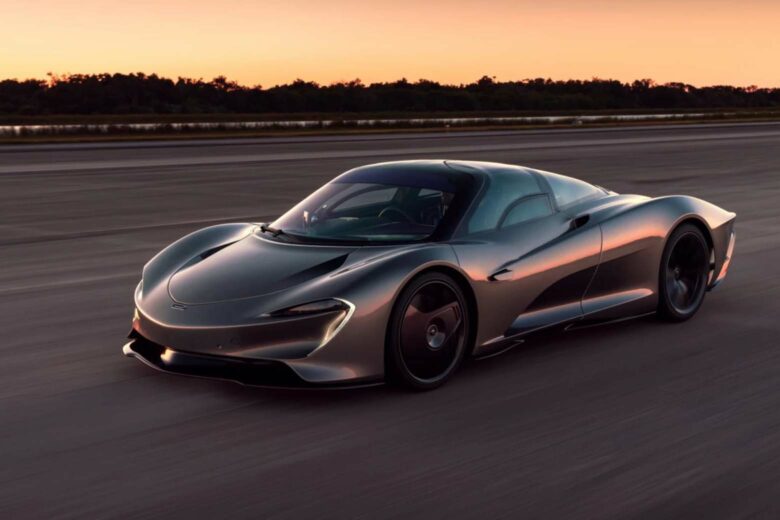 With sweeping lines stretching from nose to tail, a central driver's seat position from the McLaren F1, and a hybrid powertrain dishing out over 1,000 horsepower, the McLaren Speedtail is designed for one thing, speed.
Despite being one of the fastest cars in the world at 250 mph (403 km/h), the Speedtail dazzles you with an eye-catching display of glitz and glamor. It's devoid of side mirrors and sun visors, replacing them with a video system and electrochromic glass similar to Rolls-Royce cars and the Ferrari Purosangue.
The McLaren Speedtail price sits above $2 million, but if you haven't already secured your spot in line, it's a moot point. All 106 units are already called for.
| | |
| --- | --- |
| Price: | Starting at $2.25 million |
| Release year: | 2020 |
| Engine: | 4.0L twin-turbo V-8 hybrid |
| Top speed: | 250 mph – 403 km/h |
| 0-62 mph (0-100 km/h): | 3.0 sec |
| Power: | 1,036 hp |
| Torque: | 848 lb-ft |
McLaren P1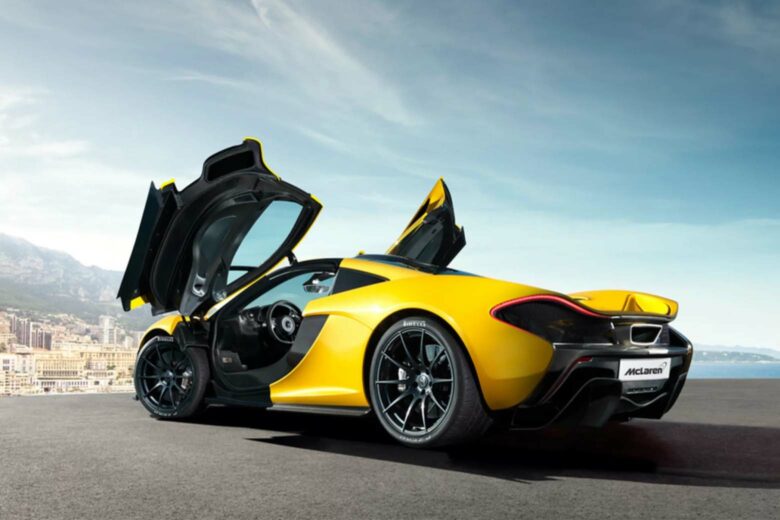 The design idea behind the McLaren P1 was to remove all excess space as if the mechanical components were vacuum sealed with lightweight body panels. The result is nothing short of spectacular, showcasing the stunning engineering that's more than skin deep.
Only 375 units of the base model were produced, with the McLaren P1 for sale starting at $1.15 million, higher than most models from other luxury car producers like Aston Martin and Maserati.
But a handful of special variants were also created, including the highly sought-after McLaren P1 GTR. This track-focused beast shed the constraints of street-legal regulations, cranking the output up to 986 horsepower and adding a distinctive fixed rear wing.
| | |
| --- | --- |
| Price: | Starting at $1.15 million |
| Release year: | 2013 |
| Engine: | 3.8L twin-turbo V-8 hybrid |
| Top speed: | 217 mph – 350 km/h |
| 0-62 mph (0-100 km/h): | 2.8 sec |
| Power: | 903 hp |
| Torque: | 664 lb-ft |
McLaren Senna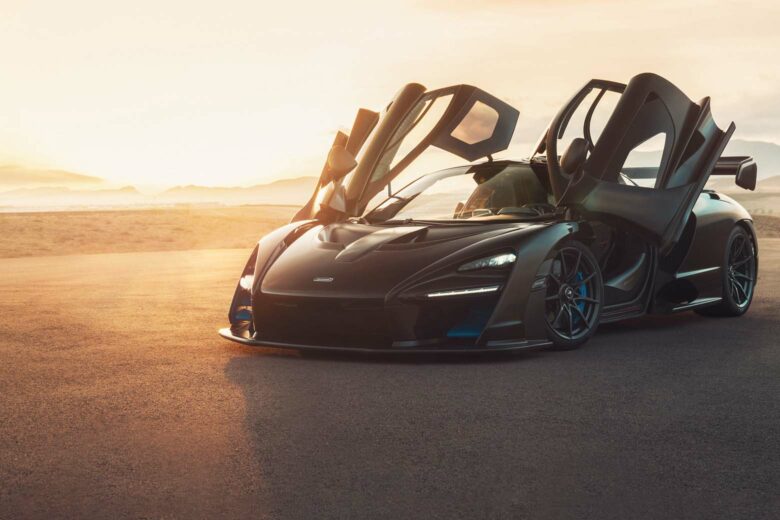 In honor of legendary McLaren Formula 1 driver Ayrton Senna, the McLaren Senna delivers race-focused speed and agility. It is the third addition to the McLaren Ultimate Series, coming after the record-breaking F1 and following P1.
The Senna devours air with its functional intakes and vents littered throughout the body. The McLaren Senna GTR was another tack-only variant, generating an astonishing 2,200 lbs. (1,000 kg) of downforce to cut through turns without breaking a sweat.
The $1 million McLaren Senna price might seem high compared to other cars like the best luxury SUVs, yet it barely scratches the surface of Bugatti or Pagani prices.
| | |
| --- | --- |
| Price: | Starting at $1 million |
| Release year: | 2018 |
| Engine: | 4.0L twin-turbo V-8 |
| Top speed: | 208 mph – 335 km/h |
| 0-62 mph (0-100 km/h): | 2.8 sec |
| Power: | 789 hp |
| Torque: | 590 lb-ft |
McLaren Solus GT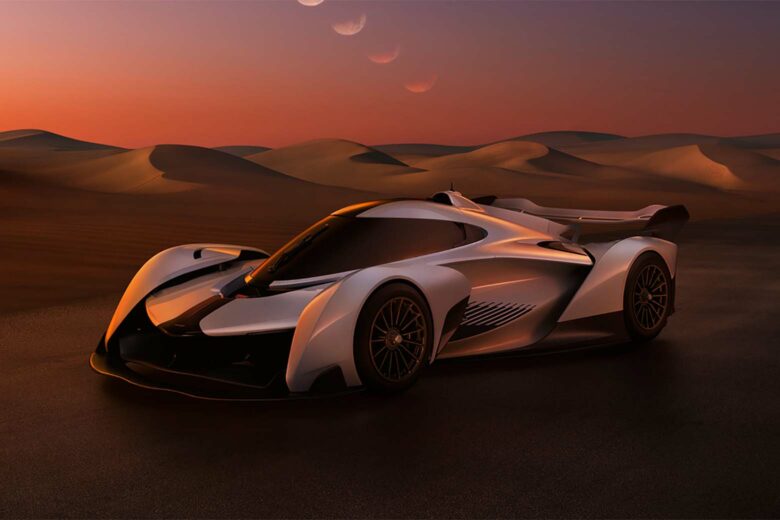 Many McLaren models have made their way from the road to popular Lego McLarens. But the McLaren Solus GT flips that idea, bringing an idea first displayed in Sony's Gran Turismo Sport video game to a stunning limited-series production model.
The McLaren Solus GT sports one of the most radical exterior designs around. The sliding glass canopy allows the driver to slide into the aviation-inspired cockpit before rocketing down the pavement.
The McLaren Solus GT price for the 25 units that will be produced is an astronomical $3.5 million, putting it high on our list of the most expensive cars. It's more than the multi-million dollar Mercedes-Benz AMG Project One and the ultra-light Lamborghini Sesto Elemento.
| | |
| --- | --- |
| Price: | Starting at $3.5 million |
| Release year: | 2023 |
| Engine: | 5.2L naturally-aspirated V-10 |
| Top speed: | 200 mph – 267 km/h |
| 0-62 mph (0-100 km/h): | 2.5 sec |
| Power: | 829 hp |
| Torque: | 479 lb-ft |
McLaren GT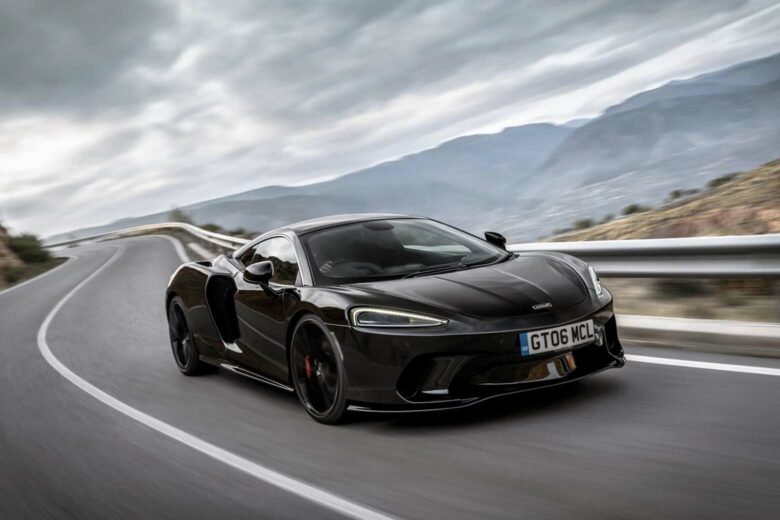 Most McLaren models are speed demons that sneak in luxurious amenities and comfort. But not the McLaren GT. It aims to deliver a road-trip-worthy experience with a spine-tingling thrill.
The GT is still a two-seater that's full of racing pedigree, so it doesn't hold up well if you're looking for four-seaters like the BMW 8-Series, Tesla Model S, or Audi A7.
For those who want an exhilarating ride while being cradled in leather-wrapped seats, you'll be happy to find the McLaren GT price is the lowest in the lineup, starting at just over $200,000.
| | |
| --- | --- |
| Price: | Starting at $208,500 |
| Release year: | 2019 |
| Engine: | 4.0L twin-turbo V-8 |
| Top speed: | 204 mph – 326 km/h |
| 0-62 mph (0-100 km/h): | 3.2 sec |
| Power: | 612 hp |
| Torque: | 465 lb-ft |
McLaren Artura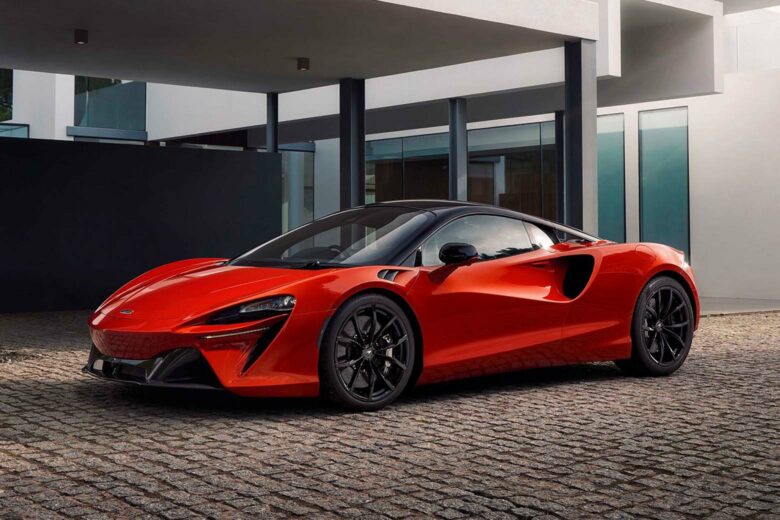 If you didn't know the difference, the McLaren Artura might appear to be a continuation of the company's proven designs. But in reality, the Artura started from a blank slate and ushered in a new generation of McLaren automotive technology.
The plug-in electric hybrid drivetrain can provide a short distance of emissions-free driving, but more importantly, it also places the e-motor directly within the 8-speed transmission's housing for a boost of instant torque that you're certain to feel.
McLaren isn't quite ready to go fully electric to compete with the best electric cars or newcomers like Polestar, but it gives a little taste of the brand's future.
| | |
| --- | --- |
| Price: | Starting at $237,500 |
| Release year: | 2023 |
| Engine: | 3.0L twin-turbo V-6 hybrid |
| Top speed: | 205 mph – 330 km/h |
| 0-62 mph (0-100 km/h): | 3.0 sec |
| Power: | 671 hp |
| Torque: | 531 lb-ft |
| Range: | Up to 19 miles – 31 km (electric only) |
McLaren 720S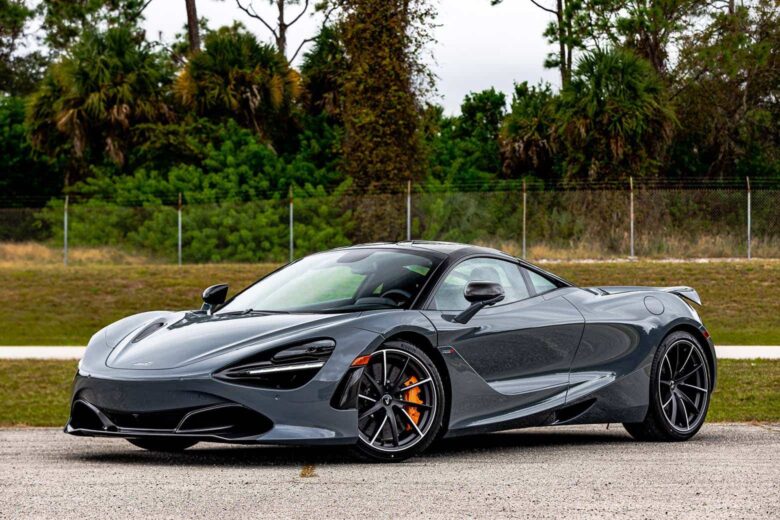 As a brand that specializes in functional form, the McLaren 720S is the archetype exotic car model that delivers nearly everything the luxury automaker stands for. Drop-dead gorgeous looks, blistering performance, and dream-like driver engagement.
The McLaren 720S is reported to be in its final year of production, so perhaps sometime down the road it'll hit our list of the best classic cars.
Many opt for the McLaren 720S Spider to throw in the ability to feel the sun on your face. And while the 720S GT3 might look like the base model, McLaren reports that this motorsport version only shares about 10% of its components with the original.
| | |
| --- | --- |
| Price: | Starting at $305,000 |
| Release year: | 2017 |
| Engine: | 4.0L twin-turbo V-8 |
| Top speed: | 212 mph – 341 km/h |
| 0-62 mph (0-100 km/h): | 2.9 sec |
| Power: | 710 hp |
| Torque: | 568 lb-ft |
McLaren 765LT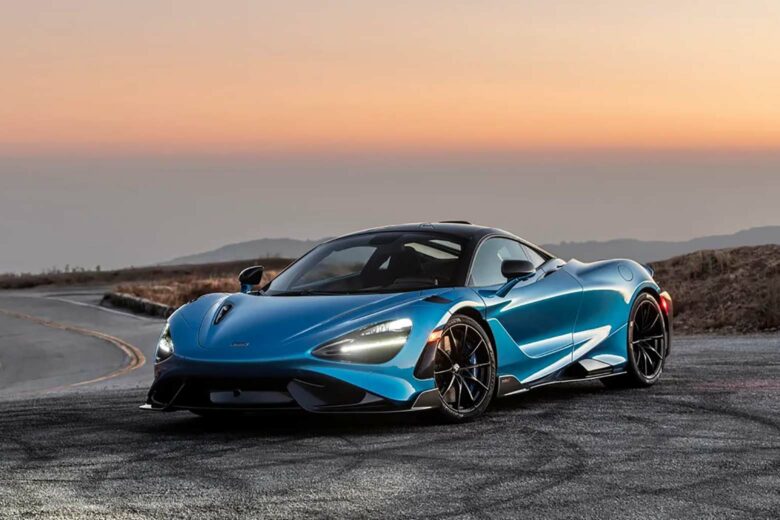 As an offering to speed's insatiable appetite, the McLaren 765LT rips out the carpet, air conditioning, and everything unrelated to performance from the 720S then adds a longtail rear end to deliver maximum downforce.
What's left over is a g-force-producing, razor-sharp platform that cuts through corners like a knife through warm butter. It's lightning-fast from a stop thanks to its insane 2,710-pound (1,229-kg) dry weight paired with a 755-horsepower V-8.
While Cadillac comfort and Lexus modesty are thrown to the wind, the McLaren 765LT Spider lets you heat up with adrenaline, then cool off with the wind through your hair.
| | |
| --- | --- |
| Price: | Starting at $358,000 |
| Release year: | 2020 |
| Engine: | 4.0L twin-turbo V-8 |
| Top speed: | 205 mph – 330 km/h |
| 0-62 mph (0-100 km/h): | 2.8 sec |
| Power: | 755 hp |
| Torque: | 590 lb-ft |
McLaren 750S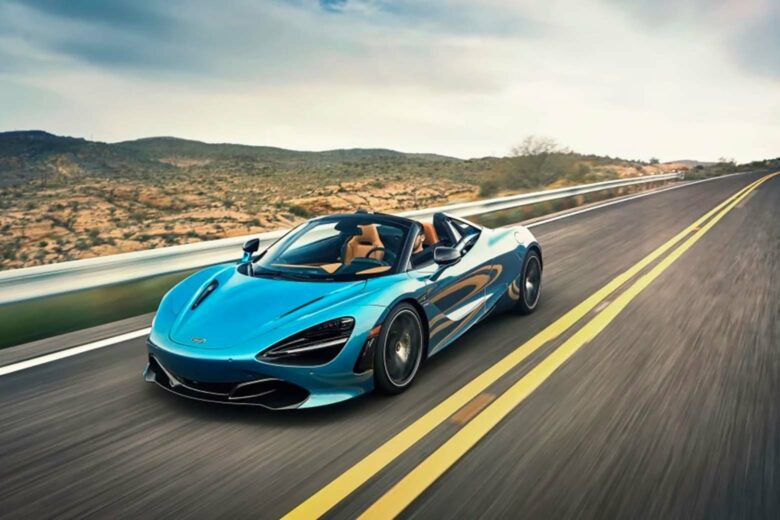 All good things must come to an end. As the McLaren 720S is going to be put out to pasture, any sadness is quickly stifled by reports of the improved replacement, the McLaren 750S.
Reports indicate that the incoming 750S and 750S McLaren Spider will host a similar 4.0L V-8, but tuned to deliver another 30 horsepower and likely improved torque and acceleration.
Many expect the McLaren interior to mimic the hybrid-electric Artura, with the gauges mounted on the steering column. Many expect the McLarens for sale in a few years will all feature a hybrid drivetrain, but there's no indication the 750S will see this technology.
| | |
| --- | --- |
| Price: | Starting at $340,000 (est.) |
| Release year: | 2024 |
| Engine: | 4.0L twin-turbo V-8 |
| Top speed: | Not yet available |
| 0-62 mph (0-100 km/h): | <3 sec |
| Power: | 740 hp (est.) |
| Torque: | Not yet available |
McLaren customer service number
You can get in touch with the Guest Relations Team by calling the McLaren customer service number at +44(0)1483-261500, emailing guest.relations@mclaren.com, or visiting McLaren's Contact Us page for a complete directory of assistance.
McLaren social media profiles
To stay in the loop about the latest news and events, follow the official McLaren social media profiles:
Frequently asked questions about McLaren
How much do McLarens cost?
If you're wondering how much do McLarens cost, the starting point is the McLaren GT price at $208,500. Other McLaren car prices include the 720S at $305,000 and the Artura at $237,500. The most expensive McLaren for sale is the Solus GT, at $3.5 million.
How much is the cheapest McLaren?
The cheapest McLaren cars are the GT at $208,500 and the hybrid McLaren Artura price of $237,500. The McLaren 720S price starts at $305,000. Other McLaren cars, like the Elva, Speedtail, and P1, are more than $1 million.
Who is McLaren owned by?
McLaren is owned by the McLaren Group, a public company. McLaren Group's largest shareholder is Mumtalakat, the sovereign wealth fund of the Kingdom of Bahrain. Mercedes-Benz used to own up to a 40% stake in McLaren Group but is now no longer involved.
Is McLaren a luxury car?
Yes, a McLaren is a luxury car made with premium materials and with a focus on incredible performance. While other luxury carmakers might have more comfortable interiors, McLaren cars are built for speed but still retain an impeccable interior and elegant style.