Time travel might still be theoretical, but that doesn't stop this premium electric carmaker from racing into the future. Polestar cars are already a notable part of the EV revolution. One you don't want to overlook.
Polestar has released three models so far and has another three coming down the pipeline. By leveraging extensive ties to automotive veterans and pushing innovative technology forward, the Polestar electric cars are shaking things up in a big way.
At a glance
| | |
| --- | --- |
| | |
| Name: Polestar | Industry: Automotive |
| Founded: 2017 | Founders: Volvo Cars and Geely Holding |
| Headquarters: Sweden | Parent organizations: Volvo Cars and Geely Holding |
| Revenue: $1.33 billion USD | Website: polestar.com |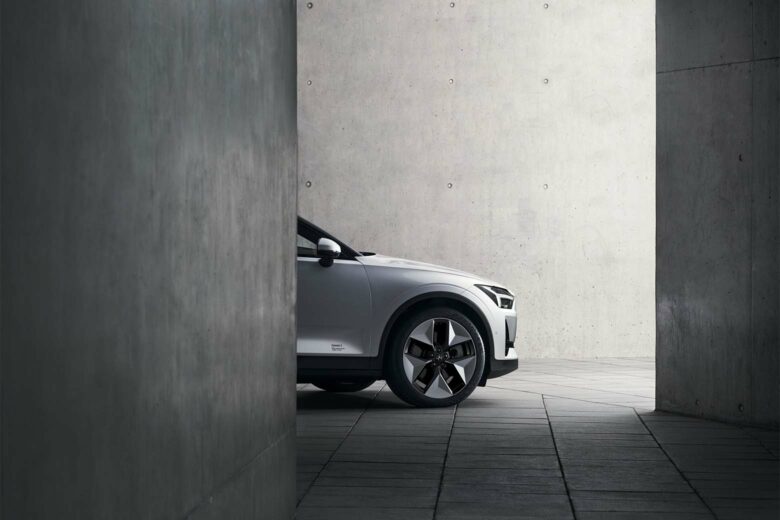 Polestar price
How much does a Polestar cost?
The innovative electric vehicle segment tends to favor higher-priced models. But the starting price for Polestar EVs is trying to buck the trend. The stylish Polestar 2 four-door sedan starts at a fairly reasonable $48,400, which gets you into a single-motor platform with a 270-mile range.
If you want all-wheel drive, the Polestar 2 also has a dual-motor option, but you'll have to increase your budget to at least $61,200.
The other Polestar model currently available is the Polestar 3 SUV. It has a starting price of $83,900 for a dual-motor platform with a 300-mile range.
What is the most expensive Polestar?
The most expensive Polestar available as a production model so far was the Polestar 1. The Polestar hybrid car was originally priced at $155,000, but it has been discontinued so the brand can focus on its electric vehicle production instead.
Another notable Polestar model that tips the heavy end of the price scale is the Polestar 6, expected to be released in 2026. You can reserve the slick-looking two-door model for $25,000 down.
The first 500 production cars are to be named the Polestar 6 LA Concept and have a final price of about $200,000. That's no laughing matter, but it's a steal compared to the most expensive cars in the world.
How much is the cheapest Polestar?
The cheapest Polestar is the Polestar 2 sedan, starting at $48,400. This sets up a heated rivalry with Polestar vs. Tesla Model 3, priced right around $47,000.
Polestar has one other vehicle currently available for new purchases, the Polestar 3 SUV. It starts at $83,900.
In 2024, Polestar expects to release two additional models. The Polestar 4 is a sporty version of the 3, coming in with a $75,000 price tag. And the Polestar 5 is a higher-performance and more luxurious sedan with an expected starting price of around $100,000. It is set to compete with the Tesla Model S and Porsche Taycan.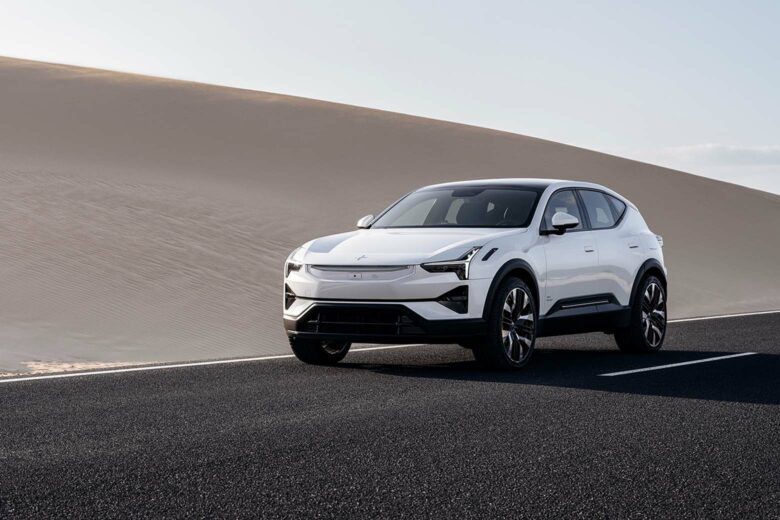 About Polestar
History of Polestar
Like many electric vehicle producers, Polestar is a relatively new brand releasing unique models that are revolutionizing the automotive industry. But the premium electric carmaker has extensive ties to the longstanding Swedish automaker, Volvo.
Back in 1996, Volvo teamed up with the then-named Flash Engineering to create race vehicles for the Swedish Touring Car Championship. Flash Engineering was eventually renamed to Polestar Engineering.
Polestar and Volvo continued collaboration, resulting in the street-legal high-performance Volvo C60 Polestar, released in 2013. Polestar Engineering packages are available on select Volvo models to this day.
In 2017, under the ownership of Volvo Car Group and Geely Holding, Polestar became a standalone premium electric vehicle manufacturer with headquarters in Sweden.
Understanding Polestar's car range
Polestar has a limited lineup and keeps the naming convention extremely straightforward. The first Polestar model was released in 2020 and was called the Polestar 1. It was a hybrid model and is no longer in production.
As the brand pushed forward, it continued the simplistic use of a number as the model name. Currently available are the Polestar 2 and Polestar 3. The 2 is a four-door sedan while the 3 is a crossover SUV.
Future models include the Polestar 4 as a sportier version of the 3, and the Polestar 5 as a more luxurious four-door sedan. Both are set to be released in 2024.
And just in case you were wondering if Polestar intends to keep that same naming convention going, the electric car brand has stated that the jaw-dropping Polestar 6 will be coming in 2026.
While it's not easy to glean much information from the model number, it gives you an idea of how long the vehicle has been produced.
Interesting facts about Polestar
One of Polestar's initial investors is Leonardo DiCaprio. While the amount of his investment remains undisclosed, the award-winning actor is known for supporting sustainable brands.
Polestar is currently constructing a new production facility in China. It is reported to be dedicated to building the upcoming Polestar 5 four-door sedan, a likely competitor to the Tesla Model S and Porsche Taycan.
To show its commitment to sustainability, Polestar reports that the new facility will be carbon-neutral. The Polestar 5 model, like the other Polestar electric vehicles, will also use eco-friendly materials when possible.
Where is Polestar made?
Polestar cars are made in China. The premium electric automaker has headquarters in Gothenburg, Sweden, like one of its major owners, Volvo.
Polestar is also part-owned by Geely Holding, a China-based entity that owns Volvo and other car brands. All Polestar models are currently produced in Chengdu, China. Polestar also has a regional office in Shanghai, China.
Polestar models
Let's go over the entire lineup of Polestar autos.
Polestar 1 Hybrid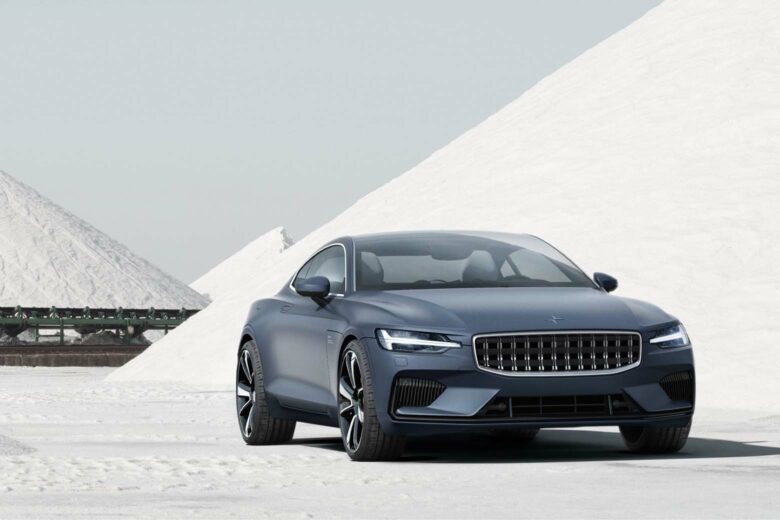 The first vehicle released under the Polestar name was the 2019 introduction of the Polestar 1 Hybrid. It was based on the 2013 Volvo Concept Coupe, and produced a whopping 609 horsepower and zero to 60 mph in less than four seconds.
While the brand didn't quite get to the fully-electric platform it wanted, it did an incredible job at bringing in a 77-mile range of electric-only power on a high-performance package. Production ended in 2021.
| | |
| --- | --- |
| Price: | $155,000 |
| Release year: | 2020 |
| Engine: | 2.0L twin-charged inline-4 with three electric motors |
| Top speed: | 155 mph – 249 km/h |
| 0-60 mph: | 3.7 sec |
| Power: | 609 hp |
| Torque: | 738 lb-ft |
| Range: | Up to 77 miles electric-only |
Polestar 2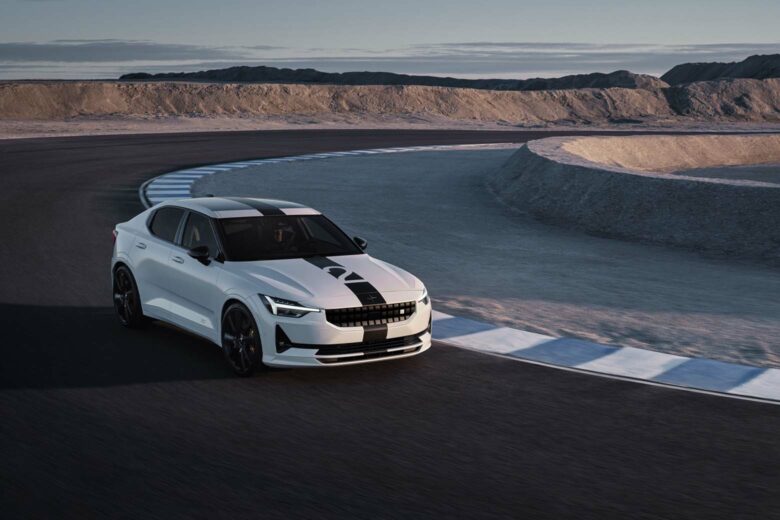 As Polestar's answer to the Tesla Model 3, the Polestar 2 is an under-the-radar option in a growing world of competitive electric vehicles. The understated style incorporates minimalist looks filled with many premium touches.
The nearly 500 horsepower, 500 lb-ft of torque, and 270-mile range propels the Polestar 2 ahead of the game. The sub-$50,000 Polestar 2 price is a pretty stellar deal too. We are such big fans, this model is on our list of the best electric cars.
| | |
| --- | --- |
| Price: | Starting at $48,400 |
| Release year: | 2021 |
| Drivetrain: | One to two electric motors |
| Top speed: | 100 to 127 mph – 161 to 204 km/h |
| 0-60 mph: | 7.0 to 4.2 sec |
| Power: | 231 to 476 hp |
| Torque: | 243 to 487 lb-ft |
| Range: | 260 to 270 miles – 418 to 435 km |
Polestar 3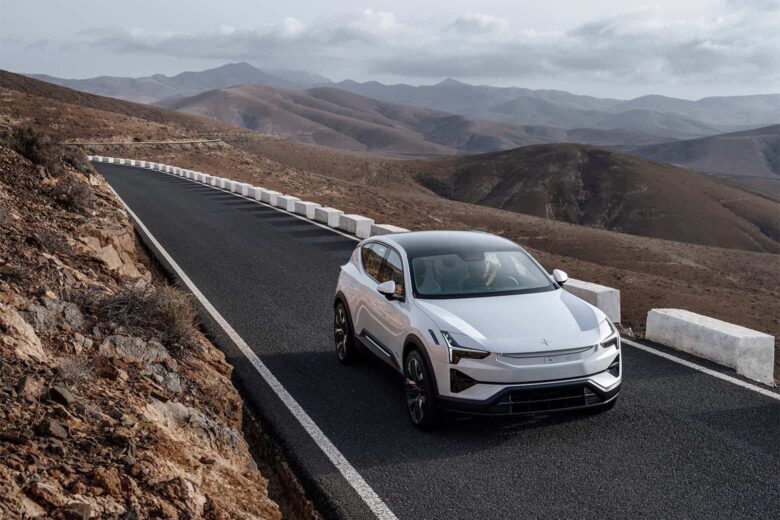 As the electrical revolution ripples through the automotive industry, this performance EV brand is stepping up in a big way. The Polestar 3 SUV is a sporty crossover with an exquisite appearance and packed with luxury features.
The two electric motors provide all-wheel drive thrust with over 500 horsepower and 671 lb-ft of torque. The 111 kWh battery pack provides up to 300 miles on a single charge, and just 30 minutes on a 250 kW DC fast charger gets it up to 80% capacity. And the Polestar 3 price isn't so bad either.
The Polestar logo is launching into the stratosphere with this highly competitive SUV option. Stay tuned to see if it can make it onto our list of the best luxury SUVs.
| | |
| --- | --- |
| Price: | Starting at $83,900 |
| Release year: | 2024 |
| Drivetrain: | Two electric motors |
| Top speed: | 130 mph – 209 km/h |
| 0-60 mph: | 4.9 to 4.6 sec |
| Power: | 489 to 517 hp |
| Torque: | 620 to 671 lb-ft |
| Range: | 270 to 300 miles – 435 to 483 km |
Polestar 4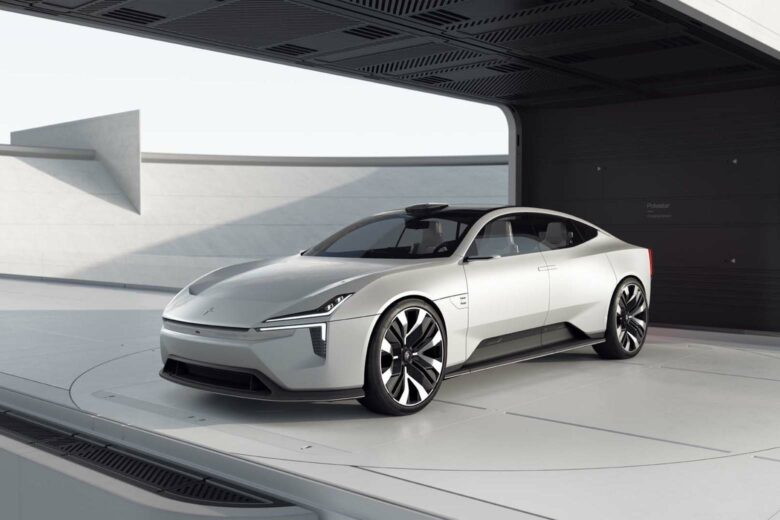 We don't know the full picture yet, but the Polestar 4 is expected to hit the streets in 2024. Polestar released an image of the 4 with a translucent covering, and it appears to be a slightly smaller take on the existing 3 Polestar SUV with a sloping rear end featuring unique tail lights.
This aligns with the approach of other luxury automakers who have introduced sportier versions of existing models. For example, the BMW X4 shares nearly everything with the popular BMW X3 crossover SUV, but the X4 has a sloping rear roofline.
Polestar has confirmed that it will have two electric motors and an all-wheel drive. Many expect it to have similar performance and specifications as the Polestar 3, although the sportier Polestar 4 might bump up the power to give this more aggressive sibling an edge.
| | |
| --- | --- |
| Price: | Starting at $75,000 (est.) |
| Release year: | 2024 (est.) |
| Drivetrain: | Two electric motors |
| Top speed: | Unknown |
| 0-60 mph: | Unknown |
| Power: | Unknown |
| Torque: | Unknown |
| Range: | ~300 miles – 483 km (est.) |
Polestar 5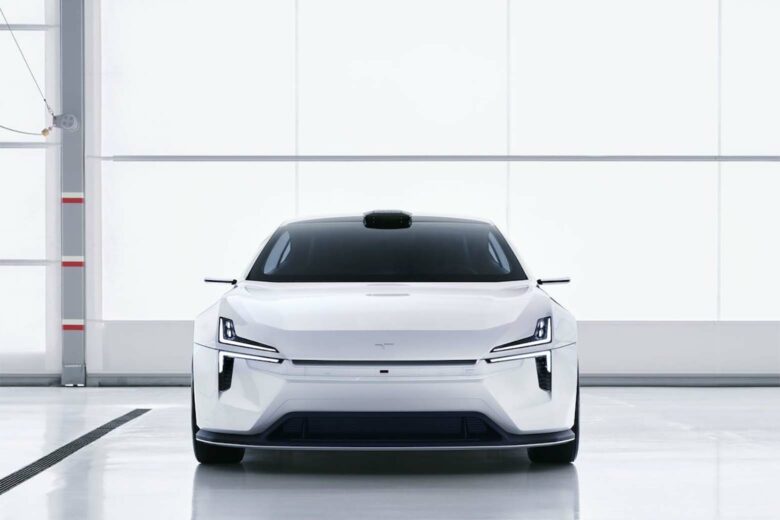 Another model set to launch in 2024 is the Polestar 5. The electric vehicle producer unveiled the development prototype at the 2022 Goodwood Festival of Speed as a four-door GT model with thrilling performance figures.
Through a combination of a lightweight yet rigid chassis with an 884-horsepower, dual-motor propulsion system, the Polestar 5 is drawing a lot of attention. While the segment is now rapidly filling with rivals, the Tesla Model S and the Porsche Taycan will surely be two of the top contenders.
We don't know much else about the Polestar 5 right now, except that the brand is building a dedicated carbon-neutral facility in China to produce it. And the 5 will incorporate many eco-friendly materials. It is shifting the paradigm using a no-holds-barred approach.
| | |
| --- | --- |
| Price: | Starting at $100,000 (est.) |
| Release year: | 2024 (est.) |
| Drivetrain: | Two electric motors |
| Top speed: | Unknown |
| 0-60 mph: | Unknown |
| Power: | Up to 884 hp (est.) |
| Torque: | ~664 lb-ft (est.) |
| Range: | >300 miles – 483 km (est.) |
Polestar 6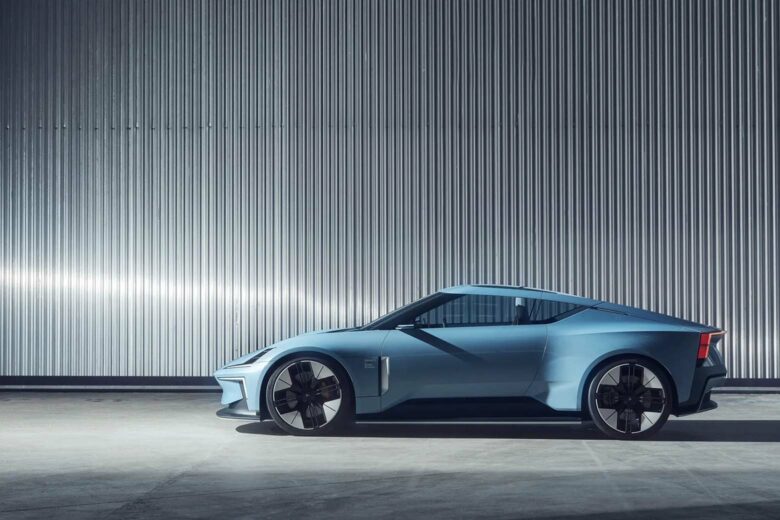 To get amped up about the future of EVs, check out the Polestar 6. Based on the mesmerizing O2 concept car, it has a drop-dead gorgeous hardtop design. It will also be available as the brand's first convertible.
The available information is limited, but we do know the Polestar 6 will share the 800-volt architecture with the Polestar 5. That means this Polestar coupe will have nearly 900 horsepower, about three seconds to 60 mph, and at least 300 miles on one charge.
The top speed might not match up with the fastest cars, but the acceleration likely will.
You'll likely have to wait until 2026 for this enchanting beast. You can reserve your spot in line by dropping a $25,000 deposit. The first 500 production cars will be named the Polestar 6 LA Concept edition, and are expected to be priced at $200,000. To make that seem cheap, check out the Bugatti price list.
This ground-breaking model is likely to share very little with some of the best classic cars.
| | |
| --- | --- |
| Price: | ~$200,000 (est.) |
| Release year: | 2026 (est.) |
| Drivetrain: | Two electric motors |
| Top speed: | 155 mph – 249 km/h |
| 0-60 mph: | ~3.1 sec (est.) |
| Power: | Up to 884 hp (est.) |
| Torque: | ~664 lb-ft (est.) |
| Range: | >300 miles – 483 km (est.) |
Polestar customer service number
You can reach out to Polestar customer service by calling 1-800-806-2504. Answers to many frequently asked questions are listed on the Polestar support page. You can also send a message through Polestar's contact form.
Polestar social media profiles
To ensure you don't miss out on any updates about Polestar news, follow the brand through its official social media pages:
Frequently asked questions about Polestar
Is Polestar a Volvo product?
Polestar can be considered a Volvo product. The two brands have been closely aligned for years, with Polestar Engineering modifying Volvo models to create high-performance options. Polestar is now a separate premium electric car manufacturer, but Volvo is a major stakeholder.
Does Leonardo DiCaprio own Polestar?
Leonardo DiCaprio is reported to own part of Polestar. The award-winning actor is said to have backed the new Polestar brand in conjunction with Volvo and Geely Holding. The exact amount that DiCaprio invested is unknown, but he has a reputation for investing heavily in sustainable brands.
Is Polestar Swedish or Chinese?
Polestar is a Swedish and Chinese brand. The Polestar headquarters are located in Gothenburg, Sweden, but the primary production facility is in Chengdu, China. Polestar also has a regional office in Shanghai, China. Polestar's stakeholders include Volvo and Geely Holding.
How much will Polestar cars cost?
Polestar cars will cost anywhere from $48,400 to approximately $200,000. The brand's first car, the hybrid Polestar 1, was originally priced at $155,000. The now-available Polestar 2 four-door sedan EV starts at $48,400, and the Polestar 3 SUV starts at $83,900. Additional Polestar models coming soon have reported prices anywhere from $75,000 to $200,000.