The growl of the engine. The adrenaline in your veins. The lurch forward, swooping around corners and storming down the track at electrifying speeds. Driving a Bugatti is an unparalleled experience.
Fast and formidable, these record-breaking hypercars seem to defy traditional engineering limits and won't slow down for anything as uncool as the laws of physics. They're the playthings of the super-rich, complete with million-dollar price tags, handcrafted bodies, and a sleekness that's in a class of its own.
Bugatti is known for following its own rules of the road, repeatedly making and breaking sky-high standards for technical ability and attention to detail. Getting behind the wheel of one of these beasts is a fantasy for many but one that only the one percent can achieve. Unsurprisingly, the brand regularly appears on our yearly ranking of the best luxury car brands.
The Bugatti brand is famed for releasing cars that would be better described as works of art than standard vehicles. Take a look through Bugatti's innovative engineering prowess at its most impressive models to date.
Bugatti price list 2023: Models, reviews, and specifications
After the list, we explain why Bugatti cars are so expensive. We also walk you through the brand's origins if you're curious to learn more about the history behind this ultra-luxurious sports car.
1. Bugatti Veyron: $1.9 Million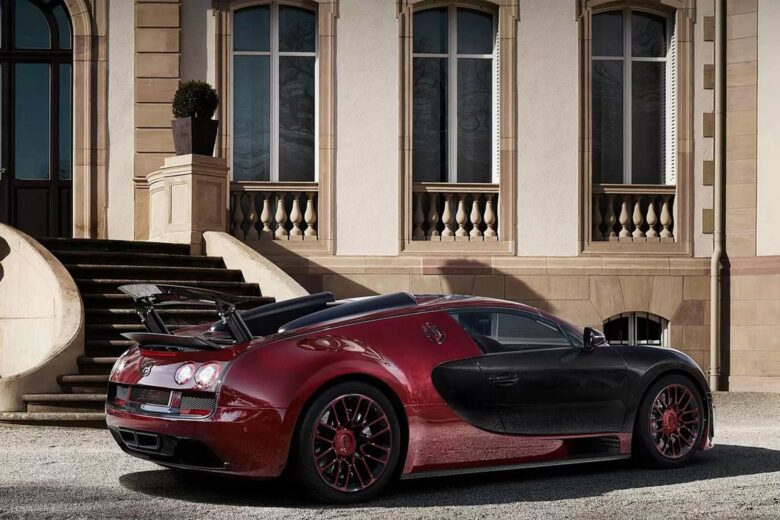 How many cars can claim the need for an airport runway to achieve top speeds? The Bugatti Veyron, first released in 2006, does just that: it's impossible to drive this supercar at high speeds down standard roads because, quite simply, you'll run out of road too quickly. This car takes no prisoners, launching off at the mere touch of a pedal. The Veyron has a 258 mph (415 km/h) top speed and a 1,001 horsepower engine, initially making it the world's fastest production car before its successors were released. It's a truly exotic car, meticulously crafted with a full range of impressive technology.
Spy the Veyron's unmissable confidence as soon as you're behind the wheel: putting your foot down is akin to tackling the biggest loop on the rollercoaster – terrifying and exhilarating at the same time. It combines a harmonious balance between lift and downforce to accelerate from 0-100 km/h in a breathtaking 2.6 seconds. Because of its ridiculous speeds, many systems and parts had to be developed from scratch to serve the Veyron properly. It also features one of the fastest gearboxes in the world, a powerful braking system, and aerodynamics specifically built for top speeds.
| | |
| --- | --- |
| Starting price: | $1.9 Million |
| Top speed: | 258 mph (415 km/h) |
| Acceleration: | 0-60 mph (0-100 km/h) in 2.6 seconds |
2. Bugatti Chiron: $2.9 Million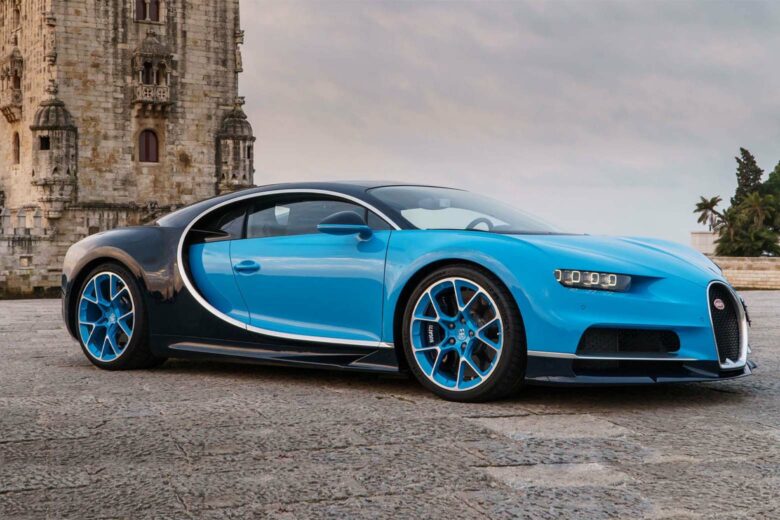 A slight hiss of air is all you'll hear when the Bugatti Chiron jumps into action. Released in 2016, its brief, according to ex-president Wolfgang Dürheimer, was straightforward: it had to "be better than the Veyron in every respect". A seemingly impossible feat, Bugatti managed to do just that, combining even more impressive speeds and a new level of immense power into the brand's successor, the Chiron.
It's a beast of a supercar that doesn't hold back on the roads: this car will accelerate from 0-200 km/h in less than 2.5 seconds and 186 mph (0-300 km/h) in under 13.6. Its top speed is limited to 261 mph (420 km/h), but its specially-created wider Michelin tires mean the Chiron could likely exceed 270 mph (435 km/h).
There's no doubt about it; the Chiron is one of the world's most high-tech and luxurious cars, driving at what seems like the speed of light while maintaining a laid-back and carefree edge. It's a car that shows off in the most casual way possible, with 16 cylinders in its eight-liter engine and a seamless body that carries it all together. It pumps out an astonishing 1,479 horsepower and has the ability to tackle corners at 124 mph (200 km/h) – faster than many vehicles' top speed.
| | |
| --- | --- |
| Starting price: | $2.9 Million |
| Top speed: | 261 mph (420 km/h) |
| Acceleration: | 0-60 mph (0-100km/h) in 2.5 seconds |
Bugatti Chiron Noire: $3.25 Million
The special-edition Bugatti Chiron Noire was released to form a midpoint between the standard model Chiron and Bugatti's "La Voiture Noire", the world's most expensive car with a price tag of at least $12 million. As such, the Chiron Noire takes inspiration from La Voiture Noire's sleek, matte black body and stylish characteristics. It's matte black throughout, with a black finish covering the exposed carbon fiber, front spoiler, radiator grille, wheels, and Bugatti's signature C-shaped design line.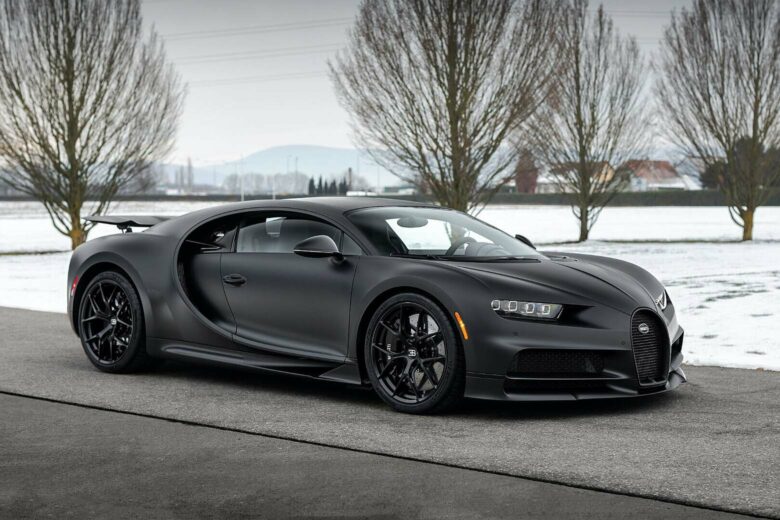 This unique car is a luxury beast for minimalists, with black and matte black aluminum trim interior parts, black seats, switchgear, and more. Of course, this exceptional car comes complete with all of the super-powerful elements expected of a Bugatti: a quad-turbocharged 8.0-liter W16 engine capable of producing up to 1,600 horsepower and the top speed to match. It's a coupé́ with the comfort of a luxury limousine and the power of a hyper-sports car.
Bugatti Chiron Sport 110 Ans Bugatti: $3.3 Million
Three years after the debut of the original Chiron, Bugatti released its 110 Ans Bugatti (which means "110 years of Bugatti") as a tribute to its French heritage and to celebrate its milestone birthday. This was the first special release of the Chiron and was a shock to many after the model was initially slated to get no special editions. Along with its signature luxurious features, the 110 Ans Bugatti pays homage to France with a particular focus on the country's colors.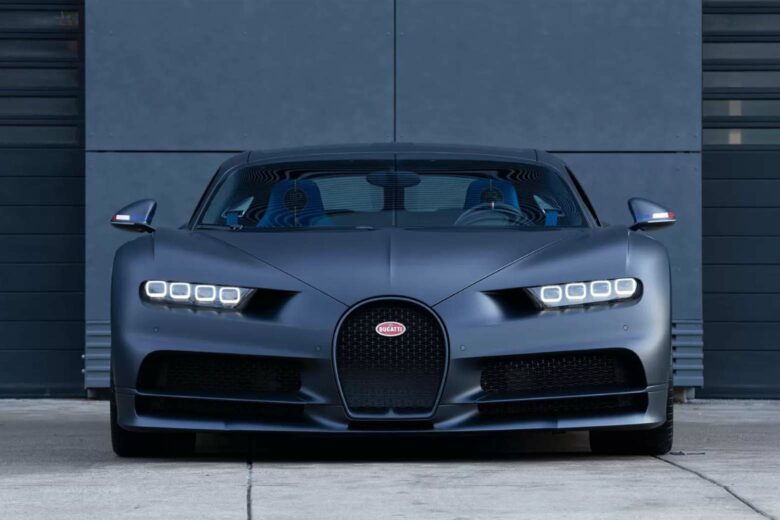 The tricolor French flag is found on the mirror caps and the underside of the active rear wing, while other components like the brake calipers and wheel center caps are painted French Racing Blue. The matte Steel Blue paintwork at the car's rear was produced using the brand's complex process, and even the exclusive handcrafted interior has hints of the same color scheme.
Bugatti Chiron Sport: $3.3 Million
A true performance monster, the Bugatti Chiron Sport is ideal for those who daydream of hitting top speeds at the merest touch and cornering without pausing for breath. It was produced to be the ultimate super sports car, with a firmer chassis combined with lightweight components. The result: even sharper handling and exhilarating agility, all backed up by the Chiron's uniquely luxurious character.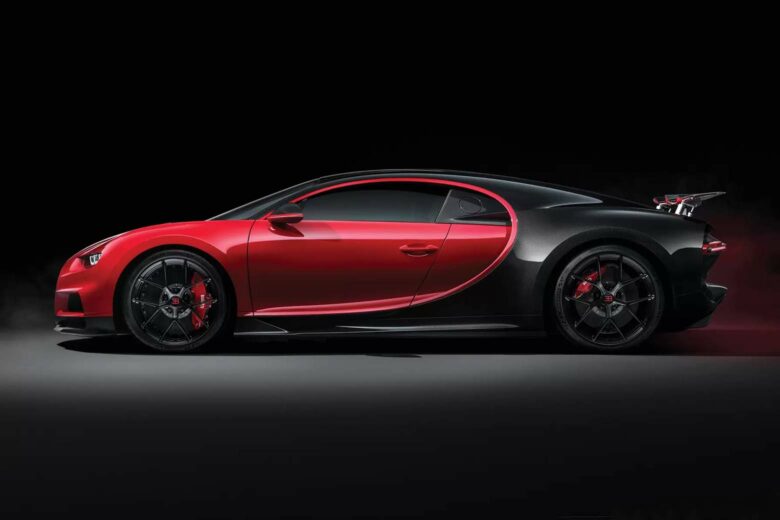 To fulfill its promise of being the ultimate sport-focused supercar, Bugatti went to extremes to reduce the weight of this beast. The brand managed to shave 20kg off the car's total weight, making the Chiron Sport the first production car with carbon fiber windshield wiper arms, saving just over one kilo. The inside of the car is just as impressive: cut out with an elegant material mix of Alcantara, leather, and carbon and an optional finish of a black sporting touch.
Bugatti Chiron Pur Sport: $3.6 Million
"Pure perfection" is the succinct way to sum up the Bugatti Chiron Pur Sport, a bold evolution of the original Chiron that might be the first supercar to show off about being intentionally slower. Of course, "slower" is relative when this model can still effortlessly glide at 218 mph (350 km/h). Unlike the other variations of the Chiron, the Pur Sport is geared toward handling, but it's not a track car. It's an agile vehicle with exceptional optimization and the ability to whip around corners without holding back.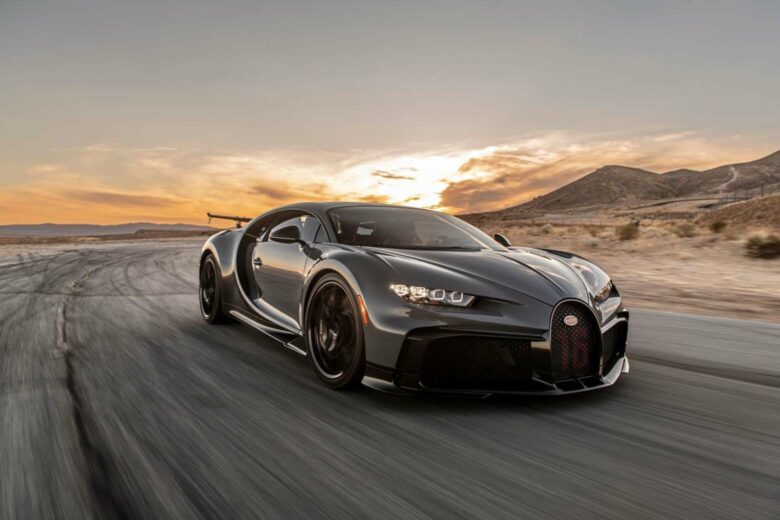 Its specially designed tires promise faster acceleration than previous models and the gift of being a dream to handle. Its production goal was to break the boundaries when it comes to performance, which it does with the help of significant technological improvements on the chassis, gearbox, and engine.
Bugatti Chiron Super Sport 300+: $3.9 Million
Stunning velocities are what the Bugatti Chiron Super Sport 300+ is known for, with its world-record-breaking achievement of cracking the 300 mph (482 km/h) barrier. Believing in the impossible is something that Bugatti challenges itself to pull off with the release of each and every new car, and this one is no exception. Based on the model of the standard Chiron, the Super Sport 300+ utilizes extended and aerodynamically optimized features for extremely high-speed performance.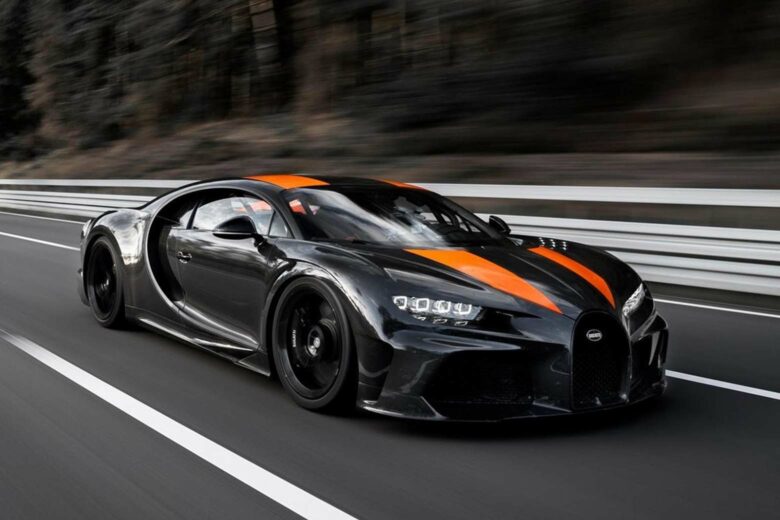 Just 30 examples of the car were built. This machine perfectly exemplifies the brand's technical refinement, masterly workmanship, and incredible attention to detail.
Bugatti Chiron Hermès Edition: $6 million
Curious about the perfect companion for La Voiture Noire? Enter: Bugatti Chiron Hermès Edition. This one-of-a-kind design, complete with an all-white exterior and interior and a $150,000 sky view glass roof, is an ultra-special Chiron owned by popular Youtuber and supercar collector Manny Khoshbin.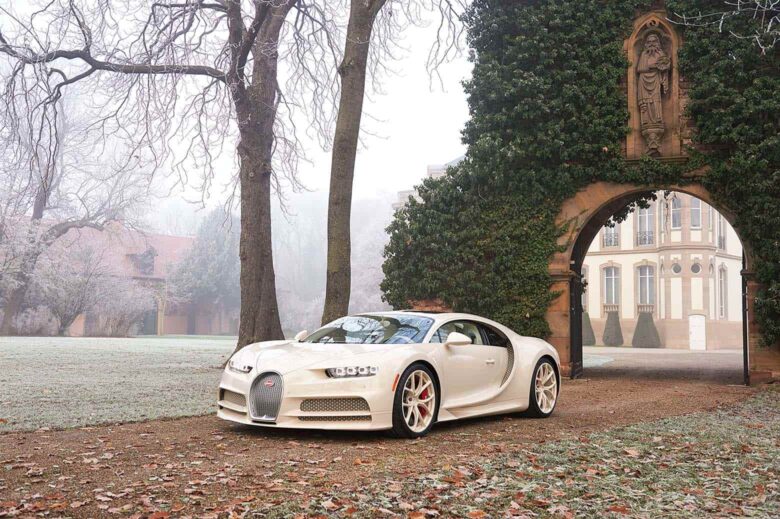 It's the epitome of luxe: dipped in Hermès paint, coated in cashmere fabric, and finished with one-of-one badges and a special front "H" horseshoe grille. This hand-built supercar reportedly took around four years to complete, and the finished result is elegant, simple, and luxurious. The bottom of the rear wing features a Hermès Courbettes horse pattern, and even the entire rear bumper is painted to match the body color. It's a truly beautiful French-built speed machine.
Bugatti Chiron Profilée: $10.78 million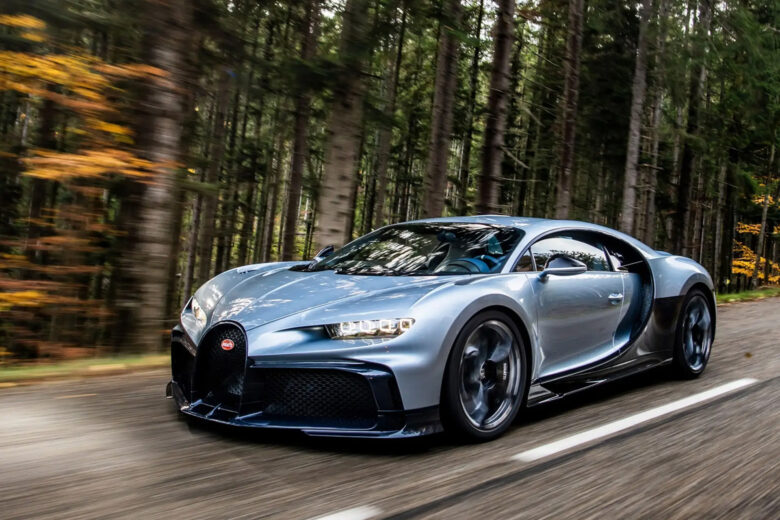 Bugatti started developing a new iteration of the Chiron after receiving requests from customers wanting a less radical interpretation of the Pur Sport. The Bugatti Chiron Profilée introduces a more civil take on the supercar with a subtle aero spoiler that keeps the hypercar firmly on the road when it reaches its top speed of 236 mph (380 km/h).
The Bugatti Chiron Profilée comes with a few other adjustments to the platform that make it one of the fastest production cars in the world, with a 2.3-second acceleration from 0 to 62 mph (100 km/h) and a top speed of 236 mph (380 km/h).
Only one version of the Chiron Profilée was produced. It will be auctioned by RM Sotheby's on February 1, 2023. The proceeds from the sale will be given to a charitable cause.
Bugatti Chiron L'Ébé: Undisclosed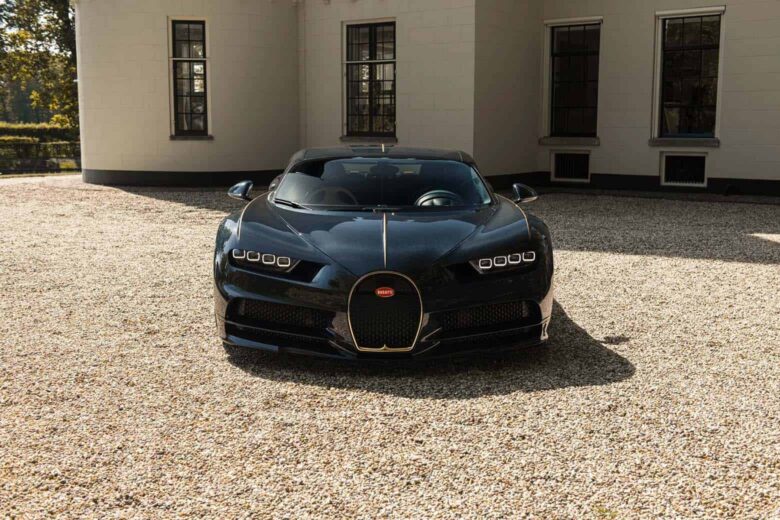 Three examples of a Bugatti Chiron L'Ébé will complete this model's legendary production span as the luxury brand makes room for the next generation.
Named after Ettore Bugatti's daughter and eldest child, the L'Ébé features Art Deco details with gold accents on a blue-tinted carbon body. You'll also find L'Ébé's signature displayed throughout the vehicle, forever paying homage to a cherished member of the Bugatti family.
Bugatti Chiron Successor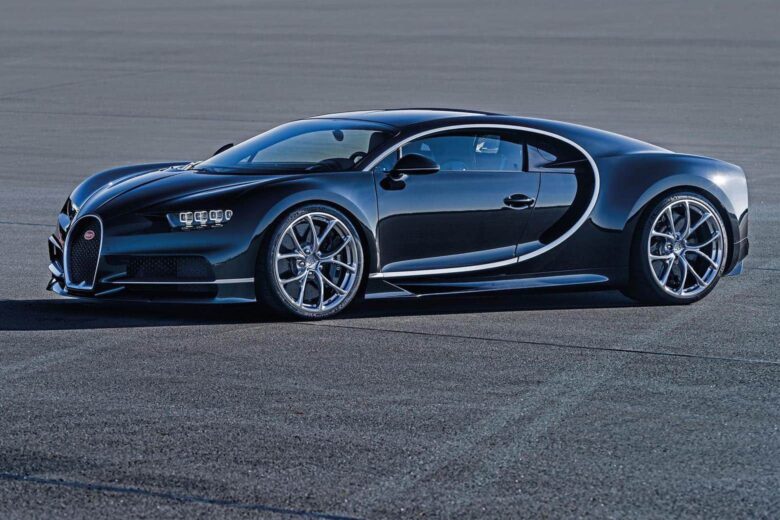 As EV hypercar expert Matt Rimac steps into leadership of Bugatti, the world will say farewell to the W-16 Chiron, one of the most iconic hypercars in existence.
The successor is expected to feature Rimac's electrical prowess in the form of a powerful hybrid V-8, with astonishing performance and nearly 2,000 horsepower. Although the new powertrain will break new ground, the bodywork, grille, and interior are reportedly not straying far from the past.
3. Bugatti Mistral Roadster: $5 Million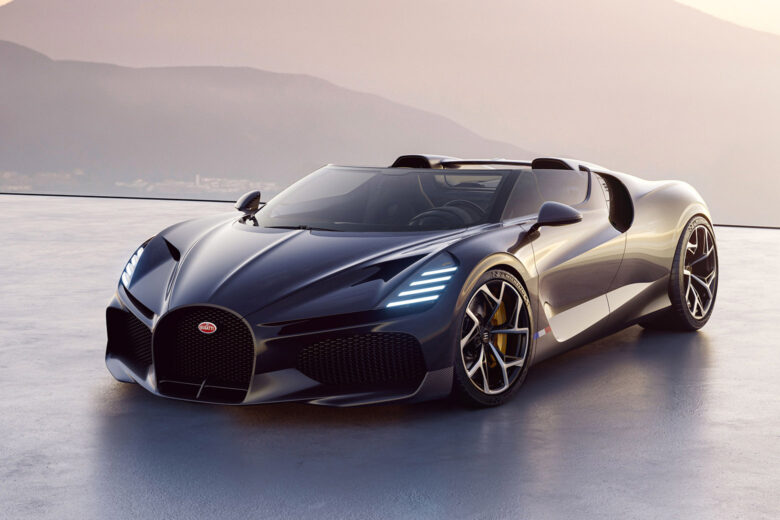 The Bugatti Mistral Roadster is the last Bugatti featuring the brand's famous quad-turbo, 8.0-liter W16 engine. The Mistral Roadster is based on the Chiron's platform but takes its design queues from the Bugatti Type 57 Roadster Grand Raid, first released in 1934.
Bugatti will produce only 99 Mistral Roadsters, which have all been purchased before entering the production line.
Bugatti's primary goal with the Mistral Roadster is to create the fastest roadster on the road. The French luxury car brand uses the 1,577-horsepower engine created for the Chiron Super Sport 300+ to achieve its ambition.
Buyers of the Mistral Roadster can expect to receive their new car in 2024.
| | |
| --- | --- |
| Starting price: | $5 Million |
| Top speed: | 254 mph (409 km/h) Estimation |
| Acceleration: | Unknown |
4. Bugatti Divo: $5.4 Million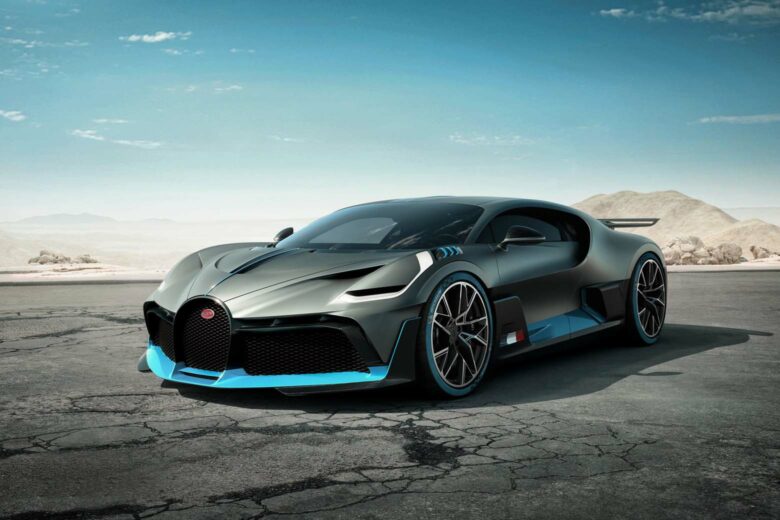 If time is money, then the Bugatti Divo more than justifies its price tag. Based on the Chiron but promising to hit even faster speeds, it's a piece of artwork on the roads with its astounding 1,500 horsepower and speeds that promise to make you rethink the laws of physics.
The Divo offers significantly higher performance than previous Bugatti models, with more progressive design language leading to a blazing fast acceleration. This supercar has an electronically limited top speed of 236 mph (380 km/h) and can hit 100 km/h in a blink-and-you'll-miss-it 2.4 seconds.
This Bugatti is named after French driver Albert Divo, who is famed for twice winning the Targa Florio race for the brand in the 1920s. It's 35kg lighter than the Chiron but still manages to squeeze in upgraded versions of all the car's core components.
But where this car really draws attention is in its limited edition numbers. Only 40 Bugatti Divo were made, and each car was purchased before the first was dispatched. The limited number means spending months or even years fine-tuning its unique appearance and statistics into a bespoke supercar is possible. Its exceptional level of sophistication makes the Divo a car that turns heads effortlessly.
| | |
| --- | --- |
| Starting price: | $5.4 Million |
| Top speed: | 236 mph (380 km/h) |
| Acceleration: | 0-60 mph (0-100 km/h) in 2.4 seconds |
5. Bugatti Centodieci: $8.6 Million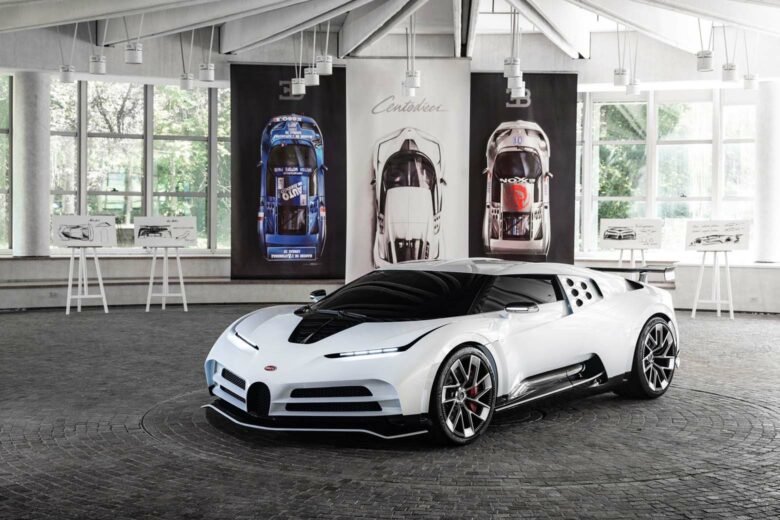 "Centodieci" translates to 110 in Italian, but even rating this car a 110/100 is doing it a disservice. The Bugatti Centodieci fuses exceptional design and flawless technology to create a limited-edition hypercar of dreams. This beast of a vehicle is a stand-out drive for multiple reasons. It pays homage to the Bugatti EB110, as its name suggests, but takes to the stage as the EB110's cooler, sleeker, and somehow even more confident younger sibling.
Where to start with this supercar's most impressive features? Once again, its release made it the brand's latest and most powerful vehicle, boasting 1,600 horsepower and offering unparalleled speed and performance. It's a modern version of the EB110 with a new range of deep-seated front spoiler, three-section air intakes, and a low-dropping front. It can accelerate from 0-60 mph (0-100 km/h) in 2.4 seconds with a top speed of 236 mph (380 km/h). For higher speeds, it'll take 6.1 seconds to reach speeds of 124 mph (200km/h) and 13.1 seconds to hit 186 mph (300km/h). This final figure is a 0.5-second improvement over the Chiron.
In true Bugatti spirit, the Centodieci was offered in extremely limited numbers – only 10 cars were produced and sold almost instantly. The nature of such a small number means the brand can produce almost one-of-a-kind supercars for each Centodieci's new owner, which are meticulously customized.
| | |
| --- | --- |
| Starting price: | $8.6 Million |
| Top speed: | 236 mph (380 km/h |
| Acceleration: | 0-60 mph (0-100 km/h) in 2.4 seconds |
6. Bugatti La Voiture Noire: $12 Million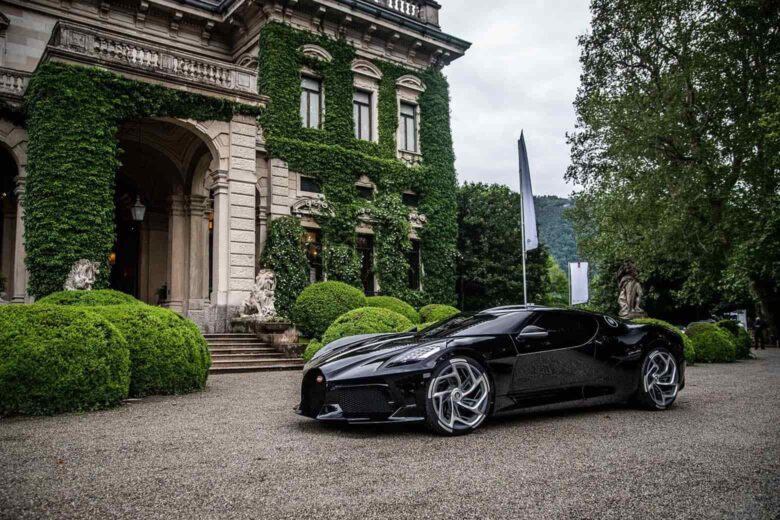 According to Bugatti, La Voiture Noire is the most expensive new car ever sold, and only one will be made. French for "the black car", it's a one-off hypercar that combines speed, technology, luxury, and aesthetics into something so impressive words don't really do it justice. For car lovers, La Voiture Noire is nothing short of automotive haute couture. Its handcrafted carbon fiber body is sleek and timeless, with an elegance surpassing anything else in its region.
La Voiture Noire pays homage to the art deco design of the Type 57SC Atlantic, one of the most coveted classic cars in the world, while using the Chiron as its basis and turbocharging every component of both. It's an extraordinary-looking machine that packs 1,500 horsepower and acts as a manifesto of the Bugatti aesthetic.
Its sculptural qualities are complemented by a quad-turbo W-16 engine with a top speed of 261 mph (420 km/h) and the ability to race from 0-100 km/h in 2.5 seconds. It's fair to say that La Voiture Noire is more a piece of artwork than a traditional car. Bugatti claims it only approached one customer with the sketches and idea for the car, which was then purchased on the spot.
| | |
| --- | --- |
| Starting price: | $12 Million |
| Top speed: | 261 mph (420 km/h) |
| Acceleration: | 0-60 mph (0-100 km/h) in 2.5 seconds |
Website: bugatti.com
Why are Bugatti cars so expensive?
A Bugatti is undoubtedly one of the finest vehicles in the world, with exquisite looks, state-of-the-art technology, and almost unbeatable statistics. The brand's cars might cost, at the bare minimum, more than a million dollars apiece, but a large chunk of that price tag is spent on its premium quality components.
The engine of any car usually comes at a relatively high cost, but a Bugatti's engine is something else. Four turbochargers power a W16 engine in the Bugatti Veyron, each rumored to cost $6,400. The labor to fit the turbochargers costs around $9000, while the pair of air coolers connected to the chargers cost $9000 each, with a labor cost of $2000 per cooler. In total, combined with the other elements, it costs in the region of $42,000 to replace the fuel tank alone.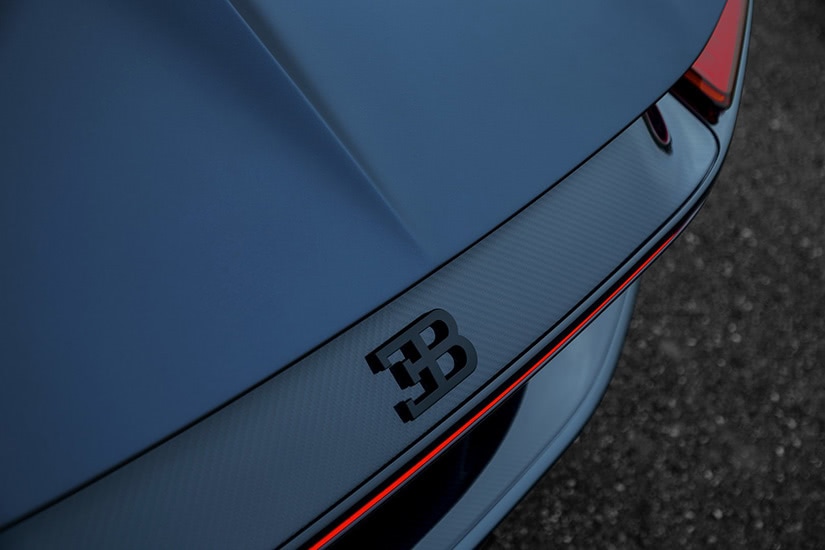 The premium quality – and matching price tag – are also recognizable in the car's other features. A Bugatti costs over $50,000 a year in maintenance costs, with a new set of tires costing around $38,000 and $50,000 for the wheels. Bugatti recommends changing the fluids yearly for optimum performance, costing $25,000 each time.
When you add all of the figures up, combined with the costs of the carbon fiber body and top-of-the-range features, it's easy to see how the price mounts up for a Bugatti.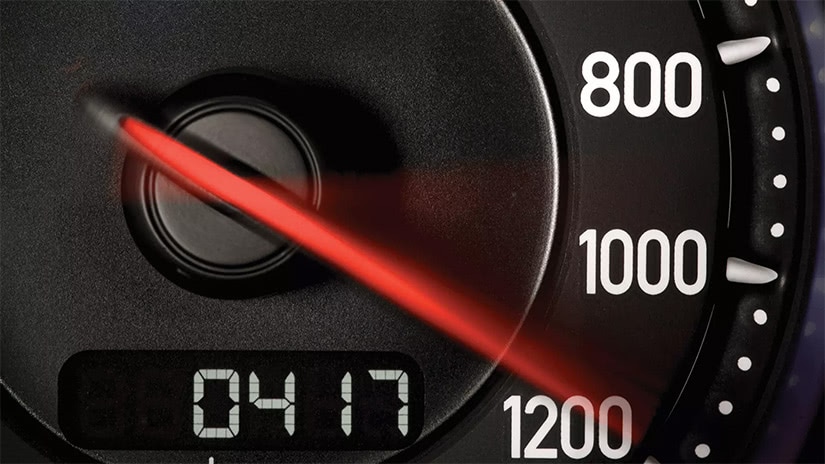 But its extravagant price positions the Bugatti as an absolutely incredible vehicle, with its record-breaking speeds and stylish interiors. The care and craftsmanship of each vehicle are incomparable to others on the market, even down to the leather used inside each supercar. Bugatti gets its leather from cows that are specifically raised at altitudes high enough to prevent insects like mosquitoes from tarnishing their hides – that's the level of attention to detail the brand requires.
Where Bugatti comes from
Bugatti was founded in 1909 in the city of Molsheim, Alsace, by Italian industrial designer Ettore Bugatti. The brand was known for its stylish and technical cars and its many race victories. The original brand existed until 1963 before it fell into financial difficulties. In 1987 the brand was revived and released a range of exclusive sports cars, including the EB110, which positioned Bugatti at the forefront of the supercar industry once again.
In 1998, the Volkswagen Group bought the rights to the Bugatti brand and relaunched it, once again based back in its original home of Molsheim. Since 1998, it's gone from strength to strength, maintaining its status as a hyper-luxury brand with a striking series of supercars. It released a range of concept cars between 1998 and 2000 before showing the world its first production model, the Veyron 16.4, which was sold to its first customer in 2005. With its combined German, French, Italian, and Spanish roots, it's clear that Bugatti is, as brand strategist Susanna Nicoletti says, "a global brand, not a French one."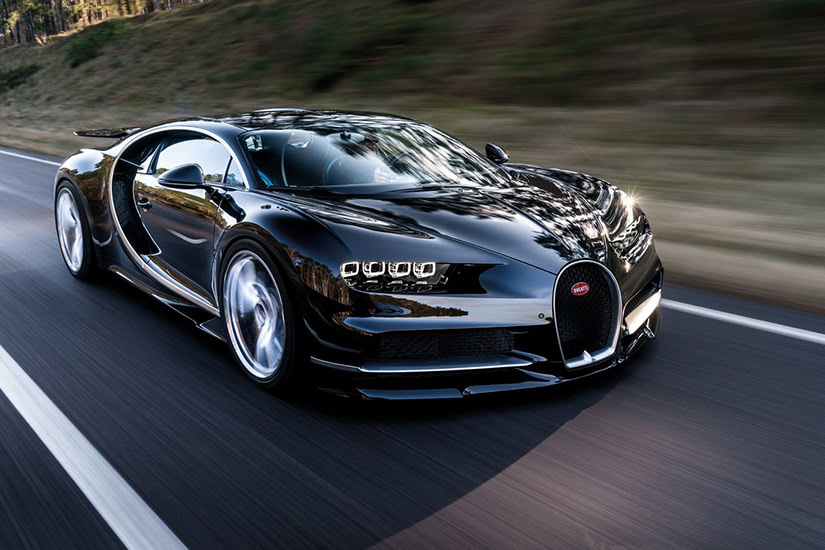 Bugatti price list: Frequently asked questions
How much does a new Bugatti cost?
A new Bugatti costs from $1.7 million for the cheapest model, a Bugatti Veyron, to upwards of $18.7 million for a Bugatti La Voiture Noire, the current most expensive model on the market.
How much does a second-hand Bugatti cost?
A second-hand Bugatti Veyron 16.4 costs, at a minimum, just over $1.1 million. Any modern Bugatti will cost over a million dollars, while a vintage model will set you back around $900,000. A used Bugatti Chiron costs upwards of $3 million, and a second-hand Bugatti Divo has a starting price of around $8 million.
How much is the cheapest Bugatti?
The cheapest modern Bugatti is the Bugatti Veyron. As of 2023, it's hard to find a Veyron for less than $1.5 million, with certain models fetching even higher prices.
Why is Bugatti so expensive?
A Bugatti is so expensive because of the superior technology, unique mechanical elements, and premium and luxury components that make up each vehicle. These supercars are some of the most impressive ever produced and come with the price tag to match.
How fast does a 2023 Bugatti go?
A 2023 Bugatti Chiron Super Sport 300+ has a top speed of 263 mph (420 km/h). Without a commercial limiter, the car can hit speeds of 300 mph (483 km/h). It can accelerate from 0–60 mph (0–100 km/h) in 2.4 seconds, 0–124 mph (0–200 km/h) in 6.5 seconds, and 0–186 mph (0–300 km/h) in 13.6 seconds.