Escape the mundane and put the ordinary in the rearview. Jaguar cars and SUVs deliver thrilling performance paired with timeless style. The perfect intersection of adventure and elegance.
Captivating curves have adorned the Jaguar models from day one. Since then, performance continued upward through advanced technology and grandeur. As electric Jaguars begin to hit the pavement, it's time to lay down the red carpet for the new era to roll in.
At a glance
| | |
| --- | --- |
| | |
| Name: Jaguar | Industry: Automotive |
| Founded: 1935 | Founder: William Lyons |
| Headquarters: United Kingdom | Parent organization: Jaguar Land Rover Automotive PLC |
| Revenue: $22.3 billion USD (£18.3 billion) | Website: jaguar.com |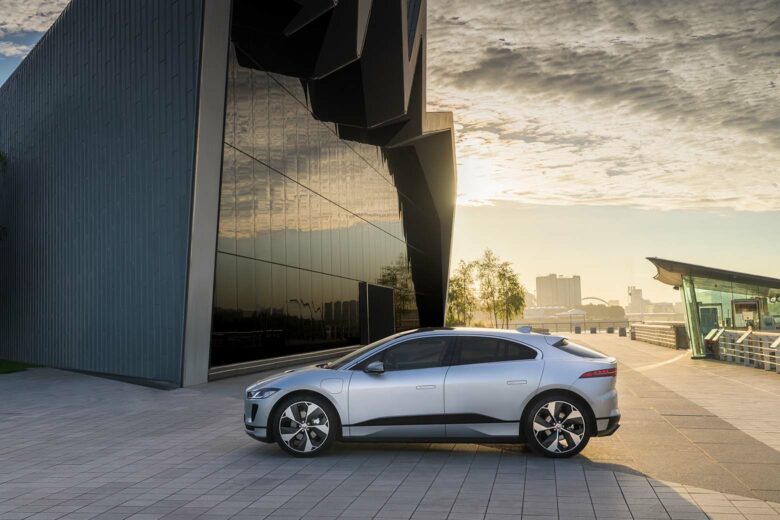 Jaguar price
How much does a Jaguar cost?
Rather than create the most expensive cars with out-of-reach prices for most, Jaguar cars and SUVs provide eye-catching designs with elegant touches at rather moderate prices.
The starting price for a Jaguar car is $47,000, which gets you behind the wheel of a Jaguar XF sedan. A Jaguar SUV  price for the E-Pace crossover starts at $48,000.
Other Jaguar car prices are higher, and most Jaguar models sell in the $50,000 to $85,000 range, including the electric Jaguar I-Pace SUV.
What is the most expensive Jaguar?
If you're ready to unload a bucket of cash, the Jaguar F-Type R75 Coupe is the ticket. This insanely good-looking grand tourer celebrates Jaguar's 75th year of producing luxury sports cars. And it clocks in at $113,000 before options. Add another $2,000 for the convertible.
The I-Pace Jaguar electric SUV is another one of the more expensive models, starting at $71,300 for the innovative EV with nearly 400 horsepower.
Classic Jaguar models can make your head spin. The distinctive Jaguar XJ220 with aggressive lines regularly sells for more than $500,000 USD. Yet it's far from the most expensive Jaguar ever sold.
One specific example of the iconic Jaguar E-Type, one of the best classic cars, sold for an impressive $7.37 million. And even that is dwarfed by the 2016 sale of a Jaguar D-Type for a tremendous $21.7 million.
How much is the cheapest Jaguar?
You can hop into the mid-size SUV Jaguar F-Pace price for a respectable $52,400. The cheapest Jaguar car is the XF sedan, starting at $47,000.
If you want an electric model, the I-Pace is the only current option with a starting price of $71,300. But stay tuned for more EVs from this luxury carmaker. In 2021, Jaguar said it plans to be a fully electric automaker by 2025.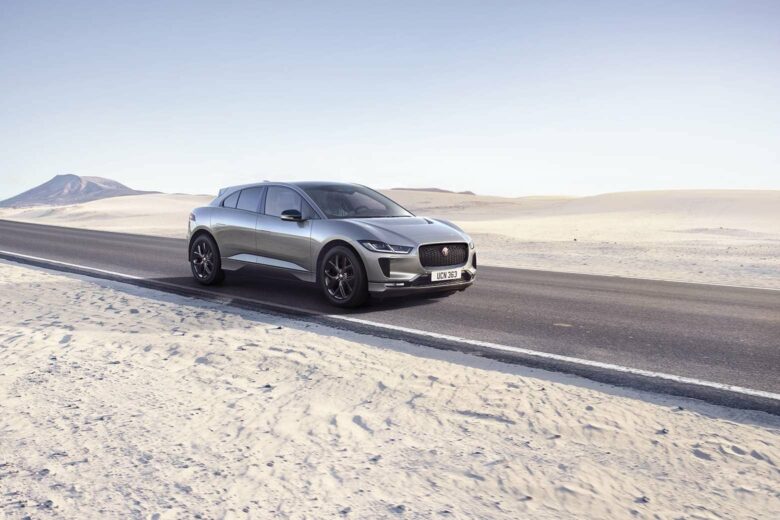 About Jaguar
History of Jaguar
William Lyons joined William Walmsley in 1922 to form Swallow Sidecar Company, producing motorcycle sidecars. The two continued as coachbuilders before Lyons created SS Cars and bought out Walmsley.
In 1935, multiple SS Jaguar models were released, starting the luxury carmaker as we know it today. The open-top two-seaters and four-door saloons featured impeccable styling and quickly built a reputation for elegance and luxury.
The company changed its name to Jaguar Cars Limited in 1945 before releasing the gorgeous Jaguar XK120. Engineer William Heynes stepped in to help improve Jaguar performance, resulting in the famous 3.4L XK inline-6 engine with dual overhead camshafts.
Jaguar now fused its graceful style with high-performance platforms, generating many years of success. The Jaguar Mark 2 from the 1960s and Jaguar XJ6 from the 1970s and 80s are two iconic models.
During this time, Jaguar auto ownership began to experience turmoil. After many years of alignment with British Motor, Jaguar returned independent in 1984. Then, it was scooped up by Ford in 1990.
Ford expanded the lineup and released the Jaguar S-Type and Jaguar X-Type models but failed to generate a profit. Eventually, Ford looked for interested buyers and found India-based Tata Motors, which took over in early 2008.
Tata bought Jaguar and Land Rover units from Ford, creating a newly-formed British subsidiary called Jaguar Land Rover Automotive PLC, which still owns and operates Jaguar today.
Understanding Jaguar's car range
Jaguar has had many shifts in model naming conventions throughout the years, making it challenging to get much information from the model names alone.
The Jaguar SUVs are one exception, as each has Pace in the model name. The smallest Jaguar SUV is the E-Pace, balanced by the largest F-Pace. And the low-slug electric Jaguar SUV is the I-Pace.
The F-Type is a recent two-door grand tourer somewhat similar to the iconic E-Type grand tourer of the 1960s and 1970s. In contrast, the XF full-size sedan and XE compact executive car share the first initials.
Other notable elements to the model names include the addition of R at the end for race-focused high-performance variants. The Jaguar XJ220 was a unique supercar aimed at going 220 mph.
Interesting facts about Jaguar
In 1963, Jaguar began building 18 units of a special edition Jaguar E-Type Lightweight model. However, only 12 of these exclusive models finished production.
Jaguar dug out the designs in 2015 and built the "missing six" as the Special FT Lightweight E-Types, entirely by hand. Everything matched the original construction, down to the 3.8L aluminum block engine.
Established Jaguar collectors had the exclusive option to buy them for an estimated $1.6 million each.
Where is Jaguar made?
Jaguar headquarters remain about two hours north of London in Whitley, Coventry, England, the same area they have been in since William Lyons opened the doors in 1935.
Most Jaguar cars and SUVs are still produced in British facilities, but the company now also operates production plants in Pune, India and Changshu, China for select models.
Jaguar electric cars
As electrification sweeps across the auto industry, Jaguar electric cars have started to hit the roads. The first electric Jaguar was the I-Pace with its 2018 introduction. It is a powerful and elegant crossover SUV.
Jaguar has serious plans to expand its electrified lineup. As the ionic F-Type and its internal combustion engine are pushed out to pasture, Jaguar has released some teasers about its Panthera EV Platform. But details are still scant.
Jaguar models
Let's review the details of the current lineup of Jaguar cars, SUVs, and some of the luxury brand's most iconic models.
Jaguar I-Pace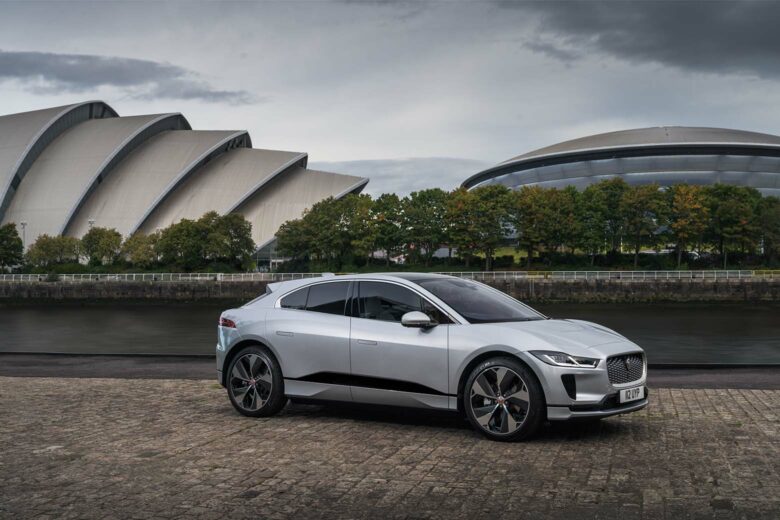 The Jaguar I-Pace is amped up and ready to let the current flow. This luxury crossover SUV has dual electric motors, providing all-wheel drive performance and almost 400 horsepower of instantaneous power.
After hitting the market in 2018 as the first electric Jaguar, the I-Pace is growing into maturity and getting closer to our best luxury SUV list. The charging speed is up, the lower-end trims are out, and the fully loaded interior is sophisticated and spacious.
The Jaguar I-Pace price sits just over $71,000, making it a bit more expensive than rivals like the Volvo C40 Recharge and Audi Q4 e-tron.
| | |
| --- | --- |
| Price: | Starting at $71,300 |
| Release year: | 2018 |
| Engine: | Dual electric motors |
| Top speed: | 124 mph – 200 km/h |
| 0-60 mph: | 4.5 sec |
| Power: | 394 hp |
| Torque: | 512 lb-ft |
| Range: | 246 miles – 396 km |
Jaguar F-Pace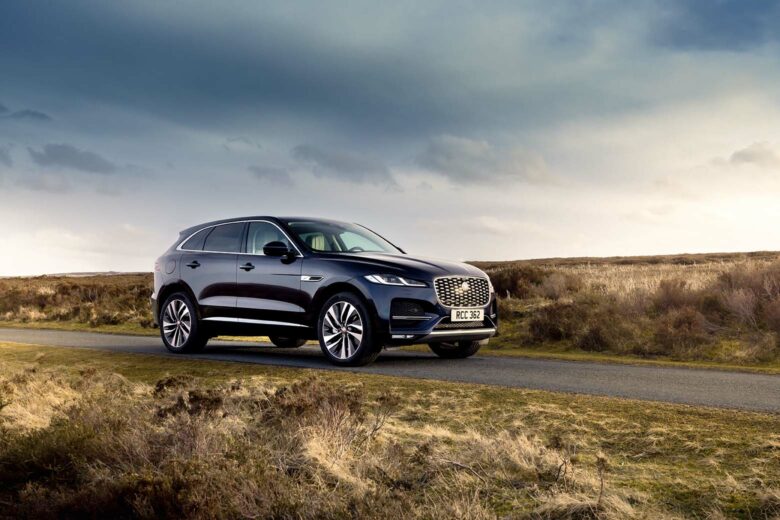 Bulky, heavy, and uninspiring might describe some SUVs, but not this one. Even on the lower and mid-range trim levels, the Jaguar F-Pace provides a thrilling driving experience despite featuring the best-in-class cargo space.
The high-end Jaguar F-Pace SVR has a supercharged V-8 to send chills down your spine, getting up to 60 mph in an impressive 3.8 seconds, faster than most Range Rovers.
Throw in the latest technology, such as adaptive cruise control, an 11-speaker Meridian audio system, and a WiFi hotspot, and the price of the F-Pace Jaguar will catch your eye.
| | |
| --- | --- |
| Price: | Starting at $52,400 |
| Release year: | 2016 |
| Engine: | 2.0L turbocharged inline-4 with optional hybrid, 3.0L supercharged & turbocharged inline-6, 5.0L supercharged V-8 |
| Top speed: | 178 mph – 286 km/h |
| 0-60 mph: | 3.8 to 6.9 sec |
| Power: | 542 to 247 hp |
| Torque: | 516 to 279 lb-ft |
Jaguar E-Pace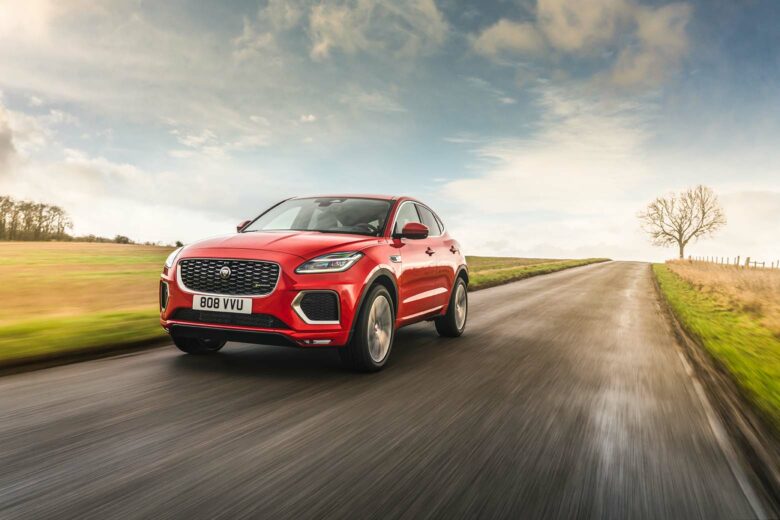 Rounding out the list of Jaguar SUVs is the E-Pace, the free-spirited smaller sibling that's still plenty spacious and full of style. It holds its own, strutting down a runway next to competitors like the Cadillac XT4 and Lexus NX.
With only one trim level and engine choice, the Jaguar E-Pace price is low no matter what options you add. And every model that rolls off the line is undeniably luxurious and packed with high-tech features.
The configurable dynamics system lets you customize the acceleration, steering, and suspension. And an interior cabin air purifier ensures any road dust doesn't enter your lungs.
| | |
| --- | --- |
| Price: | Starting at $48,000 |
| Release year: | 2017 |
| Engine: | 2.0L turbocharged inline-4 |
| Top speed: | 142 mph – 229 km/h |
| 0-60 mph: | 7.0 sec |
| Power: | 246 hp |
| Torque: | 269 lb-ft |
Jaguar F-Type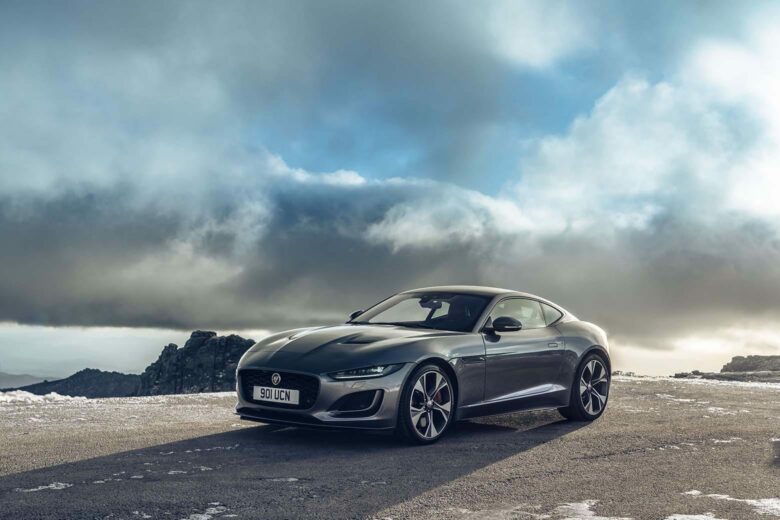 When everything comes together brilliantly, automotive design brings a tear to your eye. The Jaguar F-Type coupe and Jaguar convertible grand tourer certainly have what it takes to grab attention, but let the weeping officially begin.
The Jaguar F-Type 75th anniversary edition is said to be the final production run, making way for electric Jaguars to conquer the roads alongside other juiced-up models from Porsche and Ferrari.
As the end of this brilliantly styled car approaches, you can still celebrate its impeccable shape and thrilling performance. The Jaguar F-Type R 75 cranks out 575 ponies and all-wheel drive with an active differential.
| | |
| --- | --- |
| Price: | Starting at $77,900 |
| Release year: | 2014 |
| Engine: | 5.0L supercharged V-8 |
| Top speed: | 186 mph – 300 km/h |
| 0-60 mph: | 3.5 sec |
| Power: | 575 to 444 hp |
| Torque: | 516 to 428 lb-ft |
Jaguar XF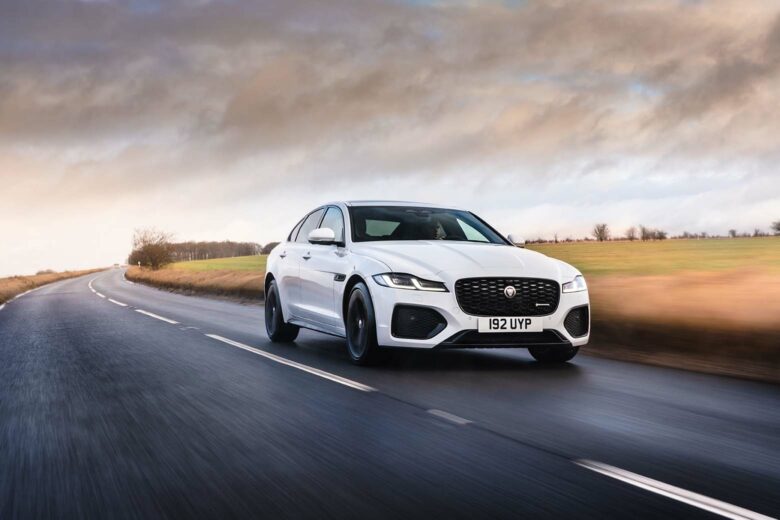 With cat-like reflexes and a purring engine, the Jaguar XFR and its stellar handling is part of a rare breed. Jaguar SUVs dominate the lineup, making this the sole four-door Jaguar sedan available in the US.
The Jaguar XF Sportbrake wagon variant holds a special place in the hearts of some, but every Jaguar XF for sale features an elegant interior. Controls are at your fingertips through the 11.4-inch touchscreen, while 12-way adjustable seats bend to every curve.
Up against the Mercedes-Benz E-Class and a growing list of EVs from newcomers like Polestar, the XF could use a leap forward soon. Perhaps Jaguar is preparing to pounce onto our list of the best electric cars.
| | |
| --- | --- |
| Price: | Starting at $47,000 |
| Release year: | 2008 |
| Engine: | 2.0L turbocharged inline-4 |
| Top speed: | 155 mph – 250 km/h |
| 0-60 mph: | 5.8 to 6.5 sec |
| Power: | 296 to 246 hp |
| Torque: | 295 to 269 lb-ft |
Jaguar XE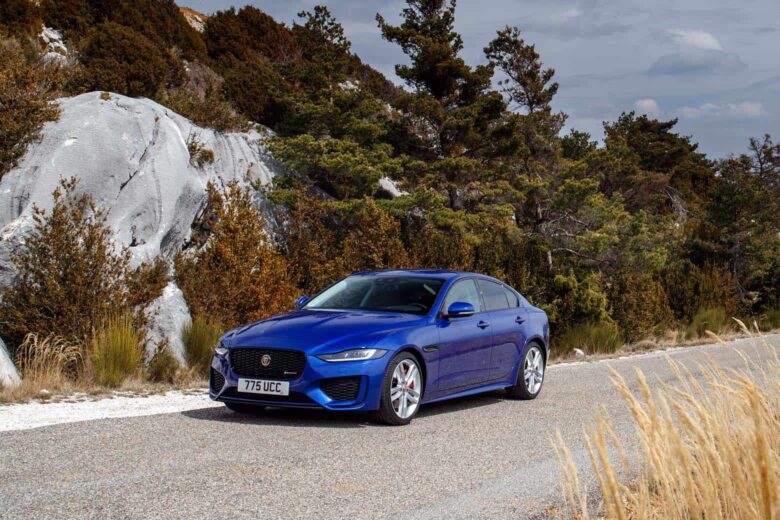 Even though it's no longer at Jaguar dealerships in the United States, you can find the Jaguar XE for sale on showroom floors in other parts of the globe. And plenty of XEs are roaming the streets in the US alongside rivals like the BMW 3 Series.
This compact executive sedan packs a lot of punch on a nimble platform. The current top-of-the-line Jaguar XE R hits nearly 300 horsepower, but the exclusive 300 units of the XE SV Project 8 squished in a nearly 600-horsepower supercharged V-8 under the hood.
Configurable ambient lighting and memory foam seats bring in a sense of calm, while stepping on the accelerator changes the mood dramatically. Someday soon, we expect the XE to be replaced with an electric variant to go up against Tesla models.
| | |
| --- | --- |
| Price: | Starting at ~$56,000 |
| Release year: | 2015 |
| Engine: | 2.0L turbocharged inline-4 |
| Top speed: | 155 mph – 250 km/h |
| 0-60 mph: | 5.6 to 7.0 sec |
| Power: | 296 to 201 hp |
| Torque: | 317 to 295 lb-ft |
Jaguar E-Type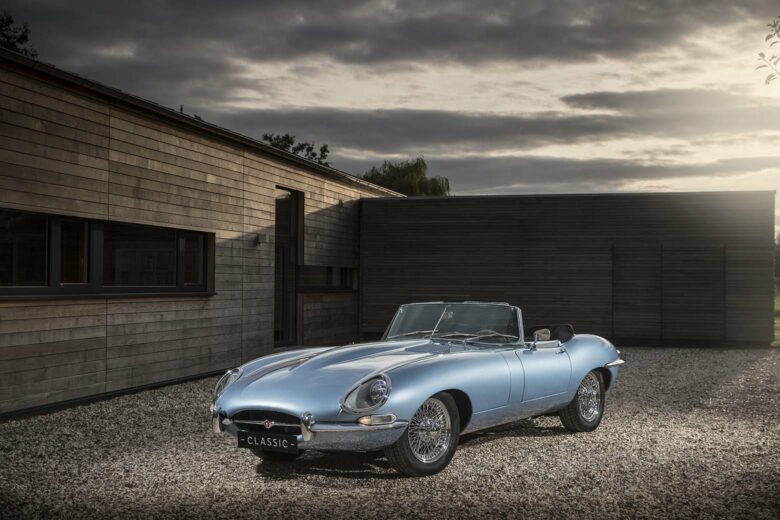 Self-proclaimed titles don't hold much value. But the words of a well-respected rival should, such as when Enzo Ferrari called the E-Type the most beautiful car in the world. The elongated front end mimics a stretching cat, yet nothing is sleepy about these incredible Jaguar classic models.
The coveted 12 units of the 1964 Jaguar E-Type Lightweight hold the peak performance, with 300 horsepower instead of the ordinary 264. Bob Jane drove chassis number S850667 to win the 1963 Australian GT Championship title, and it sold for an eye-watering $7.37 million in 2017.
Yet the most expensive Jaguar ever sold is the Jaguar D-Type that took the checkered flag at the 1956 24 Hours of Le Mans. It sold in 2016 for a whopping $21.7 million.
This incredible auction sale makes even ski-high Bugatti price tags pale in comparison. Maybe someday, the E-Type or D-Type will inspire a more affordable luxury car for kids.
| | |
| --- | --- |
| Price: | ~$90,000 to $350,000 (current est. value) |
| Release year: | 1961 |
| Engine: | 3.8L or 4.2L inline-6 |
| Top speed: | 153 mph – 246 km/h |
| 0-60 mph: | ~7 sec |
| Power: | 300 to 265 hp |
| Torque: | 314 to 283 lb-ft |
Jaguar XJ220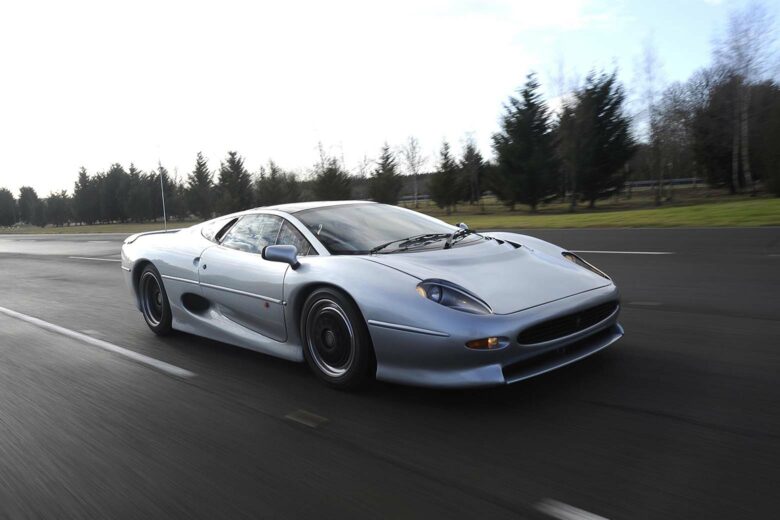 Once holding the title of the world's fastest production car, the Jaguar XJ220 cannot be overlooked. This aggressive sports car looks more like a Lamborghini than any Jaguar, as did the Jaguar V-12 engine in the concept version.
Part of the reason for this departure is the unofficial development process. A group of designers and engineers formed "The Saturday Club" to create the monster in their spare time. You must admire the drive of passionate gearheads.
The production version was tamed down to a twin-turbo V-6. But the Jaguar XJ220 could still fly and keep up with today's best electric motorcycles. Its top speed was targeted at 220 mph, but test trials stopped short at 212 mph instead, still taking the world's title.
With only 282 units produced, the Jaguar XJ220 prices are continually rising. Many examples hit over $500,000 in today's market, with one going for over $1 million in late 2022.
| | |
| --- | --- |
| Price: | ~$550,000 and up (current est. value) |
| Release year: | 1992 |
| Engine: | 3.5L twin-turbo V-6 |
| Top speed: | 217 mph – 350 km/h |
| 0-60 mph: | 3.6 sec |
| Power: | 542 hp |
| Torque: | 475 lb-ft |
Jaguar XK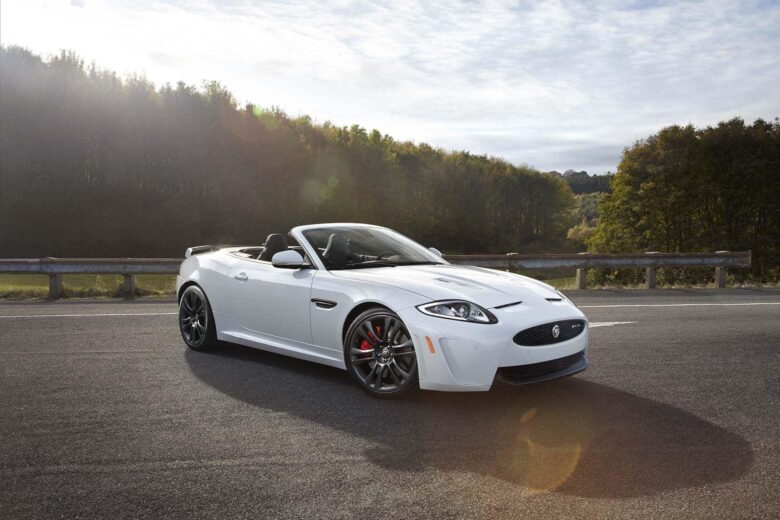 Before the F-Type took the reins, the Jaguar XK was the luxury brand's iconic 2+2 grand tourer with beautiful lines and a driving experience that was sure to put a smile on your face.
The Jaguar XKR-S was the fastest model produced, with a supercharged 5.0L V-8 hitting ready-to-burn tires and slice through turns. The incredible power, paired with a timeless style and refined interior, makes it one of the most beloved Jaguars of all time.
The XK's design might make you think of the Aston Martin DB7, which makes sense because they share the same platform and many components, a unique collaboration.
| | |
| --- | --- |
| Price: | Starting at ~$85,000 (original MSRP) |
| Release year: | 1997 |
| Engine: | 4.0L to 5.0L V-8 with optional supercharger |
| Top speed: | 186 mph – 300 km/h |
| 0-60 mph: | 4.2 to 5.9 sec |
| Power: | 550 to 385 hp |
| Torque: | 502 to 290 lb-ft |
Jaguar customer service number
To speak with a knowledgeable staff member, call Jaguar customer service at 1-800-452-4827. You can also send a message through the Contact Us page.
Jaguar social media profiles
Stay current on the latest information and exciting events by following the official Jaguar social media profiles:
Frequently asked questions about Jaguar
Is Jaguar a luxury car brand?
Yes, Jaguar is a luxury car brand. It even features on our yearly ranking of the most popular luxury car brands online. Jaguar cars and SUVs include elegant interiors, stylish designs, and advanced technology to provide a luxurious experience.
How much is the cheapest Jaguar?
The cheapest Jaguar car starts at $47,000 for the Jaguar XF sedan, while the Jaguar E-Pace crossover SUV is also fairly reasonable at $48,000. Both vehicles offer excellent values, well-equipped, luxurious amenities, and lively driving experiences. Check all the Jaguar models and their prices here.
How much do new Jaguars cost?
New Jaguars cost anywhere from $47,000 to $115,000 before options. The stylish Jaguar F-Type hits the upper end for the R75 convertible. And the Jaguar XF sedan and E-Pace Jaguar prices are more affordable models, starting under $50,000.
Are Jaguar cars reliable?
Jaguar cars' reliability has come into question. Historical records show average reliability as the brand produces advanced sports cars with high-performance components. More recently, the reliability of Jaguar cars and SUVs has improved.