The Cadillac name is synonymous with success, combining power and elegance in the embodiment of American craftsmanship. Sleek lines pair with a smooth ride to deliver you away from mediocrity and into luxury.
With a full selection of cars and SUVs for every taste, plus thrilling electric vehicles in the works, Cadillac cars continue building the brand's extensive road of automotive excellence.
At a glance
| | |
| --- | --- |
| | |
| Name: Cadillac | Industry: Automotive |
| Founded: 1902 | Founder: Henry Leland |
| Headquarters: United States | Parent organization: General Motors |
| Revenue: $13.3 billion USD (est.) | Website: cadillac.com |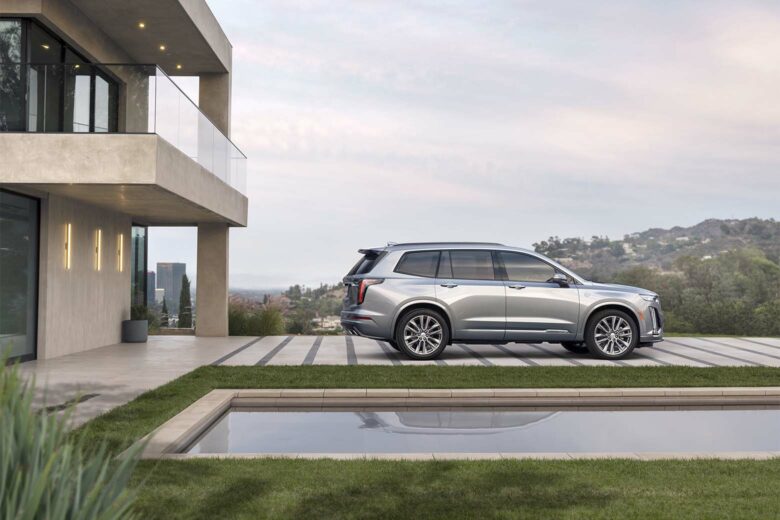 Cadillac price
How much does a Cadillac cost?
Cadillac has adorned the world with its luxury cars for over a century, yet today's Cadillac car prices are relatively reasonable. The entry-level model is the Cadillac CT4 sedan, with a starting Cadillac price of $33,695. And the larger CT5 sedan starts at $38,195.
Cadillac SUV prices also come in lower than you might expect. The Cadillac XT4 compact luxury SUV comes in at $36,295, and the midrange Cadillac XT5 starts at $44,195.
Many well-equipped Cadillac models sell for significantly higher, usually in the $50,000 to $75,000 range, with select models breaking six figures.
What is the most expensive Cadillac?
If you're willing to shell out some dough, the most expensive Cadillac can fill your every wish. The new, powerful Cadillac Escalade V has a starting price of around $150,000, the highest price for a new Cadillac for sale today.
Another relatively expensive model is the first-ever electric Cadillac. The Lyriq price starts at $62,990 but can shoot higher after adding on all the bells and whistles.
To custom order one of the most innovative and beautiful Cadillacs ever offered, check out the fully electric Cadillac Celestiq. It is a bespoke model hand-crafted to your specifications and has the price to back it up, starting at an estimated $300,000.
The Celestiq isn't the most expensive car in the world, but it's sure to be a standout wherever it goes once deliveries start in 2024.
How much is the cheapest Cadillac?
The most affordable Cadillac car is the CT4 executive sedan. It has plenty of clean lines, a beautifully crafted interior, and a superb driving experience despite its low price of $33,695 before options.
The lowest Cadillac SUV price is $36,295 for the XT4, a compact crossover SUV that still deserves every bit of the Cadillac logo.
To buy a Cadillac electric car, increase your budget to $62,990. That gets you behind the wheel of the refined and stunning Cadillac Lyriq SUV.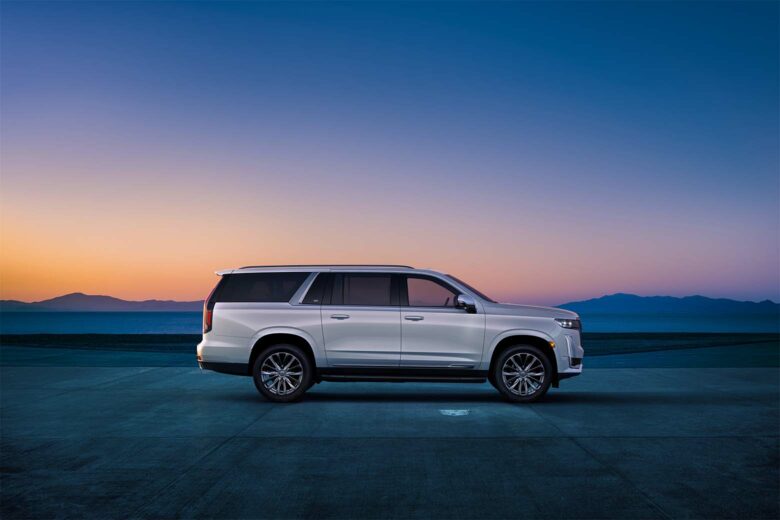 About Cadillac
History of Cadillac
By many standards, the United States is the birthplace of the mass-produced automobile. And over a century ago, Cadillac got in on the ground floor. Henry Leland founded the company in 1902, and just one year later, the 1903 Cadillac Runabout hit the streets with about the same power as today's cars for kids.
Shortly down the road, the innovative automaker unveiled its use of interchangeable parts. By using identical components across multiple models, Cadillac improved reliability and economy. This idea was revolutionary for the auto industry and all mass production.
Cadillac continued forward through the roaring 1920s by intently focusing on luxurious vehicles, and after World War II, the luxury brand hit its stride.
The 1950 Cadillac Series 62's long, swooping lines have stood the test of time, along with the 1959 Cadillac Eldorado Brougham, designed by the famed Italian coachbuilder Pininfarina. The Cadillac Coupe DeVille was one of the longest-lasting model names, seen in countless films and shows.
Through the decades, Cadillac cars pushed the edge of personal luxury vehicles, setting the global standard for opulence and success. The brand lived up to the self-proclaimed title of the "Standard of the World."
While some enthusiasts noticed a recent decline in Cadillac's ability to impress, the luxury carmaker has set its sights on bringing back full glory.
The electric Cadillac Celestiq's hand-crafted, bespoke production ensures that the brand name will be synonymous with greatness once again. And your dreams will be awakened by Cadillac's current concept cars, including a futuristic living room on wheels and a single-seat flying throne.
Understanding Cadillac's car range
Cadillac cars and SUV names are easy to follow. Most cars use the CT designation for Cadillac Touring, while the SUVs use XT for Crossover Touring. A number follows these two-letter model names, with a higher number indicating a larger model.
Select models use distinct single-word names, such as the iconic Cadillac Escalade, the new electric Cadillac Lyriq, and the upcoming Cadillac Celestiq.
Any model ending with a V indicates it is a higher-performance variant, such as the CT5-V. More recently, Cadillac has introduced V Blackwing models that take performance up to another tire-shredding level.
Surprising facts about Cadillac
Cadillac has been a General Motors luxury subsidiary since 1909, yet the brand began in the factory once owned by now bitter rival Ford.
After a dispute with investors, Henry Ford walked away from the facility. Henry Leland was supposed to appraise the equipment for liquidation. Instead, Leland convinced the investors to let him reopen the factory for Cadillac vehicle production. The rest is history.
Where is Cadillac made?
The Cadillac Motor Car Division remains in its home city of Detroit, Michigan. Cadillac still assembles most models in the United States at facilities in Michigan, Kansas, Texas, and Tennessee. Select models are built in Canada and China.
Cadillac electric cars
Spark plugs are out, and batteries are in. The first-ever Cadillac electric vehicle is the Lyriq SUV, a stylish and modern car with pre-order reservations instantly sold out.
The Lyriq is now roaming the roads as the single-motor rear-wheel drive variant. The dual-motor, all-wheel drive Lyriq variant is just around the corner and will soon be at your local Cadillac dealership.
But the excitement from Cadillac surrounds its futuristic Celestiq, with a jaw-dropping starting price of $300,000. This hand-crafted work of art fuses an avant-garde Cadillac EV with a wholly bespoke production process customized to the future owner's every whim.
Cadillac models
Let's discover the details of the full lineup of current Cadillac SUVs and cars, plus some of the most iconic discontinued models.
Cadillac Escalade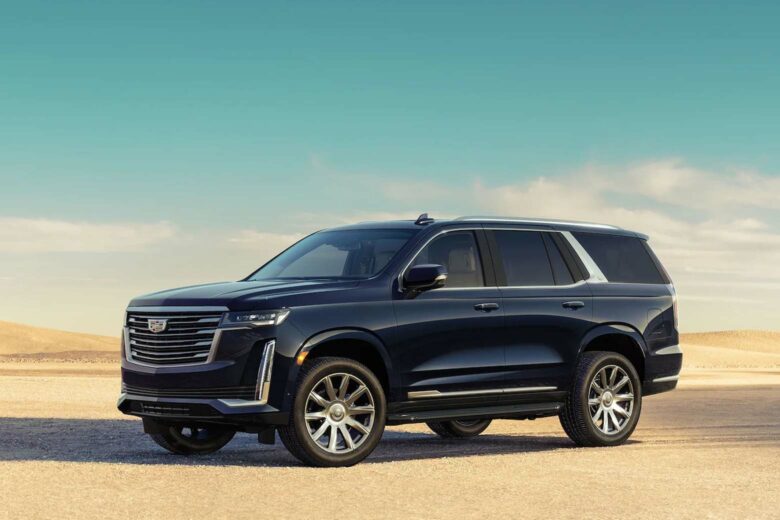 With its commanding presence, the Cadillac Escalade has served as a mainstay in American opulence for over two decades, and it's one of the best luxury SUVs. Its bold styling combines with a spacious and luxurious interior to power down any road with confidence.
As expected, a V-8 engine sits under the hood, cranking out 420 horsepower in the most common variants of the Escalade and the extended Escalade ESV models. Every model features premium materials, advanced driver-assistance features, and all-encompassing luxury, giving the Range Rover a run for the money.
But Caddilac has cranked up the power, now offering the Cadillac Escalade V with a supercharged 6.2L V-8 pumping out an impressive 682 horsepower. A more fuel-efficient diesel engine fills out the lineup, which can easily haul around any electric motorcycle.
| | |
| --- | --- |
| Price: | Starting at $79,995 |
| Release year: | 1999 |
| Engine: | 6.2L gasoline V-8 with optional supercharger, 3.0L turbo-diesel inline-6 |
| Top speed: | 125 mph – 201 km/h |
| 0-60 mph: | 4.3 to 5.9 sec |
| Power: | 682 to 277 hp |
| Torque: | 653 to 460 lb-ft |
Cadillac Lyriq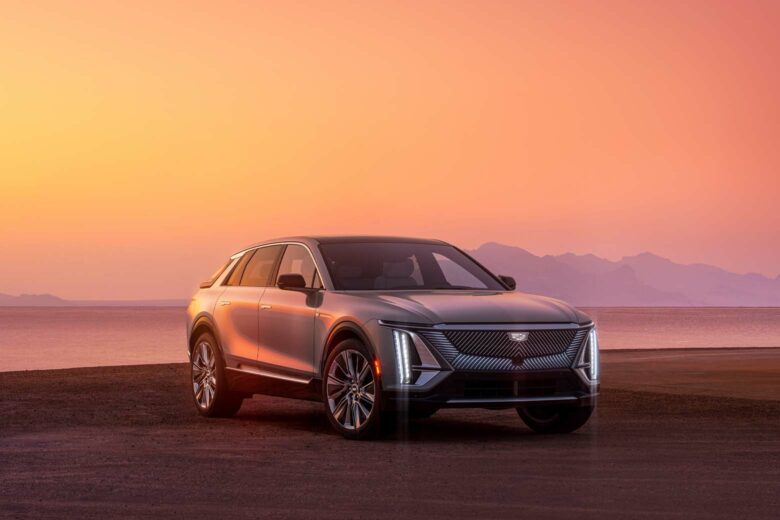 Internal combustion is losing steam, and the first electric Cadillac paves the way forward. The mid-size crossover SUV Cadillac Lyriq uses one or two electric motors to provide up to 500 horsepower to drive onto our list of the best luxury electric cars.
Rather than match the track-worth performance of rivals like the Audi Q8 e-tron, the base model focuses on the usual soft Cadillac ride and interior comfort.
Noise-cancellation technology and the lack of a roaring engine provide a serene experience. Four driving modes provide the perfect power and suspension settings for any condition.
It's up against much competition, including from new EV producers like Polestar, but the Lyriq holds its own.
| | |
| --- | --- |
| Price: | Starting at $62,990 |
| Release year: | 2023 |
| Engine: | One to two permanent magnet electric motors |
| Top speed: | 118 mph – 190 km/h |
| 0-60 mph: | 5.7 sec |
| Power: | 500 to 340 hp |
| Torque: | 450 to 325 lb-ft |
| Range: | 312 miles – 502 km |
Cadillac XT6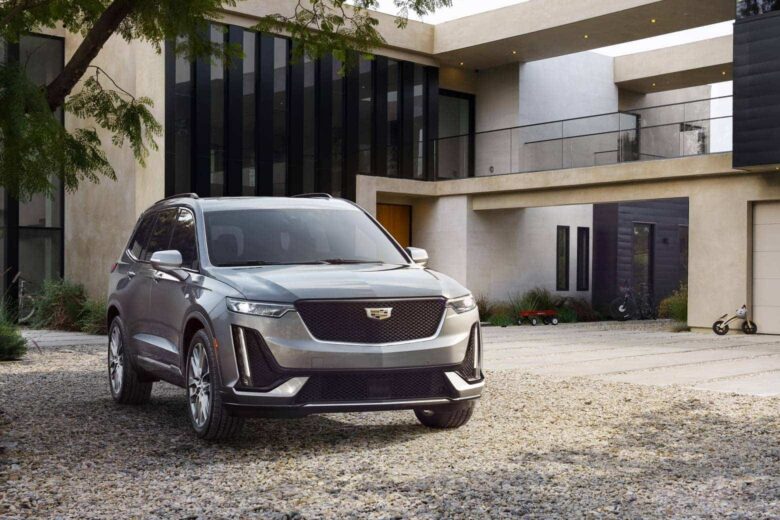 If the boulevard-bruising Escalade doesn't fit your needs, yet three rows are necessary, turn to the XT6. This crossover SUV has seats for up to eight people and responsive handling for your daily needs.
The interior is clean, offering the expected touchscreen infotainment system with Apple CarPlay and Android Auto integration through the Cadillac User Experience software. An available rear-seat DVD system can provide endless entertainment.
Overall, the Cadillac XT6 is a well-rounded crossover. It lives up to your expectations without stepping too far over the line of luxury. It's a modest representation from one of the best American car brands.
| | |
| --- | --- |
| Price: | Starting at $48,595 |
| Release year: | 2020 |
| Engine: | 2.0L turbocharged inline-4, 3.7L V-6 |
| Top speed: | 132 mph – 212 km/h |
| 0-60 mph: | 6.4 sec |
| Power: | 310 to 237 hp |
| Torque: | 271 to 258 lb-ft |
Cadillac XT5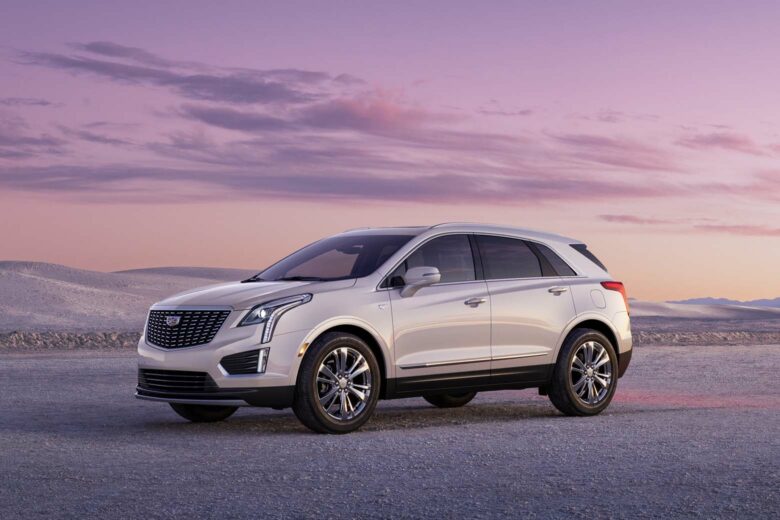 Filled with stiff competition like the Porsche Maycan and Volvo XC60, it's not easy to stand out in the world of compact luxury crossover SUVs. The Cadillac XT5 does a solid job at delivering value despite others offering a more exciting driving experience.
The XT5 stands out with a sizable rear cargo area and a whisper-quiet cabin. The overall interior looks graceful, with select wood and metal trim accents breaking up the black elements.
The list of available add-ons is extensive and includes Cadillac's adaptive cruise control, night vision, and heads-up display driver assistance features.
| | |
| --- | --- |
| Price: | Starting at $44,195 |
| Release year: | 2017 |
| Engine: | 2.0L turbocharged inline-4, 3.6L V-6 |
| Top speed: | 130 mph – 209 km/h |
| 0-60 mph: | 7.6 sec |
| Power: | 310 to 235 hp |
| Torque: | 271 to 258 lb-ft |
Cadillac XT4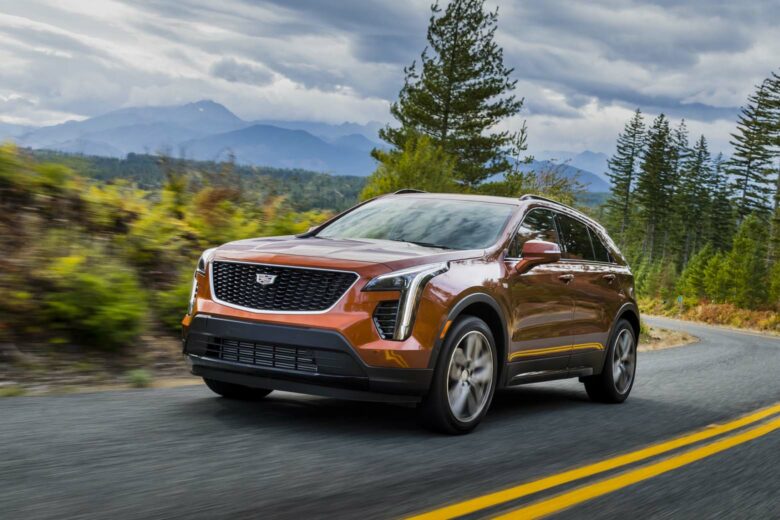 With up to 30 mpg highway and a best-in-class 39.5-inch rear legroom, the Cadillac XT4 has what many small luxury SUV owners want. The chic exterior shape is classy without distracting, and the interior envelops every passenger in the expected Cadillac charm.
Every XT4 features a fuel-efficient yet robust 2.0L turbo engine. A power rear liftgate opens effortlessly to store all your belongings inside the spacious 48.9 cu ft cargo area.
The XT4's price is hard to beat and stacks up well against other segment rivals like the BMW X1.
| | |
| --- | --- |
| Price: | Starting at $36,295 |
| Release year: | 2019 |
| Engine: | 2.0L turbocharged inline-4 |
| Top speed: | 132 mph – 212 km/h |
| 0-60 mph: | 7.8 sec |
| Power: | 237 hp |
| Torque: | 258 lb-ft |
Cadillac Celestiq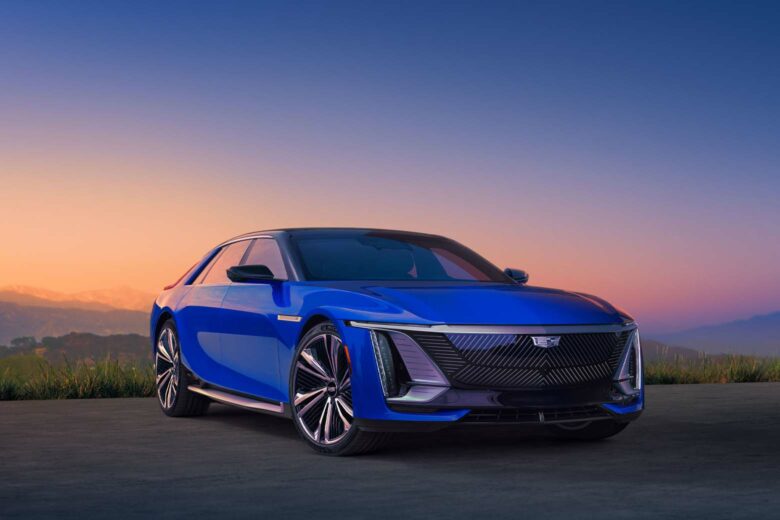 Big things are coming down the pipeline from one of America's most revered luxury brands. The Cadillac name will soon enter a new dimension as it unveils this ultra-luxurious model, fusing avant-garde EV technology with a fully customized platform.
The Cadillac Celestiq is an individually ordered model offering bespoke production that's certain to appease people who can afford the very best and expect to get it. A team of artisans will hand-build each unit in GM's Technical Center, where concept cars have come to life since 1956.
While the exact specifications are subject to the whim of the future owner, each Cadillac Celestiq electric vehicle will produce substantial power, smooth rides, and unmatched extravagance. Hands-free cruise control, a smart glass roof, and a four-zone microclimate system help provide a world-class experience.
The price tag means it's only available to a select few, yet it still pales compared to the Bugatti price list.
| | |
| --- | --- |
| Price: | Starting at $300,000 (est.) |
| Release year: | 2024 (est.) |
| Engine: | Two electric motors |
| Top speed: | Unknown |
| 0-60 mph: | 3.8 sec (est.) |
| Power: | 600 hp (est.) |
| Torque: | 640 lb-ft (est.) |
| Range: | ~300 miles – 483 km (est.) |
Cadillac CT5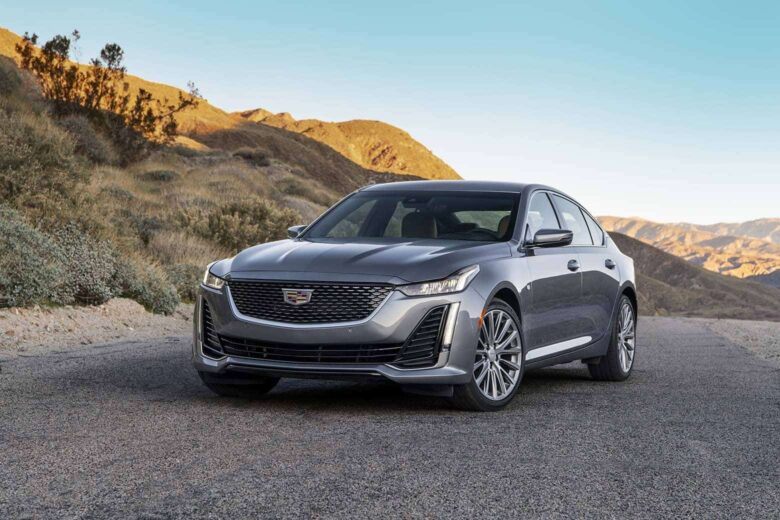 The CT5 offers bold styling with sharp, clean lines and just the right amount of attitude. The spirit hidden inside ranges from a calm daily driver to an adrenaline-infused monster.
The base model comes with a tame 2.0L inline-4 that's fine for cruising around the city but doesn't keep up with competitors like Mercedes-Benz sedans. A mid-range CT5-V steps up nicely to a twin-turbo V-6 with much more juice.
To unleash a road demon that can compete with the Tesla Model S Plaid, the Cadillac CT5-V Blackwing squishes a hand-built, supercharged 6.2L V-8 under the hood. The refined suspension and responsive handling manage to keep it under control, requiring much less skill than most Lamborghinis.
| | |
| --- | --- |
| Price: | Starting at $38,195 |
| Release year: | 2020 |
| Engine: | 2.0L turbocharged inline-4, 3.0L twin-turbo V-6, 6.2L supercharged V-8 |
| Top speed: | 205 mph – 330 km/h |
| 0-60 mph: | 3.6 to 6.6 sec |
| Power: | 668 to 237 hp |
| Torque: | 659 to 258 lb-ft |
Cadillac CT4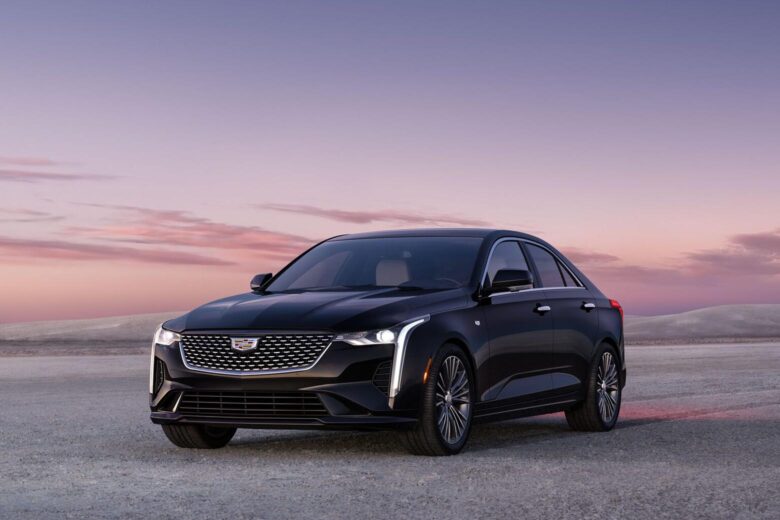 When the CT5 is too much, the little brother CT4 steps in nicely. Like the larger model, this executive Cadillac sedan has looks to impress and drivetrain options to deliver varying power.
The top-of-the-line Cadillac CT4-V Blackwing uses a 472-horsepower 3.6L V-6 to provide serious oomph. Best of all, it features a well-balanced platform that drives like a dream, similar to the experience behind the wheel of a Lexus.
Those who don't need nearly 500 ponies can drop into the mid-range CT4-V for still impressive performance or the base model's 2.0L turbo that gets the job done and saves a good chunk of money while doing so.
| | |
| --- | --- |
| Price: | Starting at $33,695 |
| Release year: | 2020 |
| Engine: | 2.0L turbocharged inline-4, 2.7L turbocharged inline-4, 3.6L twin-turbo V-6 |
| Top speed: | 189 mph – 304 km/h |
| 0-60 mph: | 4.0 to 4.7 sec |
| Power: | 472 to 237 hp |
| Torque: | 445 to 258 lb-ft |
Cadillac CTS-V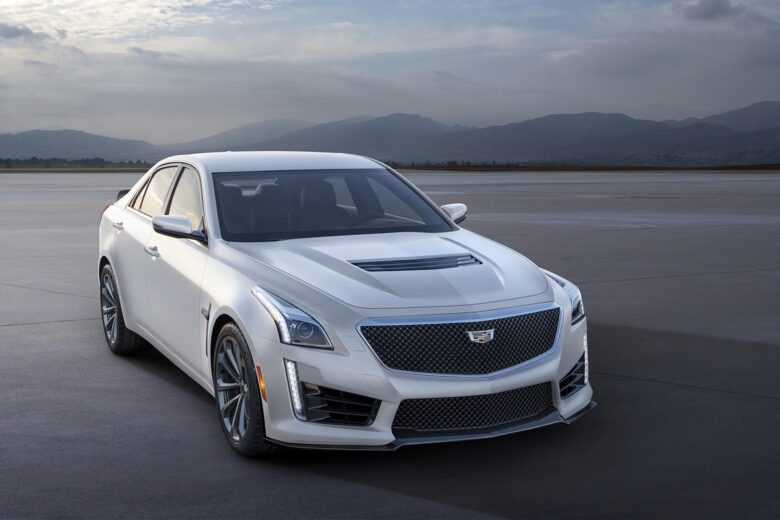 Although the last Cadillac CTS-V rolled off the production line in 2019, the model remains an icon in American automotive history. This high-performance variant of an executive sedan regularly adorned the lists of the best cars produced, with some enthusiasts claiming it was perhaps the best American car ever made.
Every CTS-V featured a supercharged V-8 that sang out with a lion's roar under acceleration. The styling was impeccable, and the driving experience left nothing to be desired, handling curvaceous canyons with grace while also shooting down straightaways at drag-strip level speeds despite not matching the top speed of the fastest cars in the world.
The CTS-V wagon was an especially beloved variant as the US market seldom received similar models. If you see a Cadillac CTS-V for sale, take a second look. You might be checking out a future classic car.
| | |
| --- | --- |
| Price: | Starting at ~$90,000 |
| Release year: | 2003 |
| Engine: | 5.7L to 6.2L supercharged V-8 |
| Top speed: | 200 mph – 322 km/h |
| 0-60 mph: | 3.7 sec & up |
| Power: | Up to 640 hp |
| Torque: | Up to 630 lb-ft |
Cadillac XLR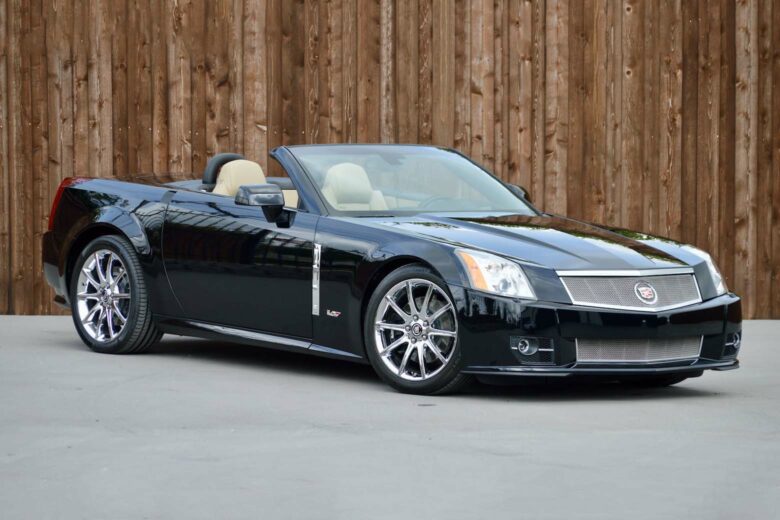 The Chevrolet Corvette wins many popularity contests, but the XLR Cadillac sports car was a refined version of the two-door roadster with a more powerful engine and luxurious amenities.
Only produced from 2004 to 2009 model years, the supercharged Cadillac XLR-V stole the hearts of many with its open-top fun. It's not an Italian-born Ferrari, but it still embodies the supercar spirit.
The near 50:50 weight distribution paired with an advanced magnetic ride system ensured the control was as comfortable as the supple leather upholstery.
| | |
| --- | --- |
| Price: | Starting at ~$87,000 |
| Release year: | 2004 |
| Engine: | 4.6L V-8, 4.4L supercharged V-8 |
| Top speed: | 155 mph – 250 km/h |
| 0-60 mph: | 4.6 sec |
| Power: | Up to 443 hp |
| Torque: | Up to 414 lb-ft |
Cadillac customer service number
To speak with a knowledgeable staff member to answer other questions, call the Cadillac customer service number at 1-800-333-4223. You can also send a message through the Contact Us page.
Cadillac social media profiles
Stay up to date about the latest news and events by following the official Cadillac social media profiles:
Frequently asked questions about Cadillac
Are Cadillac cars reliable?
Most Cadillac cars are reliable, but some reports indicate the brand falls closer to average reliability. With proper care, many Cadillacs, old and new, can exceed 150,000 miles. However, some problems can creep up earlier than expected, leading to the average rating.
Is Cadillac still considered a luxury car?
Yes, Cadillacs are still considered luxury cars. Every Cadillac model features luxurious touches inside and out. The powerful engines pair with advanced technology and a wide array of options to meet higher-end specifications.
Who is Cadillac named after?
Cadillac is named after the French explorer who founded Detroit in 1701, Antoine de la Mothe, sieur de Cadillac. Henry Leland founded the Cadillac automaker in 1902 in Detroit and decided to honor the influential person behind the city's robust history.
What is the average price of a Cadillac?
The average price of a Cadillac is around $80,000, but that is skewed upward by the popular Cadillac Escalade, often selling for over $100,000. Many other Cadillac models are more moderately priced, starting in the $34,000 to $48,000 range before options. Check our guide on all the Cadillac models and prices to learn more.