The soul of Lamborghini is a simple mix of gasoline, spark, and air. You won't find forced induction or massive electrical jolts. Just a massive V-10 or V-12 naturally-aspirated engine under the lightweight skin of almost every Lamborghini model.
Uncompromising mechanics fuse with the aggressive appearance to slice through the air, bellowing like a bull as they tear down the pavement.
Oh, and if you're curious to see what the brand's closest competitors are up to, check our stories on Porsche and Ferrari too. It's worth the detour. 😉
At a glance
| | |
| --- | --- |
| | |
| Name: Lamborghini | Industry: Automotive |
| Founded: 1963 | Founder: Ferruccio Lamborghini |
| Headquarters: Italy | Parent organization: Volkswagen Group |
| Revenue: $1.3 billion to $1.8 billion USD (est.) | Website: lamborghini.com |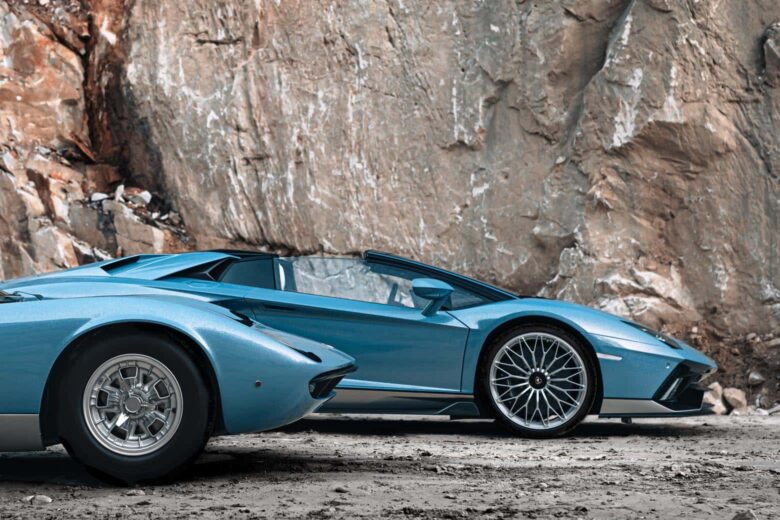 Lamborghini price
How much is a Lamborghini?
Not many brands push the boundaries of what's possible, like Lamborghini. As a result, the Lamborghini price tags are some of the most expensive around, especially for the ultra-exclusive special variants and track-focused models.
The starting price for a Lamborghini might be lower than you think. The incredible V-10 Lamborghini Huracan price starts at a relatively modest $248,300. And for the first-ever Lamborghini SUV Urus, you can drop that down to $230,000.
What is the most expensive Lamborghini?
Prices rise as quickly as the Lamborghini gets off the line. The Aventador price steps up to a gargantuan V-12 engine with as much raw power as you can handle. The over half-million dollar price tag agrees, with a starting Lamborghini Aventador price of $507,300.
Yet that's just the starting point for many more exclusive Lamborghini models. With only eight units produced, the Lamborghini Veneno's original price was the most expensive at a whopping $4 million. This rare beauty features the most aggressive styling of any Lambo, and the current price estimates for pristine examples hover around $11 million.
The ultra-light Lamborghini Sesto Elemento had an original $2.92 million price. And the ground-breaking Lamborghini Miura's current estimated value from $1 million to $3 million might be a tough pill to swallow, even for those with deep pockets.
How much is the cheapest Lamborghini?
The lowest Lamborghini car price right off the showroom floor is the Lamborghini Urus SUV, starting at an estimated $230,000. This is the first Lambo SUV and features an Audi-sourced twin-turbo V-8 engine, something quite unusual for a luxury automaker that puts naturally-aspirated V-10 and V-12 engines into almost every other model.
For a more characteristic Lamborghini, check out the markets for the Gallardo. It's a stunning vehicle in all aspects, featuring the typical razor-sharp lines and oversized V-10 engine, currently valued between $80,000 and $200,000. Why not some cash for other adventures?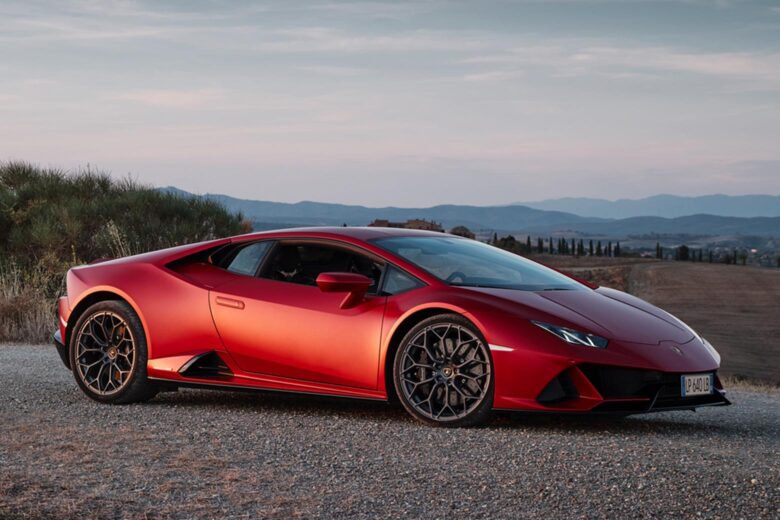 About Lamborghini
History of Lamborghini
If the world doesn't have what you want, create it. Some people might have trouble living up to this philosophy, but Italian Ferruccio Lamborghini is not one of those. As a passionate engineer, he started a tractor-manufacturing business in 1948 that proved successful during Italy's post-WWII economic boom.
Mr. Lamborghini used some of his earned wealth to found Automobili Lamborghini in 1963, focused on creating premium grand tourers to compete with the world's best. The Lamborghini 350T was one of the early models that hit the mark Ferruccio was shooting at.
Yet the brand's most influential vehicle came in 1966 when Lamborghini released the transverse mid-engine design in the Miura. This layout forever changed the sports car world, creating a new standard for supercar design still in use today.
Throughout the years, Lamborghini models have focused on high-displacement V-10 and V-12 engines producing raw, beastly power. You won't find forced induction techniques like turbochargers or superchargers. And the brand has only barely scratched the surface of electric Lamborghinis.
Ferruccio let go of the brand in 1974, leading to decades of financial hardship and many ownership changes for the luxury Italian supercar maker. Chrysler stepped in in 1987, then resold it to a joint venture in 1994, before the company landed with the Volkswagen Group in 1998, under the control of the Audi subsidiary. It remains in its home of Sant'Agata Bolognese, Italy.
Stephan Winkelmann served as the Chief Executive Officer from 2005 to 2016, launching iconic models such as the Gallardo, Murcielago, Aventador, and Huracan, and boosting sales by 300%. Stefano Domenicali took the helm from 2016 to 2020, then Winkelmann resumed his CEO role when Domenicali moved to the head of Formula 1.
Nowadays, Lamborghini is a regular presence on our list of the top luxury car brands in the world thanks to the manufacturer's focus on crafting exclusive and desirable high-end cars.
Understanding Lamborghini's car range
Many Lamborghini models take their names from famous fighting bulls. For example, the Gallardo is a well-known and respected breed of fighting bulls, while the Murcielago, which means bat in Spanish, was the name of an iconic bull from an 1879 fight in Cordoba.
Like many brands, if the Lamborghini model includes Spyder or Roadster, it incorporates a removable roof to let the air scream past your head.
Some Lamborghini cars have Super Veloce variants, which translates to super fast. The Aventador Lamborghini SVJ (Super Veloce Jota) is a super-fast model that refers to the iconic Miura Jota from 1970.
Surprising facts about Lamborghini
Ferruccio Lamborghini was not that excited about the mid-engine design of the massively influential Miura. It was a project that Lambo engineers took up in their free time, practically begging Mr. Lamborghini to let them develop the prototype that would eventually become the supercar standard.
He allowed the project merely as a marketing gimmick. But it became evident that the world wanted more of it, and the production of the Miura began, followed up with many high-displacement models.
Where is Lamborghini made?
Despite a tumultuous history of ownership changes and financial hardship, Lamborghini remains in its home country of Italy. The headquarters and production facilities are in Sant'Agata Bolognese, Italy.
Lamborghini electric cars
Unlike many high-performance automakers, Lamborghini electric cars have not been released. The only hint of electrification on a production model is the Lamborghini Sian with a mere 34-horsepower supercapacitor boost. But the company reports more hybridization is around the corner.
Lamborghini concept cars have shown more promise, including the Lamborghini Asterion with a hybrid design that uses almost 300 horsepower in electric output.
The electric Lamborghini Terzo concept showcases a dream of using body panels for electric power storage. It remains to be seen if this has any practical application.
Lamborghini models
Here is a detailed breakdown of all new Lamborghini models, along with some of the most iconic ones from the past.
Lamborghini Urus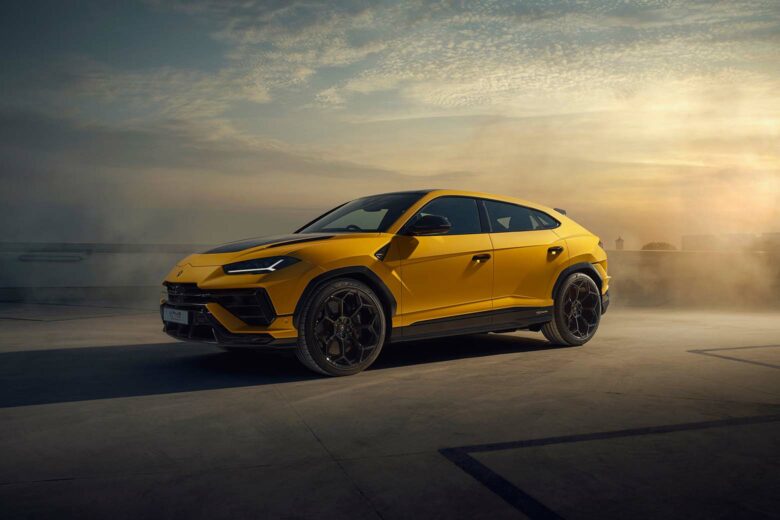 Dreaming big means stepping outside your comfort zone. For this Italian luxury brand, it means creating the first Lamborghini SUV.
The Lambo Urus introduces an entirely new segment called the Super Sport Utility Vehicle. And based on the performance, you can take the Super literally.
Although the Urus doesn't feature the iconic V-10 monster the brand is known for, it still has what it takes to impress. With twin turbochargers, the 4.0L V-8 pumps out over 650 horsepower and has a thrilling ride that even the best luxury SUVs struggle to incorporate.
The nearly quarter-million dollar Lamborghini Urus price tag means most that sit behind the driver's seat expect nothing but the best. And this sport-focused SUV delivers in every regard.
| | |
| --- | --- |
| Price: | Starting at $230,000 (est.) |
| Release year: | 2018 |
| Engine: | 4.0L twin-turbo V-8 |
| Top Speed: | 190 mph – 306 km/h |
| 0-62 mph (0 to 100 km/h): | 3.3 sec |
| Power: | 657 hp |
| Torque: | 627 lb-ft |
Lamborghini Aventador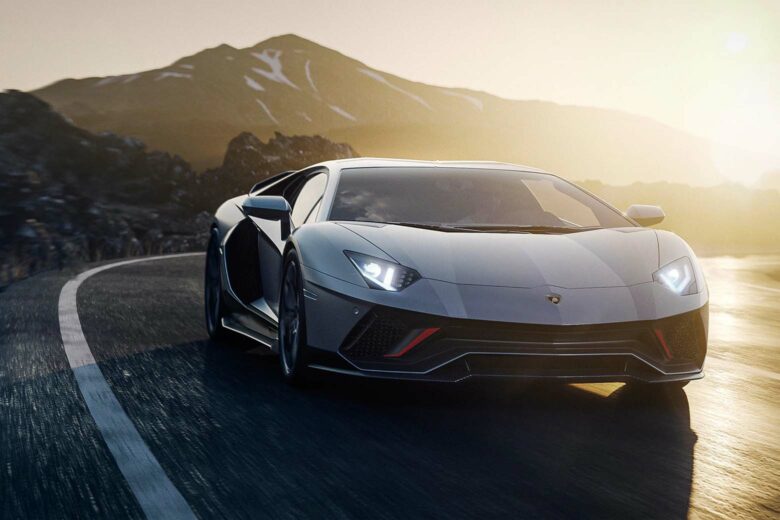 As electrification sweeps the auto industry, you can add the iconic Lamborghini Aventador to the fallen-soldiers-left-behind list. 
This raging bull's naturally-aspirated 6.5L V-12 engine shows its age like the wrinkles on an 80-year-old pop icon's hands. But it can still hit the notes that put chills down your spine.
Its lightning-fast time to 60 mph throws your back against the seat with incredible force. Not to mention the museum-worthy Lambo Aventador styling, inside and out. It's even available as a cool car for kids.
The Lamborghini Aventador SVJ (Super Veloce Jota) is the track-focused beast that uses the lightest materials available, such as titanium exhaust and extensive carbon fiber. To end the chapter on a high note, Lamborghini produced just 350 units of the most powerful Aventador ever made, the LP 780-4 Ultimae.
| | |
| --- | --- |
| Price: | Starting at $507,300 |
| Release year: | 2011 |
| Engine: | 6.5L naturally-aspirated V-12 |
| Top Speed: | 221 mph – 355 km/h |
| 0-62 mph (0 to 100 km/h): | 2.8 sec |
| Power: | 769 hp |
| Torque: | 531 lb-ft |
Lamborghini Huracan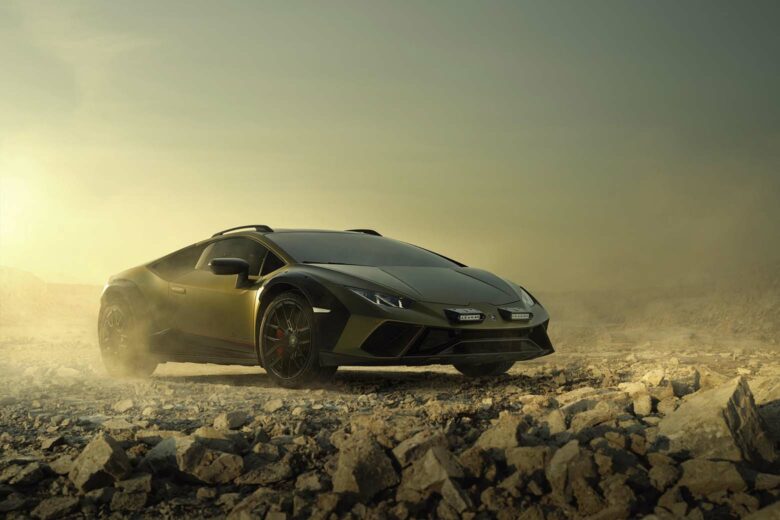 Every detail of the Huracan is distinctively Lamborghini, from the roaring V-10 power plant to the sleek, aggressive exterior. The Lambo Huracan replaced the Gallardo in 2014 and has held the reins as the flagship model, showcasing the brand's best design, engineering, and performance.
The Lamborghini Huracan EVO is the most refined, highest-performance variant available in coupe and roofless EVO Spyder body styles. The Lamborghini Huracan STO pushes its track performance onto Main Street, just like the previous Lamborghini Huracan Performante did.
Yet the company can't stop itself from going beyond anything expected. The Huracan Sterrato introduces Rally mode to take it on roads less traveled. It's no Land Rover, but it is a Lambo designed for off-road driving.
As expected, the Lamborghini Huracan price sits comfortably around the quarter-million-dollar mark. And it's still worth every adrenaline-inducing penny.
| | |
| --- | --- |
| Price: | Starting at $248,300 |
| Release year: | 2014 |
| Engine: | 5.2L naturally-aspirated V-10 |
| Top Speed: | 200 mph – 325 km/h |
| 0-62 mph (0 to 100 km/h): | 2.9 sec |
| Power: | 631 hp |
| Torque: | 443 lb-ft |
Lamborghini Sian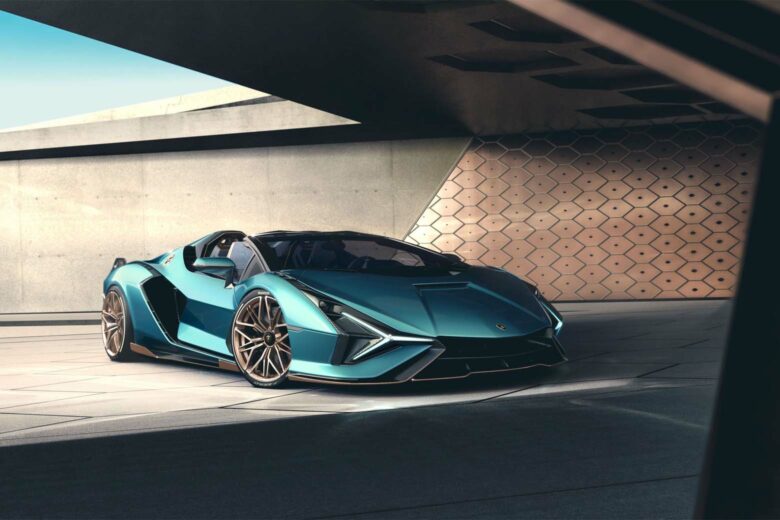 If there's one thing to know about most Lamborghini models, it's their pure gasoline-fueled performance that shuns forced induction and battery packs. The Lamborghini Sian SKP 37 changed that, albeit one small step at a time.
The name Sian comes from the Bolognese word for a flash of lightning, and attached to the seven-speed automatic transmission is a 34-horsepower bolt of supercapacitor power. The 6.5L V-12 engine is still the heart of the beast, but together they produce a jaw-dropping 808 horsepower.
The Lamborghini Sian price was estimated to be around $3.6 million, which was no problem for the lucky 82 owners who got a hold of one of the first electrified Lambos ever produced. 
Lambo isn't following Volvo's footsteps of creating an EV subsidiary like Polestar, but the Sian shows a little more spark.
| | |
| --- | --- |
| Price: | $3.6 million (est.) |
| Release year: | 2021 |
| Engine: | 6.5L V-12 hybrid |
| Top Speed: | 221 mph – 355 km/h |
| 0-62 mph (0 to 100 km/h): | 2.8 sec |
| Power: | 808 hp |
| Torque: | 559 lb-ft |
Lamborghini Countach 2022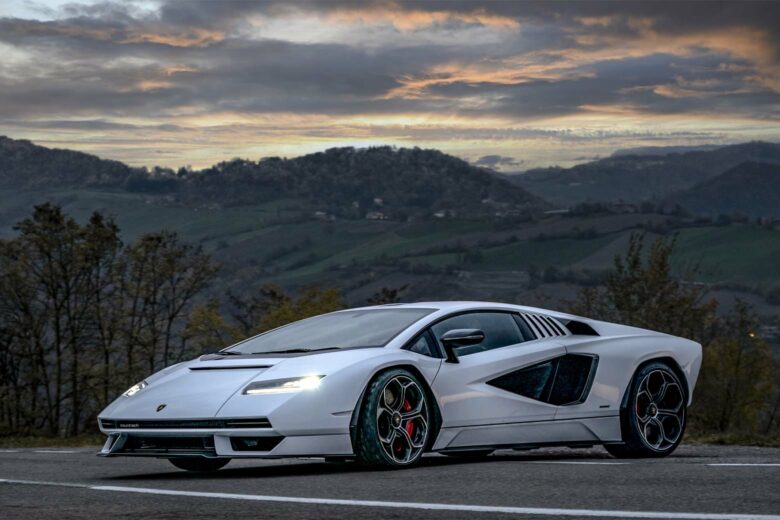 For over 15 years, the Lamborghini Countach served as an uncompromising testament to Ferruccio Lamborghini's impeccable taste. The Countach featured the distinctive Italian wedge shape developed by the Italian design house Bertone.
Although it had a strong run from 1974 to 1990, the Countach name was retired for many years.
In 2022, it came back with a vengeance. Sporting a sky-high $2.5 million price tag hitting the list of the most expensive cars, the new Lamborghini Countach perfectly fused the classic design with modern looks, instantly selling all 112 units produced.
If you see one, don't blink. Like the Sian, the Countach's 802-horsepower engine gets the help it doesn't need from a supercapacitor-driven electric motor.
| | |
| --- | --- |
| Price: | $2.5 million |
| Release year: | 2022 |
| Engine: | 6.5L V-12 hybrid |
| Top Speed: | 221 mph – 355 km/h |
| 0-62 mph (0 to 100 km/h): | 2.8 sec |
| Power: | 802 hp |
| Torque: | 542 lb-ft |
Lamborghini Gallardo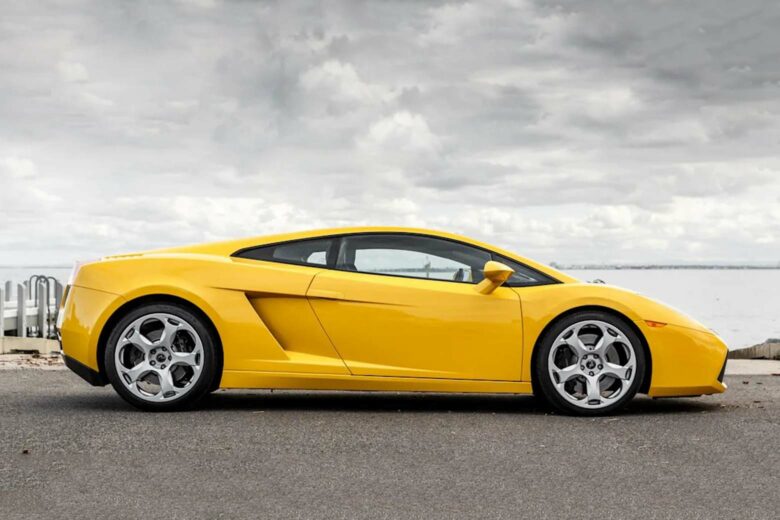 Statistically speaking, if you see a Lambo cruising down the road, it's likely to be a Gallardo. It is the Lamborghini car with the most units produced, at 14,022. Still exclusive by many metrics, including Ferrari's, but not like some others on this list.
Even though it sports a price and current value found in many luxury cars, the Lamborghini Gallardo still remains an incredible piece of Italian automotive machinery. Starting with its V-10 engine and supported by the aviation-inspired interior, using premium materials throughout.
Several special-edition Gallardos were produced, including rear-wheel drive and topless variants. If you're looking for an entry-level Lamborghini that'll still turn heads and bellow like a bull, this is it.
| | |
| --- | --- |
| Price: | $80,000 to $200,000 (current est. value) |
| Release year: | 2004 to 2014 |
| Engine: | 5.0L or 5.2L naturally-aspirated V-10 |
| Top Speed: | 196 to 199 mph – 315 to 320 km/h |
| 0-62 mph (0 to 100 km/h): | 3.9 to 3.6 sec |
| Power: | 520 to 550 hp |
| Torque: | 375 to 398 lb-ft |
Lamborghini Veneno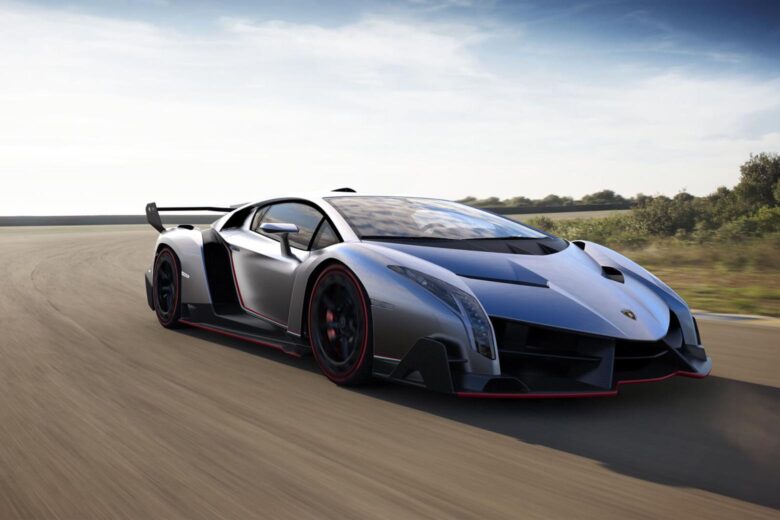 Aggressive looks are part of Lamborghini's DNA. But if you want to see a cranked-up version ready to tear through roads like a chainsaw through wood, the Lamborghini Veneno is ideal.
The gnarly design isn't the only unique thing about this car. With only four coupes and nine roadsters ever produced, the Lamborghini Veneno price will also make your eyes bulge out of their sockets.
The starting price during their 2013 to 2014 production was a cool $4 million. In 2019, one crossed the auction block at $8.3 million and current estimates put the values close to $11 million, hitting Bugatti price levels.
| | |
| --- | --- |
| Price: | $4 million (original MSRP) |
| Release year: | 2013 |
| Engine: | 6.5L naturally-aspirated V-12 |
| Top Speed: | 221 mph – 355 km/h |
| 0-62 mph (0 to 100 km/h): | 2.9 sec |
| Power: | 740 hp |
| Torque: | 509 lb-ft |
Lamborghini Diablo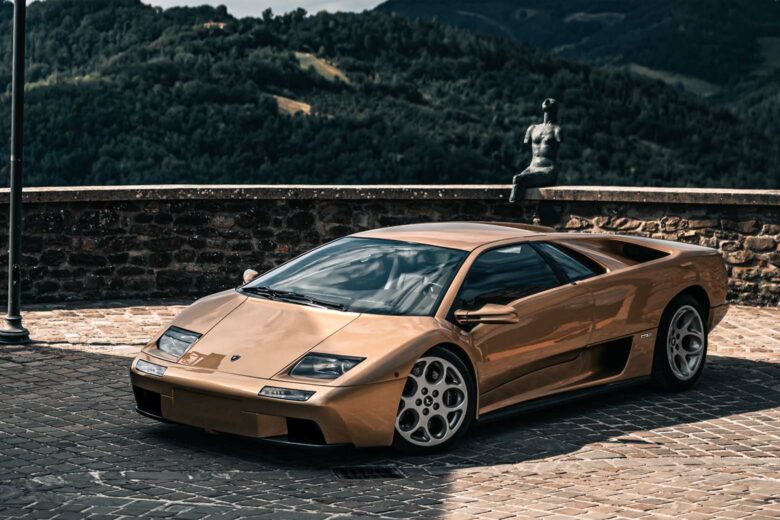 Although today's fastest cars reach higher speeds, the Diablo pushed the industry's limits by providing 200 mph capability. It was the first production Lamborghini car to do so and reached iconic status for the achievement.
This devilish ride is low, wide, and ready to tear up the road. The interior is minimally outfitted with the steering wheel, gear stick, and pedals providing almost everything you need. Compared to today's tech-heavy world, it's a refreshing look back into pure automotive performance.
Just shy of 3,000 Lambo Diablos were produced, and they still have a hot following. The 30th anniversary Diablo SE30 Jota and its purple paint scheme is one of the most recognizable.
| | |
| --- | --- |
| Price: | $200,000 to $900,000 (current est. value) |
| Release year: | 1990 to 2001 |
| Engine: | 5.7L or 6.0L naturally-aspirated V-12 |
| Top Speed: | 202 mph – 325 km/h |
| 0-62 mph (0 to 100 km/h): | 4.5 sec |
| Power: | 485 to 595 hp |
| Torque: | 428 to 471 lb-ft |
Lamborghini Murcielago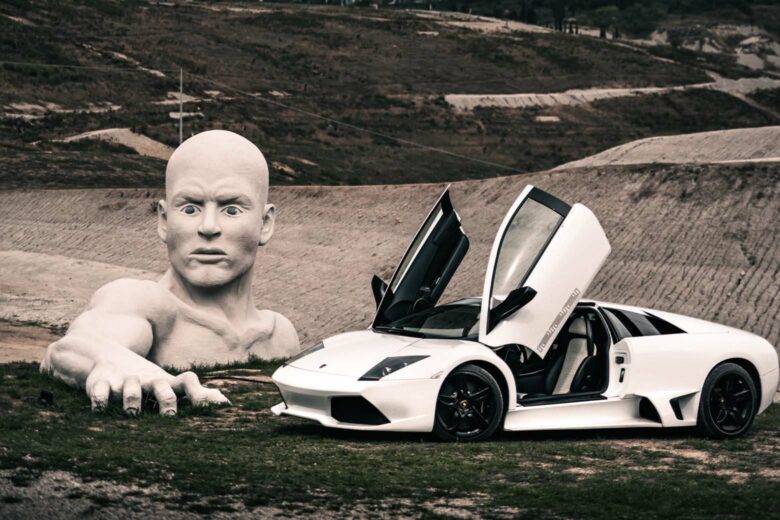 Due to mounting financial challenges, Audi absorbed Lamborghini in 1998. Some passionate enthusiasts were concerned about a dramatic shift in Lambo DNA. Audi held on tight, fully embraced the raging bull, and brought the brand to new heights.
The Lamborghini Murcielago was the first product of this shared venture. It retained the low-slung, Italian wedge shape, and more importantly, it also stuck with the giant naturally-aspirated engine.
The Lamborghini Murcielago LP 670–4 SuperVeloce is the crowning achievement of the model's lineup. One spectacular example of the 186 produced sold for a whopping $865,000 in 2022. Most of the 4,099 Murcielago units sell for a slightly more reasonable value.
| | |
| --- | --- |
| Price: | $175,000 to $500,000 (current est. value) |
| Release year: | 2002 to 2010 |
| Engine: | 6.2L or 6.5L naturally-aspirated V-12 |
| Top Speed: | 206 to 213 mph – 332 to 342 km/h |
| 0-62 mph (0 to 100 km/h): | 3.8 to 2.8 sec |
| Power: | 572 to 661 hp |
| Torque: | 479 to 487 lb-ft |
Lamborghini Miura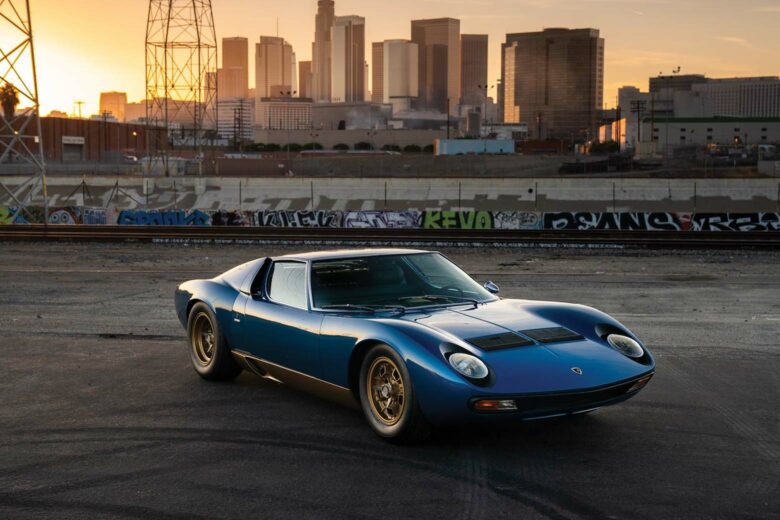 No list of influential classic cars is complete without the Lamborghini Miura. It might be easy to take transverse, mid-engine designs for granted, but we should all thank Miura's designers for introducing it to the production world.
Ferruccio Lamborghini initially believed the Miura would be nothing more than a marketing gimmick, but after letting engineers debut their spare-time brainchild at the 1966 Geneva Motor Show, there was no stopping this street-legal race demon.
The Miura was the fastest production car of the time at 163 mph. It forced Lamborghini's bitter rival Ferrari to follow suit with the mid-engine construction soon, becoming the standard of the supercar world that still stands with all four hooves firmly planted.
| | |
| --- | --- |
| Price: | ~$1 million to $4.3 million (current est. value) |
| Release year: | 1966 |
| Engine: | 4.0L naturally-aspirated V-12 |
| Top Speed: | 171 mph – 276 km/h |
| 0-62 mph (0 to 100 km/h): | 7.0 to 6.3 sec |
| Power: | 345 to 380 hp |
| Torque: | 262 to 295 lb-ft |
Lamborghini Centenario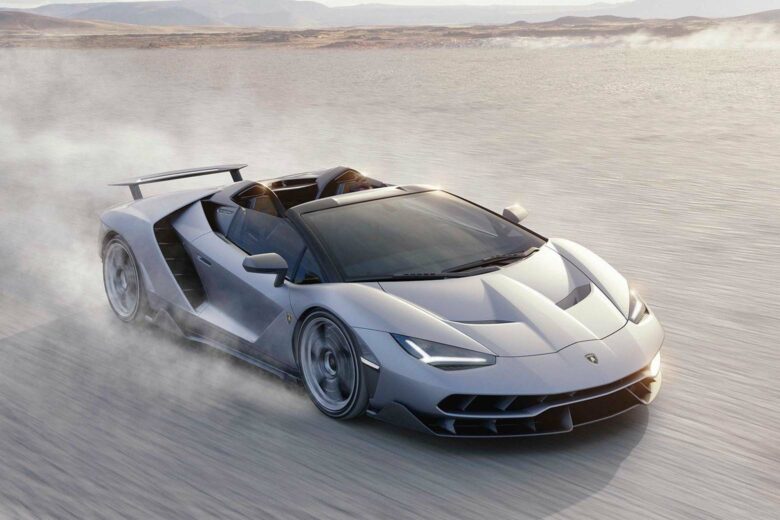 To commemorate what would have been Ferruccio Lamborghini's 100th birthday, the Italian luxury hypercar producer produced 20 coupes and 20 roadsters of a modified version of the Aventador.
The Centenario pays homage to the founding icon by using the 6.5L beating heart with no help from superchargers, turbochargers, or electric boosts. Just an unadulterated performance on a body so chic it is worthy of museum representation.
Advanced all-wheel drive with rear-wheel steering ensures every bit of the 770 horsepower hits the pavement. But it's entirely up to the person behind the wheel to keep it there.
| | |
| --- | --- |
| Price: | $1.92 million (original MSRP) |
| Release year: | 2017 |
| Engine: | 6.5L naturally-aspirated V-12 |
| Top Speed: | >217 mph – >350 km/h |
| 0-62 mph (0 to 100 km/h): | 2.8 sec |
| Power: | 770 hp |
| Torque: | 507 lb-ft |
Lamborghini Sesto Elemento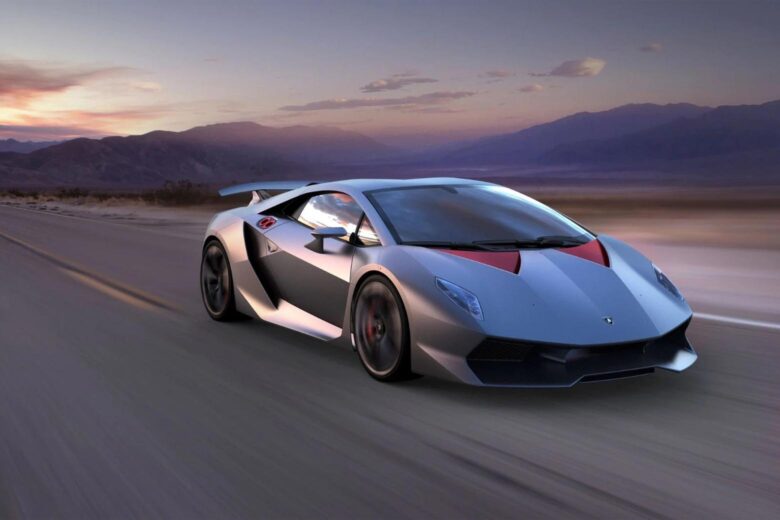 Two of the strongest people in the world could lift this Lambo right off the ground. The Lamborghini Sesto Elemento uses forged composite carbon fiber in every part imaginable, even the driveshaft. The result is a supercar weighing a mere 999 kg (2,202 pounds), basically the same as some of the best electric motorcycles.
It rockets up to 62 mph in 2.5 seconds, making it one of the fastest Lamborghinis ever. It can even hold its own against today's instant-torque EV world, like the lightning-fast Tesla Model S Plaid.
20 units were planned, but only ten made it across the production line. It's hard to find one today, but keep your eye out on Craigslist. In 2017, one broker listed a price example for a whopping $4.5 million. It started as a joke, but the broker found legitimate prospective buyers through the free platform usually geared toward used Hondas.
| | |
| --- | --- |
| Price: | $2.92 million (original MSRP) |
| Release year: | 2012 |
| Engine: | 5.2L naturally-aspirated V-10 |
| Top Speed: | 221 mph – 355 km/h |
| 0-62 mph (0 to 100 km/h): | 2.5 sec |
| Power: | 570 hp |
| Torque: | 398 lb-ft |
Lamborghini concept cars
No supercar producer can go without letting the world get a taste of what it's cooking in the kitchen. Here are some of the top concept cars from Lamborghini to fill your imagination with desire.
Lamborghini Estoque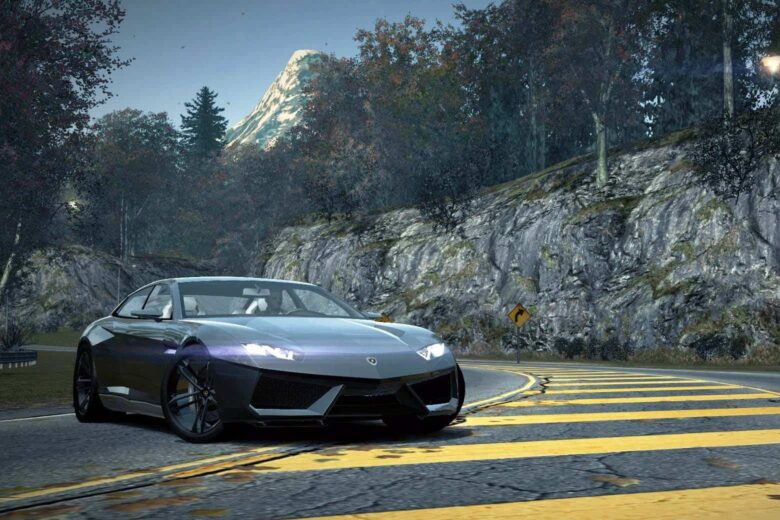 If you know a bit about Lamborghini history, seeing a 2+2 grand tourer with a raging bull badge might not be a surprise. After all, the founder set out to create it, but the Miura derailed it.
The Lamborghini Estoque concept car was first introduced in 2008, and the brand continues to tease the world with its production to this day, keeping it prominently listed near the front page of its website and in the hearts of many followers.
It would be no surprise if it eventually hits the market, competing with names like the Porsche Panamera and the Aston Martin Rapide. Details are scant, but it's almost a sure thing that the back seat doesn't allow for the usual mid-engine layout found in most Lamborghini cars.
Lamborghini Terzo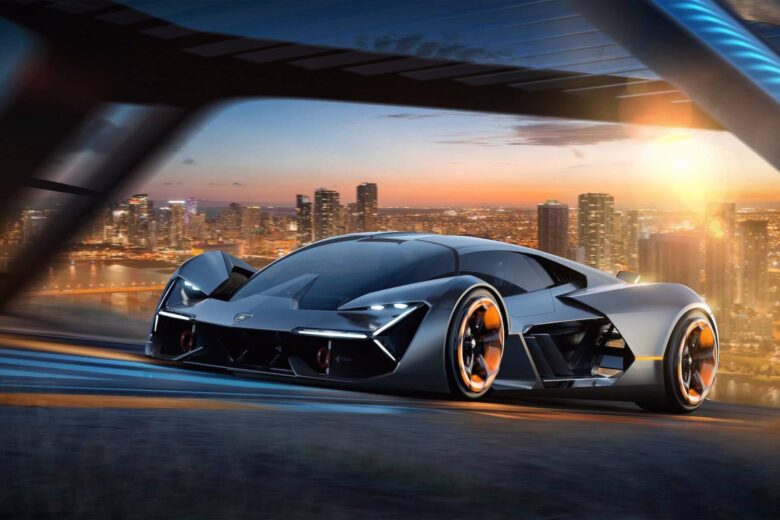 While the rest of the industry enthusiastically embraces electric vehicles, Lamborghini has only recently incorporated a small electric jolt into its usual internal combustion hearts.
The Lamborghini Terzo shows off what might be in store for the brand's electrified future. As usual, it's redefining progress with ultimate style and performance.
In partnership with MIT, Lamborghini is set on perfecting nanomaterial technology to use the body panels as electric storage devices. This idea might be nothing more than an incredible thought experiment with limited application, but it's an incredible way to introduce electric Lambo ideas.
Lamborghini Asterion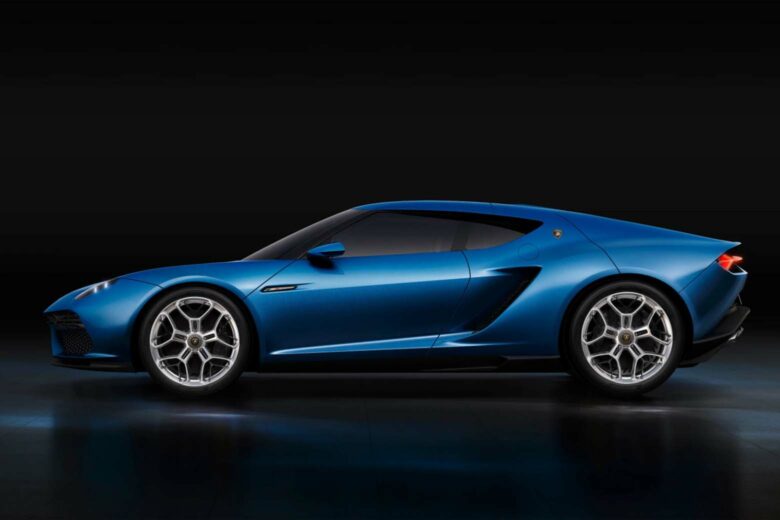 Taking its name from the Greek mythology minotaur, the Lamborghini Asterion merges the raging bull's DNA with that of modern man. Practically speaking, this means fusing a 5.2L 602-horsepower Lambo V-10 with twin electric motors dishing out an additional 296 horsepower.
This 2014 concept looks like something BMW or Mercedes-Benz might release, and it is unlikely to see the light of day as a production model. The company went with the first-ever Lamborghini SUV, the Urus, instead.
Lamborghini customer service number
To speak with a knowledgeable Lamborghini staff member, call the Lamborghini customer service number at 1-866-681-6276. Or send a message through the company's Contact Us page.
Lamborghini social media profiles
Lamborghini thrills aren't reserved for owners. You can catch some of the latest and most exciting news by following the official Lamborghini social media profiles:
Frequently asked questions about Lamborghini
How much does a Lamborghini usually cost?
If you're wondering, "How much does a Lamborghini usually cost?", get ready to dig deep. The Lamborghini Urus SUV starts at an estimated $230,000, the entry-level Huracan is around $250,000, and every Aventador costs over $500,000. Special variants reach well into the millions.
What is a better car, Ferrari or Lamborghini?
Deciding what is a better car,  Ferrari or Lamborghini, is a matter of personal taste. The Italian brands are serious rivals, both producing crowning automotive achievements. Ferrari embraces forced induction and electrification, while Lamborghini holds on to raw NA engines, for now.
How much is the cheapest Lamborghini car?
The cheapest Lamborghini for sale fresh off the factory floor is the Lamborghini Urus, the first ever Lamborghini SUV price starts at an estimated $230,000. You can pick up some used models for slightly less, including high-performance Gallardos, priced around $80,000.
Is Lamborghini Italian or German?
It can be hard to distinguish, but is Lamborghini Italian or German? Lamborghini is an Italian brand and has been since its start in 1963 when Ferruccio Lamborghini founded the company to take on Ferrari. Headquarters and production remain in Sant'Agata Bolognese, Italy.