As we look to the future, the focus is clear. The auto industry is going green. Luxury auto manufacturers are constantly releasing new all-electric cars. No longer do you have to choose between comfort, speed, and sustainability. Now, you can have it all with the best luxury electric cars of 2023.
Electric vehicles can be more expensive vehicles, but, often, government incentives and tax benefits can help shoulder the cost. Additionally, you'll find that electric cars are usually easier to maintain – and certainly more efficient.
2023 doesn't disappoint: Its new class of speedy, stylish EVs brings new features, faster accelerations, and more awe-inspiring price points than ever before. Here's your list of the most luxurious electric cars to keep an eye on in 2023.
The 21 best luxury electric cars of 2023
Take a look at our buying guide after our ranking of the best electric cars of 2023 to see what you should pay attention to when shopping for a luxury EV. We also explain the methodology behind our ranking of the top cars of the year.
1. Mercedes-Benz EQS SUV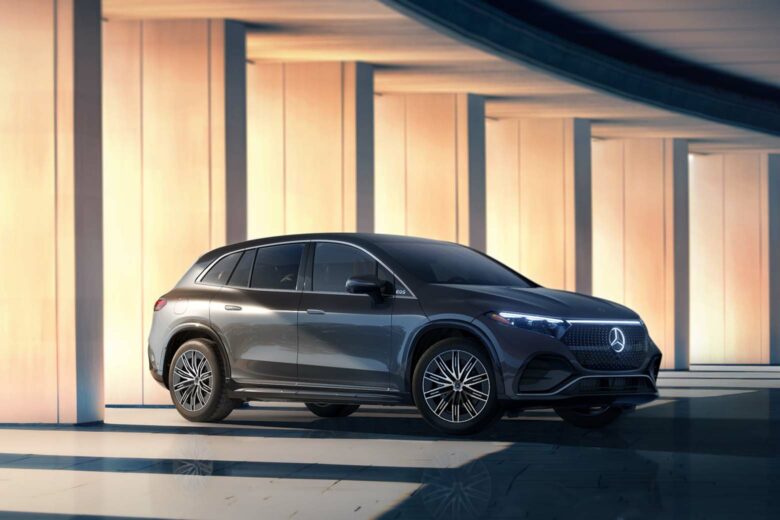 The Mercedes-Benz S-Class has continuously stood apart from the crowd. As the German luxury automaker shifts toward electric vehicles, the EQS SUV is proof that the S-Class brilliance pushes on.
Available with up to 536 horsepower, this seven-seater SUV is no slouch behind the wheel. But it stretches far beyond the imagination with a 56-inch Hyperscreen display, extending from door to door and using artificial intelligence to bring the command you need to your fingertips.
Personalization options don't just remember your seat position anymore. The Mercedes-Benz EQS SUV recognizes faces and fingerprints to recall hundreds of preferences to ensure everything is just how you like it.
We love all of the advanced tech and interior amenities, making the EQS SUV an excellent choice for a safety-conscious family vehicle.
2. Lucid Air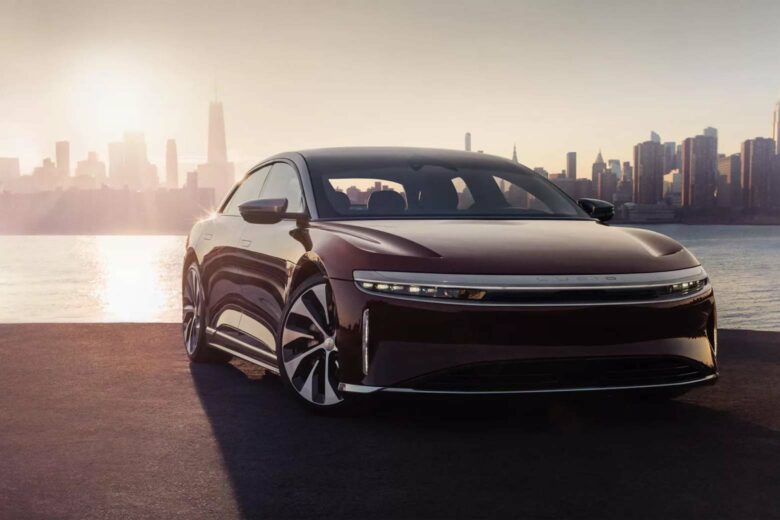 The Lucid Air is arguably one of the most "out there" electric cars: refusing to stick with the norms and, instead, producing something boundary-breaking in every way possible. One of the most talked-about cars of the year, Lucid Air offers unprecedented EPA range ratings of up to 520 miles, all completed while sitting back inside its impossibly smooth body.
As the first model from startup Lucid Motors, the car ensured a whole new standard of competition both against itself and other industry rivals like Tesla. Not sure what to think? Lucid Motors is mostly known for supplying batteries to Formula E race cars, so we're talking big, industry-breaking things.
3. Porsche Taycan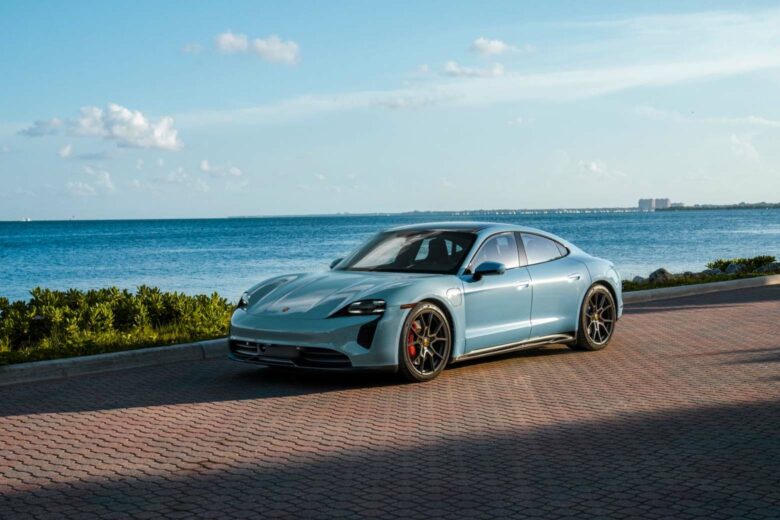 Porsche continues to build on the success of the Taycan in 2023 with more models available under the brand name. In addition to the standard Taycan, you can now purchase a range of Tourismo editions with more cargo space. The Porsche Taycan offers everything expected from the brand: incredible acceleration, aggressive styling, and an all-around sleek look.
Pronounced "tie-kahn", the Taycan is the first production electric vehicle to use a two-speed transmission and an 800-volt electrical system, promising faster speeds and almost as fast recharging times.
While it doesn't hold the same strengths when it comes to range – the Turbo can reach 201 miles under optimum conditions – it's an excellent addition to the electric vehicle market.
Its 800-volt electrical architecture means the car battery can shoot from five to 80 percent in 22.5 minutes. However, it's worth noting that chargers of that speed are rare and a traditional 240-volt charge comes closer to the 12 hour mark.
4. Tesla Model S Plaid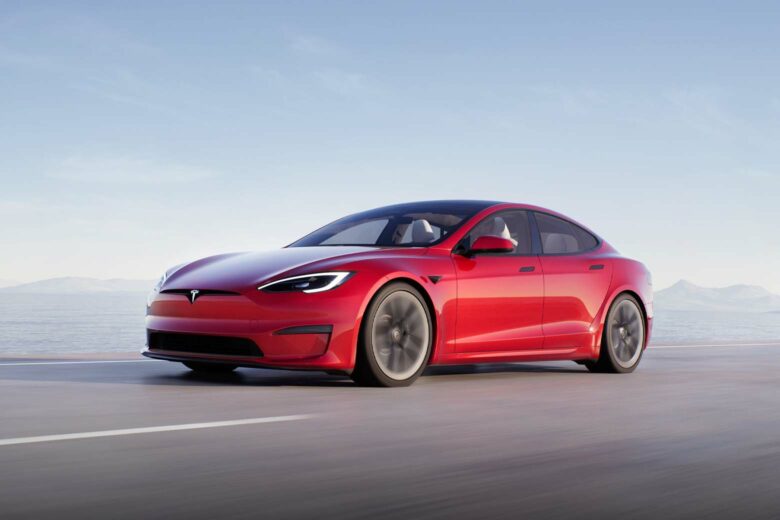 It's fair to say that Tesla takes the wheel when it comes to leading the electric vehicle industry. The brand has released plenty of popular electric cars over recent years and each comes with its own specific highlights.
The Tesla Model S, originally released in 2012, was a car full to the brim with top-of-the-range features and plenty of impressive stats. It was the world's first long-range electric vehicle and has only seen improvements since that first release. The 2023 model comes even more jampacked.
The base version is capable of hitting 0-60 mph in 3.7 seconds. It has an EPA-estimated 373 miles of range in its Long Range variant with a still-impressive 348 on the Performance model (for an extra $20,000).
Charging time is between eight to ten hours using a conventional 24-volt charger, or shoots down to 75 minutes using Tesla's V3 Supercharger.
This luxury car offers plenty of tech-heavy features synonymous with the Tesla brand and a minimalistic interior complete with a giant infotainment screen.
5. Rolls-Royce Spectre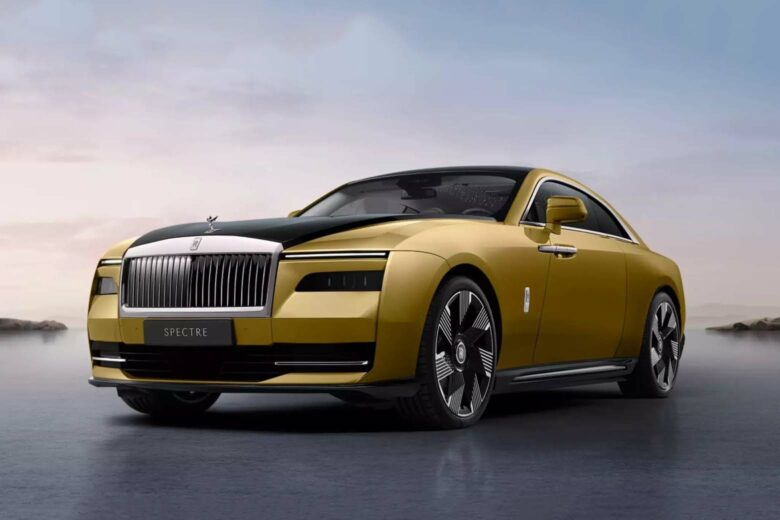 The electric vehicle revolution isn't just about powertrain changes. When a luxury brand like Rolls-Royce steps into the segment, all bets are off.
As the world's first ultra-luxury electric sports coupe, the Rolls-Royce Spectre is going where no one else has ventured. The exquisite exterior reinvents the timeless quality, ushering in a new generation of high-end motoring.
Step inside to discover pure opulence. Tiny LEDs hide in the headliner, dashboard, doors, and armrests to deliver a starry glow. Your virtual assistant, Eleanor, is ready to tackle any command, while the owners-only app Whispers helps you stay connected and ready to go at the drop of a hat.
The Rolls-Royce Spectre is ready to transport you to any destination while being wrapped in an elegant shroud of nothing but the best.
6. BMW i7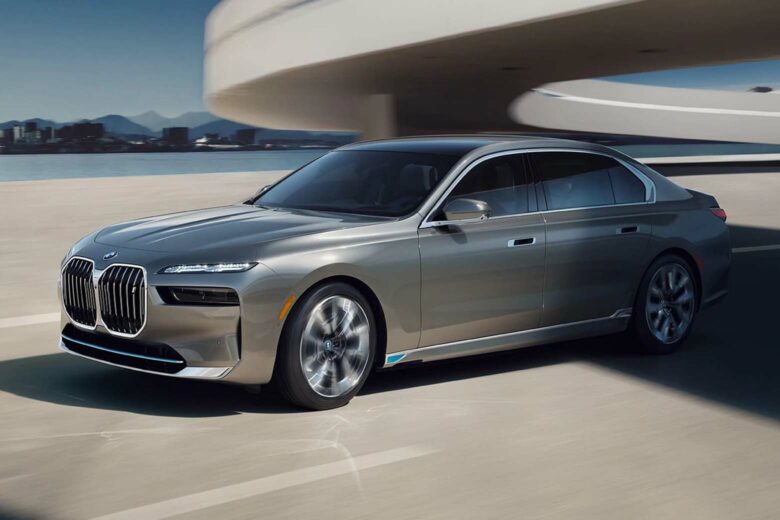 Much has been teased about the BMW i7 and its release proves that it was all worth it: a tease worth savoring in a car definitely worth all of the hype. Designed to compete with the Mercedes EQS and Lucid Air, it became a top contender in 2023 for garnering some of the most media attention when tested in Arjeplog, Sweden. All that attention was absolutely justified as the brand waited patiently for 2023 to arrive.
The i7 is pretty similar to the BMW iX, the brand's first electric SUV. But the i7 is smaller, sleeker, and faster. Its more conventional shape than other electric vehicles on the market ensures it appeals to a large number of BMW's existing audience, but with an on-trend, 21st-century boost of electricity.
7. Ford F-150 Lightning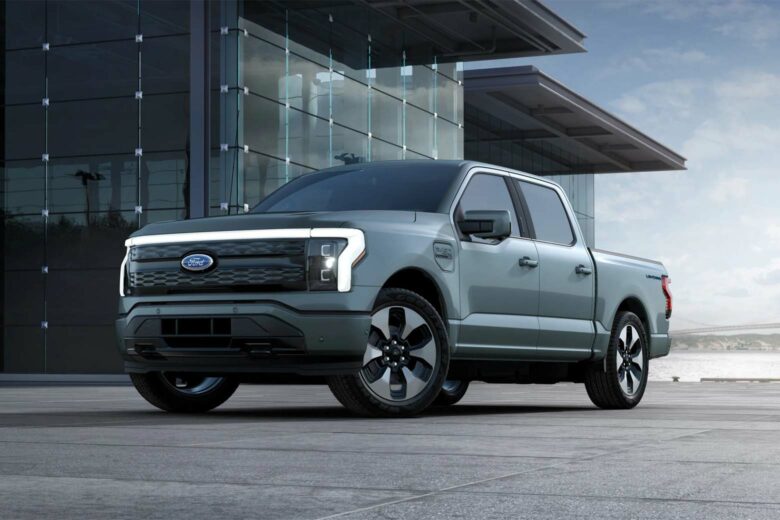 The Ford F-150 Lightning simultaneously manages to tick all the boxes of a successful electric car while remaining pretty similar to its gas counterpart. With an impressive range and a sleek, smooth look both inside and out, it's fair to say that the Ford F-150 Lightning redefines any previous notion of what a Ford car should look like in one easy maneuver.
While some cars have been kept under wraps before their 2022 release, this one certainly wasn't one of them (remember the brand's million-pound towing stunt from 2019?). And it's easy to see why: the Standard-Range battery is thought to deliver up to 230 miles per charge, while the Extended-Range pack aims for 300 miles – there's a lot to show off about.
The Ford F-150 Lightning is arguably one of the most important electric cars of the year, broadening the appeal of the technology to more consumers.
8. Mercedes-Benz EQC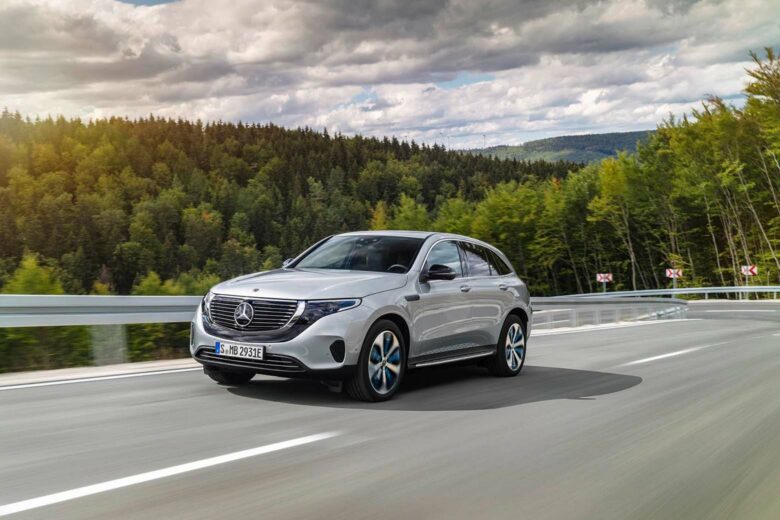 The Mercedes-Benz EQC is nothing if not an especially plush car. It's built for comfort and style, with more luxury than its rivals in the form of a vehicle that genuinely feels more premium than many others on the market.
It's a stylish and curvaceous vehicle that doesn't look like a traditional electric car. There are no gimmicks or rogue features included; it's a perfect example of Mercedes doing what it knows best. It isn't the fastest electric vehicle available for 2023, but it's one that promises an enjoyable drive with plenty of usable features.
The EQC seats five and offers a driving range of around 200 miles. It'll do 0-60 mph in 4.8 seconds and recharges from 10 percent to 100 percent in 10 hours.
As with all Mercedes cars, it's produced using only high-quality materials and tasteful brushes of color on the interiors. It has an up-to-date navigation system with Apple CarPlay, Android Auto, and a Wi-Fi hotspot all available. It's a premium car that comes with everything that's expected of the brand.
9. Volvo C40 Recharge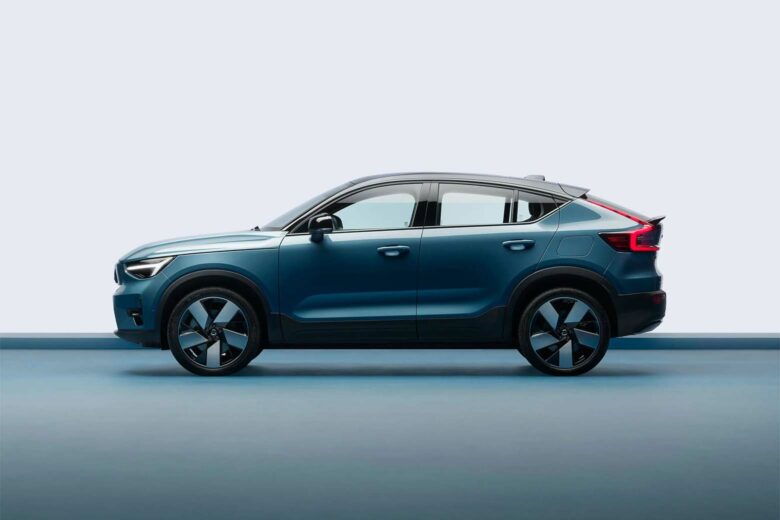 The Volvo C40 Recharge is Volvo's first fully electric vehicle with no gas-powered counterpart, which means plenty of freedom when it comes to, well, every element of this vehicle. As the brand says itself, the C40 Recharge doesn't force you to choose between power and responsible driving. Tick, tick, tick: it does it all.
Keeping the brand's staple safety measurements but delivered in something far more environmentally friendly, the C40 Recharge promises to be a big hit. It's also a reliable car: you can fast charge while driving from 10 to 80 percent in around 33 minutes. The car should cover around 226 miles (364 km) on a single charge, making it great for day-to-day adventures.
10. Polestar 3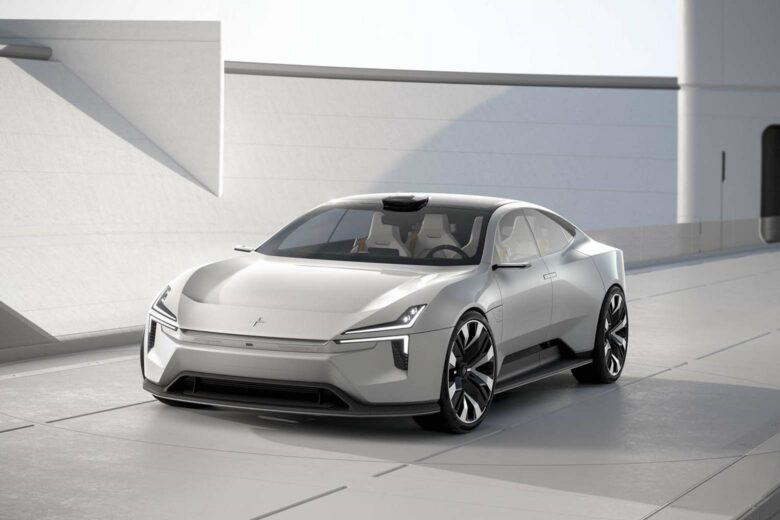 Minimalism doesn't have to mean sacrifice. The smooth Scandinavian design of the Polestar 3 makes that clear as day. It showcases an eye-catching future-forward style with clean looks free from distraction.
By leveraging Volvo's premier safety features, this luxury electric SUV ensures that you and your loved ones avoid hazards along the way. It even goes as far as to protect the planet through the utilization of eco-friendly materials and incorporating carbon-neutral production as company targets.
The Polestar 3 SUV is ideal for those who want a sleek new crossover SUV that not only performs well behind the wheel but also makes a bold statement about the future of the world we live in.
11. Rivian R1S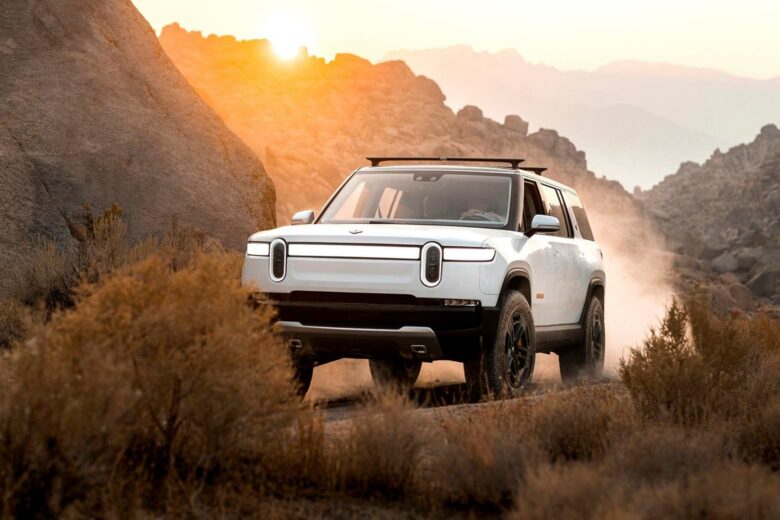 The Tesla Model X isn't the only electric SUV that can seat seven passengers.
Rivian's second production vehicle, the R1S, seeks to unseat Tesla's all-electric SUV with this powerful off-road vehicle. Sharing many elements with Rivian's other offering, a strong EV pickup, the R1S will come with three different battery sizes: 105, 135, and 180 kWh, respectively. With the largest battery, the R1S will have a claimed range of 410 miles – perfect for your next (completely sustainable) offroading adventure.
0-60 mph (or 0-100 kph) in 3 seconds; 700 horsepower, and a top speed of 125mph (or just over 200 kilometers per hour). This SUV has a larger range than other similar vehicles.
All of that power, and an attractive price tag: The Rivian R1S will seek to undercut Tesla's sticker price by just a little – a direct hit at a huge competitor.
12. Audi e-tron GT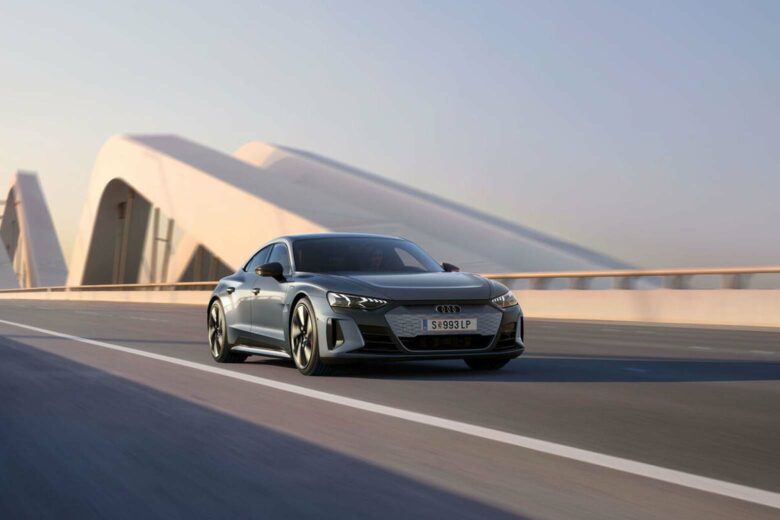 Premier executive sedans are uncompromising. An unparalleled driving experience must pair with top-tier styling and an interior that drips luxury amenities.
The Audi e-tron GT not only meets this demand, it drives the entire segment forward.
With up to 637 horsepower and a 0-60 mph of just 3.1 seconds, the fully-electric platform silently screams down the road. The incredible e-torque vectoring system instantly adjusts power delivery to match anything you can throw at it.
14-way adjustable seats and LED ambient lighting let you make the interior your own, while the Bang & Olufsen sound system fills your soul with the soundtrack of your dreams.
The Audi e-tron GT is the perfect embodiment of the executive sedan, now available with 21st-century technology.
13. Cadillac Lyriq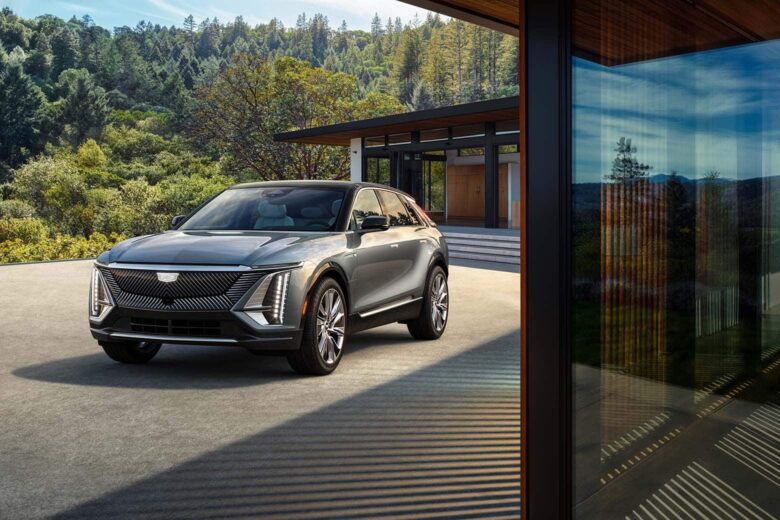 Another first for the brand, the Cadillac Lyriq is Cadillac's first venture into the electric vehicle market and one that it entered with a lot of prominence. Promising – and providing – a new era in luxury, technology, and electrification, this car promises more than 300 miles of range on a full charge and a relaxing experience while you journey from A to B.
It's also incredibly stylish, with good looks that fully match up to its powerful mechanisms. Expect open-pore Dark Ashwood décor with backlit door panels combined with choreographed exterior LED lighting and a fixed-glass roof with power interior shade. It sounds great, too, with its own Cadillac-exclusive AKG Studio 19-speaker audio system.
14. Audi A6 e-tron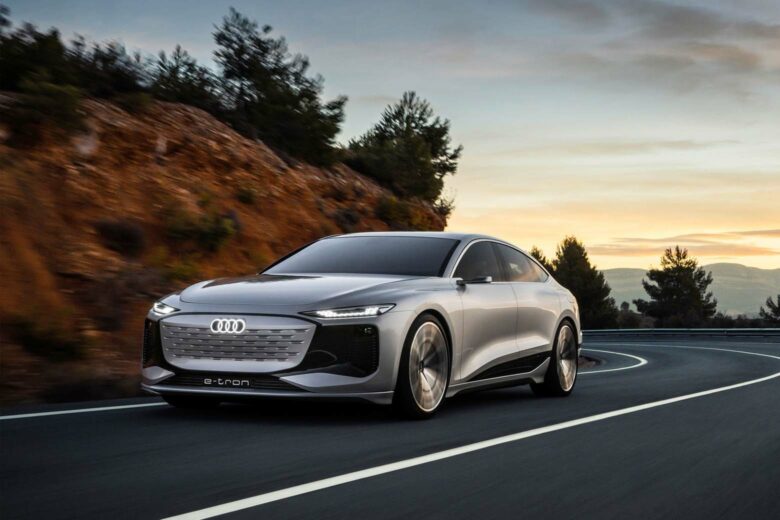 Audi likes to stay one step ahead when it comes to electric vehicles. And the Audi A6 e-tron, with its sleeker than ever design and beautiful interiors, is a brilliant example of everything the brand is capable of and more. It's fair to say the 2023 A6 looks far more like an A7 from its newly designed body, but it still features everything the A6 is known and loved best for.
Luxury designs go hand in hand in a car that promises to charge its battery from five percent to 80 percent in just 25 minutes. The Audi A6 e-tron also boasts a range of more than 700 kilometers and can also sprint from 0 to 60 mph in less than four seconds.
15. Genesis Electrified G80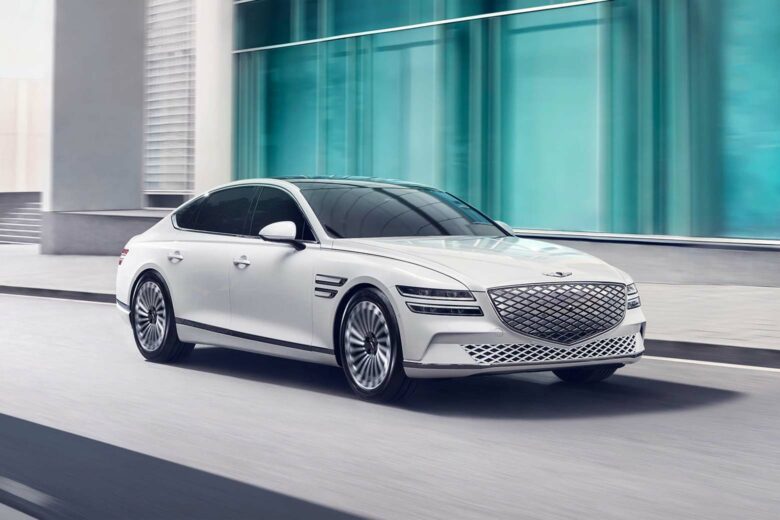 You've met the G80 sedan: now meet its electrified sibling, home to the same stylish design and sleek model but with a more environmentally friendly backdrop. The Electrified G80 is fairly similar to its existing counterpart we must say, although there are a few extra impressive benefits.
We're talking about a new standard of luxury from the Korean brand, complete with state-of-the-art technology designed to help keep you safe in whatever conditions you encounter and unique, suave color options both inside and out. Augmented reality, 3D elements, touch features, and voice technologies all come together in a vehicle that's most definitely driving towards the future.
16. GMC Hummer EV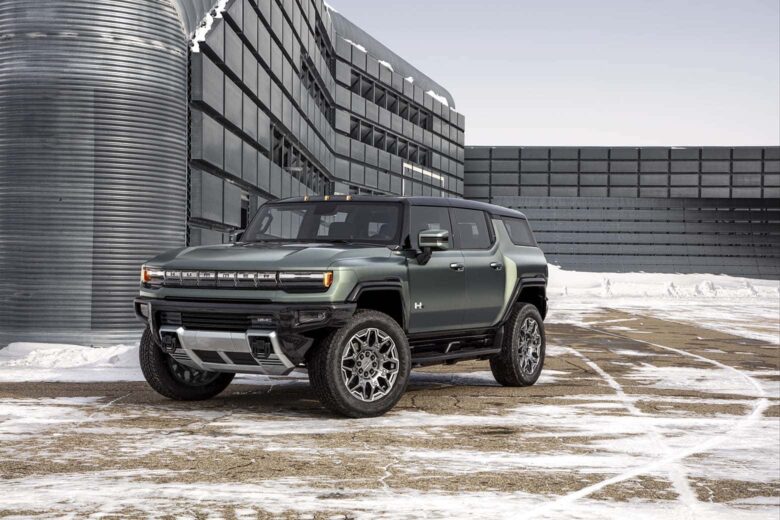 Don't look backward when thinking about the classic Hummer, because the GMC Hummer EV absolutely looks straight ahead with only a whisper of its original features – and we say that as a good thing. Known originally as a gas guzzler, the GMC Hummer EV promises an estimated range of 350 miles per charge and a quick jump from 0 to 60 mph in 3.0 seconds.
That's definitely impressive from a beast of its size.
Its most unique feature? The 'crab' design allows the Hummer EV to drive diagonally. Perhaps not something you'd make use of on your daily commute, but definitely a cool and noteworthy feature especially when venturing off-road.
17. Lotus Evija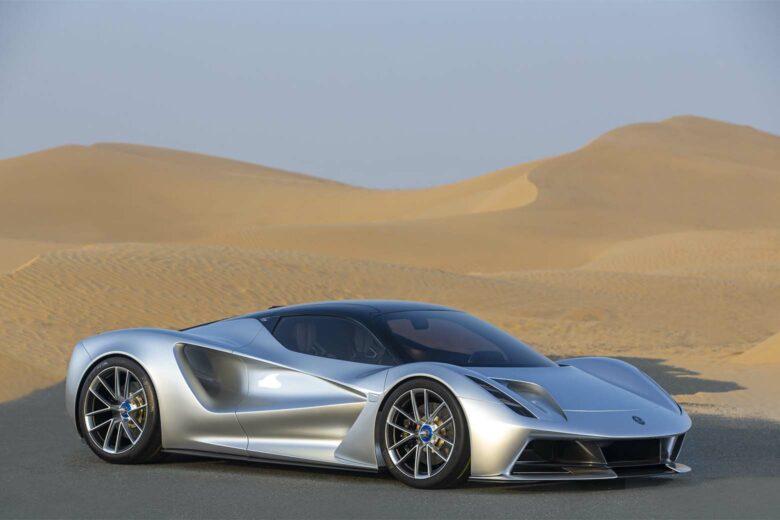 The Lotus Evija is the closest thing you'll find to a day-to-day-life-friendly supercar, with its incredible body and stop-you-in-the-streets shape. A truly beautiful car available in a range of eye-catching colors, the Lotus Evija is easily the quickest Lotus ever. The Lotus Evija is the next step in the brand's 70 year tradition of producing iconic, game-changing road and racing cars.
Promising a huge leap in the world of future electric hypercars, only 130 of these cars have ever and will ever be made. The Evija can reach a top speed of more than 200 mph and it promises to hit 60 mph in a cool three seconds.
18. Chevrolet Silverado EV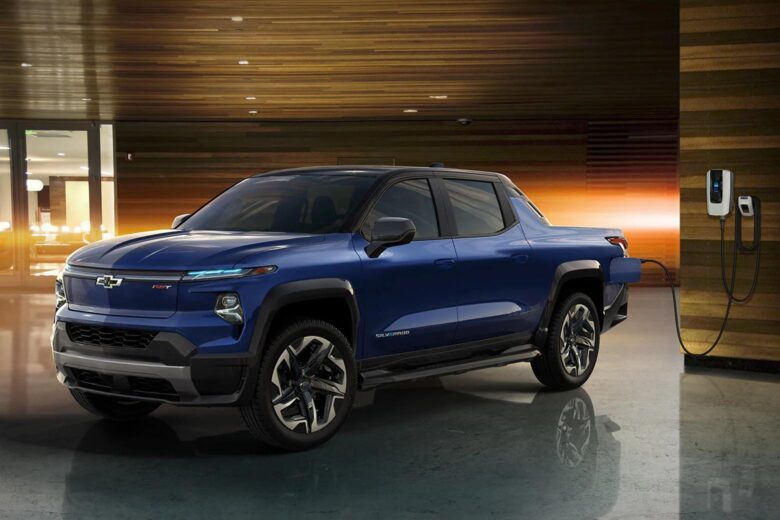 Now that the Bollinger B1 and B2 are canceled, we're turning our attention to Chevrolet and its yet to be released Silverado EV pick-up truck. Building on GMC's experience with the Hummer EV and SUV, Chevrolet will leverage the same Ultium battery pack to deliver up to 400 miles on a single charge.
Production for the Chevrolet Silverado EV is only starting this year, however, so you might not see it on the road until 2023.
19. Fisker Ocean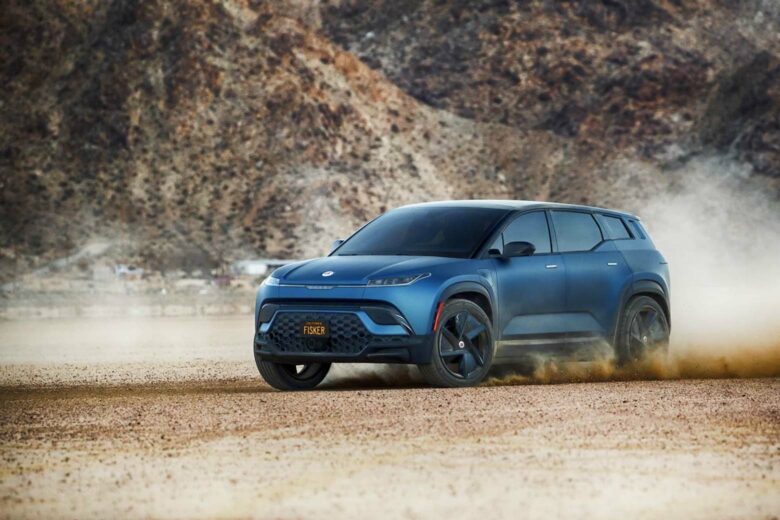 There are car brands breaking into the electric vehicle market and then there are those one step ahead, like Fisker, an environmental and sustainability-led car brand. So it's no surprise that its Fisker Ocean makes the list for one of the best electric cars for 2023.
The Ocean SUV comes in three price tiers with lots of unique features, like its full-length SolarSky roof, which harvests the sun's rays to generate free energy to support the car's battery-powered motor. Or the beautifully crafted vegan interiors made with ethically sourced, upcycled materials throughout. We could keep talking about it, but we wouldn't quite know where to stop.
20. Lexus RX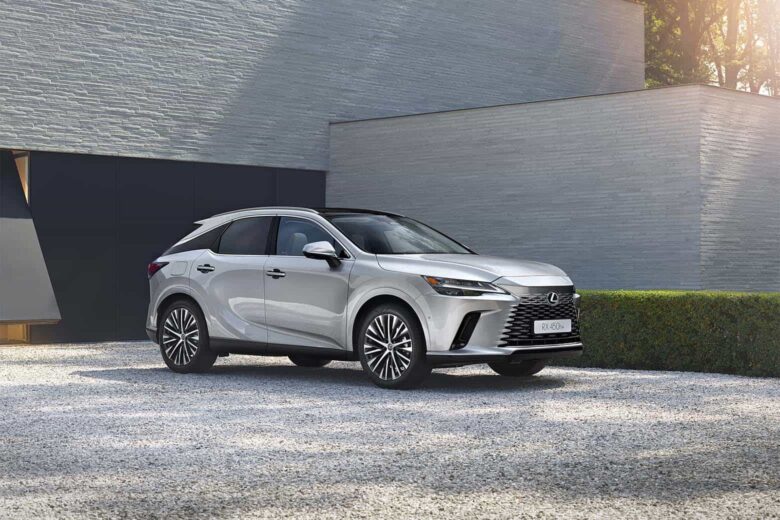 The "RX" in Lexus RX stands for "Radiant Crossover", designed to focus on the brand's push forwards towards sustainability without losing its traditional values and designs. And the 2023 RX establishes just that, in one easy sweep with a vehicle with plenty of variations but consistency throughout. Designed for driving in the city, the RX might not be the fastest luxury electric car but it's definitely up there with the most versatile.
Its innovative aerodynamic features enhance its performance, volume (or lack of), and range. Even when it comes to the sound of the doors closing: the team selected unique materials and adjusted the door shape by tenths of a millimeter to ensure a satisfying, reassuring, not too loud tone.
The Lexus RX was also selected on our ranking of the best luxury SUVs of the year, it's that good.
21. Tesla Cybertruck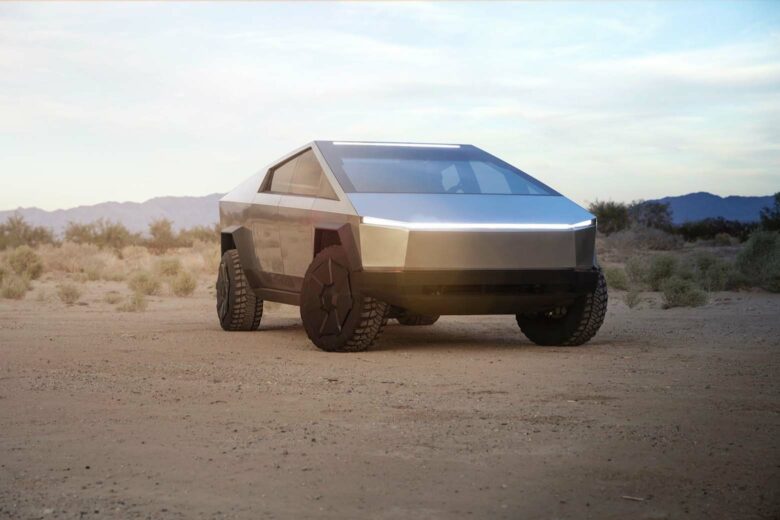 When you first see a picture of a Tesla Cybertruck, it's hard to tell precisely what it is: A comic book version of a futuristic car? A vehicle moving so fast it looks strangely pixelated?
Tesla's most avant-garde vehicle is built with myriad practical capabilities, making it a very usable pickup truck (as well as something that onlookers will definitely look twice at when passing). It's tough, it's strong, and it can work for a long time – this EV truck has an estimated driving range of over 500 miles. Its low center of gravity and powerful drivetrain give it some seriously impressive stats.
The Cybertruck can tow up to 14,000 pounds; it has an acceleration of just under 3 seconds for 0-60mph and 0-100 kph, and its most expensive variant boasts a top speed of 120 mph (or 193 kph).
Bonus: 2023 Upcoming models
2023 promises to be another exciting year for the luxury electric car market, with bold new models expected to be released.
Below are the six upcoming luxury electric cars that we're most excited about for 2023.
Maserati Grecale Folgore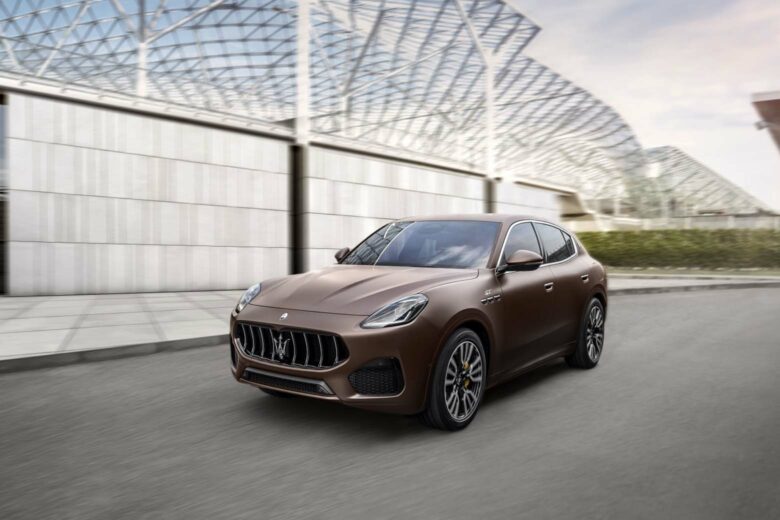 There's no stopping the demand for compact crossover SUVs. Maserati has stepped up to the plate with the internal-combustion-engine Grecale for 2023, but in 2024, a battery-electric variant will roam the streets.
While the available details are limited, we know the Maserati Grecale Folgore will pack a 400-volt architecture and a 105 kWh battery pack. Maserati also reports it will have over 500 horsepower and a top speed of over 200 km/h (124 mph).
Lucid Gravity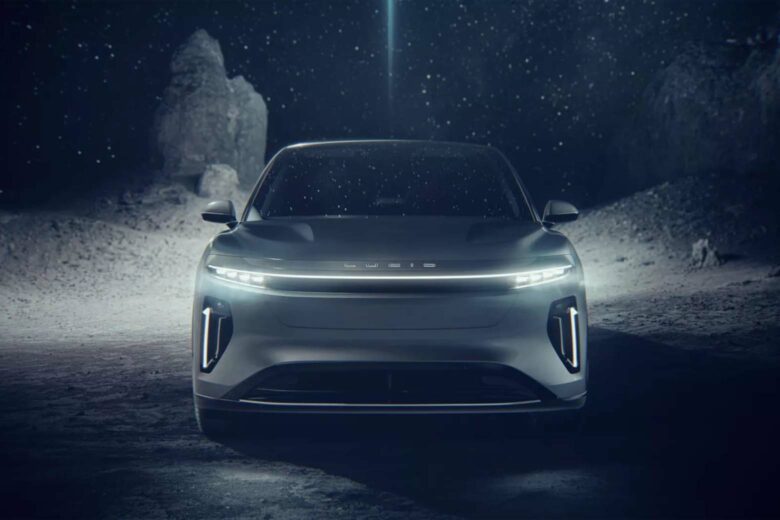 Offering maximum utility in a nimble, high-performance package, the Lucid Gravity is another luxury electric car grabbing our attention. The model should be available in 2024, providing a seven-seater electric SUV that embodies everything Lucid aims for.
Sports-tuned suspension and exceptional range let you drive away without concern, while the next-generation Glass Cockpit provides ample visibility. Rumors of up to 1,200 horsepower make it clear that any power-hungry foot will be happy stepping on this accelerator.
Polestar 5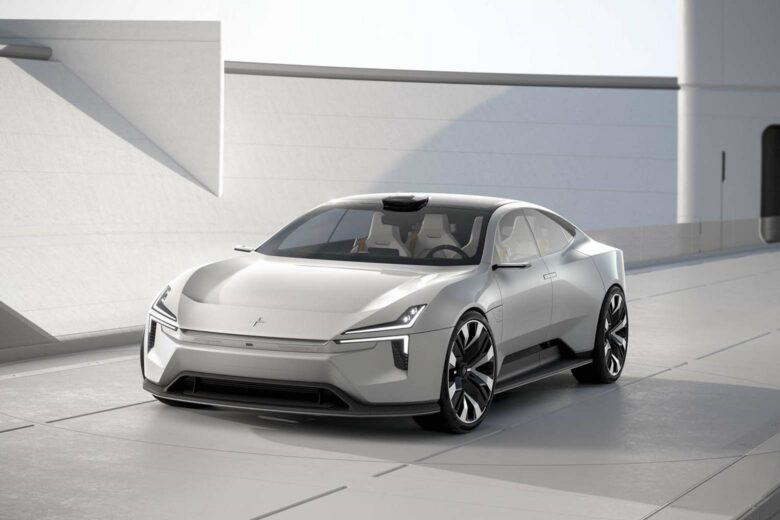 The Tesla Model S and Porsche Taycan better watch their back. This entry to the growing four-door GT segment is sure to be a top contender.
The Polestar 5, expected in 2024, combines aerodynamic styling with an 884-horsepower platform to deliver a package with wide appeal. The innovative company with deep ties to Volvo has also announced the production facility will be fully carbon-neutral, stepping up standards for every automaker across the globe.
Cadillac CELESTIQ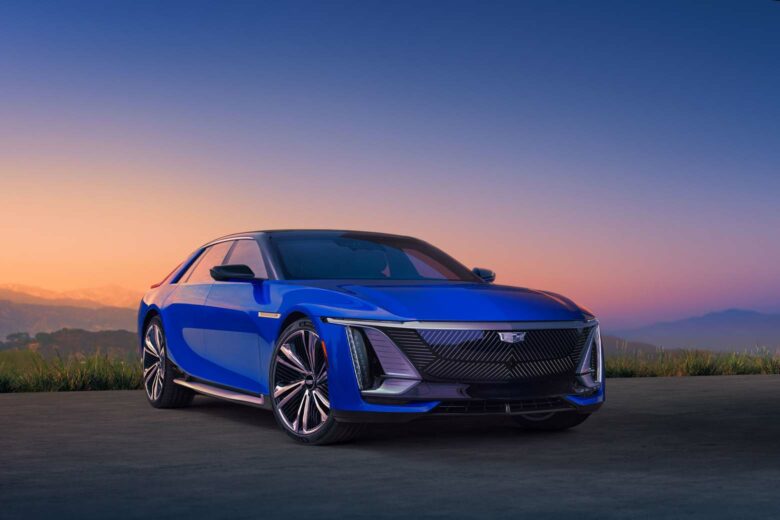 Breaking into new territory means taking risks, leveraging history, and shooting for the moon. The Cadillac CELESTIQ ticks all of these boxes in full, creating a dynamic new luxury electric vehicle to show the world it means business.
Four-zone climate control, hands-free cruise control, and advanced all-wheel drive systems are just the tip of the iceberg. Every single CELESTIQ will be personally commissioned, providing a level of exclusivity unrivaled by most competitors.
Lotus Eletre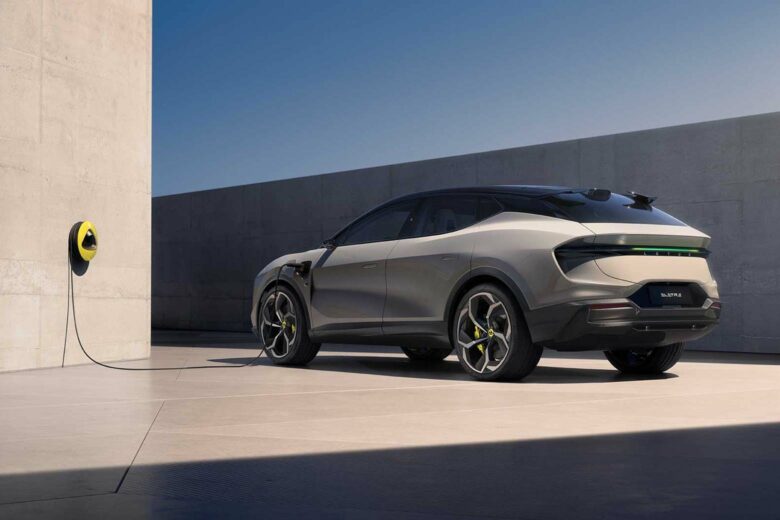 If you've been waiting for a new hyper-SUV to rock your socks off, get ready to go barefoot. The Lotus Eletre, coming in 2024, brings exhilarating performance incorporated into a spacious SUV platform.
The available specs are out of this world, including a 373-mile (600 km) range, 905 horsepower, and a 0-62 mph (0-100 km/h) time of just 2.95 seconds. The Lotus Eletre is also reported to be ready for fully autonomous driving, with LIDAR, millimeter-wave radar, and HD cameras pointing in every direction.
Rivian R1T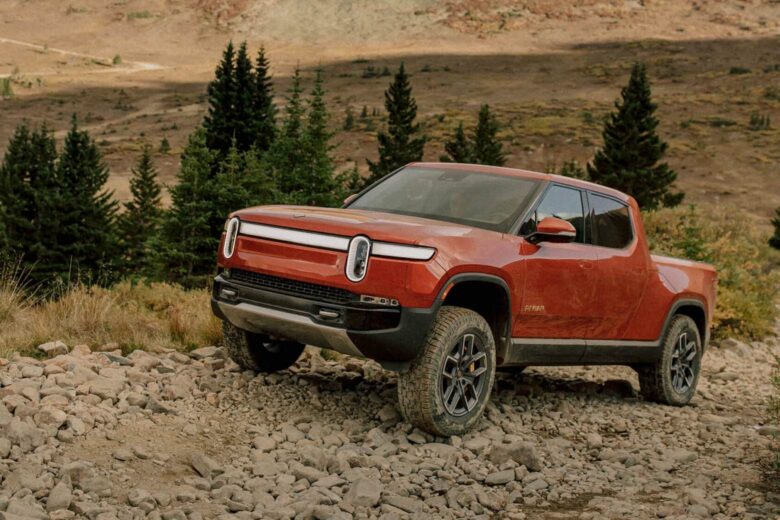 With deliveries expected in late 2023, the latest Rivian model is ready to show the world that going electric doesn't mean you have to stick to the cities. Over 400 miles (644 km) of range and a towing capacity of 11,000 lbs. (4,990 kg) will be up for any adventure.
The Rivian R1T will have eight different driving modes, four for ideal on-road performance and four to tackle when the road gets rough.
Choosing the best type of luxury electric car for you
When you're looking for a top-tier electric car – and, more importantly, the right car for you, your preferred aesthetic, and your unique lifestyle, there are many considerations to take into account. Just a few factors to take into account might include:
The number of miles you drive per day
How much room you need – personally, or for passengers
Your proximity to a suitable outlet or charging station
Your storage needs
How you plan to use the car (for commuting? For longer journeys?)
Your budget
With an electric vehicle specifically, you'll need to think about some of these points in a different way. For example, electric vehicles often make fantastic commuter cars, particularly if your company is among the growing number of employers who have invested in EV charging spots.
However, unless you have a plan for recharging easily, EVs might be difficult to dedicate for adventuring far away – for now. (We'll get back to you in a few years on that one – auto manufacturers are introducing longer driving ranges all the time!)
Ultimately, it's your choice – and the choice to make a sustainable impact with your vehicle is certainly a commendable one. Luckily, the luxury auto market is making it easy for that choice to be a fun and comfortable one as well.
Methodology: How we select, test, and rank the best options on the market
Range and charging time: Although comfortable interiors and fast accelerations are nice, in terms of daily use, those two factors are going to be the most important. They're also factors unique to electric cars, which made them a prime focus as we put together our 2023 guide.
We spent time studying the websites and recent offerings of the best auto manufacturers the world over; we read reviews, watched videos, analyzed statistics, and took into consideration our previous rankings to see what has changed over the years. After putting together our shortlist of the best electric cars of 2023, we selected the unique value point for each vehicle and awarded each their title for our 2023 rankings.
Frequently asked questions about luxury electric cars