In a modern-day battle of David and Goliath, a new luxury automaker has emerged victorious. With exhilarating performance, lavish interiors, and an unparalleled customer service experience, Genesis cars have edged into the competitive industry and toppled long-standing giants.
Even more impressive, this relatively-new luxury brand has gained traction by making Genesis car prices some of the most competitive on the market. Affordable affluence is no longer an oxymoron, it's a mission statement.
At a glance
| | |
| --- | --- |
| | |
| Name: Genesis | Industry: Automotive |
| Founded: 2015 | Founder: Hyundai Motor Company |
| Headquarters: South Korea | Parent organization: Hyundai Motor Company |
| Revenue: ~$900 million USD | Website: genesis.com |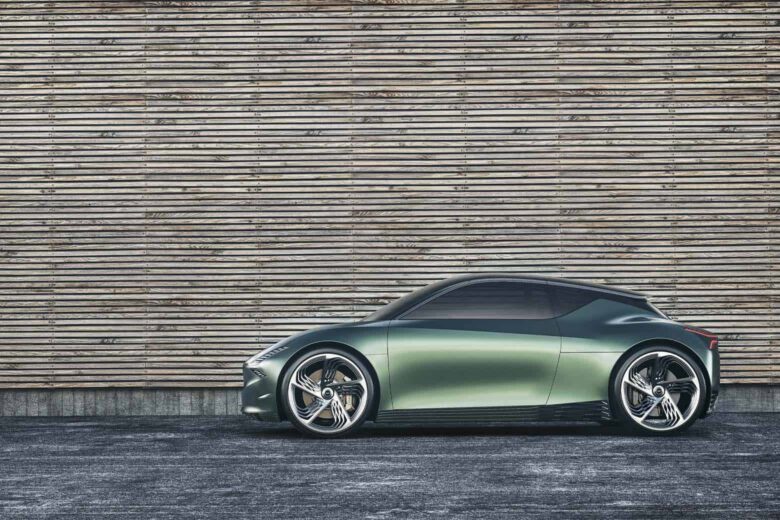 Genesis price
How much does a Genesis cost?
Since inception, the Genesis name has created the unlikely pairing of luxury and affordability. All Genesis cars are made to impress, delivering upscale interiors built on powerful drivetrains, but with a cost-conscious approach.
The Genesis G70 price is the lowest on the list, starting at just $39,400 for a luxurious sedan with athletic performance. By bumping the budget to $43,150, you hit the Genesis SUV price for the GV70, a compact luxury SUV with a posh interior and all-wheel drive capability.
Some Genesis car prices start to rise a little higher, with the popular G80 luxury sedan. While the Genesis G80 price starts at $50,000, high-level trims can cost nearly $80,000, including the electric Genesis G80.
What is the most expensive Genesis?
To get the most luxurious option in the Genesis model lineup, the Genesis G90 executive sedan is the ticket, and it starts at $88,400 before options. An extended wheelbase model of the G90 is available in some markets, which would likely sell for around $125,000 if it's ever offered in the United States.
While they're nowhere close to the price of Bugattis, other more-costly cars and SUVs include the electric Genesis models. The sporty GV60 compact SUV, the stylish Genesis Electrified GV70, and the Electrified G80 sedan have starting prices of $59,290, $65,850, and $79,825, respectively.
How much is the cheapest Genesis?
Finding a better value in the luxury car market is no easy task. Even the well-priced Lexus models will force you to depart with more cash than most models of Genesis for sale.
The cheapest Genesis car is the G70 sedan, starting at under $40,000. If you want extra ground clearance, capability, and cargo space, then go for the crossover SUV Genesis GV70 price of $43,150.
And if an electric Genesis is what you're after, you have two options with competitive pricing. The Genesis GV60 price is $59,290, a great deal for this fastback-style compact SUV with tons of spirit. The electric Genesis GV70 price is also quite reasonable, starting at $65,850.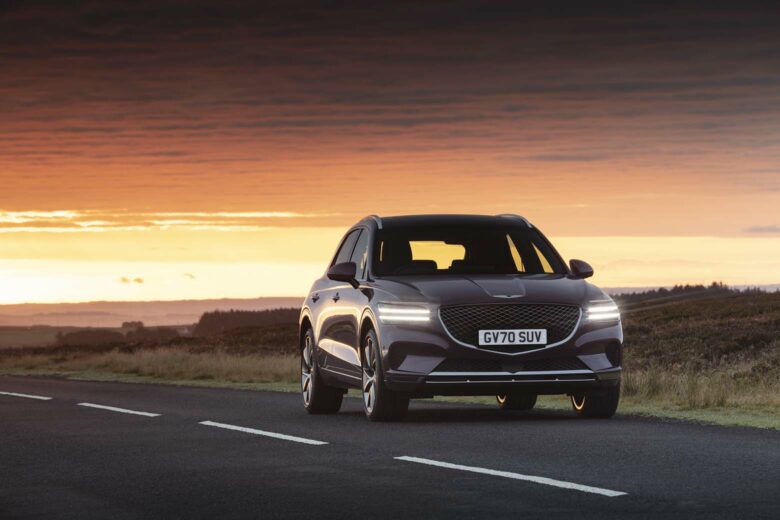 About Genesis
History of Genesis
South Korean automaker Hyundai began producing luxury cars back in 1999 with the release of the Hyundai Equus to select markets. Then in 2003, Hyundai hit the drawing board to come up with a new rear-wheel-drive sedan, which became reality in 2008 as the Hyundai Genesis and later the Hyundai Genesis Coupe.
The Genesis model took the world by storm, receiving many accolades and awards, and quickly rising toward the top of the competitive luxury car market. Hyundai proved it could compete with established names, and to level the playing field, the Genesis and Equus were sold without any Hyundai emblems affixed, using only the new Genesis logo.
After many successful years, Hyundai created Genesis as a standalone luxury brand in 2015. The Hyundai Genesis became the Genesis G80 for the 2016 model year, and the larger executive sedan Equus became the G90.
There is now a full lineup of upscale and elegant new Genesis cars and SUVs. And like many brands, the electrical revolution is rippling through the Genesis models as well, with plenty more around the corner. Maybe one day we'll see a Genesis electric car for kids.
Understanding Genesis car range
Genesis uses a straightforward, although redundant, naming convention. The sedan model names all start with G, which represents Genesis. The SUV models begin with GV, for Genesis versatility.
Each model name also includes a two-digit number signifying the size and place in the lineup. For example, the G70 is currently the smallest, most affordable sedan, while the G90 is the largest, most luxurious Genesis car. The same is true for the SUVs, ranging from the compact GV60 to the largest SUV, GV80 Genesis.
Select electric Genesis models add the term Electrified into the name to differentiate themselves from their internal combustion counterparts. But the electric GV60 with no combustion option leaves it off.
Interesting facts about Genesis
Genesis goes far above and beyond with its 10-year warranty and 3-year complimentary maintenance. Genesis dealerships not only deliver your new purchase to your doorstep, but they'll also pick up and return your vehicle for service appointments, offering a loaner vehicle in the interim.
To increase brand awareness, Genesis was the official sponsor of the National Football League (NFL) for four years, and now hosts a Professional Golf Association (PGA) event, the Genesis Invitational, formerly known as the Genesis Open, in Southern California.
Where is Genesis made?
Like its parent company, Hyundai Motors, Genesis has headquarters in Seoul, South Korea. The luxury brand also has design offices in Germany and the United States.
Genesis cars and SUVs are produced in South Korea, but the new Electrified G70 will be produced in a US-based facility in Alabama.
Genesis electric cars
Even though some brands, like Ferrari, cling tightly to internal combustion engines, Genesis electric cars are quickly accelerating forward. Electric models include the Genesis GV60 compact SUV, the Electrified G80 sedan, and the Electrified GV70 mid-size crossover luxury SUV.
Genesis has also unveiled tantalizing plans for its future electric cars. The Genesis X is a two-door Genesis coupe EV concept that will let you glide through turns with the wind in your hair, while the Genesis X Speedium Coupe concept has an insanely-sleek minimalistic style with grand tourer performance, possibly becoming a serious contender to electric Porsche models.
By 2030, Genesis has its sights set on being a fully-electric brand that puts all of its internal combustion engines into the history books, just like the best electric motorcycles are doing for two-wheel machines.
Genesis models
Let's go over the details of the current lineup of Genesis cars and SUVs.
Genesis GV80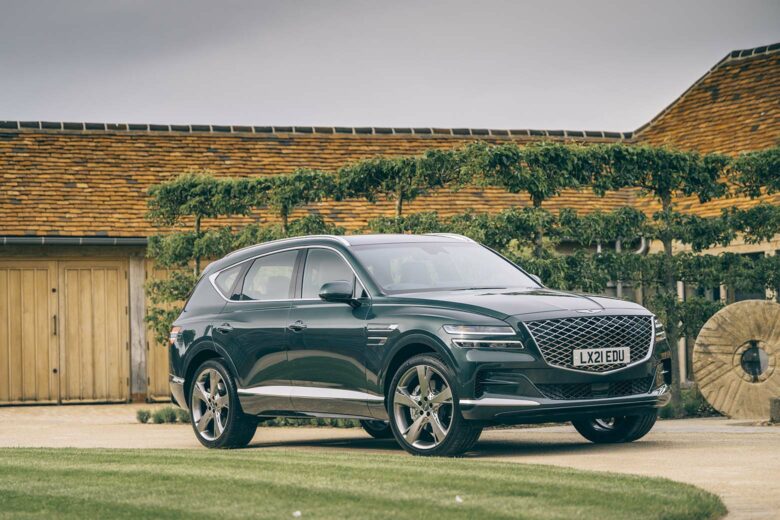 Crossover SUVs strike the ideal balance between capability and practicality. But many on the market today are essentially carbon-copy clones, with little more than a badge differentiating them.
With a unique design and elegant interior, the Genesis GV80 SUV stands out from the crowd in all the right ways. The base inline-4 has enough get-up-and-go, but a more powerful V-6 option easily tackles steep mountainous climbs.
Available options include heated and ventilated seats covered in Nappa leather, plus a slim third-row bench. The GV80 is a downright impressive vehicle, hitting our list of the best luxury SUVs as the top choice in the uber-competitive mid-size segment.
| | |
| --- | --- |
| Price: | Starting at $55,800 |
| Release year: | 2021 |
| Engine: | 3.5L twin-turbo V-6, 2.5L turbocharged inline-4 |
| Top speed: | 149 mph – 240 km/h |
| 0-60 mph: | 5.3 to 6.1 sec |
| Power: | 375 to 300 hp |
| Torque: | 391 to 311 lb-ft |
Genesis GV70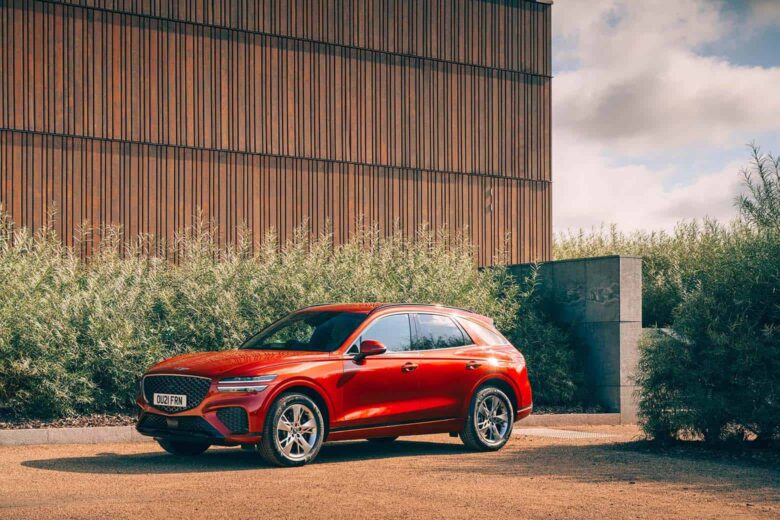 The Genesis GV70's long, sweeping lines merge with just the right amount of daring accents, generating an elegant yet athletic appearance.
With seven different trim levels to choose from, there's a GV70 Genesis that fits your desires and budget. Those who put driving experience first should opt for the twin-turbo V-6 engine, while the Advanced trim provides high-end touches like a heated steering wheel and a self-parking feature.
It's up against tough competition from the likes of the BMW X3 and Range Rover Evoque, yet manages to comfortably keep up.
| | |
| --- | --- |
| Price: | Starting at $43,150 |
| Release year: | 2022 |
| Engine: | 3.5L twin-turbo V-6, 2.5L turbocharged inline-4 |
| Top speed: | 149 mph – 240 km/h |
| 0-60 mph: | 4.9 to 5.6 sec |
| Power: | 375 to 300 hp |
| Torque: | 391 to 311 lb-ft |
Genesis Electrified GV70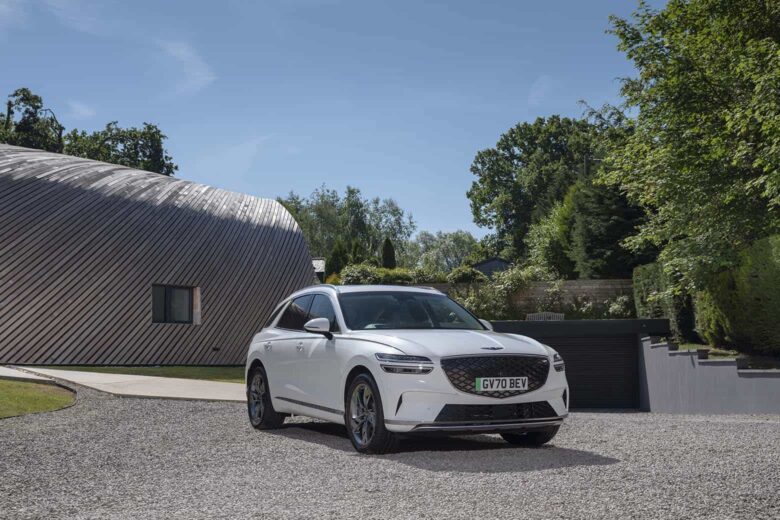 As the third electric car from Genesis, the GV70 features two motors to provide all-wheel drive performance on the same platform as its internal combustion counterpart. The exquisite exterior fills your eyes with a sense of speed, and the powertrain supports this belief.
The luxury car has nearly 500 horsepower and incredible acceleration to 60 mph in 4.5 seconds. While that's no match for the fastest cars in the world, it holds up extremely well against rivals like the Tesla Model Y.
| | |
| --- | --- |
| Price: | Starting at $65,850 |
| Release year: | 2023 |
| Engine: | Two electric motors |
| Top speed: | 146 mph – 235 km/h |
| 0-60 mph: | 4.5 sec |
| Power: | 483 to 429 hp |
| Torque: | 516 lb-ft |
| Range: | 236 miles – 380 km |
Genesis GV60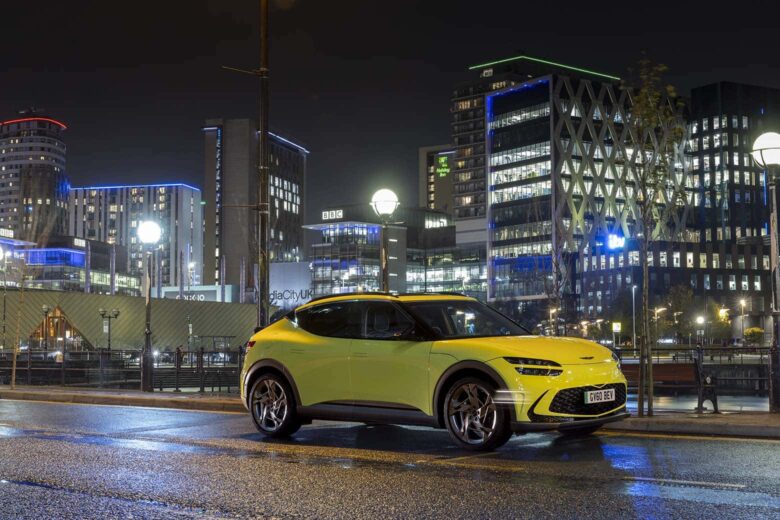 Facing another segment with big-name contenders like the Volvo C40 Recharge and Audi Q4 e-tron, the Genesis GV60 adds to the growing lineup of electric compact luxury SUVs.
The front end drops the usual Genesis grille and uses a fastback-style rear end, giving the electric GV60 a distinct look. The interior's expansive display, covering instrument cluster and infotainment needs, adds to the unique touches of this Genesis SUV.
The list of standard features is also impressive, with a full suite of driver-assistance functions and a high-fidelity Bang & Olufsen sound system.
| | |
| --- | --- |
| Price: | Starting at $59,290 |
| Release year: | 2023 |
| Engine: | Two electric motors |
| Top speed: | 151 mph – 243 km/h |
| 0-60 mph: | 3.7 sec |
| Power: | 483 to 314 hp |
| Torque: | 516 to 446 lb-ft |
| Range: | 248 miles – 399 km |
Genesis G90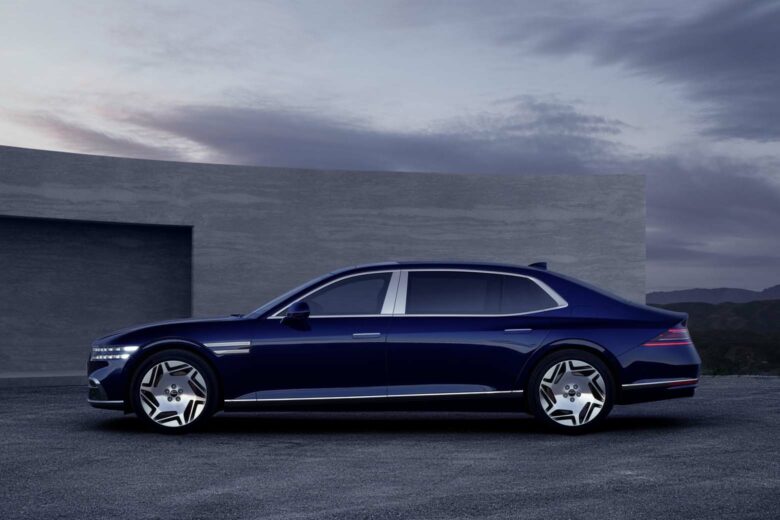 Power-operated doors, chauffeur driving mode, and a built-in fragrance diffuser aren't your typical luxury sedan features. And they're just the tip of the iceberg for why the Genesis G90 isn't your typical luxury car.
By breaking convention, the G90 paves the way forward. It's already dropped its largest V-8 engine option, so Lamborghini-size engine lovers should look elsewhere. But this Genesis sedan uses a powerful V-6 with an available 48-volt E-supercharger to dish out more than 400 horsepower.
Overall, the G90 is a relaxing, elegant ride that might even make Mercedes-Benz S-Class fans do a double check.
| | |
| --- | --- |
| Price: | Starting at $88,400 |
| Release year: | 2017 |
| Engine: | 3.5 twin-turbo V-6 with optional E-supercharger |
| Top speed: | 132 mph – 212 km/h |
| 0-60 mph: | 5.1 sec |
| Power: | 409 to 375 hp |
| Torque: | 405 to 391 lb-ft |
Genesis G80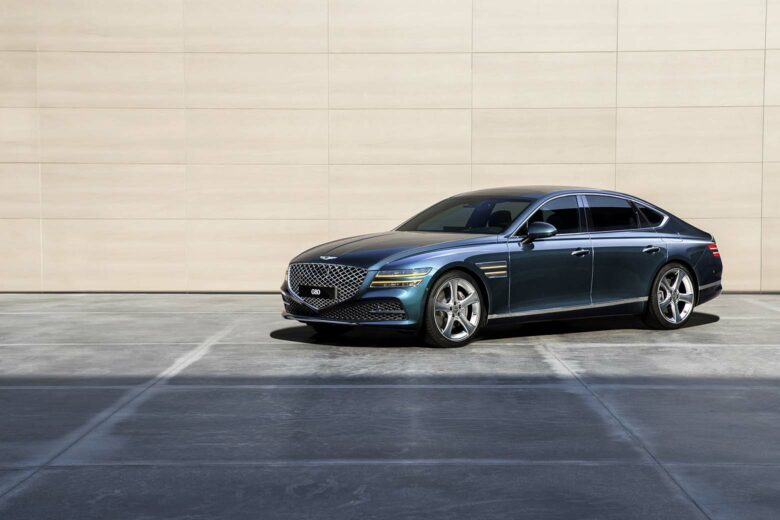 When the Hyundai Genesis first hit the market in 2008, the value-focused luxury model was widely praised, although some skeptics remained. But now that Genesis has spun off with more than a decade of experience, there's no doubting its ability to provide so much, for so little.
The Genesis G80 remains one of the best deals in the luxury car industry, sneaking under the price of similar models like the Jaguar XE, yet managing to squeeze out a posh interior on a spirited platform.
While it's unlikely to make our best classic cars list or rival the bespoke approach from Rolls-Royce, the G80 maintains a comfortable spot to stretch your dollar and hit the road in style.
| | |
| --- | --- |
| Price: | Starting at $50,000 |
| Release year: | 2016 |
| Engine: | 3.5L twin-turbo V-6, 2.5L turbocharged inline-4 |
| Top speed: | 155 mph – 250 km/h |
| 0-60 mph: | 4.7 to 5.7 sec |
| Power: | 375 to 300 hp |
| Torque: | 391 to 311 lb-ft |
Genesis Electrified G80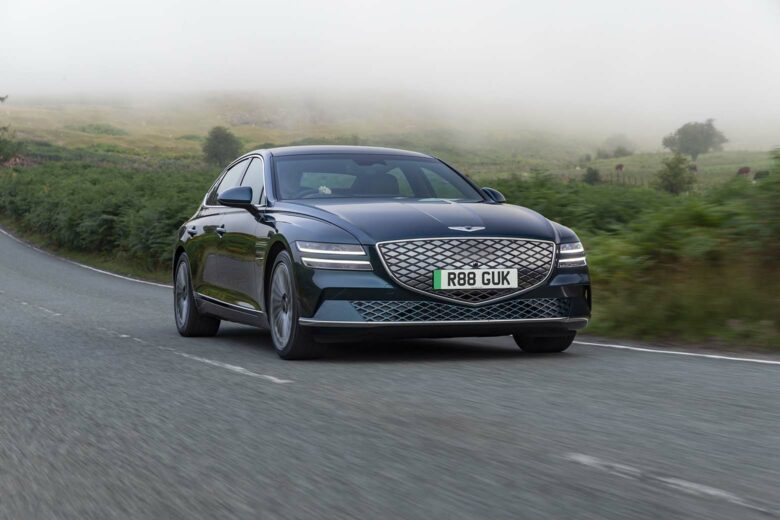 Although you can't tell a difference from the outside, this G80 model drops the internal combustion in favor of an all-wheel drive electric Genesis powertrain with some serious acceleration. 516 lb-ft of torque pushes this comfort-focused ride to 60 mph in about 4 seconds.
It's still far from the most expensive cars, yet in customary Genesis fashion, the Electric G80 is flooded with premium amenities. Smart Park technology handles those tight spots for you, a 21-speaker Lexicon Premium Audio system hits deep in your soul, and the valet services shuttles your vehicle back and forth for complimentary maintenance.
To those who have witnessed it in person, it's no surprise to discover the Genesis Electrified G80 made our shortlist of the best electric cars in the world.
| | |
| --- | --- |
| Price: | Starting at $79,825 |
| Release year: | 2023 |
| Engine: | Two electric motors |
| Top speed: | 150 mph – 256 km/h |
| 0-60 mph: | 4.1 sec |
| Power: | 365 hp |
| Torque: | 516 lb-ft |
| Range: | 282 miles – 454 km |
Genesis G70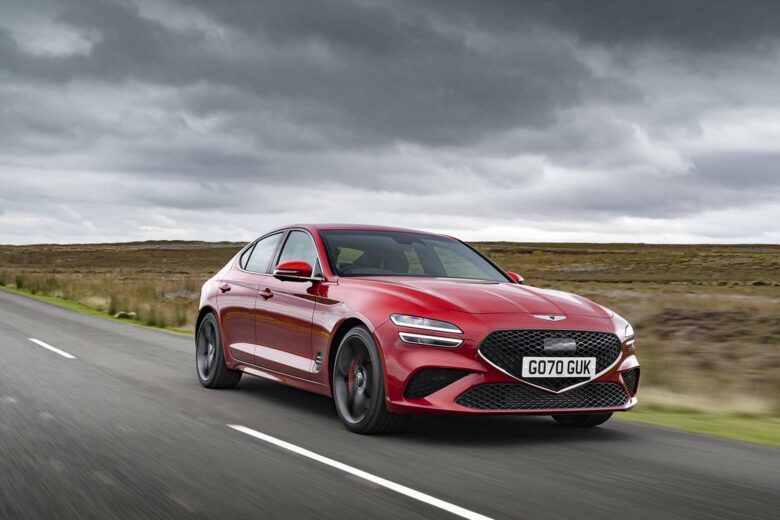 Stepping into the Genesis G70 transports you to a supple world with Nappa leather, a microfiber headliner, and a wholly-refined space. Put your foot on the accelerator to bring up to 365 ponies to life, powering through turns with confidence.
Overall, the G70 is another marvel of engineering that somehow lets you save money for other adventures, while still keeping up with models from long-standing brands, like the Cadillac CT4.
For now, an inline-4 or V-6 engine sits under the hood of the G70. But we think Polestar EVs should be closely monitoring the rear-view mirrors to see when an electric Genesis G70 starts to approach.
| | |
| --- | --- |
| Price: | Starting at $39,400 |
| Release year: | 2019 |
| Engine: | 3.3L twin-turbo V-6, 2.0L turbocharged inline-4 |
| Top speed: | 168 mph – 270 km/h |
| 0-60 mph: | 4.7 to 6.2 sec |
| Power: | 365 to 252 hp |
| Torque: | 376 to 260 lb-ft |
Genesis customer service number
Get in touch with a helpful service representative by calling Genesis customer service number at 1-844-340-9741 or sending a message through the Contact Us page. https://owners.genesis.com/us/en/contactus.html
Genesis social media profiles
Stay in the loop with the latest news and events by following the official Genesis social media profiles:
Frequently asked questions about Genesis
Who makes Genesis cars?
Genesis vehicles are made by Genesis Motors LLC based in Seoul, South Korea. Hyundai Motor Company owns Genesis, which started as a Hyundai model name but has now transitioned into a standalone brand producing luxurious cars, SUVs, and electric vehicles.
Is Genesis considered a luxury brand?
Yes, Genesis is considered a luxury brand. The Genesis G90 is an executive sedan that rivals contenders like the Mercedes-Benz S-Class, using premium materials and elegant designs. The brand also has luxurious SUVs, such as the electric GV70 crossover SUV.
What do Genesis cars cost?
Many Genesis cars cost around $50,000 to $70,000. Cheaper Genesis models include the G70 sedan at $39,400 and the GV70 crossover SUV at $43,150. More expensive options are the G90 executive sedan at $88,400 and the electric G80 sedan at $79,825.
What is the cheapest Genesis car?
The cheapest Genesis car is the luxurious Genesis G70 sedan, with a starting price of $39,400. Another affordable option is the Genesis GV70 SUV, starting at $43,150. The cheapest electric Genesis is the GV60 compact SUV, at $59,290.