Ferrari. One word that drives your imagination well beyond the automotive industry. It floods your senses with roaring engines harnessed underneath exquisite shells, epitomizing both motorsports excellence and artistic mastery.
The luxury cars displaying the Prancing Horse logo provide a thrilling driving experience with unparalleled design elements. Whether you dive into its rich history or watch the latest masterpieces roll off the line, anything the Ferrari brand touches is sure to please.
Hold on tight. This Ferrari car list will burn rubber straight to your imagination.
Oh, and if you're curious to see what the brand's closest competitors are up to, check our stories on Porsche and Lamborghini too. It's worth the detour. 😉
| | |
| --- | --- |
| | |
| Name: Ferrari | Industry: Automotive |
| Founded: 1947 | Founder: Enzo Ferrari |
| Headquarters: Italy | Parent organization: Ferrari N.V. |
| Revenue: $4.24 billion USD | Website: Ferrari.com |
Ferrari price: How much does a Ferrari cost?
As a luxury sports car brand that creates without compromise, any Ferrari model is a serious investment. The most modestly priced new model is the Roma, starting at $220,000 and worth every penny. Next, you can step up into the mid-range offerings, such as the 812 Superfast priced at $338,000. Or you reach the upper shelf with the awe-inspiring hypercars such as the LaFerrari, originally priced at $2.2 million.
What is the most expensive Ferrari?
As the current flagship hypercar of the Ferrari logo, the Daytona SP3's $2.2 million price tag tops the list of the most expensive Ferraris.
Still have cash to spare?
The 2015 production of Ferrari Pininfarina Sergio models sold new for a reported $3 million each, making it to our list of the most expensive cars.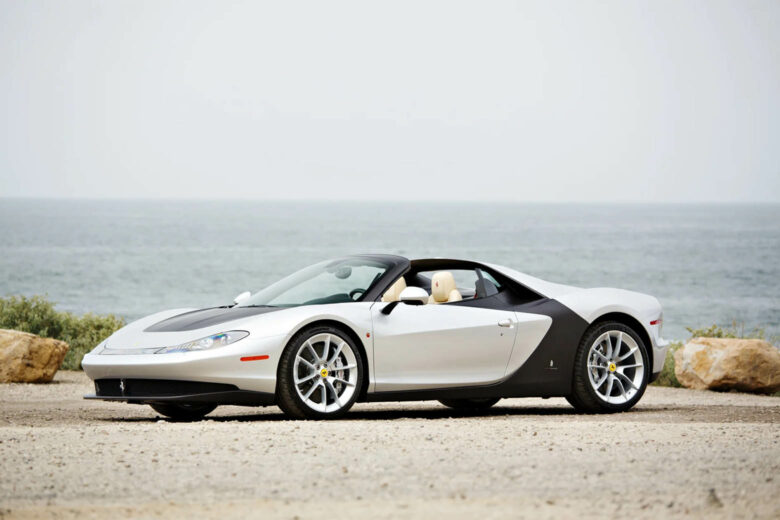 But the 1963 Ferrari 250 GTO is the most beloved, fetching $48.4 million at auction and a reported $70 million in a private sale. To show how far some enthusiasts will go, one GTO owner from the UK spent a small fortune to get a specialized "25 O" license plate.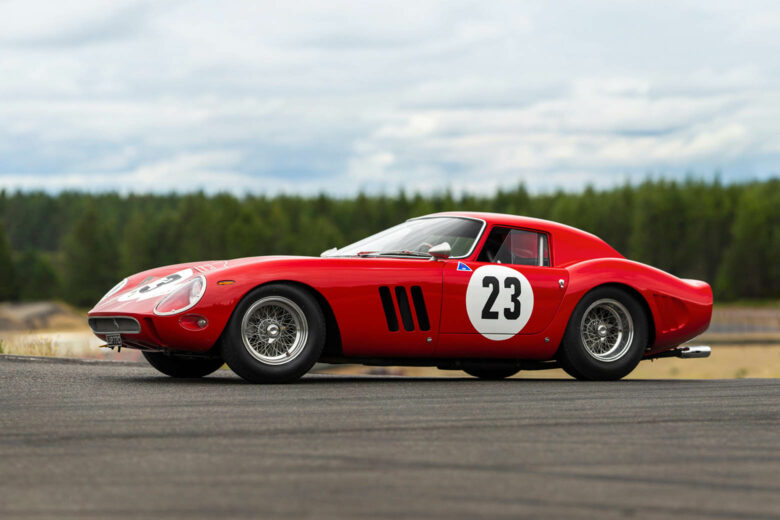 What is the cheapest Ferrari?
If you want to jump on the saddle of a Ferrari without forgoing your entire retirement, you can purchase a new Ferrari Roma starting at $226,570. Even though it's the lowest new Ferrari price, it is no slouch in style or performance and upholds the Italian automaker's impeccable reputation.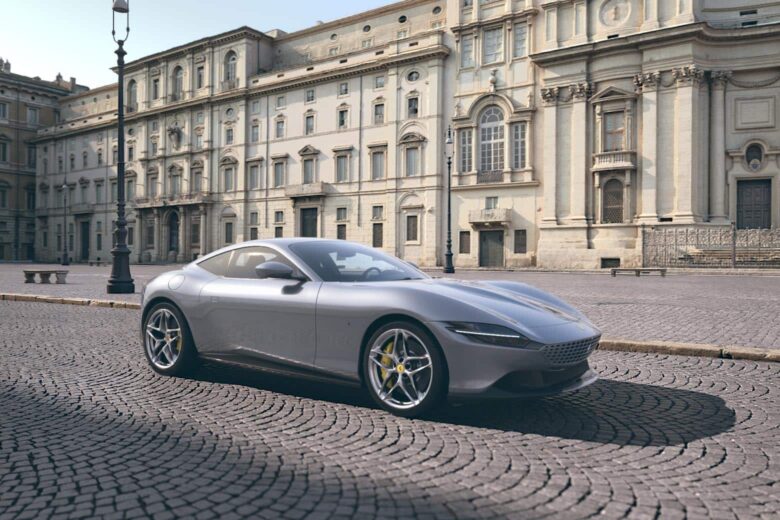 About Ferrari: The story behind the famous Italian car brand
History of Ferrari
Enzo Ferrari's early days started by reworking Alfa Romeo cars into racing machines. While he never planned on producing his own vehicles, that all changed about ten years after stepping away from the Alfa partnership in 1939.
His first masterpiece showing the Prancing Horse logo came in 1947 when the Ferrari 125 S debuted with its 1.5L V12 engine. The rest is history, cemented by six consecutive Mille Miglia wins and victory at the 1949 24 Hours of Le Mans.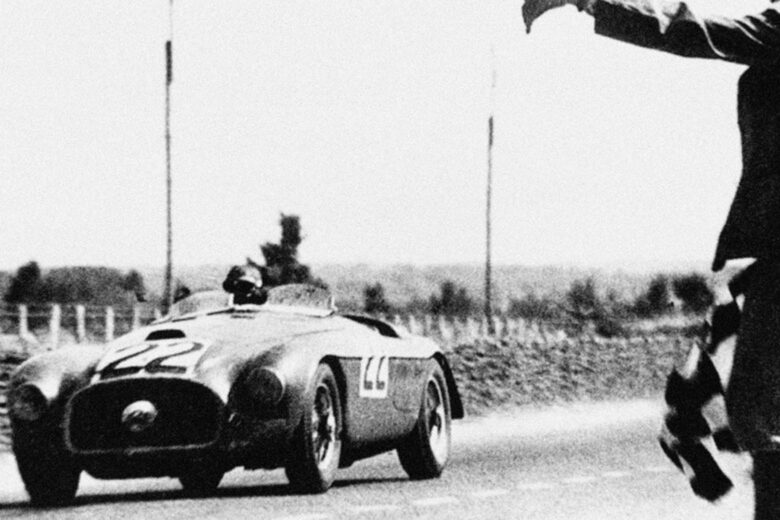 The 1987 F40 was the last vehicle designed under Enzo Ferrari's leadership, but the tenacious brand continues to generate top-tier performance vehicles. While the hybrid LaFerrari holds the Ferrari capstone for some, others see the pinnacle achievement as the Ferrari 250 GTO, undoubtedly one of the best classic cars in the world.
The brand's domination of Formula 1 racing in the early 21st century is legendary. Michael Schumacher sat in a Ferrari cockpit to take the Driver's Championship from 2000 to 2004, finishing in the V10-powered F2004.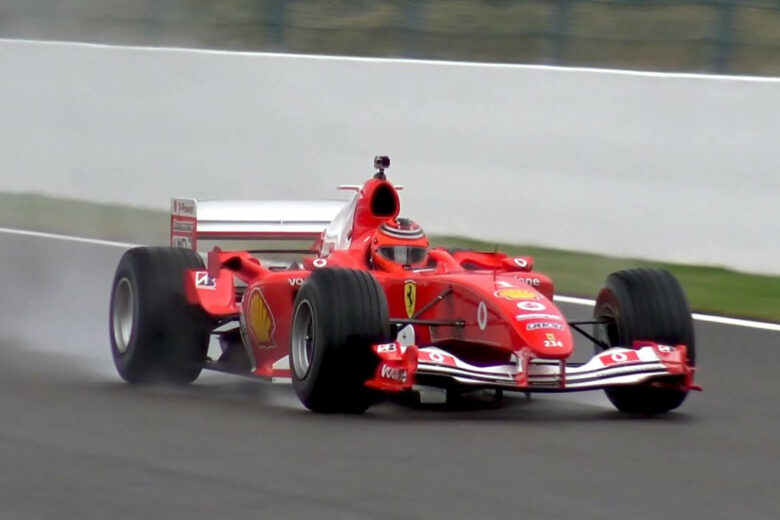 Ferrari continuously takes epic risks and reaps the rewards that follow. In 1969, Fiat took a 50% stake in the company, allowing it to continue to push forward through challenges.
Who owns Ferrari today? It is a publicly-traded company with many institutional and individual investors.
Dominance has always been the goal. And Ferrari's history is full of it. Unsurprisingly, the brand is a constant presence on our yearly ranking of the best luxury car brands online.
Interesting facts about Ferrari
The vibrant red color many Ferrari vehicles feature is a nod to pre-1960s motorsports. The international circuits required all Italian entries to be painted red, and Enzo Ferrari's brand stuck with it even after the requirement ceased.
Like many automakers, Ferrari leveraged the expertise of third-party design firms to reach for the stars. The Italian coachbuilder Pininfarina had a tight-knit relationship with Ferrari and can be seen in many designs found in the Ferrari museum or the Ferrari World amusement park in Abu Dhabi, United Arab Emirates.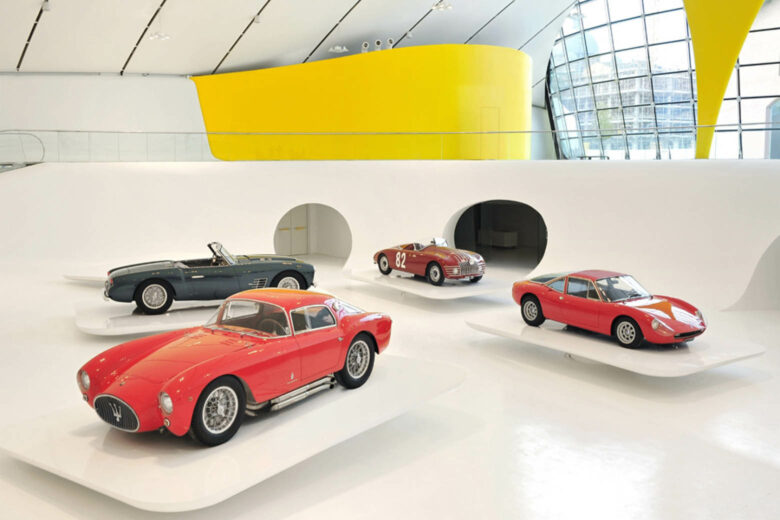 Ferrari does an incredible job at using proven performance while pushing it to new limits. LaFerrari's hybrid design and the recent forced-induction models show there are no limits to what they'll try. And soon, a Ferrari SUV named the Purosangue is poised to compete with other luxury SUVs.
Understanding the Ferrari car range
The Ferrari F40, Enzo, and LaFerrari are three staples in the hypercar world since their respective introductions in 1988, 2002, and 2013. And today, the $2.2 million Daytona SP3 sits as the V12-powered crowning achievement from the Ferrari garage.
But these limited-production models are only available to a select few. While always exclusive and prestigious, many high-performance offerings fill out the Ferrari model list.
The entry-level Ferrari, which is also the most affordable option from the luxury car brand, is the Ferrari Roma, coming in at just over $220,000 new, and living up to the brand name with over 600 horsepower. Mid-range models include the F8, 296GTB, and 812, with price tags ranging from upper $200,000s to low $600,000.
Many model names are unique references to racing history. But models that include "Spider" in their names will be open-top, while "Pista" is reserved for track variants, accompanied with changes to decrease weight and boost performance.
If numbers are included in the model name, it usually refers to the engine displacement and the number of cylinders.
The most popular Ferrari cars
Ferrari Roma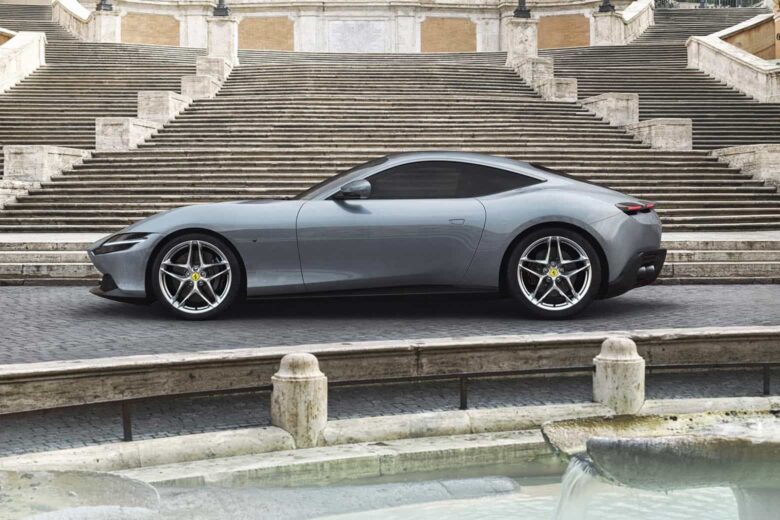 Paying homage to grand tourers from the '50s and '60s, Ferrari Roma's styling brings back the joy-free lifestyle from decades past. But there's nothing old-school about this high-performance beast's lightweight components and brilliant tuning.
The mid-front engine produces more than enough power to zip around town, while the interior wraps the occupants in refined styling, befitting of the Italian automaker. The perfect way to break into the Ferrari owner's club.
| | |
| --- | --- |
| Price | $226,570 |
| Release year | 2020 |
| Engine | Twin-turbo 3.9L V8 |
| Top speed | >199 mph (320 km/h) |
| 0-62 mph (0-100 km/h) | 3.4 seconds |
| Power | 612 horsepower |
| Torque | 590 lb-ft |
Ferrari 296GTB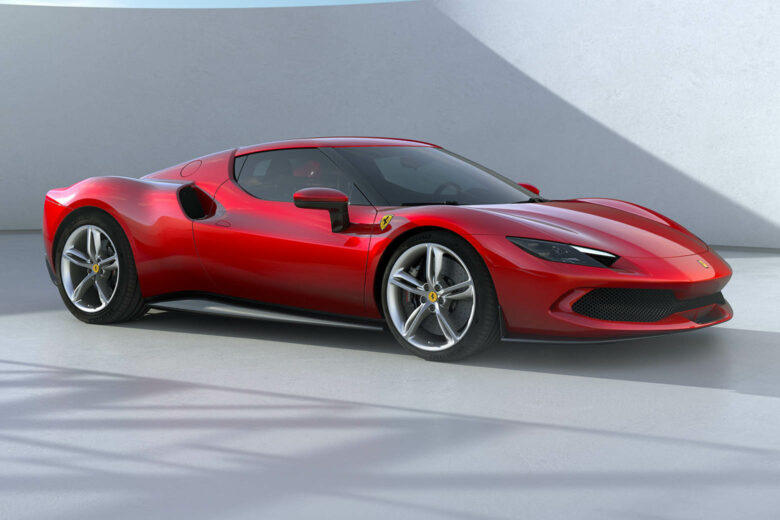 A passion for excellence has brought the Ferrari name much success. Keeping up with the transforming automotive world, the 296GTB packs an electric punch on a nimble platform.
A mid-mounted V6 is paired with an electric motor to send over 800 ponies to the rear wheels. The hybrid design might indicate that, someday, Ferrari will amp up to join the best electric cars.
| | |
| --- | --- |
| Price | $322,986 |
| Release year | 2021 |
| Engine | Twin-turbo 3.0L V6 + AC motor |
| Top speed | >205 mph (330 km/h) |
| 0-62 mph (0-100 km/h) | 2.9 seconds |
| Power | 819 horsepower combined |
| Torque | 546 lb-ft |
Ferrari SF90 Stradale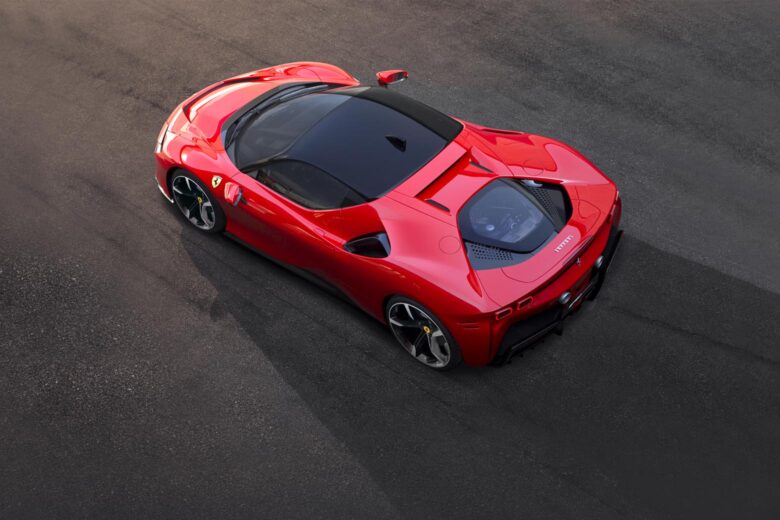 When the Scuderia Ferrari Formula 1 racing team celebrated its 90th anniversary, it wasn't just full of champagne toasts. It also brought in an advanced hybrid supercar known as the SF90 Stradale.
For some cars, a twin-turbo V8 is more than enough. But not for this special-edition Ferrari. It adds three electric motors, producing nearly 800 horsepower combined. It also generates 860 pounds of downforce to make sure those tires stay firmly planted on the ground.
| | |
| --- | --- |
| Price | $515,245 |
| Release year | 2019 |
| Engine | Twin-turbo 4.0L V8 + three electric motors |
| Top speed | 211 mph (340 km/h) |
| 0-62 mph (0-100 km/h) | 2.5 seconds |
| Power | 769 horsepower combined |
| Torque | 590 lb-ft |
Ferrari Monza SP2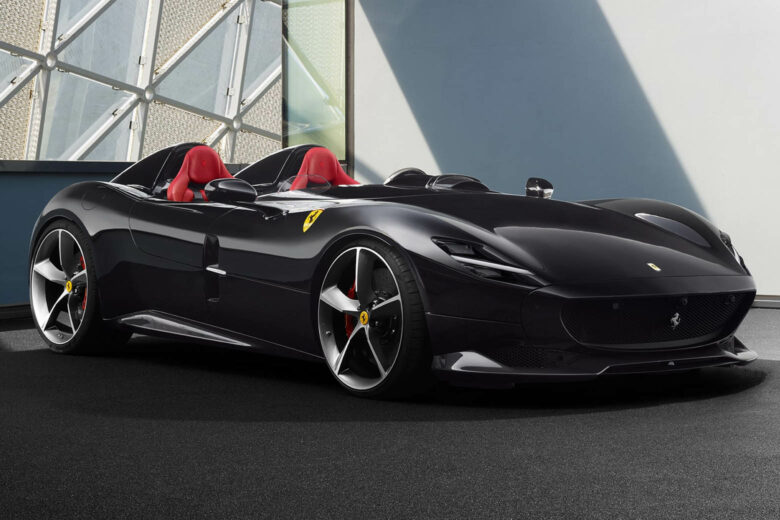 As the first product in Ferrari's ultra-exclusive Icona range, the expectations for the Monza were set in the stratosphere. And yet, it still managed to beat them by paying homage to the Barchetta models from the 1950s that helped put Ferrari on the map.
Its two-seater design with no roof and no windshield allows the wind to flow through your hair like the best electric motorcycles. The naturally-aspirated 6.5L V12 engine's tune will still be humming in your ears. And your soul.
| | |
| --- | --- |
| Price | $1.8 million |
| Release year | 2019 |
| Engine | 6.5L V12 |
| Top speed | 186 mph (300 km/h) |
| 0-62 mph (0-100 km/h) | 2.9 seconds |
| Power | 799 horsepower |
| Torque | 530 lb-ft |
Ferrari F8 Tributo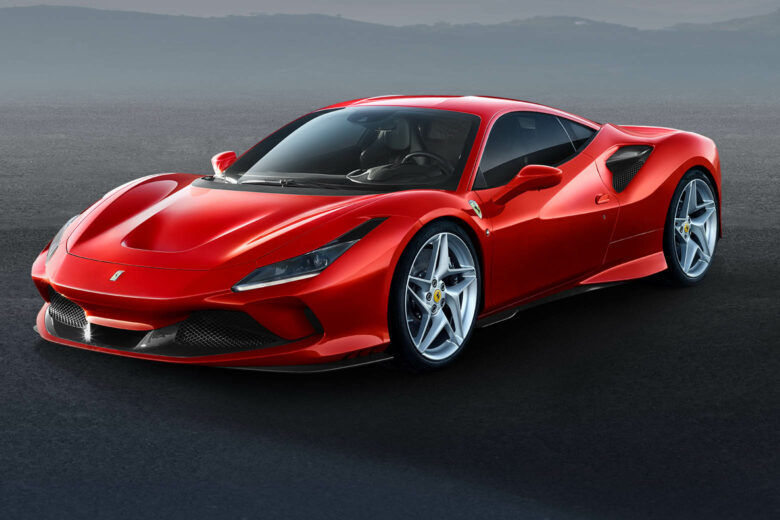 Making it into the supercar classification is not for the faint of heart. And neither is driving this impeccably-styled work of art, which also happens to sport the most-powerful V8 Ferrari has ever made. This isn't a car for kids.
You might recognize the front end's dramatic S-duct from the 488 model. The F8 keeps the line and the massive front duct alive, plus it throws in a new exhaust system to sing around every corner.
| | |
| --- | --- |
| Price | $283,950 |
| Release year | 2019 |
| Engine | Twin-turbo 3.9L V8 |
| Top speed | 211 mph (340 km/h) |
| 0-62 mph (0-100 km/h) | 2.9 seconds |
| Power | 710 horsepower |
| Torque | 567 lb-ft |
Ferrari F430 Scuderia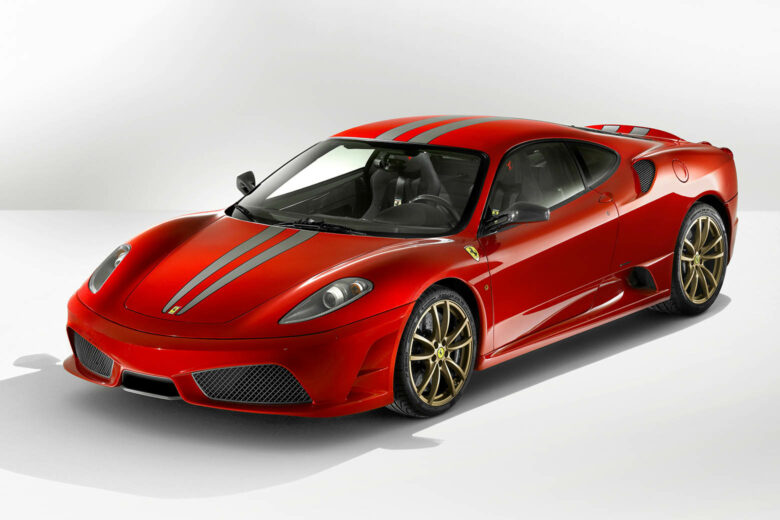 Performance is not just about unrestrained acceleration. It's a delicate craft of matching the right power to an ideal weight. While the original F430 turned heads, this one was placed on a diet and given a few cups of joe.
This lighter, more powerful F430 tears down the track thanks to a higher compression ratio and improved intake and exhaust systems. It also features Ferrari's advanced traction control system in conjunction with an electronic differential.
| | |
| --- | --- |
| Price | ~$350,000 |
| Release year | 2007 |
| Engine | 4.3L V8 |
| Top speed | 198 mph (319 km/h) |
| 0-62 mph (0-100 km/h) | 3.6 seconds |
| Power | 503 horsepower |
| Torque | 347 lb-ft |
Ferrari Daytona SP3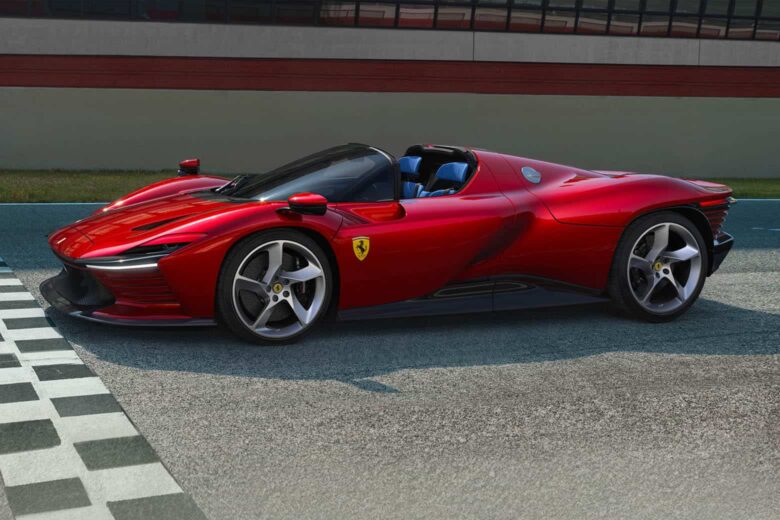 As another entry to the ultra-exclusive Icona range, the SP3 brings an understated look that peels away from the typical hypercar aggressive styling. The rear strakes add a futuristic touch while also nodding to the classic Ferrari design.
The name for this mid-mounted V12 model takes inspiration from Ferrari's podium streak at the 1967 Daytona 24-hour endurance race. The price keeps it out of reach for many, as does Ferrari's desire to provide this remarkable offering to only their most loyal customers.
Want to make this $2.2 million cost seem affordable? Check out the Bugatti price list to see next-level pricing options.
| | |
| --- | --- |
| Price | $2.2 million |
| Release year | 2022 |
| Engine | 6.5L V12 |
| Top speed | 211 mph (340 km/h) |
| 0-62 mph (0-100 km/h) | 2.85 seconds |
| Power | 829 horsepower |
| Torque | 514 lb-ft |
Ferrari Portofino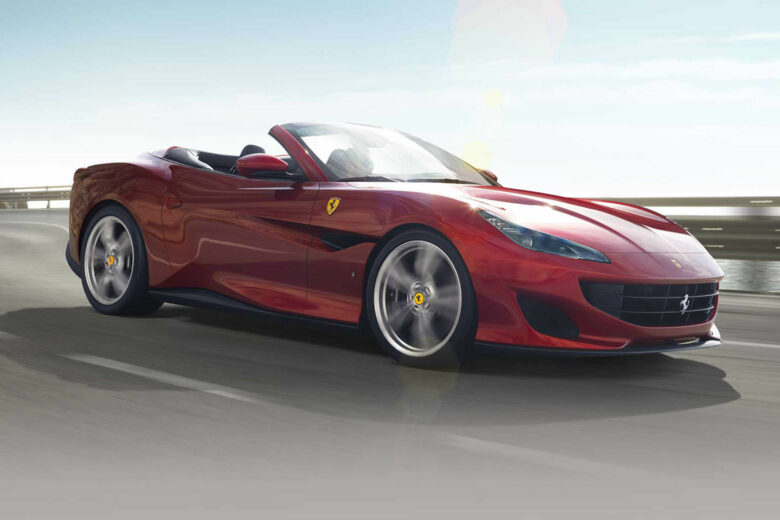 Sculpted bodies aren't reserved for fitness fanatics. Ferrari gave the Portofino stunning good looks, ready to drop the top and cruise around its namesake Italian Riviera village.
But don't worry, this beauty is more than skin deep. The high-revving twin-turbo V8 will get your heart rate up, while the advanced driver assistance features provide the same comfort as your favorite home-cooked meals.
| | |
| --- | --- |
| Price | $230,950 |
| Release year | 2017 |
| Engine | Twin-turbo 3.9L V8 |
| Top speed | 199 mph (320 km/h) |
| 0-62 mph (0-100 km/h) | 3.5 seconds |
| Power | 592 horsepower |
| Torque | 561 lb-ft |
Ferrari 488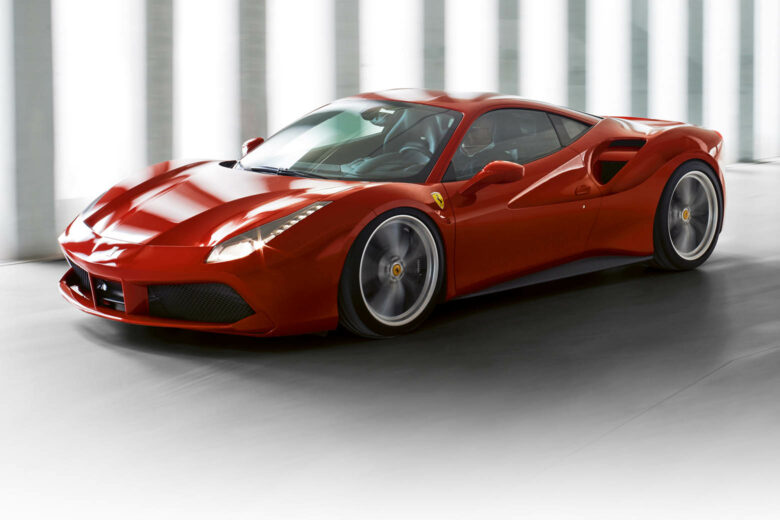 When the Prancing Horse decides to push into new territory, you can expect the results to be spectacular. The 488 does just that by ushering in Ferrari forced induction.
One turbocharger would be sufficient, but this Ferrari car isn't about just being enough. It has twin turbochargers paired with nearly every possible advanced feature you can imagine. Adaptive suspension, carbon ceramic brakes, and extensive use of carbon fiber are just a few of the extensive list.
| | |
| --- | --- |
| Price | $249,150 |
| Release year | 2015 |
| Engine | Twin-turbo 3.9L V8 |
| Top speed | 205 mph (330 km/h) |
| 0-62 mph (0-100 km/h) | 3.0 seconds |
| Power | 661 horsepower |
| Torque | 561 lb-ft |
Ferrari GTC4Lusso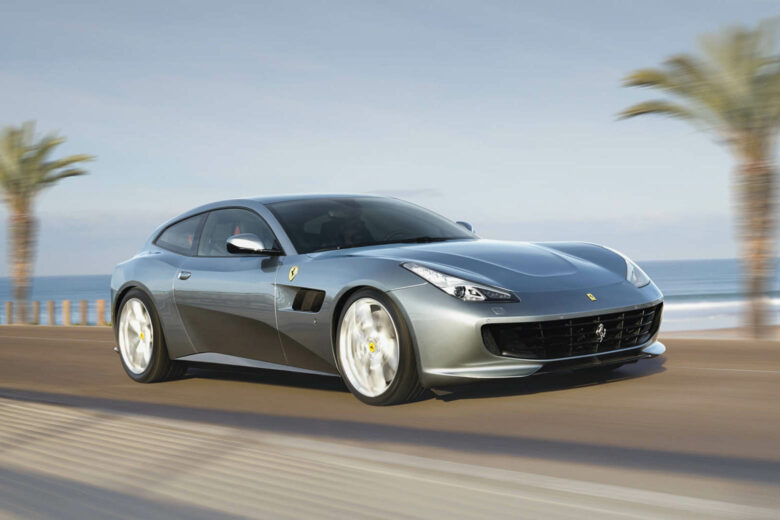 As yet another example of Ferrari's impressive range, the GTC4Lusso shatters the mold with a three-door shooting brake body style paired with a specialized all-wheel drive system.
Rather than use a central transfer box, the Italian automaker added a second prop shaft to feed power to both axles. The result is a lower, lighter, high-performance machine with an ideal weight distribution.
| | |
| --- | --- |
| Price | $265,750 |
| Release year | 2016 |
| Engine | 6.3L V12 |
| Top speed | 208 mph (335 km/h) |
| 0-62 mph (0-100 km/h) | 3.4 seconds |
| Power | 680 horsepower |
| Torque | 514 lb-ft |
Ferrari 812 Superfast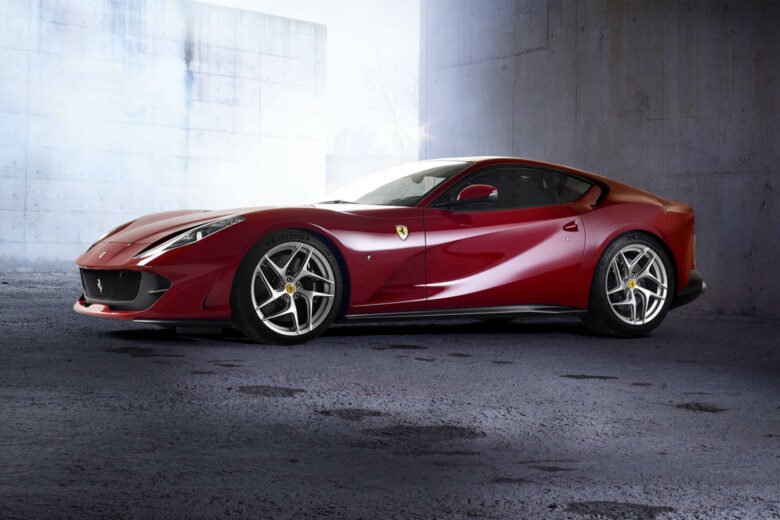 Daily driver and Ferrari don't often get used in the same sentence. But believe it or not, this model offers such incredible handling mixed with a generous cargo area that you can use it for track days and running errands around town just the same.
The brutish power comes from a massive 6.5L V12. But you can thank Ferrari's incredible steering and suspension design for the smooth driving experience. A near-limitless amount of available options allows each owner to make it their own by customizing the inside and out.
| | |
| --- | --- |
| Price | $338,000 |
| Release year | 2017 |
| Engine | 6.5 V12 |
| Top speed | 211 mph (340 km/h) |
| 0-62 mph (0-100 km/h) | 2.9 seconds |
| Power | 789 horsepower |
| Torque | 530 lb-ft |
Ferrari 488 Pista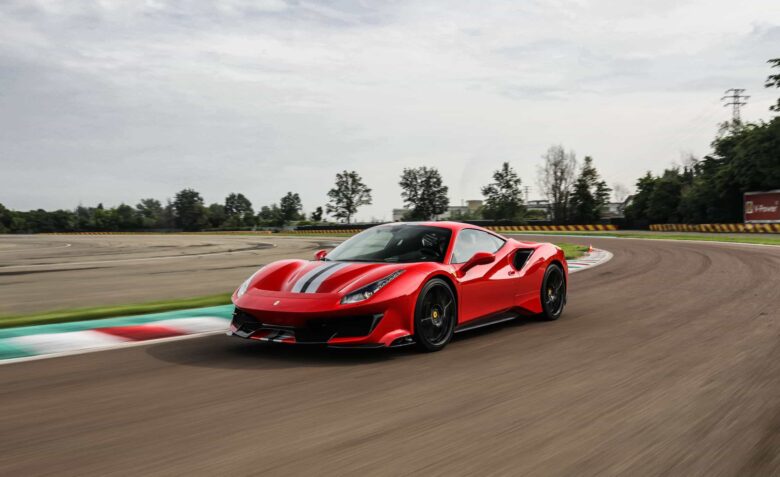 You know what to expect when a high-performance car brand releases a popular model and adds "track" to the name. Pista, which indeed translates to track, is exactly that.
It brings out Ferrari's deep motorsports heritage on a platform served by the most powerful twin-turbo V8 in their history. Extensive exterior modifications allow the 488 Pista to slice through the air, and the interior wraps you up in a world of carbon fiber and Alcantara leather.
| | |
| --- | --- |
| Price | $331,000 |
| Release year | 2018 |
| Engine | Twin-turbo 3.9L V8 |
| Top speed | 211 mph (340 km/h) |
| 0-62 mph (0-100 km/h) | 2.85 seconds |
| Power | 710 horsepower |
| Torque | 568 lb-ft |
Ferrari F8 Spider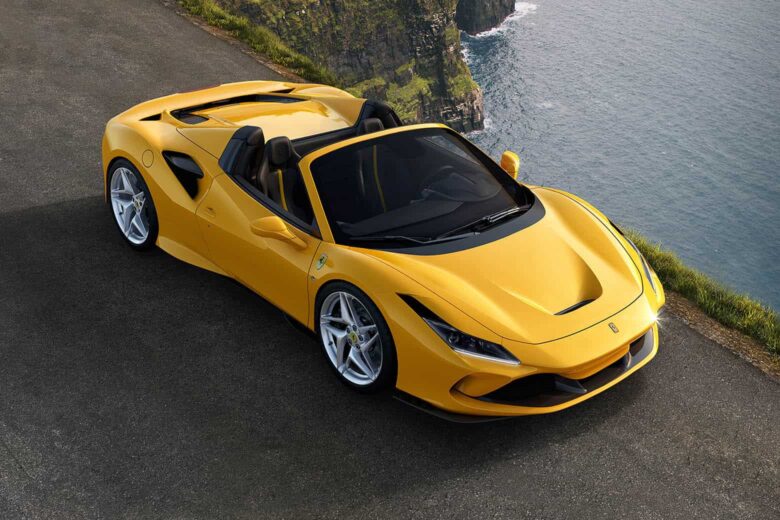 The original F8 set a standard for excellence that this open-air variant keeps up with. But the design needed to be heavily reworked to fit the retractable hardtop featured on the Spider.
Don't let the air-in-your-hair attitude distract you from the power within. It sticks with the twin-turbo V8 that has almost as many awards as Michael Phelps, taking the top spot as the International Engine of the Year for four consecutive years.
| | |
| --- | --- |
| Price | $283,950 |
| Release year | 2019 |
| Engine | Twin-turbo 3.9L V8 |
| Top speed | 211 mph (340 km/h) |
| 0-62 mph (0-100 km/h) | 2.9 seconds |
| Power | 710 horsepower |
| Torque | 567 lb-ft |
LaFerrari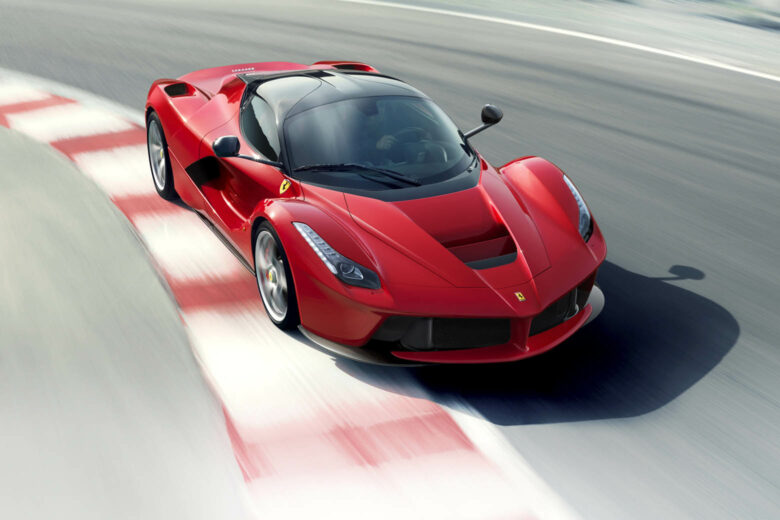 Once the flagship stallion from the Prancing Horse brand, the LaFerrari holds a firm place in automotive history as a crowning achievement in hypercar design. Its jaw-dropping looks make anyone drool, but the real treat is the Ferrari F1-derived hybrid powertrain found under the breathtaking exterior.
How do you reach new levels of performance? By using a V12 engine with nearly 800 horsepower and adding on a high-tech KERS system for short bursts of electric power. The result is a 950-horsepower machine that rips apart the pavement under its tires.
What is the fastest Ferrari? The Enzo holds that title with 218 mph (351 km/h), but the LaFerrari hits a close second at 217 mph (349 km/h). It was specifically designed to balance its unfettered performance with a functional side focused on an enjoyable experience.
What is faster, Ferrari or Lamborghini? If you only consider US street-legal models, the Lamborghini Veneno takes the pole position with a 221 mph (356 km/h) top speed. It is enough to pull away from the LaFerrari's 217 mph (349 km/h).
Check out our list of the fastest cars to see how these numbers stack up.
| | |
| --- | --- |
| Price | >$4.2 million |
| Release year | 2013 |
| Engine | Hybrid 6.3L V12 + KERS unit |
| Top speed | 217 mph (349 km/h) |
| 0-62 mph (0-100 km/h) | 2.6 seconds |
| Power | 950 horsepower |
| Torque | 664 lb-ft |
Ferrari California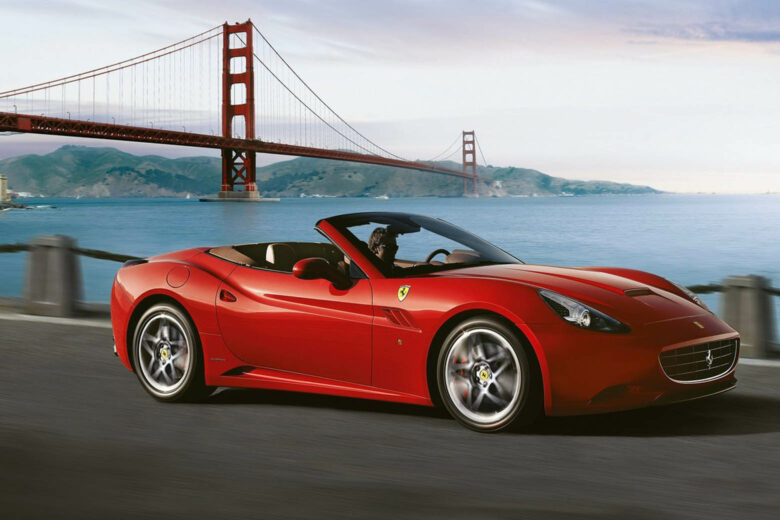 Some might overlook one of the most compact offerings in the Ferrari world. But that's a mistake that those who've sat behind the wheel wouldn't make. Its combination of elegance, sportiness, and versatility proves that it's worthy of the Prancing Horse logo.
And the Italian automaker wouldn't have it any other way. Spending over 1,000 hours perfecting the aerodynamics paid off immensely, as did the relentless tuning of the 4.3L V8 hidden within.
| | |
| --- | --- |
| Price | $202,700 |
| Release year | 2008 |
| Engine | 4.3L V8 |
| Top speed | 193 mph (311 km/h) |
| 0-62 mph (0-100 km/h) | 4.0 seconds |
| Power | 453 horsepower |
| Torque | 358 lb-ft |
Ferrari Purosangue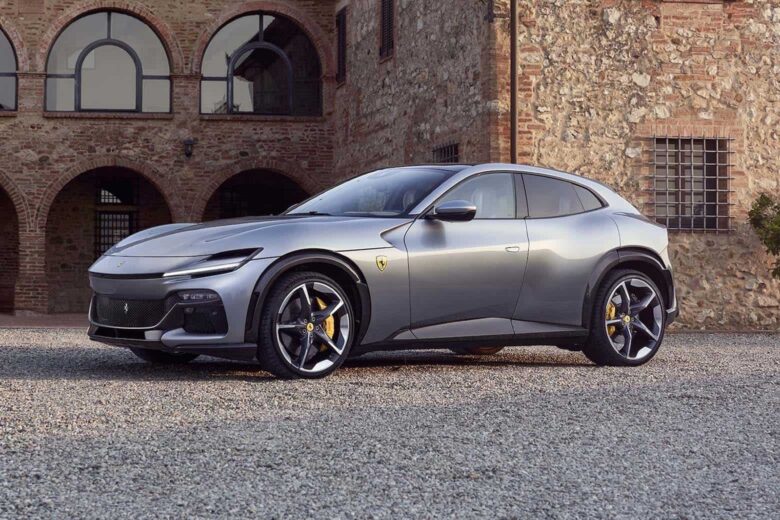 When other brands stepped away from their roots to enter the luxury SUV segment, Ferrari remained steadfast in focusing on its core. After a long wait, the Italian brand has finally managed to infuse the Prancing Horse's DNA into a four-door, four-seater unlike anything else.
The Ferrari Purosangue sings out with a 6.5L V-12 that needs no help from forced induction. The sports-focused control includes a world debut of the Ferrari active suspension, removing all concerns about body roll from the elevated platform.
Behind the wheel, you're greeted with Ferrari's signature GT sports car aesthetic, perfectly blending modern amenities with an elegant appeal. Although it's an entirely new breed, the Ferrari Purosangue remains undeniably true to the brand's ethos.
| | |
| --- | --- |
| Price | $402,050 |
| Release year | 2024 |
| Engine | 6.5L naturally-aspirated V-12 |
| Top speed | 193 mph (311 km/h) |
| 0-62 mph (0-100 km/h) | 3.3 seconds |
| Power | 715 horsepower |
| Torque | 528 lb-ft |
Ferrari customer service number
To reach Ferrari USA customer care, call (877) 933-7727. They can provide information about services to Ferrari customers.
You can also reach the Ferrari Headquarters in Italy at +39 0536 949111.
Ferrari social media profiles
To keep up with the latest and greatest from the iconic Italian automaker, check out its official social media feeds:
Frequently asked questions about Ferrari
How much is the price of a Ferrari?
New Ferrari prices range from the top-tier Daytona SP3 at $2.2 million, down to the entry-level Roma at $226,570. A wide array of models fill in the middle, with the popular 812 Superfast sitting at $338,000 and the SF90 Stradale selling for $515,245. Check our detailed Ferrari price list to learn more.
How much is the cheapest Ferrari?
The cheapest Ferrari is the Roma model. It starts at $226,570 and holds up to the demands that are expected from the Prancing Horse logo. Its elegant design and luxurious interior are paired with a twin-turbo V8 engine, producing over 600 horsepower.
Is Ferrari a luxury brand?
Yes, Ferrari is a luxury brand. Ferrari has made luxury high-performance vehicles for most of its history. It has an undisputed ability to create automotive masterpieces that not only tear down the track at breakneck speeds but will also turn heads around city streets worldwide.
Is Ferrari French or Italian?
Ferrari is an Italian automotive brand. It was founded by Enzo Ferrari from Modena, Italy. All Ferrari vehicles are produced exclusively in Maranello, Italy, dating back to the first release of the 1947 Ferrari 125 S.