Not all electric cars feel like they're from the future. But as the brand name indicates, Faraday Future cars certainly do. By merging a world-class electric platform with a sophisticated interior, these modern marvels are a look ahead into the world of luxurious electric cars.
The smooth ride, powerful acceleration, and autonomous driving capabilities will take you anywhere. Zero gravity seats are surrounded by high-tech amenities to ensure the utmost passenger comfort. The Faraday Future innovation and exclusivity are great for those who want the best and don't mind paying the premium price to get it.
At a glance
| | |
| --- | --- |
| | |
| Name: Faraday Future | Industry: Automotive |
| Founded: 2014 | Founder: Jia Yueting |
| Headquarters: United States | Parent organization: Faraday Future Intelligent Electric Inc. |
| Revenue: Not yet available (limited production to date) | Website: faradayfuture.com |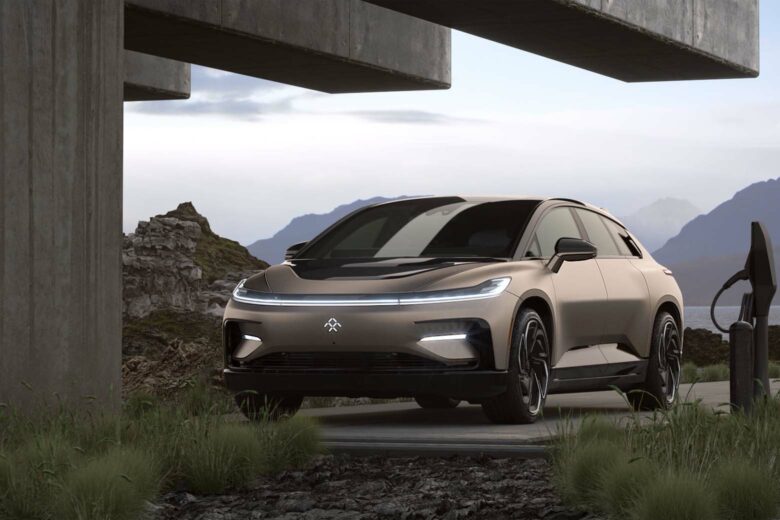 Faraday Future price
How much does a Faraday Future cost?
As a luxury brand focused on innovation, Faraday Future car prices tip the heavier end of the scale. They're not the most expensive cars in the world, but in comparison to the best luxury SUVs, they're toward the top of the pack.
The Faraday Future FF 91 price starts at $180,000, but the feature-packed versions are expected to sell for over $200,000. While this price seems high, it's worth noting that Faraday has an impressive 381-mile (613-km) range and has created an interior befitting of world elites.
What is the most expensive Faraday Future?
The details about the most expensive Faraday Future are still somewhat limited, but the impressive Faraday FF 91 price is estimated to easily reach over $200,000. The limited-edition Faraday Futurist launch model will be limited to 300 units globally.
At the current moment, the luxury car maker is focused on bringing production of this one trim level up to full speed. But in the future, it seems quite possible that they'll tack on more impressive options to create an even more expensive Faraday car price.
How much is the cheapest Faraday Future?
Although the current production is limited to the Faraday Future FF 91 Futurist model, with an estimated price of over $200,000, a lower-level trim model is expected to be available soon.
Based on the most recent estimates, the cheapest Faraday Future FF 91 car price is estimated to sell for $180,000. There are few details on when they'll introduce this lower-level trim, but it is in the works.
There has been some mention of multiple more-affordable Faraday Future models. Based on extremely-limited reports, these could include the FF 81 price of $70,000 and up, as well as the Faraday FF 71 price of $45,000 and up.
Both models would be smaller, less luxurious Faraday electric cars. These could compete with the more affordable models from brands like Volvo, Polestar, and Genesis.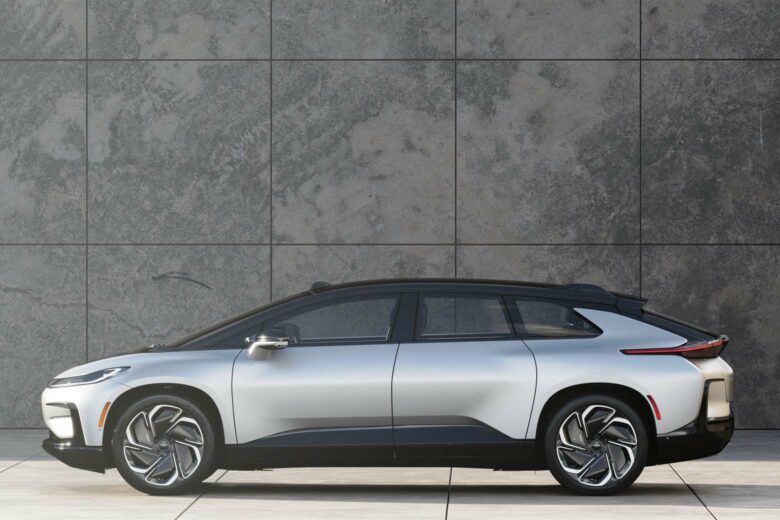 About Faraday Future
History of Faraday Future
Faraday Future has had a tumultuous start to its short existence. But the electric car producer continues to overcome challenges and is finally poised to enter the market with mass-produced Faraday electric cars.
After starting in video streaming and cloud services, Chinese businessman Jia Yueting founded Faraday Future in 2014. The company then entered an agreement to build a production facility in Nevada, but it never came to fruition.
Jia then took the reins as CEO in 2017 with Faraday Future's headquarters in California. But shortly thereafter, the problems began piling up, including a dispute with Evergrande Group over a massive investment in Faraday and significant production delays.
In a dramatic turn of events, Jia Yueting stepped down as CEO and Carl Breitfeld took over. Faraday Future stock went public in 2021.
The company then turned to a plant in Hanford, California as its first production facility, allowing for major progress toward bringing a Faraday car to production in 2022. Another CEO shakeup took place, this time with Xuefeng (XF) Chen stepping up to the role.
As of 2023, the company has finally produced the first Faraday Future production car, a stunning crossover SUV with an extravagant interior and extremely-powerful electric drivetrain.
What is the future of Faraday? It seems it's battled through many significant problems and is finally seeing the light at the end of the tunnel. But as with any automaker, the most important factor will be the public demand and reception of its cars.
Understanding Faraday Future car range
Faraday Future takes its name from English scientist Michael Faraday's law of induction, a founding principle of electric motors. As the name indicates, the brand is focused entirely on producing electric Faraday cars that put internal combustion in the past.
The Faraday Future FF 91 model name's origin is less clear. It's obvious the FF stands for Faraday Future, but finding any reported meaning behind the 91 number is more challenging.
Perhaps it's a nod to the Zirconium-91 isotope produced by fission.
But it seems more likely that 91 is an internal designation that references its place in the model lineup, with 9 being the most extravagant Faraday and lower-level future models featuring lower numbers. The second number might be the version number, with 1 representing the first creation.
Interesting facts about Faraday Future
Although Faraday Future has experienced many challenging situations, the company continues to drive forward and inches closer to success. Many years in the making, the first production vehicle has rolled off the line and deliveries will be ramping up this year.
Where is Faraday Future made?
Faraday Future electric cars are made in Hanford, California at a factory the company calls FF ieFactory California. The Faraday headquarters are in Los Angeles, California, and the luxury brand also has offices in Silicon Valley, Beijing, Shanghai, and Chengdu.
Faraday Future models
Let's dive into the details of the Faraday Future cars and SUVs.
Faraday Future FF 91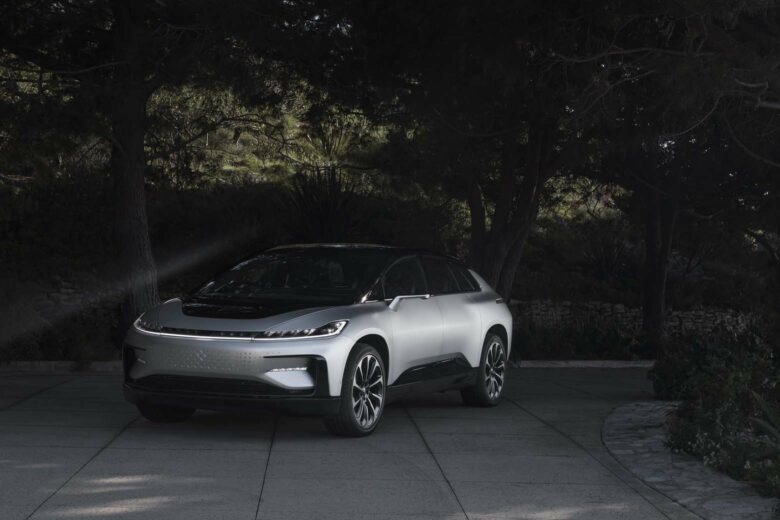 After many years of anticipation, the first Faraday Future FF 91 has rolled off the production line. The special-edition launch version, FF 91 Futurist, comes with three electric motors and over 1,000 horsepower, a figure that used to be difficult to obtain, even for supercar brands like Lamborghini and Ferrari.
The Faraday SUV's bold two-tone color scheme and the razor-thin front lighting are the first to meet your eyes. And the expansive rear-end somehow combines the sleek BMW X6 sportback shape with a rounded Audi Q5 look.
Inside, sophistication sweeps you away. A total of 11 screens littered throughout the interior, including a massive 27" rear display placed in front of executive-level seats akin to those found in top models from Rolls-Royce and Bentley.
The nearly 400-mile range sets it apart from every Tesla, but the whopping 516-mile range of the Lucid Air remains at the top. Although the FF 91's top speed doesn't match the fastest cars in the world, when it comes to acceleration, it's a top contender.
| | |
| --- | --- |
| Price: | Starting at $200,000 (est.) |
| Release year: | 2023 |
| Engine: | Three electric motors |
| Top speed: | 155 mph – 250 km/h |
| 0-60 mph: | 2.27 sec |
| Power: | 1,050 hp |
| Torque: | 1,328 lb-ft |
| Range: | 381 miles – 613 km |
Faraday Future FF Zero 1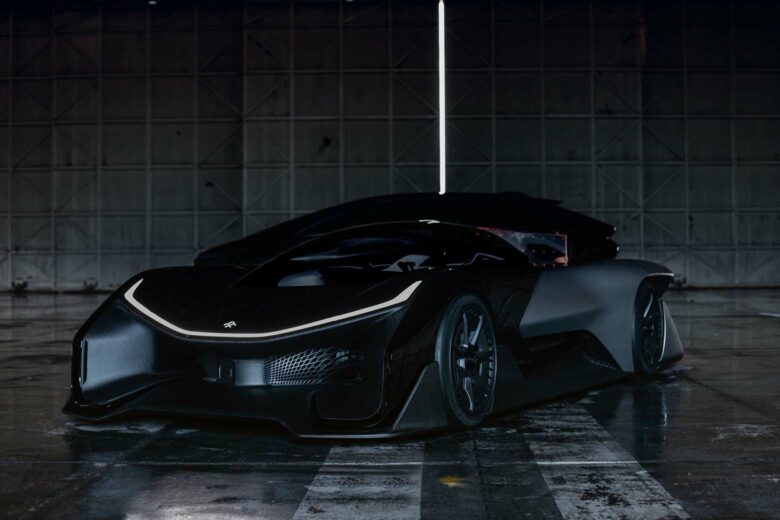 As a tech-focused luxury brand with an eye for what's ahead, it's no surprise that the Faraday Future FF Zero 1 concept car featured out-of-this-world style. It put electric Faraday cars into the minds of many with its long, straight lines fused with an expansive glass dome.
Faraday Future designed its Variable Platform Architecture (VPA) to work as a customizable unit for a variety of models. This one happened to have four motors, but the plans for the production versions range from one to three motors, similar to many of the best electric cars.
Although the center drive seat reminiscent of the McLaren F1 wasn't used in production, the zero-gravity seat design did make it into the rear seats of the FF 91.
In some ways the Faraday FF Zero 1 reminds us of the Lincoln Model L100 concept, and like that model, it's unlikely that it will see actual production.
| | |
| --- | --- |
| Price: | Concept car (not for sale) |
| Release year: | 2016 |
| Engine: | Four electric motors |
| Top speed: | >200 mph – 322 km/h |
| 0-60 mph: | <3 sec |
| Power: | >1,000 hp |
| Torque: | >1,000 lb-ft |
| Range: | Not provided |
Faraday Future customer service number
To speak with a knowledgeable staff member, call the Faraday Future customer service number at 1-800-228-7702 or reach out to the sales department by emailing sales@ff.com.
Faraday Future social media profiles
Stay up to date with the latest news and events by following the official Faraday Future social media profiles:
Frequently asked questions about Faraday Future
Is Faraday Future a good company?
By many metrics, Faraday Future is a good company. While it has had its share of challenges, it has overcome them and brought an innovative Faraday EV to the market. The Faraday Future FF 91 is a world-class electric car with an impressive range and incredible interior.
How much is a Faraday Future car?
If you're wondering how much is a Faraday Future car, the starting price for the first model is estimated to be $200,000. The Faraday Future FF 91 price might drop slightly lower to around $180,000 when a lower-level trim is available.
What does Faraday Future do?
What Faraday Future does is create electric cars. The company was founded in 2014 and had headquarters and a production facility in California, United States. It has produced the electric Faraday Future FF 91 as its first model, with over 1,000 horsepower and a luxurious interior.
Who owns Faraday Future cars?
The owners of Faraday Future cars include a mixture of investors since it is a publicly-traded company. Reports indicate that retail investors are the majority of Faraday Future owners, with institutional investors making up less than 10% and insiders owning less than 30%.
Has Faraday Future produced any cars?
Yes, Faraday Future has produced cars. It made the first Faraday Future FF 91 electric crossover SUV in 2023 and more deliveries are scheduled for later in the year. While the plans for future Faraday cars are limited, they have released one model.