In the growing sea of new electric cars, Lucid cars stand out like a lighthouse illuminating the way forward. The Lucid electric cars feature impeccable styling on a platform that outperforms nearly every EV on the market, creating a new benchmark for luxury EVs.
Go from Boston to Baltimore on one charge with its EPA rating of 516 miles (830 km), put the pedal to the floor to dish out 1,200 horsepower, and sink into supreme comfort in any executive-worthy seat, front or rear.
Lucid Motors is creating the car of the future. And it's already on the road.
At a glance
| | |
| --- | --- |
| | |
| Name: Lucid | Industry: Automotive |
| Founded: 2007 | Founders: Bernard Tse, Sam Weng, and Sheaupyng Lin |
| Headquarters: United States | Parent organization: Lucid Group, Inc. |
| Revenue: $608.2 million USD | Website: lucid.com |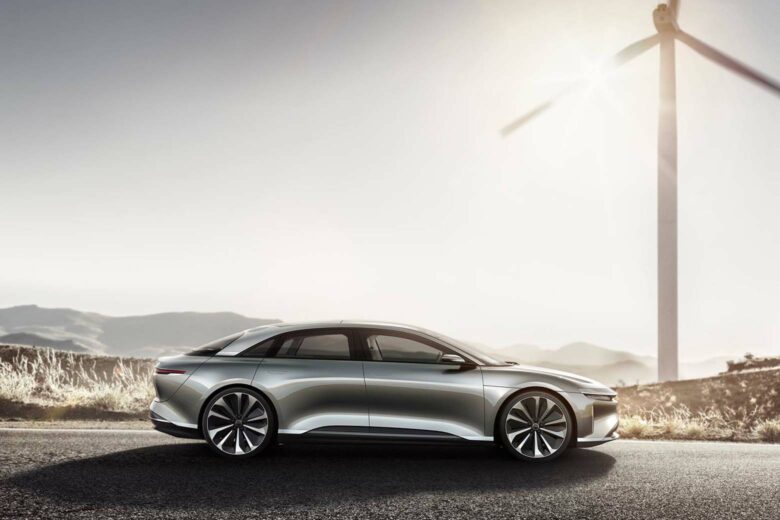 Lucid price
How much does a Lucid cost?
As a premium electric car with incredible performance and a luxurious interior, Lucid car prices demand a sizable payment in exchange for a top-shelf product. The Lucid Air cost starts at a relatively reasonable $87,400, but many trim levels cause that price to go much higher.
The Lucid Air Touring price is $107,400, getting you over 600 horsepower and 425 miles on a single charge. Every Lucid electric car brings an innovative drivetrain with a sleek exterior certain to turn heads wherever you roam.
When it hits the market, the Lucid Gravity price is expected to start at $120,000 for the seven-passenger SUV.
What is the most expensive Lucid?
If you want the ultimate Lucid model, you'll need to dive deeper into your bank account. The top-shelf Lucid Air Sapphire price starts at $249,000. While this doesn't put it in the ranks of the most expensive cars in the world from brands like Bugatti or Pagani, it's still a sizable sum.
The Lucid Air Grand Touring price is another one that hits the upper end of the Lucid electric car prices, starting at $138,000. This comes with 1,050 horsepower, a 516-mile range, and a luxurious interior.
How much is the cheapest Lucid?
Not all Lucid autos break the bank. The base Lucid Air Pure price starts at $87,400, a pretty impressive figure for all that's packed inside. Its 410-mile range beats other electric vehicles from top brands like Mercedes-Benz and BMW.
And Lucid Air's undoubtedly sleek design keeps up with the flashy models from Maserati, Aston Martin, and Porsche.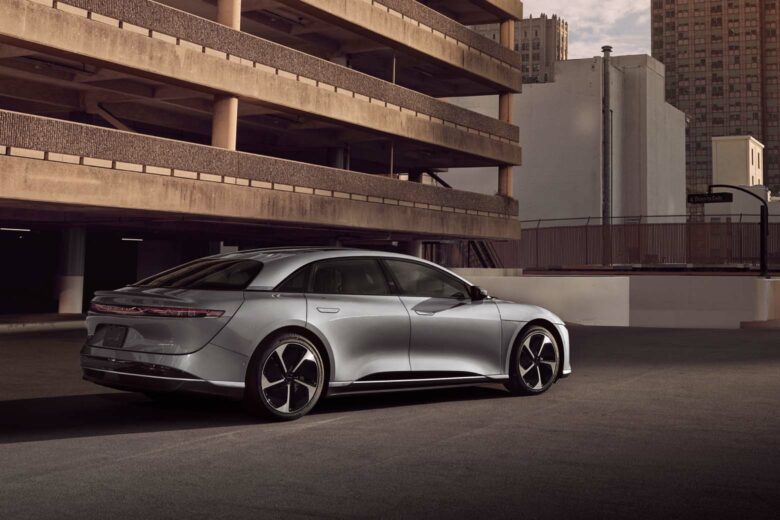 About Lucid
History of Lucid
Lucid took an indirect approach to where it is today. When it started in 2007 as Atieva, the mission was to deliver electric vehicle batteries and drivetrains for other manufacturers to utilize in their models.
Atieva transformed into Lucid Motors in 2016. The luxury brand has accumulated a wealth of EV industry experts, including the current CEO and CTO Peter Rawlinson, who previously led the engineering behind the Tesla Models S.
In late 2016, Lucid announced its plans to develop an in-house electric Lucid car for sale with the unveiling of the Lucid Air prototype. The luxury brand also began construction of a massive facility in Casa Grande, Arizona to supplement its Newark, California headquarters.
The production version of the Lucid Air was released in 2022 as the Lucid Air Dream Edition. It immediately won Motor Trend's 2022 Car of the Year, the first time for a brand-new model. The current Lucid Air Sapphire has the longest range of any EPA-rated EV on a stylish platform that is sure to please.
The Lucid Gravity, a seven-passenger SUV, is poised to be the luxury automaker's second model, with the first production models expected to roll off the lines in 2024.
Understanding Lucid car range
While Lucid only has one production model, the Lucid Air sedan, and one upcoming model, the Lucid Gravity SUV, there are many trim levels within the Lucid Air.
The Lucid Air Dream Edition was the first Lucid sedan to launch. It was available in a Dream Edition Performance and Dream Edition Range. Since then, the brand has added three lower-level trims and changed the highest-end trim from the Dream Edition to the Sapphire.
The base model is the Lucid Air Pure, and one step up gets you into a longer-range Touring model. The Lucid Air Grand Touring increases performance and luxury, while the Lucid Air Sapphire is the ultimate iteration of Lucid engineering.
When the Lucid Gravity is released, many expect it to have a similar trim lineup.
Interesting facts about Lucid
Lucid EV car technology goes beyond the everyday roads. The company also designs and manufactures Formula E battery packs, starting in the 2018-2019 season. They're working alongside McLaren Applied Technologies and Sony to deliver a 250 kW, 54 kWh battery pack that weighs just 550 pounds (250 kg).
Another interesting fact about Lucid is its partnership with Electrify America. Rather than go the same route as Tesla with proprietary charging stations, Lucid is leveraging the existing stations already nearing 1,000 locations, under the ownership of Volkswagen Group.
Where is Lucid made?
Lucid Motors has headquarters in Newark, California and a manufacturing facility in Casa Grande, Arizona. Like many EV automakers, it has supply agreements with other brands, which include Samsung SDI and LG Chem for Lucid vehicles.
Lucid has deep ties to Saudi Arabia through the Saudi Arabian Public Investment Fund, which reportedly has provided more than $1 billion in funding to Lucid Motors and remains the largest single shareholder of the new car company.
Lucid has also announced plans to build a massive plant in Saudi Arabia with expected production of 150,000 vehicles per year.
Lucid electric cars
All Lucid cars and SUVs are purely electric cars with no internal combustion engines. The company started as an EV producer and has remained steadfast in its focus on delivering eco-friendly transportation solutions.
Lucid models
Let's dive into the details of the current and future Lucid Motors models.
Lucid Air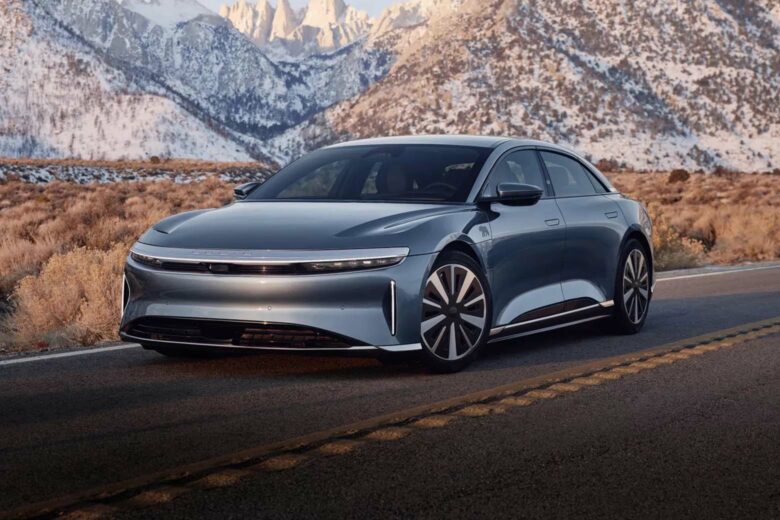 With the flood of new electric cars, it's hard to distinguish the exceptional from the rest. But the Lucid Air electric car has no trouble standing out. It has Koenigsegg supercar-like performance, a range that surpasses every car including Tesla, and comes in a future-forward package with stunning style.
The Lucid Air price starts under $90,000, but the premium model breaks into Rolls-Royce and Bentley prices. The Lucid Air Sapphire starts at a mind-boggling $249,000 and includes Lucid Motors' new three-motor powertrain. It is the luxury company's pinnacle achievement to date.
Every Lucid Air car exudes confidence, with premium sustainable materials featured throughout. A glass roof provides an airy ambiance, while the optional Executive Rear Seating package creates C-suite-worthy comfort.
| | |
| --- | --- |
| Price: | Starting at $87,400 |
| Release year: | 2021 |
| Engine: | One, two, or three electric motors |
| Top speed: | >200 mph – 322 km/h |
| 0-60 mph: | <2 sec |
| Power: | >1,200 hp |
| Torque: | >1,000 lb-ft |
| Range: | 516 miles – 830 km |
Lucid Gravity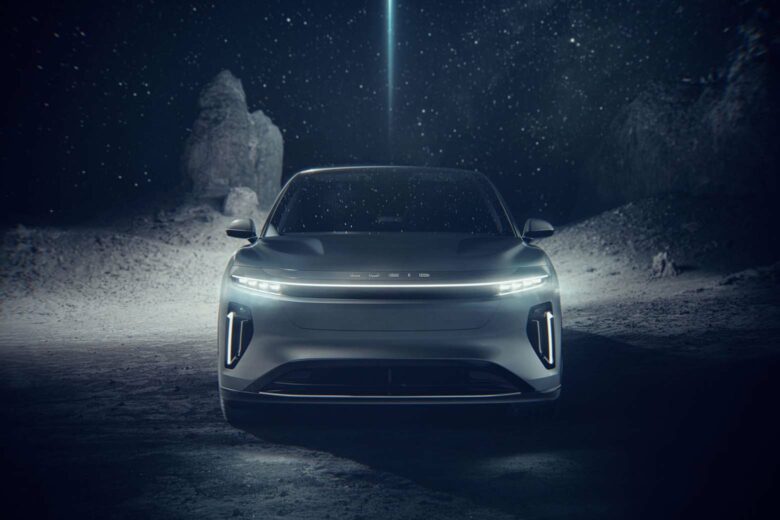 As an American car brand, it's no surprise that Lucid's second model is taking its size up a notch, joining the lineup of the best luxury SUVs. And this Lucid SUV is going big with enough space for seven adults and their cargo, similar to the Rivian R1S and Cadillac Escalade.
The Lucid Gravity will have a sports-tuned air suspension and a large clamshell rear opening for easy cargo access. Although Lucid hasn't yet released full details, it's expected to share a nearly identical drivetrain as the Lucid Air sedan, with a massive output only outdone by the range.
And to compete with the likes of the Audi Q8 e-tron, Volvo EX90, and Lamborghini Urus, it's also certain the Lucid electric SUV will feature a sanctuary-like interior packed with luxurious features.
| | |
| --- | --- |
| Price: | Starting at $120,000 (est.) |
| Release year: | 2024 |
| Engine: | Two to three electric motors (est.) |
| Top speed: | >200 mph – 322 km/h (est.) |
| 0-60 mph: | ~2 sec (est.) |
| Power: | >1,200 hp (est.) |
| Torque: | >1,000 lb-ft (est.) |
| Range: | >500 miles – 805 km (est.) |
Lucid customer service number
To speak with a knowledgeable staff member, call the Lucid customer service number at 1-844-367-7787. You can also visit the Lucid Contact Us page to send an electronic message.
Lucid social media profiles
Stay in the loop with the latest news and events by following the official Lucid social media profiles:
Frequently asked questions about Lucid
Is Lucid better than Tesla?
By many metrics, Lucid is better than Tesla. Lucid's top model has a range that's over 100 miles longer than Tesla's, and Lucid also has nearly 200 horsepower more output. However, Tesla has more models, lower prices, and higher sales volume.
How much will a Lucid car cost?
A Lucid car costs at least $87,400, which is the Lucid Air price for the base model. But other Lucid car prices go higher, up to $249,000 Lucid Air Sapphire price. The upcoming Lucid Gravity SUV price is expected to start at $120,000.
Who owns Lucid car company?
The Lucid car company is owned by its shareholders since it is a publicly-traded company. Reports indicate more than half of Lucid is held by institutional investors, with the current largest shareholder as the Saudi Arabian Public Investment Fund.
Is Lucid worth buying?
If you want a sleek, powerful electric car, a Lucid is worth buying. The EV startup is coming on strong with exceptional styling, some of the highest performance on the market, and interior amenities fit for royalty. Lucid cars can have a range of over 500 miles.
Why is Lucid losing so much money?
Lucid is losing so much money because it is a tech-heavy startup focused on producing two new electric cars, a monumental undertaking. Lucid cars also haven't met their reservation and delivery estimates, decreasing the Lucid stock price.