Renowned for unparalleled luxury, world-class performance, and hand-crafted artistry, Bentley cars have been setting the standard for more than a century. Wherever you see the winged Bentley logo, you can be certain that greatness is within.
Today's Bentley cars are an expression of beauty and brawn, using a bespoke design approach to align the exclusive cars with owner specifications. Whether you're going for a night on the town or simply getting from point A to B, every Bentley ensures you'll do so in unsurpassed comfort and distinguished style.
At a glance
| | |
| --- | --- |
| | |
| Name: Bentley | Industry: Automotive |
| Founded: 1919 | Founder: W. O. Bentley |
| Headquarters: United Kingdom | Parent organization: Volkswagen Group |
| Revenue: ~$1.858 USD (€1.707 billion) | Website: bentleymotors.com |
Bentley price
How much does a Bentley cost?
To sit behind the wheel of a new Bentley, you can expect to shell out at least $200,000. The most affordable model is the Bentayga. This Bentley SUV price starts at $197,300, before delivery fees and any add-ons.
The four-door Bentley Flying Spur price starts at $208,600, while the flagship Bentley coupe Continental GT price begins at $235,600.
Since Bentley cars are made to surpass your expectations and are built using a bespoke, hand-crafted approach, the average price of Bentley models usually reaches well beyond these starting levels, often hitting $250,000 or $300,000 per vehicle.
What is the most expensive Bentley?
The most expensive Bentley car based on the base model is the Bentley Continental GT price, starting at $235,600. But that pales in comparison to the ultra-exclusive variants of the same model. These reach closer to Bugatti price levels.
The Bentley Bacalar is a 12-unit variant of the Continental GT that has little in common with the base model besides the 6.0L W-12 engine. Barely missing our list of the most expensive cars, the Bentley Bacalar price was $1.9 million for the small group of fortunate buyers.
The Continental GT and Flying Spur Bentley cars can also come with a Mulliner package, which shifts production over to the coachbuilding division. Buyers use an even more dedicated customization approach, along with a price tag typically $25,000 to $50,000 above the base models.
How much is the cheapest Bentley?
The Bentley SUV is the cheapest Bentley for sale currently. It starts at $197,300 for the comfortable and luxurious Bentayaga. If you'd like more second-row luxury, the Bentley Bentayga Extended Wheelbase Azure will push that starting price to $263,500.
The Bentley Flying Spur price is the second lowest price in the Bentley model lineup, starting at $208,600. Although Bentley doesn't have a fully battery-electric car yet, the partially-electric Bentley Flying Spur hybrid shifts the price point up toward $217,000.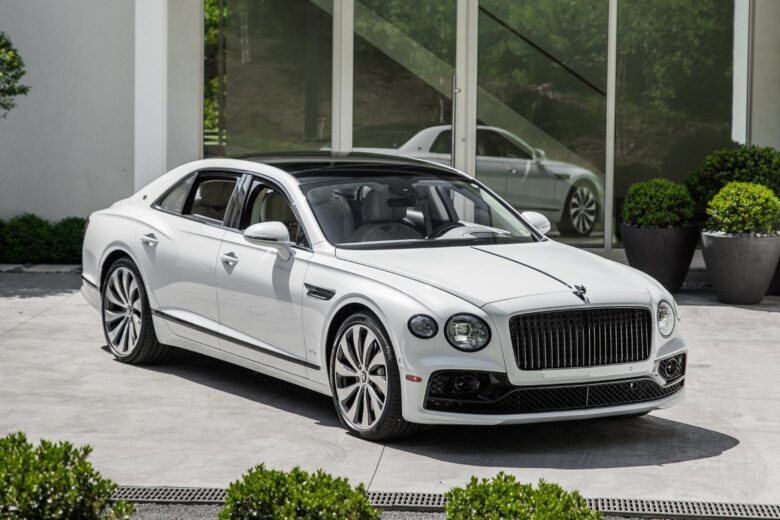 About Bentley
History of Bentley
English engineer W.O. Bentley founded Bentley Motors Limited in 1919 to create a new wave of automotive technology, pushing performance up through the use of lightweight materials and a relentless dedication toward reliability.
Bentley cars quickly gained a reputation for incredible speed and craftsmanship, taking the 24 Hours of Le Mans title spot in 1924, then a four-year championship sweep from 1927 to 1931. The Bentley 4 1/2 Litre was one of the most iconic vehicles of the time, using a 4.4L supercharged inline-4 engine.
Although Bentley cars of today don't match the top speed of the fastest cars, there was a time when they were among the fastest around.
Bentley cars went through turmoil right after the Great Depression, then returned to success up until and after World War II. Then by the late 1960s, Bentley was again under financial strain, before eventually selling the motorcars division to Vickers plc in 1980.
Vickers leveraged its Rolls-Royce expertise to generate sibling Bentley models that often leaned toward sporty performance over Rolls-Royce opulence. The 1985 Bentley ​​Turbo R and the 1991 Bentley Continental R drove the brand back into the spotlight by delivering potent vehicles packed with luxurious amenities. They're comparable to some of the best classic cars around.
In 1998, Volkswagen Group took over ownership of the brands but also worked with BMW who retained rights to certain Rolls-Royce intellectual property rights and had been supplying the engines for both brands. Eventually, BMW became the owner of Rolls-Royce, leaving Bentley with the Volkswagen Group, splitting the two top-tier luxury brands.
Today, Bentley produces some of the world's best luxury cars, providing a hand-crafted approach to its vehicles at the Crewe, England production facility.
While the full-size sedan models have been left behind in favor of the sport-focused Continental GT and Flying Spur, the luxury brand added in the Bentley SUV Bentayga to appease those who want more space. Extended wheelbase models help deliver incredible rear-seat comfort for chauffeur-driven elites around the world.
Understanding Bentley car range
Bentley cars use distinct model names, often derived or repeated from models in the past. The first use of the Bentley Continental name came in 1952 and lasted through 1965, before returning in 1984.
The Bentley Flying Spur was initially used as a special variant of the Continental model in 1958, but now is a distinct four-door Bentley sedan. The name is said to be inspired by the Clan Johnstone coat of arms.
For the naming of the Bentley SUV, the Bentayga, the brand used the name for a well-known geographical formation in the Canary Islands, known as the Roque Bentayga. The pinnacle formation showcases Bentley's desire for superiority.
Bentley models come in many trim levels, including a base model, a tech-focused Azure, a sport-tuned S, and high-performance Speed. The Bentley Mulliner trim references Bentley's coachbuilding division which uses a bespoke production process to deliver the pinnacle in customization.
Interesting facts about Bentley
Bentley's reputation as an exclusive automaker is well-known. But the brand has also completed aviation engine production earlier in its history. Today, Bentley has partnered with Breitling to produce several limited edition watches, including the Breitling Bentley Mulliner Tourbillon which is as expensive as Bentley car prices.
Bentley also has a lineup of premium Bentley luggage and Bentley bags. And although Bentley doesn't have an electric car for kids, you can get a stylish Bentley trike that grows with your little one from 6 months to over 5 years.
Where is Bentley made?
All Bentley cars are built by trained artisans at the Crewe, England facility. The luxury brand remains dedicated to delivering the highest quality vehicles on the road today, using a hand-crafted approach from dedicated experts.
Bentley electric cars
While the current lineup does not include a Bentley electric car, the brand has begun moving in the electrified direction. The Bentley Flying Spur and Bentayga SUV have V-6 hybrid variants.
In the future, we expect to see Bentley move in the same direction as some of the best electric cars and electric motorcycles. In 2019, the company unveiled the Bentley Beyond 100 strategy targeting sustainability with end-to-end carbon neutrality by 2030.
It has some room to make against EV carmakers like Tesla and newcomer Polestar, but once an electric Bentley hits the roads, it will likely blow us all away.
Bentley models
Let's dive into the details of the Bentley models.
Bentley Continental GT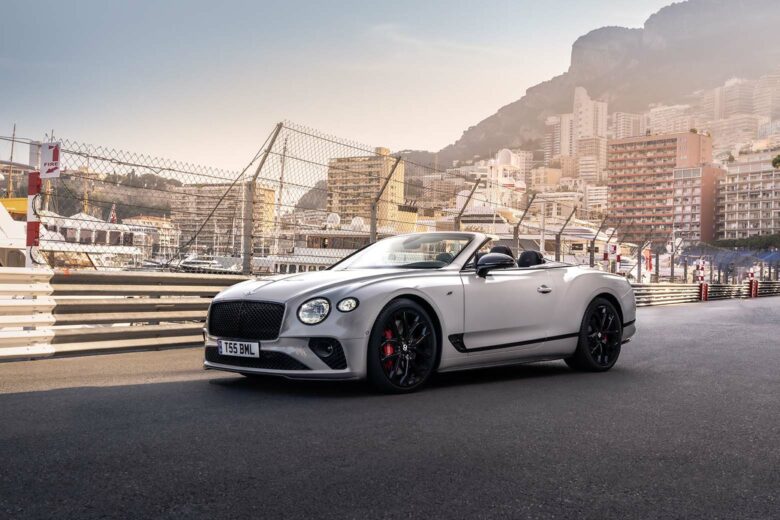 Many luxury cars try to design grand tourers that strike the ideal balance of world-class performance and incredible comfort, but the Bentley Continental GT outdoes them all. It's as sleek as the Maserati GranTurismo, as powerful as the Ferrari Roma, and as comfortable as the Rolls-Royce Wraith.
The Continental GT Speed is the most powerful Bentley ever built, while the GT Azure features the most advanced technology. And they're all available in the convertible Bentley Continental GTC body style. To obtain the pinnacle of Bentley opulence, the Bentley Mulliner Continental GT is the bespoke flagship model that allows customers to fine-tune every expertly-crafted detail.
The 12-unit limited production run of the roofless Bentley Bacalar is a $1.9 million spectacle beyond the rest of the lineup, soon to be followed by an 18-unit production of the Bentley Batur hardtop, priced in the same range as the incredible Koenigsegg supercars.
| | |
| --- | --- |
| Price: | Starting at $235,600 |
| Release year: | 2003 |
| Engine: | 4.0L twin-turbo V-8, 6.0L twin-turbo W-12 |
| Top speed: | 208 mph – 335 km/h |
| 0-60 mph: | 3.5 to 3.9 sec |
| Power: | 650 to 542 hp |
| Torque: | 664 to 568 lb-ft |
Bentley Bentayga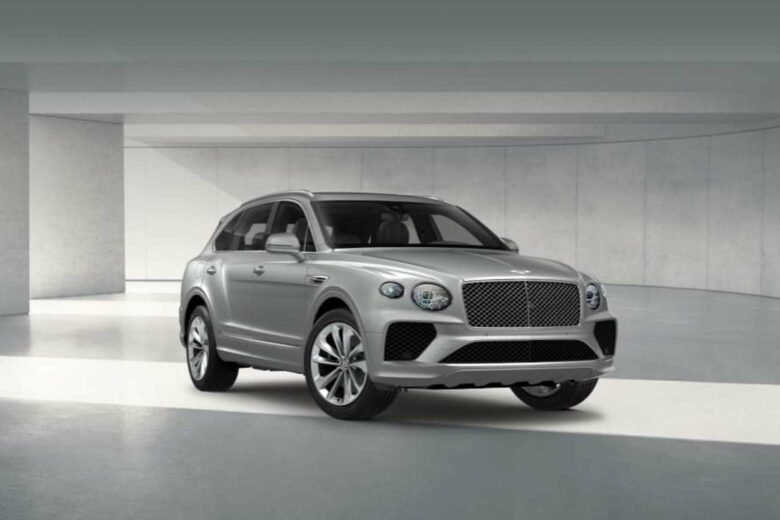 Available with an extended wheelbase and three drivetrain options including a hybrid, the SUV Bentley Bentayga has something for everyone. The interior goes far beyond most luxury SUVs with high-fidelity sound, incredible rear-seat comfort, and a full range of premium leather upholstery and genuine wood trim options.
The V-8 and W-12 engine options provide enough acceleration to rival the Lamborghini Urus, while the recent hybrid addition matches other competitors like the Audi SQ7, BMW X7 M, and Range Rover hybrid options.
This Bentley SUV is now standing behind many years of expertise and is growing well into its shoes. Despite the higher ground clearance, the luxury brand remains steadfast in delivering elegant opulence on a highly-customizable platform.
| | |
| --- | --- |
| Price: | Starting at $197,300 |
| Release year: | 2015 |
| Engine: | 4.0L twin-turbo V-8, 6.0L twin-turbo W-12, 3.0L turbo V-6 hybrid |
| Top speed: | 190 mph – 306 km/h |
| 0-60 mph: | 3.8 to 5.1 sec |
| Power: | 626 to 456 hp |
| Torque: | 664 to 516 lb-ft |
| Range: | 32 miles – 50 km (electric only) |
Bentley Flying Spur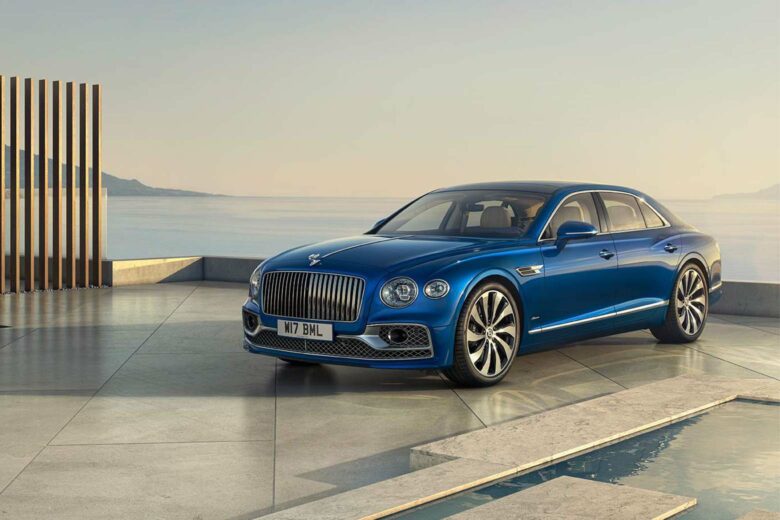 Many brands force you to choose between sitting behind the wheel of a spirited driving machine or enjoying backseat comfort fit for a king. The Bentley Flying Spur delivers both by dishing out Porsche Panamera performance and an interior that surpasses Mercedes-Benz S-Class.
The heated, massaging seats pair with an available 20-speaker Naim sound system to transport you in a tranquil space. The customization choices will make your head spring, with over 80 exterior color options and chrome or black accent pieces. Other small touches such as painted brake calipers and a retractable, illuminated Bentley Flying B logo tucked in the hood make it a one-of-a-kind vehicle.
| | |
| --- | --- |
| Price: | Starting at $208,600 |
| Release year: | 2005 |
| Engine: | 4.0L twin-turbo V-8, 6.0L twin-turbo W-12, 2.9L turbo V-6 hybrid |
| Top speed: | 207 mph – 333 km/h |
| 0-60 mph: | 3.7 to 4.1 sec |
| Power: | 626 to 536 hp |
| Torque: | 664 to 553 lb-ft |
| Range: | 21 miles – 34 km (electric only) |
Bentley Mulsanne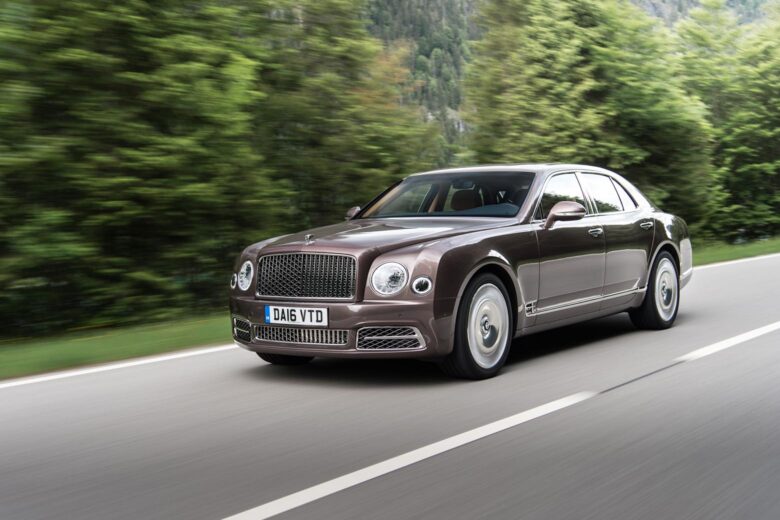 The first iteration of the Bentley Mulsanne came in 1980 as a four-door luxury sedan, and the luxury brand brought it back from another decade-long run starting in 2010. In a surprising turn of events, this once the flagship model was discontinued in 2020 with no immediate successor.
While the more recent Bentley Mulsanne was a sight to behold with chic lines and comfort beyond imagination, Bentley's customers demanded the sport-focused Continental and larger Bentley SUV instead.
The Bentley Mulsanne was available in the usual endless options you'd expect from the brand. An extended wheelbase variant provided a limousine-like back seat with reclining chairs and leg rests, while the Mulsanne Speed pumped up the horsepower and added sport-tuned suspension.
| | |
| --- | --- |
| Price: | Starting at $316,500 (2020 MSRP) |
| Release year: | 2010 |
| Engine: | 6.75 twin-turbo V-8 |
| Top speed: | 190 mph – 306 km/h |
| 0-60 mph: | 4.8 sec |
| Power: | Up to 530 hp |
| Torque: | Up to 811 lb-ft |
Bentley Arnage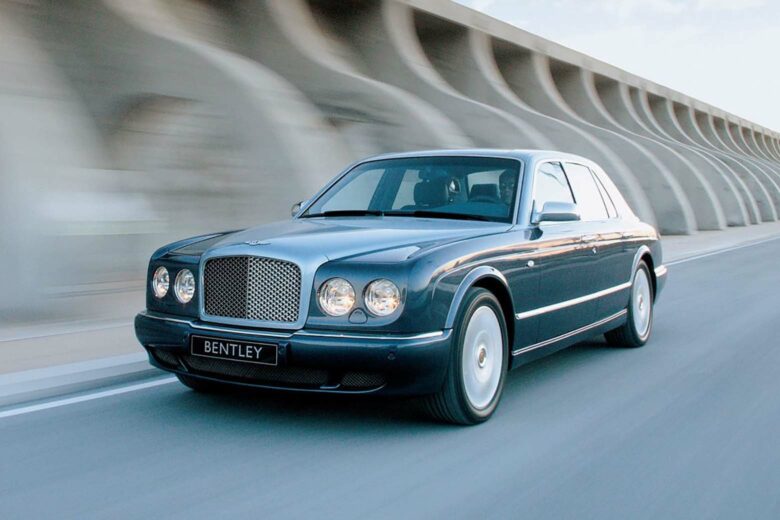 Designed and constructed during a unique era of collaboration between BMW and Volkswagen Group, the Bentley Arnage started as the less-powerful sibling to Rolls-Royce Silver Seraph, but quickly left the smaller BMW engine in favor of the larger Rolls-Royce unit.
The Arnage was a model of sophistication, featuring British elegance and class-leading technology throughout. The long wheelbase variant Arnage RL stretched out an additional 10 inches (250 mm) and could be fitted with armored protection.
As Rolls-Royce moved to BMW ownership and Bentley stayed with Volkswagen Group, the luxury brand phased out the Arnage in favor of the Mulsanne.
| | |
| --- | --- |
| Price: | Starting at $227,600 (2009 MSRP) |
| Release year: | 1998 |
| Engine: | 4.4L twin-turbo V-8, 6.75L twin-turbo V-8 |
| Top speed: | 179 mph – 288 km/h |
| 0-60 mph: | 5.2 sec |
| Power: | Up to 500 hp |
| Torque: | Up to 738 lb-ft |
Bentley Azure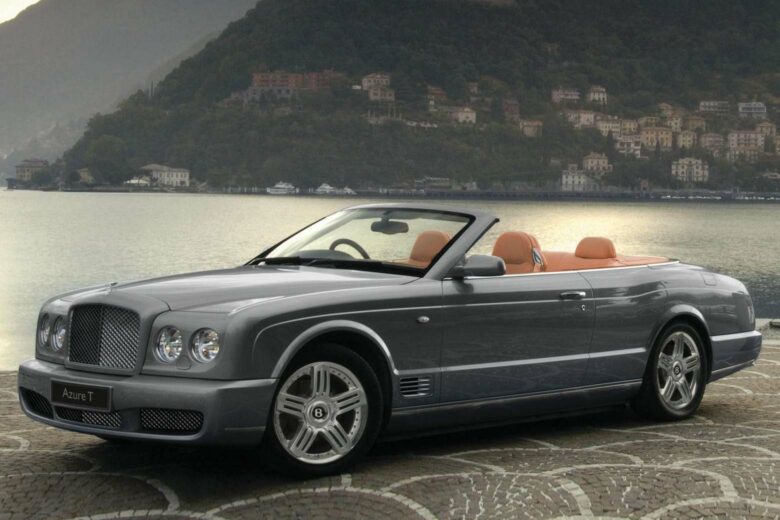 During the mid-1990s, this Bentley convertible model made quite the statement and could turn heads just as well as the James Bond-worthy Aston Martin Vantage. The Azure's elongated hood sat above the imposing Bentley grille, flanked by round headlights and adorned with polished metal throughout.
The Bentley Azure came in two generations, with a hiatus after Bentley separated from Rolls-Royce before coming back in 2006 with a stylish redesign and more powerful engine.
While there was no immediate successor to the Azure, the recent Bentley Continental GTC has taken over as the convertible of choice, going far beyond the comfort of Cadillac and Jaguar.
| | |
| --- | --- |
| Price: | Starting at $355,000 (2009 MSRP) |
| Release year: | 1995 |
| Engine: | 6.75L turbo/twin-turbo V-8 |
| Top speed: | ​​179 mph – 288 km/h |
| 0-60 mph: | 5.2 sec |
| Power: | Up to 500 hp |
| Torque: | Up to 738 lb-ft |
Bentley Brooklands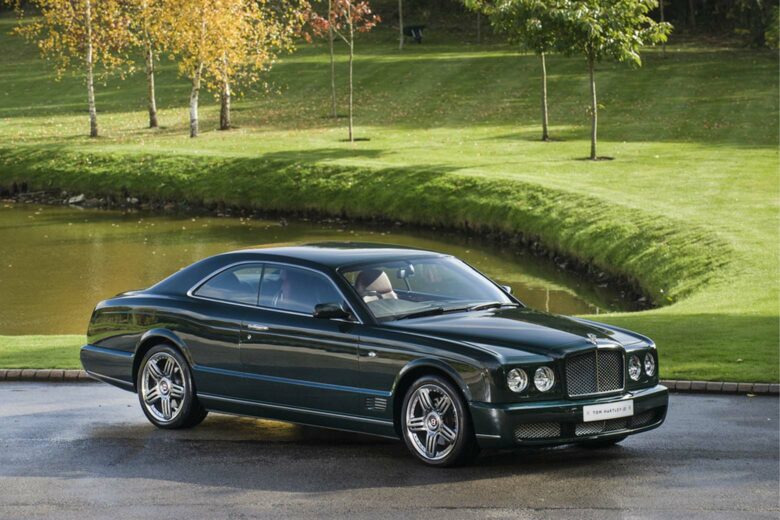 The first generation Bentley Brooklands was a full-size luxury sedan that was offered as the naturally-aspirated variant to the turbocharged Bentley Turbo R. But shortly after, the turbo was added to the 6.75L engine, taking output to 300 horsepower.
After ceasing production in 1998 to make room for the Bentley Arnage, the Brooklands Bentley model was resurrected in 2008 as an ultra-exclusive coachbuilt model featuring a twin-turbo engine and a hardtop two-door body style.
| | |
| --- | --- |
| Price: | Starting at $340,000 (2011 MSRP) |
| Release year: | 1992 |
| Engine: | 6.75L V-8 in naturally-aspirated, turbocharged, and twin-turbo configurations |
| Top speed: | 184 mph – 296 km/h |
| 0-60 mph: | 5.0 sec |
| Power: | Up to 530 hp |
| Torque: | Up to 734 lb-ft |
Bentley customer service number
To speak with a knowledgeable staff member, call the Bentley customer service number at 1-800-777-6923 or visit the Bentley Contact Us page for a directory of options.
Bentley social media profiles
Stay informed about the latest news and events by following the official Bentley social media profiles:
Frequently asked questions about Bentley
How much does a Bentley cost?
How much a Bentley costs depends on the model and options. The Bentley Bentayga price starts at $197,300 but stretches to $267,000 for the premium trim. The popular Bentley Continental GT price starts at $235,600 but can get above $315,000.
Is a Bentley made by Rolls-Royce?
No, Bentley cars are not made by Rolls-Royce. There was a time when both brands had the same parent company, resulting in models that featured similar body styles with differing features. Now they are two completely different entities with no shared ownership.
How much is the cheapest Bentley?
The cheapest Bentley is the Bentley Bentayga. This luxurious Bentley SUV starts at $197,300, making it the only new Bentley priced under $200,000. The next most-affordable Bentley car is the four-door Bentley Flying Spur price at $208,600.
How much is the most expensive Bentley?
The most expensive Bentley base model is the Bentley Continental GT price at $235,600. But a 12-unit variant of this model sold for much more. The Bentley Bacalar price was $1.9 million, and the upcoming Bentley Batur is expected to sell for $2.8 million.