Swiss watchmaking wins out when it comes to reliability and quality. But for adding some fun, passion, and zest to luxury timekeepers, we need the Italians.
To be precise, we need Bulgari.
The Italian watchmaker, most famous for its creation of a certain iconic reptile-inspired watch, aka the Serpenti, translates Rome's unique character and beauty into stunning timepieces that are just as eye-catching as the most memorable sights of the Eternal city itself.
Here's what makes Bulgari watches so special. Prego.
At a glance
| | |
| --- | --- |
| | |
| Industry: Watches | Founded: 1884 |
| Headquarters: Rome | Founder: Stotirio Bulgari |
| Watch Collections: women's watches, dress watches, and jewelry watches | Parent organization: The LVMH Group |
| Estimated Annual Revenue: $133 million USD | Website: bulgari.com  |
Bulgari watch price
How much does a Bulgari watch cost?
The starting price for an entry-level Bulgari watch is around $3,050 for a men's Bulgari Aluminium watch or $3,750 for a women's Bulgari Bulgari watch. Bulgari watch prices for the Bulgari Serpenti start at $5,050.
What is the most expensive Bulgari watch?
The most expensive Bulgari watch is the Bulgari Serpenti Misteriosi Romani at $2.02 million. The cuff-style timepiece features a snakehead decked with a 10-carat Sri Lankan sapphire and more than 60 carats of diamonds and 35 carats of sapphires. It's powered by a quartz movement.
See how this watch compares to the most expensive watches in the world.
What is the cheapest Bulgari watch?
The cheapest Bulgari watch is a men's Bulgari Aluminium watch, currently retailing for $3,050. Bvlgari watch prices for a women's Bulgari Bulgari watch start at $3,750 or $5,050 for a Bulgari Serpenti watch. Bulgari watch prices for a Bulgari Octo start at $6,550.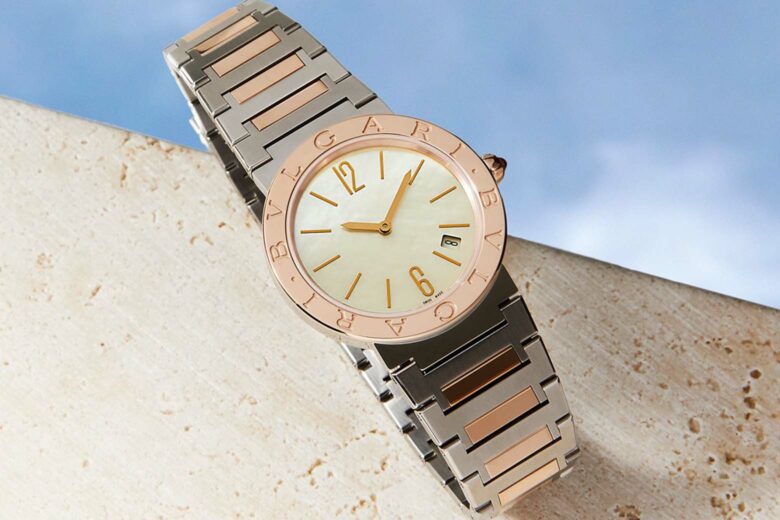 About Bulgari
History of Bulgari
Bulgari was founded by Greek silversmith Sotirio Bulgari who moved to Rome in 1881 and established his company in 1884. The business started out creating silver ornaments highly prized by English tourists visiting Rome. But after his sons took over the business, the focus moved to jewelry, with a signature style that combined Art Deco geometric shapes and classic French design.
In the late 1940s, the brand released its famous Serpenti snake watch made of coiled gold. This set the stage for Bulgari's golden era of the 1950s and 1960s as the brand became favored by A-listers and Italian royals. Its jewelry at this time was notable for its symmetrical designs, vibrant hues, yellow gold, and generous use of diamonds.
In 1976, Bulgari released the highly coveted Bulgari Roma with its quartz digital display. Then, in 1977, came the Bulgari Bulgari, an immediate hit. Since then, the Bulgari Bulgari collection has evolved to include chronographs and tourbillons.
In 1982, Bulgari established the Bulgari Time S.A. company in Neuchâtel, Switzerland, and, in 1988, released the Diagono, the brand's first sports watch, defined by its Bulgari Bulgari logo on the bezel.
The Aluminium watch was released in 1998, a sports watch made of aluminum and rubber. Then, in 2000, the company acquired the Daniel Roth and Gérald Genta production facilities in Le Sentier, Switzerland, signaling the start of the brand's journey into Haute Horlogerie.
In 2004, the first Bulgari Grand Complication was released. The company also made its first in-house movement in 2013, the Calibre BVL 191.
Today, Bulgari has stores around the world and is owned by the luxury conglomerate LVMH. Always adapting and innovating according to changes in tastes and styles, Bulgari refuses to be constrained by convention.
Interesting facts about Bulgari
The Bulgari store at 10 Via Condotti in Rome was known for being a hub for the world's rich and famous, frequented by movie stars and socialities including silver screen actors Richard Burton and Elizabeth Taylor. In fact, Richard Burton is quoted as saying that "The only Italian Elizabeth knows is Bulgari."
Bulgari is not limited to making luxury watches and jewelry. It also develops fragrances and, in 2004, opened the first Bvglari hotel.
Bulgari's Octo Finissimo Tourbillon, presented at Baselworld in 2014, set a world record for the thinnest tourbillon movement on the market.
The largest Bulgari store is the Bulgari Ginza Tower in Tokyo which also has a lounge bar and restaurant.
Wondering about Bvlgari pronunciation? It's said Bool-gah-ree [bʊlɡəri].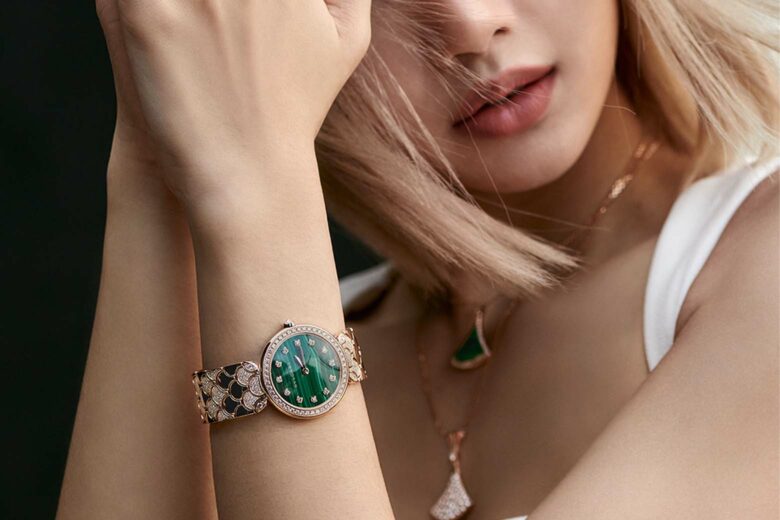 Bulgari product range
Bulgari currently boasts six different watch collections, with watch series designed for both men and women.
First up, there's the Bulgari Serpenti, one of the most iconic and instantly recognizable Bulgari watches with its snake-inspired design and generous use of diamonds and gemstones.
Then there's the more low-key but no less luxurious Lvcea collection, finding inspiration in Roman sundials and ideal for women seeking something pared-back but prestigious.
Next there's the Bulgari Divas' Dream collection, showcasing the same array of gorgeous materials and compelling geometry.
The Bulgari Bulgari collection includes watches for men and women, both defined by the brand's name engraved into the bezel, and some of the company's most popular timepieces.
The Bulgari Octo is one of the most iconic luxury timepieces for men on the market with its octagonal case and ultra-sleek design.
Finally, Bulgari has also released two watches as tributes to long-time collaborator Gérald Genta.
Signature materials and craftsmanship
Signature Bulgari style is centered around motifs and emblems inspired by Rome itself, such as ancient Roman coins or the columns of Roman temples, as well as influences from flowers and snakes. Bvlgari watches also feature a dazzling array of diamonds and gemstones while materials vary from the brand's favorite yellow gold to the more unconventional hematite and coral, as well as steel and porcelain.
Bulgari craftsmen combine the best traditional techniques and cutting-edge technologies. For example, the Serpenti snake watch was made using the Tubogas technique, aka the gas-pipe technique, first developed in the late 19th century, a laborious process that creates intricate metalwork entirely without soldering and resembles the gas pipe of 1920s Italian cars.
But there's also the sandblast finish as seen on the Bulgari Octo Finissimo, which is done by means of a gas-powered compressed air source that allows a material to be sprayed against the watch case and creates a pebbled and frosted appearance.
While Bulgari started out using third-party movements from famous Swiss watch brands like Jaeger-LeCoultre and Vacheron Constantin, today it has the capacity to make its own movements in-house. In fact, after acquiring a specialist Swiss dial-making company and case-making company, Bulgari can now design, develop, and produce all the essential components of Bvlgari watches in-house.
As a member of the Responsible Jewelry Council, Bulgari ensures that all supply chain is managed ethically and responsibly, particularly gold, diamonds, and colored gemstones. Bulgari only buys diamonds from trusted suppliers in countries that adhere to the Kimberley Process, an initiative to prevent 'conflict diamonds' from being sold.
Where is Bulgari made?
Bulgari watches are made at four different sites in the Swiss Jura region. The headquarters are in Neuchâtel and the main manufacturing site is in Le Sentier. There's also the company's Saignelégier facility where cases are made and the La Chaux-de-Fonds facility where the dials are made. A total of 350 employees work at these four facilities.
Brand values
| | |
| --- | --- |
| Vegan options: | No |
| Carbon-neutral: | No |
| Gives back: | Yes |
Bulgari watches
Bulgari Serpenti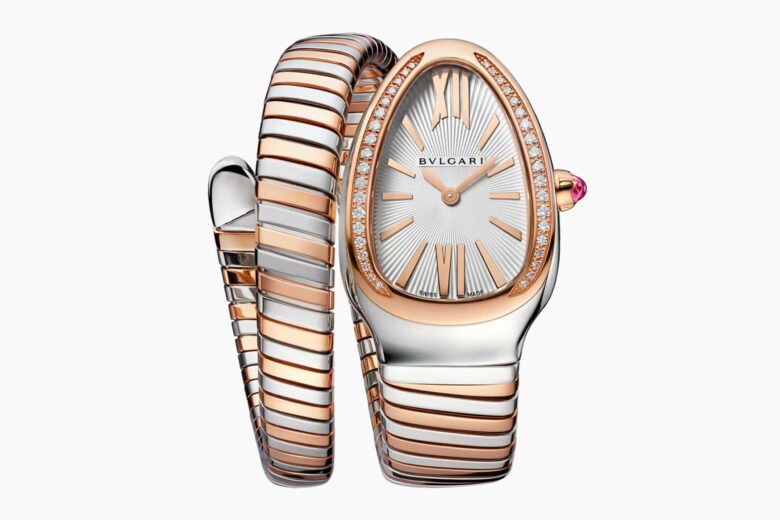 The ultra-slinky and sensual Bulgari Serpenti is easily one of the most iconic women's watches ever. With its stylized Art Deco design and innovative Tubogas construction, there is simply nothing else like it. No wonder it's graced the wrists of some of history's most glamorous women, including style icon Elizabeth Taylor. Available in a range of opulent precious metals and with a case shaped like a serpent's head, it coils around your arm, tactical and enticing.
| | |
| --- | --- |
| Price: | $5,050 – $47,600 |
| First release year: | 1940s |
| Current case size: | 33 mm – 35 mm |
| Movement: | Quartz |
| Water resistance: | 30 m |
| Crystal: | Sapphire |
Bulgari Lvcea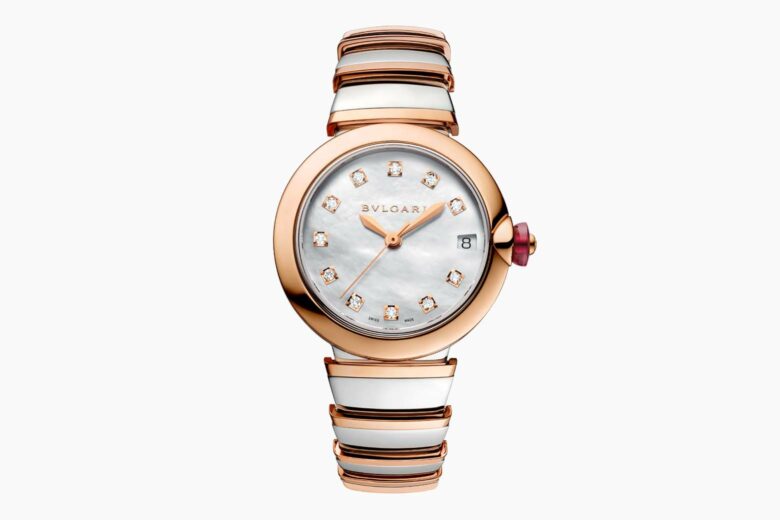 Inspired by sundials, humanity's oldest timekeeping instrument and part of the Roman heritage that inspires many of Bulgari's creations, the Lvcea collection is a demonstration of classic Italian style. Its easygoing elegance makes it perfect for women seeking something pared-down but undeniably decadent that can be worn both in the ballroom and for breakfast.
| | |
| --- | --- |
| Price: | $4,750 – $16,500 |
| First release year: | 2014 |
| Current case size: | 28 mm – 33 mm |
| Movement: | Automatic and quartz |
| Water resistance: | 50 m |
| Crystal: | Sapphire |
Bulgari Divas' Dream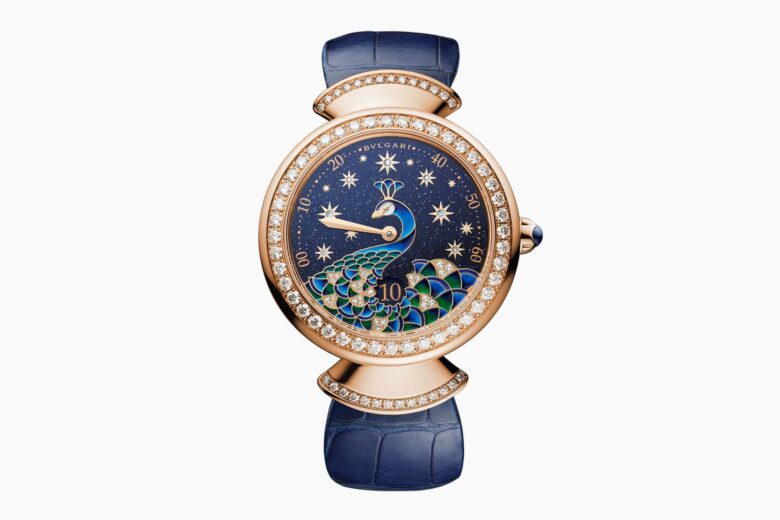 Taking inspiration from the vibrant shades and curves of the fan-shaped mosaics at the Caracalla Baths in Rome, the quintessentially feminine Divas' Dream collection of Bulgari watches is a tribute to the Eternal City's iconic females. Expect refined curves, luxurious materials like blue alligator, mother-of-pearl, and rose gold, as well as a spectacular assortment of the finest gemstones, from cabochon-cut pink tourmaline to briolette (read: pear-shaped) diamonds.
| | |
| --- | --- |
| Price: | $11,500 – $71,000 |
| First release year: | 2018 |
| Current case size: | 30 mm – 33 mm |
| Movement: | Quartz |
| Water resistance: | 30 m |
| Crystal: | Sapphire |
Bulgari Bulgari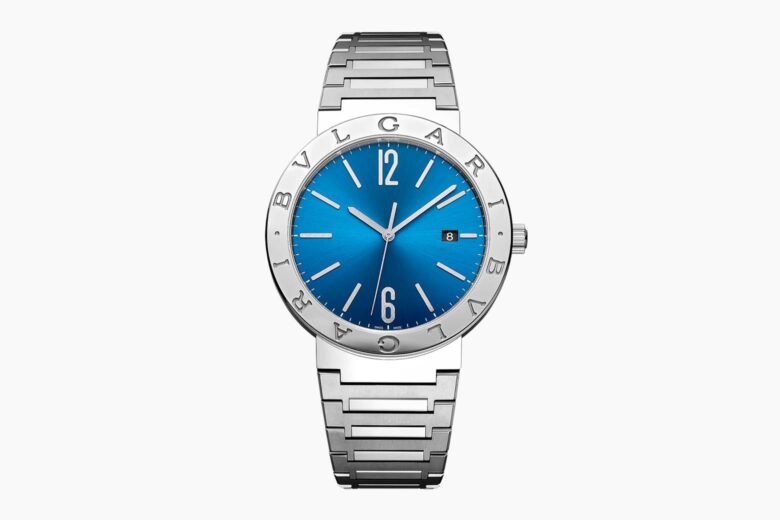 One of the instantly recognizable Bvlgari watches, the Bulgari Bulgari collection for men and women is revolutionary for its use of a logo as a design element. The brand name is printed around the bezel, recalling embossed ancient Roman coins in a homage to the brand's proud Italian heritage. Today, the Bulgari Bulgari collection is one of the brand's most well-known watch series and you'll find the timepiece in various iterations, from the understated Bulgari Aluminum for men to the green satiné Soleil lacquered dials of the women's Bulgari Bulgari watches.
| | |
| --- | --- |
| Price: | $3,050 – $10,900 |
| First release year: | 1977 |
| Current case size: | 23 mm – 41 mm |
| Movement: | Automatic and quartz |
| Water resistance: | 30 m – 100 m |
| Crystal: | Sapphire |
Bulgari Octo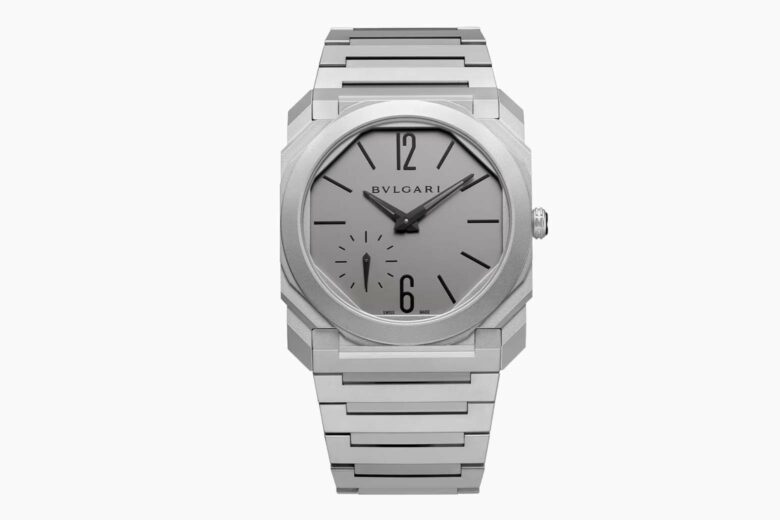 Most notable for its iconic octagonal case, inspired by the 310 AD Roman Massentius Basilica, the Bulgari Octo for men is a modern classic. Combining sleek Italian design with superb Swiss watchmaking skill, the unique profile of these timepieces recalls other legendary watches like the AP Royal Oak or Cartier Tank. Look out for skeletonized timepieces with massive 8-day power reserves as well as monochromatic ceramic versions, ultra-thin models, and GMT and World Timer complications.
| | |
| --- | --- |
| Price: | $6,550 – $45,500 |
| First release year: | 2012 |
| Current case size: | 40 mm – 43 mm |
| Movement: | Automatic and manual |
| Water resistance: | 30 m – 100 m |
| Crystal: | Sapphire |
Bulgari Gérald Genta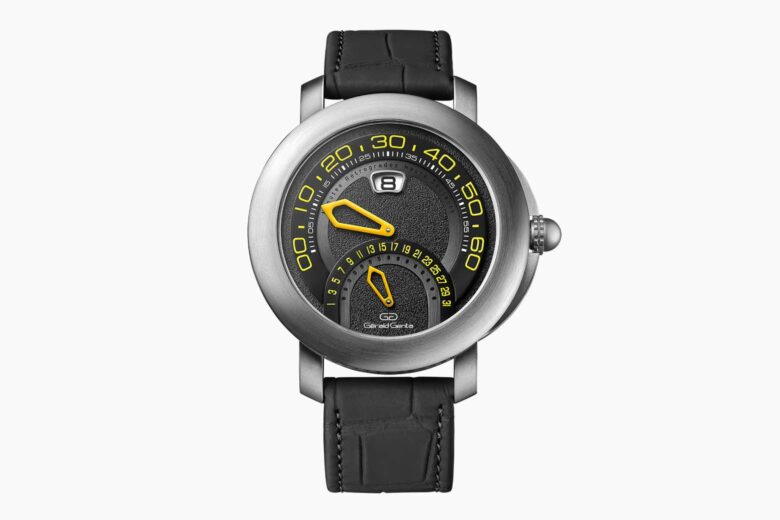 The collaboration between Bulgari and Gérald Genta began in 2000 when the former acquired the designer's eponymous brand, a huge helping hand in the brand's venture into Haute Horlogerie. In a homage to the genius designer, Bulgari launched the rather whimsical Arena Retro Mickey timepiece in 2019. And, in 2021, the 50th anniversary of the Gérald Genta Brand, it released a unique jumping hours platinum edition.
| | |
| --- | --- |
| Price: | $16,400 – $61,000 |
| First release year: | 2019 |
| Current case size: | 41 mm |
| Movement: | Automatic |
| Water resistance: | 100 m |
| Crystal: | Sapphire |
Where to buy Bulgari watches
You can buy Bulgari watches online from the company's website or in-person from one of the Bulgari stores listed here. You can also buy a Bvlgari watch from a trusted third-party retailer such as Net-a-Porter or FARFETCH where the authenticity of your timepiece is guaranteed.
For more about buying a luxury watch, see our watch guide.
Bulgari shipping
Bulgari offers complimentary shipping for all Bulgari watches. You can pay more for an express or priority delivery service. A signature will be required on delivery. If ordering via Net-a-Porter, the retailer offers shipping to many countries worldwide while FARFETCH offers international shipping for different fees depending on the country.
Bulgari return policy
You can return your Bulgari watch purchased online for a full refund within 14 days of the date of delivery. Or you can return it to a Bulgari Store for exchange or store credit. For help with your return, contact the company's Concierge Service.
FARFETCH accepts returns on watches within 14 days for a full refund and Net-a-Porter allows returns within 28 days.
Bulgari customer service number
For help with your order or assistance with any other queries, contact a Bulgari customer service representative on 0800 048 8945.
Bulgari social media profiles
Frequently asked questions about Bulgari watches
Is it BVLGARI or Bulgari?
Bulgari and Bvlgari are both correct. Bulgari is the brand name. Bvlgari is the trademark and logo. Bulgari refers to the phonetic spelling of the name of the founder, Sotirios Voulgaris. For more about Bulgari watches, see our Bulgari guide.
Who is Bulgari owned by?
Bulgari is currently owned by LVMH group, a French luxury conglomerate that also owns watchmaking companies like Hublot and Zenith. LVMH aquired Bulgari in 2011. For more about the company's history, prices, and products, see our Bulgari guide.
Is it worth it to buy BVLGARI?
It's worth buying a BVLGARI watch if you appreciate high jewelry watches or unique statement timepieces with an exclusive heritage. Bulgari watches, particularly the Bulgari Octo or Bulgari Serpenti, are iconic and exceptionally high-quality.