We'll admit it. We have a weakness for dive watches. No other kind of timepiece manages to be so superbly functional and full of romance simultaneously. The idea of wearing these watches to explore hidden ocean depths or to traverse the high seas makes them hard to resist. And Spinnaker makes some of the best affordable diver watches around.
Dive watches can cost a pretty penny. The Rolex, Patek Philippe, and Omega dive watches of this world, in particular, can be eye-wateringly expensive. Which is why Spinnaker, the name behind some of the best men's watches, is one of our favorite inexpensive dive watch brands.
The Hong Kong-based company takes inspiration from the world's most iconic dive watches and puts its own unique spin on them, playing around and experimenting to create classy and memorable watches that deliver both in terms of practicality and aesthetics.
Named after a specific type of sail used by racing boats, Spinnaker draws influence from the yachting lifestyle. These microbrand watch designs are wonderfully elegant, imbued with a spirit of both ingenuity and adventure, and are exactly what you want on your wrist when sailing the seas in a superyacht—or simply enjoying a craft beer at the beach club.
In this Spinnaker watch review, we'll cover two models in depth. First, the Dumas, a vintage-style dive watch with impressive 300-meter water resistance. And then the Bradner, a swimming-friendly timepiece with cool retro flair.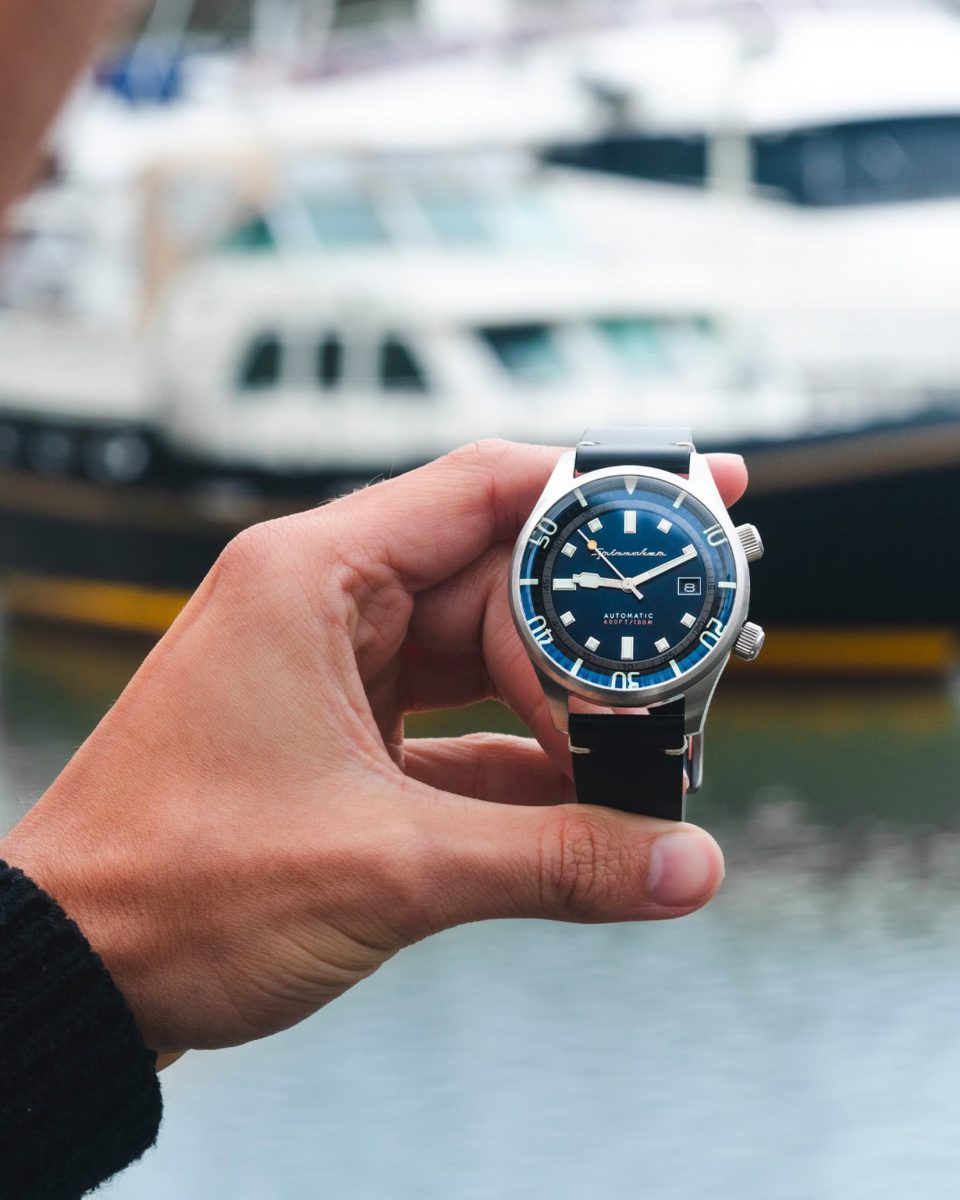 Spinnaker Dumas review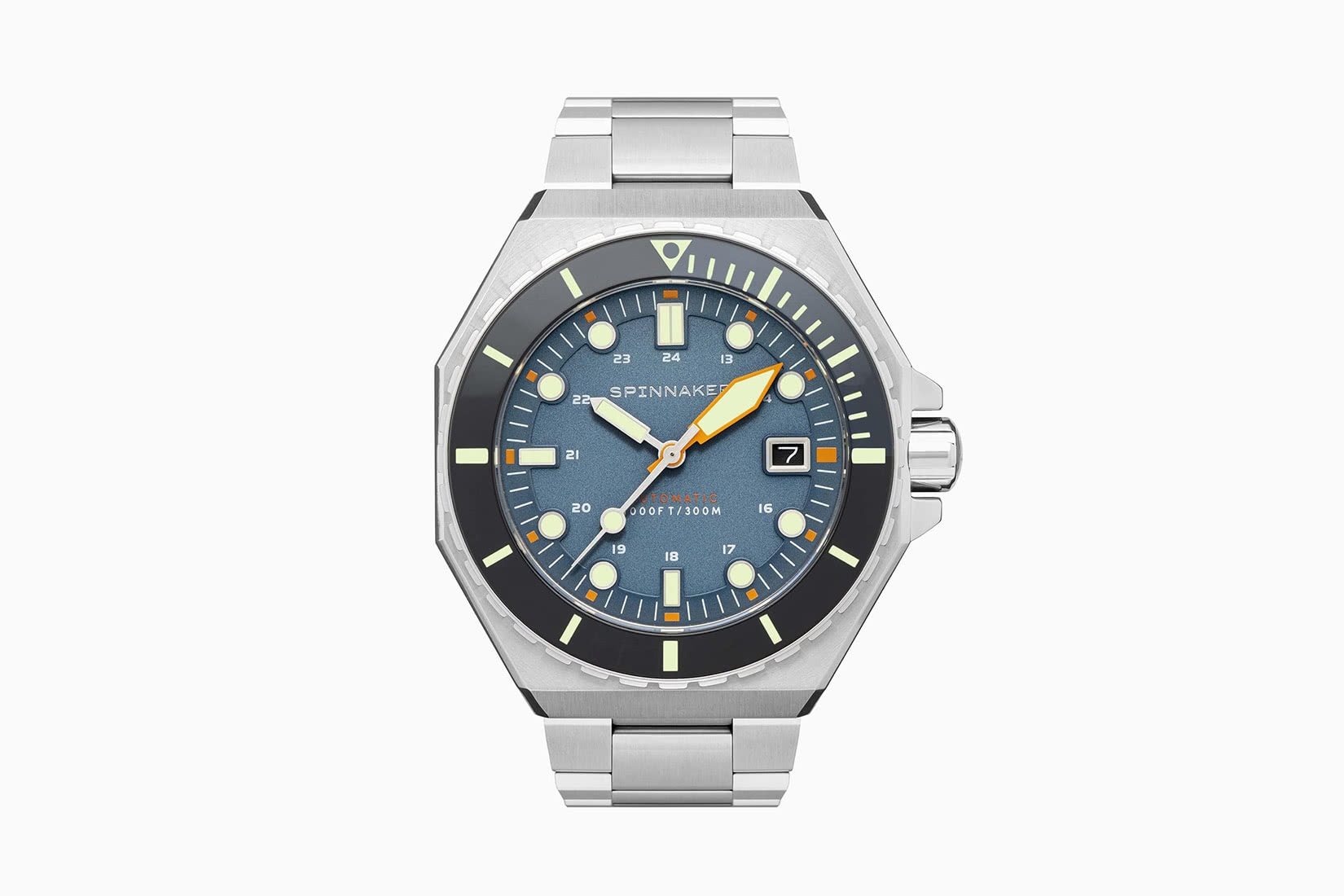 One of the brand's most popular models, the Spinnaker Dumas pays homage to Frédéric Dumas, a writer and good friend of Jacques-Yves Cousteau with whom he developed the diving regulator.
The pros:
An inexpensive automatic watch, the Dumas looks far pricier than it is and feels very high-quality.
The multi-layered dial along with the vintage-style octagonal case is unconventional and unique.
There is a range of colors to choose from with something for every taste and style.
The cons:
The Dumas is too chunky to wear with a suit and shirt without snagging on your cuff—although it could add some drama to black-tie attire.
The mineral glass on the bezel isn't as scratch-resistant as sapphire crystal but helps to keep costs down.
The keeper on the mesh bracelet doesn't work as well as it should. Swap it for a leather or rubber strap instead.
Hands-on experience and benefits
The Dumas stands out immediately with its unique faceted octagonal case, a pleasing change from conventional diver watches. With a casual and not too serious vibe, this Spinnaker watch is fairly chunky and feels appropriate for everyday wear.
Despite the substantial size, it's comfortable on the wrist. Meanwhile, its 300-meter water resistance puts this affordable dive watch in the same league as Rolex's Submariner (although it's not technically ISO 6425 certified).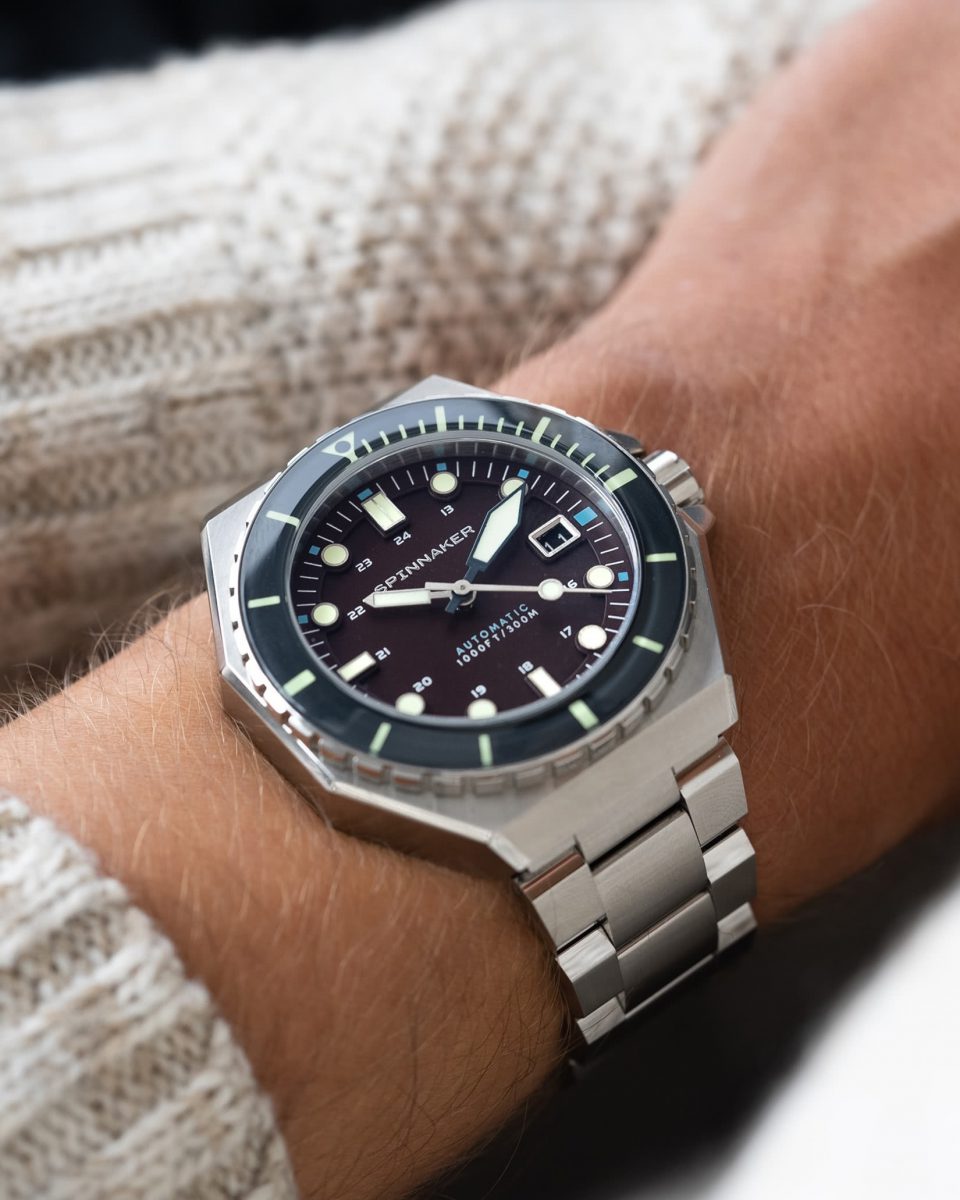 Design
The Dumas is a robust and hefty timepiece and the quirky octagonal shape gives it a 1970s vibe that we're definitely enjoying. While we wouldn't recommend wearing it with a tuxedo (opt for a pocket watch instead), when it comes to casual weekend wear at the yacht club, it's perfect.
There are clear parallels between this watch and Omega's Plongeur Professionale, aka the Ploprof, but Spinnaker has put its own twist on the design, using a combination of brushed facets and polished bevels to striking effect while the strong angular lines and range of interesting colorways make it memorable.
As a microbrand watch, the Dumas only costs around $350. You'd be hard pushed to find another timepiece with the same high-end feel at this price.
Quality of materials & craftsmanship
As with all Spinnaker watches, no corners have been cut in terms of quality and detail.
The chunky case is made of stainless steel and is 44 mm wide and 15 mm thick, lending the watch a heavy-duty and industrial feel—appropriate for something that needs to survive life at sea. The hidden lugs help to maintain a sleek and streamlined feel.
As well as the perfectly engineered uni-directional bezel, there's a screw-down crown at 3 o'clock which is easy to grip and turn. Note the graphic bubble that features the brand's sail logo inside.
The Dumas comes with scratch-resistant sapphire crystal and we noticed no glare or distortion. And as well as a stainless steel bracelet, it's also available with a Milanese mesh band, 4 mm thick and very flexible.
The only downside is that, after resizing the mesh band, you end up with a loose part exposed. The boxy floating keeper moves around during the day, leaving the mesh flapping, which is a bit annoying. We recommend swapping the strap for a rubber or waterproof leather alternative.
Dial & Movement
The dial of this Spinnaker watch is fuss-free and sporty, easy to read and use. There's a strong lume and the indices are crisp and clear with square markers at 12, 3, 6, and 9. The multi-layer design helps with legibility and the depth also adds dynamism, making the watch look more expensive than it is.
We particularly like the Dumas' oversized sword hour hand, which not only makes it easy to read the time but also adds flair and zing.
This inexpensive automatic watch features a self-winding movement—the Seiko NH35—as well as a customer rotor by Spinnaker. It has a 42-hour power reserve and you can see the movement at work through the exhibition case back. At 21,600 beats per hour or 6 beats per second, it ticks the boxes of both affordability and accuracy.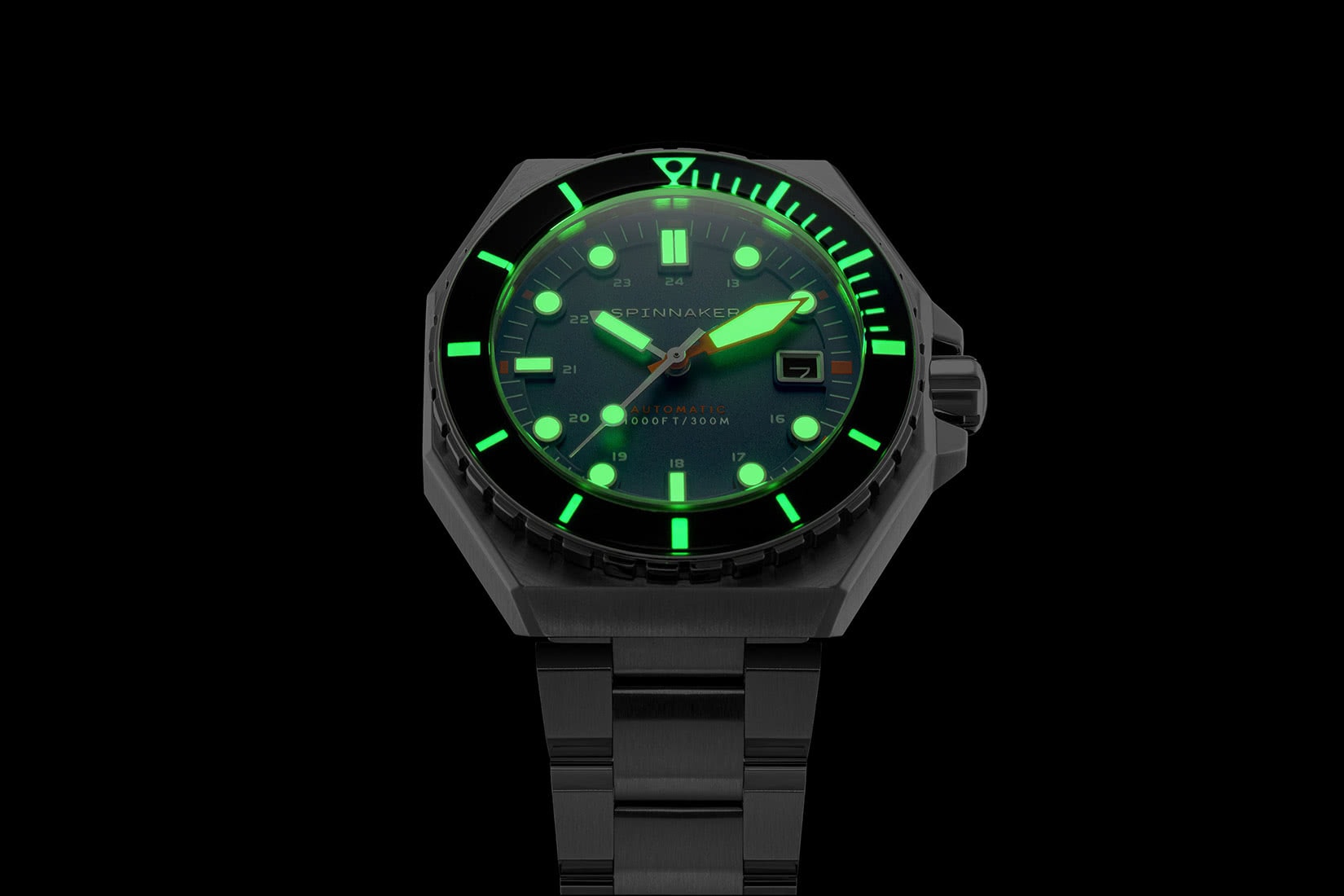 Choose the Spinnaker Dumas if…
You're looking for a unique diving-inspired timepiece with solid water resistance and a charming retro feel.
Case size: 44 mm
Material: stainless steel
Movement type: automatic
Water resistance: 300 metres
Spinnaker Bradner review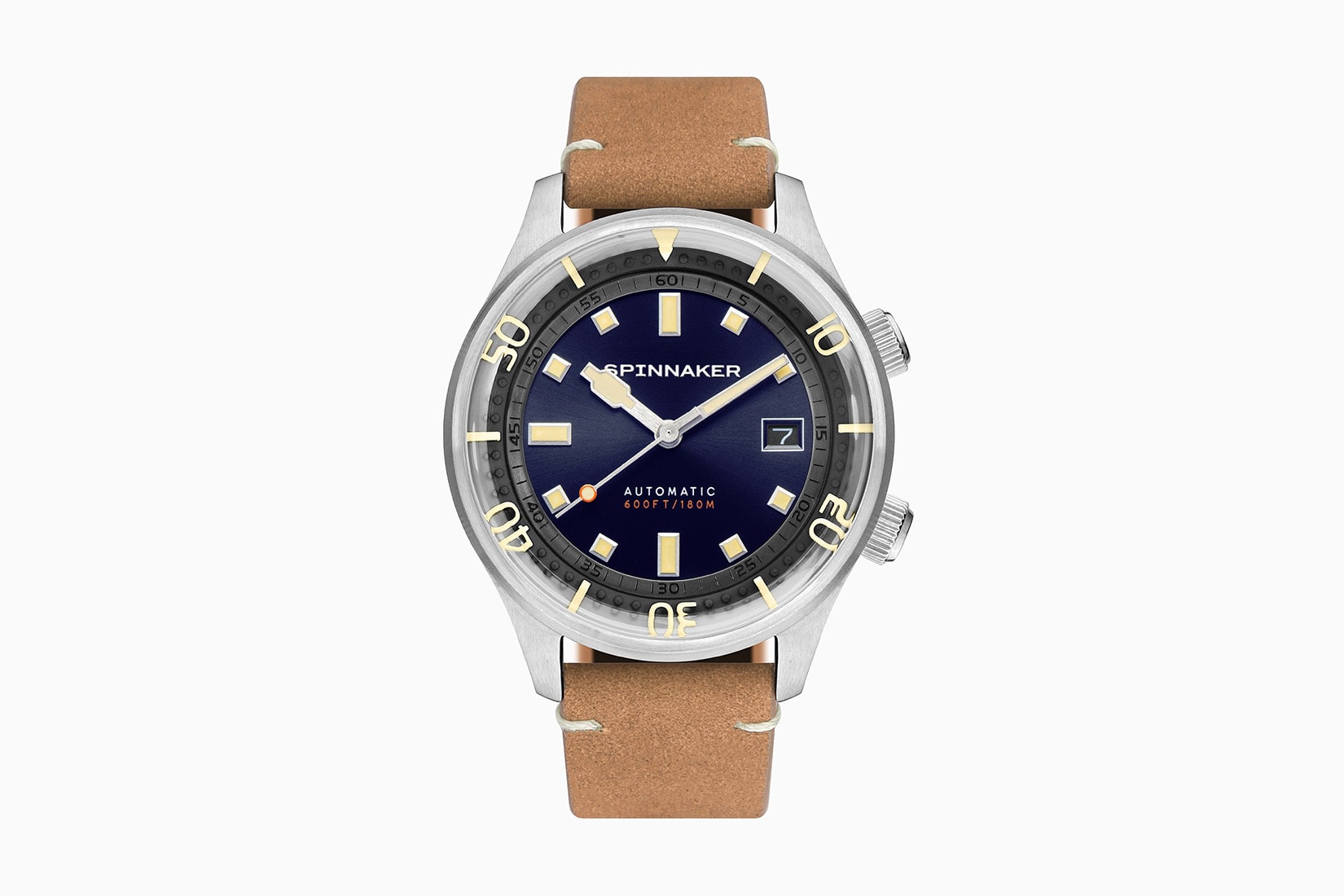 Spinnaker's Bradner watch is a compressor-style timepiece, which means it has dual crowns and an internal bezel. It was named after Hugh Bradner, an American physicist who invented the neoprene wetsuit.
The pros:
The vintage dual-crown style of this Spinnaker watch makes it unconventional and distinct, perfect for those seeking something a little different.
The quality is impressive given the affordable price point.
As we've already mentioned in this Spinnaker watches review, all of the brand's models come in a range of case and strap materials and colors.
The cons:
With water resistance to 180 meters, this Spinnaker watch is suitable for recreational swimming but you couldn't take it diving.
The internal bezel looks cool but is easy to knock out of place during the day. It would be better if the crown screwed down.
Hands-on experience and benefits
First impressions of the Bradner are definitely positive. This is a perfectly proportioned and beautifully executed timepiece. Despite its low price point, it's hard to find any compromises.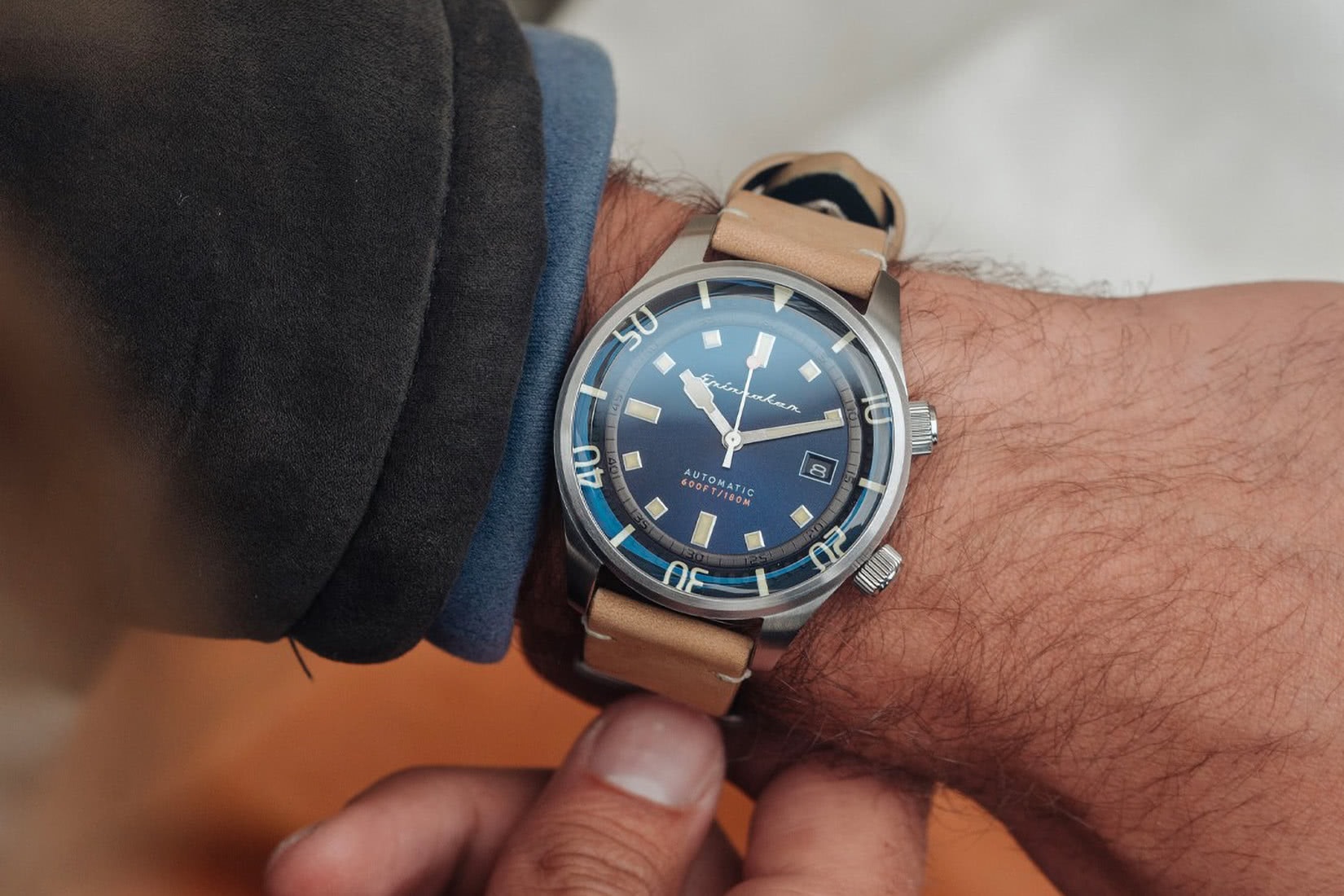 Design
The Bradner is a dual-crown watch—a style of timepiece that's quite unusual, making this a great choice if you want a conversation starter and something that stands out from the crowd.
The diver vibe is not explicit or overt with the Bradner. It feels casual and easygoing and is simple to wear on a daily basis.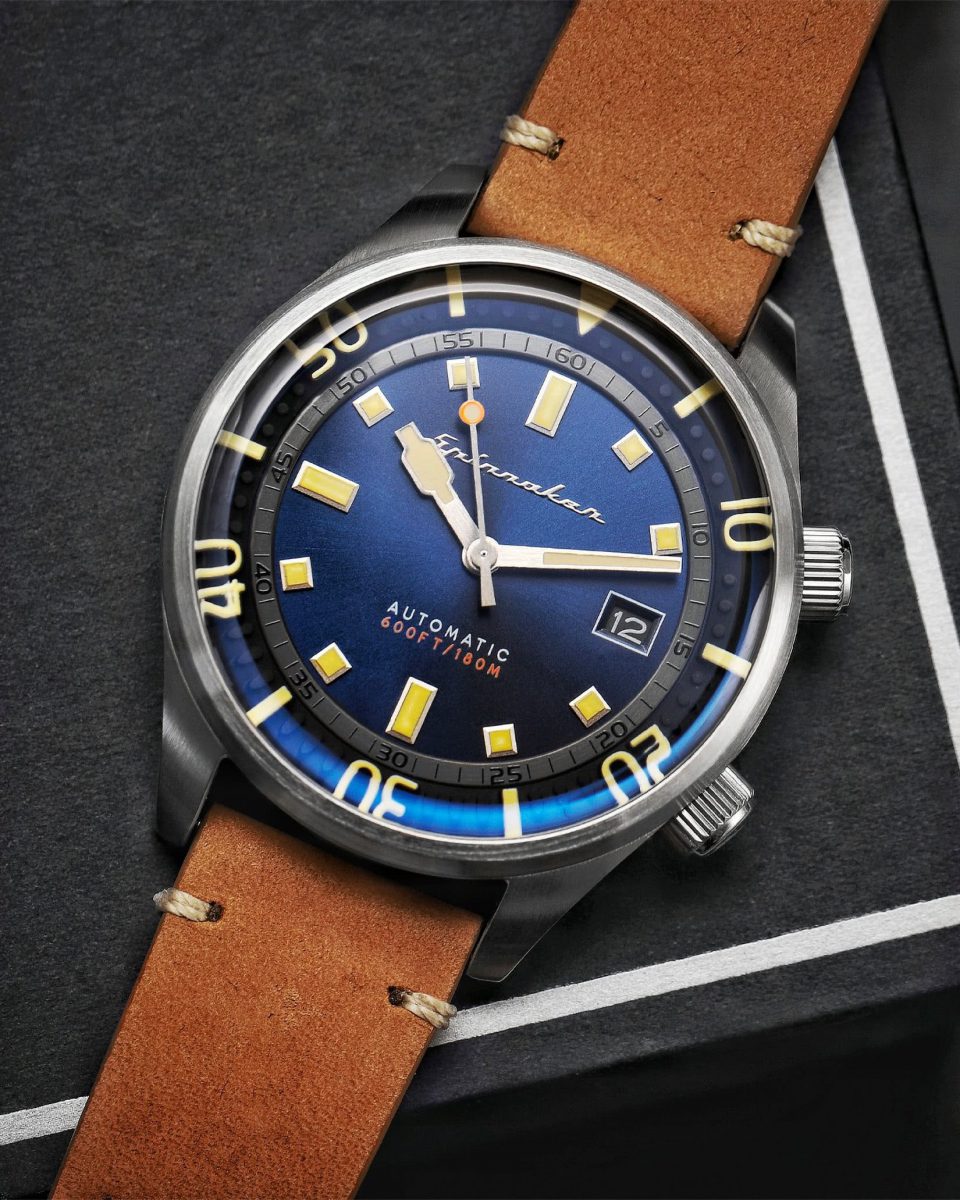 Quality of materials & craftsmanship
This Spinnaker watch has a case made from 316L stainless steel with a sleek satin-brushed finish. It features two crowns at both 2 and 4 o'clock which you might think would create unnecessary bulk but, in fact, the watch feels very comfortable on the wrist. However, you probably couldn't wear it under a shirt cuff.
The internal bezel, sitting outside the chapter ring, is one of the few flaws with this watch. It's rotated by the crown at 2 o'clock but because the crown doesn't screw down, it's easy to knock the bezel out of alignment during the day.
Of course, this isn't really an issue if you don't plan to take the watch on diving missions. And we do like the fact the crown has been etched with the brand's sail logo.
For the strap, you've got a choice of stainless steel or leather. We particularly like the leather option as it's very soft against the skin. You've also got sapphire crystal for the front dial while mineral crystal has been used for the exhibition case back.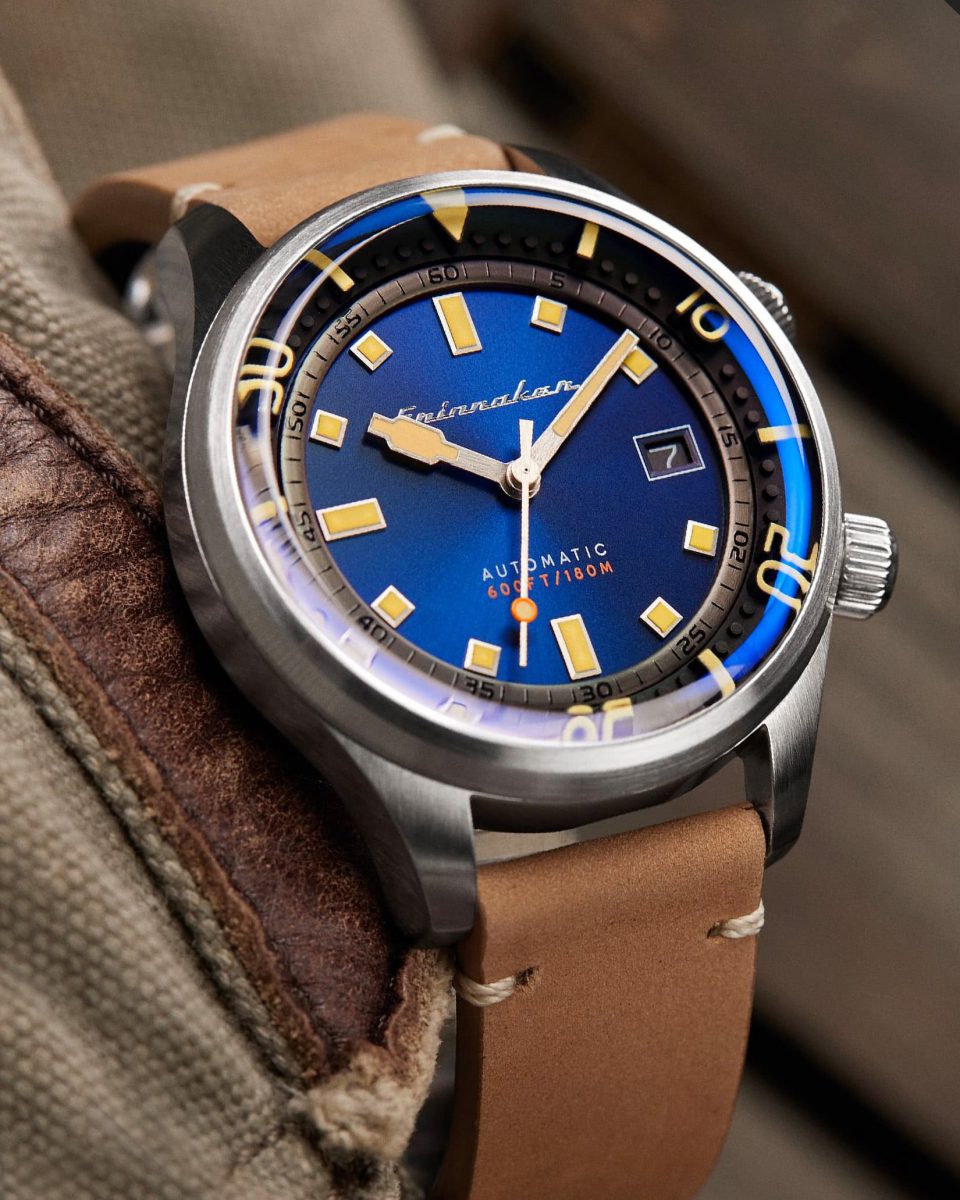 Dial & movement
The dial feels very retro with long-lasting lume in a vintage shade of beige, lending it a similar 70s style to the Dumas. The applied markers have metal surrounds while the date window at 3 o'clock has a white surround.
This Spinnaker watch features a club-style hour hand, baton minute hand, and running seconds lollipop hand. At no point does the design feel cheap or half-hearted. Everything has been carefully considered.
Meanwhile, this inexpensive automatic watch has a Seiko NH35 24-jewel movement—proven reliability with a 41-hour power reserve. Accuracy is -20/+40 per day and Spinnaker's customized rotor in black can also be glimpsed through the display case back.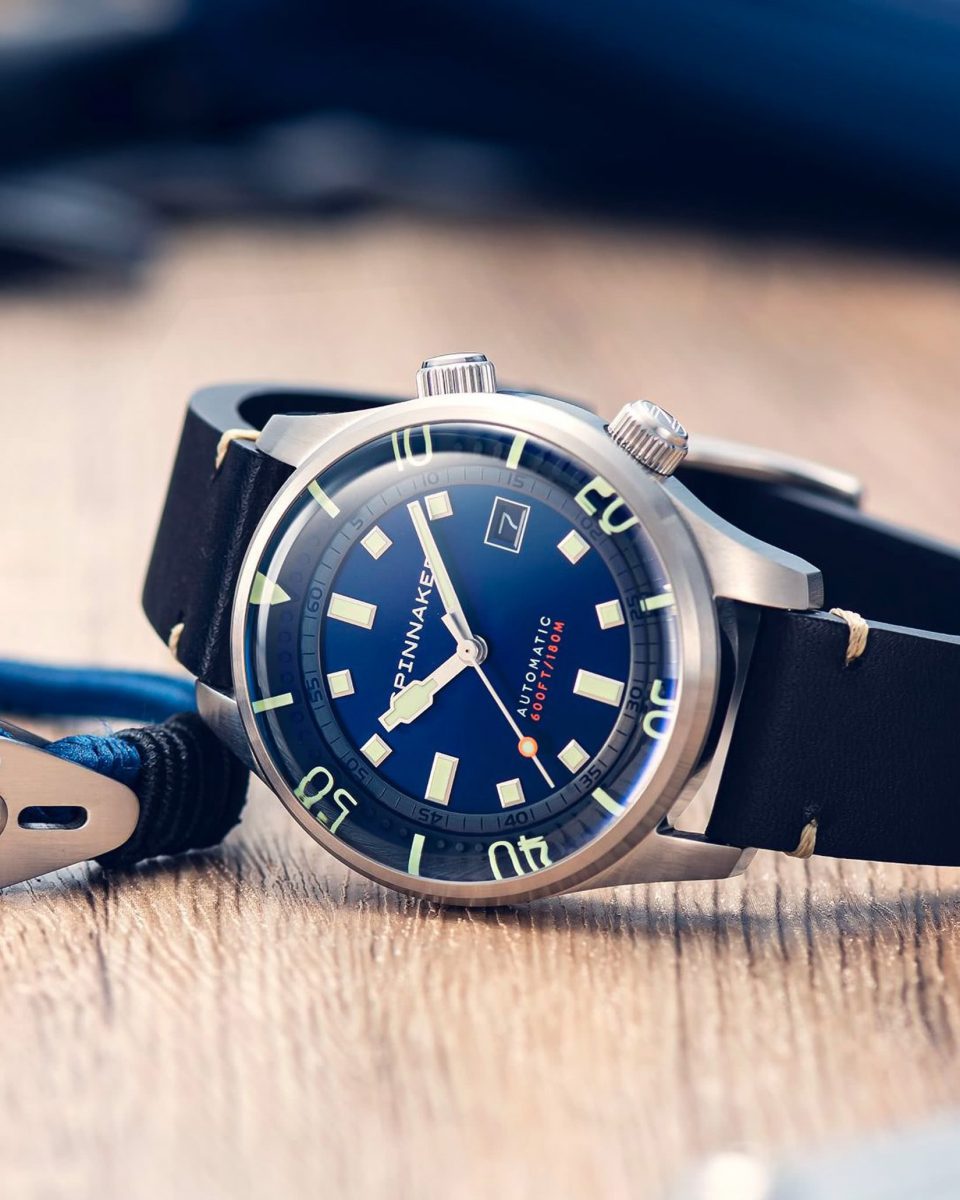 Choose the Spinnaker Bradner if…
You're an enthusiastic newbie to the world of dive watches, seeking a unique introductory timepiece.
Case size: 42 mm
Material: stainless steel
Movement type: automatic
Water resistance: 180 metres
Spinnaker vs Seiko
Spinnaker and Seiko both make quality timepieces at great prices and both represent serious competition for the big-name Swiss watch-making brands.
So which is better, Spinnaker or Seiko?
Seiko is a Japanese watchmaker that has been around for over 100 years—a lot more than the relatively youthful Spinnaker. The company makes reliable and attractive watches at great prices. One particular favorite is the SNK809.
Another major difference between Spinnaker and Seiko is that Seiko makes a range of watches, including field and tactical watches, while Spinnaker focuses solely on diver and nautical-inspired timepieces. Similarly, Spinnaker's watches, while unisex, may be considered too chunky for women while Seiko has a variety of ladies' watches.
As we've discussed in this Spinnaker watch review, the brand does not make its own movements, unlike Seiko. In fact, Spinnaker uses Seiko movements in some of its watches, including the Dumas and Bradner.
Seiko watches vary in price. While some are around the same price as a Spinnaker timepiece, others are much cheaper.
So if you want a great value and reliable watch from a well-established brand, opt for Seiko. But if you want a classy, unique, and thoughtfully designed dive watch at an affordable price, go for Spinnaker.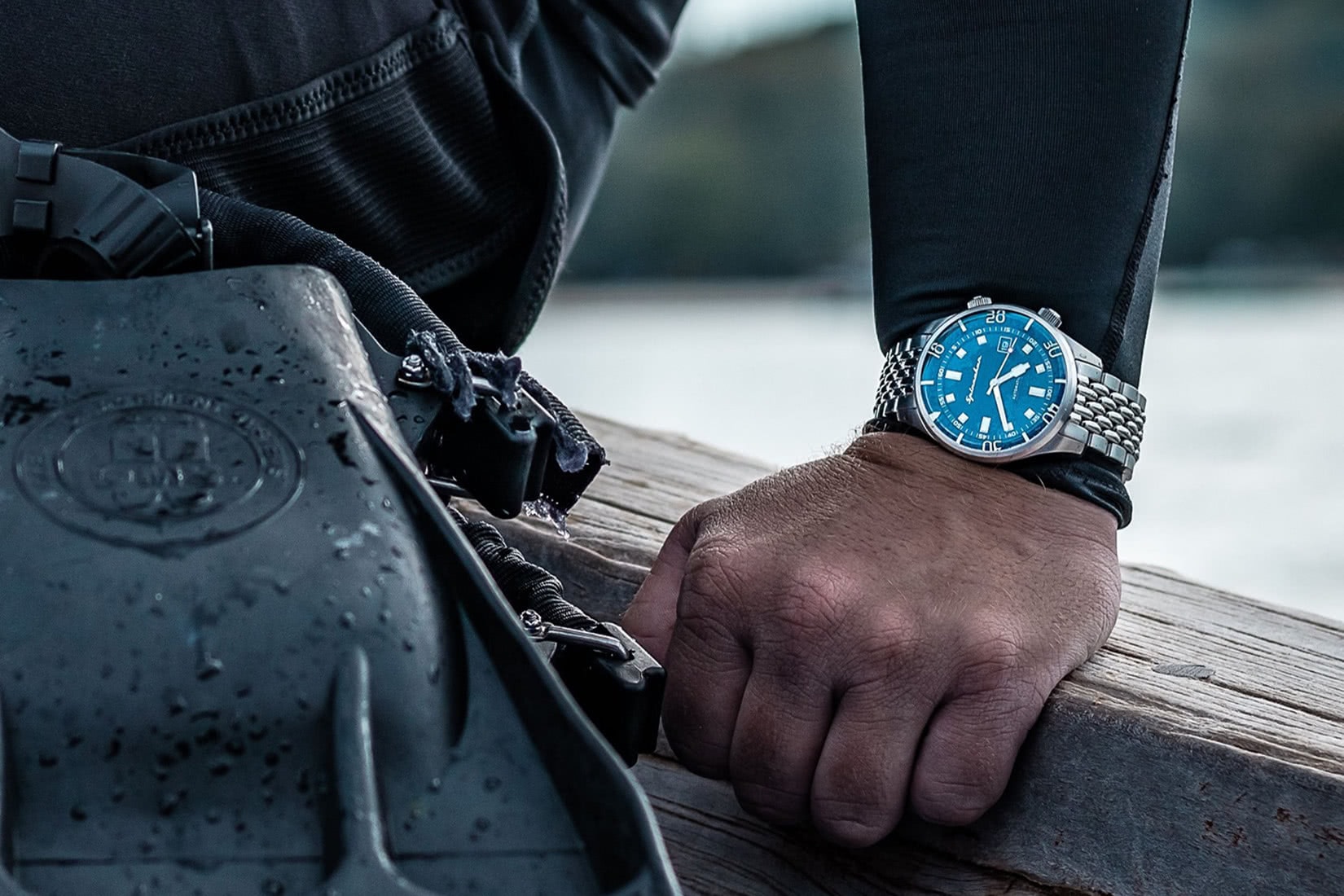 Where to buy Spinnaker watches?
If this Spinnaker watches review has left you eager to get your hands on either the Dumas or Bradner, you can pick up Spinnaker watches easily online via the brand's official website.
Spinnaker offers free shipping and delivery around the world and you can return any item within 30 days.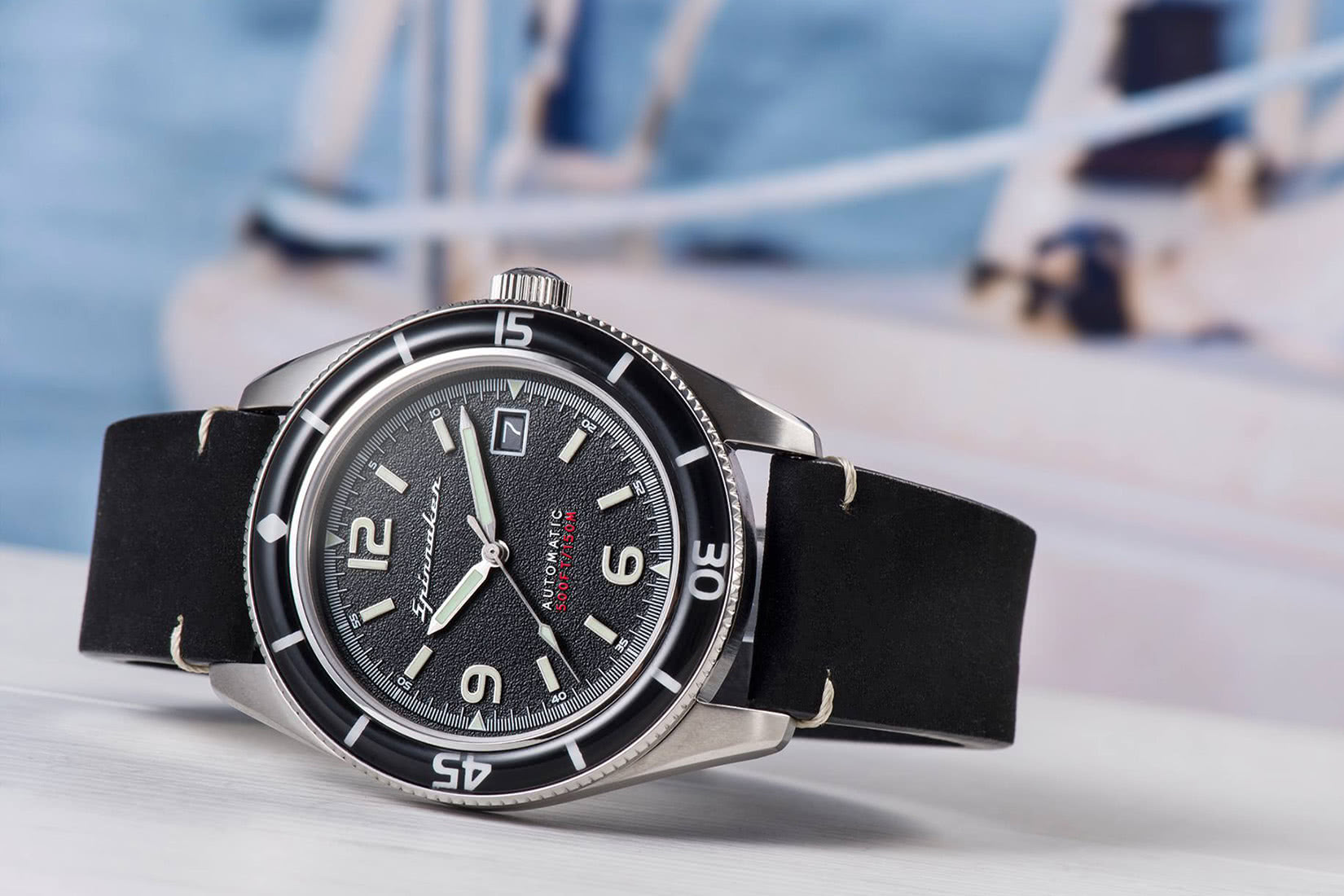 Frequently asked questions about Spinnaker watches
Are Spinnaker watches Swiss?
Spinnaker watches are made in Hong Kong while the movements come from Japanese companies such as Miyota and Seiko. While they're not Swiss watches, they are exceptionally high quality given the price. Read our in-depth Spinnaker watches review to see if they're the right fit for you.
Where are Spinnaker watches made?
Spinnaker watches are designed and manufactured in Hong Kong while the movements come from Japanese brands such as Seiko and Miyota. This allows the microbrand to make inexpensive automatic watches and affordable diver watches.
What movement do Spinnaker watches use?
Spinnaker watches use movements from third-party Japanese watch companies such as Seiko, Miyota, and Hattori. Sometimes the company will create its own custom-designed rotor to go with the movement, as in the case of the Dumas and Bradner.
Who owns Spinnaker watches?
Spinnaker is owned by Dartmouth Brands, a company that sells watches manufactured by Hong Kong watchmaker Solar Time Ltd. Dartmouth Brands also owns AVI-8, another well-regarded watch company.
Where does Spinnaker ship to?
Spinnaker offers free shipping and delivery around the world, including to the UK and EU, with the exception of a few countries including Russia, Brazil, and India. Deliveries take between 3 and 10 days, depending on the country.