Diamonds are forever—and so is Swarovski, it seems. The enduring brand, founded over a century ago in Austria by the legendary Daniel Swarovski, is synonymous with luxury jewellery. Outliving fast-fashion and fickle trends, Swarovski jewellery has earned its place on our fingers, around our wrists and necks, and most importantly: in our hearts.
Like diamonds, Swarovski was founded on the concept of making a "diamond" for everybody. Using a patented procedure, the craftsmen at Swarovski HQ cut premium quality, man-made crystals which shine, and dazzle just like diamonds. Did they succeed? A thousand times, yes. Of course, the profound difference is: the price. More affordable than diamonds but just as luxurious, Swarovski crystals present the perfect solution: jewellery your most glamorous dreams are made of—minus the shiny price tag.
Bejewelling Marylin Monroe in the iconic Diamonds Are A Girl's Best Friend, again during the infamous Happy Birthday Mr. President performance, and on countless star-studded celebrities, Swarovski crystals are ubiquitous. We mean it: The Oscars wouldn't be The Oscars without the glitter of the revered crystals making designer's outfits shine; nor would the Met Gala be quite so splendid.
Yes, Swarovski is one of the few brands that has proved it can move with the times yet retain its timelessness and integrity—by no means an easy feat. The most recent development? Hiring Giovanna Battaglia Engelbert—the company's first-ever global creative director in the whole 125-year history of Swarovski. So, no pressure, then.
Naturally, Engelbert has shined. The undisputed queen of street style and former famed fashion editor's debut collection—aptly named Collection 1—shows the world that this heritage brand has still got it. Spelled out crystal-clear, it marks the beginning of a new era at Swarovski. Vivacious, bold, contemporary, yet with trademark classic elegance, this jewellery collection demands our attention.
Still glittering, but with braver hues, awe-inspiring cuts, and statement pieces, Collection 1 is not only special—it's unique. Expertly retaining the essence of Swarovski, Engelbert has crystallised the brand's station firmly in the consciousness of newer generations, and the ones to come.
Yes, keeping the iconic slogan 'Embellishment of Life' at the heart of her dazzling creations, she is a true luminary.
Swarovski Collection 1: Brave new bling
Allow us to introduce our new best friend. No, it's not a diamond—but it's not far off: Collection 1 is Giovanna Engelbert's premier launch for Swarovski, designed by her own (likely crystal-bedecked) hand.
An ode to founder Daniel Swarovski's early creations, Collection 1 is part of a new, imagined space, Swarovski Wonderlab. Devised in fertile pastures "where science and magic meet, where extra and elegance collide", the jewellery collection stays true to Swarovski's coveted elegance while being brave enough to make a statement.
The thoughtful collection is multilayered, with as many facets, faces, and angles built-in as the colourful crystals themselves. Including vivacious takes on pendants, earrings, rings, bracelets, and necklaces, the collection showcases the crystal's elementary yet magical properties. Scintillating and irresistible? Of course—but these tantalising pieces are nothing if not practical, and more importantly: wearable.
Coined the "Mathemagical Garden," the journey through the jewellery collection inspires wonder, playfulness, and above all, freedom of spirit. And guess what: Swarovski has invited us all along for the ride.
Housed within Swarovski Collection 1 are several 'families.' And believe us: they're certainly the types you want at your next soirée.
Shining a light on our handpicked favourites
Millenia Bracelet: Mesmerising modernity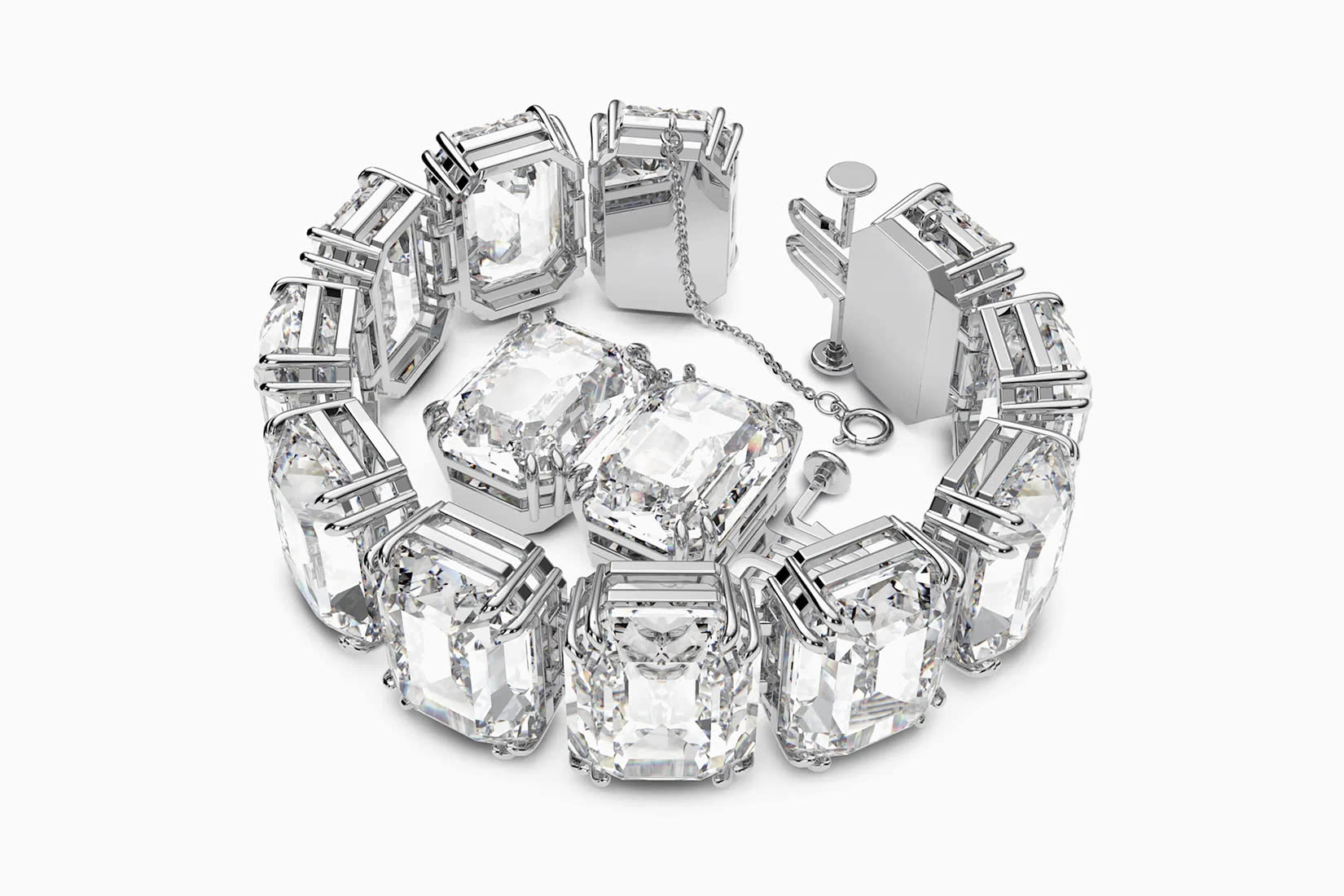 Sure to become a staple piece in your jewellery collection, the Millenia Bracelet shines. Literally. Crafted with octagonally-cut crystals arranged in close proximity and set on mirror-like rhodium plating, this elegant bracelet hits the sweet spot between classic and contemporary.
Worn as a statement on its own or as a centrepiece amongst a stack of bracelets, the Millenia Bracelet will elevate a plain tee or add the final touch to an LBD. Bold, striking, and simply beautiful, this resplendent piece is the crown of the collection.
Harmonia Choker: Clear confidence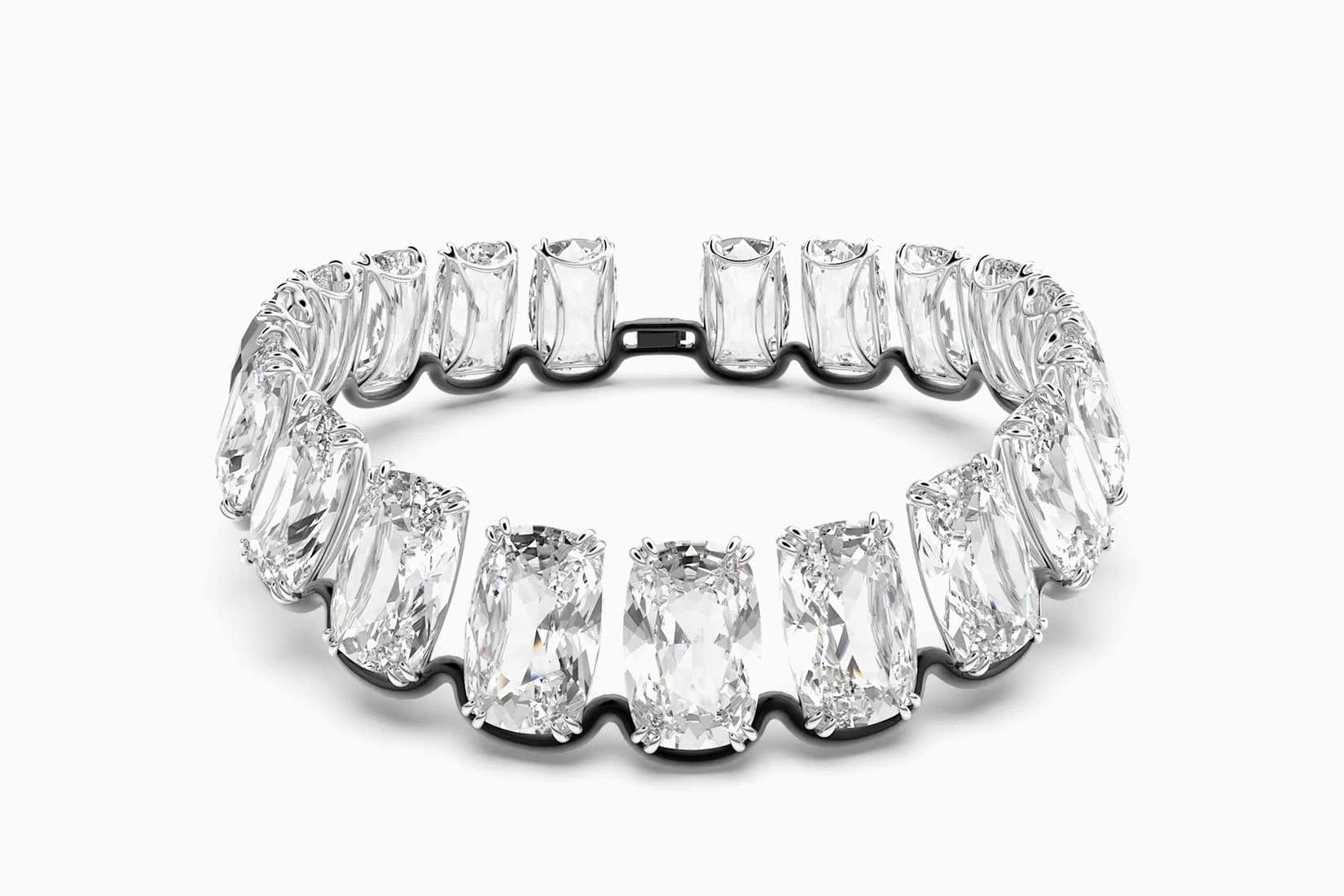 Designed to give the crystals the illusion of floating, the ethereal Harmonia Choker makes a graceful swan of the wearer. Giving the large, clear-cut crystals centre-stage, the choker achieves stylish simplicity while oozing glamour in swathes. Proving that chokers are in style for the long haul, this one deserves a well-earned place in your jewellery collection.
With a concealed closure, there's nothing to detract from the pure elegance of the choker. A versatile piece, it shines just as brightly paired with a streamlined gown as with an oversized sweater—it's the adaptability of the Harmonia Choker that's captured our hearts.
Curiosa Hoop Earrings: Colourful charisma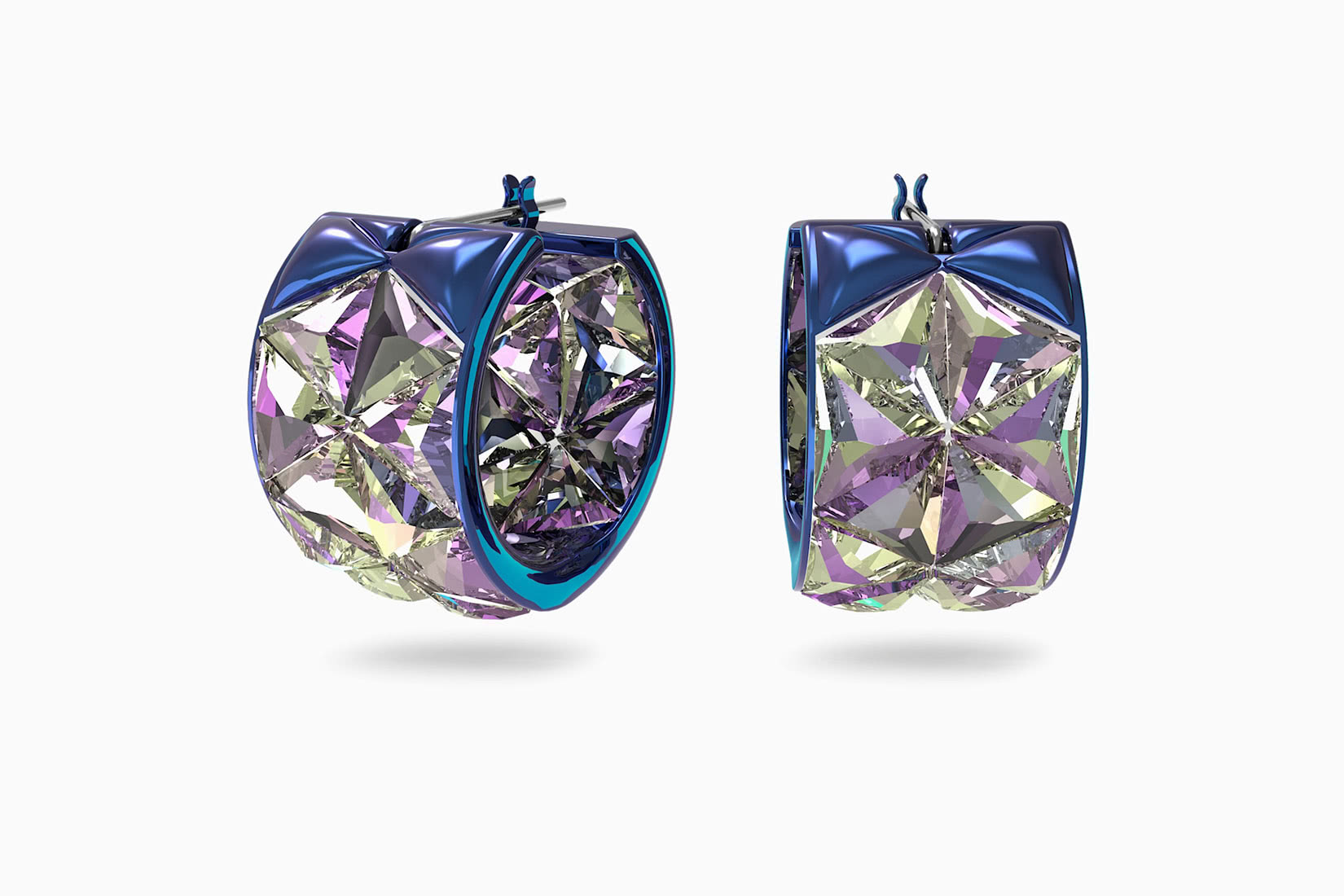 One of Engelbert's most striking designs, the Curiosa Hoop Earrings take the simple hoop, add splashes of prismatic colour, and run with it. Classic in concept but groundbreaking in execution, these technicoloured earrings will add some serious spice to your jewellery bounty.
The octagon crystals meld almost seamlessly into one another, set on a tonal backdrop and finished with barely-there hinge fastenings. Pick from 3 distinctive colours to suit your unique style, and match the Curiosa Hoop Earrings with everything from an understated tee to a flowing maxi.
Millenia Cocktail Ring: Striking sophistication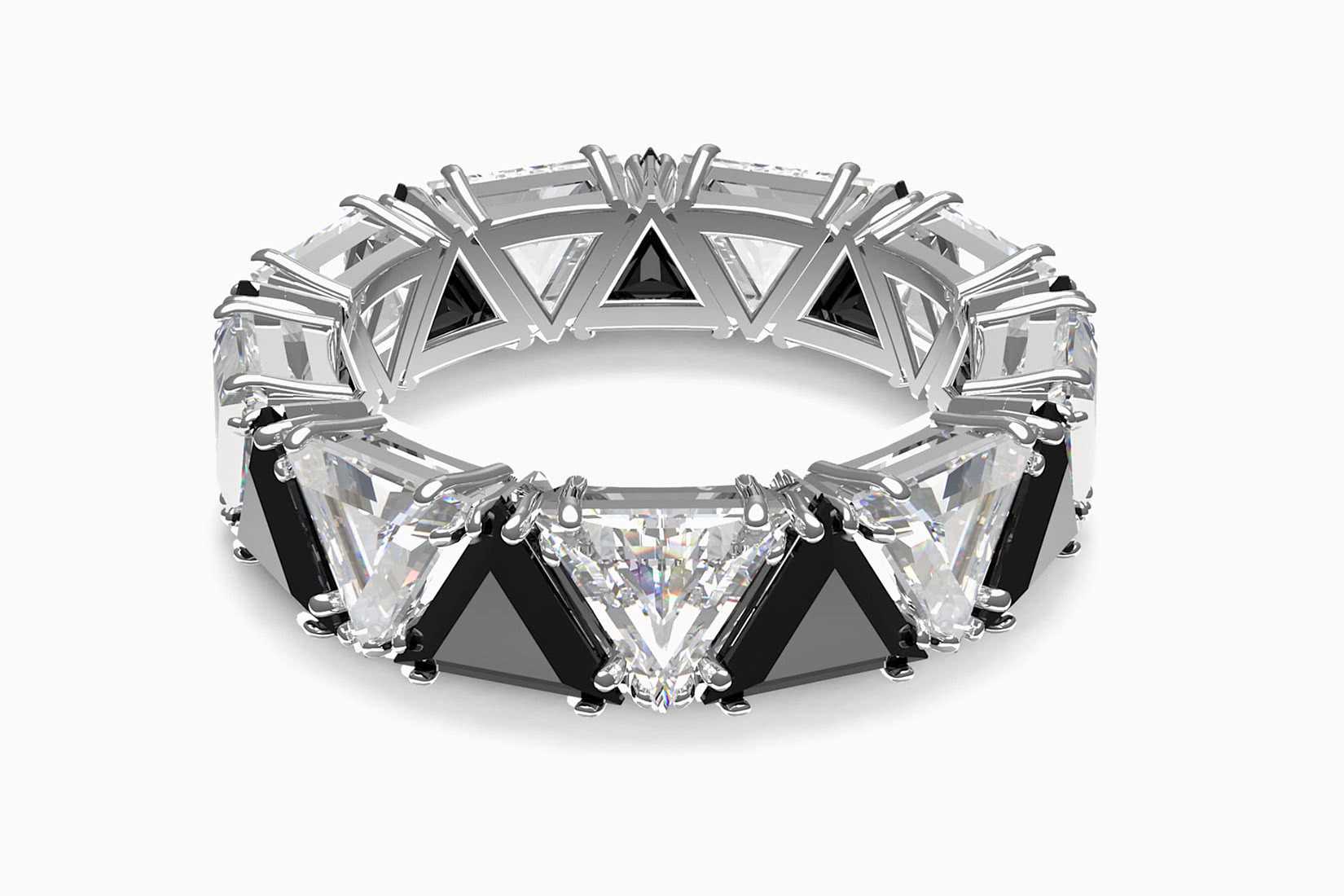 If a shiny new hand-candy is on your radar, let us point our bejewelled finger in the right direction: the Millenia Cocktail Ring. Worthy of a place in a royal jewellery collection, this stand-out Swarovski ring is both an everyday staple and a true masterpiece.
Boasting precision-cut triangle crystals, the bold lines of the Millenia Cocktail Ring are infinite in scope and beauty. A blend of Cubist lines and compelling uniformity, these crystals subtly contrast with the inky rhodium-plated setting. Introduce the Millenia Cocktail Ring to your wardrobe, and we promise they'll get along famously.
Constella Bracelet: Chic cosmos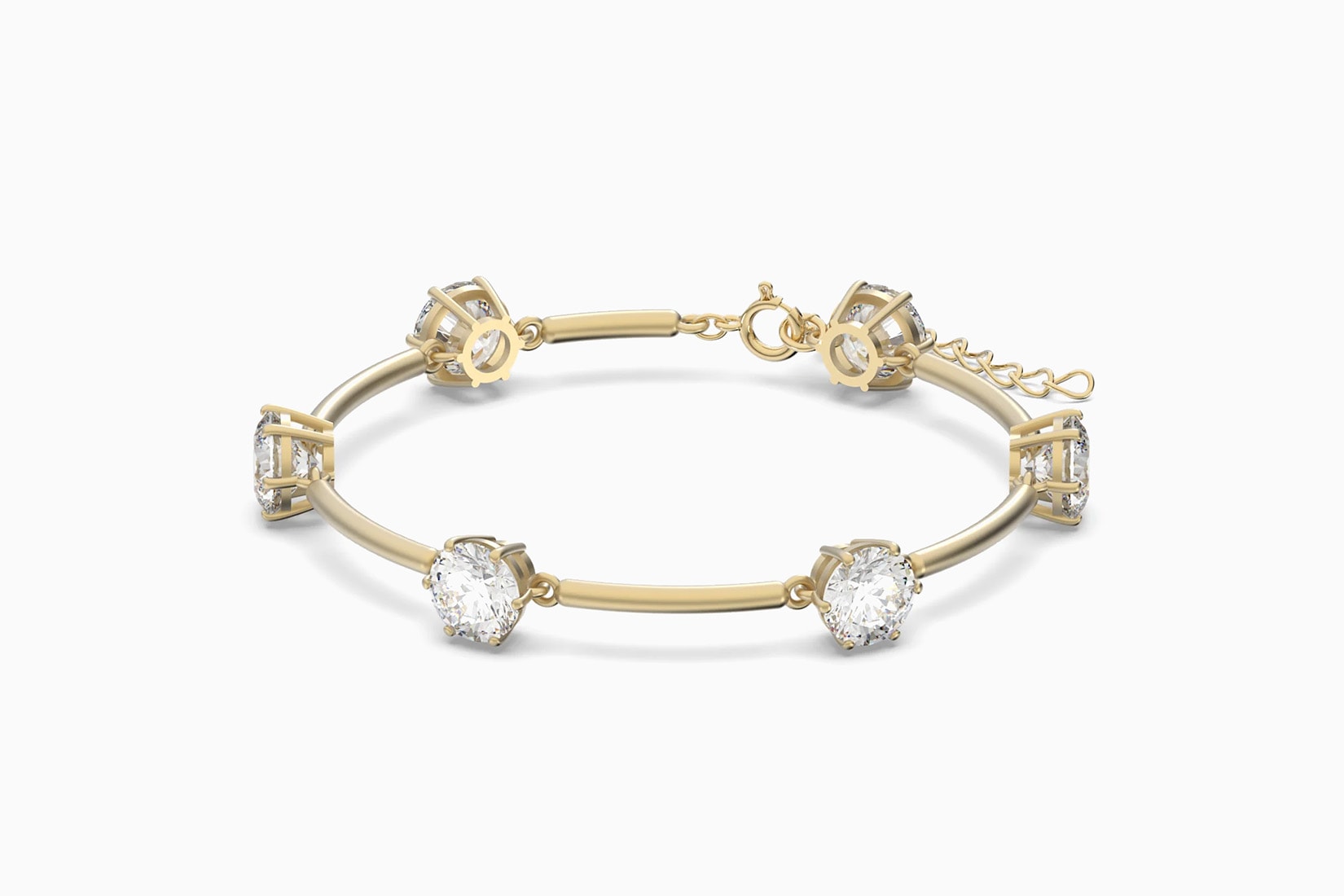 The most opulent of the collection, and one that'll make royalty of us all, the Constella Bracelet is fit for a modern princess. Cleverly designed to move fluidly with your body, the gold-tone plated band propels this bracelet to dazzling heights. And we haven't even started on the crystals.
Strategically dotted with round, glittering crystals, this exquisite piece is both grounded and celestial. Don't believe the hype? Slide it into your wrist and tell us we're wrong. The fine links on the Constella Bracelet make it perfect for stacking with complementing bangles or wearing it on its own as a solo performer.
Dulcis Stud Earrings: Delicious dream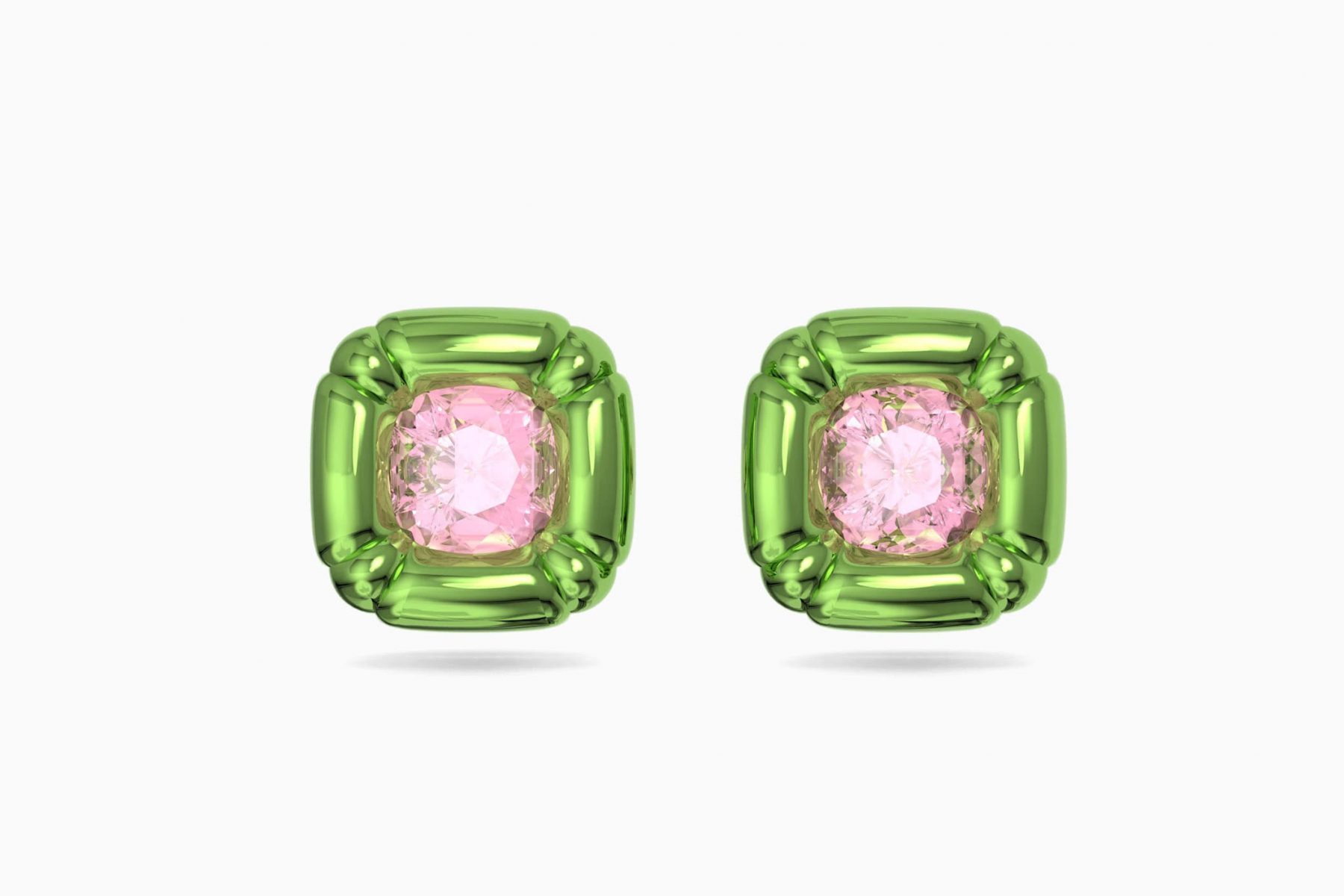 Making a true statement with the Pop-Art colours of Warhol and Lichtenstein, the Dulcis Stud Earrings offer a pop of fun. Each stud is encrusted with a single, precision-cut pink crystal, bordered with a sateen-finished, soft-edged border.
The baby pink crystal and vivid green contrast beautifully, making the perfect ear-candy to finish your look. Playful, intriguing, and bursting with exuberant energy, the Dulcis Stud Earrings are The Ones for those with a fancy for mischief.