Nike trainers need no introduction. The Swoosh logo is recognizable around the world, and the brand's shoes have graced the feet of all the world's biggest sports stars, from Michael Jordan to Tiger Woods to Cristiano Ronaldo. Considering the company was founded by a college track runner at the University of Oregon, alongside his coach, Bill Bowerman, Nike has come a long way to be considered, today, one of the best sports brands of all time.
What makes Nike running shoes a top choice for joggers, sprinters, and long-distance runners around the world? Is it their innovative technology, from feel-like-your-flying cushioning to quick-off-the-ground carbon fiber plates? Is it the brand's intuitive understanding of aesthetics and creative approach to colorways?
It's both those things. Nike has a huge range of top running shoes for men and workout shoes for women, from ultra-lightweight race shoes to daily trail trainers, from gym-appropriate kicks to luxury sneakers that have been spotted on the red carpet. It's hard to know where to start when browsing their collections. Plus, when they're always bringing out new iterations of iconic models, it's difficult to keep up.
So we've compiled a list of the best Nike running shoes available today. We've got something for everyone, from dedicated marathon runners to newbies who have literally just downloaded Strava. These running shoes will keep you going from the climbs to the cool-downs, from the switch-backs to the home sprint.
Looking for a beginner-friendly and budget pair of everyday Nike running shoes? Hard-wearing Nike trail running shoes with next-level cushioning? Check out our rundown of Nike's best running shoes to discover your next road-running buddies or trail-charging champions. We're not saying these Nike athletic shoes will get you to the Olympics—but they'll definitely get you noticed.
The 13 best Nike running shoes
Check our Nike running shoes buying guide after the list to see exactly what you should pay attention to when shopping for your next pair of running shoes online.
Nike Air Zoom Pegasus 38: Best overall Nike running sneakers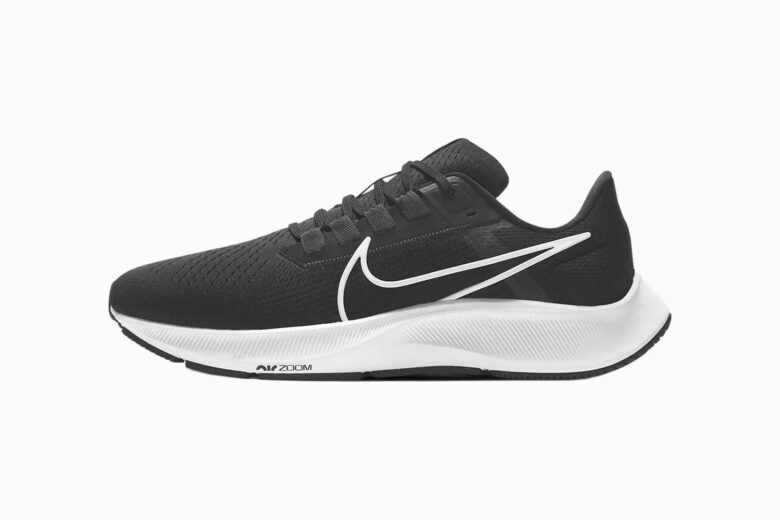 If you ask anyone to name a pair of good Nike running shoes, the Pegasus will probably spring to mind. First introduced back in the 1980s, this is one of Nike's best-known running shoes. And in its 40th and most recent iteration, it's reached what has to be its performance apex.
Up there with the best running shoes for men, the Pegasus 38 features the brand's signature super soft and responsive foam cushioning, breathable mesh uppers, and a Zoom Air unit for exceptional energy return. An interior band reduces slipping as you put this shoe through its paces, and while it's not the brand's lightest shoe, the extra weight boosts durability.
We're enjoying the wider design that gives extra breathing room for our toes while foam in the tongue reduces the chance of blisters on the top of our feet.
If you're on the hunt for solid and comfortable running shoes for walks, jogs, and the occasional sprint, the Nike Pegasus is a reliable all-purpose training shoe that will last at least 500 miles.
| | |
| --- | --- |
| Best for: | An 80s running icon reimagined for the modern-day. |
| Colors: | A range including black, blue, and grey |
Nike React Infinity Flyknit 2: Best Nike shoes for beginners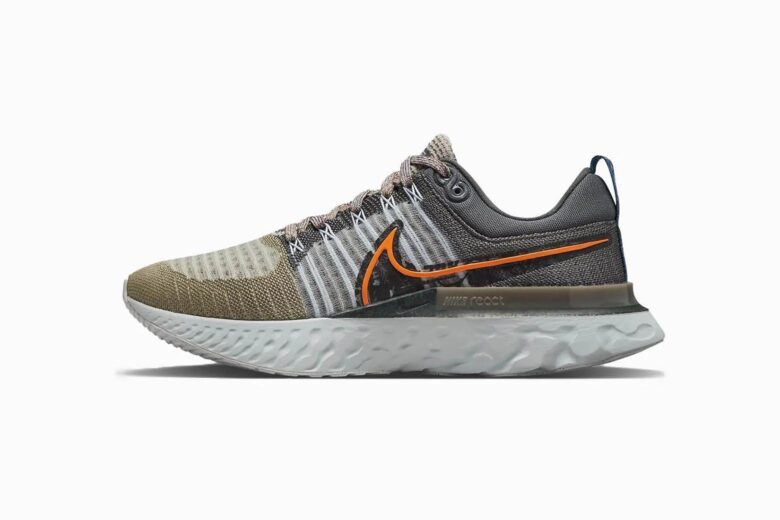 Made a resolution to get fit and start running? If you're on the hunt for top running shoes for jogging novices, the React Infinity Flyknit 2s by Nike are worth looking at. Having the right kit takes half the battle out of jogging, and these are some of the top running shoes for men out there.
The Infinity Run running shoe offers comfort, support, and stability without it ever feeling like your feet are constricted or your natural movement hampered. The React midsole is the dream balance of soft and firm, while the guide rails by the heel and Flywire cables at the lace eyelets will make you feel extra secure (read: no twisted ankles or embarrassing stumbles).
Want to start running but need an extra push? Sticking a pair of the React Infinity Flyknit 2s in your gym bag is a great place to begin.
| | |
| --- | --- |
| Best for: | Building up your stamina in a pair of fan-favorite everyday staples. |
| Colors: | A range including black, black and white, and white |
Nike Air Zoom Alphafly NEXT% Flyknit: Best Nike running shoes for marathons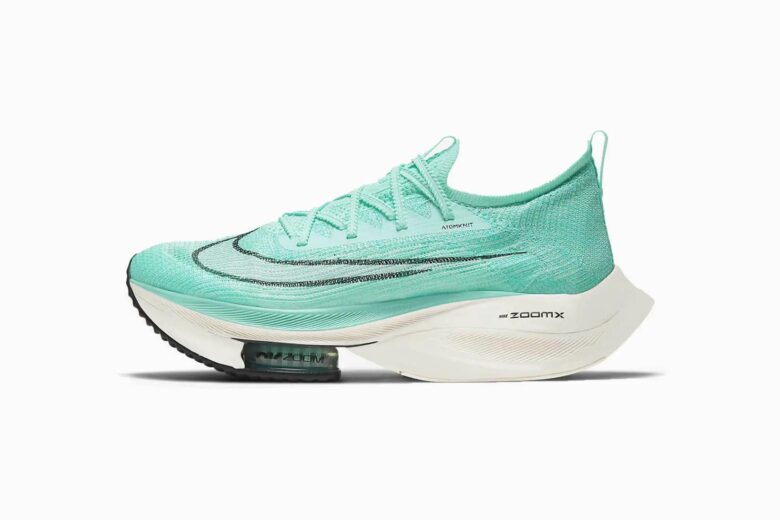 Remember when Kenyan long-distance runner Eliud Kipchoge broke the marathon record in Vienna in 2019, passing the finish line in under 2 hours? He had Nike's Alphafly running shoes on his feet. That tells you all you need to know about this speed-hungry sneaker.
Kipchoge was able to take advantage of some seriously innovative design features with this tech-heavy shoe, which features two exposed Zoom Air units in the forefoot, extra propulsive ZoomX foam in the heel, and a carbon-fiber plate for added lift and bounce.
The upper is also made of AtomKnit, a lightweight and breathable version of Flyknit, while the outsole was created using data sourced from hundreds of runners, offering grip from the start to end of your stride.
Forget good running shoes. These are exceptional running shoes. If you fancy a pair of Nike athletic shoes with the most advanced running technology out there, then only the Alphafly will do. Made for those that aspire to be elite runners—or already are.
| | |
| --- | --- |
| Best for: | A record-breaking shoe featuring every performance-optimizing benefit in the book. |
| Colors: | Turquoise, orange, and lime green |
Nike ZoomX Vaporfly NEXT% 2: Best Nike shoes for road racing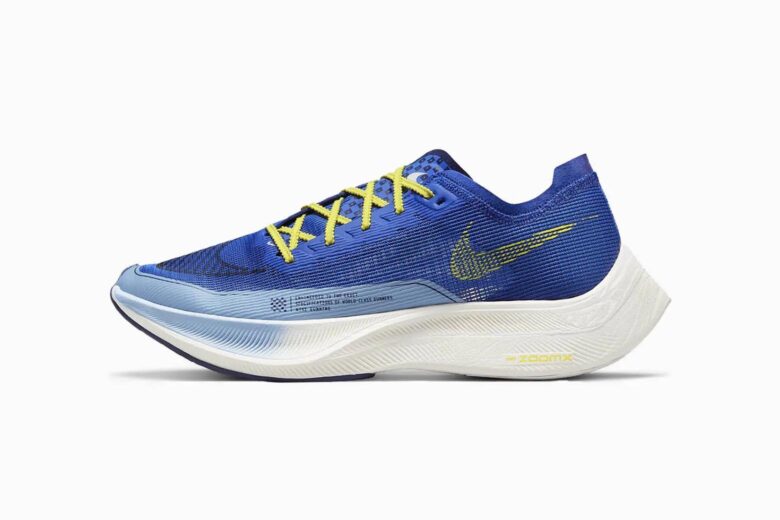 These Nike trainers are our top pick for everyday running and shorter races, whether it's a recovery run or a 10K for charity. The Vaporfly NEXT% has a few standout features, including more ZoomX foam in the forefoot for a light and springy feel and a thick rubber outsole for traction on wet streets.
Meanwhile, the upper is made from the brand's signature Vaporweave, a blend of thermoplastic polymer and nylon that doesn't absorb moisture and sheds water quickly, so you won't get weighed down. We also like the way the laces are set off to the side on this Nike shoe, minimizing pressure on the top of our foot.
Team these Nike Vaporfly shoes for men with a cool self-cleaning water bottle, and you've got yourself a boost for days when you're running on empty.
| | |
| --- | --- |
| Best for: | Bringing your best to shorter races with unbeatable energy return. |
| Colors: | A range including blue, grey and turquoise |
Nike Wildhorse 7: Best Nike daily trail trainers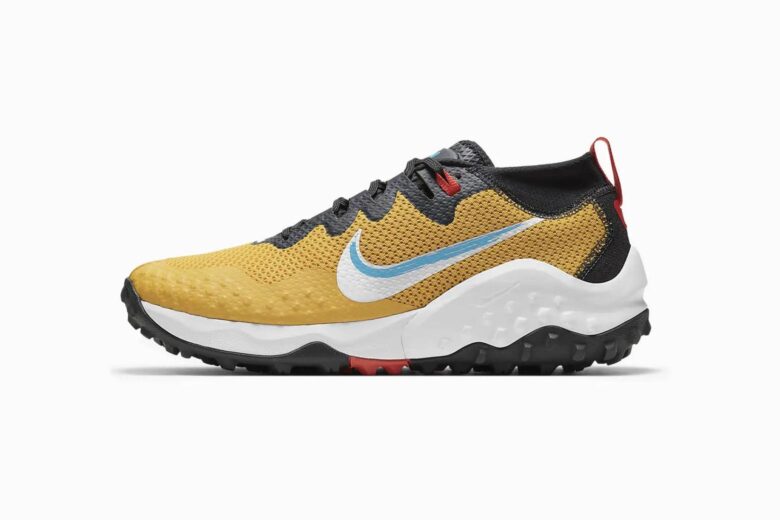 There's a range of Nike trail running shoes out there but if you just want a pair of straightforward Nike running sneakers that can handle off-road adventuring, then we highly recommend the Wildhorse 7, one of the toughest trail shoes in Nike's running armory.
Whether you're on a dirt track or rock-strewn path, this running shoe has the grip to handle it thanks to the lugs and dimples all over the outsole and a rock plate that shields your foot as you leap and glide over fallen branches and stones.
Not all Nike running shoes for men are suitable for dodgy terrain, but the Wildhorse is, thanks to its secure-fitting and ventilated upper and gaited collar around the ankle to stop you from collecting debris and dirt as you charge up the hill. The Wildhorse is a hard-working shoe that likes an endurance test as much as you do.
| | |
| --- | --- |
| Best for: | A sturdy, robust, and responsive companion for rugged wilderness terrain. |
| Colors: | A range including black, green, and orange |
Nike Air Zoom Terra Kiger 7: Best Nike sneakers for trail racing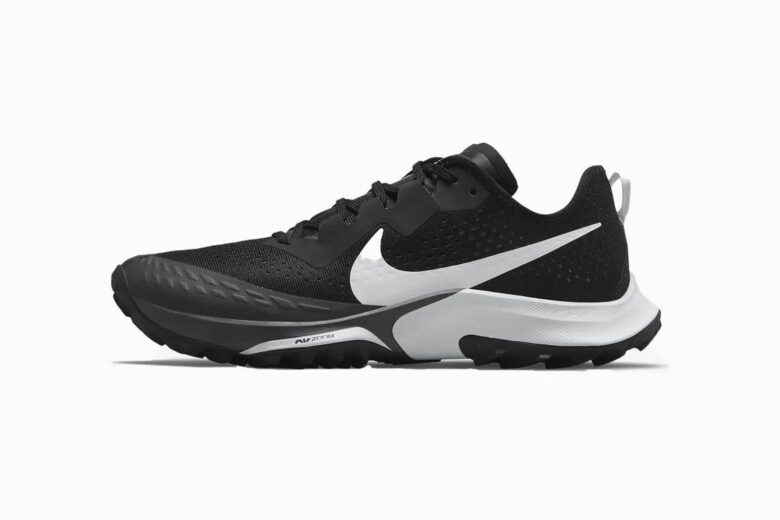 If you prefer running out in nature, surrounded by trees, birds, and bees, then you need a pair of Nike athletic shoes that are ready to hit the trail. The Terra Kiger is exactly that shoe—one of the best Nike trail running shoes and our top pick thanks to its best-in-class responsiveness and traction lugs for rocky terrain.
The brand's React technology creates a lightweight yet robust feel while the Zoom Air unit offers major energy return. The upper is made of mesh and synthetic for enhanced ventilation, keeping sweating at bay and making these some of the most comfortable Nike shoes around.
The Terra Kiger's Dynamic Fit System hugs your foot tightly as you pound rocky trails. A rock plate at the heel will protect you from debris on the path. And the traction lugs, made from high-abrasion rubber, are particularly noticeable when running downhill, helping to prevent slips and slides. Easily some of Nike's best running shoes.
| | |
| --- | --- |
| Best for: | Redefining the meaning of the word trailblazer. |
| Colors: | A range including black, orange, and blue |
Nike Air Zoom SuperRep 2: Best Nike shoes for cross training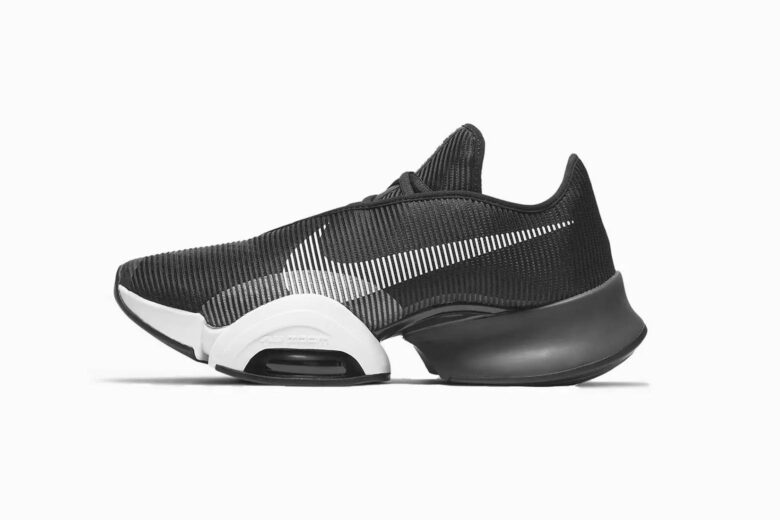 Any serious runner knows that it's not enough to pound the pavement every day. You also have to work the rest of your body. Which is why you need to start cross-training—and, more importantly, invest in a pair of shoes for cross-training.
The Nike SuperRep 2s are just the ticket. They're designed for circuit training, HIIT, sprints, and any other exercise where you go from 0 to 100 at top speed. These shoes have two Zoom Air units to absorb energy and deliver it right back as you step, leap, or jump from move to move. Meanwhile, a full-length plate helps you stay balanced.
Cross-training involves a range of motion, so the shoe's side-to-side support is also welcome. Finally, these Nike running shoes for men feature a divide under your foot's natural flex point so you can bend easily in exercises like burpees, planks, and mountain climbers.
Whether you're working out at home or the gym, the SuperRep 2s are sure to get those endorphins racing.
| | |
| --- | --- |
| Best for: | Hard-charging, blood-pumping, high-intensity pursuits. |
| Colors: | Black or white |
Nike Air Zoom Tempo NEXT%: Best Nike shoes for fast training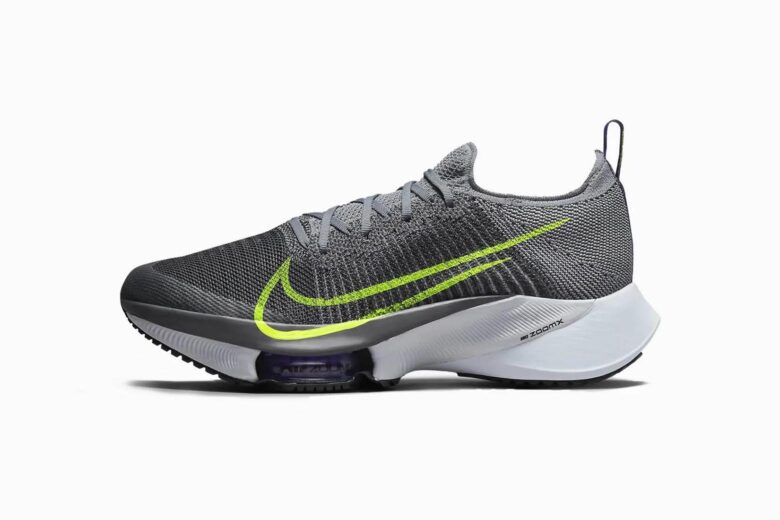 Have you got an insatiable need for speed? We hear you. And we point you in the direction of Nike's Air Zoom Tempo Next%—the ultimate choice for jumping in the fast track.
These Nike running sneakers were designed as a training counterpart to the brand's Alphafly NEXT%. They have all the same advanced technology, including the wonderfully bouncy foam and Air Zoom (meaning pretty much no recovery time needed post-run), but there's also a composite plate for comfort and stability.
Plus, this Nike shoe features React foam in the heel and extra rubber on the outsole for added durability, so you can really put these shoes to work without worrying.
Final perk that makes these Tempo Next% sneakers worth the added price? There's a very limited break-in period.
| | |
| --- | --- |
| Best for: | Speed demons seeking a shoe to help them hit their fastest stride. |
| Colors: | A range including black, grey, and turquoise |
Nike ZoomX Invincible Run Flyknit: Most comfortable Nike running shoes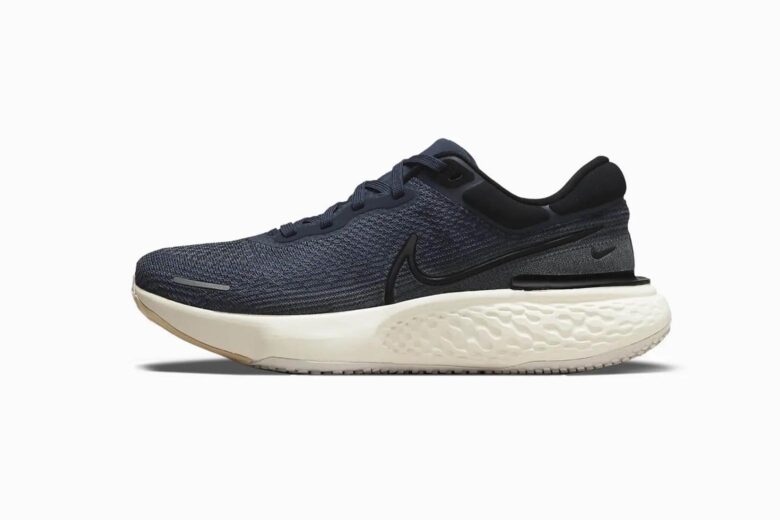 Running isn't meant to be comfortable. After all, you're pushing your body to its limit. But it shouldn't be uncomfortable either. And as some of the best Nike shoes for men, the Nike ZoomX Invincibles are here to ensure you always feel at ease with a superbly bouncy sensation that makes us never want to take them off.
The ZoomX foam cushioning unit is shaped like a rocker for support at every stage of your stride. It's super soft and responsive, creating an almost weightless feeling that keeps us light on our toes. Designed for ultimate shock absorption and stability, even on the longest of runs, the ZoomX Invincible Run is up there with the best Nike trail running shoes.
Your foot will stay dry as well thanks to the sleek Flyknit upper while the ZoomX Invincible's Waffle outsole was created using data from runners to make sure there's traction in all the spots you need it most. Definitely some of Nike's best running shoes.
| | |
| --- | --- |
| Best for: | The equivalent of wearing two tiny trampolines strapped to your feet. |
| Colors: | A range including black, white, and blue |
Nike Free Run: Best Nike sneakers for short runs and running errands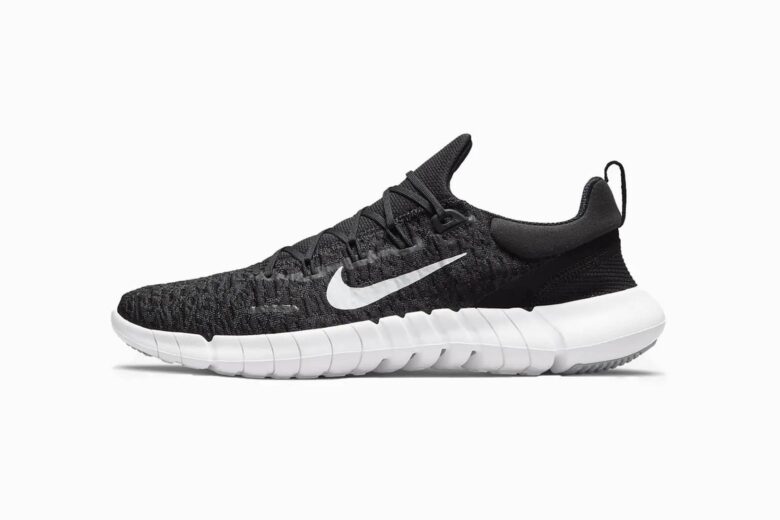 One of the world's most celebrated sneakers for low-mileage everyday runs, it wouldn't be an understatement to say that the Free Run caused somewhat of a revolution when it was first released.
The Free Run is one seriously adaptable shoe. You can wear it for training, running, and for any everyday activities that require spending time on your feet.
This new version of the classic running shoe has light and soft cushioning for added comfort as well as rubber at the forefoot and heel for boosted durability. A breathable knit is used for the upper to ensure your foot doesn't feel constricted or suffocated.
Finally, Flywire technology keeps your foot snug and secure inside the shoe while the flexible sole with laser-cut grooves allows for a comfortable and totally uninhibited range of motion—hence the name, Free Run.
| | |
| --- | --- |
| Best for: | A trend-transcending crowd-pleaser to get you up to speed. |
| Colors: | Black, black and turquoise, and white |
Nike React Metcon Training Shoe: Best Nike trainers for the gym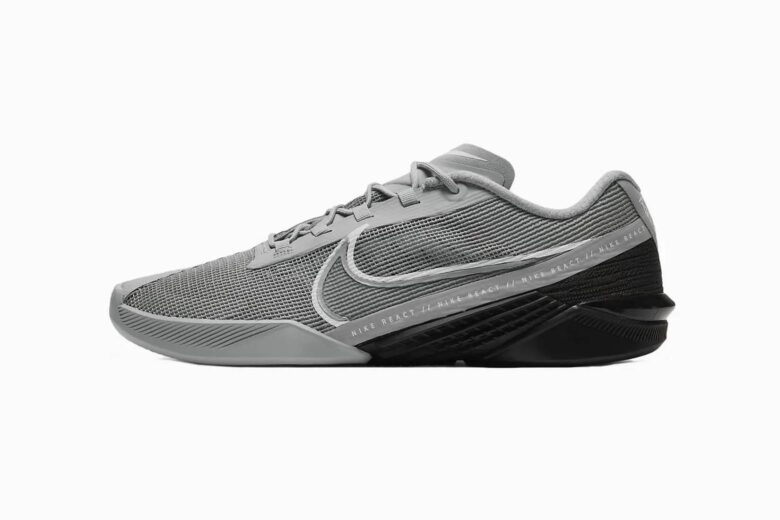 Looking for a sneaker that will help you make mega gains at the gym? Whether you're all about endurance training or are there to work on your cardio, the Nike React Metcon is the running shoe you need.
Nike knows that the last thing you want during a solid gym session is to feel like your sneakers are slowing you down, so every detail in the Metcon Turbo is as lightweight as possible, while still being super strong.
The React foam is lightweight and responsive to allow for quick and explosive movements like box jumps and double-unders. Spring off the ground and enjoy gentle cushioning when you land. Then there's a thin yet tough breathable upper while a wide and flat heel offers stability. Finally, the sole is made of grippy rubber but bends easily for full motion range.
Not a fan of the gym? The Metcon Turbos are ideal for online home workouts too.
| | |
| --- | --- |
| Best for: | PB-beating, rep-blasting, and super-set-smashing footwear. |
| Colors: | Grey and black and black and red |
Nike React Phantom Run: Best Nike running shoes without laces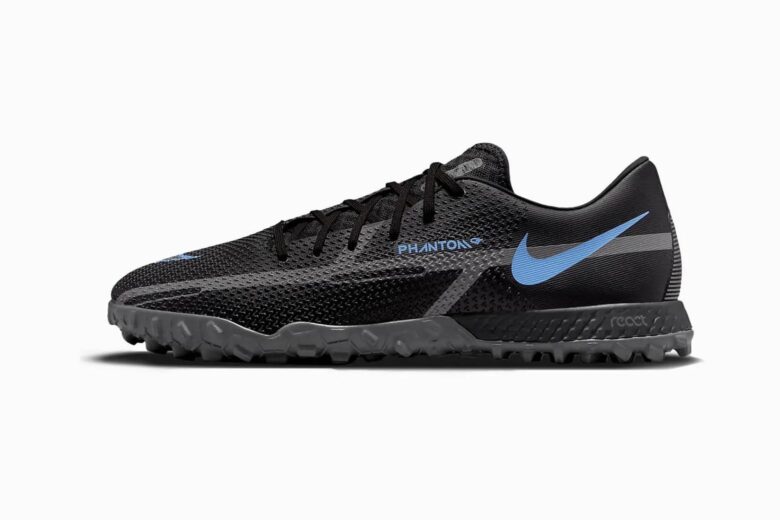 When you're meant to be going on a run, it's the easiest thing in the world to come up with an excuse—and sometimes that excuse is the laces. You just don't have the energy to bend over and tie them up. So avoid giving yourself a reason to slack by investing in the Nike React Phantom Runs—a pair of Nike running shoes without laces.
These sneakers offer a snug fit with a Flyknit upper along with smooth and responsive React foam, making them some of the most comfortable Nike shoes we've tried. A rubber outsole offers traction and durability while the shoe's casual aesthetic means these good running shoes can also be worn out and about on errands.
Running is tough enough as it is without the added effort of doing up laces. With the React Phantom Run, life just got a whole lot easier.
| | |
| --- | --- |
| Best for: | Slip-on, slip-off simplicity to save time and maximize speed. |
| Colors: | Navy blue, black and white, white |
Nike Winflo 8: Best budget Nike running shoes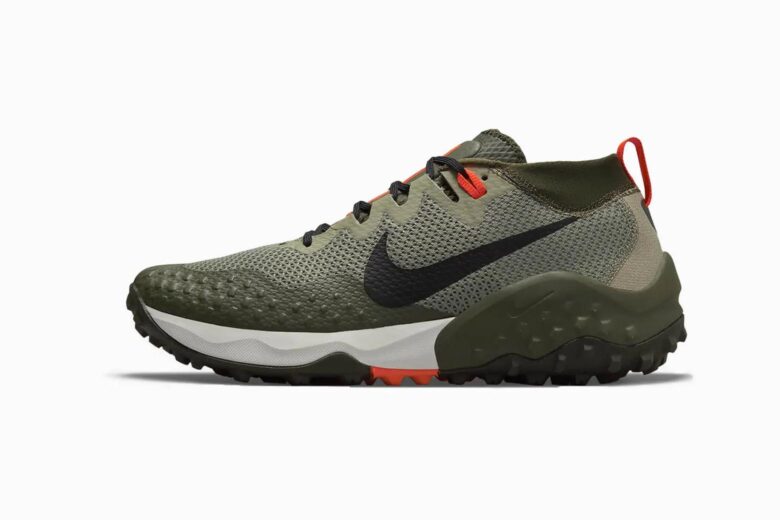 If you're in the market for a new pair of running shoes and payday is far away, then you'll be excited to hear that you can pick up a pair of Nike Winflo 8s for around $90.
These cheap Nike shoes may not have a top-shelf price tag, but they do have top-shelf quality, with the Flywire technology for extra support in the uppers and a Zoom Air unit at the forefoot, as per all the best Nike running shoes.
Then there's added support in the heel and ankle to help you feel confident and assertive out on the track, while overlays in the toe box boost durability.
Wear the Winflo 8 all day long—or for that 10K you've got planned. The supportive cushioning will ensure these remain comfortable running shoes no matter how many miles you rack up. We can't find anything that would distinguish the Nike Winflo from more expensive Nike running shoes.
| | |
| --- | --- |
| Best for: | Everyday speed, comfort, and agility that's easy on your wallet and on your feet. |
| Colors: | A range including black, blue and white |
Buyers guide: how to choose a pair of Nike running shoes
Nike has a massive range of running shoes on offer. How do you know which of the best Nike running shoes are right for you?
It all comes down to what you plan to use the shoes for—and how often. Are you an elite athlete training for an ultramarathon? Or an amateur runner, going on daily jogs around the neighborhood?
Here's everything you need to know about Nike running sneakers.
Road shoe vs. trail shoe
Nike makes shoes for road running and trail running. The two are quite distinct given the different terrain.
Nike's road running shoes typically feature extra shock absorption because tarmac is hard and creates stress on joints.
Nike trail running shoes are designed to have more grip and traction for uneven surfaces, as well as tough and abrasion-resistant uppers to protect from debris on the track. They're often more flexible, too so your foot can adapt as necessary to the trail.
Daily trainer vs. race shoe
Daily trainers are shoes designed to rack up a high mileage as you train for the big day (or generally improve your fitness). As a result, these Nike athletic shoes are very durable but slightly heavier too. They also have lots of long-lasting cushioning, making them some of the most comfortable running shoes around.
Meanwhile, race shoes are, unsurprisingly, for racing, so they need to have minimal weight. This means less cushioning and rubber on the outsole. However, some Nike running shoes for men, such as the Nike ZoomX Vaporfly NEXT%, have lots of cushioning and a carbon fiber plate yet remain very light.
Arch support: neutral vs. stable vs. motion control
Different kinds of running shoes offer different kinds of support depending on your gait. Neutral running shoes are for those who supinate (roll outwards) or are neutral. Stability shoes are good for mild or overpronation. And motion control shoes are for those with severe overpronation.
Upper
The upper plays a significant part in good running shoes, and Nike has a variety of signature materials. They're all designed to be lightweight and breathable, but some are more durable than others.
There's Flyknit, a lightweight yarn that's tight in some places, loose in others, offering both flex and support. Then there's Atomknit, a super lightweight fabric that offers a contoured fit with less water absorption and lots of breathability. And, finally, Vaporweve, a blend of TPU and nylon that doesn't absorb moisture, whether it's rain or sweat, again reducing weight.
Midsole
It's in the midsole that Nike showcases some of its most advanced running shoe technology.
In Nike's best running shoes you'll find the Zoom Air cushioning, as first released back in 1995. It offers snappy responsiveness with fibers that compress as you step down, absorbing impact, before springing back to propel you off the ground.
In some Nike running sneakers, you'll also find React foam, which offers a soft and springy feeling without compromising on stability, allowing for balance, traction, and energy return.
Finally, in the most comfortable Nike shoes, there's ZoomX, the brand's lightest, softest, and most responsive foam ever, designed for maximum speed, the greatest possible energy return, and an impressive propulsive sensation.
Outsole
Most Nike shoes for men feature outsoles that are treaded for extra traction and grip. In some of its outsoles, notably the Alphafly NEXT% and the ZoomX Invincible, Nike sourced data from hundreds of runners to create a sole that has traction in all the most important places.
Other features in Nike trainers
Carbon-fibre plates – shaped in a curve, these have a spring-like effect, boosting energy return.
Reflective details – these allow for greater visibility if you plan to run at night.
Water-repellent or waterproof finish – most Nike running shoes feature an upper made from materials that are water-resistant in some way, stopping rain from penetrating while also being breathable.
Frequently asked questions about Nike running shoes