As you will soon discover with our Ridge Wallet review, everything about a Ridge Wallet is designed with purpose. From the small and close-knit team to the sleek design of the metal front pocket wallet itself, to the variety of options that cement the idea in your head that you definitely need a Ridge Wallet, right now.
Known as one of the premium options for any man looking for a security-conscious, fashionable wallet, Ridge Wallet prides itself on simultaneously hitting quality, function, and style on the head at the same time. It's no surprise our style editors picked Ridge as the best minimalist wallet for men in our round-up of the top options on the market right now.
Launched by father-son team Daniel and Paul Kane back in 2013, Ridge Wallet began its life as a Kickstarter campaign. After aiming to raise $12,000 worth of funds and accidentally hitting sky-high levels of $200,000 which more than readied them to enter the production process, Ridge Wallet grew exponentially in popularity.
Nowadays, it's hard to walk too far without seeing someone quickly and seamlessly pull their Ridge Wallet out from a pocket, swipe the correct card, and place it back where it came from, in a matter of mere seconds.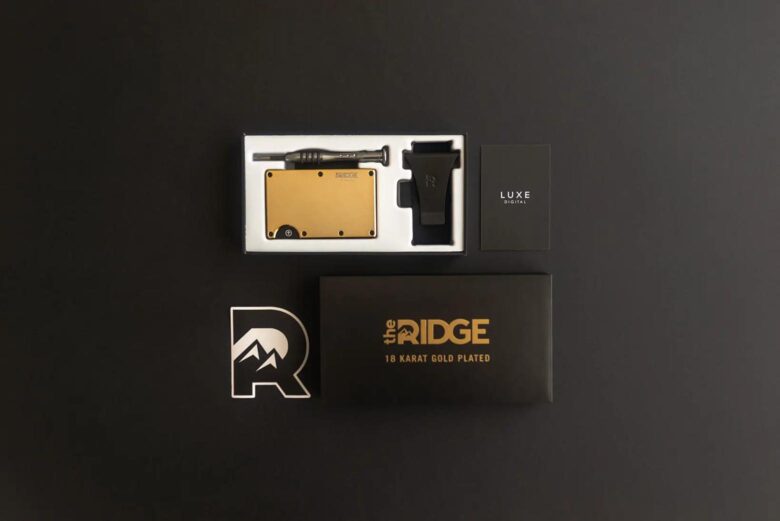 The brand's "Carry Less. Live More" philosophy is perfect for the minimalists out there. And, with a range of simple yet effective rigid wallets made of materials like carbon fiber, titanium, aluminum, and even 18K gold plated, it's hard not to fall in love with these designs.
From the sleek and suave monochrome metal wallets right the way through to the vibrant and colorful ones, there's a Ridge Wallet for every personality type. The consistencies throughout? Premium materials, state-of-the-art manufacturing, and embracing the values of minimalism.
Not only do they feel good and look good, Ridge's rigid wallets are also suitably durable (but come with a lifetime guarantee just to be on the safe side) and are equipped with RFID-blocking technology to keep your cards safe. What's not to love?
Verdict: Ridge wallets are the best minimalist option on the market
The best metal wallets we've come across, Ridge Wallets are the sleek, organized, not-a-hair-out-of-place friend in the world of fashionable wallets. Designed to sit firmly in your front pocket without taking up more space than is strictly necessary, these metal wallets are designed to have an understated impact.
It's time to say goodbye to the overstuffed wallet, carelessly thrown in your back pocket and bursting at the seams with receipts, banknotes, cards, and anything else that doesn't have a place. No: in the world of a Ridge Wallet, everything has its place. It's a front-pocket wallet designed to streamline your life in every direction.
The pros:
Impressively sleek and slim for what it can hold
Stylish design made from premium materials
Security conscious: able to block RFID
The cons:
Liable to scratches after a while
Can be tricky to remove cards if you're carrying six or more at one time
Not ideal if you're someone who carries a lot of cash
The alternatives
Minimalist wallets aren't going away any time soon, and there are plenty of alternatives on the market if a Ridge Wallet isn't quite what you're looking for. Some of our other favorite minimalist wallets come from Bellroy and Vaultskin.
Bellroy's Note Sleeve Wallet is a premium leather equivalent of a Ridge Wallet, with the same RFID-blocking technology and space for up to 11 cards. It also comes with a coin pouch.
Vaultskin's Manhattan Wallet is a more budget-friendly Ridge Wallet alternative, designed to be worn in your front pocket, in a sleek style that also includes RFID-blocking technology and space for 11 cards.
We've also rounded up the rest of our favorite wallets for men if you're still undecided on the best alternatives.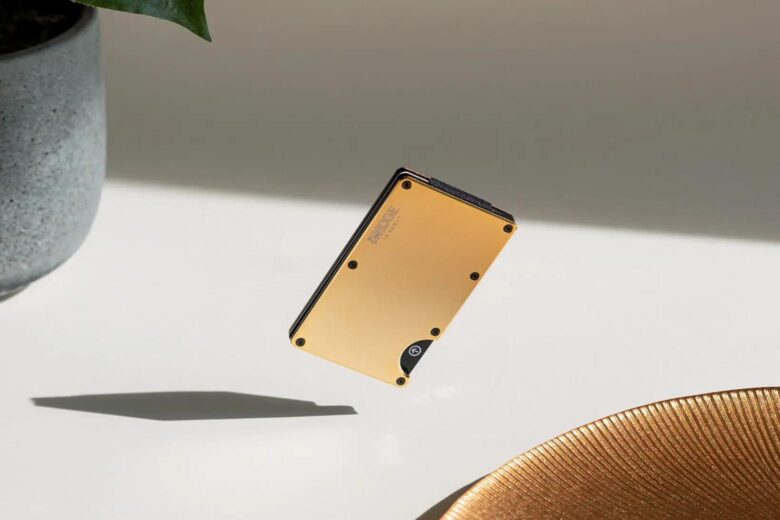 Is the Ridge Wallet worth it: Hands-on experience and benefits
A first impression of a Ridge Wallet tells you everything you need to know about its purpose: it's designed to look good but without drawing too much attention away from everyday life. Slim and un-intimidating, if it wasn't for Ridge Wallet's balanced weight, you'd almost wonder whether it had fallen out of your pocket; it's that light.
Ridge Wallets are made from various types of metal, depending on your preferences for design, weight, and style. Aluminum, carbon fiber, forged carbon, and full-grain leather are some of the materials available, all of which are sourced using premium options that promise to last for years on end. As they should, as every Ridge Wallet comes with a lifetime guarantee. Brilliant craftsmanship is also evident throughout every wallet that Ridge produces.
At first glance, a Ridge Wallet might seem more complicated than necessary. There's a particular art to effortlessly swiping out the card you require without fumbling around – but it's an art that you'll perfect after one or two tries. After that, it couldn't really be much easier to swap out your existing wallet for a Ridge Wallet, and, chances are, you'll be kicking yourself for not doing so already.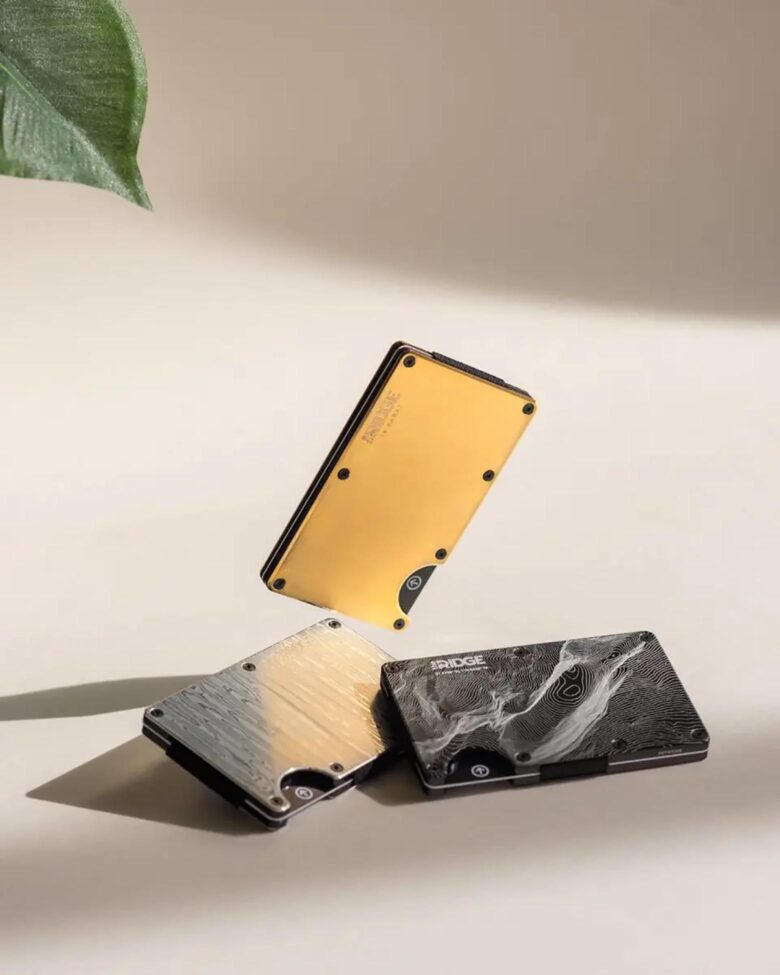 The organization and ease of use of this wallet mean no more frantically pulling out everything inside your wallet to double-check you've still got your cards in order. It also prevents you from carrying too many unnecessary extras or too much cash, helping you to live life more efficiently without even trying.
These wallets also come with the added benefit of RFID blocking technology, which protects your banking and other personal information from RFID skimmers, who can access your data without even needing to see the numbers on your card.
With a range of stylish colors (scroll down for our breakdown for each material) to suit every personality, it's difficult to go wrong with a Ridge Wallet.
Ridge Wallet money clip vs. cash strap
Every Ridge Wallet has two options for carrying banknotes: A cash strap and a money clip.
Opt for the cash strap if you're looking to efficiently streamline your pocket. The cash strap wraps around the wallet and is made from elastic. Secure enough to keep everything tucked away but spacious enough to allow for a lot of cash, it's a win-win option that keeps everything tidy.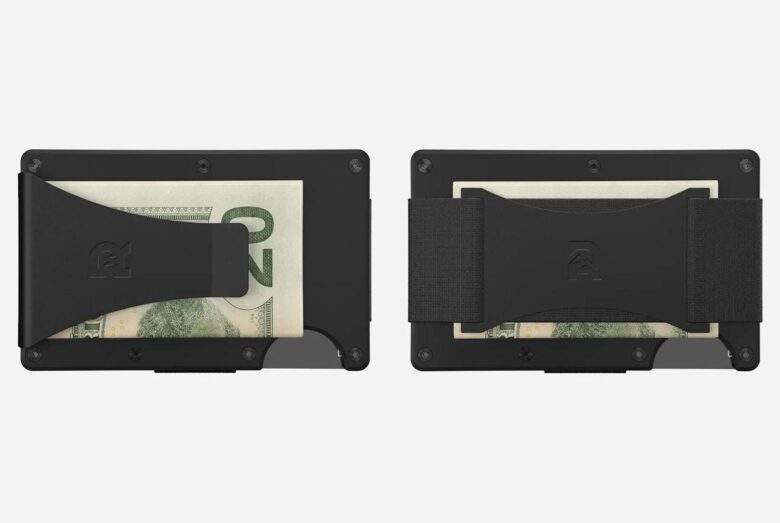 The Ridge Wallet money clip takes you down the traditional route of clipping your money to the outside of your wallet. Not quite as streamlined but perfect for easy access, it keeps your money perfectly secure but able to be counted out instantly.
Still undecided? You can also buy your Ridge Wallet with both attachments if you're carrying around even more notes or want some flexibility with how everything is organized.
Ridge Wallet Aluminium vs. Titanium vs. Carbon Fibre: A side by side comparison
All of Ridge Wallet's offerings are good quality, which means you can't really go wrong with whichever option you pick. The main differences are subtle and boil down to personal preference: weight, price, and design.
The Aluminium wallet is one of the brand's most popular wallets. While it might not be the strongest metal, this wallet comes with all of the brand's staple features as well as the largest color variety.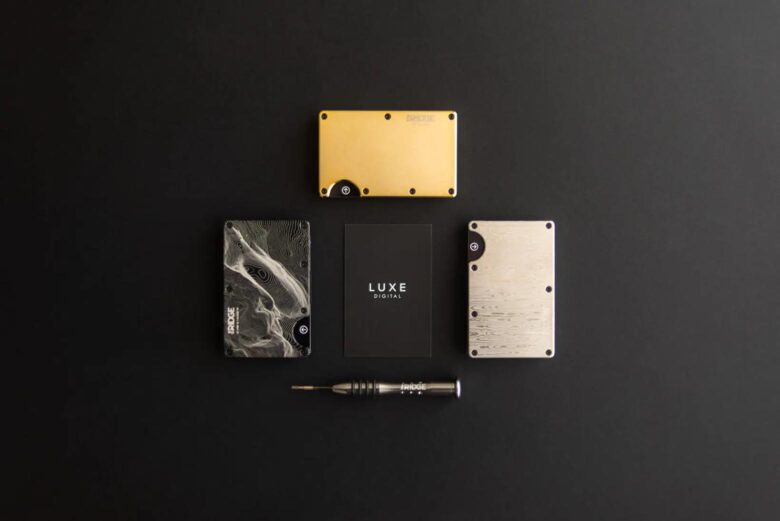 The Titanium wallets are slightly more futuristic looking, come in three different color varieties, and are a little more expensive than their Aluminium sibling. While Titanium is known for being a stronger metal than Aluminium, that also means the titanium wallet comes with ever so slightly more weight. But not a noticeable amount, even if heaviness is your most important factor.
The Carbon Fibre wallet is the brand's most premium offering; a more expensive variety that comes in two staple shades. While the premium metal doesn't add any extras in terms of added security, it's arguably the most stylish wallet.
All three variations can also be personalized with a money clip, a money strap, or both, as well as a screwdriver designed to fit the screws in the wallet to change its configuration and laser-engraved options.
| Model | Material | Weight | Dimensions | RFID Protection | Capacity | Price |
| --- | --- | --- | --- | --- | --- | --- |
| Aluminium | 6061-T6 aluminum | 0.06 kg (2 oz) | 86 x 54 x 6 mm | Yes | 12 cards | €85 |
| Titanium | Grade 5 Titanium | 0.07 kg (2.5 oz) | 86 x 54 x 6 mm | Yes | 12 cards | €105 |
| Carbon Fibre | Carbon Fibre | 0.04 kg (1.6 oz) | 86 x 54 x 6 mm | Yes | 12 cards | €125 |
Ridge Wallet promo code and coupon
A Ridge Wallet is a good investment for a sturdy wallet that also comes with a lifetime guarantee, but it becomes a little cheaper still if you sign up for the brand's newsletter using the pop-up on the website.
Get 10% off your first order by using our discount code at checkout: LUXE10.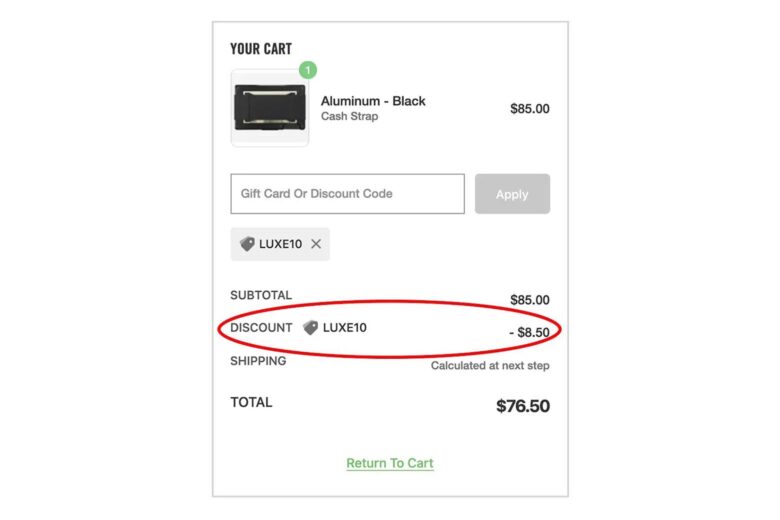 Frequently asked questions about Ridge Wallet
Where are ridge wallets made?
Ridge Wallets produces some of its wallets domestically from inside the US and some internationally, from China. Check our in-depth Ridge Wallet review to learn more.
Are Ridge wallets any good?
Ridge Wallets are expandable minimalist wallets known for being durable, stylish, and security conscious. Their RFID Protection adds an extra benefit, and their lifetime guarantee means you'll never need to find a replacement.
How long do Ridge wallets last?
Ridge Wallets come with a lifetime guarantee, which means if yours does happen to break, you can order a replacement for free.
Which Ridge wallet is the best?
Ridge Wallet's Carbon Fibre wallet is its premium offering, suitable for up to 12 cards and complete with RFID protection. Read our review for all of our favorite Ridge Wallets.
Is the Ridge wallet TSA approved?
Ridge Wallets must be removed from your pocket when going through security otherwise, the RFID protection will flag. But the wallet itself is TSA approved and can easily be traveled with.