Perhaps the most underrated of all bags, the humble toiletry bag (or cosmetics case, or Dopp kit or wash bag — call it what you will) can mean the difference between a leaky, clothes-ruining disaster, and poised orderly elegance.
We all spend time and money carefully curating our collection of makeup and skincare. So, it only makes sense to encase our valuable toiletries in the best cosmetic bags, too.
Whether you're a member of the Wanderlust club and hardly step foot on home soil, or you don't need a vacation because you live the life you love already (go you!), a good toiletry bag is an absolute must-have. Fortunately, with our guide, you'll easily find the perfect toiletry bag to match your personality and needs.
Want an extra large toiletry bag with compartments? Done. Need a hanging travel toiletry bag? Found three. Looking for a vegan leather cosmetics bag for your carry on toiletries? Covered. Just want a clear toiletry bag that is TSA approved. Done, and done. Really, any women's toiletry bag you could need is here. Whether you're seeking something simple and sleek, multi-pocketed, glamorous, or totally travel-friendly (or, all of the above!) — our curated list will help you find your gorgeous new dopp kit.
If you ask us, the best toiletry bags should be spacious enough to easily fit all your on-the-go essentials yet small enough to stash in your luggage or even travel tote. They need to be durable, practical (if they include organizational compartments, even better), easy to clean and stylish. So, kiss your zip-lock bags goodbye and upgrade to one of the beauty carry-alls meant for all sorts of travelers and lifestyle scenarios, below. (We also curated a list of the best dopp kits for men).
The 15 best toiletry bags for women
To help you find the right toiletry bag for your budget and beauty needs, check our guide to choosing the best toiletry bags for women after the list. PS: A practical and stylish dopp kit makes a lovely gift for frequent travelers, too.
Cuyana Leather Travel Case Set: Best overall toiletry bag for women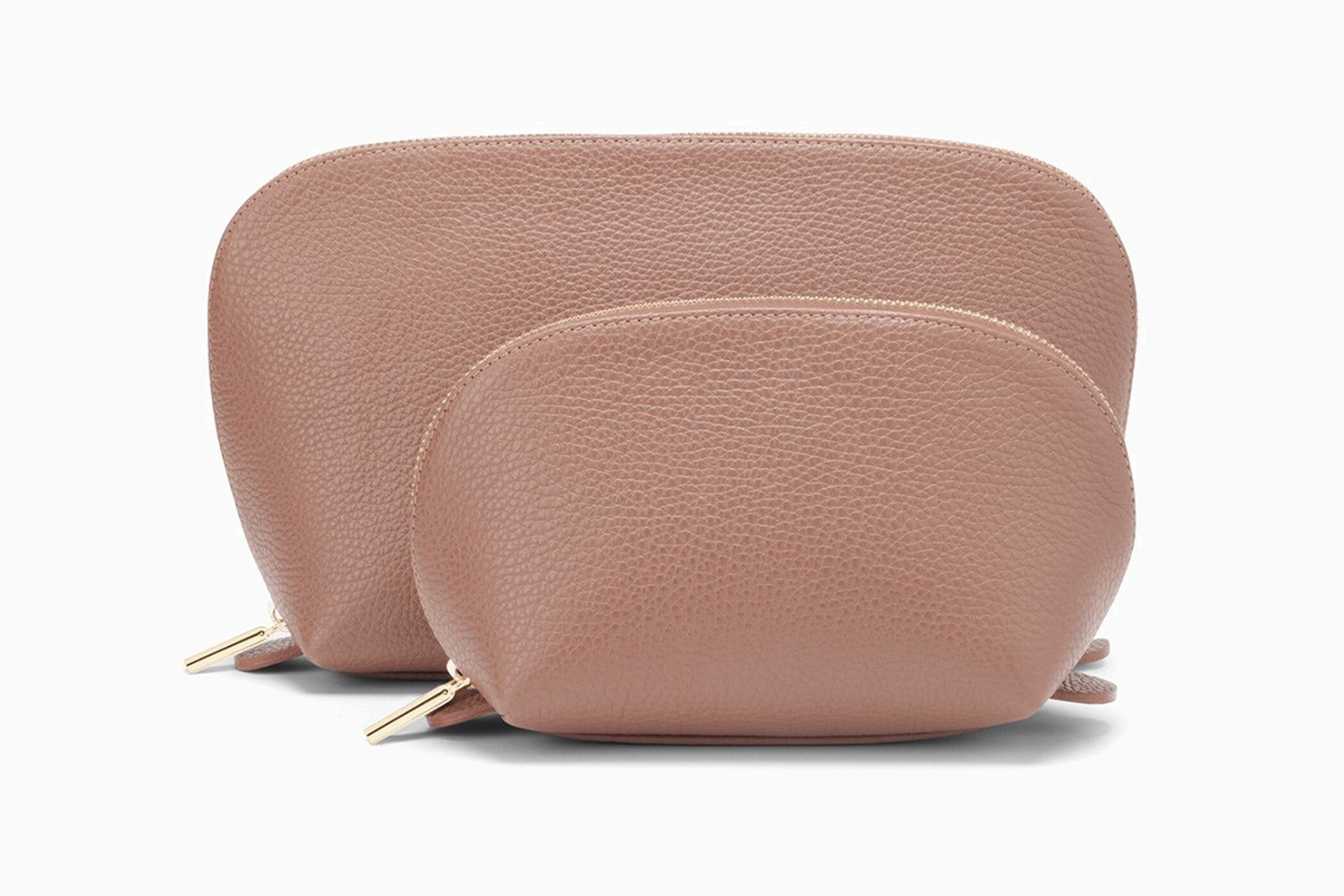 You can always count on Cuyana to elevate basics to iconic stature — that covetable blend of luxe-feeling, timeless style and flawless functionality. And this bestselling leather travel case set definitely delivers on all fronts.
From the responsibly-tanned leather outer layer to the rich microsuede interior that wipes clean, this minimalist, multi-purpose travel set by Cuyana screams polished practicality and sustainable sophistication.
It features two matching pebbled leather pouches: One larger case, for storing travel size toiletries and tools, and a smaller pouch, for carting around your makeup essentials, jewelry and small accessories. Cuyana Leather Travel Case Set is available in 16 shades and can be monogrammed with your initials for that extra personal touch.
A neat option to keep all your essentials organized — at home, in your work bag and when you travel. Pretty and practical. Say no more.
Best for: The perfect form-meets-function 2-in-1 toiletry bag pouch for wonder women (you know who you are).
| | |
| --- | --- |
| Materials: | Responsibly tanned leather |
| Size: | Large: 17.8 x 30.5 x 8.9 cm (7 x 12 x 3.5 in) Small: 12.7 x 20.3 x 6.3 cm (5 x 8 x 2.5 in) |
| Colors: | A range including black, ecru, blush and soft rose |
Anya Hindmarch Vanity Kit: Best luxury toiletry bag for women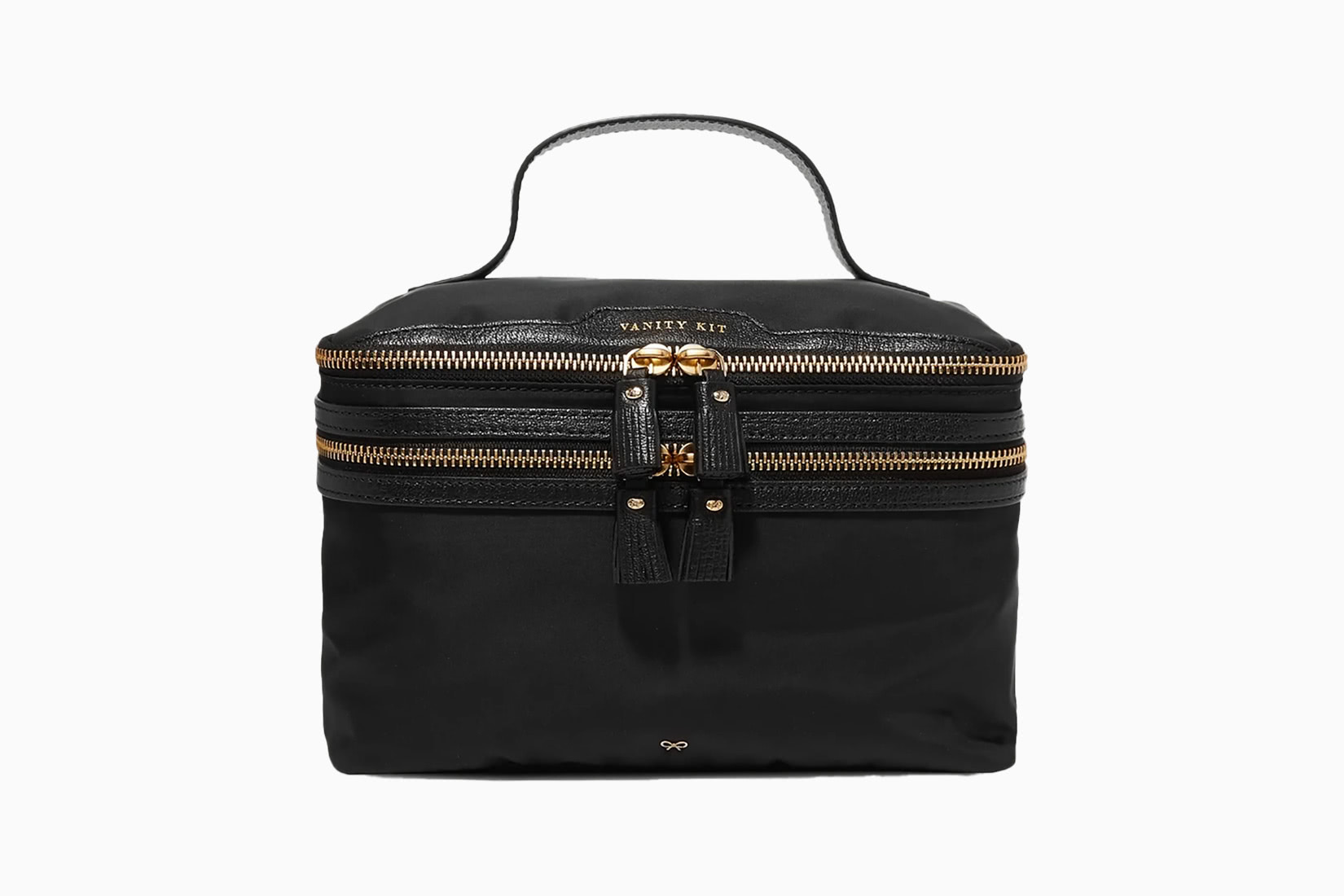 Designed by the self-proclaimed 'queen of organization', Anya Hindmarch's 'Vanity Kit' cosmetics case is perfectly organized to keep your essentials spick and span whether you're at home or on the road.
Made from black recycled shell, this well-made organizer has two zipped compartments with plenty of slip pouches for your makeup brushes and tools and even elastic bottle holders to keep your products upright when traveling.
Essentially, it's a safe and stylish home for your make-up and beauty must-haves, what more could you want?
Best for: A chic and clean vanity case that will make Marie Kondo proud.
| | |
| --- | --- |
| Materials: | Recycled nylon |
| Size: | 17 x 24.5 x 15 cm (6.7 x 9.6 x 5.9 in) |
| Colors: | Black |
Bellroy Dopp Kit: Best value toiletry bag for women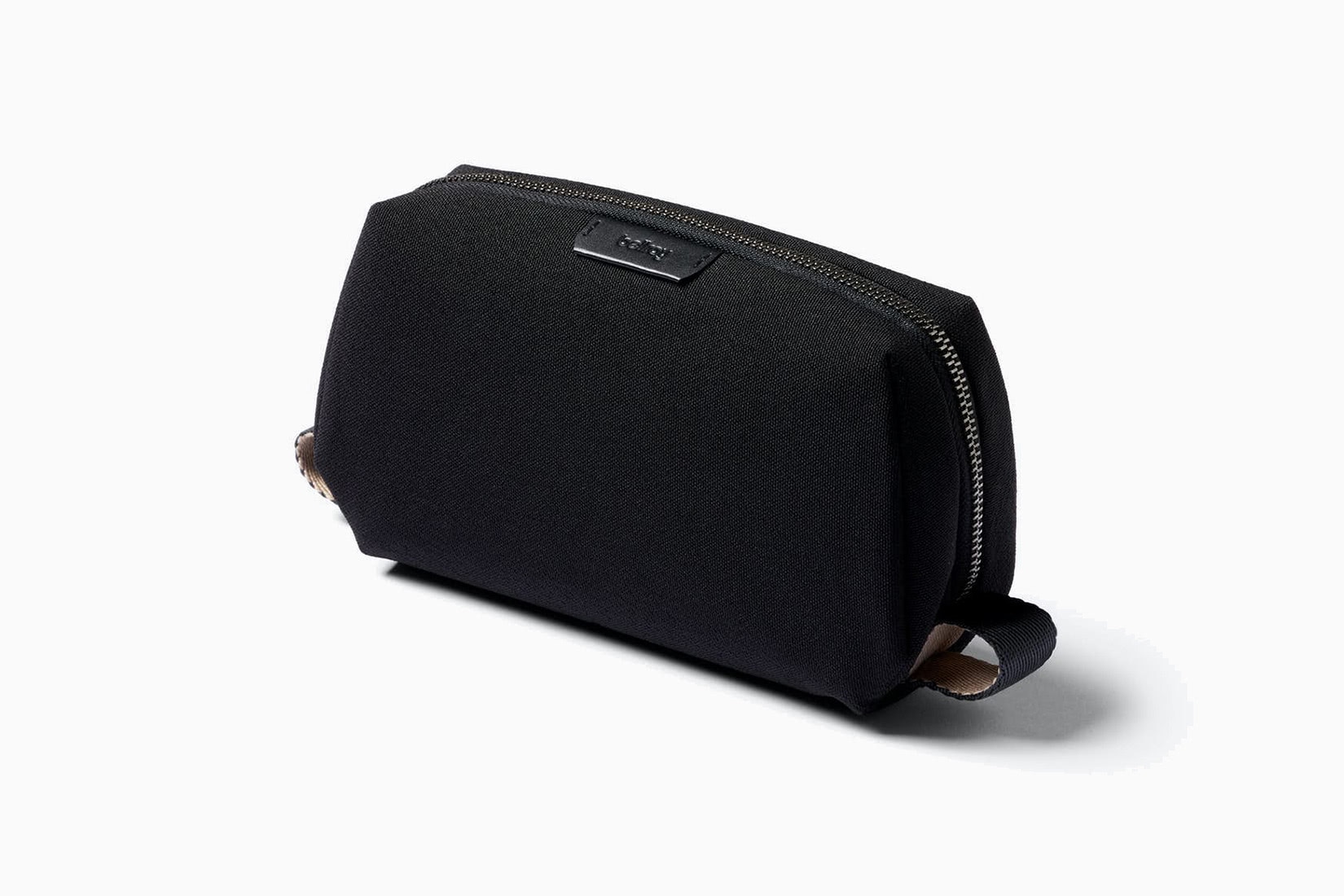 We don't know where to start with this simple yet thoughtfully designed dopp kit by Bellroy. Should we talk about its affordability? Its roomy water-resistant interior you can easily wipe clean if you do have any rogue liquids? Or maybe the ultra-convenient nylon grab loops for easy carrying or the fact that it is made of sustainably-produced fabric?
Bellroy's dopp kit offers pretty much everything you need from a toiletry bag, and then some.
The main compartment is complete with two internal mesh pockets so you quickly locate your beauty essentials, while the durable zips provide excellent longevity.
Best for: A toiletry bag that's excellent value, but doesn't cut any corners.
| | |
| --- | --- |
| Materials: | Water-resistant woven fabric, made from recycled materials. |
| Size: | 22 x 13 x 7 cm (8.6 x 5.1 x 2.7 in) |
| Colors: | Black, lunar, marine blue, charcoal |
NUORI Sideway Travel Case Set: Best vegan toiletry bag for carry-on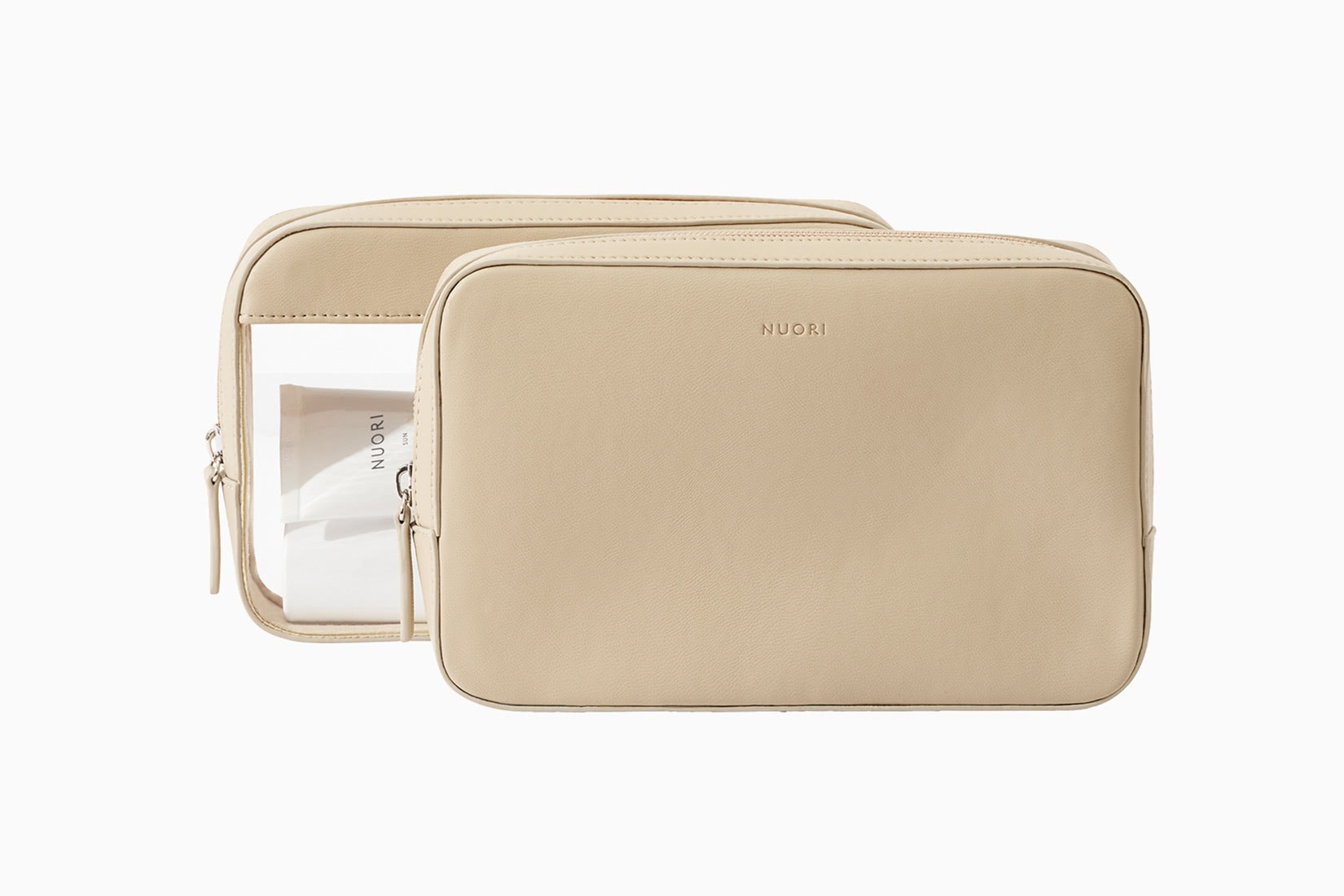 If your signature style is elegant, understated and functional, the NUORI Sideway Travel Case Set will be perfect as your beauty case or travel toiletry bag.
You're actually getting two cosmetic bags here: a sleek solid bag that can double as a multifunctional clutch or makeup bag, and a transparent case that can be used separately as an internationally approved travel liquids container.
The large toiletry bag offers generous spaces for all your daily essentials. The smaller pouch is just the right size to keep your liquids safe and protected. Water-resistant fabric means that any spillages can be swept away efficiently, without leaving any unsightly marks. Both are made from premium and vegan materials to last you a lifetime.
Best for: Two travel upgrades in one — A multitasking clutch and a clear travel toiletry bag that's great for staying home, too.
| | |
| --- | --- |
| Materials: | Vegan leather, canvas and clear TPU |
| Size: | 21.3 x 13 x 4.1 cm​ (8.3 x 5.1 x 1.6 in) each |
| Colors: | Neutral, rose, navy, black |
BOACAY Hanging Travel Toiletry Bag: Best hanging toiletry bag for women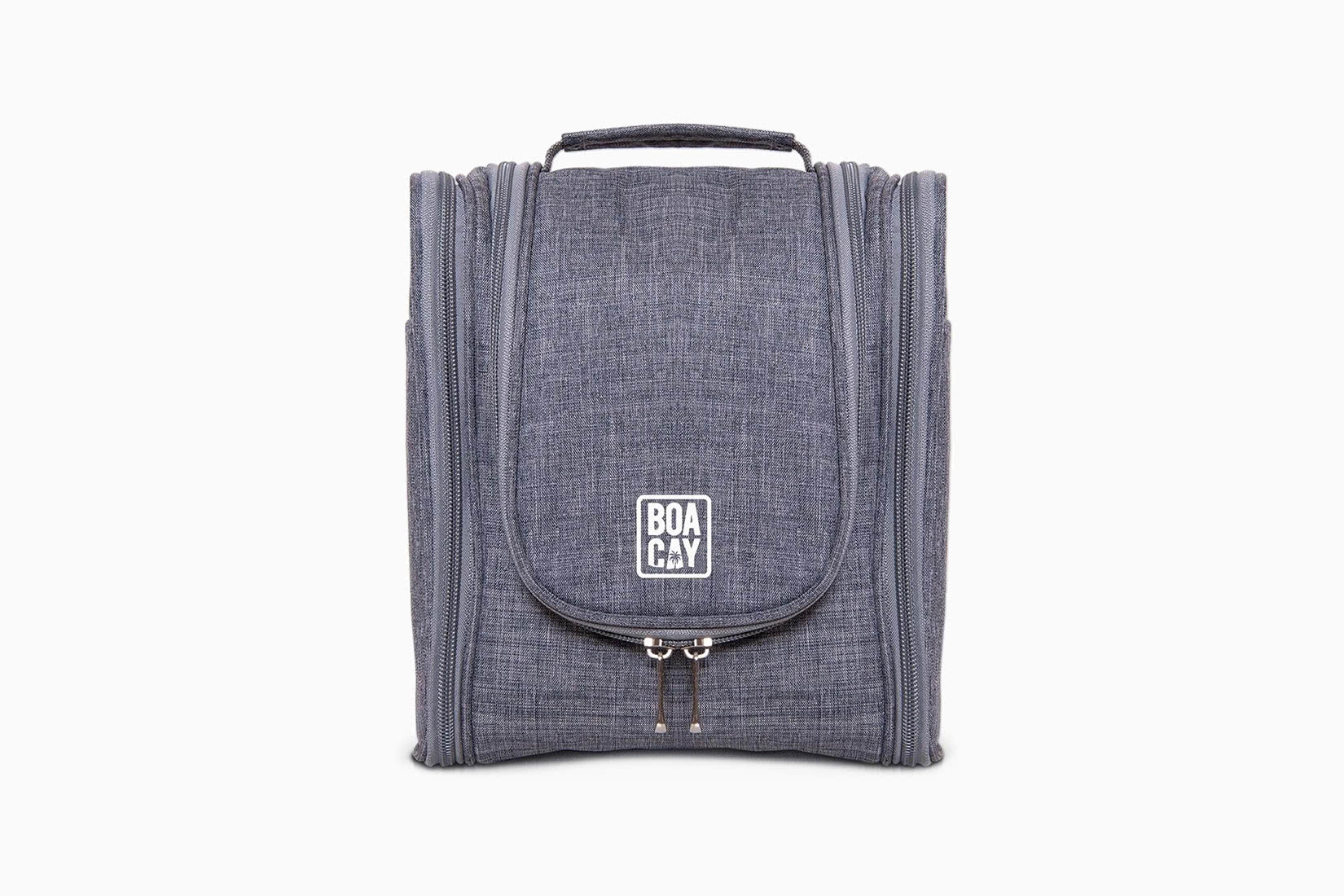 Made with quality materials and super durable zips, the Premium Hanging Travel Toiletry Bag by BOACAY is a great choice if you just want a spacious yet compact toiletry bag.
The metal hook allows you to hang it up easily, so you can have the luxury of a beauty cabinet, no matter where you are.
There are multiple leakproof pockets on the interior (a grand total of 18), 2 large zipped pockets, a tall mesh section plus an abundance of handy elastic loops, so you can organize your brushes, tweezers, and combs and emulate the organization of a Hollywood makeup artist effortlessly. Even better – This toiletry bag is waterproof, machine washable, foldable and features a foam layer for additional bottle protection.
If your idea of essentials is a Burt's Bees lip balm and a hairbrush, the tall front pocket will actually fit a small iPad inside. So, use the BOACAY Premium Hanging Travel Toiletry Bag to carry whatever is essential to you.
Best for: A deceptively spacious hanging travel toiletry bag or makeup bag.
| | |
| --- | --- |
| Materials: | Polyester |
| Size: | 21.5 x 11.9 x 25.9 cm (8.5 x 4.7 x 10.2 in) |
| Colors: | A range including black, dusty pink, grey |
Away The Dopp Kit: Best large toiletry bag for travel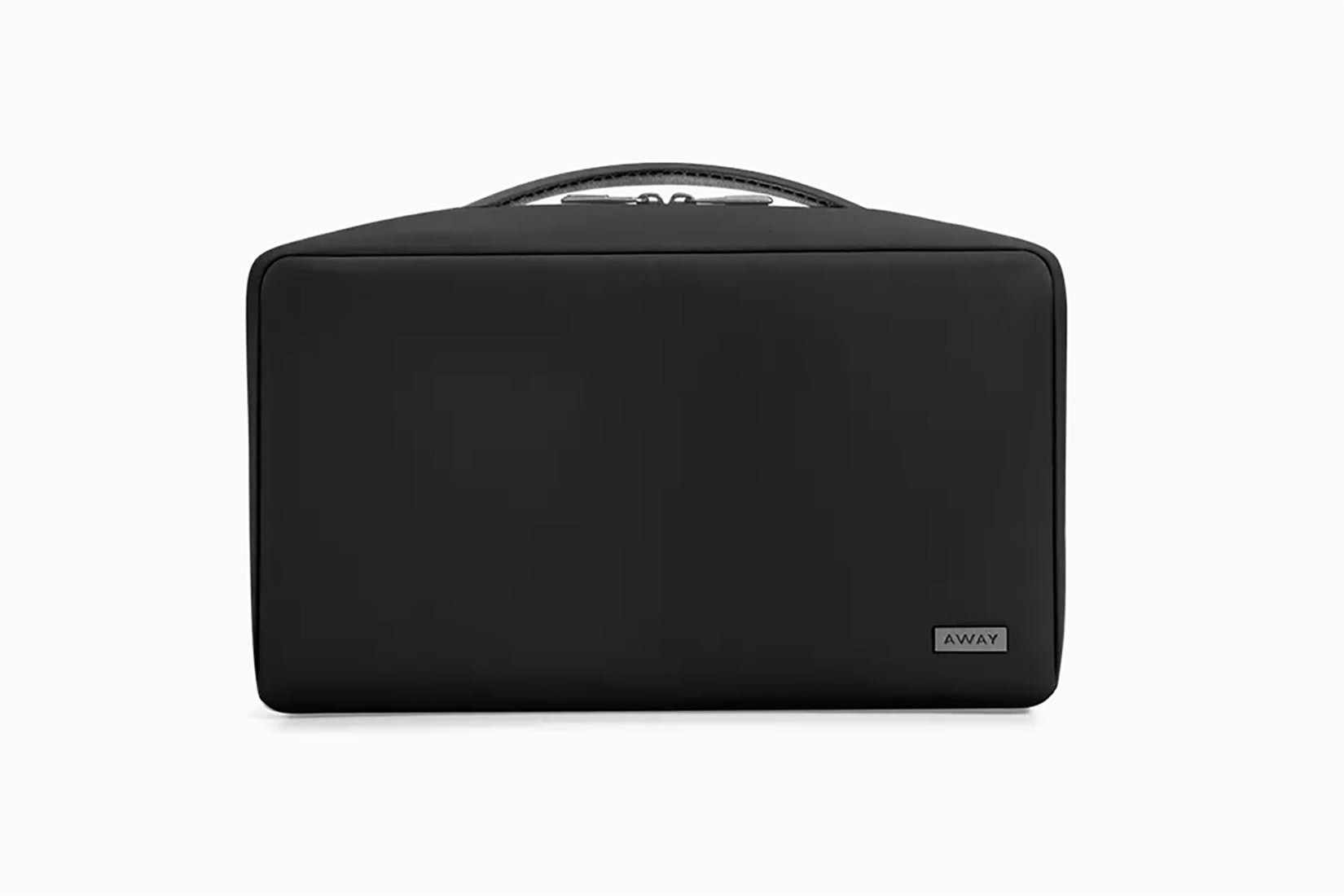 For ultimate minimalist flair, look no further than The Dopp Kit by luggage megabrand Away.
With a thoughtful design that's quintessential of Away, the classically styled toiletry bag opens wide, so you can quickly access whatever you need, avoiding awkward fumbles. It's palatial in size – It comes with multiple interior compartments (including a central zip compartment) and transparent and mesh pockets. So, you can organize to your heart's content. It also comes with a handy exterior zip pocket for grab-and-go items.
The coated wipeable interior serves to keep leakages from getting out, as well as preventing any from getting in. When you're traveling, that's the kind of duo you need.
Although it's crafted to complement the brand's luggage range, the muted color palette of The Dopp Kit by Away will nicely align with almost any suitcase or travel backpack, while fitting comfortably inside. If you're only going on a short trip, opt for the smaller size version.
Best for: A large functional toiletry bag for family use or longer trips.
| | |
| --- | --- |
| Materials: | Water-resistant nylon |
| Size: | 25.9 x 9.3 x 14.9 cm (10.2 x 3.7 x 5.9 in) |
| Colors: | Black, blue, green |
Lermende: Best clear toiletry bag for women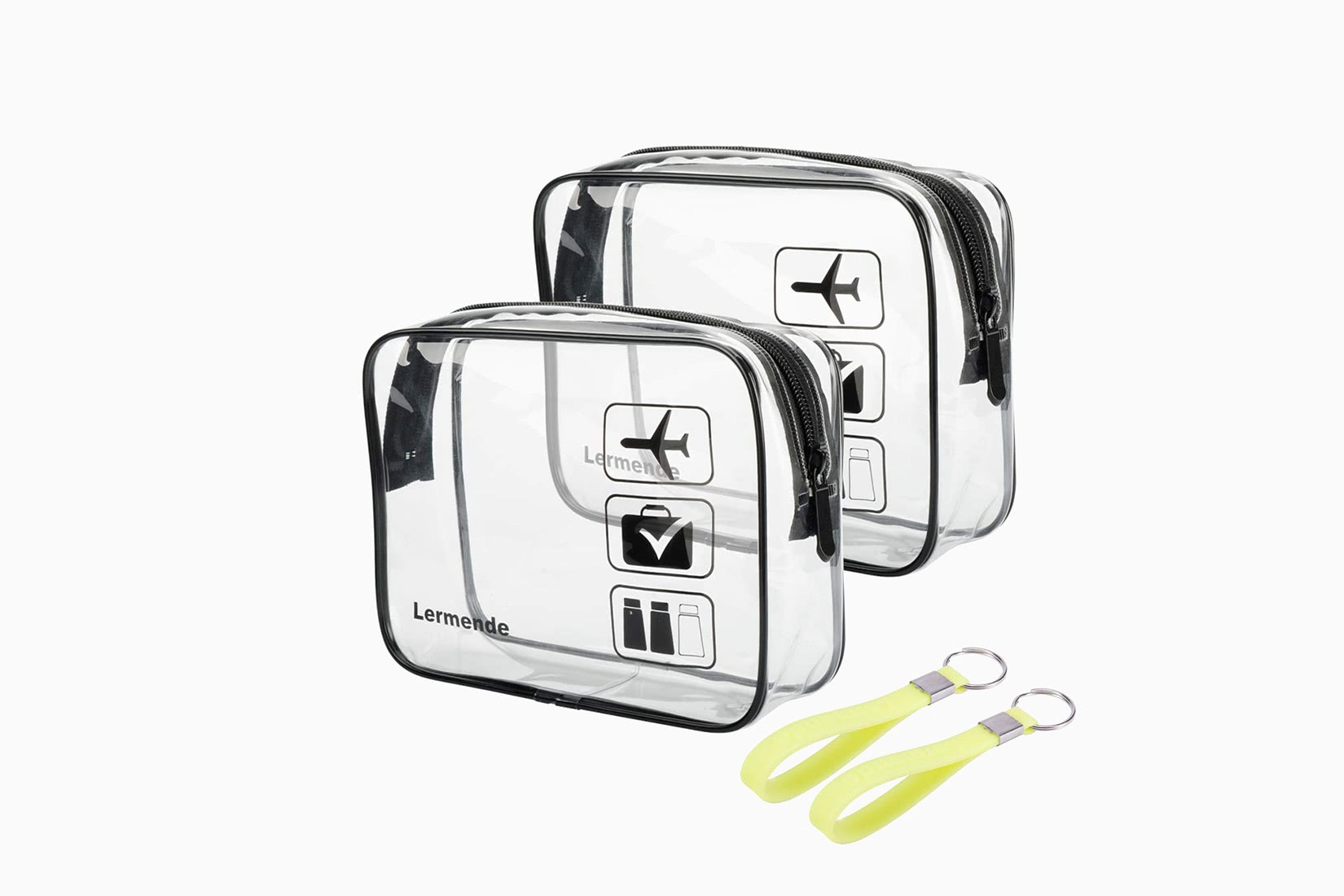 Frequent flyer? It's time to say goodbye to the plastic Ziploc bag forever! Lermende have you covered with their TSA-approved Clear Toiletry Bag for all your carry-on toiletries.
The transparent PVC makes it easy for both you and TSA to check out what you've got inside, while the waterproofing will keep your flight spill-free.
It could be the best toiletry bag for carry-on luggage, as it's designed to easily slide into your bag and still leave space for plenty of in-flight reading material. Plus, the sturdy zip promises to endure flight after flight.
The Amazon favorite Lermende Clear Toiletry Bag comes in a handy three-piece set, so you can bring as much or as little as you like!
We can see clearly now.
Best for: Those who travel frequently, and are so over the airport-provided plastic bags.
| | |
| --- | --- |
| Materials: | Waterproof PVC |
| Size: | 19.5 x 14.9 x 6.3 cm (7.7 x 5.9 x 2.5 in) each |
| Colors: | Transparent |
TUMI Voyageur Madina Cosmetic Bag: Best designer toiletry bag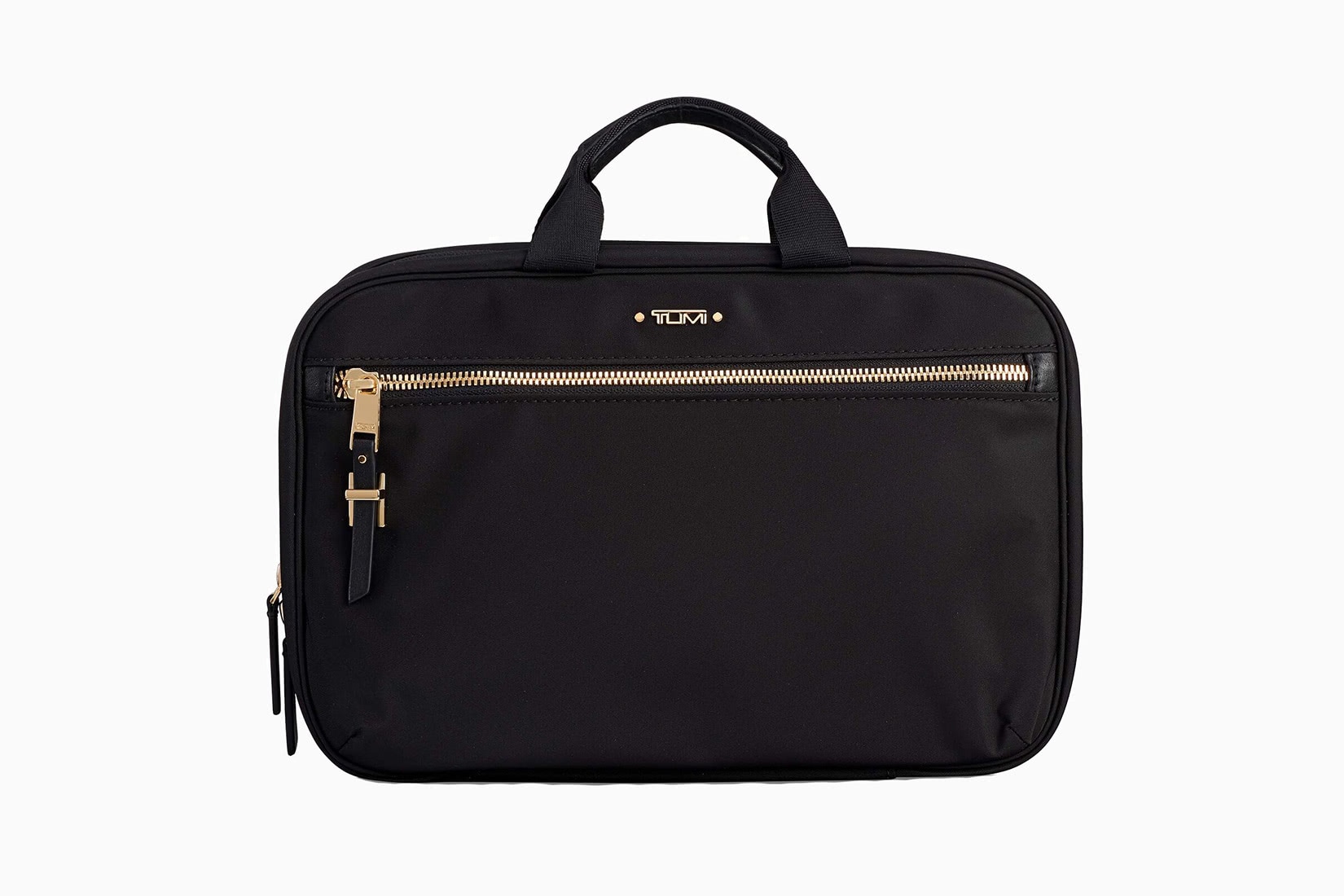 Whether you're going for a weekend city break, a week in the Bahamas or a countryside retreat, the TUMI might just be your new favorite travel companion.
We love a hanging travel toiletry bag, especially one that folds up as neatly as this Tumi Voyageur Madina Cosmetic Bag and can lay flat, too.
For such a sleek design, it's surprisingly adaptable – The hanging 'cabinet' of sorts makes it a breeze to navigate. It comes complete with four separate compartments: three transparent and one detachable nylon pouch for smaller items.
Made from easy-to-wipe-down nylon, this versatile, lightweight toiletry bag is roomy enough to act as both a Dopp kit and makeup bag.
Best for: A purposeful, practical and polished place for your essentials.
| | |
| --- | --- |
| Materials: | Nylon |
| Size: | 20.3 x 27.9 x 7.6 cm (8 x 11 x 3 in) |
| Colors: | Black, burgundy |
Longchamp Le Pliage Cosmetic Case: Best compact toiletry bag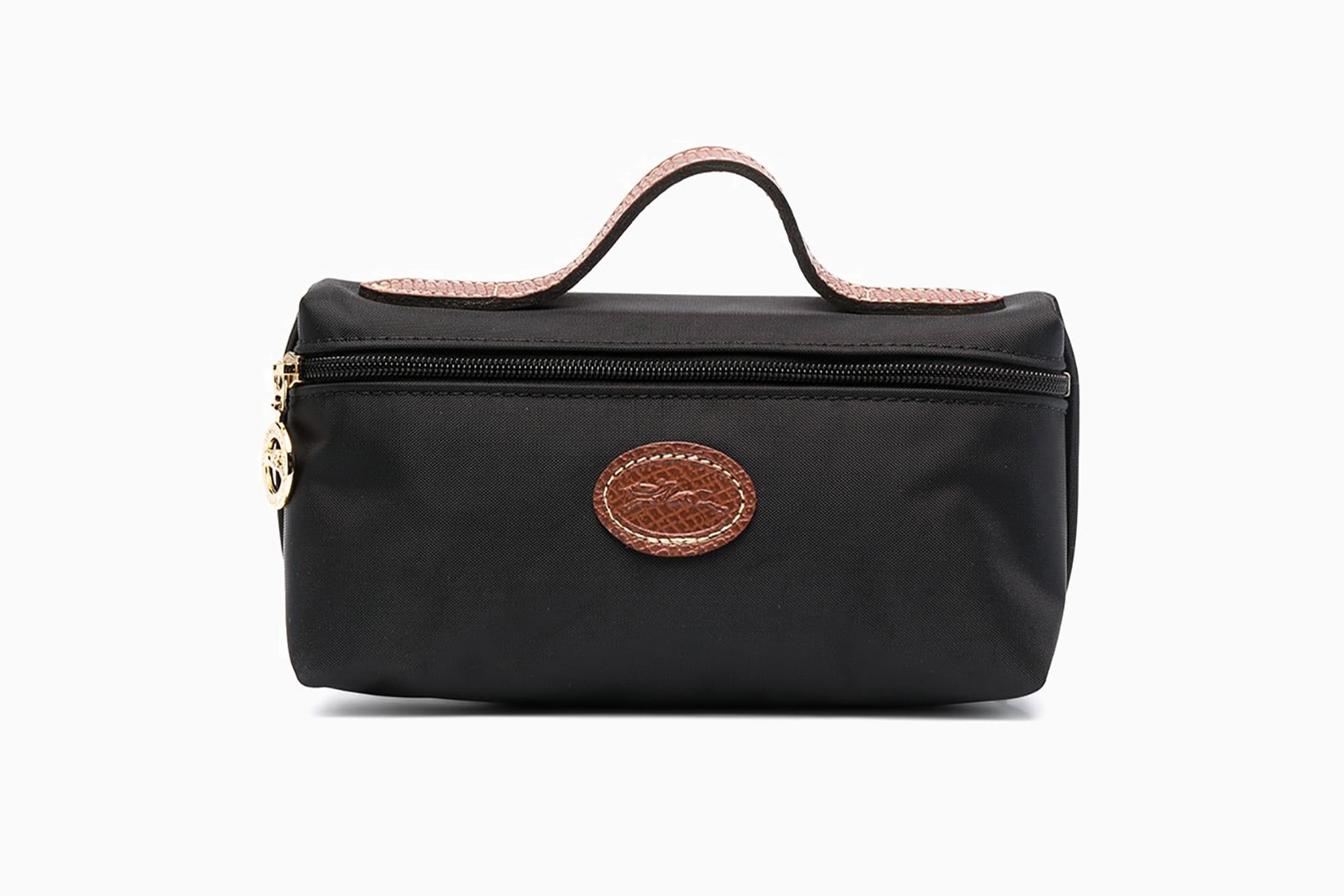 What this toiletry bag may lack in size, it makes up for versatility, functionally, and overall, pure style. Small, but perfectly formed, Longchamp's Le Pliage Cosmetic Case provides enough space for your pens and pencils, brushes, cosmetics and small beauty essentials.
Ideal for everyday use, the foldable design also means you can easily tuck it away when you do not need it.
Best for: Those seeking a small, but effective toiletry bag for their bare essentials.
| | |
| --- | --- |
| Materials: | Polyamide |
| Size: | 6 x 13 x 20 cm (2.3 x 5.1 x 7.8 in) |
| Colors: | A range including black, red and grey |
Skog Å Kust DoppSåk: Best waterproof toiletry bag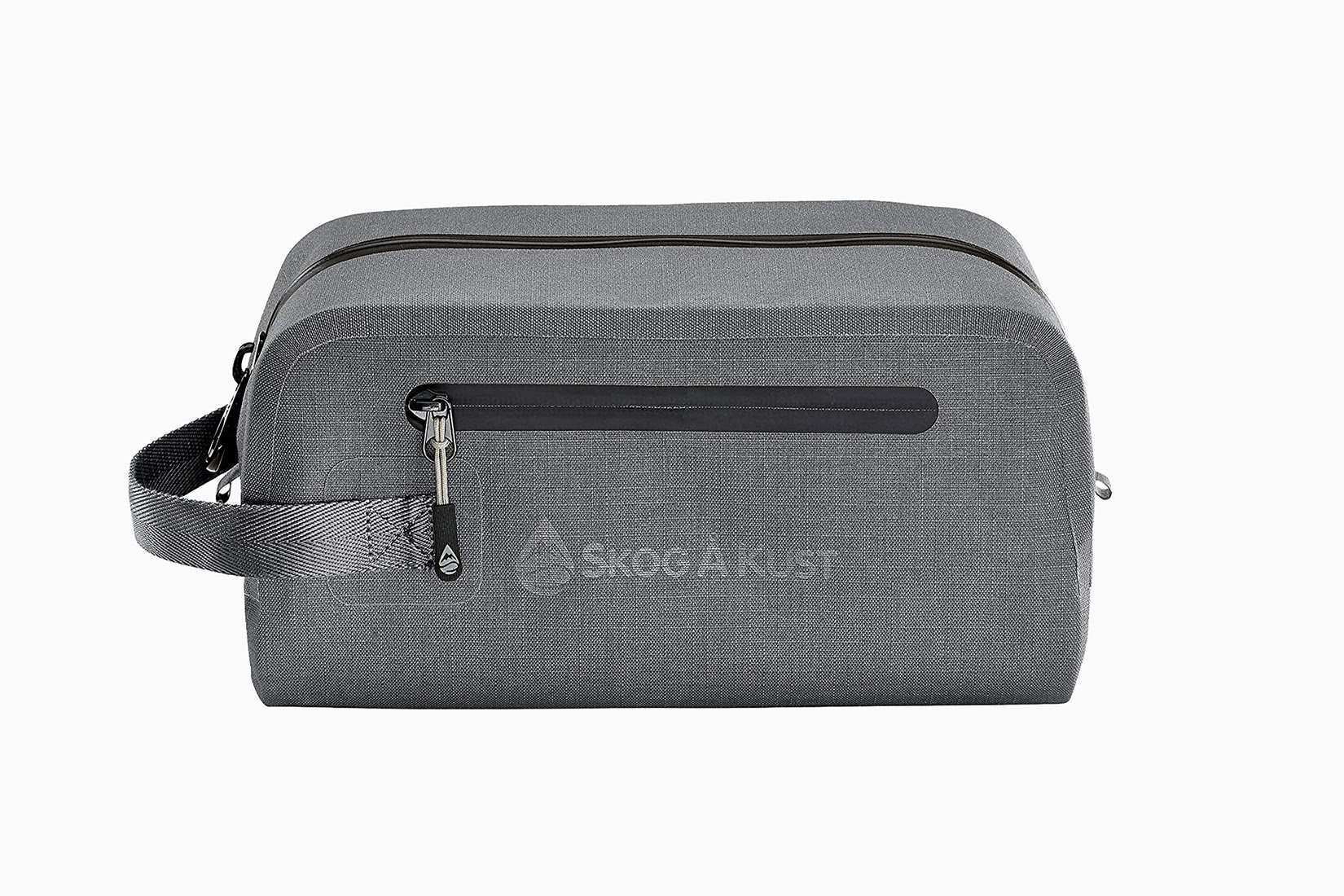 If you regularly experience leakages and spills, no matter how tight you close those lids (hey, sometimes it's just genetic), this waterproof travel toiletry bag by Skog Å Kust could be the best thing to happen to you.
Crafted with a huge focus on waterproofing, this toiletry bag is made from TPU-coated Cordura ripstop material, plus an airtight zip which all go ways to protect you from any spills within.
All that, and it looks cool too. The Waterproof Travel Toiletry Bag by Skog Å Kust has got an outdoorsy, active vibe which clearly means business, especially when it comes to leaks.
The strong nylon strap makes it super easy to transport, and when you're not using it, it compresses down into a barely-there size. Plus, the numerous compartments should keep you organized along the way.
Best for: Those seeking a durable, totally waterproof toiletry bag.
| | |
| --- | --- |
| Materials: | TPU-coated Cordura ripstop |
| Size: | 27.9 x 13.9 x 15.2 cm (11 x 5.5 x 6 in) |
| Colors: | Black, charcoal grey, midnight blue |
Prada Beauty Case: Best leather toiletry bag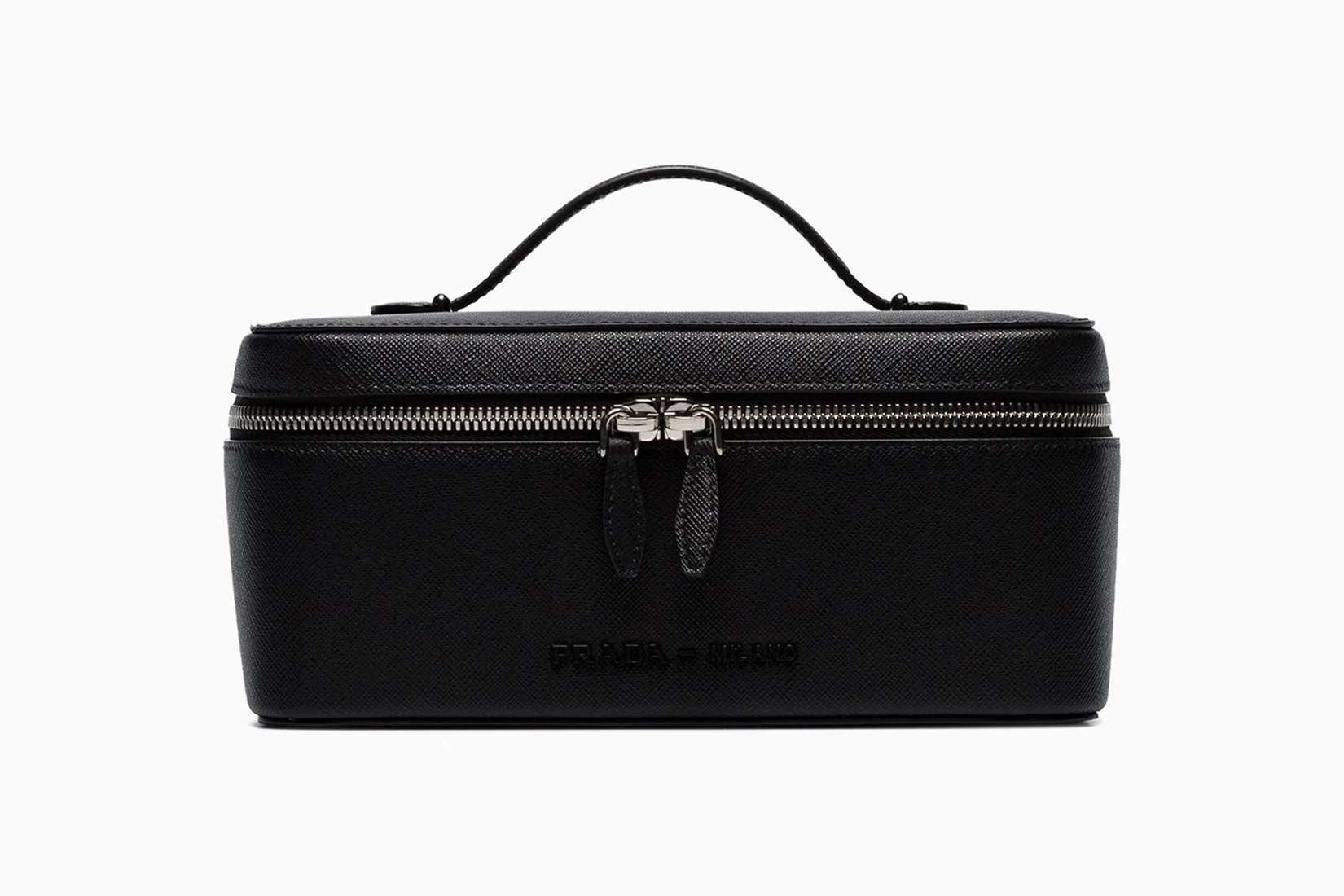 A great amalgamation of performance and style, this luxury travel pouch by Prada makes every other toiletry bag look on in envy. It's sleek, it's luxe, and it's made in Italy from black leather.
The spacious leather toiletry bag features a top handle for portability, an internal zip pocket, and two removable nylon pouches.
Best for: Those who desire a leather cosmetics bag that exudes luxe and glamour.
| | |
| --- | --- |
| Materials: | Leather |
| Size: | 22 x 9.9 x 12.9 cm (8.7 x 3.9 x 5.1 in) |
| Colors: | Black |
Bagsmart: Best toiletry bag for family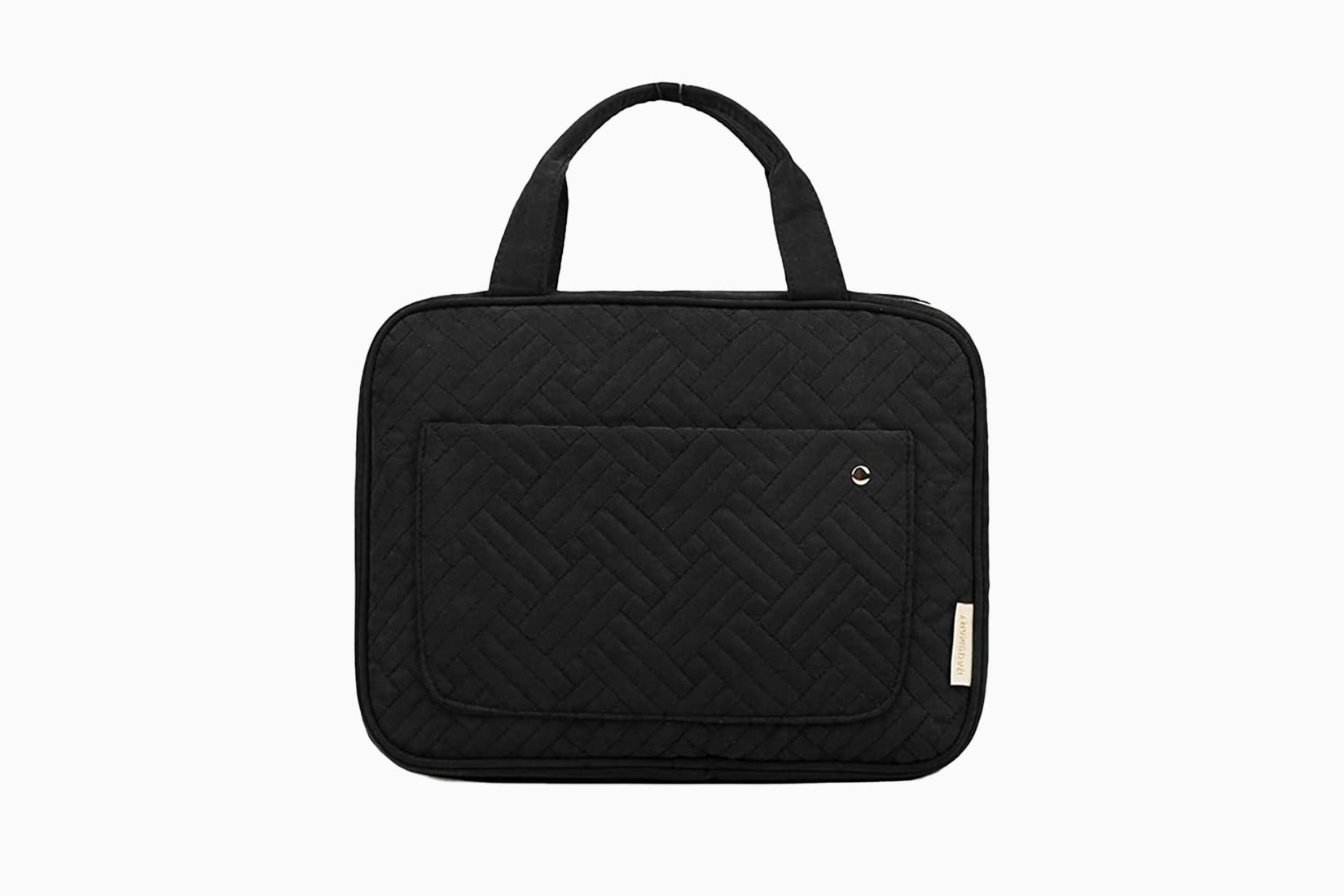 Forget inferior, never-big-enough travel-sized essentials; bring your whole shampoo and conditioner (plus space for your hair masque) in this extra large toiletry bag.
If you're the person in charge of packing for your family, the Bagsmart Toiletry Bag could be the new addition.
There are four roomy (and helpfully transparent with zip closures) compartments so you can assign one to each member of your clan, or organize items into hair products, skincare, and medicine.
Each compartment is made from water-resistant polyester, so, if one compartment has a leak, it won't spread to the adjacent sections.
For efficient space-saving, it converts easily into a hanging toiletry bag, so you can simply pin it up somewhere convenient and save yourself the effort of unpacking.
You and your loved ones won't go without next time you head off to the sun (or snow!).
Best for: Essentially, your family bathroom in a bag.
| | |
| --- | --- |
| Materials: | Water-resistant polyester |
| Size: | 32 x 23.1 x 10.9 cm (12.6 x 9.1 x 4.3 in) |
| Colors: | A range including black, pink and teal |
Calpak Luka Toiletry Bag: Best dopp kit with pockets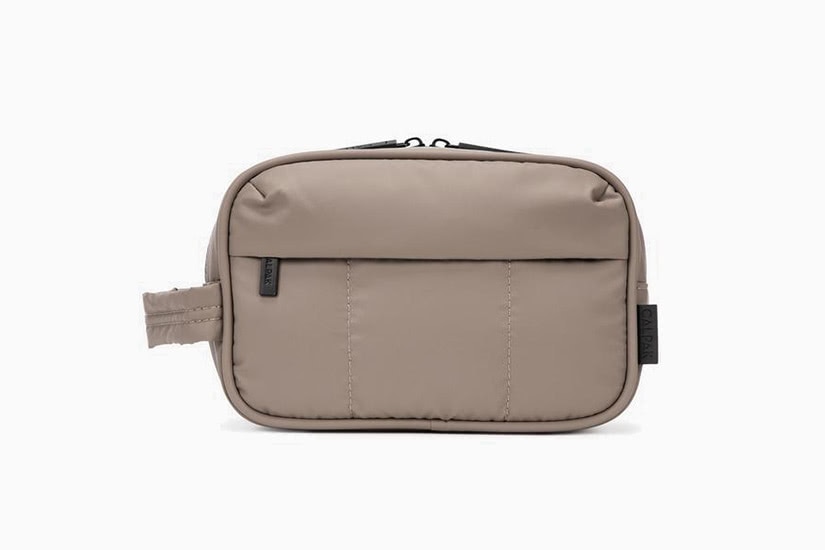 A lovely feature of this Luka Toiletry Bag by Calpak is that it's multifunctional: it can be used as a toiletry wash bag with its side handle for easy toting back and forth or a makeup bag with plenty of interior and exterior pockets for ultra-organization. Or, you can go rogue and not use it as a toiletry case at all. As it is water-resistant, this toiletry bag can be great for potentially leaky art materials, face paints, or travel essentials for your kids. It's also a great place to store cables and plugs for your everyday grind.
The roomy bag's flexible fabric means it can hold more-than-enough makeup and toiletries without weighing down your carry-on. It's also easy to pack anywhere in your travel bag.
Best for: An organization-friendly catch-all.
| | |
| --- | --- |
| Materials: | Polyester |
| Size: | 12.7 x 20.3 x 8.1 cm (5 x 8 x 3.2 in) |
| Colors: | A range including matte black, rose quartz and chocolate |
Tory Burch Pouch: Best makeup bag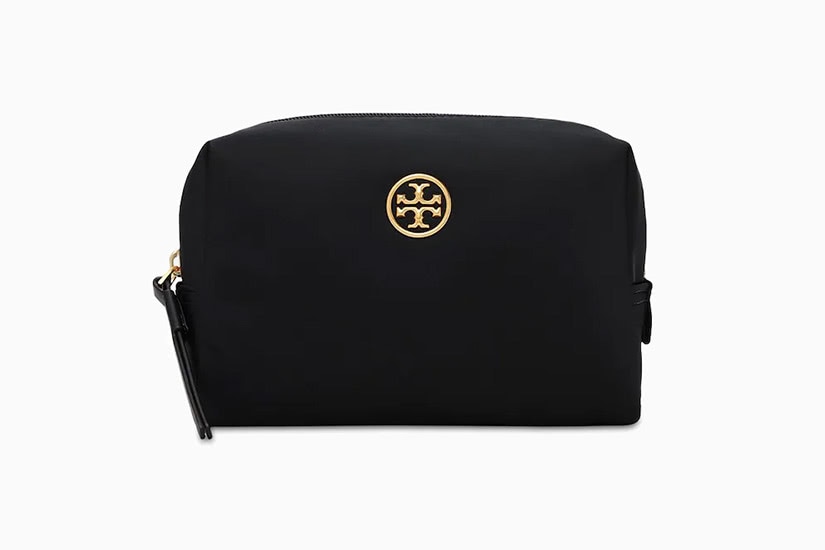 For times when you do not need zillions of interior compartments and pockets and zippers, look no further than this effortlessly chic and low-hassle makeup bag by Tory Burch.
An easy catch-all for your favorite makeup brushes, eyeshadow palettes, and smaller beauty essentials, this cosmetic bag is great for storing and carting around all your carefully curated beauty products.
This is definitely a designer makeup bag you won't be embarrassed to whip out when on the go or leave on display in your guest bathroom.
Best for: Because your favorite beauty essentials deserve to travel in style too.
| | |
| --- | --- |
| Materials: | Nylon |
| Size: | 10.8 x 17 x 7.6 cm (4.2 x 6.6 x 2.9 in) |
| Colors: | Black |
Aesop Travel Kit: Best pre-stocked toiletry set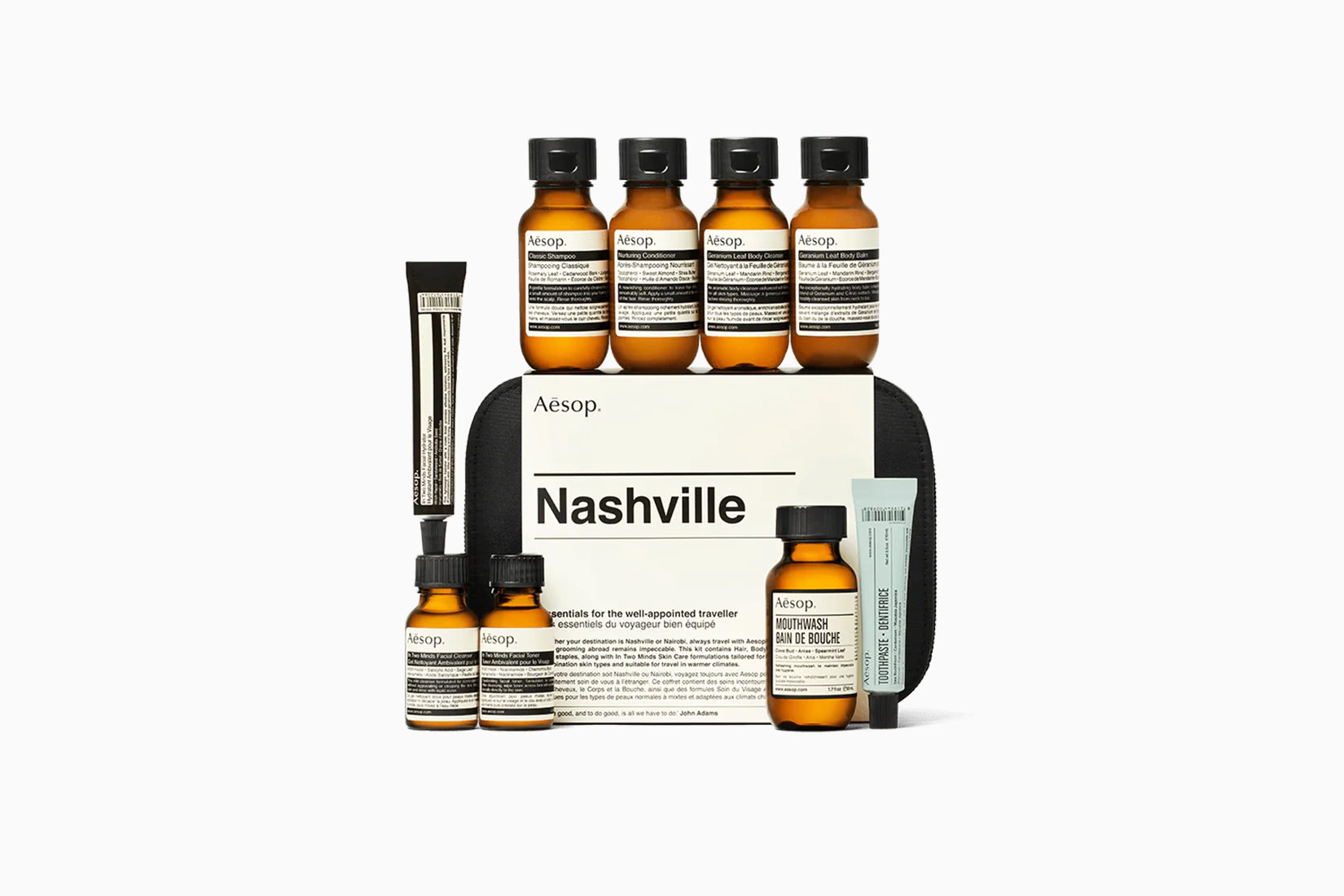 Nestled inside a sturdy, microfiber case, Aesop's flight-ready travel set is pre-stocked with all the brand's unisex skincare essentials you could ever need to keep your skin in tip-top shape while traveling – from shampoo and conditioner, to face wash, toner, facial cream, body and personal care staples.
Best for: Saying yes to new adventures at a moment's notice.
| | |
| --- | --- |
| Materials: | Microfibre |
| Colors: | Black |
Buyers guide to choosing the right toiletry bag
So, you've decided to up your game in the organizational department. When you're shopping for a brand-new toiletry bag, there are a few things to look out for to make sure you get the ideal toiletry bag for you:
Size
Of course, you know best how large or small a toiletry bag you'll need to fit your essentials. If you're the kind of girl who possesses different serums, creams and cleansers for every possible eventuality, you're going to need a larger bag. This is particularly true if you love to travel a lot (but make sure you're mindful of airport restrictions!).
On the other hand, you might be more of a minimalist 'bare essentials' type. So, if a simple dab of lip balm, mascara, plus some dry shampoo and face wipes are all you need, you're free to opt for a more compact toiletry bag.
Compartments
The amount of compartments you'll need in your toiletry bag depends on how organized you like to be! Toiletry bags with three compartments, plus a few pockets and elastic loops are usually sufficient to adequately arrange your essentials in a logical way.
Consider separating your things into categories such as a separate pocket for skincare, one for hair products, and one for medicines, with your brushes and tweezers held securely in the elastic loops.
Transparency
If you travel a lot, and are constantly passing through security at airports, you'll understand the frustration of having to obtain a flimsy plastic wallet for your liquids.
Fortunately, there are many choices of toiletry bags which are crafted specifically for this purpose, like the Lermende Clear Toiletry Bag. Being completely transparent, it's both TSA-friendly and you-friendly, allowing you to quickly locate your items with no fuss.
Waterproof or water-resistant?
Most quality toiletry bags are designed to be water-resistant. After all, you're filling them with liquids, gels and creams a lot of the time! If you find a gorgeous toiletry bag, check that it's got at least one water-resistant compartment. Seriously, it'll do wonders for your peace of mind when you're traveling.
100% waterproof is obviously the ideal situation. The Waterproof Travel Toiletry Bag by Skog Å Kust is an excellent choice if staying dry is your number one priority.
Hanging toiletry bags
If you're on the lookout for a multitasking toiletry bag which will save you precious unpacking time, a hanging toiletry bag could be the way to go.
Typically, they'll feature a retractable hook which can be used to hang up your toiletry bag on any available rail. These are brilliant if you want to skip the packing/repacking fiasco that so often comes with travel.
Zips and handles
A strong zip is truly what will be the difference between replacing your new toiletry bag in just a few months, or having it last forever.
If the stitching around the zips are flimsy, no matter how pretty the bag is, this is definitely a no-go. A broken zip can be extremely frustrating, and it's not like you don't have enough to worry about when you're undertaking a journey!
Similarly, if you're selecting a toiletry bag with a handle, ensure that it's made from a durable material (leather or nylon, ideally!) and it's strongly attached. Nothing will cramp your style more than a handle hanging half-off.
Frequently asked questions about women's toiletry bags