Owning a dopp kit (AKA toiletry bag) is an absolute necessity when it comes to organising your grooming essentials, whether you're travelling or staying at home. For such an unassuming item, a dopp kit can truly be the difference between chaos and order.
The modern traveller knows that you've just got to keep your toiletries separate, lest you arrive at your destination with a jumble of tubes, bottles, and razors running riot in your suitcase.
And even when you stay at home, an orderly dopp kit will look miles better on your bathroom shelf than a jagged skyline of lotions and potions.
Fortunately, there's a superb choice of stylish dopp and toiletry bags for men on the market.
Hint: they also make an excellent (and functional) gift for men. So, if you're struggling to find the perfect present for him, look no further.
The best dopp kits for men
To help you find the right dopp kit for your style and budget, check our guide to choosing the best toiletry bags for men after the list.
NOMATIC Toiletry Bag 2.0: Best overall dopp kit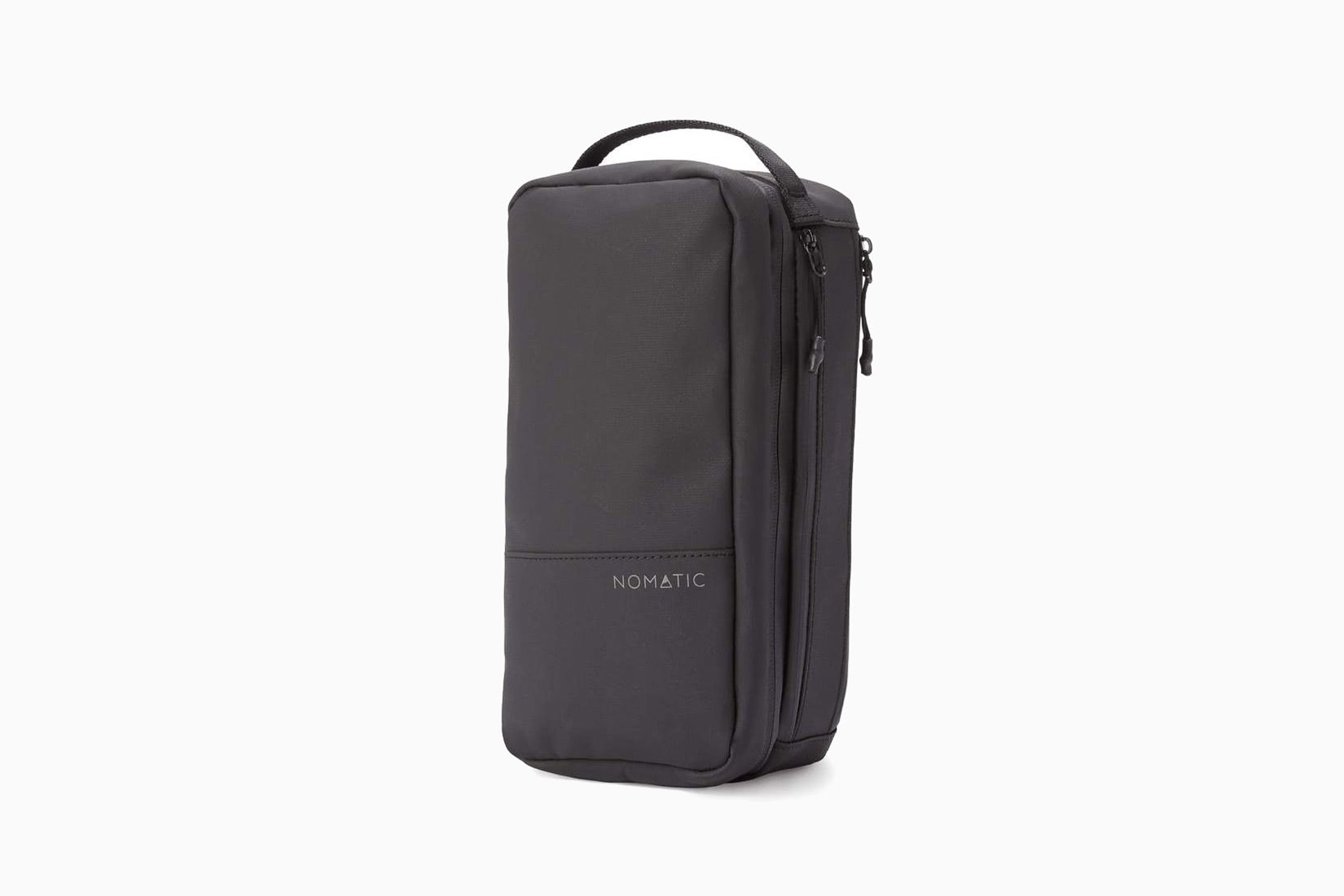 It's sleek; it's black; it's functional: the Toiletry Bag 2.0 by NOMATIC could be everything you're looking for in a toiletry bag.
One glance at this men's toiletry bag, and you'll appear suave and organised, even if it's hiding a car crash within.
The internal organisation pockets are versatile and transparent, so you can quickly and easily grab whatever you need. Plus, there's one larger pocket and two small ones, so you can choose to be as organised (or disorganised) as you like.
There's even a handy toothbrush section, so you can keep it nice and separate (read: hygienic!).
You may not be lucky enough to hold the monopoly on storage space in your bathroom. No shelf-space? No problem. There's a removable strap attached to the Nomatic toiletry bag, so you can just hang it somewhere convenient.
Plus, it's water-resistant, so totally bathroom and travel-friendly.
Best for: Those seeking a sleek, stylish and functional toiletry bag for home and away.
Colours: Black
Away The Dopp Kit: Best high-end dopp kit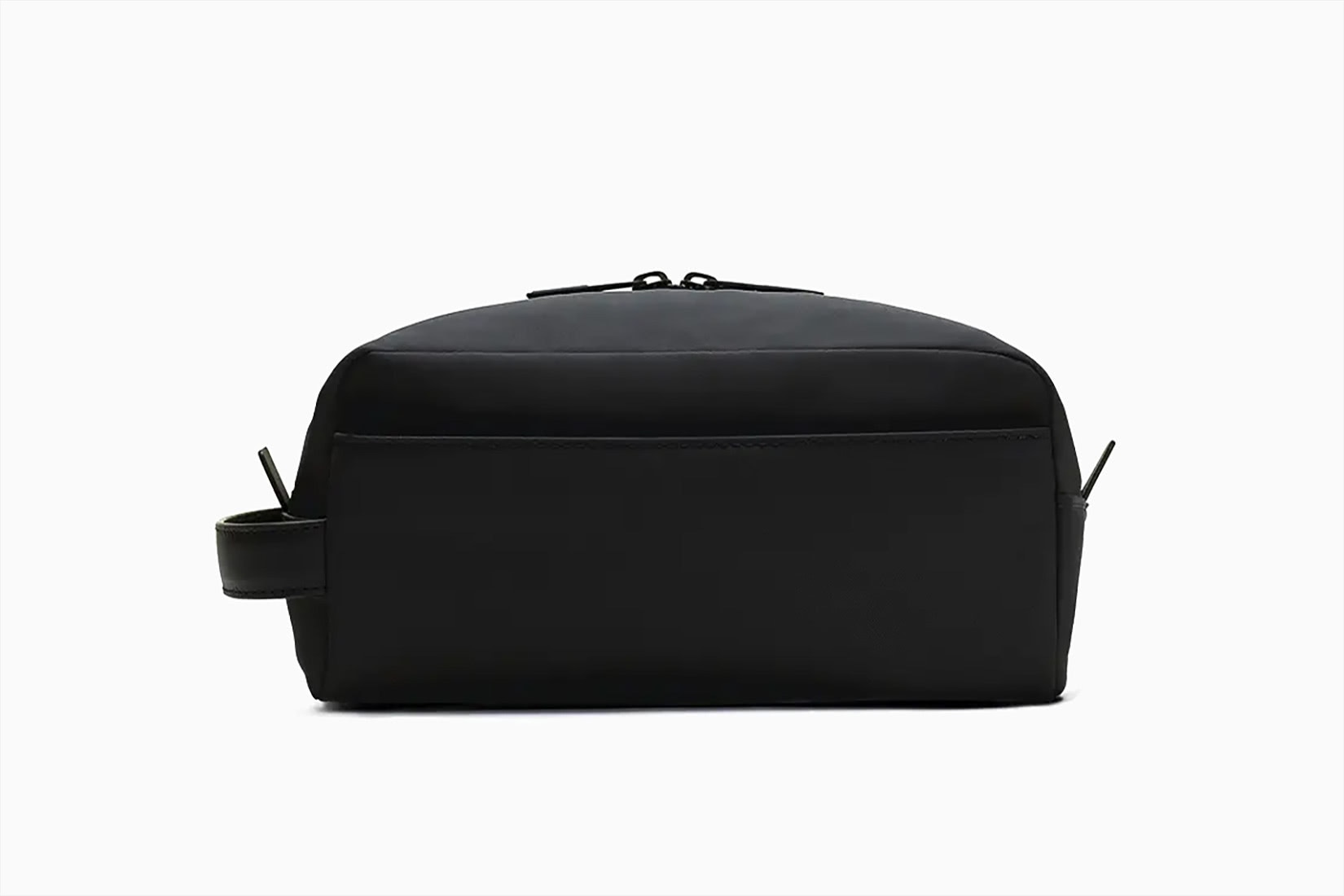 We've started to expect nothing but premium quality from Away, who offer a svelte little dopp kit (which totally complements their luggage range in both size and style).
Minimalist in style, this dopp kit by Away manages to be functional, yet possesses understated cool.
The interior is lined with waterproof nylon, so whether you have an unfortunate spillage inside the bag, or out, you benefit from total damage control. If such a travesty occurs, you can simply wipe it clean with minimal effort.
The two zipped inside pockets are great for keeping things separate, with plenty of room for a considerable selection of carry-on size toiletries, plus colognes and shaving essentials.
To complement the matte finish, The Dopp Kit features a handy (and stylish) leather strap, so you can easily hang it up when not in use.
Best for: Those who love to emanate style in every facet of their lives. Plus, it's perfect if you already own Away luggage!
Colours: Asphalt or Black
Gonex Dopp Kit and Organiser: Best value dopp kit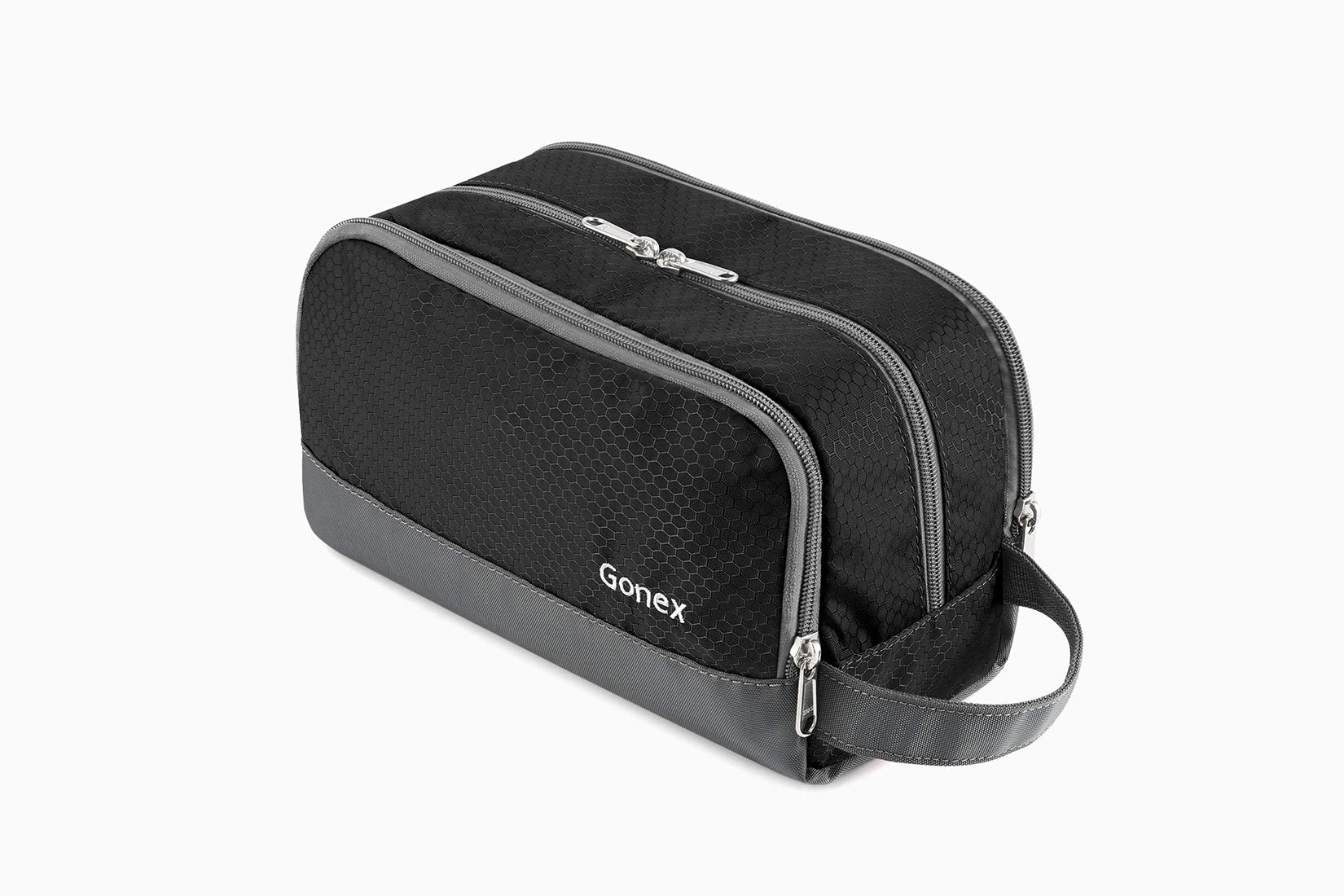 With three compartments, plus organisational pockets within, you can easily assign order to your toiletries and essentials, while not taking up the lion's share of space in your suitcase.
The smallest mesh pocket is perfect for housing grooming essentials which you may need to access pronto when you're out and about.
Plus, the bottom of the bag (the most vulnerable part) is crafted from durable, 100% waterproof nylon. So, this Gonex Dopp kit could likely see you through many tumultuous travel adventures, and it should easily survive leaks and spills.
Best for: Those on the lookout for a stylish, functional toiletry bag without splashing out too much.
Colours: Black, Blue, or Grey
Bellroy Dopp Kit: Best Dopp kit with handles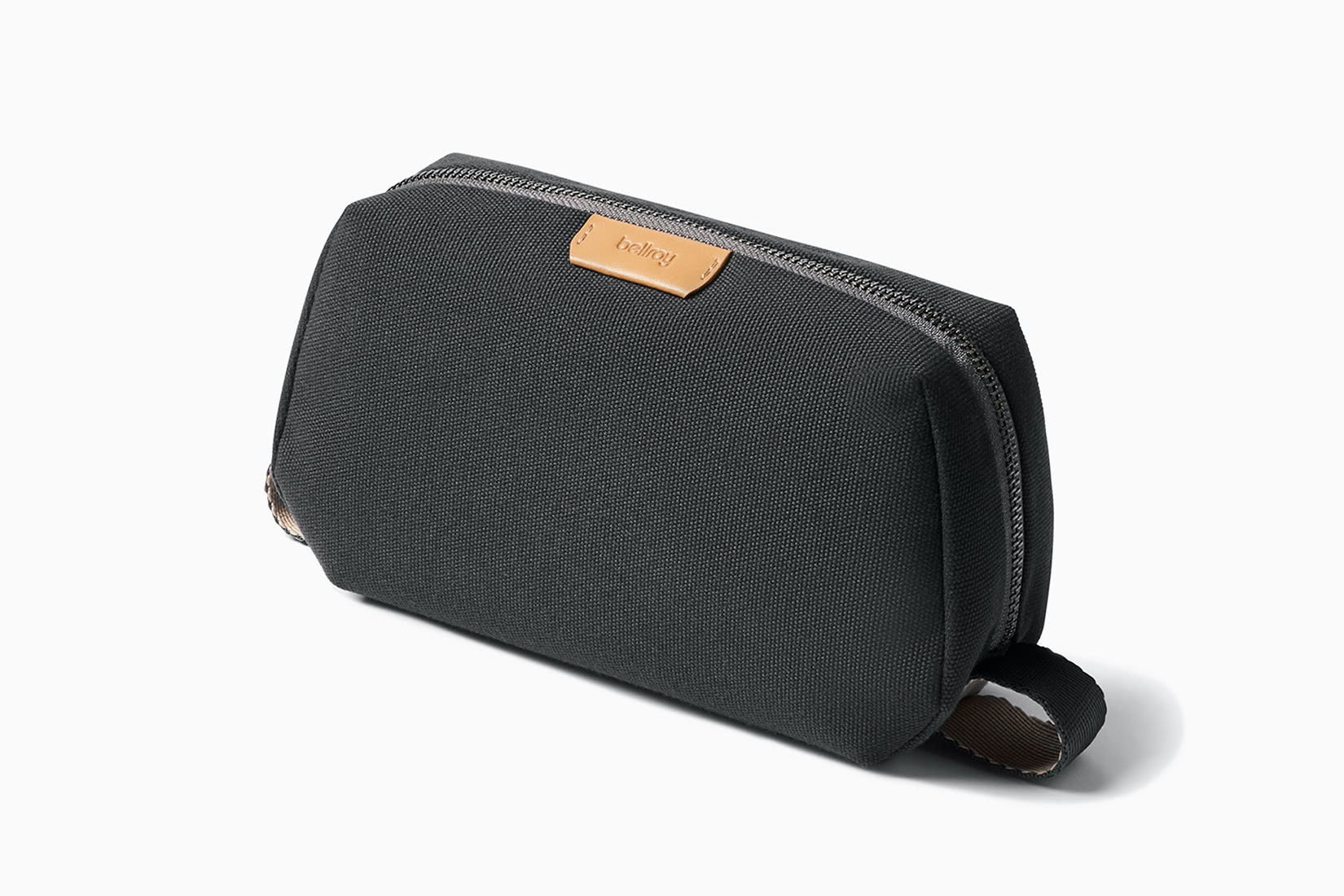 Super handy for both everyday and travel use, this Bellroy Dopp Kit features neat mesh pockets on the interior, as well as a spacious main compartment.
The water-resistant lining delivers that all-important easy-wipe-down ability– a crucial detail that anybody who's ever had their toothpaste leak will appreciate massively. Plus, the material itself is made from recycled plastic bottles.
There's a magnetic toothbrush/razor holder, so you can be safe in the knowledge your toothbrush will retain its cleanliness and isn't going to slip and slide around in transit.
It's all very fetchingly neat and tidy; the nylon grab loops facilitate easy-carrying, and the compact design should slide smoothly into your bag.
Best for: Those who like things spick and span, and desire a compact dopp bag with an array of handy extra features.
Colours: Charcoal, Marine Blue, or Black
Skog Å Kust DoppSåk Waterproof Toiletry Bag: Best waterproof dopp kit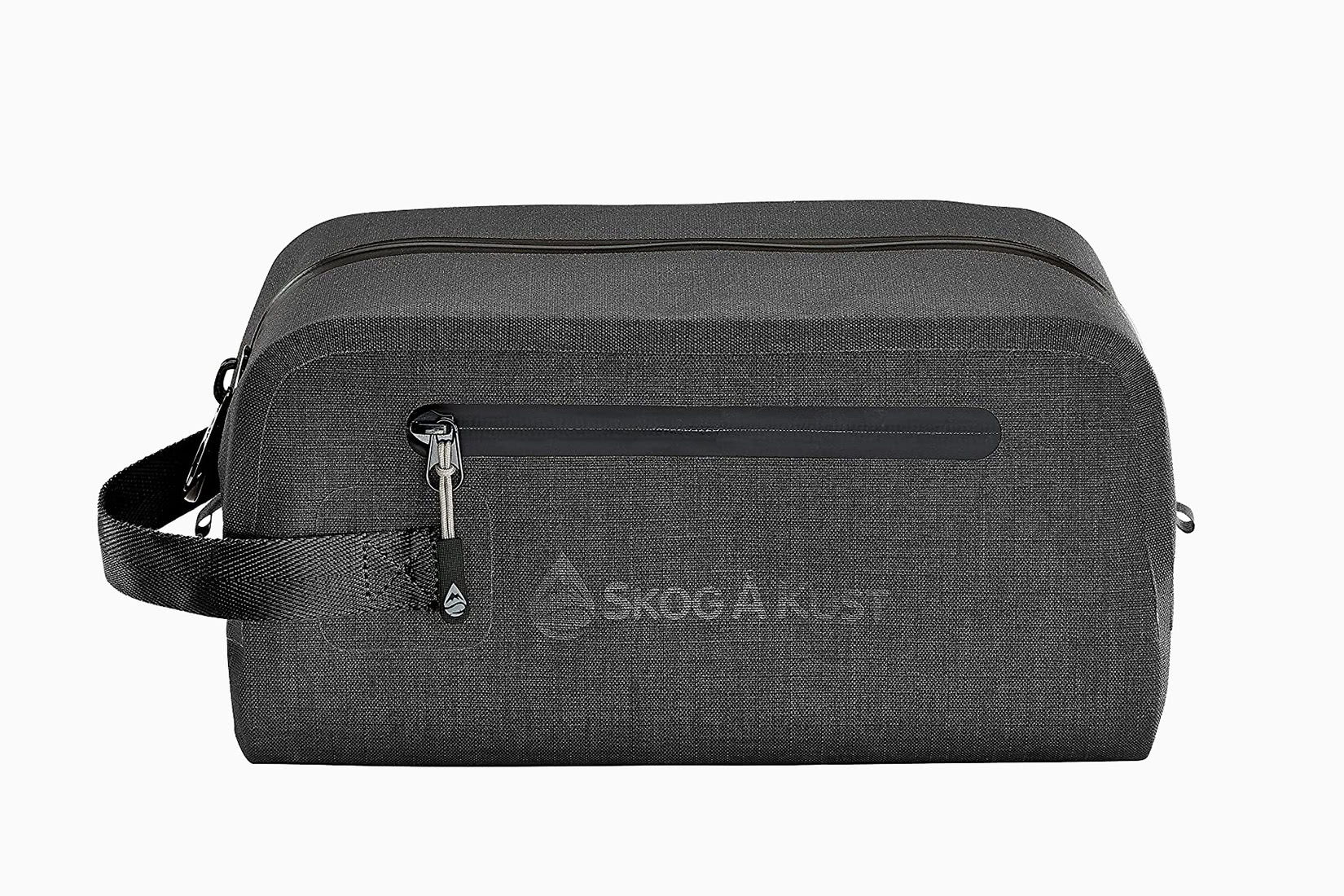 This waterproof toiletry bag goes the extra mile to make sure you don't suffer disastrous leaks in transit.
The TPU-coated Cordura ripstop material and airtight zip work together like the A-Team to keep the main compartment waterproof. Oh, and it's all vegan-friendly, too.
There are water-resistant, splash-proof pockets on both the interior and exterior. So however you choose to organise your things, with the Skog Å Kust DoppSåk, you can travel with the confidence that your possessions will remain dry.
The strong nylon strap is ultra-convenient for comfort while carrying, and the versatile shape should fit neatly into every type of bag, from duffels to backpacks.
Best for: Peace of mind while travelling, and those who require a reliable waterproof dopp kit.
Colours: Black, Charcoal Grey, or Midnight Blue
IQTravels 3-in-1 Toiletry Bag: Best hanging dopp kit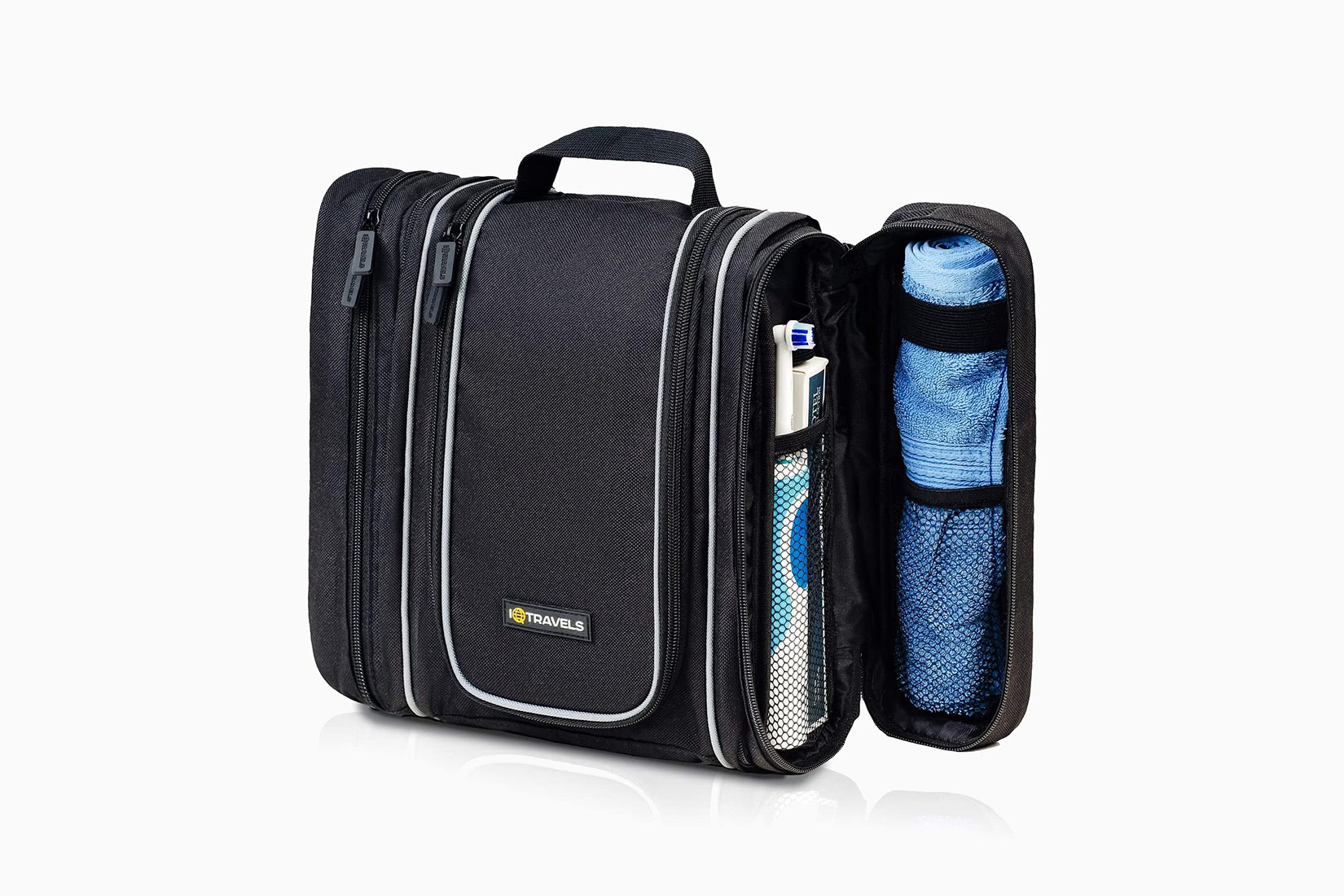 This hanging Dopp kit by IQTravels is a little larger than your standard dopp kit. It could be perfect for those who don't like to scrimp on their packing, or who just need some extra toiletry storage in their home bathroom.
With the capacity to fit in a full-sized shampoo bottle, and firm, reinforced double zips, this Dopp kit is sturdy, spacious and practical.
Of course, the piece de resistance of this particular dopp kit is that it opens out into a handy hanging facility for easy access to all your essentials. If you're staying in a hotel, you can unzip it and hang it up, without the inconvenience of unpacking.
Scoring more points when it comes to versatility, the hanging dopp kit has two detachable pockets. So when you're pushed for space, you can simply reduce the size. As far as hanging dopp kits go, this one's pretty multitalented.
Best for: Those who despise packing and unpacking, and desire a versatile, durable dopp kit.
Colours: Black
Victorinox Hanging Dopp Kit: Best lay-flat dopp kit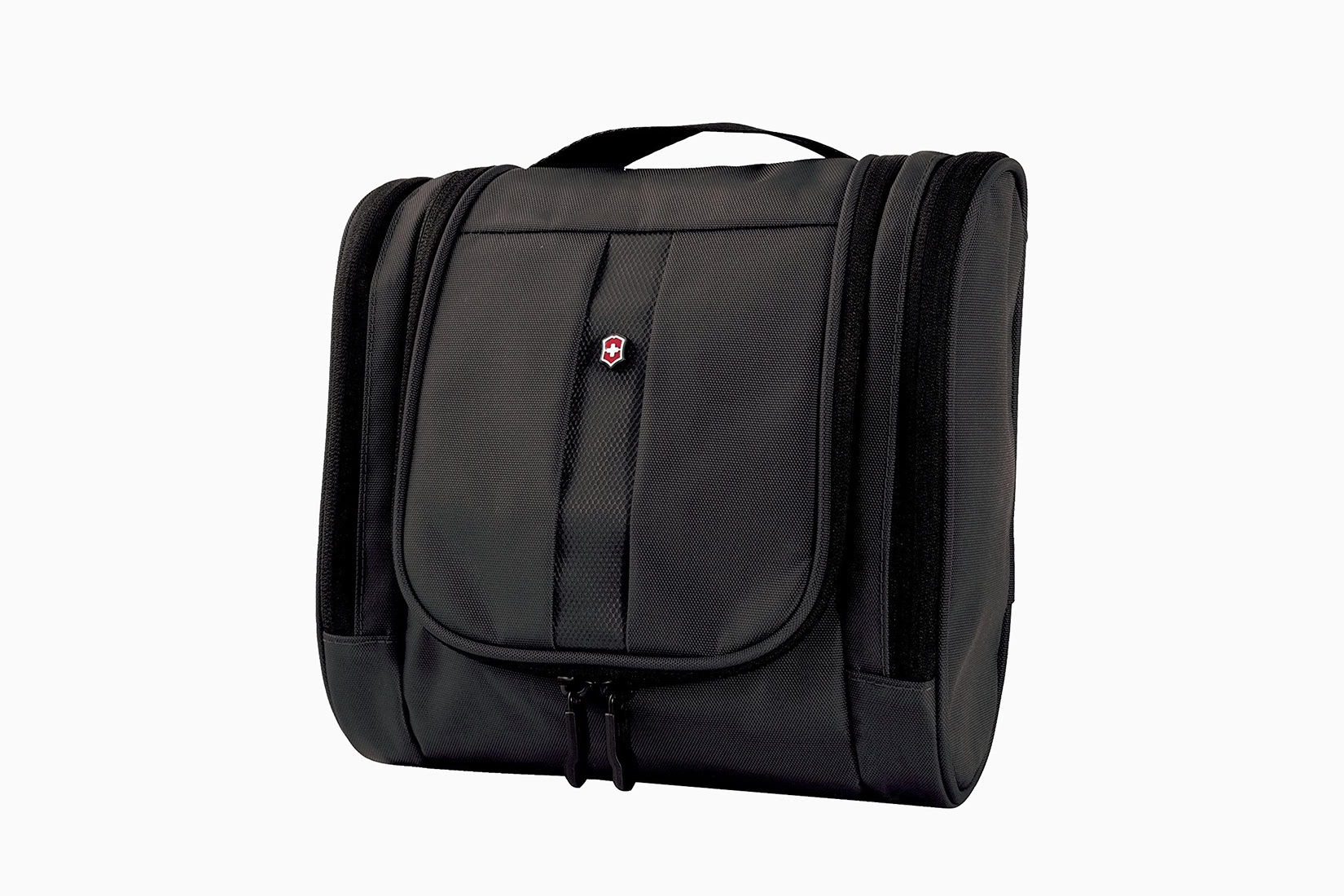 The Victorinox Hanging Dopp Kit features a top hook that you can place on a towel rack or shower curtain for super easy access.
It's large, so it could be perfect for your next holiday or staycation when travel-size toiletries just don't cut it.
The roomy main compartment comes with anti-bacterial lining, which is a super cool feature for something that's often exposed to rogue water droplets, not to mention a flock of different creams, washes and gels.
The side pockets offer a water-resistant finish, and the lay-flat design is totally space-efficient, too.
Best for: Those seeking a lay-flat dopp kit which doesn't impede too much on suitcase capacity, while still offering plenty of space.
Colours: Black or Red
IQTravels Easy Organisation Toiletry Bag: Best multi-compartments dopp kit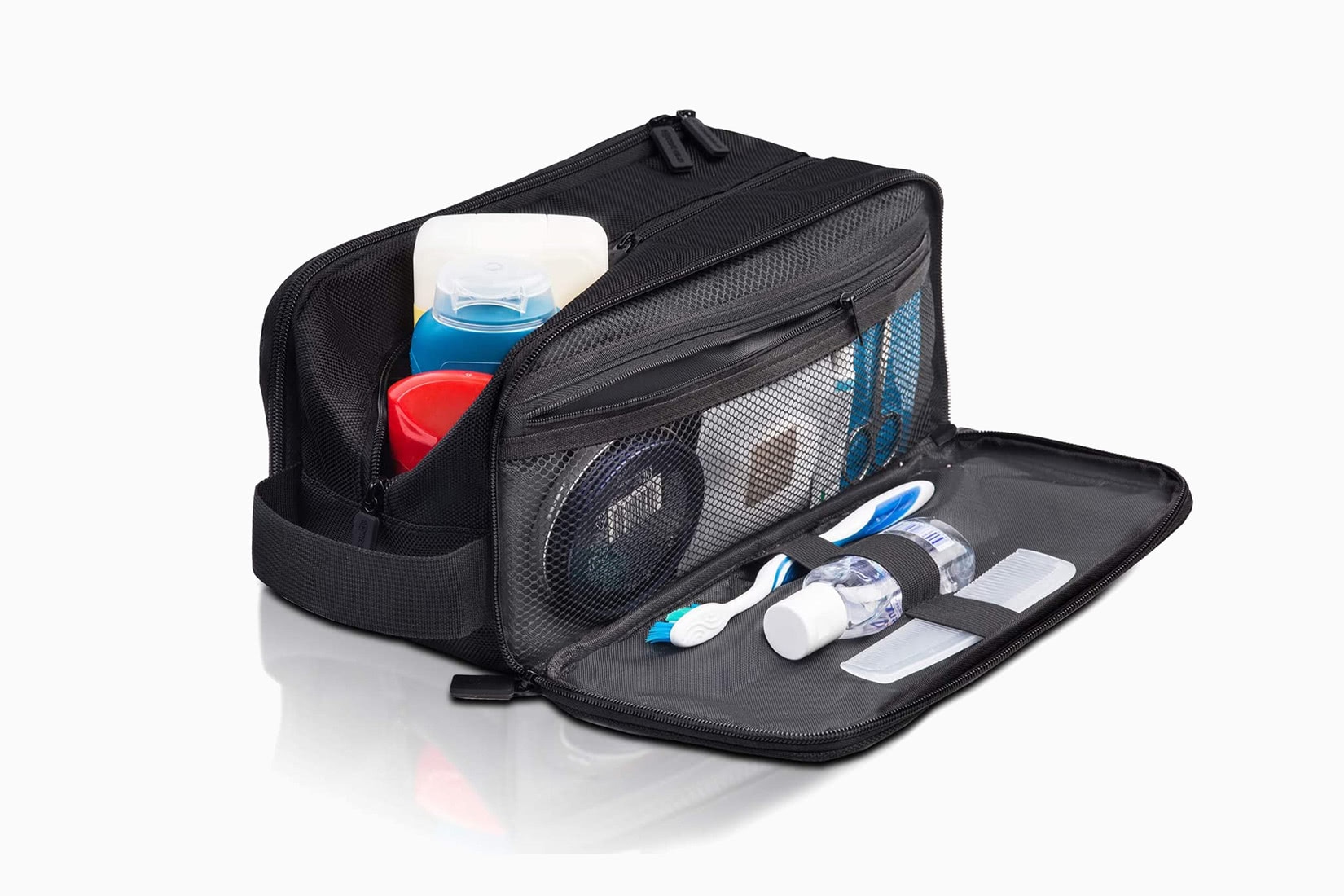 If you love being organised, this multi-compartments IQTravels Easy Organisation Toiletry Bag could be just the thing to satisfy your lust for structure.
With three formidable compartments, plus a waterproof bag included, you can arrange your grooming essentials to your heart's content. There's a handy mesh pocket, plus rubber loops to hold your things in place securely.
It's understated and versatile in style, with sturdy material which is easily washable if you do happen to have an unexpected explosion (although, you can use the waterproof bag to avoid this!).
The two side pockets can be opened flat to give you a full view of your treasure trove of essentials. So, no more rummaging around!
Best for: Those who desire a large, spacious dopp kit with plenty of compartments to keep things organised and visible.
Colours: Black
Gonex Toiletry Bag: Best dopp kit for an electric shaver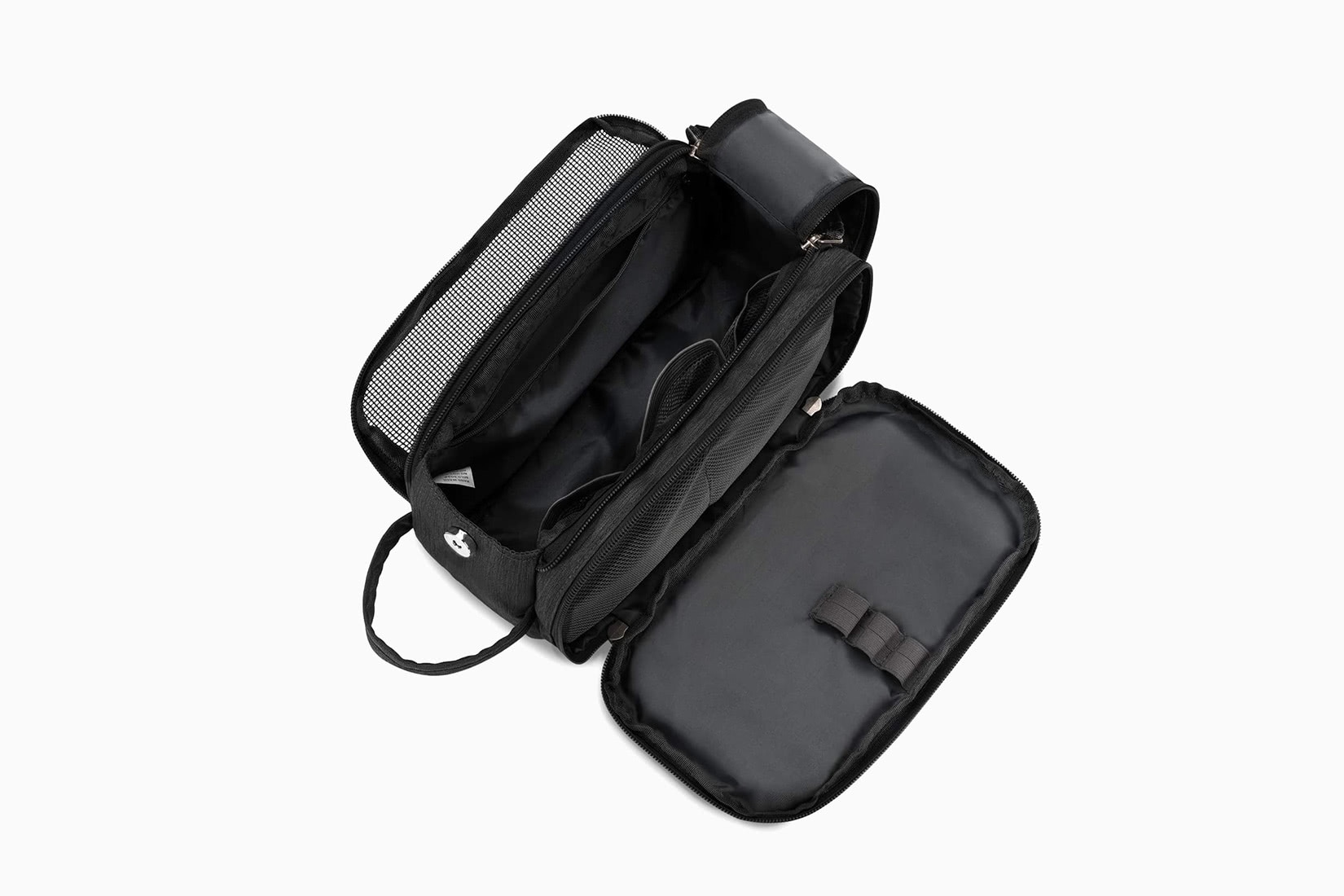 The Gonex Toiletry Bag is a delightful combination of smart, business style, efficient space, and durability. While not exclusively for shaving kits, the handy shaver/brush-sized pockets certainly make for a great choice, whether you require a dopp kit for home or travel.
The ultra-masculine design is timeless and chic, but it's clearly not just a pretty face.
The classic design features dual-way zips, providing easy access to the spacious main compartment which has an abundance of pockets to separate your things.
Complete with an external handle and a packable size, it'll slide effortlessly into your luggage or bag, whatever shape or size.
Something of a Pandora's box (if Pandora was a business executive), the mini size of this dopp kit is deceptively spacious, holding up to 5.5 litres.
Best for: Those who prefer a compact, clean design with copious space for shaving kits, toiletries and other essentials.
Colours: Khaki
Briggs and Riley Baseline Compact Toiletry Kit: Best small dopp kit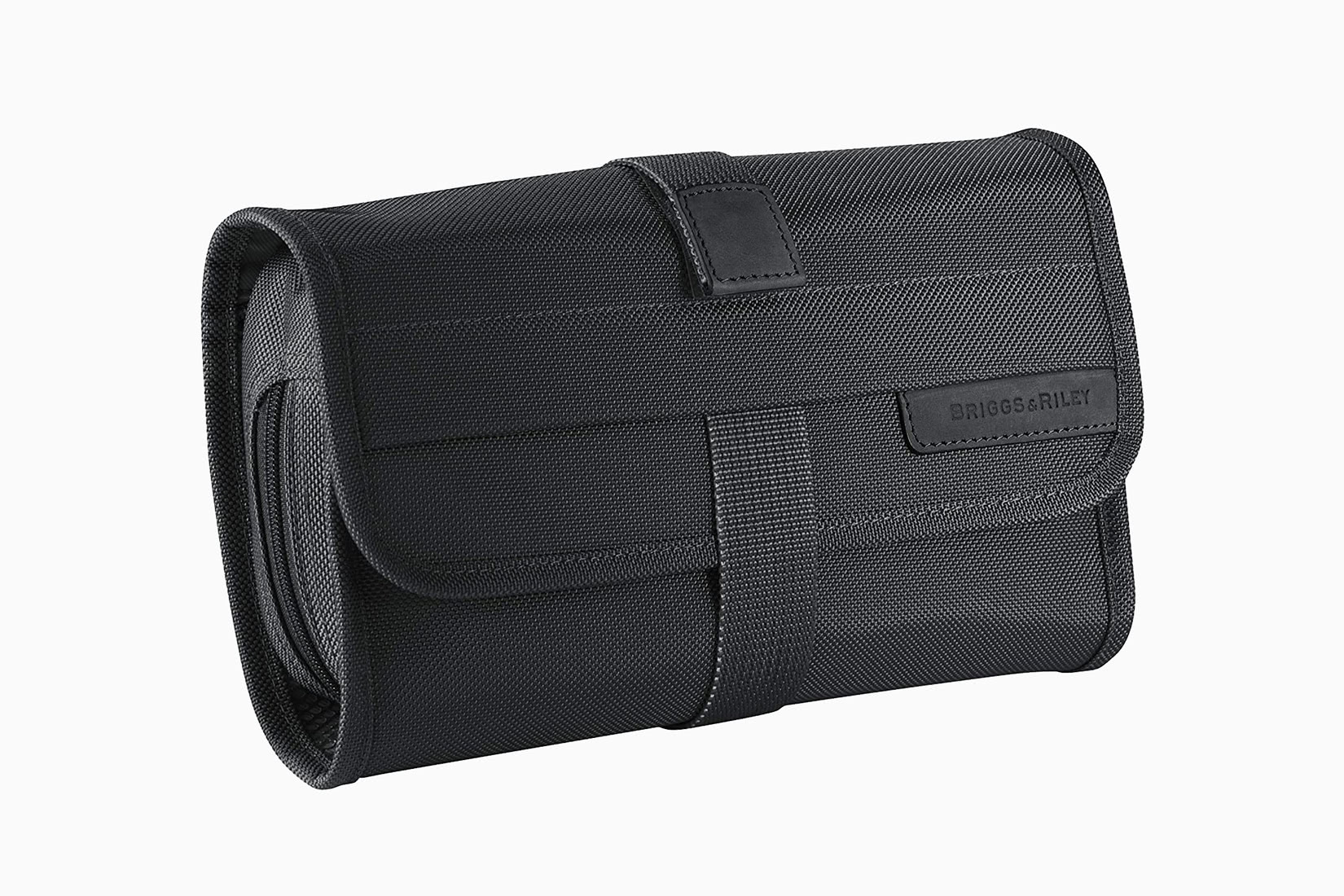 Are you a no-muss, no-fuss kind of person? Is your idea of a nightmare a veritable jungle of pots, bottles and tubes whose functions you know not?
If so, you can bypass a large dopp kit and opt for a nice, compact one just big enough for the absolute essentials.
The tri-fold Briggs and Riley Baseline Compact Toiletry Kit assumes very little space in your bag, and the nylon outer fabric is excellent for resisting general wear and tear, as well as being water-resistant.
Offering three different sized pockets; one waterproof, one transparent mesh and one larger space, you can open out the kit to peruse your toiletries with ease.
Despite being designed specifically for the Briggs and Riley travel tote, it will comfortably slot into any man's day bag or suitcase.
Best for: Those who seek simplicity, minimalism and style in their dopp kit.
Colours: Black
QS Leather Toiletry Organiser: Best large dopp kit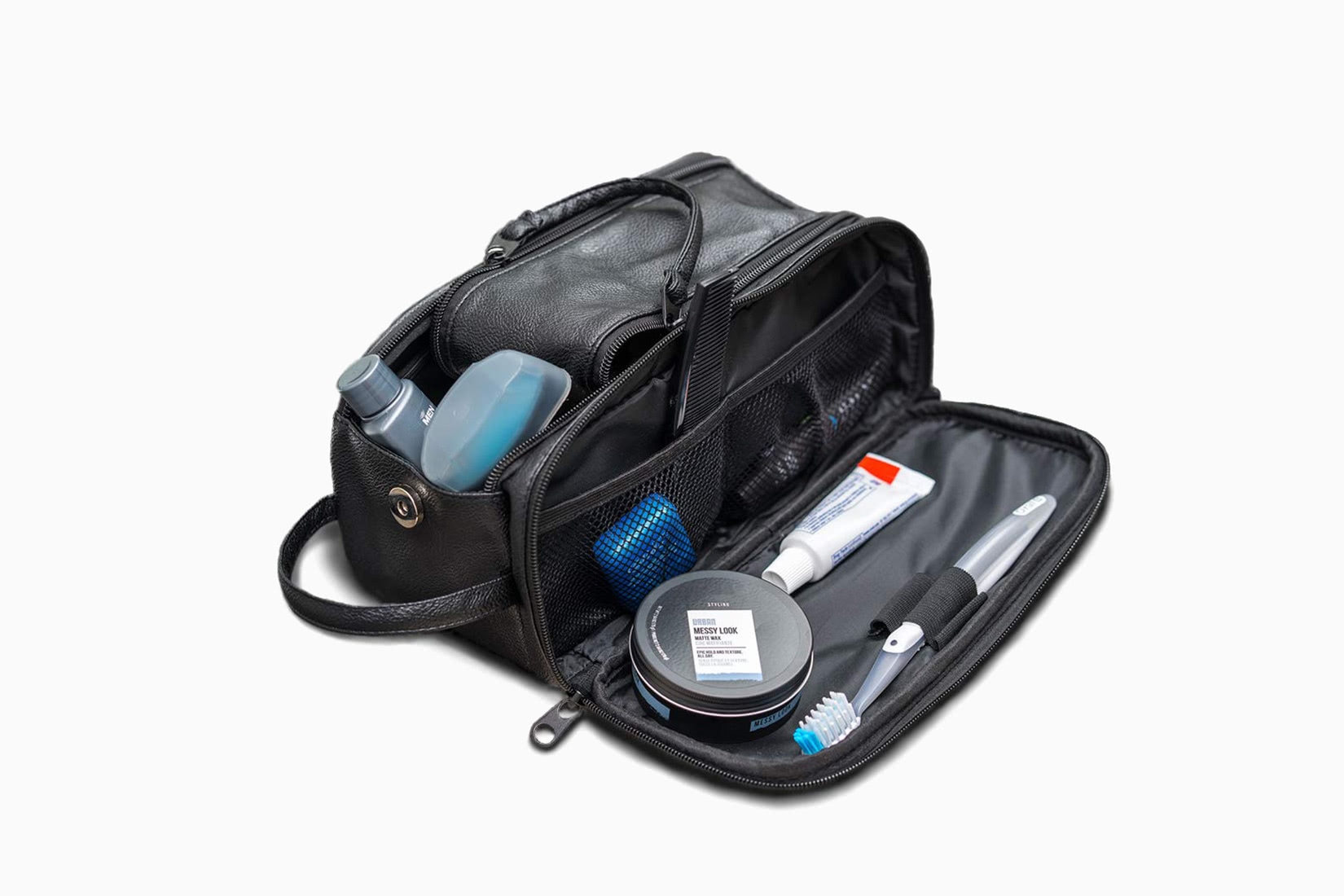 This QS Leather Toiletry Bag could be the alpha when it comes to space. This vegan-friendly leather is both water-resistant and maintenance-free, meaning your only concern is what you're going to fill it with.
Indeed, you can fit rather a lot in this large dopp kit. The primary compartment is super roomy, in addition to a side compartment complete with mesh pockets and rubber loops for keeping wayward items at bay (and yes, we mean toothpaste).
Coming with a waterproof shoe bag and a refillable shower gel bottle included, the kit also offers a magnetic latch, so there'll be no awkward, movie-style contents spillages when you're on the move.
Best for: Those who are always struggling for space, and hate to be selective when packing.
Colours: Black or Brown
Ralph Lauren Wash Bag: Best leather dopp kit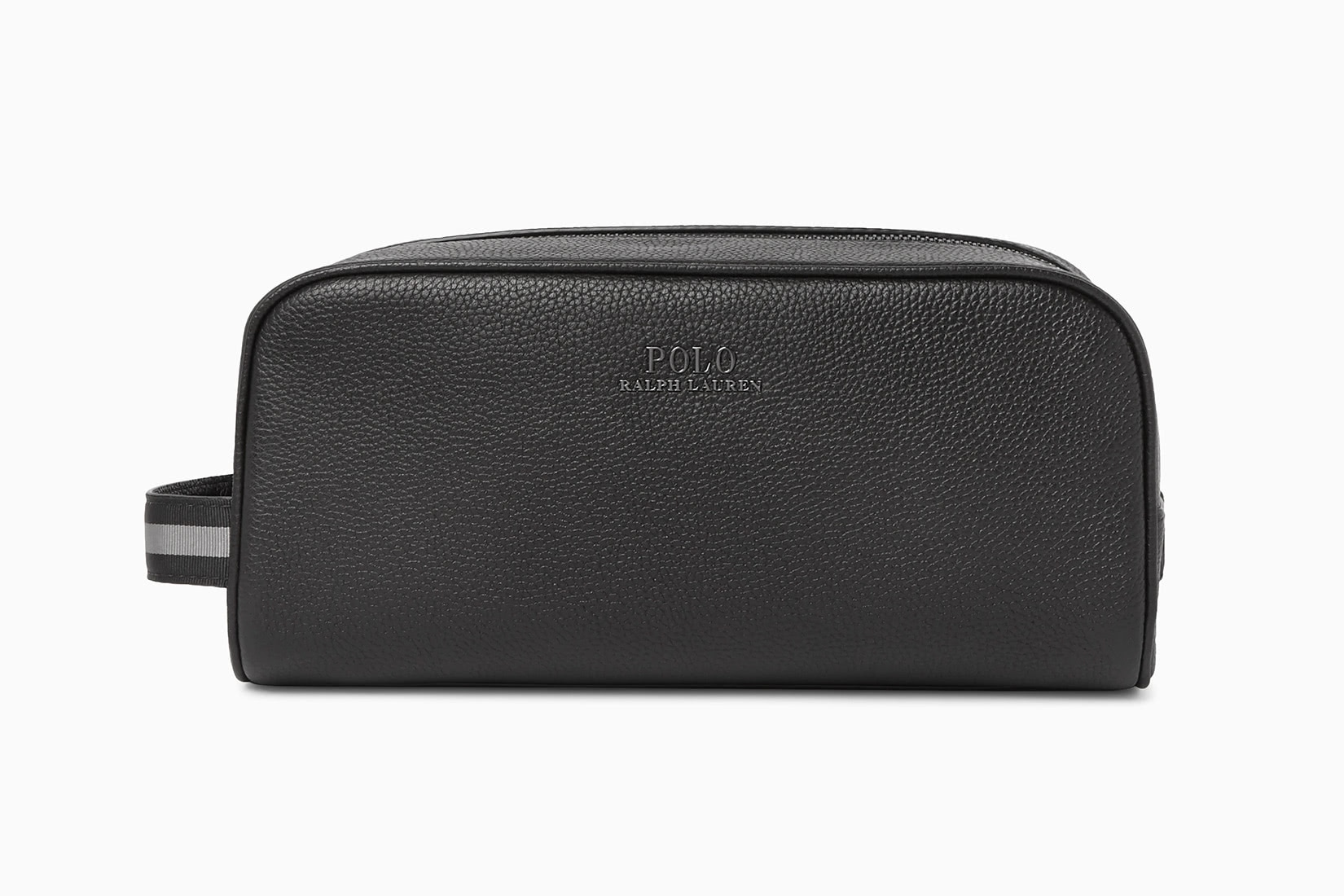 Made from pebble-grain cow leather and adorned with the signature emblem, this wash bag is everything chic about Ralph Lauren, compacted into a toiletry bag.
Minimalist in a way that exudes luxury, the Ralph Lauren Pebble-Grain Leather Wash Bag offers a sturdy shape, slick leather zip tags, and a striped carry strap.
The pebble-grain leather is easy to wipe clean, and there are two zipped inner pockets for organisation.
It's sharp, smart, and functional. If we were to anthropomorphise, this wash bag would be the most debonair gentleman at the ball.
Best for: Those seeking leather shaving kits with a dashing, haute-couture edge.
Colours: Black
Herschel Chapter Toiletry Kit: Best canvas dopp kit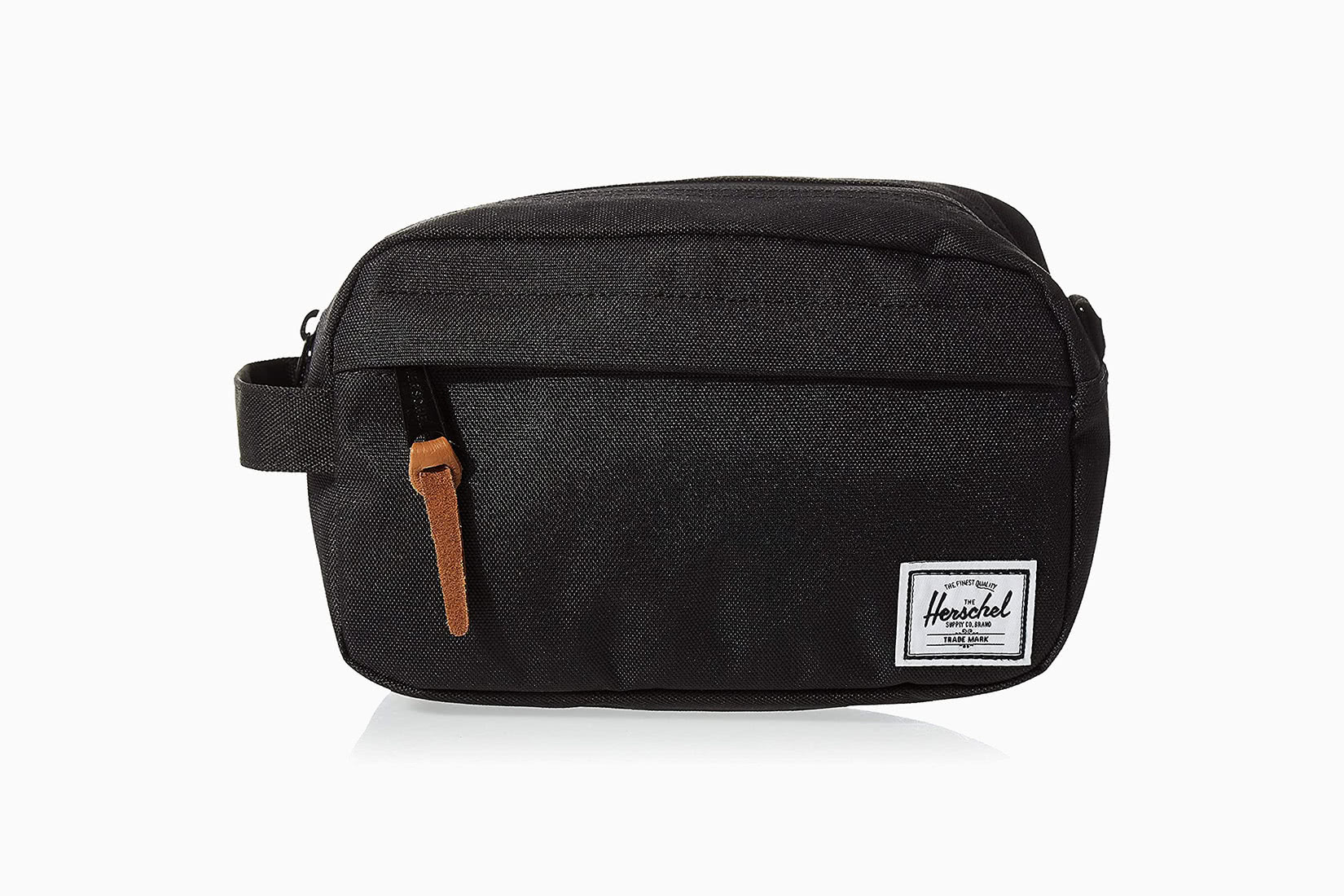 This canvas Dopp kit by Herschel is a great accompaniment to your carry-on bag. It's crafted specifically for the purpose, and as such is compact, versatile, and easily accessible.
The front zipped pocket features a leather pull, which is conveniently ergonomic and ensures you can reach your essential items quickly.
The internal mesh storage sleeve is found within the waterproof main compartment, so you can maintain a notion of orderliness wherever you are.
Thoughtful in design, the exterior handle is great for convenient carrying, plus the whole dopp kit can flatten down nicely when not in use.
Best for: Those seeking a stylish canvas dopp kit which features all the space you need for days out or travelling.
Colours: A wide range including Raven Crosshatch, Glacier, and Navy
Tom Ford Full-Grain Leather Toiletry Kit: Best designer dopp kit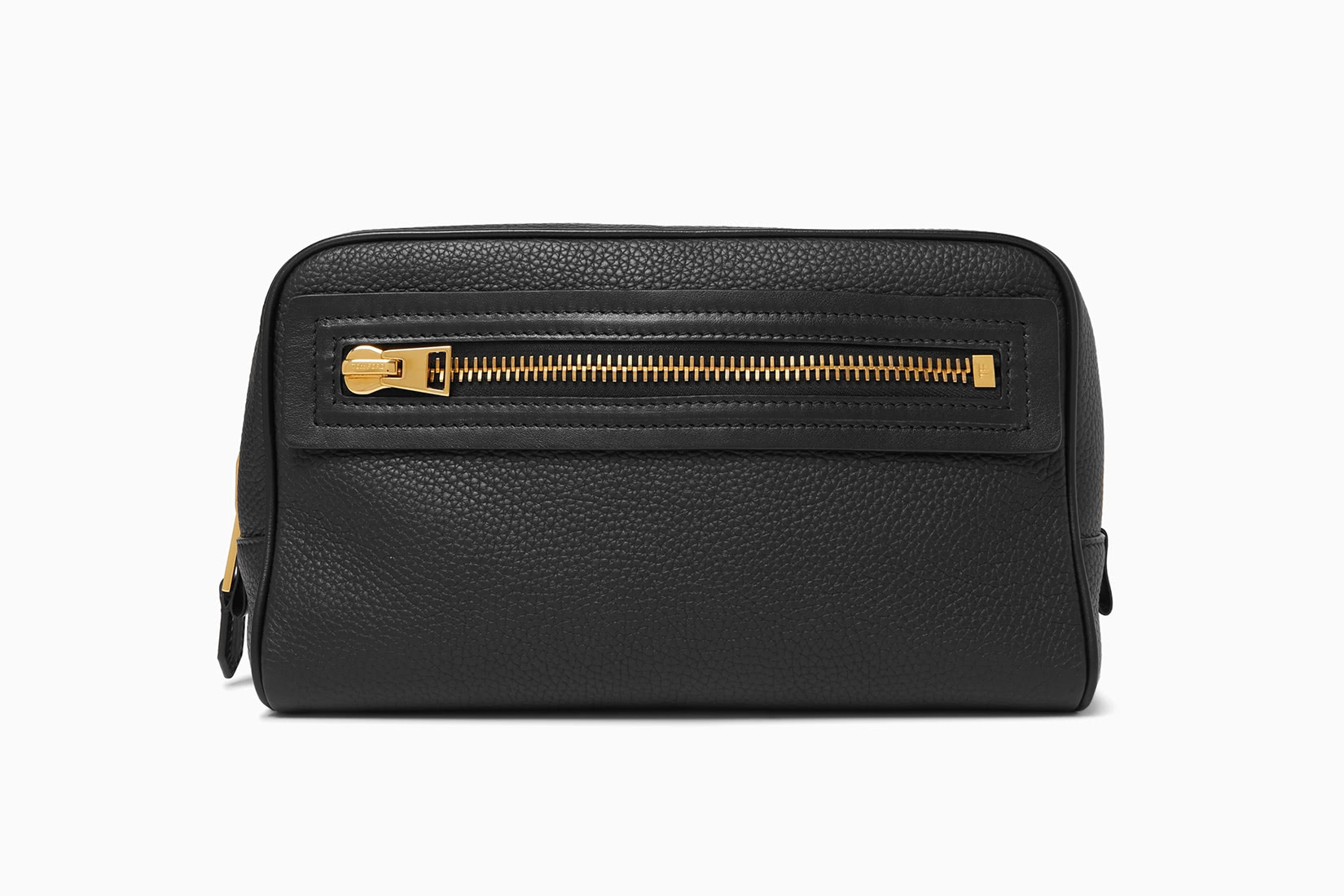 A gem from Tom Ford, this designer Dopp kit is expertly crafted from supple full-grain leather, which is fabulous for disguising wear-and-tear. It even manages to feature a large, gold zip complete with a leather tag, without appearing at all ostentatious. It all just works.
The zipped back pocket is perfect for storing your mini essentials, and the spacious main compartment can easily be packed with your favourite creams, oils and mousses.
The Tom Ford Full-Grain Leather Wash Bag comes with a dust bag included, so you can keep it looking sharp all the time.
Best for: Those seeking a designer dopp kit with a smart, classic aesthetic.
Colours: Black/Gold
Alchemy Goods Elliot Travel Kit: Best eco-friendly dopp kit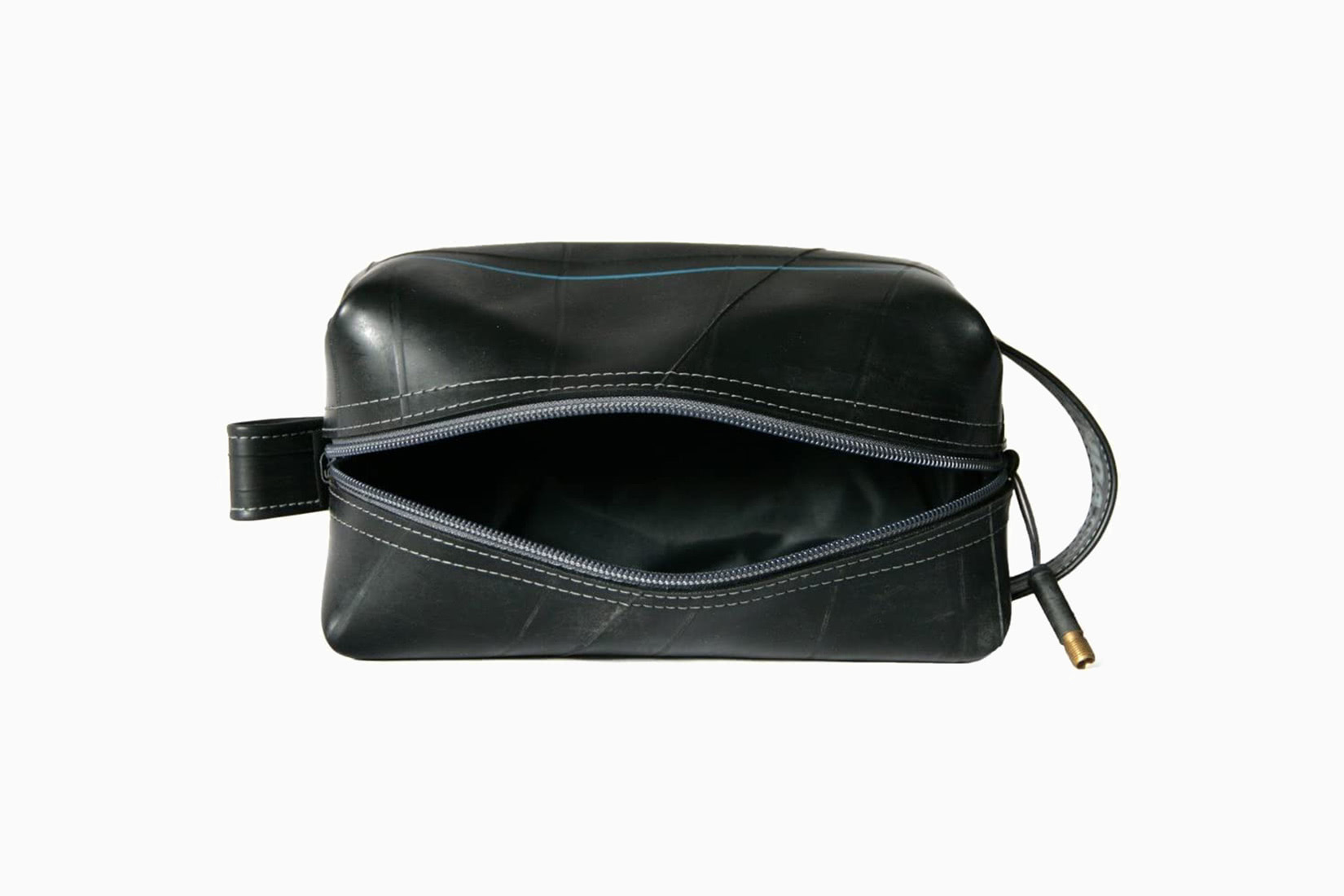 If you fancy yourself as an eco-warrior, you'll unlikely need to look further than the Alchemy Goods Elliot Travel Kit.
With an exterior constructed from upcycled truck inner tubes, this dopp kit makes excellent use of an otherwise waste material. Plus, the zip is made from a reclaimed valve. Result. And, it actually looks cool.
It's as durable as bodybuilding vegan (as in, very), and it's water-resistant. So, it possesses the key features of any good dopp kit, without damaging the planet in its manufacturing. That's definitely a win-win.
It's simple with its single compartment, but it's super roomy so you can fit all of your organic skincare products in there, easy.
Best for: Those who are seeking a simple, slick dopp kit which aligns with their eco-conscious values.
Colours: Coal, Electric Blue, or Lime Green
Toupons Dopp Kit: Best budget dopp kit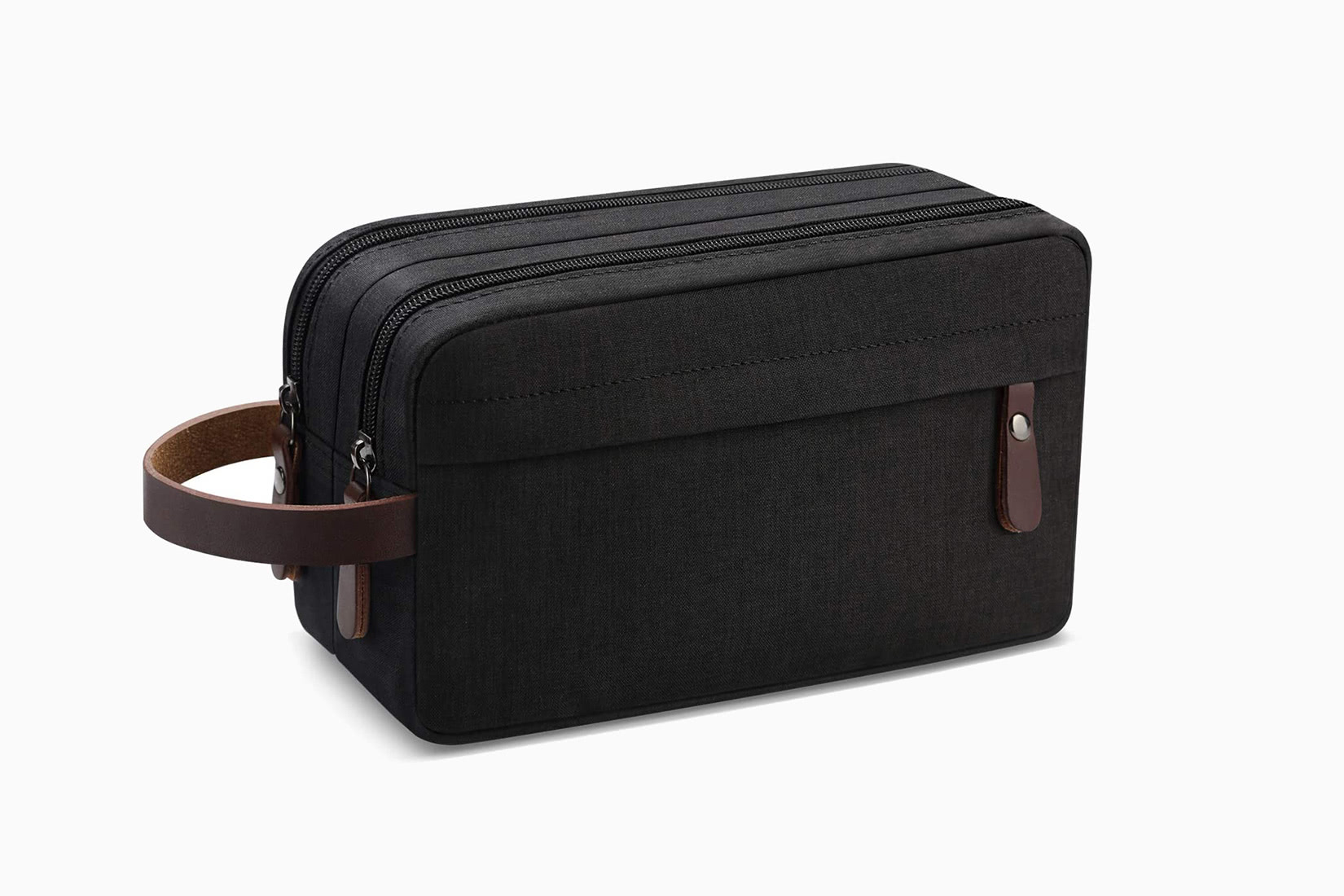 This smartly designed Toupons Dopp Kit would blend right in next to your designer dopp kits, but it's a fraction of the price.
The sharp, angular bag is finished with a high-quality leather handle and zip tags, which is just enough to exude a luxe appeal.
Not forgetting ergonomics; the large zip tags make for super convenient access– a little consideration that makes things just that much easier.
Plus, it's TSA-friendly and crafted with water-repellent material. Of course, both of these features helpfully address common travel anxieties for a stress-free journey.
With three compartments, you can easily organise your essentials, whether it's your shaving kit, toiletries, or even small tech items if you're a toiletry minimalist. With true multifunctionality, you do you.
Best for: Those seeking a wallet-friendly dopp kit which totally outdoes itself in style and functionality.
Colours: Black, Blue, or Army Green
Bottega Veneta Intrecciato Leather Wash Bag: Most expensive dopp kit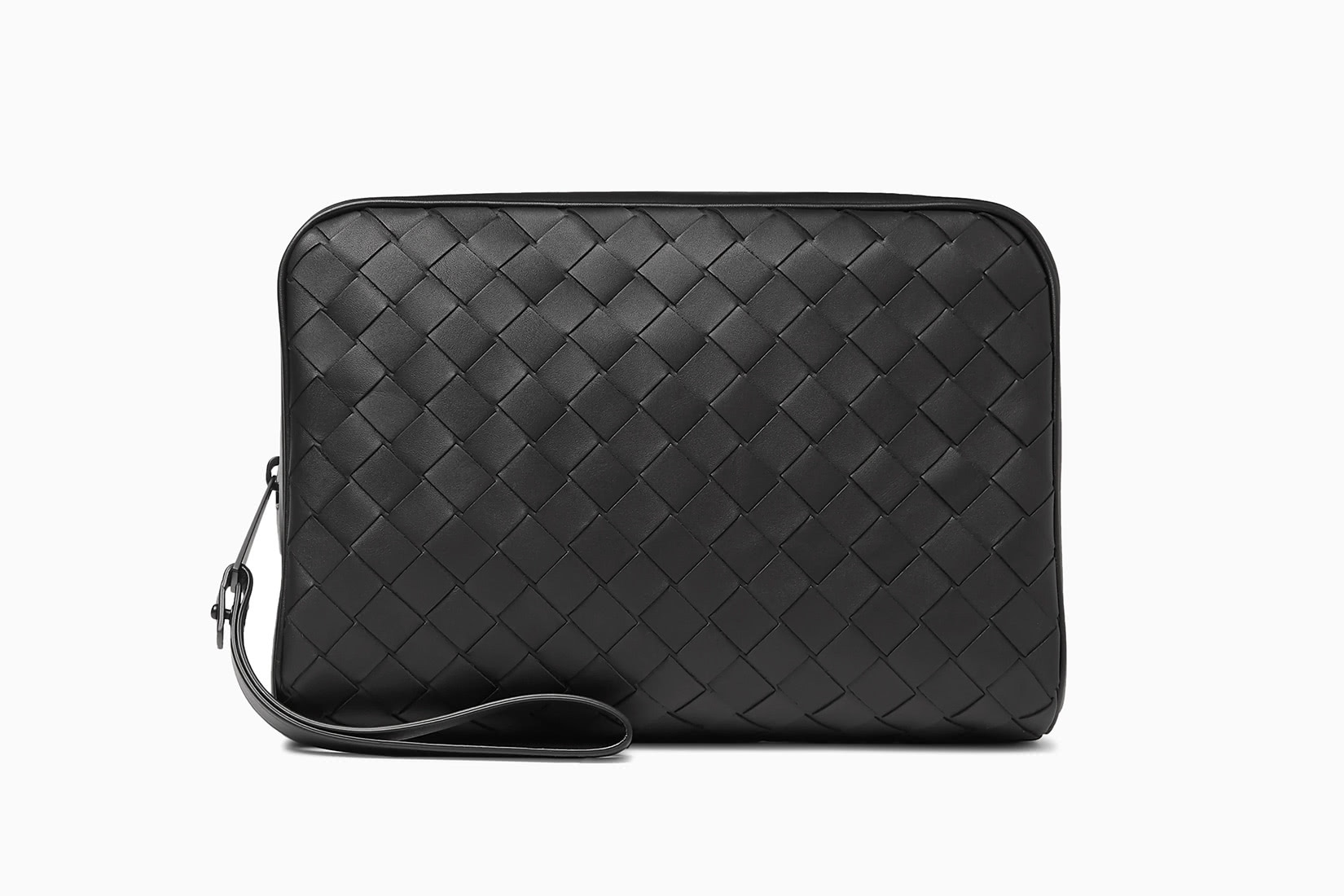 While it's not always typical for a gentleman to express his style by carrying a gorgeous bag, you'll undoubtedly be tempted to take this beauty out on the prowl (despite it technically being a men's wash bag).
The woven-leather Bottega Veneta Intrecciato Wash Bag is up there with the best of them. The attention to detail is characteristic of Bottega Veneta, even in a smaller item such as this one.
It's fitted with a side handle, and it features an internal pocket to separate your smaller essentials. So, it could serve perfectly as a leather shaving kit.
Best for: Those who adore ultimate luxury in every aspect of their life.
Colours: Black
Buyers guide to dopp kits and toiletry bags for men
Okay, so you've come to the (correct) conclusion that utilising a dopp kit on your travels is definitely a wise idea. Leaky toothpaste tubes are so out. Not that they were ever really in. We digress. Basically, you're ready to take the first step to more organised travel, and thus, a more organised life.
But, before you splash out, it's good to consider these aspects when buying a toiletry bag for men:
Size
Yes, size matters. Make sure you're buying a dopp kit which is going to adequately fit your usual toiletries inside, without straining the zip.
If you know you're the kind of person who travels with their whole bathroom cupboard, choose a dopp kit which is sized accordingly.
On the other hand, if you're idea of 'getting ready' is brushing your teeth and cleaning your ears, you can afford to go a little smaller.
Remember: If the main use is for travelling, make sure your new wash bag fits nicely in your luggage.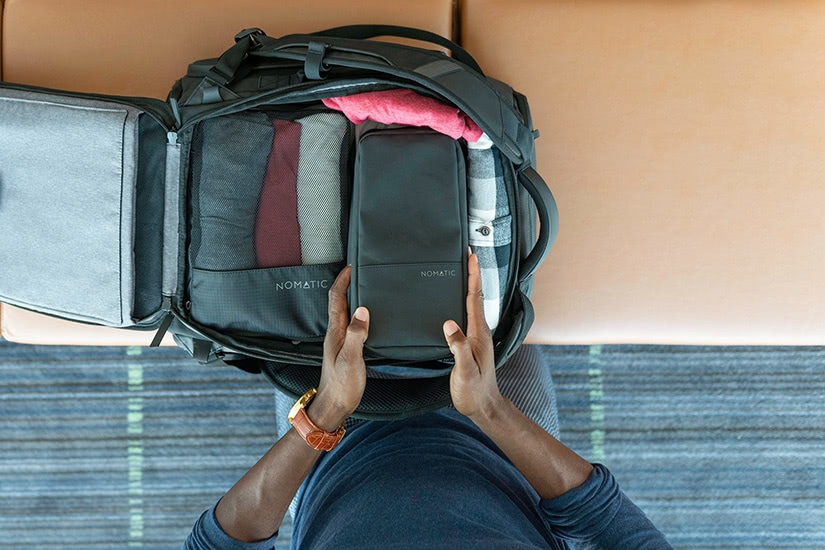 Multi-compartments
Generally, the whole idea of a dopp kit is to organise your things. The keyword here being 'organise'. You'll struggle with that if you're limited to one compartment, no matter how roomy.
So, make sure your new toiletry bag has sufficient compartments that suit how organised you like to be. For example, you might like to have a hair section, a face section, and a miscellaneous section.
Transparent compartments are great, as you can see through them (obviously), and hence avoid any primitive rummaging (not to mention TSA trouble!).
It's great if the dopp kit has an external compartment too, so you can store things you'd like to access quickly and easily.
Hanging dopp kits
Some dopp kits are designed to hang up. These hanging dopp kits are brilliant for quickly opening up to reveal all your toiletries, while the hook should hang easily from any stable rail or rack.
It's best to look for a hook which slides inside the dopp kit when not in use, otherwise, it'll definitely detract from the smart aesthetic, not to mention be very annoying to pack.
If you're planning to use your dopp kit as extra bathroom storage, or you travel a lot and have to pack/unpack regularly, this feature could be perfect.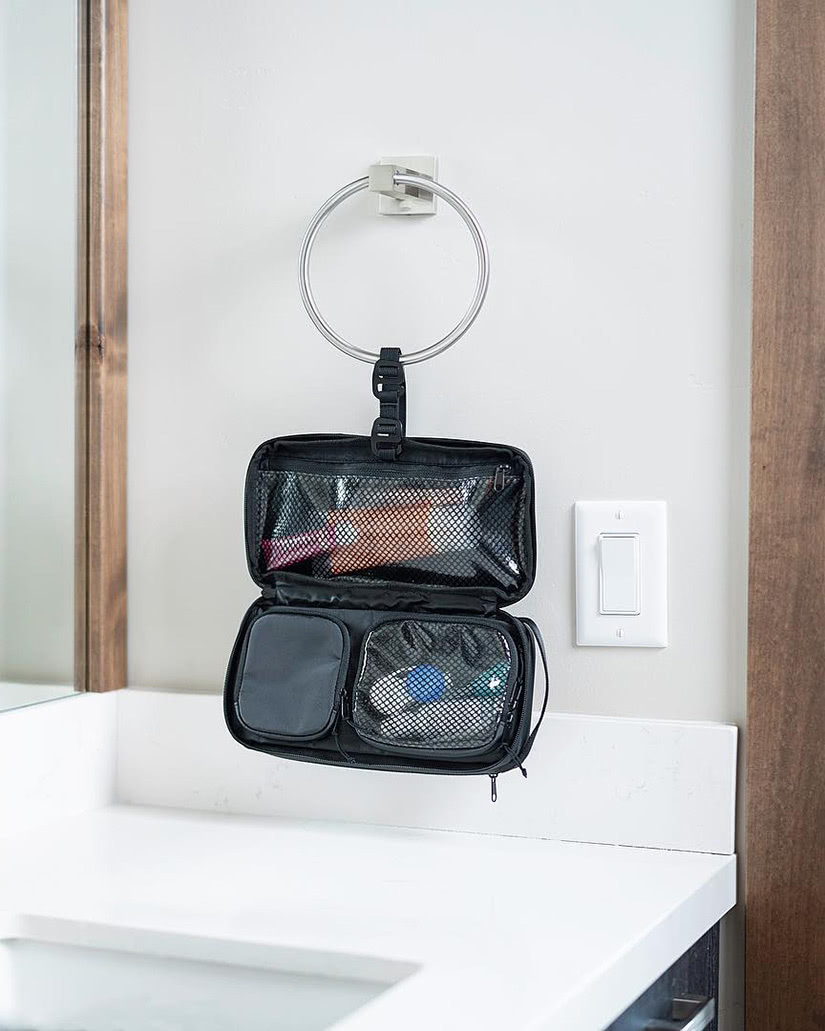 Handles
Depending on how you plan to use your dopp kit, it can be very, um, handy, to have an attached handle. The reason for this is fairly self-explanatory: you'll be able to carry it easily, without having to clutch on for dear life.
And, make sure the handle is adequately attached, with no flimsy stitching. Same goes with the zips.
Waterproof/water-resistant
Since we're talking about toiletries here, it's imperative that your toiletry bag is at least a little bit water-resistant, but ideally, completely waterproof.
You want a situation where, if something was to leak, the offending liquid will stay nice and contained within the toiletry bag rather than seeping all over your clothes.
Fortunately, most dopp kits nowadays feature a degree of water-resistance, but it's good to check.
Frequently asked questions about dopp kits
What does dopp mean in dopp kit?
Dopp kits are so named after their inventor Charles Doppelt, who was a German leather craftsman back in the early 1900s. It began with the less appealing name of 'toilet bag' in the US, before gradually being rebranded with the more appropriate 'Dopp kit'.
What is a men's dopp kit?
A men's dopp kit is a small bag, usually used for carrying toiletry products like face creams, deodorants, hair gels and shaving kits. They're typically made from leather, nylon, or canvas.
What goes in a men's toiletry bag?
Traditionally men's toiletry bags are tailored to fit an array of, well, toiletries, plus things like combs, cotton buds, shavers and brushes.
How do you make a leather Dopp Bag?
It's actually quite an easy (and popular) task to make your own leather dopp bag. All you'll need is a length of quality leather, a lining fabric, a zip, pre-cut and punched leather trim, and a physical pattern. There are plenty of instructional guides available for you to follow, so you can easily get started!