As the old saying goes, it's not the destination that counts, but the journey. It might not seem that way when the destination is home to cloudless blue skies, zesty cocktails on a white sand beach and the first hint of a bronzed tan but, when done correctly, packing for your trip can be almost as exciting.
Up until now, you've likely only remembered lugging a case around the airport or hoisting it into an overhead compartment as being stressful, but selecting the best carry-on luggage for your experience can be a way to flip that memory on its head.
There's a carry-on bag for every occasion: one that's best suited to Europe's historic, cobblestoned streets; another sleek option for the all-important business trip; and a bag for the stylish traveller who won't go anywhere without sunglasses in hand.
Still deciding where to go next? While you're in the planning stages, take a look through our guide and find the perfect carry-on suitcase for you.
The 17 best carry-on luggage for all travel styles
Away The Carry-On: Best overall carry-on luggage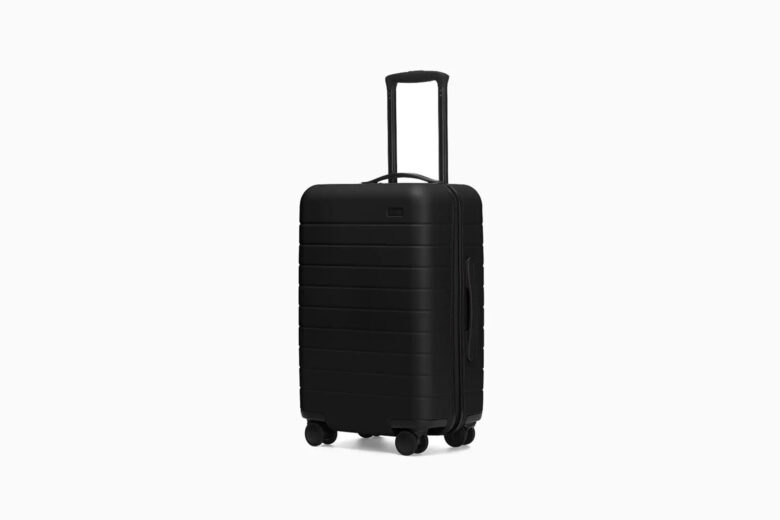 Known to many as "Instagram's favourite suitcase", Away The Carry-On is a favourite of influencers and celebrities alike, thanks to its limited-edition designs and plenty of personalisation options. Its sleek aesthetic and clever interior layout is paired with a durable polycarbonate hard shell and 360° spinner wheels to create the ultimate carry-on bag fit for any trip.
This bag features two compartments — one designed for clothes and the other for harder items like shoes and toiletries. A hidden water-resistant laundry bag provides space for yesterday's outfit and a compression pad frees up even more space for those last-minute essentials you forgot to pack earlier. A TSA-approved lock keeps everything safely away from rifling hands.
One of the brand's other impressive features is its battery pack. Able to charge anything that connects via a USB, it takes eight hours to reach 100% battery life and, from there, can charge an iPhone five times. Stylish and very versatile, Away consistently releases luggage that looks great and feels great, no matter where you're going.
| | |
| --- | --- |
| Size: | 55 x 33 x 23 cm / 21.7 x 13.7 x 9″ |
| Material: | Polycarbonate |
| Colors: | 15 including Black, Navy, White |
Horizn Studios: Best high-end carry-on luggage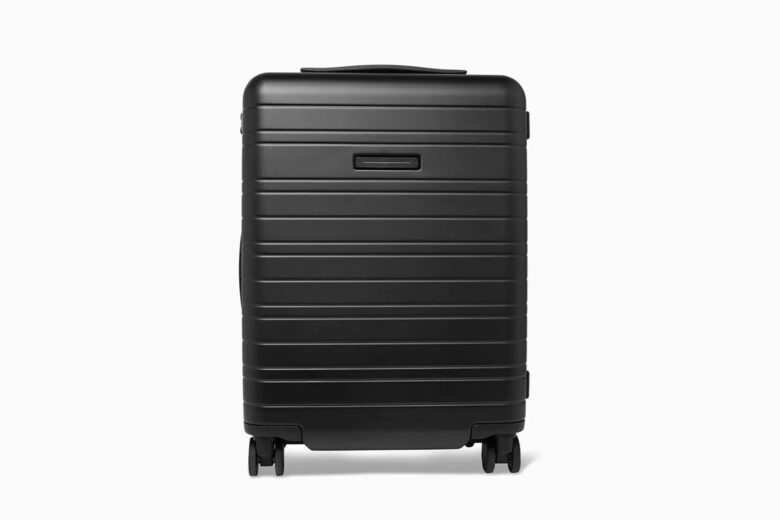 Add a touch of luxury to your getaway with the Horizn Studios Polycarbonate Carry-On Suitcase. Part of the next generation of 'smart' luggage, this is the mini suitcase to proudly bring along for a seamless journey from start to finish.
Even the most delayed flights pass by quickly thanks to this case's inbuilt (and removable) 10,000 mAh battery charging pack. This allows your phone to recharge up to six times, giving you the opportunity to play music, scroll through social media or plan your next journey without worrying about running low on charge. It should go without saying that Horizn Studios only produce top quality carry-on bags, made with strong black polycarbonate and an Italian leather outer pocket for a 15″ laptop.
A laundry bag and protection bag make it easy to split up items at the beginning and end of the trip, and a leather luggage tag adds a touch of class while preventing any stress of lost items. 360° Hinomoto spinner wheels engineered in Japan allow you to effortlessly glide across all terrains and space-efficient inner compartments separate clothes from electronics, important documents and anything else.
| | |
| --- | --- |
| Size: | 55 x 40 x 20 cm / 21.6 x 16 x 8" |
| Material: | Polycarbonate |
| Colors: | 5 including Black, Olive, Sand |
Rockland Melbourne: Best value carry-on luggage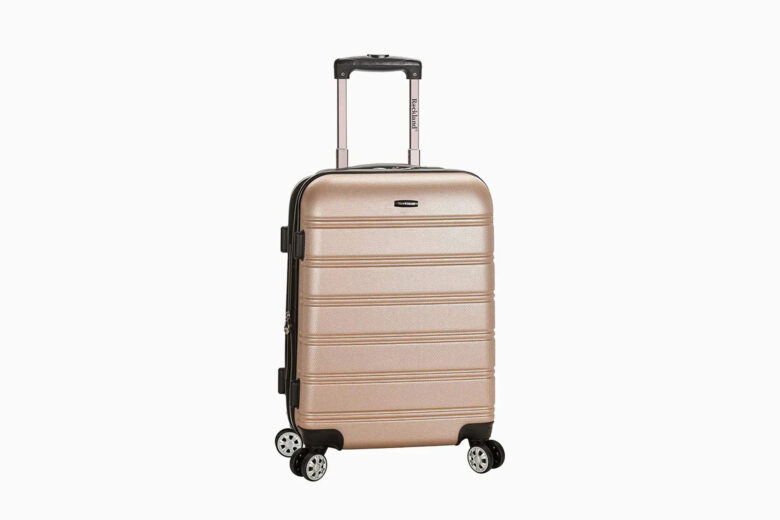 One way to justify buying extra treats on holiday is to choose a high quality but affordable bag for carrying your belongings from A to B. The Rockland Melbourne Hardside Expandable Spinner Wheel Luggage is an excellent solution for doing just that: at under $50 it manages to combine lightweight but durable material with a sturdy ergonomic aluminium telescoping handle and enough different internal compartments to ensure you always know where your passport is.
Available in almost every colour under the sun, this luggage is a great choice for quick trips and spontaneous adventures, protecting the contents inside while elegantly assisting you to all corners of the globe.
Multi-directional double spinner wheels allow for easy manoeuvrability and, at only 3.4kg (7.5lbs), this is one that offers plenty of internal space to carry any number of outfit changes without weighing you down. Carrying home more than you arrived with? Expandable zippers make bringing home extra gifts an easy decision.
| | |
| --- | --- |
| Size: | 56 x 34 x 23 cm / 22 x 13.5 x 9″ |
| Material: | ABS |
| Colors: | 36 including Black, Blue, Magenta |
Samsara: Best tech carry-on luggage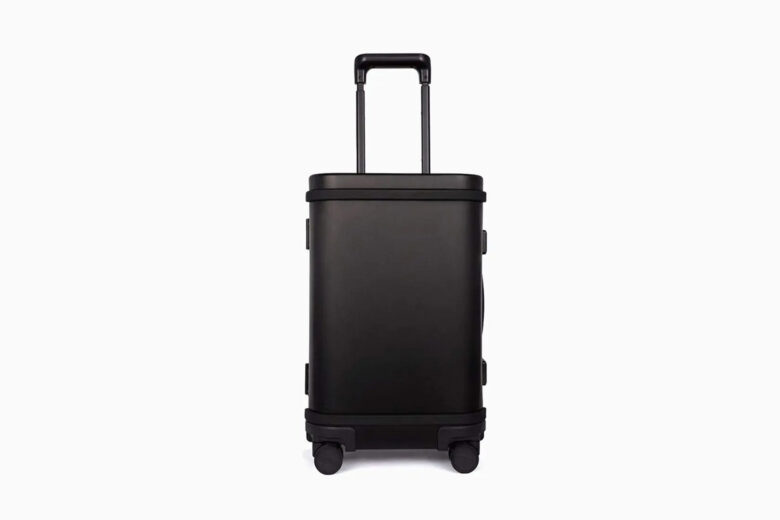 A tech-savvy companion is the holiday helper you didn't know you needed. Encompassing all of your needs while throwing in some extra features designed to make your life easier, the Samsara Luggage Smart Carry-On Suitcase is the carry on necessity for travellers who are often racing from one place to another.
Its thick but lightweight aluminium casing is complemented by multiple innovative features, like a USB-C port that can quickly charge your devices while on the move, an interior LED light system that automatically switches on when it's dark outside and the ability to sync to a smartphone.
This latter trait can alert you when the case is being taken away or opened out of sight, reducing all of those fears of your bag being stolen once and for all. If that wasn't enough, its flat-top surface functions as a personal mobile desk for laptops, making it the best travel suitcase for frequent travellers and those who work on the go. Of course, its sleek, black design comes complete with everything you'd expect from high-quality luggage: double TSA approved locks, a fire-proof shell, 360° high-quality spinner wheels and even a set of packing bags for easy organisation.
| | |
| --- | --- |
| Size: | 55 x 33 x 23cm / 22 x 13 x 9″ |
| Material: | Aluminium |
| Colors: | Black, Grey |
Fabbrica Pelletterie Milano: Most stylish carry-on luggage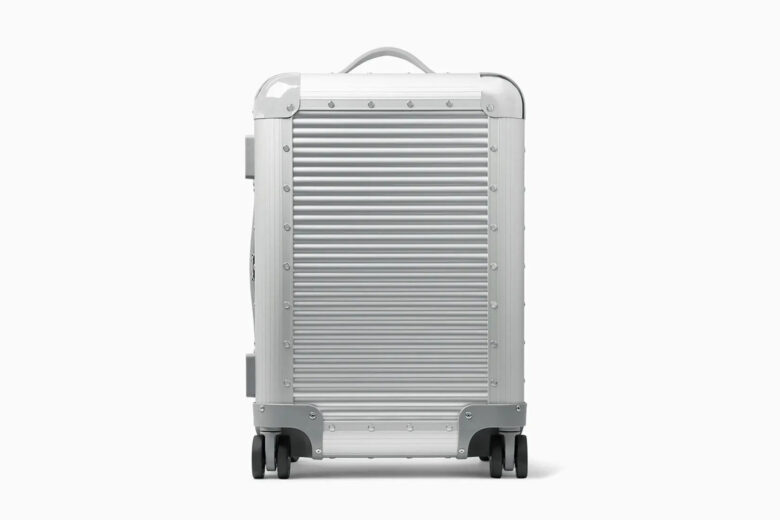 Our favourite choice to pull out again and again for weekend trips is the Fabbrica Pelletterie Milano Aluminium Carry-On Suitcase. Made in collaboration with industrial designer Marc Sadler, it's a piece of luggage you'll look forward to carrying almost as much as you look forward to the holiday itself.
Take it on a city break and stroll through European streets, watching as the aluminium shell catches the reflection of the sunshine. This is a carry-on suitcase designed with style in mind and it follows through with exactly that, promising an optimum-quality finish on everything from the Japanese-developed wheels to the leather handles and interior straps. With its maxi butterfly clasps and integrated TSA locks, this carry-on case is cleverly designed to make any typical holiday stress a complete non-issue.
A zippered pouch and internal divider allow for safekeeping of travel documents, portable chargers and a spare pair of sunglasses, while a roomy main compartment has plenty of space for everything else.
| | |
| --- | --- |
| Size: | 53 x 35.5 x 26 cm / 21.3 x 14 x 10.25" |
| Material: | Aluminium |
| Colors: | Black, Grey |
Kenneth Cole Reaction: Best lightweight carry-on luggage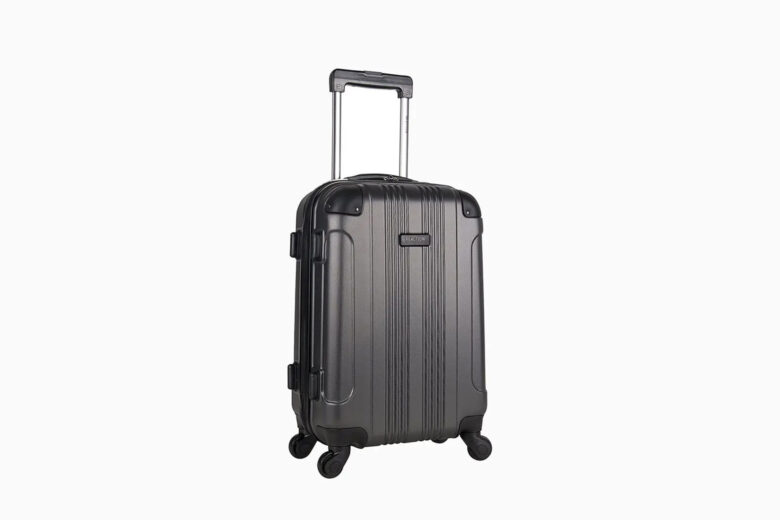 Almost everyone knows the stress of anxiously weighing your hand luggage at the check-in desk and praying that the extra jacket you threw in doesn't push you over the allotted weight restriction. The best way to offset at least some of this anxiety is to go for a carry-on bag that's lightweight.
Save the precious kilos for your belongings rather than the bag itself by choosing a bag like the Kenneth Cole Reaction Out Of Bounds Carry-On. Weighing only 2.8kg (6.25 lbs), it promises to meet almost all domestic and international airline requirements with enough space to make sure you're covered for every holiday occasion. Cram in any number of changes of clothes, books, shoes and accessories without worrying about paying extra at the check-in gate and utilise the space thanks to the two spacious fully-lined compartments.
Despite its lightweight nature, this is a bag that won't fall apart when thrown around. Its water-resistant hardshell comes with moulded corner guard reinforcements that absorb and deflect shock for maximum impact resistance. Available in a whole rainbow of colours, this is an ideal bag for the traveller who values style and practicality in one functional piece of luggage.
| | |
| --- | --- |
| Size: | 55 x 37 x 22 cm / 21.75 x 14.5 x 8.5" |
| Material: | ABS |
| Colors: | 14 including Charcoal, Blue, Green |
Samsonite Winfield 2: Best carry-on luggage under $100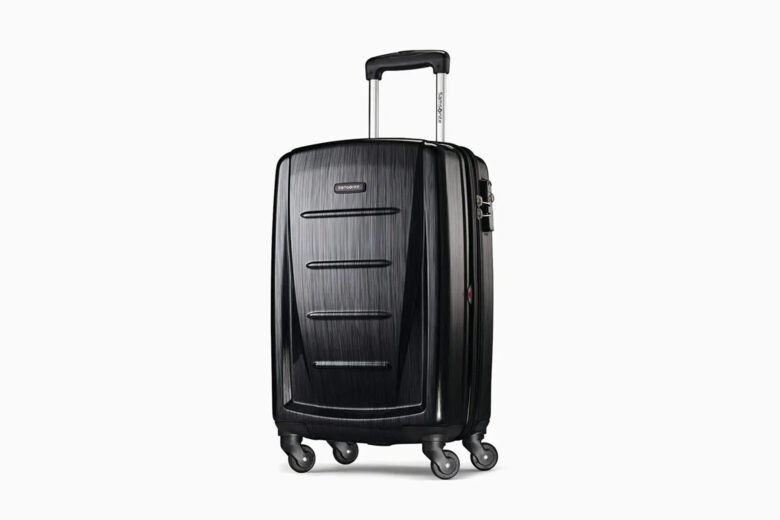 Combine quality with value with Samsonite's Winfield 2 Hardside Expandable Luggage. With a unified brushed pattern on the front, this carry-on bag is effortlessly stylish without too high of a price tag. Its brushed front and back shells are designed to minimise any potential scuffs or scratches, making it a perfect bag to use again and again while retaining a brand new finish.
Side-mounted TSA locks deter anyone else from easily accessing the bag and multi-directional spinner wheels boast of effortless mobility, even if you find yourself running to the boarding gate. Make unpacking a five-minute job once you arrive at your destination by effortlessly sorting different belongings into unique compartments before you take off.
Lightweight and durable, it absorbs impact by flexing under stress and popping back into its original shape while protecting everything inside. Travel with this carry-on and rest assured that everything will look exactly as it did at the start of your journey.
| | |
| --- | --- |
| Size: | 51 x 34 x 23 cm / 20 x 13.5 x 9″ |
| Material: | Polycarbonate |
| Colors: | 11 including Black, Ice Blue, Baby Pink |
Delsey: Best carry-on luggage for Europe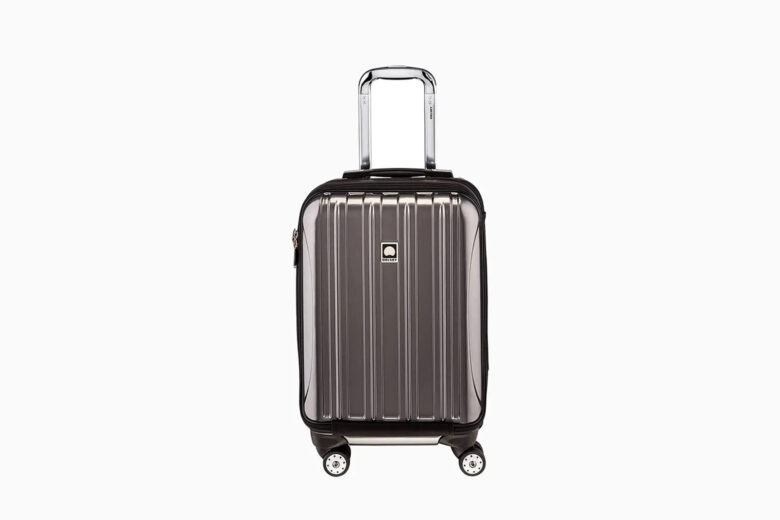 Where to next? A stroll through the streets of Paris, a hike up the mountains of Switzerland or a day at the beach in Valencia? Europe's incredible and varied climates offer plenty to explore and so it's crucial to have a carry-on case that will easily tackle all of the above.
The Delsey Paris Helium Aero Hardside Expandable Luggage comes with everything you'll need for a trip to any European destination, with its individual mesh pockets for computer accessories or smaller items like tickets, passports or books. Double spinner wheels allow you to hop on a plane, squeeze onto a bus or catch a train without any fears of stumbling and a large capacity means everything can comfortably fit inside. An easy access front compartment with an integrated padded sleeve offers protection for a laptop or tablet while web straps and a zippered divider secure clothing and help minimise wrinkles.
This is a suitcase designed for the frequent traveller with all of the features that you could possibly need on a European jaunt. Expandable, smooth and scratch-resistant, it's a case that takes the stress out of your holiday.
| | |
| --- | --- |
| Size: | 48 x 33 x 24 cm / 19 x 13 x 9.5″ |
| Material: | Polycarbonate |
| Colors: | 12 including Blue, Charcoal, Platinum |
Coolife: Best carry-on luggage for the USA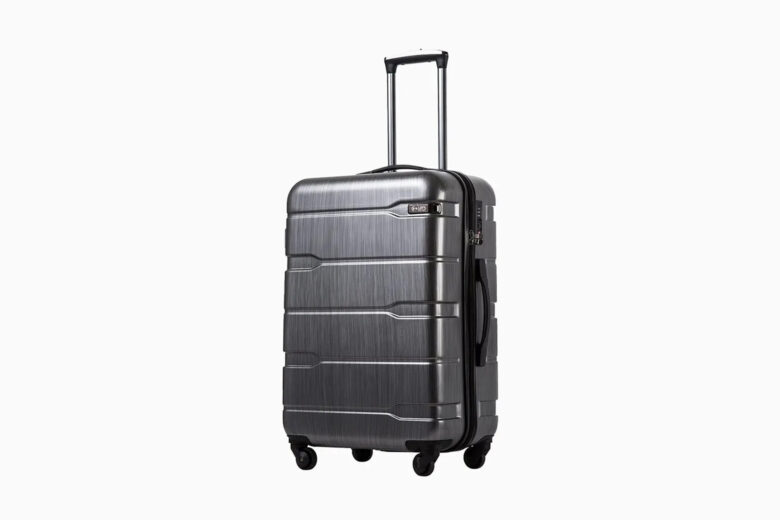 Coolife prides itself on its thick, durable cases that can tackle any amount of throwing around during the journey from one place to another. An affordable mid-range option, it's a brand that's rewarded with five-star ratings again and again for its high quality and impressive features.
The Coolife Luggage Expandable Suitcase is an ideal option for long-distance trips, where it's important to keep comfort, functionality and reliability close to hand at all times. The last thing you want when flying transatlantically is a broken bag. And there's a slim to zero chance of that happening, as Coolife boasts of its ABS+PC hard plastic shell, which it claims is highly suited to rigorous modern transportation and rough treatment from baggage handlers.
And it's just as reliable on the inside, with a 3-dial combination lock to keep your items tucked away, and mesh pockets to keep everything within a visible and obvious distance. Its fully-lined interiors promise to keep liquids away from your clothes and the 3-step pure aluminium telescoping handle is ideal for dragging a case all the way to that hotel that promised to be closer to the airport than it actually is.
| | |
| --- | --- |
| Size: | 53 x 38 x 22 cm / 21 x 15 x 8.5" |
| Material: | ABS+PC hard plastic |
| Colors: | 4 including Charcoal, Teal, Burgundy |
Samsonite Underseat: Best carry-on luggage for business travel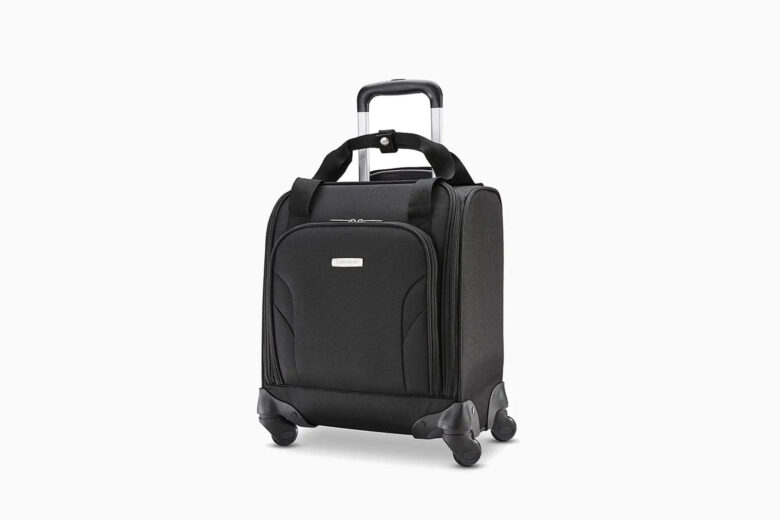 The Samsonite Underseat Carry-On Spinner fits under most airline seats, which means that if you're on a short trip purely for business, you can fit in all of the essentials without lugging around a larger bag. This is a suitcase designed for the business traveller, with a built-in USB port that promises to save the day if your Zoom meeting happens to run on for longer than anticipated.
With a thick handle for easy transportation and quick stash exterior pockets keeping important documents close to hand, its ergonomic, push-button locking handle keeps everything inside safely tucked away. Its main compartment features a padded laptop pocket that fits laptops up to 13.3 inches and a smart sleeve on the back means it's effortless to loop this carry-on bag over the back of a larger suitcase.
Understated, classy and the epitome of businesslike, this is a bag that will assist all of your work-travel needs without being overbearing or especially heavy.
| | |
| --- | --- |
| Size: | 42 x 34 x 23 cm / 16.5 x 13.5 x 9" |
| Material: | Tricore Nylon |
| Colors: | Black, Blue, Purple |
AmazonBasics Hardshell Spinner: Best affordable carry-on luggage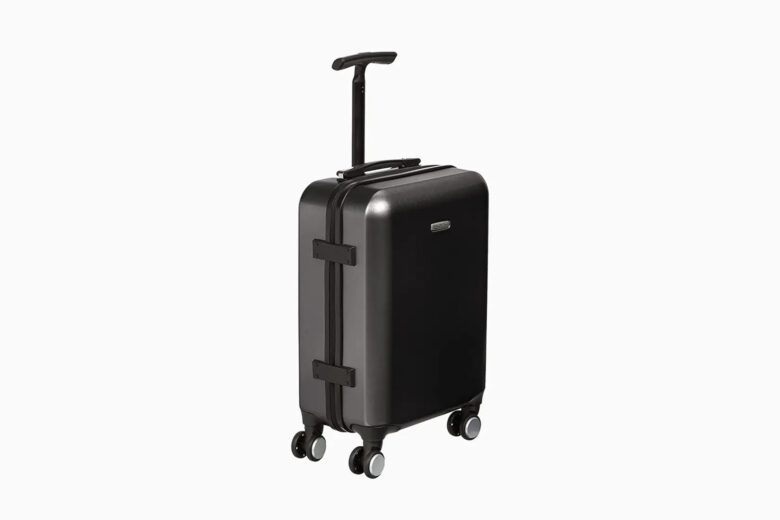 AmazonBasics combines everything that a good quality carry-on bag needs for less than $35. The AmazonBasics Hardshell Spinner Suitcase Luggage comes in multiple colours with a brushed metallic finish for a stylish choice that's very accessible. Spacious enough for the essentials, it's a carry-on bag suitable for a wide range of trips, from an overnight stay to a long weekend.
Its multiple internal compartments help you to organise your belongings and a hard-shell case ensures nothing gets broken. Multi-directional double spinner wheels keep control while moving, allowing you to turn corners and navigate tight spaces effortlessly without having to pick the suitcase off the ground. Keep accessories, devices and toiletries close by with tie-down straps that are sturdy and durable. It promises a minimal, sleek look paired with tough security and reliability; an easy choice for the frequent flyer.
Drag it down bumpy sidewalks, throw it on the counter during baggage inspection and pull it through almost any kind of terrain without worrying about scratches, scuffs or damage.
| | |
| --- | --- |
| Size: | 39 x 23 x 58 cm / 15.35 x 9.25 x 22.83" |
| Material: | Polycarbonate |
| Colors: | 5 including Black, Gold, Rose Gold |
Victorinox Spectra 2.0: Best carry-on luggage with laptop compartment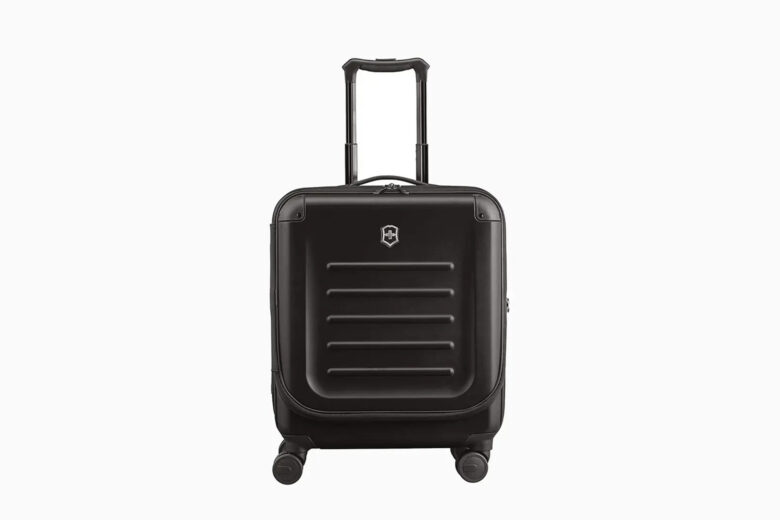 There's no fear quite like the fear of accidentally smashing your laptop screen while travelling. And the stress of having to throw your laptop into the main compartment of your bag, carefully placed between folded clothes and toiletries, is almost unparalleled. Offset all of that stress before your flight has even taken off with a bag designed to keep your laptop safely in one place.
The Victorinox Spectra 2.0 Dual-Access Hardside Spinner Suitcase is sturdy enough to give you peace of mind that, when you arrive at your destination, your laptop will be in exactly the same spot and quality as it was when initially packed away. Despite its thick exterior, it's a lightweight bag with a scratch-resistant matte finish and protective corner guards.
Peace of mind is accompanied by an easy carrying experience, thanks to this bag's dual-trolley aluminium handle system with a comfortable grip and an easy-roll bottom with a soft tread for a smooth experience across any surface. A front zippered, quick-access door means anything you need to access quickly is only a zipper away while a roomy main compartment holds endless possibilities.
| | |
| --- | --- |
| Size: | 25 x 42 x 55 cm / 21.7 x 16.5 x 9.8" |
| Material: | Bayer polycarbonate |
| Colors: | 6 including Black, Red, Navy |
Travelpro Maxlite 5: Best softside carry-on luggage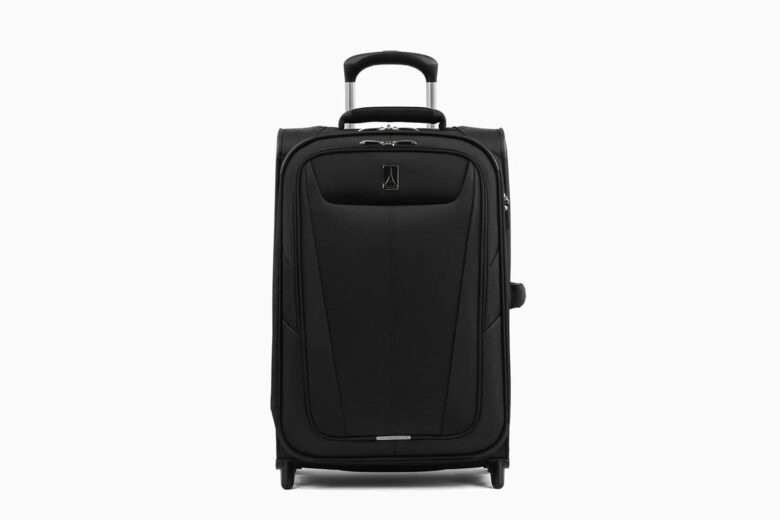 Soft side bags are best for those who might want to sneak an extra outfit change at the last minute, or those who forgot to stock up on suncream until they arrived at the airport lounge. In short: their flexibility means they'll easily accept another few items while still managing to easily close.
One of the best on the market is the Travelpro Maxlite 5, an ultra-lightweight, ultra-durable expandable Rollaboard suitcase that maximises your packing power without threatening to burst open. Its ergonomic, high tensile strength zipper was designed for just that, which means if you'd like to stock up on duty-free goods at the airport, this is the bag to choose.
On the inside, an H20 Guard protects the interior lining from moisture and an expandable capacity with a tapered shape that prevents the carry-on from tipping over no matter how heavily weighted it becomes. Another area this carry-on bag truly shines through is with its Limited Lifetime Coverage promise, which means that, if your bag gets broken during transit, the company will cover the cost of repair for the first year.
| | |
| --- | --- |
| Size: | 58 x 37 x 23 cm x 23 x 14.5 x 9" |
| Material: | Stain resistant, water repellent polyester |
| Colors: | 6 including Black, Blue, Rose |
Samsonite Omni: Most robust carry-on luggage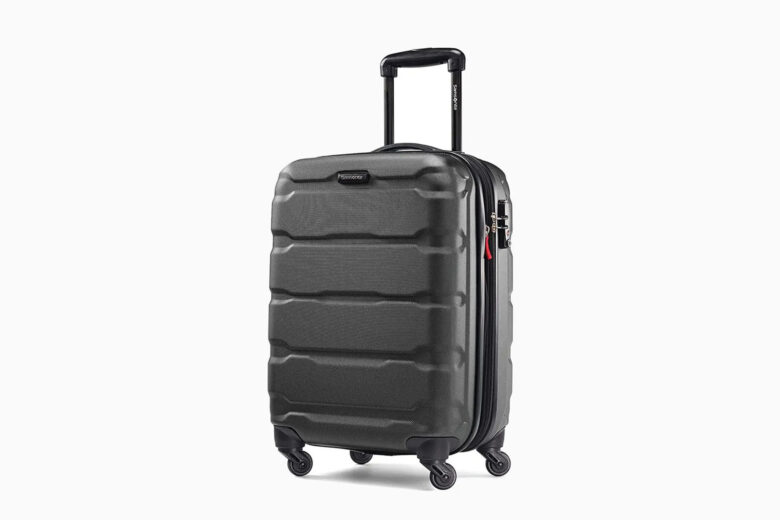 It's hard not to wince when you watch the well-meaning but enthusiastic hotel staff drop off your belongings with a rather loud thump on the floor. The Samsonite Omni PC Hardside Expandable Luggage is designed for such eventualities, with a robust outer covering made from highly impact-resistant plastic that'll combat even the hardest drops to the ground.
This versatile bag comes with plenty of space and an expandable zipper for any last minute holiday gifts. It also offers an internal compression to keep clothes neatly pressed throughout your journey. A micro diamond polycarbonate casing is responsible for this bag's impressive durability and it's also extremely scratch resistant, promising to keep your case beautiful no matter how many miles it covers.
Four oversized spinner wheels are engineered to be ultra-lightweight and mobile while rolling comfortably beside you on your journey. Samsonite is known for its innovative offerings in the luggage industry and this bag is a great choice for those who value style and comfort and don't want to take any chances on belongings breaking during the journey.
| | |
| --- | --- |
| Size: | 56 x 38 x 24 cm / 22 x 15 x 9.5" |
| Material: | Micro diamond polycarbonate |
| Colors: | 13 including Black, Silver, Teal |
Eagle Creek Gear Warrior: Best wheeled duffel carry-on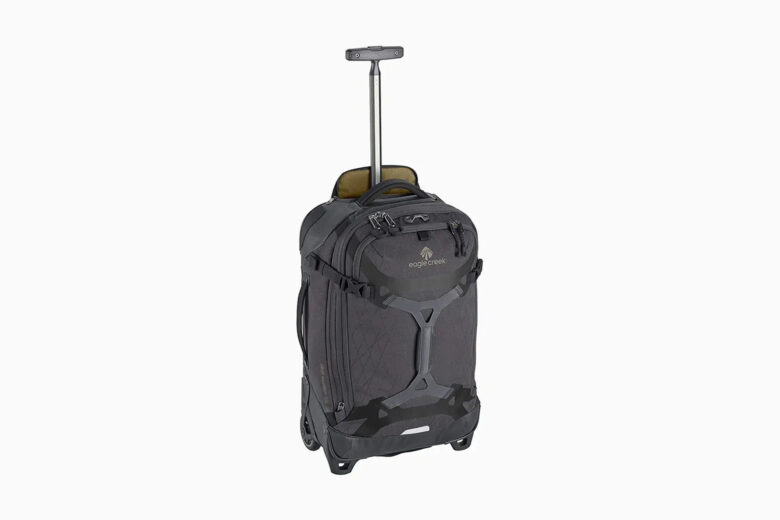 Eagle Creek prides itself on its eco-conscious fabrics and all of its bags are made from mostly sustainable materials. Produced from recycled Poly Neo Diamond polycarbonate, Eagle Creek Gear Warrior Carry Luggage Softside 2-Wheel Rolling Suitcase is perfect for any kind of traveller who doesn't want to be restricted by space or rigid dimensions.
The duffel design of this carry-on bag is ideal for cramming in any less conventionally-shaped items while thick support straps around the outside ensure that the bag still conforms to carry-on size requirements. There's real attention to detail on this duffel bag, with an Equipment Keeper that holds and secures jackets and readily accessible gear at the top of the bag and an attached Porter Key bottle opener for a celebratory drink when you reach your destination.
Treaded wheels mean you can travel with confidence no matter what sort of terrain you're anticipating and internal compression and tech storage keeps fragile items firmly in place with a padded sleeve. The perfect balance between organised tech and wild rugged adventure, Eagle Creek's duffel bag is suitable for any kind of trip.
| | |
| --- | --- |
| Size: | 56 x 36 x 23 cm / 22 x 14 x 9" |
| Material: | Poly Neo Diamond polycarbonate |
| Colors: | Black, Blue, Coral |
Thule Subterra Convertible: Best carry-on backpack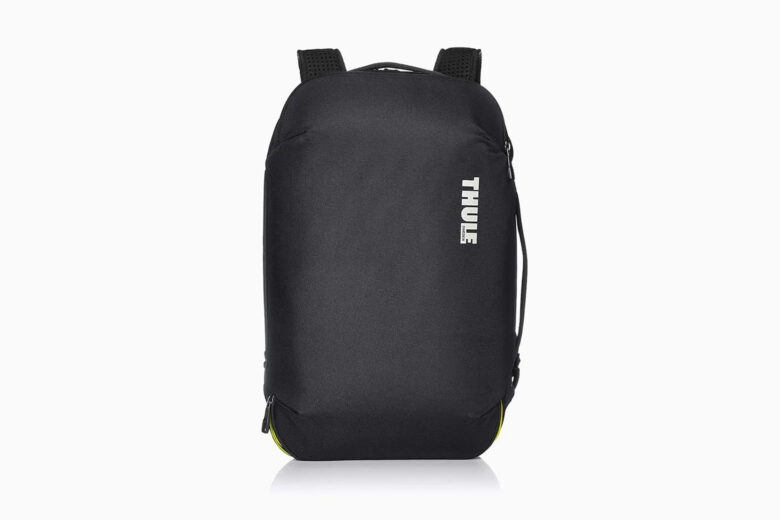 If dragging a heavy suitcase over cobblestones and lifting from one platform to another fills you with dread, a carry-on backpack might be the answer to your worries. Fulfilling all of the needs that a traditional carry-on suitcase ticks off the list, the Thule Subterra Convertible Carry On easily swings from a shoulder bag to a backpack in one quick manoeuvre.
Suitable for weekend getaways, this bag combines everything you'd expect and desire from a smaller multi-day bag, with a versatile, soft-sided material designed to maximise packing space and a removable laptop sleeve that fits a 15″ MacBook, a tablet and accessories all in one. While it's designed to be worn on your back, there's the option to open this bag the same way you would a suitcase, with a handy zipper and mesh divider that runs around the base of the bag.
This means that, unlike traditional backpacks, there's no need to scramble through to find what you're looking for at the bottom. A hidden CashStash pocket keeps your passport and other important documents secure yet easily accessible and a water-resistant covering protects everything inside from the elements.
| | |
| --- | --- |
| Size: | 55 x 35 x 21 cm / 21.7 x 13.8 x 8.3" |
| Material: | 800D nylon |
| Colors: | Black, Grey, Red |
Brunello Cucinelli: Most expensive carry-on luggage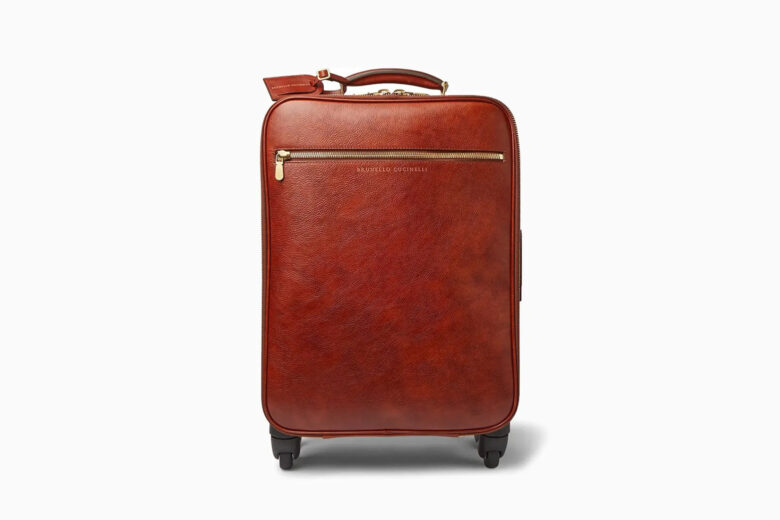 Craftsmanship and attention to detail go hand-in-hand with anything produced by Brunello Cucinelli and the Burnished-Leather Carry-On Suitcase is a perfect example. Made for travelling in style, it's a case that exudes luxury both inside and out, thanks to its premium design and beautiful colourway.
It's a timeless case that promises to assist you on journeys into the future with a burnished leather that will develop a unique patina over time. Built with quality from start to finish, it combines all of the features from a standard carry-on case but with a touch of elegance and class. Its roomy inside has two fully lined internal compartments and plenty of organisational pockets for spacing out clothes, electronics, toiletries and more.
Spinner wheels and a telescopic handle are perfect for navigating a busy airport or strolling through new cities and an included dust bag separates important items. Keep your passport and travel documents close to hand in a zippered front pocket and, if needed, pick them up with ease thanks to its almost weightless feel. A bag for premium holidays: it adds an extra touch of luxury to any adventure.
| | |
| --- | --- |
| Size: | 8 x 37 cm / 18.9 x 14.6" |
| Material: | 100% leather |
| Colors: | Tan |
Buyers guide to carry-on luggage
With any number of carry-on bags available on the market, it's easy to select the right one for you when you've got a rough guide as to when you'll be using the bag and how frequently. Most carry-on bags come in the form of mini suitcases — the most versatile option for any traveller— but you could also go for a travel backpack or a duffel bag.
Important features to look for when choosing your next carry-on bag
Size
Obviously, the point of using a carry-on bag is to take it inside the cabin with you, so it's important to select a bag that fits the requirements of the airline you're flying with. While it does vary from one to another, some of the most commonly used dimensions are 56 x 35 x 22 cm / 22 x 14 x 9" (height, width, depth) so select a bag that's the same size or smaller.
Hard or soft back
A hardback suitcase will often be more durable and can offer more protection against fragile items but a softback offers more flexibility and a little more space for squeezing last minute items in. Check for expandability too, if you're someone who often returns home with a few more gifts than anticipated.
Comfort
You'll be carrying this bag around a lot, through airport terminals, probably on and off public transport and across any number of streets, alleyways and paths. So ensuring your bag is easy to transport will, quite literally, take a weight off your shoulders. Make sure your carry-on bag has thick, good quality wheels — ideally with 360 rotation. Make sure the handle of the bag is ergonomic and sturdy and, if you're taller, check the handle is long enough to be a relaxed and comfortable fit.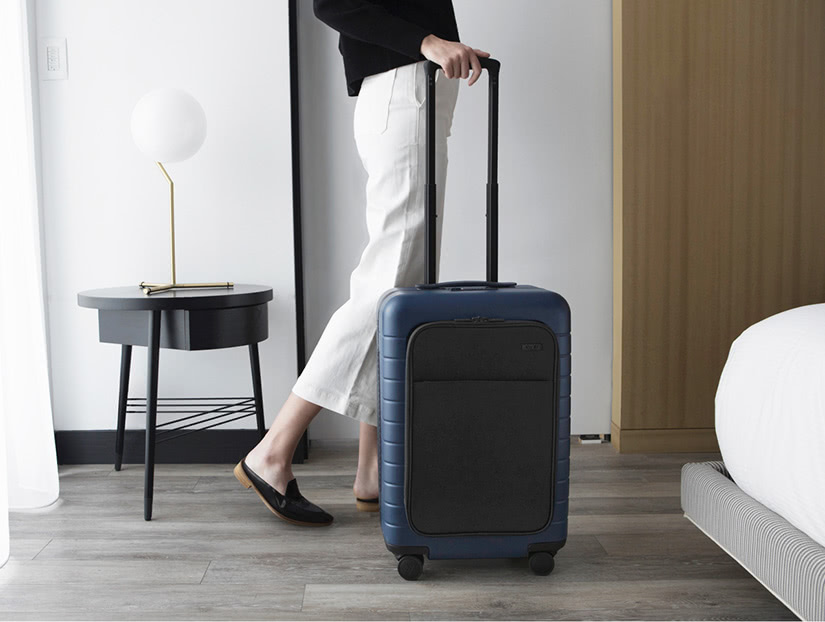 Weight
Not all airlines have weight restrictions on their carry-on bag allowances but most do, so it's important to select a lightweight bag so you're not limited with the number of outfits you can fit inside. Plus, a lightweight bag will always be more comfortable to hoist into overhead compartments or squeeze onto a luggage rack of a train or bus.
Durability
If you're going to be travelling frequently then a high-quality bag made of a sturdy material is crucial. Most carry-on bags are made from polyester or thick nylon. The higher the D (denier) number, the better quality the material. Other attractive qualities to keep an eye out for include a waterproof or resistant covering and a shock and scuff proof base.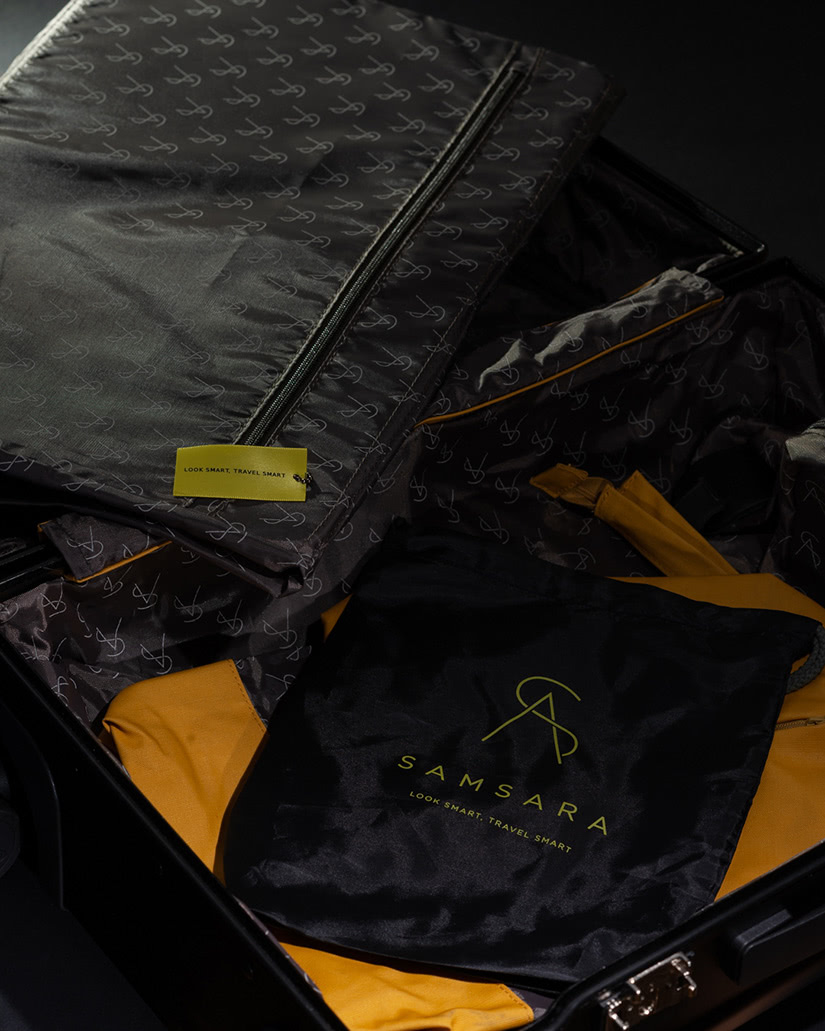 Compartments
A front pocket is always handy for easy access to important documents. But, if you pride yourself on being an organised packer, select a carry-on bag with plenty of internal compartments. And, if you're travelling with a laptop or other electronics, check for padded compartments that'll add an extra layer of support.
Frequently asked questions about carry-on luggage
What is the best carry-on luggage?
The best carry on luggage is Away's The Carry-On. The perfect size for hand luggage, it features a sleek aesthetic and clever interior layout with an inbuilt battery for charging your phone en route. Our full guide details 17 of the best carry-on bags for any traveller.
What is the best size carry-on luggage?
Carry-on luggage restrictions vary between airlines but 56 x 35 x 22 cm / 22 x 14 x 9" (height, width, depth) are some of the most commonly seen size restrictions. Airlines can change their restrictions at any time, so it's important to check before your flight to avoid any last-minute costs.
Are carry-on luggage better than bags?
The advantage of carry-on luggage like mini suitcases is the organisation and support they offer compared to traditional bags. A hard-back mini suitcase like the ones in our guide offer compartments for easy access, proper support for electronic items and safety locks to prevent anyone from going through your belongings.
Is a backpack considered a personal item or carry on?
A backpack can be either a personal item or a carry on bag depending on its size. Most carry-on bags are in the region of 56 x 35 x 22 cm / 22 x 14 x 9" (height, width, depth) and personal items are usually restricted to 45 x 35 x 20 cm / 18 x 14 x 8". A smaller, fashion backpack may fall under a personal item category while a larger one would be considered a carry-on bag. Other airlines don't clarify personal item sizes other than saying it should be around the size of a "purse, briefcase or laptop computer".