Australian company Bellroy—a favorite in both the everyday carry industry and here at Luxe Digital—is the name behind some of the best wallets and backpacks that we've had the pleasure of trying. As we discover in this Bellroy wallet review, the brand has re-invented the wallet with its ultra-minimal designs, showing that less can most definitely be more.
Proof that you can have a stylish and elegant wallet without compromising on either quality or capacity, Bellroy's first designs were defined by their streamlined profiles—a far cry from bulky and bulge-causing traditional billfolds. You could carry a Bellroy in your pocket, and no one would be any the wiser.
Bellroy wallets were such a success that now, 10 years on, the company is also making backpacks, briefcases, and phone cases, all featuring the brand's signature eye for style, attention to fine detail, and commitment to quality and environmental responsibility.
In this Bellroy review, we'll dive into the features and benefits of 3 of Bellroy's most popular wallets and our favorite bi-folds: the innovative Hide and Seek with its secret pocket, the Note Sleeve, the perfect cash carrier, and the original minimalist Bellroy wallet, aptly named the Slim Sleeve.
Bellroy wallets are durable and feel as good in your pocket as they do in your hand with their premium leather and bulk-free shape. A Bellroy wallet is as capable of carrying your valuables in your home-city as it is abroad. With its slim and minimalist design, you'll never want to go back to a traditional wallet again.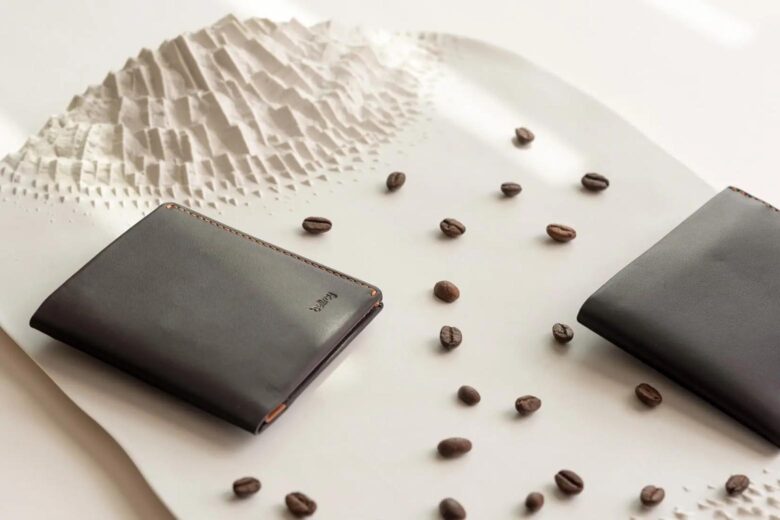 Bellroy Hide and Seek review
A unique spin on the classic bifold wallet, the Bellroy Hide and Seek is named for its secret stash pouch, ideal for storing emergency money whether for a spontaneous after-work drink or when you spot a last-minute bargain.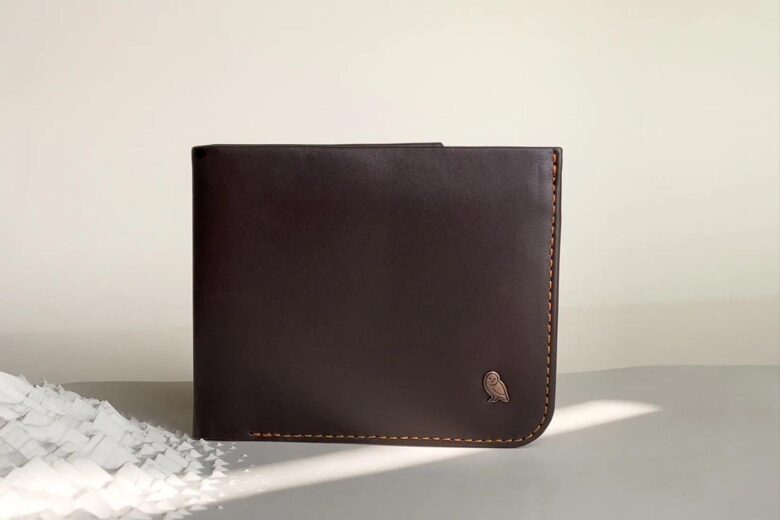 The pros:
Surprisingly slim for a bifold with this kind of capacity.
Hidden stash pouch for storing money away from prying eyes.
RFID protection for added security.
The cons:
At full capacity, it might feel a little bulky and won't fit in a front pocket.
The lining could be a bit more luxurious, but at least it will last a long time.
The alternatives:
If you've got some cash to splash and you want something more high-end, check out this Tom Ford Leather Billfold, which can hold 8 cards and is made of premium leather.
If you're more concerned about your wallet being compact than having extra capacity, opt for Bellroy's Slim Sleeve. It lacks the hidden stash pouch, but it's slim enough to slide into a front pocket.
Hands-on experience and benefits
The Bellroy Hide and Seek wallet doesn't feel as minimalist as the Slim Sleeve, but you'll still notice its remarkably slender profile. Equally impressive is the quality of the leather, which feels smooth and supple to touch—sure to age nicely over time and develop a covetable patina. The satin sheen adds a bit of high-end panache but isn't too conspicuous. It also weighs very little, considering it's made of leather.
The Hide and Seek was designed with the intention of using the smallest amount of material possible in order to maintain the wallet's overall slimness when folded. Despite this, it feels hard-wearing, durable, and not at all flimsy. The exterior is made from full-grain and environmentally-certified vegetable-tanned leather. The stitching is clearly high quality while the lining is patterned nylon—not particularly noteworthy, but we don't mind as this means it will last longer.
The capacity of this wallet is one of its main draws, with 5 card slots that can hold up to 12 cards (although this does add significant bulk). There's also a large cash pocket that's big enough to hold receipts or even a movie or concert ticket. In fact, the Bellroy Hide and Seek wallet comes in two different sizes, so those who use taller currencies such as GBP can still fit their notes easily.
Most excitingly, concealed by a leather flap and hidden at the back (hence the wallet's name), there's another large pouch where you can keep emergency cash, sensitive documents, or those cards or notes that you need on a less regular basis—a great organizational perk.
As with other Bellroy wallets, the Hide and Seek wallet features minimal branding—just the metal rivet in the shape of the brand's owl logo and a small Bellroy on the internal pockets. There's also RFID protection to prevent identity theft.
Best for: A traditional-meets-minimalist bifold with an enigmatic secret.
| | |
| --- | --- |
| Colors: | A range including brown, grey, and blue. |
| Material: | Environmentally-certified leather. |
| Capacity: | up to 12 cards |
Bellroy Note Sleeve review
The Bellroy Note Sleeve represents Bellroy at its best, offering enough capacity to hold all your essentials while maintaining a remarkably trim profile.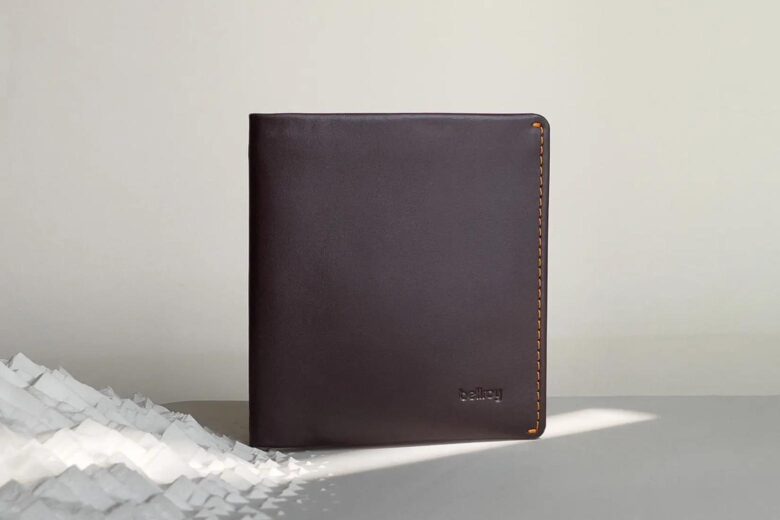 The pros:
Pull-tab storage allows for a capacity of up to 11 cards.
Coin pouch does double duty as a business card protector.
Available with RFID protection.
The cons:
Need to fold cash if you want it to slide it in easily.
Coin pouch can cause bulging if overstuffed.
The alternatives:
If you mostly use cards rather than coins and banknotes, you might be more interested in Bellroy's Card Holder, which can hold up to 8 cards.
Need even more capacity? Check out the Acne Studios Trifold Wallet, which has space for foreign currencies and coins as well as a pocket for receipts.
For more inspiration, check out our guide to the best men's wallets.
Hands-on experience and benefits
First impressions? This is one incredibly svelte wallet. Despite being designed to hold notes, it's far less bulky than traditional wallets. While it probably won't fit in our front pocket, it will fit in our back pocket or suit or jacket pocket just fine.
The wallet is made with two different colors of leather, offering a pleasing aesthetic contrast. There's no steel owl like with the Hide and Seek—just an embossed Bellroy stamped into the leather. As with other Bellroy wallets, the environmentally-certified leather feels hardy and long-lasting. While it's not as water-resistant as other synthetic fabrics, it will age nicely, especially compared to faux leather wallets.
The Bellroy Note Sleeve features three quick-access slots for your most frequently used cards. Then there's another compartment accessed via a pull tab for your other cards. The Note Sleeve can store up to 11 cards comfortably—which means space for everything from your credit card and ID to your library or gym membership card. You'll never be caught short again.
And the name Note Sleeve comes for the fact that—yes, you've guessed it—there's a full-size pocket for banknotes. This wallet is taller than other models, so it can comfortably hold currencies like GBP or Yen. However, this works best if you fold your bills in half before sliding them in. The bill section also has a slot at the back where you can keep business cards crisp, clean, and appropriately professional-looking.
There's also a coin pocket as well as RFID-blocking technology to protect your personal and financial information from thieves.
Best for: Committed cash carriers seeking a slimline wallet that still has space for notes.
| | |
| --- | --- |
| Colors: | A range including black, brown, and red. |
| Material: | Environmentally-certified leather. |
| Capacity: | Up to 11 cards. |
Bellroy Slim Sleeve review
A classic minimalist wallet, the Bellroy Slim Sleeve will quickly become your most reliable everyday carry—durable, stylish, and with enough capacity to fit all the cards and cash you might need.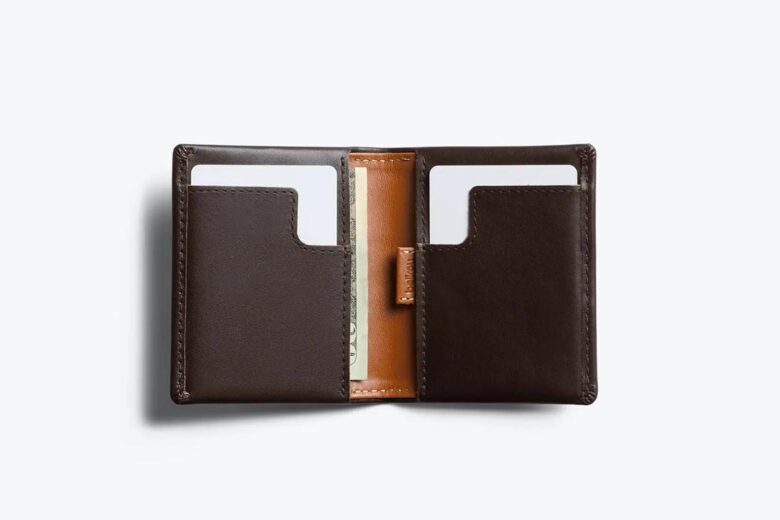 The pros:
Incredibly slim and unobtrusive, yet can still hold up to 8 cards.
Made of ethically-produced leather that's high-quality and feels soft and supple.
Comes in a large range of colorways. Choose according to your style preferences.
The cons:
There's no full-size cash sleeve, although cash will fit if you fold it.
No RFID protection. If this is a deal-breaker, check out Bellroy's Hide and Seek wallet or Note Sleeve.
The alternatives:
Another of Bellroy's two best-selling wallets, the Hide and Seek is the ideal choice for those who want extra space for foreign currencies or a covert and safe place to put extra cash from time to time.
For a budget-friendly alternative that can hold more cards, check out Vaultskin's Manhattan wallet.
Hands-on experience and benefits
The clue is in the name, but the slimness of the Bellroy Slim Sleeve cannot be overstated. Say goodbye to awkward bulging with this trim wallet that slides easily into a front pocket. You could also wear it in the pocket of your suit for work (or your tuxedo for black tie events) without cramping your style.
Fun fact: in one Bellroy wallet review, the reviewer claimed it was so unobtrusive that he found himself patting his pockets regularly to check it was still there. Impressive.
As with all leather Bellroy wallets, the leather is sourced from gold-rated Leather Working Group tanneries, so it ticks all the environmental boxes. It's also soft to the touch with scrupulously neat stitching. The quality is also evident in the fact that the pockets of the wallet don't stretch with long-term use, offering lasting functionality.
Despite its slim profile, the Bellroy Slim Sleeve Wallet can still hold up to 8 cards and features 2 quick-access slots for those cards you might need in a hurry (i.e., when you're paying for a coffee with a queue of grumpy customers behind you). The rectangular-shaped opening means you can slide your card out with just one hand.
There's also a pull tab to access those cards you use less often and a note compartment where bills can fit if you fold them in half. Larger bills will require double folding.
As with all Bellroy wallets, there's no boastful branding—just a few subtle logos that you barely notice. The Slim Sleeve is also available in 10 different colors compared to the standard black and brown you're usually limited to with men's wallets, so you'll be able to find the one that best suits your particular style.
Best for: A front pocket wallet that doesn't compromise on capacity.
| | |
| --- | --- |
| Colors: | A range including blue, green, and brown. |
| Material: | Environmentally-certified leather. |
| Capacity: | Up to 8 cards. |
Bellroy Slim Sleeve vs. Note Sleeve vs. Hide and Seek: A side by side comparison
As seen in our Bellroy wallets review, each of our 3 favorite Bellroy wallets has its own unique selling point.
The Slim Sleeve is ideal for anyone whose priority is minimal bulge when slipped into a jean pocket. But as it lacks RFID protection, it might not be a top choice for those concerned about security.
The secret pocket of the Hide and Seek is perfect for anyone who regularly carries large amounts of cash and wants to keep it out of sight or for travelers carrying foreign currencies—although this wallet is probably too chunky for fitting in a front pocket.
And the Bellroy Note Sleeve should be the number one choice for those who still use notes on a regular basis and want to be sure they can fit them in their EDC without adding too much bulk.
| | Hide and Seek | Note Sleeve | Slim Sleeve |
| --- | --- | --- | --- |
| Material | Leather | Leather | Leather |
| RFID Protection | YES | YES | NO |
| Capacity | 12 cards | 11 cards | 8 cards |
| Size | 115 x 85 mm | 102 mm x 90 mm | 95 mm x 80 mm |
| Coin storage | YES | YES | NO |
| Colors | Black, charcoal, navy, marine, green, java, caramel, red earth | Black, java, cocoa, charcoal, navy, teal, toffee, red earth, and racing green | Black, charcoal, navy, marine, racing green, java, cocoa, red earth, and toffee |
| | See price | See price | See price |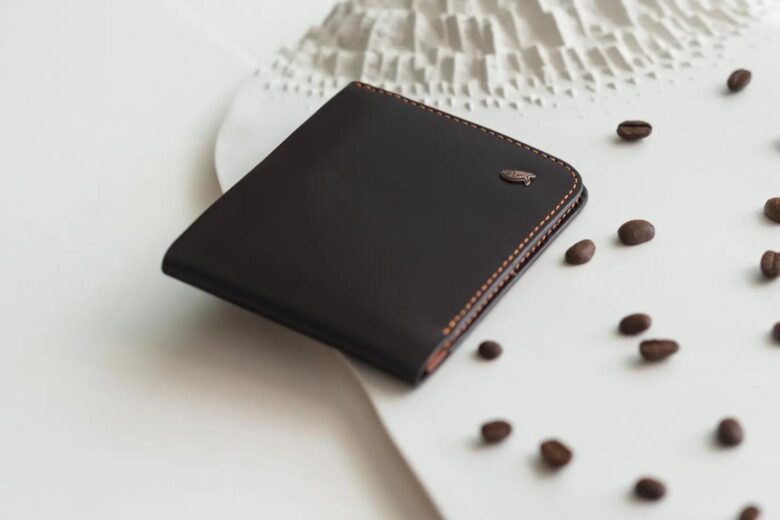 Eco-tanned leather
As our Bellroy review makes clear, the aesthetic and the functionality of Bellroy wallets is unbeatable. But there's one important question you need to answer before buying: Is Bellroy using real leather?
In short, yes. Bellroy uses real leather. This means Bellroy wallets have the advantage of ageing gracefully and lasting a long time.
Additionally, Bellroy leather is eco-friendly, and sourced from the Leather Working Group tanneries. This certification is a guarantee that each one has achieved excellence in terms of environmental and labor practices, and you can also be confident that this leather is of premium quality.
Bellroy uses a leather technique called DriTan, an innovative method designed to save water and reduce chemical use, protecting the environment while delivering a rich and durable leather straight to your pocket.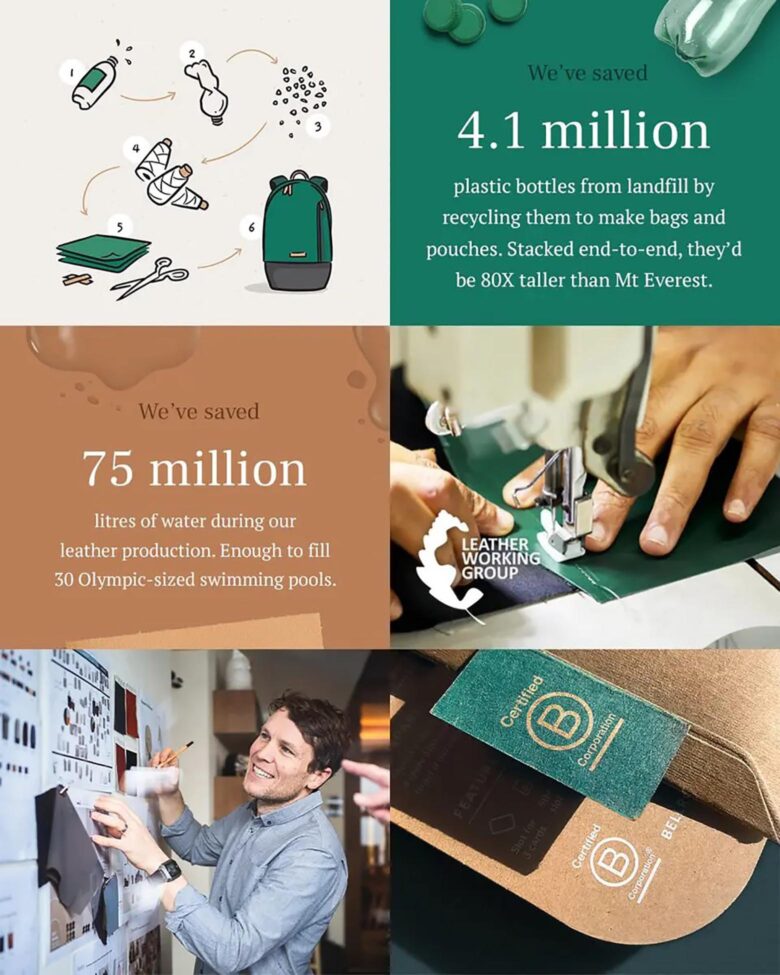 Frequently asked questions about Bellroy wallets
Is Bellroy good quality?
Bellroy makes really good quality wallets. They offer users premium environmentally-certified leather goods and an uncompromising level of attention to detail in everything from the external aesthetics to internal stitching, making these wallets well worth the price. Check our review of Bellroy's top three most popular wallets to learn more.
Is Bellroy real leather?
Bellroy uses real leather to make its wallets. This leather is high-quality, and, more importantly, the leather that Bellroy uses is environmentally-certified, made in tanneries that are committed to ethical and eco-friendly practices.
Is Bellroy an Australian company?
Bellroy is an Australian company that was founded in 2010 in Bells Beach in Victoria. Their first product was the Slim Sleeve wallet, re-inventing the traditional wallets to allow for a more streamlined and compact shape and design.
Where is Bellroy made?
Bellroy products are made by manufacturers in China, India, and the Philippines. All suppliers have to fulfill certain environmental and social responsibilities. The design process takes place in Bells Beach, Australia.
Ceramic artwork by Maison Dejardin.