Do you want to be stylish yet comfortable while relaxing at home? Or do you need an outfit that's neat and practical to visit an airport lounge but also super comfy to sleep in during a long-haul international flight? Meet the loungewear style for modern men.
We all have those moments when we need stylish yet relaxed clothes. With an increase in casual and athletic clothing options for men, it can be easy to feel overwhelmed by the choices for men's loungewear.
In this installment of our series on dress codes for the modern man, we bring you a guide to men's loungewear. And no, we are not talking about the pajamas you would never dare to leave the house wearing.
We give you the definitive guide on everything you need to know about loungewear.
When to wear it? Check.
What is considered loungewear? Check.
Common questions about men's loungewear? Double-check.
By the time we're through, you will be fully informed on all there is to know about loungewear attire for men.
Feel free to skip ahead to the section that you're most interested in right now:
The modern loungewear look for men
Welcome to our loungewear style guide for the modern man. This article is part of a style series covering the seven essential dress codes for men:
Some clarifications first: what is modern loungewear for men?
Here's the deal. There's a lot of confusion around loungewear. We get it. It's confusing trying to figure out what's sartorially acceptable to wear in public and what you should probably leave at home.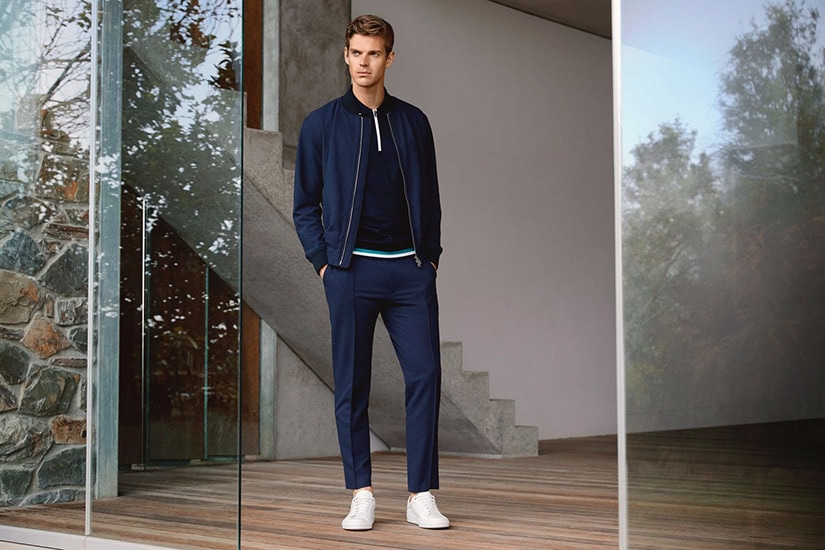 A brief history of loungewear
With the rise of active and leisurewear brands such as Lululemon and Outdoor Voices, as well as high fashion clothing from Adidas and Nike, a new style era has arrived. Yoga pants started showing up not just for women but also for men and have become common outside of the yoga studio.
This shift in casual standards outside of the house changed how we dress for all kinds of occasions. Thus, the athleisure niche was born as a category of fashion that is both stylish and functional for the modern gentleman. This category includes modern loungewear as well as athletic wear. For now, we are focusing on the loungewear portion of the athleisure niche.
It is now common to see fashion loungewear in the street, on planes, and at the grocery store. The rules for what to wear while out and about have changed. Fashion companies have adapted by creating collections that are very comfortable to wear but also look smart. Think joggers with a slim fit and a smart-looking fitted jacket made in stretchable cotton.
As your lifestyle becomes more fluid, fashion loungewear is evolving to fit your needs. Loungewear is designed to work with the modern man's life.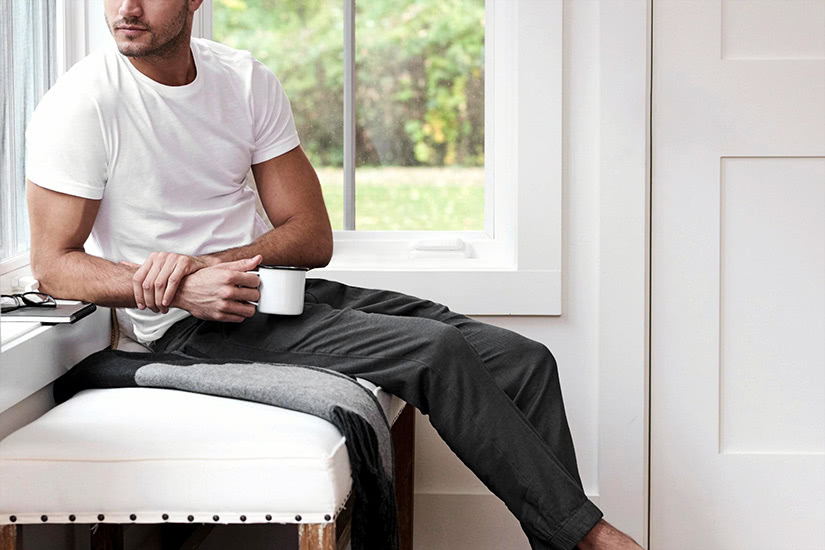 So, how do you know what loungewear to wear in public?
Now that we have established a brief history of loungewear and athleisure let's discuss what is considered loungewear. We will begin by discussing what it is not. Loungewear is not pyjamas. It also isn't jeans, which are a bit more formal than loungewear and less comfortable.
Instead, loungewear for men is a casual attire that is highly comfortable and is also appropriate for leaving the house. Think dressy sweatpants, premium T-shirts, sweaters, and designer sneakers.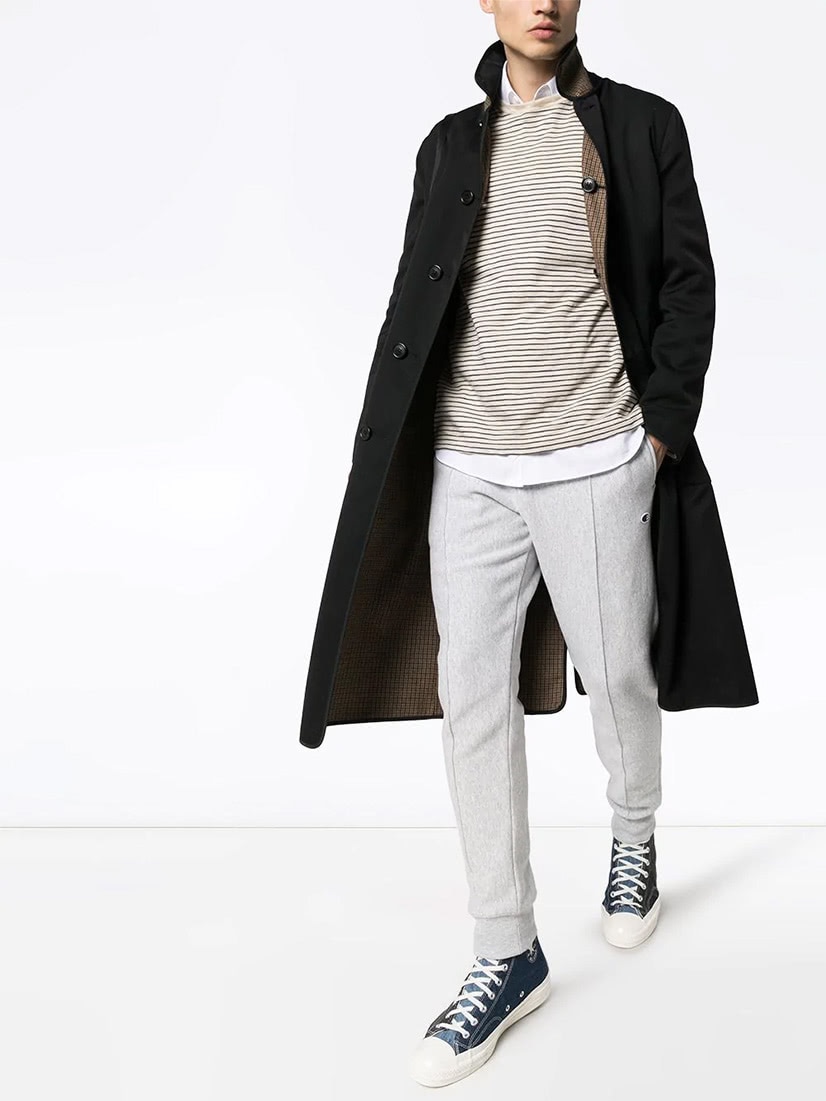 The perfect loungewear look for the modern gentleman
Knowing how to put together a loungewear look that is stylish can feel daunting. That's why we compiled this guide to the best loungewear clothes for men and how to wear them.
Simple T-shirts made from premium fabrics
Every modern loungewear wardrobe starts with a simple t-shirt. The key to a great loungewear look is simplicity and high-quality fabric. Prefer muted tones with a few key details and pops of color.
Start your look off with a simple short or long-sleeve tee crafted from comfortable quality fabrics. We particularly love this smartly designed T-Shirt by upcoming menswear brand Western Rise. It's made from ultra-soft performance cotton, stretches in every direction, wicks moisture, and resists odors. Available in various colors.
Here are a few loungewear T-shirts alternative for different budgets and styles:
Sweatpants that flatter
Selecting the right loungewear pants is essential to strike the perfect balance between style and comfort. Look for premium materials, such as cashmere, wool, or silk. And aim for joggers with tapered legs that flatter your form rather than disguise it.
Polo Ralph Lauren offers these excellent premium loose-fit track pants. They come in navy blue and light grey.
And here are four other alternatives that strike the perfect balance between comfort and tailored fit:
High fashion hoodies
When you need a lighter top layer for your loungewear look, the natural choice is a hoodie. With so many hoodies available, which do you choose? Remember, you want your loungewear look to stay simple. Look for a plain hoodie with functional features.
This hoodie from Western Rise is made from high-quality merino wool and helps regulate temperature. With a simple look and far-from-simple features, it's the perfect hoodie for your casual ensemble.
Looking for something else? Check this bestselling budget option from Amazon Essentials. Choose a solid color or select one of the pattern options to stand out from the crowd. We also love these other premium hoodie alternatives:
Simple sweatshirts with standout details
For days when you want to leave the hoodie at home, try a simple crewneck sweatshirt to keep you warm. A sweatshirt with a logo or small details will keep your outfit looking effortless while remaining sharp.
This simple and affordable sweatshirt by J.Crew is all about the fabric. It's super soft and comfortable on the skin yet looks and feels very premium. J.Crew's special cotton thermal sweatshirt has a honeycomb texture that helps retain warmth while keeping it breathable.
Another option for a quality top is this wool-blend cardigan by Robert Graham. It's the perfect piece of layering for your loungewear look. Super soft, lightweight, and available in three solid colors. Check also these other alternatives:
Comfortable yet chic sneakers
We have an entire post dedicated to tracking the best designer sneakers on the market today. To match your loungewear look, we recommend something simple and minimalistic yet crafted with quality premium materials.
There are two brands that we absolutely at the moment that do just that: Oliver Cabell and Koio. Here's our pick from both:
OLIVER CABELL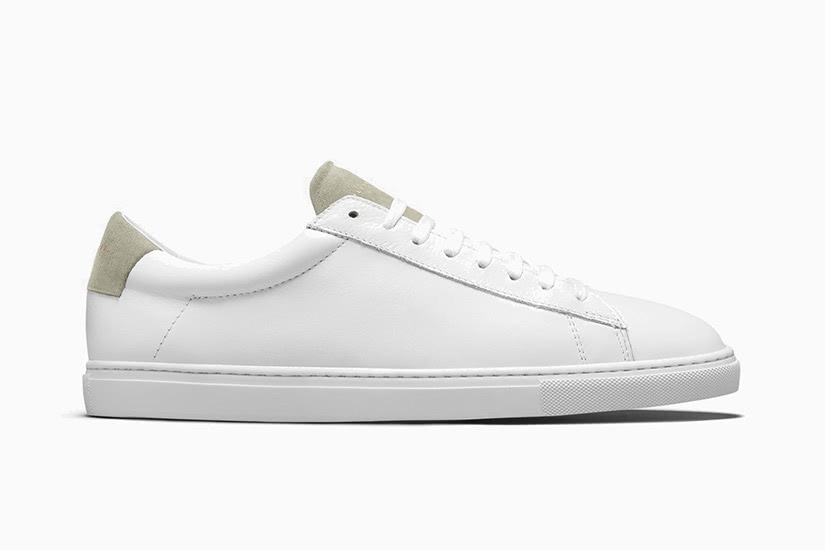 Oliver Cabell is making a name for itself, delivering consistently high-quality premium sneakers with simple minimalist designs. This sublime pair of White Low 1 is discrete and minimalist yet very stylish. The brand handcrafts all their shoes using ethical factories and materials. You can easily dress them up with your most stylish loungewear outfit.
Check our in-depth review of Oliver Cabell's sneakers and our profile on Oliver Cabell's brand.
KOIO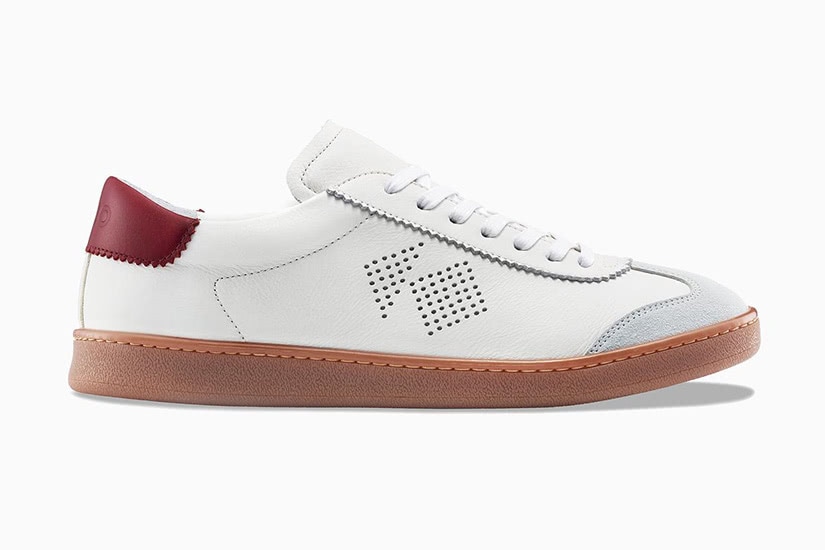 The retro-athletic inspired Koio Tempo Bianco has an air of classic tennis shoes with a modern twist. The shoes are handcrafted in Italy with premium materials. There is something about the color matching and edgy yet straightforward design that gives them a great personality. They'll elevate your entire loungewear look.
Sports caps for modern chaps
No look is complete without the right accessories. A great accessory choice for a modern loungewear look is a sports cap. With a hat on, you don't need to worry about your hairstyle when stepping out.
We like this simple yet smart cap from Alpha Industries in pure black.
For a slightly more dressed up yet relaxed feel, check this baseball hat by Brunello Cucinelli. And if you need something functional and easy to maintain while traveling, Western Rise has one of the best options on the market.
The right bag for airport lounges and city wandering
Finally, if the goal of your look is functionality and style, you need a loungewear bag that can carry your essentials for a weekend getaway. A modern travel bag should accent your outfit while being highly functional and practical.
Start by checking bestselling premium travel ware brand Away for some of the smartest luggage on the market today. Everything that the brand design is perfect for the modern traveler, but we particularly like this medium-size carry-on Aluminum Edition. It's just the right size and format for a week-long trip.
If you prefer a soft material backpack, check Away's aptly named The Backpack. It's smartly designed to organize all your travel essentials and safely secure your laptop, tablet, mobile phone, wallet, and passport. We love it! Check as well this Amazon bestseller from Under Armor for a great everyday backpack under $50.
Loungewear rules to guarantee success
With every type of wardrobe comes a certain set of rules for looking your best. Obviously, your personal style comes from some of the personal choices in your look. But following these three essential rules will help master your men's loungewear look.
1. Stick to the basics
Mastering simplicity is key to the modern loungewear look. A perfectly styled loungewear outfit is not about flashiness or crazy patterns. It's about combining a few simple yet well-structured pieces and highlighting a couple of special details.
2. Stay away from too many bright colors
Speaking of keeping it simple, stay away from neon and bright colors in your athleisure looks. Stick to a modern, clean, and elegant look. That means muted tones and neutral colors.
If you want to incorporate some color into your outfit, try picking one colorful piece or detail. Keep everything else neutral and simple.
3. Go for a tailored look
The modern loungewear look is tailored. You want clothes that highlight your physique and craft a look that is flattering even when you're comfortable and relaxing.
Choose pieces that fit you well. Don't go for oversized t-shirts or baggy shorts. A well-styled guy should be able to look good even when he's traveling or chilling at home.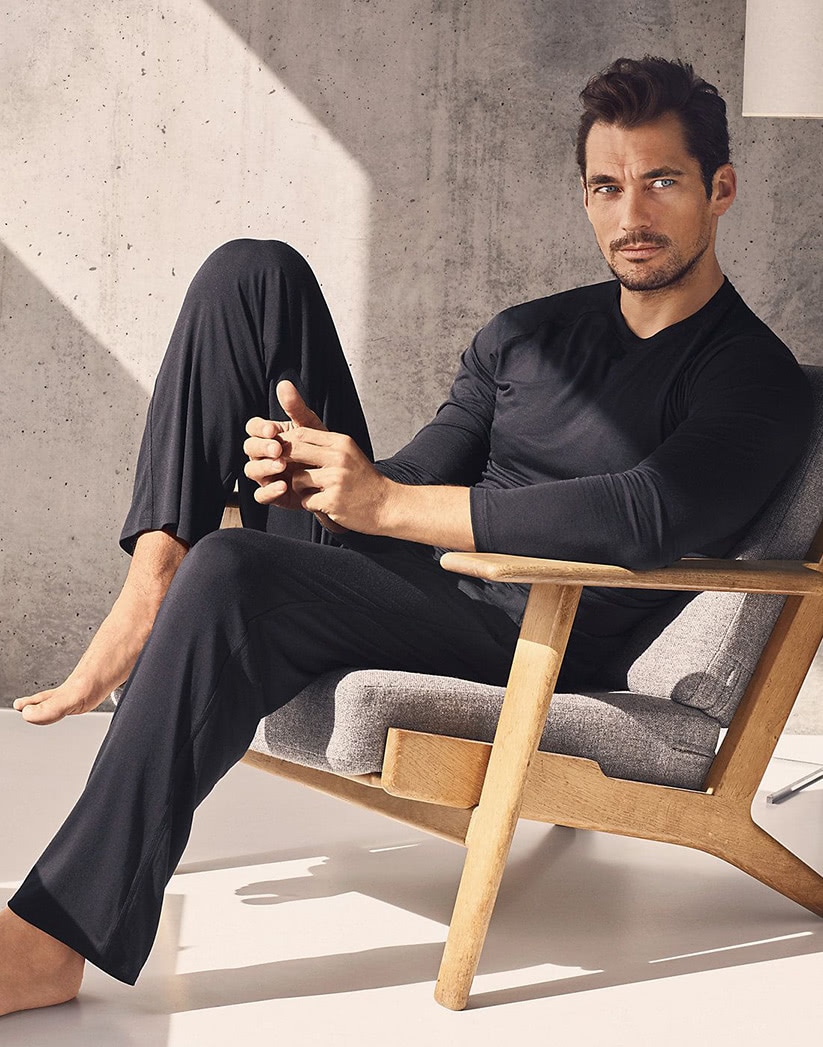 Five loungewear brands men need to know
Choosing the right loungewear look is about curating and crafting a great ensemble from multiple pieces. Crafting a look like this means looking for pieces in all different places.
However, there are a few luxury athleisure and loungewear brands for men that have proven to offer quality pieces with a smart style.
Here are our top five loungewear brands for men:
1. Western Rise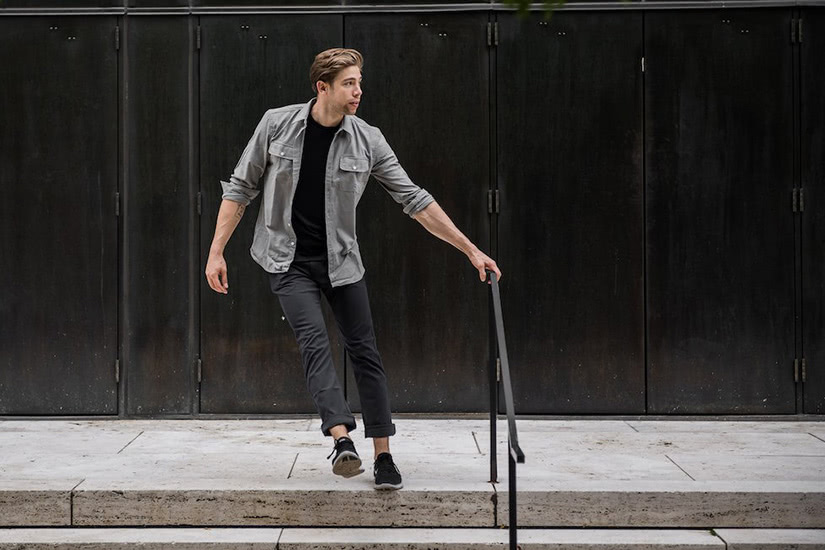 Western Rise wants to offer the modern man a simpler alternative. They have created high-quality leisure clothing that is designed to help you live a fuller life. Their pieces are designed to transition between multiple activities, so you don't have to worry about multiple outfits.
2. Oliver Cabell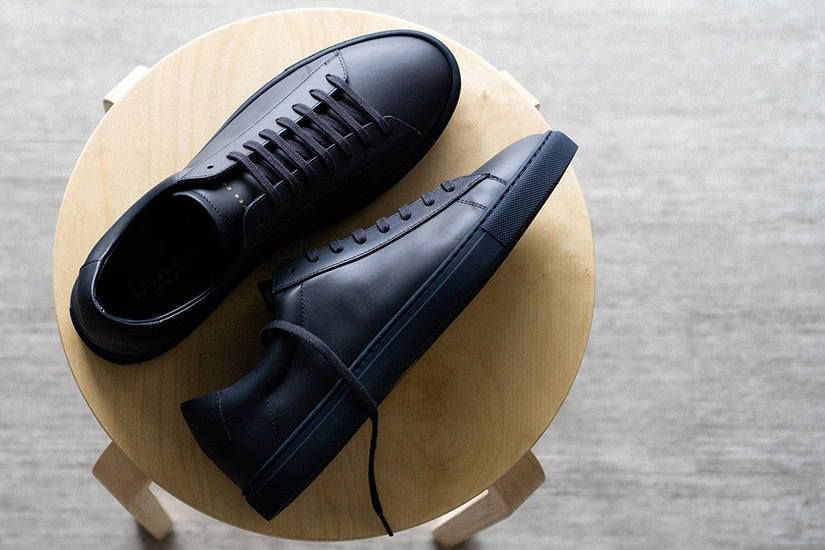 This modern sneakers brand focuses on designing and producing high-quality shoes sold at a fair price. Their design is beautiful and minimalist. The materials are premium and durable. And the price is just right.
Learn more about the story behind Oliver Cabell's brand.
3. Alpha Industries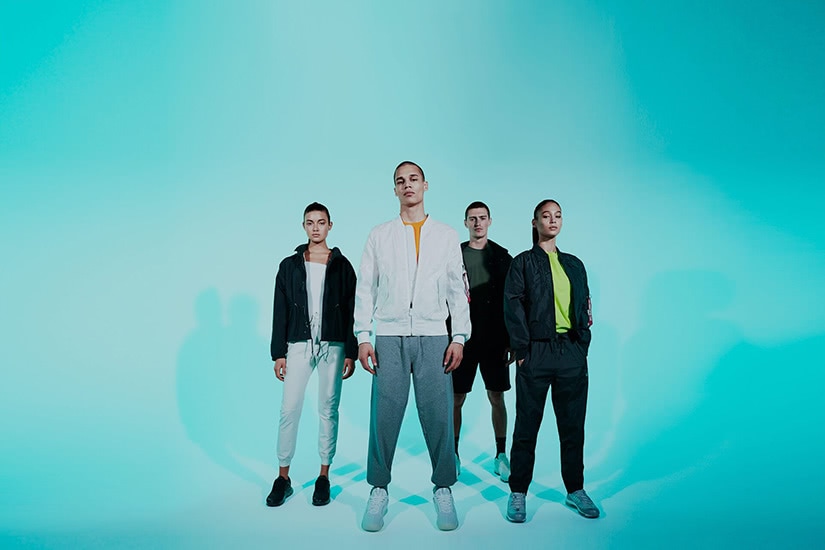 We discovered Alpha Industries while searching for the best men's bomber jacket on the market. We felt in love with them after discovering the range of high-quality items they sell. From comfortable pants to durable T-Shirts and simple hats, they have everything you need to complete your loungewear look at an affordable price.
4. Away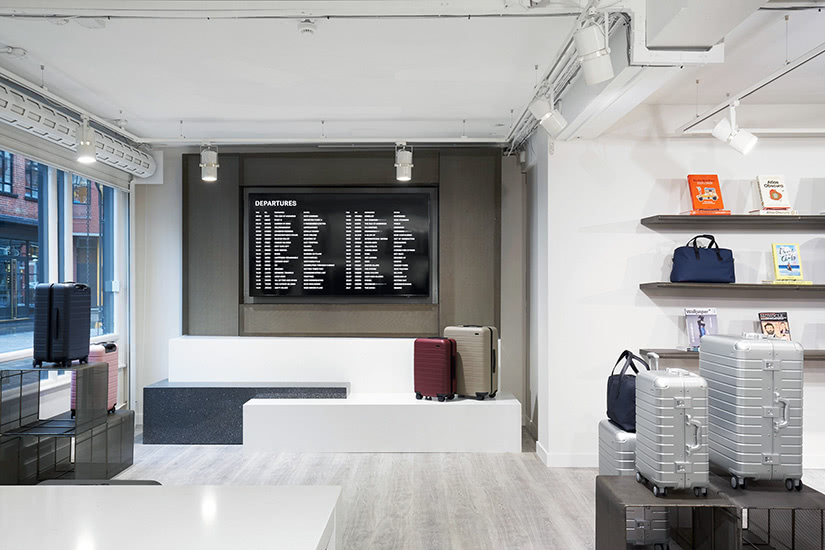 If loungewear to you is all about wearing something elegant yet functional when traveling, you have to check out premium luggage brand Away. Their luggage and backpack are smartly designed for the modern traveler. They are also elegant and come in a range of colors and materials to match your favorite travel outfit.
5. Ermenegildo Zegna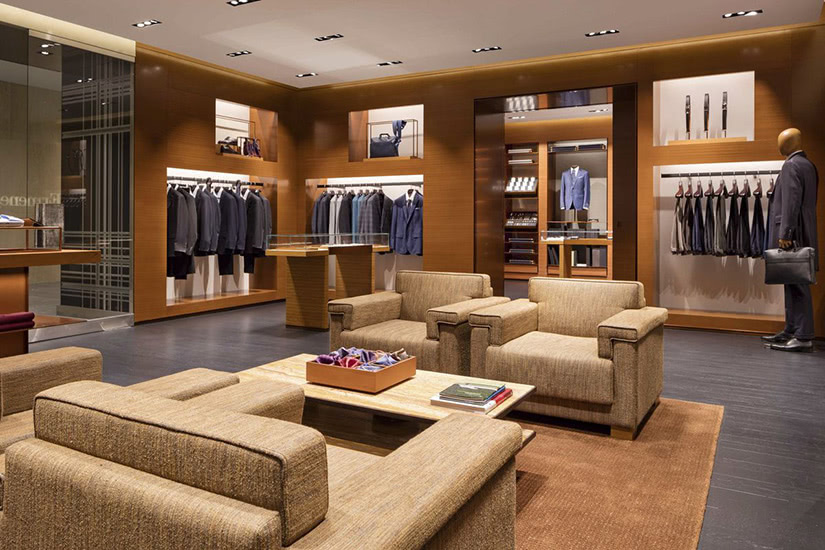 Italian fashion house Ermenegildo Zegna is one of the first luxury brands that truly embraced loungewear attire. Their collection offers premium fabric and high-end design. In true loungewear spirit, their clothes are also versatile and functional. This is a luxury brand you won't be afraid to wear when traveling.
Loungewear style: Our readers' most frequently asked questions
Is loungewear the same as athletic wear?
Loungewear and athletic wear live in the same realm of clothing, but they are not the same thing. Loungewear is more casual than athletic wear. It is not meant to be worn to the gym, although it often features functional details. Athletic wear is more technical and can be worn for heavy exercise and adventure activities.
Are jeans considered loungewear?
Jeans are generally not considered loungewear. There are some athletic wear brands that are designing slacks that are a fusion between regular slacks and athletic pants, but traditionally, jeans are not considered loungewear. Traditional loungewear pants options are sweatpants, joggers, or track pants.
Is loungewear pyjamas?
No, loungewear is not the same thing as pyjamas. While pajamas are sometimes categorized as loungewear, loungewear can be worn in public, while pajamas should not be.
Can I wear loungewear to work?
You should probably not wear loungewear to work. Although it really depends on your workplace. Many modern workplaces are quite casual, but certain work environments remain more formal.
If your workplace has a dress code, look to that for guidance. Otherwise, pay attention to what others are wearing, if it seems like loungewear is socially acceptable in your office, go for it!
Where can I wear loungewear?
You can wear loungewear at home, when traveling, or in an informal setting. Loungewear has become more widely accepted as a common way of dressing. Loungewear can definitely be worn while running errands, traveling, working from home or heading out for a casual day.
Keep away from loungewear at more formal events such as weddings, most parties, or formal work environments.