Telecommuting and remote working were a growing trend before they became a necessity. As more people work from home today, we want to give you a well thought out guide to set up your home office.
Following Luxe Digital's guiding principles, this guide focuses on helping you set up a high-quality work environment at home. Our editors created a minimalist home office to let you be more productive.
Remote workers tend to be more productive because they can more easily focus on the essentials. That is, if they have the right workspace in their house or apartment.
We begin this guide with a short and practical checklist to let you plan your home office quickly and efficiently. Next, we give you ideas and inspiration to elevate your workspace with the 27 essentials to work from home at peak productivity. And finally, we share a few tips from our editorial team to be productive and healthy when working from home.
Plan your workspace: The best way to set up your home office
Before jumping straight into setting up your desk and computer, take a minute to step back and plan what your home office should look like. Think carefully about what you need to be productive when working from home. What are the essentials things you need to have close to you, such as a water bottle or your cup of coffee, and what needs to be close by but can be stored away.
We'll first look at where you should set up your home office in your house or apartment. Next, we'll discuss how to set it up quickly and efficiently.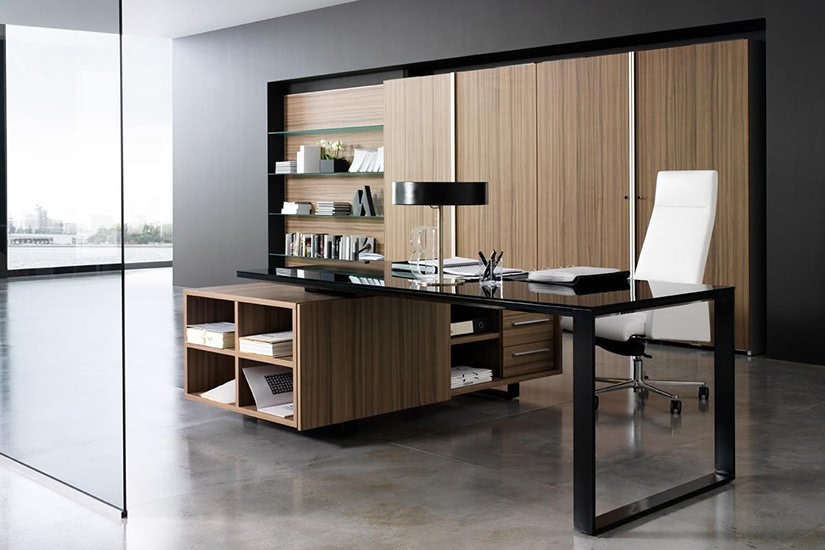 Where will you set up your home office
To decide where to set up your home office, it's helpful to ask yourself a few questions:
What will you need for a home office? Do you work mostly on your computer or do you need extra space to work with printed documents?
Do you work primarily online? Is a strong and reliable internet connection essential for your work?
Do you expect to do regular video conferences with your coworkers? What do you want the show in your background when doing a video call?
Do you have kids at home? Do you need a quiet and isolated place to work without distraction or interruption?
Once you've selected the best room in your home to set up your workspace, start to list everything that you need to turn that room into a productive home office. Create a checklist of your home office essentials, and remove everything that won't help you become more productive when working remotely.
How to set up your home office?
Once you've decided where you want to build your home office, it's time to plan the actual setup. Start with the big items, such as your work desk, your chair, your computer and computer screen. Then progressively optimise your space with all the little extras that will make your life easier but also more delightful.
Check our list of the 27 home office essentials below for ideas and inspirations on the ideal setup.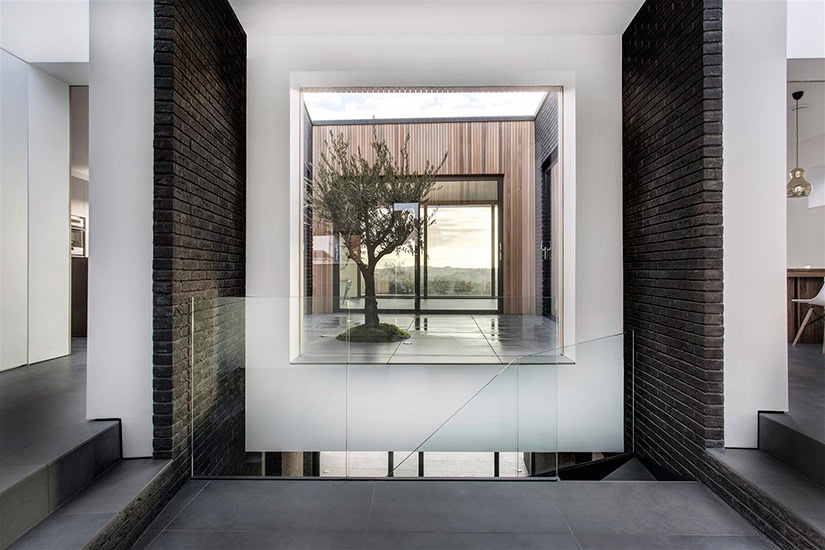 ---
All the home office essentials featured on our list of the best gear to work from home are independently selected by our team. If you buy something through our links, we may earn an affiliate commission at no extra cost to you.
The 27 essentials to work from home at peak productivity
Ready to build your workspace? We organised our list from the most important items to get your work done, to the nice to have little extras that will help improve your productivity or simply enhance your day.
1. Computer: a laptop is ideal for your home office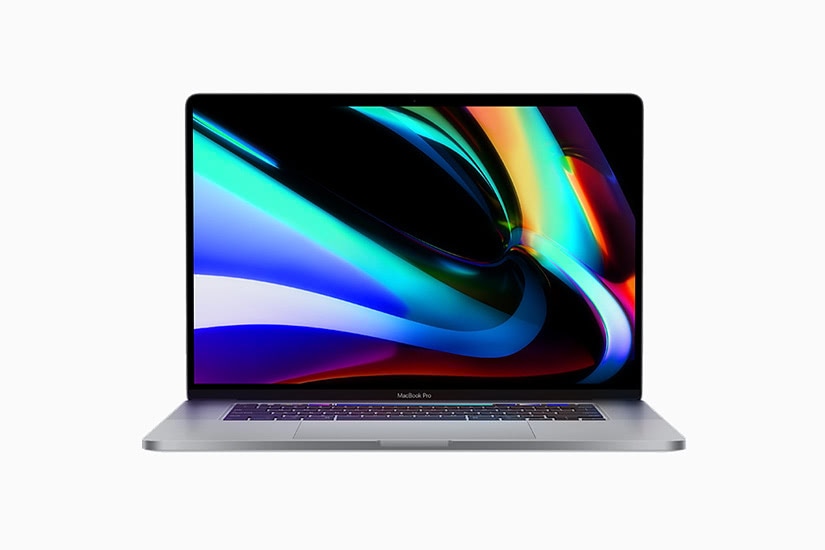 Apple's latest 16"MacBook Pro is our preferred choice for a computer to work from home. It's a fast and reliable laptop that can compete with the best desktop computers. But it also gives you the freedom to move away from your desk from time to time and work from your sofa or on your terrace or balcony if you want. You'll also find below a few home office computer setup suggestions to make the most of your MacBook Pro.
If you prefer a Windows computer, the Acer Aspire 5 is an ideal budget alternative. It's slim and lightweight and comes at a great price.
2. Desk: a clean and elegant desk to work from home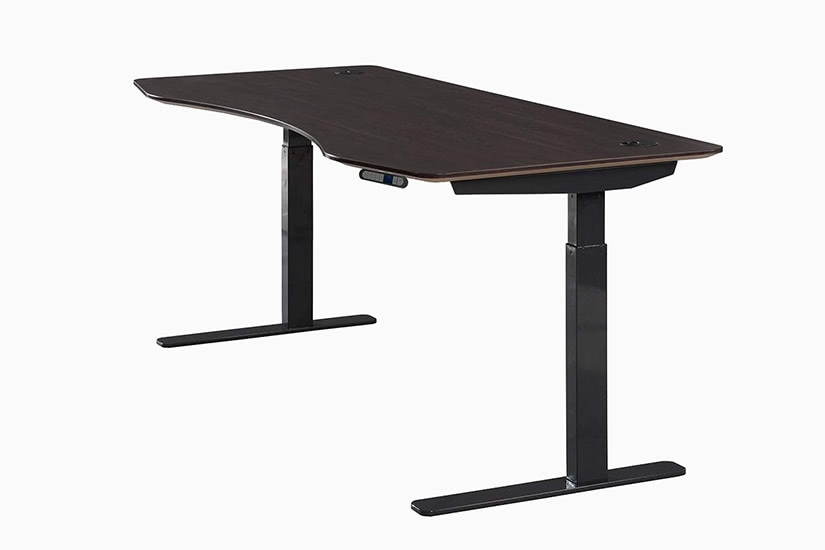 For a home office desk, we like something simple and minimalistic with ample room to set up our laptop and monitor. Our preference goes for standing desks that are easily adjustable with an electric system. The ApexDesk Elite Series in size 71″ is an Amazon bestseller. With an electric height adjustment, you can easily turn it into a standing desk when you want to stretch your legs.
Best a great value alternative, check this elegant desk by Tribesigns.
3. Office chair: comfort and ergonomic are key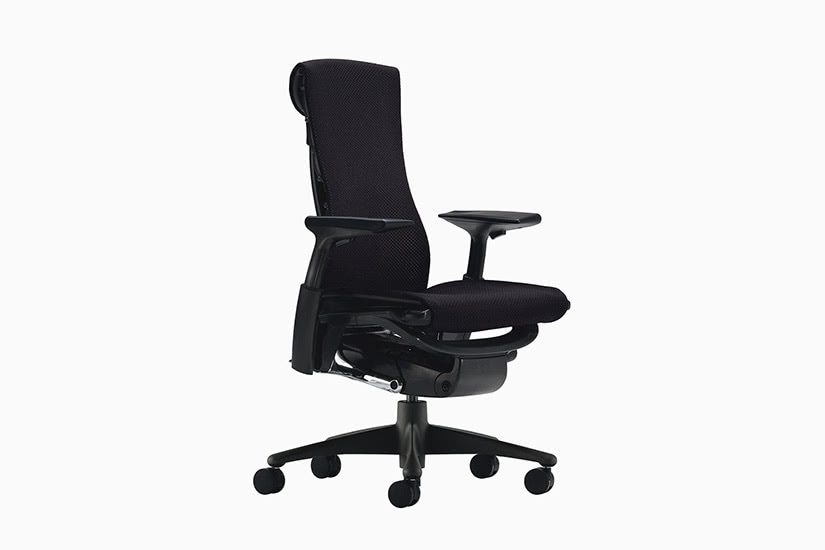 For your computer chair, it's worth investing in quality to protect your back and prevent long term injury. Our preference goes to high-end office chair brand Herman Miller. Their Embody Chair is one of their best designs. It will keep you comfortable for hours while sitting at your desk. And it's available in a range of colours to match your home office setup.
For an affordable yet comfortable alternative, check this bestselling office chair.
4. Keyboard: Speed up your typing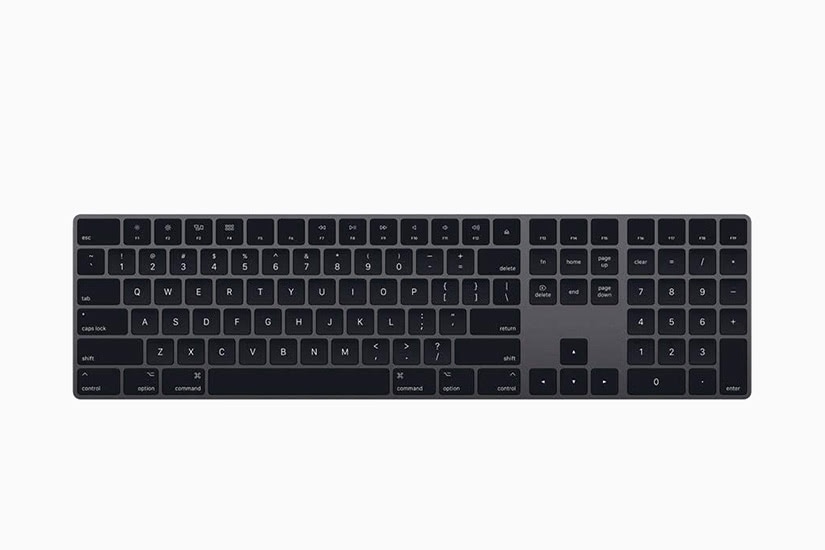 A comfortable keyboard is absolutely essential for remote work productivity. If you're on a Mac, the wireless Apple Magic Keyboard with numeric keypad is our preferred option. It comes in space grey or silver to match your laptop colour.
If you're on a PC, we recommend the ergonomic Logitech K350 Wireless Wave Keyboard.
5. Mouse: Precision and speed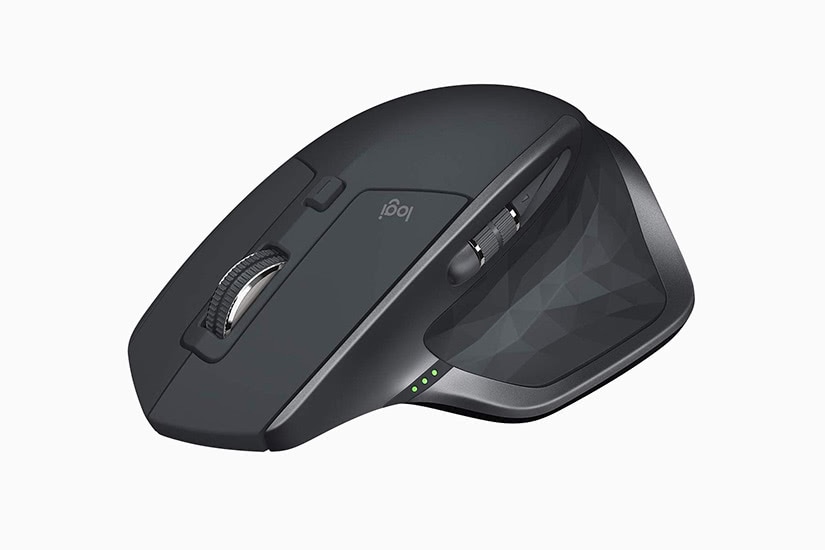 If you're on a laptop, a dedicated mouse will help improve your precision and speed when working from home. We love the Logitech MX Master 2S wireless mouse. It's just the right size and weight to fit comfortably in your hand. It works perfectly with both Mac and Windows. And its design is simple and elegant to match any office setup style.
We love Logitec's mouses so much that our suggested alternative is the Master 2S little sister, the MX Anywhere 2S that comes in a slightly smaller size so it's easier to pack if you're travelling.
6. Monitor: home office getting serious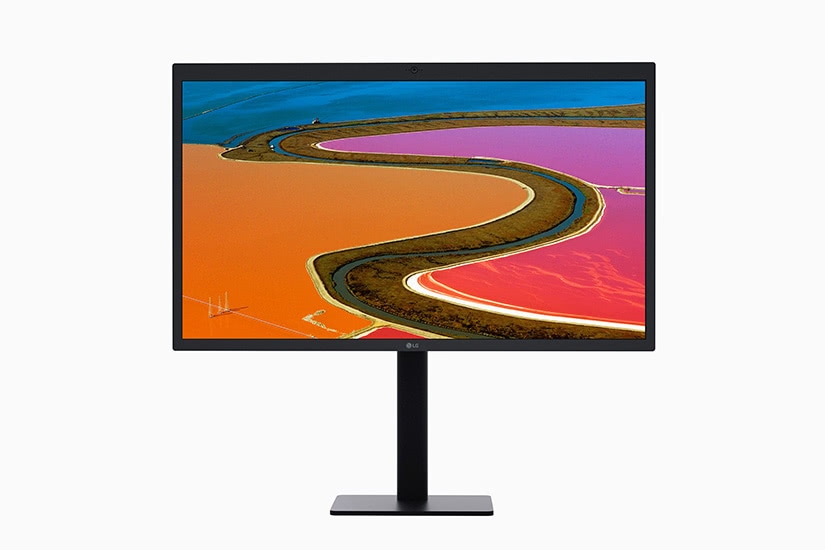 A gorgeous dedicated monitor is what sets apart your kitchen table from a proper home desk setup. We love being able to work with our laptop on one side and a large monitor on the other to take advantage of a dual-screen setup at home. If you're on a Mac, the Apple 32-inch Pro Display XDR is the absolute best, but it's also a very pricey monitor. A more reasonable alternative for your home desk is the excellent LG UltraFine 27″ 5K monitor. With a single cable, it can power your MacBook pro and transmit the audio and video back to your monitor.
For a budget-friendly alternative, check this Amazon bestselling monitor, the Sceptre Ultra Thin LED screen.
7. WiFi: Speed up your home Internet connection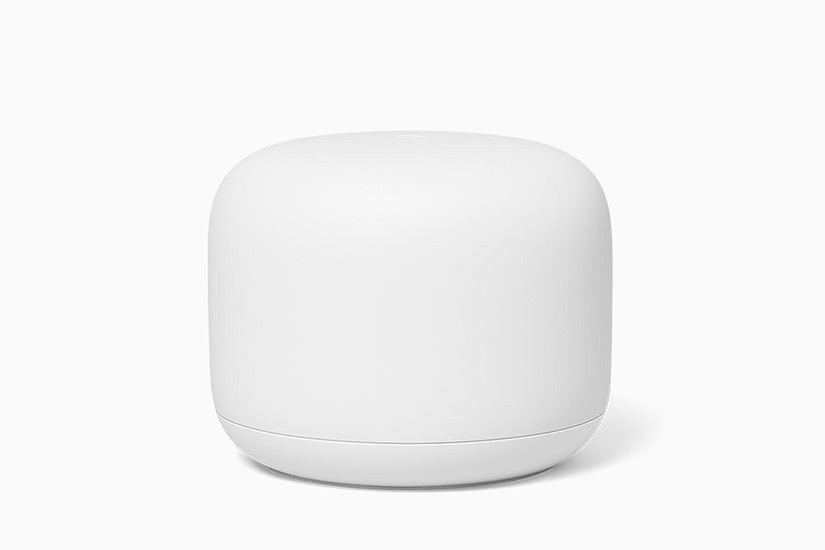 When working from home, chances are that you'll rely heavily on your internet connection. For optimal setup, it's worth investing in a quality home WiFi modem and router. For its excellent speed, smart features and ease of use, we recommend the second generation of Nest WiFi Router.
8. Noise-cancelling headphones with microphone: for video conference calls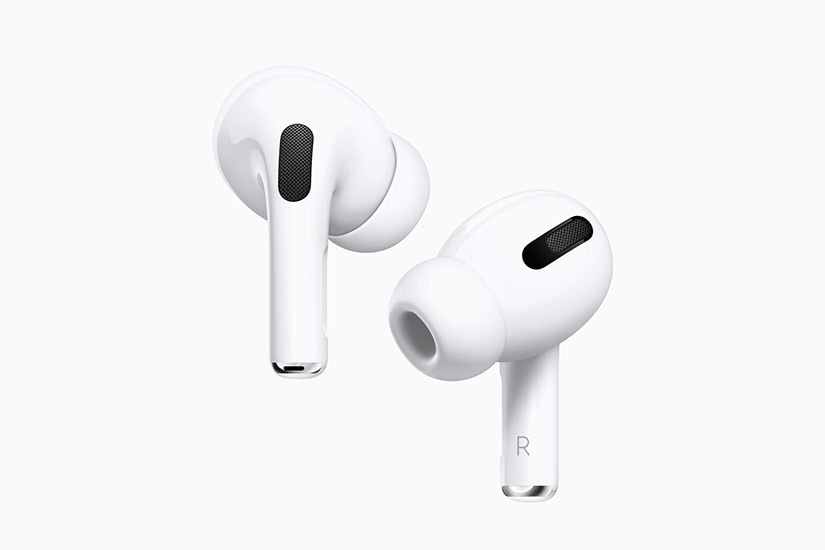 If you expect to do regular video calls with your colleagues while working from home, you absolutely need a pair of headphones with a decent microphone. It will help you hear everyone on the call better, but it will also ensure that everyone hears you loud and clear when you speak up your mind. With their active noise cancellation, clean wireless design, and simple set up, the Apple Airpods Pro are our preferred option. The updated design fits more comfortably in the ear and is more elegant.
For a budget-friendly alternative, Panasonic offers these best selling earbud headphones with a microphone and volume control. They work with Windows, Android, and iOS.
9. Speakers: Play your focus music playlist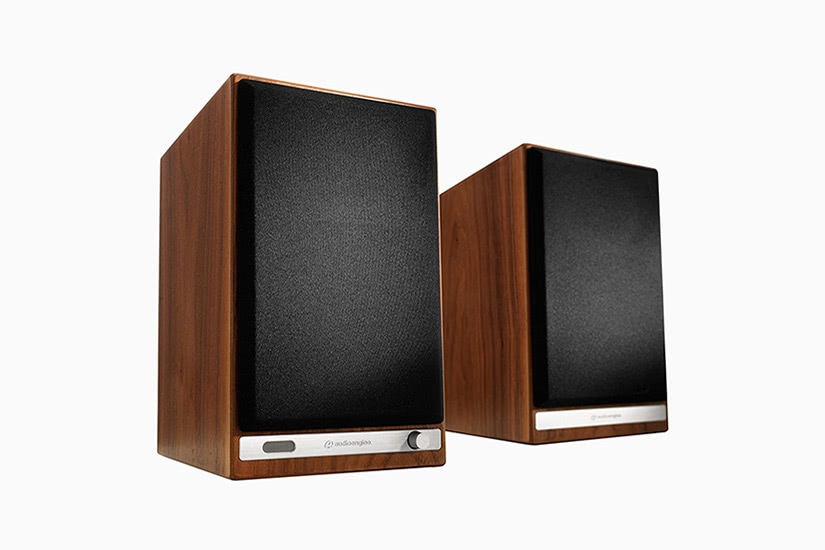 When you're not on a call, working from home is the opportunity to play your favourite music playlist as loudly as you like. For serious audiophiles, the Audioengine HD6 150W wireless speakers are the absolute best on the market today. Yes, they are expensive. But you're getting studio-quality sound for your home office. This is a world apart from what your laptop speakers could ever deliver. The Audioengine HD6 are available in a range of colours and materials, but we particularly like them in Walnut finish.
For a cheaper alternative, Audioengine also offers the excellent A2+ desk speakers. They aren't as powerful as their big brother, the HD6, but they offer incredible sound quality and value for money.
10. Bluetooth speakers: Take your music with you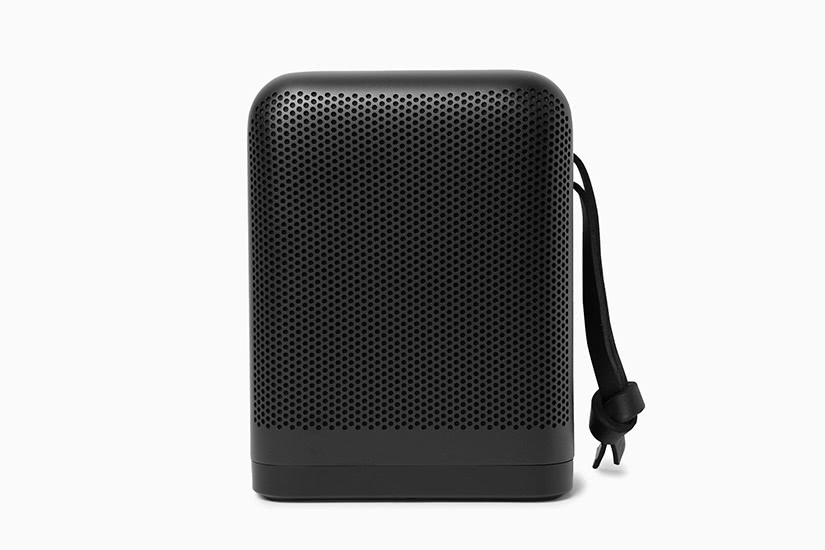 If you prefer the flexibility to work from your home office in the morning and from your kitchen table in the afternoon, a high-performance Bluetooth speaker is what you need. Our preferred choice are the beautiful yet surprisingly powerful BeoPlay P6 by Bang & Olufsen. They are easy to carry around and offer excellent sound quality. They also come with an integrated microphone if you want to host a conference call with multiple people on your end.
The popular Sonos One is also an excellent choice for Bluetooth speakers.
11. Water bottle: Stay hydrated in style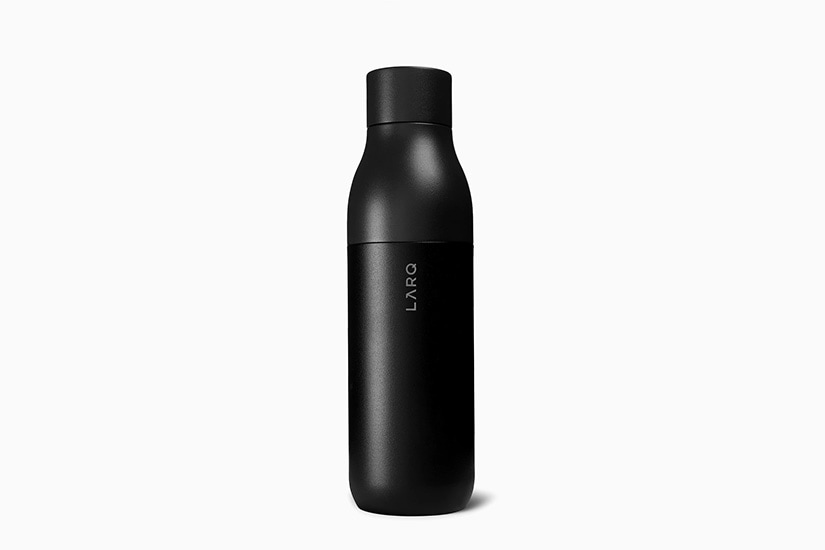 To avoid incessant trips to the kitchen, we like to have a large water bottle always by our side. But on your home desk, you need something that won't risk spilling water all over your computer. This is where LARQ's portable purifying bottle comes in. It's powered by the brand's patented UV-C LED technology to keep your water pure. The bottle filters and keeps water cool while eradicating germs without the need for filters. We love it! The bottle comes in different sizes and colours.
12. Coffee mug: Energise your body and soul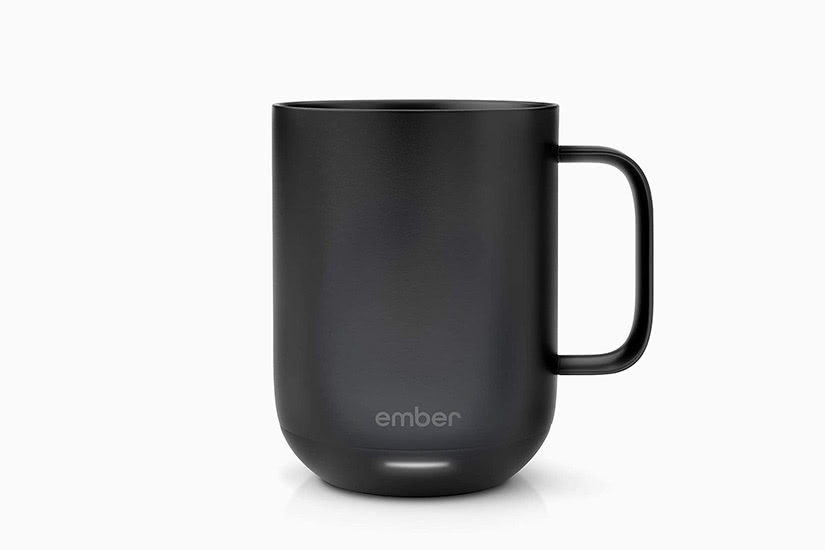 If coffee is critical to get your day started, you need your own cup! A mug that feels great in your hand and looks smart on a conference call. The geek coffee drinkers that we love the Ember Temperature Control Smart Mug. It's simple and elegant design is beautiful, and it will keep your coffee warm for one hour.
13. Computer stand: An ergonomic desk setup to keep you working through the day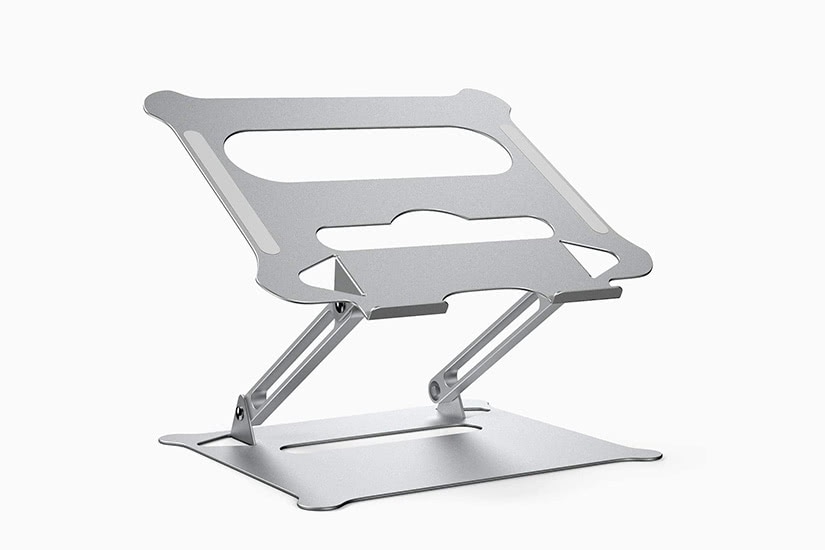 A computer stand is the kind of little thing that will make a big difference throughout your day. It's inexpensive and discreet but will make it so much easier to work comfortably. There are tons of options available online, but we like the Coolwin Laptop Stand for its flexibility and build quality.
14. Scented candle: Set the right mood for mindful work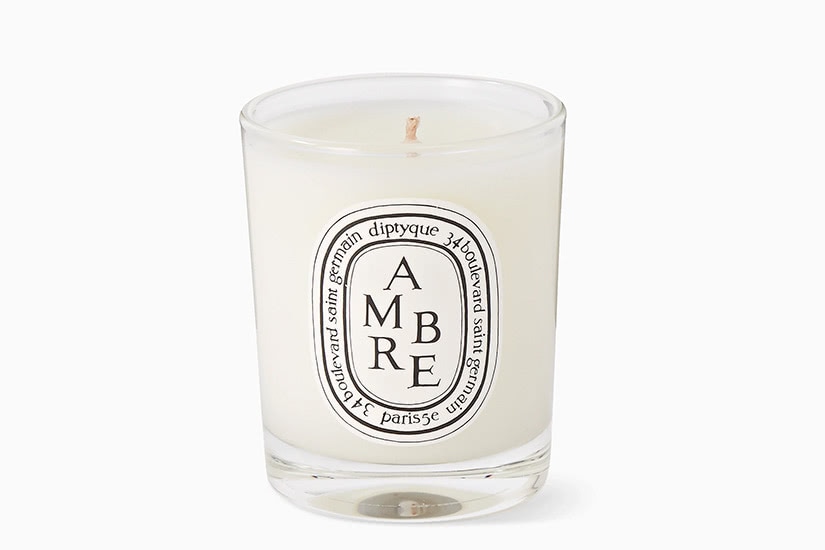 We like to set up a scented candle in our home office to brighten up the mood a little. It's the kind of simple things that will brighten up your day. And it looks great in your office too. Diptyque scented candles range is our favourite at the moment.
15. Notepad: Because you always need to write something down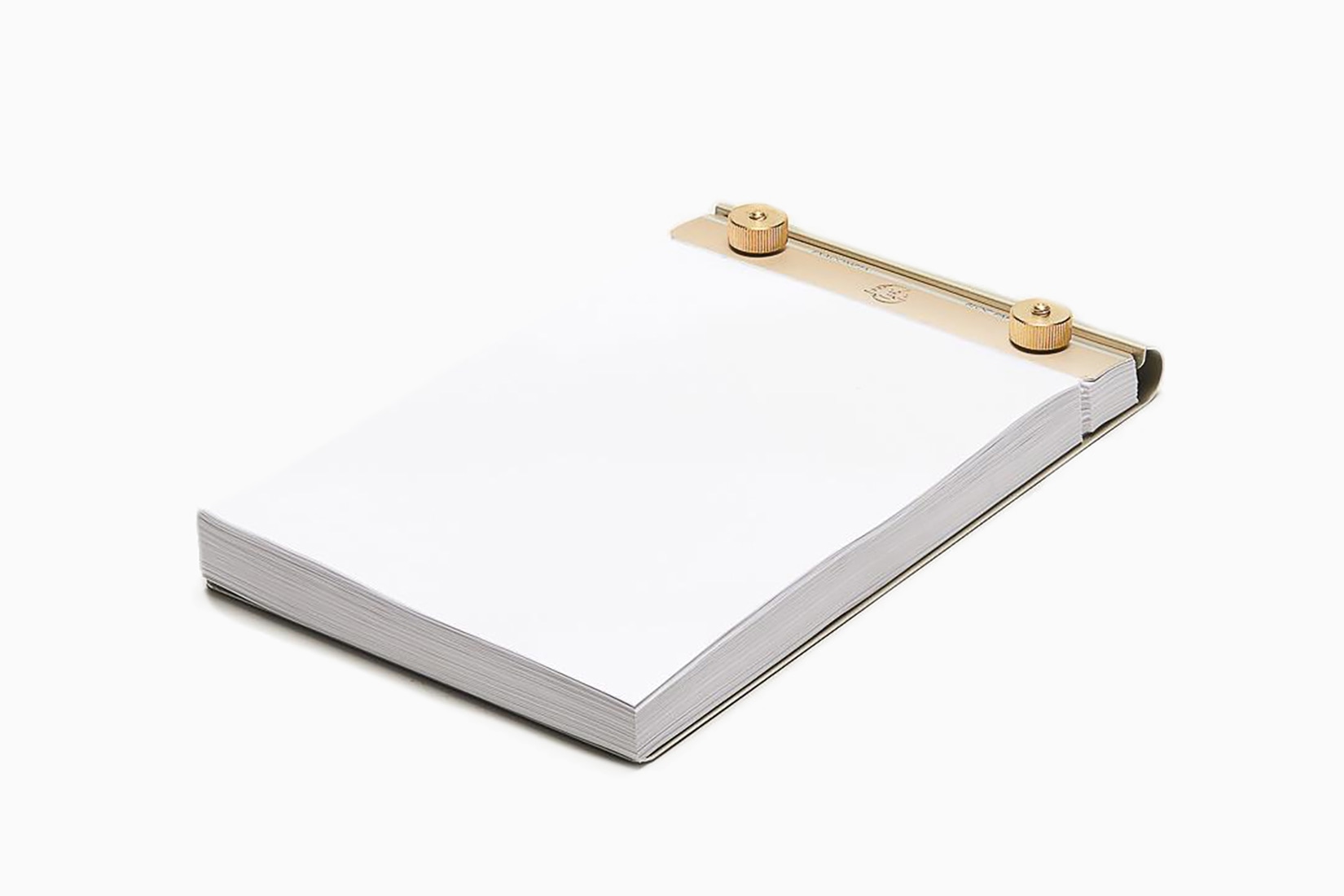 However digital you might be, it's always good to have a simple notepad by your side to quickly scribble something down or to write your to-do list for the next day. We particularly love this desk pad by Craighill. It looks absolutely beautiful and will add a touch of style to your minimalist desk. The pad is crafted in a Parisian workshop with a sturdy metal frame and rubber feet to anchor a perforated writing pad. Perfect for neatly tearing out pages on the fly. Good thing you're working from home because coworkers might try to steal this pad if it was left on your office desk.
For a budget alternative, we go with AmazonBasics. Their value is unbeatable.
16. Pen: Go beyond the basic office plastic pen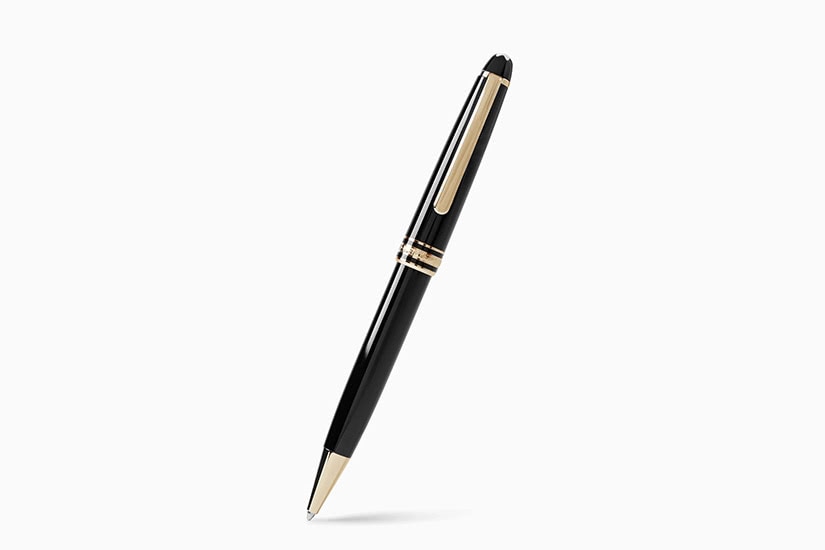 While we like to save money on our notepad, we equally like to invest in a high-quality pen that will stay with us for years to come. And no brand does it better than Montblanc. This is a power pen that will delight you each time you pick it up. And it will look handsome during your video conferences too. Montblanc crafts a range of high-end pens, but we particularly enjoy the Meisterstück Classique Resin and Gold-Plated Ballpoint Pen.
For an inexpensive alternative, this Zebra stainless steel ballpoint pen is excellent too.
17. Pen pot: It's all in the details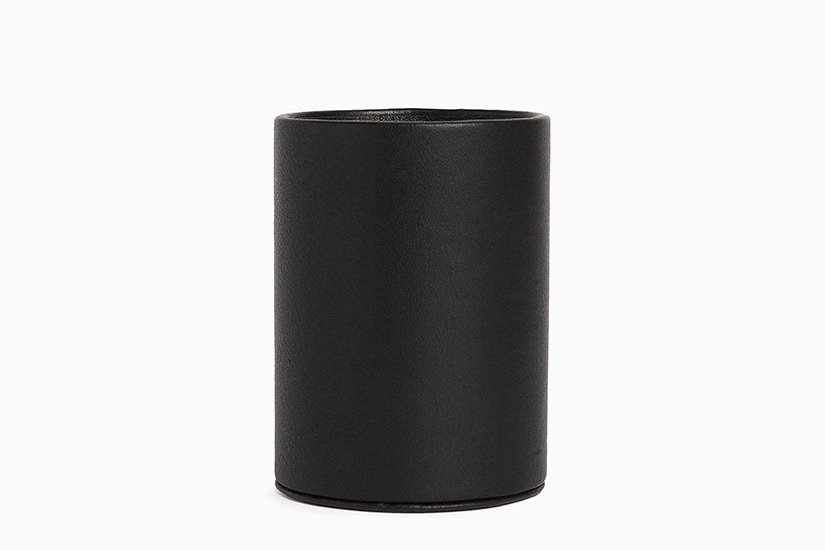 To keep you home desk clean and tidy, you'll need a pen pot. Don't use your coffee mug or your kid's plastic glass if you want to look the part and feel motivated to do productive work when you sit down. This black leather pen pot from Michael Verheyden will look the part. Featuring a matte finish and a main internal compartment, it's just what you need.
If you don't want to spend too much money on this desk accessory, check this affordable yet very stylish alternative by Waveyu.
18. Mouse pad: Be gentle with your wrists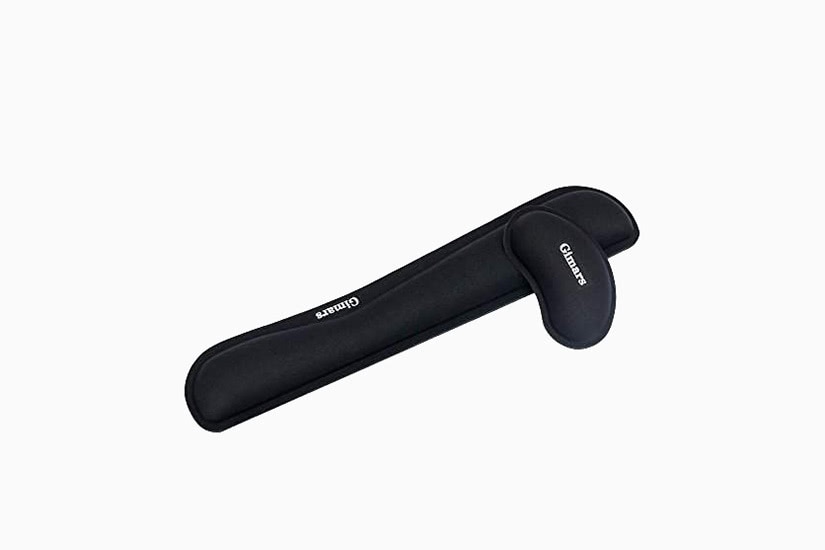 If you're used to working long hours on your computer, you know how painful it can be for your wrists. We think it's worth investing in an inexpensive mouse pad for your home office. Look for something in a soft and odour-less material like this bundle by Gimars.
19. Cables: Connect everything together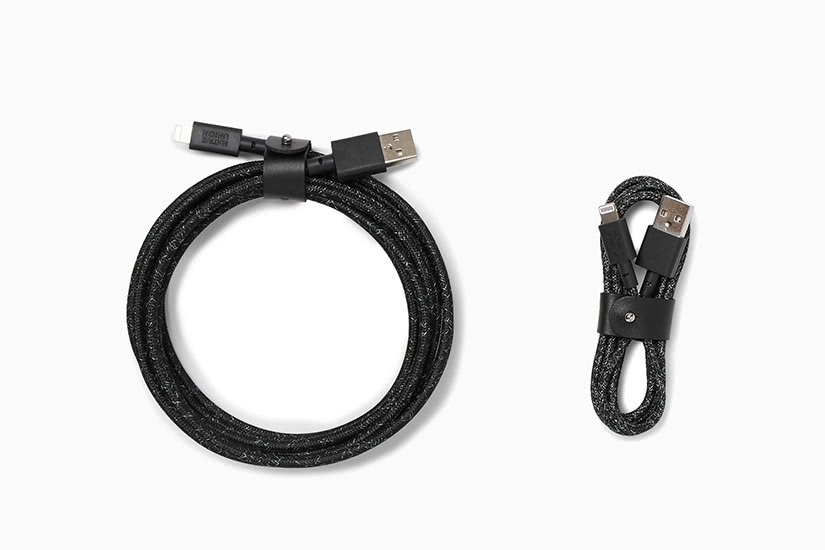 You can't go completely wireless yet. When setting up your home office computer, think carefully about the cables that you'll need. You can pretty much find every sort of plug and cables on Amazon.
20. Printer and scanner: Because sometimes you'll still need hard copies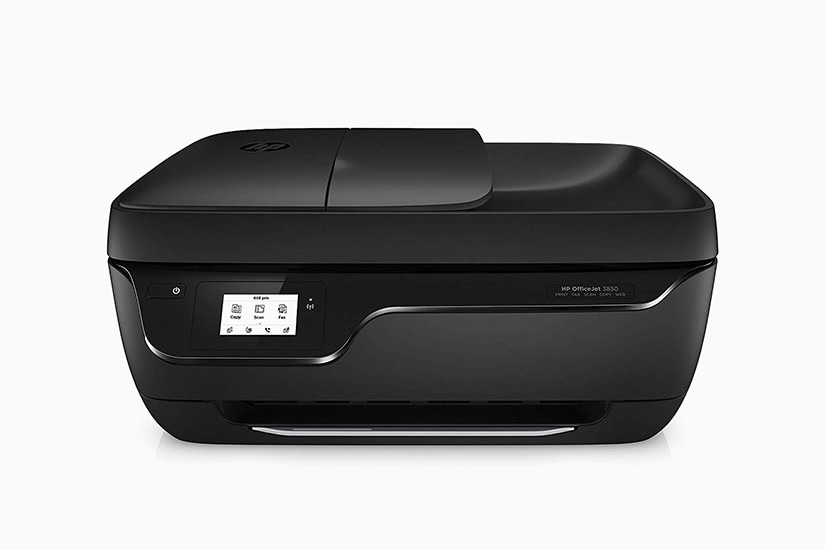 This won't be important for some, but essentials for others. Having a reliable printer and scanner in your home office could save you a lot of trips to a local printer. For a minimalist and elegant look, but also for its build quality and ease of use, we like the HP OfficeJet All-in-One Wireless Printer. It's simple to use and will last you for years.
21. File cabinet: If you need to store paper and documents at home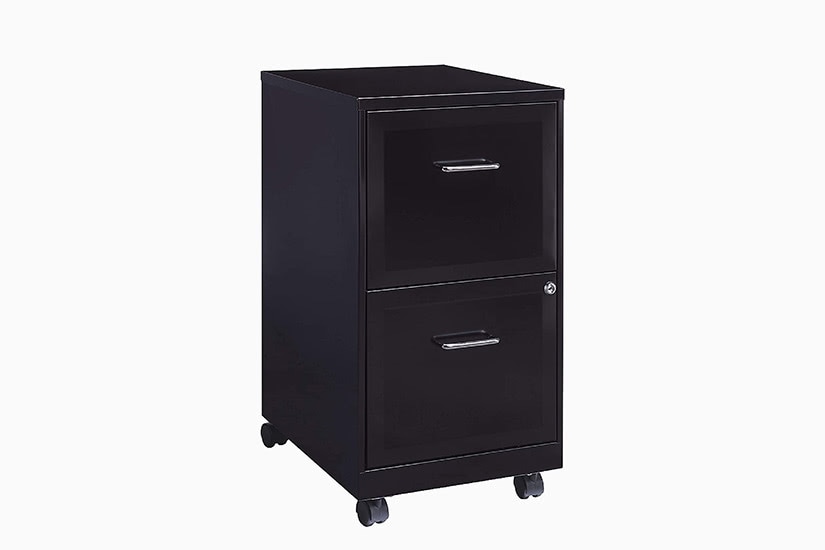 Working from home doesn't necessarily mean that you're entirely digital. If you need to keep important documents in your home office, it's worth buying a simple and functional file cabinet. We like Lorell's cabinet because it's practical with its four wheels yet inexpensive and discrete. Don't look further for home office closet ideas, this is the ideal format in our experience.
22. Wireless phone charger: Keep your phone powered up through the day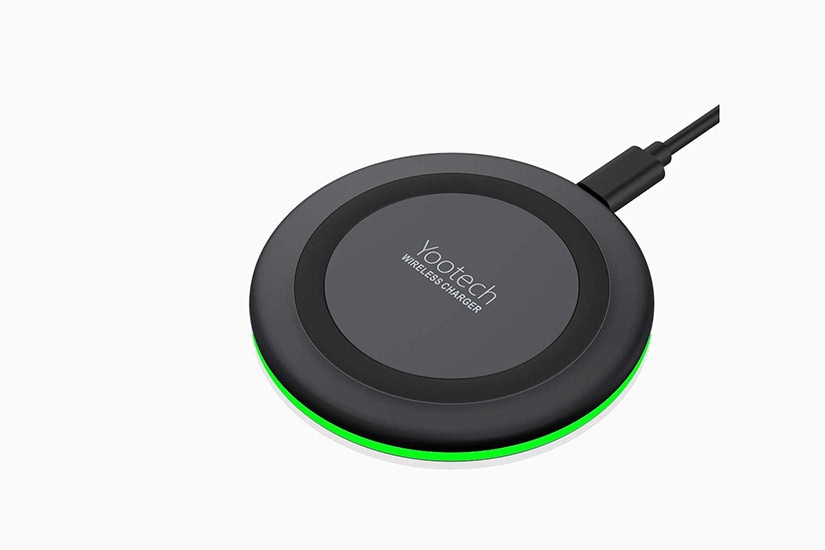 A wireless charger is perfect for your home office setup. It's one less cable to keep lying around, and the charging matt can be discreetly kept underneath your monitor. Yootech's latest generation wireless charging pod is our favourite. It works with every modern phone, including iPhone and Samsung, it's safe and easy to use, and a discreet light will tell you when your phone is fully charged up.
23. Fragrance diffuser: Keep your office fresh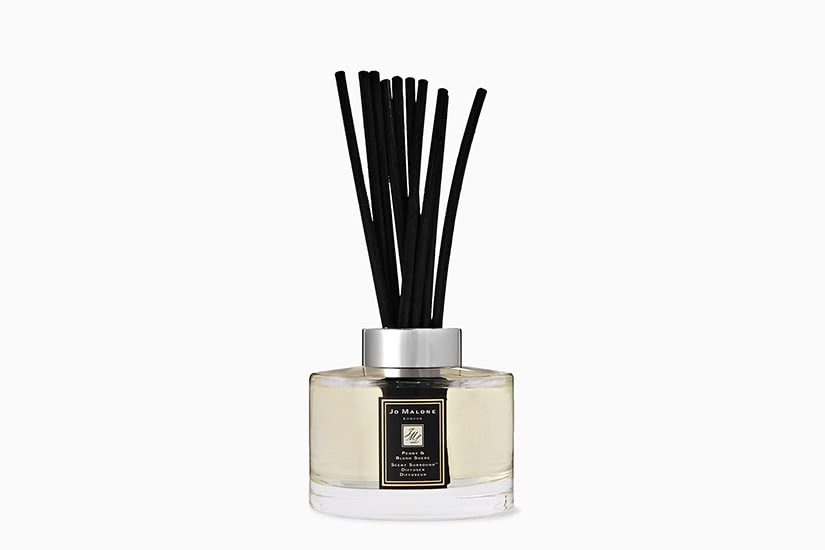 If scented candles aren't your thing, check Jo Malone's beautiful collection of fragrance diffusers. The luxury brand offers a range of scent to keep your creative juices flowing day after day.
24. Desk lamp: Keep your office bright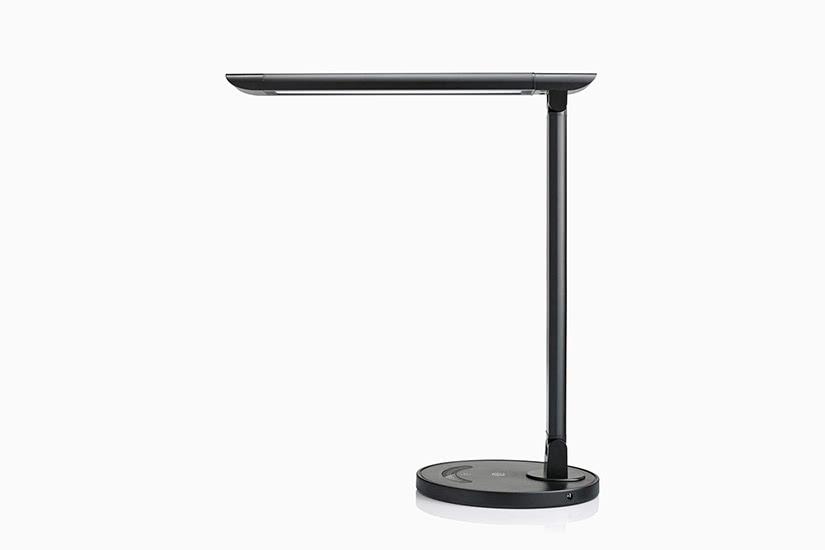 Depending on your workspace setup, you might need a desk lamp to be able to work through the night. If that's the case, check the latest generation of LED lamps that are gentle on your eyes. We like the TaoTronics LED Desk Lamp that uses Philips Hue bulbs to recreate the natural light. The lamp also doubles as a charging dock for your phone.
25. Light bulb: Get your daily dose of full-spectrum light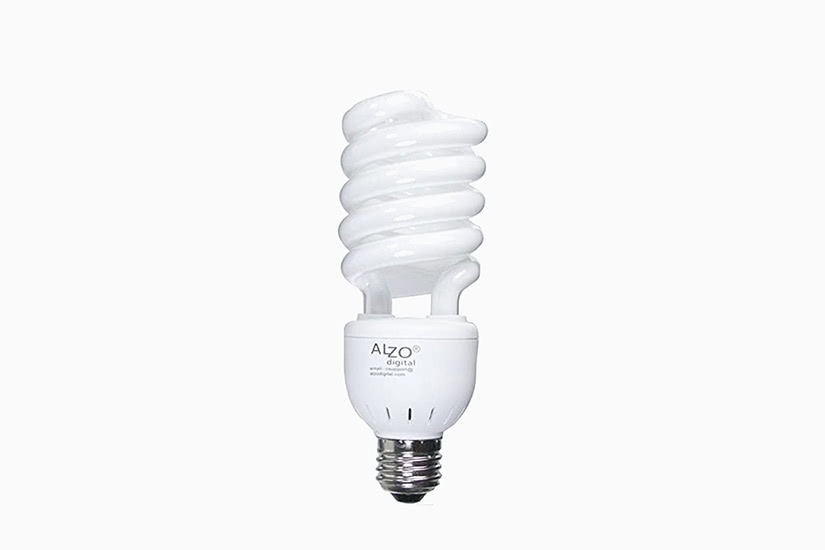 If your home office doesn't have plenty of natural sunlight, you might want to purchase a full-spectrum bulb for your office lamp. It will give you a natural bright light to keep your energy level up by reproducing the natural daylight generated by the sun.
26. Ottoman armchair: When it's time to sit back and strategise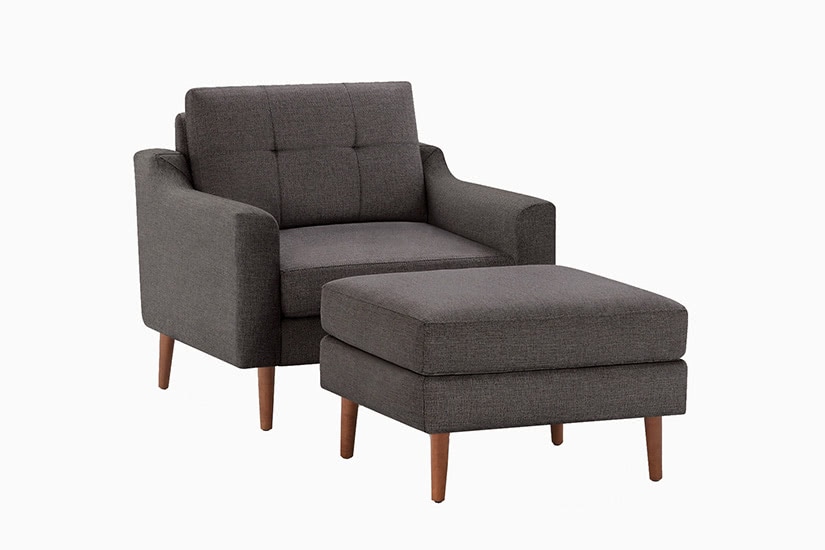 Having an Ottoman armchair in your home office is a luxury. But if you have space, it's so worth it! Especially this model by premium quality brand Burrow. We absolutely love the feel of relaxing in it to read a document or just sit back and think a little. It comes in different colours and styles, but this combination is our favourite.
27. Music subscription: Fuel your creativity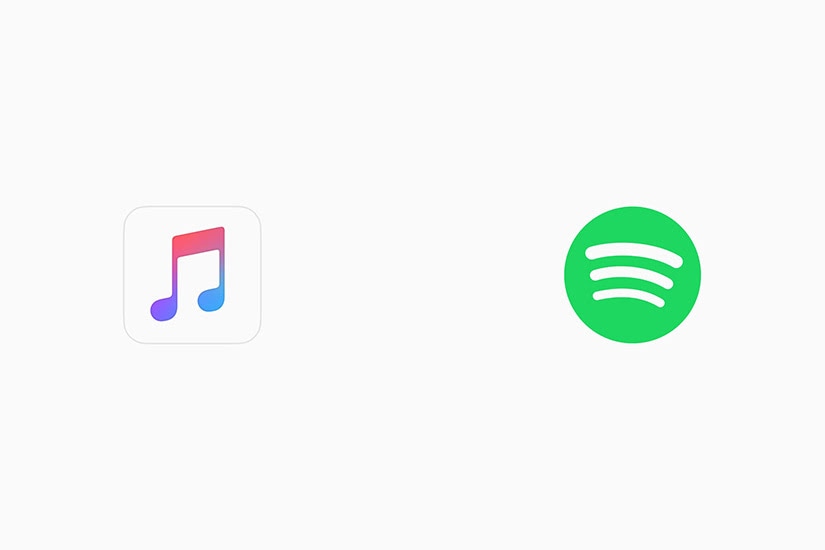 Last but not least, you should invest in a music subscription service if you don't already have one. Apple Music and Spotify both have their pros and cons, so test them both for a month for free if you want. But make sure to play some inspirational music to keep you focused and motivated while working from home.
Organise your day to be more productive at home than in an office
Setting up the best home office possible won't do you any good if you can't organise your day for remote working. One of the challenges people working from home most often face is to stay motivated and focus on the things that matter most.
Here are 10 tips to help you get started:
Keep a routine: it's even more important to have a simple and efficient work routine when working from home than when going to an office. Wake up at the same time every workday, don't stretch yourself but don't start to drag your lunch break either.
Start early: most people are more efficient in the morning. Take advantage of not having to commute to work to get your most important work done before lunch break.
Dress for success: dressing up is as important when working from home than when going to an office. It's also essential to look the part if you have regular video calls with your colleagues. If you're a man, check our men loungewear style guide to be comfortable yet presentable when working from home, or our guide on smart casual if you need to be a little bit more serious. We'll have similar guides for women soon.
Set clear rules with other people in your house: if you're sharing an apartment with flatmates or if you're living at home with your spouse and children, it's absolutely essential to set up ground rules so they respect your workspace and don't interrupt you in critical moments.
Take invigorating breaks: it's easy to be so totally absorbed in your work when working from home that you forget to check the time. You won't be able to sustain productive work for long periods of time, however. Keep track of your progress and take regular breaks to refresh and come back stronger.
Leave home and exercise: at least once a day, step out, take some fresh air and exercise. Your mind and your body need a daily dose of sunlight to stay healthy.
Ask for what you need: if you work for a company, don't be afraid to ask from your employer the things you need to be productive when working from home. A laptop is a bare minimum, but you could maybe get your company to pay for an extra monitor as well as your mouse and keyboard.
Keep track of your health: working from home for a long period of time can put a different kind of stress on your physical and mental health. Keep a pulse on your body with health techs such as Withings' blood pressure monitor, scale, and sleep tracker.
Relax and unwind after work: don't mix work with your personal life. When work is done at the end of the day, disconnect and relax. It's an important part of staying productive and creative throughout the day. If you enjoy a drink in the evening, check our selection of the best whisky and best bourbon brands to drink responsibly.
Sleep well: Sleep is one of the most important parts of your day. A healthy sleep routine will keep you sharp and motivated throughout the day. Check our selection of the best luxury mattresses to spend your money wisely on a high-quality mattress.
Home office set up: Frequently asked questions