Imagine it: Salon-quality styling, silky-smooth hair, shiny, sheeny, frizz-free locks — all from the comfort of your own home. The best hair dryers can accomplish all of this, and more.
If you've ever wished that the blow-drying part of your daily routine was shorter or easier, you're certainly not alone. Instead of making do with unwieldy, sub-par hair tools, you can invest in your self-care and your hair's health…at a blow. The best hair dryer can transform your tresses and seriously upgrade your hair routine.
You just have to decide which blow dryer will work best for you.
With hundreds of models on the market, it can be easy to get overwhelmed with all of the types, features, and settings. Whether you're in need of an option for fine hair, damaged hair, curly or natural, travel or salon-like — you're in the right place.
We've combed through the top-rated hair dryers of the year, and we've found the models that live up to their promises. Here's a blow-by-blow on the best hair dryers you can buy, along with a helpful guide on this year's hottest specs and features.
The 19 best hair dryers
InStyler Turbo Max: Best overall hair dryer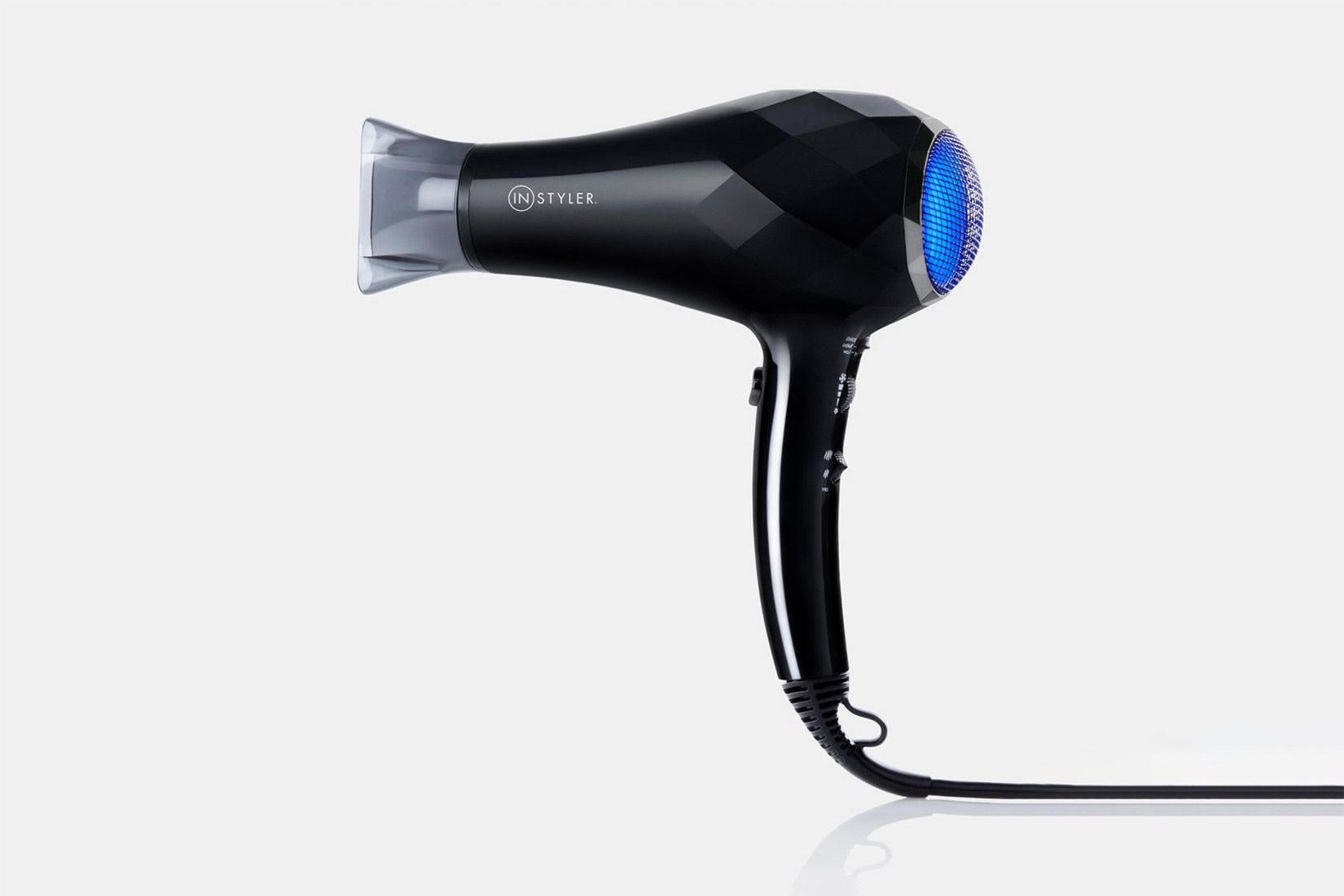 If you're looking to dry your hair in a third of the time of a typical dryer, the Instyler Turbo Max ionic hair dryer is the hot tool for you. Turbo Max's aerospace designed airflow system and new advanced hi-torque motor blows every other dryer away with its superior power (10x the ionic power of the average hair dryer!) and drying speed.
The fastest hair dryer on our list and an essential hair tool for everyone's at-home drybar, this high-powered blow dryer weighs only 14.4 ounces (400 g) and feels lightweight and ergonomic in your hands.
It has a long 2.7m power cord, comes with a tourmaline ceramic grill, custom airflow options with infinity airflow dial and a removable airflow concentrator for easy, precision styling.
The Instyler Turbo Max hair dryer works for all hair types—from very coarse and thick hair to fine tresses! Either way, you'll end up with healthy, shiny hair. Honestly, that is all we needed to hear.
Now you know: a silky, salon-standard blowout is achievable from the comfort of your home… in mere minutes.
Best for: DIY hairstylists seeking less frizz and more shine in significantly less time. 
| | |
| --- | --- |
| Ionic mode: | Yes |
| Power: | 1500W |
| Heat settings: | Infinity Dial allows to control and customise the airflow |
| Speeds: | Continuous (35% faster than regular dryers) |
| Cord length: | 9 ft (2.7 m) |
| Colour: | Black |
Dyson Supersonic: Best high-end hair dryer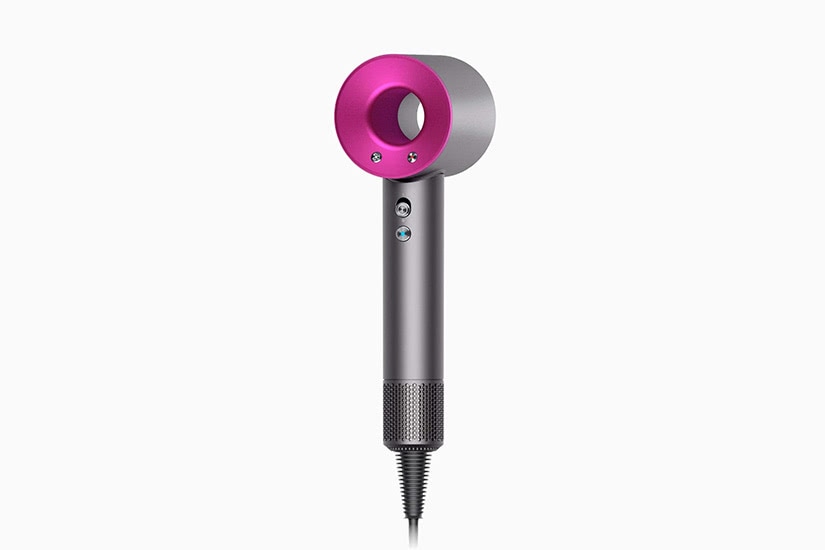 Want the very latest, most scientifically-backed tools at your beck and call?
This is it.
5 years – 103 engineers – 600 prototypes. The result? This quiet, light, and efficient hair dryer that protects your hair…every step of the way. Case in point: To prevent extreme heat damage, the air temperature of this supersonic dryer is measured forty times every second!
In other words, when you use the Dyson Supersonic dryer, your hair will be soft and shiny–and you won't experience any heat breakage. Or noise fatigue: This dryer is completely inaudible.
Your fast-drying and styling experience will be light and balanced. The motor is in the handle, the styling concentrator and diffuser are sleek and easy-to-use, and everything clicks together magnetically.
With the Supersonic Hair Dryer, the Dyson team sought to create a completely new type of dryer and innovative styling tool–and, it seems, they have.
Best for: Tech enthusiasts looking for the very latest inventions in haircare
| | |
| --- | --- |
| Ionic mode: | Yes |
| Power: | 1200W |
| Heat settings: | 4 |
| Speeds: | 3 |
| Cord length: | 8 ft (2.2 m) |
| Colours: | Iron/fuschia, white/silver, and fuschia/nickel |
Conair InfinitiPro: Best value hair dryer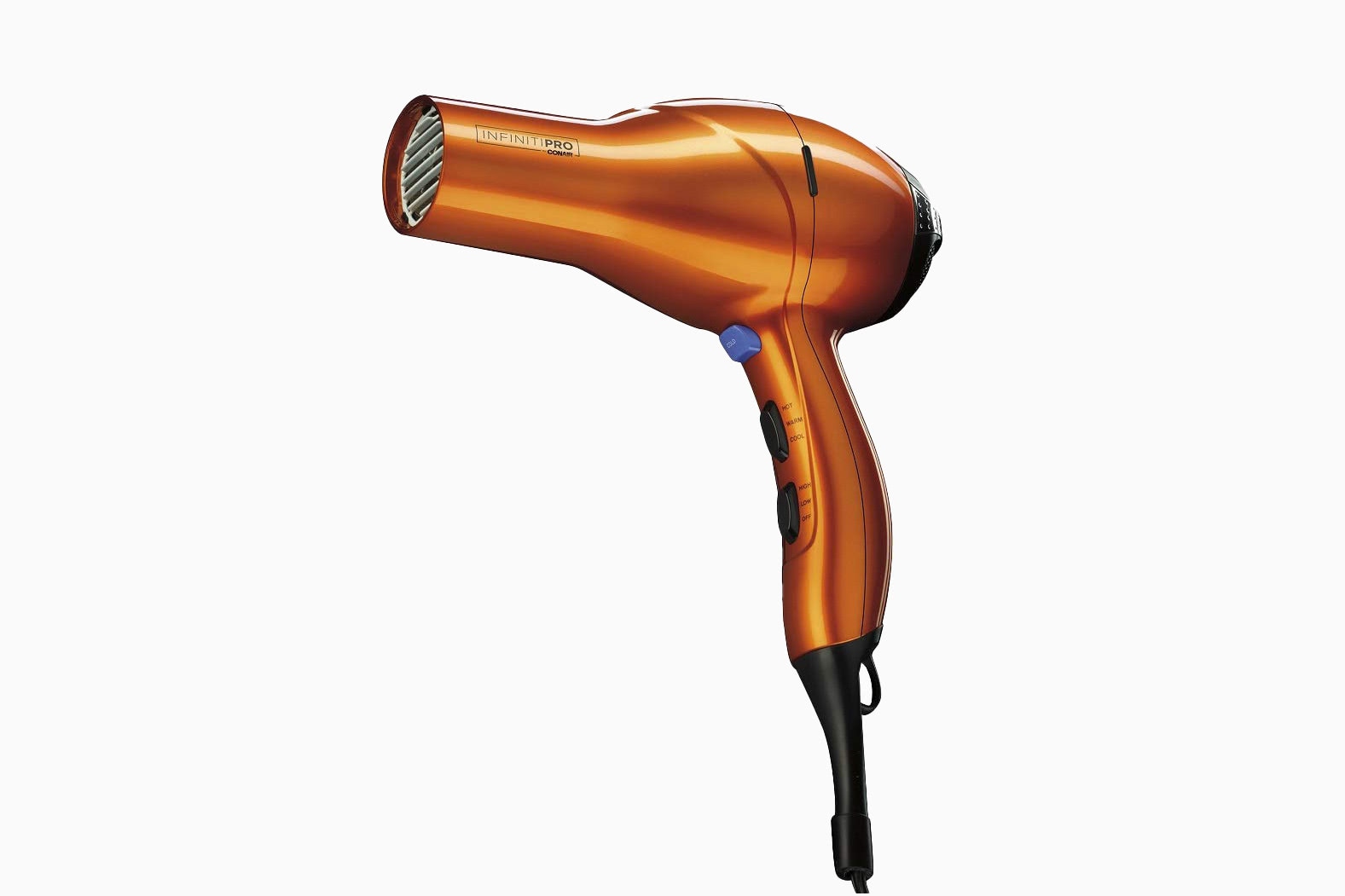 A good blow-dry doesn't necessarily have to be an investment. This high-performance hair dryer by Conair offers longevity, power, and protection for a budget-friendly cost.
Ionic technology? This tool has it–which means that your hair will have that silky, frizz-free sheen you love for a fraction of the fee.
With the InfinitiPro, you can expect uniform heat and even a cold shot button to help you lock in your look. It comes in aesthetically pleasing finishes, too–which means that it'll blend in well with your home.
The Conair InfinitiPro is the best affordable hair dryer of the year: It's versatile, It's built to last, and it has enough power to dry your hair efficiently. What more could you want?
Best for: Those looking for an at-home blowout that won't blow their money.
| | |
| --- | --- |
| Ionic mode: | Yes |
| Power: | 1875W |
| Heat settings: | 3 |
| Speeds: | 2 |
| Cord length: | 6 ft (1.8 m) |
| Colours: | Aqua, Burgundy, and Black |
Cura LUXE Professional: Best ionic hair dryer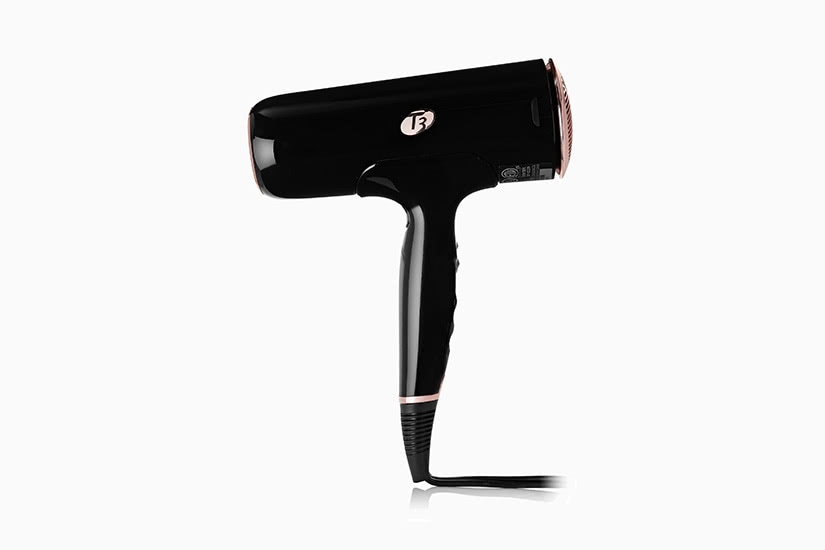 If you want that sumptuous spa-like salon experience, you need a hair dryer that's equal parts practical and luxurious — such as the Cura Professional ionic hair dryer.
Ionic hair dryers use targeted streams of ions to dry your hair quickly and lock your style in place — before it has time to frizz. The result? A blowout that'll make you feel like you stepped out of a fashion magazine.
The best hair dryer for blowouts, Cura LUXE Professional also boasts many thoughtful little touches for easy everyday use: The ergonomic handle so your wrist doesn't get stressed, and its Volume Booster for instant body and shine.
Best for: Anyone looking for a professional blowout at home.
| | |
| --- | --- |
| Ionic mode: | Yes |
| Power: | 1875W |
| Heat settings: | 5 |
| Speeds: | 2 |
| Cord length: | 9 ft (2.7 m) |
| Colours: | Black |
BaBylissPRO Ceramix Xtreme: Best hair dryer for powerful heat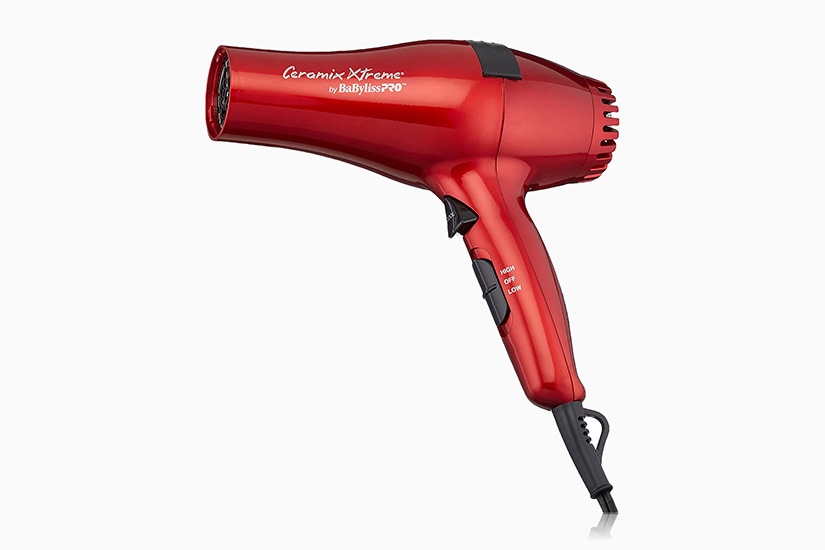 If you have thick hair, you need a tool that's up to the task. While you don't want to damage your tresses, wielding a hair dryer that has the power to dry your hair well can be the difference between looking fabulous all day and not having the time to get the look you want.
Enter: The BaBylissPRO Ceramix Xtreme Dryer.
It boasts an incredible 2000W — but also has ceramic technology and ionic settings in place to help you protect your hair and keep it shiny. This professional-grade BaBylissPRO dryer will certainly help you achieve a fast, even blowout at home.
Best for: Those seeking a dryer as strong as their hair is thick.
| | |
| --- | --- |
| Ionic mode: | Yes |
| Power: | 2000W |
| Heat settings: | 4 |
| Speeds: | 2 |
| Cord length: | 9 ft (2.7 m) |
| Colours: | Black |
InStyler Mini: Best compact hair dryer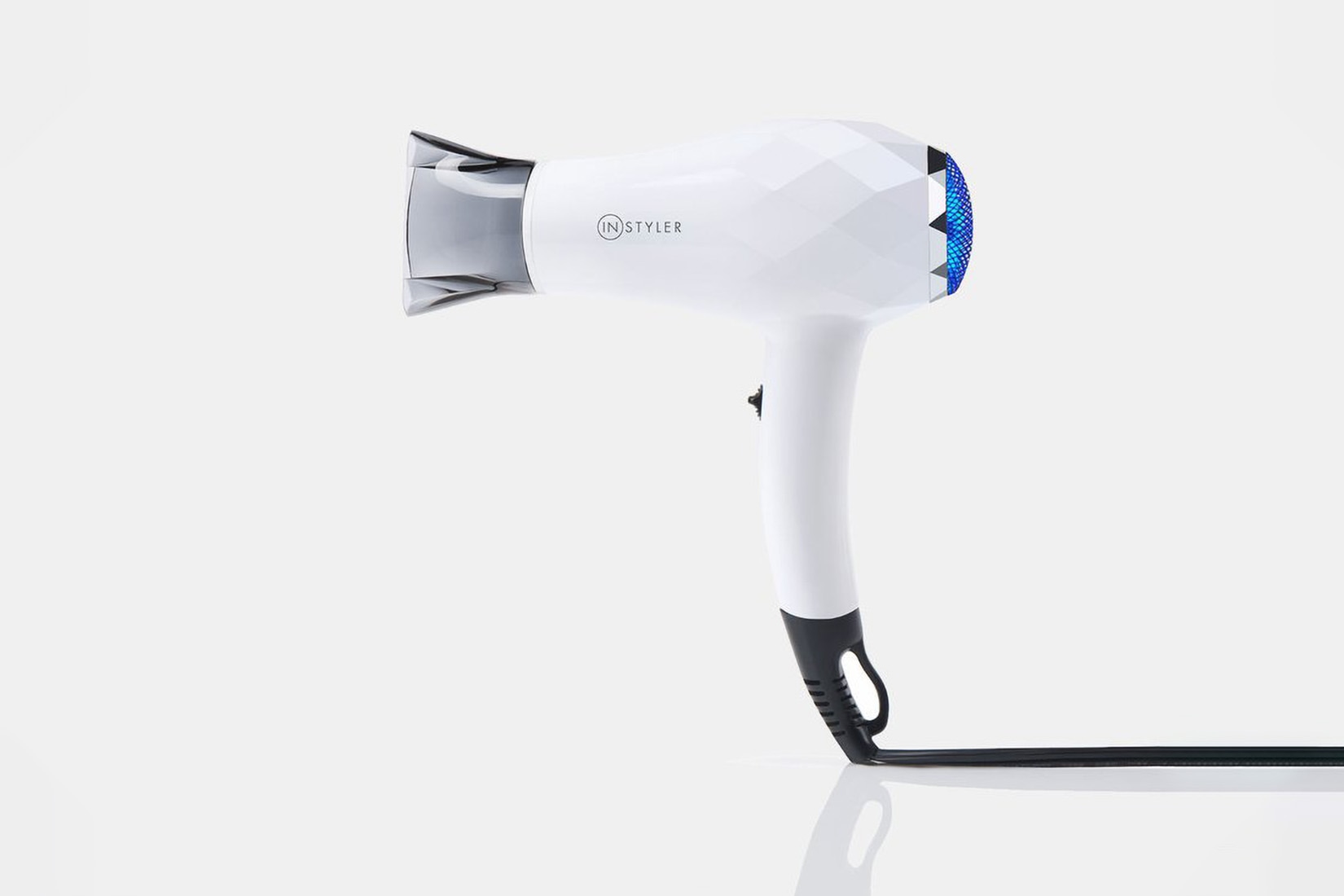 Whether you want to wave goodbye to hotel dryers forever, are looking for a second hair dryer to stash in your office or have a tiny studio at home without much bathroom storage, sometimes space-saving tools are life-saving, as well. 
This Instyler Mini hair dryer may be mini, but it's certainly mighty. With an aerospace designed airflow system for a quick dry, not only is this sleek and stylish blow dryer powerful enough for all textures, it's also lightweight —8 oz (227 g) to be exact — enough to seamlessly pack into any suitcase, travel tote or gym bag. 
We like that this travel hair dryer is just as powerful (if not more so) than a full size dryer and brings precision styling control into a compact, travel-ready body with a removable airflow concentrator nozzle— all that for $35. Plus, it has two different voltage settings so that you can easily bring it overseas.
Achieving smooth, frizz-free hair miles away from your trusted salon? Easy. Trust us, you'll never go away without this cute, compact hair dryer again.
Best for: Frequent blow-driers and frequent fliers seeking smooth, shiny hair in the palm of their hand, no matter where they go.
| | |
| --- | --- |
| Ionic mode: | Yes |
| Power: | 1000W |
| Heat settings: | 1 |
| Colour: | White |
Ghd Helios Professional: Best hair dryer for quick drying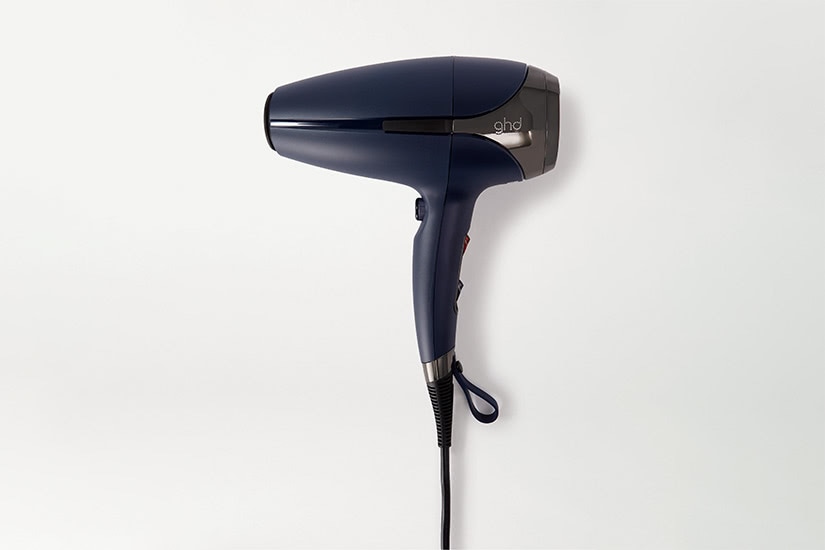 If you're short on time, but still seek those salon-worthy looks, it's time to look for a pro-level dryer. Ghd's Helios model can help you achieve gorgeous body and shine for your hair…with enough power to do it in minutes.
You'll find that you can still have the control to treat your hair the way it needs to be treated because of the specific way the Helios channels heat. It combines ionic technology with a specifically-designed nozzle to ensure that you get precisely the look you want for your hair.
Just imagine what you'll do with all the extra time you'll have from cutting your drying time in half.
Best for: Anyone who thinks they don't have enough time to blow-dry their hair. (Now, you do.)
| | |
| --- | --- |
| Ionic mode: | Yes |
| Power: | 1875W |
| Heat settings: | 3 |
| Speeds: | 2 |
| Cord length: | 8 ft (2.2 m) |
| Colours: | Blue |
BaBylissPRO TT: Best hair dryer for travel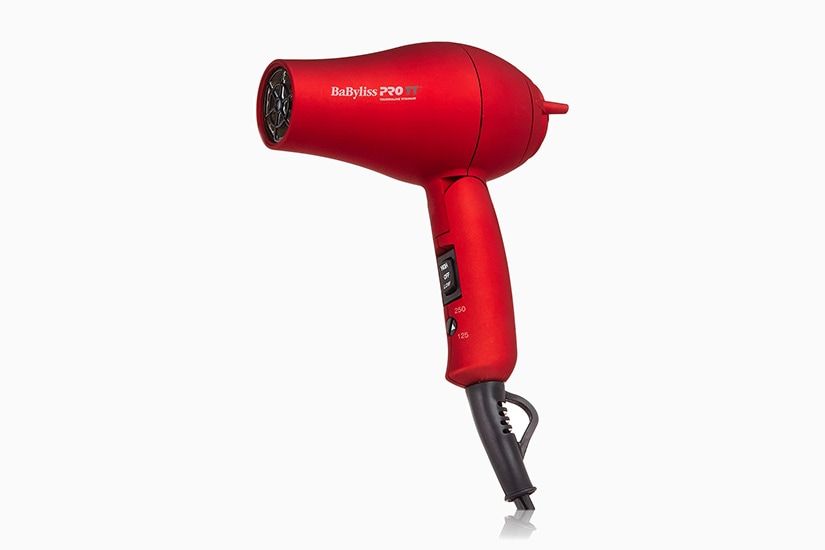 Travel can be exciting, interesting, and unexpected— but you know what shouldn't be unexpected? Your hair. When you're experiencing different lighting, different water, different atmospheres and more, your hair can truly take a lot for the team.
With a top-tier travel hair dryer, however, you'll be able to take back some control. With inset tourmaline crystals that help boost shine and fight static, the BaBylissPRO TT Travel Dryer is one that can stand up to professional models in its own right.
Plus, the BaBylissPRO TT travel dryer has dual voltage, which means you really can use it (easily) worldwide.
Best for: Jet-setters who want to look flawless anywhere they go.
| | |
| --- | --- |
| Ionic mode: | No |
| Power: | 1000W |
| Heat settings: | 2 |
| Speeds: | 2 |
| Cord length: | 5.5 ft (1.7 m) |
| Colours: | Red |
Conair Compact: Best lightweight hair dryer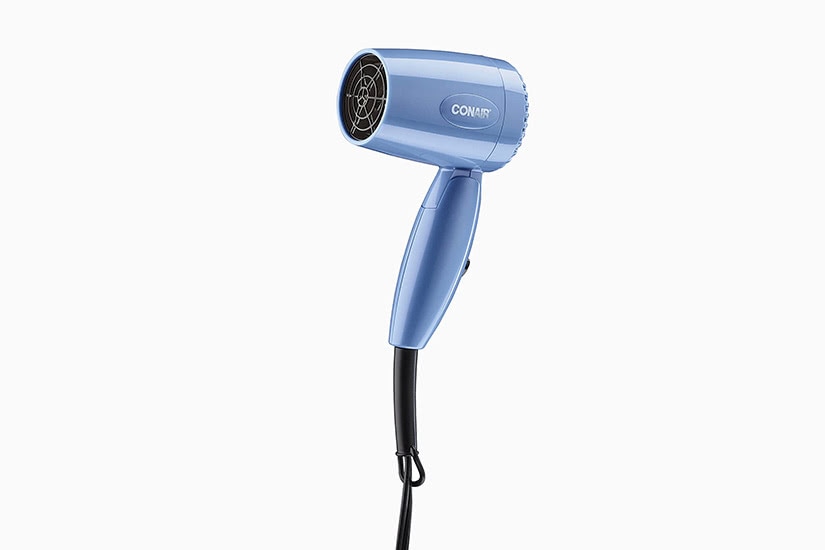 Do your arms ever begin to ache when you're styling your hair? Particularly if you have long, thick hair, you might find that your daily hair-drying is more of a workout than it needs to be.
With this compact, lightweight hair dryer by Conair, you'll find your arms feel freer…without sacrificing power or performance.
The Conair Compact travel hair dryer weighs fraction of most others on the market but still offers salon-worthy styling options, such as multiple heat and speed settings.
With this hair dryer, you also get the benefit of expert engineering that makes it mold to your lifestyle. The handle of the Conair Compact hair dryer folds so you can easily tuck it into a purse.
Best for: Those who don't need a heavy tool weighing them down.
| | |
| --- | --- |
| Ionic mode: | No |
| Power: | 1600W |
| Heat settings: | 2 |
| Speeds: | 3 |
| Cord length: | 5 ft (1.5 m) |
| Colours: | Blue |
Revlon One-Step: Best hair dryer brush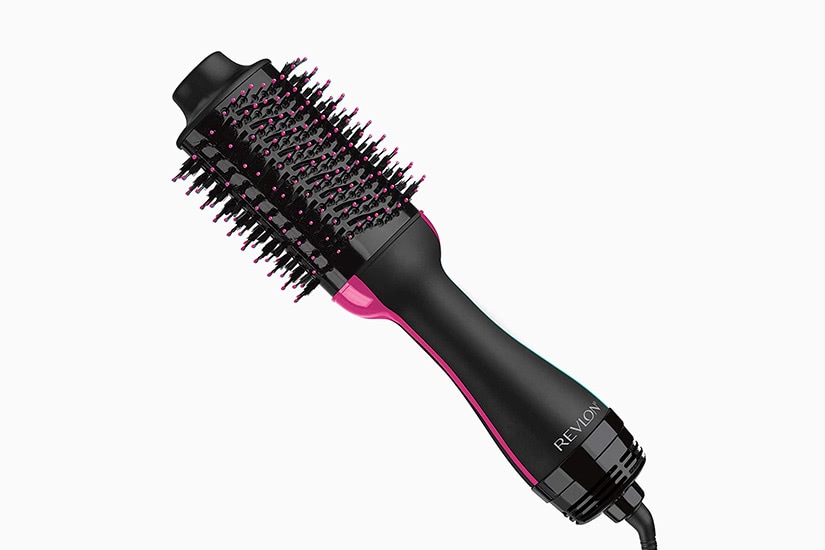 Over eighty thousands of happy reviewers can't be wrong: the top rated Revlon One-Step Hair Dryer and Volumizer makes your styling routine a breeze —a one-step, one-tool process.
The specific design of this hot air brush features an oval shape to smooth out your hair and round edges to create the lift and volume you want.
The Revlon One-Step Hot Air Brush is an absolute essential for how much time it saves–and how it makes professional blowouts much easier to achieve at home.
Best for: Minimalist hairstylists in need of one multitasking tool.
| | |
| --- | --- |
| Ionic mode: | Yes |
| Power: | 1100W |
| Heat settings: | 3 |
| Speeds: | 3 |
| Cord length: | 6 ft (1.8 m) |
| Colours: | Black, Mint, and Turquoise |
Conair Ceramicplus: Best dryer for fine hair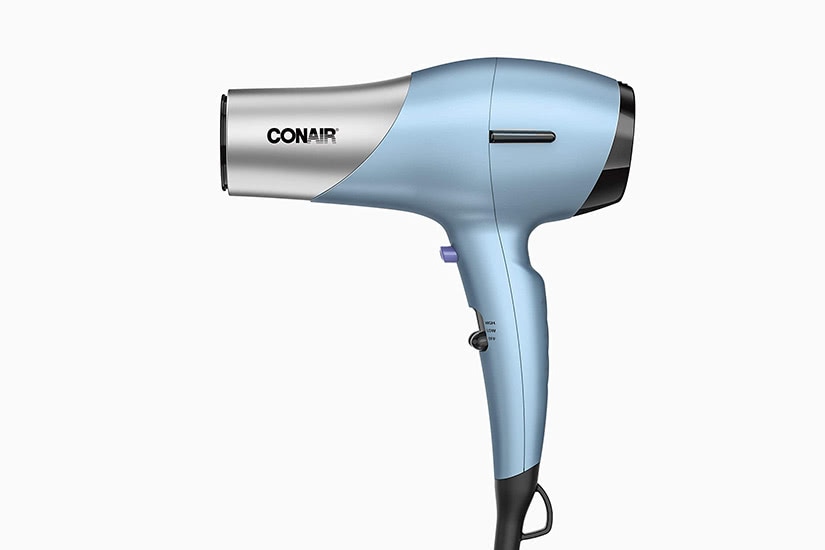 If you have fine hair, you know the struggle of styling and drying your tresses without ending up with breakage and frizz. Fortunately, the Conair team has found a way to gently dry your hair while keeping it healthy and shiny–no matter how delicate your locks are.
This Conair Dryer with Ceramicplus Technology is engineered to improve your hair texture, dry it quickly, and keep it damage-free all at the same time. Looking for soft, shiny hair? This softer-heat model will be just what you need.
Best for: Those with fine hair that still needs to look fabulous.
| | |
| --- | --- |
| Ionic mode: | Yes |
| Power: | 1600W |
| Heat settings: | 3 |
| Speeds: | 2 |
| Cord length: | 7 ft (2.1 m) |
| Colours: | Blue |
Revlon Infrared: Best dryer for thick hair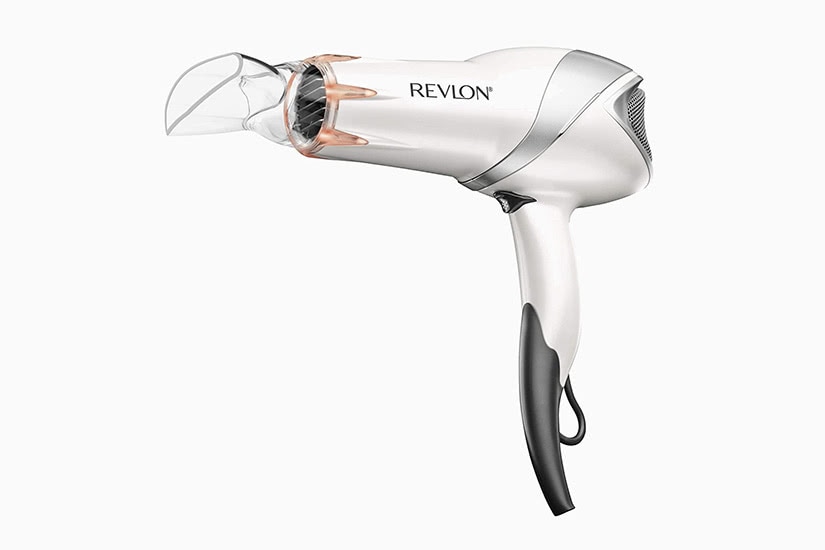 If you have thick hair, you know that it can be a struggle to get your mane to cooperate. Or to get it dry within a reasonable timeframe, for that matter. You need a high-power hair dryer that can make your hair smooth and manageable without damaging it.
Perhaps as a testament to its own abilities, Revlon's included three hair sectioning clips with this model. This dryer means business.
The balance between infrared heat and ionic technology really represents the sweet-spot between shine, control, and softness. We combed through many hair dryer reviews for the Revlon Infrared Hair Dryer, and found customer after customer noting that their styling time with thick hair was much more efficient.
Best for: Anyone with thick tresses that needs a serious tool that's up to the job.
| | |
| --- | --- |
| Ionic mode: | Yes |
| Power: | 1875W |
| Heat settings: | 2 |
| Speeds: | 2 |
| Cord length: | 8 ft (2.2 m) |
| Colours: | White |
CHI Touch 2: Best dryer for frizzy hair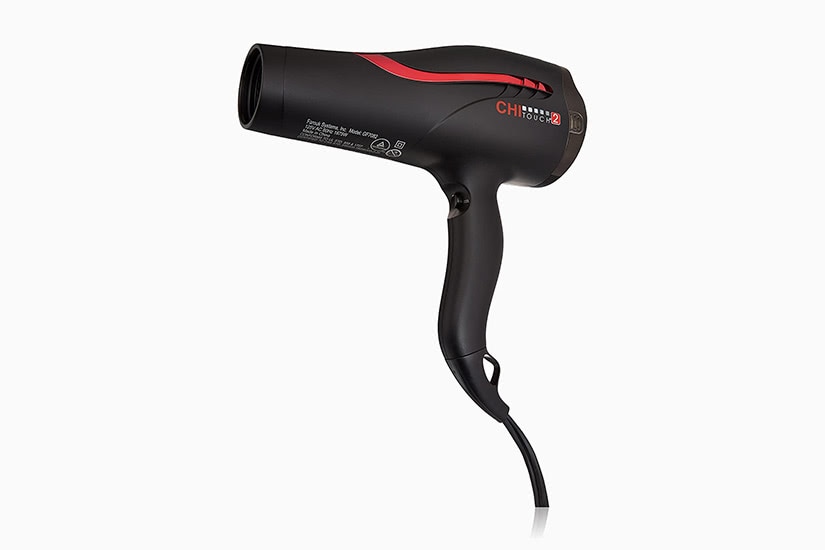 The higher the wattage, the faster the drying time — and the faster the drying time, the less frizz you'll experience. If you're currently battling frizzy hair, the high-powered CHI Touch 2 Hair Dryer is your best solution.
With a concave, comfortable-grip handle and a soft-touch rubber finish, this hair dryer is easy to use for hours on end — but you won't have to.
The touch screen on this CHI dryer allows you to modulate speed, heat, and even ion flow so this hair dryer is perfectly tuned for your hair. A hair dryer with custom settings? Sign us up for that.
Best for: Anyone whose hair goals are simple: Sleek, shiny, soft — and, most importantly, no frizz.
| | |
| --- | --- |
| Ionic mode: | Yes |
| Power: | 1875W |
| Heat settings: | Intelligent Touch-Screen |
| Speeds: | Intelligent Touch-Screen |
| Cord length: | 7 ft (2.1 m) |
| Colours: | Black |
DevaCurl Devadryer: Best dryer for curly hair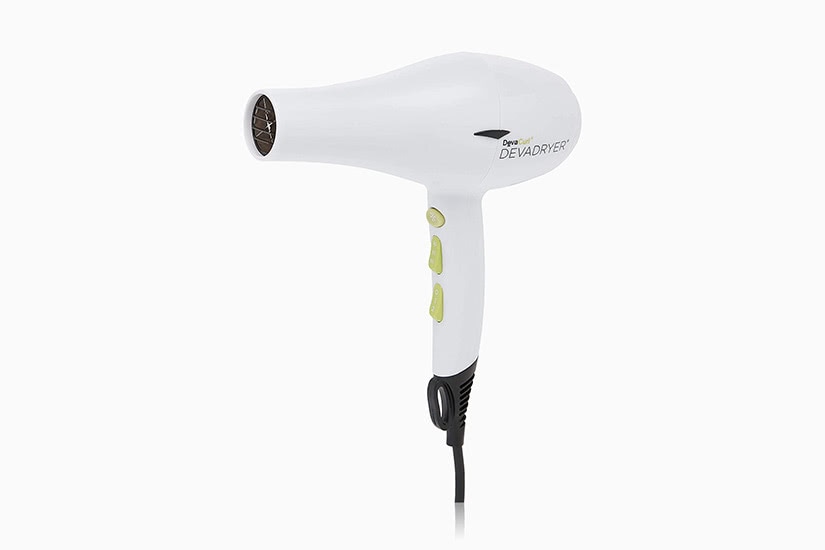 If you have curls, you know just how difficult it can be to cultivate a healthy shine for your hair without ending up with frizz and flyaways.
The DevaCurl team engineered this Ionic Hairdryer just for you — and they included a diffuser which promotes 360-degree airflow. This will ensure that your curls are bouncy and full of volume, not flattened or stretched out.
For a defined look for your curls (and an ergonomic hair dryer design that's easy on your arms), the DevaCurl Ionic Hairdryer is an excellent choice. We love that you can use the diffuser to dry right at the root of your hair, which will make your drying process more efficient than you can imagine.
Best for: A hair dryer perfectly engineered 'For All Curlkind'.
| | |
| --- | --- |
| Ionic mode: | Yes |
| Power: | 1600W |
| Heat settings: | 3 |
| Speeds: | 2 |
| Cord length: | 7 ft (2.1 m) |
| Colours: | White |
Remington: Best dryer for damaged hair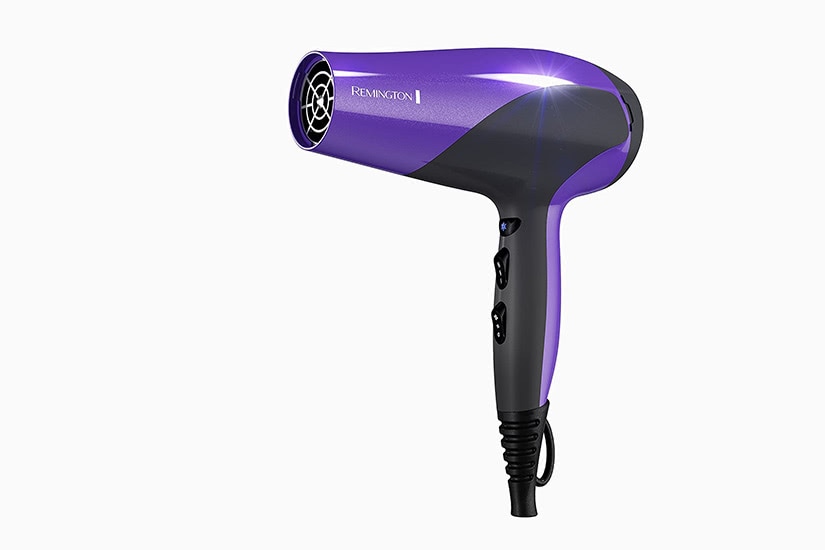 For healthy, strong hair, you might have heard that you shouldn't use heat treatments. For the most part, that's true — direct heat can make your hair weak and brittle. However, if you're using a blow dryer that's engineered to protect your hair, you can worry less — and style more.
The Remington hair dryer offers a conditioning and coating technology composed of ionic, ceramic, and tourmaline features. The result? A boost of protection for your hair, so you can dry without over-drying.
You don't need to compromise power for protection, of course. Even though it's gentle on hair, the Remington Damage Protection Hair Dryer has one of the highest wattages on our list…proving you can take care of your hair and style quickly at the same time.
Best for: Those who won't let damaged hair stand in the way of an impeccable 'do.
| | |
| --- | --- |
| Ionic mode: | Yes |
| Power: | 1875W |
| Heat settings: | 3 |
| Speeds: | 2 |
| Cord length: | 7 ft (2.1 m) |
| Colours: | Purple |
Gold N Hot: Best bonnet dryer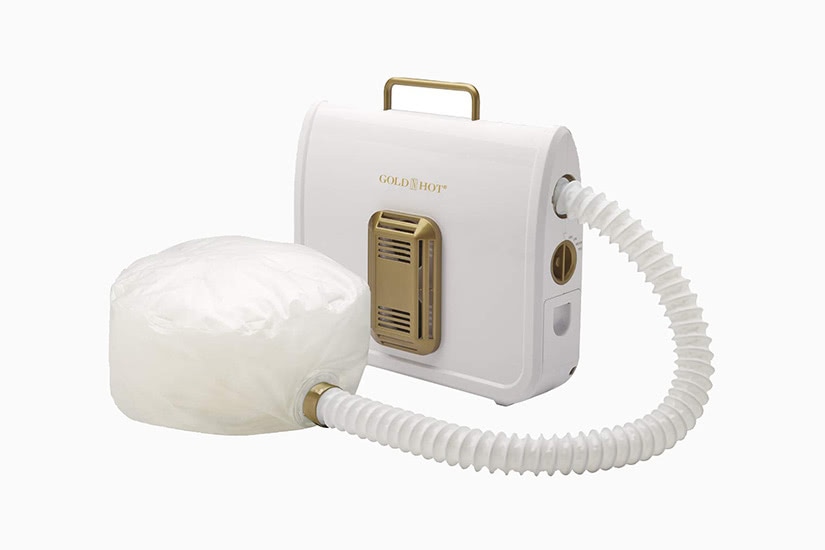 For natural hair, for a spa-like experience, for hands-free drying: A bonnet dryer can provide incredible benefits, like stress-free styling.
With gentle, constant heat, this Gold N Hot dryer makes it easy to maintain healthy-looking hair. And, with the thoughtful, practical portability features included (such as a folding handle, retractable hose, and built-in bonnet compartments), you can have this subtly spa-like experience anywhere you go.
This Gold N Hot Professional Ionic Dryer is capable, unique, and ready to make your daily routine a little more pleasant with each and every use.
Best for: Bonnet dryer aficionados looking for a portable, easy-to-use upgrade.
| | |
| --- | --- |
| Ionic mode: | Yes |
| Power: | 800W |
| Heat settings: | 4 |
| Speeds: | N/A |
| Cord length: | 6 ft (1.8 m) |
| Colours: | White |
Elchim: Best professional hair dryer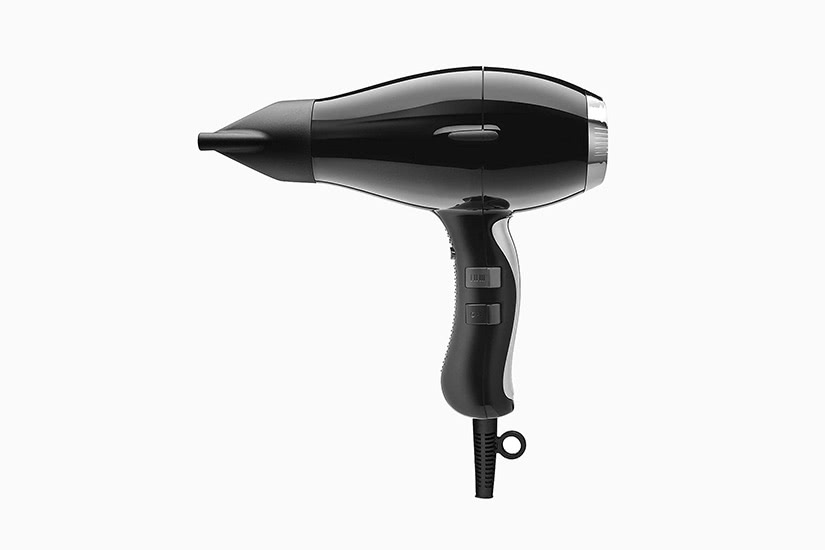 The best professional hair dryer of the year is the Elchim 3900 — and, once you look at it, it's clear why.
Engineered in one of the fashion capitals of the world, Italy, this ionic-ceramic hair dryer locks in moisture for incredible shine. If you're searching for a hair tool that can give you that top-of-the-world feeling you have when you leave a salon, perfectly styled, this is it.
We love the Elchim 3900 for its fast drying time, lightweight feel, and ability to keep hair healthy and glowing…all while making your hair easy to style.
Best for: Anyone in need of the same hairstyling tools used by the best in the business.
| | |
| --- | --- |
| Ionic mode: | Yes |
| Power: | 2400W |
| Heat settings: | 3 |
| Speeds: | 2 |
| Cord length: | 9 ft (2.7 m) |
| Colours: | Black, Venetian Rose Gold, and White |
Revlon Compact: Best budget hair dryer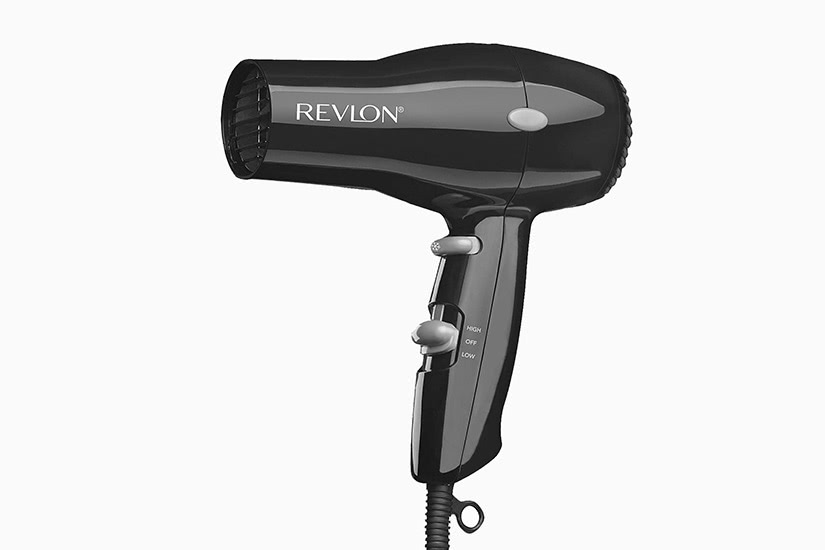 Good hair styling tools can be affordable and accessible — and that's what this Revlon Travel Hair Dryer represents. As the best cheap hair dryer of the year, it balances power and practicality in one compact package.
With many of the features you'd expect from higher price ranges, this Revlon Hair Dryer manages to stay in the hair-drying game even at a lower price point. With its high wattage and cool shot technology, it'll help you lock in shine no matter where you are.
Stow it in your purse or suitcase for great-looking hair on the go!
Best for: Boast-worthy blowouts…while sticking to a budget.
| | |
| --- | --- |
| Ionic mode: | No |
| Power: | 1875W |
| Heat settings: | 2 |
| Speeds: | 2 |
| Cord length: | 5 ft (1.5 m) |
| Colours: | Black, Pink, and Yellow |
Balmain Hair Couture: Best designer hair dryer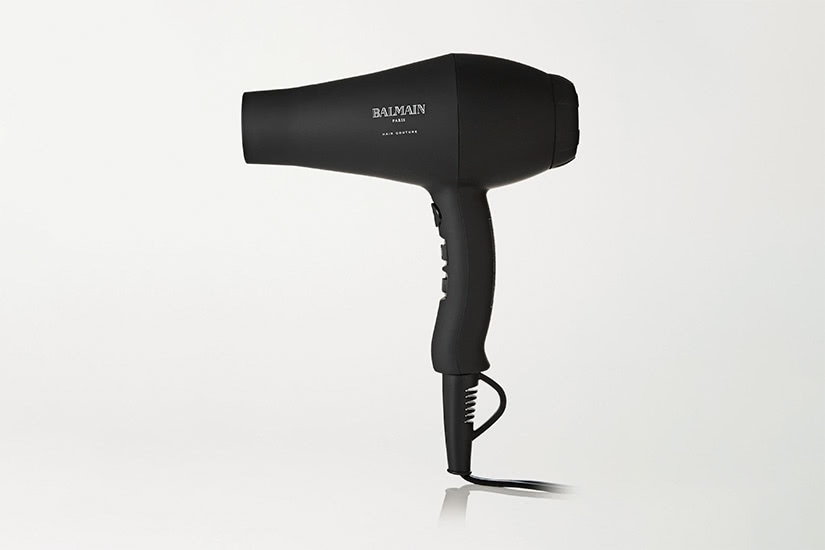 Looking for high-end designer tools to give you an edge for your daily style? Balmain has built a tool to put the best beauty technology in the world into your hands. With advanced ionic technology, this dryer seals your hair with intense moisture.
The result? The silkiest, smoothest hair you've ever seen in your lifetime. This Balmain Hair Couture infrared blow dryer works to dry each strand of your hair from the inside-out.
Why? It reduces damage and styling time. Your hair will be healthier. You'll have more free time. And all while using the styling tools designed by one of the top haute couture houses in the world.
Best for: Fashion Week followers who are dying to use the hair tool you see backstage.
| | |
| --- | --- |
| Ionic mode: | Yes |
| Power: | 1600W |
| Heat settings: | 3 |
| Speeds: | 2 |
| Cord length: | 8 ft (2.2 m) |
| Colours: | Black |
Beauty guide: How to select the perfect hair dryer for you
When you're looking for a hair dryer or blow dryer that will make your daily routine easier and more effective, it can be easy to get overwhelmed by all of the different options on the market.
Here are all the hair dryer specs you should look out for.
The different types of hair dryers
Diffusers: This type of styling tool can help circulate air from the root to the tip of your hair. This can make it extra-helpful for those with curly locks. Diffusers help reduce frizz, add definition to curls, and increase volume.
Concentrators: With a concentrator, you can narrow the flow of air from your blow dryer for an intense heating, drying experience. This increases sleekness and smoothness after you're done styling. If you're looking for very straight, very shiny hair, these types of dryers are good choices.
Ionic Blow Dryers: An ionic hair dryer incorporates negative ions in every blast of hot air. These negative ions help break up positively-charged ions in water more quickly —which reduces drying time.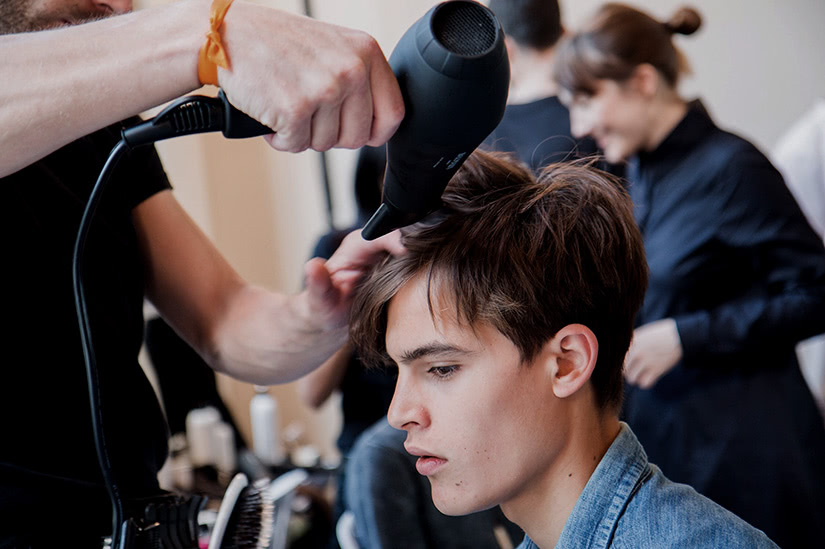 Infrared Blow Dryers: Infrared refers to the type of energy the dryer uses. With long wavelengths of energy that can penetrate each strand of your hair right to its core, these types of dryers heat hair from within. The result? A faster drying time…which means less frizz.
Features to look out for in the perfect hair dryer
Weight: When you're drying your hair, you're invariably going to have to hold your blow dryer over your head for periods of time. Even a few extra ounces can mean a lot when you're in this position!
Design: Because of the specific way that you're going to be holding your hair dryer, you're going to want to make sure that the buttons aren't placed awkwardly. (You don't want to accidentally shift the settings mid-dry.)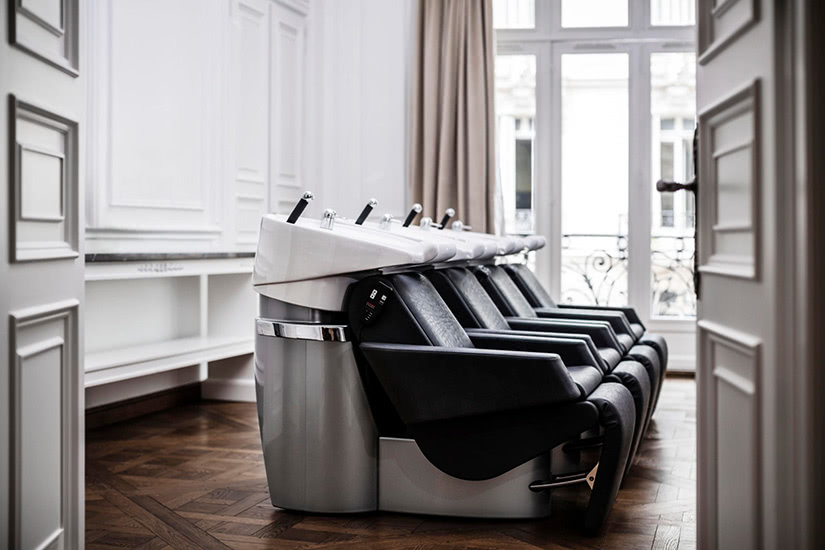 Heat and speed settings: You'll want to have as much control over the heat flow as possible, because you don't want to burn yourself, be uncomfortable, or damage your hair. As an added bonus, you should check to see whether your intended blow dryer has a cool shot or cool air feature — finishing your blowout with a cool blast can help seal in your style, making your look truly last all day.
Wattage: The power of your hair dryer is measured in watts. Simply put, the higher your wattage, the more power your dryer has. Working with a more powerful hair dryer can make the time you're exposing your locks to intense heat shorter.
Cord length: Remember that as you style your hair, you're going to be moving it all around your head — and that it needs to reach from the nearest outlet in your room to wherever you plan on styling your hair! Longer is generally better, in this case, so you can move freely.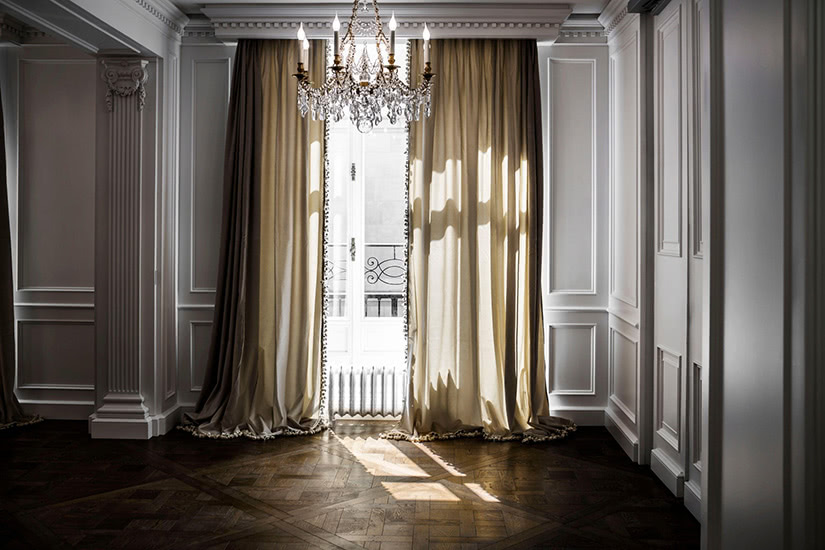 Frequently asked questions about hair dryers
What is the best hair dryer to buy?
The best hair dryer to buy will depend on your hair type, your budget, and what specific issues you'd most like to avoid! The InStyler Turbo Max is a great overall option, with its quick-drying power, lightweight feel, and hair moisture-retaining properties.
Which hair dryer is least damaging?
The hair dryer that is the least damaging is the Remington Damage Protection. It's specifically designed to be the best for damaged hair, with a gentle yet effective flow of drying heat.
What hair dryers do salons use?
The hair dryers that salons use can vary greatly depending on what salon you're going to— and what type of hair you have! The Elchim 3900 Hair Dryer is a top-tier professional option. It'll help you recreate swoon-worthy salon style from the comfort of your own home. Check out our guide to the best hair dryers for more inspiration.
Is it bad to dry your hair with a hair dryer?
It is not bad to dry your hair with a hair dryer as long as you take the appropriate precautions. Use a heat protectant to help shield your hair from overdrying action, and use an ionic blow dryer to help cut down on the time you're exposing your hair to heat.