Whether you have a very en vogue bar cart in your living room or a full-blown built-in wet bar by the pool, there is something inherently luxurious about unwinding with your favourite tipple from the comfort of your own home bar — No dress code pressure, no lines, no bar tap and your favourite drink always on hand.
Now, imagine if you could serve not only delicious drinks but also serious style. Well, that's precisely what we love about luxury British designer Tom Dixon's effortlessly chic barware and drinks accessories.
Designed to elevate your home bar experience to new levels of craftsmanship and showmanship, Tom Dixon offers just the right dose of grownup glamour – a la Mad Men – and a thoroughly contemporary edge.
The art of science has never held so much truth than in Tom Dixon's minimal yet luxurious Tank collection – a series of home bar essentials to pour, store, sip, and display drinks. The sculptural shapes are inspired by the functionality and volumes of scientific laboratory equipment. Experimental cocktails, anyone?
So in the spirit of spirits, we've distilled the ultimate list of home bar essentials you need to infuse luxury into your next intimate hangouts. Keep scrolling for everything you need to set up fancy, well-curated drinking headquarters at home.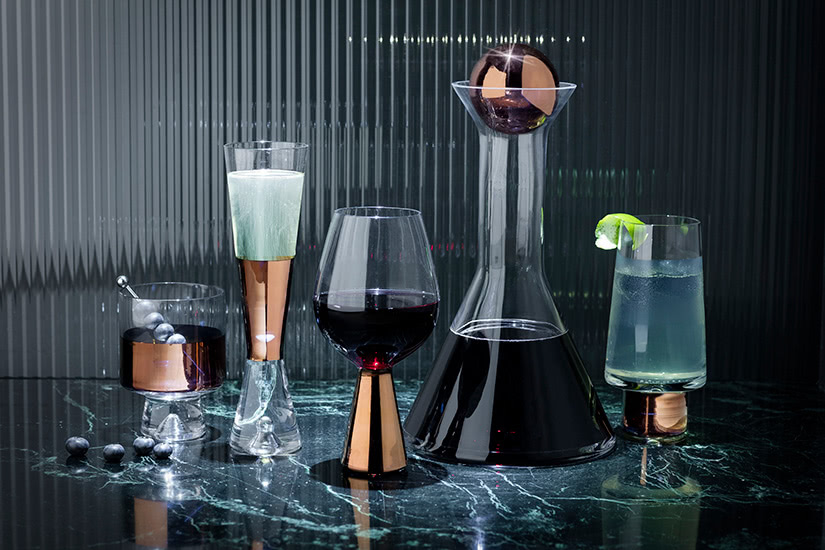 Make a toast in style with high-end glassware
Leave your standard glasses inside your cupboard and make your next drink feel extra special with the proper glassware.
A set of high-end glasses in various forms is imperative when creating the perfect, sophisticated at-home bar.
Whether you like yours shaken, stirred, neat or on the rocks, Tom Dixon's glasses are the most refined way to enjoy your favourite tipple.
Lowball glasses are perfect for your Old Fashioned, Negroni, favourite whiskey or bourbon.
For your gin and tonics and pretty much any other fizzy cocktail your heart desires, these tall, skinny highball glasses are ideal.
More of a wine and dine kind of person? These tasteful wine glasses will let your wine speak for itself.
When it's time to celebrate, be ready to make a toast in style with these elegant and modern champagne glasses.
The timeless, sleek lines and the hand-painted copper tones make Tom Dixon's Tank collection of elegantly crafted mouth-blown glassware worthy of display—contemporary, refined, and with a hint of luxurious Art Deco feel.
Lift your spirits with dapper decanters
Whether it's wine, whisky or another spirit of your choice, everything looks more luxurious in a decanter.
Always ready for its Instagram moment, this sleek and luxurious decanter from Tom Dixon will showcase your sophisticated style as elegantly as your finest scotch or bourbon. The decanter is mouth-blown and ornamented with hand-painted copper detailing, with a capacity of 1L.
If wine is your drink of choice, the brand also offers this sublime Tank Decanter for your finest cépage. It's also mouth-blown and ornamented with hand-painted copper detailing to match the rest of the collection.
Looking for the perfect gift ideas for the wine lovers and whisky aficionados in your life, these cheers-worthy decanter and glassware gift sets will delight the most discerning recipients.
Raise the bar with luxury barware
Channel your inner mixologist and shake things up with Tom Dixon's barware tools.
Made from durable stainless steel, this Copper-plated cocktail shaker features tapered ends for firmer grip and more balanced shaking. Plus the slim end cap doubles up as a spirit measure for that perfect pour.
Add these beautiful cocktail tongs from the same collection to complete the look. Tom Dixon's Plum Tongs are perfect for delicately placing ice cubes or lime slices in your cocktails.
Keep your cool with the most exquisite ice bucket
The ice bucket is a bit of an unsung hero of the dream home bar. Besides being a functional piece that breaks the ice in an otherwise cold situation, this ice bucket from Tom Dixon also acts as a sophisticated table-top architecture piece. The gleaming cobble touch makes the typically boring ice bucket almost feel sculptural.
Also available in platinum with matching cocktail tongs.
Make a statement with small decor details
Bring life to your home bar with the right finishing touches. Don't underestimate the power of decor details such as trays, coasters and lush flower arrangements.
These elegant vases from Tom Dixon will elevate virtually any home bar of any style. The bold silhouettes look like architectural sculptures on your table. The gleaming hand-painted copper trim also adds a noble character—the perfect accent pieces in any modern home interior.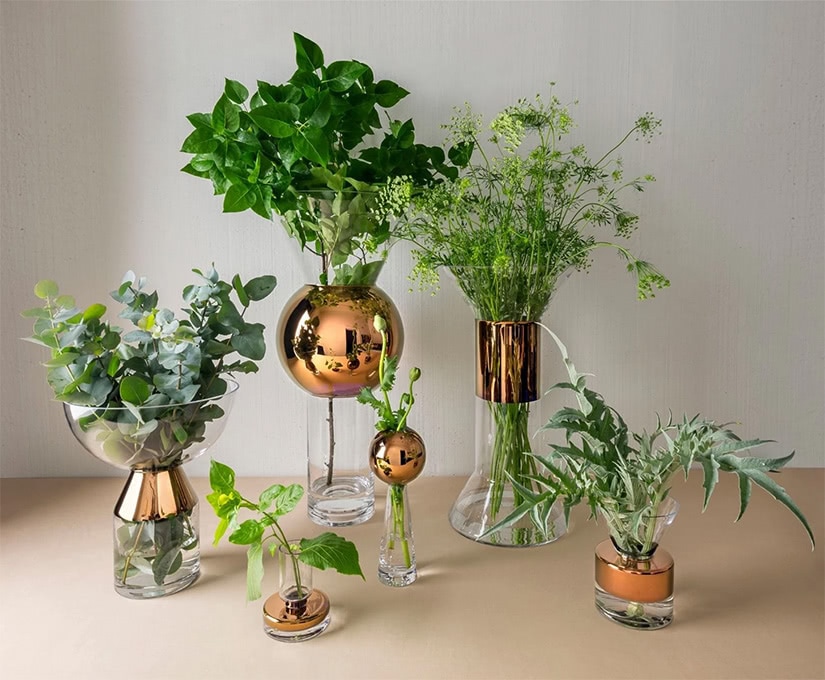 Whatever you pick from Tom Dixon, your home bar will be the life of the party. We'll drink to that.