Picture the scene: you're sat by the fire watching the flames gently sizzle, you've got a thick, knitted jumper on and a glass of whisky in hand. The sky is dark, and the air is chilly, but it doesn't matter because you're toasty and warm inside. What's missing? A cozy pair of men's slippers, of course.
If you're under the impression that slippers for men are little more than the fuzzy and faded ones your grandad used to potter around the house in then you're seriously missing out.
Stylish, comfortable, and almost suave enough to be worn outside of the house — from the shearling slippers to the men's leather slippers, there's a pair for every occasion.
If you're on the hunt for the best slippers for men, you'll find your perfect pair here.
17 best slippers for men
UGG Scuff: Best overall men's slippers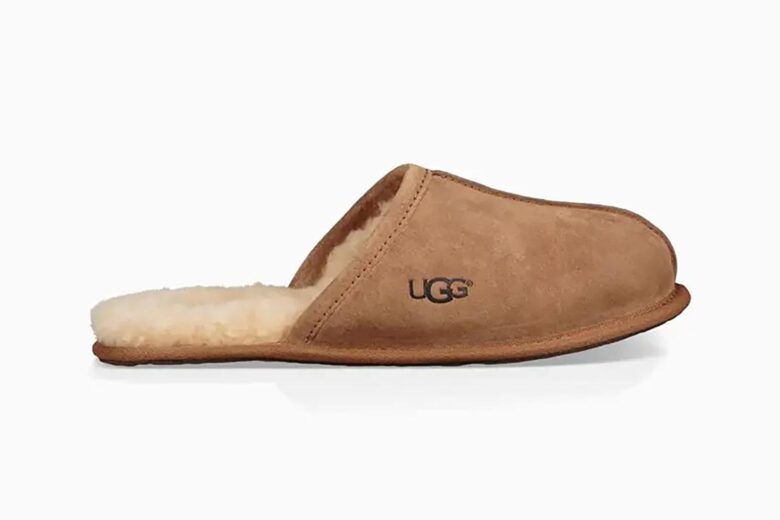 The trick with these UGGs is that they look understated and laidback from the outside but offer incomparable levels of comfort from the inside. Maybe the dictionary definition of "don't judge a book by its cover", you might be quick to disregard these slippers in favor of something with more substance, but you'll find only the best of the best with these UGGs.
The cream of the crop — and any other cliche you can think of — in the world of house shoes, the UGG Men's Scuff Slipper combines soft suede and sumptuous sheepskin in a slipper that'll keep you warm on cool days and racing to turn the heating down so you can also justify wearing them on warmer days. Lesser slippers might try and woo you with additional features, but, if you're looking for a well-rounded pair that fuse quality with style, UGGs are the missing piece in your wardrobe.
| | |
| --- | --- |
| Best for: | Proving Australians were right about UGGs all along |
| Colors: | Black, navy, tan |
Loro Piana: Best luxury slippers for men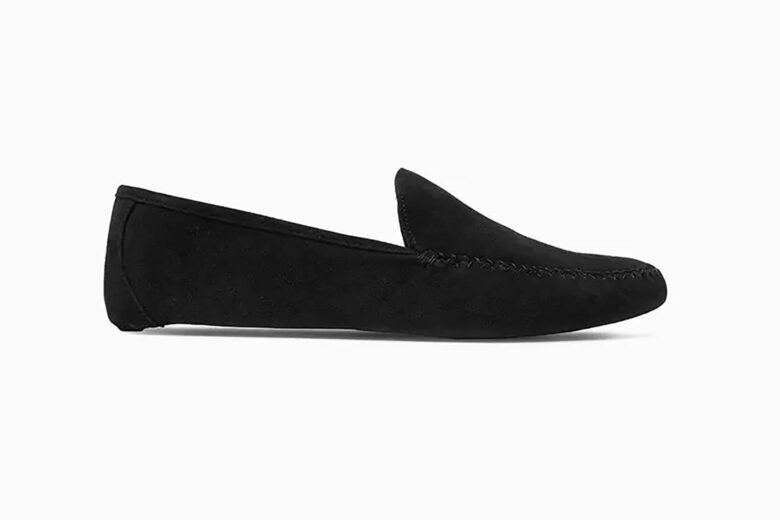 Wave goodbye to a new suit jacket and delete any thoughts of a new briefcase from your online shopping basket: the workwear essential to treat yourself to this year is a pair of luxury slippers. And who better to provide such a pair than Loro Piana? There's a high chance you've already checked out Loro Piana for some of your footwear needs already, but you really shouldn't be sleeping on the brand's super luxe slippers.
Cashmere lined with smooth suede on the outside, these slippers will transform your evenings into something to look forward to like never before. The Loro Piana Maurice Cashmere-Lined Suede Slippers will upgrade your loungewear look with a stylish finish that will likely result in you wanting to upgrade the rest of your nightwear wardrobe, too (stylish robe, anyone?). With a dressing gown and a pair of good-quality cozy pajamas, you'll wonder why you ever bothered leaving the house in the first place.
| | |
| --- | --- |
| Best for: | Feeling like the official Man Of The House |
| Colors: | Grey |
CIOR: Best value house slippers for men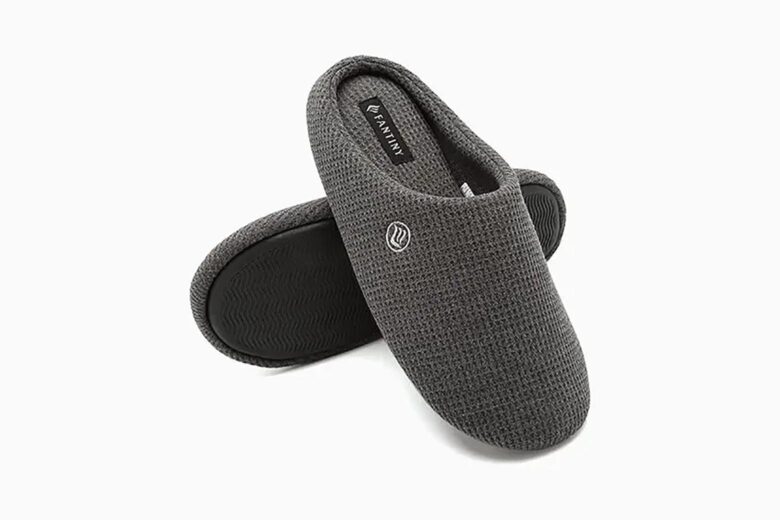 A memory foam slipper is probably something you've overlooked up until now, preferring to focus on mattresses and pillows when it comes to making the most of this dreamy material. But if you are someone who's ignored the very prospect of memory foam slippers until the present day, be prepared to kick your past self and elevate your future self's WFH occasions. If ever there was a brand to produce a wide range of comfortable, stylish, and budget-friendly slippers, it's CIOR.
And the CIOR Fantiny Slippers combine all of the above in a pair that have thousands upon thousands of positive reviews. And if they're good enough for the 2,000 people who've positively reviewed them on Amazon, they're good enough for you. At less than $22, these slippers really can't be faulted. They're the type that'll seemingly fuse themselves to your feet and refuse to come off when you eventually give in and leave the house.
| | |
| --- | --- |
| Best for: | Being suspiciously comfortable considering their low price |
| Colors: | Black, coffee, grey |
Walk Hero: Best men's slippers for arch support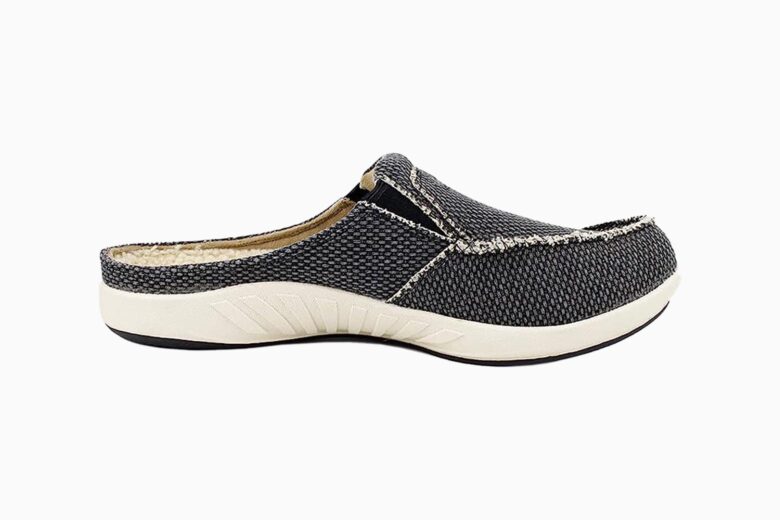 Maybe you're someone who's looked fondly at slippers up until now, avoiding them on the basis of aching joints that come from arch support issues. Be prepared to step your time spent at home up a notch with the arrival of a pair of slippers that are stylish and offer lots of foot support. Walk Hero's Canvas House Slipper is skin-friendly and moisture-wicking, keeping your feet cool with the added benefit of being supportive.
Velvet lining makes these slippers ultra-soft, while a slip-on style means it's easy to take them off and on in a mere second for any impatient door knockers. Multiple colors make this a versatile slipper for even the fussiest man, and the orthotic insoles mean you can wave goodbye to aches at the end of the day. Who knew biomechanically accurate footwear could look so suave?
| | |
| --- | --- |
| Best for: | Immediate comfort the second you walk through the door |
| Colors: | Beige, black, brown |
UGG Ascot: Best men's house slippers for hardwood floors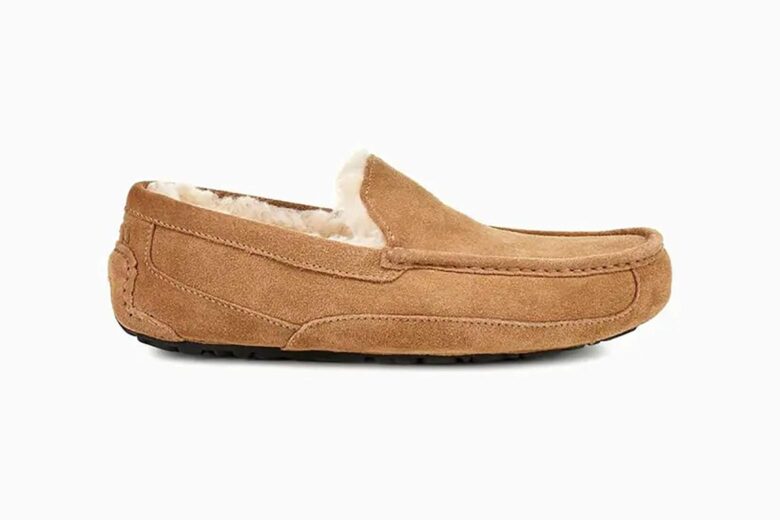 Let's face it: this isn't the first pair of UGG slippers we've listed in this guide, and it won't be the last, either. The importance of UGGs can't be overstated, much like the Australian surfers who first discovered the brand tried to tell us years ago. Much like a fine wine or a song, there's a UGG for every occasion and this particular UGG is for those occasions when your new downstairs neighbor seemingly has their ear to the ceiling whenever you're delicately walking around.
Or, alternatively, for those early mornings when you're not prepared to accidentally wake up the rest of your household. What we're saying is that the UGG Men's Ascot Slipper is set to become your new best friend if you spend your days walking around on anything closely resembling hardwood floors. And if that doesn't convince you, then maybe the super soft wool lining will do.
| | |
| --- | --- |
| Best for: | Getting your downstairs neighbors to talk to you again |
| Colors: | Black, tan |
Derek Rose Crawford: Best shearling slippers for men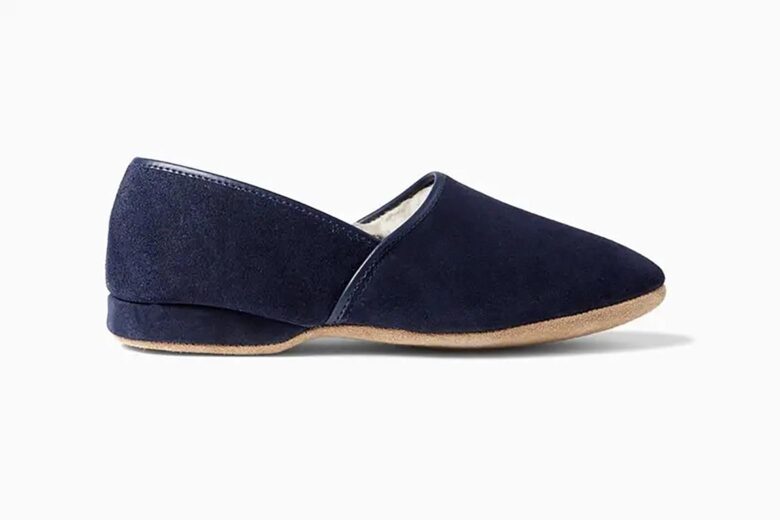 Shearling slippers are especially fancy, and if there's a year to invest in a pair then it's definitely this year. If you can't justify buying them yourself, we'd strongly recommend adding them to the top of your Christmas list. Because, as far as a pair of men's slippers goes, you'll absolutely regret not buying these. Half comfort blanket for your feet, half absolute warmth, and with a pinch of style thrown in for good measure, Derek Rose is a top brand to look out for this year, and the slippers are no exception.
The Derek Rose Crawford Shearling-Lined Suede Slippers are cozy enough for you to find yourself audibly saying "ahhh" when you slip your feet into them. Combining super soft suede, fluffy shearling, and a leather trim, these luxe slippers will be a pair you find yourself admiring for years to come. Get ready to upgrade your nightwear wardrobe.
| | |
| --- | --- |
| Best for: | Mistaking them for your childhood teddy in the night |
| Colors: | Navy |
Derek Rose Morgan: Best leather house slippers for men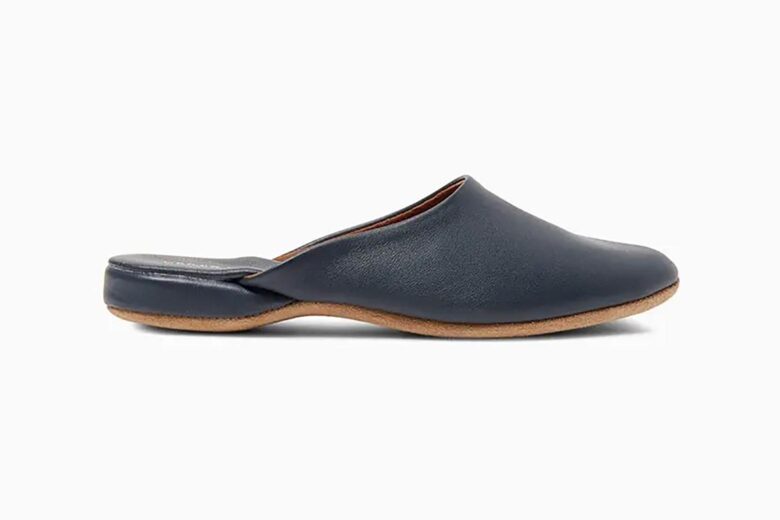 We're not quite done with the Derek Rose hype yet — sorry not sorry. If you'd prefer something a little smoother, leather slippers might be the answer. Taking old school style and making them nightwear friendly, you'd almost be forgiven for utilizing these as evening wear as well as nightwear. Sure, you might get a few strange looks, but it's worth it for the fancy feeling they bring to your toes.
Few slippers will ever make you feel like you have your life together quite like Derek Rose's Morgan Leather Slippers, and that's largely due to their suave appeal. They might technically still be slippers, but these are about as distanced from the grandfather-like images of traditional slippers as is humanly possible. Even if you might not pick them out for yourself, keep them in mind for a surefire-winning gift for the man who has everything.
| | |
| --- | --- |
| Best for: | Impressing the postman without even realizing |
| Colors: | Black, navy |
BIRKENSTOCK: Best house slippers for summer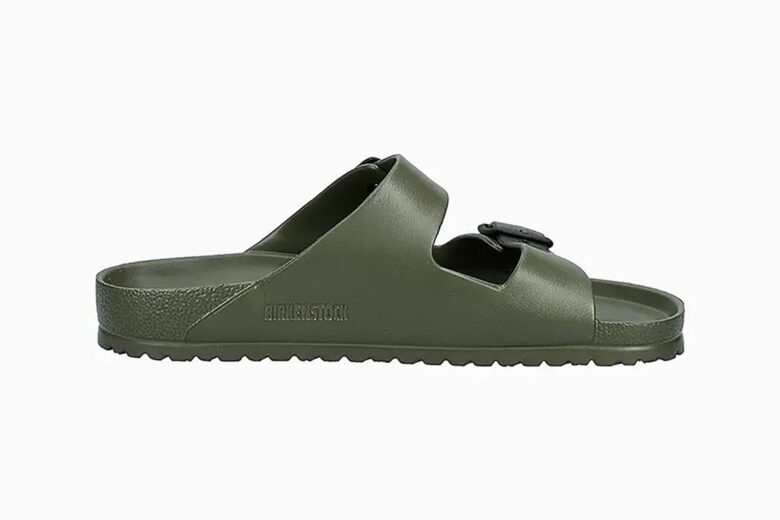 Does the thought of wearing slippers in the summer make you cringe? We hear you — no one likes sweaty feet and the last thing you'll want to do when the weather gets warmer is shove your toes into anything resembling wool, fur, or leather. But you'll still need to put something on your feet to go and pick up the packages the delivery driver accidentally dropped next door or to chase after the postman when you don't hear the door knocking the first time.
And what better shoes equipped to deal with all of the above scenarios and more than a pair of Birkenstocks? The BIRKENSTOCK Unisex Arizona EVA Sandals have all of the traditional features that we know and love from the brand: A contoured footbed for extra support, a deep heel cup for natural cushioning, and a huge color range that's as neutral or as colorful as you like.
| | |
| --- | --- |
| Best for: | Apologetically chasing after the delivery driver |
| Colors: | Khaki, black, navy |
UGG Tasman: Best winter slippers for men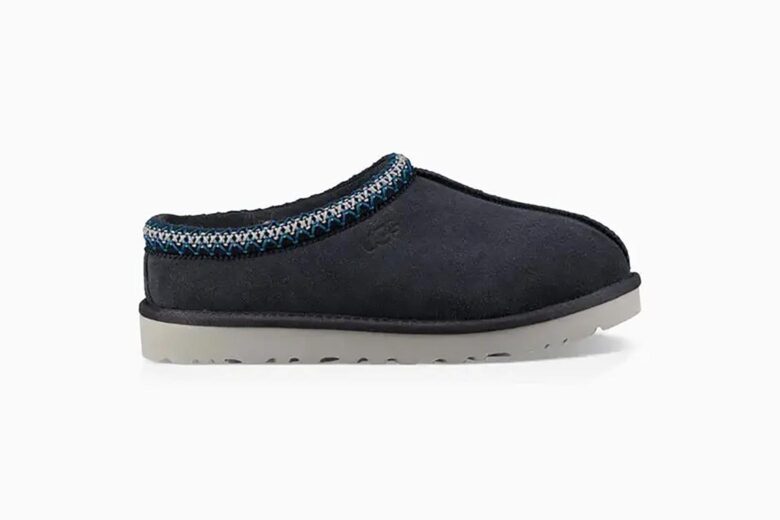 No amount of thick jumpers or cozy dressing gowns will do the job if your feet are exposed in the colder months. And, let's be honest, on those nights when you get home to a freezing cold house and the boiler's refusing to heat up, only the best of the best slippers will do the job. So that brings us up to our next pair of wonders from UGG — the winning pair that will see you through winters to come, no matter how many inches of snow are settling outside.
Wearing the UGG Men's Tasman Slipper is akin to slipping your feet into two, tiny individual blankets. The sheepskin lining of these slippers will soothe each of your toes while gently stroking your feet until they're a reasonable temperature again. Think of the most comforting moments of your childhood and imagine them in footwear form, and then you've got an accurate picture in mind of these UGG slippers.
| | |
| --- | --- |
| Best for: | Your winter skiing holidays |
| Colors: | Chestnut, chocolate, navy |
RockDove: Best men's slippers for sweaty feet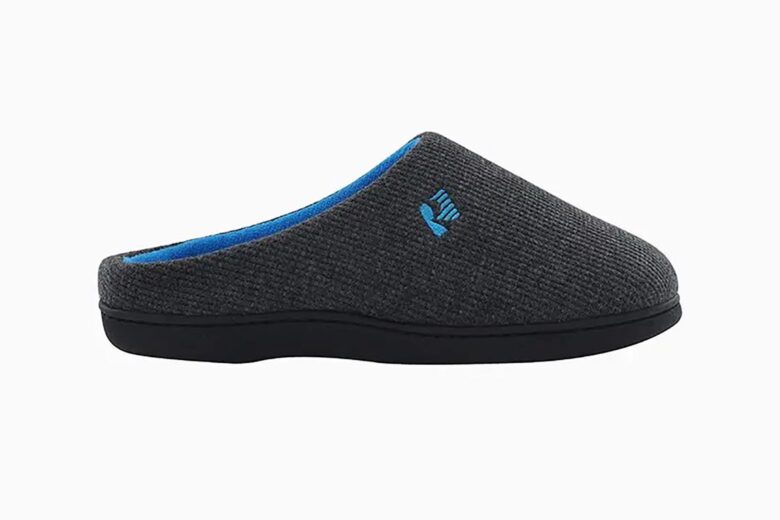 If you're someone who often finds your toes getting a little too hot, chances are you don't often wear slippers around the house. In fact, you're probably someone who whips off your shoes and socks as soon as you get home for a little chance to breathe. But if you've been impatiently waiting for the slipper game to catch up and include the people who want cozy toes without any extra temperature, the answer is here.
And, predictably, it comes from slipper savior RockDove. A high cotton percentage makes these memory foam slippers sufficiently breathable, and a waffle knit upper ensures there's always plenty of space for your toes. The finishing touch is the memory foam insole, which means that not only will your feet remain cool but also in perfect comfort.
| | |
| --- | --- |
| Best for: | Finally (comfortably) being part of the slipper gang |
| Colors: | Grey, red, blue |
Paul Stuart: Most comfortable slippers for men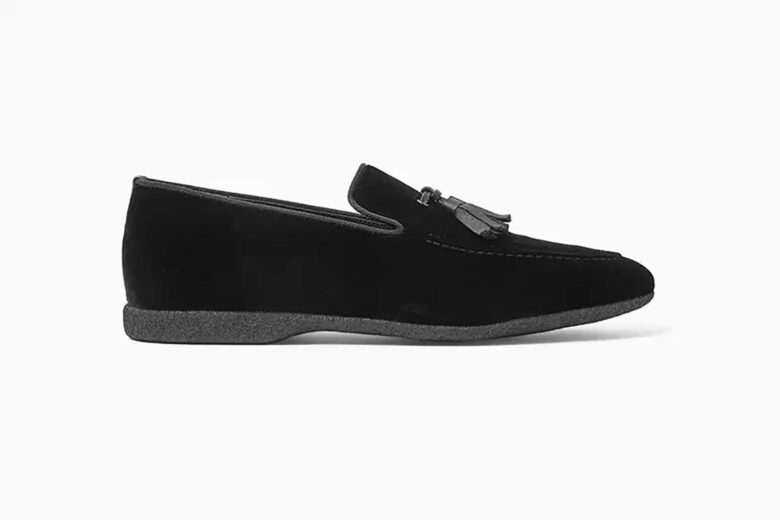 Good things come to those who wait, and that statement has never rung truer than right now — assuming you're not one step ahead of us here and already have the Paul Stuart Hope Leather and Velvet Slippers caressing your feet. We'd assume not, otherwise, you wouldn't really need to be reading this guide. So, on the basis of you never having heard of Paul Stuart's slippers before, be prepared to wave goodbye to any previously comfortable slippers you've owned.
These are renowned for being so delectably cozy that you'll genuinely consider taking them to the office and furtively slipping them on under your desk. These slippers are crafted in Italy using premium quality grosgrain and quilted linings for unbeatable comfort. Classic tassels upgrade your everyday slipper into something far more suave that you'll admire each and every evening you put them on once home. And, spoiler, that'll be basically every evening for the foreseeable future.
| | |
| --- | --- |
| Best for: | Finding excuses to work from home more often |
| Colors: | Black, burgundy |
George Cleverley: Best dressy slippers for men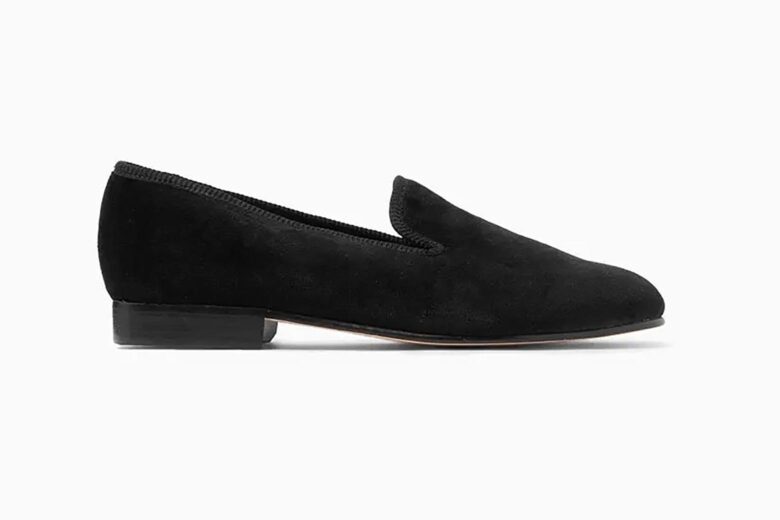 We're really sorry to tell you this, but you probably won't be able to find an excuse to wear these on formal occasions. Yes, we know your dress shoes seem terribly uncomfortable in comparison, and, honestly, we're aware that you won't be able to look back after trying these on, but believe us when we say they're worth the endless comparisons anyway. Dressy slippers might not have been something you really considered buying in the past, but, as working remotely becomes more popular, you'll thank yourself for investing in a pair that seem to go just a little too well with your suit and tie.
George Cleverley's Albert Velvet Slippers are just as luxe on the inside as they look on the outside, proving that sometimes you genuinely can judge a book by its cover. Plush English velvet acts as a throwback to all of those historical British royalty TV shows but with a modern edge that's stylish as hell.
| | |
| --- | --- |
| Best for: | Taking a second look in the mirror to judge if you can wear them to work |
| Colors: | Black |
Deer Stags: Best men's slippers for wide feet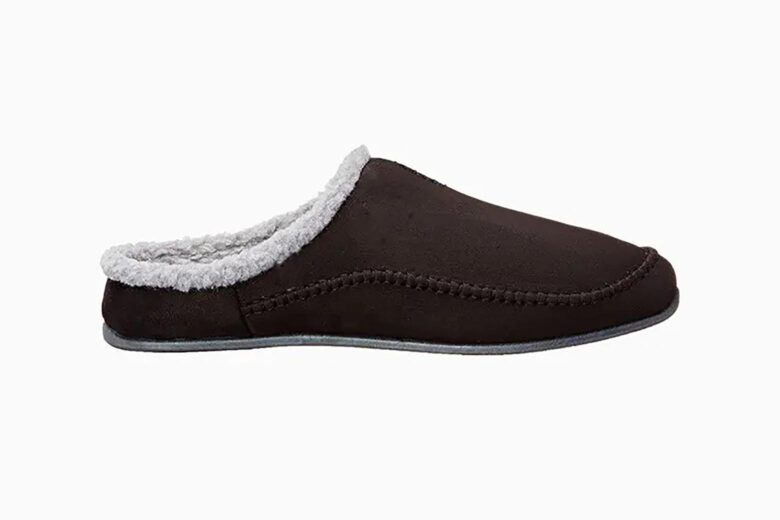 The priority with a good pair of slippers is comfort. There's no point getting home from a long day of wearing real shoes and slipping your feet into something that doesn't fill you with joy. And, if you're someone who has wide feet, you might have given up long ago on finding slippers that are cozy and comforting rather than tight and restrictive. But such a slipper does exist, and if you're looking for wide slippers then rejoice, because they're right here.
The Deer Stags Nordic Slipper is stylish without being obviously wide, making these a fashionable choice even if you don't have wide feet. A microsuede lining means your feet will always stay warm, and a faux shearling lining makes these slippers look far more expensive than they actually are. Think of them as the missing piece in your nightwear wardrobe that you'll never regret buying.
| | |
| --- | --- |
| Best for: | Adding extra room without being obviously wide |
| Colors: | Black, chestnut, navy |
Quoddy: Best moccasin slippers for men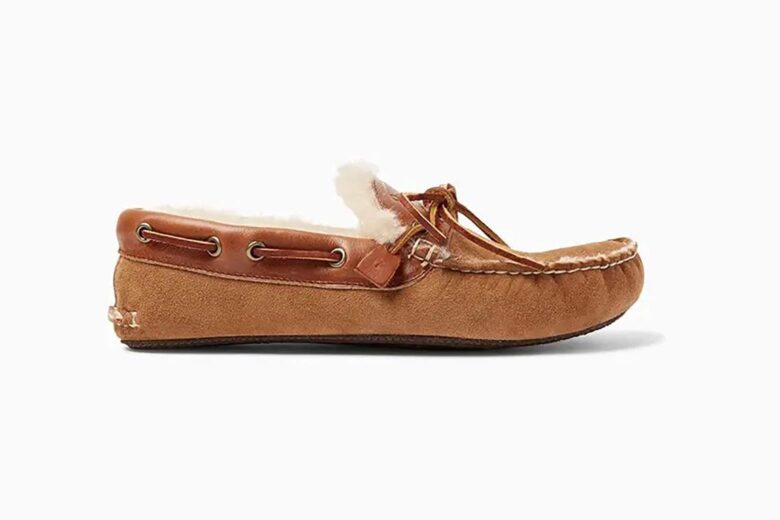 Traditional moccasins are coming back in style, which means now's a great time to stay one step ahead of the game and buy your own pair. The traditional moccasin has been upgraded this year with modern features that take it from grandad footwear to shoe staple. Not only are moccasins good for gently strengthening your feet, they're also super cozy and perfect for slipping your feet into after a hard day at the office.
Our favorites are the Quoddy Fireside Leather-Trimmed Shearling-Lined Suede Slippers. These are moccasins stuffed to the brim with all of the important features you could need. We're talking about suede linings that are carefully handmade, air-injected rubber soles to keep you light on your toes and fully-lined insulated shearling. You'll look great and feel great with these on your feet no matter how many hours pass.
| | |
| --- | --- |
| Best for: | Bringing all of your "log cabin in the Scottish Highlands" dreams to life |
| Colors: | Brown |
Balenciaga: Best slip-on home slippers for men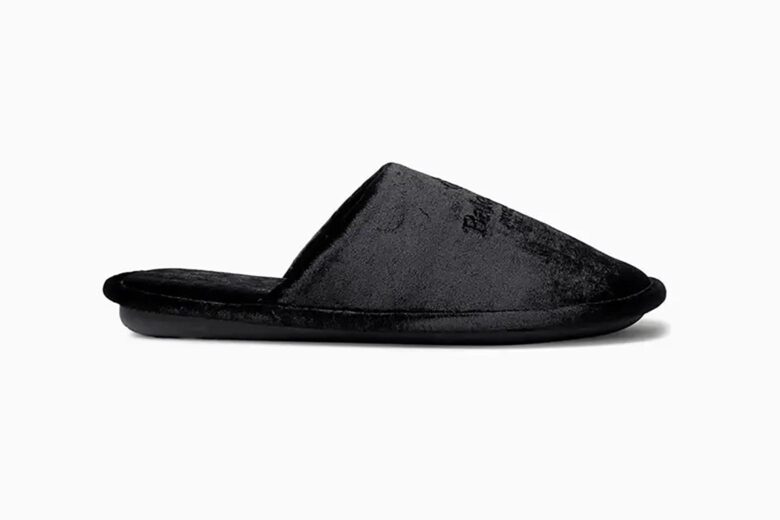 The danger with slippers that slip on is that you'll find yourself opening the front door and automatically putting them on, even if you're just popping home briefly. And this is a problem exemplified in the best way with these Balenciaga slippers. Stylish enough to make the likes of Kanye West jealous, Balenciaga footwear is endlessly fashionable and that statement more than applies to the brand's slippers.
The Balenciaga Home Velvet Slippers will upgrade your working-from-home style like never before. In classic Balenciaga style, they're jet black in color with a subtle and understated logo. The very definition of smart casual, these are the slippers that you could almost pair with streetwear staples. The only other issue with these slippers is that they'll easily overshadow everything else in your nighttime wardrobe. But that's just an excuse to upgrade the rest of your nightwear, right? We'd never say no to some matching Balenciaga pajamas…
| | |
| --- | --- |
| Best for: | Living the high fashion lifestyle on a 24/7 basis |
| Colors: | Black |
RockDove Original: Best men's budget slippers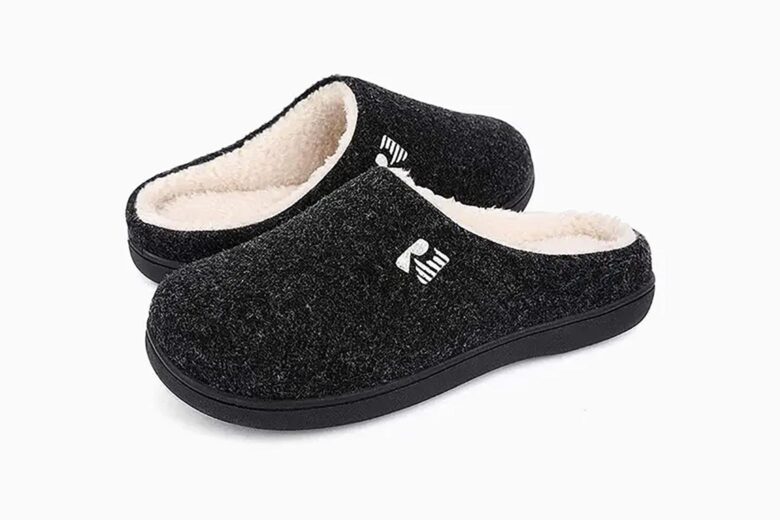 It's not easy to find cheap slippers that promise good quality while also being pretty fashionable…but they do exist. And if there's one brand you can always count on for budget-friendly slippers that still tick all the boxes, it's RockDove. You might find that most cheap slippers are missing at least one important factor. Maybe they're frustratingly uncomfortable or have an itchy lining. Maybe they're gloriously soft for the first 30 minutes, until your feet bypass the point of "happily warm" and start to veer toward "uncomfortably hot" territory.
Or maybe they feel great but are the sort of slippers you'd hide away in your wardrobe from fashion-conscious friends. Either way, say goodbye to the slippers of the past because RockDove Men's Original Two-Tone Memory Foam Slipper covers all ground when it comes to comfort, style, and price. Pillow soft comfort means you can expect almost everyone to view these slippers when you're incapable of taking them off.
| | |
| --- | --- |
| Best for: | Getting into bed and forgetting they're still on your feet |
| Colors: | Black, blue, grey |
Vetements: Most expensive slippers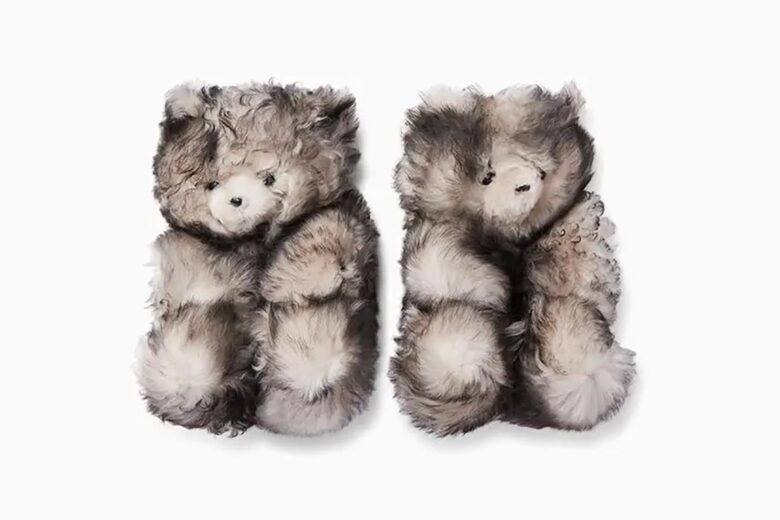 We'll be first to say it: these Vetements slippers are a little bit extra. Perhaps slightly over the top. But, if you'll pardon the pun, they won't seem overbearing once your feet are cozily inside. At this point, your only concern will be that you didn't treat yourself to them sooner. And, sure, these might not be an essential purchase, but they're definitely a fun one. And they'll almost definitely make you 'beary' happy once you've added them to your basket.
Much like anything else the brand has ever produced, the Vetements Hug Me Bear Shearling Slippers don't hold back when it comes to any of the features of these slippers. There's the super soft faux fur covering the entire slipper. There's the mound of fluff keeping not only your toes but also your ankles warm. And, of course, there are the adorably cute bear faces smiling up at you as soon as they're attached to your feet. What's not to love?
Best for: Being the grown-up equivalent of the animal slippers you used to love
Colours: White, brown
| | |
| --- | --- |
| Best for: | Being the grown-up equivalent of the animal slippers you used to love |
| Colors: | White, brown |
Style guide for choosing men's slippers
Buying a new pair of slippers? Here's everything to take into account before you click "purchase":
Material
Depending on whether you're looking for cozy slippers or something more functional for the summer months, you'll want to look for warming materials or moisture-wicking fabrics respectively. Natural materials like cotton will keep warmth in while providing a breathable atmosphere for your feet. Thick linings made of shearling or wool promise to keep your toes toasty no matter the temperature.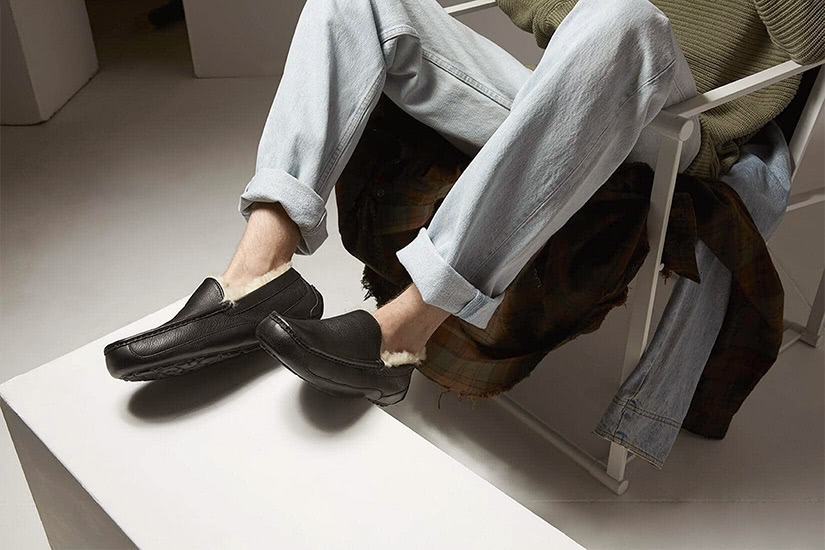 Style
Do you prefer slippers that require pulling on or slipping on? Slip-on styles tend to offer less protection from the elements and are, therefore much better suited to the summer months. Slippers that you'll pull on will keep your feet warmer but aren't as breathable.
Height
Most slippers will stop just below the ankle but, if you're searching for a pair that'll keep you truly warm, look for men's slippers in a boot style for an extra few inches of warmth.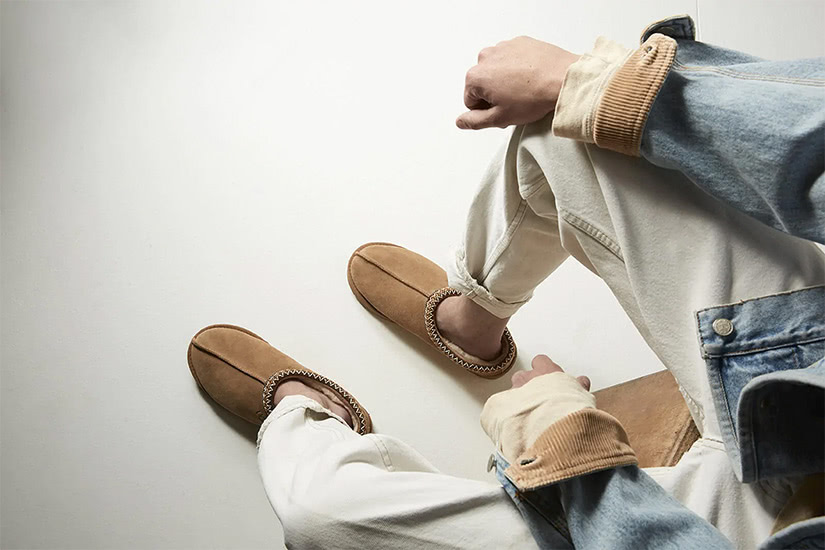 Soles
If comfort is key then memory foam slippers are set to be your new best friend. The thicker the sole, the more comfortable the slipper. If you're someone who struggles with arch support or other similar issues, look for slippers that highlight this feature in their description for a pair that look good and feel good.
Frequently asked questions about men's slippers
Which company is best for slippers?
Some of the best brands for slippers that are high quality and fashionable include UGG, RockDove, Balenciaga and Derek Rose. All of these brands produce slippers that will keep your feet feeling good on any occasion. Read our full guide for our breakdown of the best slippers for men to buy this year.
How long should slippers last?
A good quality pair of slippers could last you between two to eight years, depending on how often you wear them and how often they're washed. Well-crafted house shoes, made of premium quality materials, will last a lot longer than a cheap pair. So, invest wisely, and you'll have guaranteed comfort on your feet for years.
Should you wear socks with slippers?
Unless you're prepared to wash your slippers frequently, it's always best to wear socks with slippers. Especially if you're wearing them daily, socks will keep your slippers smelling fresh. The best slippers will include moisture-wicking fabric and will be sufficiently breathable, but your slippers will definitely stay clean for longer if you pair them with a great pair of socks.