For the same reason you'd never drink wine out of a pint glass or a gin and tonic out of a mug, whisky should be enjoyed from its right vessel. Don't blame this entirely on aesthetics; while it may be true that a whisky connoisseur might refuse his or her single malt Scotch out of anything other than a Glencairn glass, there's more than meets the eye when it comes to pairing the right drink with the right glass.
Novices may scoff when you lovingly replace their highball glasses with a snifter, but watch their eyes light up as they sip and prepare to feel a little smug. Because a good whiskey glass can change the whole experience, from the aromas and flavours to the overall enjoyment of the spirit.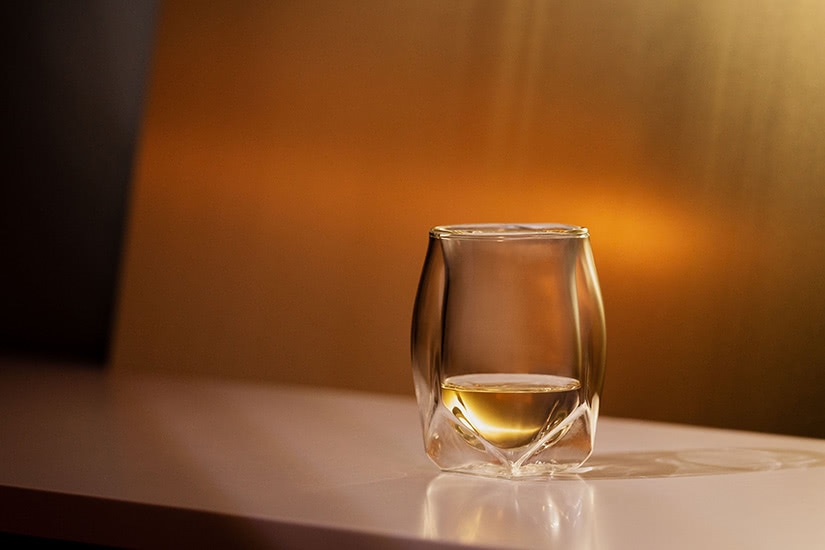 From the weight to the balance and the material to the shape, our guide to the best whisky glasses explores everything you need to know before you open the premium bottle you've impatiently left sitting on the bar cart.
No time to read through our entire list? We've chosen Norlan as the overall best whisky glasses and Venero Crystal as the best value whisky glasses.
The 13 best luxury whisky glasses of 2020
Check our special whisky glass buyers' guide after the list to see exactly what you should pay attention to before purchasing your glassware.
Norlan: Best overall whisky glass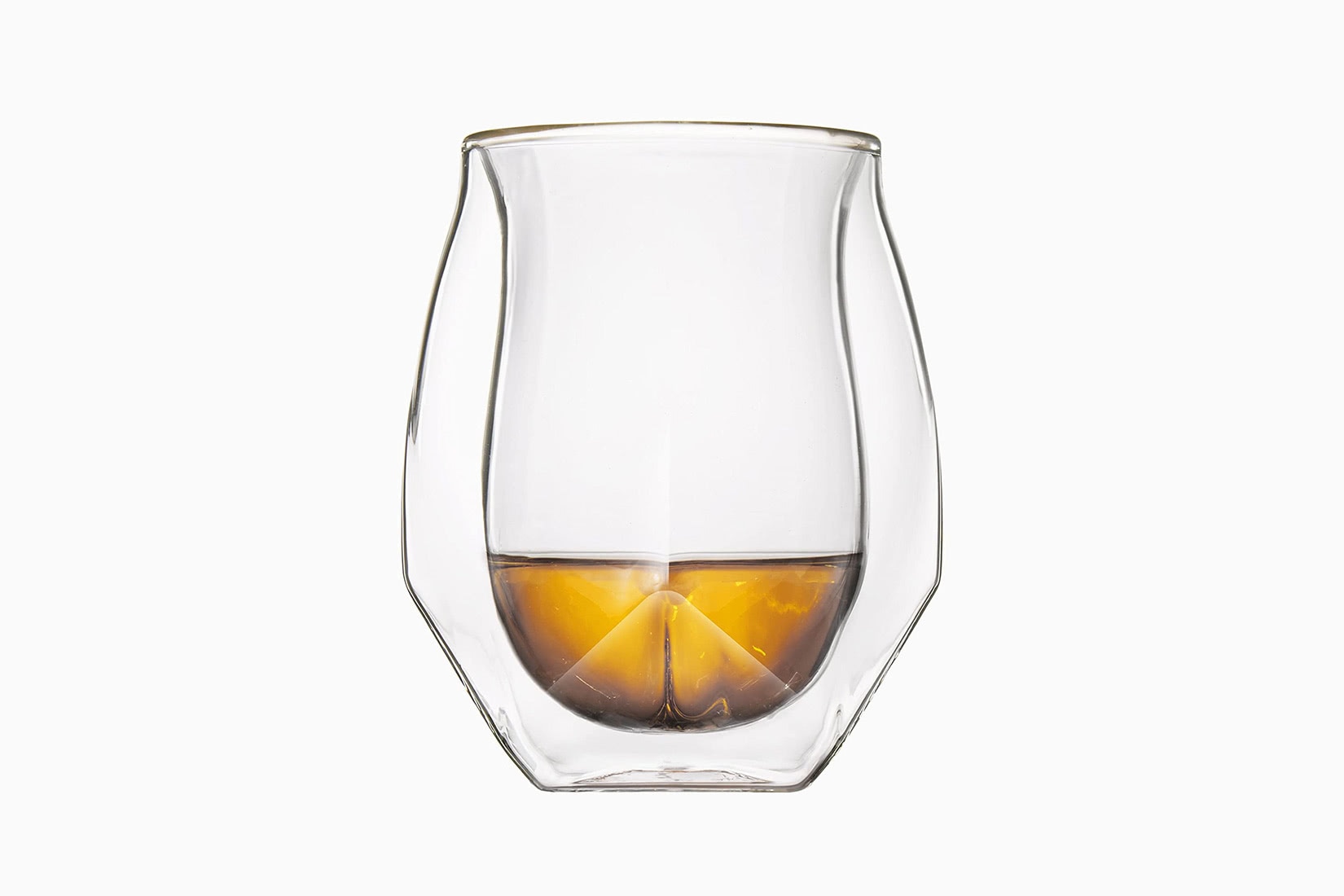 Norlan's modern, lightweight design offers a premium whisky drinking experience with a glass that's just calling out to be sipped from. It's a whisky glass that enhances the drink itself, inspired by nature and digitally crafted to capture whisky's complex flavours and aromatics.
Norlan's whisky glass was designed by Sruli Recht and refined with the help of master distiller Jim McEwan. The design features specially formed inner protrusions that create turbulence in the spirit when it is swirled within the bowl, reducing the presence of ethanol and allowing the aromas to take centre stage. It's produced using a blowing technique that separates the inner wall and the outer wall of the glass. This hollow body glass promises a scientifically performing inside with an aesthetically beautiful outside.
Tom Dixon Tank: Best high-end whisky glass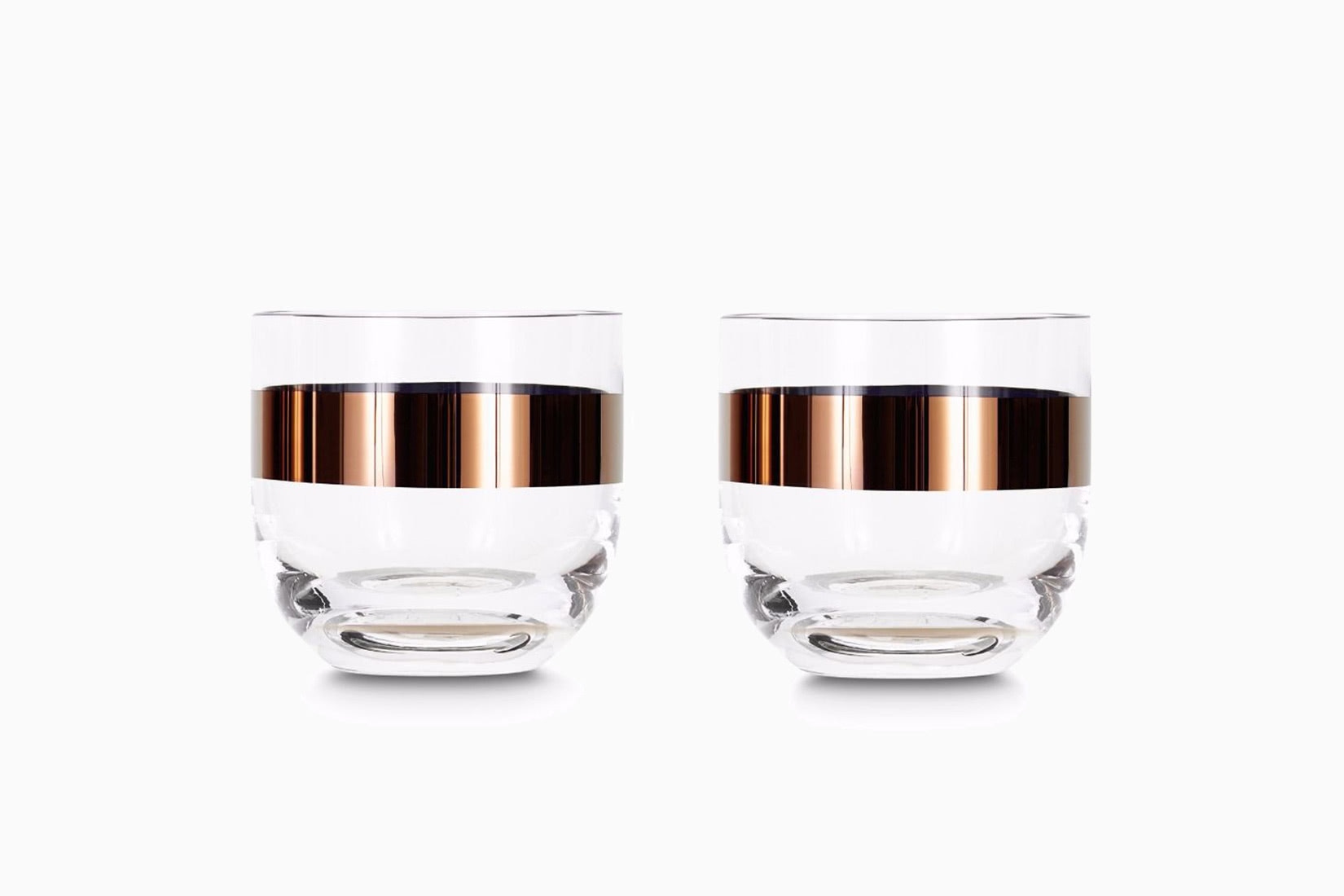 Made from mouth-blown clear glass with hand-painted copper detailing, these Tom Dixon Tank whiskey glasses are the beautiful final touch when it comes to pouring a whisky. Ornamental and minimalistic, they're stunning whiskey glasses that accentuate the amber glow of your drink with the iconic copper tones.
These glasses are both chic and contemporary, with a modern design that's built to allow your whiskey to breathe.
The handmade nature of each glass means each one is truly unique and their nod towards traditional luxury influences makes Tom Dixon Tank whiskey glasses a statement to any whiskey lover's bar cart.
Venero Crystal: Best value whisky glass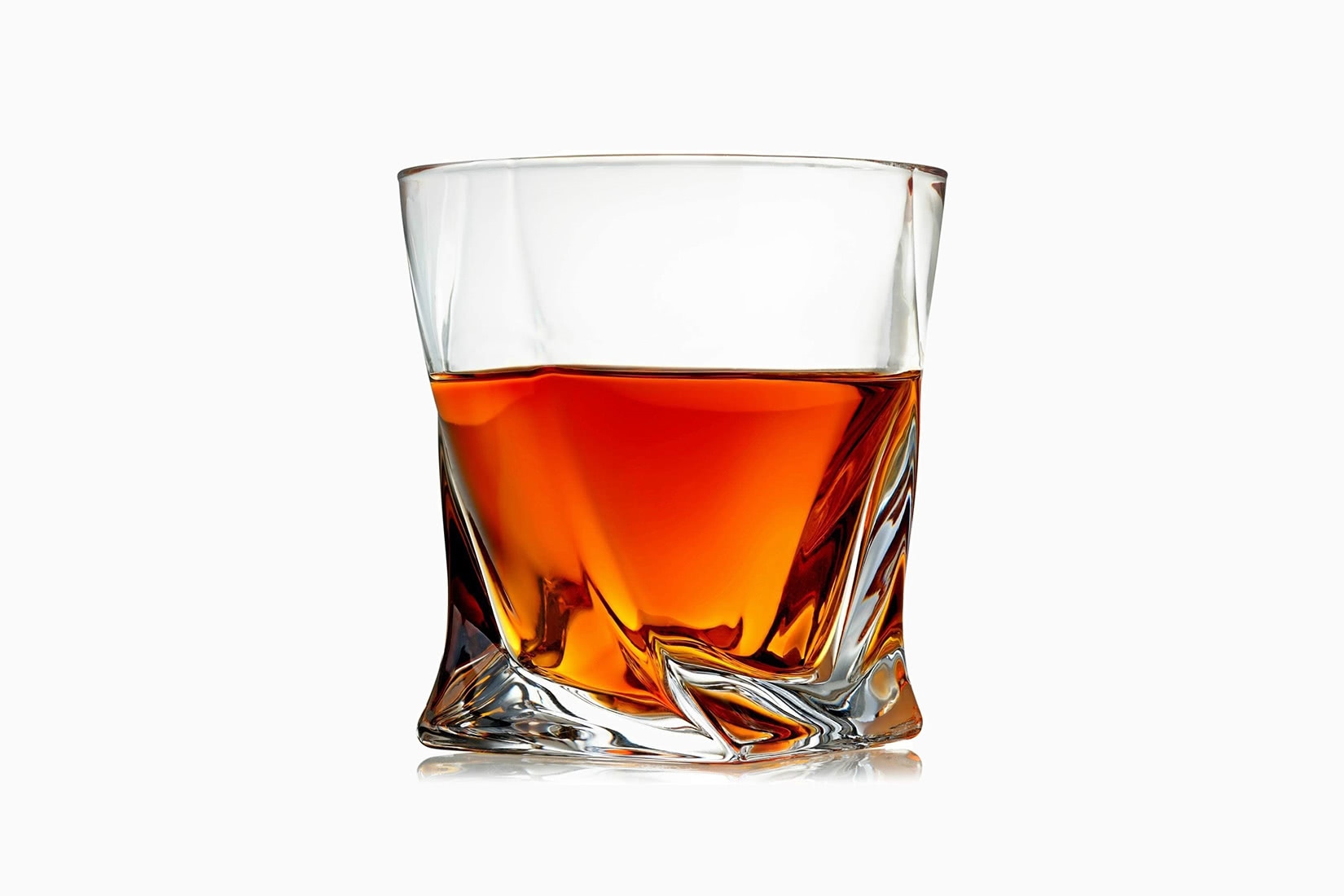 Enjoy a toast with style with Venero's lead-free crystal glasses and polished finish. Crafted from the finest quality crystal, these large 295ml (12oz) glasses are the perfect size for a double shot of whisky plus some mixer and ice cubes.
Each glass has a thick wall and heavy base, ensuring your drink stays insulated at the right temperature and sparkles beautifully in the light.
Venero Crystal's ultra clear glass makes it ideal for sharing a toast on special occasions and its durable nature means even the most enthusiastic raising of a glass won't cause any damage. It's the optimum present for a whisky drinker.
The NEAT Glass: Best neat glass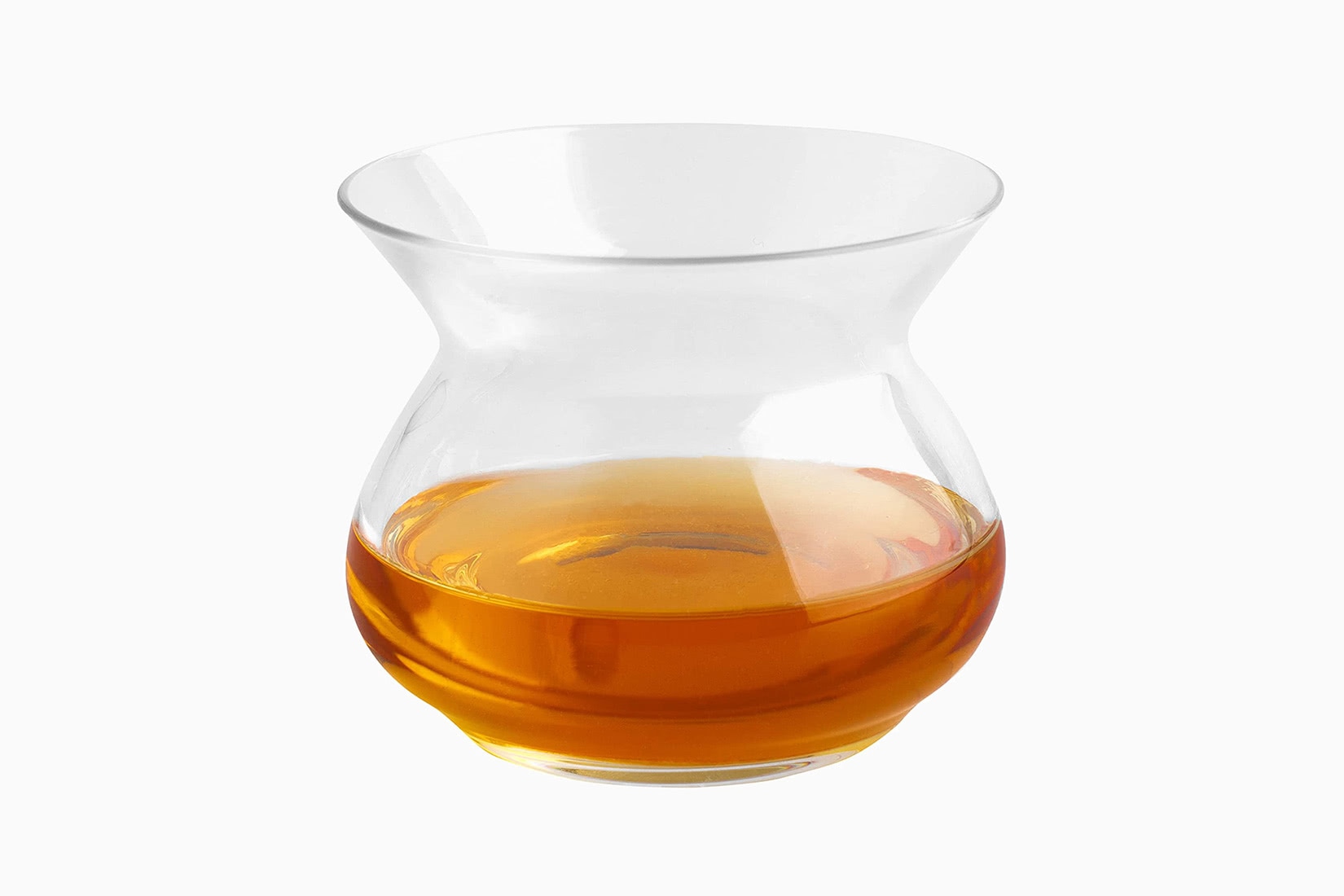 The unique shape makes these glasses a talking point before you even get started on what's on the inside. The NEAT glass is a scientifically designed whisky glass that makes nosing, tasting and drinking whisky a brilliant experience from start to finish.
This is the glass for those in the know. It's a firm favourite for professional judges of major competitions and serious taste makers alike, which means it pretty much scores all the points. The NEAT Glass draws out all the intriguing, unique flavours of whisky with a glass that uses Naturally Engineered Aroma Technology to unlock the hidden dimensions of your drink.
Mofado Crystal: Best whisky tumbler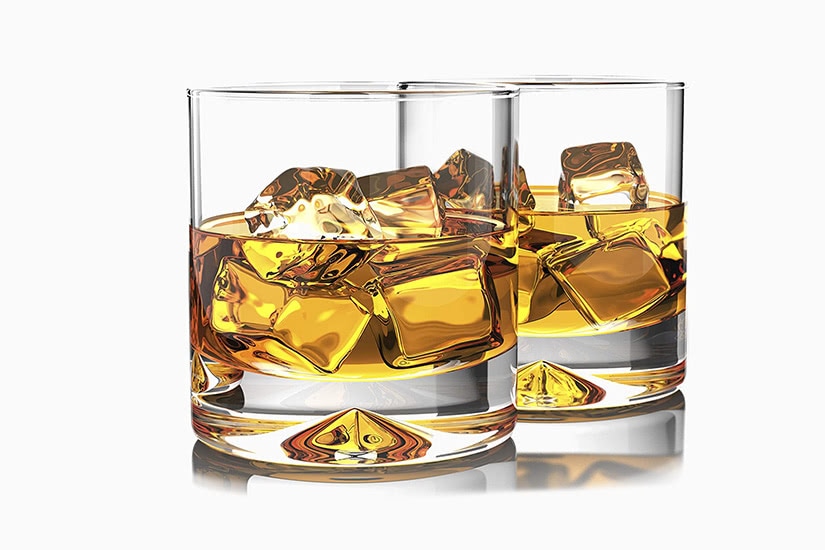 Mofado takes whisky glasses seriously, with a crystal design that's currently awaiting its patent. Hand-blown with a thick bottom, these whisky tumblers feature premium craftsmanship designed for enthusiasts who enjoy an oversized ice cube and a large serving of whisky.
The classic design of Mofado Crystal's glasses makes each one a sure winner, while its ultra clear lead-free crystal gives the spirit maximum clarity and brilliance. The firm weight of each one allows for a comfortable grip on the glass and the detailing on the bottom really shines when the glass is full. Fill it with a good quality whisky and savour, sip by sip.
Riedel Performance: Best tulip or copita glass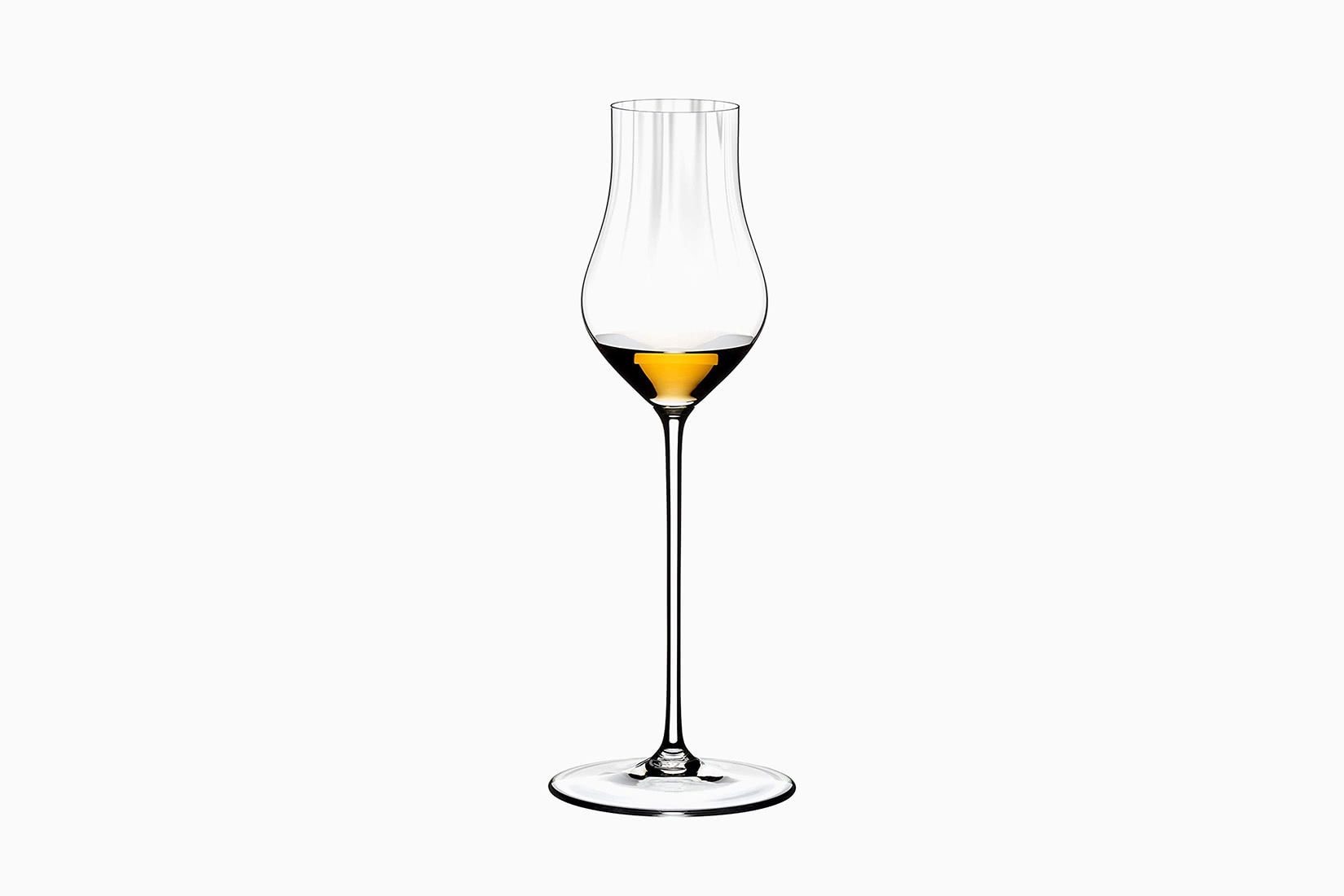 Few glasses look quite as classy as Riedel's spirits glass. It's the first ever glass to feature bowls with a light optic impact, which not only adds a pleasing visual aspect to the bowl, but also increases the inner surface area. It's a glass that focuses on performance, acting as a loudspeaker for the liquid inside while maintaining its own focus thanks to the beautiful sheen and unique optical effect.
The tulip shape of the Riedel Performance glass means it's great for whisky with lots of character: it'll bring out all of the flavours and aromas in a delicate glass that enhances the drinking experience.
Glencairn Whisky Glass: Best Glencairn glass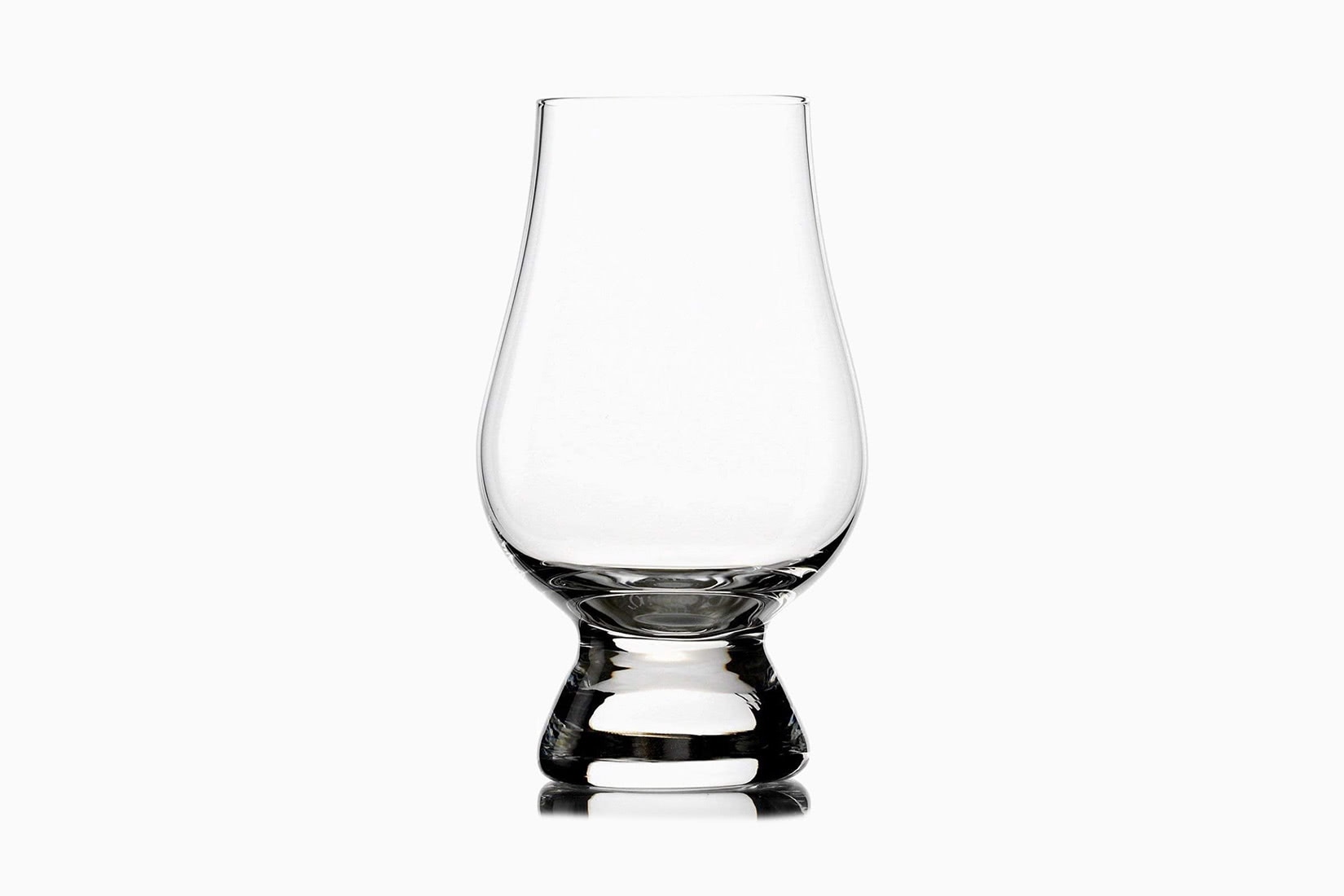 A Glencairn glass specifically improves the nosing experience as the whisky's aroma is allowed to gather properly in its wider bowl. This style of glass also means that, while drinking, it's easier to maintain the spirit's aroma – something that's not always as prominent when drinking from a rock glass.
Winner of the 2006 Queen's Award for Innovation, the short, elegant base of this glass has earned its place in the bar for its superior shape. Use a Glencairn glass for high quality whisky that's best enjoyed neat: the smaller size of this glass means it's built for quality, not quantity.
Tom Dixon Highball: Best highball glass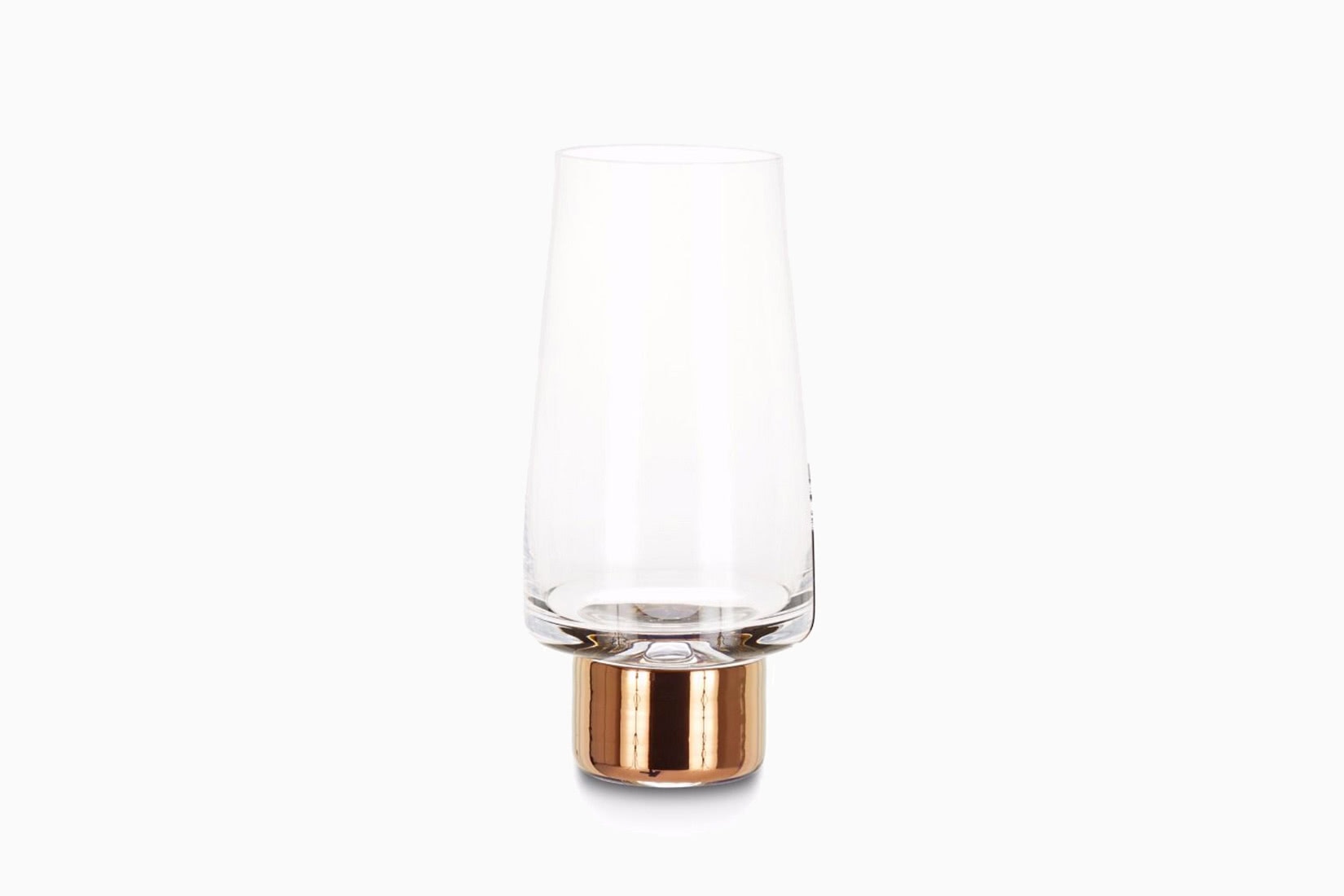 A sculptural glass transforms the whisky drinking experience into something closer to a work of art, and Tom Dixon's Tank Highball Glasses are the perfect example of just that. Each glass is designed from the functional shapes and volumes of scientific glassware, promising a mysterious and indulgent tone topped off with a technically demanding fusion of clear and solid black glass.
It's a premium glass that's both generously proportioned and well-weighted, mouth-blown into a piece of table top architecture. The fusion of colours is accentuated brilliantly with the addition of a whisky-based cocktail. Fill to the brim with your favourite whisky-based concoction to impress your guests.
Libbey Signature: Best whisky snifter glass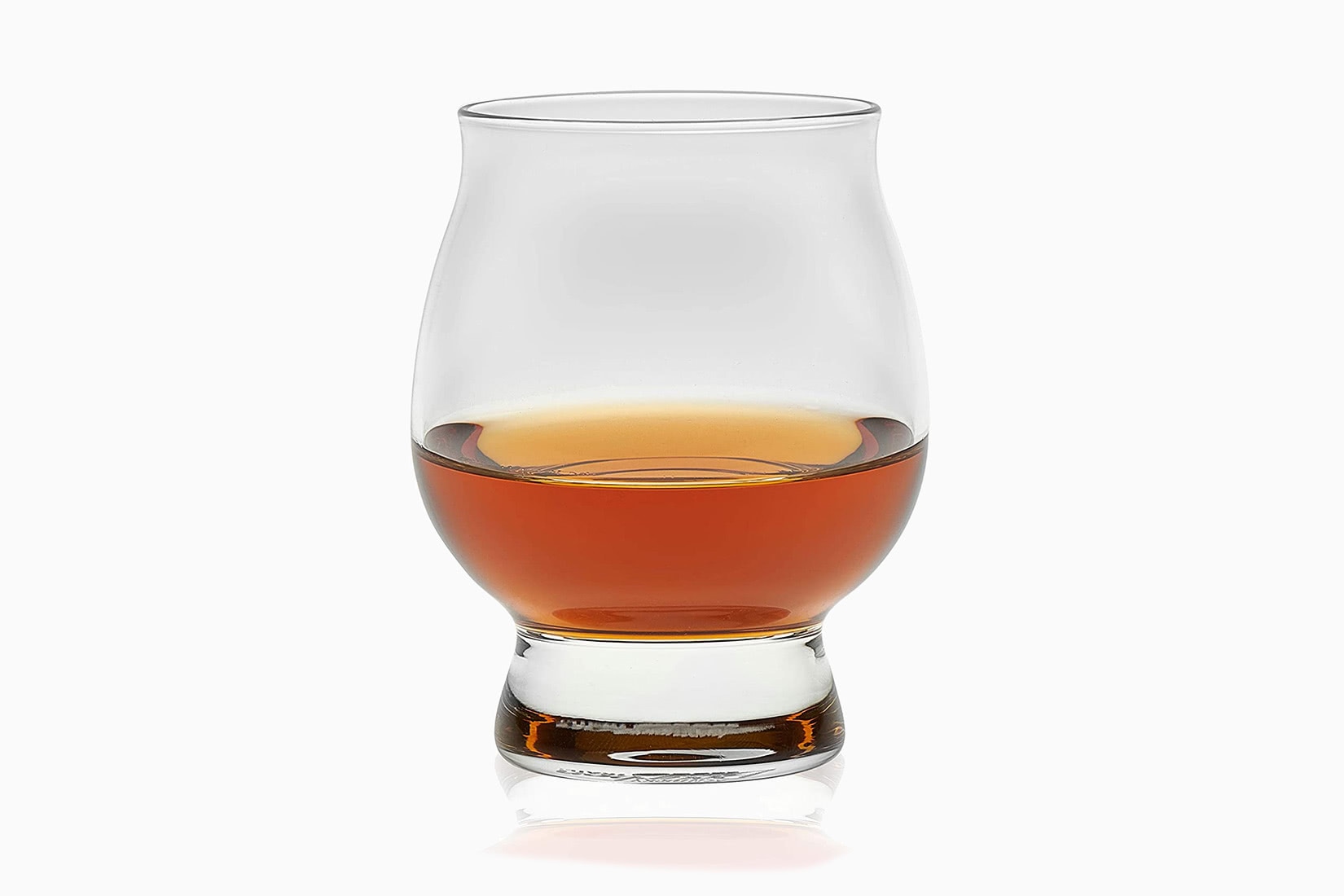 A snifter glass is the optimum choice for aged spirits and promises a bouquet of aromas. The shape of each glass draws out the flavour, making it even harder to resist pouring a second glass.
Named the official tasting glass of the Kentucky Bourbon Trail, the Libbey Signature Kentucky Bourbon Glass has a thick base and a wide bowl with a narrow neck. This combination, combined with its state-of-the-art ClearFire glass, elevates the whisky with ample surface area for evaporation. Breathe it in while swirling the liquid to create the ultimate way to enjoy a glass or two. It's one that'll be used again and again for your top shelf spirits.
Corkcicle Whiskey Wedge: Best glass for an Old Fashioned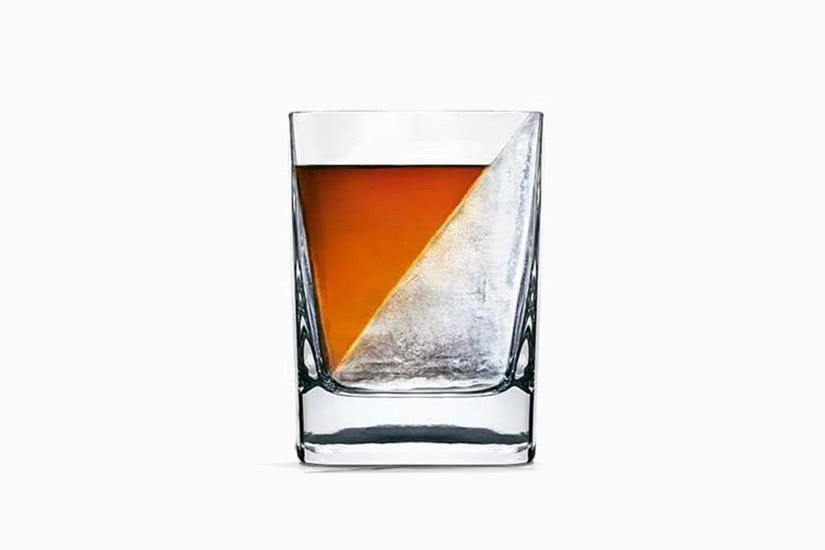 Corkcicle's whisky wedge is the easiest way to craft a mixologist-quality Old Fashioned, for whisky lovers who'd never settle for a watered down glass. An instant conversation piece, it's a perfect addition for cocktail aficionados. Use it by placing the wedge into the glass and freezing, filled with water, before removing the wedge and replacing with whisky. When frozen, the glass can hold about 120ml of the spirit.
Pro tip: for best results, use bottled water instead of tap water to create your ice cube. That ensures that your whisky retains all of its undiluted flavour notes.
ANCHOR HOCKING
Anchor Hocking's tubular shaped Manchester Rocks Old Fashioned Whiskey Glasses are a stylish choice with a textured pattern and wide, sturdy brim. These glasses come in a pack of 12, making them perfect for a round of Old Fashioned cocktails.
Sun's Tea Double Wall: Best budget whisky glass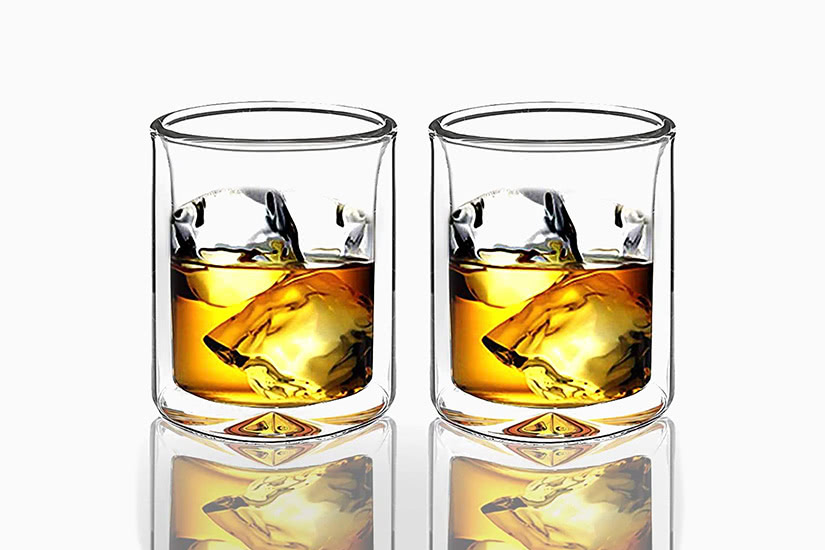 Made with double wall glass, Sun's Tea's Old-fashioned Whiskey Glasses are the glasses for those who appreciate aesthetics.
The design of each glass prevents condensation from building up, making it all the easier to appreciate the deep amber colours resonating from inside. They offer the perfect balance of traditional handmade craftsmanship and modern design, while preventing the whisky from watering down as you're enjoying it. These glasses are proof that exceptional quality can come at an accessible price, and the strong and durable nature of the material makes them a great option for everyday drinking as well as special occasions. Each glass showcases an exquisite optical illusion of liquid suspended; perfect for home bars.
Dragon Glassware Diamond: Best unique design glass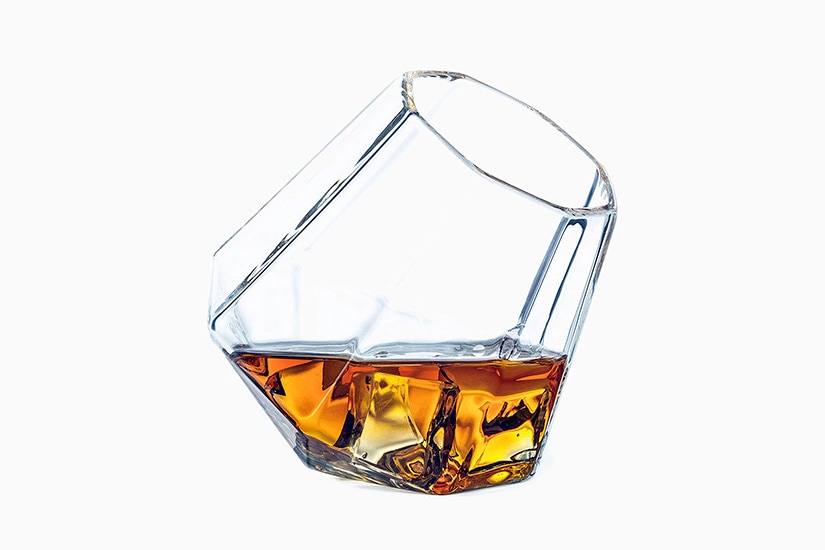 Inspired by diamonds, Dragon Glassware Diamond Whiskey Glasses allow your whisky to aerate while sipping and being swirled around the glass. The unique design seemingly defies gravity, positioned at an anti-rocking, spill-proof, 50-degree tilted angle that's comfortable to hold and elegant to admire.
Dragon is a luxurious, designer glassware company that produces a brilliant on-the-rocks experience with a glass that definitely draws attention. While they might look like presentation glasses, these are impressively functional and fun to drink out of. Buy them as a gift for the whisky lover in your life who will appreciate the novel shape and high quality.
Maketh The Man: Best drinkware gift set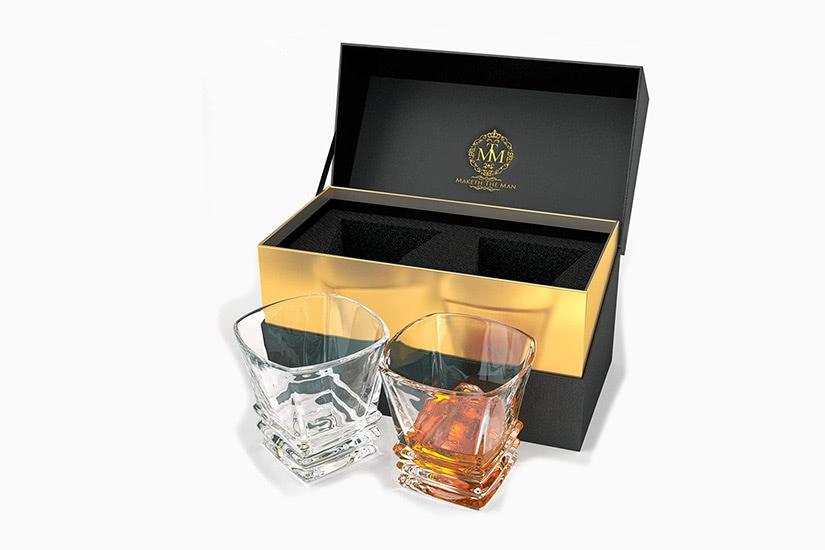 A whisky gift set is a thoughtful present that perfectly complements a much-loved bottle. Maketh The Man's Art Deco whisky glasses offer the chance to sit back and relax with a pair of glasses that promise timeless European design and attention to detail.
At 300ml (10oz) each, these glasses are a great size no matter whether a shot of the best stuff is on the cards or a whisky-based cocktail. The contemporary twist of the glass makes them an easy winner for anyone who appreciates aged spirits. Its presentation box, with black and gold hints and a black silk ribbon means these glasses are a winning choice for birthdays, anniversaries or just a chance to treat someone close to you.
KANARS
KANARS Old Fashioned Whiskey Glasses are also a great gift set option for the whisky lover with an arty streak. The Platinum Glass production process makes each KANARS glass heavier than others on the market, offering a premium drinking experience that's ideal for a favourite Bourbon or a Scotch on the rocks.
Bonus: The best whisky decanters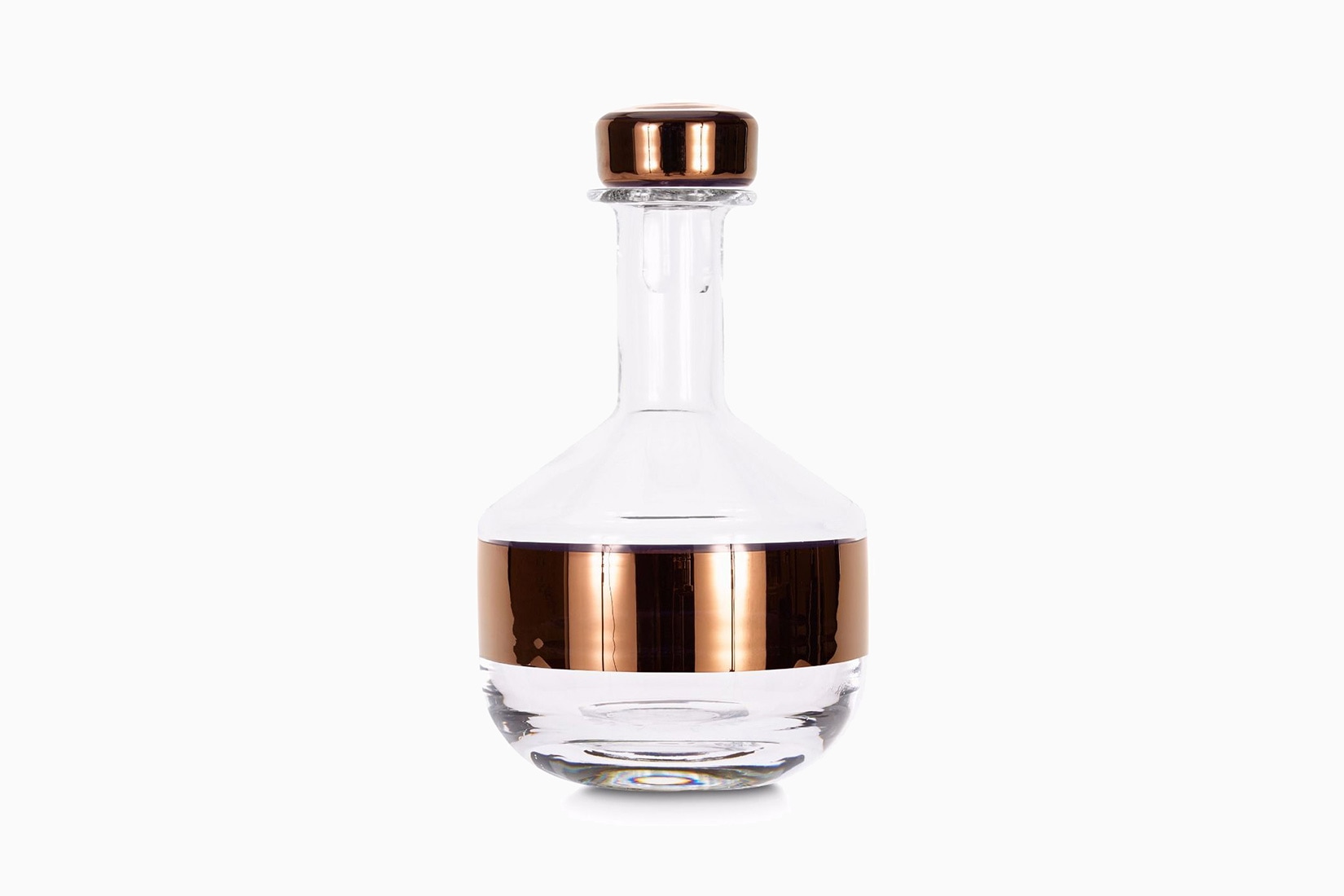 Decanters are usually reserved for wine rather than whisky because pouring wine into a decanter before serving removes any remaining sediment. As this isn't a problem when it comes to drinking whisky, some people wonder if it's just for show. But the truth is that, when used correctly, a decanter can up the experience of drinking whisky by refining the spirit even more. Pouring from the bottle into a decanter will add an extra subtly by allowing the spirit to breathe.
Decanters have, over the years, become a symbol of sophistication and class, and serving high quality whisky in a decanter is an excellent way to highlight the premium nature of the bottle.
When choosing a decanter, it's important to go for a good quality, air-tight option in order to stop the whisky from oxidising. You should also ensure your whisky decanter is lead-crystal free, or the high quality bottle you've carefully poured in could change flavour over time – and not in a good way.
There are decanters to suit every style, and picking a unique one that matches your personality can be a large part of the fun. But for a strong all-rounder, Tom Dixon's Tank whisky decanter in copper is our favourite choice. The copper accents contrast beautifully with the spirit inside, while the high quality glassware means you can transfer your whisky of choice without worrying.
Buyers guide: Understand the 6 different types of whisky glasses
Tumbler/Old Fashioned
A whisky tumbler is a classic glass and a staple in every cabinet. While you can use this glass for drinking neat whisky, it's best used for whisky on the rocks or whisky in cocktails. Its large, flat base makes it ideal for muddling cocktails and the versatile shape is a great receptacle for large ice cubes. It's a timeless glass that promises to let the whisky speak for itself while maintaining a casual, laid back approach no matter which bottle you're sipping.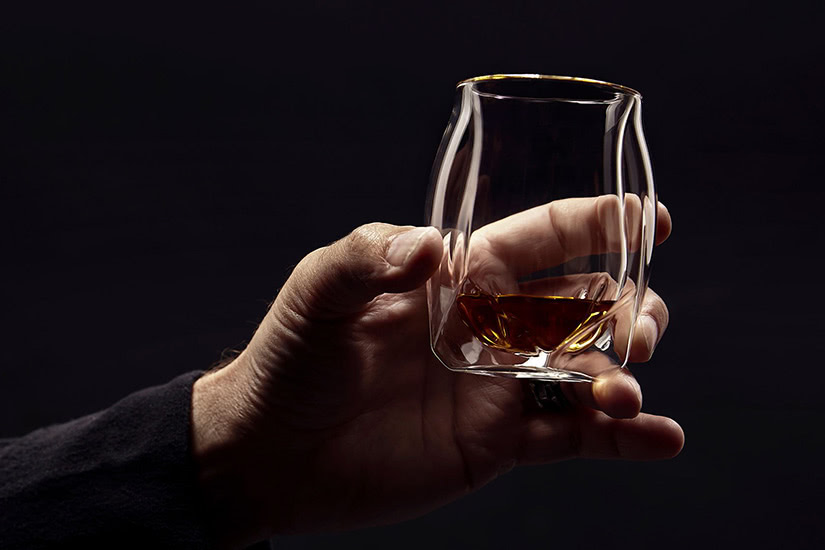 Glencairn
Glencairn glasses cater to seasoned whiskey drinkers who want to really enjoy the taste of their spirit. This style of glassware was the first to be endorsed by the Scotch Whisky Association and is a popular choice for those who don't enjoy stemmed glasses. The Glencairn is a robust glass that's suited to appreciation as well as functionality and should be used when drinking single malt whisky. It's a glass often seen in upscale restaurants and bars but also works well for those learning exactly how to swirl. Unlike others, it's a glass that's used primarily just for drinking whisky.
Tulip/Copita
A tulip or Copita glass is based on the traditional Spanish glass used for sampling Sherry. Now, it's a popular choice for master distillers, blenders and true whisky connoisseurs. With its thin stem and broad pedestal, it's ideal for cradling whisky and warming it slightly if desired. The long stem means any harsh aromas are further from the drinker's nose while the narrow rim and bolt shape concentrate the pleasing notes. It's a glass used for thoroughly appreciating all that this spirit has to offer.
Highball
A highball glass is commonly used by mixologists for longer mixed drinks. The length of the glass makes it easier to prevent spillage and also allows for plenty of ingredients, ice and fizz. It's hard to go wrong with a highball glass and it's a staple choice for a Scotch and soda or a whisky and lemonade. Its height means it's best suited to cocktails with higher proportions of non-alcoholic mixer.
Snifter
Also known as Cognac glass, a snifter glass's main objective is to encourage the release of harsh ethanol vapours while preventing the liquid from spilling out the top. The style of this glass also means it's one used for spirits that deserve to be warmed slightly. So, if you prefer your whisky chilled, a snifter glass probably isn't an essential purchase. However, it's a great choice for slowly savouring top-shelf whiskies or holding whisky tastings, where the pleasant aromas can take advantage of the extra breathing room.
NEAT
Don't get confused when it comes to a NEAT whisky glass, because its name comes from its properties rather than how the spirit should be enjoyed. NEAT stands for Naturally Engineered Aroma Technology and the first ever NEAT glass came about as a glass-blowing mistake. A relative newcomer to the whisky industry, NEAT glasses offer an open-mouth shape that helps to diffuse sharp alcohol fumes and let you detect the hidden tasting notes. It's a versatile glass that's suited to whisky newbies as well as those with a more long-standing appreciation of the spirit.
Whisky, Scotch, and Bourbon glasses: Frequently asked questions
Is there a difference between whiskey, Scotch, and bourbon glasses?
All types of whisky can be enjoyed from the same glasses. However, different glasses suit different purposes of drinking whisky, depending on whether it's served neat, on the rocks, as an Old Fashioned or in a longer cocktail. These glasses will vary in size, diameter and other features depending on their unique purpose.
What is the difference between neat and on the rocks whisky glasses?
Neat whisky is served by itself while whisky on the rocks is served with ice. Typically, glasses designed for neat whisky are smaller, while glasses for whisky on the rocks offer wider bowls and a larger surface area to maximise the addition of the ice.
What is the best whisky glass?
The best whisky glass is the Tom Dixon's Tank Whiskey Glass. Each glass is mouth-blown and hand-painted, with beautiful copper detailing and a clear and solid base. These glasses are stylish and modern, promising a whisky lover a top-quality experience.