Today, sneakers are the ultimate day-to-night footwear, accompanying you from office hours to happy hour and everywhere in between.
But not all sneakers are created equal, as aptly demonstrated by Koio, the Italian sneakers brand that everyone is talking about, and one of our favorite footwear brands for minimalist luxury sneakers for men and women.
Even if you don't yet own a pair of Koio sneakers yet, you've no doubt stumbled across them on Instagram.
Koio footwear is designed in Brooklyn, NYC but entirely handcrafted in the Le Marche region of Italy. In fact, the brand uses the same artisan factories as top-level brands such as Chanel and Hermes. But there are no haute-couture prices here. You can pick up a pair of Koio shoes for a fraction of the cost without any compromise on quality, thanks to the brand's direct-to-consumer approach.
In this Koio review, we'll cover the brand's three main styles. The Capri, the classic white sneaker—luxurious yet laidback. The Metro, athletic and approachable, ideal for go-getters always on the move. And the Primo, an ultra-cool high-top that can be both dressy and down-to-earth, depending on the day.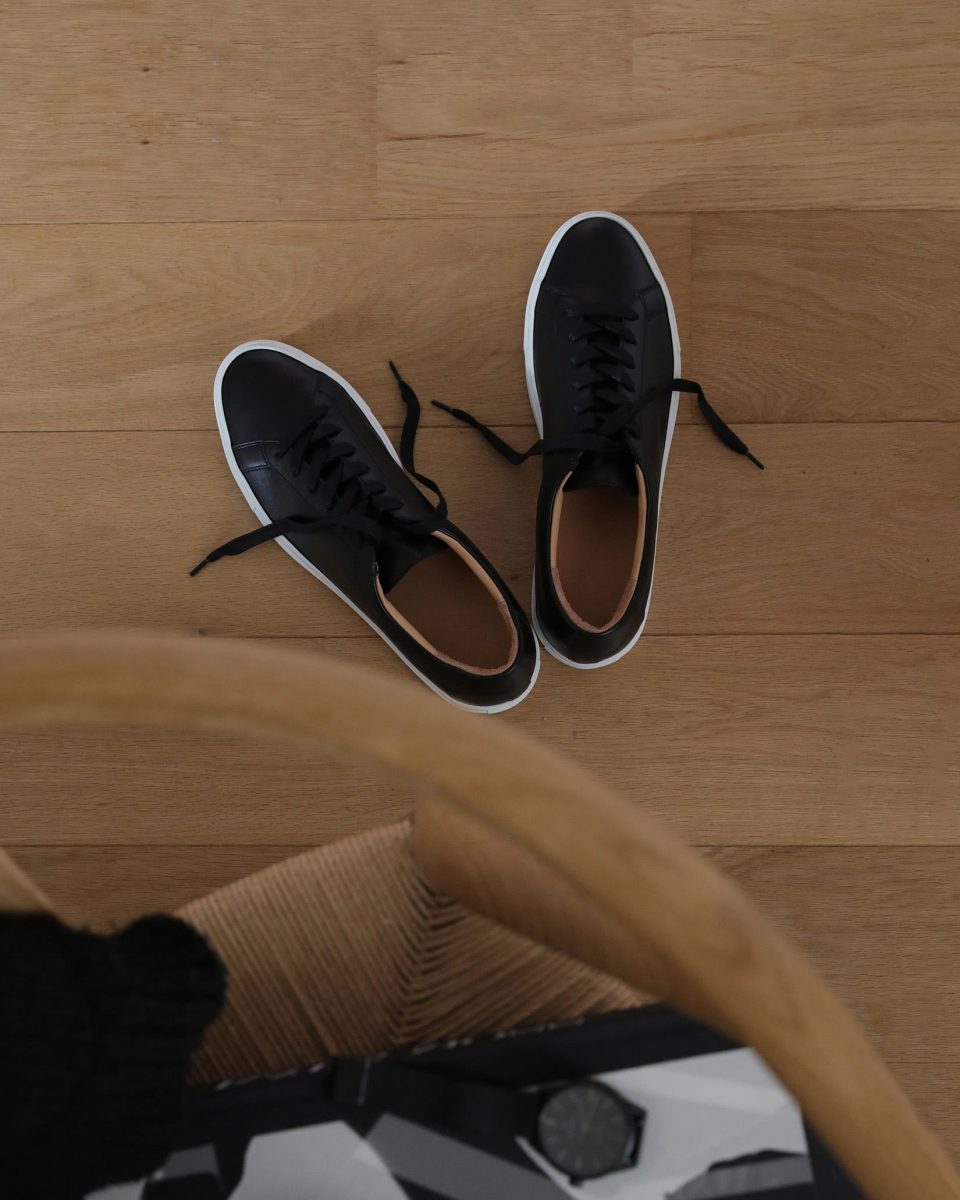 Koio Capri review
Koio's Capri is the brand's timeless and trend-proof white sneaker that every wardrobe needs—a unisex design that will appeal to men and women alike.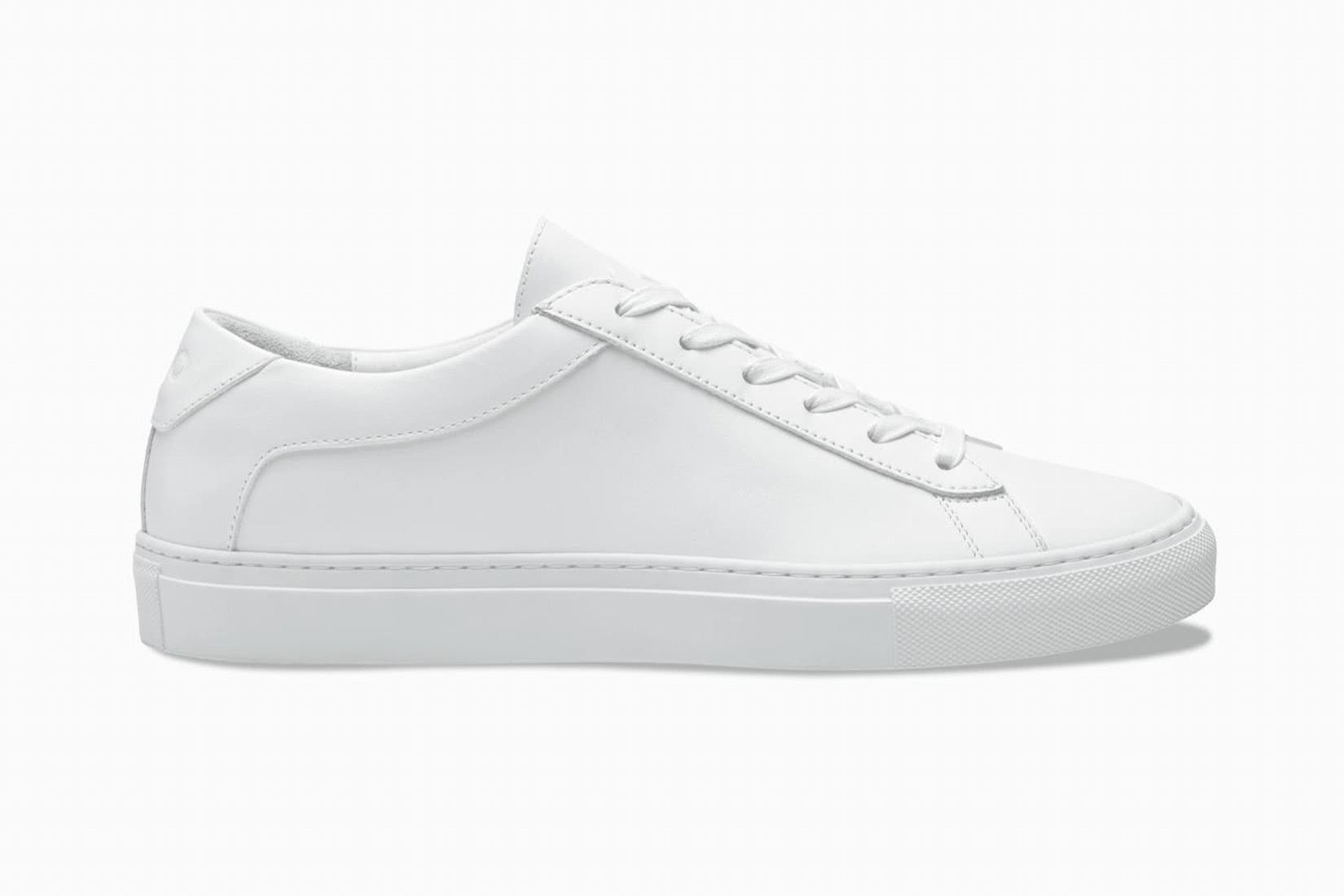 The pros:
Seriously high quality with impressive attention to detail.
Not as expensive as designer sneakers from competitor brands like Common Projects.
A versatile and trend-transcending design with minimal branding.
The cons:
Finding the right size can be difficult with no half sizes on offer.
You'll need to pay extra for cleaning products to keep the shoes in good condition.
The alternatives
The much-hyped Common Projects Achilles Low White sneaker is a sleek and dressy alternative, although it's not quite as comfortable as the Capri and is significantly more expensive (see latest price here).
For a cheaper option, check out the Oliver Cabell Low 1—just as timeless and it comes with a price breakdown for added transparency (see latest price here). We have a dedicated hands-on Oliver Cabell Low 1 review if you want to see more. Check also our brand profile to learn more about the story behind Oliver Cabell.
There's also the Clean 90 by Axel Arigato. These sneaker shoes have the advantage of being available in a range of colors, with different motifs and patterns too (see latest price here).
Hands-on experience and benefits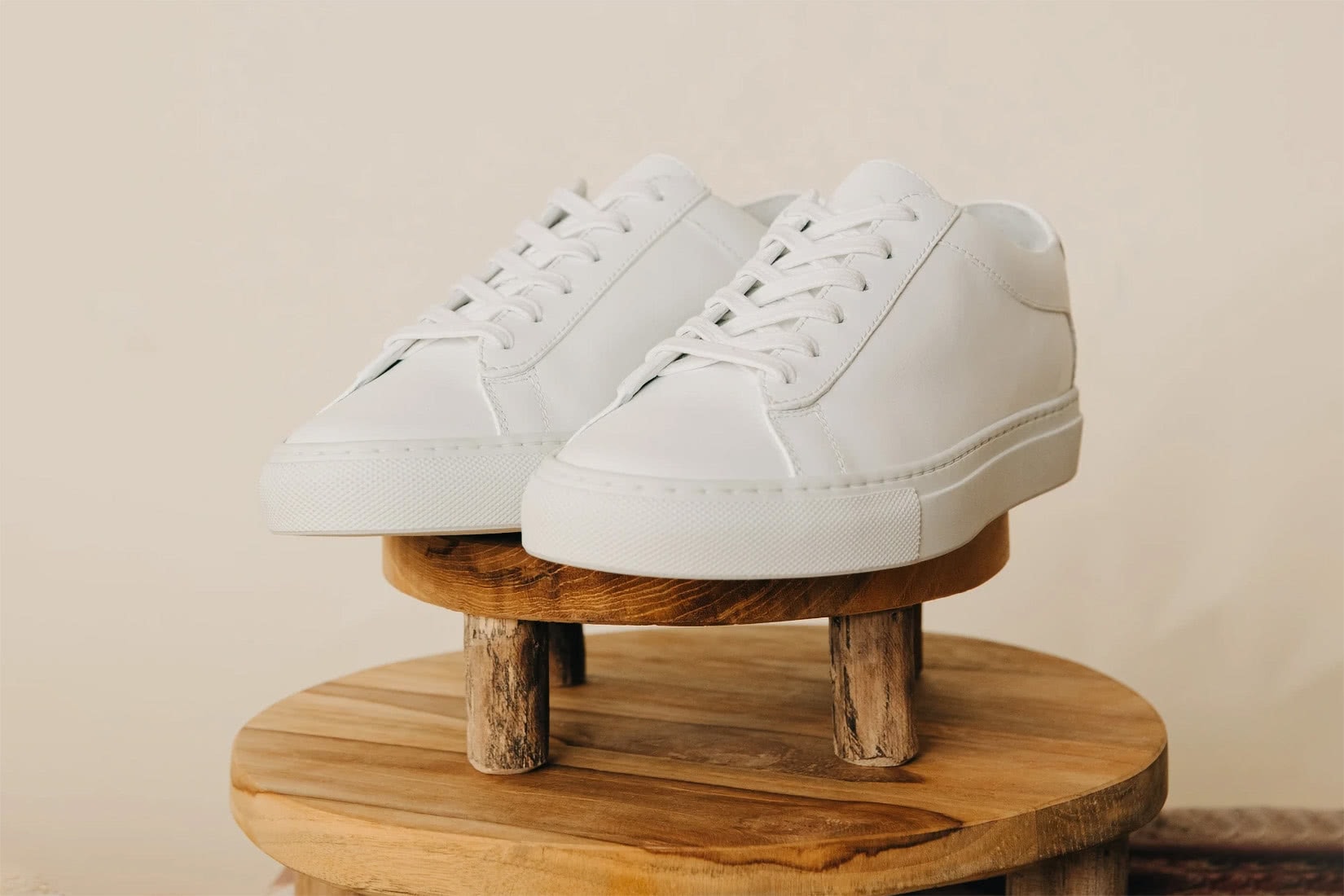 Materials and craftsmanship
While Koio says that the Capri is made of Vitello calf leather, it's actually not calf leather but cow leather. Nevertheless, we can confirm that the leather has all the same characteristics as calf leather without any of the ethical issues some buyers may find with the latter.
The Capri also features a Margom outsole—split and abrasion-resistant for superior longevity. Waxed cotton laces are hard-wearing while the upper is both glued and stitched to the outsole adding reinforcement to stress points, although this does make it harder to get the shoe resoled.
To ensure your Koio Capri Triple White stays in good condition, you'll want to treat them with leather protectant before wearing them, condition them once a month, and use a white shoe cream to cover up any scruffs.
Aesthetic and design
Visually, the Koio Capri is the perfect minimalist white sneaker with a clean-lined and streamlined design that's the absolute epitome of classic versatility. It looks as luxurious as it feels on the foot and the pared-back design is the opposite of clunky.
The leather is the kind that will age beautifully, provided you take care of it, and we also appreciate the low-key branding.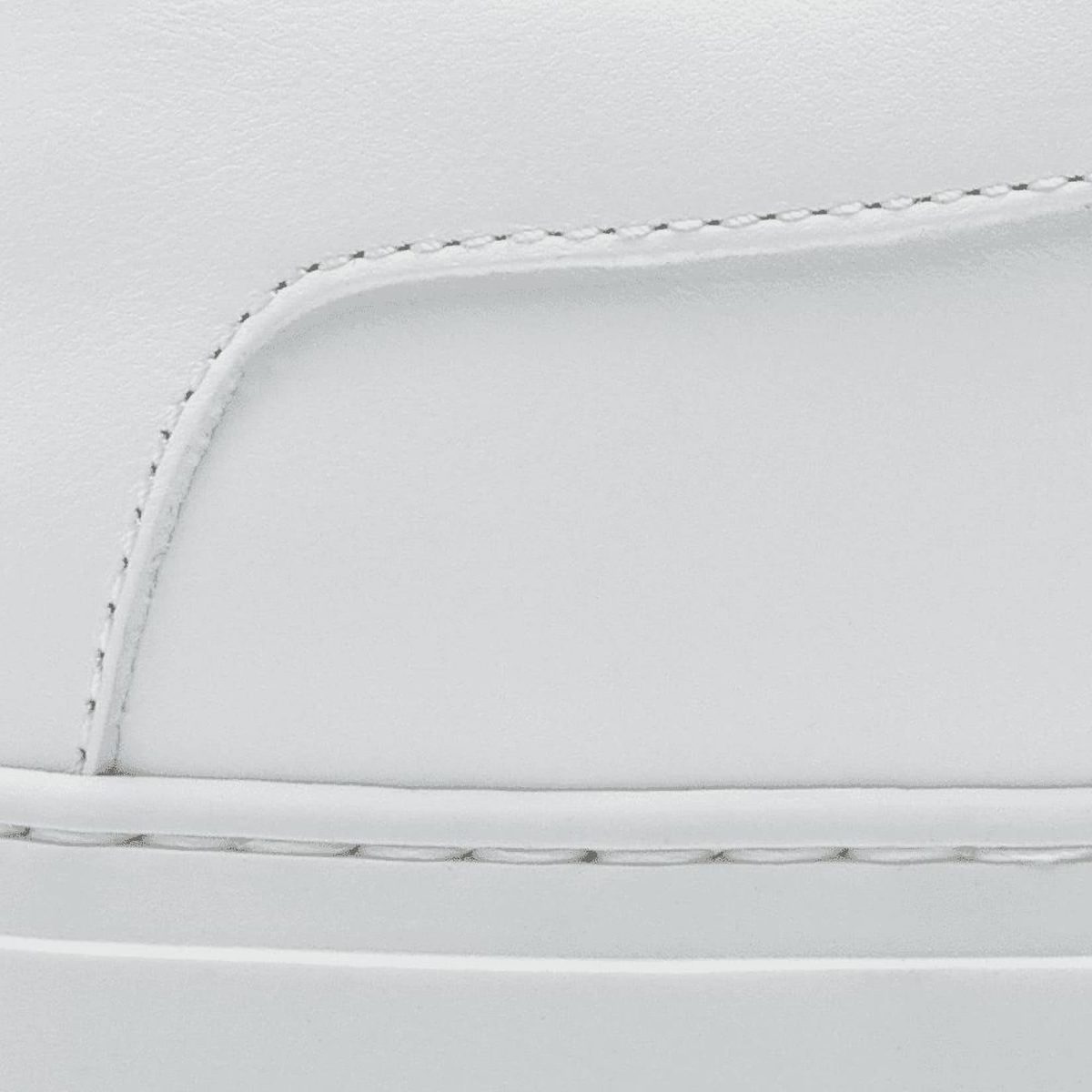 Comfort, fit, and sizing
There are a couple of stand-out features of the Capri Triple White when it comes to comfort.
Firstly, the Margom outsole has a slight elastic quality which means it flexes to your foot as you walk. Meanwhile, the removable insole, made from open-cell polyurethane, is less likely to compress over time for a more sustained bounce and greater shock absorption. A leather lining around the collar and tongue also helps to prevent blisters.
Subtle padding around the sneaker collar also offers support and comfort. And, finally, there's a suede heel counter to stop your heel from slipping.
It's slightly frustrating that Koio doesn't do half sizes and we recommend going down half a size if you're between sizes. If you're wondering whether to go a Koio size up or size down, check out the Koio size chart.
However, once you get the right size, you'll find the fit is pretty much perfect from the get-go with very minimal break-in required (and no annoying squeaking from the leather either).
Pricing
The Capri is more than affordable. For a shoe of this quality, you could easily be paying double the price elsewhere. Koio manages to keep costs down while still creating a sneaker that will last many years.
Choose the Koio Capri Triple White if…
You're on the hunt for all-day, everyday luxury sneakers that will literally never not be in fashion.
Koio Metro review
The Metro is a unisex design, offering sleek and sporty allure for men and women seeking functional yet fashion-forward footwear.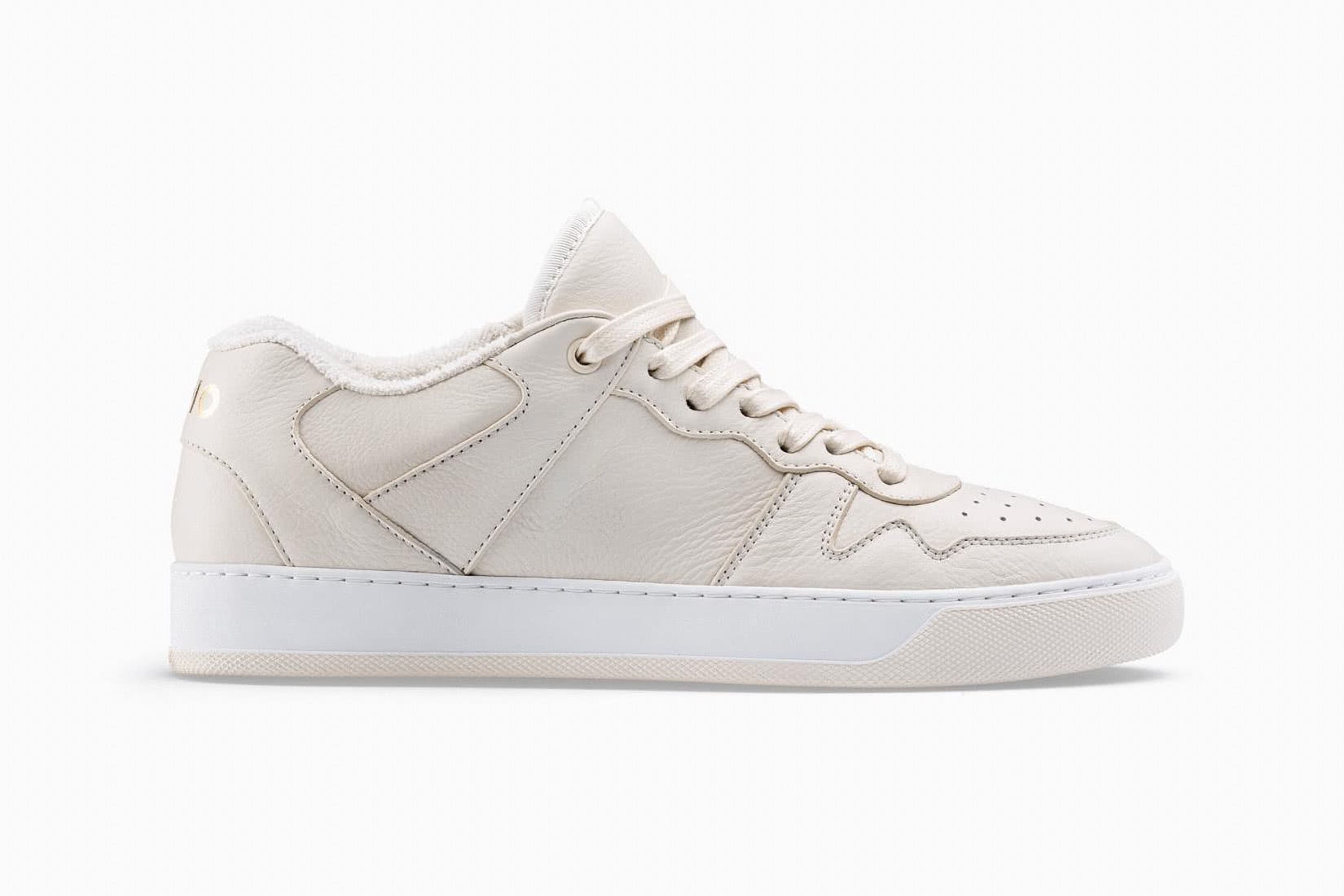 The pros:
Sporty vibe makes it ideal for casual wear.
Superior comfort thanks to the Strobel construction.
In Antique White, the sneaker has a cool retro feel about it.
The cons:
It's more of a casual shoe, not quite as structured or as dressy as the Capri, making it less appropriate for more formal occasions.
Some people may find the fit a little too slim.
The alternatives
The Koio Retro Runner also has a sleek vintage aesthetic and comes in a range of cool colorways.
For a similar vintage vibe, try Axel Arigato's Genesis Vintage Runner. The design is quite different to the Metro but has some of that retro flair. See our Axel Arigato review for more details.
Oliver Cabell's Low 1 Belmonts are another pair of Italian leather shoes that also have a sporty aesthetic and are just as comfortable as well as being less expensive (see price here).
Common Projects also makes athletic leather sneakers called the BBalls, inspired by classic basketball footwear and made from nubuck and Saffiano leather but they're a lot more expensive (see latest price here).
Hands-on experience and benefits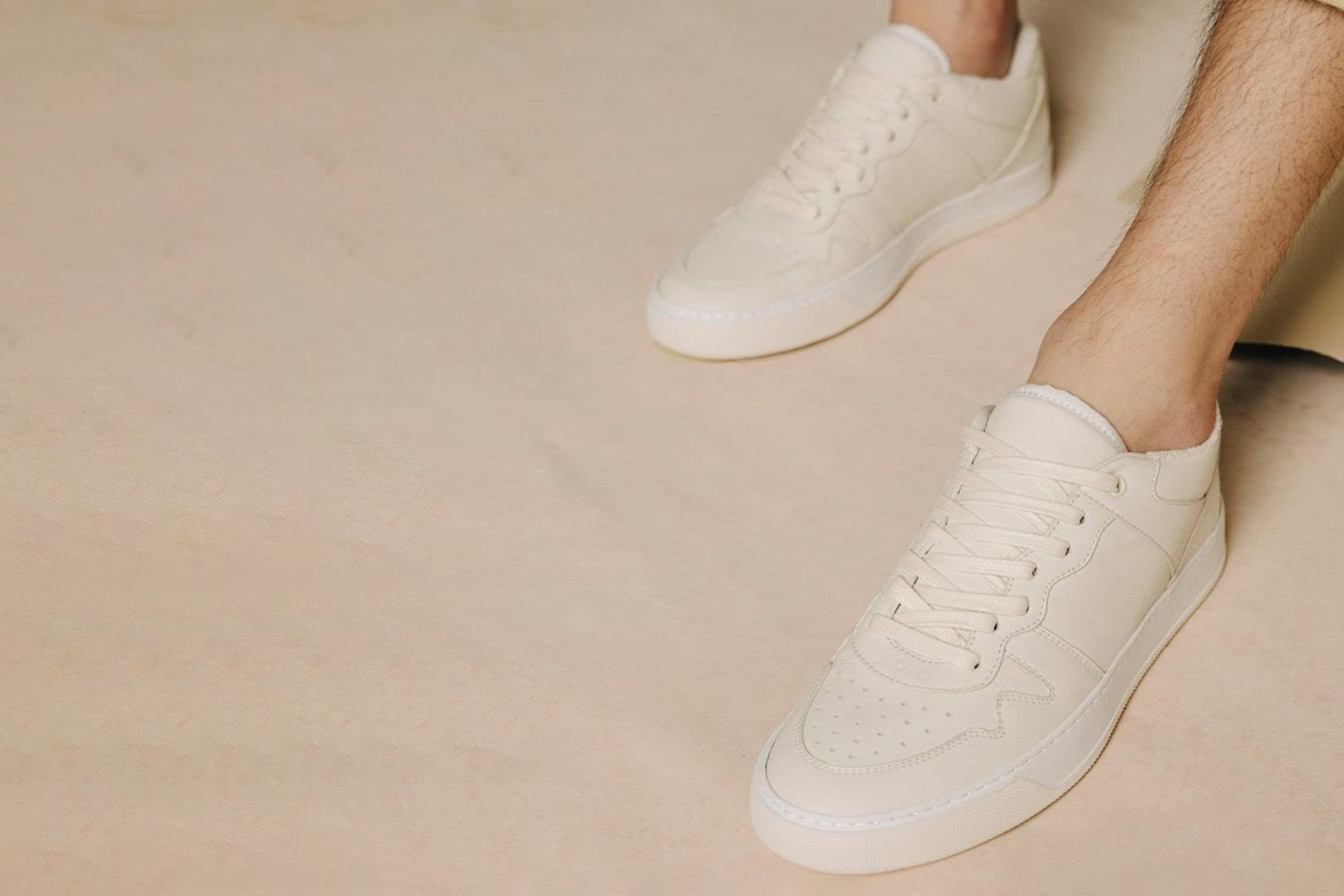 Materials and craftsmanship
Koio packaging is as high-quality as the shoes themselves. Sneakers come with a box and shoe bag, further elevating the brand's already notable commitment to customer service.
The quality of the full-grain Italian leather is evident from the outset and means you'll experience minimal creasing—although you can further reduce the risk by using a shoe tree.
The shoe has been made using the Stroble method of construction. This means that once the upper has been created, the lightweight and breathable cotton-terry is stitched onto the open bottom, creating a sock-like structure. The last—the three-dimensional mold of the foot—is then slipped inside to ensure the right fit, before the bottom of the upper is attached to the outsole.
Strobel-constructed shoes are typically more athletic, offering enhanced flexibility, comfort, and energy return, with a sock-like membrane that holds your foot safely and securely without the boards found in more rigid shoes like the Koio Capri or Primo.
Like the Capri and Primo leather sneakers, however, the Metro features a bouncy and high-quality Margom sole. There's also a foam tongue to protect your foot from rubbing against the laces. The laces themselves are waxed to ensure they hold their shape and survive frequent wear and there's double stitching in the sneaker's high-stress points to reduce the chance of rips.
Aesthetic and design
The Metro is available in Antique White—a slightly warmer neutral than the Capri and one that would look great with dark clothing. It's also available in Mocha Brown if you want something more rustic (and stain-resistant).
Style-wise, the vibe is sporty and slightly retro while still being distinctly and charmingly Italian. Little details such as the hand-painted edges make it clear that this is a high-end sneaker.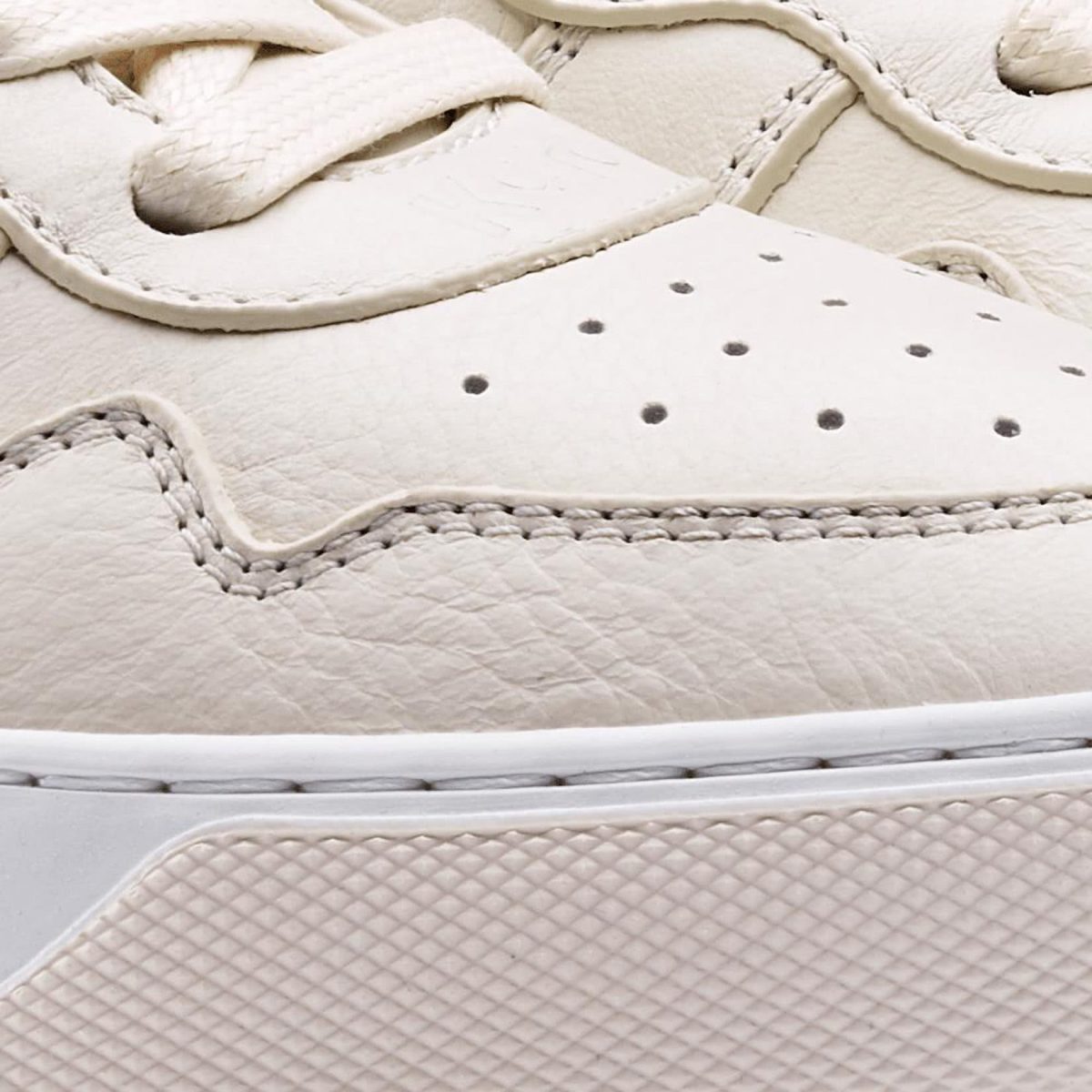 Comfort, fit, and sizing
We found the Metro break-in period easy and blister-free while the cushioned sole makes it feel like you're walking on clouds—as more than one other Koio shoes review attests.
The shoe feels sturdy on your foot without being too clunky and we appreciate how it comes up slightly further on your ankle than the Capri, adding to the sporty silhouette.
These are quite slim fitting sneaker shoes, admittedly, so we'd also recommend going half a size up if you're between sizes. For more tips on whether to go a Koio size up or size down, check out the Koio size chart.
Price
As we already mentioned in this Koio review, bypassing wholesale means that Koio can offer products directly to the consumer. The cost savings this entails allows them to offer great value
Italian shoes, hence the accessible and approachable price-point of the Metro.
Choose the Koio Metro if…
You want a sneaker that maintains its sporty edge while still being both boardroom and cocktail bar-appropriate.
Koio Primo review
Koio's very first design is also one of its most popular—a casual yet classy high top that feels thoroughly contemporary. Available for men and women.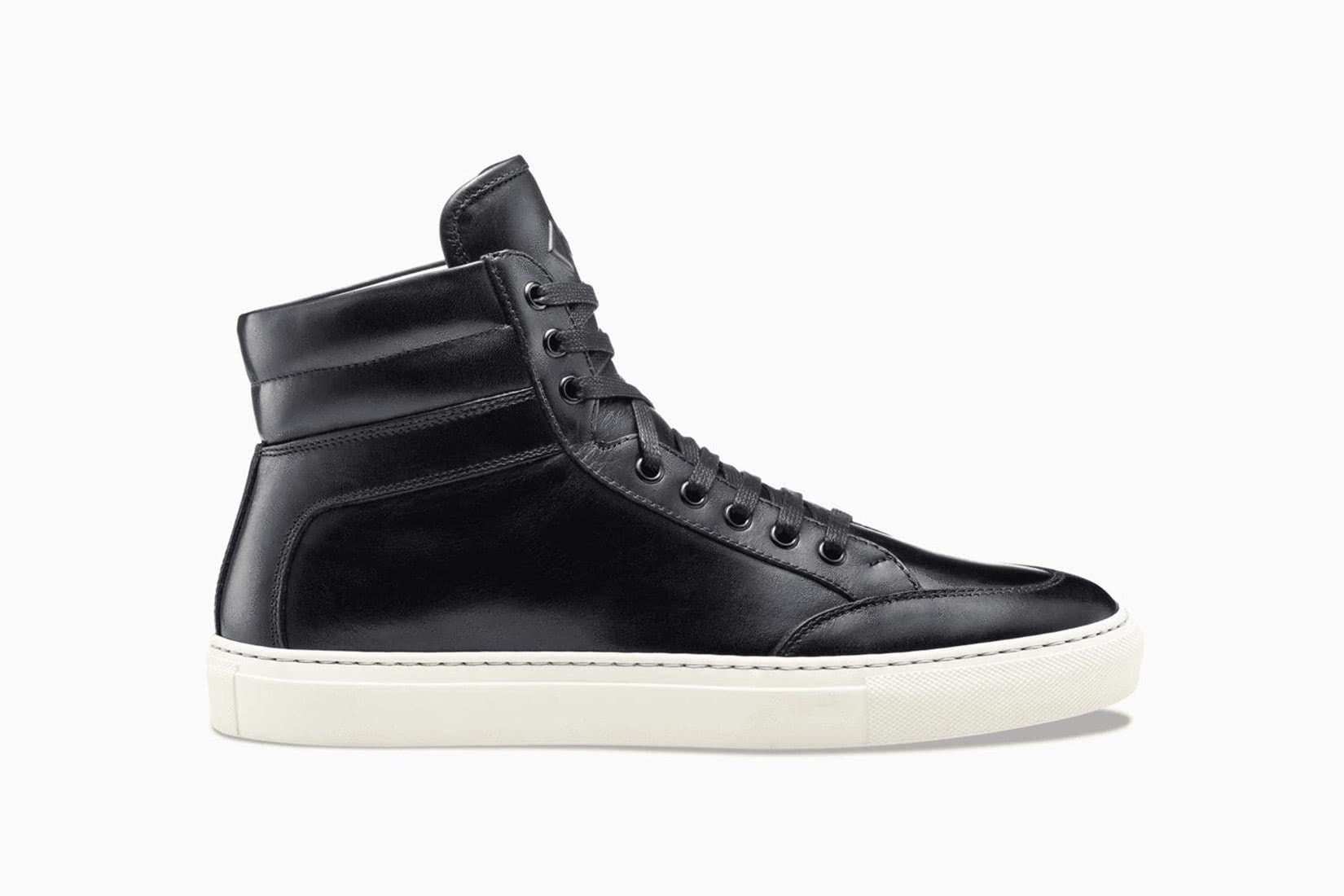 The pros:
Details like the hand-painted edges and reinforced eyelets are examples of premium quality.
The vibe is casual yet sophisticated simultaneously, making the Primo a very versatile choice.
Buying these Italian shoes means consumers can support an ethical business that looks after its workers.
The cons:
More expensive than high-street high-top designs.
The Primo requires regular care to maintain its sleek appearance.
The alternatives
Hands-on experience and benefits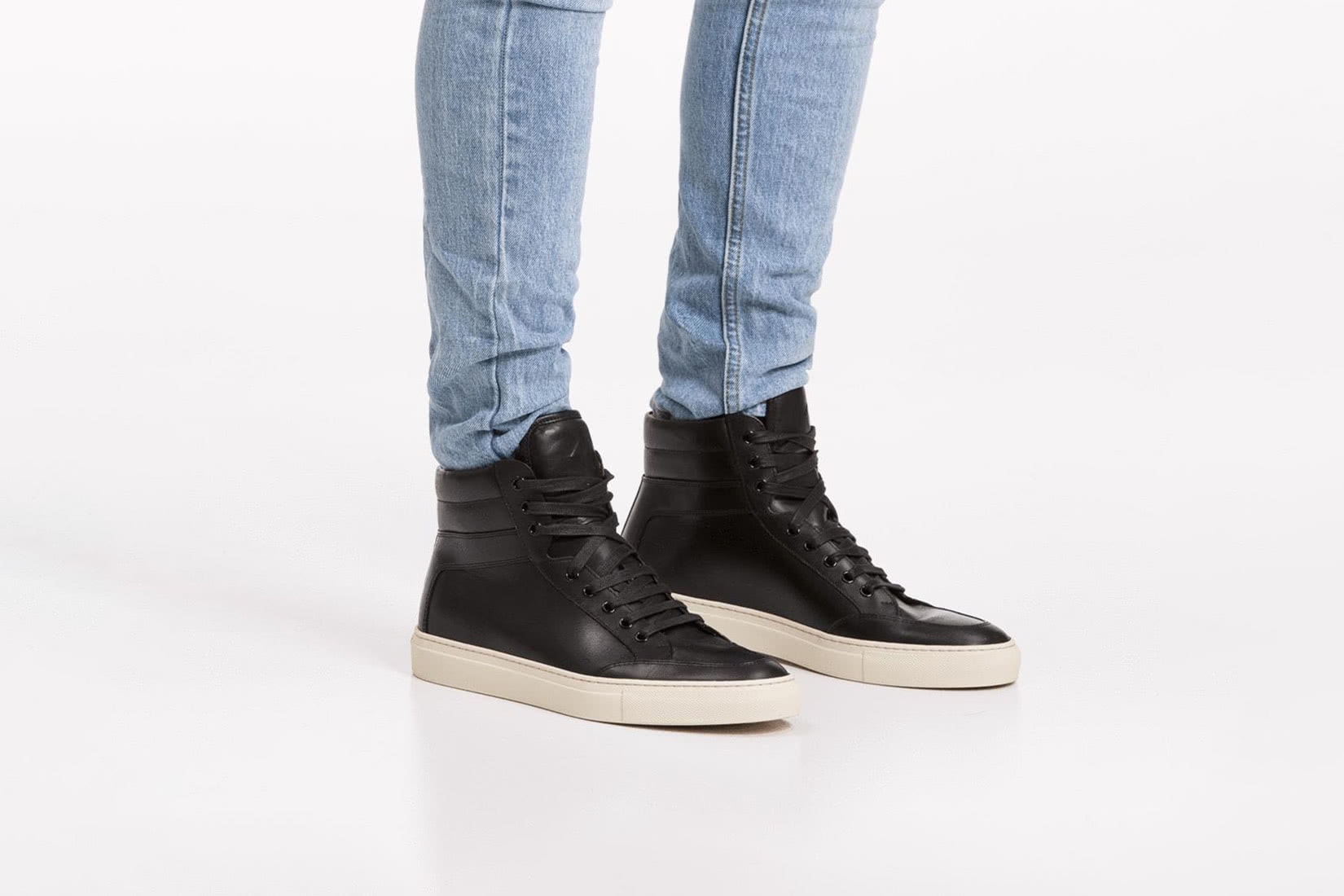 Materials and craftsmanship
As with all Koio sneakers, there's no poor-quality plastic-coated leather here. The Primo is made from Italian pebble-grain leather, tumbled and buffeted for a unique finish that feels appropriately sporty.
Inside, the lining is also Italian leather for that uniquely soft Koio on feet feel. The lightweight and sturdy Margom sole is hard-wearing, able to survive regular rotation. A removable insole offers cushioning as well as a flexible fit and waxed laces are substantial and long-lasting.
Unlike the Capri, the Primo features reinforced eyelets for added robustness. But, like the other Koio shoes we've featured here, the Primo is completely manufactured in Le Marche, Italy, including the shoe box, guaranteeing premium quality control.
Aesthetic and design
Like all Koio sneakers, the Primo is almost outrageously good-looking. The high top has the power to add punch to any ensemble and instantly make the rest of your outfit look better.
Whether you wear The Primo with smart tailoring or jeans and sweater, it manages to be both refined and laidback at the same time, offering yet another classic wardrobe staple, perfect for your everyday uniform.
A subtle logo on the tongue is the only branding you'll find on this simple and minimalist sneaker which is not at all bulky, making it a great option for women looking for a sporty accompaniment to a summer dress, for example.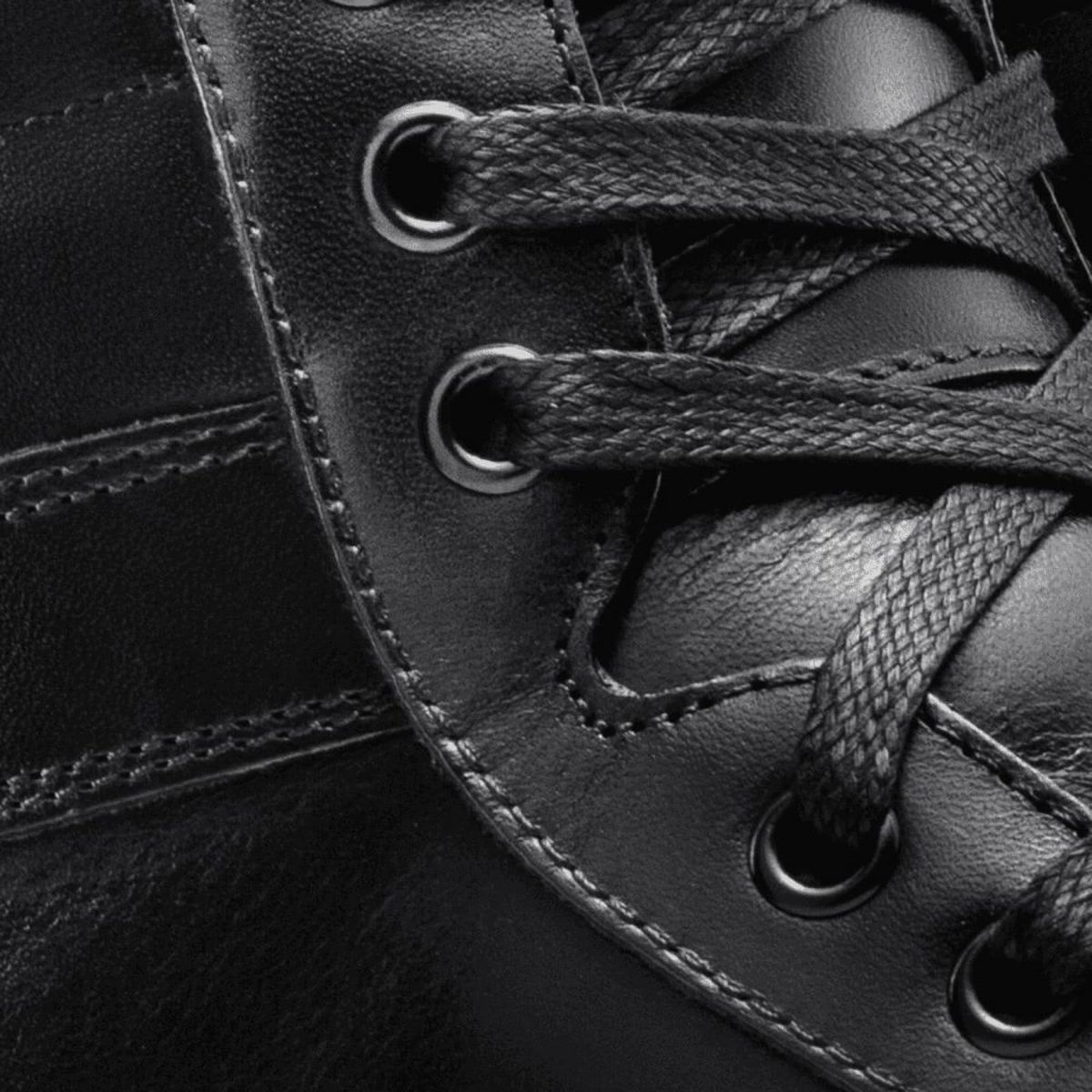 Comfort, fit, and sizing
These kicks are very snug and well-cushioned, perfect for those always on the move. Made by Italian craftsmen who understand anatomy, we felt like our Primos had almost been custom-designed for our feet. The ankle-height top is also padded for extra support.
However, we would say it's a good idea to account for stretch when choosing a size. The more you wear these sneakers, the more supple and comfortable they'll become.
Price
While more expensive than other classic high tops such as Vans or Converse, you do get a superior quality when it comes to the Primo.
You also get the reassurance of knowing you're supporting a company committed to ethical production. Every part of the shoe is created in Italy with its high labor standards. Employees work fair hours and enjoy a community-oriented environment. They are also paid fairly—around 15 times more than they would be elsewhere in the world.
If that's where our money is going, then we're happy to spend more.
Choose the Koio Primo if…
You're after a refined yet relaxed high-top that looks as good on the school run as it does at a sophisticated party.
Koio vs Oliver Cabell
Like Koio, Oliver Cabell is a high-quality Italian sneakers brand. Both have an eye for cool and timeless designs and both create luxury sneakers featuring Margom soles—the crème de la crème of sneaker soles.
Oliver Cabell sneaker shoes come with their own cleaning kit. Maintaining the pristine appearance of your sneakers requires regular care and not having to shell out on cleaning products is definitely a bonus. Oliver Cabell sneakers are also slightly less expensive, and even provide a price breakdown so you can see exactly how your money is being spent. We love the brand so much that we published a dedicated Oliver Cabell sneakers review in case you want to see more. You can also check their latest prices and promotions here.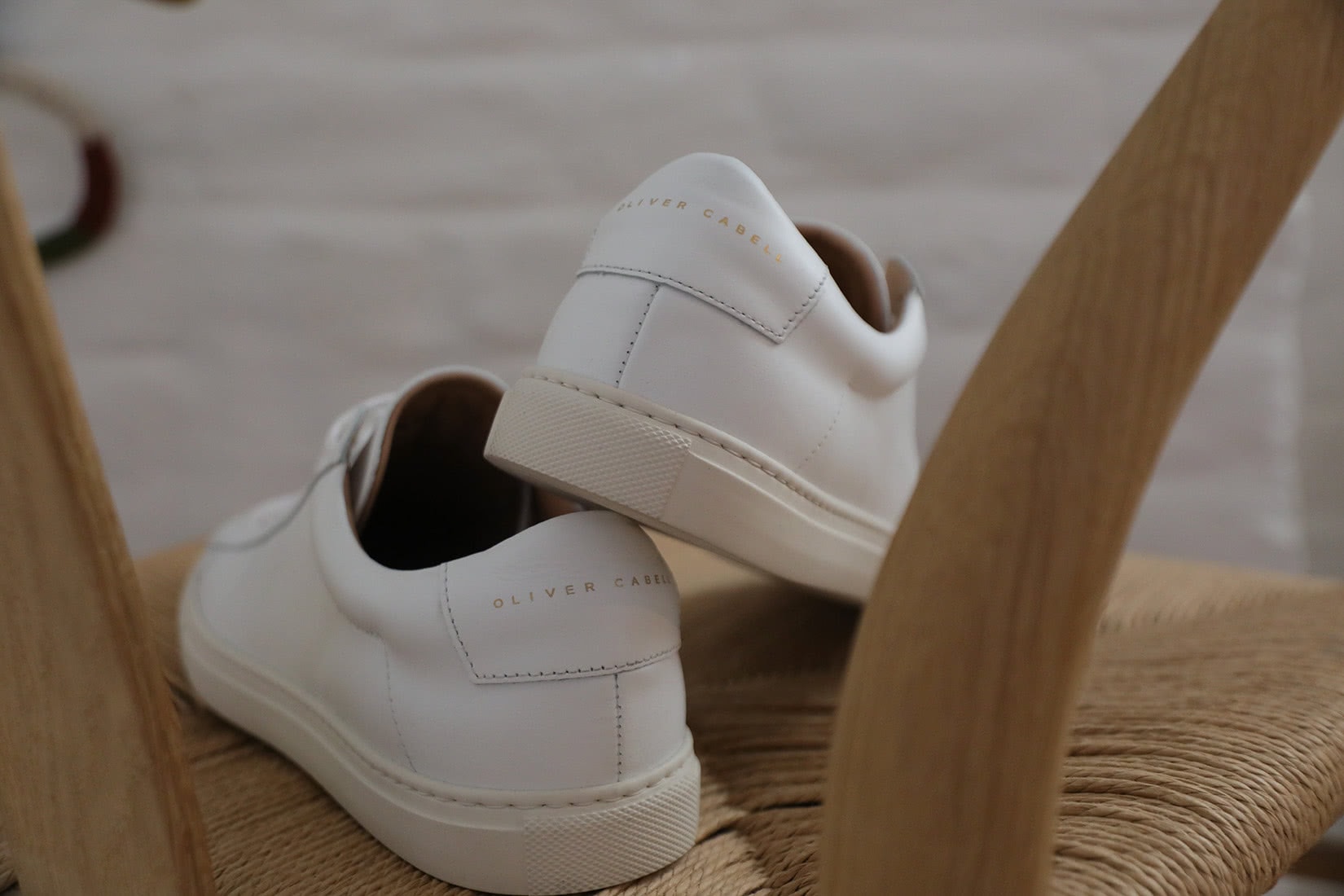 Koio often offers discounts and promotions, so definitely look out for a Koio sneakers sale. Plus, they offer the possibility of browsing the sneakers in person, either in a Nordstrom outlet or in one of the brand's own retail stores.
Koio vs Common Projects
Koio and Common Projects sneakers have a very similar minimalist design. Both make Italian leather shoes using the highest quality materials. In fact, you'd be hard pushed at a distance to tell the difference between the two luxury sneakers.
Nevertheless, there are a few key distinguishing elements. For one, Koio shoes are more padded in the heel. This makes them more comfortable. The ability to remove the insert also adds a level of flexibility too compared to Common Projects' sneaker.
And, of course, Koio sneakers are also significantly cheaper—around $150 less (as seen here). As far as we're concerned, you're not losing out on anything by paying a lower price.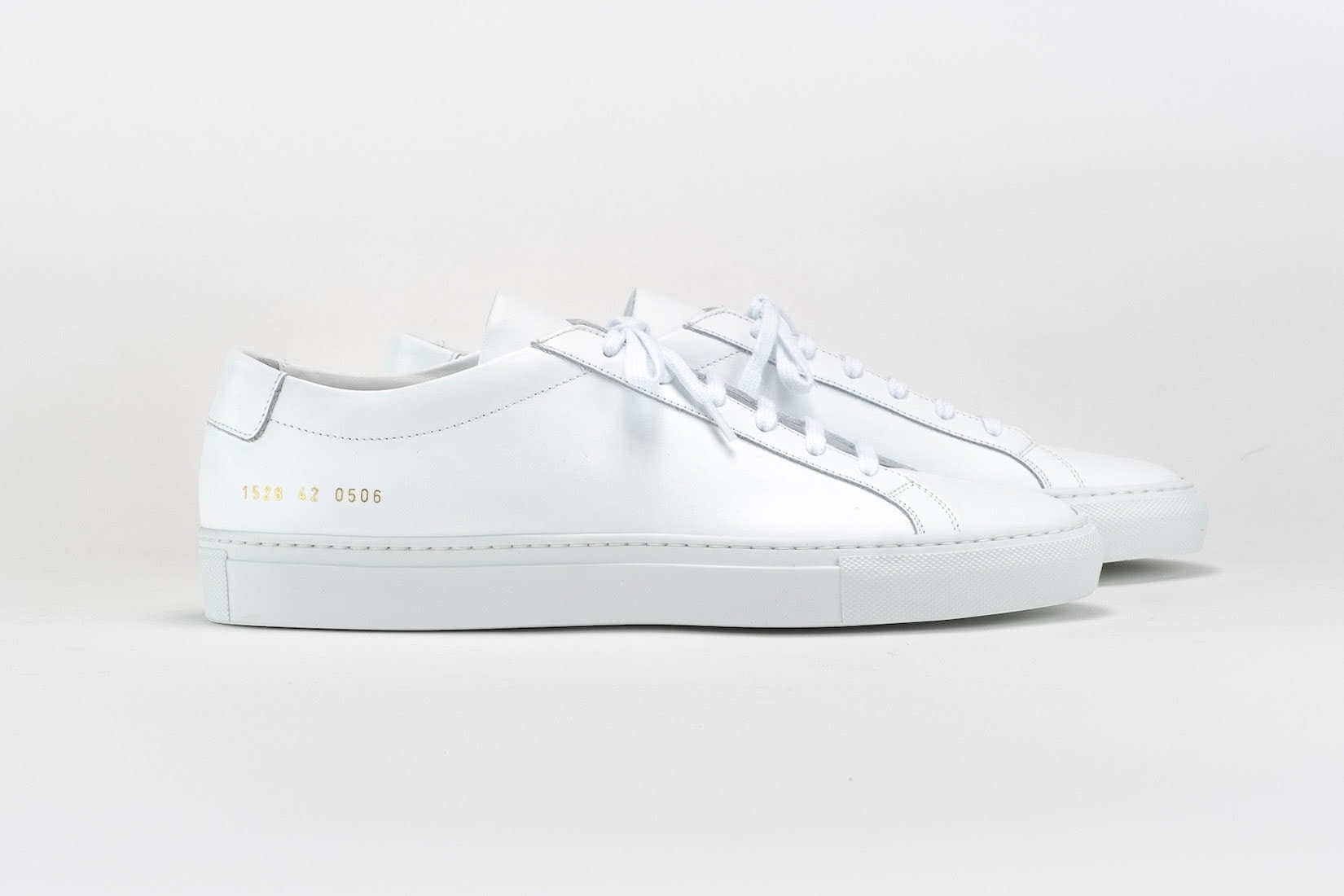 Where to buy KOIO sneakers?
You can buy Koio sneakers on their website as well as at certain Nordstrom department stores. The brand also has a flagship store in Soho, New York, as well as retail outlets in Los Angeles and San Francisco.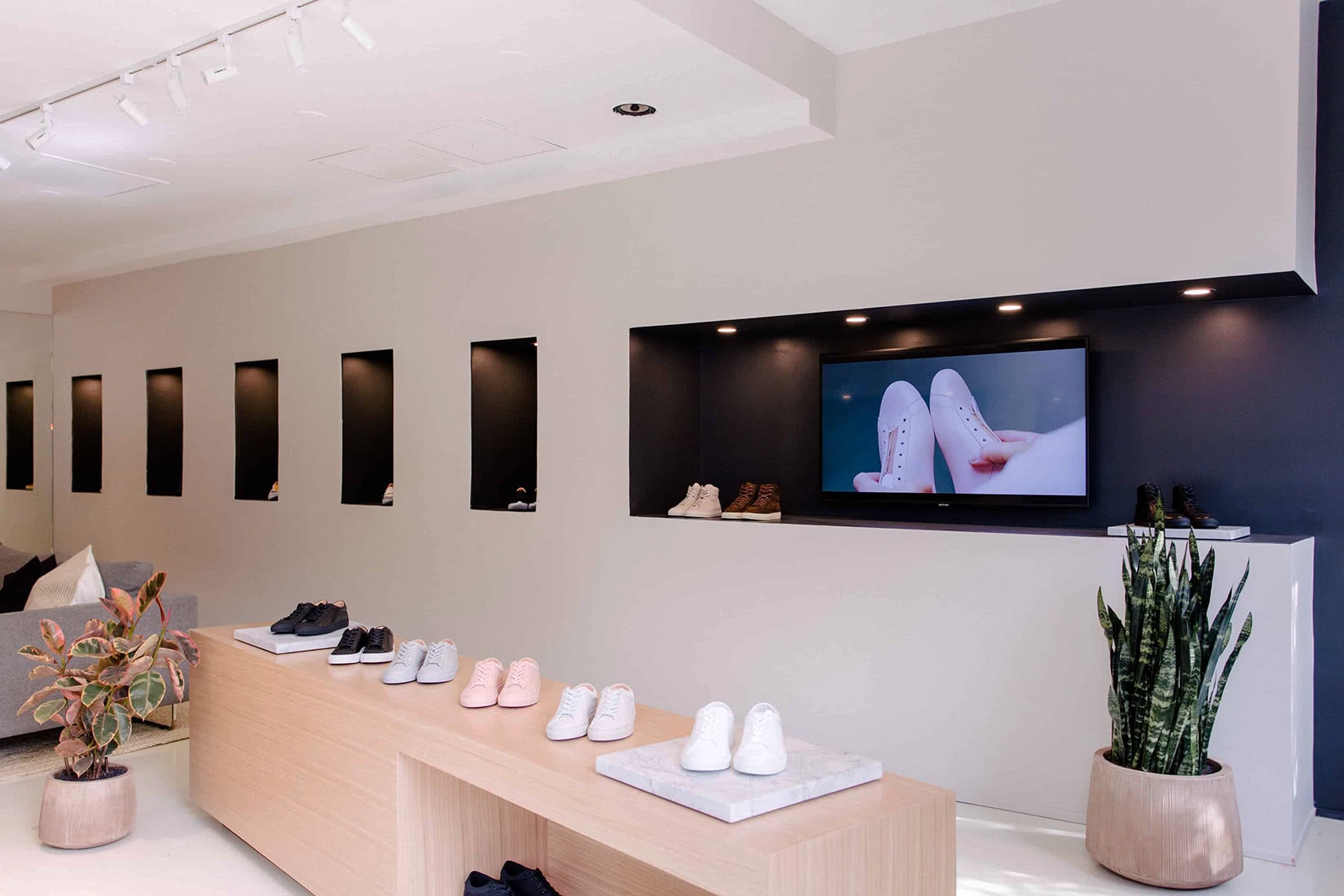 Frequently asked questions about Koio
Who is KOIO?
Koio is a direct-to-consumer Italian brand making high-end sneakers and footwear at affordable prices. They combine modern style with Italian craftsmanship and a commitment to fair and sustainable production.
How do KOIO shoes fit?
Koio shoes offer a great fit. Those in-between sizes are advised to go up a size. They require a very short break-in period and mold to your foot, offering superb comfort even for those who spend all day on their feet. Check our in-depth Koio review to see if they could be a good fit for you.
Where are KOIO sneakers made?
Koio sneakers are designed in Brooklyn in New York City but are made entirely in the Le Marche region of Italy in high-end factories also used by the likes of Chanel and Hermes. No element of the production process is outsourced.
Are KOIO shoes worth it?
Koio shoes are well worth the price. Despite being more expensive than some high-street brands, they're not as expensive as competitors such as Common Projects and offer a similar level of quality and the same timeless style.