Finding the perfect Plus-One to accompany you to a wedding has proven to have its challenges. They should steal hearts without stealing the show. They should elegantly float around canape hour but be prepared to break it down on the dance floor. And they should make you feel like a million bucks without going over the top. No, we're not talking about the perfect date (although they may have many things in common). We're referring to finding the perfect wedding guest dress.
With wedding season in full swing, we can't wait to emerge from our loungewear cocoons and make an entrance. But with save-the-dates decorating our refrigerators, comes the constant reminder of a lack of smart-casual attire. The search may seem daunting. But we've already done the hard part for you (consider it a match-making service for dresses). These elegant wedding guest dresses are guaranteed to make you swoon. Now all you have to do is pick the one that's right for you.
Do you solemnly swear to embrace the wedding season? We do.
Michelle Mason: Best cocktail dress for wedding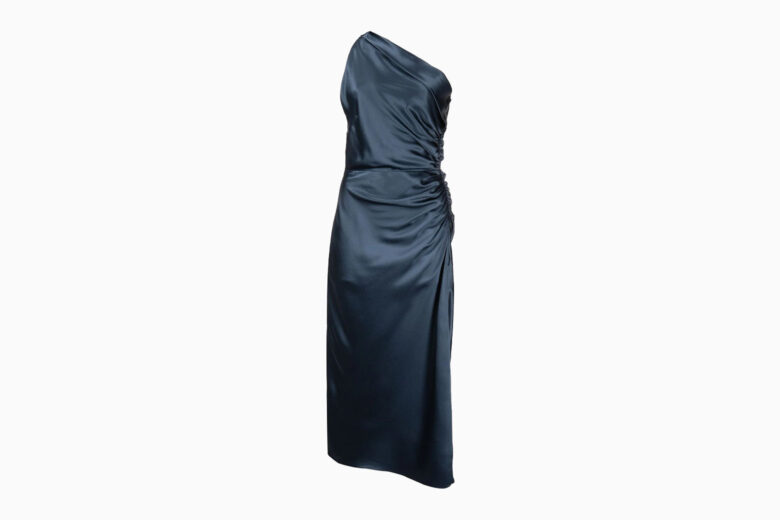 Stand out from the crowd without stealing the show in this elegant one-shoulder cocktail dress. The silk asymmetric style gathers at the hip with a side slit to add texture to the effortlessly flattering fit. We love this midi silk dress in an ethereal slate blue for the evening, but a vast variety of hues leaves it up to you to choose your mood of the day.
Best for: Modern elegance materialized.
Gucci: Best sexy wedding guest dress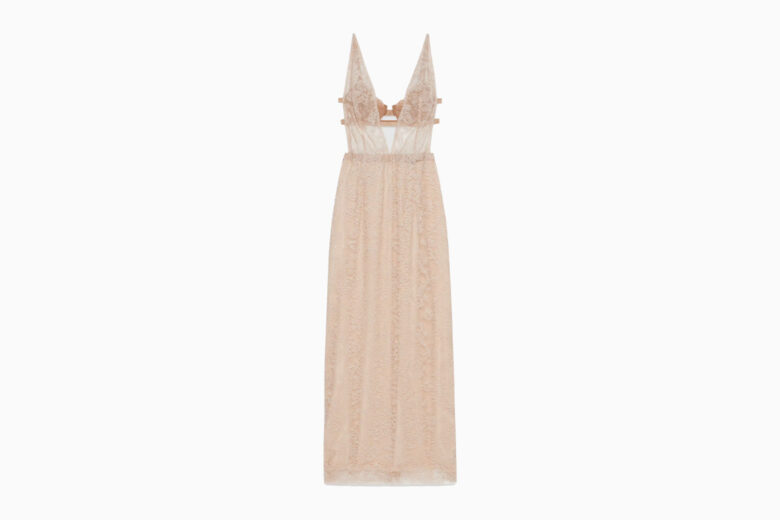 Gucci's details never fail to tell a story. And this scintillating wedding guest dress is case in point. The lamé floral lace pays homage to the sexiness of the '90s. While the simple silhouette speaks to an understated elegance. When combined, the distinctive styles come together in a rebellious alliance to tell a story of non-convention and freedom of expression.
Best for: Romantic rebels.
Zimmerman: Best wrap dress for wedding guest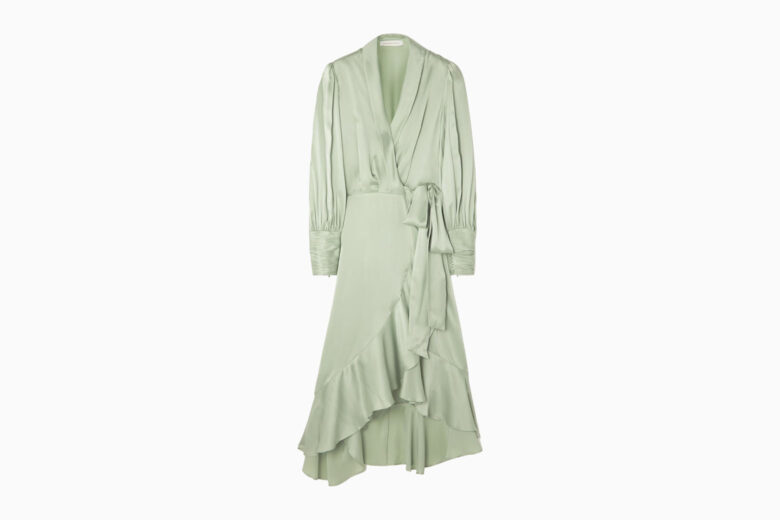 There's nothing like a wrap dress to flatter your waistline. Zimmerman's wedding guest dress takes the cake with its asymmetric style and ruffled, satin-silk silhouette. It may be difficult to choose between the uniquely exquisite sage green and midnight blue hues. But then again, we're pretty sure you have more than one save-the-date posted on your refrigerator.
Best for: Wrapping it up in style.
Asos Design: Best wedding guest dress for petites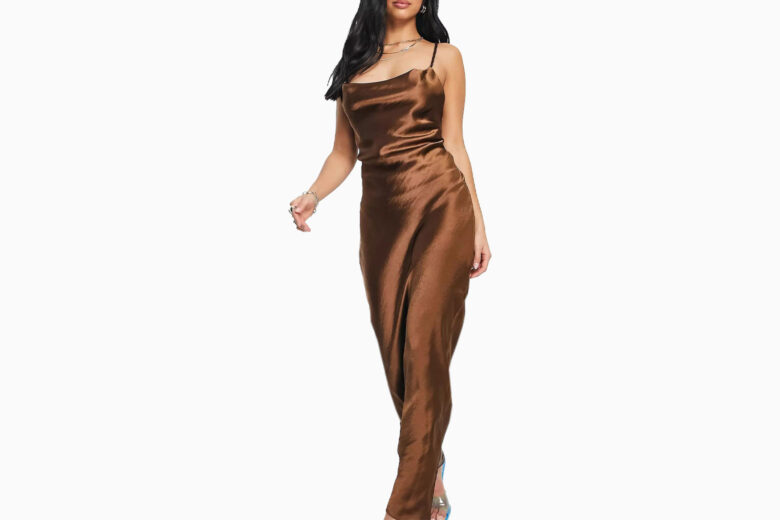 We love Asos for dressing every shape and size with redesigned brilliance. And this chocolate, slim-fit slip is made to elongate your form. The cowl neck speaks to a retro '90s style. While the satin silhouette adds an air of sophistication to the minimalist design. Pair it with your most comfortable heels to conquer hours on foot with elevated elegance.
Best for: Elongation, elevation and elegance.
Hutch: Best wedding guest outfit for curvy figures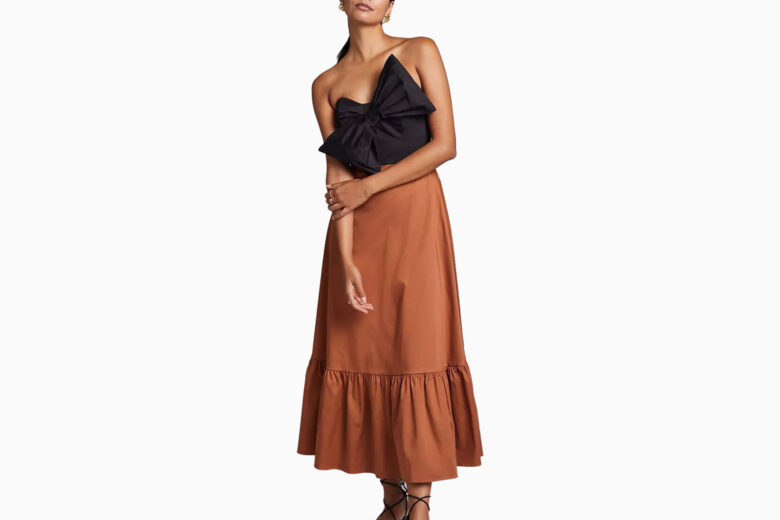 If you're looking to fall in love and tie the knot with your wedding guest outfit, Hutch's bow-tie maxi is sure to steal your heart. The romantic maxi silhouette speaks to the elegance of the oversized statement bow. This sleeveless fit-and-flare design is ultra-flattering. And two-tonal colorways add a contemporary, color-blocking touch.
Best for: Giving yourself the gift of flattering silhouettes.
St Agni: Best minimalist summer dress for wedding guest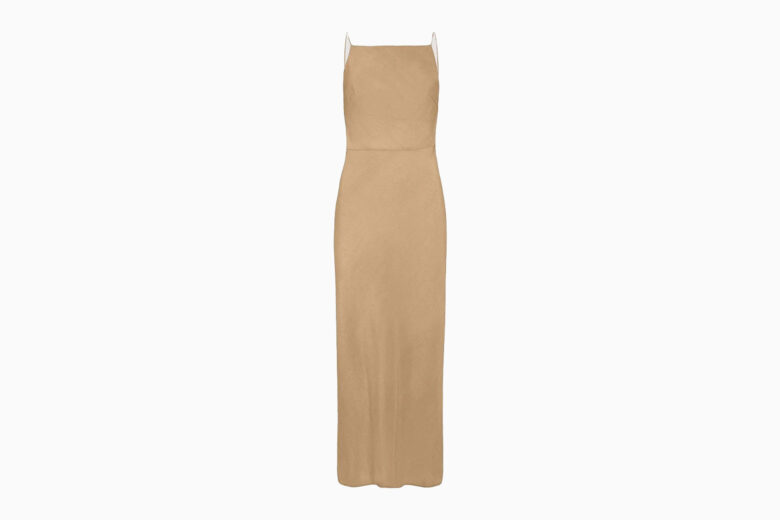 Minimalist designs call for impeccable attention to detail. And this wheat Paris slip by St Agni does just that. This simple silhouette draws attention to delicate details—such as square neckline, low-tie back and side slits—culminating in a striking contemporary ensemble. Dress it up with scintillating accessories or own the uncomplicatedly chic look as is. Voilà. Magnifique.
Best for: Modern minimalism at its finest.
Anine Bing: Best A-line wedding guest dresses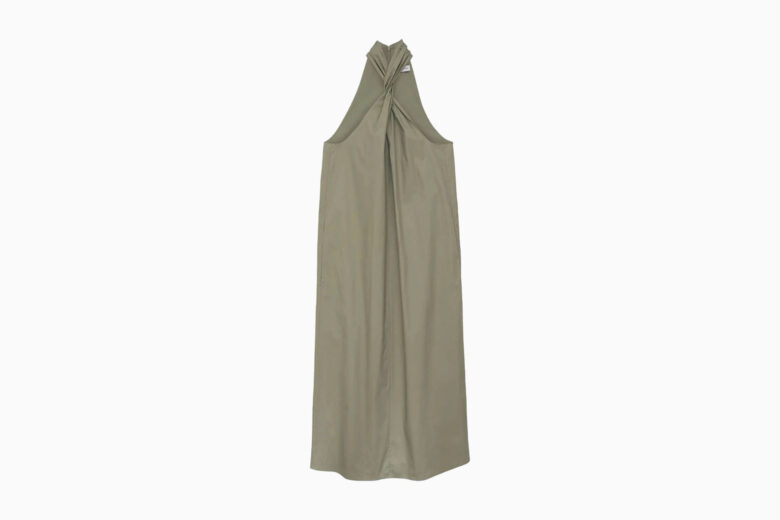 Characterized by the effortlessly elegant A-line silhouette, we'd be remiss to leave this off the list. Anine Bing's Corsette dress is made from crisp cotton. And whilst the white version may not be deemed wedding-appropriate, the light green khaki rendition is perfect for Summery garden affairs. Pair it with comfortable flats to dance the night away without compromising your style.
Best for: Flattering A-line cuts with a twist.
Jonathan Simkhai: Best summer wedding guest slip dress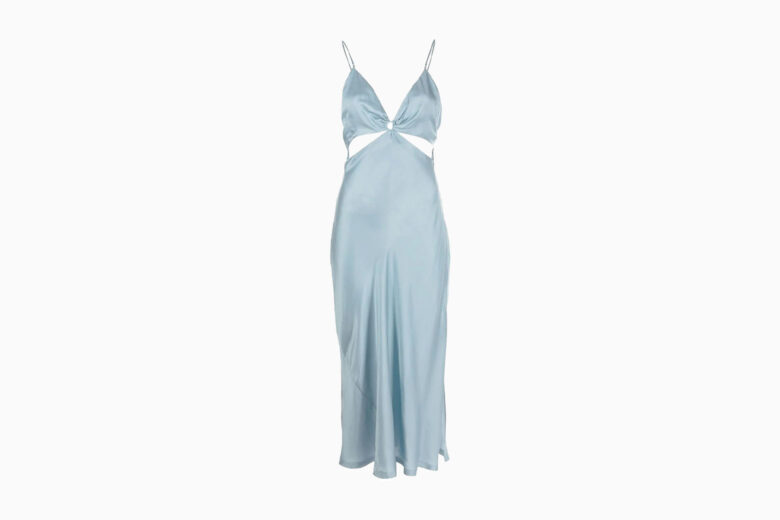 Slip-dresses epitomize ease of elegance, but are never a show-stealer, making them the perfect wedding guest outfit. Jonathan Simkhai does that flawlessly with this sleek iteration. The soft blue silk blend speaks to refined sophistication. The mid-length silhouette slips effortlessly over your frame. And understated cut-outs bring back the '90s style without causing a scene.
Best for: Simultaneously slipping in and standing out.
Valentino: Best formal wedding guest dress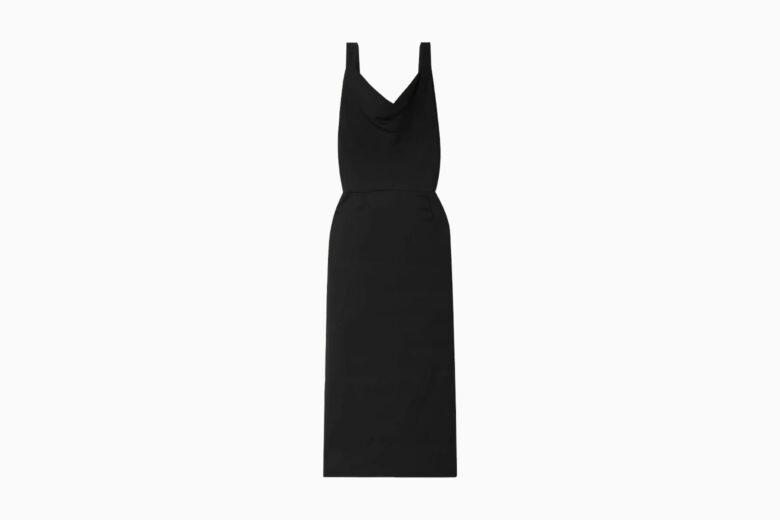 Epitomizing subtle sophistication, Valentino's black midi dress is not to be confused with your LBD. The perfected simple style stays true to the label's couture feel. This expertly tailored drape stretched midi is endlessly flattering with a cinched-in waist. While the classical cowl neck adds an elegant finesse.
Best for: Subtle sophistication.
Cuyana: Best casual summer dress for wedding guest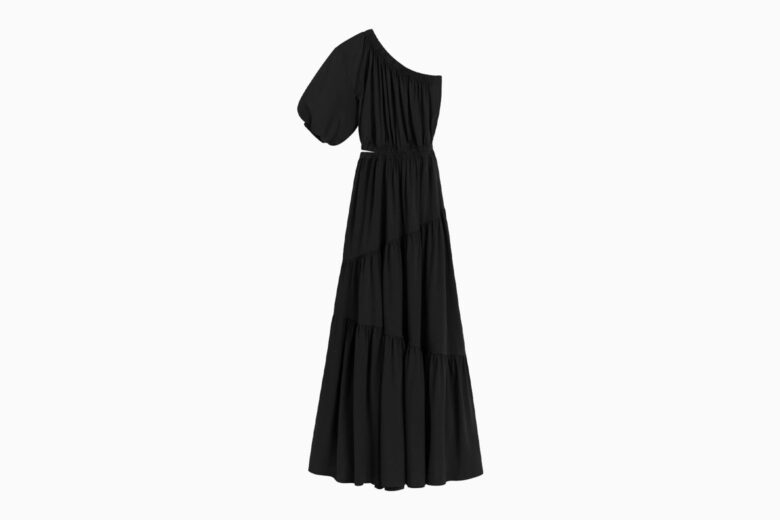 You can never go wrong with Cuyana's capsule wardrobe classics. And while this one-shoulder dress promises to fit in anywhere, there's no better time to show it off than this wedding season. With an asymmetrical neckline, gathered shoulder and tiered silhouette—this sumptuous dress strikes a delicate chord of feminine details. Plus, it'll serve you well post-occasion.
Best for: A testament to timeless classics.
Max Mara: Best garden wedding guest dress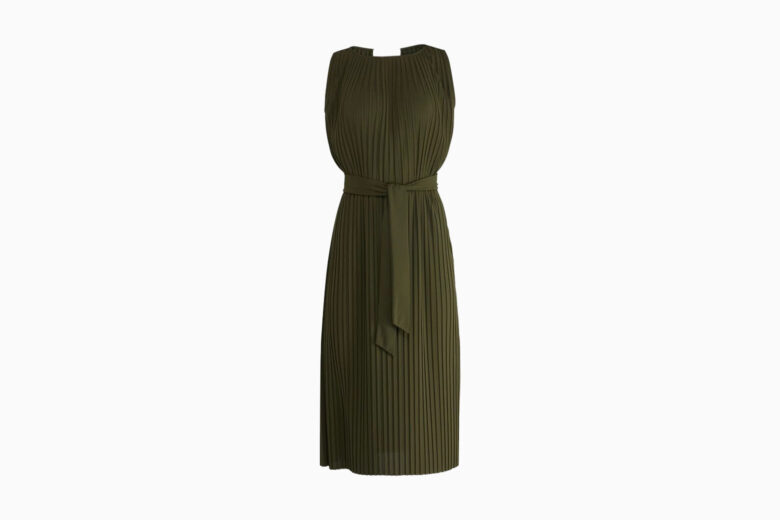 Renowned for timeless pieces that stand the test of time, Max Mara deserves a spot in our top picks with this midi Edile dress. The chord-belt waist promises an effortlessly enticing tailored fit. While the pleated details speak to the brand's high-end Italian heritage. Pair this ethereal green ensemble with gold accessories to flawlessly finish off the look.
Best for: Carrying you from day to night in style.
Jonathan Simkhai: Best beach dress for wedding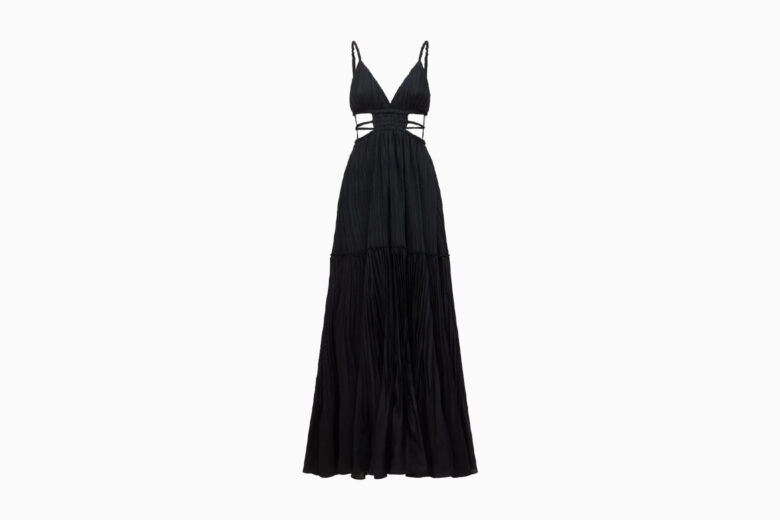 Beach weddings are the perfect excuse to bare a little more skin. And what better way to do it than with Jonothan Simkhai's black sundress for weddings. With cut-outs in all the right places, this draped pleated silhouette maintains an air of casual sophistication. And paired with comfortable sandals, you'll have no problem conquering sandy aisles in style.
Best for: (Seas)ing the day.
Dolce & Gabbana: Best floral wedding guest dress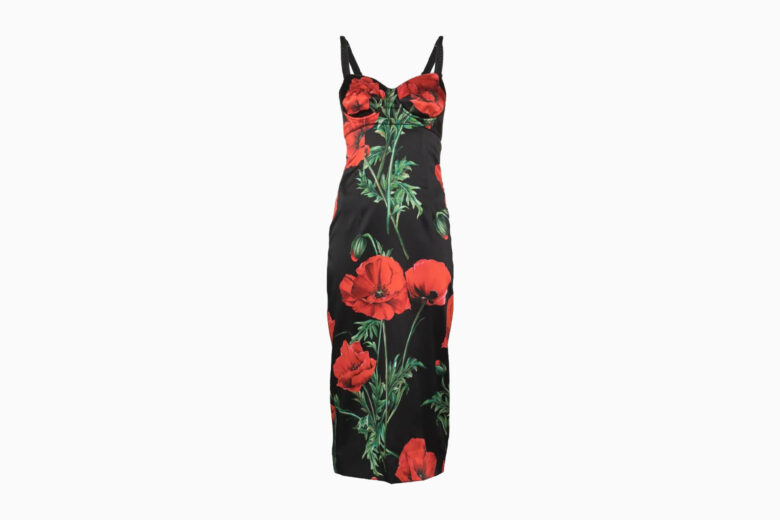 Leave it to floral prints to balance out this sultry cut. The fitted silhouette comes in a black stretch satin, leaving room for a bold red rose print. The corset-inspired neckline pays homage to the 17th century style. And when pulled altogether, the result is one of classical decadence, portrayed perfectly in this Dolce Gabbana's floral wedding guest dress.
Best for: Sultry slips take on classical prints.
Self-Portrait: Best lace cocktail dress for wedding
It takes a talented designer to pull off a full lace silhouette. But when done really well, the result is captivating, as seen in Self-Portrait's maroon guipure lace midi dress. With delicate short sleeves, a square neck and grosgrain trim at the waist, what better outfit to attend a wedding than one that celebrates love in its every detail?
Best for: A modern love story.
Pinko: Best sequin wedding guest dress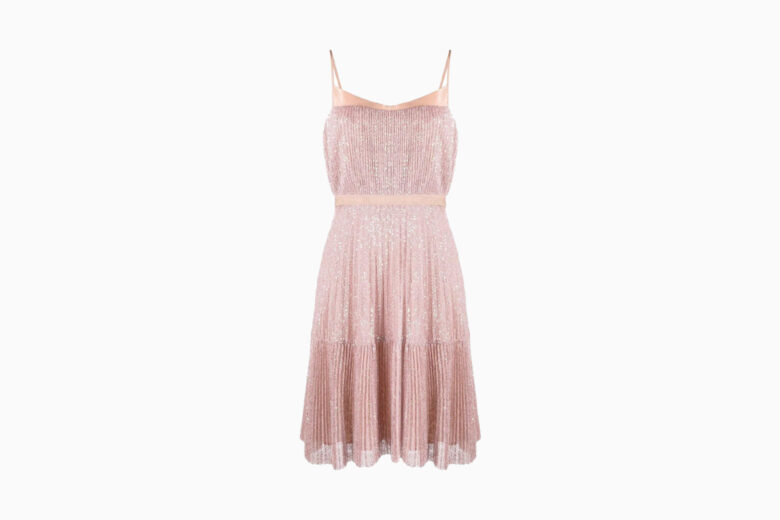 We think more is more when it comes to sparkles and weddings. And there's no better way to embody the whimsical love affair than with sequins and glitter combined in Pinko's fairytale wedding guest dress. The lightweight, beige pink fabric falls gracefully into a plisse silhouette. Complete with shimmering satin accents, it's enough to melt any heart.
Best for: Being the spark that starts a fire of love.
Nanushka: Best short dress for wedding guest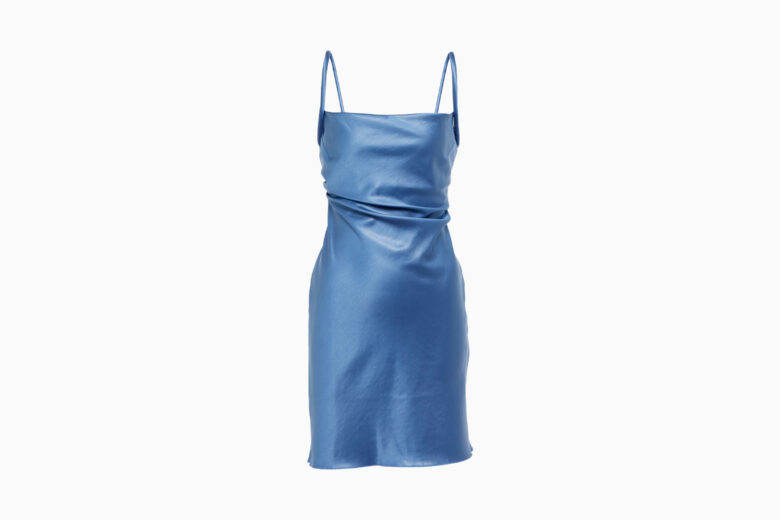 If you're wondering why every influencer is fawning over this brand's effortless femininity, this simple satin slip is a prime example of why Nanushka is on everyone's radar at the moment. The lustrous blue satin drapes into this form-fitting short dress. And a square neck and low scoop back are the only details it needs to define perfection.
Best for: A little leg goes a long way.
Maria Lucia Hohan: Best midi wedding guest dress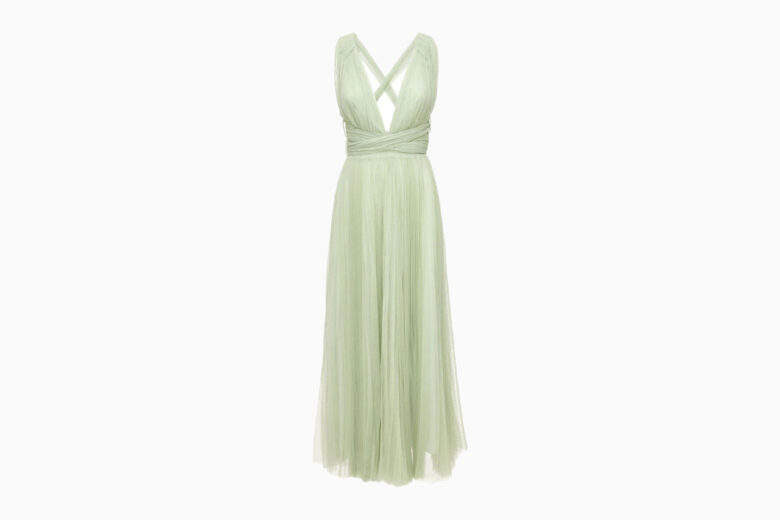 Hitting the elusive sweet spot between revealing and concealing, the modest midi is an idyllic option to dance the Summer nights away. And when it comes to balancing, we think Maria Lucia Hohan has absolutely nailed it with this ethereal green pleated tulle rendition. Not to mention the bow at the back to flawlessly finish off this exquisite dress.
Best for: Whimsical silhouettes and ethereal details tie the knot.
Cortana: Best maxi wedding guest dress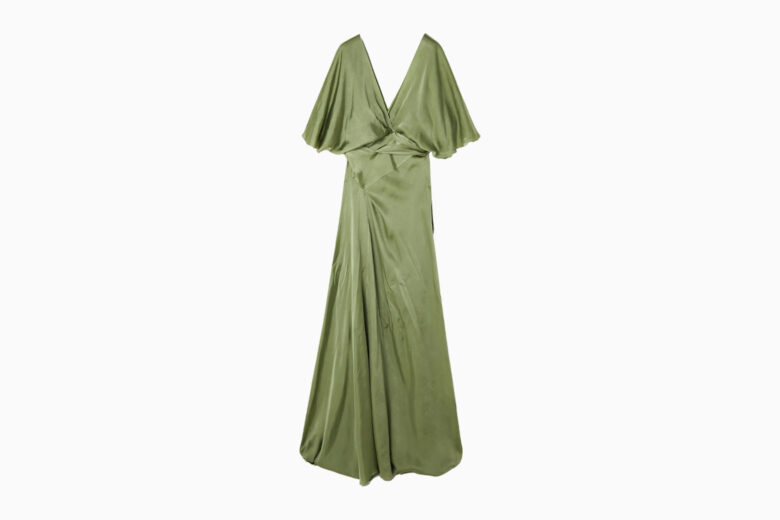 Live out your fairytale dreams in Cortana's satin maxi wrap. Made in Barcelona, this brand's meticulous attention to detail is evident in every aspect of the sumptuous silhouette. This whimsical design features kimono-like sleeves while a sweeping sash ties at the back. We can't get enough of the exotic green hue for understated elegance. But the floral chartreuse print is also a great option to flaunt your femininity.
Best for: Sweeping you off your feet.
Costarellos: Best wedding guest gown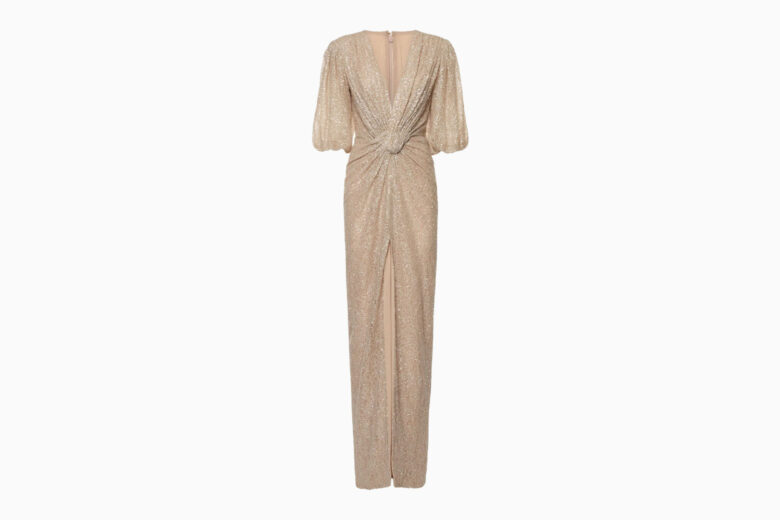 Renowned for its refined romanticism, Costarellos is making moves in high-end circles. And this beige and gold Lanelle sequined dress tells us all the reasons why. This draping silhouette falls effortlessly over your form in a full body of sequins. While the gathered waist adds texture to the flattering fit.
Best for: Creating fireworks.
Reformation: Best wedding guest dress for Spring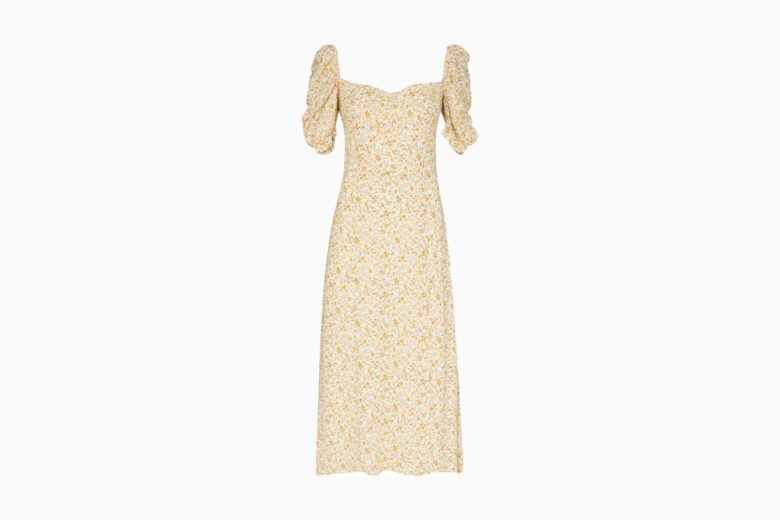 Spring weddings are about emerging from your loungewear cocoon. And we think that Reformation's floral dress deserves its moment in the sun. The midi silhouette, sweetheart neckline and short puff sleeves whisper tones of elegant femininity. Plus, this casual chic piece is the kind of dress you can wear time and time again after the I do's.
Best for: Springing into wedding season.
Mara Hoffman: Best Summer wedding guest dress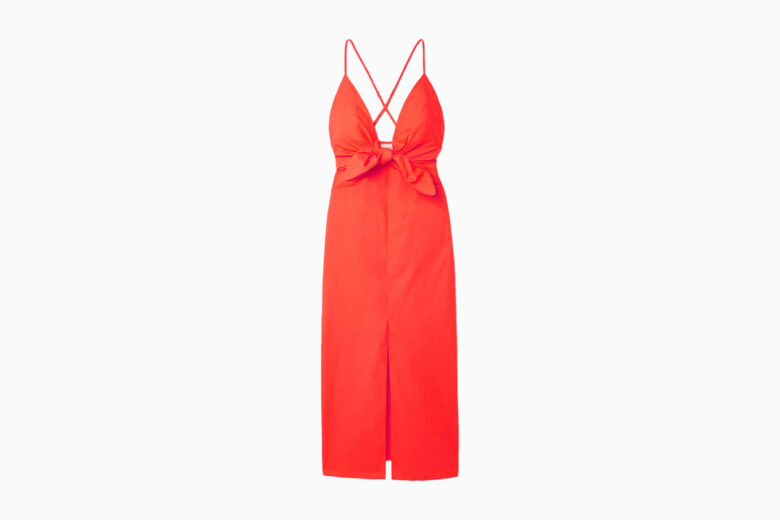 This simple red silhouette ticks all our Summer wedding guest boxes. It stands out without stealing the limelight. The vibrant hue speaks to the dopamine dressing trend while maintaining an air of timeless sophistication. The contemporary neckline and cross-straps back are effortlessly chic. And the signature bow tie in the front is a constant reminder of the gift of love.
Best for: The gift that keeps on giving.
Bec & Bridge: Best wedding guest dress for Fall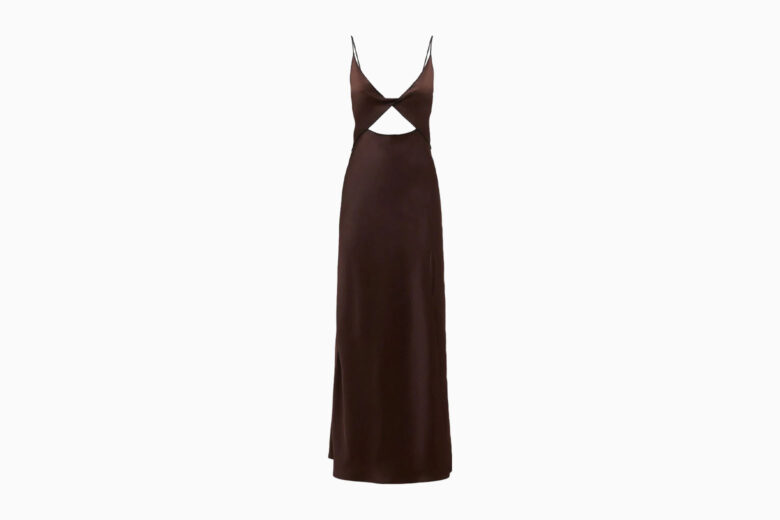 Fall colors are all the rage this season. And we particularly love this deep chocolate brown satin by Bec & Bridge. This long silhouette speaks to the brand's subtle sophistication. While cut-outs add an edge of retro rebellion. Paired with a smile-inducing vibrant shoe, this marriage is bound to stand the test of time with its classic chic attitude.
Best for: Falling head over heels.
Isabel Marant: Best Winter wedding guest dress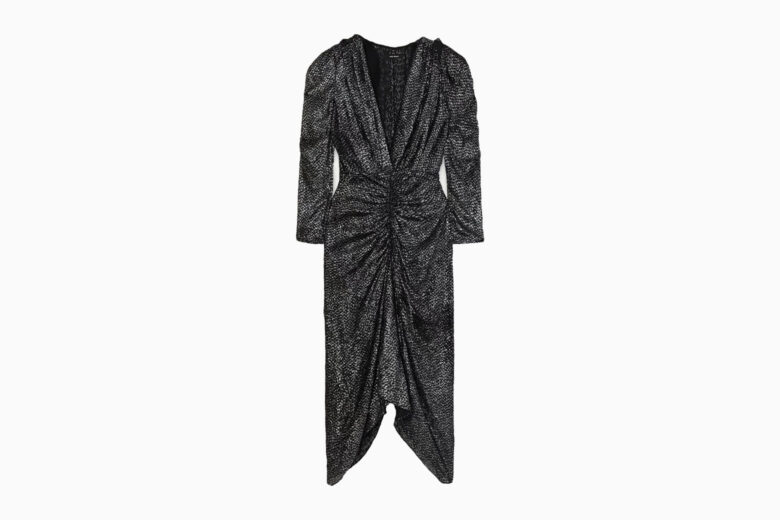 Finding exquisite Winter wedding guest dresses is no small feat. But leave it to Isabel Marant to sweep the floor with this scintillating silhouette. The sparkling black iteration exudes effortless sophistication with a ruched shoulder, plunging neckline and gathered waist. While the metallic fil coupe motifs promise to dance the night away in their signature shimmering style.
Best for: Winter magic.
Galvan: Best pink wedding guest dress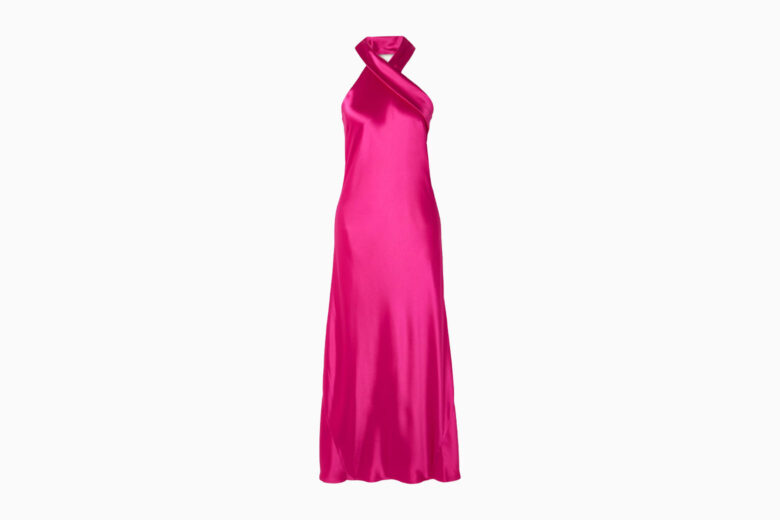 To have and to go bold. There's nothing like a vibrant fuschia pink to embrace the dopamine dressing trend. And when you see this halterneck satin maxi, we're pretty sure you'll say I do. The sumptuous satin floats effortlessly over your form, culminating in a twisted neckline and long ties at the back. And with Heidi Klum showing off this smile-inducing silhouette, you know you're onto something good.
Best for: Making a splash.
Saint Laurent: Best red wedding guest dress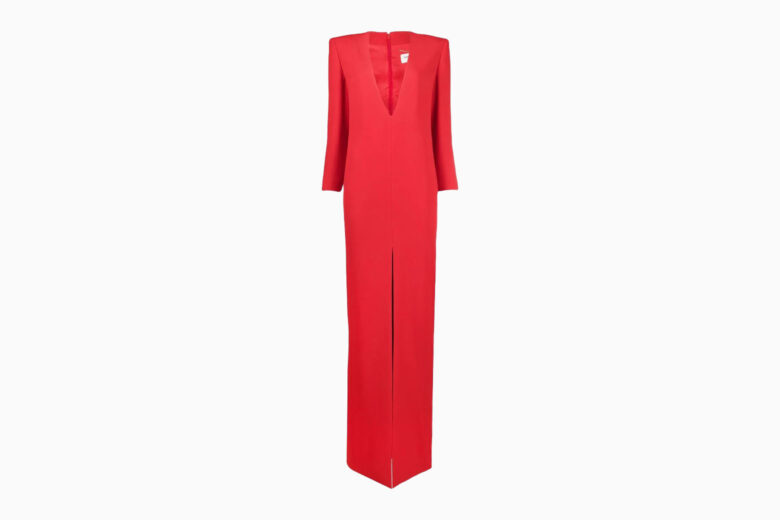 The devil is in the details when it comes to Saint Laurent's knockout wedding guest dress. This modern minimalist silhouette stays true to the brand's less is more mantra, while subtle details set it apart from every other outfit at the occasion. The contemporary clean lines speak to the plunging neck and front slit. And the vibrant red hue demands attention without going over the top.
Best for: Devilishly understated detailing.
Retrofete: Best black wedding guest dress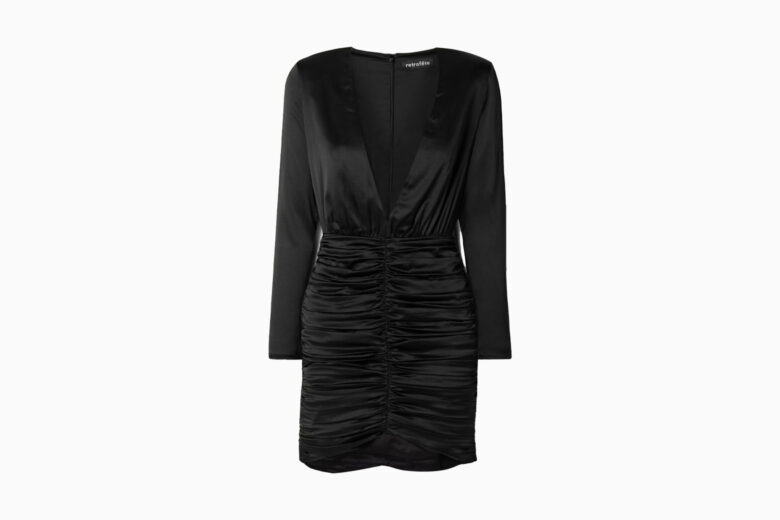 For a wedding that allows for a little more risque, you can't go wrong with this LBD by Retrofete. The contemporary silhouette embodies French party fashion with a leg-revealing hemline and plunging V-neck. While a sumptuous silk-satin blend and ruche detailing maintain an air of chic sophistication. Wear this sultry piece—and you'll be swimming in compliments by the end of the night.
Best for: Showing a little skin is in.
Jacquemus: Best orange wedding guest outfit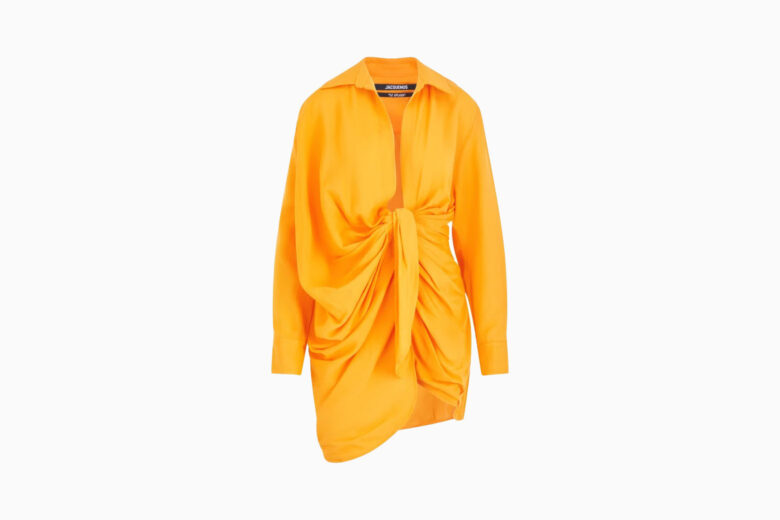 Renowned for its quirky aesthetic, this dopamine-inducing orange wedding guest dress by Jacquemus is another one to add to your Instagram feed. The vibrant hue embodies the excitable sentiment of the wedding season. And the sensual plunging neck is balanced by a sophisticated collar. This draped mini silhouette makes you look and feel like a million bucks.
Best for: Here comes the sun.
Oscar De La Renta: Best green wedding guest dress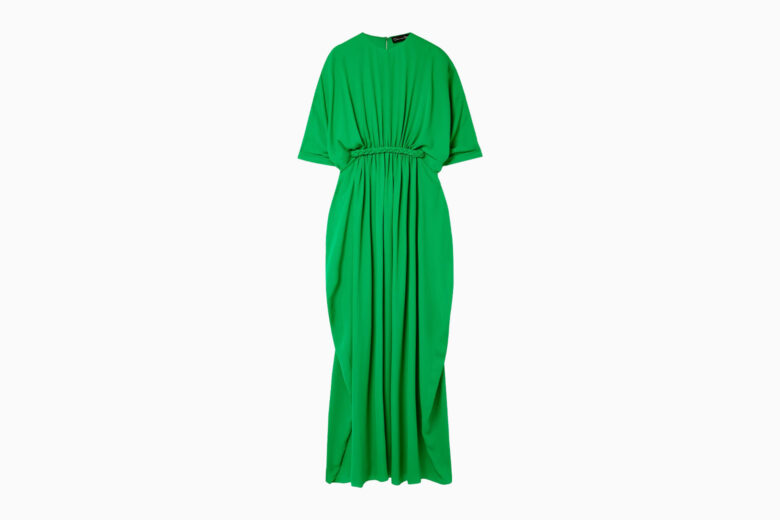 We're going to the chapel and we're gonna look gorgeous. If this dress had a theme song, that would be it. The exotic bright green color exudes all the joys of marriage. This sweeping kaftan cut is effortlessly attention-grabbing. While the loose fit is further enhanced by a plaited waist belt and draped back panel.
Best for: Designer decadence.
Dokotoo: Best budget wedding guest outfit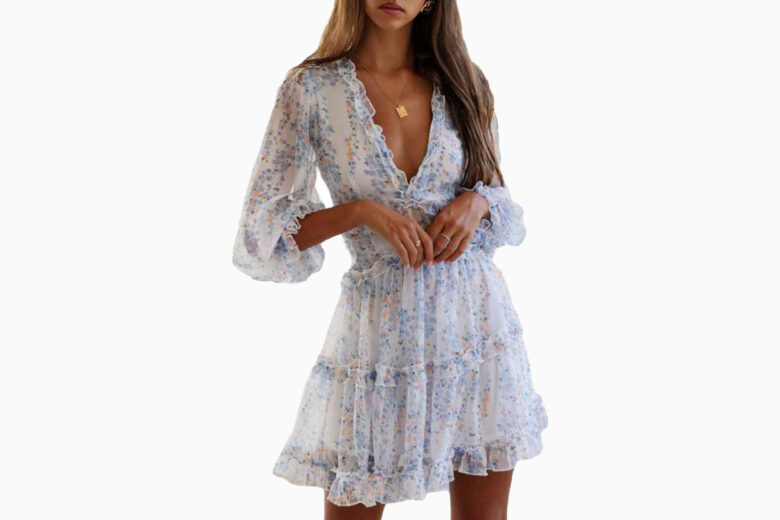 With a distinctive print for every affair, these sumptuous silhouettes will dress those endless save-the-dates without paying the price. The ruffled fabric and full-length sleeves speak to the femininity of the design. While a shorter hemline and V-neck cut add a playful edge. A slight heads up—it's impossible to choose just one, but luckily you don't have to.
Best for: A different dress for every occasion.
Frequently asked questions about wedding guest dresses
How can a guest look classy at a wedding?
Classy and weddings go hand in hand. But that doesn't mean that you can't have fun whilst doing it. Dolce & Gabbana's dress is proof that sultry silhouettes and floral prints produce an enticingly elegant ensemble. While Isabel Marant's metallic rendition promises to see you through the cooler months with class and style.
What colors should wedding guests wear?
It goes without saying that white is a big no (unless the bride says otherwise). But besides that, the options are endless. We think that the joyful occasion is the perfect opportunity to try your hand at dopamine-dressing with vibrant hues. But if you're a minimalist at heart, timeless neutrals will never let you down.
What do guests wear to weddings other than dresses?
Satin suits are all the rage this season. And if you're looking for something different to wear, you'll look like you know exactly what you're doing in a matching blazer and pants. Playsuits are also a stellar alternative. Just watch out for casual cottons, they may need to be dressed up with bold accessories or heels.