Hailed as 'the most colorful mineral in the world', fluorite forms in a magnificent, kaleidoscopic array of colors that is breathtaking to behold. The sheer wonder of these luminescent crystals made them a treasured favorite of both the Ancient Romans and Egyptians. These ancient civilizations believed that fluorite held special powers and that its mesmerizing fluorescence would lead them along the path to enlightenment.
Fluorite crystals are among the brightest in the kingdom, yet are not only sought after for their beauty alone. They are the second-most popular mineral in the world, next to quartz, due to their unique and remarkable crystal formations. Fluorite is also a tremendously popular healing stone, known for its ability to absorb negative energy, stir creativity and inspire peace. The brightly-colored hues of Fluorite means it makes for a resplendent jewelry stone, its magical iridescence adding a unique glamor to any outfit.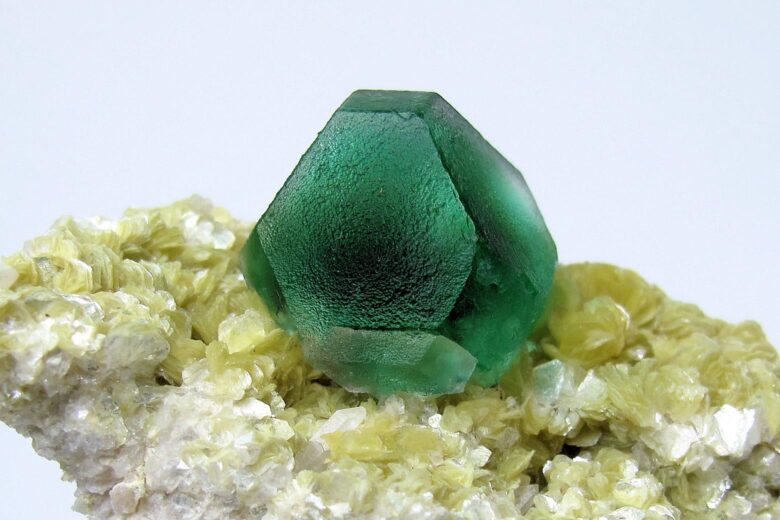 | | |
| --- | --- |
| Fluorite Color | Blue, purple, green, yellow, pink, black, rainbow |
| Zodiac Signs | Capricorn and Pisces |
| Hardness Scale | 4 on Mohs Scale |
| Mineral Class | Halide mineral |
| Symbolism | Peace, Positivity, Energy |
What is Fluorite
Considered one of the most colorful minerals in the world, Fluorite, also called fluorspar, is a form of calcium fluoride. It hails from the family of Halide minerals. Fluorite occurs in a dazzling array of colors, and some crystals can be extremely bright. Fluorite is renowned for the magical fluorescence which it displays under ultraviolet light, and which gives it a somewhat otherworldly, ethereal glow.
What does Fluorite look like
These luminescent crystals form in a joyful variety of colors from purple, blue, green, yellow and pink, to rainbow-like crystals which contain a shimmering color mix of purples, blues and greens. Purple or violet is the classic color of fluorite, and these eye-catching stones often compete for richness with amethyst. Fluorite's remarkable cubes at times form in clusters, tightly stacked, cube on cube, and are a sheer wonder to behold. Yet perhaps the most remarkable feature of this enigmatic stone is the mystical fluorescence it emits when held under ultraviolet light, and which gives it a luminous, spectral appearance.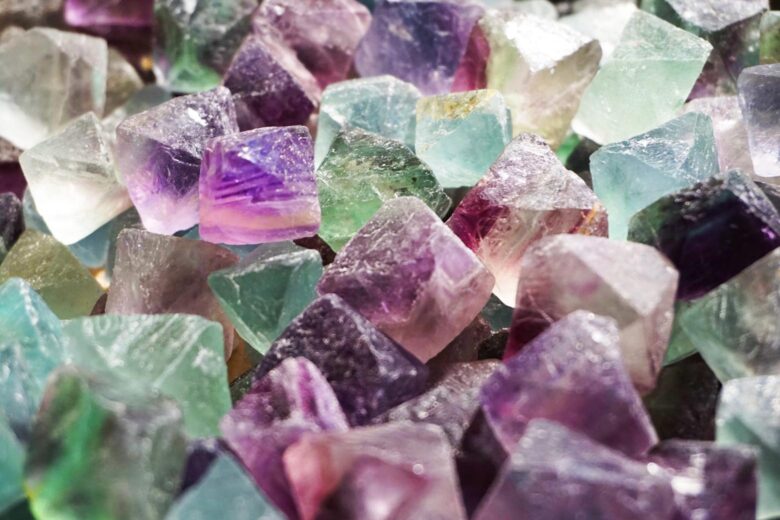 History of Fluorite stone
The use of fluorite in ancient cultures dates back thousands of years. Due to the mesmerizing light which emits from the stone, it has long been believed that fluorite could help mankind achieve enlightenment by bringing light into the brain.
The Ancient Egyptians used fluorite for carving scarabs and statues of the Gods, while the ancient Chinese believed fluorite to offer protection from evil spirits. They used green fluorite to carve amulets and talismans, as well as decorative bowls, vessels and cups, and at times it was used as a substitute for jade.
The Ancient Romans had a long love affair with this most lively, striking stone. Pliny the Elder, the Roman historian and naturalist, records that the Emperor Nero is said to have paid over a million sesterces for one fluorspar cup ($240,000 today). Pliny writes that fluorite 'came to be deemed the proof of wealth, the true glory of luxury, to possess something that might be destroyed in a moment.'
Remarkable fluorite carvings dating from 900 – 1650 A.D, have also been found in America, in Mississippi and Tennessee. One of the largest known fluorite gems in the world, 3,965 carats, in a brilliant shade of deep royal blue, is on display at the Smithsonian National Museum of Natural History in Washington, D.C.
Meaning of Fluorite
Although many believe that the fluorite crystal received its name from the striking fluorescence that the stone throws out when held under ultraviolet light, the origin of the name is actually in the Latin word, fluere, meaning to flow. This word refers to the beautiful interplay of colors and light that run across the stone, that magically intermingle as the stone absorbs and reflects the light which shines upon it.
Fluorite's spiritual meaning is one of peace, positivity and energy. It is famous for being one of the world's best known cleansing crystals, and for its ability to absorb negative energies and transform them into positive vibes.
Where does Fluorite come from
Fluorite is found all over the world. The most well-known sources of gem-quality fluorite include Canada, which produces vibrant, violet colored fluorspar. Peru and Switzerland are famous for their rare, pink specimens which exhibit exceptional brightness. Other notable sources include Colombia, the United Kingdom, the United States, Argentina, and the Czech Republic.
'Blue John' fluorite is a famous yet rare variety of fluorite which contains bands of a purplish blue, white or yellow color. It is found in Derbyshire, in England, and has been used for over 1,500 years in vases, carvings and bowls. The Derbyshire deposits are now nearly exhausted.
Fluorite and Zodiac signs
Fluorite is the natural birthstone for those born under the sign of Capricorn (December 21-January 19) and Pisces (February 19-March 20). Fluorite crystals make a unique and beautiful gift for people born under these signs. Introducing fluorite stone into your home is said to help harness beams of positive energy, and placed on a windowsill these stones will mesmerize as they playfully give off rays of multi-colored, sparkling light.
Which family is Fluorite from
Fluorite is a form of calcium fluoride and comes from the family of halide minerals. It is transparent to translucent with a vitreous luster. Fluorite is a very soft mineral, only earning a hardness rating of 4 on the Mohs Hardness Scale. This means it is too soft for most jewelry use, though can make a glorious and captivating centerpiece for jewelry that is not subject to much impact or abrasion, such as pendants, or earrings. It is also dazzling when carved into faceted stone, or displayed in its crystalized form. 
Birthstones chart
Find your birthstone by month
---
Frequently asked questions about Fluorite
What does Fluorite do spiritually?
Fluorite is a stone of peace, positivity and energy. It is renowned for its ability to clear away chaotic or negative thoughts. Its powers of healing are said to fill your soul with positive energy and elevate your sense of spirit.
What can Fluorite be used for?
Fluorite crystals have long been used for their healing properties. Fluorite is often used in meditation, as it is a stone which helps to achieve mental clarity. Fluorite crystals bring joy to the home or office as their rainbow bands of varying hues fill the inner space with exquisitely colored light.
Is Fluorite a rare gem?
Certain colors of fluorite are rarer than others—blue fluorite, for example, is fairly rare and highly sought after by collectors due to its strikingly elegant hue. The rarest fluorite colors are pink, black and colorless. Chlorophane is a rare fluorite variety which shows phosphorescence as well as thermoluminescence, which means it gives off a spectral glow when rubbed or held in your hand.
Why is fluorite used as a gemstone?
Fluorite is used as a gemstone due to its remarkable range of eye-catching colors. Rainbow fluorite looks captivating as the centerpiece of a pendant or earrings, and the unique glow that fluorite emits brings a shimmering brilliance to any statement jewelry piece.