It's hard to live up to a name like Zenith. To do so would mean a constant quest for excellence and relentless pursuit of perfection. But somehow Zenith manages it.
This old-timer luxury Swiss watch brand has been crafting hyper-accurate chronographs for decades. The legendary landmark El Primero came out in 1969. But far from being behind the times, you'll always find Zenith at the forefront of watchmaking innovation.
At a glance
| | |
| --- | --- |
| | |
| Industry: Watches | Founded: 1865 |
| Headquarters: Country | Founder: Georges Favre-Jacot |
| Watch Collections: pilot watches, dress watches, women's watches, and sports watches | Parent organization: LVMH |
| Annual Revenue: $108 million USD | Website: zenith-watces.com/en_us |
Zenith watch price
How much does a Zenith watch cost?
The starting price for an entry-level Zenith watch is $6,000 for a Zenith Elite. Zenith watch prices for a Zenith Defy start at $7,000. Zenith watch prices for a Zenith Chronomaster begin at $8,400. At the other end of the price spectrum, some vintage Zenith watches retail for more than $50,000.
What is the most expensive Zenith watch?
The most expensive Zenith watch is the Zenith Academy Tourbillon Quantieme Perpetual Black Tie. With a black guilloché dial, 32 fillet diamonds, diamond-hour markers, a tourbillon, chronograph, and perpetual calendar digital date-month, it's no surprise the current price is $400,000. As the name suggests, it would indeed look spectacular with black-tie.
See how this compares to the world's most expensive watches with our guide.
What is the cheapest Zenith watch?
The cheapest Zenith watch is a Zenith Elite, with prices currently starting at $6,000. You can also pick up a Zenith Defy for $7,000. Zenith watch prices for a Zenith Chronomaster start at $8,400.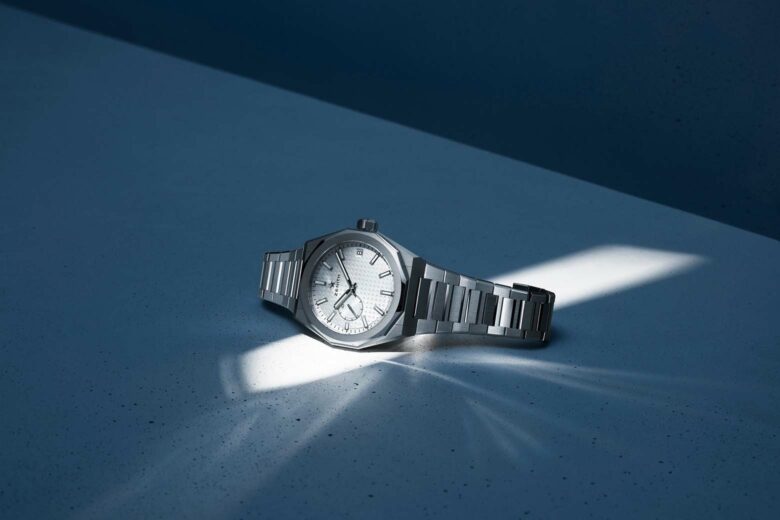 About Zenith watches
History of Zenith
Zenith was founded in 1865 when Georges Favre-Jacot started his own business in Le Locle, Switzerland, aged just 22. In a break with watchmaking norms at the time, he centralized all the various watchmaking processes under one roof, building the very first modern Manufacture.
The watch company launched its first pocket chronograph in 1899. In 1900, Favre-Jacot won a gold medal at the Paris Universal Exhibition (Exposition Universelle). The company continued to grow, officially adopting the name Zenith in 1911. Then, in 1948, it released its Calibre 135, which was to win a total of 235 watchmaking awards and prizes.
In 1960, Zenith launched its Calibre 5011K with record-breaking accuracy. In 1969 came the legendary El Primero, the world's first integrated automatic chronograph movement, oscillating at 36,000 vibrations per hour and allowing for time measurements accurate to 1/10th of a second.
During the quartz crisis of the 1970s, management decided Zenith should focus solely on quartz watches. Charles Vermot, a watchmaker at the company, hid the parts, plans, and tools needed to create the watch brand's mechanical calibers in an attic until 1984 when there was renewed interest in traditional watches. Using these resources, Zenith was able to pick up production of its El Primero caliber again.
In 1988, the El Primero was used in Rolex's much-coveted Daytona chronograph. And, in 1994, the company launched the ultra-thin automatic Zenith Elite movement, the first of the brand's calibers to be made using CAD technology.
In 2000, Zenith was purchased by the LVMH group, which also owns luxury watch brands Bulgari, Hublot, and TAG Heuer. In 2017, the Zenith Defy Lab won the Innovation Prize at the 2017 Grand Prix d'Horlogerie de Genève.
Interesting facts about Zenith
Over the course of its history, Zenith has produced 600 movement variations and filed 300 patents for its various innovations.
Zenith has received 2,333 timekeeping precision awards since 1903. This is more than any other watch manufacturer.
In 2012, Zenith sponsored Felix Baumgartner, an Austrian skydiver and the first man to break the sound barrier in freefall after jumping from a space capsule on the edge of the stratosphere.
Mahatma Gandhi was given a Zenith pocket watch by India's Prime Minister.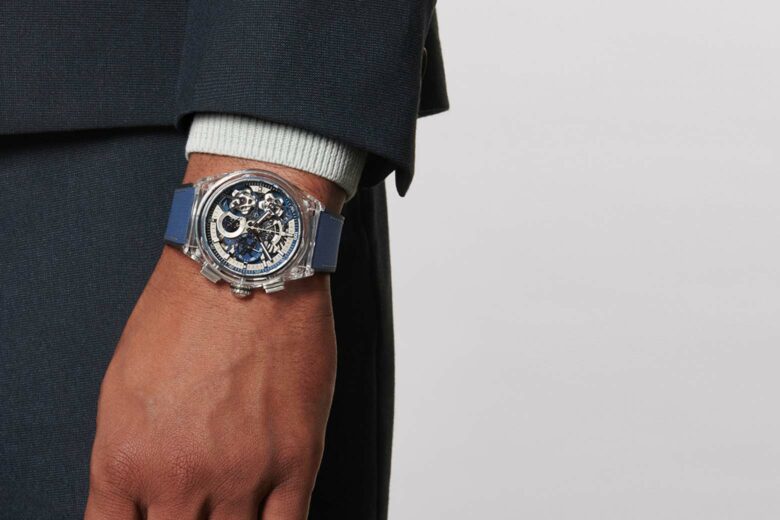 Zenith product range
Zenith watches currently fall into five collections.
First, there's the Zenith Defy, the watch brand's most innovative watch series, defined by its cutting-edge materials and design.
Next, you have the Zenith Chronomaster collection, featuring the legendary El Primero movement and a delightfully old-school aesthetic.
Up next is the Zenith Elite watch series—dress watches for men and women, including moon phase complications.
Then there's Zenith's collection of pilot watches, featuring GMT complications, annual calendars, as well as luxury materials like rose gold.
Finally, there's the Zenith Icons collection, a selection of vintage Zenith watches restored and certified, representing some of the brand's most famous references.
Signature materials and craftsmanship
By bringing all watchmaking trades under one roof right at the beginning of its history, Zenith was able to monitor quality control closely. This is part of the reason for Zenith's incredible success in creating such accurate and reliable timepieces.
One of the company's most pioneering innovations was the El Primero chronograph, launched in 1969 and the world's first automatic high-frequency chronograph movement with an accuracy of 1/10th of a second.
Today, the watch company continues to advance the frontiers of watchmaking. Other cutting-edge creations include a revolutionary oscillator, made out of monocrystalline silicon and with some details finer than a human hair.
There's also the Zenith Defy Zero G with a patented 'Gravity Control' module which functions like a marine chronometer, ensuring the watch's regulating organs always remain horizontal.
As for sustainability, Zenith has collaborated with start-up Nona Source to turn excess fabrics from fashion houses into watch straps. The company also has a partnership with the Mediterranean Sea and Coast Foundation to restore seagrass. Plus, it offers customers the choice to opt-out of traditional packaging as well as contribute to tree planting.
Where are Zenith watches made?
Zenith watches are made at a Manufacture in Le Locle, Switzerland where the company was founded in 1865. Some of the original buildings are still in use today and are listed on the UNESCO World Heritage List along with the town of Le Locle. Today, the Zenith Manufacture is home to 80 different watchmaking professions under one roof.
Brand values
| | |
| --- | --- |
| Vegan options: | Yes |
| Carbon-neutral: | No |
| Gives back: | Yes |
Zenith watches
Defy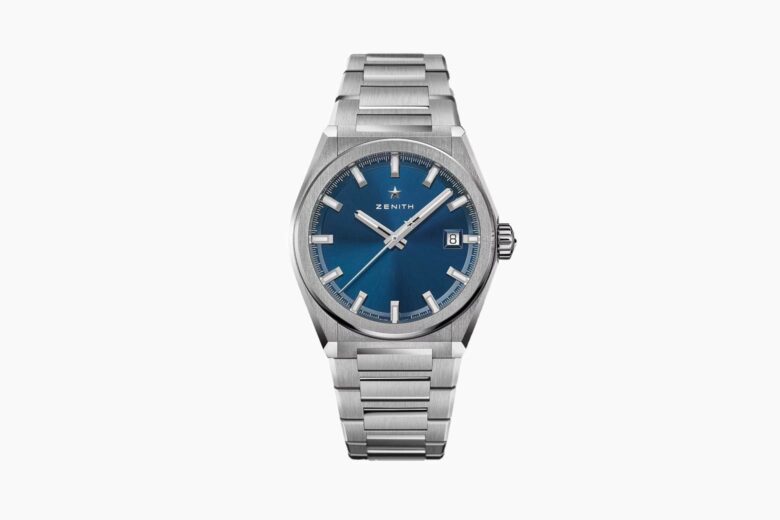 The Zenith Defy watch series for men and women is defined by unorthodox forms and boundary-pushing materials. You'll find carbon fiber and ceramic along with rubber straps (we like the one designed by French luxury ski brand, Fusalp) and straps made from recycled tires. There are rainbow-colored movements, open dials, and dials made of meteorite, aventurine, and grand feu enamel. This is the collection that best captures Zenith's spirit of constant innovation.
| | |
| --- | --- |
| Price: | $7,000 – $180,300 |
| First release year: | 1969 |
| Current case size: | 36 mm – 46 mm |
| Movement: | Automatic |
| Water resistance: | 30 m – 200 m |
| Crystal: | Sapphire |
Chronomaster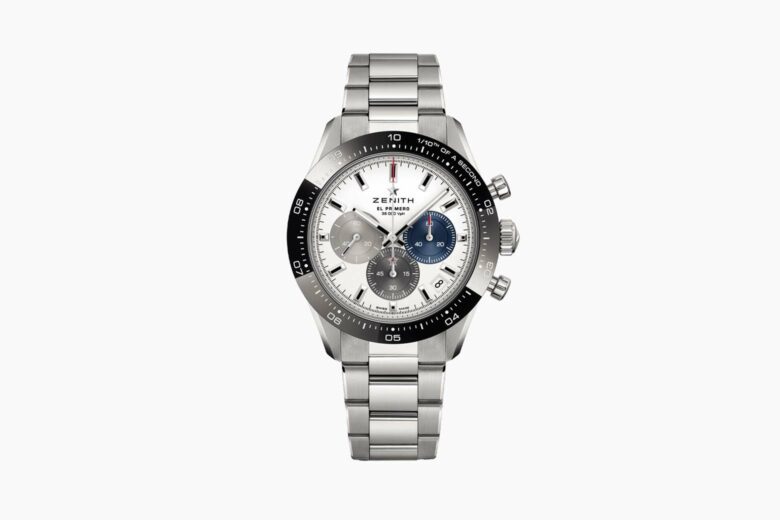 Zenith's Chronomaster series puts the watch brand's famous El Primero automatic movement front and center, a caliber that made history as the first integrated automatic chronograph and was famously used in the Rolex Daytona. Recreating some of Zenith's most iconic references from the 60s and 70s, the Zenith Chronomaster has a charmingly retro spirit—although you'll also find avant-garde skeletonized dials in this series too.
| | |
| --- | --- |
| Price: | $8,400 – $38,200 |
| First release year: | 1994 |
| Current case size: | 37 mm – 41 mm |
| Movement: | Automatic |
| Water resistance: | 50 m – 100 m |
| Crystal: | Sapphire |
Elite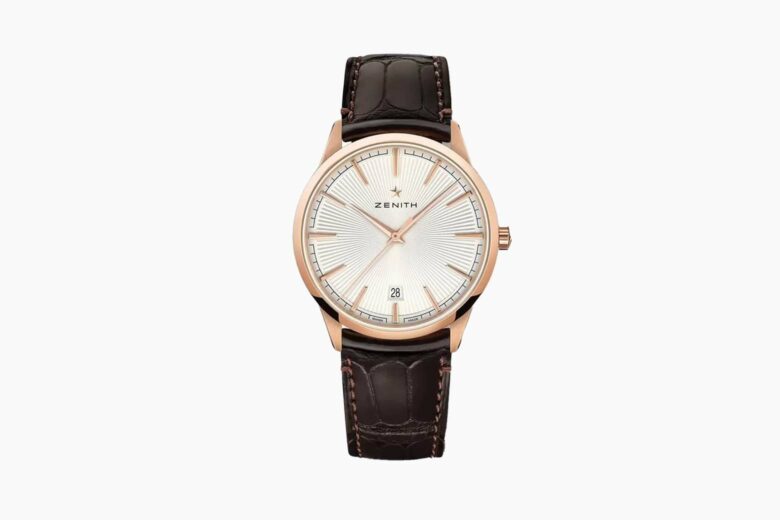 The Zenith Elite collection of unisex timepieces is summed up by its mid-century modern aesthetic and timeless elegance. These are traditional dress watches that transcend trends, offering enduring style for men and women. Choose between the Zenith Elite Classic, ultra-thin and ultra-reliable, and the Zenith Elite Moonphase, and between rose gold, steel, or rose gold combined with diamonds.
| | |
| --- | --- |
| Price: | $6,000 – $17,000 |
| First release year: | 1994 |
| Current case size: | 36 mm – 40 mm |
| Movement: | Automatic |
| Water resistance: | 50 m |
| Crystal: | Sapphire |
Pilot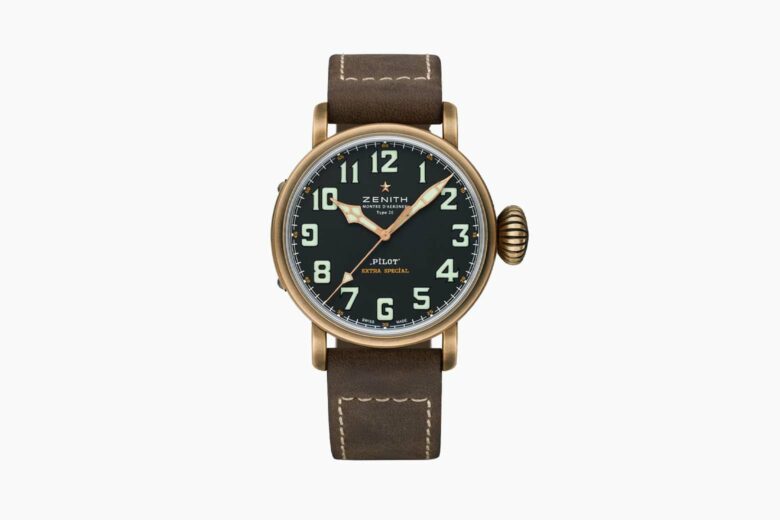 Zenith boasts an illustrious heritage of crafting pilot watches. When Louis Blériot was the first man to cross the English Channel by plane in 1909, he had a Zenith pilot's watch on his wrist. In fact, the watch brand trademarked the term 'pilot watch' in 1904. The Zenith Pilot watch series pays homage to the brand's most iconic aviator timepieces and also showcases the best of modern mechanical engineering.
| | |
| --- | --- |
| Price: | $7,400 – $10,000 |
| First release year: | 1909 |
| Current case size: | 45 mm |
| Movement: | Automatic |
| Water resistance: | 100 m |
| Crystal: | Sapphire |
Icons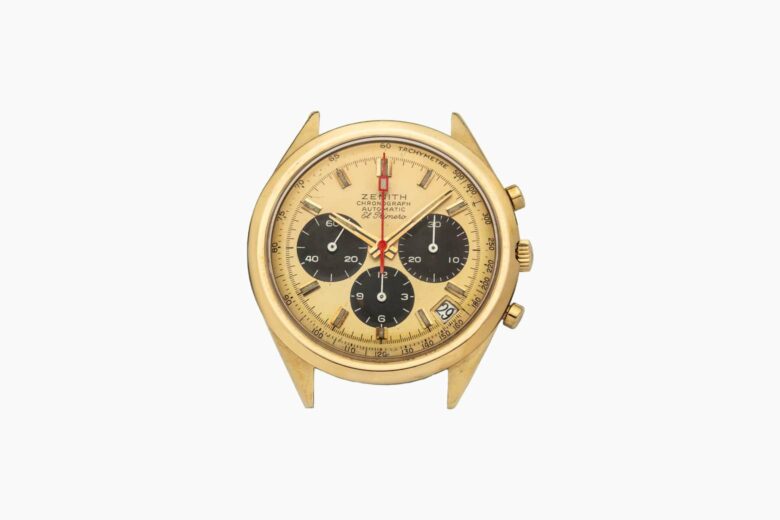 This unique collection of Zenith watches consists of rare and highly coveted vintage timepieces that have been sourced, carefully restored, and certified by the brand. If you're on the hunt for an antique timepiece with a fascinating history, this collection allows you to buy a vintage watch that works impeccably and give a second life to some of the company's most well-known references.
| | |
| --- | --- |
| Price: | $50,400 + |
| First release year: | n/a |
| Current case size: | 37 mm – 40 mm |
| Movement: | Automatic and manual |
| Water resistance: | n/a |
| Crystal: | Sapphire |
Where to buy Zenith watches
You can buy Zenith watches online from the company's online boutique where you'll have access to limited editions, online exclusives, and support from the Concierge Service. All watches purchased online come with an extended 5-year warranty as well as a complimentary first maintenance service. You can also buy your Zenith watch in person from one of the stores listed here.
Otherwise, you can buy new Zenith watches from trusted online retailers like FARFETCH or Mr Porter, or pre-owned timepieces from Jomashop where the authenticity of the timepiece can be guaranteed.
For more about buying a luxury timepiece, see our guide to luxury watches.
Zenith shipping
Shipping and handling costs for your Zenith watch are included in the total price of your order. All Zenith watches are shipped using a reliable carrier and take between 3 and 14 days to be delivered. The price also includes local duties and taxes.
FARFETCH and Mr Porter offers international shipping for different fees depending on the country while Jomashop charges a set fee of $150 for international shipping.
Zenith return policy
If buying your Zenith watch online from the company's eCommerce store, you can return your watch for free within 14 days of delivery. Simply contact the company's Concierge Service or request a return through your Zenith online personal account.
FARFETCH accepts returns within 14 days for a full refund and Mr Porter allows returns within 28 days. Jomashop allows returns for a full refund within 3 days of delivery.
Zenith customer service number
If you have any issues with your Zenith watch or need to speak to a customer representative, contact the brand's customer service department on 0800 320 00 032.
Zenith social media profiles
Frequently asked questions about Zenith watches
Is Zenith owned by Rolex?
Zenith is not owned by Rolex. Zenith is owned by LVMH, along with other luxury watch brands like TAG Heuer and Hublot. However, for a while, Rolex used Zenith's famous El Primero movement in its iconic Daytona watch.
Are Zenith watches worth the money?
Zenith watches are worth the money if you're looking for a highly accurate and durable luxury timepiece from a watch brand with a long history of impeccable craftsmanship. Zenith watches are known for being incredibly reliable.
Is Zenith a respected watch brand?
Yes, Zenith is a respected watch brand, known for crafting precise movements, and is also one of the oldest continuously operating Swiss watch manufacturers. For more about the brand, including history, products, and prices, see our Zenith guide.
Is Zenith Swiss Made?
Yes, Zenith is Swiss-made. The company makes its watches at a factory located in Le Locle, Switzerland. This is also where the luxury watch company was founded by Georges Favre-Jacout in 1865. For more about the watch brand, see our Zenith watch guide.