By watchmaking standards, Hublot is very young. It lacks the heritage on which more established watchmakers base their entire status. But instead of trying to earn its reputation by emulating the other luxury watch brands, Hublot is daring to be different.
With its go-getter attitude and iconoclastic irreverence for watchmaking tradition, Hublot has the nerve that only belongs to the young. The nerve to break the rules, change it up, and give new meaning to mix and match.
At a glance
| | |
| --- | --- |
| | |
| Industry: Watches | Founded: 1980 |
| Headquarters: Switzerland | Founder: Carlo Crocco |
| Watch Collections: sports watches, dress watches, and women's watches | Parent organization: The LVMH Group |
| Annual Revenue: $281.8 million USD | Website: hublot.com |
Hublot watch price
How much does a Hublot watch cost?
The starting price for an entry-level Hublot watch is $5,800 for a Hublot Big Bang. Hublot watch prices for a Hublot Classic Fusion start at $6,500 while prices for a Hublot Spirit of Big Bang start at $18,500. At the other end of the spectrum, some Hublot watches retail for more than $1 million.
What is the most expensive Hublot watch?
The most expensive Hublot watch is the Hublot Black Caviar Bang, also referred to as the Hublot $5 million because of its price. It features 1,200 diamonds, with a combined weight of 140 karats, and took over 14 months to make. Beyonce was apparently one of the first customers.
See how this compares to the world's most expensive watches.
What is the cheapest Hublot watch?
The cheapest Hublot watch is a Hublot Big Bang, which you can currently pick up for around $5,800. Hublot watch prices for a Hublot Classic Fusion begin at $6,500 while prices for a Hublot Square Bang start at $19,100.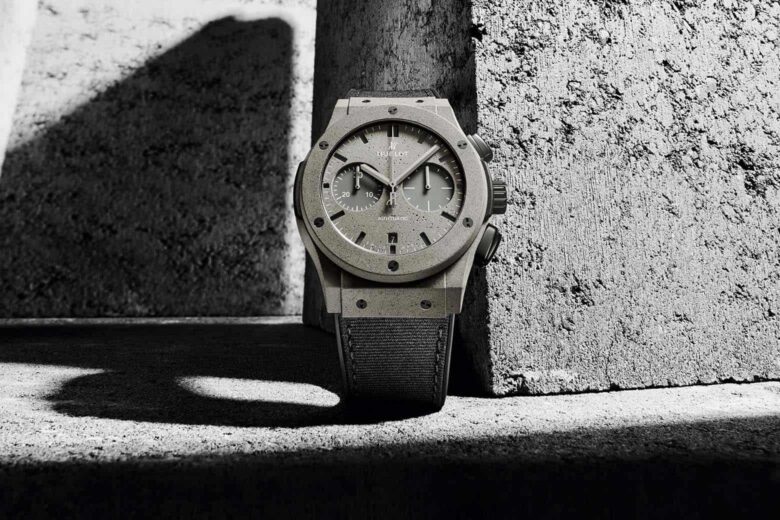 About Hublot
History of Hublot
Hublot's story starts when founder, Carlo Crocco, left his family business in the 1970s and launched his own watch brand in Switzerland.
The company's first-ever watch was called the Hublot—the French word for porthole and a reference to the distinctive shape of the bezel. It combined a luxurious gold case with a rubber strap, something the watchmaking world had never seen before.
Unfortunately, the company was struggling to turn a profit and, in 2004, Jean-Claude Biver, the high-profile Swiss businessman and watch-industry maverick, became CEO of Hublot.
Biver was behind the launch of the oversized Hublot Big Bang Chronograph which won the Best Design prize at the Grand Prix d'Horlogerie de Genève for its combination of materials (steel, ceramic, and rubber) as well as starting a global trend for larger watches. In 2008, the brand launched a version of the watch for women.
In 2008, Hublot launched the marginally more discreet Classic Fusion collection but followed up in 2009 with the King Power collection, featuring Hublot watches with a massive 48 mm case. Then, in 2015, came the One Million $ watches series with timepieces that cost, unsurprisingly, $1 million, and featured an obscene number of diamonds.
In 2008 Hublot was taken over by LVMH which also owns watchmaking giants like TAG Heuer and Bulgari.
Interesting facts about Hublot
Given Hublot's state-of-the-art research and development initiatives, it's no surprise that it has attracted the attention of the aeronautical industry and is an official technical and scientific partner of the European Space Agency.
In 2012, the brand became Ferrari's watchmaking partner. Every year, Hublot releases one or two Ferrari series and is present at every Ferrari event.
One of Hublot's brand amabssaors is Usain Bolt. There are two limited edition models of the Hublot Big Bang collection: the Ceramic Usain Bolt and the Yellow Gold Usain Bolt.
Despite not selling a single one when it was first released at the 1980 Basel Watch Fair, the original Hublot became a success soon after, with sales of over $2 million in its first year.
In 2010, Formula One boss Bernie Ecclestone was robbed and his Hublot watch stolen. On Ecclestone's suggestion, Hublot used an image of his beaten-up face with the tagline 'See what people will do for a Hublot' as a cheeky marketing campaign.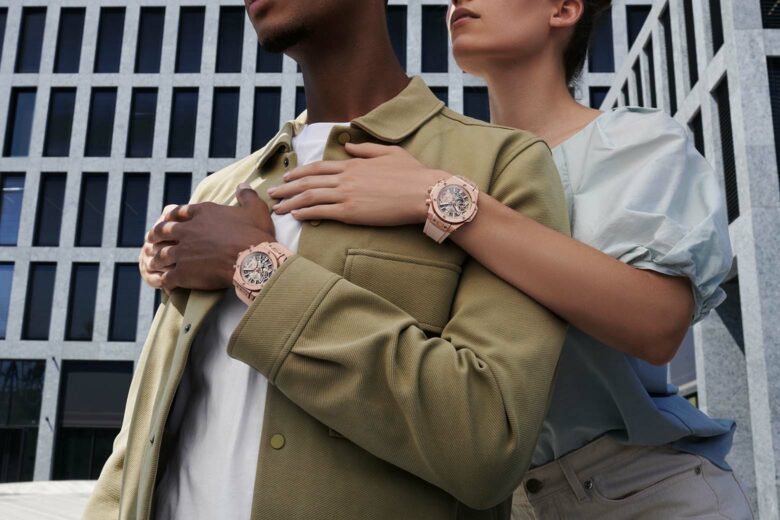 Hublot product range
The Hublot product range currently falls into four collections.
First, there's the brand's most famous timepiece: the Big Bang. The Hublot Big Bang watch series combines exclusive materials and eye-catching craftsmanship.
Then there's the Hublot Classic Fusion, a slightly more low-key alternative to the Hublot Big Bang but still undeniably audacious with its fusion of materials.
The Hublot Spirit of Big Bang continues the same theme of unconventional and ground-breaking materials and bold style.
And, finally, there's the Square Bang, with its distinctive square case and cutting-edge use of innovative materials.
Signature materials and craftsmanship
Hublot's trademark style involves an unorthodox combination of materials, including gold, titanium, ceramic, kevlar, magnesium, tantalum, tungsten, and rubber. Hence the brand's motto, 'The Art of Fusion.'
At the Confrérie Horlogère Hublot, aka Hublot's Research & Development department, 30 watchmakers, engineers, and technicians specializing in micro-dynamics and micro-chemistry, experiment with high-tech materials to discover revolutionary new ways of creating high-end men's watches.
In 2012, for example, Hublot presented Magic Gold, a new alloy of 24k gold and ceramic, almost impossible to scratch and with a dark smoky appearance, created by injecting gold into porous ceramic.
In 2018, the brand unveiled Red Magic, a bright red ceramic made by fusing iron oxides into ceramic before heating it up to 800 degrees Celsius. 600 tonnes of pressure per centimeter squared are then added for three hours. The result is striking and ground-breaking.
Other patented alloys include King Gold, Hublonium, and Texalium. Then there's the brand's pioneering colored sapphire crystal, as seen on the Hublot Big Bang Unico. And Hublot has even capitalized on ultra-rare natural materials like Osmium crystal, whose unique micro-geometry resembles a thousand tiny mirrors.
To ensure all its materials are sourced in an ethical and environmentally-responsible way, Hublot is a member of the Responsible Jewellery Council. Its activities are monitored by accredited, third-party auditors to verify that they conform with the RJC's Code of Practices.
Where is Hublot made?
Hublot watches are made in the brand's 14,000-square-meter Manufacture on the shores of Lake Geneva, Switzerland, an ultra high-tech production facility where the brand's watches and movements are made. Hublot also has its own integrated foundry where it can develop new materials such as Magic Gold.
Brand values
| | |
| --- | --- |
| Vegan options: | No |
| Carbon-neutral: | No |
| Gives back: | Yes |
Hublot watches
Hublot Big Bang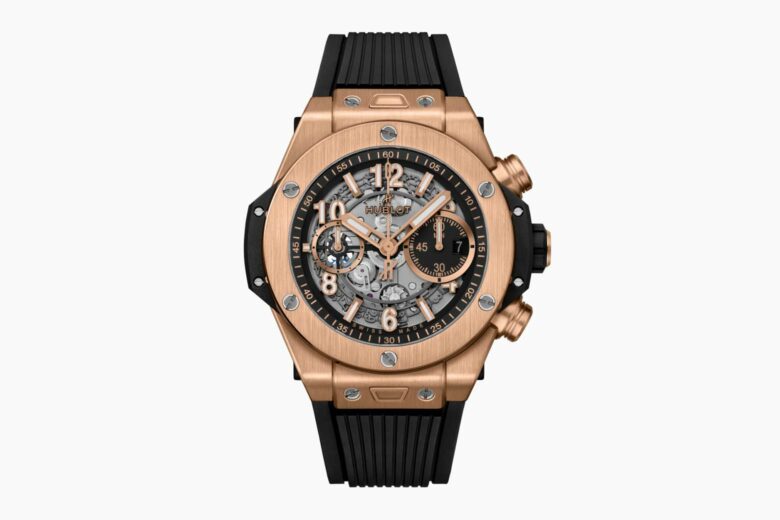 The brand's most popular and flagship model, the Hublot Big Bang did exactly as its name suggests. It created an explosion in the watch industry with its innovative mix of materials and styles. This is an award-winning watch that has won prizes such as the 2005 Design Prize in the Geneva Watchmaking Grand Prix. Today, the collection also includes the brand's Gen 3 connected watch.
| | |
| --- | --- |
| Price: | $5,800 – $3,000,000 |
| First release year: | 2005 |
| Current case size: | 40 mm – 45 mm |
| Movement: | Automatic and quartz |
| Water resistance: | 30 m – 100 m |
| Crystal: | Sapphire |
Hublot Classic Fusion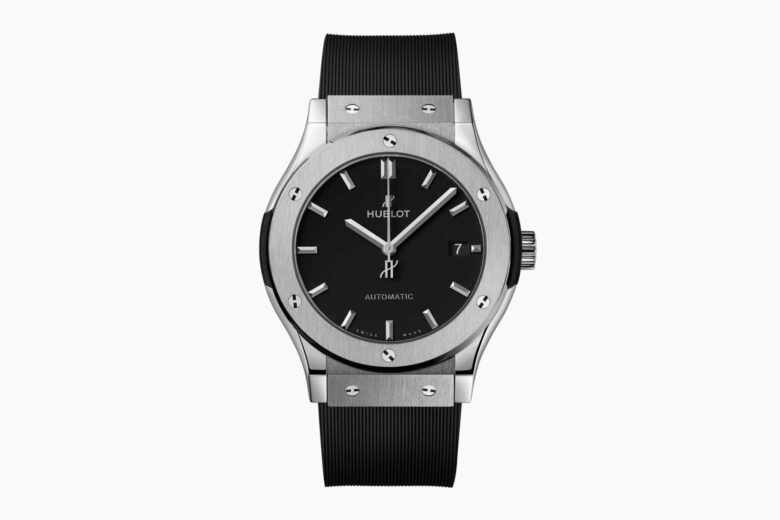 Making art from the fusion of materials is Hublot's mission statement and the Classic Fusion collection demonstrates the brand's ability to pull this off with panache. A classic silhouette with eye-catching and high-performing materials (think micro-blasted black ceramic, brushed bronze, or titanium), the Hublot Classic Fusion is slightly more subtle than the Hublot Big Bang—but only slightly. Look out for the outrageous Takashi Murakami Sapphire Rainbow model with its polished sapphire crystal case and 384 colored gemstones.
| | |
| --- | --- |
| Price: | $6,500 – $160,000 |
| First release year: | 2010 |
| Current case size: | 40 – 45 mm |
| Movement: | Automatic, manual, and quartz |
| Water resistance: | 50 m |
| Crystal: | Sapphire |
Hublot Spirit of Big Bang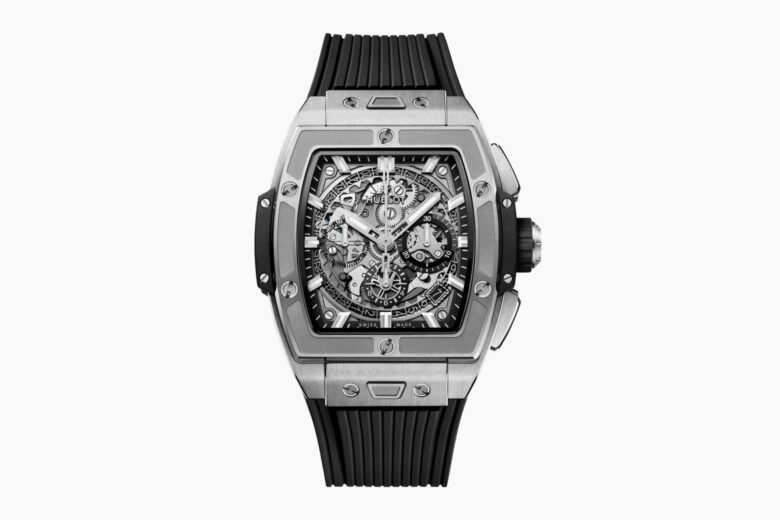 This collection represents an evolution of the brand's trademark Big Bang watch series and shares the same unconventional fusing of materials except these timekeepers feature a barrel-shaped case. Materials include polished red ceramic, carbon fiber with green micro-glass fibers, and polished orange sapphire crystal (yes, you read that correctly). These are exceptionally extravagant watches—and they're not at all apologetic about it. If you like Hublot timepieces, you'll love the Spirit of Big Bang.
| | |
| --- | --- |
| Price: | $18,500 – $185,000 |
| First release year: | 2014 |
| Current case size: | 42 mm |
| Movement: | Automatic and manual |
| Water resistance: | 30 m – 100 m |
| Crystal: | Sapphire |
Hublot Square Bang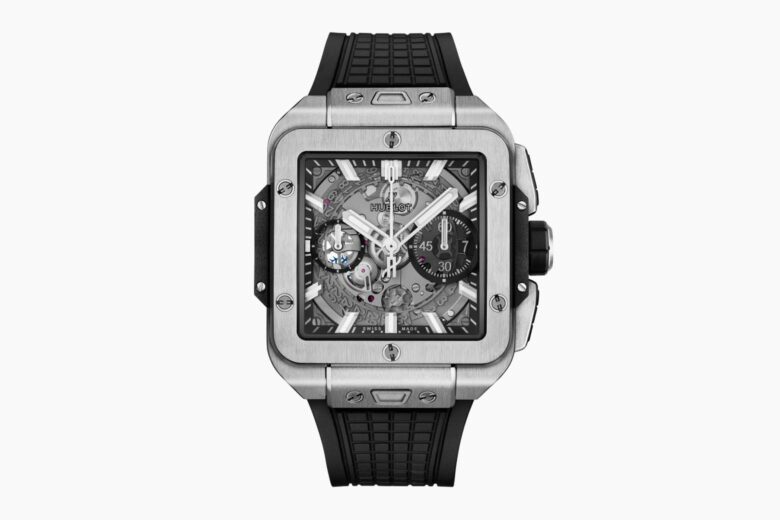 The most recent of Hublot's offerings, the Square Bang Collection sees the brand doing things differently once again. In quintessentially Hublot style, this watch series features a convention-busting square case along with ground-breaking materials like the patented King Gold, as well as titanium and ceramic. Each model features the brand's Unico 2 movement with its 72-hour power reserve. Perfect for adding edge to classic formal wear.
| | |
| --- | --- |
| Price: | $19,100 – $43,100 |
| First release year: | 2022 |
| Current case size: | 42 mm |
| Movement: | Automatic |
| Water resistance: | 100 m |
| Crystal: | Sapphire |
Where to buy Hublot watches
You can buy your Hublot watch online from the company's website or in-person at one of its authorized retailers. If you register your Hublot watch online, you can receive an additional year of warranty. You can also buy Hublot watches from trusted online retailers like Mr Porter and FARFETCH or from a second-hand marketplace like Jomashop where the authenticity can be guaranteed. 
For more about buying a luxury watch, see our watch guide.
Hublot shipping
Hublot offers a complimentary shipping and handling service. Your product should arrive within 3 to 4 days after you get your confirmation message. A signature will be required upon delivery. Mr Porter offers shipping to many countries worldwide and FARFETCH also offers delivery to different countries for different fees.
Hublot return policy
You can return your Hublot watch within 14 days of the date of delivery for a full refund, subject to quality control. Your watch must be returned with the original packaging and receipt and any customized Hublot watches cannot be returned. Online purchases cannot be returned to a Hublot boutique. Instead, contact the company's customer service department and request a return.
FARFETCH accepts returns within 14 days for a full refund and Mr Porter allows returns within 28 days.
Hublot customer service number
For assistance with your purchase or any other queries relating to Hublot watches, contact the company's customer service department on +1 800-273-9317.
Hublot social media profiles
Frequently asked questions about Hublot watches
Is Hublot owned by Rolex?
Hublot is not owned by Rolex. It is owned by French luxury conglomerate LVMH, which also owns other respected watch brands like Bulgari, TAG Heuer, and Zenith. For more about Hublot, including prices and history, see our Hublot guide.
Is Hublot a respected brand?
Hublot is a respected watchmaker that has earned kudos for its novel materials, like its patented Magic Gold. However, some watch collectors deride the brand for its rather extravagant designs and the fact it is quite young by watchmaking standards.
How much does Hublot cost?
Hublot watches can cost anywhere between $5,000 and $5 million. In fact, the most expensive Hublot watch—the Hublot Black Caviar Bang—was on sale for $5 million. For more information about Hublot, including prices and products, see our Hublot guide.
How much does the cheapest Hublot cost? 
The cheapest Hublot watch is a Hublot Big Bang which you can pick up for around $5,000. You can buy an entry-level Hublot Classic Fusion for $6,000. At the other end of the spectrum, the most expensive Hublot watches retail for more than $1 million.