TAG Heuer is most definitely in the driving seat when it comes to crafting robust and precise watches that are as at home in the cockpit of a Formula 1 racing car as they are alongside black-tie on the wrist of A-list celebrities.
Don't Crack Under Pressure is the company's slogan. And TAG Heuer certainly shows no sign of flagging. With over 160 years of watchmaking behind it, the celebrated luxury watch brand with true racing car DNA continues to create highly-coveted and ultra-accurate timekeepers for the world's movers and shakers.
At a glance
| | |
| --- | --- |
| | |
| Industry: Watches | Founded: 1860 |
| Headquarters: Switzerland | Founder: Edouard Heuer |
| Watch Collections: racing watches, dive watches, and dress watches | Parent organization: The LVMH Group |
| Annual Revenue: $855 million USD | Website: tagheuer.com |
TAG Heuer watch price
How much does a TAG Heuer watch cost?
The starting price for an entry-level TAG Heuer watch is $1,850 for TAG Heuer Carrera. TAG Heuer watch prices for a TAG Heuer Monaco start at $7,100. TAG Heuer watch prices for a TAG Heuer Aquaracer range from $1,800 to $6,650. The most expensive TAG Heuer watches can reach over $50,000.
What is the most expensive TAG Heuer watch?
The most expensive TAG Heuer watch is the TAG Heuer Carrera Plasma Tourbillon Nanograph at around $346,000. That's a lot more expensive than most TAG Heuer watches but this timepiece is decked in lab-grown diamonds.
Check out our guide to see how this compares to the world's most expensive watches.
What is the cheapest TAG Heuer watch?
The cheapest TAG Heuer watch is a TAG Aquaracer with a quartz movement, currently retailing at $1,800. TAG Heuer watch prices for a TAG Heuer Carrera start at $1,850. You can also pick up a TAG Heuer Autavia for $4,350 and a TAG Heuer Monaco for $7,100.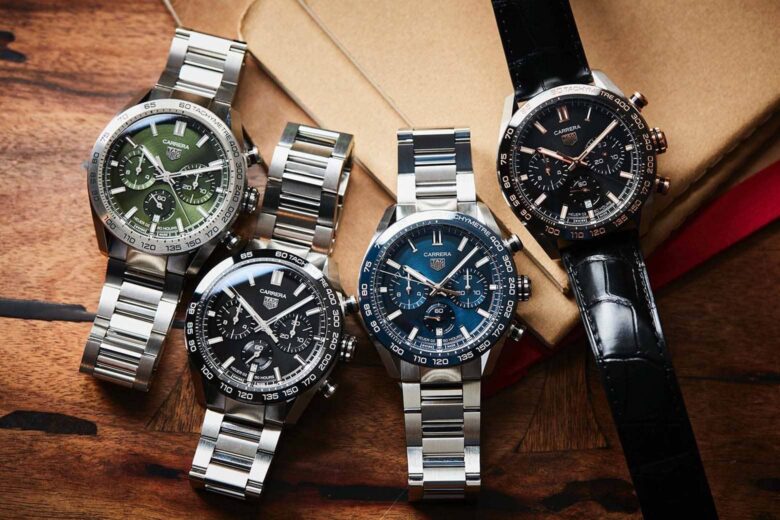 About TAG Heuer
History of TAG Heuer
TAG Heuer was founded in 1860 by 20-year-old Edouard Heuer, the son of a shoemaker. The name of the company at this time was simply Heuer.
In 1887, Edouard invented the oscillating pinion, a mechanism that allowed the chronograph to start or stop with a simple push button, an invention you can still find in chronographs today.
It wasn't until 1914 that the watch company launched its first wrist chronographs. Two of its most innovative wristwatches were released a few decades later in 1948 with the launch of the Auto-Graph wrist chronograph, featuring a tachymeter scale, and the Solunar the following year, which could indicate the tides.
In 1950, came the Mareograph, or Heuer Seafarer, the world's first chronograph with a tide level indicator and dial for regattas. It could also track moon phases.
In 1962, Jack Heuer, the grandson of founder Edouard Heuer, designed and launched the Autavia, a wrist chronograph with a turning bezel, quickly seized on by Formula 1 drivers and a collector's favorite today.
The iconic Carrera chronograph came out in 1963, named for the notorious Carrera Panamericana road race. And in 1969, Heuer created the first self-winding chronograph alongside Breitling and Hamilton, under the name Calibre 11.
The TAG Heuer Monaco was one of the first watches to feature the Calibre 11, along with a water-resistant case. Worn by Steve McQueen in the film Le Mans, it's one of the brand's most famous models.
After Heuer was purchased by the TAG Group (Techniques d'Avant Garde) in 1985, its name was changed to TAG Heuer. It was later bought by LVMH, beckoning an era where TAG Heuer timepieces range from ultra-modern 'connected' watches to retro reissues.
Interesting facts about TAG Heuer
TAG Heuer has an enduring alliance with the world of motorsports and is a sponsor and official timekeeper for Ferrari.
The Heuer split-second pocket chronographs were the official stopwatches used at three different Olympic Games.
President Eisenhower bought a Heuer chronograph in 1945 while President Truman wore a Heuer triple calendar chronograph.
In 1962, a Heuer sports stopwatch was worn by astronaut John Glenn on his journey around the Earth in the Mercury-Atlas 6 spacecraft, making Heuer the first Swiss watch brand in space.
Wondering about TAG Heuer pronunciation? It's said Tag Hoy-yur [tæɡ ˈhɔɪ.ər]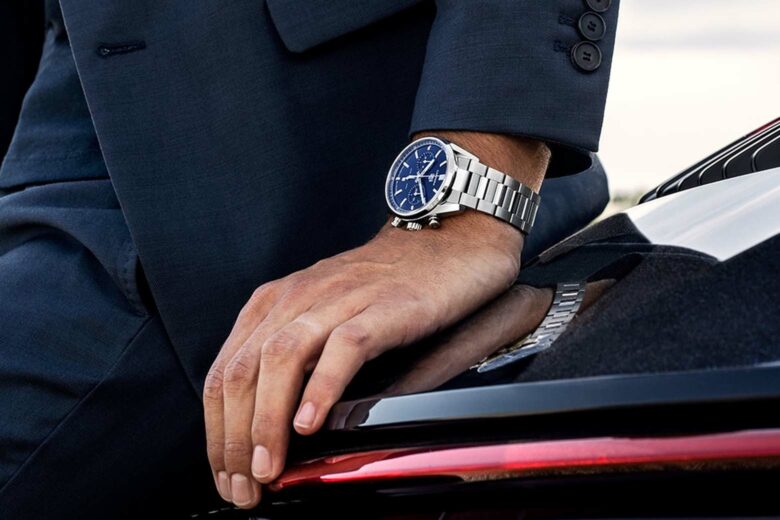 TAG Heuer product range
TAG Heuer is best known for the TAG Heuer Carrera and TAG Heuer Monaco, both racing watch collections and the core pillars of the brand's range of men's watches. However, today the TAG Heuer line of watches has expanded beyond these two iconic timepieces and can be grouped roughly into four categories.
First, you have the brand's racing watches, for which it is famous. There's the 1960s-inspired TAG Heuer Carrera collection, of course, as well as the square-shaped TAG Heuer Monaco. There's also the more accessibly priced TAG Heuer Formula 1 collection as well as the retro TAG Heuer Autavia.
Then you have the brand's luxury dive watches in the form of the TAG Heuer Aquaracer collection: affordable, robust, and ultra-functional.
Next, there's the TAG Heuer Link collection, with its unique bracelet and dressier aesthetic, offering high-end appeal while still being very functional.
And, finally, and perhaps most surprisingly for a luxury Swiss watchmaker, there's the TAG Heuer Connected collection of smartwatches with its proprietary onboard apps.
Signature materials and craftsmanship
TAG Heuer is best known for making chronographs. In fact, the brand's chronographs are so unrivaled in terms of precision and quality that at one point they were even producing them for Rolex.
The TAG Heuer production process makes use of cutting-edge modern technology, from 3D modeling of watch exteriors during the design process to ground-breaking pad printing machines that can apply up to five different colors to a watch dial surface in quick succession. When it comes to movements, components are milled to a precision of 5 microns, and trimming, sandblasting, mounting, and electrotyping are all techniques that are used before the movement's jewels and metal components are pressed and set.
TAG Heuer also makes Haute Horlogerie timepieces, with a specialist department dedicated to developing these highly innovative watches. These include a series of mechanical chronographs capable of measuring fractions of a second. The TAG Heuer Mikrogirder, for example, can measure time to 1/10000th of a second. The brand has also developed watches with magnetic pendulums instead of conventional hairsprings.
TAG Heuer aims to increase its sustainability on a yearly basis and has practices in place to reduce waste and energy consumption. Leftover brass fragments from milling and machining are recycled and solar power is used wherever possible. Greywater is sent to a special company to be cleaned, filtered, and recycled.
Where is TAG Heuer made?
TAG Heuer's movement-making factory is in Chevenez, Switzerland while the company's main factory is in La Chaux-de-Fonds, where there is also a facility dedicated exclusively to Haute Horlogerie movements. The brand's case manufacture is in Cornol. This was opened in 2004 and enlarged in 2009 to include a workshop for making bridges and plates for mechanical movements.
Brand values
| | |
| --- | --- |
| Vegan options: | No |
| Carbon-neutral: | No |
| Gives back: | Yes |
TAG Heuer watches
We've shortlisted the most popular TAG Heuer watch models to help you understand the luxury watch's large collection and the recommended retail prices of each model.
TAG Heuer Carrera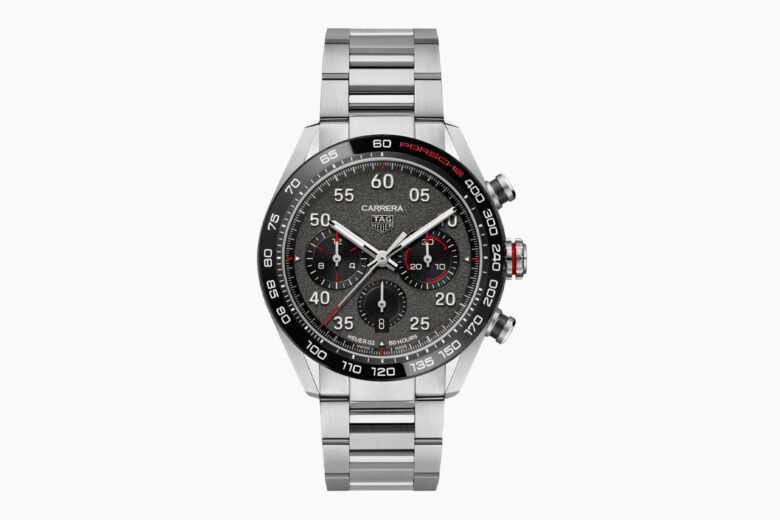 The TAG Heuer Carrera collection is one of the brand's most diverse watch families with a huge range of models. These include beefy 45 mm skeletonized Carreras, sleek silver and diamond Carreras, and colorful limited edition TAG Heuer Carrera Polychrome Chronograph Tourbillons. At heart, though, the TAG Heuer Carrera is a chronograph and the mood is distinctly 1960s in spirit, harking back to that first-ever Carrera that emerged on the race tracks in 1963.
| | |
| --- | --- |
| Price: | $1,850 – $53,800 |
| First release year: | 1963 |
| Current case size: | 29 mm – 45 mm |
| Movement: | Automatic and quartz |
| Water resistance: | 100 m |
| Crystal: | Sapphire |
TAG Heuer Aquaracer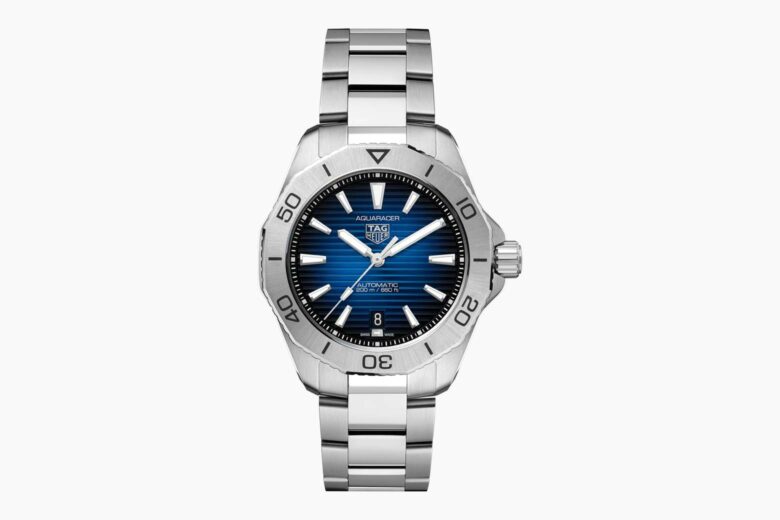 During the 1980s, TAG Heuer Aquaracer watches were on par with other luxury dive watches by the likes of Rolex and Omega and you'll still find two-tone 80s-style divers in the Aquaracer collection today. These are great entry-level TAG Heuer watches, ideal for day-to-day wear. But there's also the TAG Heuer Professional 1000 Superdiver for those looking to really elevate their underwater game.
| | |
| --- | --- |
| Price: | $1,800 – $6,650 |
| First release year: | 2004 |
| Current case size: | 27 mm – 45 mm |
| Movement: | Automatic and quartz |
| Water resistance: | 200 m – 1000 m |
| Crystal: | Sapphire |
TAG Heuer Formula 1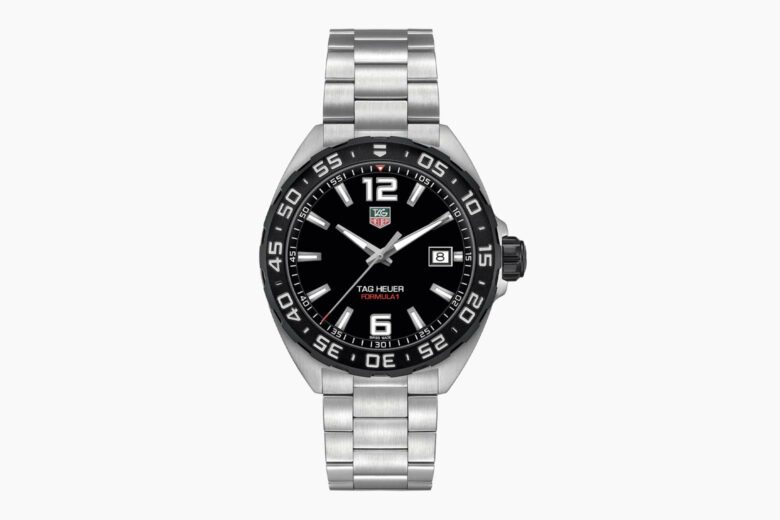 Robust, waterproof, affordable, and sporty, the TAG Heuer Formula 1 watch series features mostly quartz movements. Available in a dashing array of colors such as green, red, and yellow, as well as more discreet stainless steel and polished aluminum with gold-plated steel, these are fun-loving watches with an eye firmly on the finish line. Some also feature tachymeters and rubber straps.
| | |
| --- | --- |
| Price: | $25,600 – $1,400 |
| First release year: | 1986 |
| Current case size: | 41 mm – 45 mm |
| Movement: | Automatic and quartz |
| Water resistance: | 200 m |
| Crystal: | Sapphire |
TAG Heuer Monaco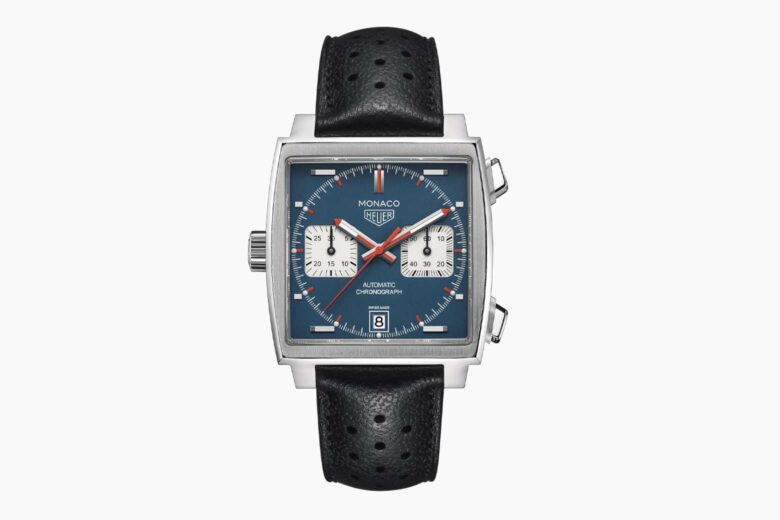 One of the most iconic racing watches in the world, the TAG Heuer Monaco was immortalized after it graced the wrist of none other than Steve McQueen in the racing movie Le Mans in 1971. Named after the famous Monaco Grand Prix, these squared-shaped timepieces feature beveled crystals that are essentially unscratchable and are guaranteed admiring whispers when you walk into a room.
| | |
| --- | --- |
| Price: | $8,600 – $7,100 |
| First release year: | 1969 |
| Current case size: | 39 mm |
| Movement: | Automatic |
| Water resistance: | 100 m |
| Crystal: | Sapphire |
TAG Heuer Autavia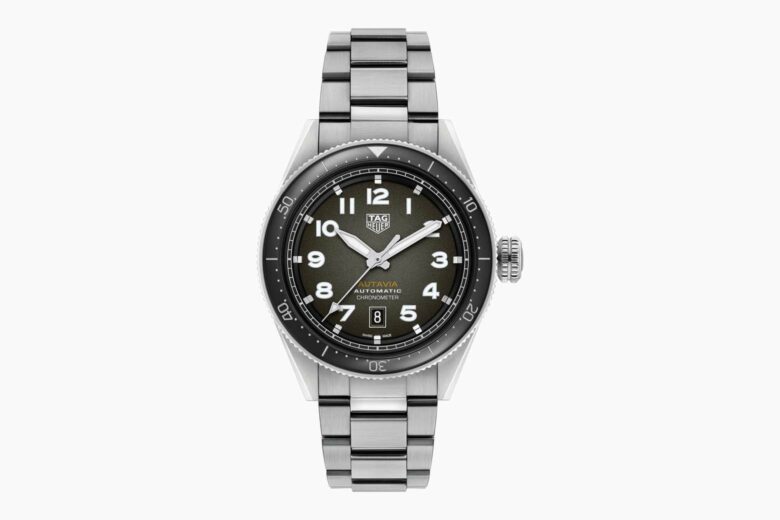 Inspired by the Heuer dashboards built for both cars and planes (hence the name, an amalgamation of automobile and aviation), the TAG Heuer Autavia collection has a charming retro character to it with simple bold numerals and chunky pushers flanking the crown. The oldest TAG Heuer collection, the Autavia is also one of the more quirky and unusual watches by the brand.
| | |
| --- | --- |
| Price: | $7,400 – $4,350 |
| First release year: | 1962 |
| Current case size: | 42 mm |
| Movement: | Automatic |
| Water resistance: | 100 m |
| Crystal: | Sapphire |
TAG Heuer Link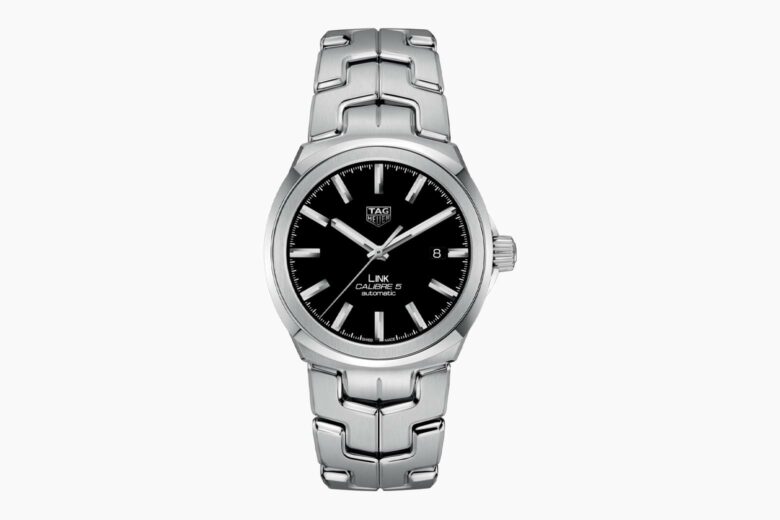 The curvy interlocking links of the integrated bracelets are what gives the TAG Heuer Link collection its name and distinctive aesthetic. Definitely the most dressy of all TAG Heuer collections, variations include blue sunray-brushed or mother-of-pearl dials as well as diamond indexes and diamond bezels. This timepiece just might be the missing link (sorry, too tempting) in your watch collection.
| | |
| --- | --- |
| Price: | $5,100 – $1,850 |
| First release year: | 1987 |
| Current case size: | 32 mm – 41 mm |
| Movement: | Automatic and quartz |
| Water resistance: | 100 m |
| Crystal: | Sapphire |
TAG Heuer Connected watches
In 2015, TAG Heuer made the big leap from mechanical and quartz timepieces to smartwatches, releasing its TAG Heuer Connected watch collection. Marketed as the first Swiss-made smartwatch, the collection has evolved to include the TAG Heuer Connected Modular, the TAG Heuer Connected 45, and the TAG Heuer Connected Calibre E4.
The TAG Heuer smartwatch 2 offers cutting-edge wearable technology and connectivity alongside the brand's well-attested design prowess. Purpose-built apps for your TAG Heuer smartwatch include the TAG Heuer sports app for tracking speed, pace, heart rate, and distance and the TAG Heuer Golf App with 3D mapping and shot tracking.
The most recent addition to the TAG Heuer digital smartwatch series is the TAG Heuer Connected Calibre E4, which offers faster synching with Bluetooth 5.0 as well as an altimeter—further elevating the offerings of the TAG Heuer Connected Calibre E3 with its accelerometer, compass, GPS sensors, and heart rate monitor.
So much more than just timekeepers, TAG Heuer smartwatches are the go-to resource for modern go-getters to keep their life on track.
Where to buy TAG Heuer watches
You can buy TAG Heuer watches online from the company website or in person from one of the brand's authorized retailers, as listed here. You can also buy new TAG Heuer watches from FARFETCH or Mr Porter and authentic pre-owned timepieces from Jomashop.
For more about buying a luxury watch, see our watch guide.
TAG Heuer shipping
Every TAG Heuer watch order is eligible for complimentary shipping and delivery. Next-day delivery is offered for orders placed before 1 pm EST. A signature will be required on delivery. You can track your order via the company website or contact the Customer Care team by phone or email if you have any queries.
Jomashop offers international shipping for a set charge of $150 while FARFETCH and Mr Porter offer shipping to different countries for different fees.
TAG Heuer return policy
TAG Heuer offers complimentary returns on all watch orders within 30 days of delivery, as long as the watch remains in perfect sellable condition with all the original packaging.
Jomashop offers refunds within 3 days of delivery. FARFETCH accepts returns within 14 days for a full refund and Mr Porter allows returns within 28 days.
TAG Heuer customer service number
If you have a query about your TAG Heuer watch order or need help with your purchase, simply contact the company's customer service department on 01204 861168.
TAG Heuer social media profiles
Frequently asked questions about TAG Heuer watches
Is TAG Heuer owned by Rolex?
TAG Heuer is not owned by Rolex but at one point in its illustrious history, it made chronographs for Rolex, thanks to the unrivaled precision and reliability of its timepieces. Today, TAG Heuer is owned by the conglomerate LVMH.
Are TAG Heuer worth it?
TAG Heuer watches are worth it if you are in the market for a high-end timepiece that is highly precise and at the more affordable end of the luxury watch spectrum. TAG Heuer watches also have a fascinating relationship with racing cars.
Is TAG Heuer considered luxury?
TAG Heuer is a luxury watch brand. The company makes exceptionally precise and quality timepieces. It is known for its chronographs as well as its relationship with the world of automobiles. For more about TAG Heuer, see our TAG Heuer retail price guide.
Is tag the same as TAG Heuer?
TAG is not the same as TAG Heuer. TAG stands for Techniques d'Avant Garde and refers to the holding company, the TAG Group, that bought the watchmaking company Heuer in 1995. For more about TAG Heuer's history, see our TAG Heuer guide.