Versatility and comfort are two of the key characteristics we all look for in shoes: but what about a shoe for standing all day that is versatile, comfortable, and stylish? The classic white sneaker ticks all those boxes (and more).
If you are hesitant about the idea, chances are you may be thinking about sporty, athletic shoes you wore during gym class. We're talking about the sleek, clean, and understated styles that will go with just about any outfit you choose. There is nothing more classic than a pair of timeless sneakers. Simply put, white sneakers have always been a wardrobe staple, and the likelihood of them going out of style is, well, blank.
Find your perfect pair below with this list of the 30 best white sneakers for men.
The 30 best white sneakers for men
Axel Arigato Clean 90: Best men's white sneakers overall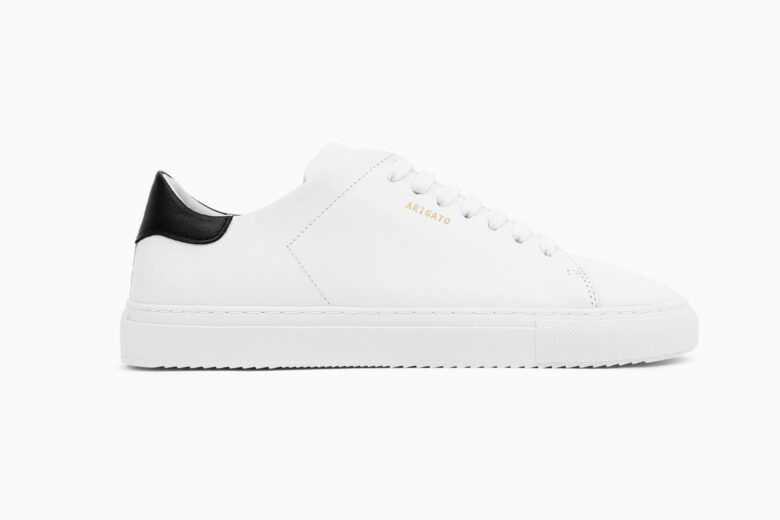 Axel Arigato never fails to capture timeless sophistication, and the Clean 90 Sneaker is no different. With a minimalist silhouette that features a subtle logo stamp in gold, these white leather sneakers are an all-round win. The sleek shoe features a smooth leather upper set on a raised and cushioned rubber cup-sole for ultimate comfort. These have got to be our favorite trendy white sneakers by street-smart Swedish label, Axel Arigato.
Saint Laurent SL/06 Court Classic: Best white designer sneakers for men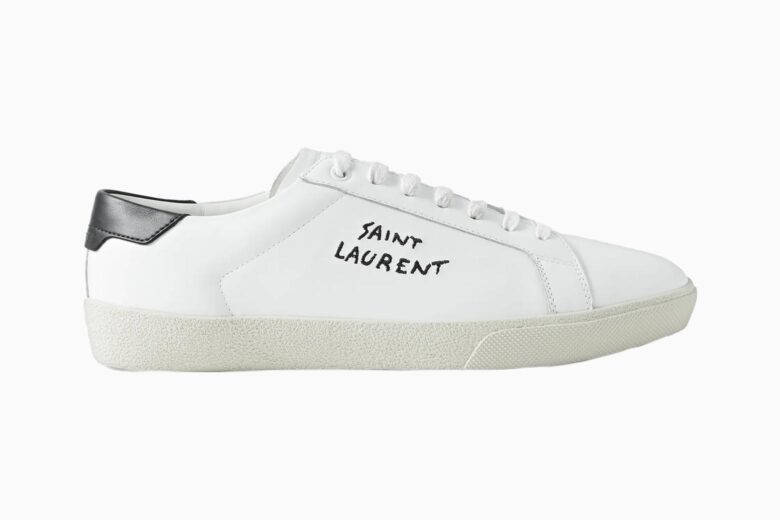 Designer sneakers don't have to be flashy to look luxurious, and these SL/06 Court Classic Sneakers from Saint Laurent are the perfect example. The designer signature cannot be missed, but the simple sneaker with a slightly debossed heel tab is understated and clean-lined. If you are looking for a pair of designer sneakers that pays homage to the classic white tennis shoes, then these Saint Laurent sneakers are the perfect luxury pair for you.
Nike Air Force 1 '07: Best value white Nike sneakers for men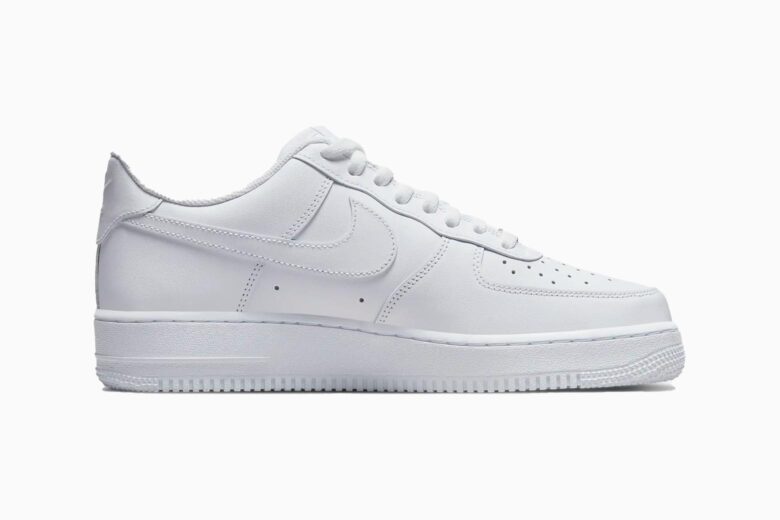 Without a doubt, Nike Air Force 1's are one of the most iconic sneakers to ever exist. These Nike sneakers are popular for a reason: they're versatile, stylish and affordable. The Nike Air Force 1 '07 is a fresh take on the original low-cut silhouette with stitched overlays, clean finishes, padded collars and lightweight cushioning.
Oliver Cabell Low 1 Belmont: Best trendy white sneakers for men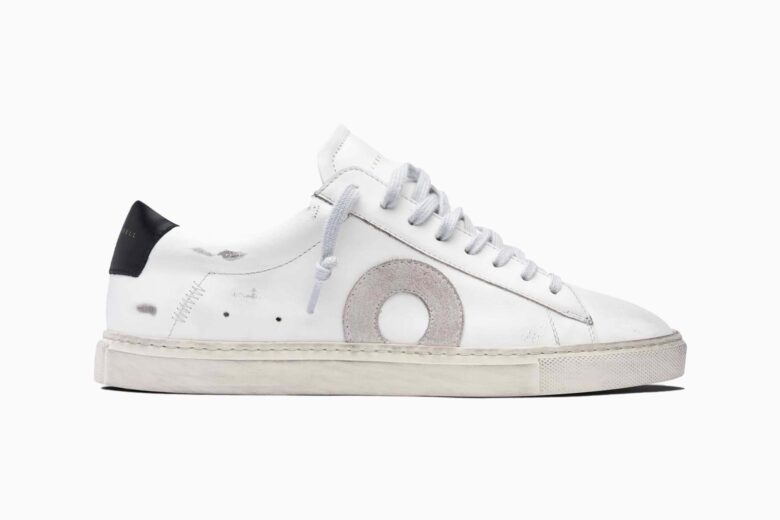 The Oliver Cabell Low 1 Belmont sneaker radiates a relaxed attitude thanks to the slightly distressed look and gray suede logo. But don't be fooled: just like any pair from Oliver Cabell, these are beautifully made sneakers. The trendy low-cut shoe is handmade in the Marche Region of Italy with butterfly calfskin leather, Margo outsoles and Italian cotton laces. The perfect pair e for chilly autumn days and summer nights alike.
For an in-depth look at the brand, check our Oliver Cabell sneakers review and the story behind Oliver Cabell.
Adidas Stan Smith Shoes: Best classic white shoes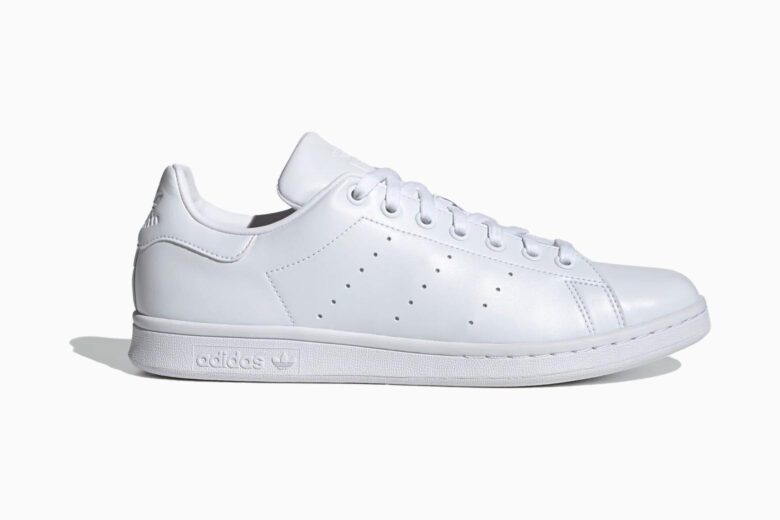 The timeless appeal of Stan Smiths makes them one of the biggest sellers for Adidas, and rightfully so. With over 50 years of icon status, these shoes are at their best in a classic white that emulates the golden days of tennis shoes. These white Adidas shoes are also made with the planet in mind, using vegan alternatives instead of animal-derived ingredients in the materials.
Koio Capri In Triple White: Best men's all-white sneakers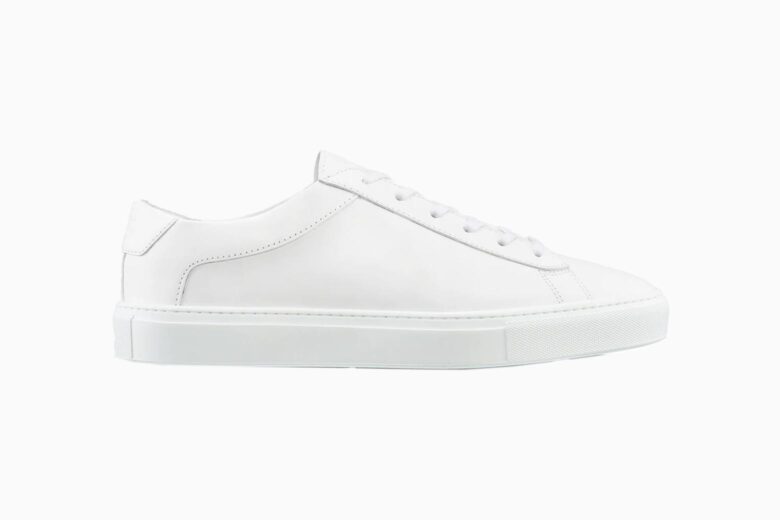 The search for perfect, all white sneakers ends right here. The Capri in 'Triple White' is the kind of shoe that will make every man look chic and sophisticated. Handcrafted in Italy using full-grain leather and set on a durable rubber sole, there is no looking back when it comes to style and comfort. The Capri in 'Triple White' by KOIO is stylish but trend-proof.
New Republic Bowery: Best white canvas sneakers for men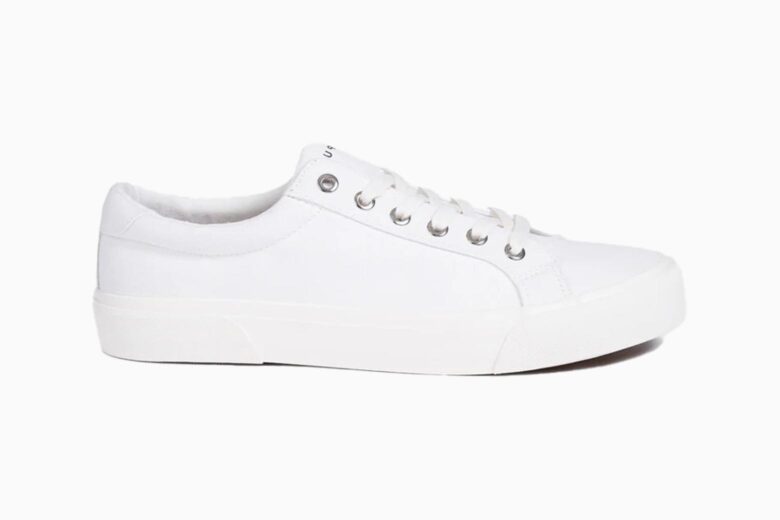 While a stunning leather sneaker is a must-have for fashion-forward men, you won't want to wear your leather shoes when taking a walk on the beach or chilling at home. These Bowery sneakers have got to be our favorites when it comes to white canvas shoes. They're comfort, convenience and simplicity personified. The low-top lace-up silhouette takes low-profile to a new level, making the Bowery Canvas Sneaker by New Republic a must-have!
Allbirds Tree Runners: Most comfortable white sneakers for men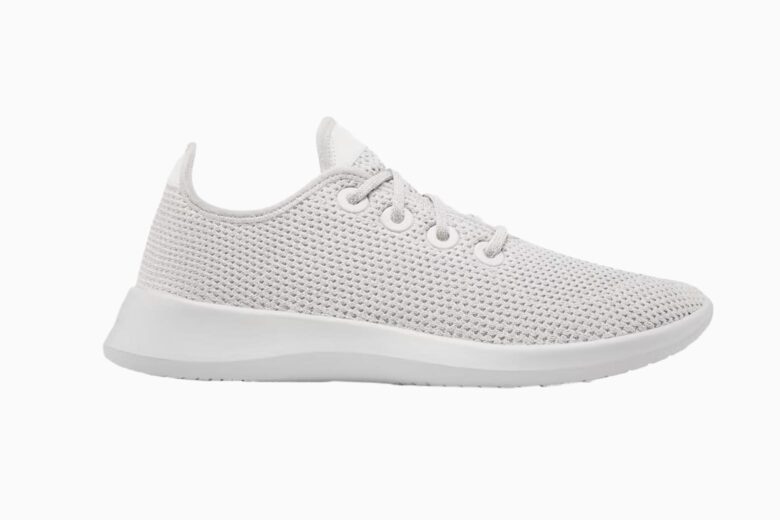 If you're looking for comfort, what better place to start than with the sustainable brand behind 'the world's most comfortable shoes'—Allbirds. These sneakers are designed with responsibly-sourced eucalyptus tree fiber, making them breathable and silky smooth. Their streamlined appearance makes for a perfect match to casual wear. Look no more than the Men's Tree Runners by Allbirds when comfort is key.
Learn more about the story behind Allbirds.
Tom Ford Cambridge: Best men's white leather sneakers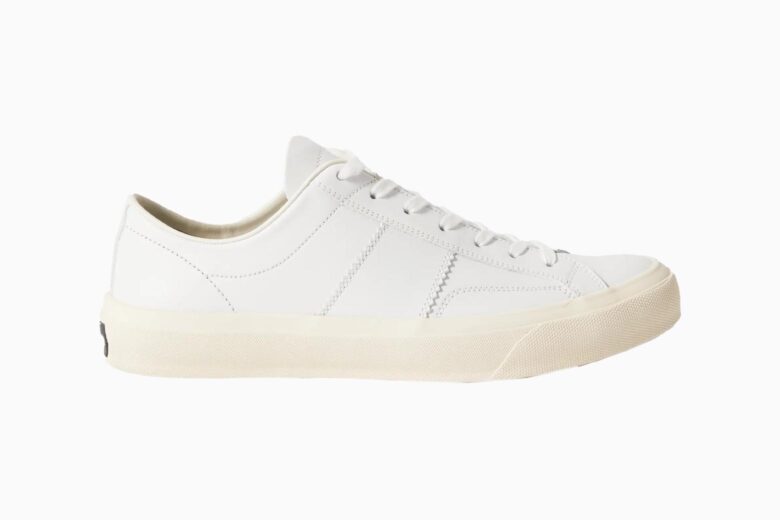 Made in Italy with leather linings and rubber soles, the quality of these Tom Ford sneakers is unmatched. The shoes look incredibly sleek and subtle, but once you've caught a glimpse of the designer logo you know just how special they are. Pair them with casual shirts and jeans, or go try a more polished style like a suit. If you love white leather sneakers, then Tom Ford's Cambridge leather sneakers are a bucket list item.
Gucci Ace: Best luxury low top sneakers for men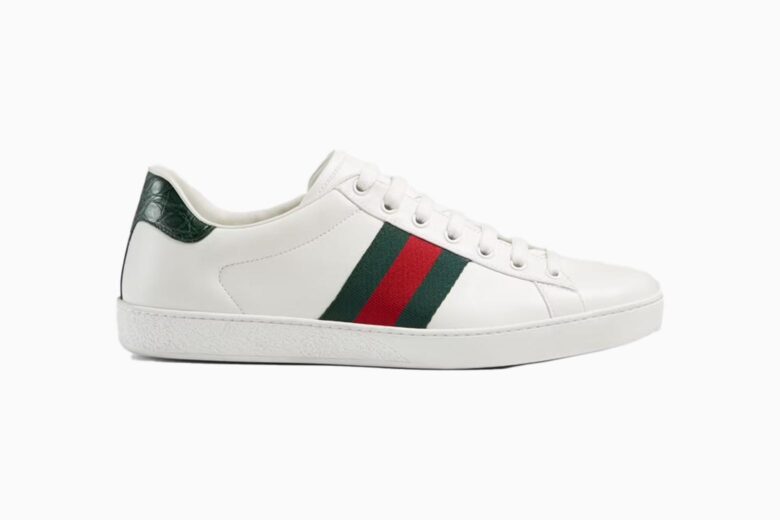 Everybody knows just how beautiful Gucci's designer clothes are, but can their shoes compare? These low-top leather sneakers make a strong case for Gucci's shoe game. These are classic low-top sneakers in white leather and come with the iconic green and red web, and green crocodile detail at the back. Indulge yourself with Gucci's Men's Ace Leather Sneaker, an instant fashion game changer for any outfit.
On Running The Roger Centre Court: Best men's white tennis shoes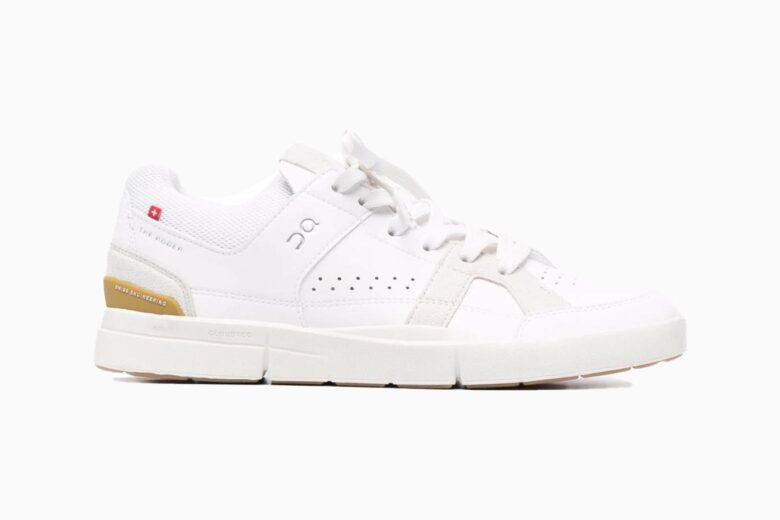 We've already touched on the timeless appeal of the white tennis shoe as a style item, but what about white shoes for actually playing tennis like a pro. These Roger Center Court Trainers, which were designed in collaboration with Roger Federer, are all about seamless comfort, ultimate performance and distinguished tennis style. The Roger Center Court Trainers is yet another branch beyond the original running audience and speaks to a variety of diverse and active lifestyles.
Gianvito Rossi: Best minimalist white sneakers for men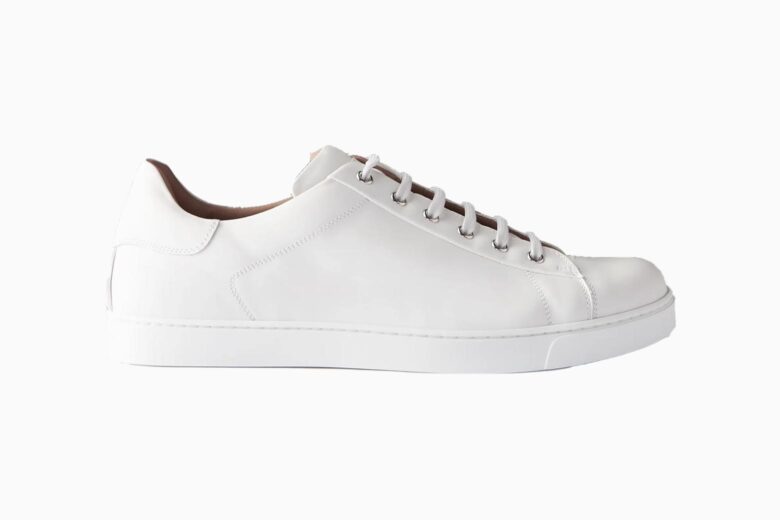 These all-white sneakers are clean-cut, subtle, and contemporary, appealing to popular minimalist design trends popping up everywhere from home décor to fashion. If you are into the fresh minimalist modern style, then Gianvito Rossi's Leather Sneakers are the simple canvas you need.
Common Projects: Best men's white high tops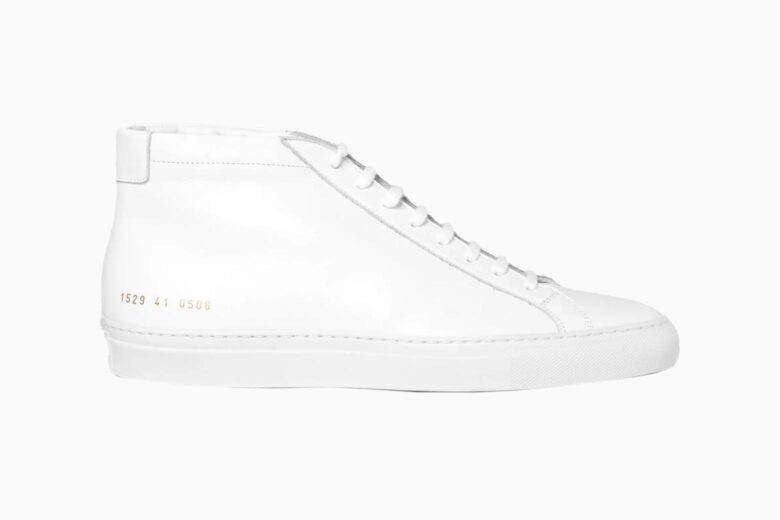 The Achilles white high-top sneaker is a flawless look that classic sneakerheads love. Designed in Manhattan and made in Italy, it is detailed with the label's signature gold serial number stamp in a subtle and simple way. These sleek Common Projects' Achillesleather high top sneakers will complement slim-fit jeans or a tailored suit.
Rick Owens DRKSTAR Chuck 70: Best white canvas high top sneakers for men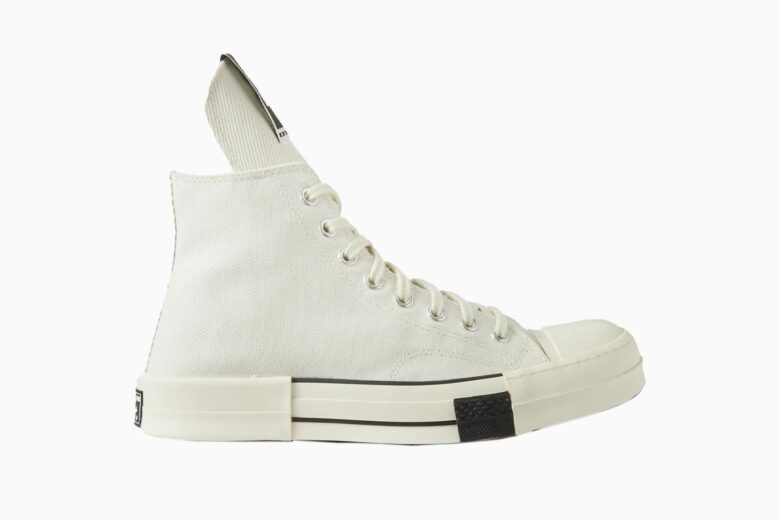 Rick Owens and Converse have come together to create these powerhouse white canvas sneakers. Inspired by rock 'n' roll icons, designer Owen loves a bombastic look, and if you know his style, you know he wants his designs to stick out. So if you're looking for something less subtle and more dramatic, you will love Rick Owens's canvas high-top sneakers.
Valentino Garavani': The coolest white sneakers for men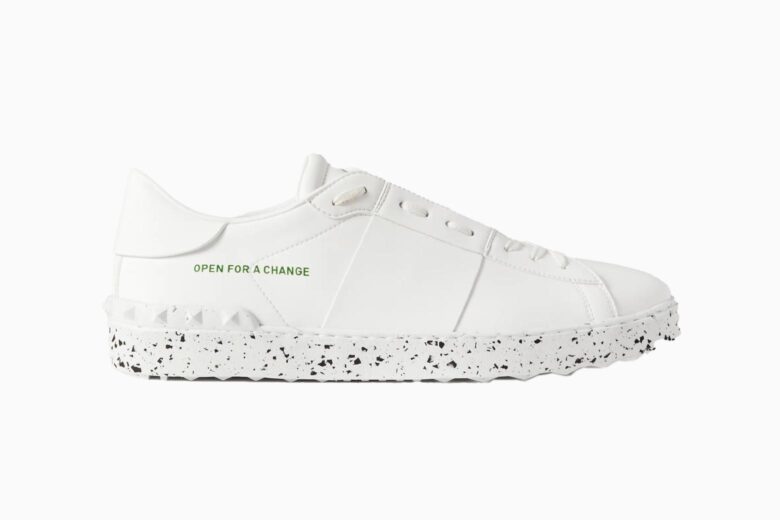 We list these as the coolest white sneakers on the market right now. Their color-block design, round toe, and signature Rock stud detailing with a speckled pattern on the sole make them eye-catching and a winner for white slip-on sneakers. Want to stand out from the crowd? Valentino Garvani's 'Open For A Change' white sneakers are it!
BALENCIAGA Triple S: Best chunky men's white sneakers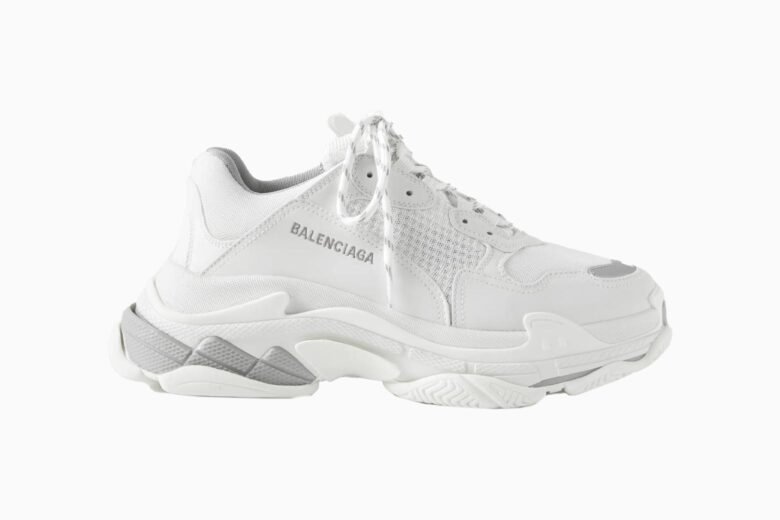 These men's white running shoes are basically the best chunky white sneakers ever — they sold out within minutes of their release! Set on triple-stacked soles molded for running, basketball, and track sports, this is an iconic sneaker in the finest fashion categories by Balenciaga. Find comfort and finesse all in one with these Balenciaga Triple S Mesh and Faux Leather Sneakers.
Alexander McQueen: Best fashion white sneakers for men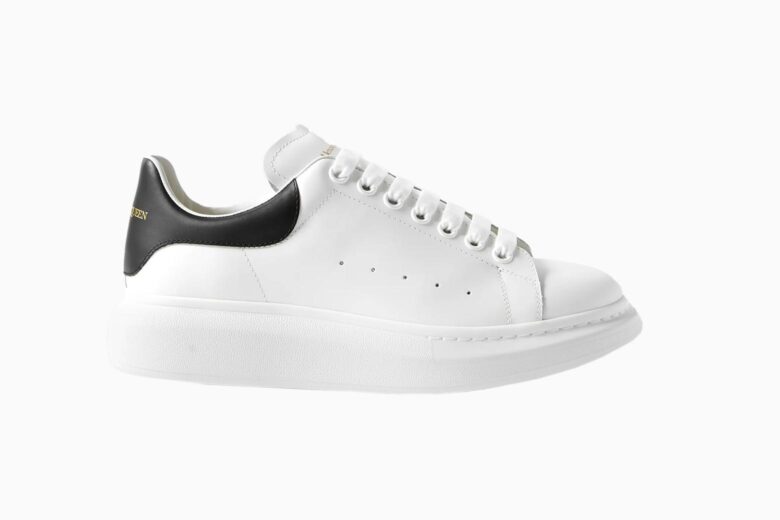 This British label has won the world over with its extravagant, bold, and avant-garde flair, which is why these exaggerated-sole sneakers are everywhere — from Instagram to red carpets and influencers to sneakerheads. These are eyebrow-raising sneakers that make a fashion statement of note, so they don't just look like any other white sneaker. Elevate any look when traveling, running errands, or going on a date with a pair of these fashion sneakers by Alexander McQueen.
Reebok Classics Club C: Best retro white sneakers for men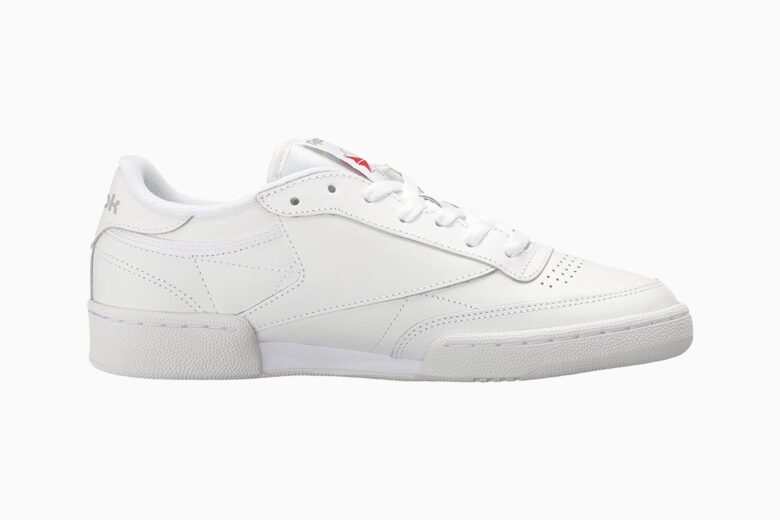 Men's white tennis shoes remain pure in this no-riff-raff design that exudes old-school quality and style. These men's white trainers have a soft garment leather upper for full-foot support on and off the court, and definitely don't skimp in the retro department. Looking for the ideal throwback vintage look with the same quality you are used to, then look no further than Reebok's Men's Club C 85 Vintage Shoes.
Salomon XT-6 Advanced: Best men's white hiking sneakers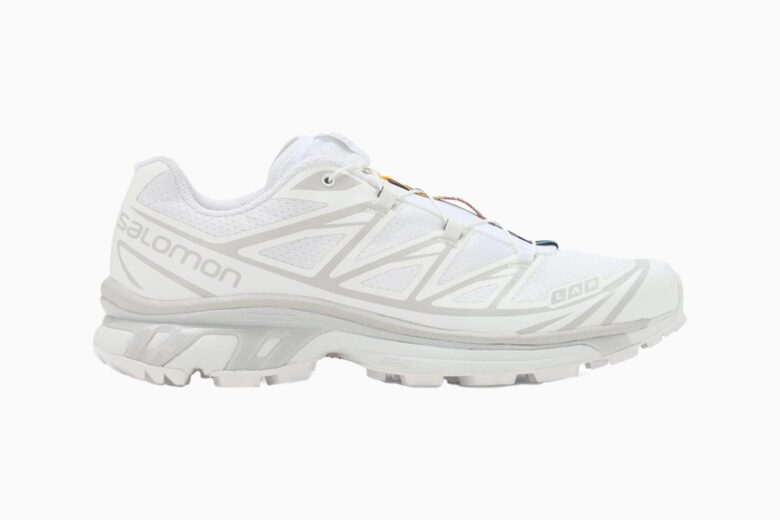 For an ultramarathoner, these are a perfect choice as they are incredibly lightweight. But they also double as a great shoe for hiking and trail running that doesn't compromise on comfort level. The Salomon XT-6 Advanced sneakers are stable and cradle your feet with each step, and the abrasion is designed for resistance to wear and tear during your hiking escapades.
Axel Arigato Genesis: Best white vintage runners for men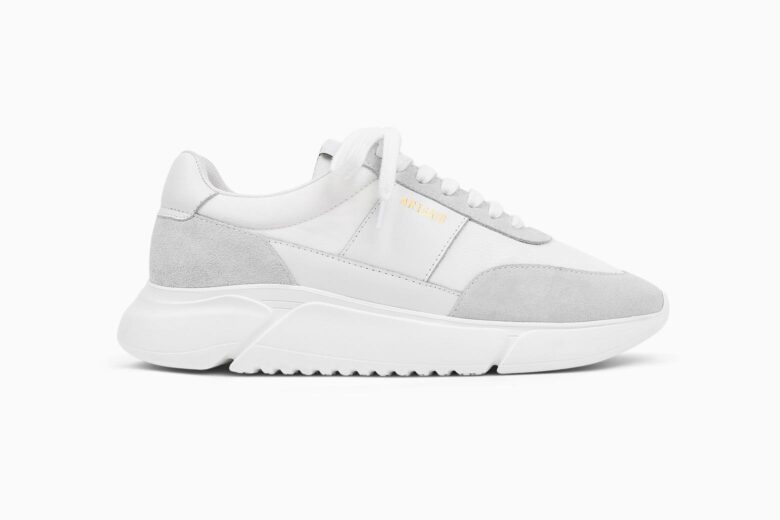 These are futuristic vintage runners that are lightweight with a modern, streamlined sole. When we say futuristic, we mean that although they have a nostalgic vintage appeal, they are made with the future in mind. The upper and lining is sustainably produced using recycled PET bottles and ocean plastic collected by the Seaqual Initiative. Find a perfect mix of modern and retro with the Genesis Vintage Runner by Axel Arigato.
Maison Margiela Replica: Best white leather and suede sneakers for men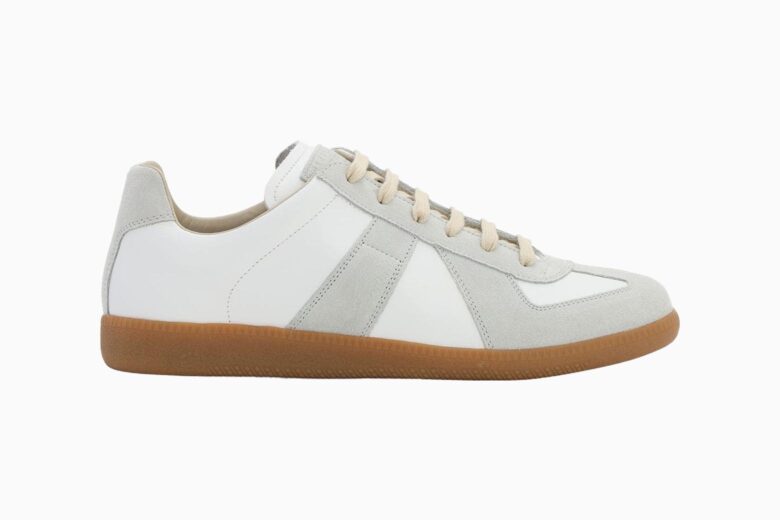 Maison Margiela certainly knows what luxury is all about, and carries that ethos through to their shoes. These Replica leather and suede low top sneakers are textured in design and complemented with neutral beige laces and tanned rubber soles. Fit for any occasion, you can find just the right level of refined luxury with a pair of Maison Margiela low top sneakers.
Hoka One One Clifton 8: Best men's athletic white sneakers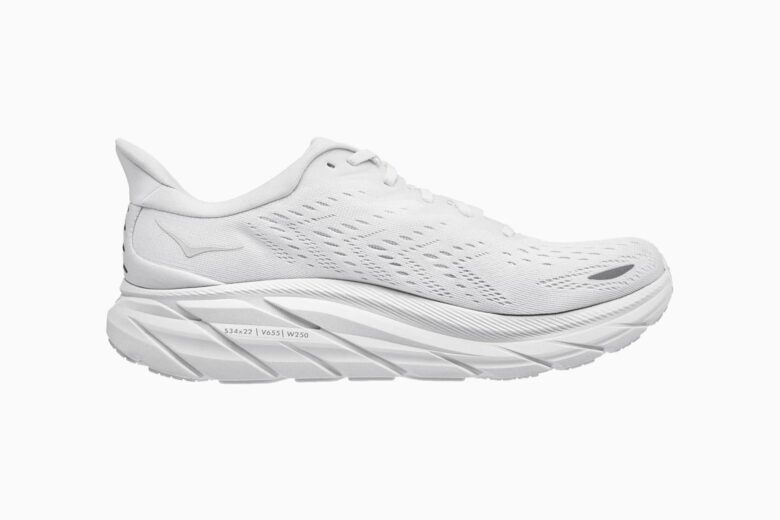 These have got to be our favorite athletic white sneakers for any devoted runner or running enthusiast. Constructed from lightweight uppers in all-white, they feature high-resilience midsoles for cushioned landings. Your feet will feel soft yet solid on the ground, making them a great choice for recovery runs or long runs. Enjoy the latest in sports technology with the Hoka One One Clifton 8.
Veja V-10: Best white casual sneakers for men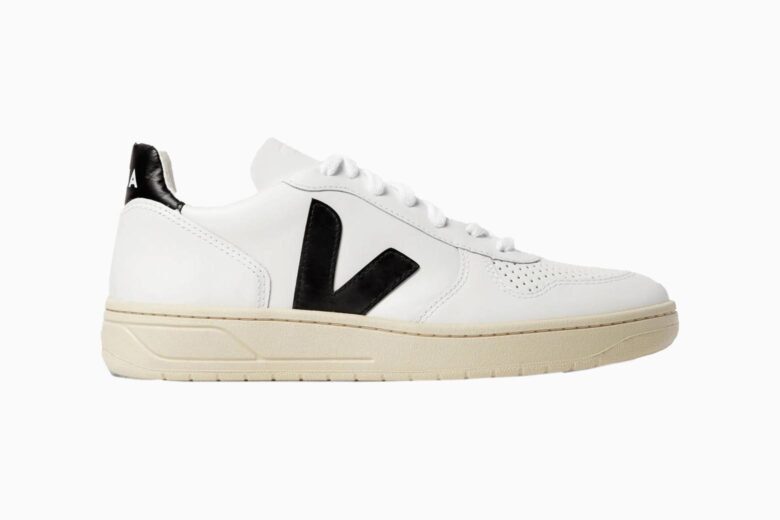 The V-10 sneakers are made with raw materials, and their trims and soles are sourced directly from trees in Brazil. For super wearable shoes with a lot of personality, the Veja V-10 Sneakers make the cut as our number one white casual sneaker!
Adidas Ultraboost 22 Shoes: Best white running shoes for men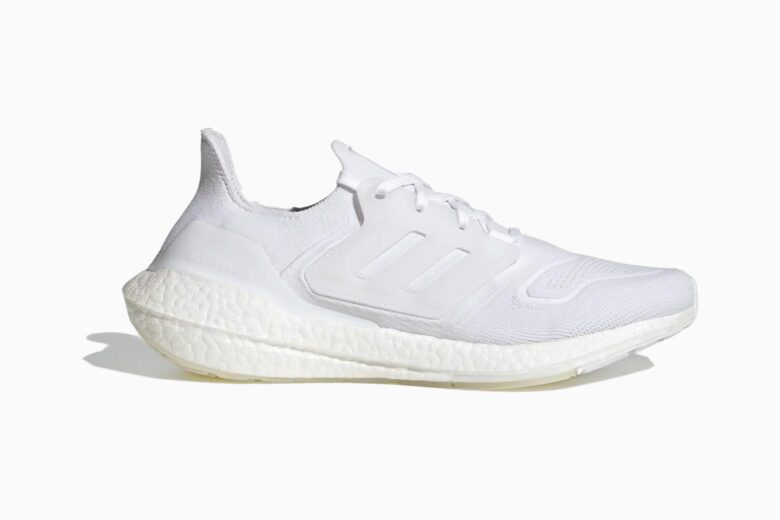 No doubt, these are the best white running shoes for men. It works like a tank with the ability to last over 2,000 miles (if you want to run that much…). Compared to the Ultraboost 21, these running shoes are an upgraded version with a better heel lockdown and a softer ride due to the Strobel lining change. You'll be riding on a BOOST midsole for endless energy with the Ultraboost 22 Shoes.
Nike Air Max 95: Best men's classic sporty sneakers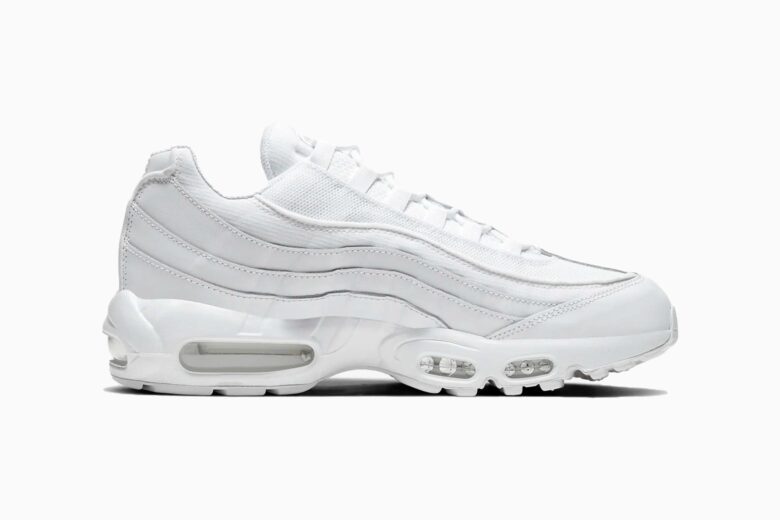 For everyday classic sporty shoes, these sneakers have been the first choice for sneakerheads enthusiasts since 1995 when they made their debut. The gradient design makes for a bold statement, and material-wise, the upper consists of mesh and leather stitched together to give it a layered look that everyone just loves. As bulky as they may appear, the Nike Air Max 95 is actually lightweight and can be worn for just about anything!
Vans Classic Slip-On: Best slip-on white sneakers for men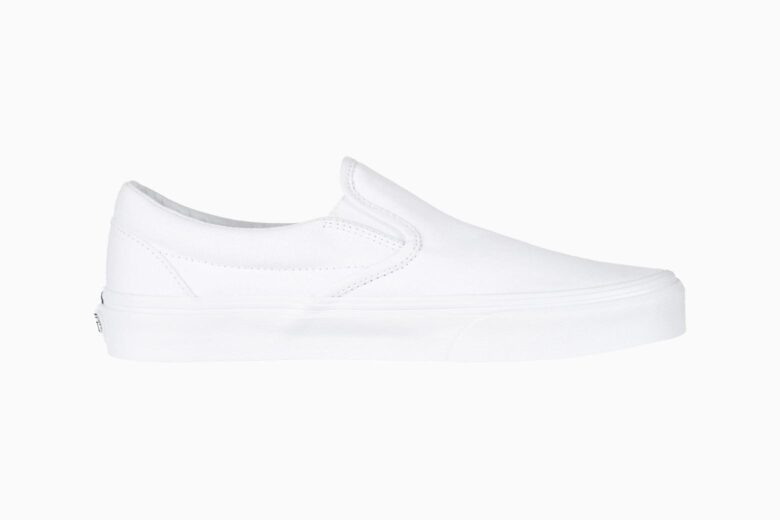 Looking to slip on and go in style? These are the best white slip-on sneakers. The durable canvas uppers and dual side goring make for a perfect fit and longer-lasting wear, and the gum rubber outsole with signature waffle tread provides a superior grip and board feel. The Vans Classic Slip-On is your go-to for easy wear.
Allbirds Tree Dasher 2: Best white trainers for men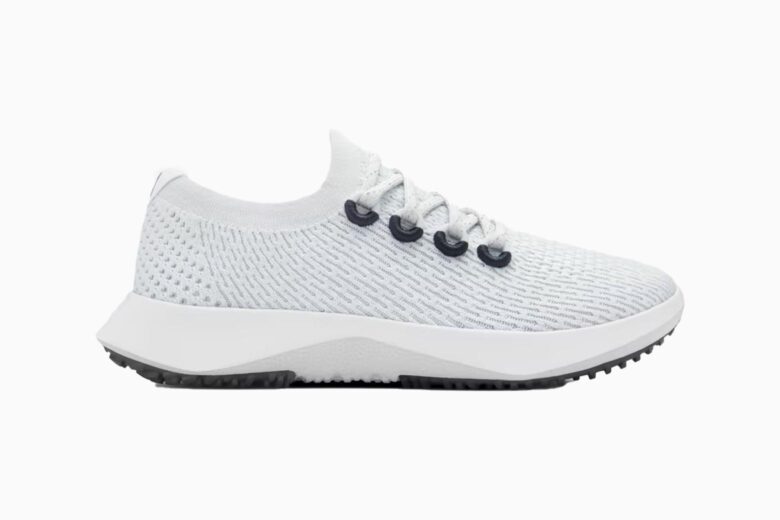 These are the next evolution of Allbirds best selling running shoes. Meet the Tree Dasher 2, the best white trainers on the market. Made for everyday runs, walks, light workouts or even shopping sprees, the Men's Tree Dasher 2's are casual, comfortable, and highly functional. They also boast a no-slip heel fit and improved heel collar to lock the ankle nicely in place to avoid those dreaded sprains.
New Balance 608 V5: Best white dad shoe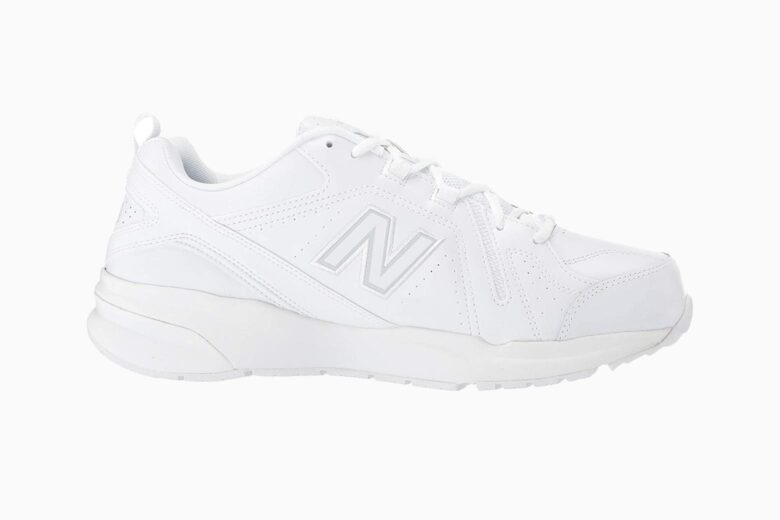 There is just something about New Balance that reigns supreme as the so-called dad shoe. If you are looking to dress like your dad in the 90s you will be right on trend with this 608 v5 silhouette. It is incredibly comfortable as a training shoe with an Abzorb midsole to resist impact and take you through any terrain, but also works well as an everyday sneaker.
Cole Haan Grandpro Rally: Best men's white sneakers for summer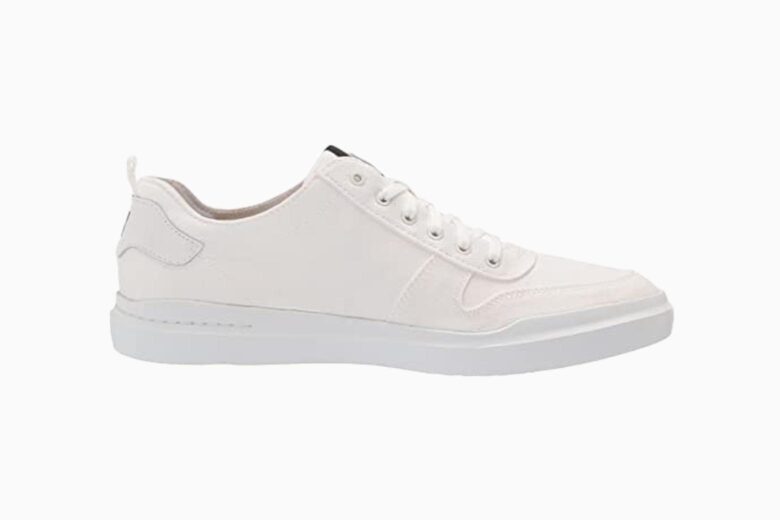 Finding a super comfy sneaker for summer has never been easier thanks to our favorite easy, breezy pair from Cole Haan. Enjoy the classic old-school sneaker vibe with the Grandpro Rally Canvas Court Sneaker, white canvas sneakers that are updated with organic canvas for extra breathability. They also have stretchy laces that let you tie the shoes once, then slip them on and off for a look that's always ready.
Superga 2750 COTU: Best budget white sneakers for men
If you want a signature style with an affordable price tag, these are our top pick for budget white sneakers. They feature sturdy cotton unlined canvas upper, a round-toe silhouette, and soft textile lining that ensures an abrasion-free environment for all-day wear. The Superga 2750 COTU low-profile sneaker with its iconic side branding tag makes them a winner for quality at a steal of a price.
Frequently asked questions about white sneakers for men
What is the best white sneaker?
If you want a timeless, long-lasting white sneaker that exudes contemporary minimalistic aesthetics, we consider the Axel Arigato Clean 90 the best white sneaker. Check our round-up of the best white sneakers for men to see more options.
Which brand of white sneakers is the best?
The best brand of white sneakers has got to be Nike as it is almost impossible to beat the Air Force 1. Besides being at the very heart of the sneaker world, it also always looks fantastic with almost everything.
What white sneakers are in style for men?
Topping the charts for white sneakers in style for men are the Axel Arigato's Clean 90, Oliver Cabell's Low 1, Allbirds's Tree Dashers, the Vega V-10, and the Reebok Men's Club C Sneaker to name a few. Check out our list of the best white sneakers for men for more inspiration.
Are white running shoes in style for men?
White kicks are always trending for men. White running shoes make any fit look fresh and current, especially if you're hitting the gym or on the streets.