From porkpie hats to dungarees, many fashion trends come and go. But men's suits? They'll never not be in fashion. A fitted suit or business suit is as much a staple in any man's wardrobe as a casual white t-shirt or chinos. While a suit might be more formal than our favorite jeans or luxury sneakers, and won't get worn quite as frequently, the best suits for men are treasured by discerning dressers just as much as everyday casual crowd-pleasers.
Much like a luxury dress watch, the best dress suits for men convey status and success. They signal good taste and even evoke a sense of power and prestige. A man in a suit immediately looks more dapper and self-assured. If you're looking for an immediate charisma enhancer, a suit is it.
Suits for men have evolved hugely over the years. The rules about what dress suits should look like no longer apply and we've seen a host of reimaginings and reinventions of the classic silhouette by fashion's top minds and the best luxury suit brands. Think unconventional proportions, flamboyant color combinations, and all kinds of cutting-edge materials.
That's not to say that traditional suits for men don't still have appeal. The best men's suits are often those that hardly diverge from the original suit style, whether that's single or double-breasted, with notch, peak, or shawl lapels. Whether you need a suit for a job interview, to wear to a wedding or for a stroll down the red carpet, these men's suits won't let you down.
Our edit of the best suits for men includes something for everyone. Whether you're buying a suit for the very first time or looking for a new addition to your existing collection, one of these suit brands is sure to pique your interest, from dramatic designer riffs to timeless slim fit suits sure to serve you well for decades to come.
The 39 best suit brands for men
Check our special men's suits buying guide after the list to see exactly what you should pay attention to looking at premium suits brands online.
Hugo Boss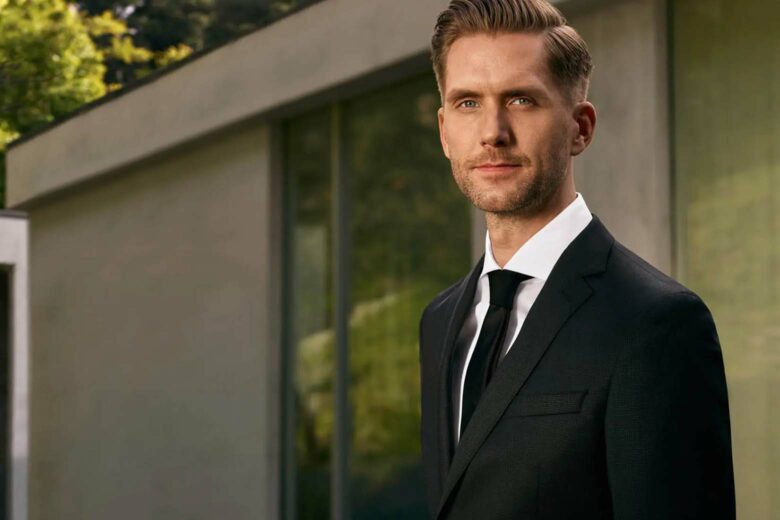 If you want a suit that feels undeniably 21st century, then Hugo Boss is the suit brand for you. Expect efficient and straightforward sophistication and a range of advanced materials that enhance both the cut and comfort level of these designer suits for men. Yet despite the evident quality of the craftsmanship, these men's suits aren't going to leave you totally bankrupt, making them a great choice for those on a tighter budget.
Worried about appearing a little old-fashioned? You could easily wear a Hugo Boss suit with a black t-shirt to make a contemporary fashion statement.
| | |
| --- | --- |
| Best for: | Hard-edged elegance and effortless glamour. |
| Price range: | $$ |
Brioni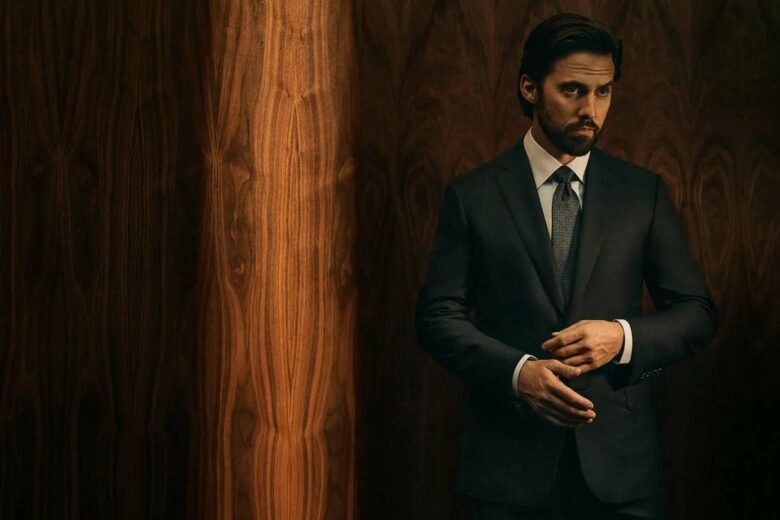 One of the most esteemed tailors in the world, Italian brand Brioni offers a spare-no-expense commitment to quality. These Italian suits are a demonstration of impressive perfectionism and impeccable craftsmanship, and it takes 22 hours to make each Brioni suit—something that's evident to anyone admiring your get-up from nearby.
Brioni's creations are available in both ready-to-wear designs or bespoke and have been the suits of choice for several 007s over the years, including Daniel Craig and Pierce Brosnan.
| | |
| --- | --- |
| Best for: | Tailored perfection and timeless sophistication. |
| Price range: | $$$$ |
Gucci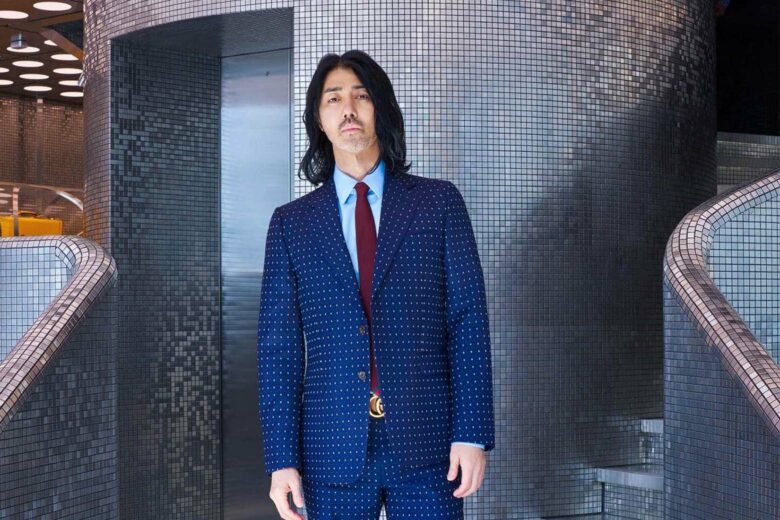 One of the best luxury brands in existence, Gucci always seems to be at the fashion frontier, constantly reinventing classics. And the luxury label's progressive approach to styling has resulted in a line of luxury men's suits that feels one step ahead of the curve with bold colors, eye-catching piping, and one-of-a-kind embroidery.
The mood is one of unabashed maximalism—unapologetically glamorous. Think boxy jackets in paneled leather, velvet blazers, contrasting check patterns, and the ever-present Gucci monogram. Although you'll also find a number of understated business suits if you're looking for something more work-appropriate.
| | |
| --- | --- |
| Best for: | Notoriously kooky cool from this goliath of high-fashion glamour. |
| Price range: | $$$$ |
Prada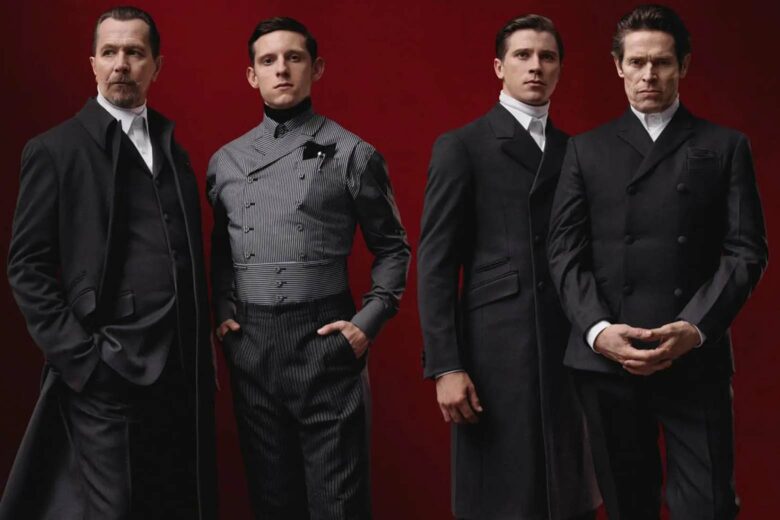 One of the world's biggest and most esteemed fashion houses, it comes as no surprise that a Prada suit is a favorite among sartorially savvy gentlemen. This is a brand that revels in luxury and its designs are rebellions against the status quo.
As such, you'll find luxury suits with unique details such as slit and patch pockets, velcro fastenings, trousers made of nylon with elasticated cuffs, and the brand's instantly recognizable logo as a finishing touch. Not sure Bermuda shorts with a matching jacket count as a suit? They do if Prada says so.
| | |
| --- | --- |
| Best for: | Suits that are utterly unique and fearlessly nonconformist. |
| Price range: | $$$ |
Burberry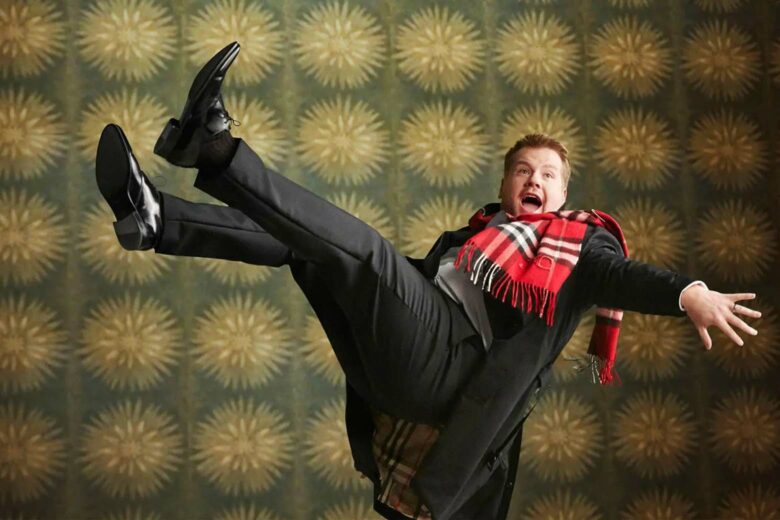 You might know Burberry best for its trench coats as well as its iconic tartan. But the luxury brand also makes seriously stylish designer suits. The British heritage label creates formal wear that feels resolutely English, with plaid trims, slim waists, silk-satin peak lapels on classic tuxedos, and other nods to the UK's history of suit-making.
But that's not to say a Burberry suit will ever feel stale or outdated, especially if you choose a casual suit in a more modern shade like blue. Or team your suit with something unexpected like a parka.
| | |
| --- | --- |
| Best for: | Unbeatable British heritage meets streetwise sensibility. |
| Price range: | $$$ |
Berluti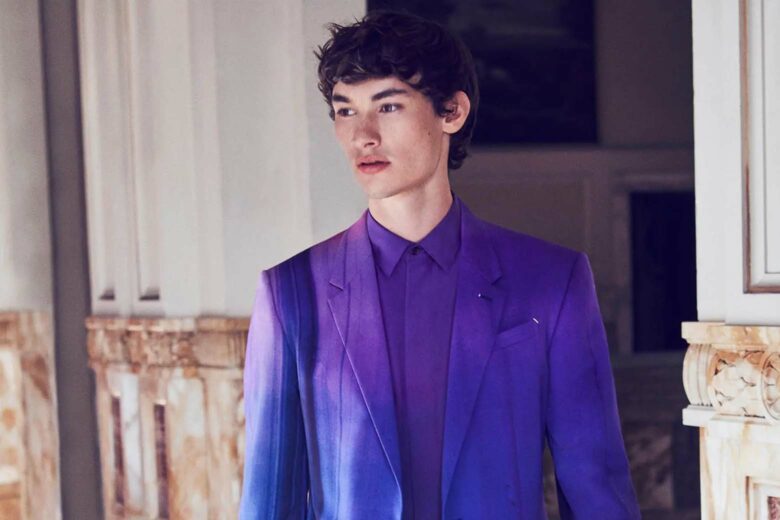 An exceptionally well-regarded fashion house that's been in the business since 1895, Berluti started off making beautiful bespoke footwear but now offers impressive ready-to-wear business suits too.
Never thought you could wear sweatpants with a suit? You can if they're a pair of Berluti's signature jacquard black sweatpants, complete with a drawstring waistband, and available in a range of colors, including a jewel-like green-blue. You'll also find lightweight and classic black blazers and double-breasted beige suit jackets that are ideal for summer.
| | |
| --- | --- |
| Best for: | Fabulously rebellious and boundary-pushing ready-to-wear designs. |
| Price range: | $$ |
Robert Graham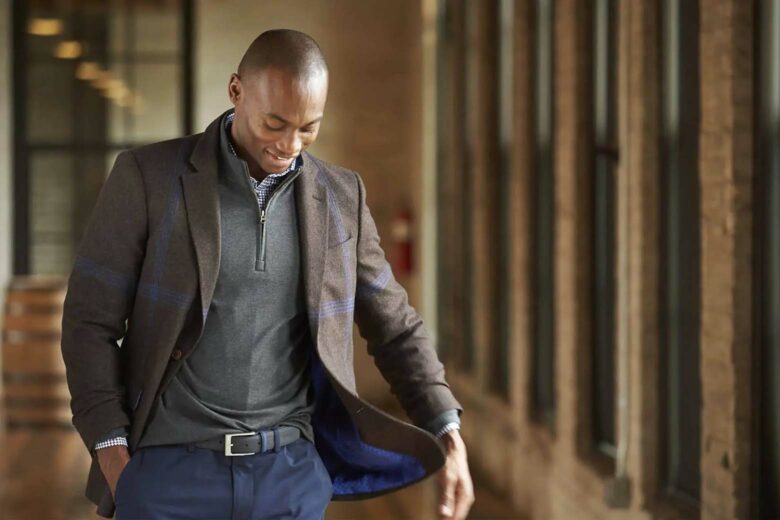 Robert Graham is an innovative brand on a mission to add excitement and intrigue to menswear staples. Using a clever and creative combination of different colors and traffic-stopping patterns with rich trims and striking embroidery, the brand's line of suits is a top pick for those of you who want to do a bit of spotlight-stealing and make a splash.
A Robert Graham suit feels highly individual—and, incidentally, has a wonderfully slimming fit too.
| | |
| --- | --- |
| Best for: | Unorthodox takes on enduring classics. |
| Price range: | $$$ |
Tom Ford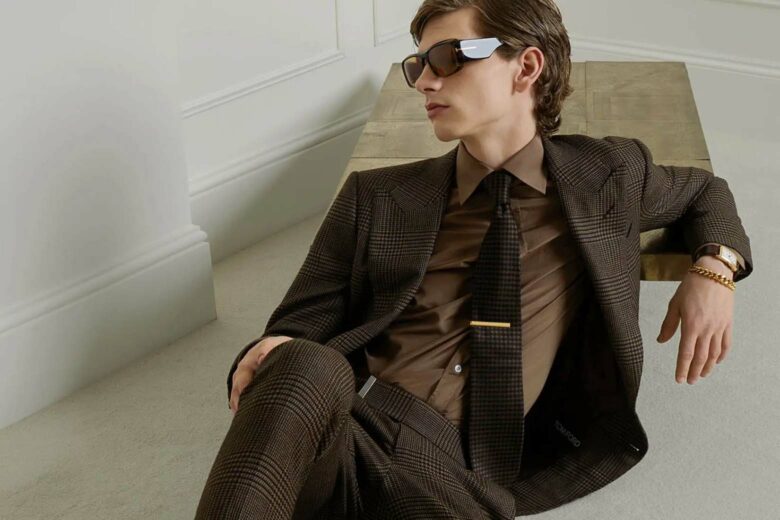 If there's one designer that has single-handedly kept the slim-fit suit from falling out of fashion, it's Tom Ford. He regularly wears ones himself (and wears one with serious panache) so you can trust his line of designer suits when it comes to expert tailoring. Tom Ford suits are available in a range of unusual materials from velvet and sharkskin to satin and leopard print.
Whether you opt for a casual suit in a chic shade of light blue for summer or a Prince of Wales suit made from decadent wool, a Tom Ford suit will immediately make you stand out from the crowd. Just remember to team it with a great pair of sunglasses.
| | |
| --- | --- |
| Best for: | Inimitable opulence from a man who never fails to make a suit look sexy. |
| Price range: | $$$$ |
Ermenegildo Zegna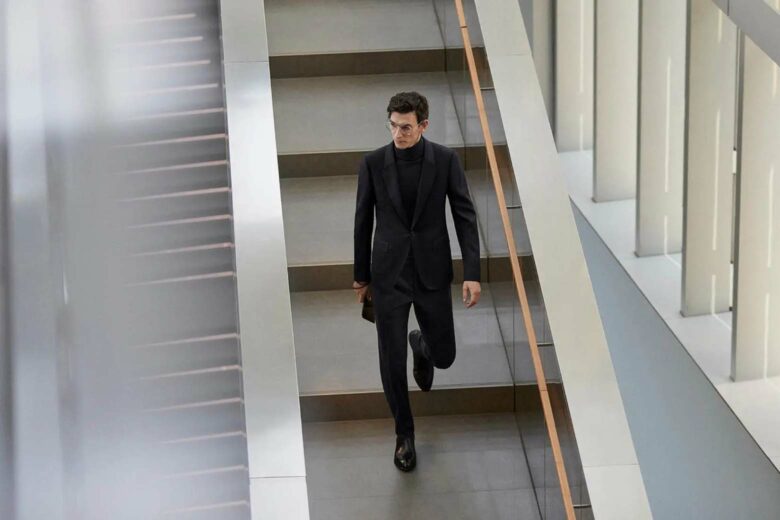 One of the world's most respected producers of deluxe textiles, and one of the best Italian suit brands, Ermenegildo Zegna is a family-run label known for its sumptuous tailoring. The company starts off by sourcing the highest-quality material.
Using these exquisite fabrics as a springboard, the suit brand then harnesses an intuitive understanding of cut and fit to create perfectly tailored Italian suits in a range of classic colors and sophisticated styles that won't make headlines but will certainly make you look handsome.
| | |
| --- | --- |
| Best for: | Sumptuous and sustainable menswear staples. |
| Price range: | $$$$ |
Kingsman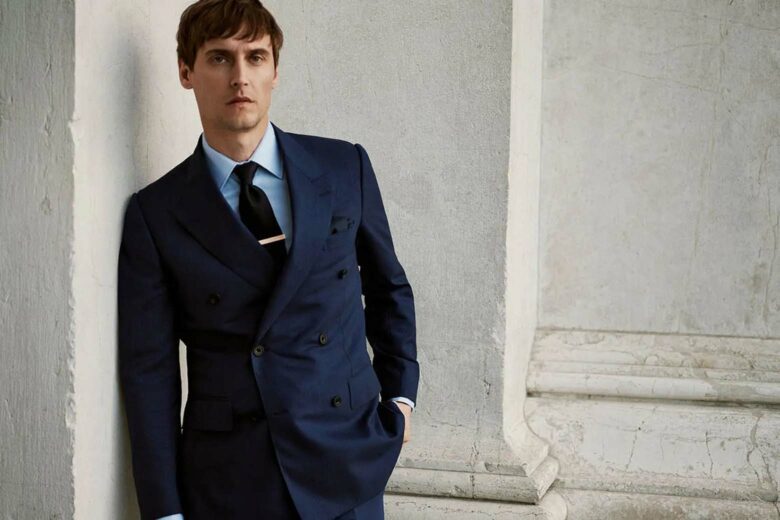 A partnership between Mr Porter and award-winning movie director Matthew Vaughn, the Kingsman line of suits was inspired by the costumes in the blockbuster spy franchise, The King's Man.
The result? A collection of suits that feels wonderfully and seductively British, capturing everything that made costume designer Michele Clapton's creations so dapper and dashing. Think plenty of pinstripes and double-breasting, fine mohair blends and tonal piping, and, of course, a dash of the enigmatic too.
| | |
| --- | --- |
| Best for: | Quintessentially British cool with a touch of spy-inspired style. |
| Price range: | $$$ |
Paul Smith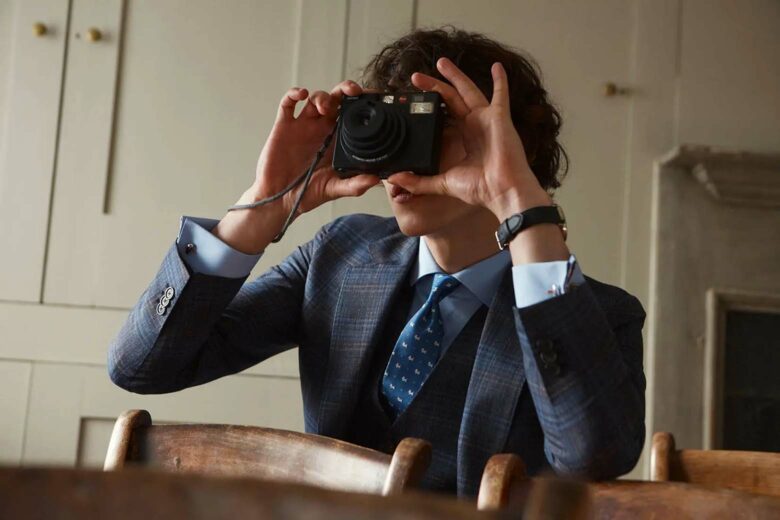 One of the world's top luxury suit brands, you can't go wrong with a Paul Smith suit. It's impossible to wear one badly. If you're wondering where to buy a suit, any formalwear creation by Paul Smith feels both timeless and of this moment simultaneously.
The label is known for subtle but unconventional spins on classics, from 1970s-inspired shades such as violet to stripey linings and contrast button-hole stitching. The mood is eclectic while still being understated and low-key. Additional bonuses include jackets that are designed to resist creasing when in transit, making a Paul Smith suit a convenient as well as a classy choice.
| | |
| --- | --- |
| Best for: | Fail-safe and fashion-forward styling. |
| Price range: | $$$ |
Brunello Cucinelli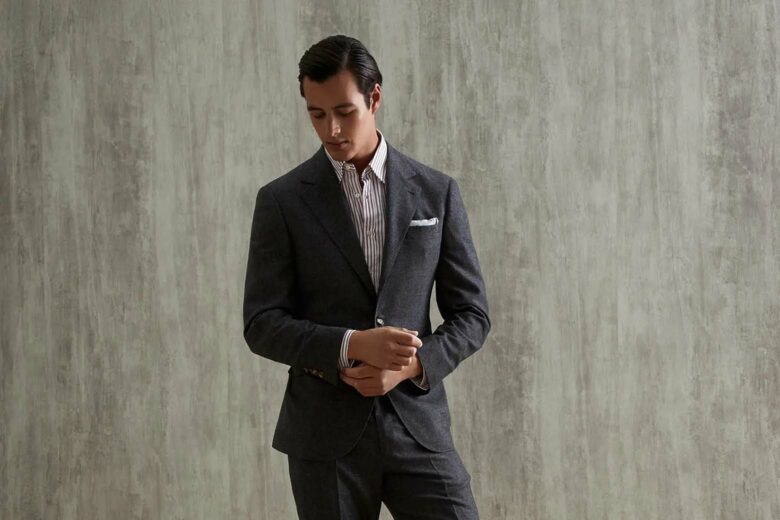 Brunello Cucinelli is known first and foremost for its cashmere. In fact, the designer is considered the King of Cashmere. And the brand's expertise with the finest wool extends to its collection of luxurious Italian suits, which are not only gloriously elegant but are also made with the utmost consideration for ethical production—so you can feel extra smug when wearing one.
Look to Brunello Cucinelli's fancy suits for smart takes on classic silhouettes, such as trousers in a 'Leisure Fit'—slightly roomier for a more relaxed mood—or unstructured jackets for warm-weather-appropriate sophistication.
| | |
| --- | --- |
| Best for: | Refined, responsible, and ridiculously attractive tailoring. |
| Price range: | $$$$ |
Canali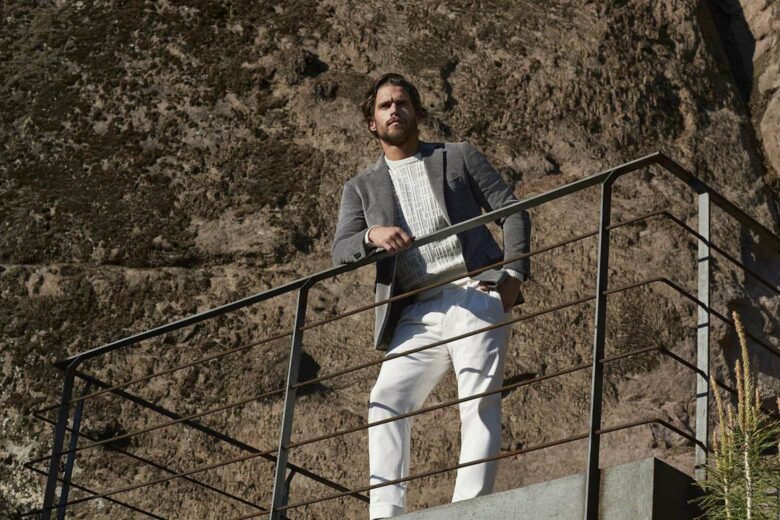 We have to hand it to Canali. Not many brands can create both wonderfully laidback menswear basics like jeans and knitwear and immaculately tailored formalwear. But this family-run company has been in business for 80 years so we suppose they've had some practice.
Each Italian suit undergoes a process involving more than 300 different stages and steps before it's deemed finished. Choose Canali for Italian suits that are slim-fitting and elegant, comfortable in hotter weather, and feel like they were made for you alone.
| | |
| --- | --- |
| Best for: | Exceptional craftsmanship from one seriously talented company. |
| Price range: | $$$ |
Boglioli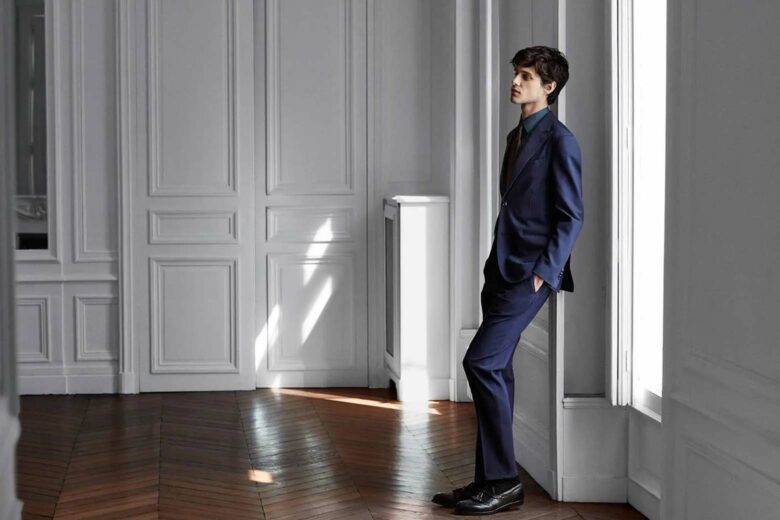 The advantage of choosing an Italian suit designed and made by a family-run company such as Boglioli is that you can feel confident that scrupulous standards are being upheld and the quality control is next-to-none.
A Boglioli suit is also a great choice if you want something lightweight for summer, with materials such as breathable virgin wool as well as clever design hacks such as hidden drawstring waistbands to sidestep the need for a belt. Look out for the brand's signature K-jacket—as soft and comfortable as your favorite knitwear.
| | |
| --- | --- |
| Best for: | Men's suits that are traditional without being tired, conservative yet effortlessly cool. |
| Price range: | $$ |
Thom Browne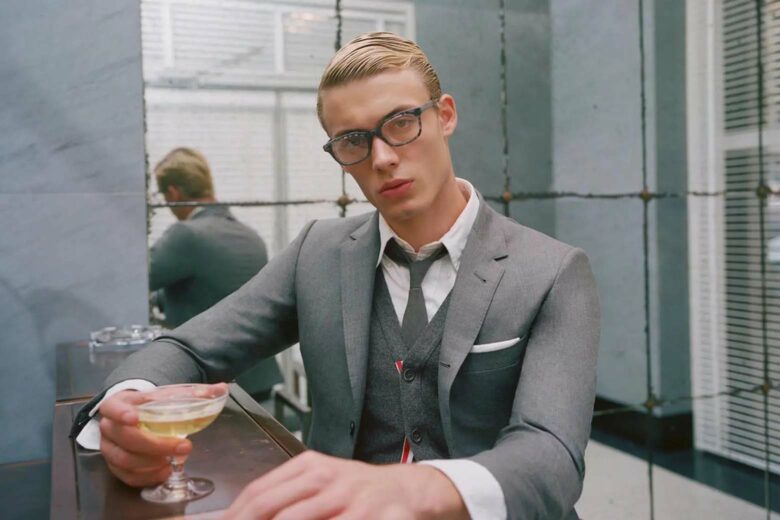 In a world where casual dressing is the norm, choosing to wear a slim fit suit becomes the ultimate rebellion. This is the philosophy behind Thom Browne's collection of suits, which strikes a balance between classic and creative, traditional and imaginative.
Look out for the label's signature four white stripes that appear on the suit trousers, or the red-white-blue grosgrain, as well as the rather avant-garde cropped hems that display a flash of ankle. You'll also find a preference for grey and navy when it comes to color choices, as inspired by Browne's father, who wore a grey suit to work each day.
| | |
| --- | --- |
| Best for: | Styling that feels preppy, polished, and playful all at the same time. |
| Price range: | $$ |
Dries Van Noten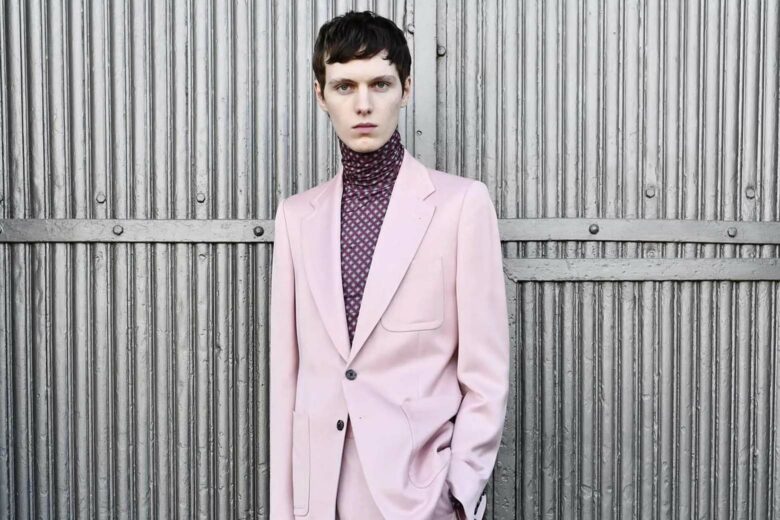 Looking for something that breaks from convention and pushes the boundaries? Then you need a Dries Van Noten suit. The designer is known for his maverick use of print and pattern while the quality of his cuts and styling is on par with the most established tailors.
Picture box-check tapered trousers, cropped jackets with 1990s flair, unlined designs for a lightweight and unstructured feel, and loose-fitting and breathable pleated trousers best worn with sandals. Choose a Dries Van Noten suit to make a statement without being too showy.
| | |
| --- | --- |
| Best for: | Famously rule-breaking brilliance from one of Belgium's top designers. |
| Price range: | $$ |
Giorgio Armani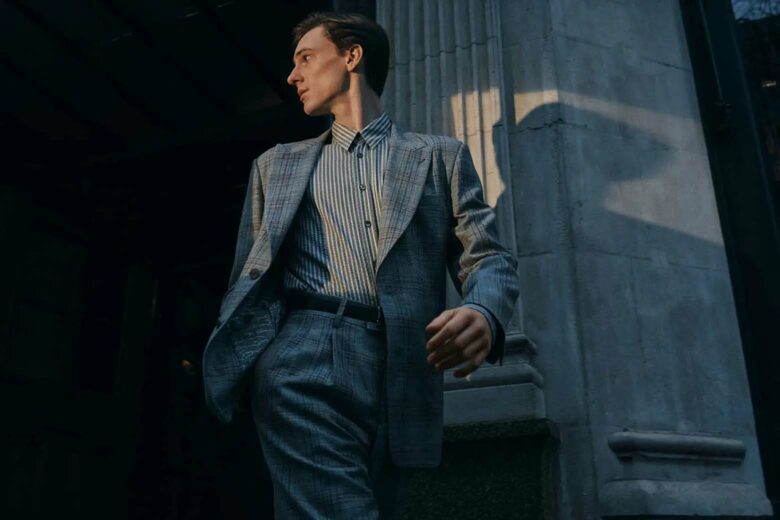 One of the best-known and beloved Italian fashion designers, Giorgio Armani should be your go-to if you want to dress like a suave Italian gentleman. And who doesn't?
Expect peerless craftsmanship, indulgent materials, and masterful tailoring. Subtle hues, sweeping shawl lapels, delectable silk blends, understated herringbone—the mood is fluid and relaxed yet undeniably classy. Opt for one of Armani's suits for men for refined and restrained sophistication.
| | |
| --- | --- |
| Best for: | A designer that does understated decadence like no other. |
| Price range: | $$$$ |
Saint Laurent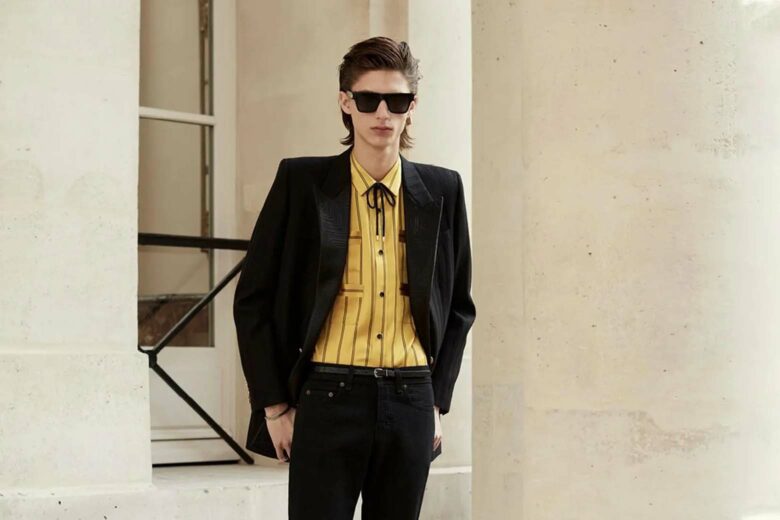 We rely on Saint Laurent for revolutionary takes on luxury apparel and inimitably French moody irreverence. And Saint Laurent's line of suits doesn't disappoint with its edgy mood and oh-so-sharp tailoring. The fit is typically quite slim along with slender notch lapels and shoulder padding, creating that too-cool-for-school attitude.
You'll also find unique and memorable touches such as crisp and lightweight silk-blend shantung—the highest standard of silk fabrics—and Hawaiin-inspired tropical motifs such as jacquard palm trees.
| | |
| --- | --- |
| Best for: | Supremely sophisticated style with a hint of the individual and idiosyncratic. |
| Price range: | $$$ |
Givenchy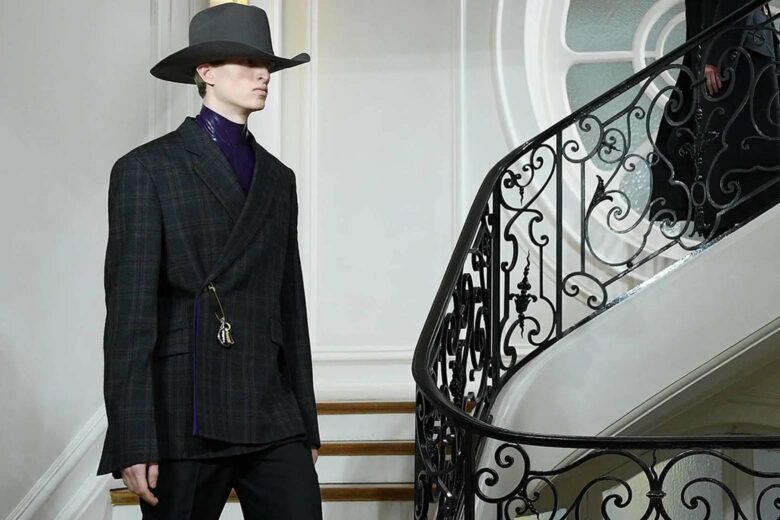 For more quintessentially French elegance, check out Givenchy's suit collection. It's hard to pass on formalwear that feels straight off the banks of the Seine. Unusual and subtle details mark these designer suits out as something special, from zippered pockets to bead embellishing.
There are even casual suit jackets featuring unique closures inspired by Paris's 'love locks.' It's a testament to the brand's unique skill that it manages to play around in this way without it ever feeling naff or tacky.
| | |
| --- | --- |
| Best for: | Proof that it's hard to beat classic Parisian style. |
| Price range: | $$$ |
Jil Sander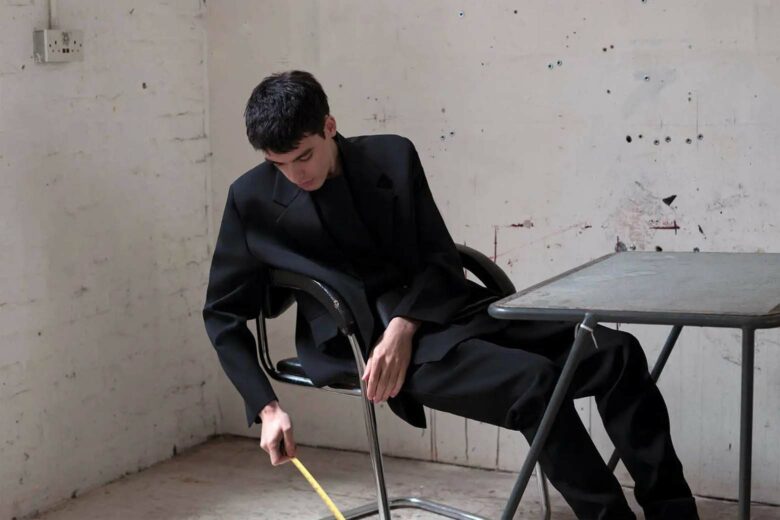 If you're wondering where to buy a suit that feels a little more relaxed and casual, then Jil Sander is the brand for you. This German label is all about simplicity and straightforward styling. Some of the best suits for men, they're refined without being boring, innovative while still respecting tradition.
Think precise tailoring and Bauhaus-inspired silhouettes. You could wear Jil Sander's suits to a whole range of events, from work to weddings, and even for casual occasions with a roll neck jumper and a pair of desert boots.
| | |
| --- | --- |
| Best for: | Minimalist styling and pared-back prestige. |
| Price range: | $$$ |
Tagliatore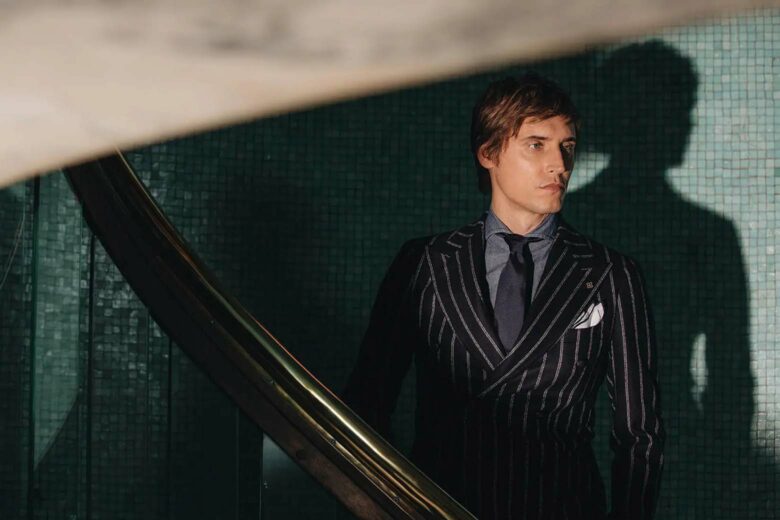 Balancing practicality and functionality with sumptuous extras, Tagliatore is one of the best Italian suit brands. It really knows its stuff when it comes to suits for men. With a dedication to the details, each fitted suit is made by hand from fabrics sourced from both Italy and the UK.
These are suits with enduring appeal and that you'll feel as comfortable wearing in a decade's time as you do today. There's also a range on offer, from traditional slim fit suits to modern unstructured jackets for a casual vibe.
| | |
| --- | --- |
| Best for: | Scrupulous standards and superior attention to detail. |
| Price range: | $$ |
Homme Plisse Issey Miyake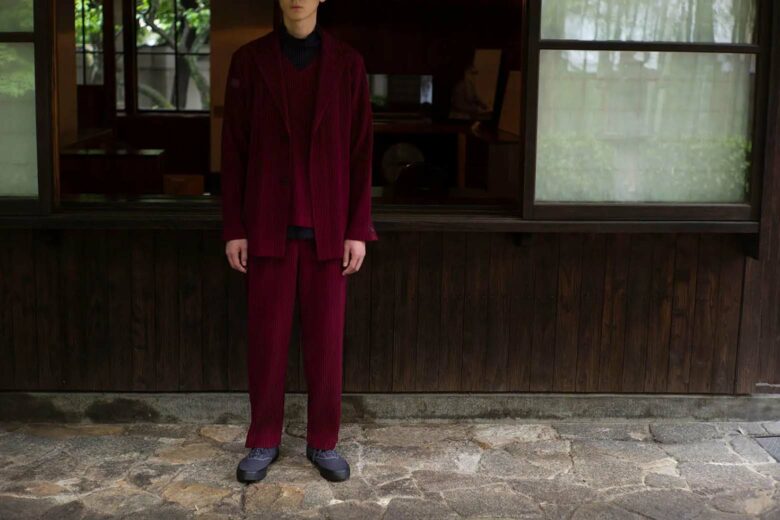 Issey Miyake is a Japanese brand known for its original materials and the designer's experimental pleating technique forms the basis of an entire collection with Homme Plissé. Here, the innovative technique is used to make fluid and wrinkle-resistant fabric expertly crafted into gently tailored and architecturally intriguing suits.
Perfect for an easygoing off-duty aesthetic while still hitting all the key style notes, Homme Plisse Issey Miyake's pleated jackets are best worn with matching trousers. Look out for ultra-modern colorways. The need for minimum maintenance will also be a hit with frequent flyers.
| | |
| --- | --- |
| Best for: | Experimental style for making mega fashion statements. |
| Price range: | $$ |
Officine Generale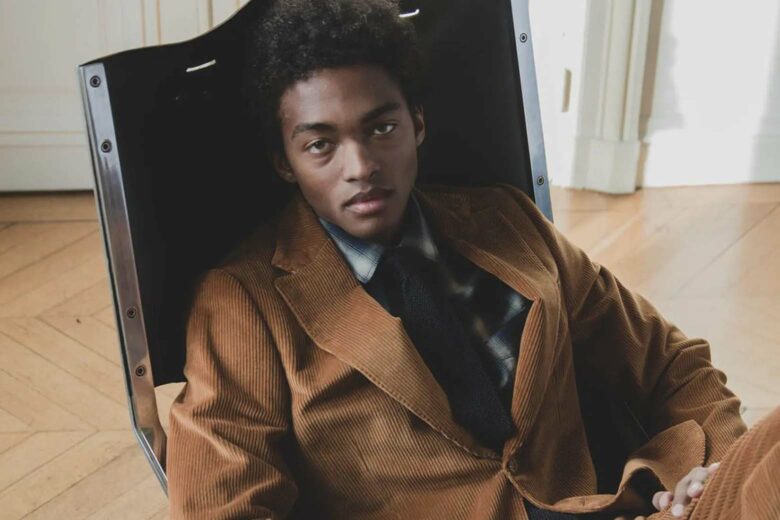 A young but accomplished fashion brand, Officine Generale was founded in 2012 by Pierre Maheo whose father was an oysterman and grandfather a tailor. These two influences combine to create uniquely elegant tailoring that's also hard-wearing and functional.
Look out for sophisticated yet durable and practical suits like Officine Generale's 'Armie' jacket—unstructured and unlined, formal enough to wear to work as part of your business casual attire but relaxed enough for weekend wear too. You'll also find ribbed corduroy men's suits with adjustable waists and comfortable pinstripe trousers in cozy wool-flannel.
| | |
| --- | --- |
| Best for: | Sharp cuts and sleek silhouettes with recognizable French flair. |
| Price range: | $$ |
Dunhill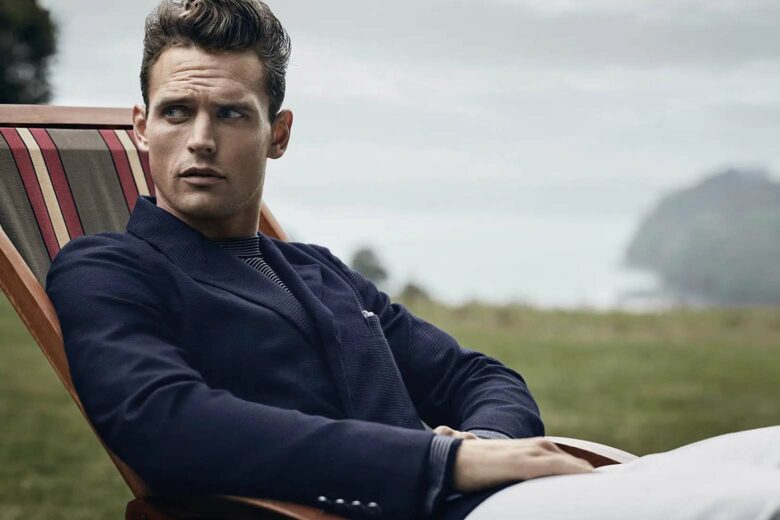 UK-based Dunhill has an illustrious history creating bespoke designer suits for its impeccably well-dressed clients as well as cool and contemporary ready-to-wear items. These are some of the best suits for men who want to dress to impress. We're talking three-piece suits with peaked laps and ticket pockets, rich linings in colors such as claret, and a range of materials including wool, cotton, and mulberry silk.
Look out for suits cut on the brand's signature 'Mayfair' block, in particular—the perfect amount of structure and a 1960s-style silhouette. We'd consider teaming a Dunhill suit with a pair of sleek Chelsea boots.
| | |
| --- | --- |
| Best for: | Best-of-British bespoke suits for customized class and lasting cool. |
| Price range: | $$$$ |
Bottega Veneta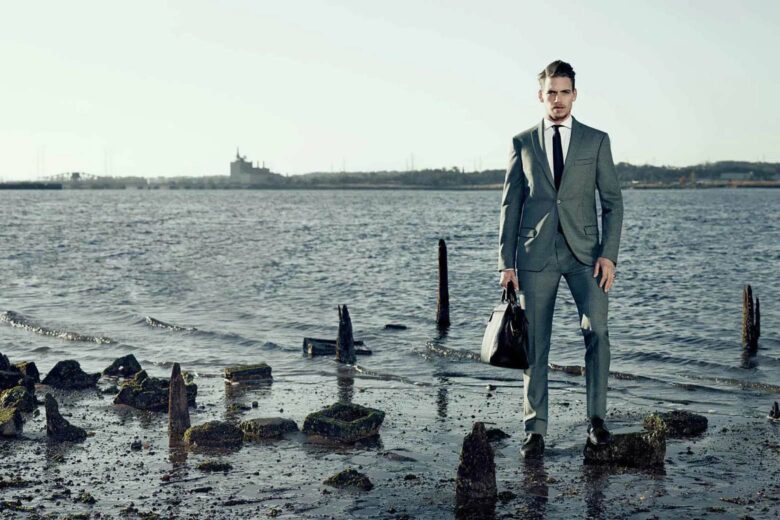 If you're wondering where to buy a suit that's totally unique, Bottega Veneta is a brand that has no quandaries about making a fitted suit entirely out of attention-grabbing cotton-blend bouclé or with convertible lapels that you can wear in different styles. Or about mixing it up with a triangular inverted chest pocket or including ankle vents so you can style your trousers according to your footwear.
If you're after a fancy suit that does double duty as a conversation starter, then a Bottega Veneta suit is the way to go. Oh, and they're super comfortable too.
| | |
| --- | --- |
| Best for: | Exciting and creative spins on conventional suit styles. |
| Price range: | $$$$ |
Alexander McQueen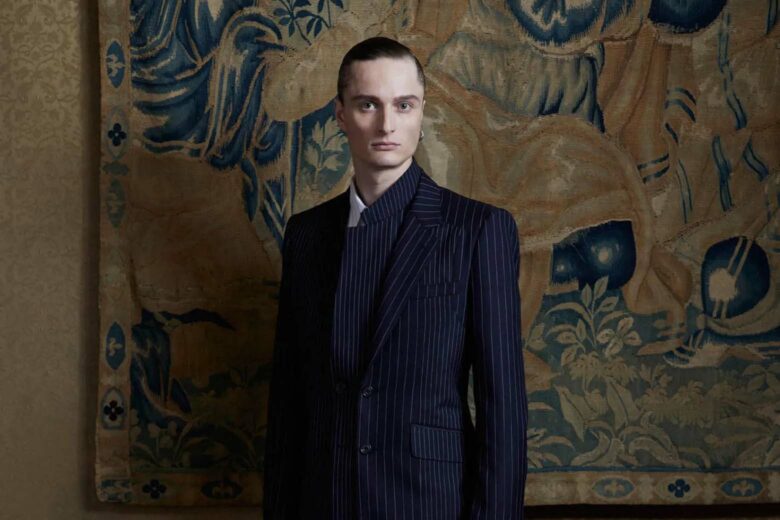 Alexander McQueen is a label that celebrates tradition while simultaneously re-imagining it for the present day. Expect slick tailoring, an eclectic array of colors (because why go for black when you could wear baby blue or yellow?) and dramatic touches such as razor-sharp peak lapels, trompe l'oeil prints, and, of course, the label's signature skull motif.
Opt for an Alexander McQueen suit if you want something formal and fabulous that doesn't take itself too seriously.
| | |
| --- | --- |
| Best for: | Classic suits with an eclectic and eye-catching makeover. |
| Price range: | $$$ |
Valentino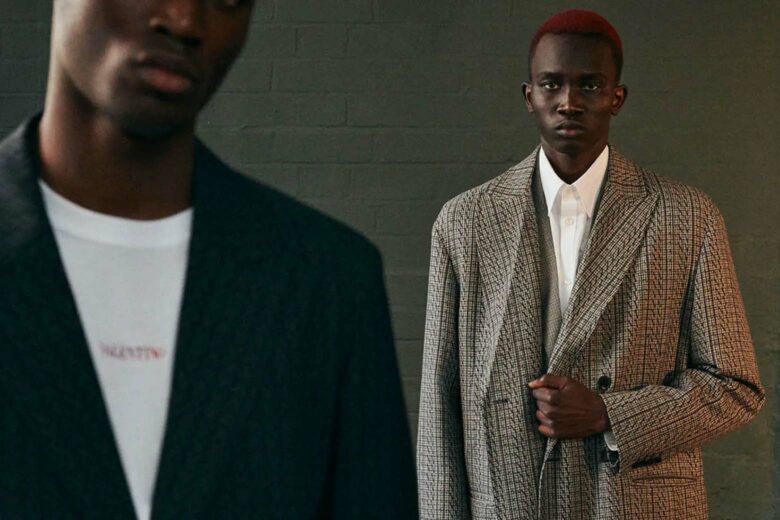 Valentino is a name that's pretty much synonymous with modern-day opulence and one of the most famous luxury suit brands around. The label's line of designer suits is dominated by clean lines, polished silhouettes, and luxe fabrics.
What could be more timeless and luxurious than a perfectly tailored black blazer with a single button and sharp peak lapels? Or a sophisticated two-piece with barely visible fastenings and carefully considered detailing? Get yourself a Valentino suit for infinite fashion appeal.
| | |
| --- | --- |
| Best for: | Flawless silhouettes and unabashed luxury that's stylish no matter the era. |
| Price range: | $$$$ |
Dsquared2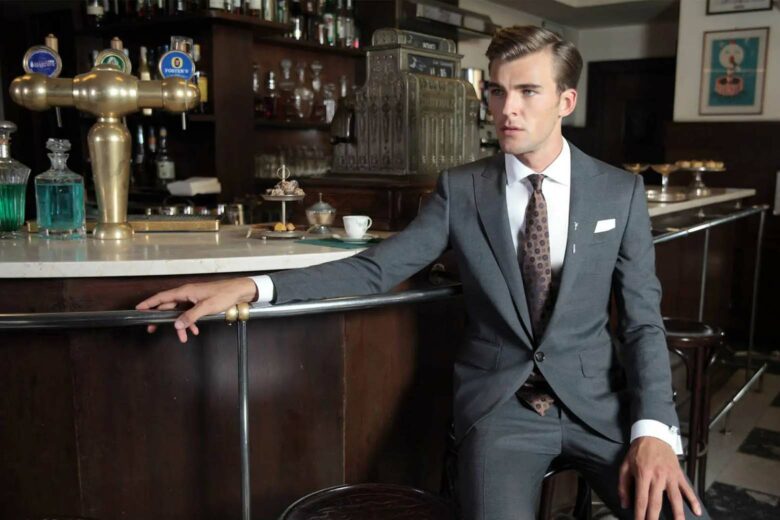 Founded by Canadian twin brothers, Dean and Dan Caten back in 1994, Dsquared2 is known for its edgy designs, cheeky reinterpretations of classics, and, most notably, lots of distressed denim. In the brand's suit collection, this translates into pieces that are luxurious, elegant, and perfectly crafted while also feeling thoroughly modern.
Think trousers that just skim your ankle, baggy jackets, and a range of unusual colors. The mood is bold and daring, and the look is provocative and confident.
| | |
| --- | --- |
| Best for: | Urban innovation and gritty 21st-century style. |
| Price range: | $$ |
Etro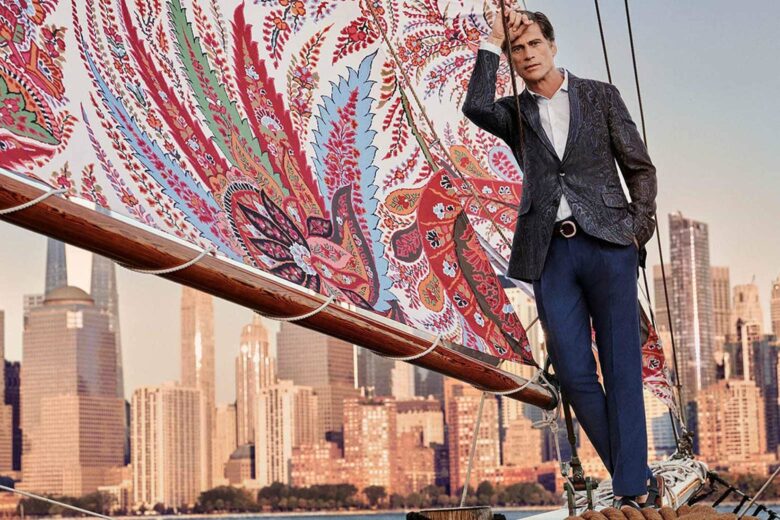 Etro has acquired quite a following thanks to its eclectic hippie-chic designs that draw on influences from the 1960s and 1970s when boho glam was enjoying its heyday. That's not to say Etro men's suits feel at all old-fashioned.
The vintage vibe combines with expert Italian tailoring to create suits that are nothing if not unique and perfect for lending retro romance and old-school charm to formal attire. We're talking plenty of paisley and no shortage of floral velvet or colorful corduroy either.
| | |
| --- | --- |
| Best for: | Classic suit styling with a 70s-inspired spin. |
| Price range: | $$$$ |
Kiton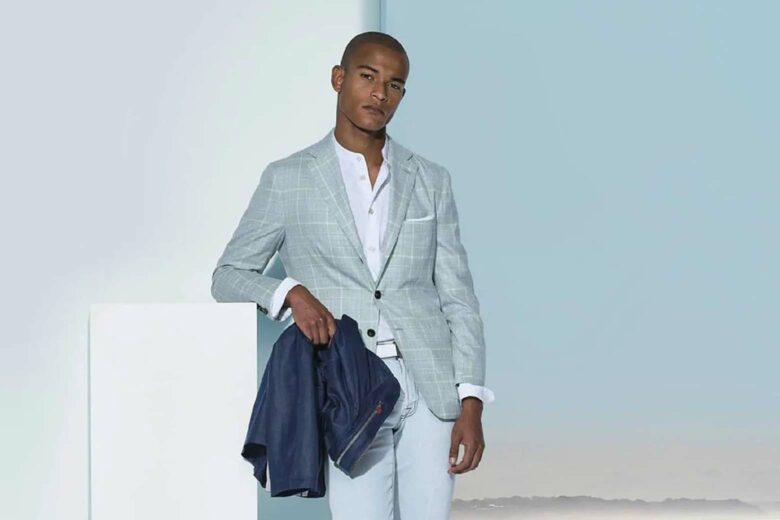 If you're after the most expensive suit around, you'll probably find it in the Kiton collection. It wouldn't be an overstatement to say that the brand's Italian suits are legendary. Hailing from Naples, a city whose tailoring tradition goes back centuries, Kiton combines ancient artisan techniques with the finest and rarest materials around.
And while you might expect this to mean dress suits for men that are rather straight-laced and conservative, a Kiton suit manages to be both formal and laidback at the same time. Elegant yet nonchalant, it's perfect for when you want to pack a punch in the boardroom with ultra-stylish power dressing that's certain to get promotions.
| | |
| --- | --- |
| Best for: | The absolute elite of tailoring experts. |
| Price range: | $$$$ |
Acne Studios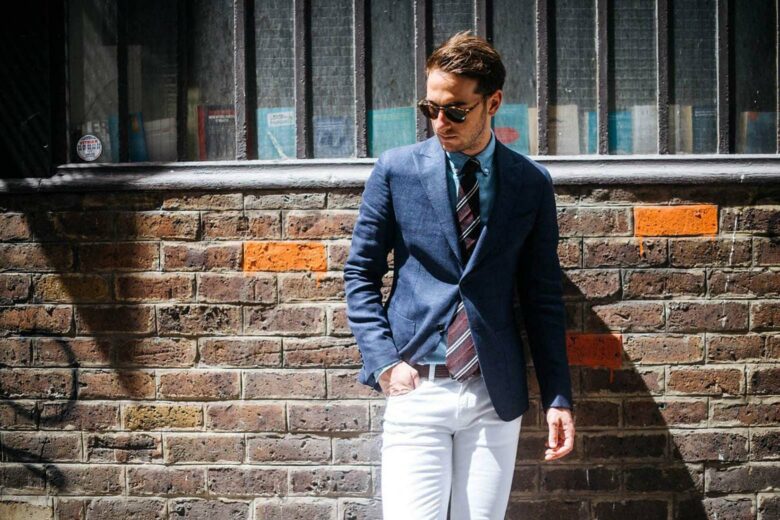 Acne is an acronym for Ambition to Create Novel Expression and you can trust a brand with a name like that to really push the boat out when it comes to men suits.
Just as with the rest of Acne Studios' boundary-pushing designs, you'll find surprising proportions, subtle variations of classic suit colors (including burgundy and khaki), and technically advanced custom-developed fabrics. The label's over-long blazers are a great example, managing to look quirky and cool rather than just the wrong size.
| | |
| --- | --- |
| Best for: | Trailblazing minimalist design from an oh-so-cool collective. |
| Price range: | $$ |
Ralph Lauren Purple Label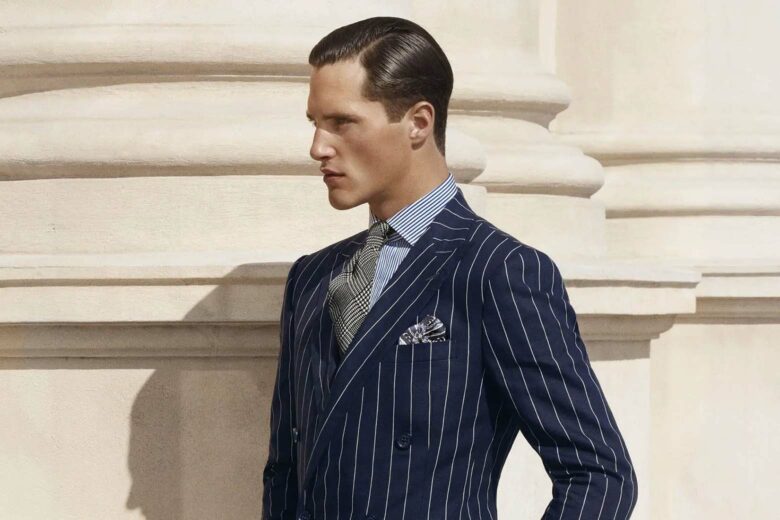 Ralph Lauren bridges the Atlantic by uniting American cool and Italian craftsmanship with the Purple Label, a selection of its finest menswear. This is the label you want if you're looking for classic suit styles—slim-line, tapered, and with flawless attention to detail.
Think classic navy single-breasted jackets with notch lapels. Double pleated grey wool trousers. Or even a moss green blazer with flap pockets. The aesthetic is preppy without feeling immature—designer suits that are reliable formal wear attire for a whole range of occasions, from weddings to cocktail parties.
| | |
| --- | --- |
| Best for: | A brand with fancy suit pedigree for fool-proof fashion appeal. |
| Price range: | $$ |
Corneliani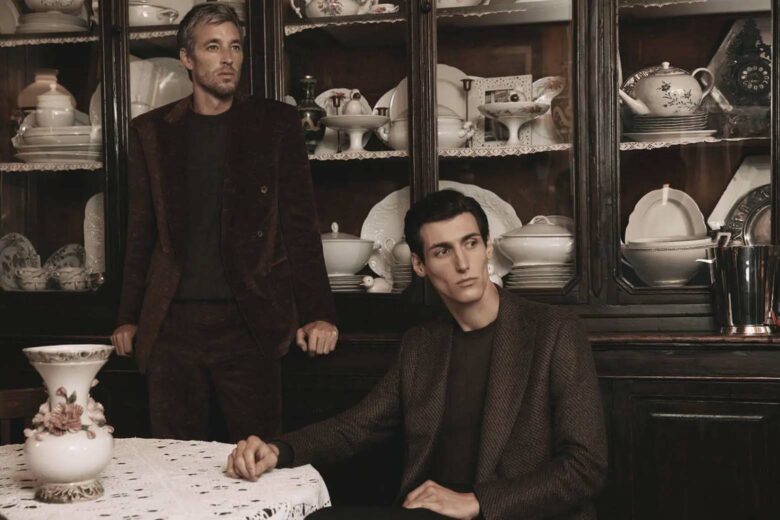 Corneliani suits have all the hallmarks of the best men's suits. Check out the brand's two-piece virgin wool suits in navy, grey, and black, in particular. With notched collars and lapels, flap pockets, and rear vents, they might not be pioneering any radical new vision of what a fitted suit can be—but that doesn't matter when they're this flattering.
A Corneliani suit will last ages without shrinking or losing its shape. A true investment from one of the best Italian suit brands.
| | |
| --- | --- |
| Best for: | Exceptional craftsmanship and elegance with an occasional dash of extravagance. |
| Price range: | $$$ |
Richard James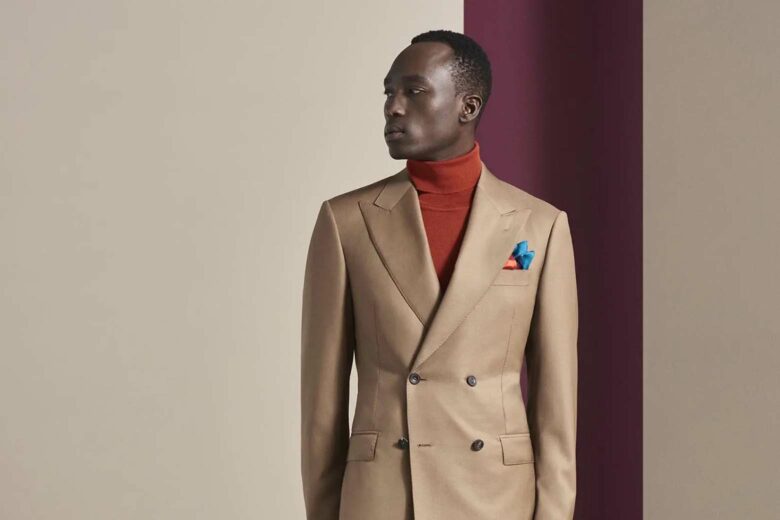 There's no better way to stand out in a sea of black and navy than with a Richard James suit. The brand has been known for its colorful creations since the 1990s when it opened a shop on Savile Row, London.
Think you can pull off pastel pink? We're confident you can too. Or what about a suave dark green for something unusual without being outrageous? Or maybe you'd rather stick to the classics? Richard James also makes dress suits for men in classic Prince of Wales checks.
| | |
| --- | --- |
| Best for: | A rainbow array of colorful suit shades. |
| Price range: | $$ |
Dolce & Gabbana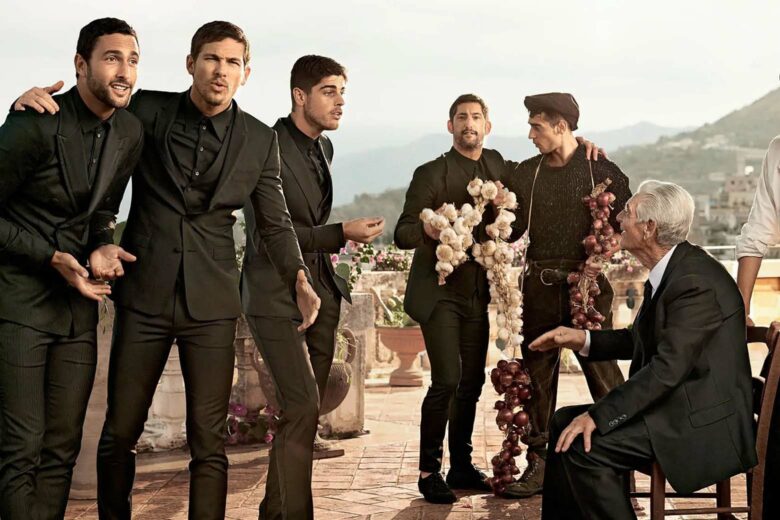 Does anyone do high-impact glamour like Dolce & Gabbana? We don't think so. The ultimate choice for men that want to turn heads and get people talking, Dolce & Gabbana's line of suits evokes that classic Dolce Vita style that has become its trademark.
Opt for one of the label's more lowkey creations in navy or black—or maybe a linen suit in sandy hues for summer. Or why not experiment with patchwork stripes and a bright pink lining? Or with a pair of suit trousers featuring ribbed cuffs and gold-tone zips?
You'll also find regal crest detailing, geometric patterns, lots of brocade and jacquard, plus innovative hybrid suit jackets that are half blazer and half cardigan (yes, really).
| | |
| --- | --- |
| Best for: | Quintessential Italian exuberance. |
| Price range: | $$$$ |
Lanvin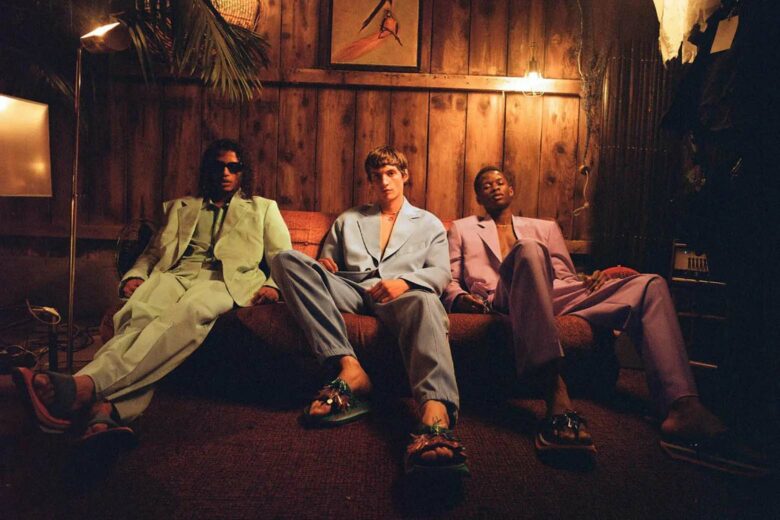 Romance, indulgence, heritage, and luxury—these are all words that capture the Lanvin aesthetic and you'll find hints of all of them in the brand's suit collection. One of France's oldest couture houses, Lanvin makes suits that feel just as French as you'd hope, imbued with an air of quiet sophistication and effortless refinement.
The color palette is subtle, the craftsmanship impeccable, and the cut immensely flattering on all figures. Whether you dress your fancy suit up with a shirt and tie or keep it more casual with a cashmere sweater, it will say all the right things in all the right ways.
| | |
| --- | --- |
| Best for: | Discreet and dignified designs with a hint of drama. |
| Price range: | $$ |
Stefano Ricci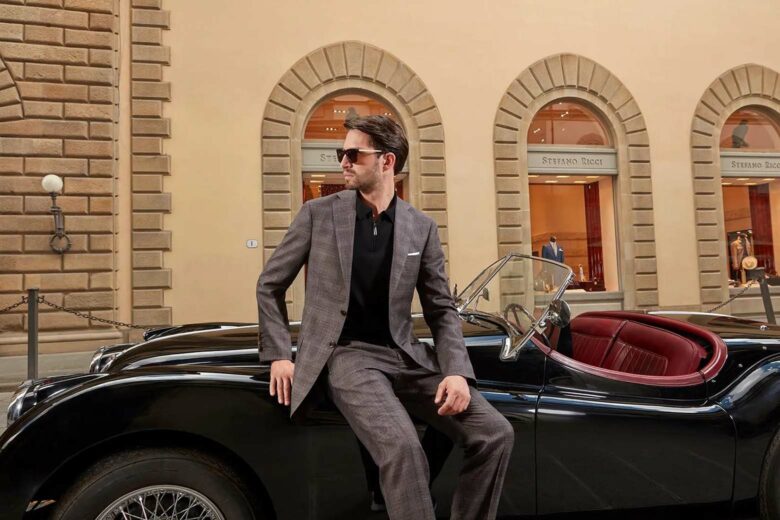 True suit connoisseurs know that the phrase made in Italy is about far more than provenance. An Italian suit has something other dress suits for men don't—an understanding of cut that you just don't find elsewhere.
Florence-based luxury fashion house Stefano Ricci is a perfect example. Each fitted suit is individually crafted by hand by the company's in-house artisans and the attention to detail is breathtaking. If a suit is pinstriped, for example, all the stripes line up at the seams—even those seams you can't see.
A fancy suit is a signal of success—none more so than a Stefano Ricci suit.
| | |
| --- | --- |
| Best for: | Evoking an elite brand of elegance and jet-setting sophistication. |
| Price range: | $$$$ |
120% Lino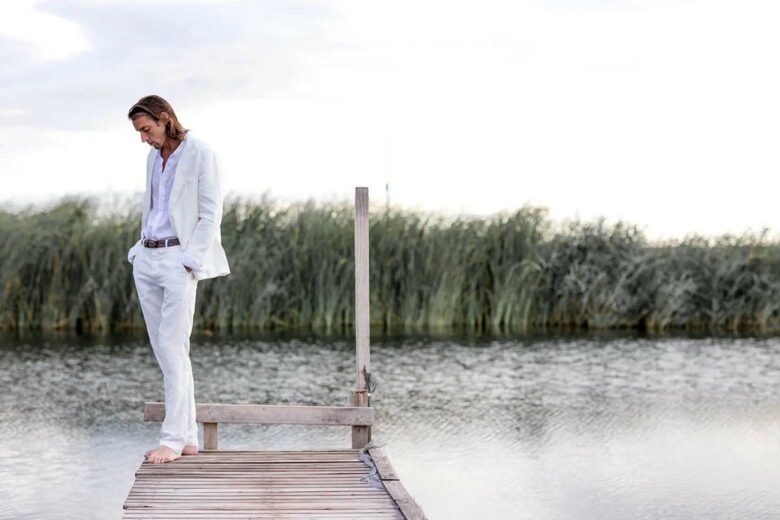 120% Lino does linen—and it does it exceptionally well. One of the world's leading brands for fine linen, 120% Lino is based in Bologna and all its apparel is made entirely in Italy. The advantage of linen when it comes to suits? It's breathable, moisture-wicking, and wonderfully cool.
If you've got a wedding planned somewhere tropical, or you refuse to let your fashion standards slip even on holiday, get yourself a suit by 120% Lino. Perfect for summer sun, you'll find these linen suits in bright and cheerful shades such as fuschia and ocean blue. Team with loafers, boat shoes, or sandals.
| | |
| --- | --- |
| Best for: | The ultimate and unsurpassable linen suit. |
| Price range: | $$ |
ASOS Design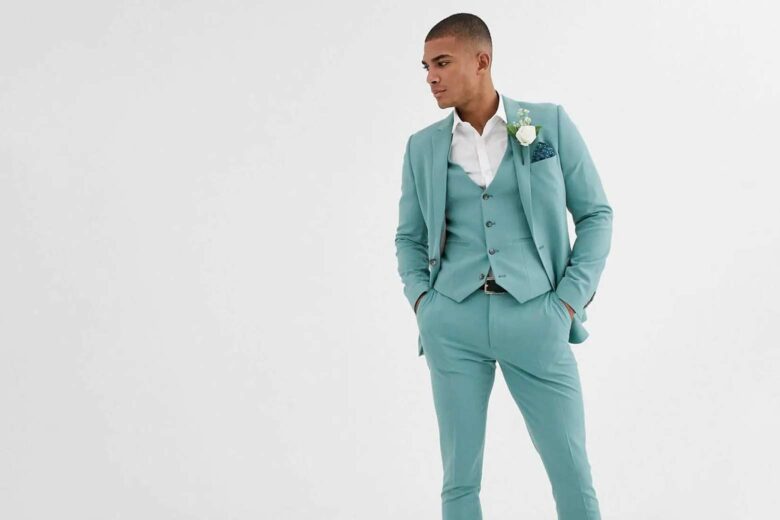 ASOS Design is a brand favored by the young and hip. But that doesn't mean men of all ages can't take advantage of ASOS Design's affordable and future-forward collection of suits. With student-friendly prices and an emphasis on skinny and slim silhouettes, you can take your pick from colors such as red, yellow, and green, as well as your standard black, blue, and grey.
Or, if you're feeling brave, try out a slim fit suit covered in sequins or in a multicolored celestial sky-inspired print. Or perhaps a trendy oversized jacket in pink?
| | |
| --- | --- |
| Best for: | Versatile, wallet-friendly suits for style-conscious modern gentlemen. |
| Price range: | $ |
Buyers guide: how to choose a suit for men
If you're in the market for a new suit, all the different options and tailoring terminology can be overwhelming. Here's what you need to know.
Suit styles
Wedding suit – this is typically a three-piece suit in a versatile color such as grey or navy. Opt for lighter materials for summer weddings, such as linen or cotton.
Summer suit – these are typically single-breasted with notch lapels and two or three buttons. They're often made from lightweight materials such as linen or silk and come in hues such as beige or pale blue.
Wool suits – wool suits are a good winter option, being softer and more comfortable than tweed. It also provides warmth and is more sustainable than polyester.
Linen suits – the ultimate warm weather choice, a linen suit is best teamed with a matching linen shirt (we highly recommend linen shirts by Luca Faloni) and slip-ons. 
Lounge suits – this is the perfect business suit, whether it's for the office or an important meeting. It's not too formal and is available in a range of cuts and colors.
Dinner suits – this is your classic black tie tuxedo. It will typically be single-breasted and feature one or two buttons and peak lapels or a shawl collar. You'll also find dinner suits in white for white tie events, and velvet and silk variations too.
Double-breasted vs. single-breasted suits
A single-breasted suit is slightly more casual than a double-breasted suit jacket and a good choice if you want a slimming effect.
Three-piece vs. two-piece dress suits for men
A three-piece suit is a suit that includes a waistcoat as well as a jacket and trousers. A two-piece suit consists of just a jacket and trousers. The former is more traditional and more appropriate for formal and special occasions while a two-piece suit is standard business attire.
Made-to-measure vs. bespoke vs. ready-to-wear suits
A made-to-measure suit is a suit that's pre-made according to a basic and pre-existing standard block pattern. It is then tailored to your specific measurements and preferences. For example, you might opt for a different lining or a certain style of lapels.
A bespoke suit is made from scratch according to the client's unique requirements. And a ready-to-wear suit is made beforehand according to standard sizes.
Made-to-measure and bespoke men's suits are a lot more expensive, especially if you require a lot of customization. However, they will often fit better and you can specify the exact details you want.
Ready-to-wear dress suits for men are the cheapest option and can easily be bought at one of the best online clothing stores for men. As they don't need to be customized, you can get one relatively fast.
Suit fitting: choosing the right shape
No matter how expensive or stylish your suit, if it doesn't fit right, it won't look right. Here are a few tips to make sure your suit fits properly.
The lapels shouldn't hang off your shoulders nor should the jacket flare out. You don't want any wrinkles around the button when done up (a sign it's too tight) nor do you want any gaping (a sign the suit's too big).
You should be able to see around 1.2 cm (0.5 inch) of your shirt below the jacket cuff.
The jacket hem should land around the middle of your hand when your arms are relaxed.
The jacket collar should lie flat against the back of your neck.
Avoid sagging around the back of the thighs or wrinkles under the seat.
The seam connecting the sleeve to the jacket shouldn't hike up or come down onto your upper arm.
What is the best fabric for a suit?
Here are your options:
Wool is breathable, soft, and wrinkle-resistant.
Cotton is breathable and flexible but tends to wrinkle easily, making it high-maintenance and not a good option for taking in a suitcase.
Linen is lightweight and cool but wrinkles and stains easily and will require regular dry cleaning.
Silk is breathable, temperature-regulating, and lightweight but can be very expensive.
Velvet is used for smoking jackets and is luxurious and warm.
Polyester is considered less high quality and usually comes as a blend with another fabric. It can wrinkle easily, isn't hugely breathable, and is less expensive.
(Also read our guide to the most sustainable fabrics for more.)
Suit colors
As a new suit can be expensive, it's wise to opt for a versatile and classic color that you won't fall out of love with later on. Navy blue, grey, and black are all good choices. Black is best for formal events.
Other options include dark brown or tan or beige for summer. White is not very practical but can look very glamorous. And, of course, you'll also find suits in a range of brighter colors and eye-catching patterns.
Frequently asked questions about men's suits
How much should I spend on a suit?
How much you spend on a suit depends on your budget. A ready-to-wear suit is the most affordable option. You can pick one up for around $150 from a brand like ASOS Design. Or you can spend over $5,000 on a high-end made-to-measure suit.
What is the most expensive suit brand?
One of the most expensive suit brands is Kiton and for good reason. The company is one of the most respected and experienced tailors in the world and sources only the finest and highest quality materials. Each suit is crafted by hand.  Other luxury suit brands include Brioni, Tom Ford and Ermenegildo Zegna.
What kind of suits should a man own?
A man should own at least one lounge suit—a more relaxed suit that's appropriate for corporate environments as well as special occasions. In addition, it's a good idea to own a dinner suit or tuxedo, as well as a linen suit for the summer months. Check our guide to the best men's suit brands to find the perfect fit for you.
What color suits do men need?
Most men should have a suit in a versatile color, such as grey or navy. A black tuxedo is also a necessity if you go to a lot of formal events. But why not experiment with a suit in a more daring and unconventional shade.
What suits are in style now?
A range of different suit styles are currently in fashion. While slim suits are still in style, so are baggier options as well as ultra-modern skinny suits. You'll also find experimental suits with oversized or cropped jackets too. Check our list of the best suit brands for some inspiration.