Every year, January brings a long list of must-reads that perhaps shine brighter than the new year's resolutions: luxury trends for the year ahead.
Many of us are hoping to gain some insights into the future of luxury in a rapidly changing world. And if the global search trends are anything to go by, it is clear that many of us are thinking more deeply about what we truly value in our lives, including the brands we shop from.[1]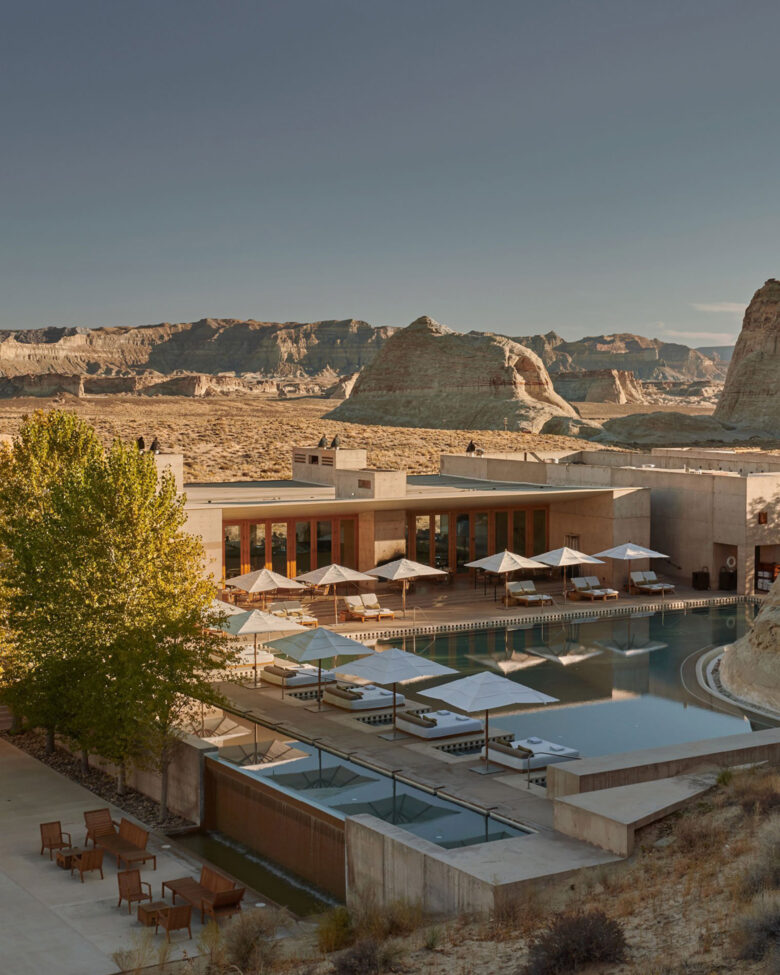 Luxury is constantly evolving—in geographies and in generations. Younger and younger luxury consumers continue to rewrite the industry rulebook. New worlds of luxury are on the map. The very definition of luxury is increasingly nuanced. And the reliance on technology is deepening in view of the Web3 era.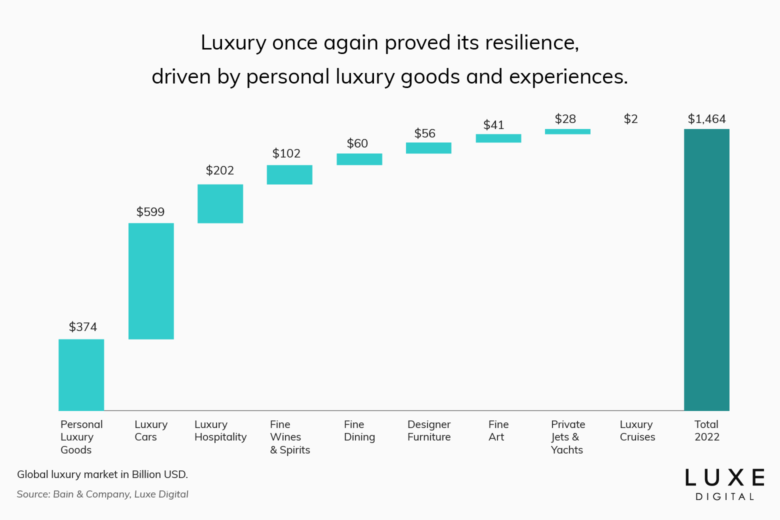 Luxury has once again proved its resilience, just as we believed it would. French luxury group LMVH—which owns 75 major brands across wines and spirits, fashion and leather, perfumes and cosmetics, watches and jewelry, and selective retailing—recorded 20% growth in revenue in the first 9 months of 2022 vs 2021. [2]
And this wasn't just the case for the largest luxury groups. 95% of luxury brands enjoyed a positive compound annual growth rate in 2022.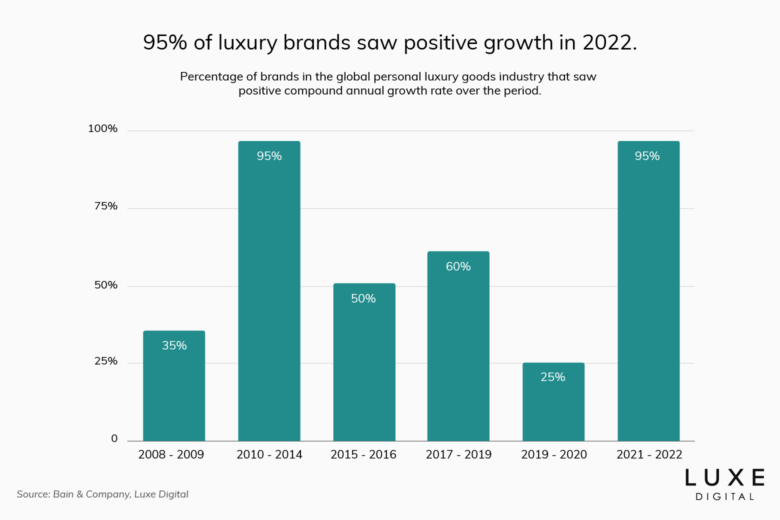 And despite economic headwinds and global recession fears, the luxury industry is set to grow—albeit more slowly—in 2023 as wealthy shoppers continue to travel and spend.
The luxury futurescape is far from smooth sailing, however, with a new wave of consciousness, changes, and challenges.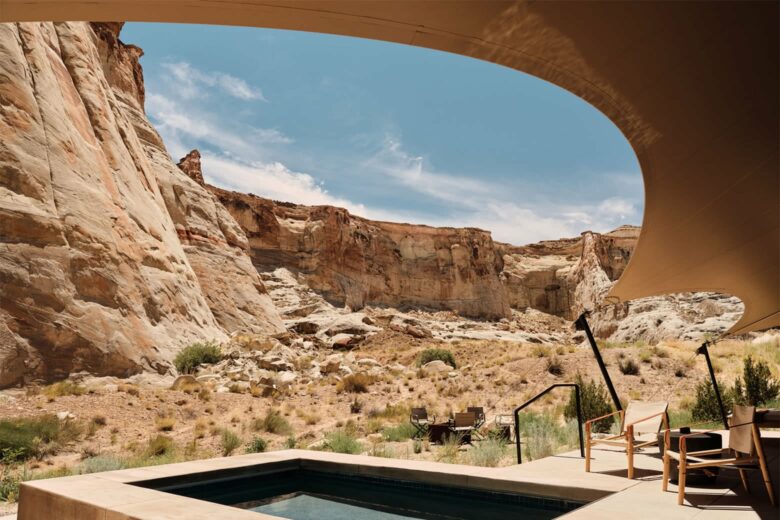 We believe Betterment in the Youniverse will be one of the key themes in 2023 and beyond.
Affluent consumers are increasingly pursuing positive changes in their lives and are expecting luxury brands to do better—by the people and by the planet. So, luxury brands will need to continue to redefine themselves as elevated enablers of social change in order to remain relevant.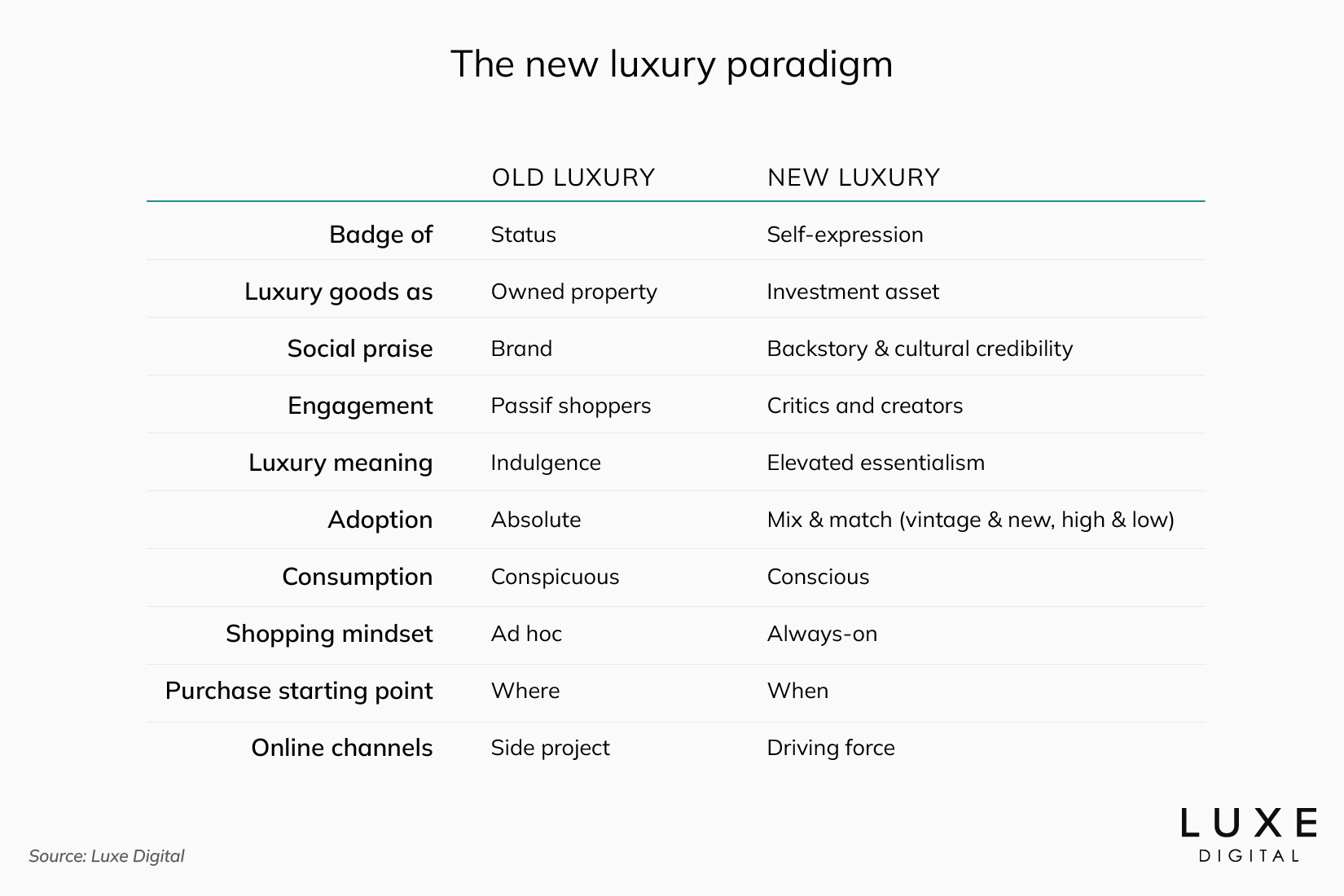 We said it before, and we will say it again: Customer centricity has never been more important for luxury brands.
Luxury brands must deliver a timely and timeless form of meaningful value and empower expressions of individual identities.
The future of luxury: 3 macro shifts
We're starting our 2023 luxury trends report this year by looking at three underlying themes that are fundamentally reshaping the global dynamics and the business playbook for luxury brands. We call them macro shifts, and they run across each of the seven trends we've identified for 2023.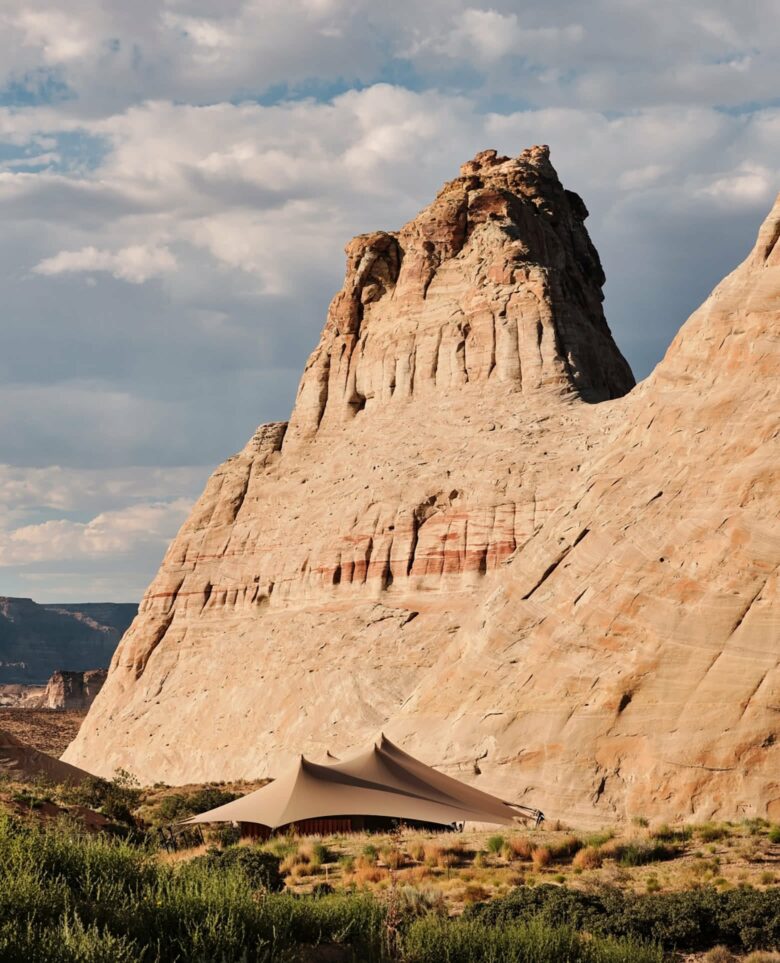 As you would expect, these three macros shifts will remain somewhat constant over the coming years.
Online will soon surpass all other luxury sales channels
In a recent study by Google, 73% of consumers described themselves as channel agnostic, assessing with each purchase which channel is most suitable depending on convenience and availability.[3]
After the fast pace growth of the COVID era, online luxury shopping is now cementing its place in the customer journey. Online is on track to be the single biggest sales channel in the coming years, surpassing monobrand retail stores.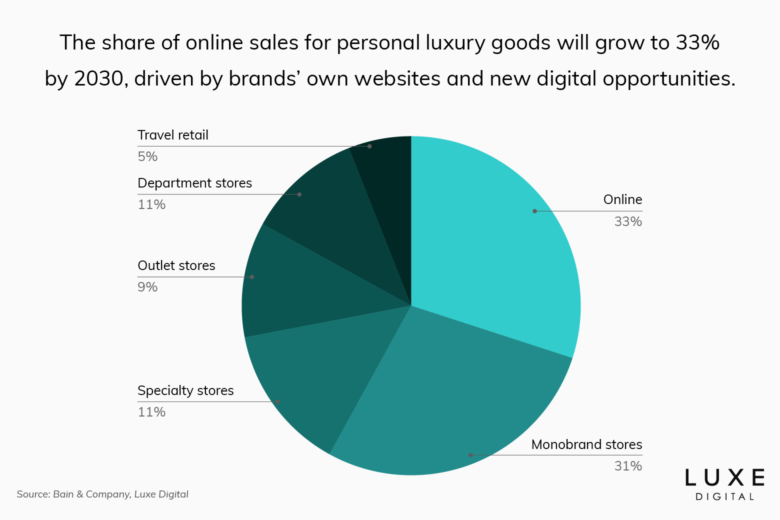 One of the key drivers of this shift is the growing importance of monobrand online stores in 2023.
While traditional luxury brands relied heavily on multibrand retailers to sell their products online over the past decade, these brands are now doubling down on their own websites to drive sales. This enables brands to own the customer data and control the entire omnichannel experience.
1/3

of all luxury sales will take place online by 2030.
We saw in 2022 the Richemont Group slowly reversing its acquisition of Yoox Net-a-Porter, and competitor FARFETCH take advantage of the move to consolidate its position internationally.[4] We expect the competition between monobrand and multibrand retailers to intensify in the coming years as luxury brands want a bigger share of the market.
Millennials and Gen Z drive luxury growth at accelerating rates, with Gen Alpha fast approaching
Millennials and Gen Z accounted for the entire growth of the global luxury market in 2022 according to Bain and Altagamma's latest study.[5]
Younger generations will continue to assert their position as critical growth levers for the luxury sector in 2023.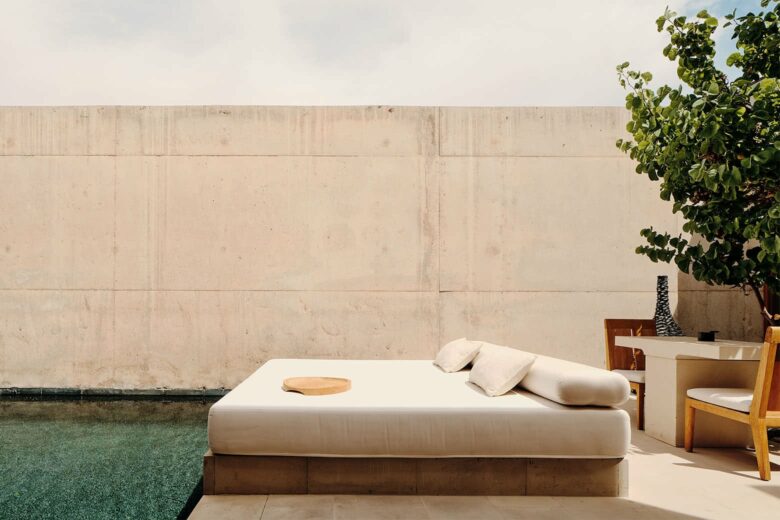 And this generational shift will only accelerate in the coming years:
Gen Z and Gen Alpha's luxury spending is expected to grow three times faster than other generations.
Perhaps thanks to luxury brands' expanded portfolio of teenage-appealing products (think sneakers and activewear) at multi-price points and digitally-driven communication strategies, Gen Z shoppers purchase luxury items three to five years earlier than millennial predecessors.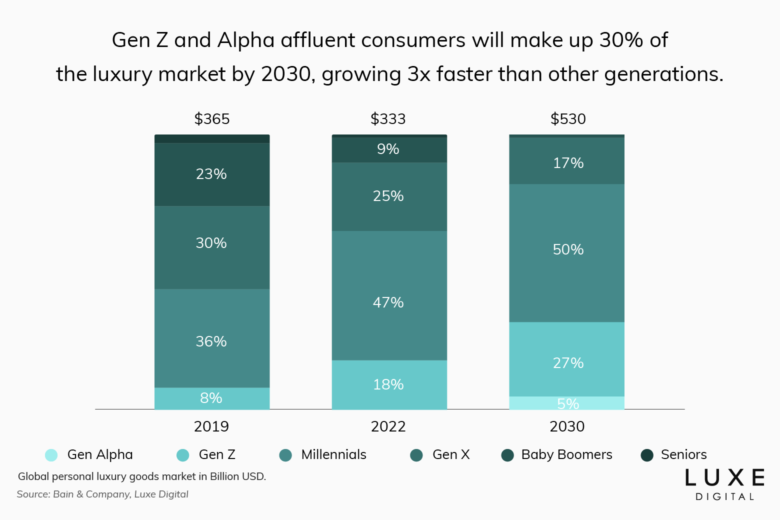 The outpour of brand collaborations demonstrates the importance of these younger cohorts for luxury houses. From the now common streetwear/sportswear and luxe collaborations (i.e. Gucci x Palace, Dior x ERL, Louis Vuitton x Nike, Jacquemus x Nike) to more nostalgia-infused cross-branded releases (think Balmain x Barbie or Balmain x Pokémon).
But mixed feelings about the latest Gucci x Dickies might be a gentle reminder to watch out for brand dilution and customers' fatigue as luxury brands start to stretch themselves too thin.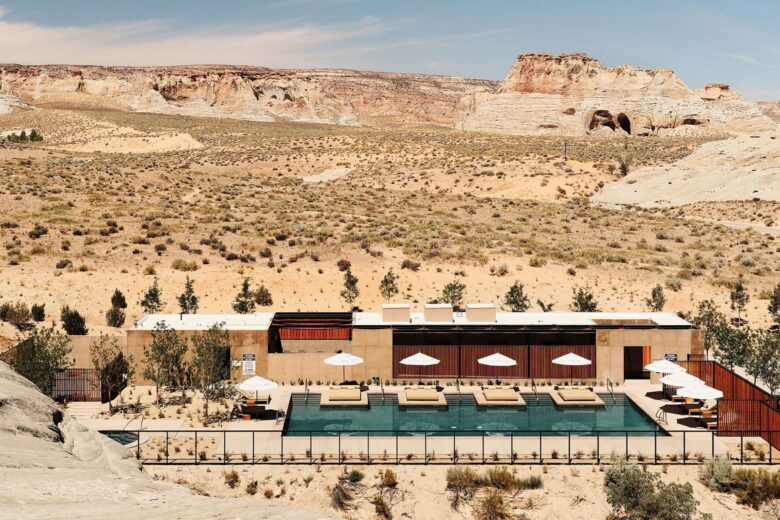 Some brands might have gone, dare we say it, too far in their popularization over the years. Instead, luxury should be curated to achieve better standards of living rather than overwhelming consumers with limitless options.
Beyond China—Asia is becoming wealthier
Chinese consumers are still expected to drive an influx in spending. It is forecasted they will make up 40% of the global luxury market in 2030 (vs. 50% by 2025 previously reported by consultancy firm Bain & Co).
Notably, consumers in other Asian countries are becoming wealthier, including India and Indonesia.
40%

of global luxury sales will be made by Chinese consumers by 2030
With actress Deepika Padukone becoming the first ever Indian "House Ambassador" for Louis Vuitton in May 2022, it appears that luxury brands are indeed making moves.
In November 2022, Indian fashion retail company Aditya Birla Fashion and Retail Limited (ABFRL) entered a strategic partnership with French luxury department store chain Galeries Lafayette to open luxury outlets, as well as a dedicated e-commerce platform in India.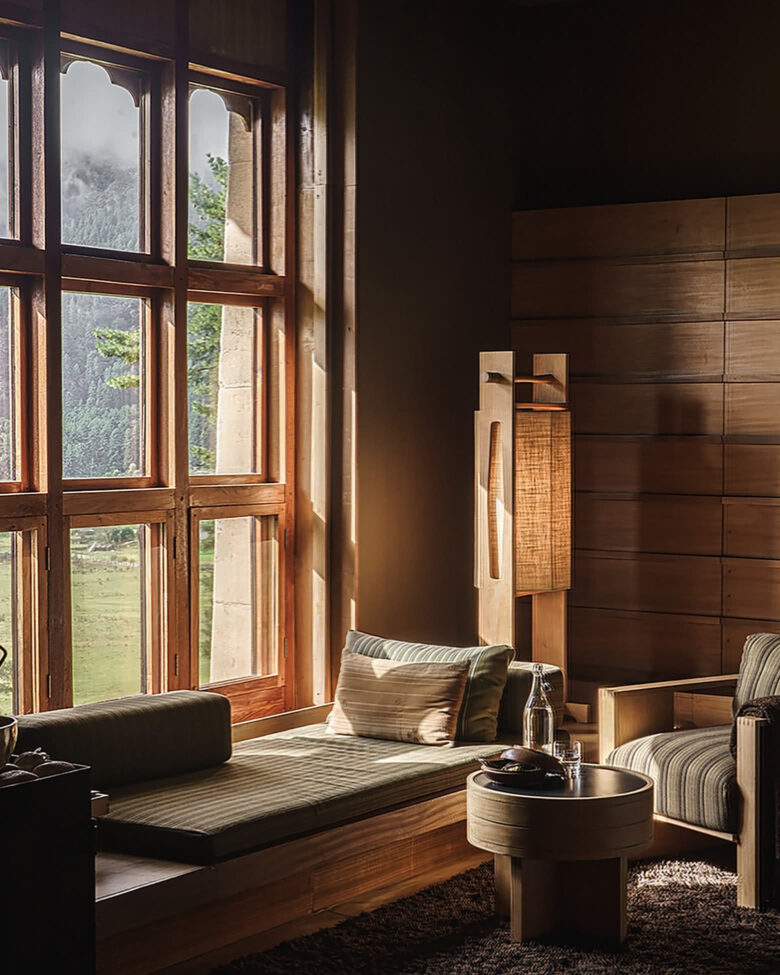 "India's luxury market is forecasted to expand to 3.5 times today's size by 2030"— and definitely a country to watch for luxury brands.
7 luxury trends that will shape 2023
Let's now take a closer look at the seven most important trends that will shape the global luxury industry in 2023.
Here are the seven most important luxury trends to consider in 2023.
In-house Resale: Second-hand luxury becomes first-class priority
The very essence (timelessness, enduring desirability, durability, and in some cases, scarcity) of luxury goods makes it particularly well-suited for the resale market.
Resale has been rising for some years. Increasingly, affluent consumers are seeing resale as a way to shop sustainably (and brands as a way to boost their sustainability credentials).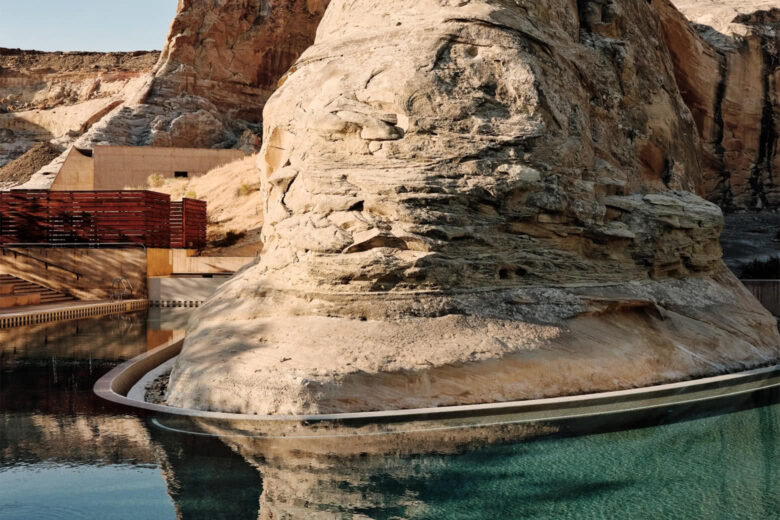 And now that some of the most traditional luxury brands are embracing resale, it might actually be more than a trend—it's a new reality. Rolex launching its Certified Pre-Owned program is a prime example of major luxury players (finally) wanting to take control of their second-hand markets (data, dollars, and experience).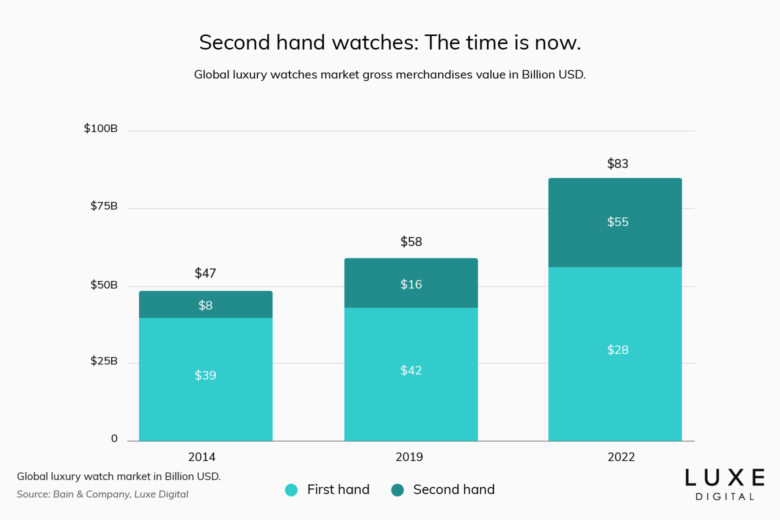 Lifestyle and luxury brands ranging from Cuyana to Balenciaga and Gucci are increasingly launching their own resale programs, often housed on their brand website.
While others are exploring new models for the sale of vintage pieces. In November 2022, LVMH, for example, launched Heristoria.com, a hyper-curated luxury sales platform entirely dedicated to the luxury group's archive items. Each item has its own special history and is sold with an exclusive in-person experience.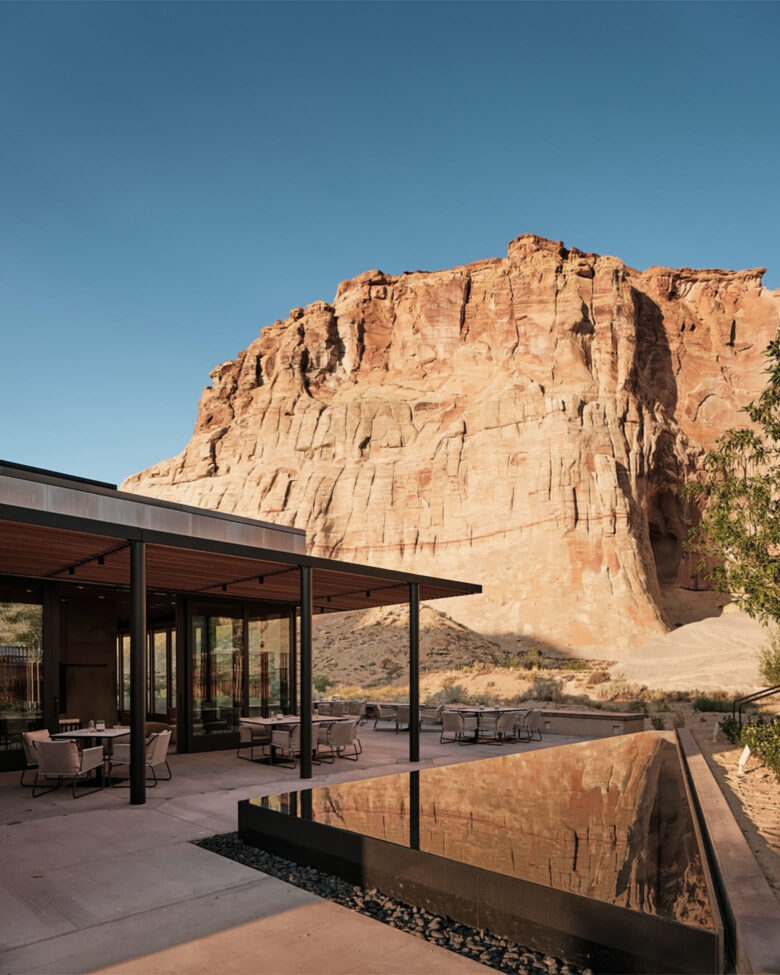 As luxury brands increasingly bring the resale process in-house, it will be interesting to see how online marketplaces like The RealReal and Vestiaire Collective will play.
Utility NFTs: Practical applications and real-world value
Luxury brands are expected to be deeply rooted in craftsmanship yet fueled by innovation. So despite the highly mediatic fall of cryptos in 2022, we think an increasing amount of innovative NFT luxury projects will appear in 2023. Going beyond speculation, luxury brands will leverage blockchains to experiment with real utilities of virtual ownership and authentication of physical goods.
From Prada Timecapsule NFT series to Tiffany's Cryptopunk 'NFTiff' pendants, 2022 saw luxury brands warming up to the idea of non-fungible tokens, but 2023 is poised to see more NFTs offering tangible functions with new emerging business models.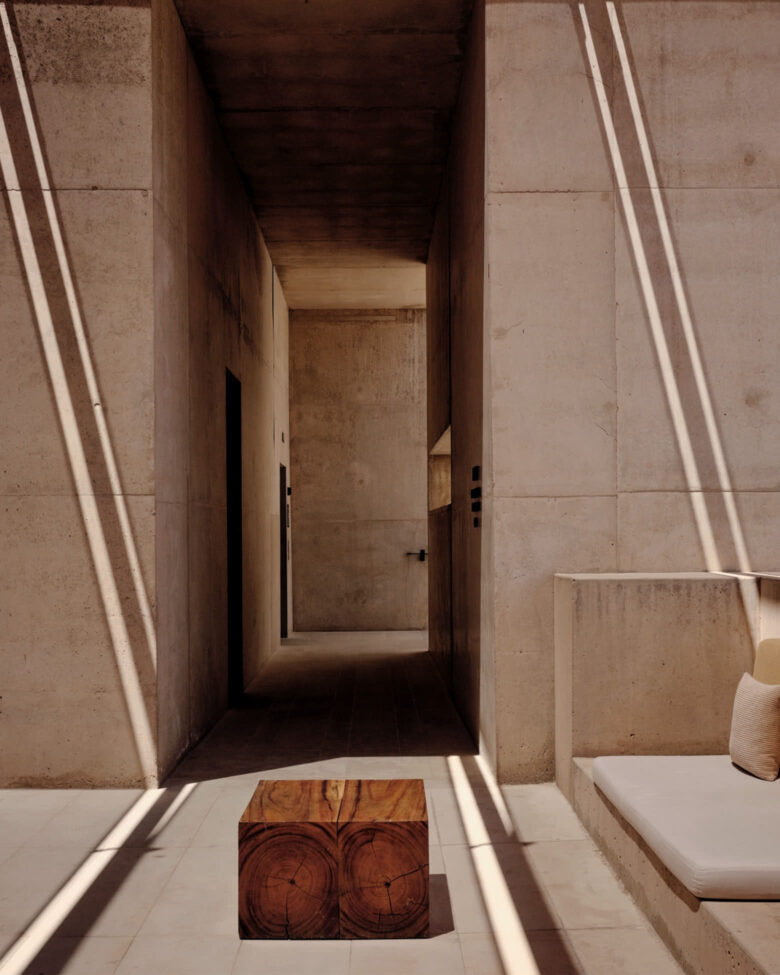 With NFTs now available to share, sell, and buy on Instagram, the format is poised to become more understood and adopted.
Take a look at the business model of companies such as Courtyard and Wiv to get a glimpse at how the space might evolve. They both use a blockchain to tokenize physical goods that are safely stored away. This enables owners to easily collect and trade physical valuables. The NFT can then be burned to redeem the physical good at any point in the future.
Back To The Luxe: Could luxury become, well, a luxury again?
The wealthiest 2% of global consumers accounted for 40% of luxury spending in 2022, compared with 35% in 2009 according to analysts at Bain & Co. And these ultra-wealthy individuals will likely keep on spending in times of economic hardship.
On the other hand, we expect aspirational luxury consumers to reduce their spending in 2023 as recession looms across the world. As a result, competition among luxury brands to earn the attention of the ultra-luxury shoppers will heat up in 2023.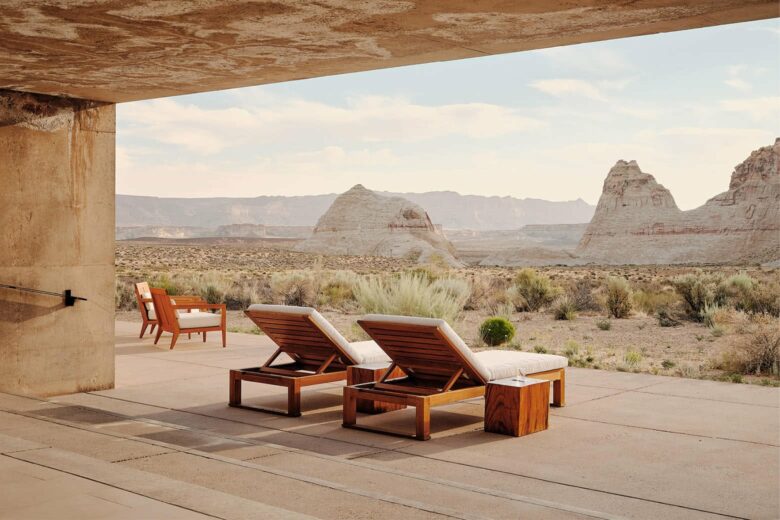 Gucci already started to realign its design philosophy with the departure of long-time Creative Director Alessandro Michele, who spearheaded a streetwear-infused, maximalist movement to attract younger aspiring consumers.[6]
In 2022, Balenciaga opened its one-of-a-kind Couture Store dedicated to its high-fashion for High Net Worth Individuals in Paris—A space that goes beyond the salons reserved for client fittings to offer the finest services, with rare and unique products, at a historical address. And Chanel is planning to open Private Boutiques that cater exclusively to its top-spending clientele, with the first round set to open in Asia this year.[7][8]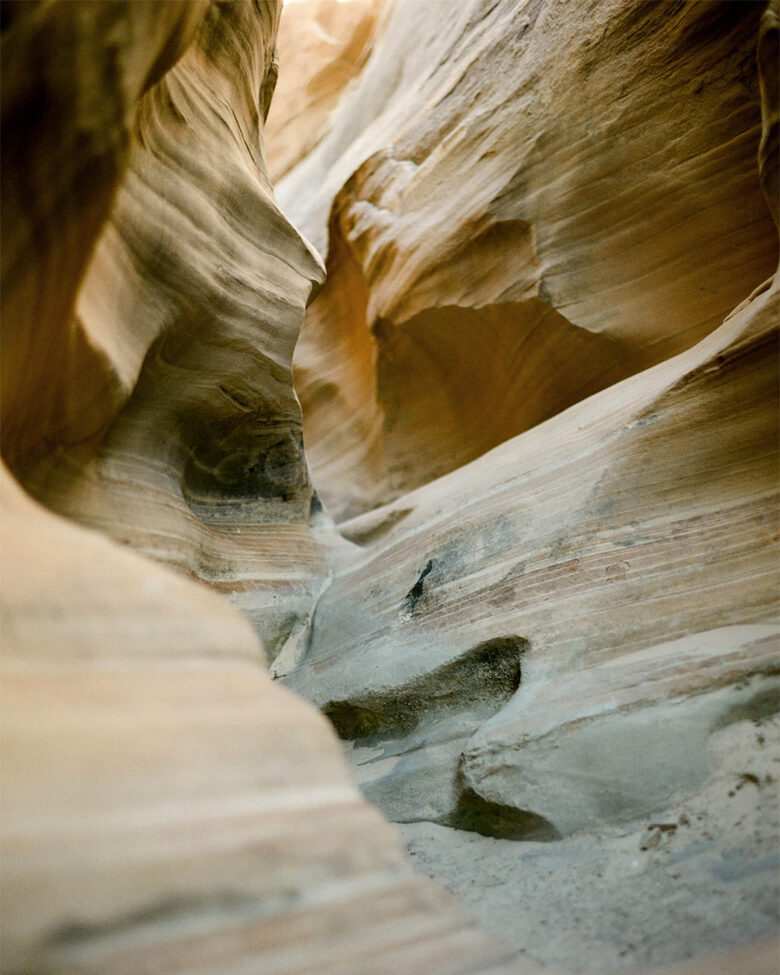 We can expect to see more luxury brands follow suit and further invest in exclusive experiences for their top spending clients in 2023.
Me-taverse: Virtual influencers and phygital identities in the Metaverse
Luxury is redefining the way we experience our world. And that means a growing sense of phygital fluidity and bolder moves towards more seamless multidimensional virtual realities.
The gaming habits of younger generations and would-be luxury shoppers, especially in Asia, form the perfect foundation for virtual influencers. And the metaverse offers new opportunities for these virtual influencers to thrive.
The metaverse will also present opportunities for luxury brands to empower individual identities beyond physical appearances or IRL interactions.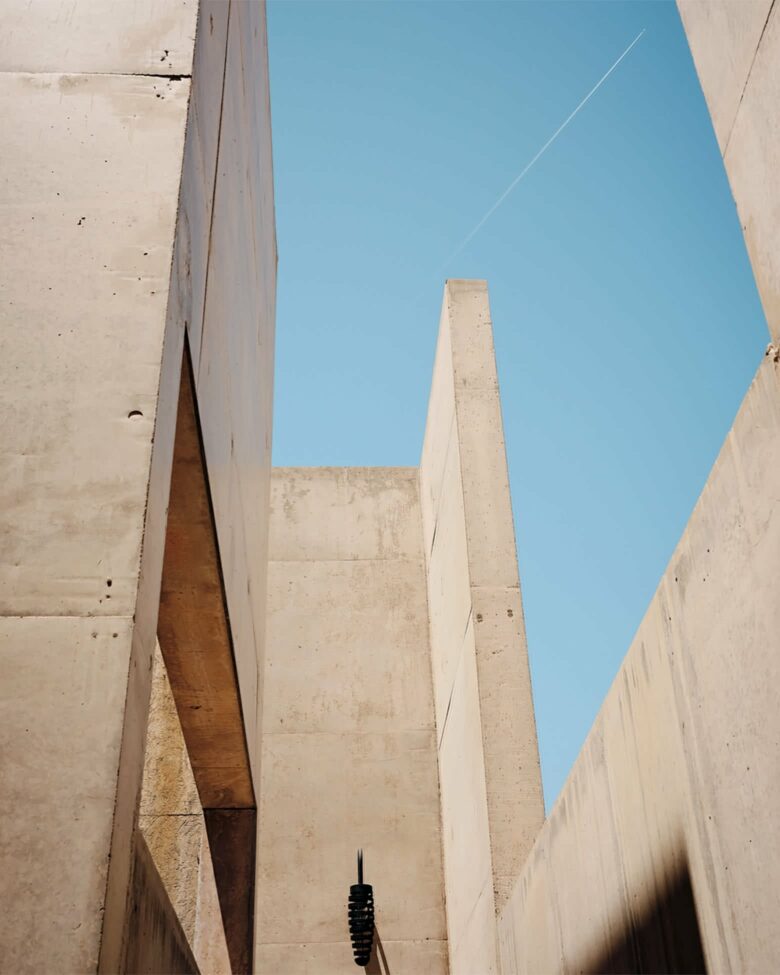 With Apple expected to unveil its first mixed reality headset in 2023, the door for mass consumers to experience the virtual world will be wide open. It will take several years for brands to develop robust and exciting experiences, and for consumers to fully embrace the technology. But, we think the metaverse (defined broadly as virtual and augmented reality experiences) will prove to be a strong growth area for luxury brands capable of leveraging the platforms.
Feel-Good Investments: Luxury goods as financial assets and investments in oneself
Wellness ambitions have been transforming luxury for some time now, and the past years have contributed to deepening this force. Affluent consumers are increasingly viewing luxury goods as long-term investments—financially but also as investments in themselves as individuals (think well-being and betterment). Our predictions are that luxury will focus on the experiential as people are chasing after fulfilling experiences for fuller lives (driven in parts by the You Only Live Once culture).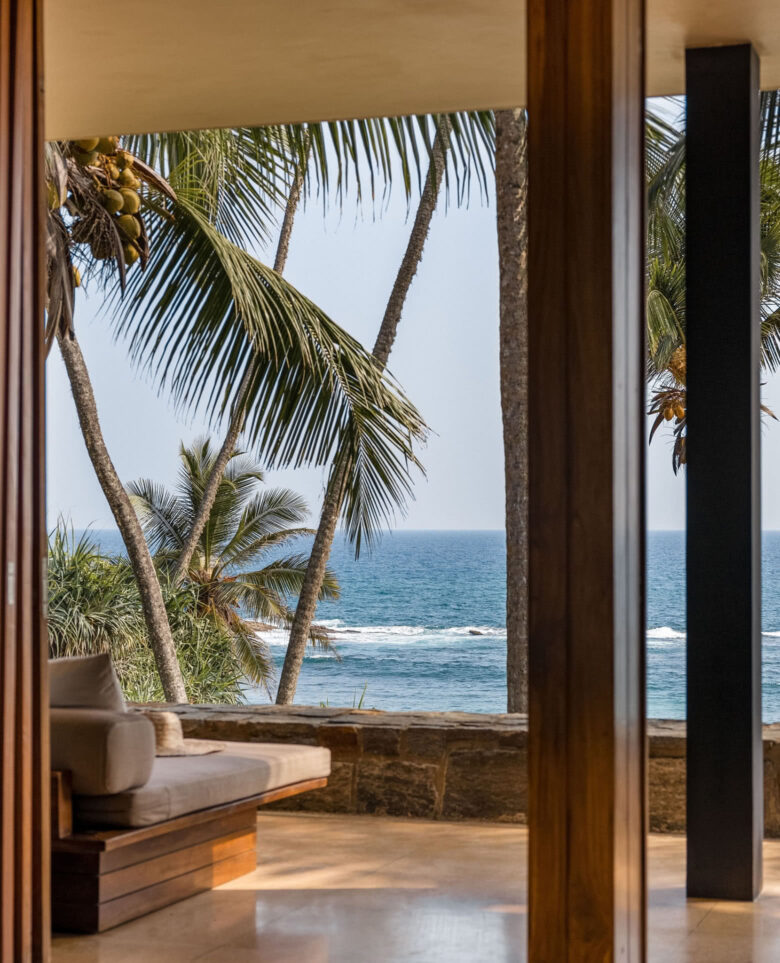 Investing in luxury goods is also becoming a way for people to invest in alternative value-holding assets beyond traditional investments like gold or diamonds.
Rolex watches, high-statement luxury sneakers like Jordans, fine wines, and designer bags (the likes of Hermès Birkins, Chanel bags, and Louis Vuitton handbags; especially now that these top legacy luxury houses raise prices and tighten distribution) tend to hold their value over time and even appreciate in value, making them all the more enticing for affluent consumers looking to invest in luxury.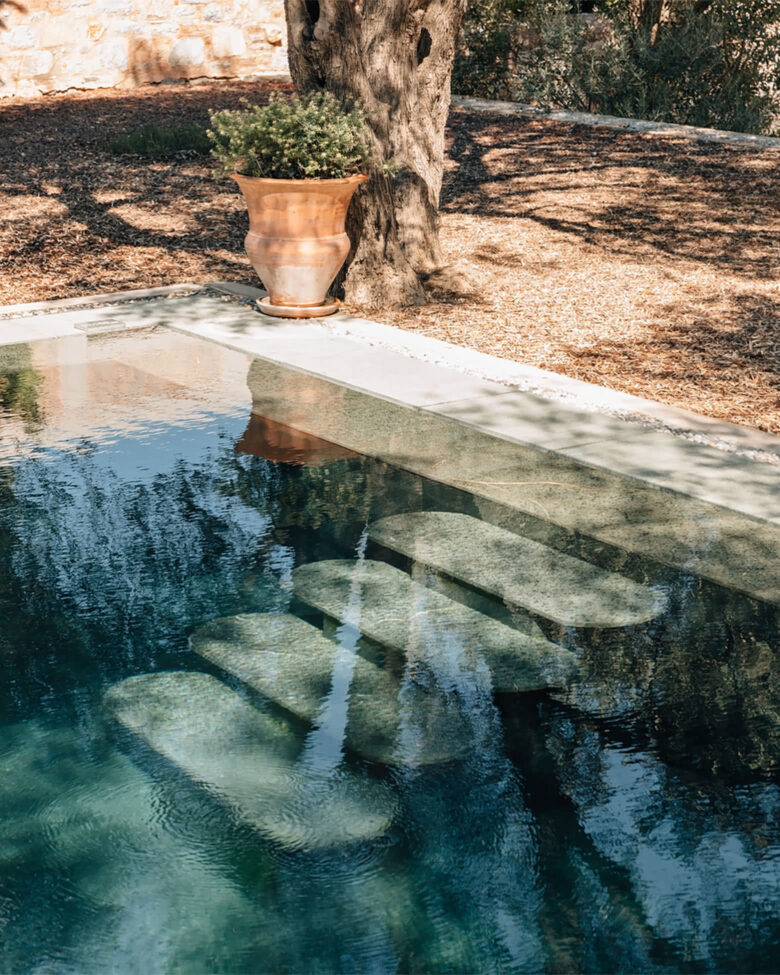 There's one key caution to keep in mind, however: the authenticity of the goods. Investments in blockchain technology, in particular, are an interesting approach to improving the authentication process. Common standards are yet to be developed collaboratively for this new technology to be truly effective at scale, though.
Luxury constellations, rising stars, and "fading stars"
The gap is widening between the luxury brands that are parts of groups like LVMH, Kering, and Richemont and the smaller, independent heritage luxury players. So, we can expect to see more acquisitions and new partnership models crystallize.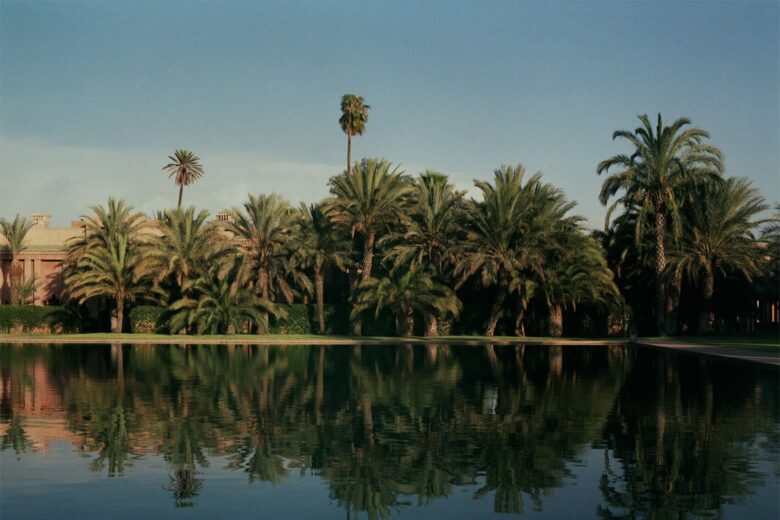 With less money available on the market, investors will be cautious about their bets in 2023.
We think that heritage brands that have either not managed to remain relevant or to run their operations with a profit will be at risk. Storied luxury brands such as now-Chinese-backed Lanvin will have to adapt and prove their worth beyond their historical legacy.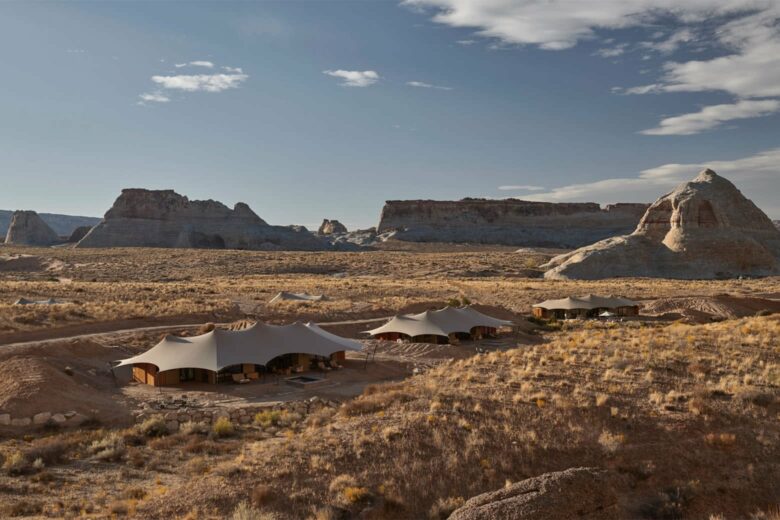 We expect to see more of these heritage brands be acquired by international groups to be repurposed after the recession. Mercedes-Benz's approach with Maybach is the model that we have in mind for some of these brands, whereas a competitor will purchase the legacy company mostly for its brand equity, not its current operations.
New luxury frontiers: Branded experience, expanded
Over the years, personal goods luxury brands have been extending their portfolio, from activewear to beauty to homeware and even hotels (i.e, Armani Hotels and The Palazzo Versace Luxury Hotels and Resorts), with various degrees of success. But we can expect to see brands expanding even further, including in F&B experiences.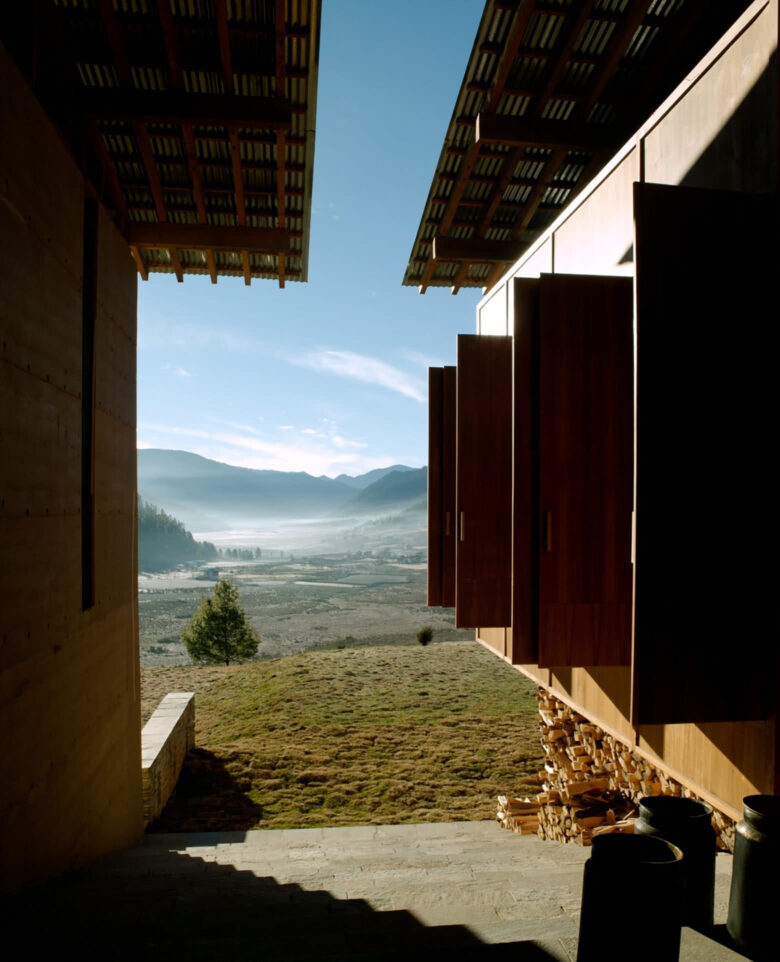 In 2022 alone, Ralph Lauren opened several Ralph's Coffees and, more notably, APAC's first Ralph's Bar in China's Tier 1 city Chengdu. Maison Margiela unveiled its first café in Chengdu, then in South Korea. Dior opened its restaurant, Monsieur Dior, in its Avenue Montaigne store in Paris. And Louis Vuitton opened The Hall, its first standalone restaurant in the world, in Chengdu. The LVMH-owned luxury Maison is also set to open its world's first dedicated furniture and homewares store in Shanghai, showcasing that brands are planning to expand further into lifestyle offerings, be it in pop-up or permanent locations.
---
Images by Aman Hotels