Good-looking, dependable, approachable, but serious when it matters—no, we're not describing your dream date. We're talking about Oris watches. The brand is known for its handsome and expertly crafted mechanical timepieces at unintimidating prices, and without a quartz movement in sight.
No wonder watch wearers around the world have got the hots for that trademarked red winding rotor, which symbolizes the Oris philosophy: high-quality Swiss mechanical watches with real-world functions at an affordable price-point.
Here's why you can't help but fall in love with an Oris watch.
At a glance
| | |
| --- | --- |
| | |
| Industry: Watches | Founded: 1904 |
| Headquarters: Switzerland | Founder: Paul Cattin and Georges Christian |
| Watch Collections: dive watches, dress watches, and pilot watches | Parent organization: The Swatch Group |
| Annual Revenue: $20 million USD | Website: oris.com |
Oris watch price
How much does an Oris watch cost?
Oris makes some of the most accessible Swiss watches on the market with prices averaging between $2,000 and $3,000. The starting price for an Oris watch is $1,670 for an Oris Artelier. Oris watch prices for an Oris Aquis start at $1,980 while prices for an Oris Big Crown begin at $1,790. However, some Oris watches can cost over $26,000.
What is the most expensive Oris watch?
One of the most expensive Oris watches on sale at the moment is the Oris Aquis Sun Wukong Artist Edition, currently retailing for $26,200. It features a hand-painted cloisonné enamel dial and depicts the Dragon King's underwater palace from the 1961 Chinese animated film The Monkey King: Uproar in Heaven. There are only 72 pieces in total.
See how this compares to the most expensive watches in the world.
What is the cheapest Oris watch?
The cheapest Oris watch is an Oris Artelier, with some models retailing for $1,670. You can also pick up an Oris Aquis for $1,980 while Oris watch prices for an Oris Big Crown begin at $1,790. An Oris Rectangular currently retails for $1,900.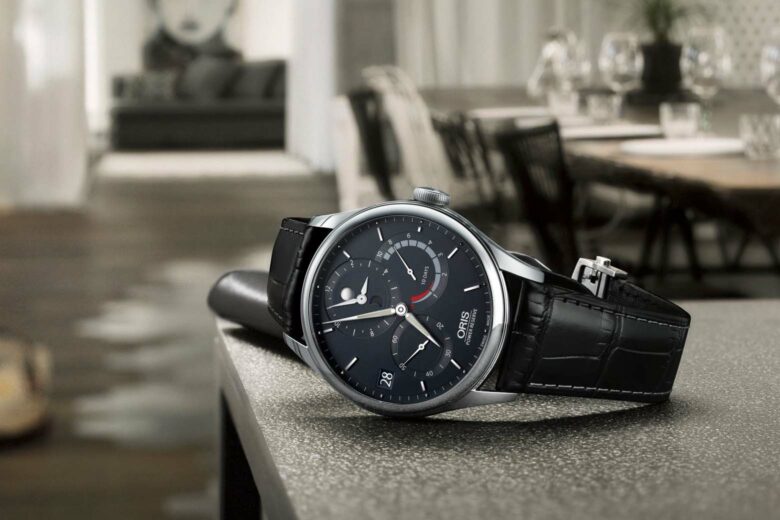 About Oris watches
History of Oris watches
Oris was founded in 1904 by Paul Cattin and Georges Christian in the Swiss town of Hölstein. They named the company Oris after a small river nearby. By 1911, the company was the largest employer in Hölstein with over 300 workers.
In 1925, Oris began to fit bracelet buckles to its pocket watches, turning them into proper men's wristwatches.
By 1938, Oris was producing its own watch escapements. Around this time, the Swiss watch brand also introduced its first watch for pilots, featuring a big crown and Pointer Calendar function.
In 1952, Oris launched its first automatic watch with a power reserve indicator and the highly accurate Calibre 601. In 1965 came the watch brand's legendary diver's watch. And by the end of the decade, Oris was one of the 10 largest watch companies in the world, producing 1.2 million watches and clocks a year.
In 1970, Oris became part of ASUAG, later to become the Swatch Group. It also launched the iconic Chronoris. With the advent of the quartz crisis and growing competition in the market, the company also bravely decided to focus solely on mechanical timepieces to distinguish itself from rivals.
In 1988, Oris launched its first mechanical alarm wristwatch and in 1991 came the successful Calibre 581, featuring a moon-phase module.
At the start of the new century, Oris led the way in the trend for larger watches with the Oris XXL, a line of chunky sports watches.
In 2003, Oris introduced the elegant Artelier collection and, in 2008, unveiled the innovative BC4 Flight Timer with three time zones.
2009 saw the launch of the Oris ProDiver while in 2014, more than 75 years after Oris launched its first pilot watch, the company released the pioneering Oris Big Crown ProPilot Altimeter, the world's first automatic mechanical watch with a mechanical altimeter.
The Oris Big Crown ProPilot Worldtimer came out in 2017, and, in 2020, Oris cemented its status as a horology pioneer with the automatic Calibre 400, setting new standards for anti-magnetism and with a five-day power reserve and 10-year warranty.
Interesting facts about Oris watches
In 1927, Jacques-David LeCoultre, Antoine LeCoultre's grandson, took over the company. He was the man who would later merge with Edmond Jaeger to form Jaeger-LeCoultre.
In 1945, Oris was awarded the first of over 200 distinctions for a pin-lever movement from the Bureau Officiel de Contrôle de la Marche des Montres in Le Locle.
In 2001, Oris began its long-standing relationship with the world of jazz, becoming a partner of the Oris London Jazz festival. It would later go on to release a collection of watches in honor of the musician Miles Davis.
In 2006, Oris partnered with record-breaking freediver Carlos Coste and launched a special Carlos Coste Limited Edition Cenote Series watch.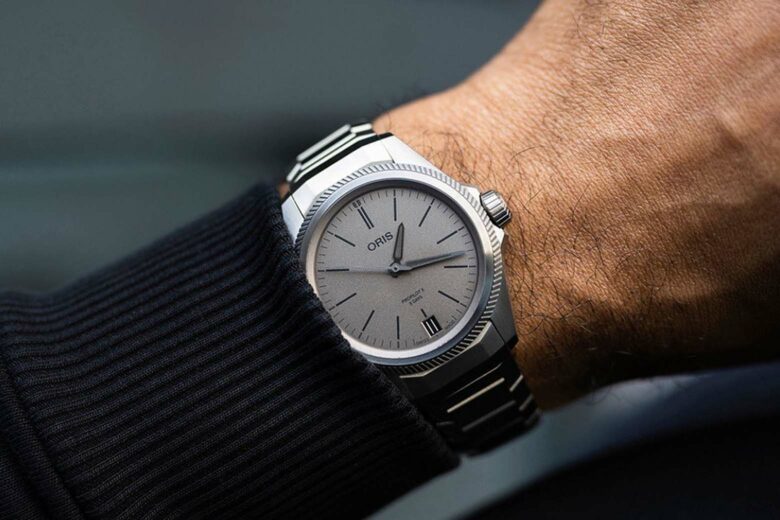 Oris product range
Oris' range of luxury watches is diverse, encompassing seven collections that fall into three categories: dive watches, dress watches, and pilot watches.
First, you have the brand's collection of dive watches in the form of the Oris Aquis and the Divers collection. The latter includes the famous Oris Sixty-Five.
The Oris Artelier collection is one of the watch brand's series of dress watches: affordable, elegant, and featuring in-house movements. There's also Oris Rectangular series, featuring Art Deco-inspired timepieces in eye-catching colorways.
For one of the most iconic pilot watches in the watch world, turn to the Oris Big Crown with its eponymous oversized crown. There's also the Oris ProPilot, high-performing and cockpit-ready, and the Oris ProPilot X, featuring the innovative Calibre 400.
Signature materials and craftsmanship
Thanks to its status as an independent company, Oris is able to explore and experiment with functionality and features, allowing it to develop timepieces that are always one step ahead, neatly aligning with the watch brand's philosophy: 'Go Your Own Way'.
Innovations are numerous and include the 2018 Big Crown ProPilot Calibre 114 with its 10-day power reserve, Oris's patented non-linear power reserve indicator, date indication and a 24-hour second time zone with half-hour indication. No other Swiss-made mechanical watch has ever combined all these functions.
There's also the Oris ProDiver Pointer Moon, the world's first mechanical watch to indicate both the lunar cycle and the tidal range.
In 2004, Oris developed its time-saving Quick Lock Crown system, which only requires a single clockwise turn of 120 degrees to secure it. And, in 2009, Oris developed the ProDiver, featuring a patented Rotation Safety System, a unidirectional rotating bezel that can be locked into place to prevent any dangerous errors underwater.
In 2010, the watch brand created a safety clasp that stops your watch from coming off, even if it comes undone. And in 2011 came the Oris Big Crown X1 Calculator, a pilot's watch named after the Bell X1 supersonic rocket-powered plane and featuring a circular slide rule on the bezel. It's also water-resistant to 30 meters—very rare for a watch like this. It took Oris 2 years to develop.
Oris is also officially climate neutral, as verified by ClimatePartner, a leading independent climate solutions provider. Today, Oris offsets more than 2,500 tonnes of CO2 through its support of the 'Clean oceans' project, run by Plastic Bank. The company also offers watch straps made of recycled PET and sustainably sourced leather while its packaging is made of algae or recycled paper.
Where is Oris made?
Oris watches are made in the village of Hölstein in northwest Switzerland, which is where the watch company was founded in 1904. Oris is the name of a brook that flows nearby.
Brand values
| | |
| --- | --- |
| Vegan options: | No |
| Carbon-neutral: | Yes |
| Gives back: | Yes |
Oris watches
Oris Aquis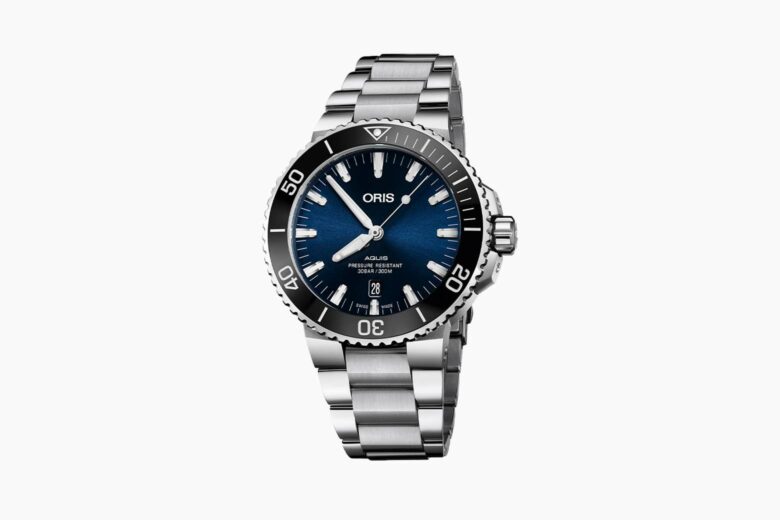 Catering to all tastes with case sizes that range from understated and unobtrusive to robust and rugged, the Oris Aquis watch series is the brand's range of popular dive watches. Sleek, simple, and straightforward aesthetics make for easy day-to-day wear. Or check out the Sun Wukong Artist Edition for something really spectacular, limited to 72 editions and featuring a unique hand-painted cloisonné enamel dial.
| | |
| --- | --- |
| Price: | $1,980 – $26,200 |
| First release year: | 2011 |
| Current case size: | 36.5 mm – 45.8 mm |
| Movement: | Automatic |
| Water resistance: | 30 m – 50 m |
| Crystal: | Sapphire |
Oris Artelier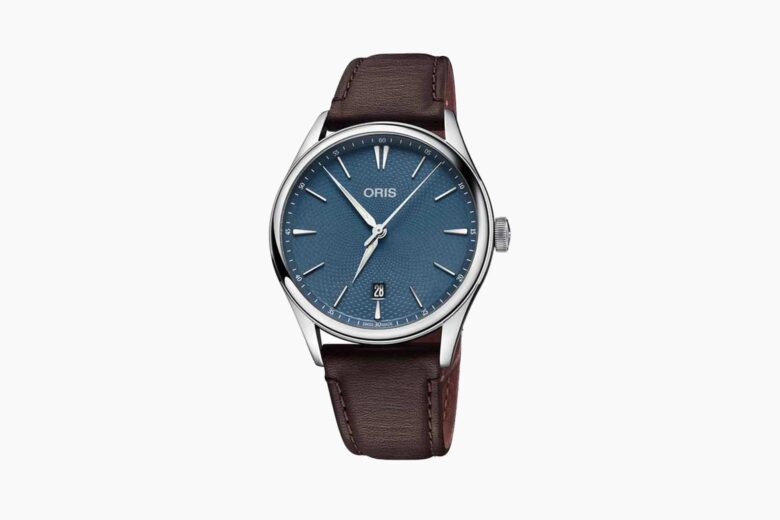 This collection of Oris watches offers affordable timepieces with luxe appeal to accompany you on formal occasions. The series demonstrates that Oris' skills go beyond pilot and dive watches to include sophisticated dress watches too, with a collection that features a couple of impressive in-house movements as well as skeletonized designs and a fair few diamonds. Got a fancy event coming up? Consider an Oris Artelier watch your perfect date.
| | |
| --- | --- |
| Price: | $1,670 – $2,410 |
| First release year: | 2003 |
| Current case size: | 38 mm – 40 mm |
| Movement: | Automatic |
| Water resistance: | 30 m – 50 m |
| Crystal: | Sapphire |
Oris Big Crown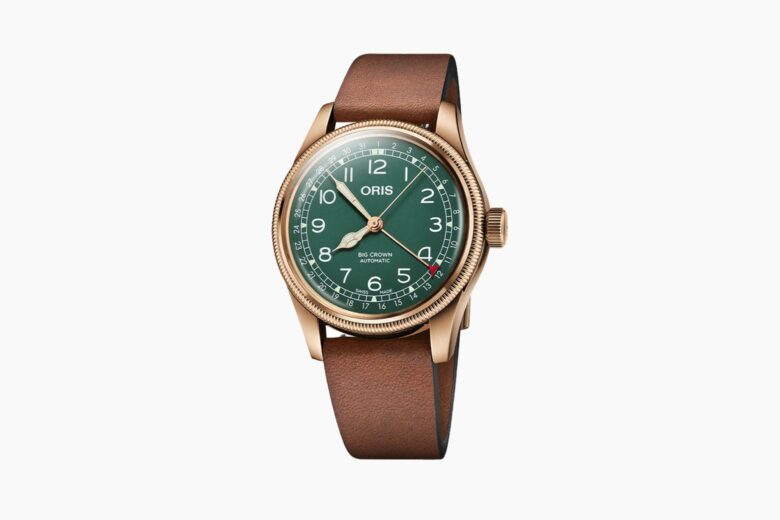 First introduced in 1938, back in Oris' heyday when it was crafting some of the best pilot watches around, the Oris Big Crown is named for—yes, you've guessed it—its big crown. Made for easy handling with thick pilot gloves, it's one of the watch brand's signature models. The series also features the Big Crown Pointer Date which displays the date via another hand by the edge of the dial rather than with a more conventional date window.
| | |
| --- | --- |
| Price: | $1,790 – $15,590 |
| First release year: | 1938 |
| Current case size: | 36 mm – 40 mm |
| Movement: | Manual and automatic |
| Water resistance: | 50 m |
| Crystal: | Sapphire |
Oris Divers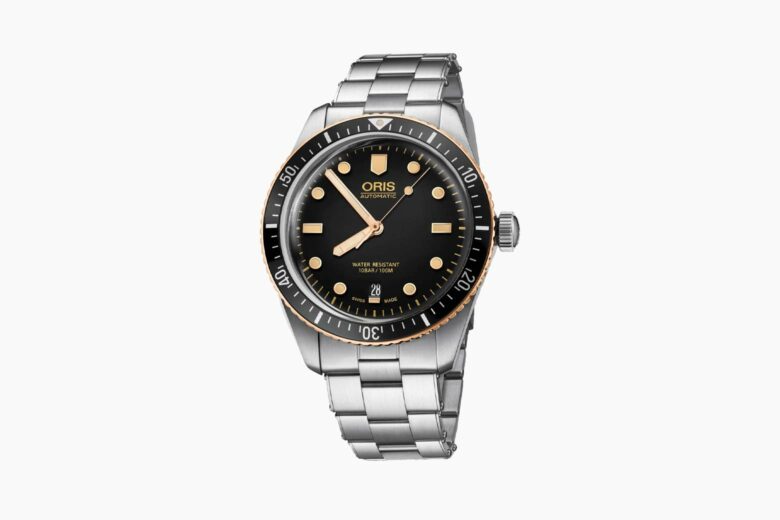 These vintage-inspired dive watches are the number one pick for those who want a highly functional and water-resistant timepiece but with added style and panache. Inspired by a particularly iconic Oris dive watch released in 1965, the Oris Sixty-Five is now available in a range of sizes, colorways, and materials.
| | |
| --- | --- |
| Price: | $2,010 – $3,58 |
| First release year: | 1965 |
| Current case size: | 36 mm – 42 mm |
| Movement: | Automatic |
| Water resistance: | 100 m |
| Crystal: | Sapphire |
Oris ProPilot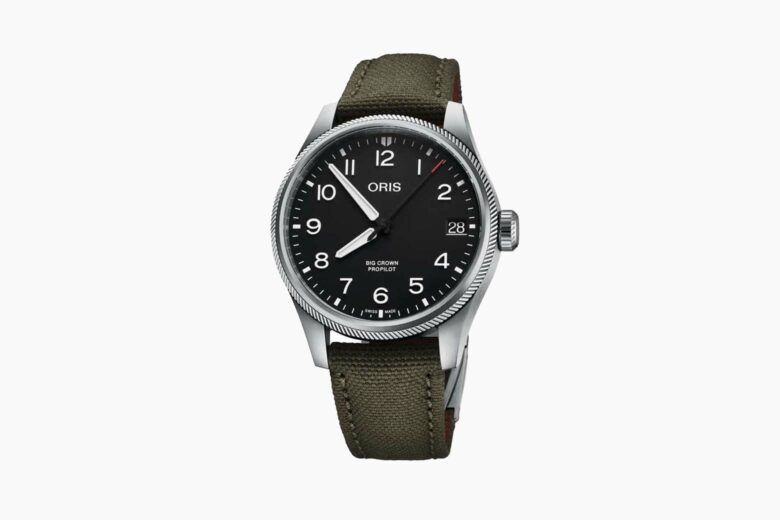 While the Oris Big Crown collection offered aviation-inspired timepieces, the Oris ProPilot collection takes it to the next level. These watches don't just echo the design cues of classic pilot watches. They're ready to actually jump into the cockpit at the next available opportunity. Think Super LumiNova for readability, GMT functionality, large date windows, and straps with the brand's 'Life' clasp, inspired by passenger aircraft seat belt buckles.
| | |
| --- | --- |
| Price: | $1,790 – $4,200 |
| First release year: | 2014 |
| Current case size: | 41 mm – 44 mm |
| Movement: | Automatic |
| Water resistance: | 100 m |
| Crystal: | Sapphire |
Oris ProPilot X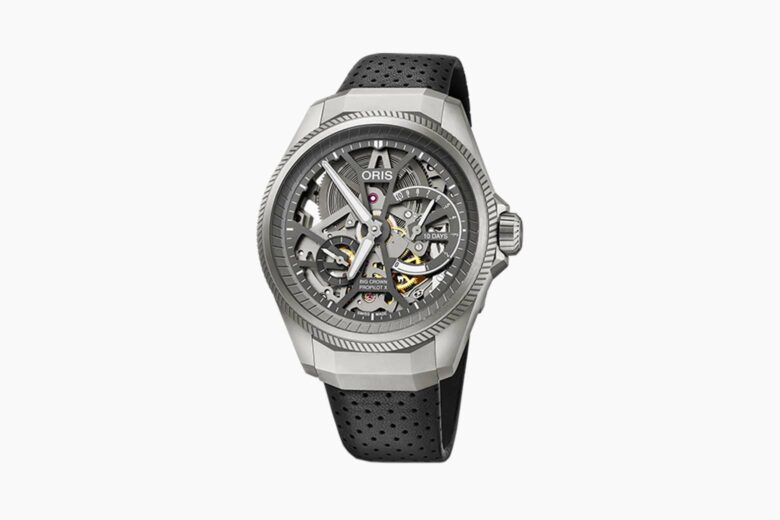 One of the watch brand's smaller collections, the Oris Propilot X watch series features the company's new Calibre 400 whose impressive specs include superior anti-magnetism, a five-day power reserve, and a 10-year warranty. Meanwhile, the aesthetics are straight out of your classic aviation lookbook, with an angled cut to the outer bezel to mimic a jet turbine. For those who want a front seat to Oris' expert engineering, check out the skeletonized models.
| | |
| --- | --- |
| Price: | $3,950 – $7,480 |
| First release year: | 2022 |
| Current case size: | 39 mm – 44 mm |
| Movement: | Automatic and manual |
| Water resistance: | 100 m |
| Crystal: | Sapphire |
Oris Rectangular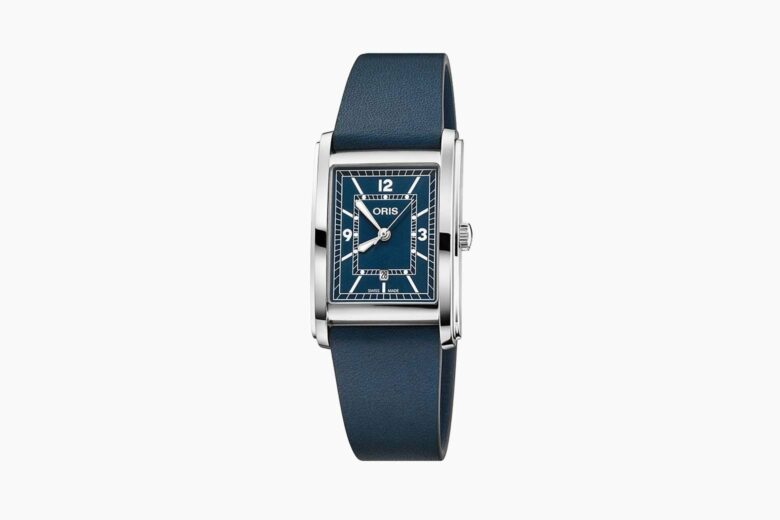 The Oris Rectangular watch series offers wearers cool, modern, and highly wearable dress watches in a range of easy breezy shades. It's cheerful, confident, fun—and impossible not to like. These unisex Oris watches are the perfect way to add a little zing to your everyday office attire with Art Deco-inspired dials, sword-shaped hands, and quick-change leather straps.
| | |
| --- | --- |
| Price: | $1,900 |
| First release year: | 2021 |
| Current case size: | 25.5 mm x 38 mm |
| Movement: | Automatic |
| Water resistance: | 30 m |
| Crystal: | Sapphire |
Where to buy Oris watches
You can purchase Oris watches from one of the authorized retailers listed here or directly from the watch company's website. All Oris watches come with a two-year warranty. You can also buy new Oris watches from Mr Porter and pre-owned Oris watches from trusted third-party retailers such as Jomashop, or FARFETCH, where the authenticity of your timepiece can be guaranteed.
For more about buying a luxury watch, see our watch guide.
Oris watches shipping
Oris watches are shipping directly from the company headquarters in Switzerland and the normal shipping time is 2 to 3 business days. Orders are shipped via UPS and are free of charge. Jomashop has a set international shipping fee of $150. FARFETCH and Mr Porter charge different shipping fees depending on the country.
Oris return policy
Oris offers a free return service via UPS in most countries, as long as the watch is in its original condition. FARFETCH accepts returns within 14 days for a full refund and Mr Porter allows returns within 28 days. Jomashop offers a 3-day refund policy.
Oris customer service number
To contact the Oris customer service department, you can call +1-203-8574769 or email customerservice@oriswatchesusa.com.
Oris social media profiles
Frequently asked questions about Oris watches